If you're looking for easy traeger recipes you can get right the first time, you're in the right spot. Here you'll find fun and EASY smoker recipes for your Traeger Pellet Grill bucket list right here! Pork, chicken, vegetables, pizza, seafood, things wrapped in bacon and side dishes – you're gonna leave this page hungry, that's for sure!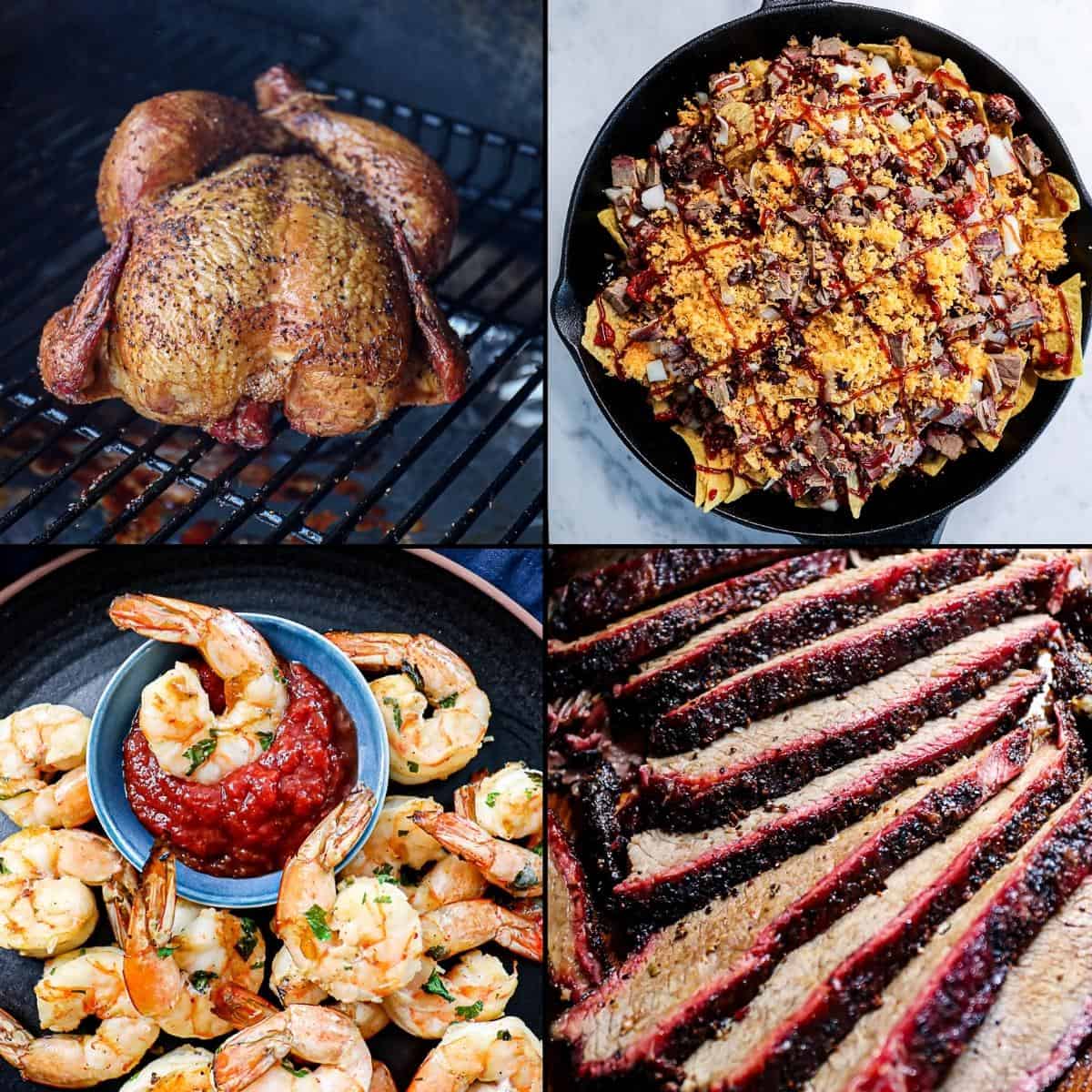 HEY THERE — Don't forget I post quick, easy recipes on Instagram. Join me at @sipbitego.
The most easy smoked beef recipes
Here's the deal with smoking beef on the Traeger – to make it easy, you'll have to use certain cuts of beef that don't take as long to cook and don't require so many steps.
My pick for easy smoked brisket recipes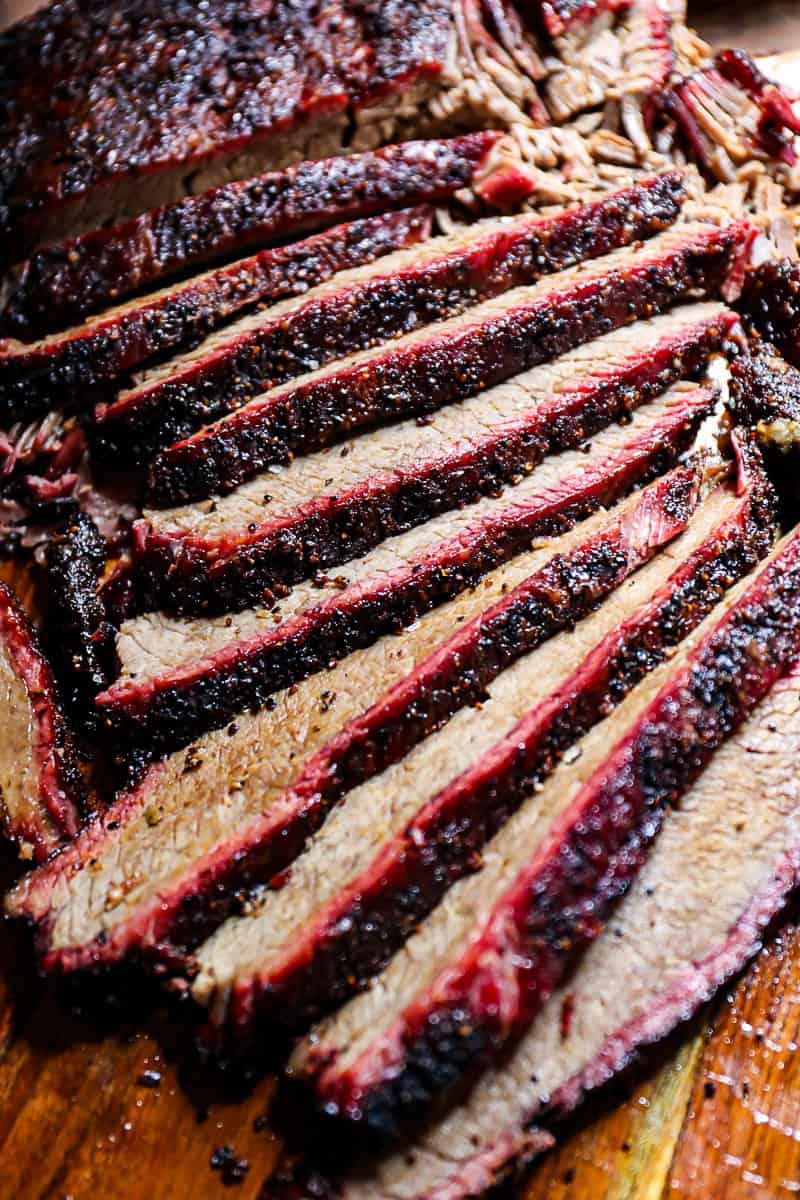 Complete transparency, this is probably the "least easy" recipe on this entire list of easy Traeger smoker ideas.
CONS: The reason brisket wouldn't be my first recommendation for smoking food for the first time is because it takes a long time to cook (compared to others on this list).
Also, you need "special equipment" – ie. you'll want to wrap it in fancy smoker butcher paper halfway through cooking. (Wrapping it in foil isn't my favorite because it will steam the brisket too much.)
PROS: So why does smoked brisket make it on my easy list? Well because this is smoked brisket flat. It's only half of a full smoked brisket, which means it takes less time to cook than a big, big one.
So if you're looking to dip your toes in brisket, try this easy Traeger recipe. It always turns out super tasty!!
More easy smoked beef recipes to try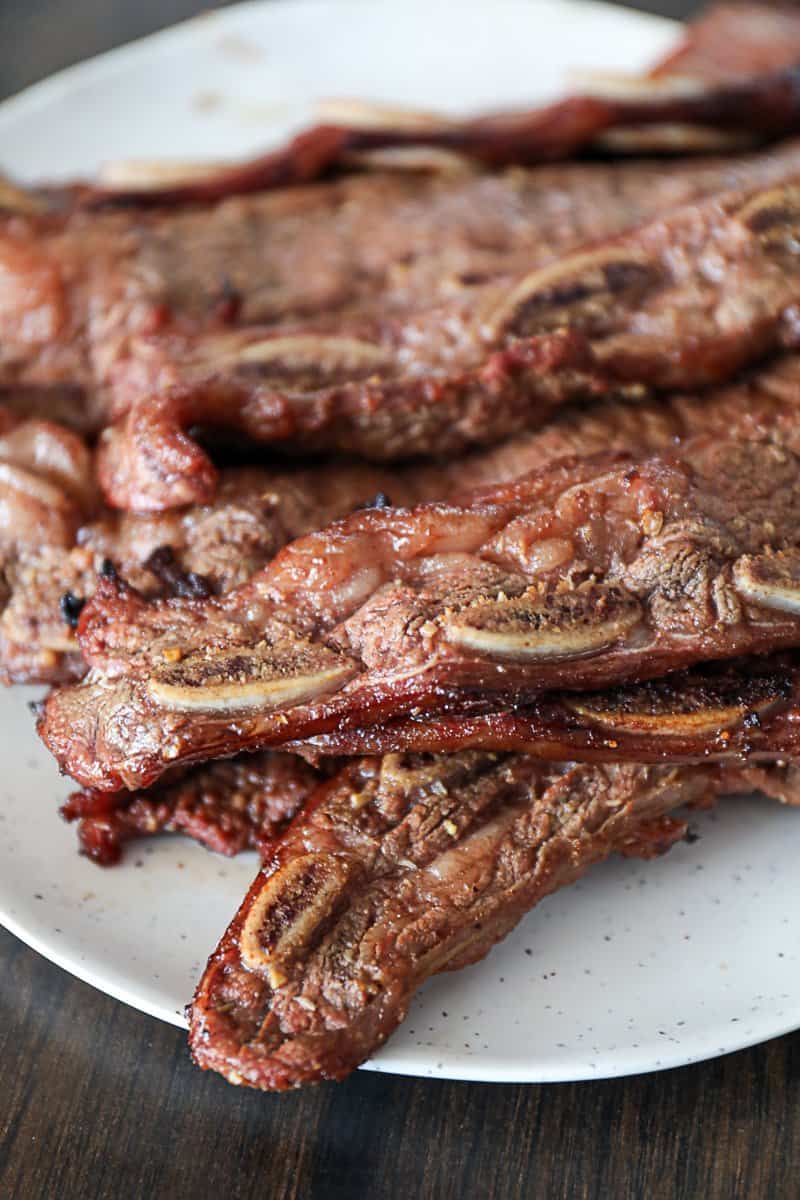 Smoked flanken ribs – If you're looking for a beef smoker recipe with a short cooking time, try these.
Easy smoked vegetables recipes
Smoking vegetables on the Traeger is pretty simple, and they pick up so much flavor, it's always worth the small effort to throw them on for a short cook.
Simple smoked corn on the cob
My version of herby, buttery, and easy smoked corn on the cob turns out super tender. I love eating it right on the cob or cutting it off and adding the smoked corn kernels to seasonal salad recipes like this strawberry feta salad or kale apple slaw.
15 minute super easy smoker pizza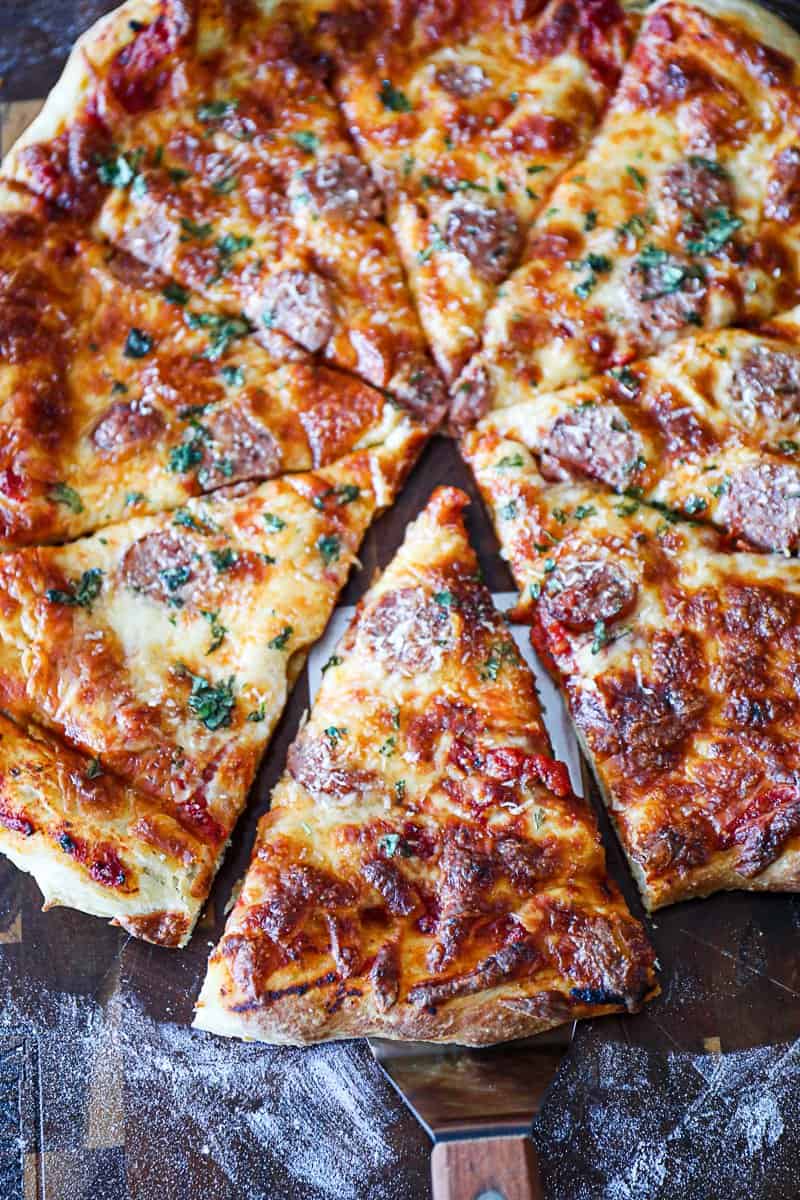 Everyone knows me for my delicious homemade pizza recipes here on Sip Bite Go (Philly cheesesteak pizza or taco pizza, anyone?).
But one of my favorite ways to make it these days is on the smoker! See how to make smoked Traeger pizza.
Seriously easy smoked turkey recipes
Smoking turkey on the Traeger is a must for holiday meals when you want something extra special. But we'll pick up a turkey and smoke it in the summer just for fun. That's a normal way to have fun, right? Eating turkey in July?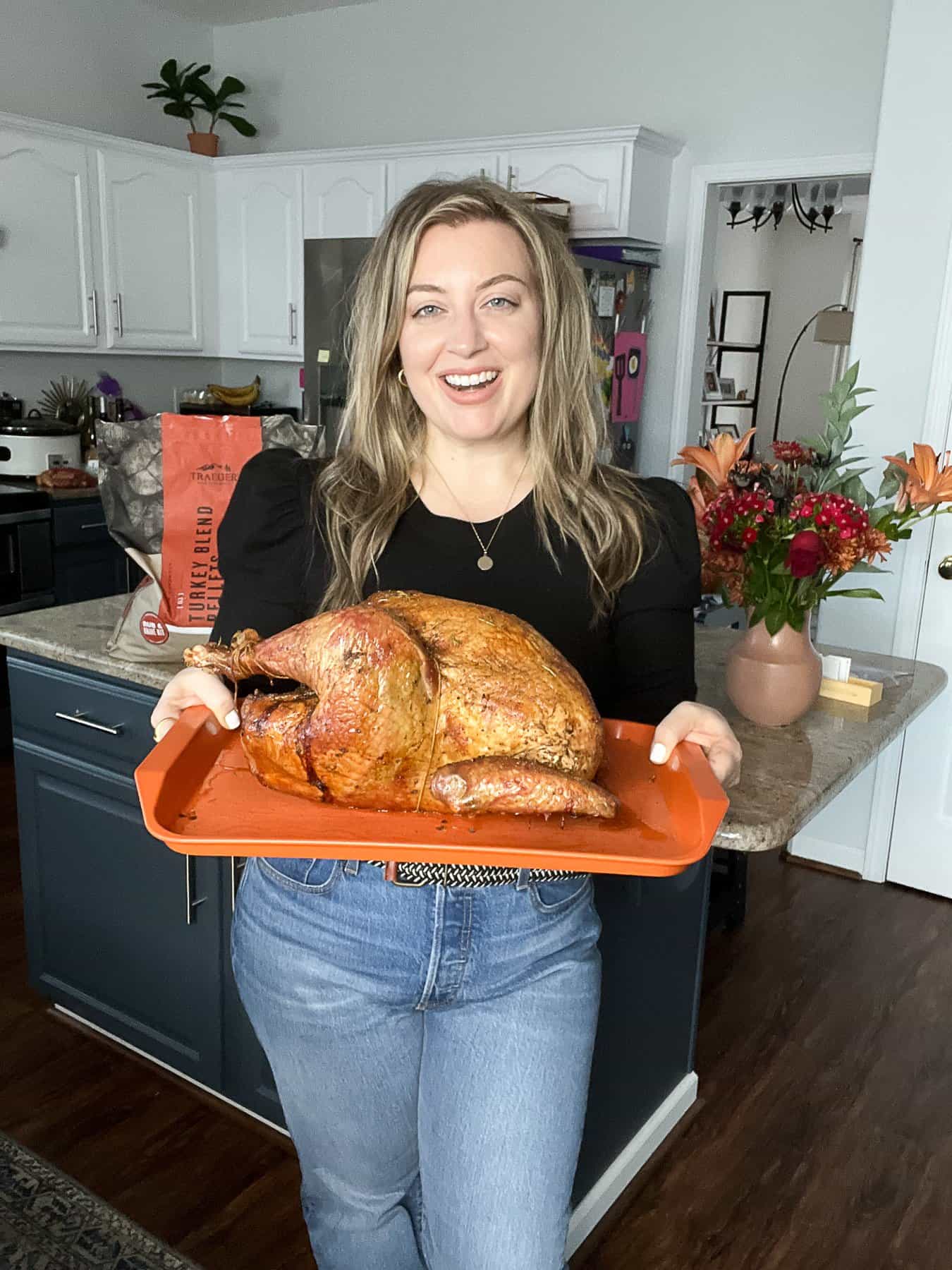 When it comes to wood chips for poultry like turkey, I recommend something lighter in flavor (for perspective, mesquite or hickory pellets would be more intense).
I was gifted these Traeger Smoked Turkey Pellets for a partnership I did with them over Thanksgiving, and loved the rosemary flavoring that came through.
Stupid simple smoked turkey breast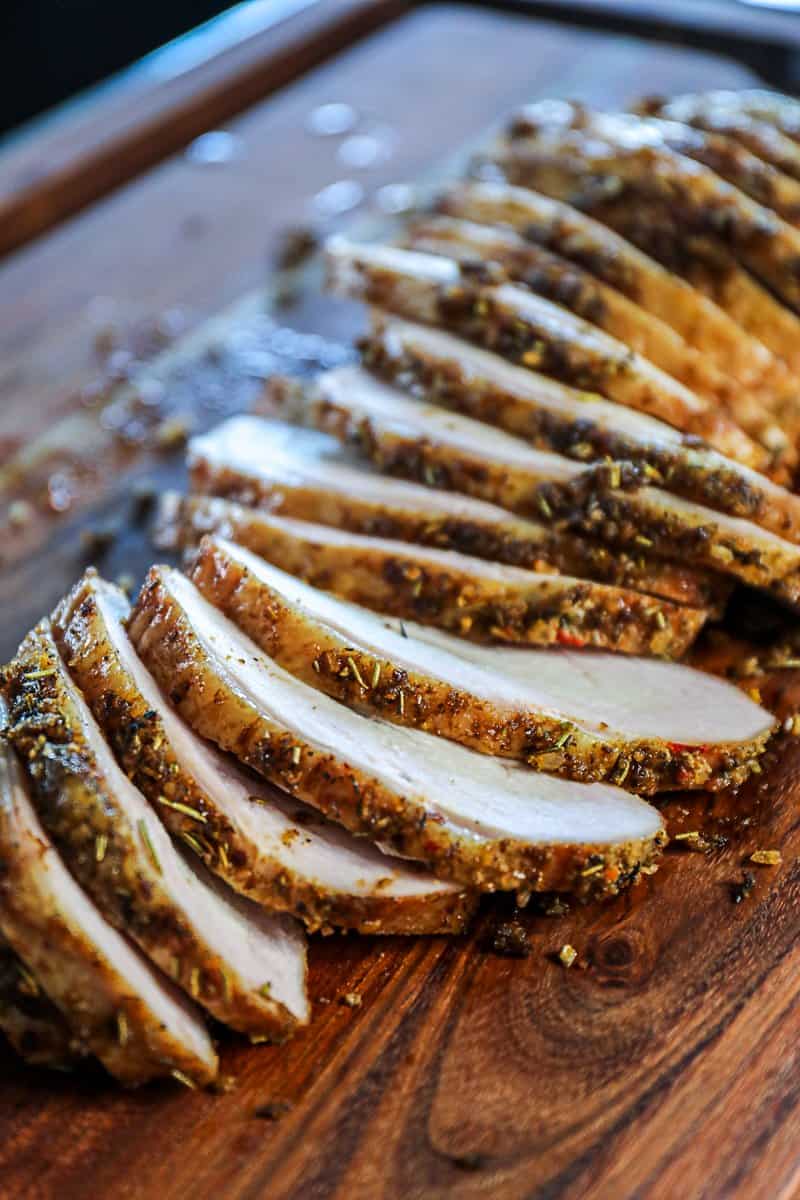 Turkey recipes on the smoker can be really easy. When you're just starting out, try something like a smoked turkey breast recipe or just smoking turkey legs.
Easy ways to smoke whole turkeys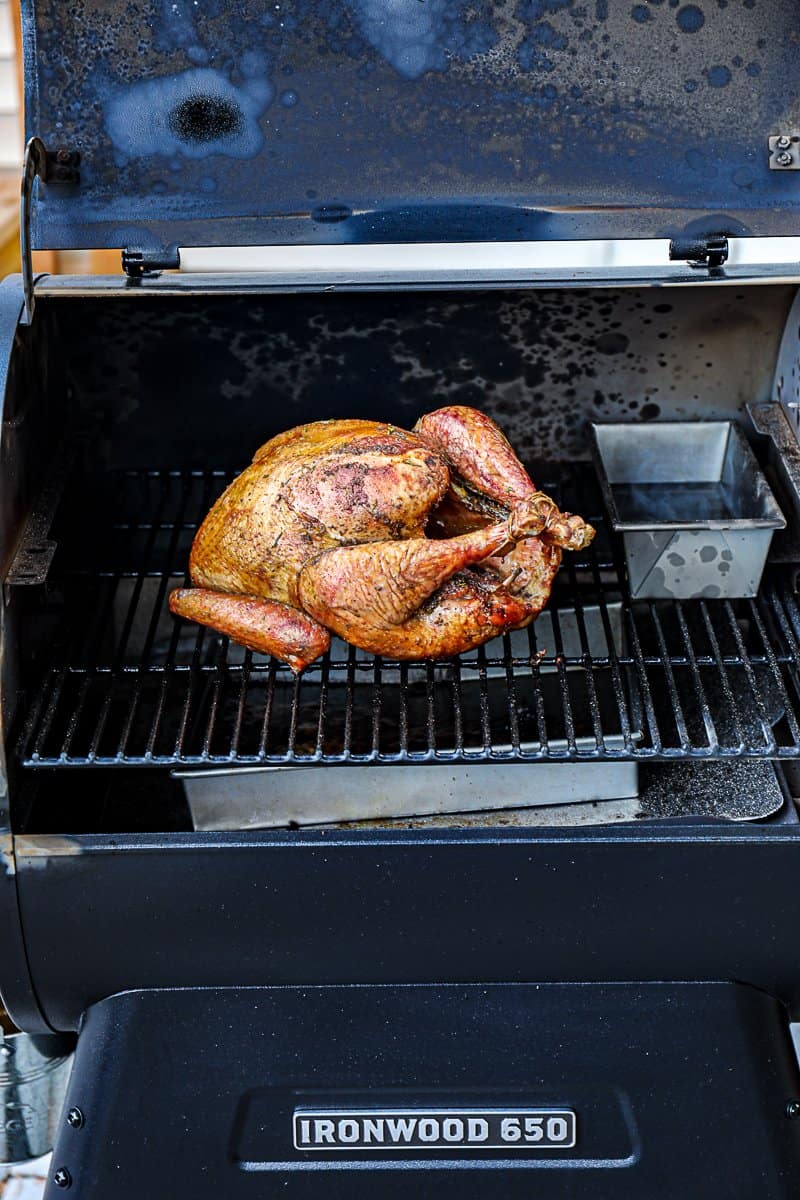 When you're ready to smoke an entire turkey, try my whole bird with no brine required recipe for smoked turkey.
Another option is to butterfly the turkey and cook smoked spatchcocked turkey. There are just many ways to make it!
Pretty quick and easy chicken recipes
Chicken takes on so much of the smokey flavoring when cooked on the pellet grill. Here are some other favorite simple smoked chicken ideas to add to your bucket list.
Ridiculously easy smoked wings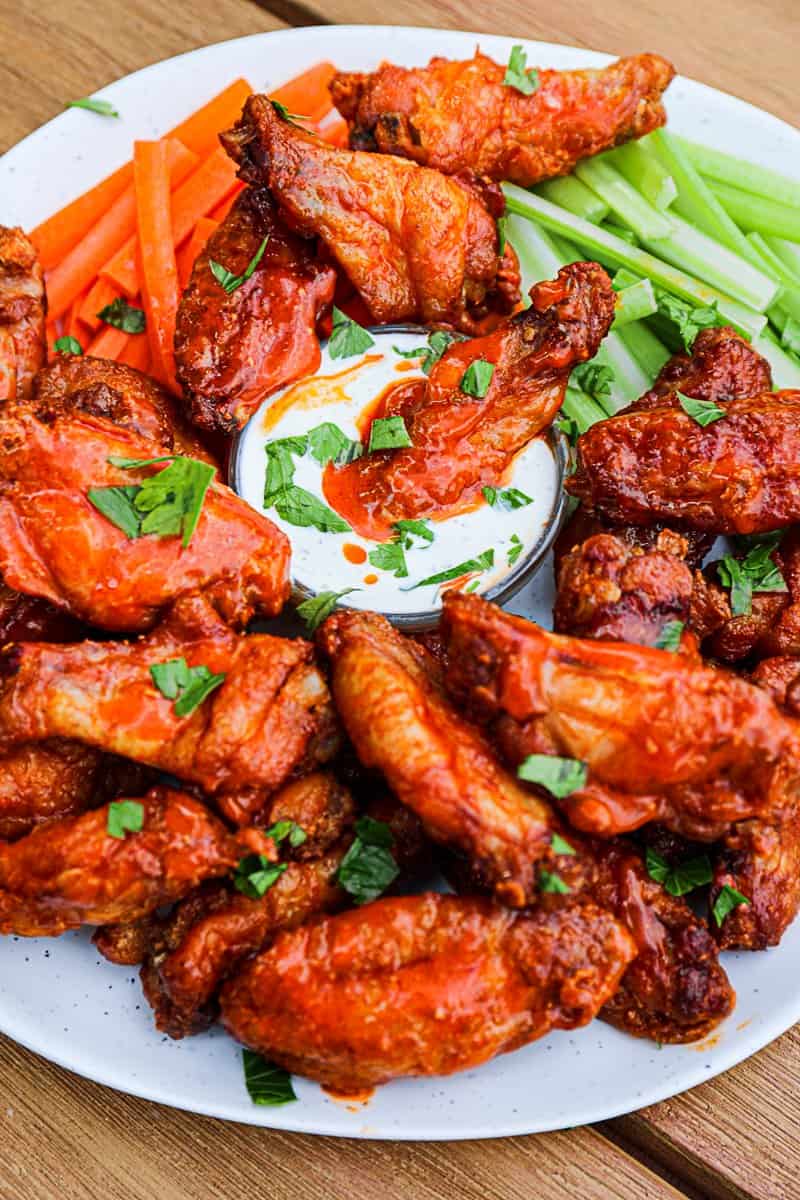 This easy Traeger dish is one you can season and prep ahead, then pop on the grill an hour before people are coming over. I highly suggest making these smoked wings for backyard bbq parties.
Easy Traeger smoked chicken thighs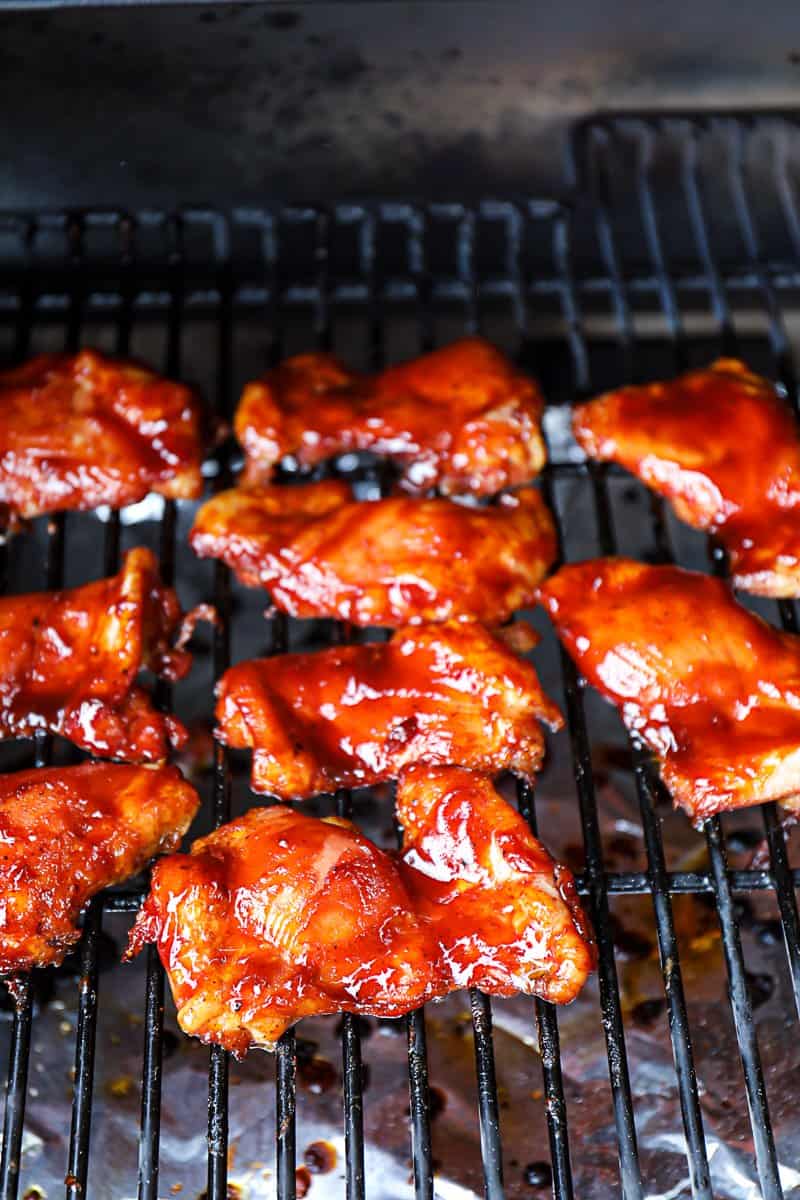 My simple recipe for smoking chicken thighs super simple. You just need a little dry rub seasoning and bbq sauce to make flavorful, almost candied dark meat chicken. It's a great game day recipe for a crowd.
Other simple smoked chicken ideas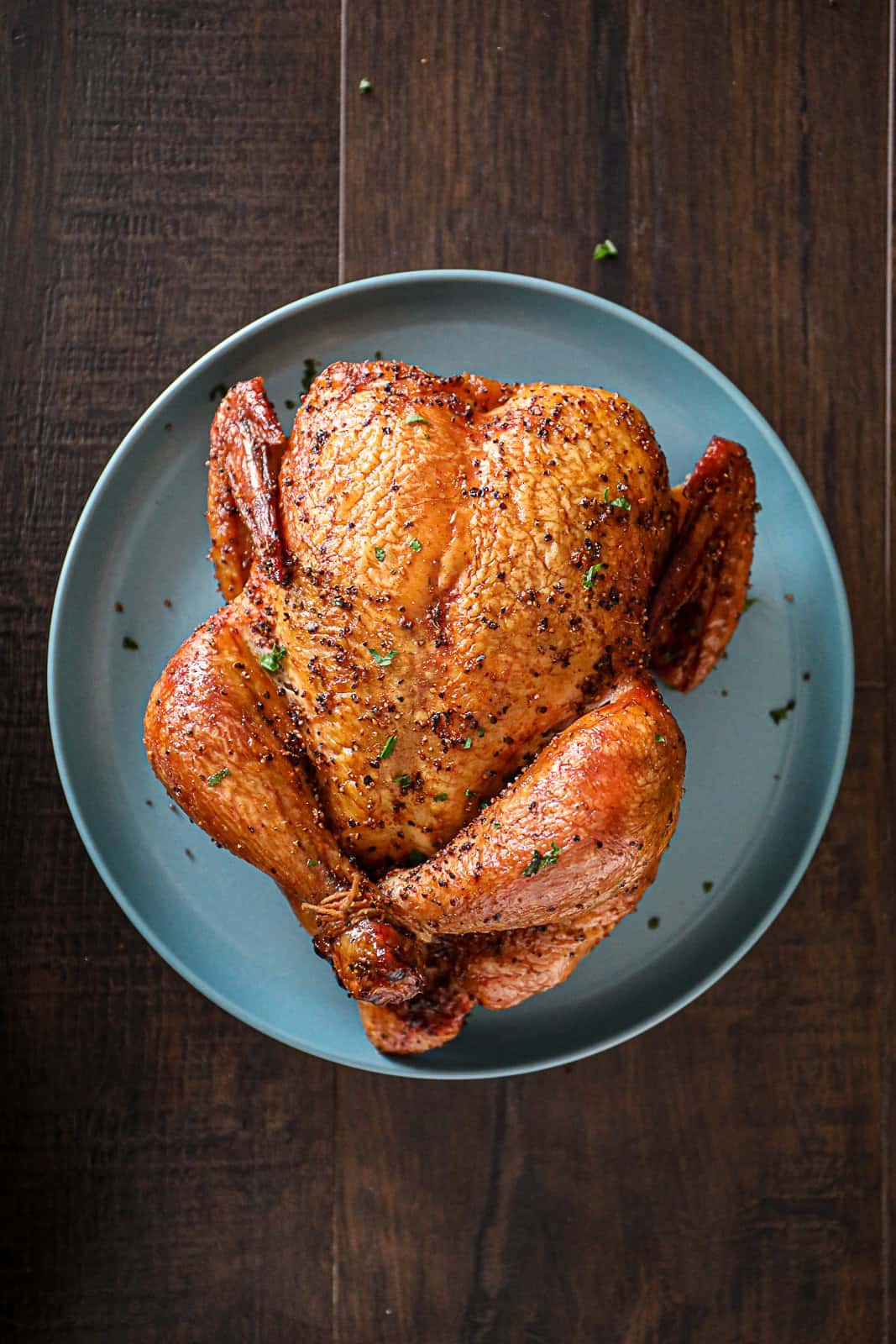 Simple and easy smoked pork recipes
One thing that makes smoked pork recipes easy is that you pretty much just season most of them and "forget about them". Unlike brisket, you don't have to wrap pork butt or shoulder part way through smoking them.
Recipe ideas like making smoked pork ribs like baby back ribs is not yet on this list, but I'll share more on those soon.
Smoked ham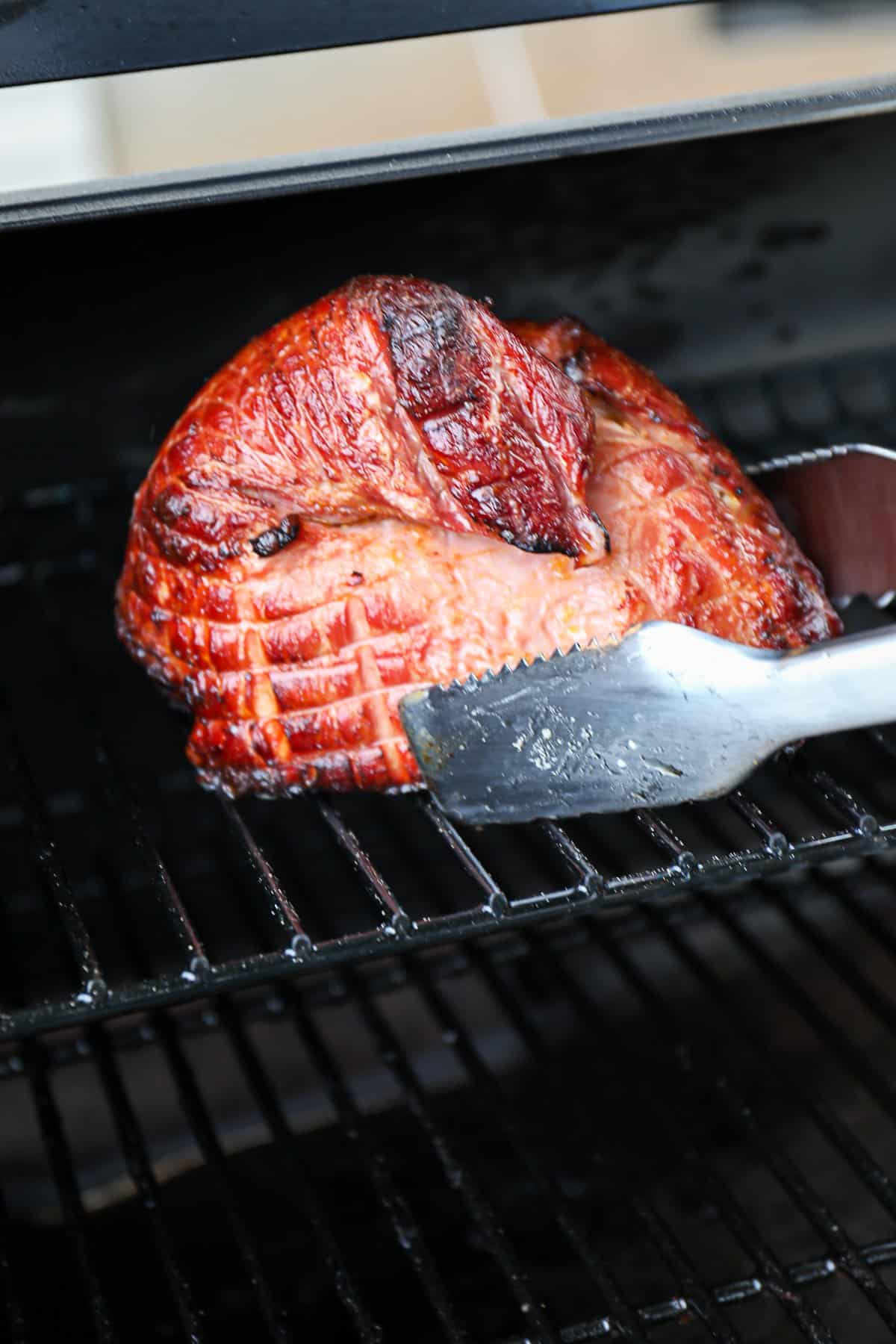 A beautiful dish for any holiday table, this easy Traeger smoked ham recipe will show you how to coat this beautiful piece of pork with a simple buttery rosemary baste you make in a small sauce pot, right on the Traeger. It's so tasty.
Slow and easy smoked pork shoulder recipe
It takes a while (10+ hours) to smoke the pork meat until it's super tender, but other than that, any beginner can handle a smoked pork shoulder.
More easy smoked pork recipes
Easy smoked lamb recipes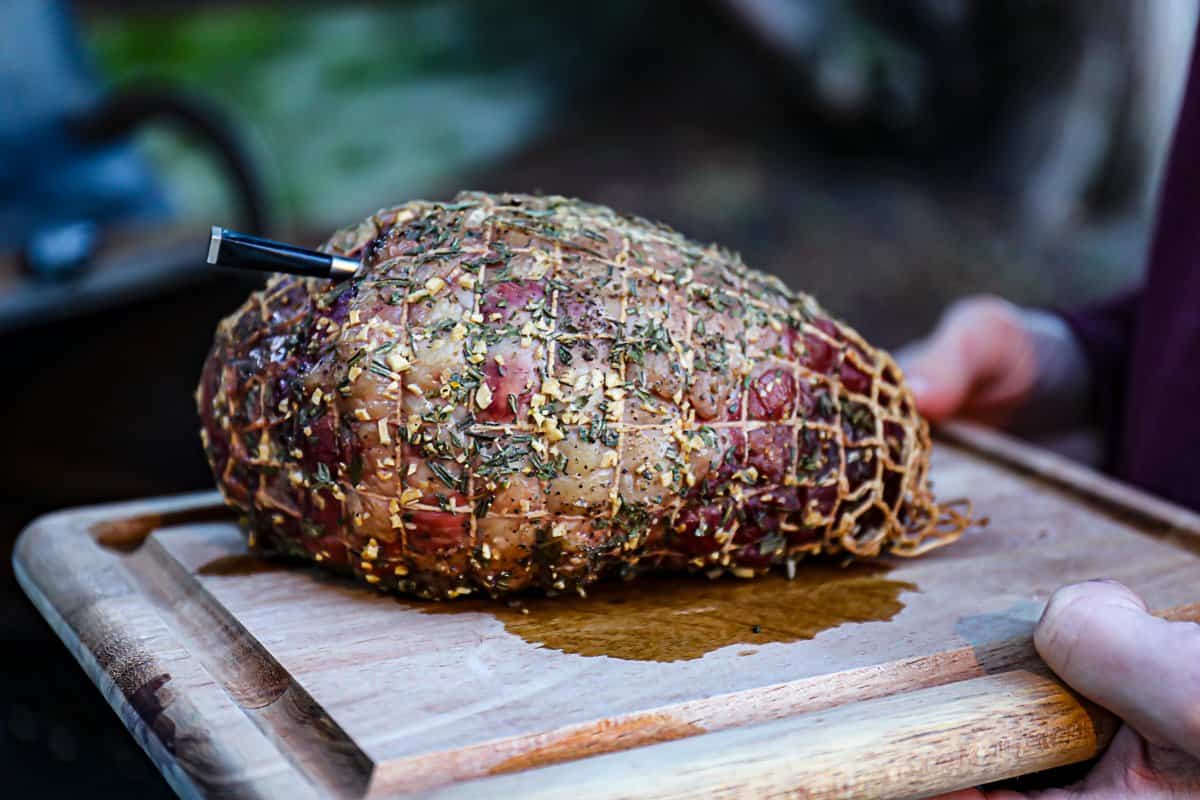 Lamb is a meal most of us cook around Easter or Christmas, or for other special occasions.
Just like smoking a turkey is common for a modern Thanksgiving menu, I think people should take a little creativity for these other holidays and try one of these Traeger lamb recipes.
Smoked lamb loin chops – Kind of like a pork chop, smoked lamb chops are meaty and take on massive flavor in the pellet grill.
Easy smoked shrimp recipe
When it comes to easy bbq smoker recipes for a crowd, this one is perfect for an appetizer. Shrimp on the smoker come together in about 10 minutes of active smoking time! In total, you only need about 45 minutes to make this dish.
My recipe will show you how to make a tasty marinade that only takes 15 minutes to penetrate the smoked shrimp. That's the same amount of time it takes the smoker to preheat, which is why this makes my list of easy smoker recipes. Definitely a must-try.
More easy smoked fish recipes
Smoked scallops
Smoked salmon
Smoked cod
Easy smoked trout recipe
Other simple and easy smoker recipes to try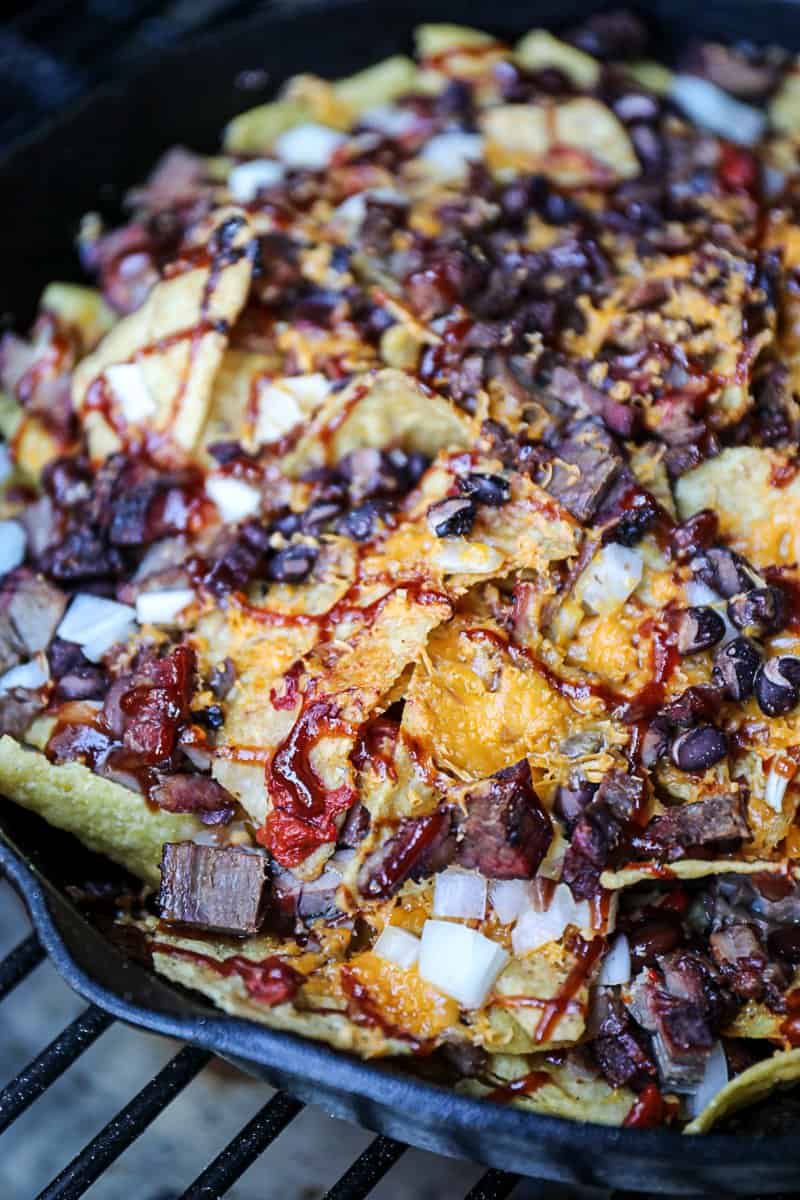 Smoked nachos can be made with any leftover cooked or smoked meat (think: leftover smoker or sous vide brisket, sous vide pulled pork, sous vide whole chicken)
Easy smoked sausage
Easy smoked mac and cheese recipe – the first time I tried this was in a (gifted) Traeger provisions box that came with a smoked porchetta. You just whip up a regular mac and cheese and pop it on the smoker. The cheese takes on a ton of flavor!
Simple smoked mashed potatoes
Smoked squash
Easy smoked queso
For vegetarians: easy smoked tofu
So what will you try first?
Hey smoked food lovers, hope that answers all your questions about easy pellet smoker recipes. Perhaps I'm a little jaded because I think any recipe can be easy if you really know how to make it.
But my goal is to get you cooking up delicious food at home, on the very first try. Let me know how you do!
If you don't follow me on instagram you totally should @sipbitego. And for more deliciousness, subscribe to the Sip Bite Go channel and see the Sip Bite Go recipe collection.
See my favorite smoker tools and seasonings in my Amazon Storefront.
Meat thermometer recommendations
Every home chef needs a reliable meat thermometer to cook food perfectly.
On Sip Bite Go, you'll often see me using:
Meater thermometer – a fancy wireless thermometer that connects to a phone app – gifted to me from a Traeger partnership.
ThermoPro digital thermometer – which has a wire that connects the thermometer to a display box outside the oven/grill.
It's like being psychic! The great thing about either of the thermometers above is that I don't have to take the food out of the oven to know the temperature.
How to use 'em… What I do is stick the digital thermometer in steak, pork, chicken, whatever… Then put the food in the oven, on the smoker, or grill.
While the meat cooks, it reads the temperature so I know exactly what temp meat is as it's cooking. Without having to take it out and check. It's really difficult to overcook food when you know exactly what temp it is inside!
New recipes and foodie guides….
Grill and smoker recipes…