Looking for steak sides? There's no dreamier combination than steak and potatoes when it comes to classic restaurant style food at home. Whatever the occasion, these easy potato side dishes for steak dinners have you covered.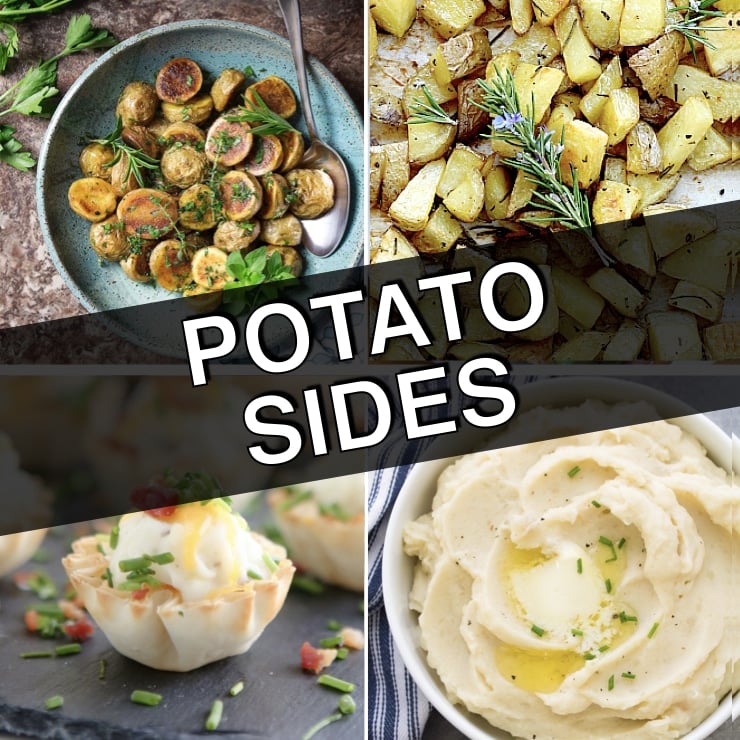 Maybe you want to revamp your normal steak and potatoes routine. Or you are treating your SO to a fancy steak dinner. Or perhaps you want a new potato dish to bring to a friend's house. Consider yourself covered. Here you'll find new side dishes for steak with these flavorful, creative potato recipes.
Favorites from the list include cheesy potato side dishes, grilled potatoes, soups and some delicious herby potatoes roasted in the oven. Pair them with vegetables like green beans or sous vide asparagus, and you have a full meal.
Let's start with the classic combo: steak with mashed potatoes.
Need somewhere to start with the steak? Try sous vide ribeye steak, flank steak marinade, or different sous vide steak seasonings depending on the flavor of your potatoes!
Mashed Potato Dishes
Slow cooker mashed sweet potatoes
Rich in taste, these hearty slow cooked mashed potatoes made with sweet potatoes are beautiful and tasty with any beef dish.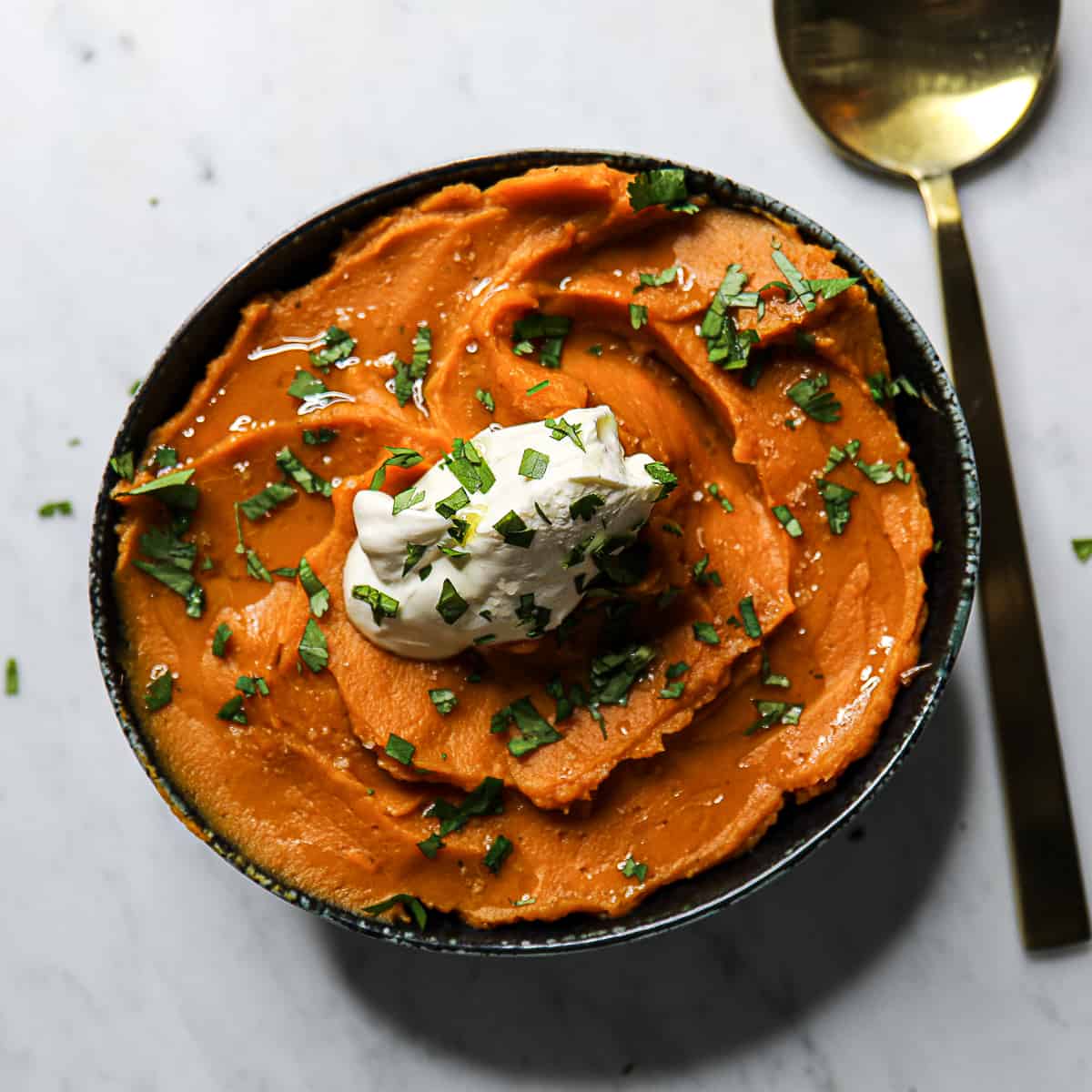 See this dish for crock pot sweet potatoes.
Roasted Brussel Sprouts And Sweet Potatoes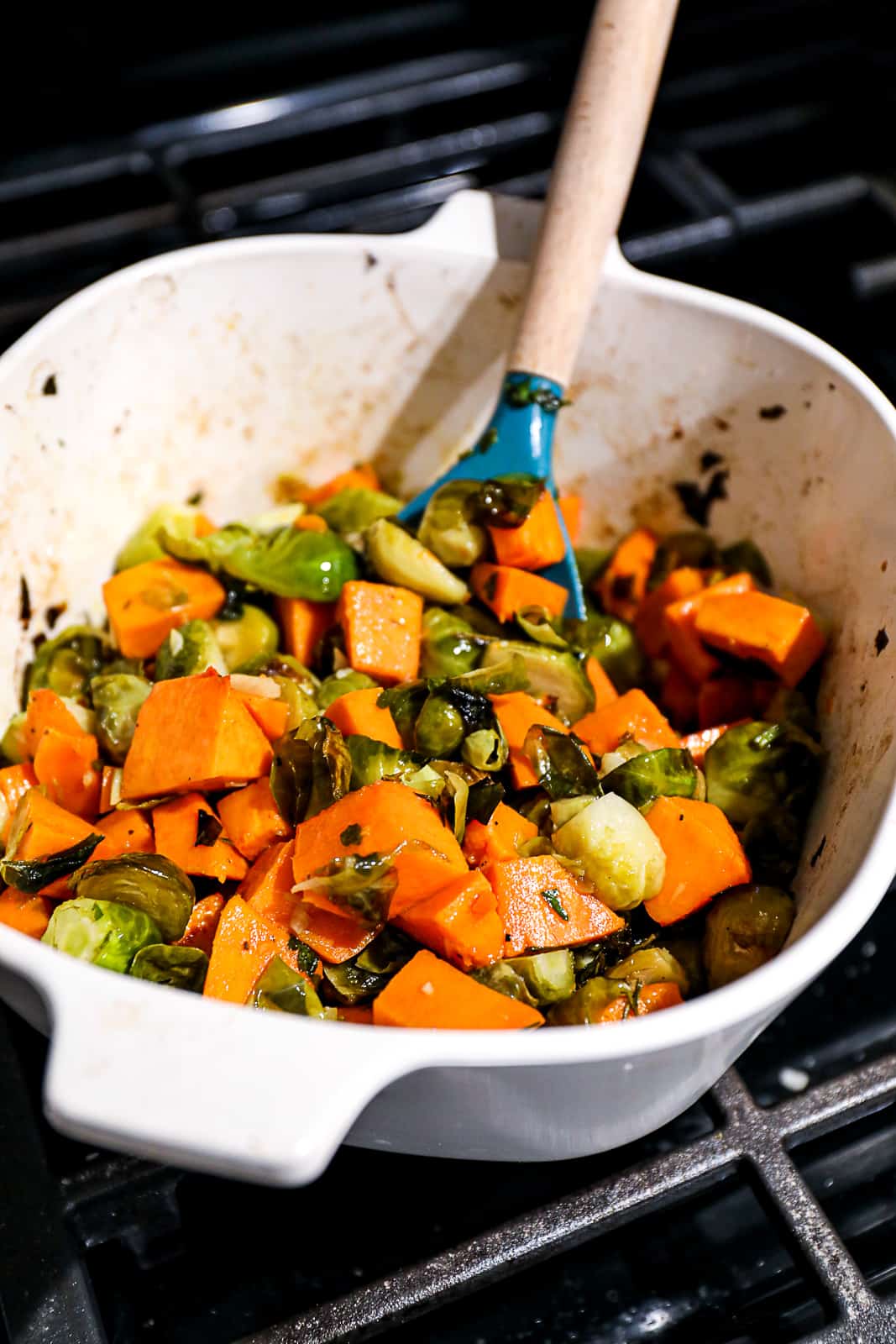 If you love sweet potato recipes, this is a tasty way to enjoy them with more vegetables. See my easy roasted Brussel sprouts and sweet potatoes side dish.
Want an easy steak recipe for beginners? Learn the secrets to perfectly grilled ribeye.
Roasted Garlic Mashed Potatoes Infused with Sage Butter
These sage butter garlic mashed potatoes will be your new favorite side! It is rich with pleasant aromas of buttery herbs and roasted garlic!
Get the recipe at Delightful Mom Food
See how to make roasted potatoes, carrots, and onions…
Mashed Potatoes with Garlic and Chives
Mashed Potatoes with Garlic and Chives have a special ingredient that makes them so creamy and delicious! This is a must make recipe for all your holiday occasions.
Get the recipe at Honeybunch Hunts
Pesto Scalloped Potatoes Gratin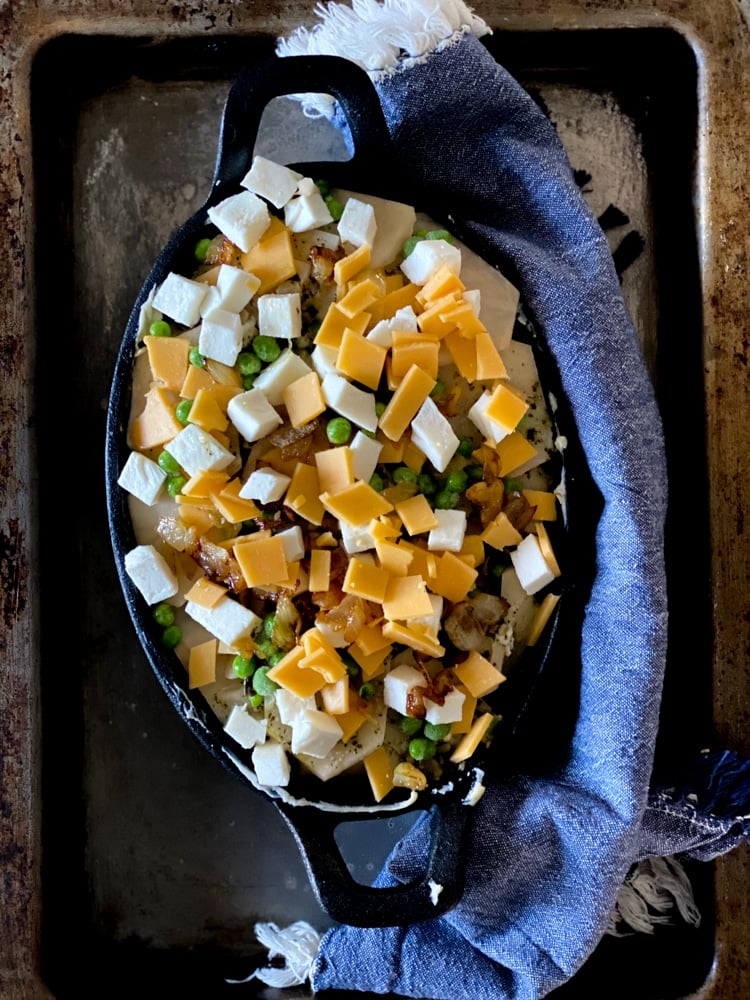 When it comes to steak sides, some dishes you can meal prep in advance. Packed with caramelized onions, peas and cheddar, this potato side dish can be scaled up or down for family meals and holidays.
It's made with pesto which gives it a fresh, new flavor if you're used to the old style of gratin.
See the recipe on Sip Bite Go for potatoes gratin with pesto…
See how to griddle ribeye on the Traeger Flatrock Grill…
Here's a video of one of my favorite steak sides…
Crock Pot Mashed Potatoes (No Boil)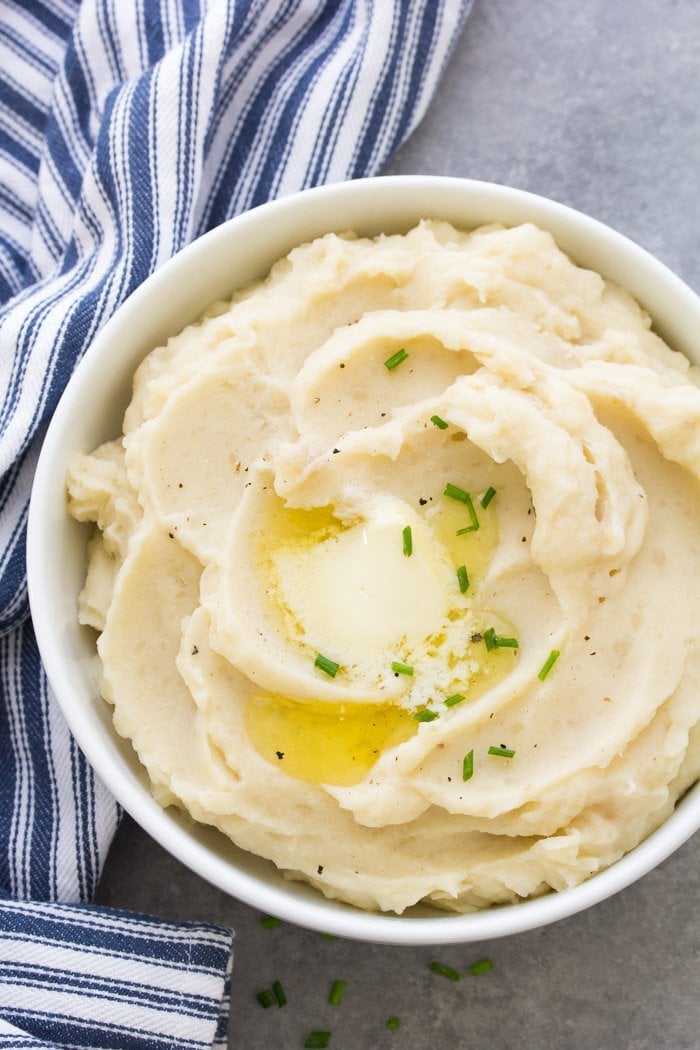 Easy Crock Pot Mashed Potatoes Recipe, plus tips for how to make the best creamy mashed potatoes. These slow cooker mashed potatoes are the perfect make ahead Thanksgiving side dish.
Get the recipe at Kristine's Kitchen Blog
Roasted Rosemary Potatoes
One pan oven roasted, perfectly crispy potatoes ready in minutes! Rosemary roasted potatoes are so crispy on the outside, tender on the inside and bursting with powerful fresh herbs to bring out golden potatoes earth notes.
Get the recipe at Delightful Mom Food
Oven Roasted Potatoes To Serve With Steak
Game Day Potato Skins
Check out his list of potato skin recipes for serving a crowd.
If you have a griddle, check out this recipe for steak fajitas on griddle cooktops.
Buttery Sous Vide Fingerling Potatoes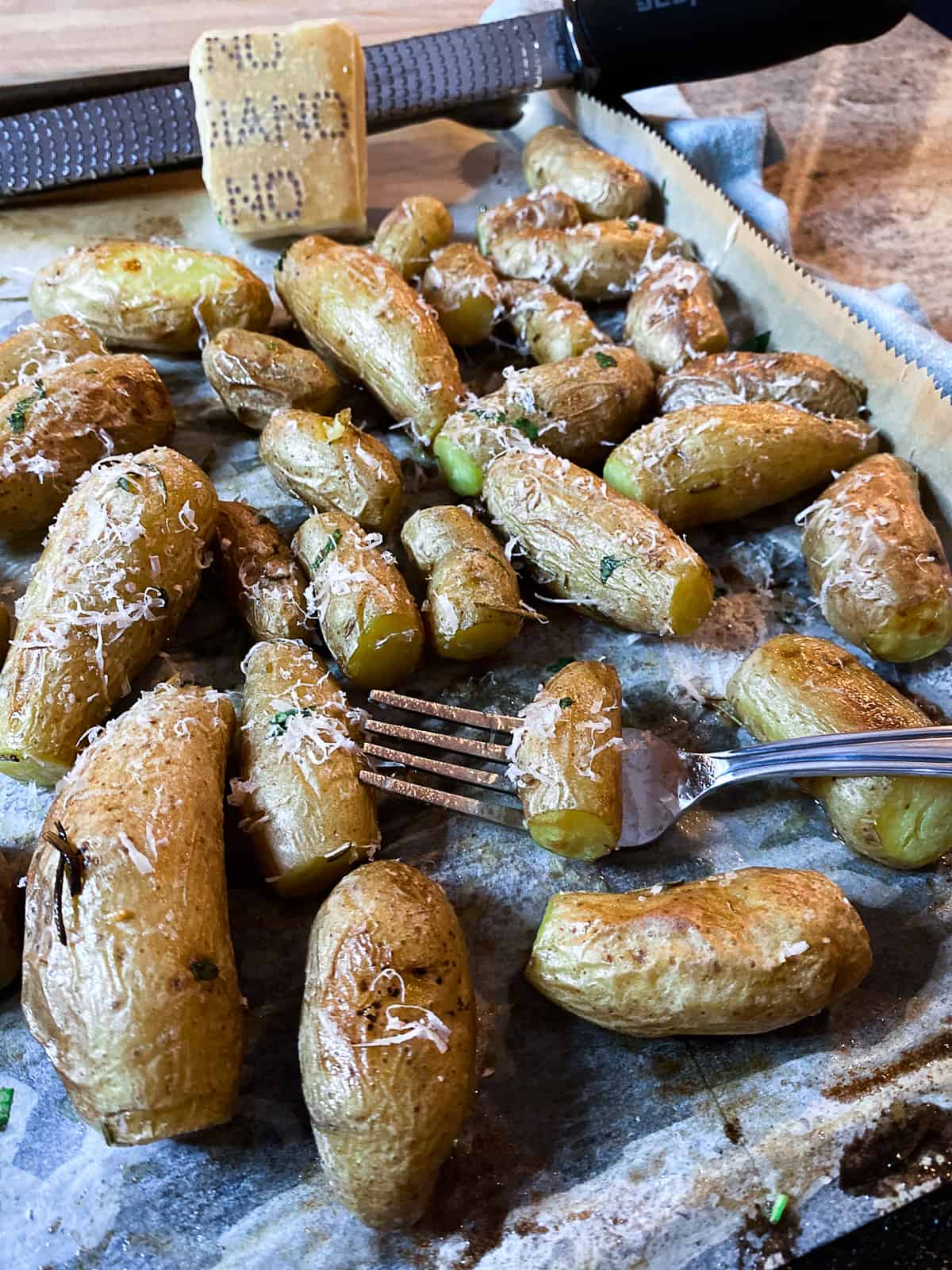 They're crispy and roasted with herbs on the outside, but smooth and creamy inside. This recipe for sous vide fingerling potatoes has tips for baking them in the oven, too.
Crispy Sous Vide Little Potatoes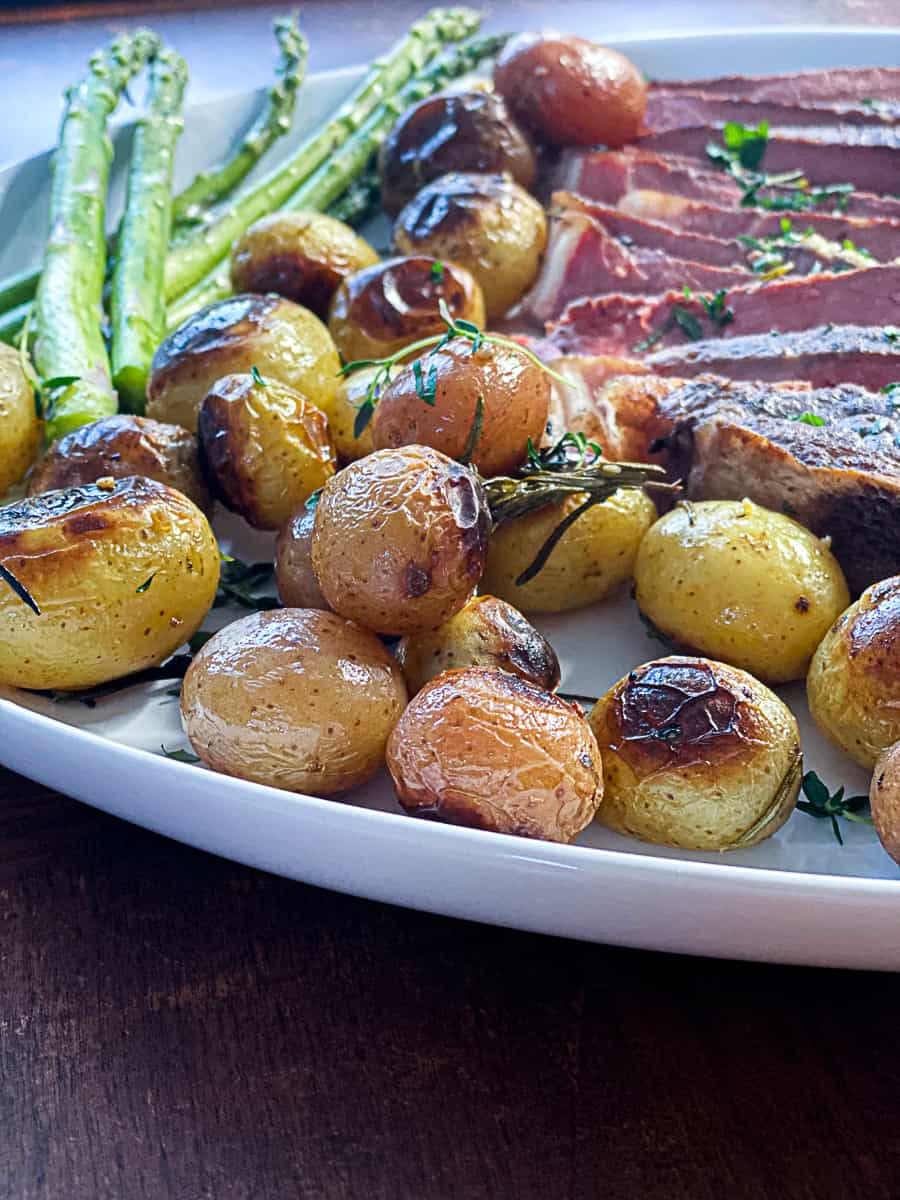 Similar to the recipe above, these are cooked with the sous vide function on the Instant Pot or with a sous vide machine, then broiled in the oven.
The fresh thyme and buttery glaze on these sous vide little potatoes make them perfect for any holiday menu or steak dinner. Try this sous vide T bone steak with your little potatoes!
Air fryer baby potatoes side dish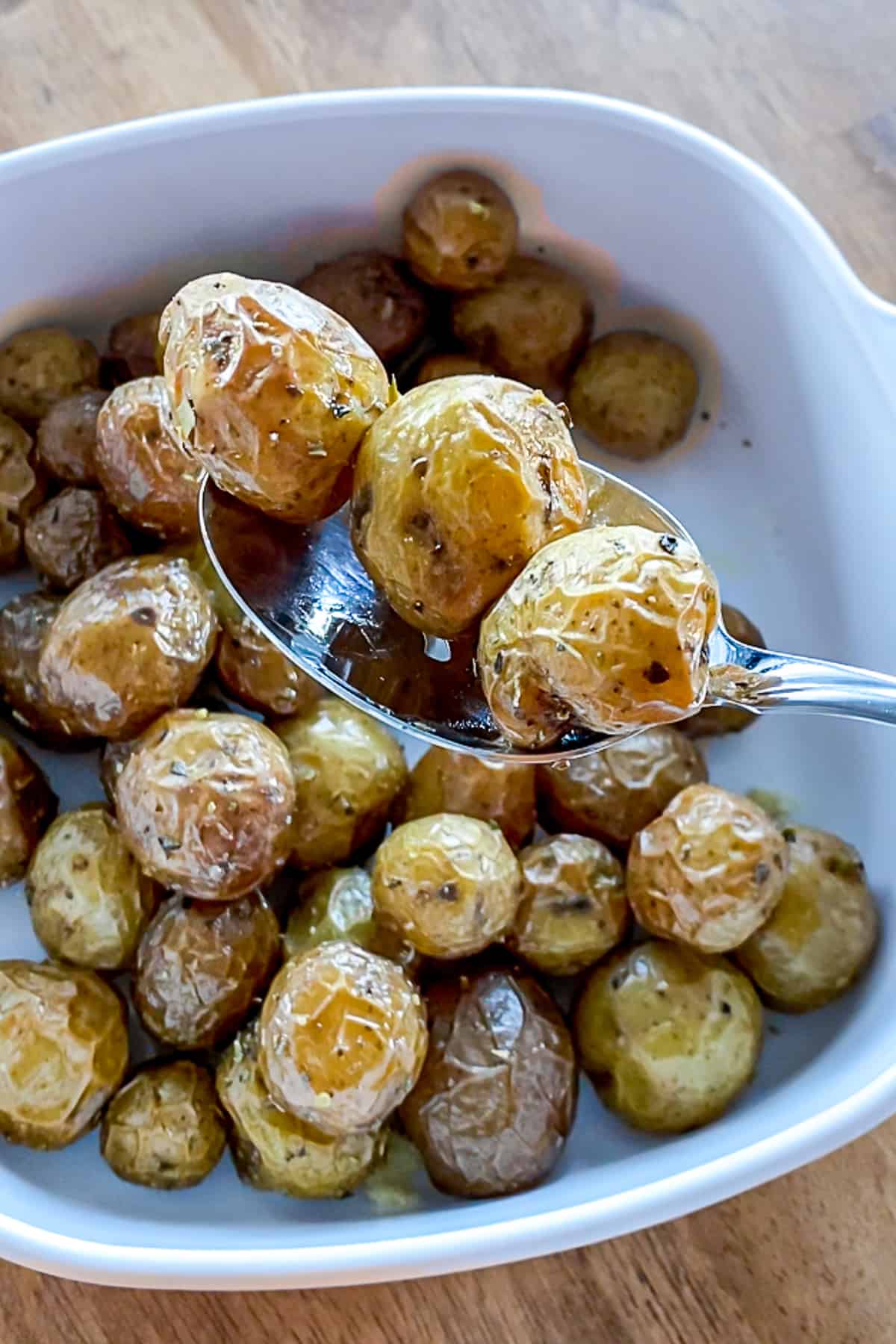 These air fryer baby potatoes pair nicely with that bird that you'll be having.
Simply toss the baby potatoes in Italian olive oil seasoning and air fry at 400 degrees F for 10 mins then flip and continue air frying for another 10 – 15 minutes until done.
Crispy Herb Roasted Baby Potatoes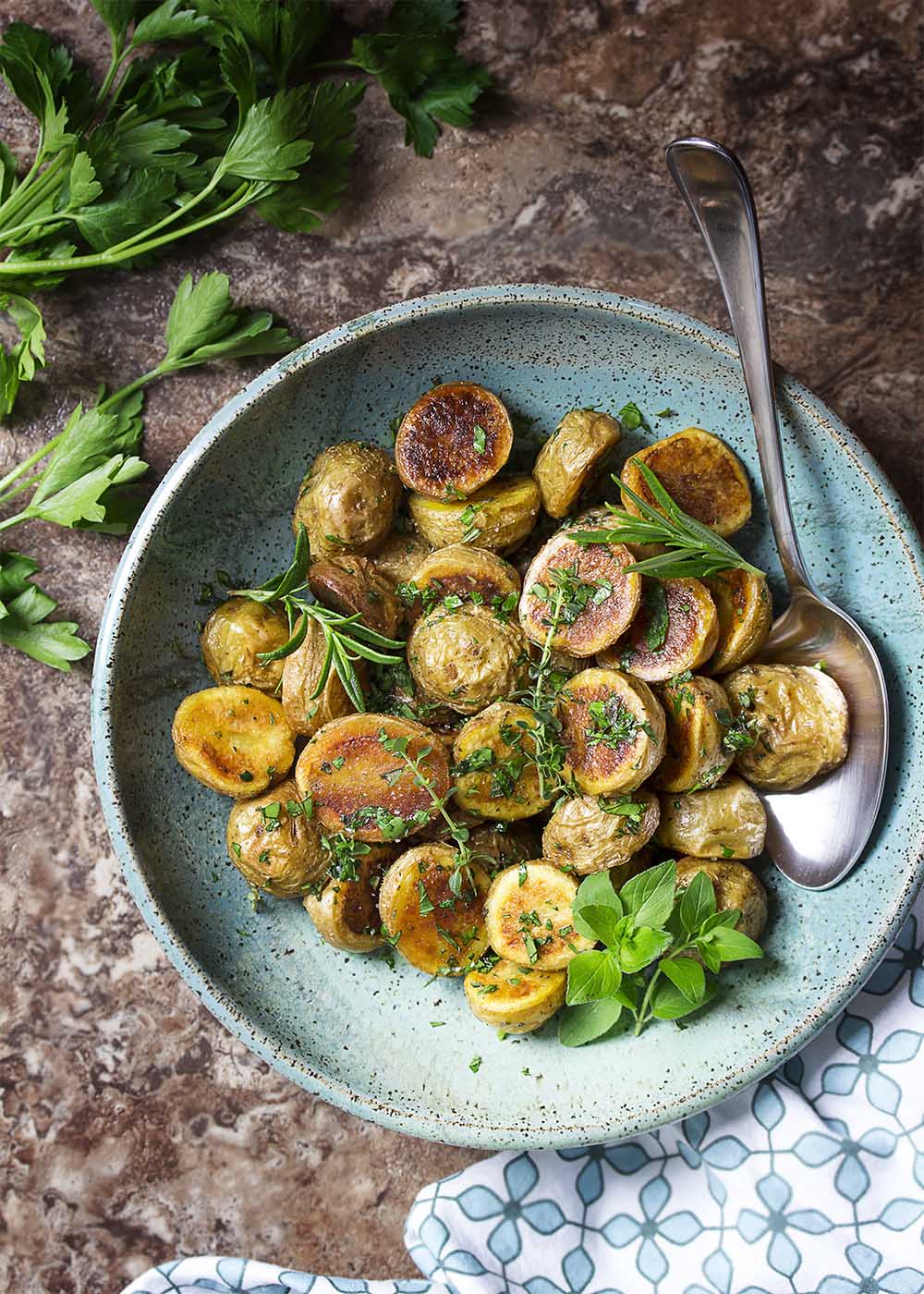 Baby yukon gold potatoes are sliced in half and tossed with olive oil, salt and pepper, and finished with fresh herbs in these crispy oven roasted herb potatoes.
They are an easy and delicious recipe for Thanksgiving, Christmas, and other holidays.
Get the recipe at Just a Little Bit of Bacon
Roasted Sweet Potatoes And Farro Salad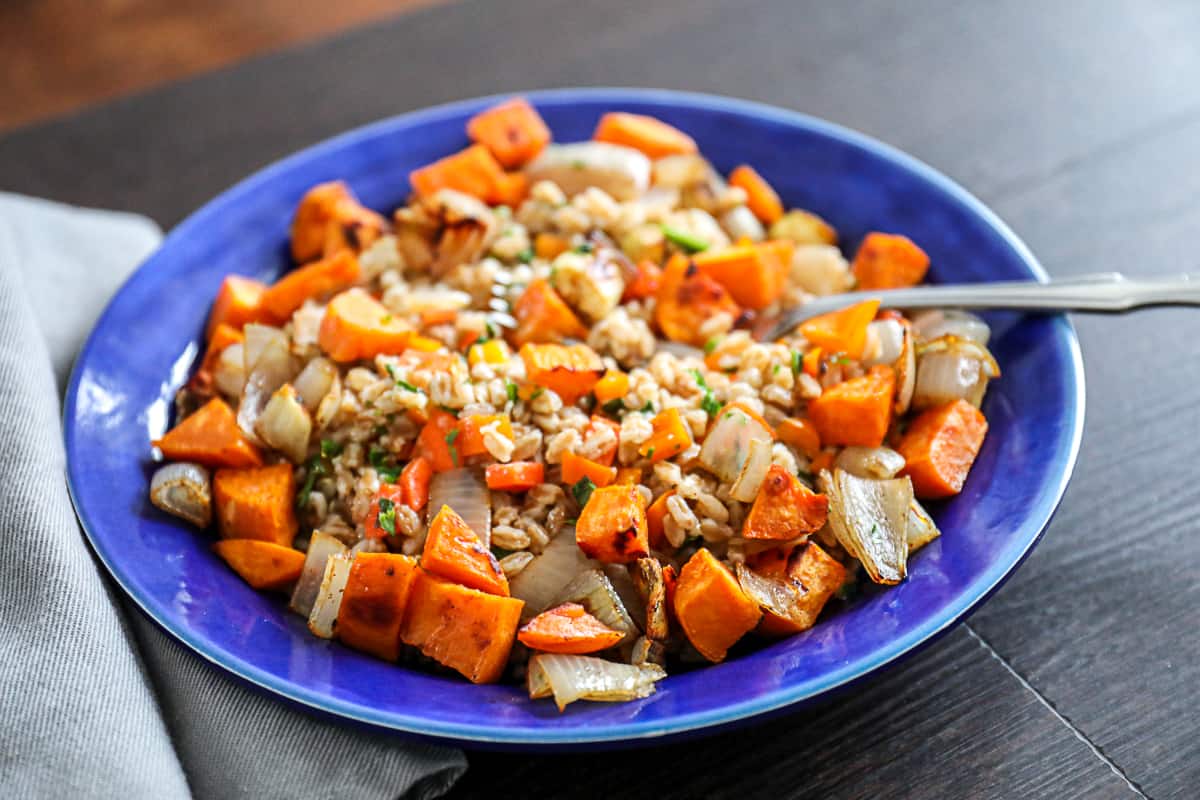 This vegetarian Roasted Sweet Potatoes And Farro side dish doubles as a make ahead salad. The roasted vegetables include onions and garlic. Top it with basil spinach pesto for even more flavor.
Want to make restaurant quality petite filet mignon to eat with your potatoes? Check out this sous vide filet mignon recipe that's sure to blow you away!
Crispy Smashed Potatoes with Mojo Sauce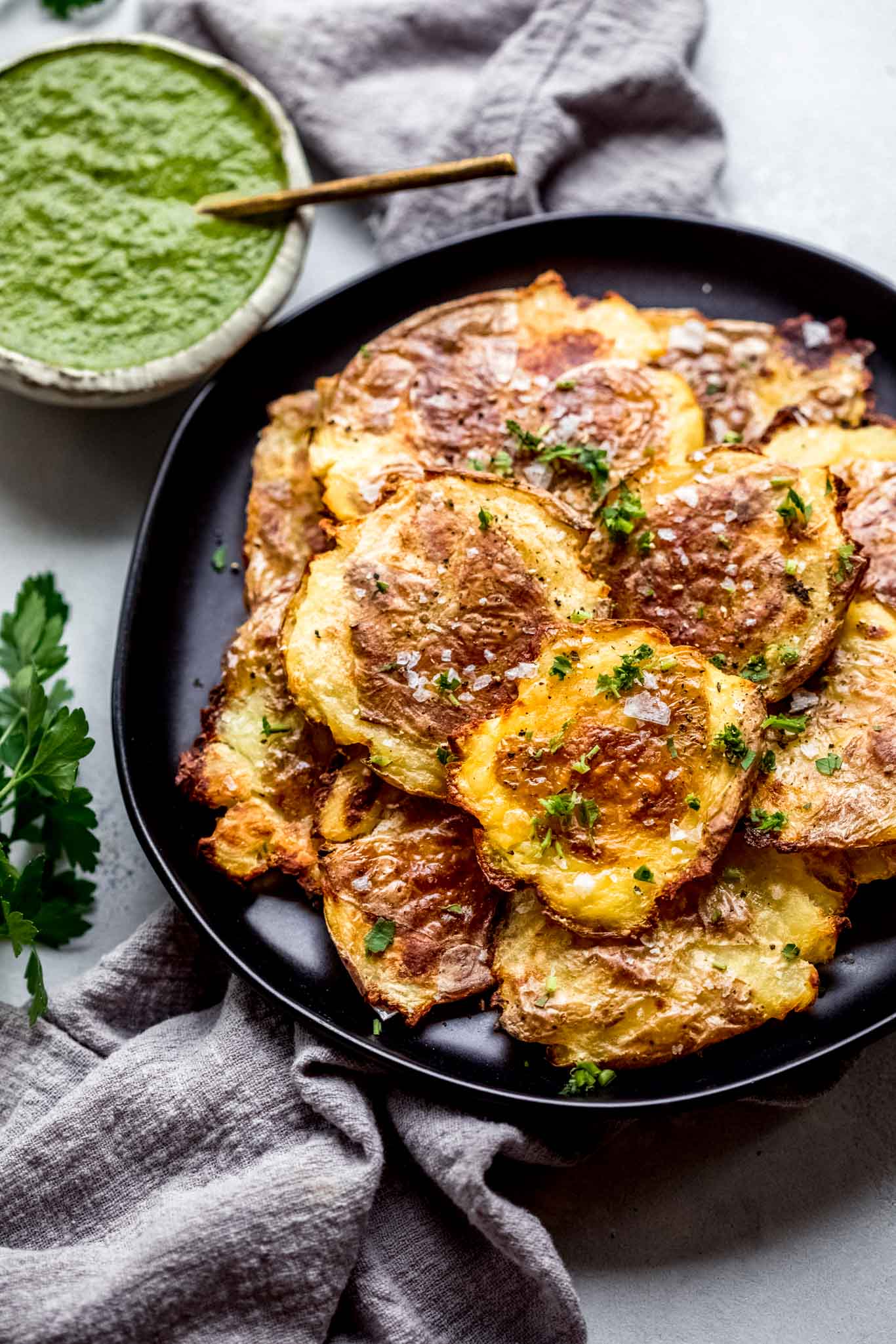 These crispy potatoes are the most delicious side dish! Crispy on the outside and fluffy on the inside, they're amazing on their own or topped with sour cream and mojo sauce. Try using red potatoes for a little variety, or add a squeeze of lime or lemon juice for a little zing.
Get the recipe at Platings and Pairings
Crispy Roasted Ranch Potatoes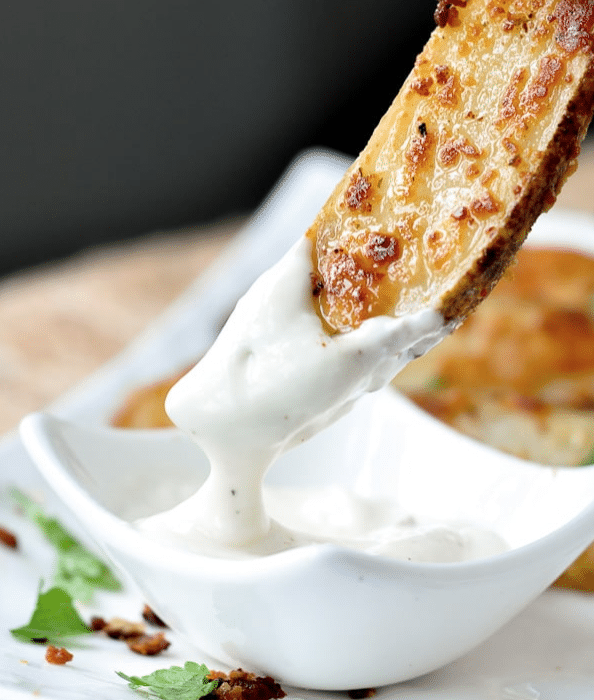 These are like hand-held baked potatoes. Crispy Roasted Ranch Potatoes are the ultimate hands-off side dish with only a few ingredients. Easy ranch potatoes are tossed with Hidden Valley ranch seasoning, parmesan cheese, and baked till brown and crisp.
Get the recipe at Mama Gourmand
See this recipe for smoked baked potatoes…
Potato soups to serve with steak dinners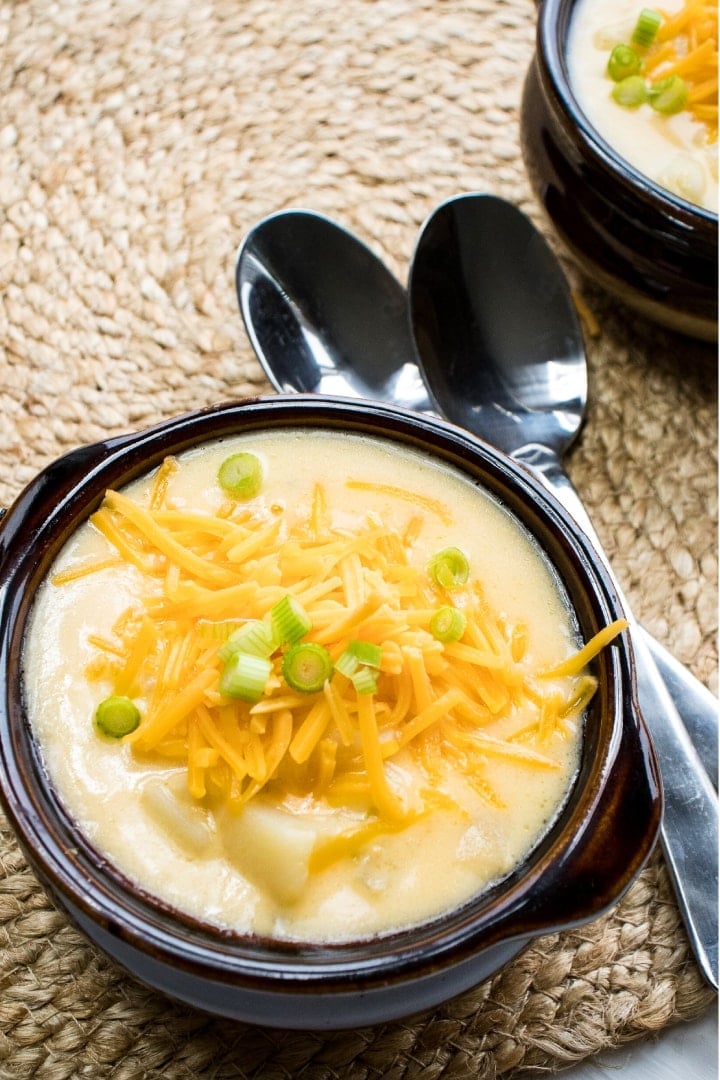 For an easy meal, check out this slow cooker whole chicken recipe.
Hash Brown Potato Soup
Serve this easy potato side dish as an appetizer for a steak dinner. It can be made in 20-30 minutes with shelf-stable (or freezer) ingredients that you may have on hand.
Using frozen diced hash browns instead of potatoes is a quick and easy way to cut dinner prep in half for this quick and easy soup, which is ready in under 30 minutes.
It's an excellent option for a last minute dinner side for air fryer filet mignon.
Get the recipe at Add Salt & Serve
More Potato Side Dishes
Grilled potatoes (Sweet Potato or Regular)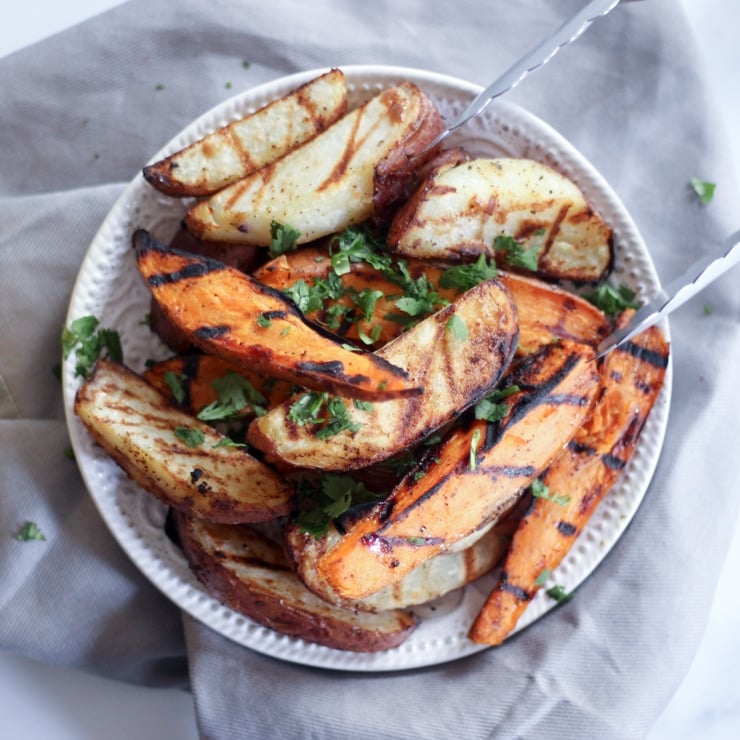 You can make almost all of your meal – from the steak to these potatoes – at the same time on the grill.
These sweet potato fries are boiled first, then quickly grilled to add flavor and those beautiful grill marks.
Get the recipe for grilled potato wedges.
Ranch Air Fryer Potatoes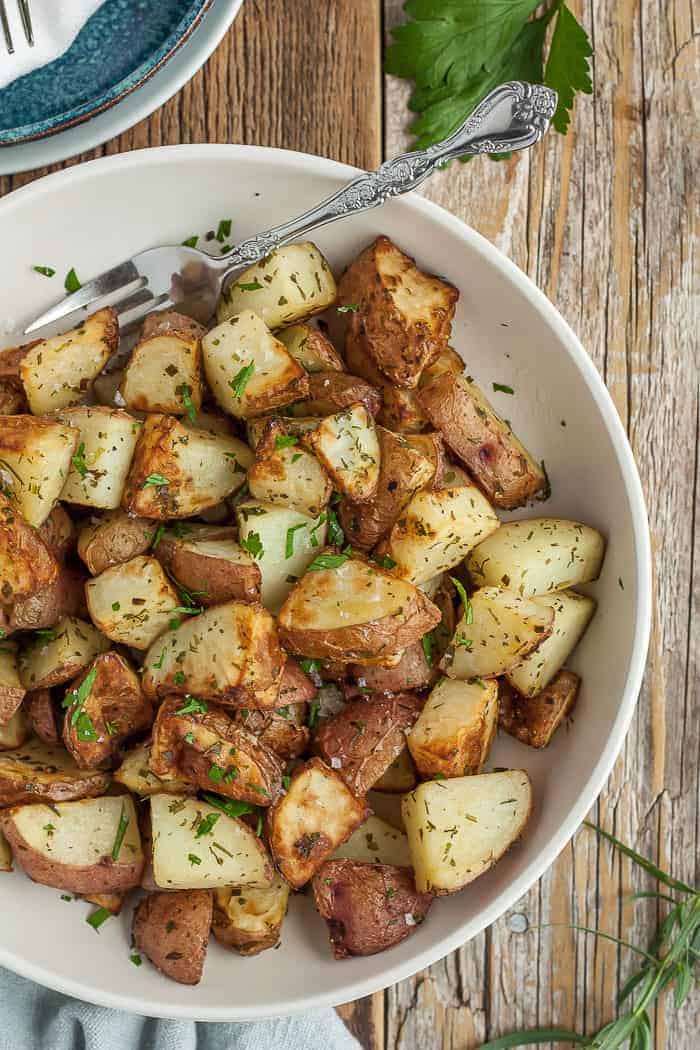 Crispy and perfect, these roasted ranch air fryer potatoes are a fast and delicious side dish. You'll love that they're Whole30 compliant, vegan, and vegetarian and packed with so much flavor!
Vegan Curry with Sweet Potatoes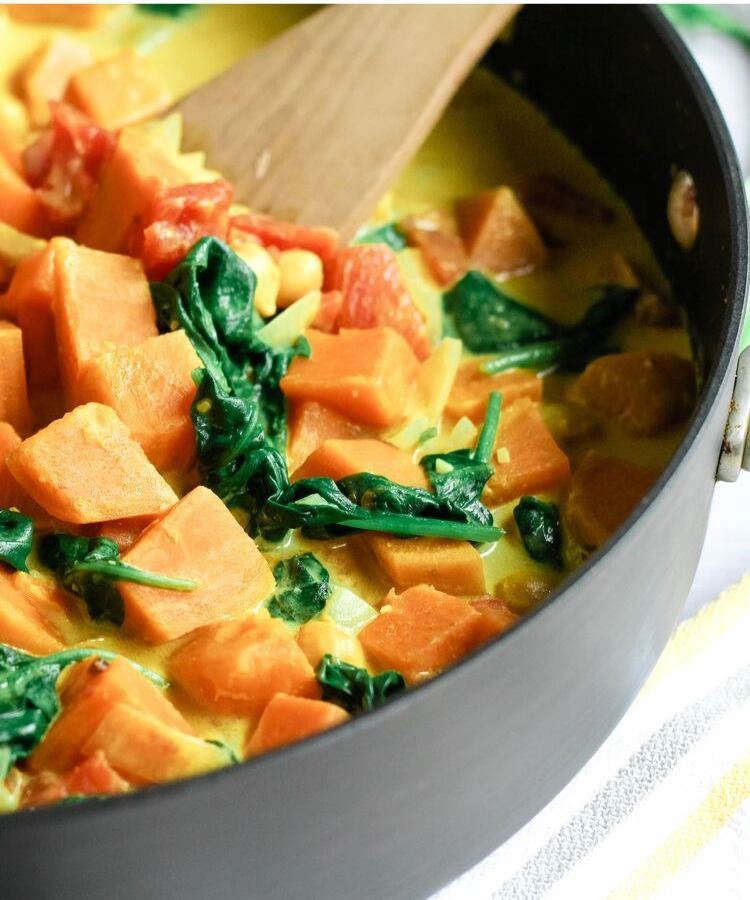 This creamy vegan curry with sweet potatoes and coconut milk is made with chickpeas, spinach, tomatoes, turmeric, ginger, and green curry paste.
It's big on flavor without being too spicy, making it a great dish for kids.
Done in 30 minutes and easy to customize, this recipe will become one of your go-to dishes.
Get the recipe at Keeping the Peas
Easy Pan-Fried Potatoes (2 Ways)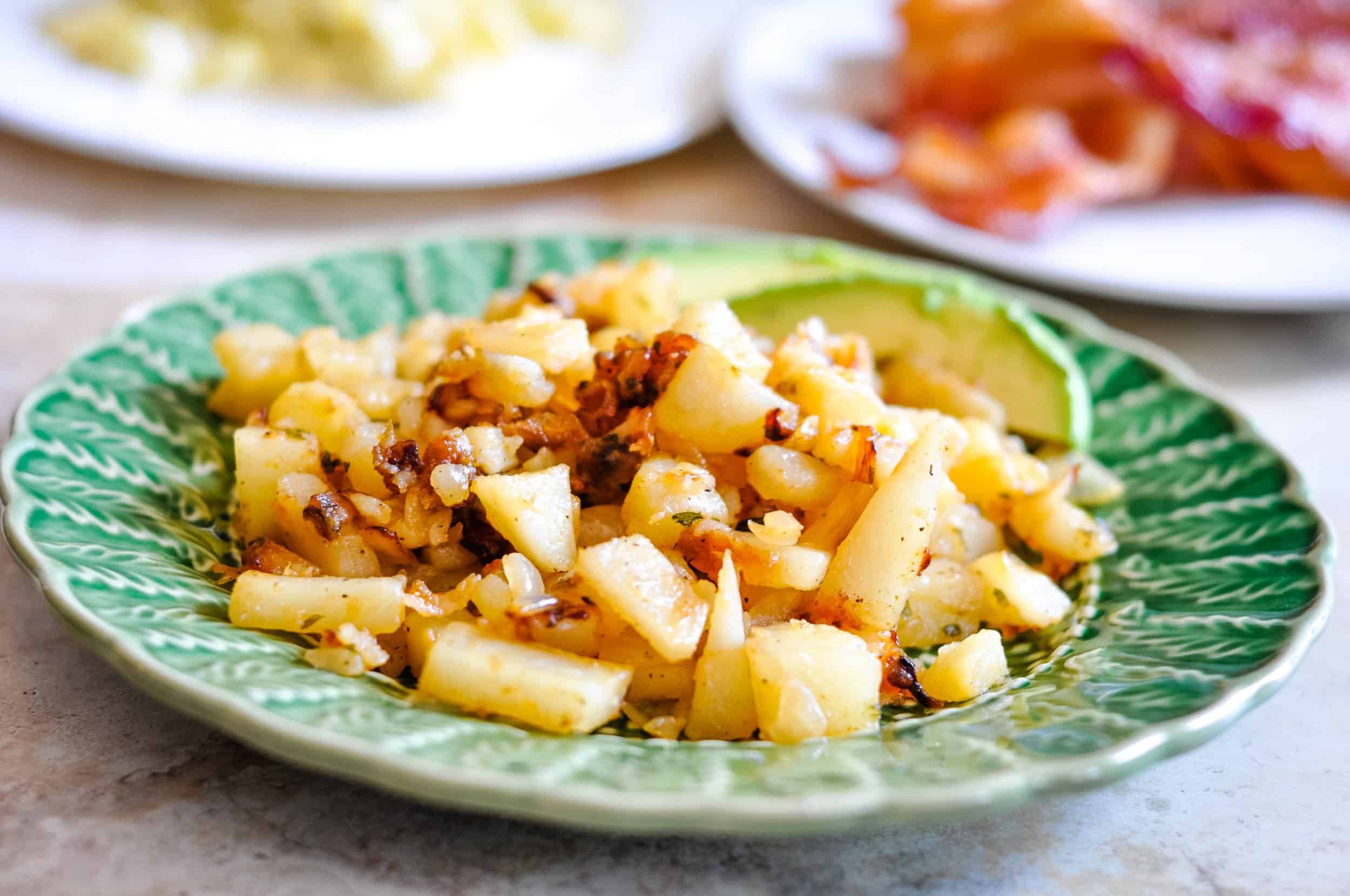 These pan fried potatoes are the perfect bestie for any main dish or breakfast menu! Plus, there's no need to pre-cook, soak, or otherwise baby these taters.
Get the recipe at Healthy Christian Home
Simple Kale Potato Salad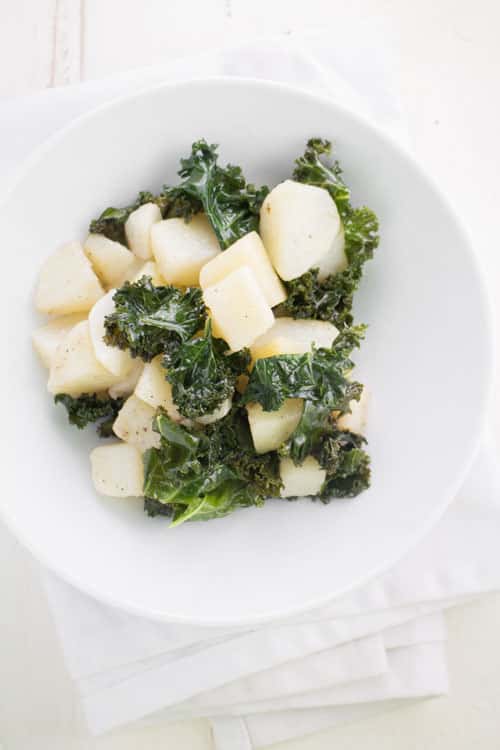 This easy recipe for Simple Kale Potato Salad is one of my favorite healthy meals or side dishes. The ingredients are straightforward: potatoes, kale, and olive oil – that's it! Paleo, Whole30-compliant, and vegan friendly.
Get the recipe at Brooklyn Farm Girl
Want more healthy meal ideas? Check out these paleo sous vide recipes!
Air Fryer Potato Latkes Bites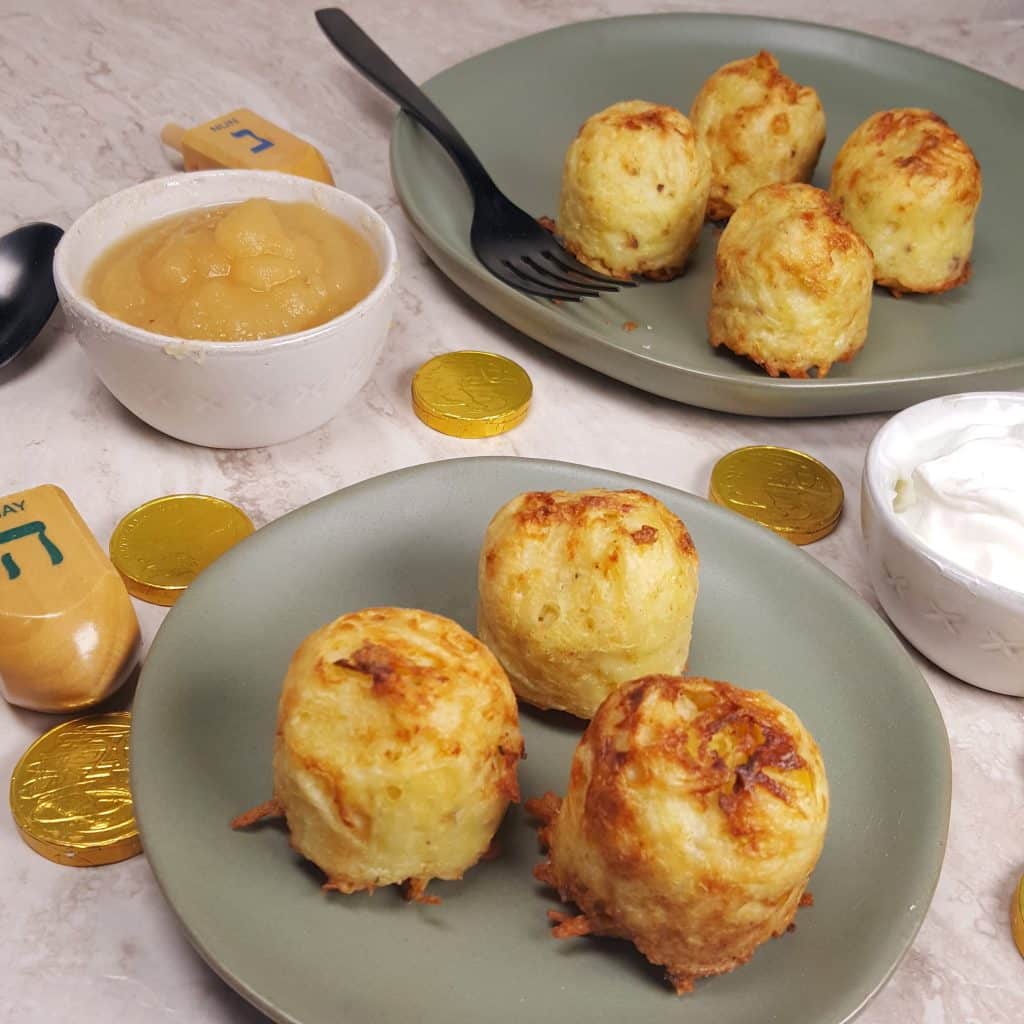 Here's an air fryer potato dish to serve with steak. Crispy, yet soft on the inside, puffs of delicious Potatoes, this Air Fryer Potato Latkes Bites recipe is as traditional as they come.
Get the recipe at This Old Gal
Easy Scalloped Potatoes Recipe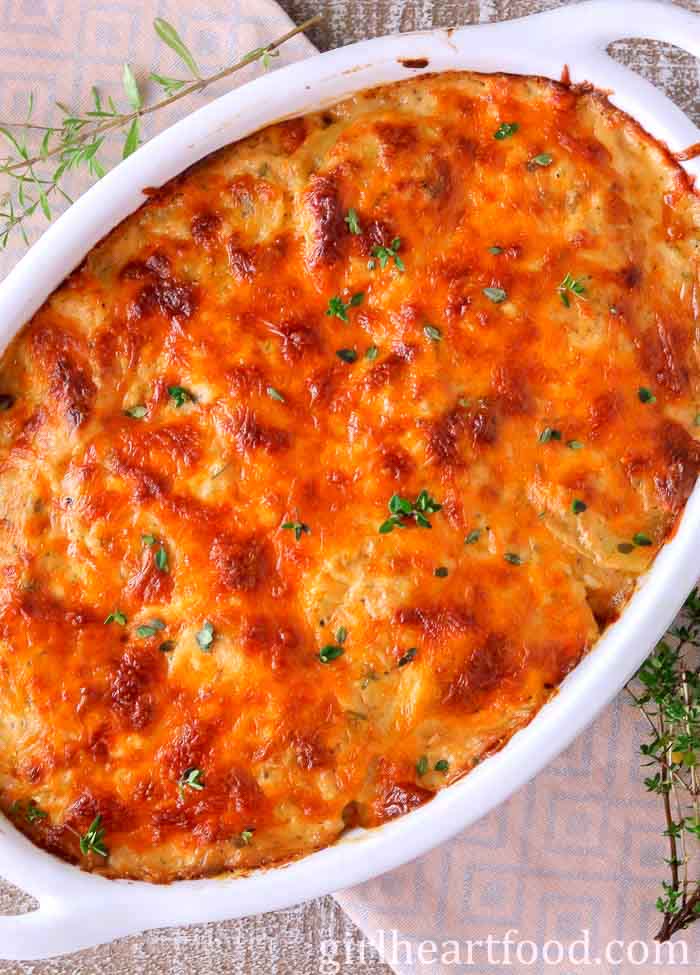 Scalloped potatoes from scratch are easier than you think! This easy potato side dish has lots of herbs, spices, garlic and, of course, cream. They're super delicious and make for a fabulous vegetable side dish the whole family will love.
Get the recipe at Girl Heart Food
Loaded Potato Bites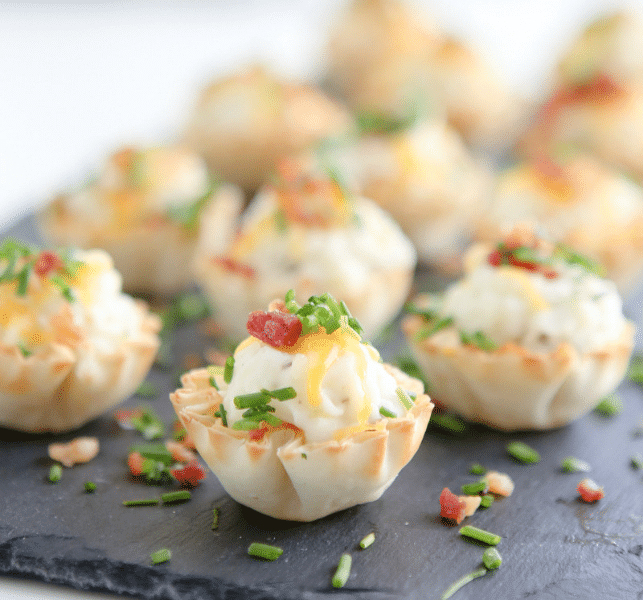 Take phyllo shells, fill 'em with some creamy mashed potatoes and pile up the toppings.
Get the recipe at Athens Foods
For more pastry dough deliciousness, see these raspberry puff pastry desserts.
Other Delicious Sides for Steak
Readers also love these easy side dishes…
More delicious ways to cook with herbs
Want more recipes? Find new ways to enjoy cooking with herbs here on Sip Bite Go and get my free ebook with herb recipes.
My new cookbook is available! Check out The Home Chef's Sous Vide Cookbook.