Wondering what to do with the sous vide button on the Instant Pot? My tasty guide to the best Instant Pot sous vide recipes covers it all — from eggs, to steak, chicken, and pork. You can even sous vide vegetables like sous vide beets and asparagus.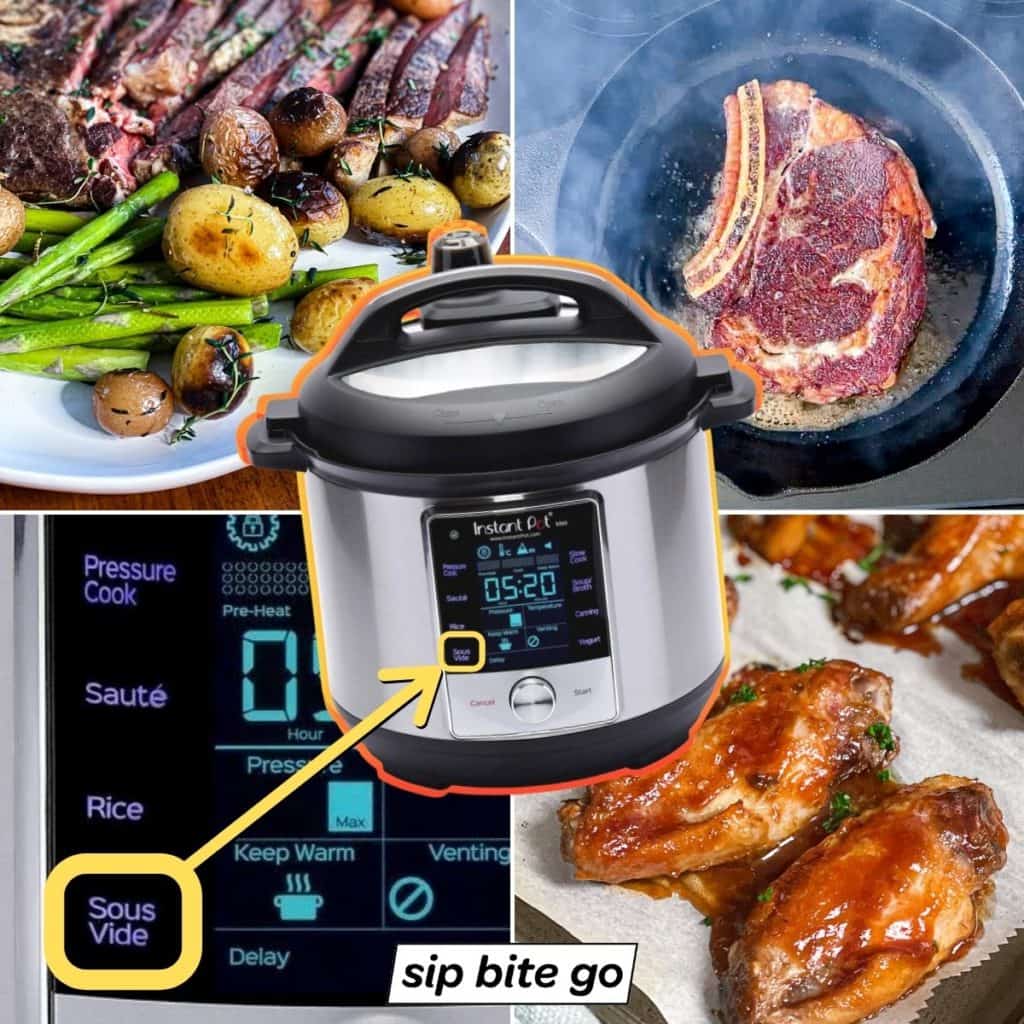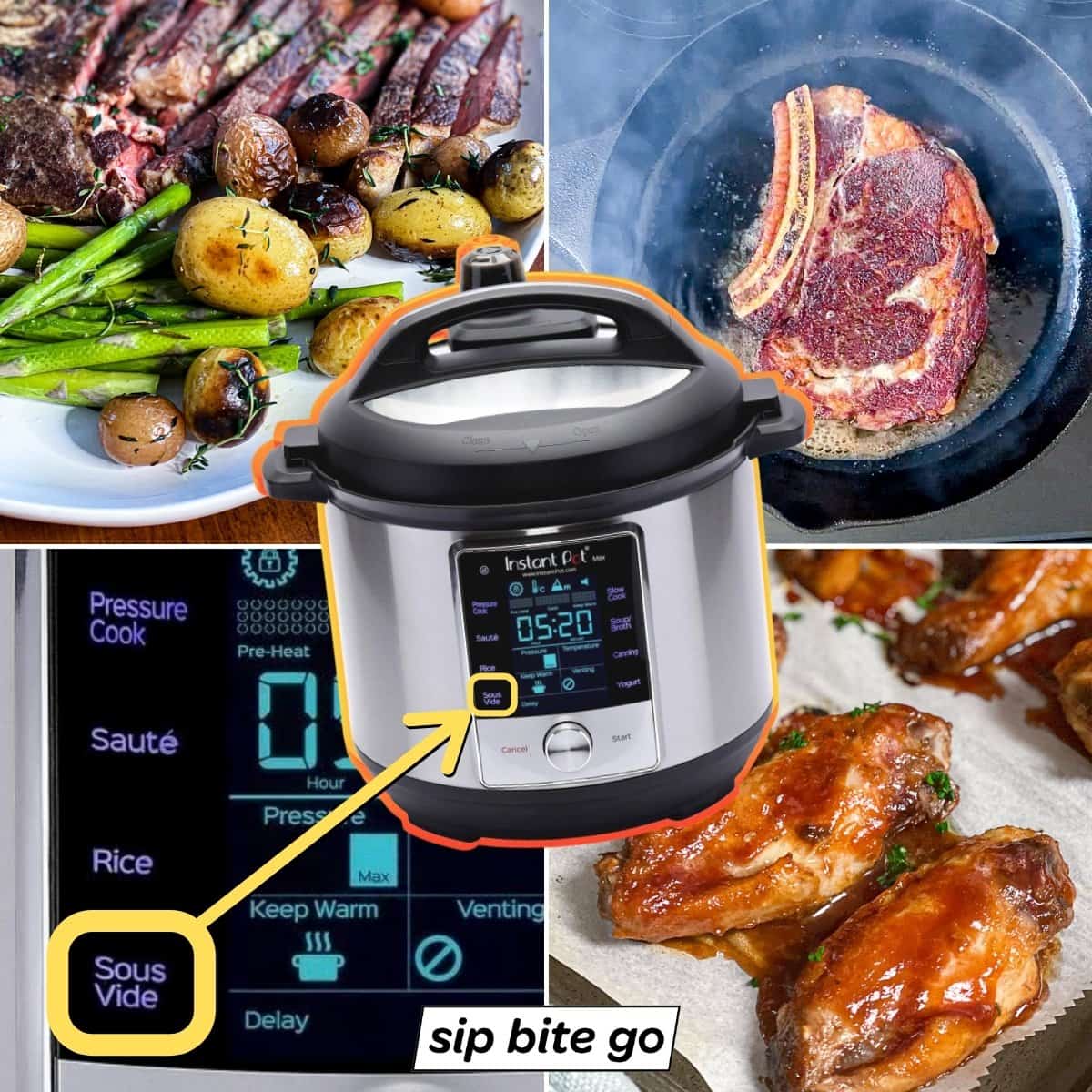 Since writing my sous vide cookbook, I've become a master of this method of cooking food under water. Since then, the Instant Pot sous vide model has become quite popular and more people are cooking this way every day.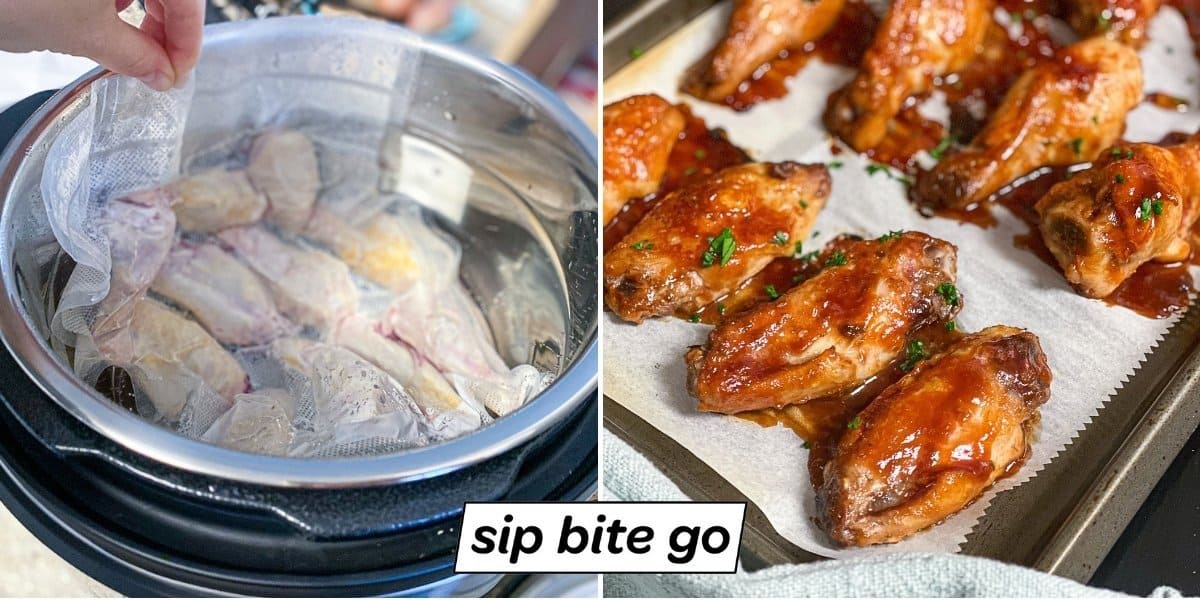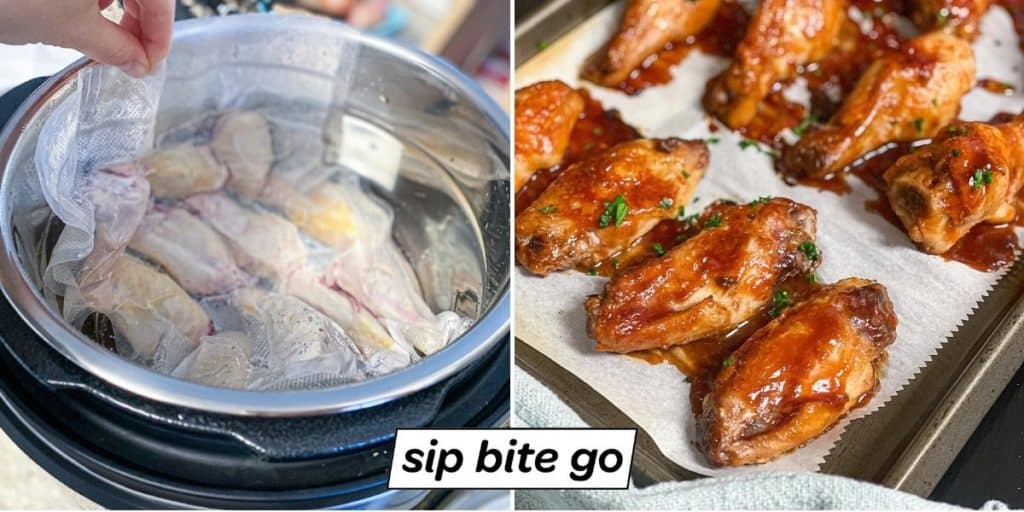 What's good to sous vide in the Instant Pot?
When people ask me this, I say cook steak!! But pretty much everything from restaurant quality steaks (hello fillet mignon!) to copycat Starbucks style egg bites to sous vide vegetables are delicious.
With these tasty ideas, you'll get to use the sous vide model Instant Pot multicooker that you already have (like the Duo) in your kitchen to explore a whole new culinary landscape. As long as there is a sous vide button on the Instant Pot you're using, and they fit (more on that below) then these recipes will work.
So give this page a scroll to see my picks for easy IP sous vide dishes to try cooking with your sous vide model.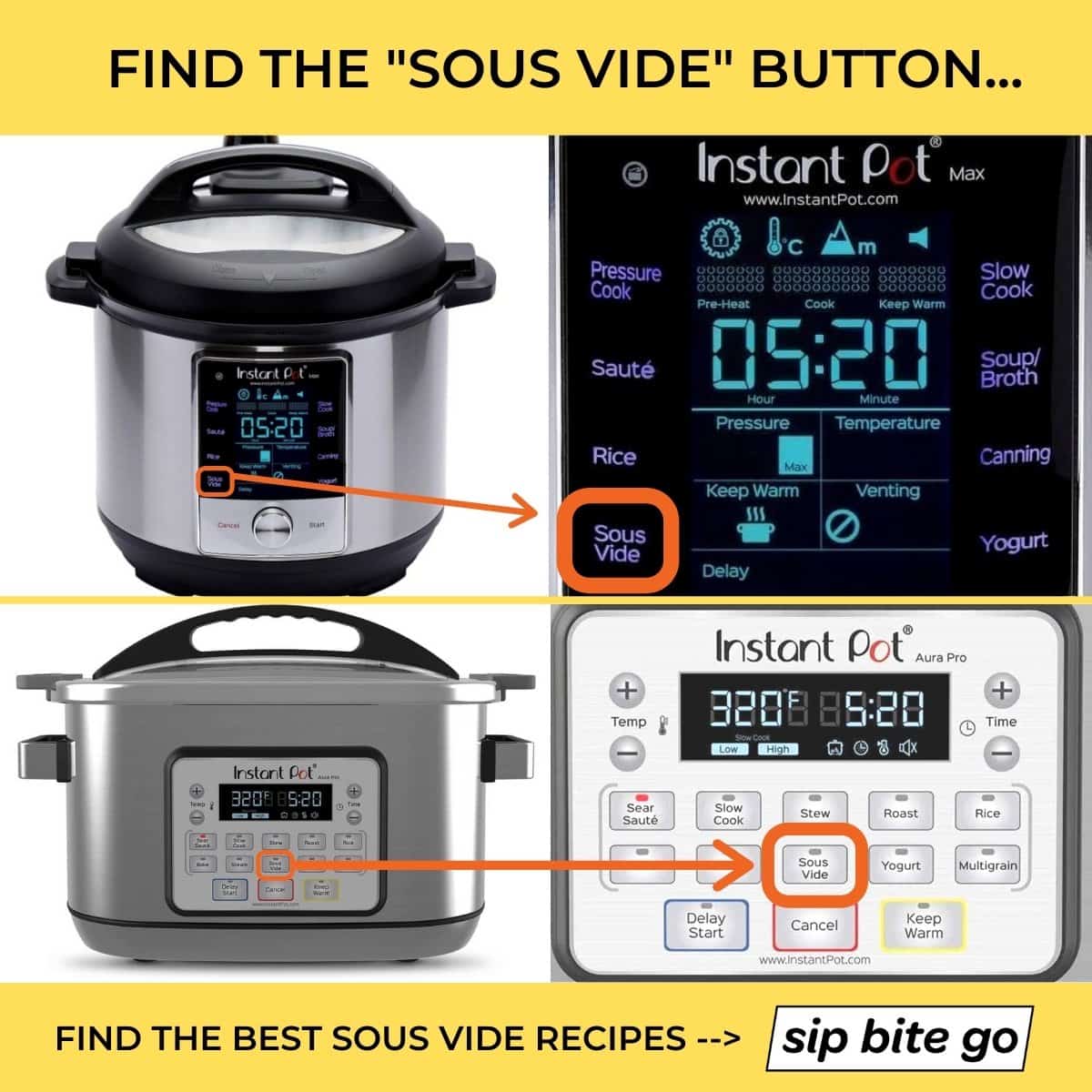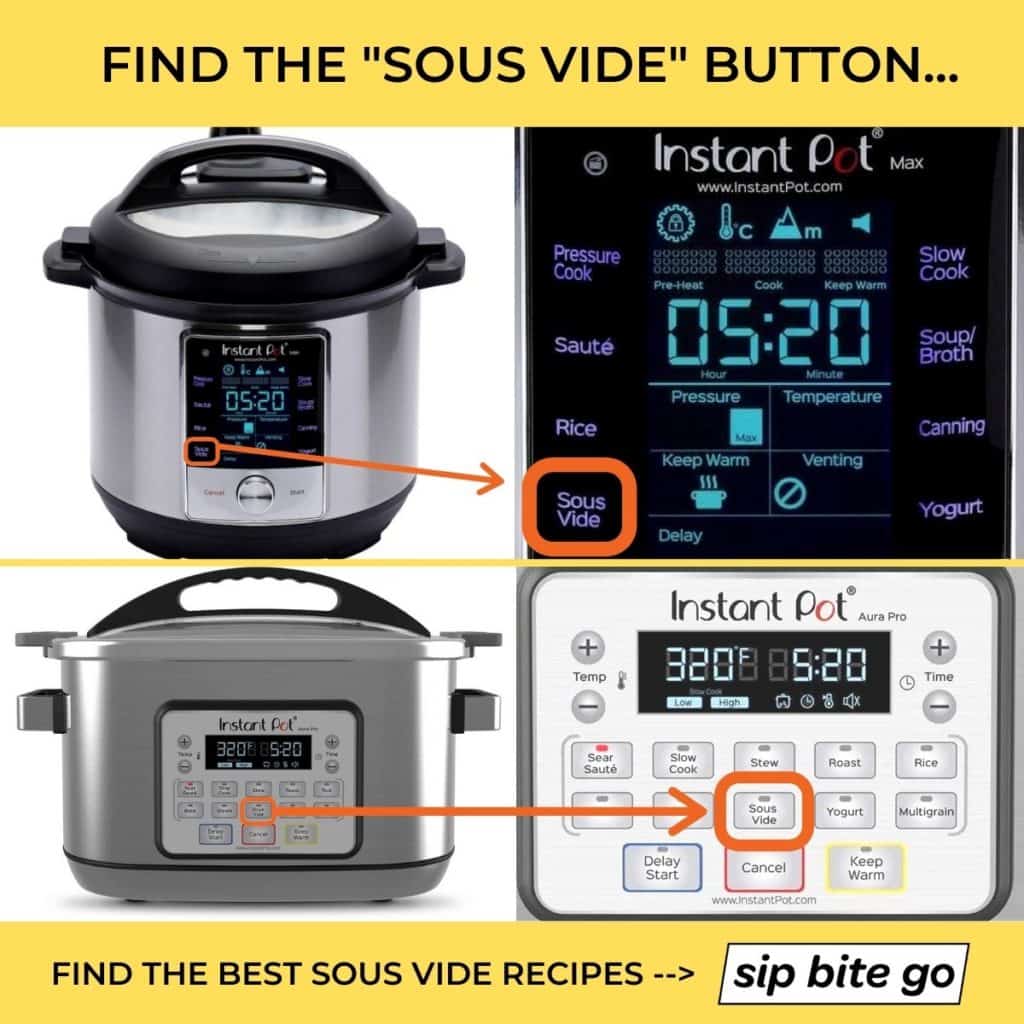 The basics of sous viding in the Instant Pot
It's very easy to sous vide in the Instant Pot—just:
Fill the inner pot of the Instant Pot with water
Ziploc or vacuum seal the bags of food
Place your vacuum-sealed (or ziploc bagged) food inside — see next section for tips
Push the sous vide button
I have a sous vide Instant Pot guide that walks you through this, complete with pictures.
If you're new to the whole concept of sous vide, have a read through my blog on why is sous vide so popular, and then go on to this article on beginner tips for sous vide cooking. You'll be surprised how straight forward it all is!
Warning: not all sous vide cooks fit in the Instant Pot
Sous vide cooking dishes means there are almost no limitations when it comes to making restaurant style food at home. The only caveat to that point is that Instant Pots are too small to sous vide large ingredients in-tact like 7 LB sous vide pulled pork or sous vide whole chicken. So cut up the meat or work with portions small enough to submerge in water within your Instant Pot, and you'll be good to go!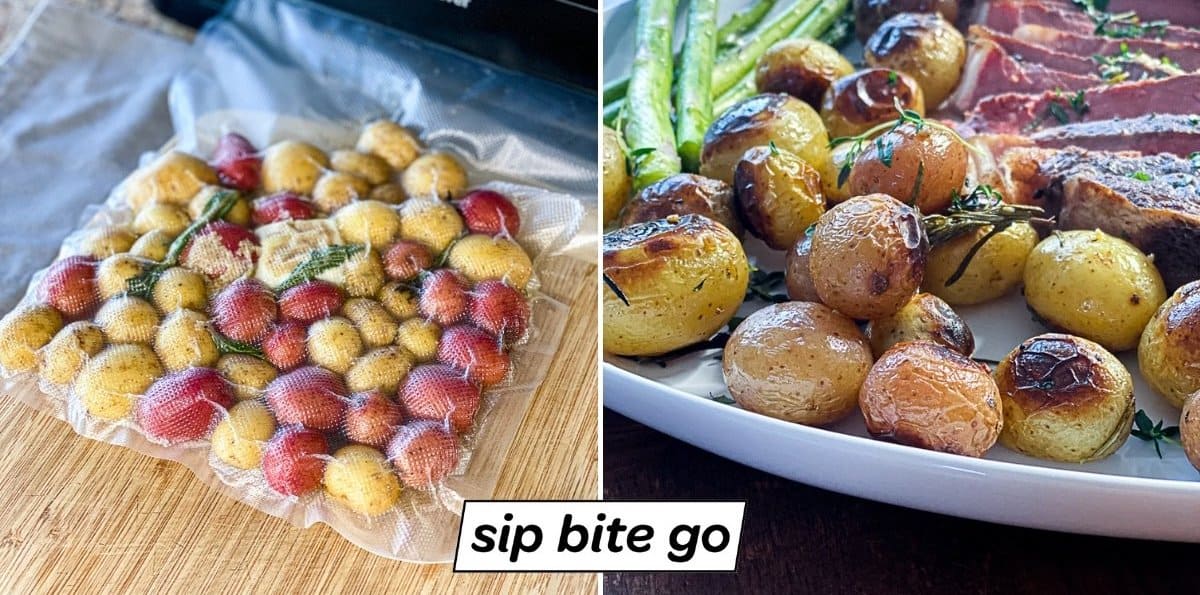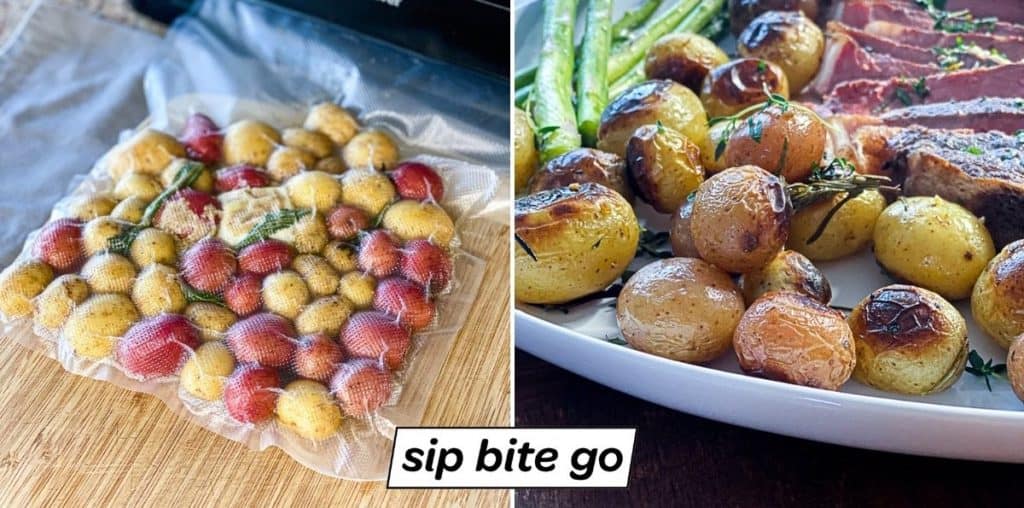 Do you need a vacuum sealer for sous viding in the Instant Pot?
One last thing before the list… Many of the extensive sous vide recipes here at Sip Bite Go use vacuum sealing. I like to vacuum seal food so it stays in a flat layer, which means there is plenty of warm water flowing around the food as it cooks.
In most cases, you can use ziplock bags for sous vide with the water displacement method (where you slowly drop the food, in the bag, into water, while keeping the ziploc bag open so the air releases, then sealing it when there is no air left in the plastic bag, so the food doesn't float).
Okay — now you're ready for the recipes!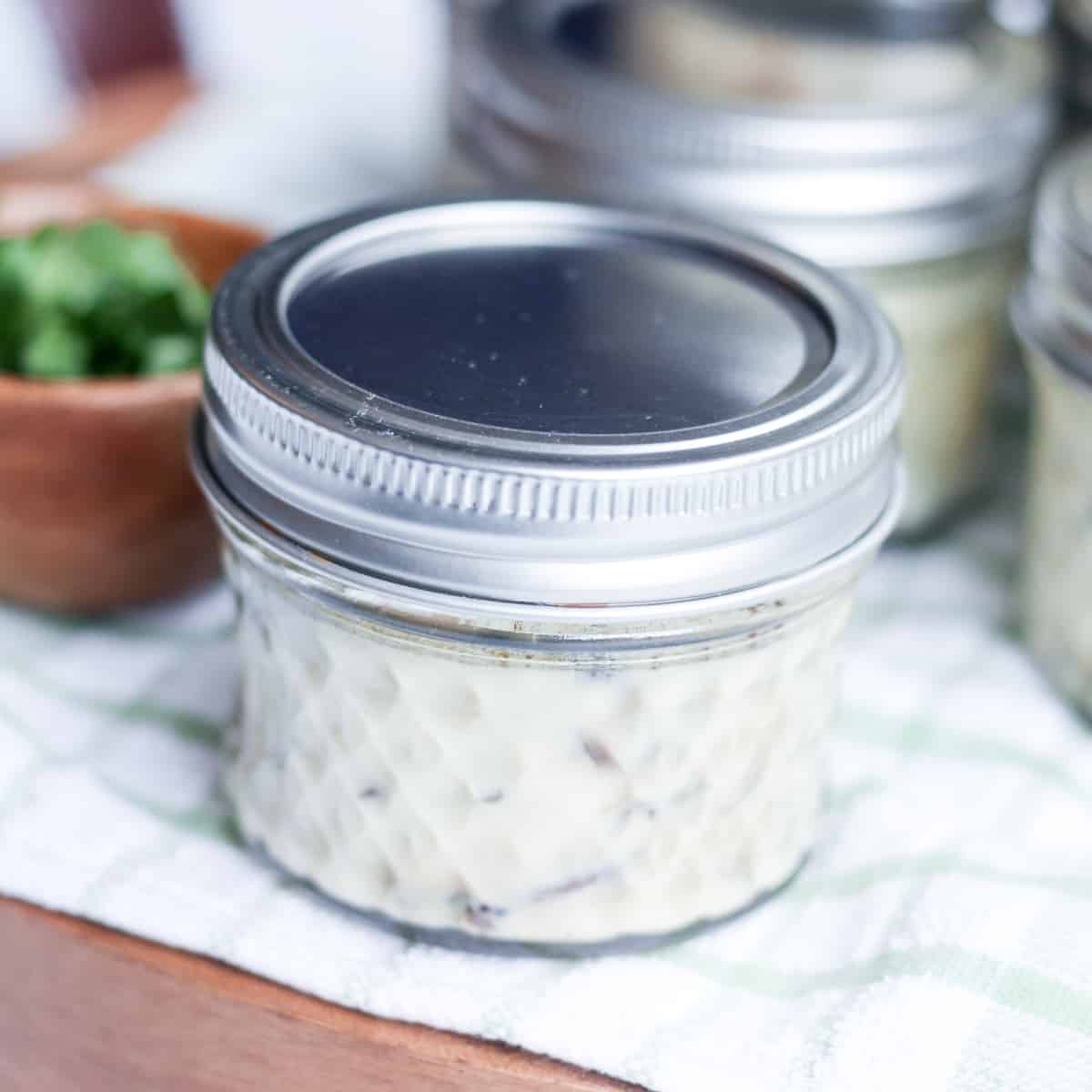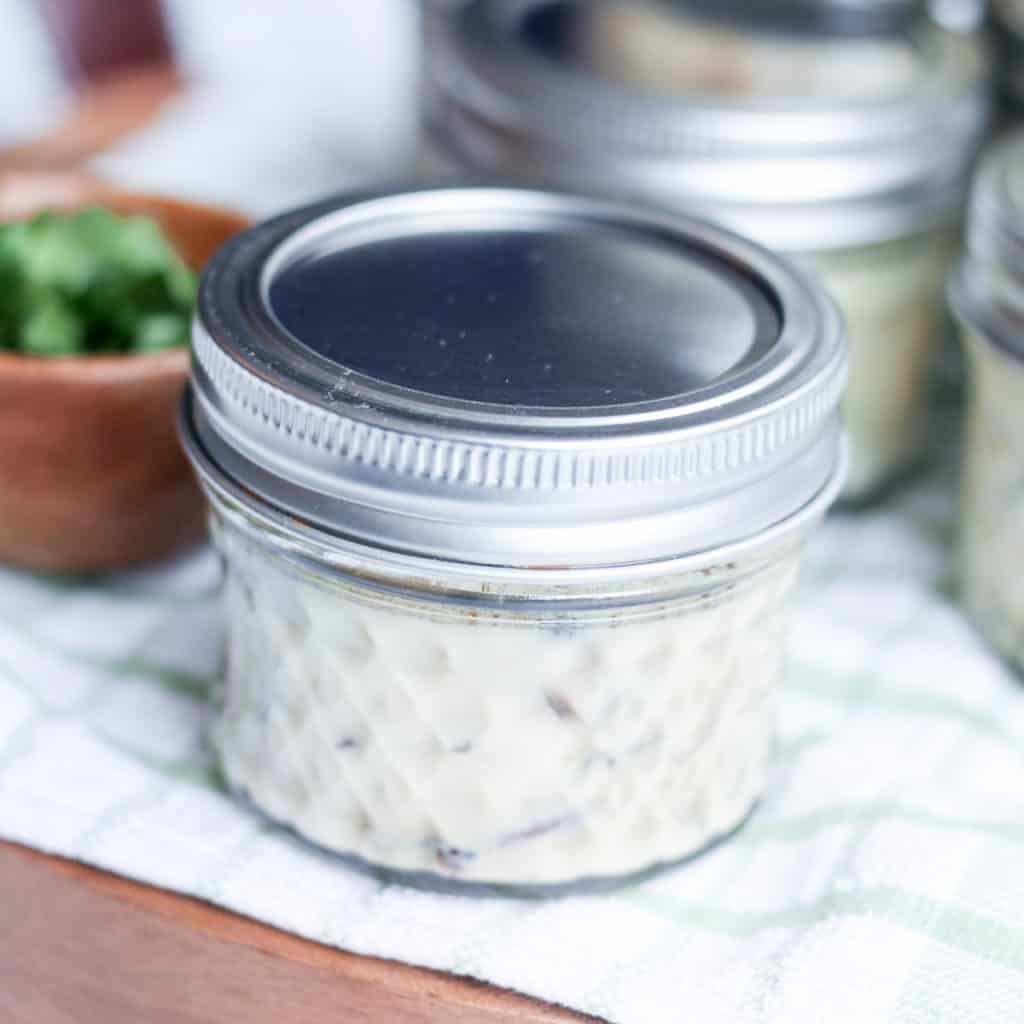 Instant Pot sous vide egg bites and more
Sous vide Instant Pot Starbucks egg bites
These are everyone's favorite to talk about, so let me start here… these sous vide egg bites are so easy to make at home and you get the bonus of throwing in your own mix-ins. Sometimes I'll whip up roasted cherry tomatoes or red wine caramelized red onions or sauteed mushrooms in herbs to make them gourmet.
Other times I'll just throw in some sous vide bacon and cheese and cook 'em up.
Other sous vide Instant Pot egg recipes
Not all sous vide recipes call for extended cook times—in fact, one of my most popular recipes, sous vide soft boiled egg, cooks in only nine minutes (but can vary based on your desired cook temperature and time combination). It's important to be precise: preheat your hot water bath before you dunk those eggs in, and have an ice bath ready as soon as your timer goes off so that you can stop the cooking immediately.
Serve these eggs with English muffins for breakfast, or in any recipe that calls for soft boiled eggs. Sometimes I'll make them for sous vide soft boiled egg avocado toast, a nutritious pick-me-up that both looks and tastes delicious.
See my full guide to sous vide breakfast ideas if that's your favorite meal of the day. You can even sous vide French toast!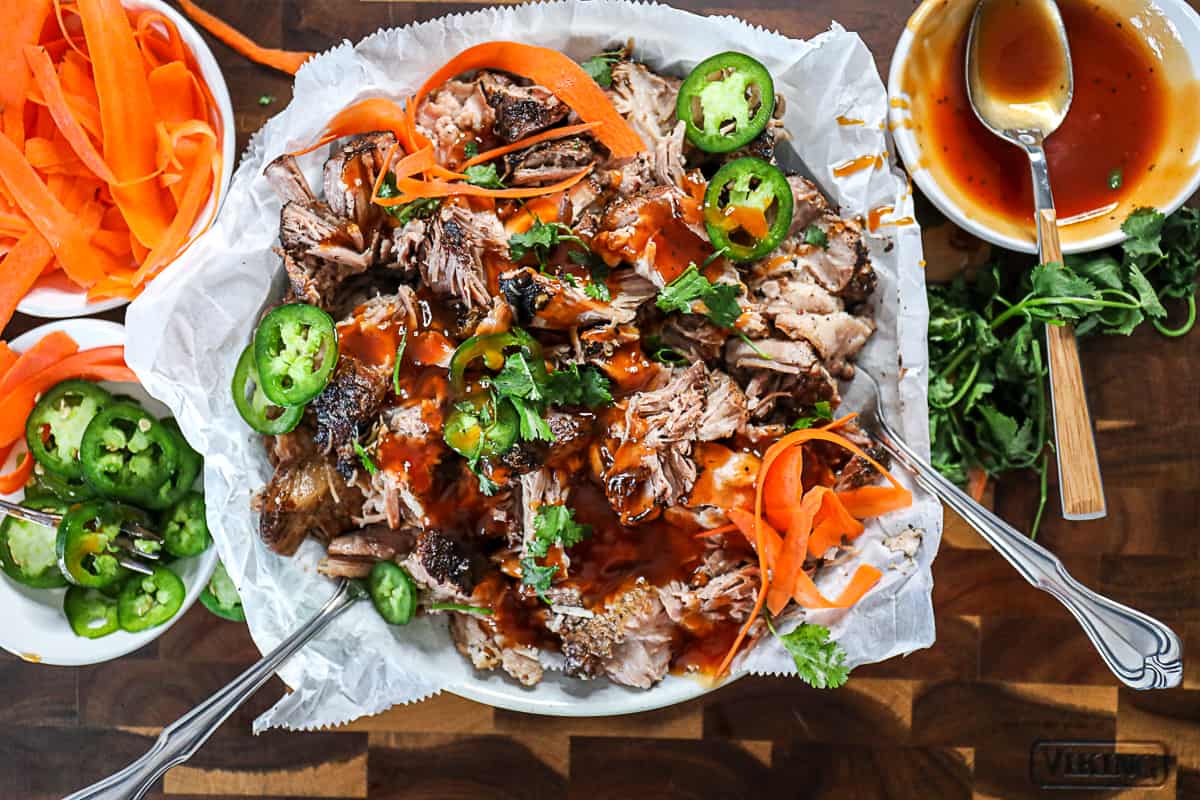 Sous vide Instant Pot recipes with pork
Instant Pot sous vide pulled pork is not to be missed!
This is an example of an awesome recipe you'll have to scale down, because cooking 7 LB pork carnitas sous vide style is not going to work in an 8 qt or 6 qt Instant Pot. But you need this on your sous vide bucket list — so grab 1-2 LBs if they'll fit and give it a try.
While some of the best foods to sous vide in the Instant Pot are ready within an hour, others require extended cook times to reach perfection. To make my tried and true sous vide pulled pork, I'll rub a pork shoulder with black pepper and barbecue salt, sear it in a cast-iron frying pan, vacuum seal, and then place it in the multicooker and use the Instant Pot sous vide settings for 24 hours. I've tried 48 hours with delicious results, too. But maybe that's a little extreme! Both texture and flavor are to die for.
In my book, I share my recipe for sous vide pork quesadillas with pineapple. And on this site, I have a guide on how to make quesadillas with leftover bbq pork which is helpful, too.
Sous vide Instant Pot pork chops
These definitely fit in the Instant Pot! Pork chops cooked sous vide style in the Instant Pot are flavorful, delicious, and easy to prepare. I cook my sous vide pork chops with Carolina Yellow mustard sauce for 2 ½ hours, then finish in a cast iron frying pan. Sometimes for a change, I'll serve these up with my creamy jalapeno ranch sauce for meats.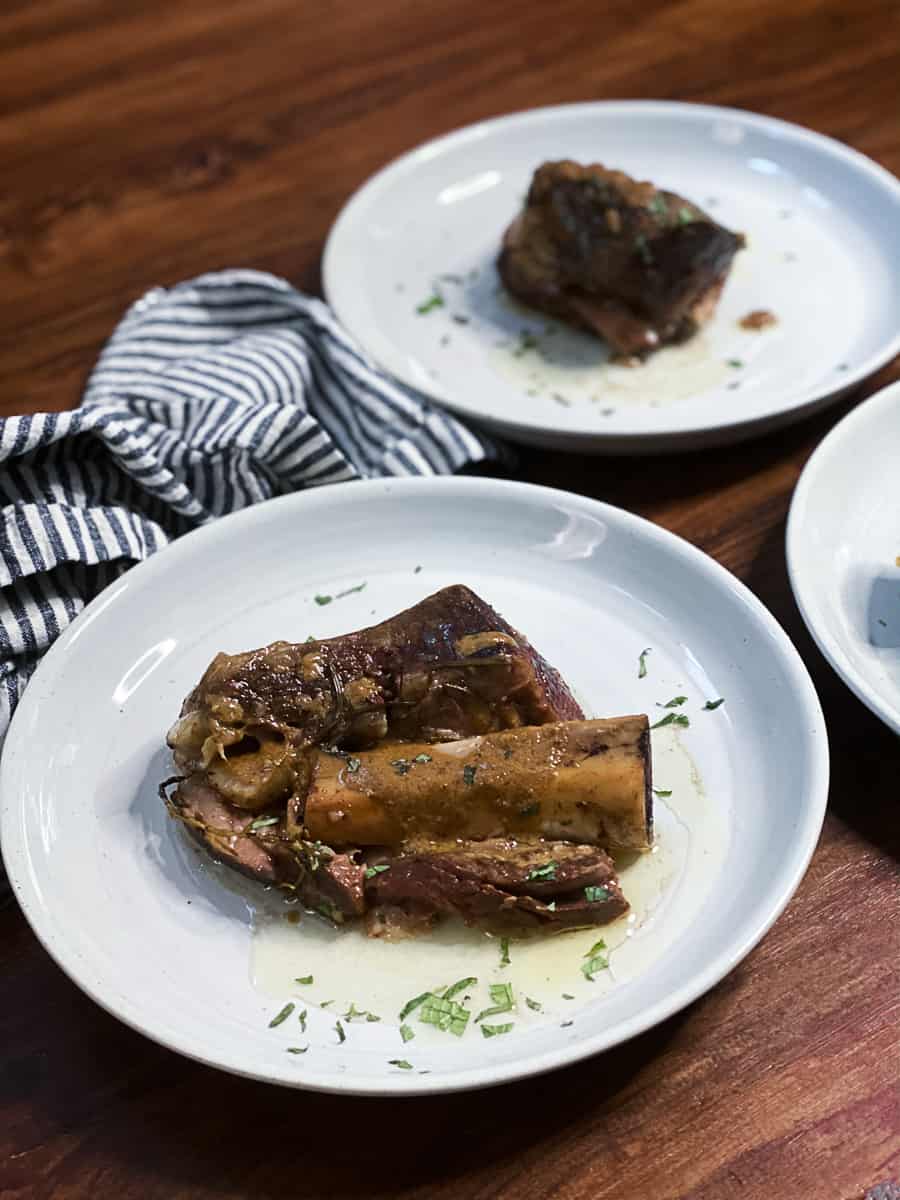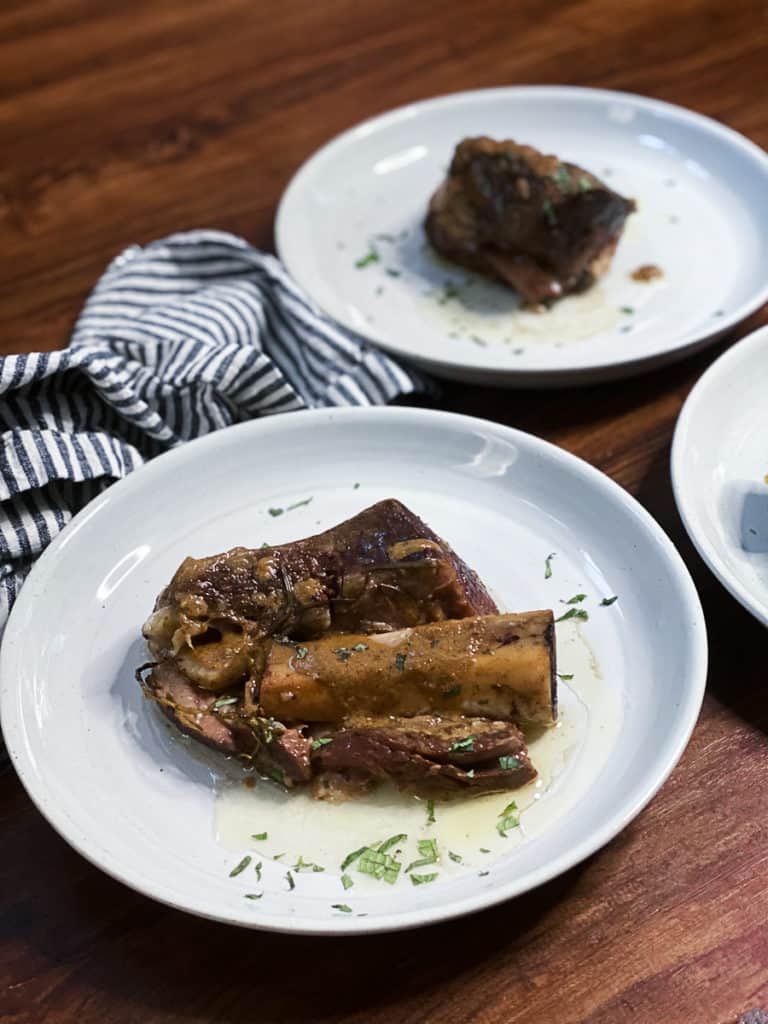 Instant Pot sous vide steaks and beef dishes
Rich and delicious Instant Pot sous vide short ribs
Sous vide short ribs are ready in 24 hours and will make your mouth explode in delight. Cooked in rosemary and fragrant, these ribs fill the house with all the best food smells. I like to make sous vide simple short ribs with peppercorn sauce, and serve with a big pan of mashed potatoes. (do not skip that peppercorn sauce for steak!)
Steaks to sous vide in the Instant Pot
You know that person that corners you at a party and just won't stop raving about the crazy thing they're into?? That's me and sous vide steaks. Here's my condensed laundry list of where to start…
For a simple steak dinner go for
For a fancy holiday meal try
Sous vide Instant Pot brisket
Another one you'll have to cut down to fit the pot, this Sous vide brisket is another 48-hour recipe. Sometimes I'll make smokey sous vide brisket and serve barbecue brisket sandwiches, then the next day pull apart the remaining meat for pulled brisket to use in quesadillas.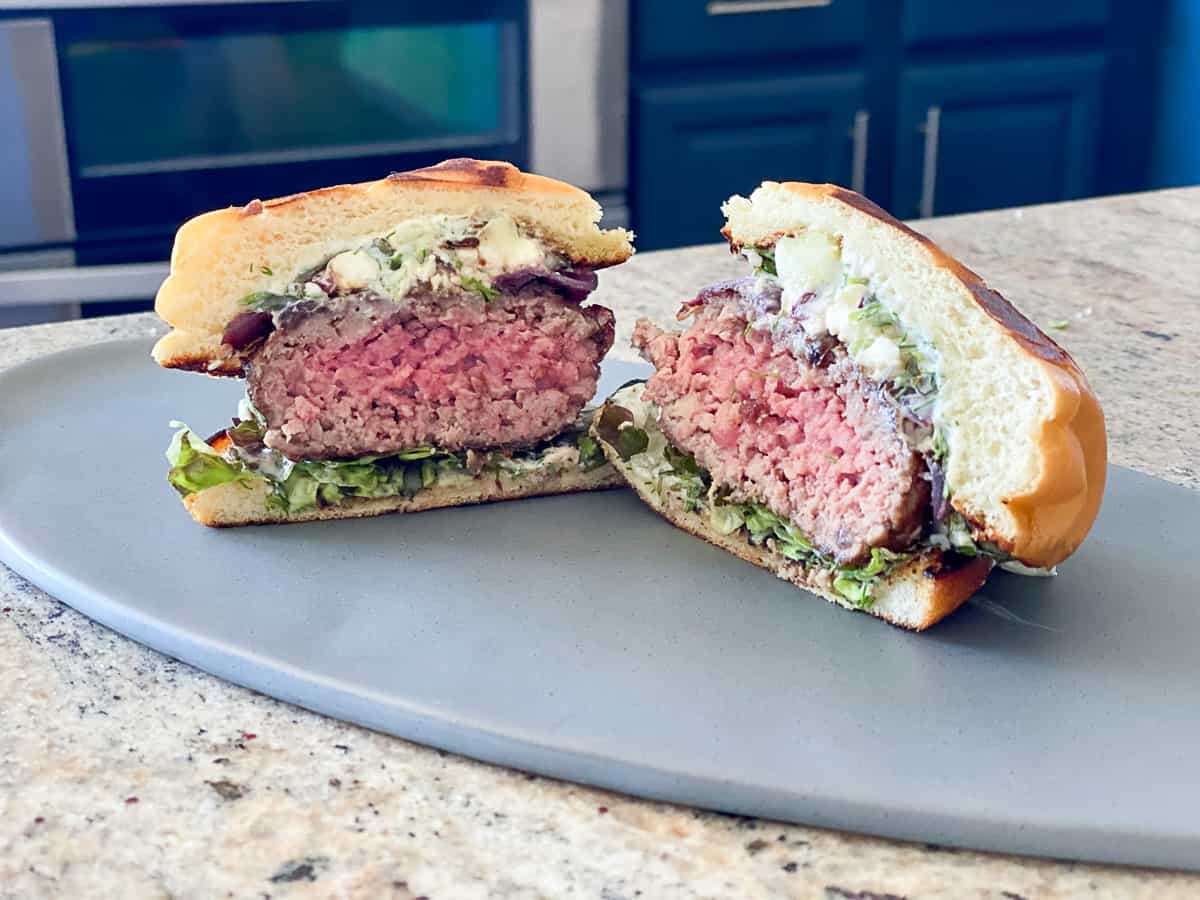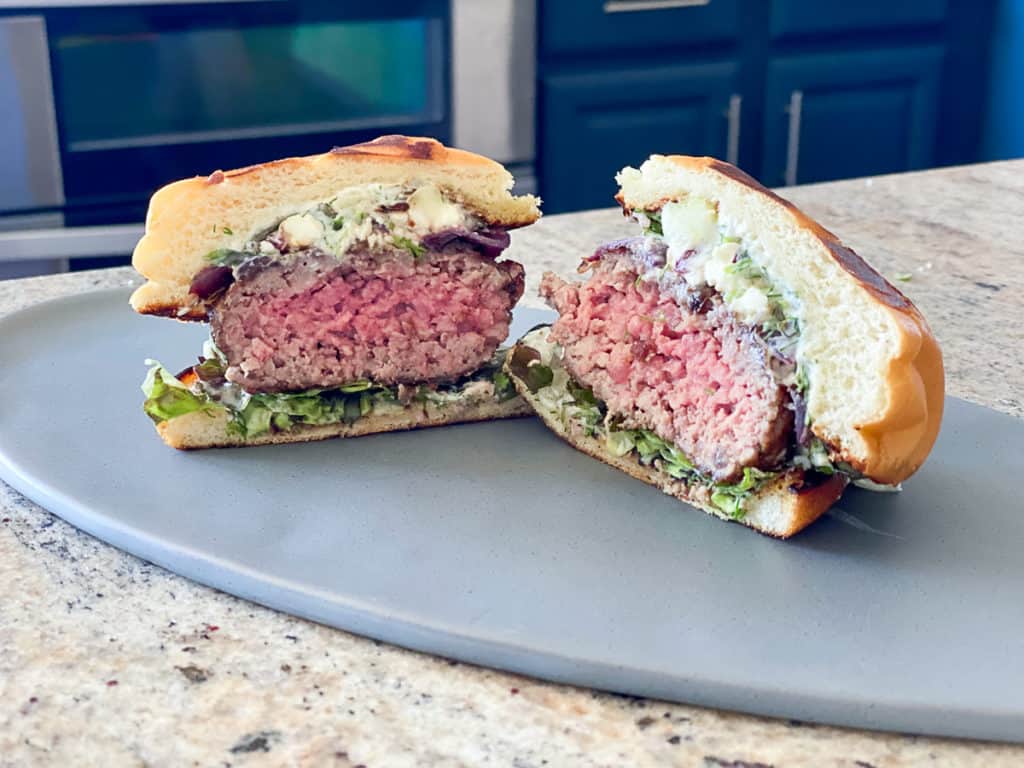 Sous vide Instant Pot burgers are a thing!
Honestly, to me, the idea of Instant Pot burgers sound like they'd end up a mushy mess. But sous vide burgers — they are actually amazing.
My long weekend style sous vide burger recipe from the book calls for 45 minutes at 138ºF, after which they can be shocked in ice, patted dry, and finished on the grill for just long enough to get that brown exterior and the traditional grill marks (which doesn't take more than a few minutes).
If you're into burgers cooked this way, start with homemade burger patties, and try an advanced technique like sous vide hamburgers with a mayo sear.
And don't let me forget: sous vide lamb burgers are freakin' amazing, too! (pic below)
Sous vide stews in the Instant Pot
There's actually a hot debate on whether or not it's proper to use a sous vide steak marinade or add any liquid to the sous vide bag for that matter. But, cooking is for fun and experimentation, so sometimes I do it anyway!
Stew meat cooks up beautifully in the Instant Pot under the sous vide setting as well. For Mom's best sous vide stew meat, I'll vacuum seal the meat with shallots, cilantro, and (secret ingredient alert!) a cup of Catalina dressing. Since it's tricky to vacuum seal meat with liquids, I make life easier for myself by pre-freezing the dressing in an ice-cube tray. This recipe has a 24 hour cook time.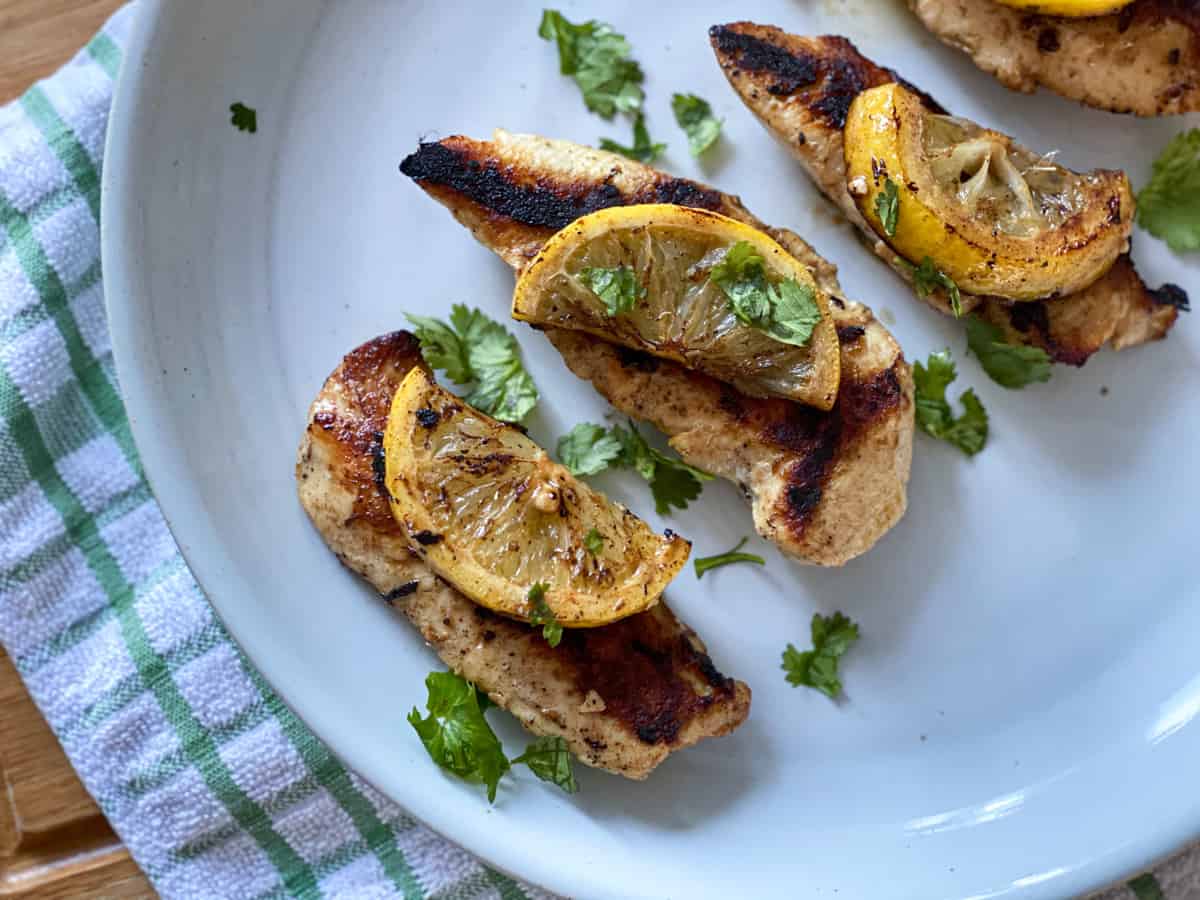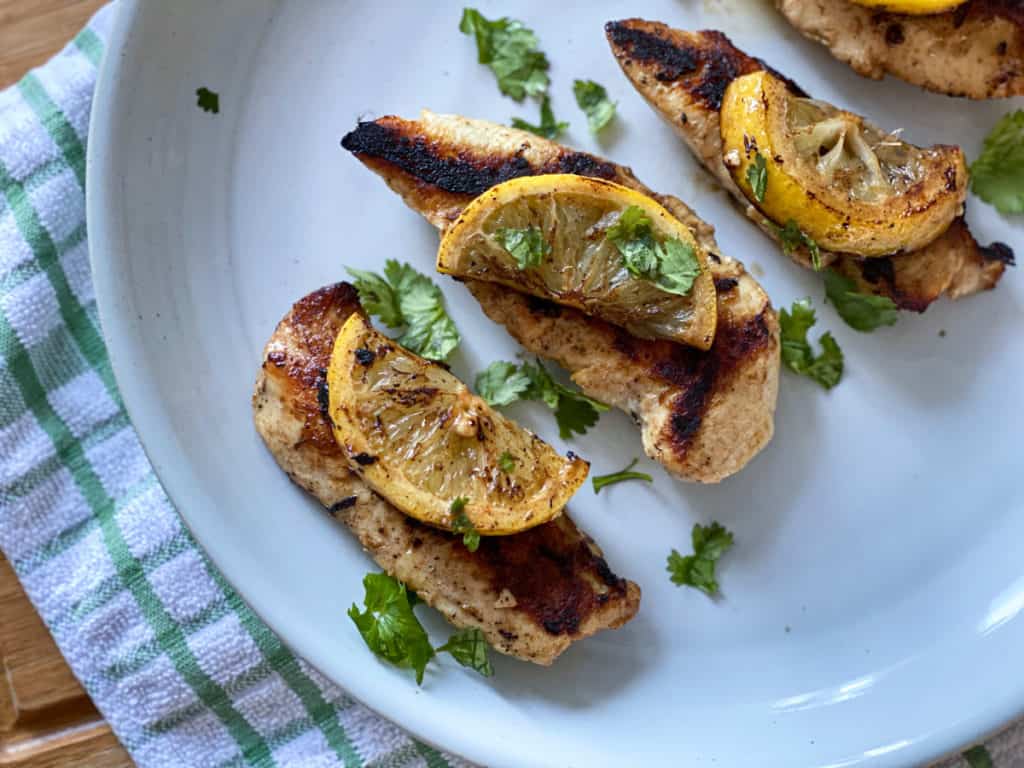 Sous vide Instant Pot chicken recipes
Sous vide Instant Pot chicken wings
One of the easiest ways to get ready for game-day entertaining is simply to mix up chicken wings, onions, salt, pepper, and buffalo sauce and vacuum seal in a sous vide bag. Stick it in your Instant Pot water bath (preheated with the sous vide button to 145 degrees F) and cook for 60 minutes.
When the guests arrive, all you have to do is crisp your sous vide chicken wings in the broiler: three to five minutes is all it takes to bring sous vide buffalo chicken wings to perfection. Change it up with barbecue sauce and this recipe for sous vide bbq chicken wings.
Sous vide Instant Pot chicken meatballs
Prepared in advance and frozen in their vacuum seal bag, are an easy weeknight dinner when you want to serve something good but have no time to spend in the kitchen. Simply stick the vacuum-seal bag in your Instant Pot sous vide water bath half way through the afternoon (from frozen, you'll need a four hour cooktime), and then pop back into the kitchen to boil pasta and heat up a jar of marina sauce twenty minutes before dinner time.
You can make ready-to-party Hawaiian pineapple BBQ meatballs sous vide the same hands-off way. Just prepare the sauce separately and pour on the meatball when they're ready.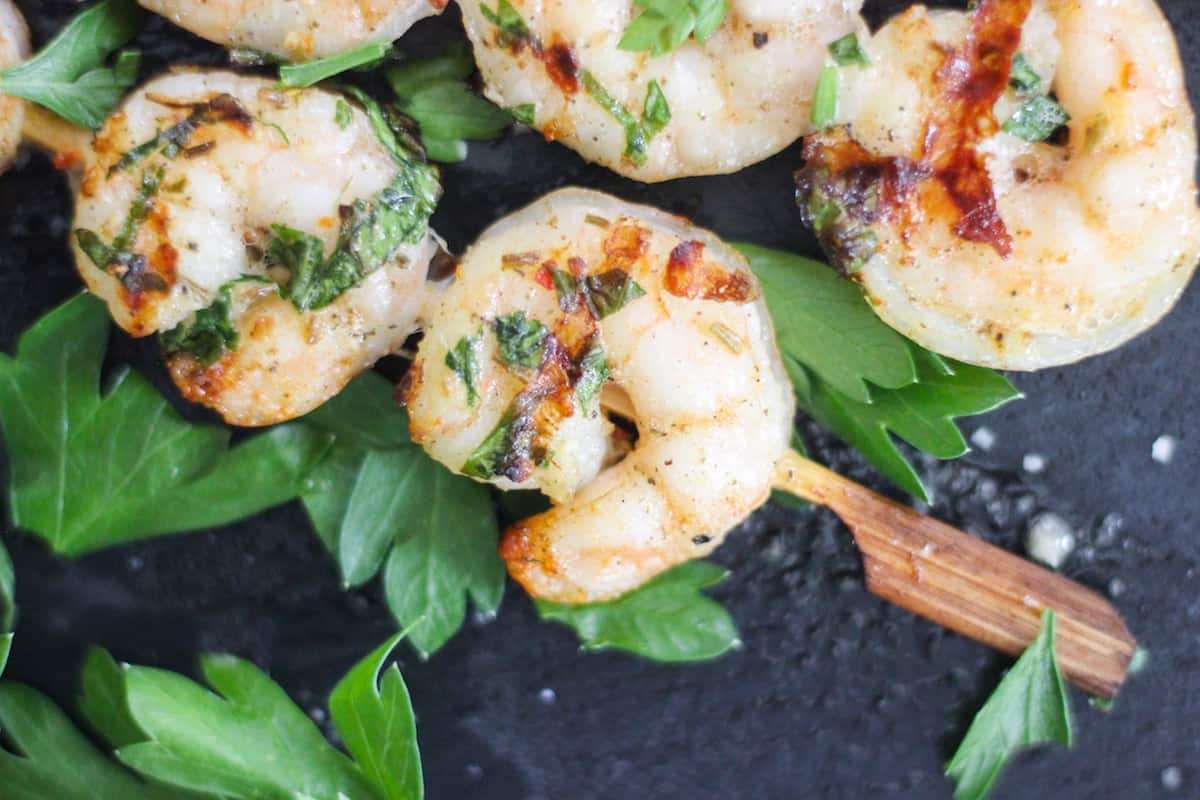 Instant Pot sous vide seafood recipes
Sous Vide lobster tails in the Instant Pot
Another quick sous vide recipe is sous vide lobster. Lobster tails, de-shelled, cook for 25 minutes in the Instant Pot on sous vide settings. For a special date night in, I might make sous vide lobster with beurre blanc sauce—super fancy, super easy, and always perfectly done.
Shrimp Sous Vide cooked in the Instant Pot
Sous vide shrimp takes just 15 minutes in the Instant Pot, and to cook this delicate seafood to perfection you'll want to make sure the temperature setting is low— just 130ºF. Sometimes I'll use these sous vide Mexican grilled shrimp rice bowls, and other nights I'll make sous vide herby shrimp linguini in white wine sauce.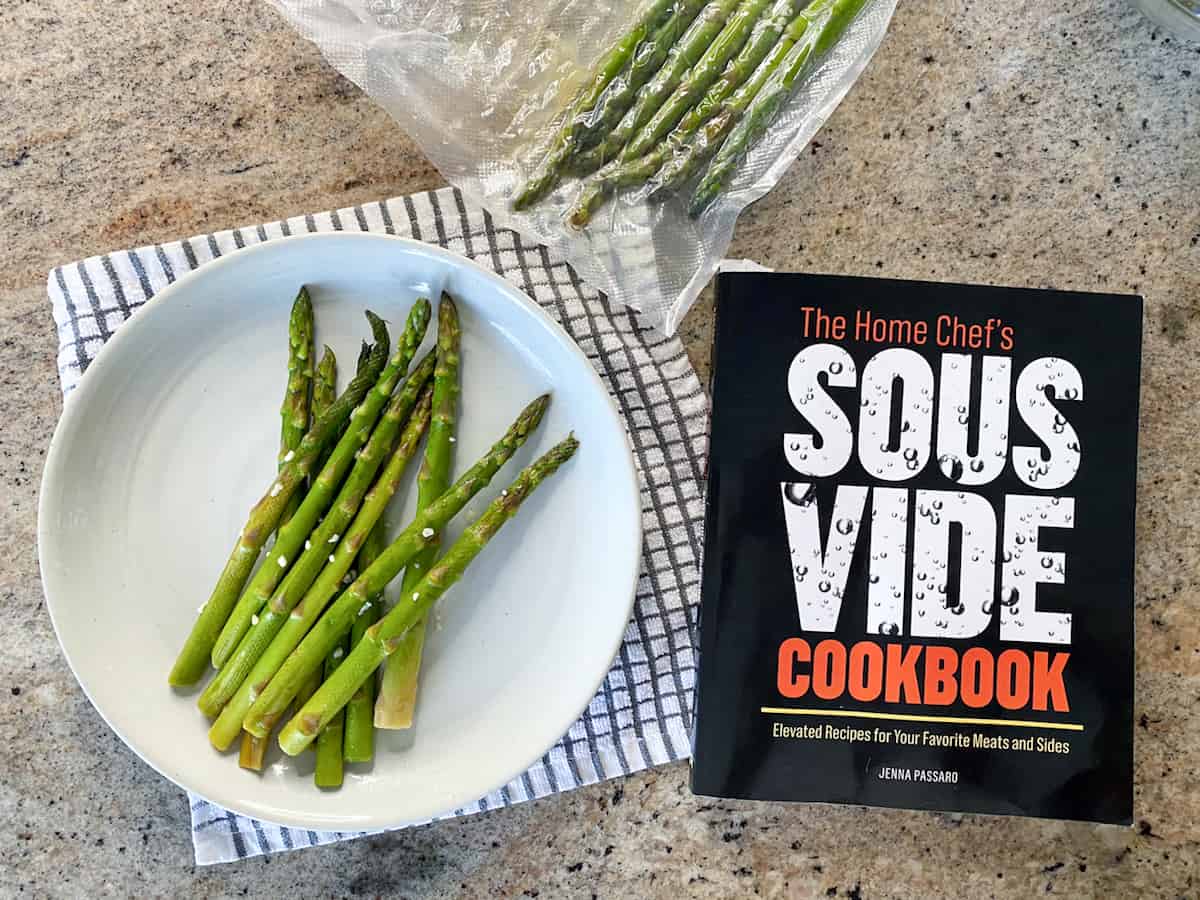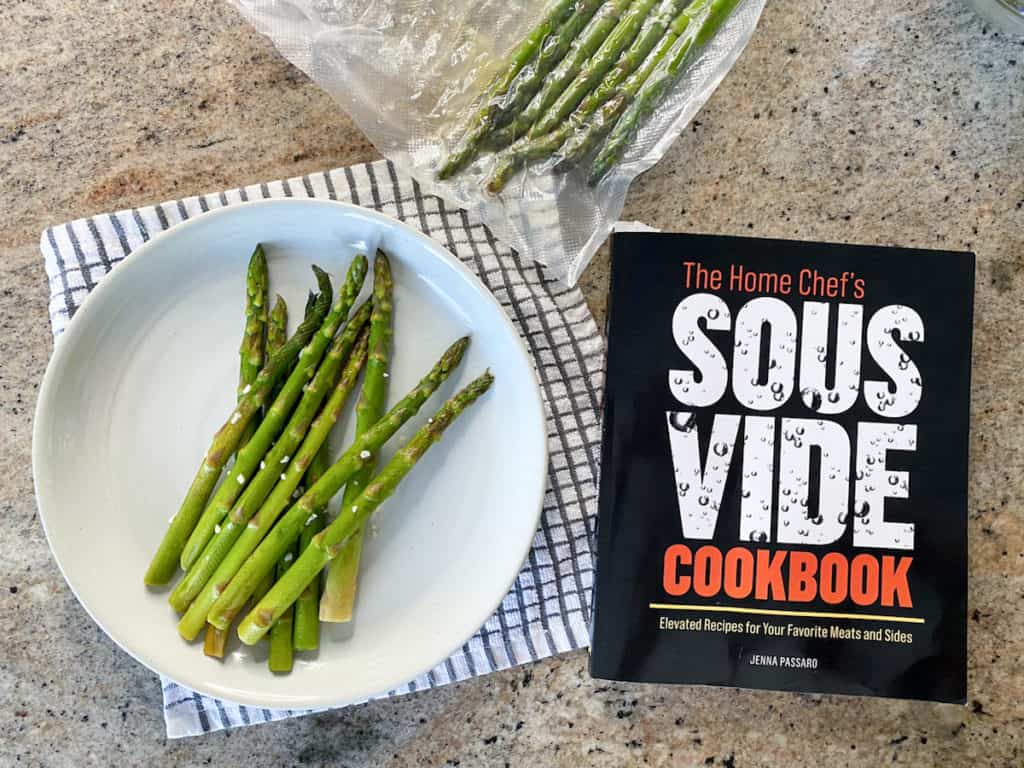 Instant Pot sous vide vegetable sides
Don't stop experimenting once you master sous vide medium rare steak. Life gets even better when you drop these veggies in the sous vide "jacuzzi" bath!
Asparagus cooked in the Instant Pot sous vide machine
The queen of short-cook-time foods using this method may be sous vide asparagus. They come out so much different (super al dente / crisp) when cooked sous vide style vs. pressure cooking them (which might leave them mushy).
If you've got thin asparagus, you'll want to stick it in the Instant Pot for just 6 minutes, and thick asparagus cooks in 9. The vacuum sealed asparagus cook in a flat layer at my go-to temp of180ºF. For a gourmet meals, dress 'em up. Serve asparagus with toasted almonds—it never fails to impress and is a keto friendly sous vide recipe.
Instant Pot sous vide corn side dish
Then there's sous vide corn on the cob. Another amazing winner of the short cook times award, it takes just 30 minutes in the sous vide Instant Pot machine. There's no work involved beyond salting the corn, adding a little butter, and vacuuming sealing in a sous vide bag.
You can eat it just as it comes out of the Instant Pot, or if you're hosting a sous vide dinner party you can dress it up as sous vide Mexican grilled corn by grilling for a few minutes and serving with pepper, cotija cheese, fresh cilantro and a little lime. That recipe is my sous vide cookbook. But you can check out a similar dish on this site – it has a fancy plating: sous vide sweet corn with red peppers.
Brussels sprouts sous vide in the Instant Pot
A fav for holidays, sous vide brussel sprouts are another Instant Pot friendly sous vide recipe that fit effortlessly in the pot. They're quick to make, too.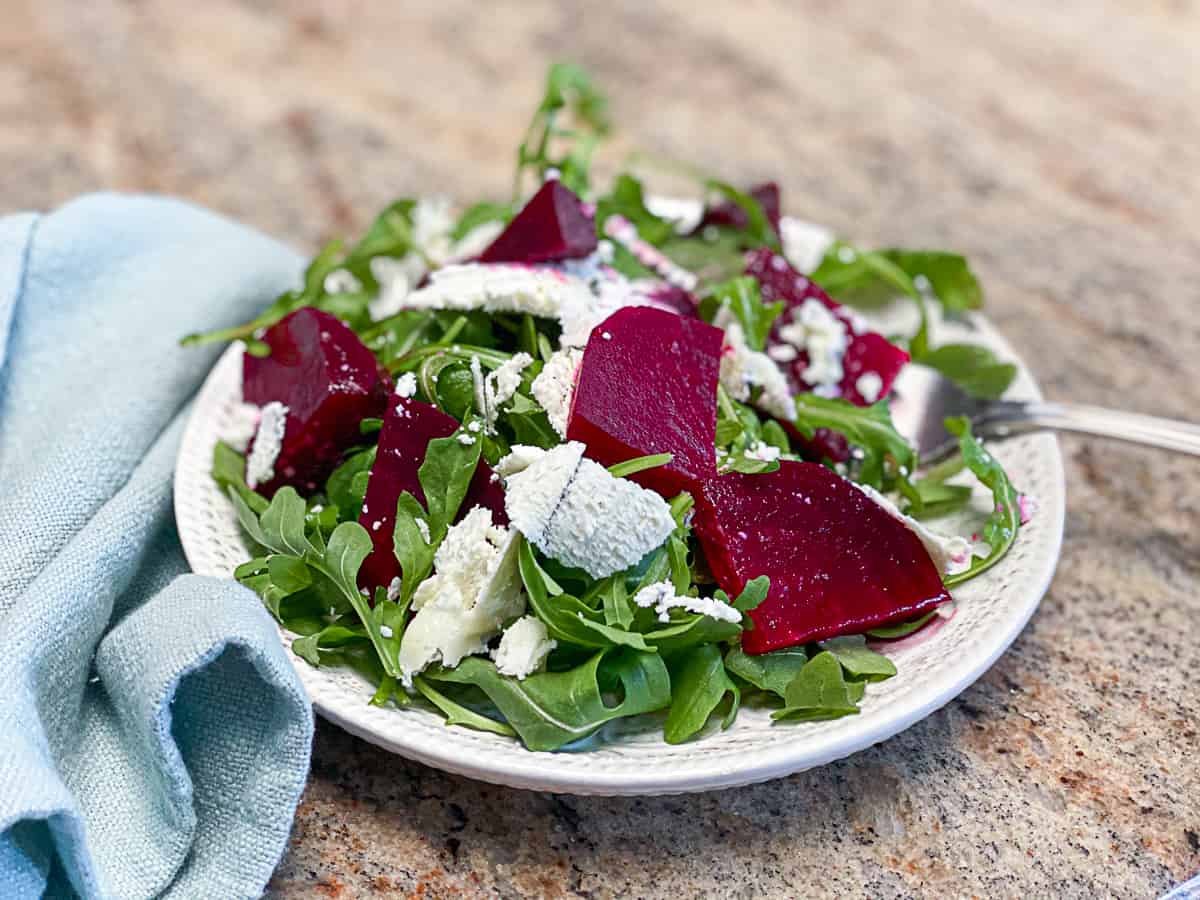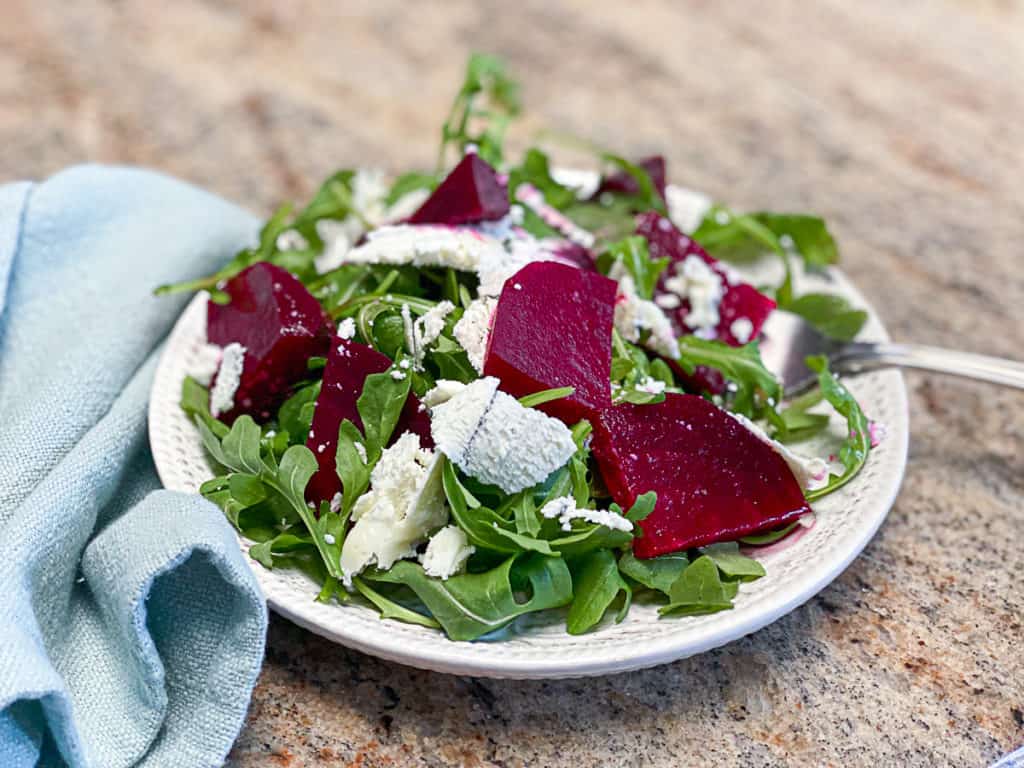 Instant Pot cooked sous vide root vegetables recipes
Love beets? I sure do! And if you don't stop me, I'll go on and on about how much better sous vide beets are than roasted or boiled beets. They are ideal for restaurant style beet salads with goat cheese or feta — I meal prep 'em all the time for WFH lunches.
Potatoes sous vide in the Instant Pot
And last but not least, bookmark this sous vide little potatoes recipe for your next holiday meal. The results are the creamiest little tiny potatoes with broiled skins. Which is why they made the list of the best potato side dishes for steak. Yum.
Time and temperatures for sous vide Instant Pot recipes
Every Instant Pot sous vide recipe will come with two important pieces of information:
The time
The temperature
These are the most important things to know for each recipe. Different sources will have different times and temps because of:
Different portion sizes
What you are cooking (ingredient / cut of meat)
How thick the food is
Your desired level of "doneness".
One final tip I have is to make sure you preheat the water bath in your Instant Pot before adding in your vacuum bag for accurate timing.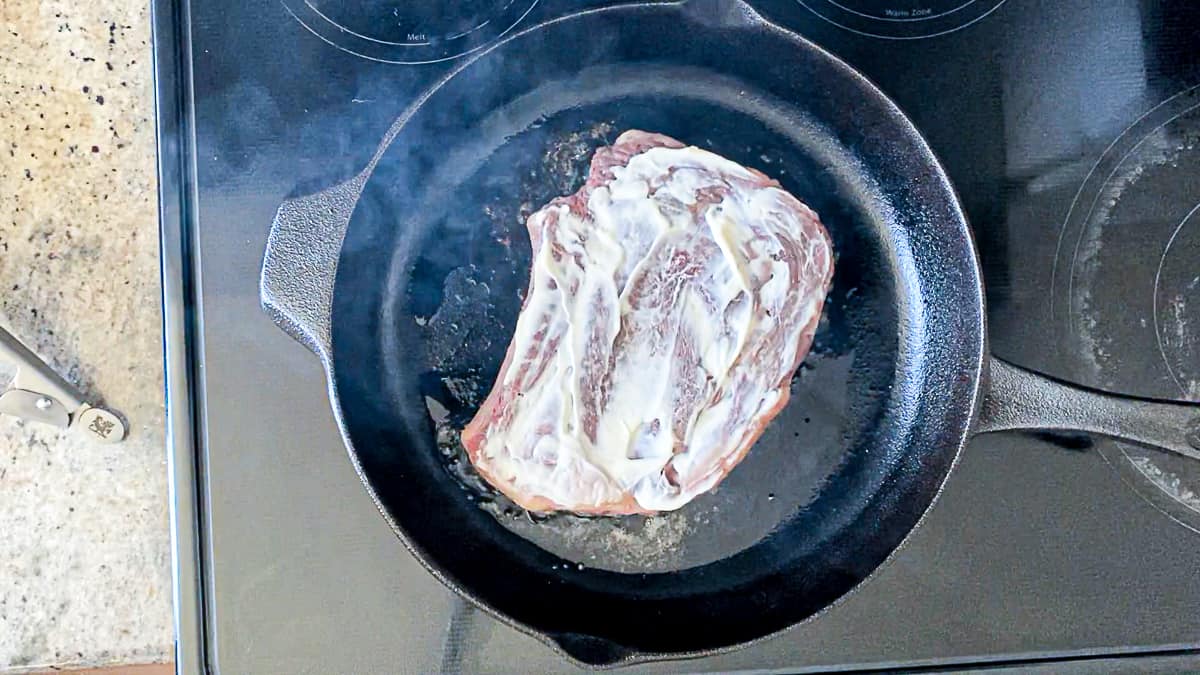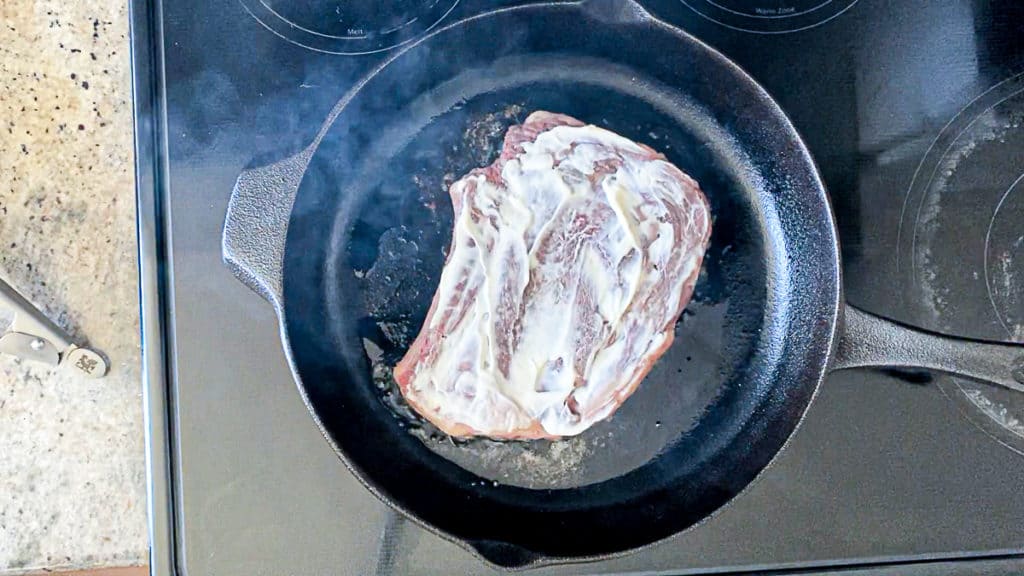 Ways to finish sous vide Instant Pot recipes
When you pull that vacuum bag from the Instant Pot and open it up you may not be impressed with what your food looks like. While vegetables are often ready to eat straight out of the vacuum bag, meats and chicken tend to look—for lack of a better word—soggy and unappetizing. (see my rant about why chicken looks strange cooked sous vide style)
Don't worry, you've done nothing wrong! Meats and chicken cooked in the sous vide Instant Pot look and taste their best after a 2-5 minute finish under intense heat, such as from a broiler, grill, air fryer, or cast iron frying pan. 
Each recipe from Sip Bite Go gives details on an ideal finish. You might be told to stick the vacuum bag into an ice bath to give it a quick cool first. Then, when you take it out of the vacuum bag, pat your meat dry. Dry and cool, it is ready for a quick crisping finish. Air frying is great for that!
Sous viding frozen foods in the Instant Pot
It's easy to sous vide frozen food in the Instant Pot—just add an appropriate amount to the cook time. For many meat recipes, you need 60 minutes but that isn't true for all cooks. For more details, have a look at this article on how to sous vide from frozen.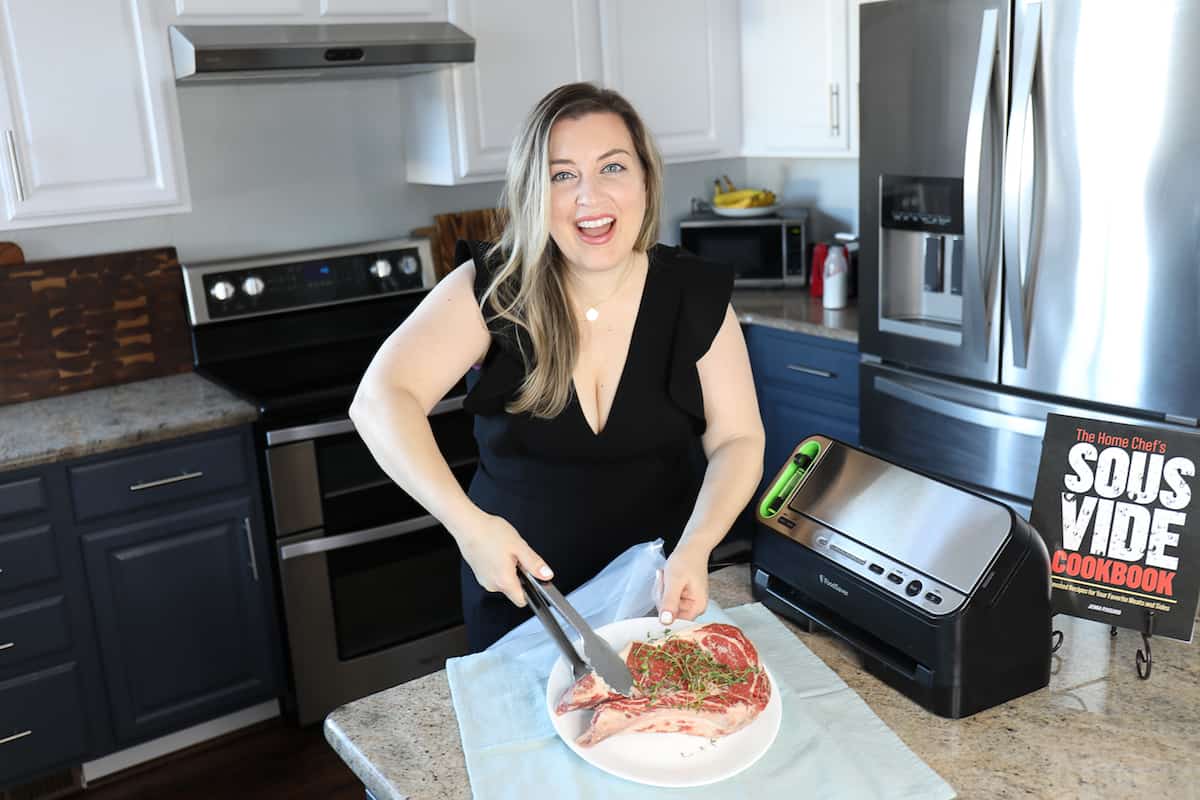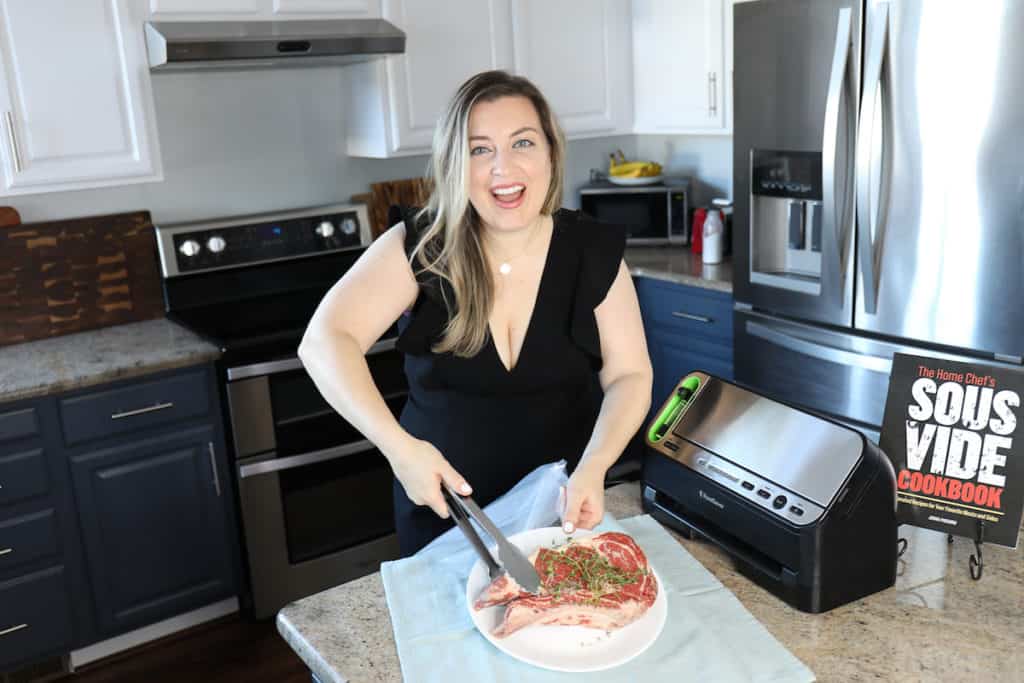 Find new ways to utilize that sous vide button and make your favorite food even better. Get inspired with my new book – The Home Chef's Sous Vide Cookbook.
The Perfect Sous Vide Setup
Everyday I'm asked, "what do you need to sous vide food?". Here's my answer.
Try a new sous vide recipe…
Are you a foodie, too?
Many of these Instant Pot sous vide recipes are featured in the sous vide recipe index, and you'll find all the rest in my new sous vide cookbook. I love experimenting with cooking food sous vide style… which loosely means vacuum in french, and I'm passionate about sharing the best ways to make restaurant quality food at home with anyone who will listen. Maybe that's why the Sip Bite Go blog has become one of the most popular sous vide blogs on the web.
Can you tell I'm a little obsessed with this way of cooking? Find me on Instagram to let me know what's cooking in your Instant Pot — @sipbitego – and you'll always have a front row seat on what's going on in my kitchen.
Til next time – see my latest sous vide recipe videos on the Sip Bite Go channel.