Once you master the skill of cooking perfect sous vide steaks, it's time to start playing with flavors. Today you'll learn how to add EPIC flavor with 15 sous vide steak marinade ideas. You'll also pick up tips on exactly how to sous vide steaks with marinades. Ready to get hungry??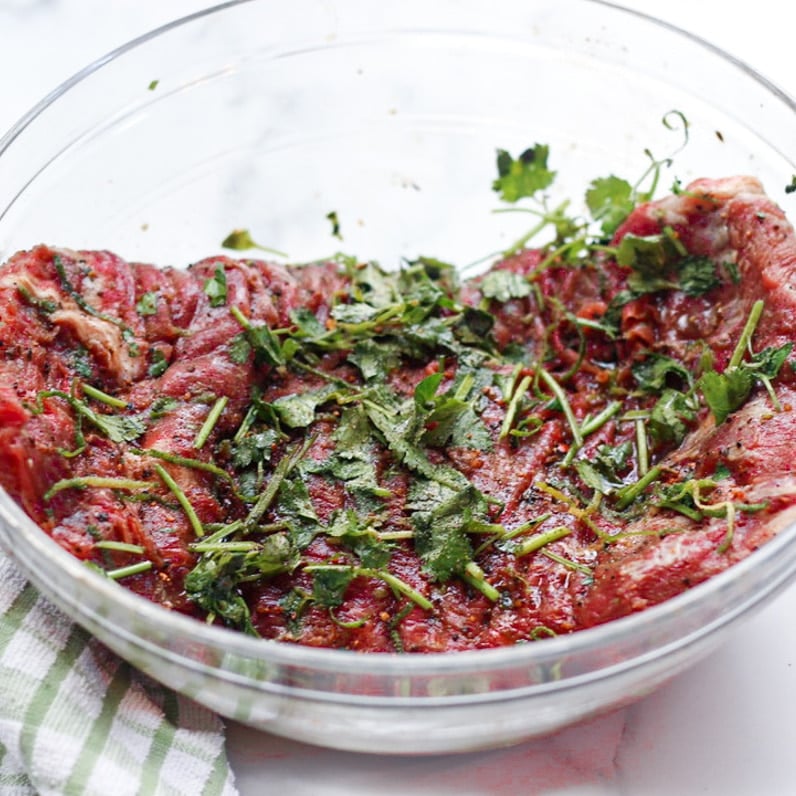 Use these easy marinades for any steak. Flank steak, London broil, ribeye, sous vide filet mignon, or whatever you have on hand.
In this guide to sous vide steak marinades
15 delicious (and easy!) flavor combos for sous vide steak marinades
The ratio of the marinade to steak for sous vide cooking
How to cook a steak in the marinade while it sous vides
The difference between just using salt VS marinating steak during sous vide
Things you shouldn't marinade with sous vide steak (example: veggies need to cook at a higher temp, so usually you don't cook them in the marinade, with a few exceptions)
How to marinade then freeze sous vide steak
So, first I'm going to hit you with some of my favorite ways to flavor sous vide steaks with marinades, then I'll go into questions that might come up when you try it yourself.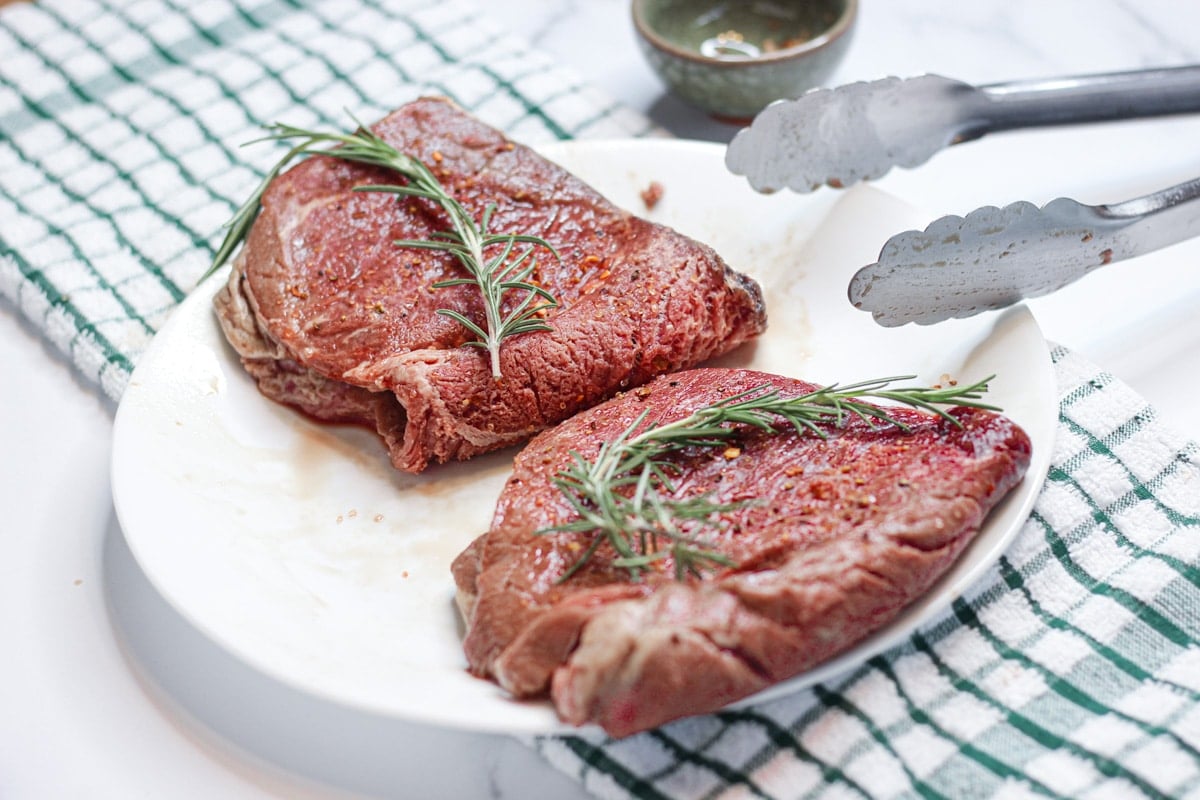 Sous vide steak marinades (and side dish ideas)
Sous vide steak with garlic and soy sauce
Sous vide Greek steak with red onion slices and fresh dill, served with crumbled feta on top or a side of zucchini soup
Honey ginger sous vide steak with a slice or two of lime and a side of sous vide sweet corn on the cob
Sous vide balsamic steak with rosemary and a little balsamic vinegar
Balsamic, honey, and soy sauce sweet marinade served with crisp sous vide asparagus
Simple sous vide teriyaki steak finished with a sprinkle of sesame seeds after searing the steak
Chinese style sous vide steak stir fry marinade (soy sauce, sesame oil, garlic, ginger), served with steamed rice, vegetables, and black sesame seeds
Sous vide steak tacos with a salsa marinade, served with a side of cilantro-lime sauce
Sous vide fajita steak marinated in adobo sauce
Worcester sauce sous vide steak marinade
Dijon mustard-based sous vide steak marinade with balsamic vinegar
Sous vide steak with a chimichurri marinade (cilantro or parsley, olive oil), served with lime rice
Beer and brown sugar sous vide steak marinade
Red wine sous vide steak marinade with a smokey red vino, rosemary, and garlic (like in this recipe for sous vide NY strips)
Make a barbecue marinade for sous vide steak and serve it with a potato side dish
If you haven't tried making a sous vide side dish yet, what are you waiting for? One of my favs these days, besides sous vide asparagus, is to make these sous vide fingerling potatoes. The cook time is short and the flavor is big… rosemary, butter, black pepper, and parmesan cheese make these highly addictive! Perfect as a side for sous vide whole chicken or sous vide beef short ribs.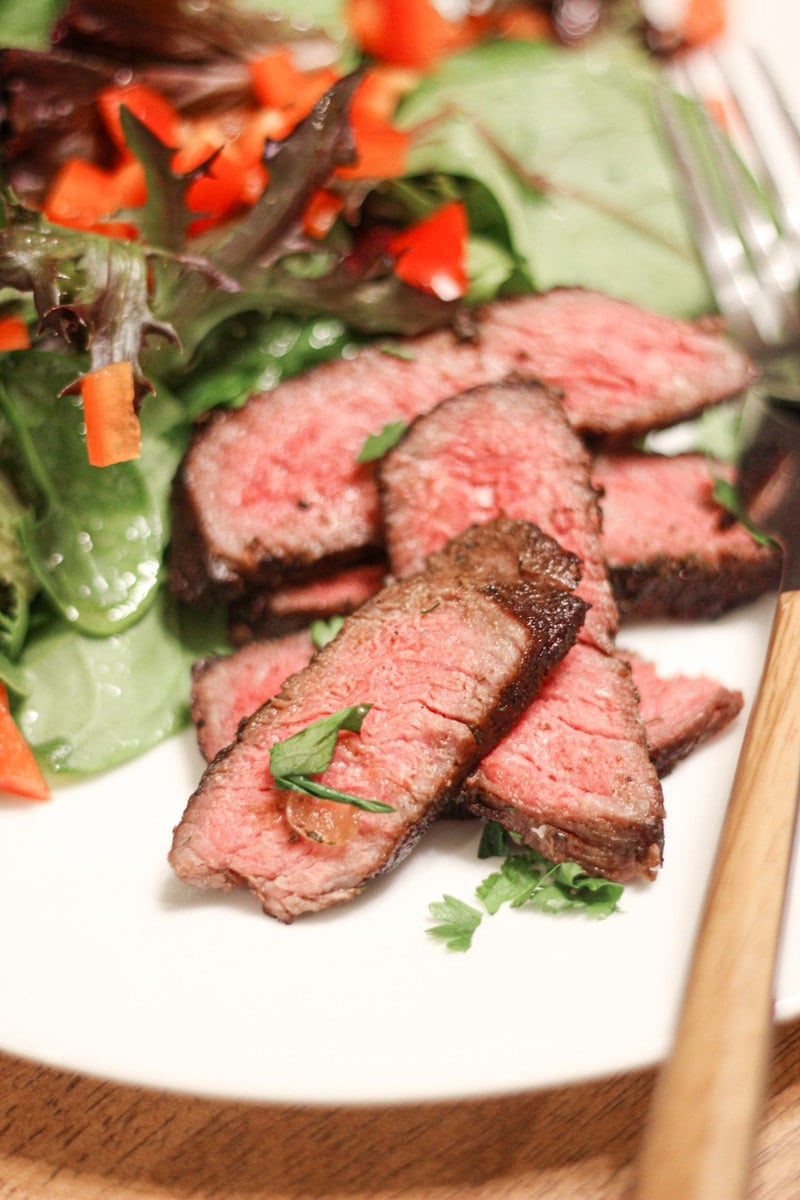 Can you cook a steak in marinade sous vide?
Whether or not you can cook a steak in marinade sous vide is going to largely depend on what your marinade includes. Most marinades are A-OK for cooking your steak in.
Oil-based marinades in particular work well.
Acidic or alcohol-based marinades, such as marinades that contain lemon or lime juice or vinegar, are not always ideal for cooking your steak in, so marinade beforehand, then remove your steak before cooking sous vide.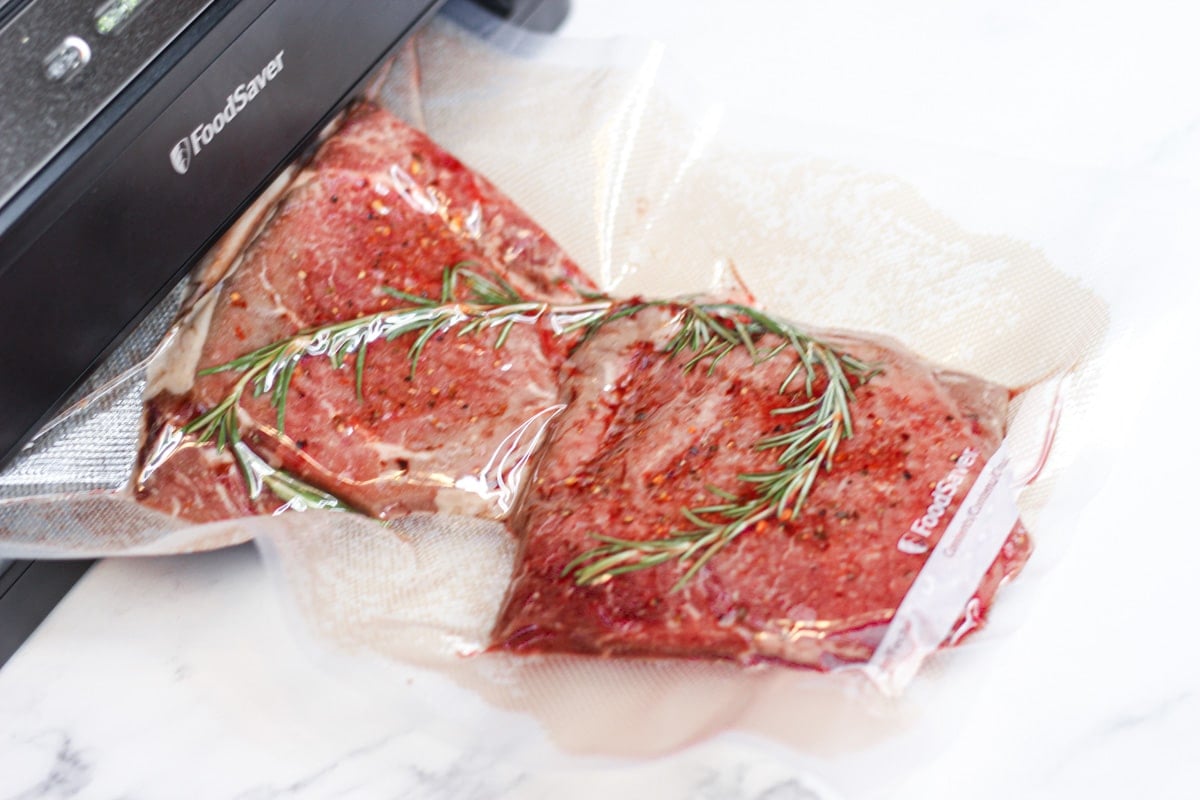 There are two reasons for this. Alcohol-based marinades can overpower the flavor of your steak after cooking it sous vide since they won't evaporate off, while acidic marinades can over-tenderize your meat while cooking and turn it mushy.
With that in mind, mildly acidic marinades, such as a marinade that is balsamic vinegar-based could work well with a tough steak, like a flank steak, since these factors would balance out.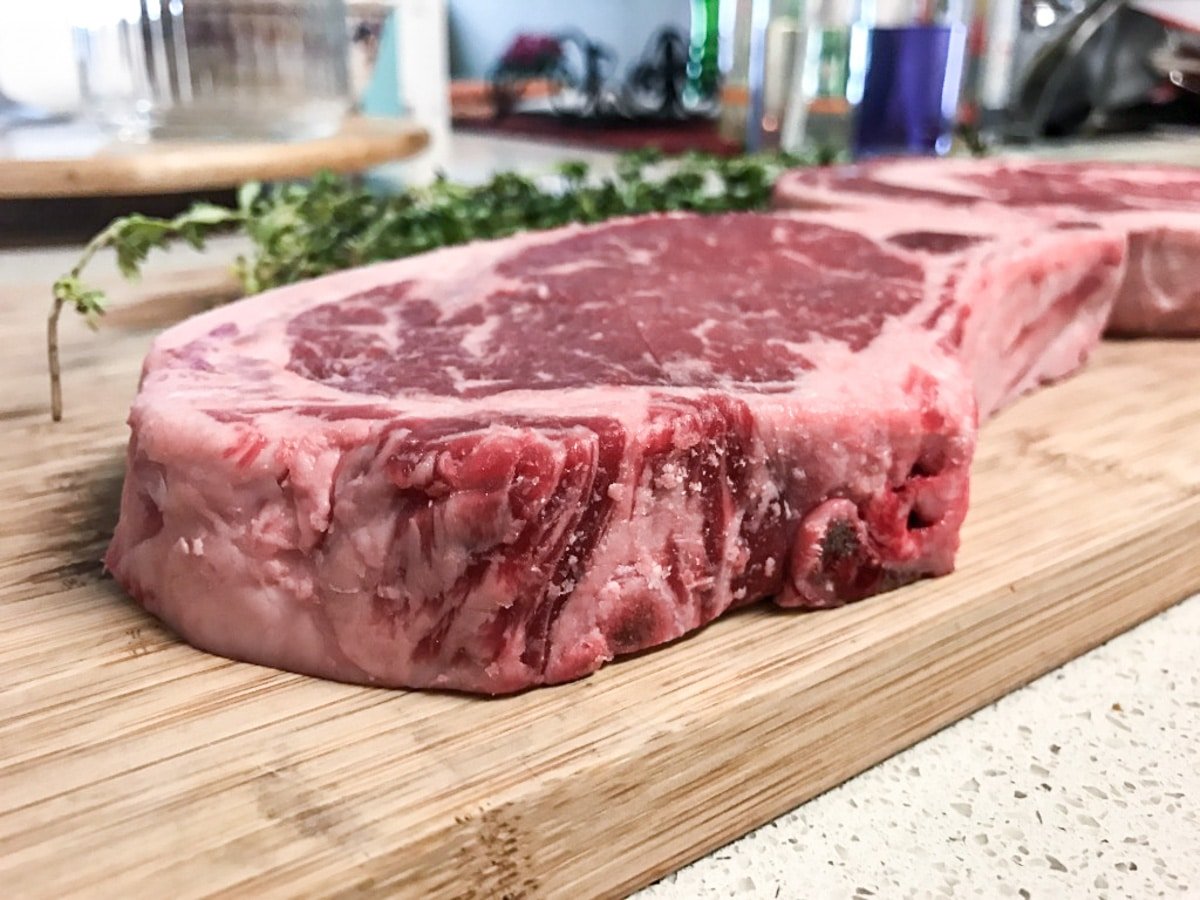 Can you marinade steaks before cooking sous vide
In general, you can marinade steaks however you like before cooking sous vide. Where it becomes more complicated is whether or not you can cook a steak in the marinade sous vide.
It's best to avoid tenderizing marinades for any purposes, since sous vide is a process that will leave meat extremely tender anyway, but beyond that, a good rule of thumb is that dry marinades work great for marinating while cooking, while wet marinades are better to do before cooking steaks sous vide.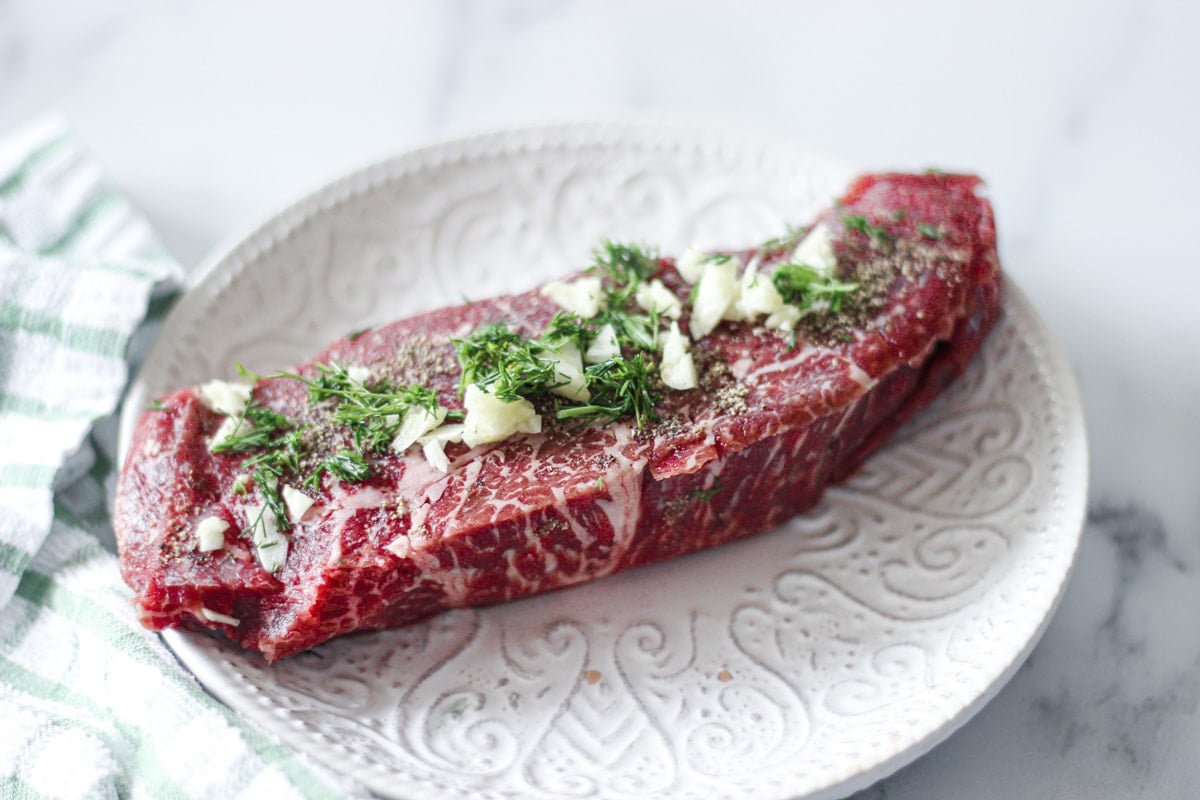 Ratio of marinade to steak for sous vide cooking
If you are going to cook your steak in a marinade for sous vide cooking, it is very important to remember that your marinade won't evaporate off since you are cooking the steak in a sealed environment. That means that you'll probably need to use less marinade than you're used to for steak.
You can estimate that more or less you want your steak to be fully doused in your marinade, but the extra liquid isn't necessary. This is especially important with alcohol-based marinades which should be kept to a minimum with sous vide steak.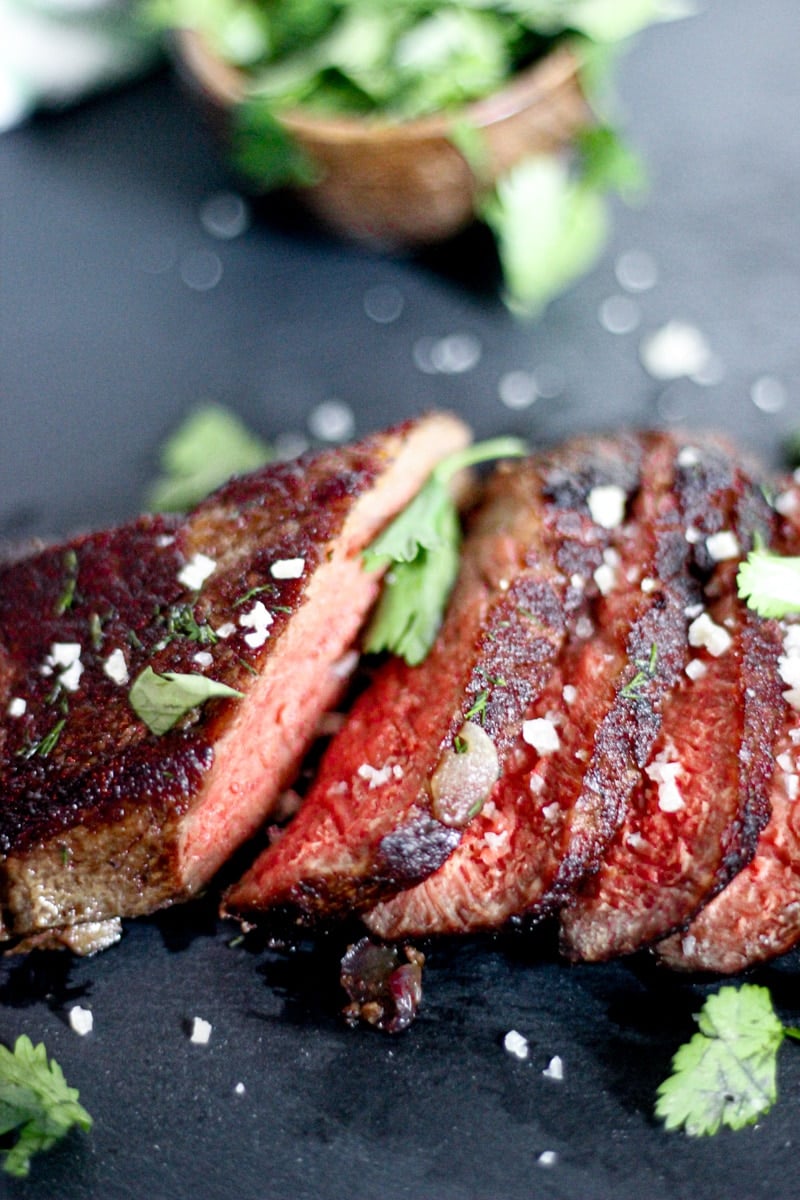 Things you shouldn't marinade with sous vide steak
While there are many marinades that work well for cooking steak sous vide, there are a few ingredients you should avoid:
1. Raw garlic
This is debatable, but to be honest I use fresh, raw garlic for sous vide marinades regularly. So what's the issue? While sous vide is amazing for cooking many different kinds of foods, particularly proteins, it's not an ideal method for caramelizing or even browning vegetables. This is especially true for garlic.
If you marinade sous vide steak with tons of raw garlic, then you can run into an issue or two. First, taste-wise you'll find that you'll end up eating slightly warm raw garlic with your steak, making for a pungent, overwhelming flavor.
The second issue, maybe the most important to some people, is botulism. Basically, while they're growing, garlic bulbs can pick up bacteria from the soil that are toxic and can cause an illness called botulism.
Try garlic powder as an alternative, cook the garlic beforehand then pop it in your marinade, or toss in some garlic and hope for the best. This seems to be my method of using garlic to sous vide, because it's an ingredient you'll often find in my bags.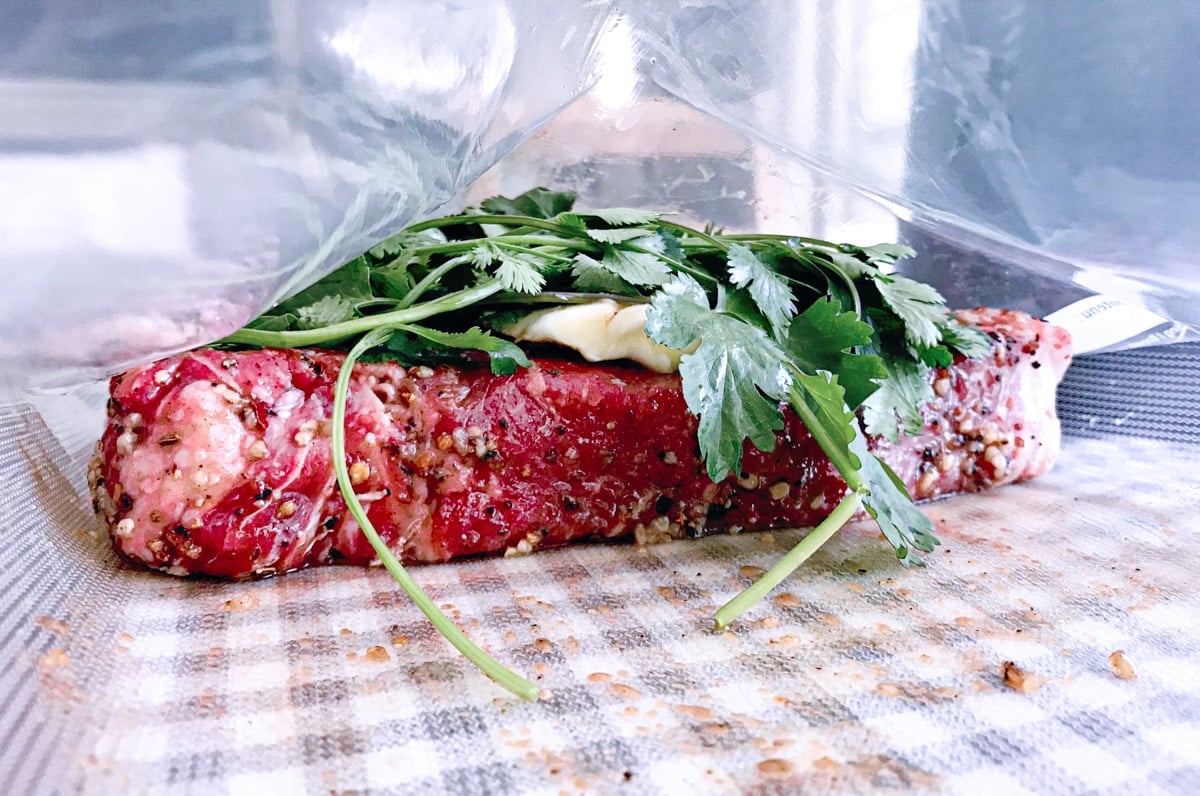 2. Too much salt.
I liberally add salt and pepper to sous vide steak marinades but there is such a thing as "too much".
While just the right amount of salt works well in a sous vide steak marinade, don't overdo it because it can end up curing the meat early on in the cooking process, resulting in a tougher texture. Don't salt like the ocean, but a little bit is OK.
3. Meat tenderizer tools
You're going to get very tender beef if you cook your steak sous vide with the right time and temperature, trust me. So, try to avoid overdoing it by skipping a meat tenderizer tool, or else you might end up with mushy steak.
The difference between just using salt VS marinating steak during sous vide
Since cooking steak sous vide leaves it in contact with heat much longer than other cooking methods, there are a few things you need to keep in mind for the cooking process, especially if you are deciding what to cook it in.
Salt can be an agent that leaves steak tougher, especially when cooked slowly with meat. Since one of the biggest benefits to cooking sous vide is the tender quality of proteins cooked sous vide, it's a good idea to avoid overdoing salt when cooking steak.
Marinades, on the other hand, have their own complexities. Oftentimes they're intended to be left on your meat for a certain period of time which may or may not align with your cooking time. With that said, it is easy to adjust for quantity and you'll find that the flavor penetrates extremely well.
Just be sure to avoid tenderizing marinades as they can have the opposite effect of salt, over-tenderizing your meat.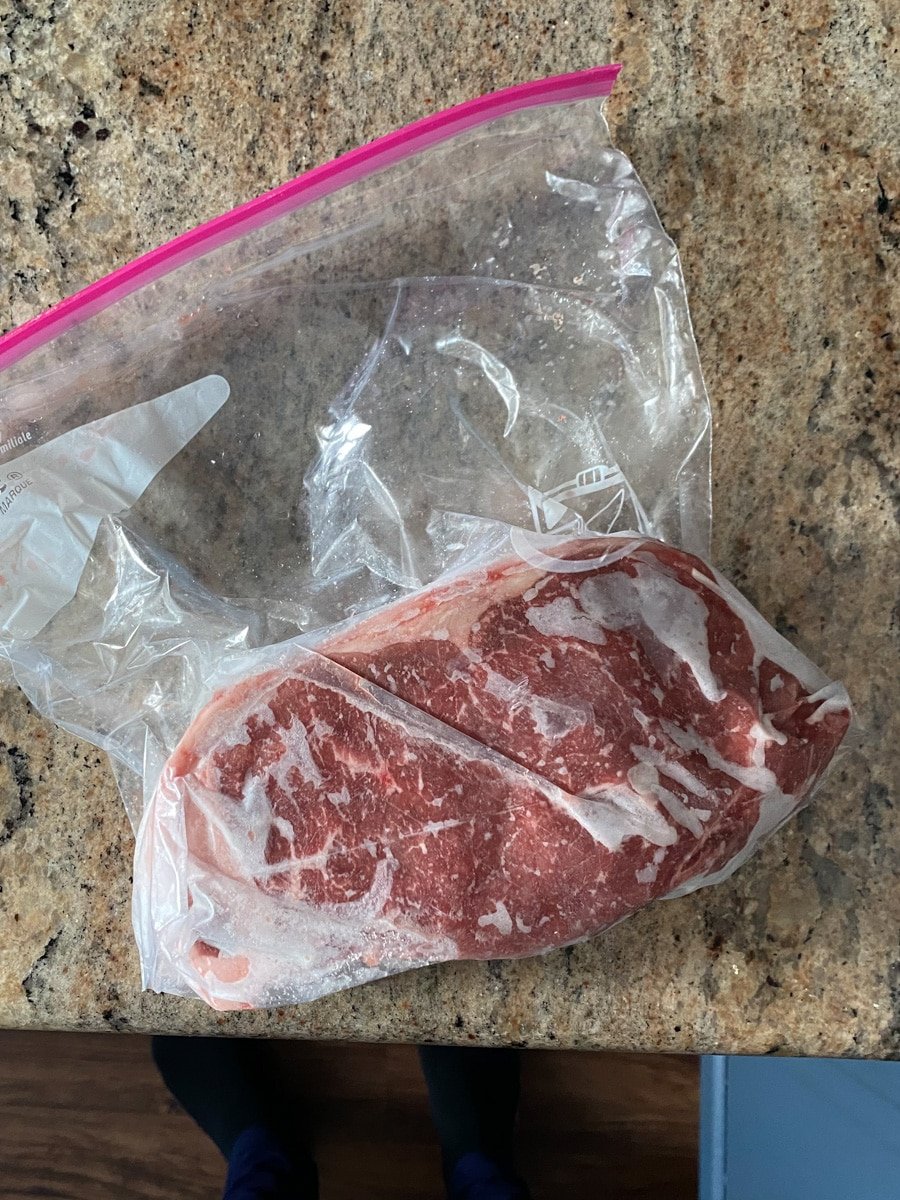 How to marinade then freeze sous vide steak
If you plan to marinade, freeze, then cook sous vide frozen steak (which I love to do myself, as a busy mom trying to get dinner on the table), it is important to properly pack the container in which you'll be cooking your steak.
You won't be able to vacuum seal a wet marinade with a low-quality vacuum seal machine. So you may want to use a ziplock bag and the water displacement method if you have very wet sous vide beef marinades.
Load your marinade and steak into your plastic bag of choice (see more on ziploc vs vacuum seal bags for sous vide cooking), then close, rubbing out as much of the air as possible. Then, freeze. If you're using a dry marinade, then simply rub the marinade into the meat then vacuum seal as normal, then freeze.
Finishing marinated sous vide steak
Finishing up marinated sous vide steaks takes no time at all. You can have steaks quickly seared and resting on a cutting board, ready to be sliced, in about 15 minutes.
After a sous vide bath, shock steaks in an ice bath so when the steaks are finished, the internal temperature of the steaks is exactly where you want it. I usually sous vide between 135-140 degrees F for medium or medium-rare steaks.
Then it's time to pat the sous vide steaks dry with a paper towel. Even when they've been marinated first. This gives the outside of the steak the right moisture level to grill it or sear it in a cast iron skillet with one or two tablespoons of butter.
Flex your sous vide cooking skills and whip up something delicious with this exquisite sous vide porterhouse steak recipe that will not disappoint.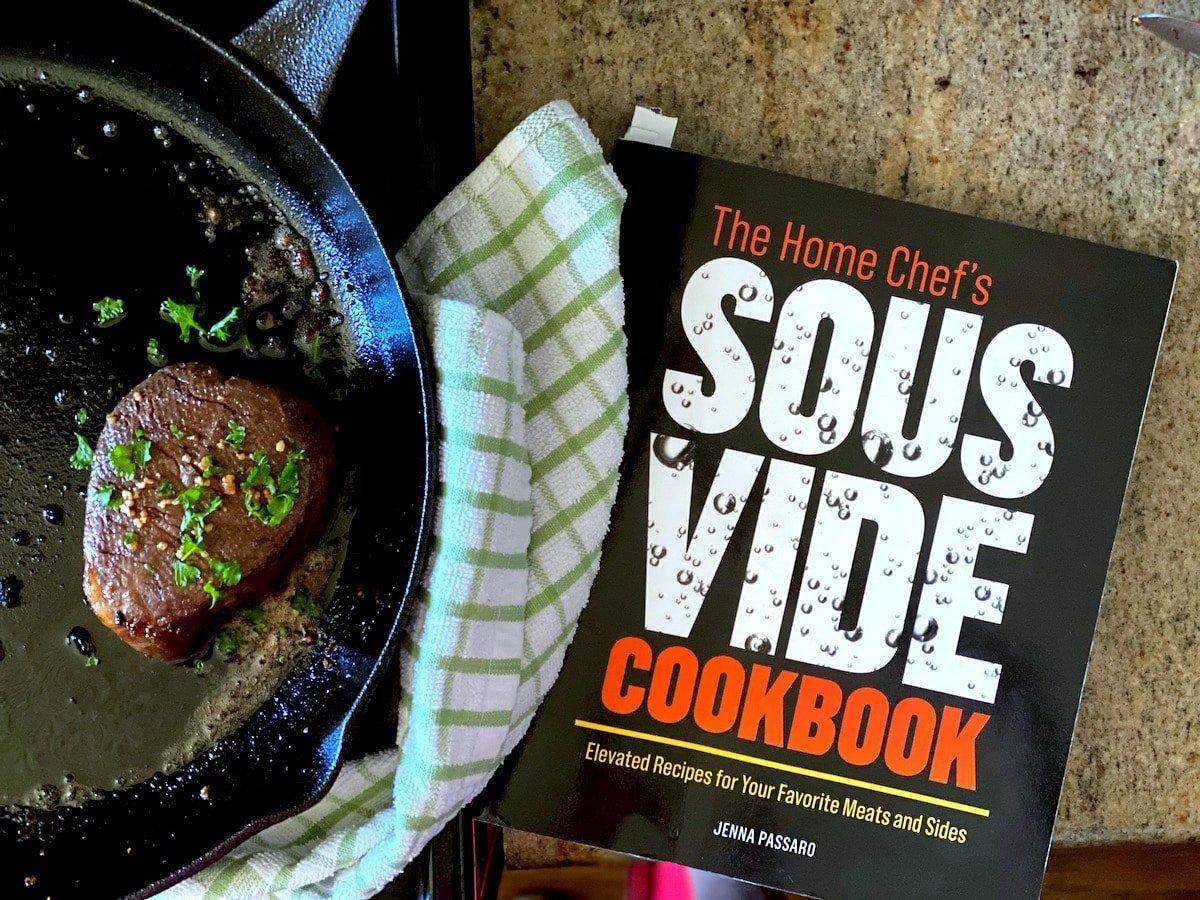 Find new ways to enjoy your favorite food with sous vide cooking. Get inspired with my new book – The Home Chef's Sous Vide Cookbook.
Add big flavor with DIY condiments
Which flavors will you start with?
Really delicious steaks are one of the reasons sous vide is so popular. Most recently, I've made sous vide t bone steak, sous vide filet mignon, and sous vide pork tenderloin.
See the sous vide steak dishes I'm cooking this week with my immersion circulator or multipot on Instagram @sipbitego.
For more delicious ideas from my sous vide blog, subscribe to the Sip Bite Go channel.