Looking for easy and tasty Blackstone griddle recipes? Here are a TON of delicious dishes to cook on the flattop outdoors. Find things to cook from breakfast scrambles, to game day foods, hibachi steak and chicken dinners, and more…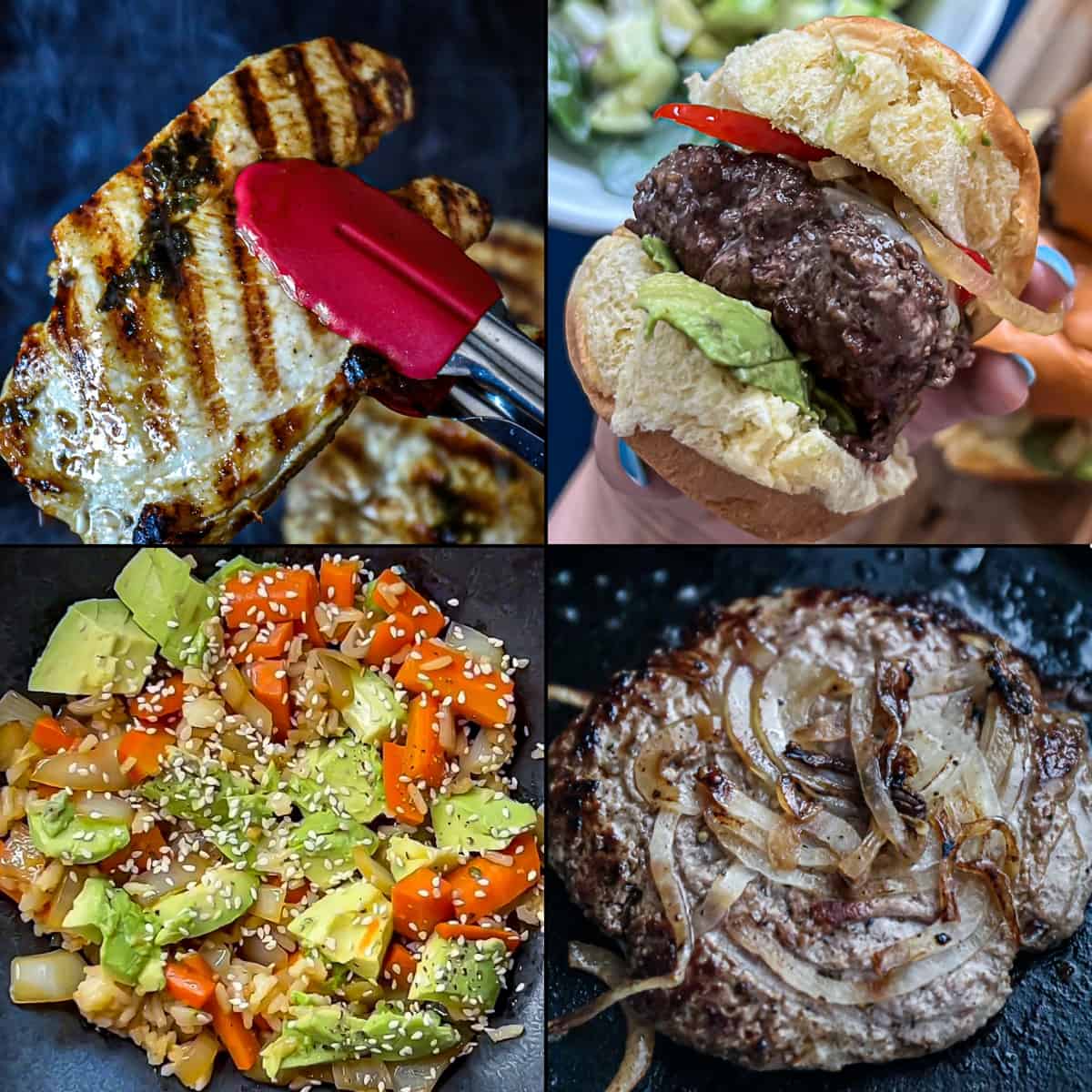 First, here's a quick overview of what to cook on a flat top griddle….
(scroll down for a list of the best griddle recipes…)
What is the best thing to cook on a Blackstone griddle?
If you're just getting started, try easy Blackstone recipes for breakfast foods like bacon, eggs, and pancakes.
Or try other foods you've tried cooking inside on a cast iron skillet, like smash burgers or grilled cheese sandwiches.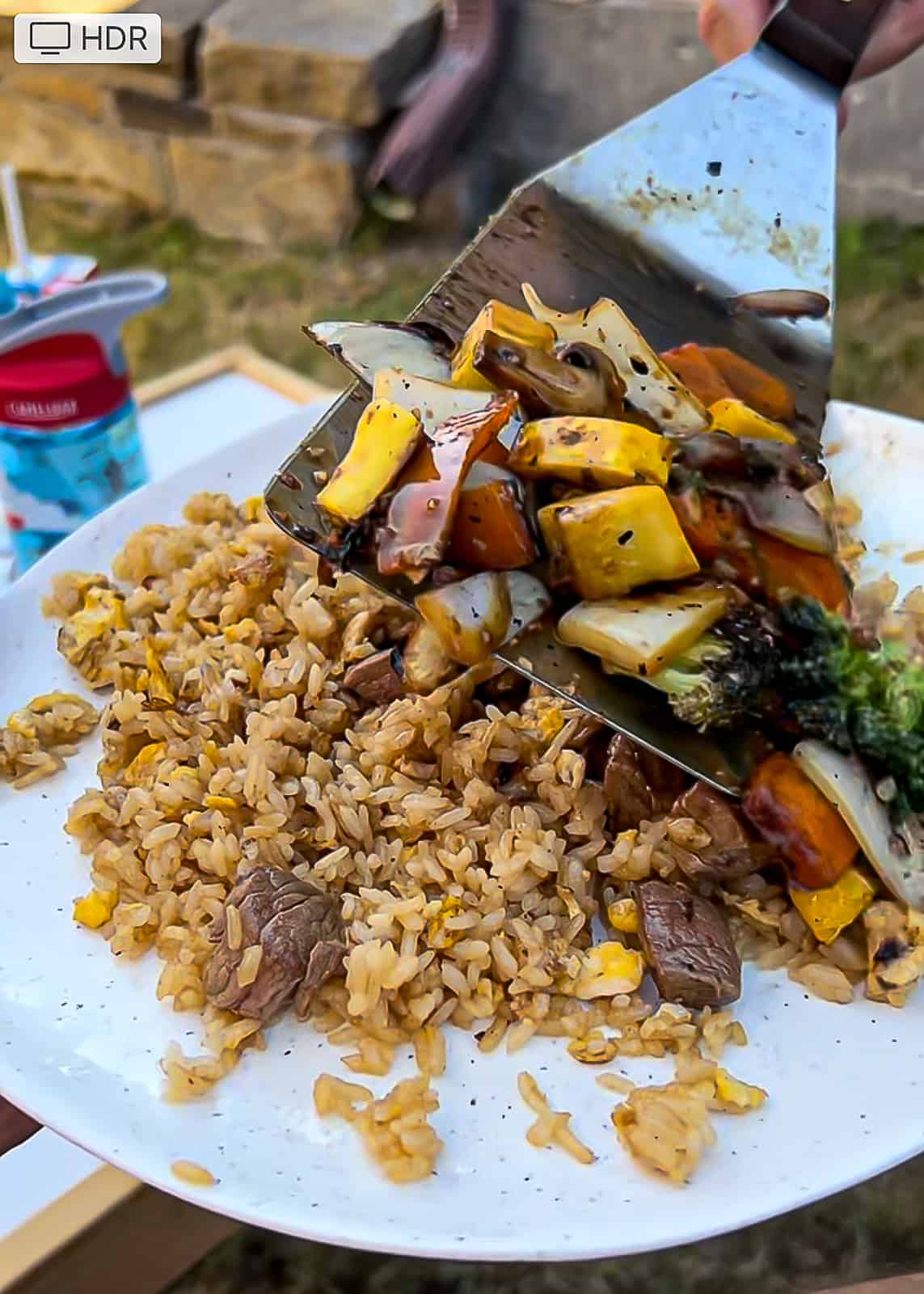 Fried rice is a very easy side dish cooked on a flat top griddle.
Once you've mastered the basics of working the flat top griddle for recipes you're familiar with, move on to Philly cheese steaks and elaborate breakfast spreads with hash browns, eggs, and quesadillas.
Love easy recipes? Follow Sip Bite Go on Instagram and TikTok…
Blackstone griddle chicken recipes
Chicken breast
Some of the best chicken recipes for Blackstone griddle cooking are made with chicken breast…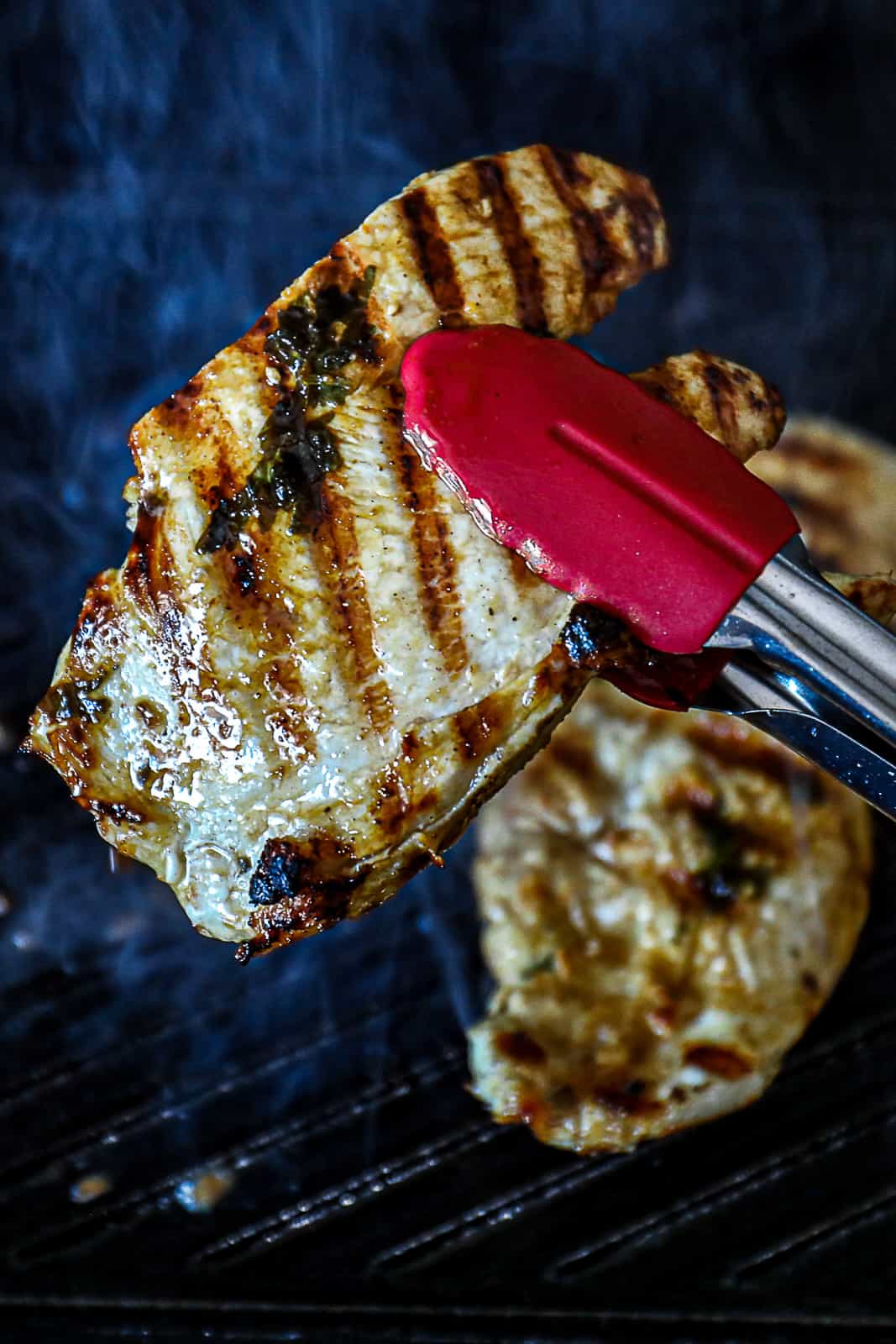 Because it's an easier cut of poultry to cook evenly, than say, grilled chicken thighs.
Learn more in this chicken temperature guide…
You can turn something like this recipe for chicken breast on stove into a Blackstone chicken recipe by using really thin chicken breasts so they cook quickly.
See how to make griddled chicken breast in this video…
See how to make a simple Traeger beer can chicken…
Chicken stir fry noodles
Use rice noodles and diced chicken breast to make a chicken stir fry on the griddle.
See easy stir fry recipes…
Italian-style crispy chicken tenders
One of my favorite ways to prepare chicken for easy weeknight meals is to make something like this recipe for chicken in tomato sauce.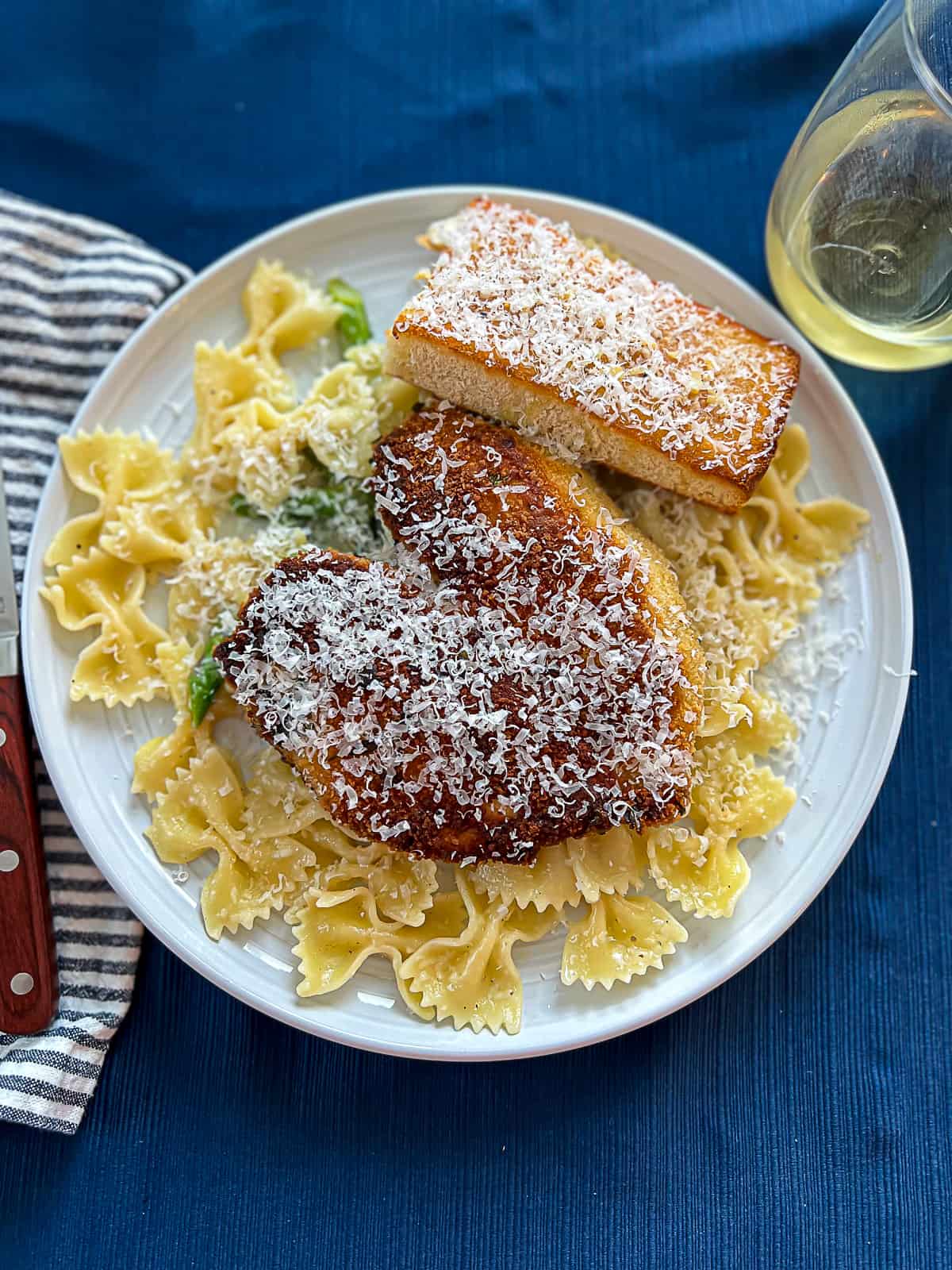 To make the crispy chicken tenders, all you need are a few skinless chicken breasts, parmesan cheese, and Italian style bread crumbs.
Game day wings
In my opinion, cooking chicken with bones in them isn't necessarily my favorite Blackstone griddle recipe idea for beginners…
Because it can be trickier to make sure they are done than cooking chicken breast, for example.
Get tips for grilling chicken wings…
I'll soon have a recipe for game day wings on the Blackstone.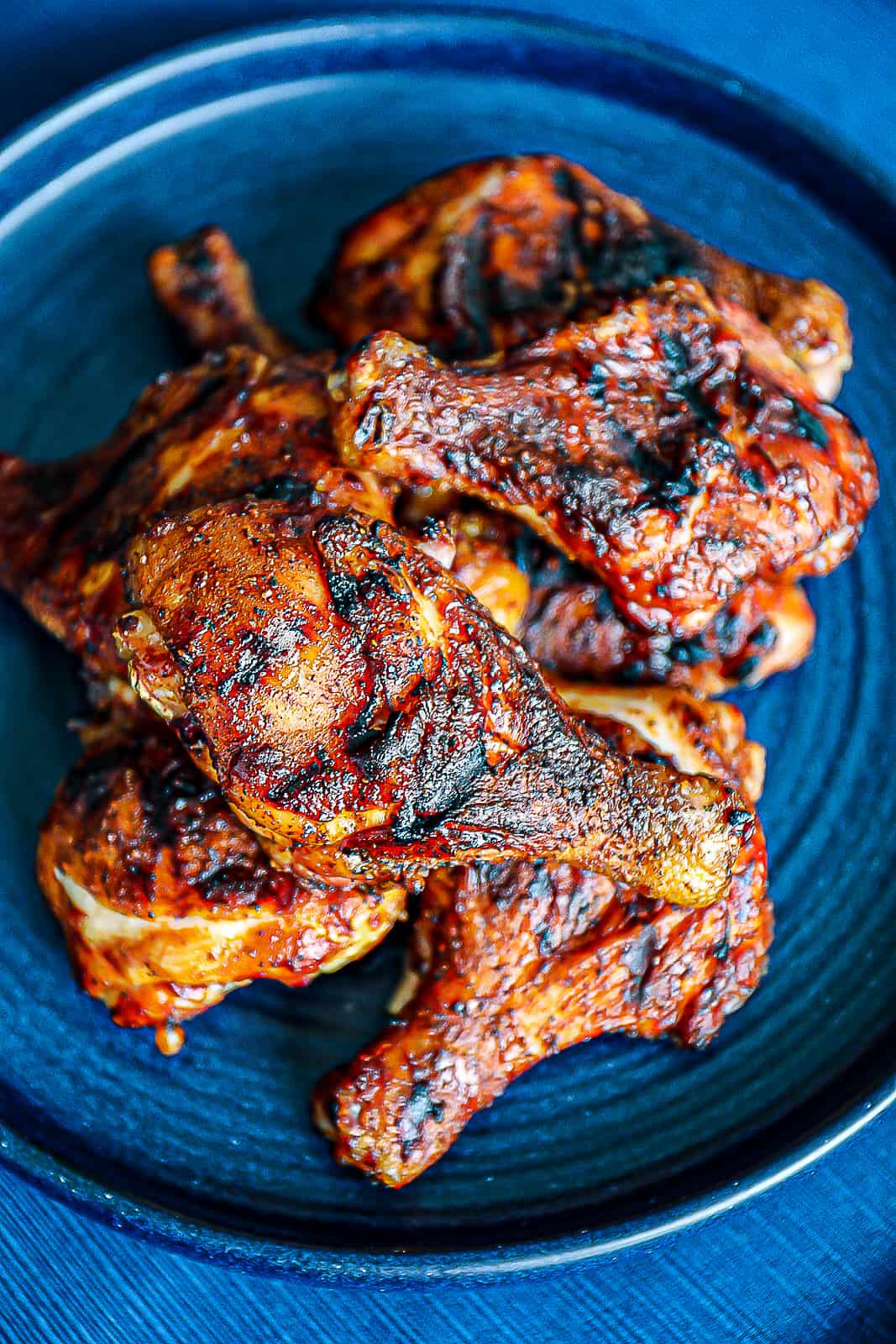 Until then, check out this method on how to butterfly chicken legs…
Also see how to make these smoked chicken wings and BBQ game day chicken tacos…
Griddle grilled chicken kabobs
Some of the more healthy Blackstone griddle recipes can be made using kabobs.
Load chicken kabobs up with veggies like peppers, zucchini, onions, and a little seasoning for a lighter option.
Burger blackstone recipes
Delicious burgers on the flattop start with simple ground beef prepared right.
See how to make hamburger patties…
Burger sliders on the griddle grill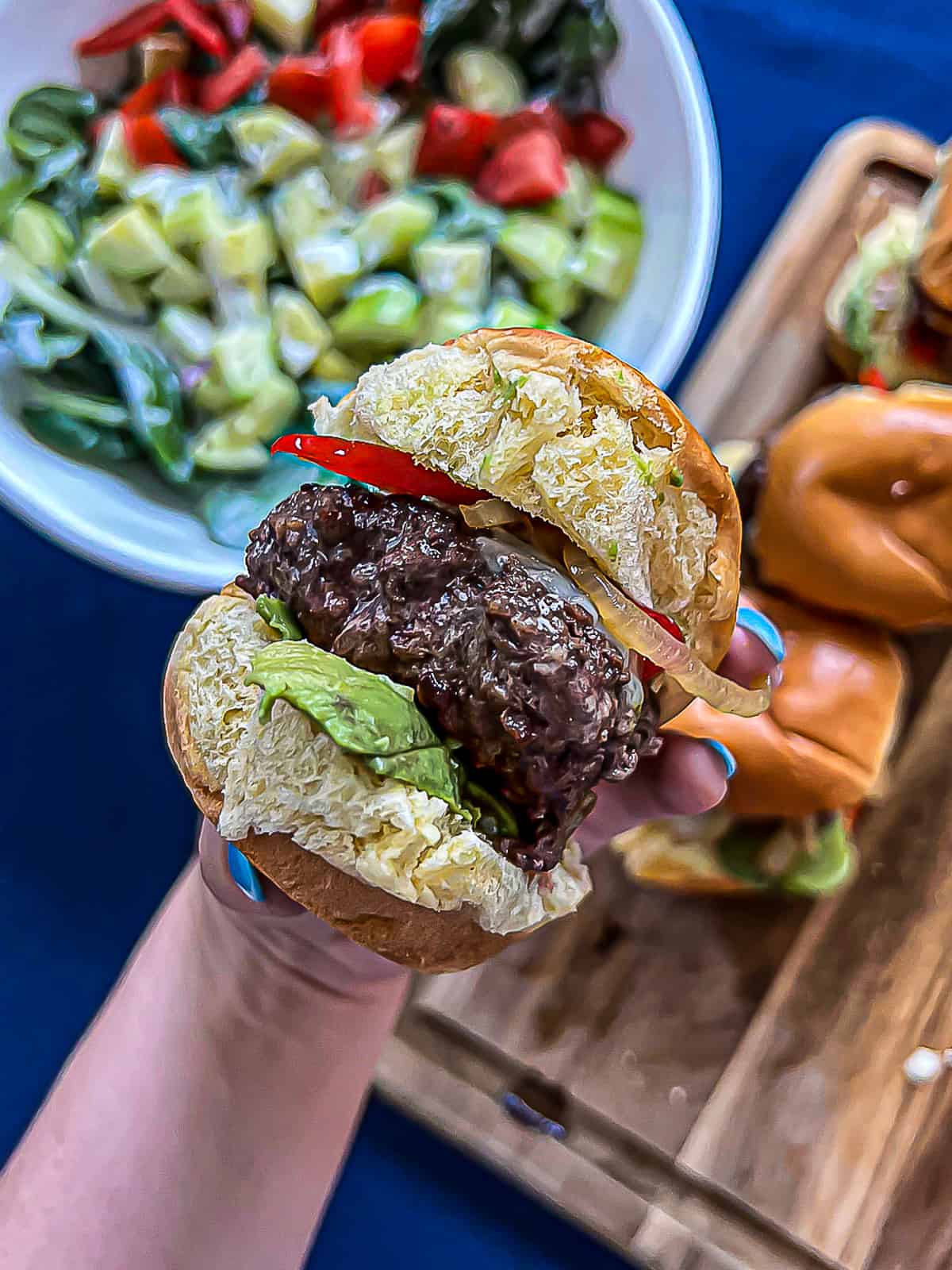 One of the best griddle hamburger recipes for beginners is cooking burger sliders.
They are easy to make for a crowd and cook very quickly.
Philly-style smash burgers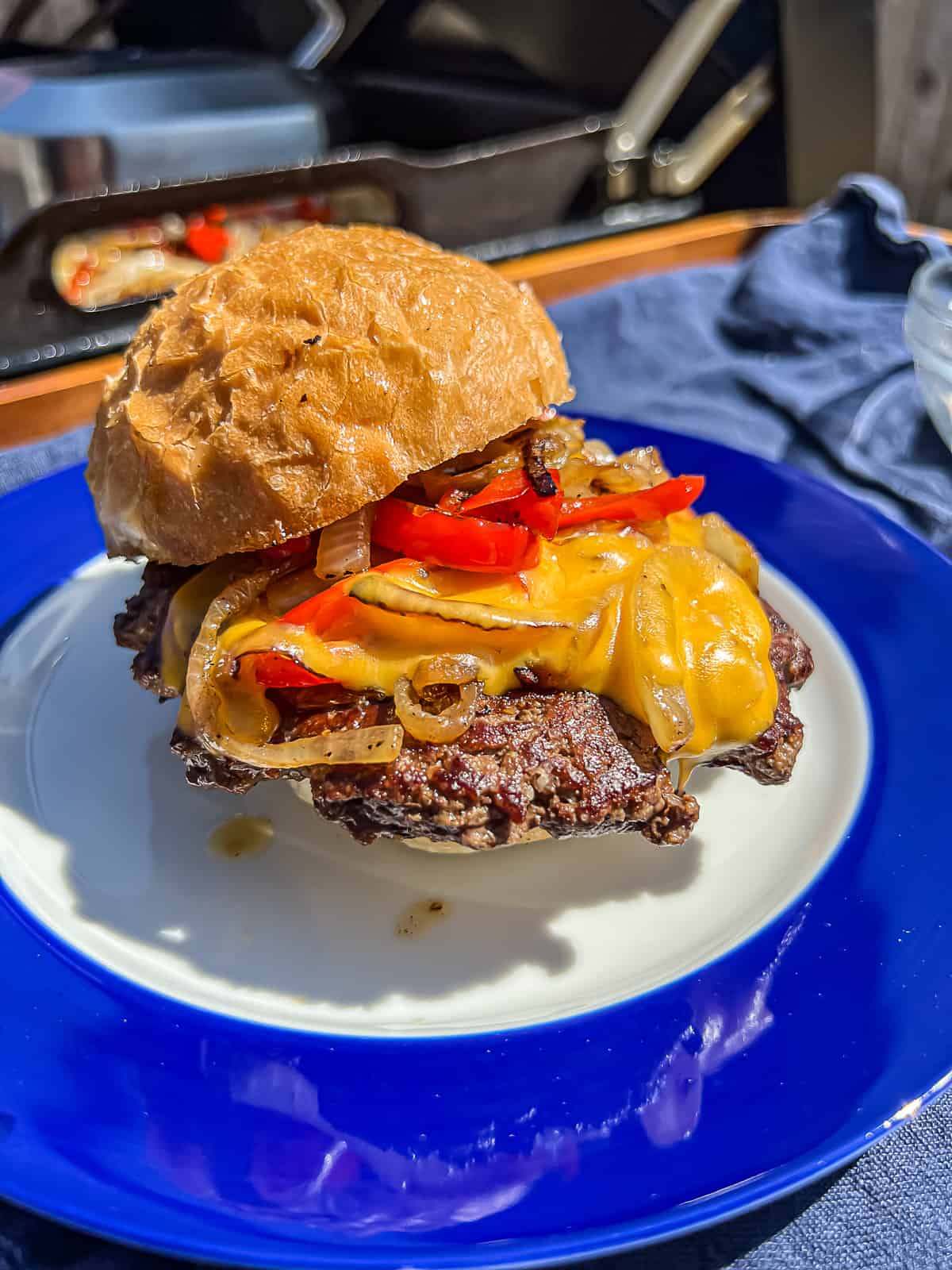 Philly cheesesteak smash burgers are a tasty (and very easy) twist on the classic cheesesteak sandwich.
These burgers are made by smashing beef patties on a hot griddle and topping them with sautéed onions, red peppers, and melted cheddar cheese.
Onion smash burgers griddle style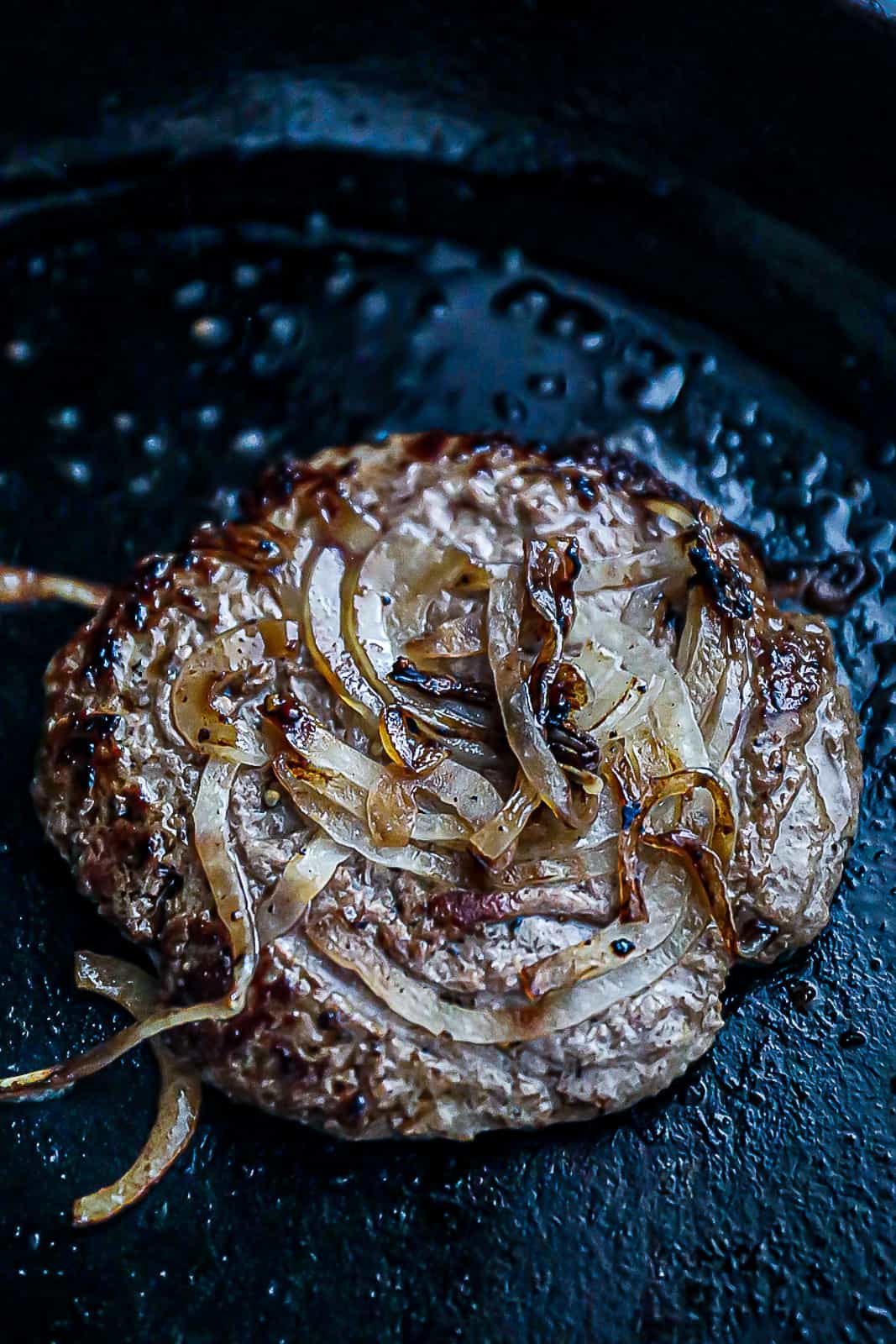 Use this version of cast iron cooking onion smash burgers and instead, smash burgers on the griddle outdoors.
See more of Sip Bite Go's best burger recipes…
Fried rice
This is a classic beginner recipe for the griddle.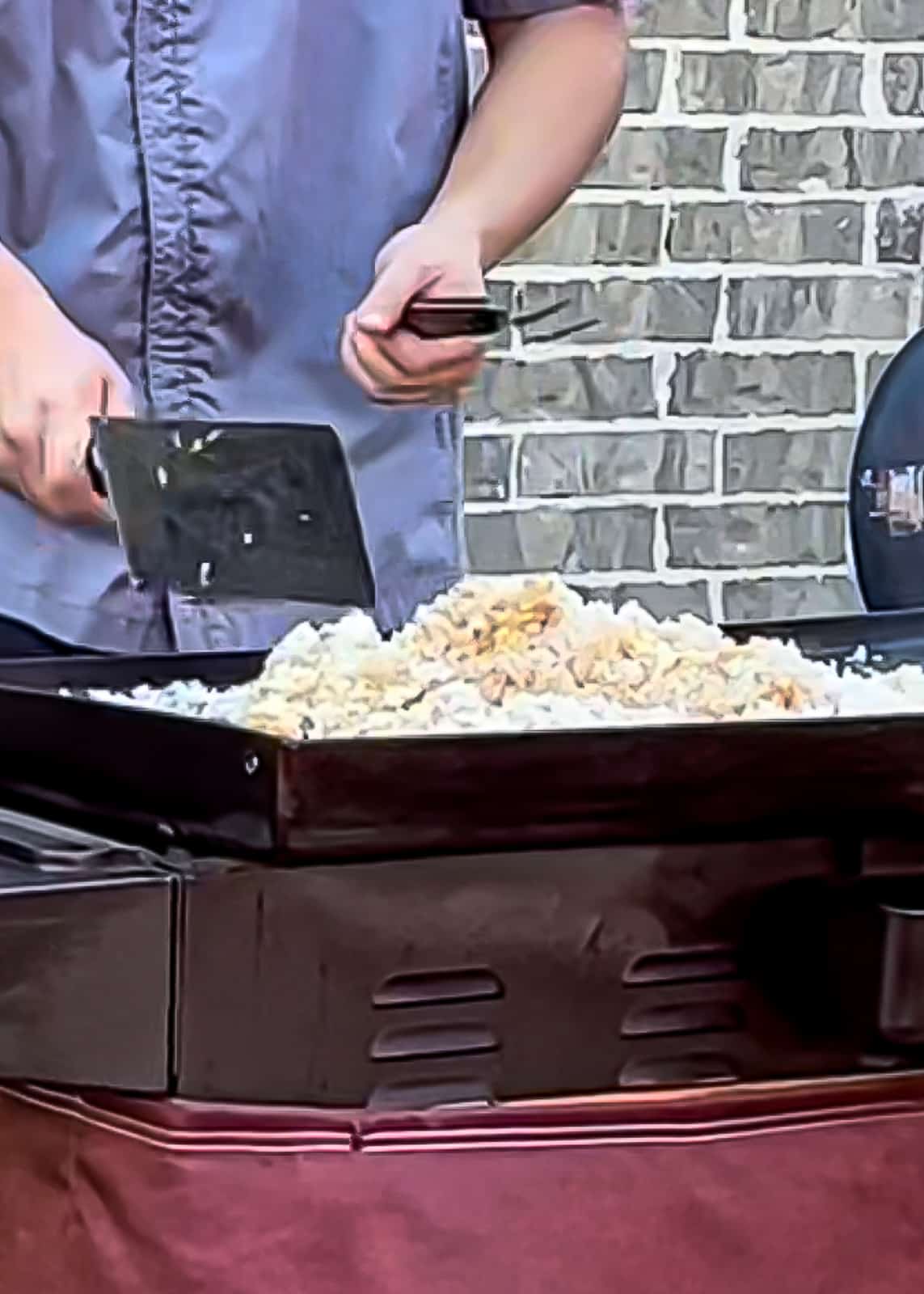 Recipe coming soon for outdoor griddle fried rice…
Steak Blackstone recipes
Hibachi steak with fried rice and veggies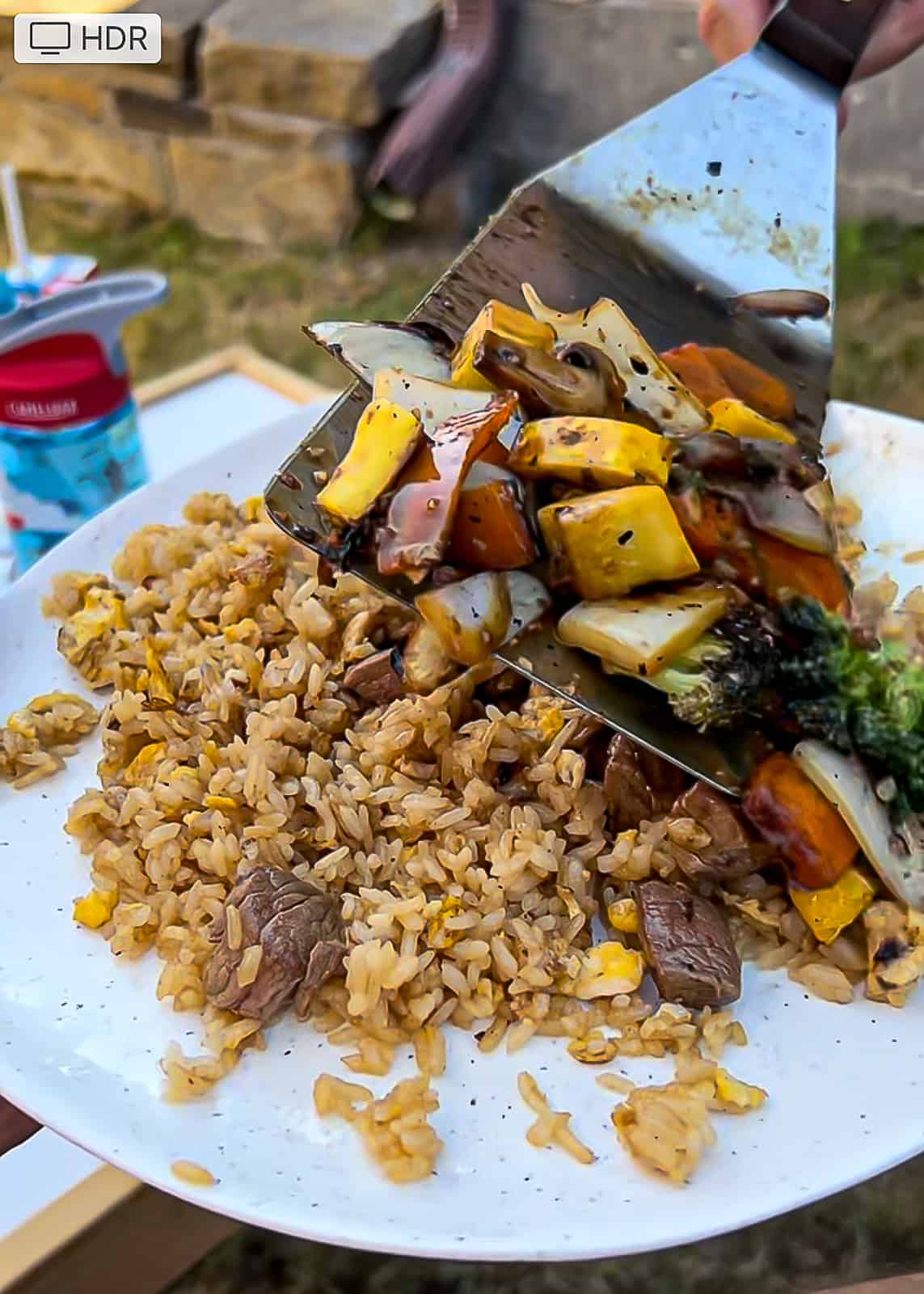 As seen in the Blackstone hibachi party video below, you can make tasty blackstone griddle hibachi steak with veggies and fried rice.
Ribeye steak and sirloin steak are great options for cooking on the griddle flat top.
Top your Blackstone steak with this herby garlic butter…
When choosing an oil for cooking on a Blackstone griddle, I recommend using avocado oil instead of olive oil for steaks and other things you're cooking at a high temperature.
Philly cheesesteak griddle recipe
One of the more easy Blackstone griddle recipes for steak is for a Philly cheesesteak.
Soon, I'll share a recipe demo for making the best Philly cheesesteak recipe for the Blackstone griddle.
For now, see how to make Philly cheesesteak pizza…
Pork chops on the griddle
Since pork chops cook so quickly, they're a great option for cooking on the Blackstone grill.
More on Blackstone griddle hibachi recipes
Check out this video of a hibachi party with a chef who cooked dinner on the Blackstone for a summer party…
Soon, I'll share more hibachi recipes for the flattop.
Blackstone griddle breakfast recipes
There are seemingly endless ways to get creative when it comes to recipes for the Blackstone griddle for brunch and breakfast.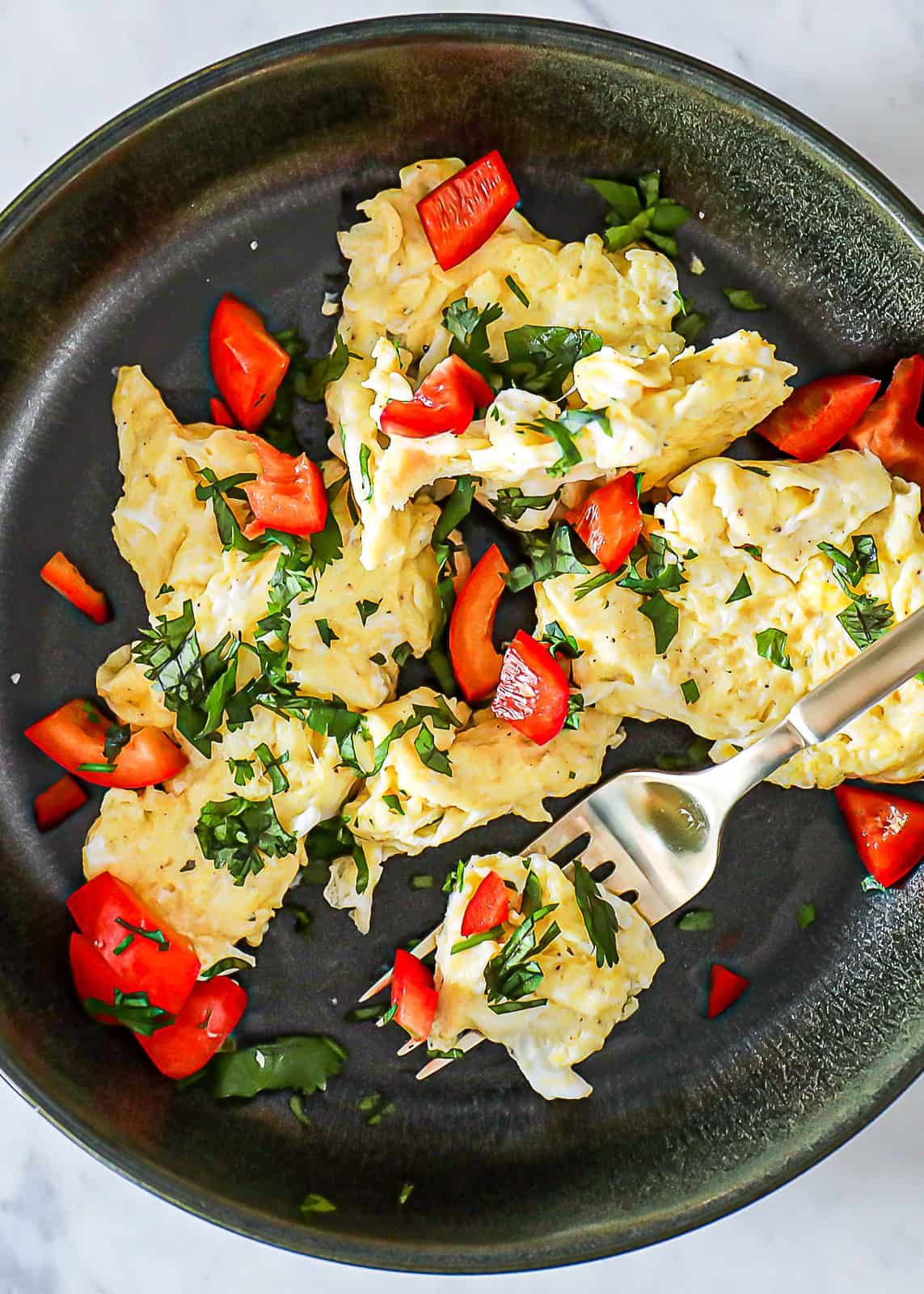 Here are some dishes to make on the flat top griddle for a crowd in the morning…
Fried eggs
Griddled bacon
Hash browns on the griddle
Breakfast sausage served on homemade focaccia
Slice and griddle cook this recipe for blueberry banana bread
Griddle pancakes topped with blueberry compote
Chocolate chip sprinkled French toast
Best griddle recipes tailgating
Smash burgers and Philly cheesesteak sandwiches, as mentioned above, are some great options for cooking on the griddle for tailgating and football game day parties.
Really, anything quick that takes 20 minutes or 30 minutes to griddle is ideal so you don't take much time from the game.
More ideas coming on this soon.
See the best game day smoker recipes…
New recipes and foodie guides….
Grill and smoker recipes…
Meat thermometer recommendations
Every home chef needs a reliable meat thermometer to cook food perfectly.
On Sip Bite Go, you'll often see me using:
Meater thermometer – a fancy wireless thermometer that connects to a phone app – gifted to me from a Traeger partnership.
ThermoPro digital thermometer – which has a wire that connects the thermometer to a display box outside the oven/grill.
It's like being psychic! The great thing about either of the thermometers above is that I don't have to take the food out of the oven to know the temperature.
How to use 'em… What I do is stick the digital thermometer in steak, pork, chicken, whatever… Then put the food in the oven, on the smoker, or grill.
While the meat cooks, it reads the temperature so I know exactly what temp meat is as it's cooking. Without having to take it out and check. It's really difficult to overcook food when you know exactly what temp it is inside!
Are you a foodie, too?
Hey home chef, hope that answers all your questions about what's best to cook on a Blackstone griddle, especially for the first time.
Bored? See my favorite grill costume…
Enjoy griddle cooking and see you soon!
– Jenna
Connect…
Browse the Sip Bite Go recipe collection