What is a sous vide water bath? I get many puzzled looks whenever I use this term to someone new to sous vide cooking, so let's set the record straight to begin with. It has nothing to do with the bathtub in your bathroom. Instead, picture a big plastic container, full of water, that serves to conduct heat to your sous vide cooked food.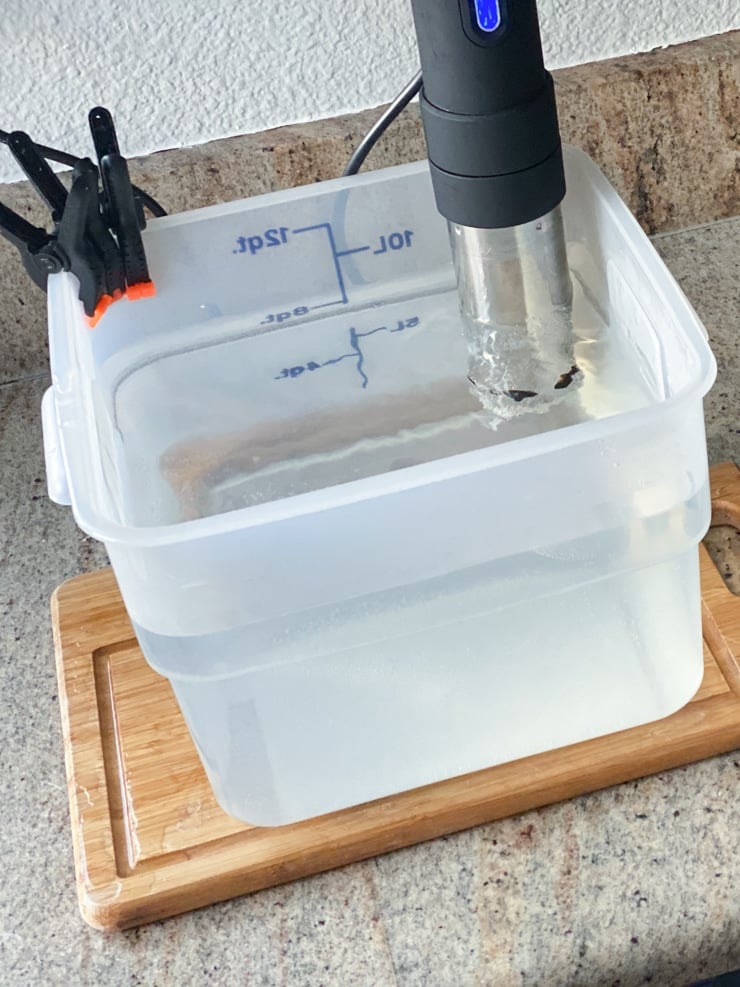 That's a hot water bath for sous vide cooking. The second type of home cooking bath I'll share with you in this post is an ice bath. Let's dive in.
New to sous vide techniques? Learn why is sous vide so popular.
The key to sous vide cooking is the water – aka the "sous vide bath"
To "sous vide" means to cook under water in French.
That's why the sous vide bath is so important.
You need enough water to cover your food for the entire cook time. and give you that signature even cook you can't get anywhere else but with sous vide recipes.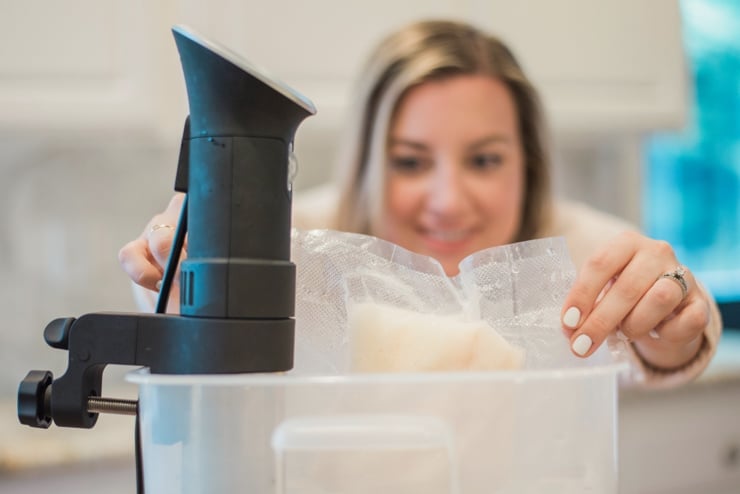 But there's more to sous vide baths than just setting a bucket of water on the kitchen counter. Here I'll share with you everything you ever wanted to know about a sous vide bath— and a little bit more.
Before we're done you're going to be throwing around all the sous vide terms like a pro.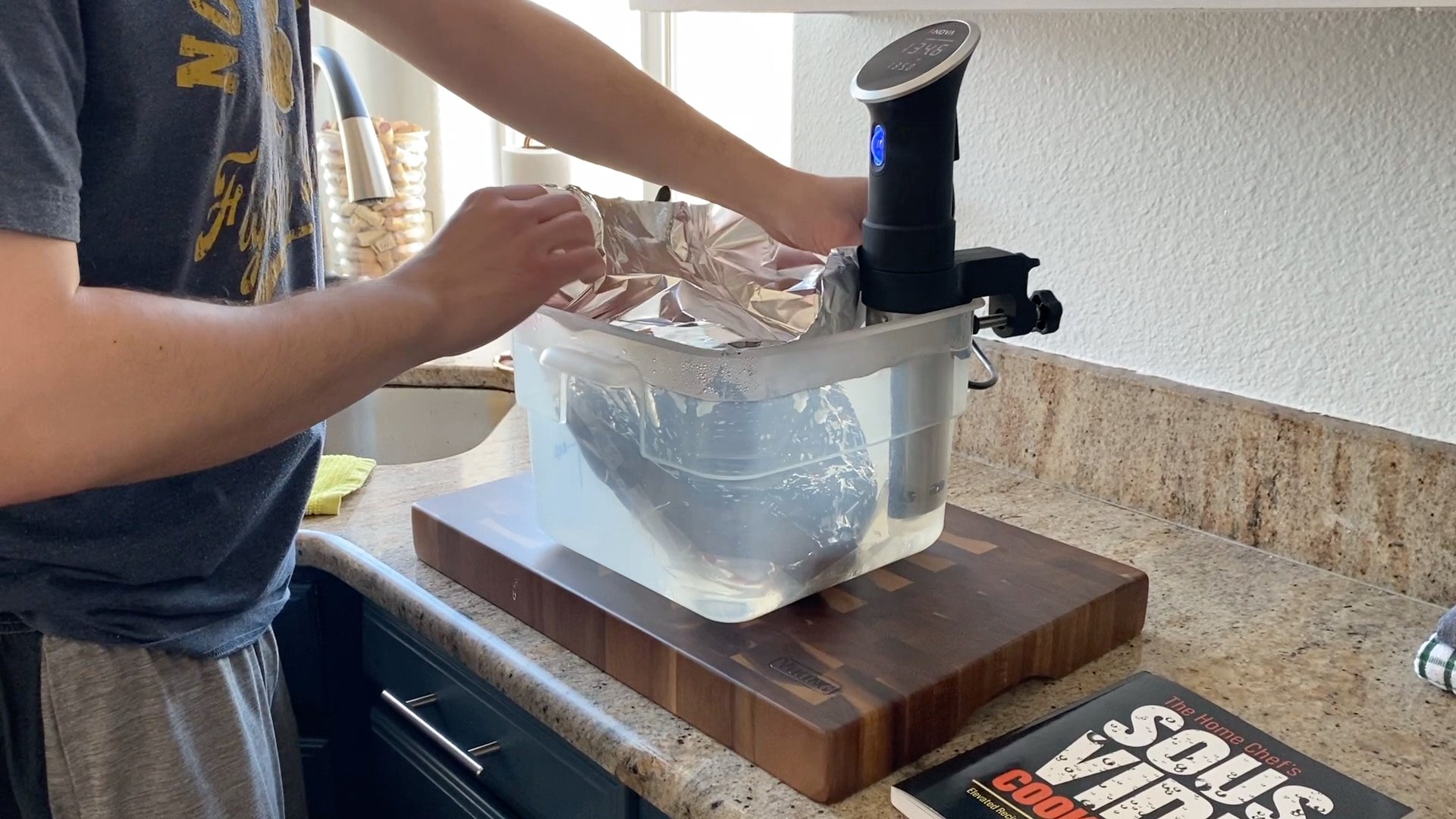 What is sous vide cooking?
Want the short definition? Sous vide is a magical way of cooking proteins and other foods that seals all the flavors and vitamins in with your food.
Something longer? Sous vide means "under vacuum" in French, and when you sous vide food, you vacuum seal it in a bag, and then cook it to a very precise temperature in a water bath.
The temperatures are typically much lower than you'd use in stovetop cooking, and that's why cook time may be longer.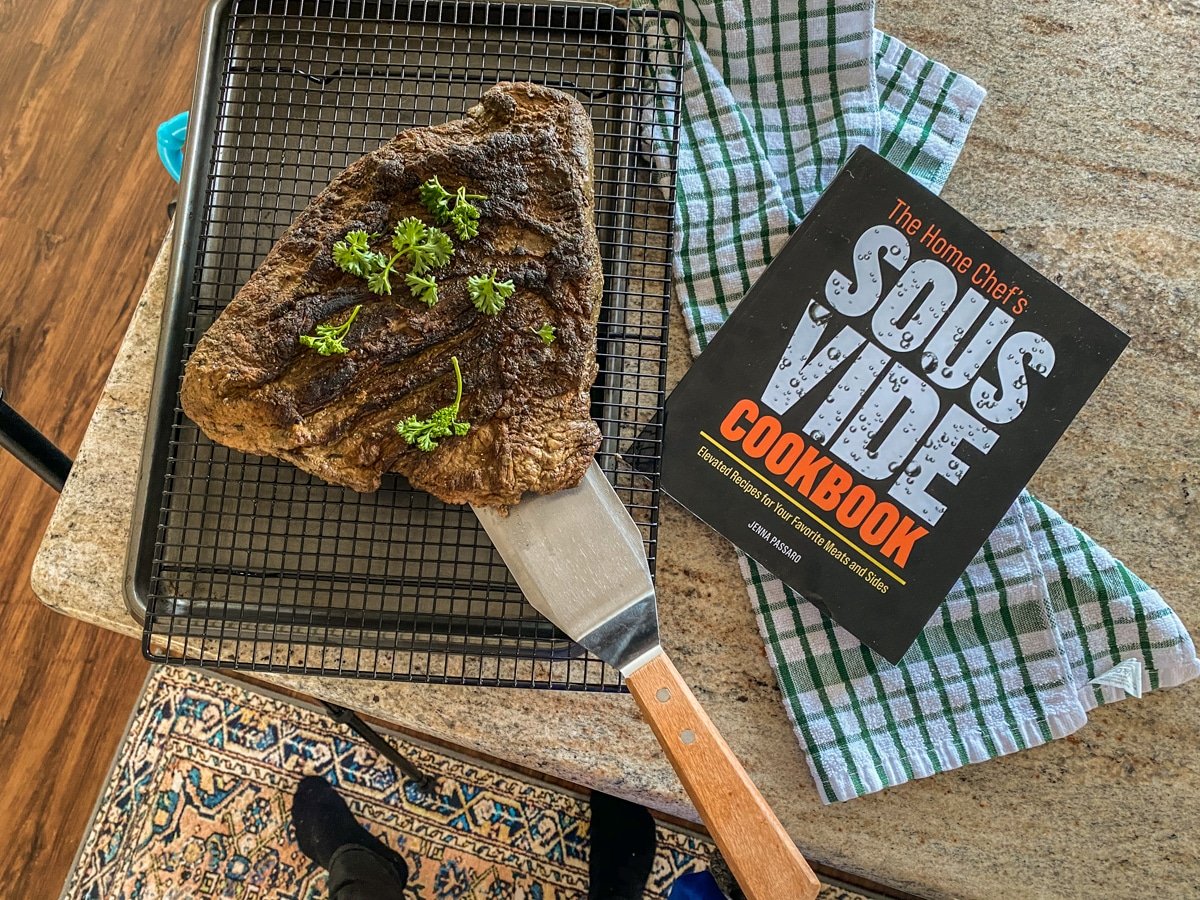 48 hour sous vide brisket, 4 hour sous vide turkey breast, and a 45 minute bone in steak sous vide — each one uses a water bath to cook food with the sous vide method.
The results are unique, and that's what makes this type of cooking so rewarding: the food never comes in contact with the water. So the flavors of the food stay concentrated and the food tastes rich.
The highly controlled environment means your sous vide recipes will come out exactly the way you want them, every time: there's no guesswork.
And the flavor of sous vide meats are something you have to experience if you call yourself a food connoisseur.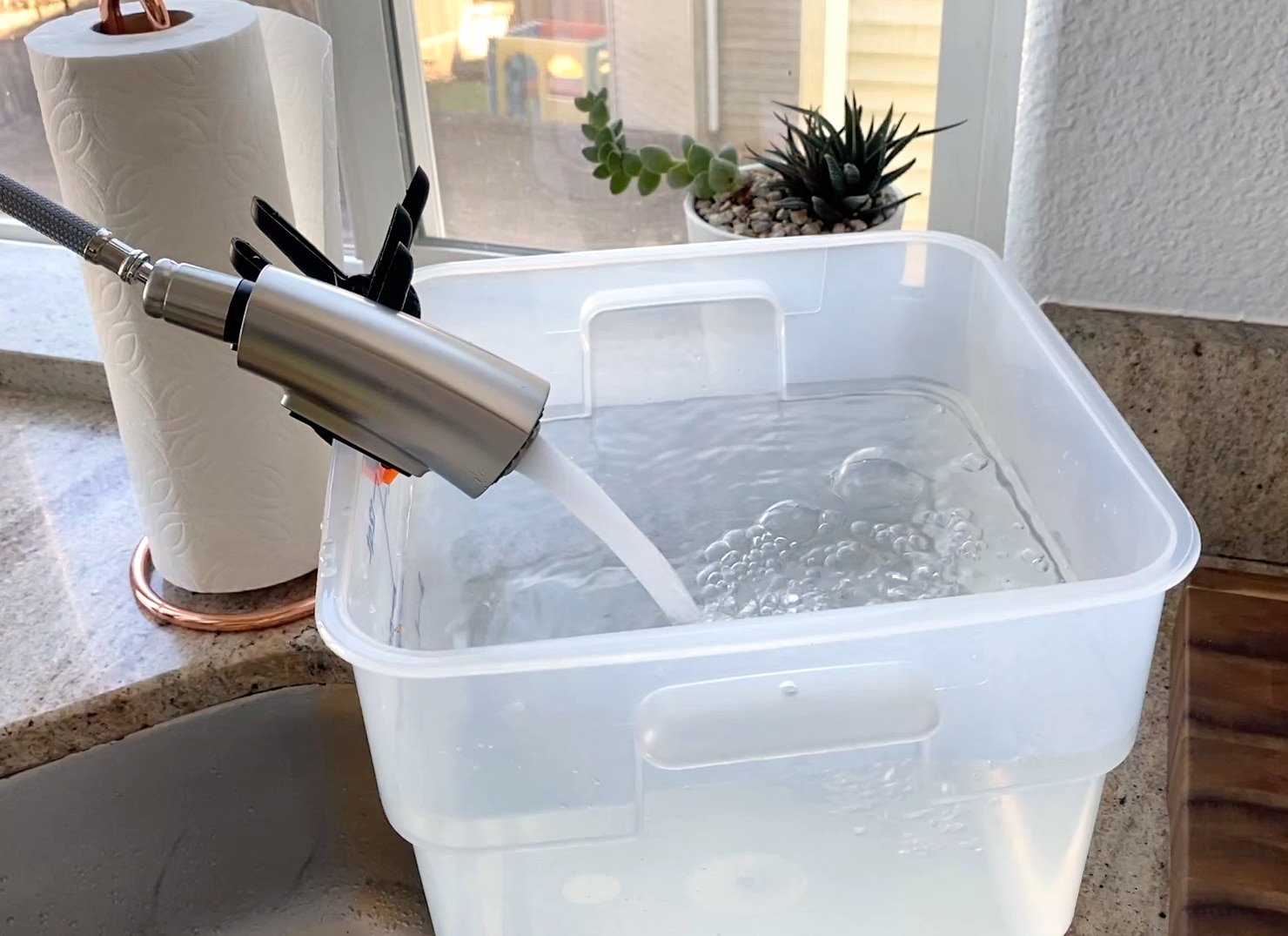 The basic steps for sous vide cooking
Season food, seal it in a bag, then drop it in sous vide bath to cook.

Once done cooking, shock the food in a sous vide ice bath to stop the cooking process.

Finish and serve food as desired.
That's the step by step way to cook sous vide for many recipes, but there are some unique recipes that use different tools and techniques.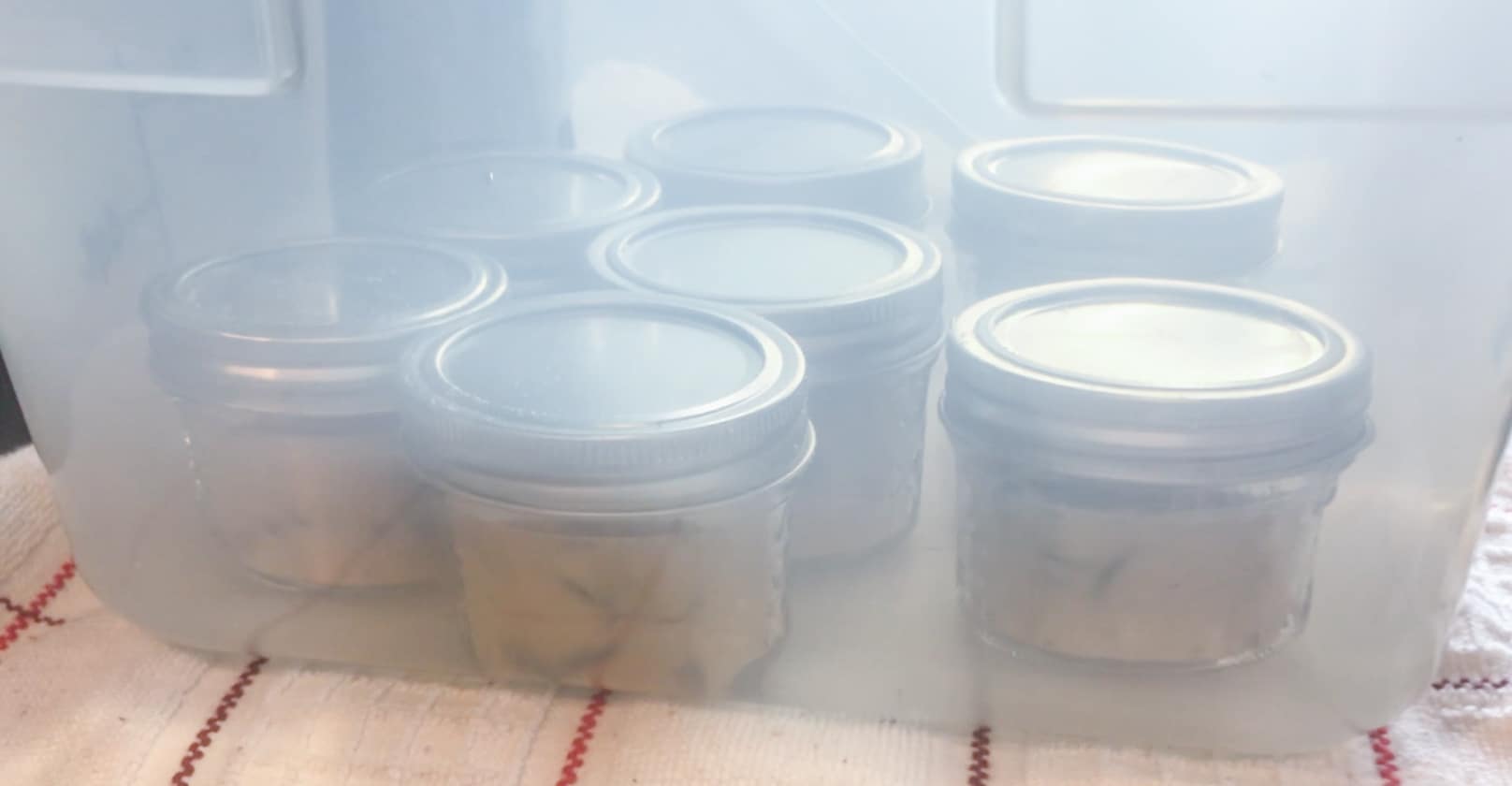 For example, sous vide egg bites are cooked in small mason jars.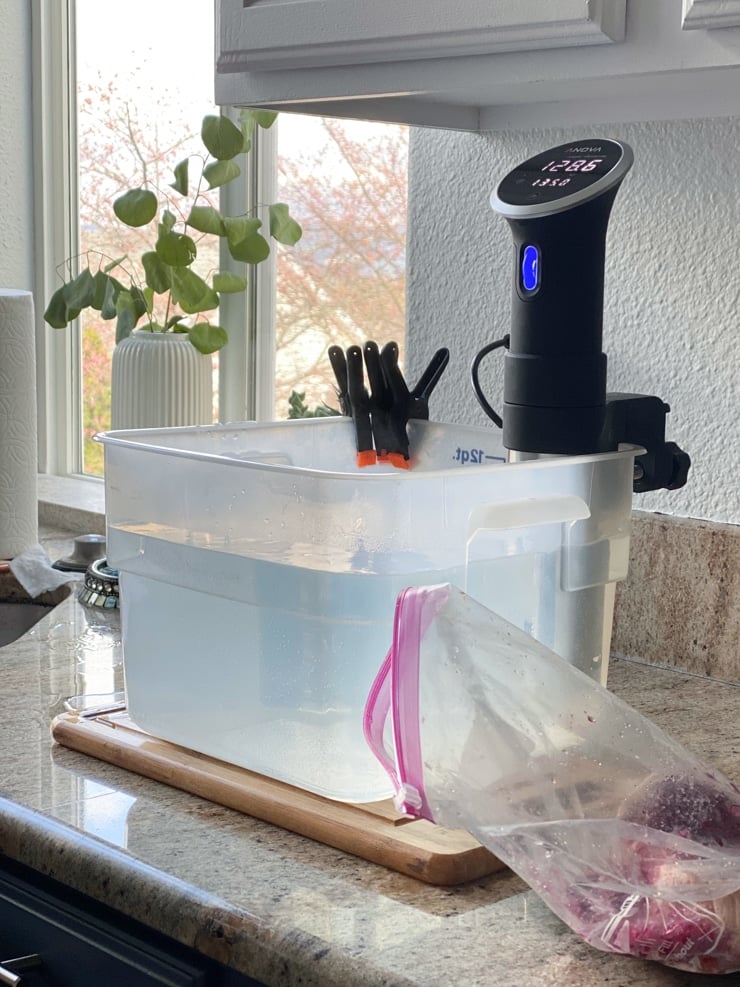 How do you set up a water bath?
Set up the sous vide water bath by clipping a sous vide machine to the side of a sous vide container filled with water.
Tips for setting up a sous vide bath
Your sous vide bath is the key element to sous vide cooking.
It's the water that your food is submerged in, and it's what is doing the cooking: the active ingredient that's responsible for everything going on when you sous vide your food.
The bath must contain enough water to fully cover your food, but most importantly, the water in a sous vide bath NEVER boils.
New to cooking food underwater? Check out my guide to sous vide for beginners.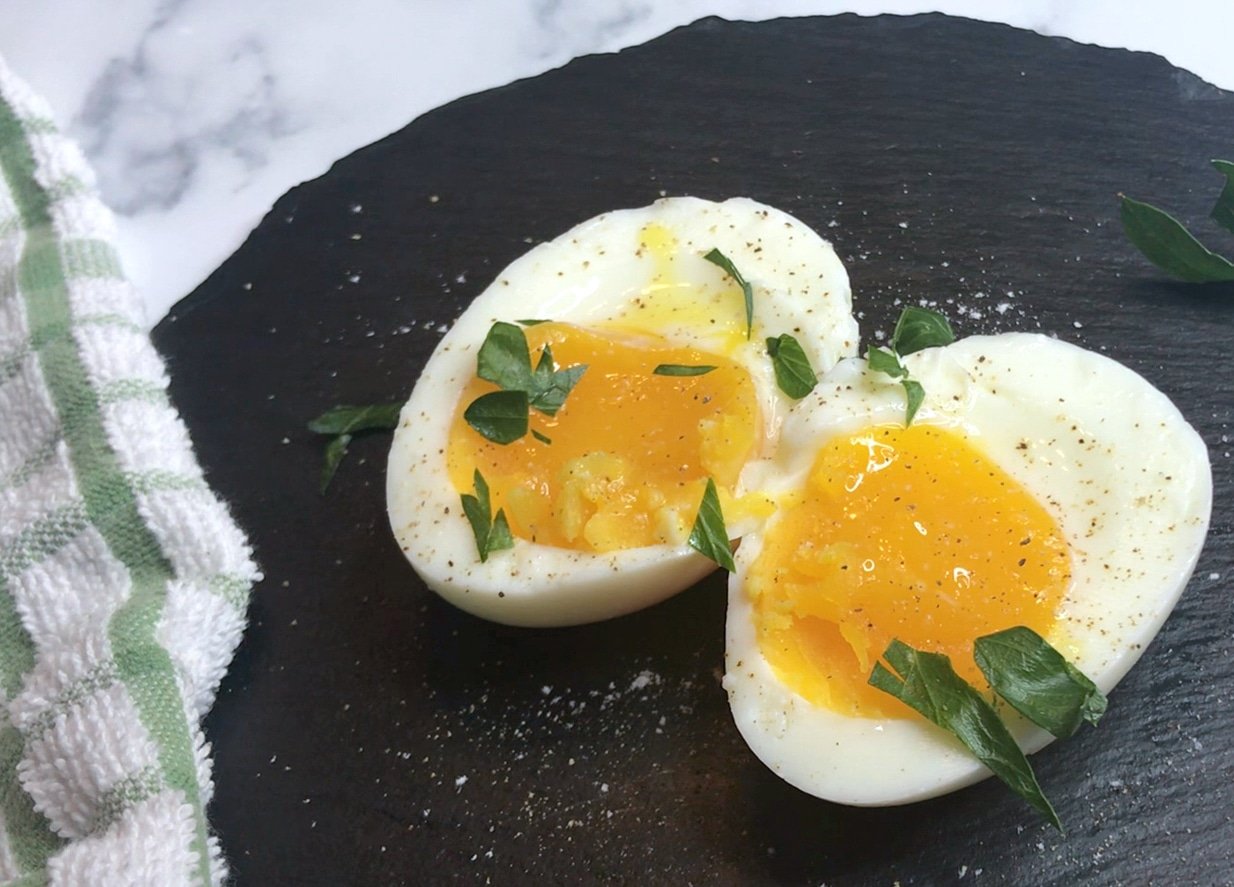 Instead, your sous vide machine regulates the water temperature to ensure that the food you're cooking stays stable and never goes above a certain temperature.
It's this which allows you to achieve the perfect texture for your meat and chicken, which is why sous vide is a popular cooking method for proteins.
Because the sous vide bath uses lower temperatures than in other cooking methods, your food might need to be in the bath for a while, depending on the protein's cut and size.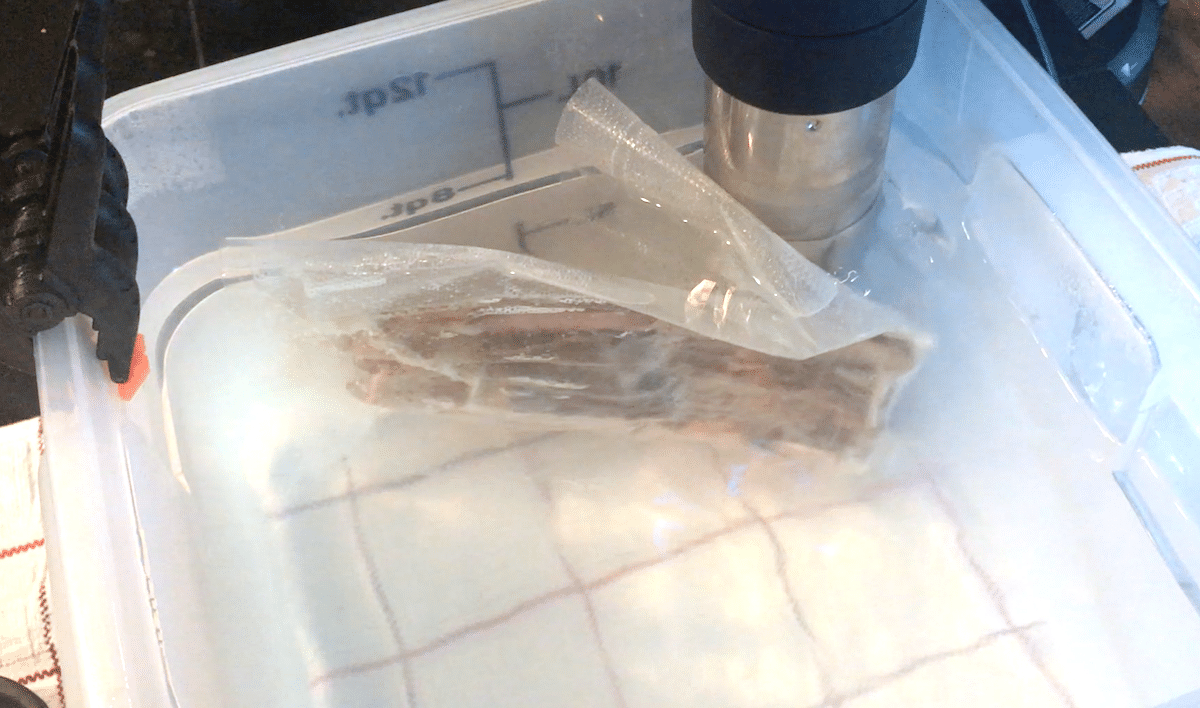 Examples of sous vide bath cook times
45 minute bone in steak sous vide (about 1″ thick)
8 hour sous vide bacon
48 hour sous vide brisket
4 hour sous vide turkey breast
Should you add hot water to a sous vide bath?
Adding hot water to your sous vide bath is a great idea if you want a head start on bringing the sous vide bath water up to the right cook temperature.
In fact, adding warm or hot tap water to the sous vide container can cut the heat-up time almost in half.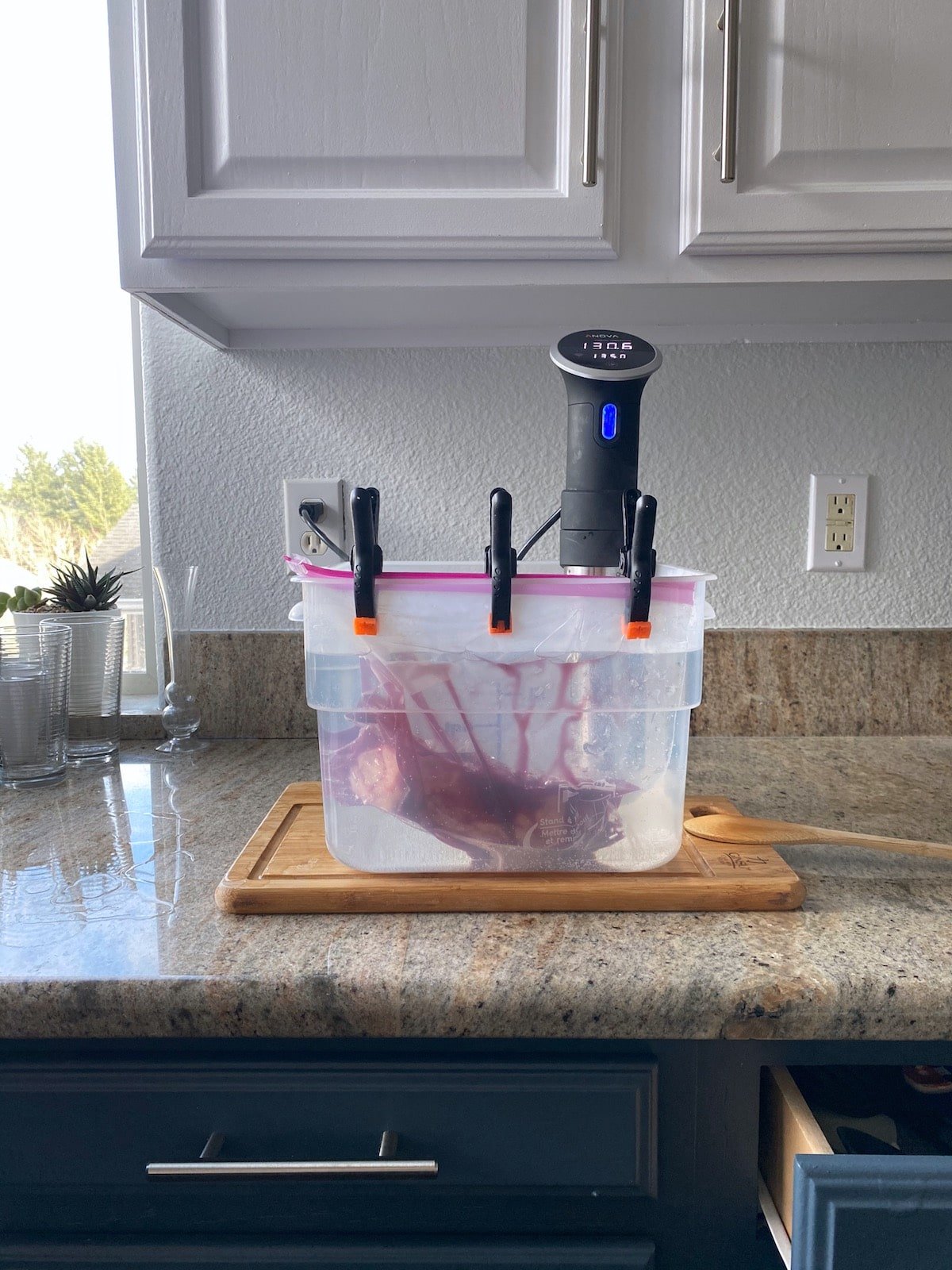 What about boiling water before adding it to the sous vide bath?
There are people who boil water on the stove, then transfer it to a sous vide container.
There's nothing wrong with this method per se, but it doesn't strike me as saving time much time for a standard size sous vide water bath.
If you're doing a whole sous vide turkey or multiple sous vide steaks for a crowd and using a large cooler to cook the food, it might be a viable option.
But otherwise?
Save yourself the trouble, and use hot water from your hot water tap.
What containers do you use for a sous vide bath?
You're not limited to any one type of container for your sous vide bath: the only hard-and-fast rule is that it's big enough to fully submerge your food.
Since the water will never reach boiling, you don't have to use your stock pan: a rubbermaid container works just as well.
How can you prepare a sous vide bath for a long cook time?
There are a few things you'll want to pay attention to when you're setting up a long cook time sous vide bath.
First, make sure there is a barrier between your sous vide bath container and natural stone countertops.
The heat that comes from the sous vide water cooking on high temperatures for long periods of times could possibly crack natural countertops, and that would be an expensive meal.
A barrier doesn't have to be anything fancy. Use a cutting board or another thick, heat-resistant barrier between the counter and the sous vide container.
Next – don't forget to check the water level.
Your sous vide bath won't be boiling, but it'll still be hot and steamy.
Over an 8 hour cook quite a bit of water can evaporate. You want to make sure the food you're cooking is fully submerged in water at all times, so add more water if it dissolves during the cooking process.
Finally, make sure your food is firmly weighted down. Meats usually sink to the bottom of the sous vide bath, but vegetables usually float.
If you don't add a weight, this will lead to uneven cooking because some of the food will be outside the water.
***PIC – brisket cooking
What's the best way to cover a sous vide water bath?
If you're doing a quick sous vide recipe you can leave your sous vide water bath open to the air, but for a long or high-temperature cook time, I recommend covering the sous vide bath.
Lids for sous vide baths
For a longer cook, you'll want to keep the heat inside the water bath – otherwise the food may become exposed if the water level reduces. See these sous vide container lids that have a hole cut out of the top for the sous vide machine to fit through.
But if you don't have a lid for the sous vide bath, you can improvise.
PIC – brisket cooking
How can you cover the sous vide bath without a lid?
The DIY way to do this is to use foil, which I also like to layer with a dish towel. That's what I used for my recent 48 hour sous vide brisket recipe. I didn't have to refill the water once in 48 hours.
**PIC – SV ice bath
What is a sous vide ice bath?
A sous vide ice bath is something else you'll often come across in sous vide recipes. Unlike the 'real' sous vide water bath, it's not used for cooking at all. Instead, it provides instant cooling to foods coming out of your main sous vide bath.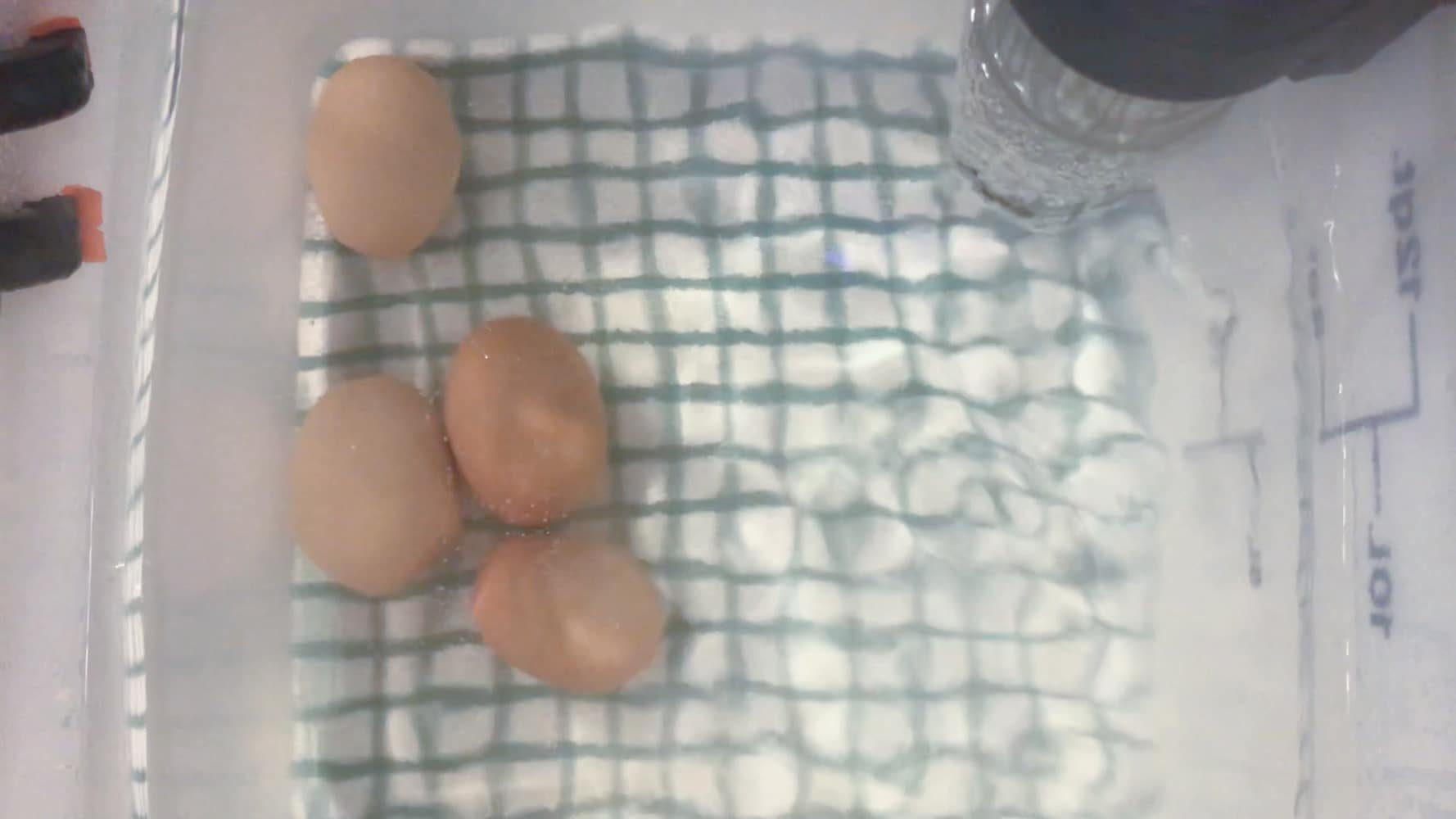 What about cooking eggs?
Cooking eggs is a very rare sous vide recipe where you put the eggs in a sous vide bath without a container.
You sous vide them right in the egg shell.
See this sous vide soft boiled eggs recipe for more.
What do you need to sous vide?
When people ask me where to start when cooking sous vide, here's what I recommend.
Sous vide tools
A sous vide container. Like a big

bucket

or pot to hold the

sous vide water bath

the food cooks in.
Bags to cook the food in. You have two options. Use a

vacuum sealer

if you have one. Or, you can cook many sous vide foods in ziplock

plastic gallon bags

. Learn about using

ziploc vs vacuum sealed bags

for sous vide recipes.
Sous vide machine. Like the

Anova

,

Joule

,

Instant Pot Slim
Popular accessories
Everyone loves these sous vide guides
Find more delicious recipes in my new sous vide cookbook.
Show me your sous vide food
Do you feel like an expert on sous vide water baths now? You should! Now choose a recipe, start experimenting, and don't forget to share pictures of your successful (or unsuccessful!) sous vide meals.
Share your food with me @sipbitego on Instagram.