People always ask: What do you need to start sous viding? Not much, actually. Just water, a sous vide machine, and bags. When it comes to the debate of using ziploc vs. vacuum-sealed bags for sous vide cooking, the good news is that either method will work for many of the most popular sous vide recipes.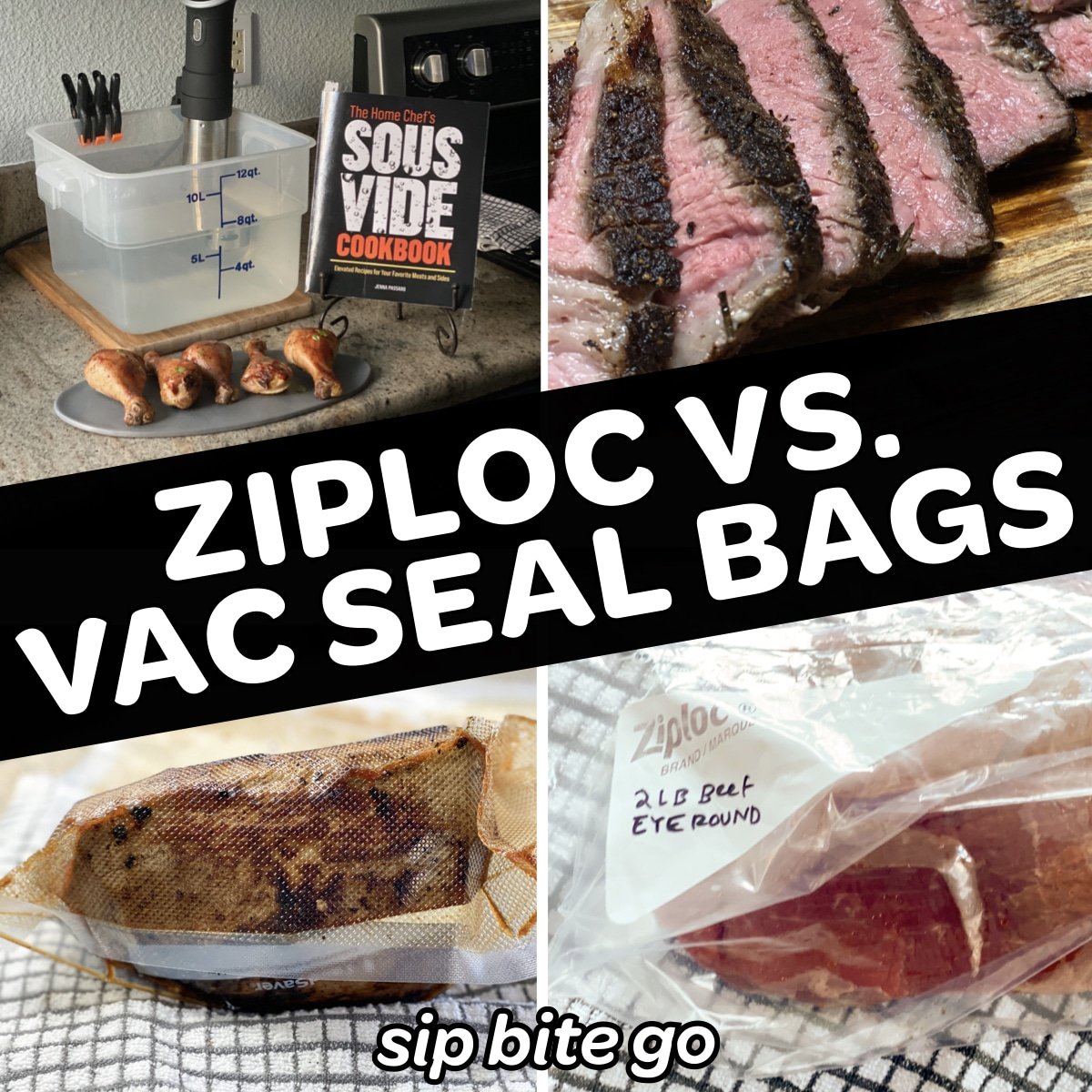 After years and years of trial and error, plus extensive testing for The Home Chef's Sous Vide Cookbook, I'm full of tips for vacuum sealing food for sous vide cooking.
Let me teach how to choose ziploc vs vacuum-sealed bags for your cooks.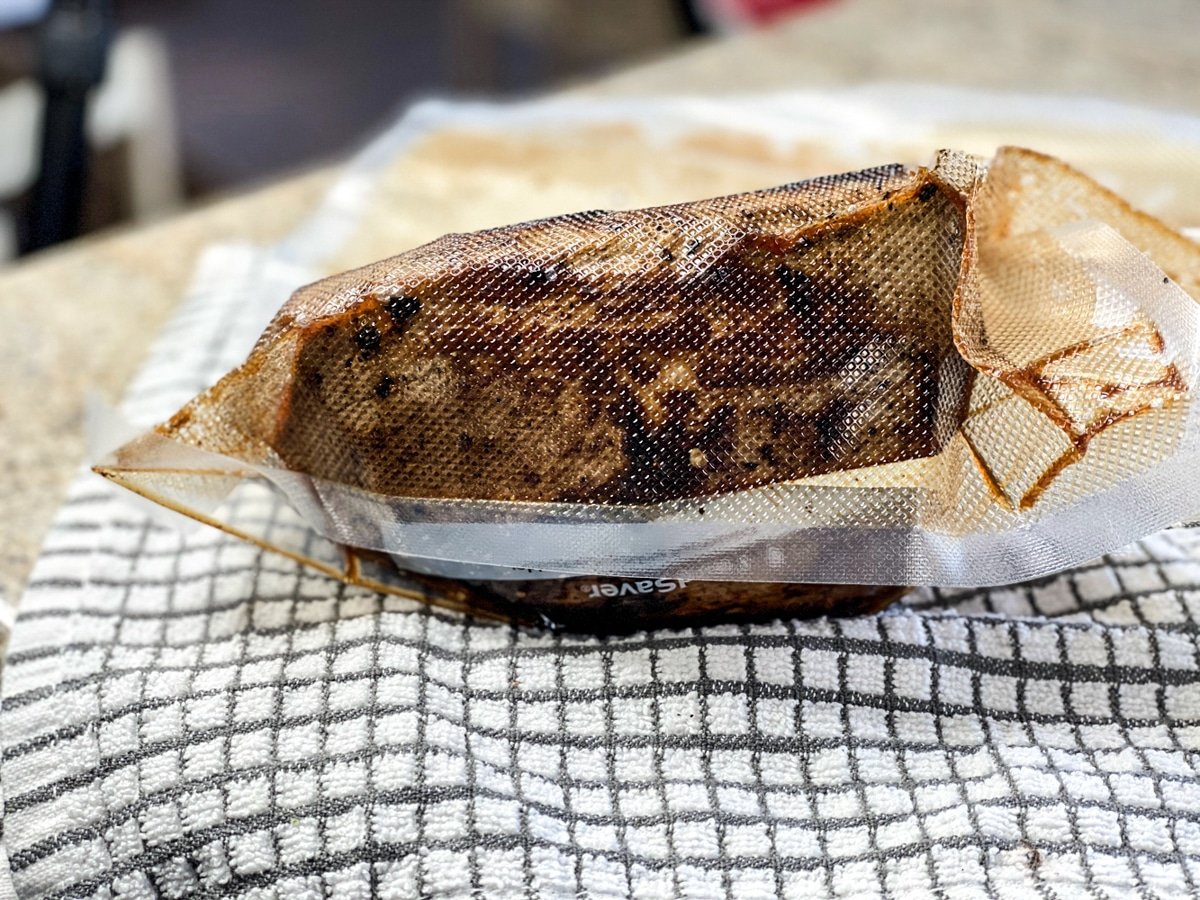 Most people who wonder why sous vide food is so good can't fathom why you'd stick food in a plastic bag and cook it underwater. Talking about sous vide cooking ultimately leads to talking about the logistics of cooking food in plastic bags. And since I'm a big fan of vacuum sealing food for sous vide cooks, this is usually a topic people ask me a lot of questions about.
My preference is usually to vacuum seal food for sous vide cooking.
Do you need a vacuum sealer to sous vide food?
Not necessarily. But it's my go-to. And once you move from beginner sous vide enthusiast to sous vide expert, you'll probably want a vacuum sealer, too.
Before I get into why vacuum sealing is better for sous vide cooking, let me share why using a ziplock to sous vide is okay to start with, but may not be the best option to advance your skills once you learn the basics of how to sous vide.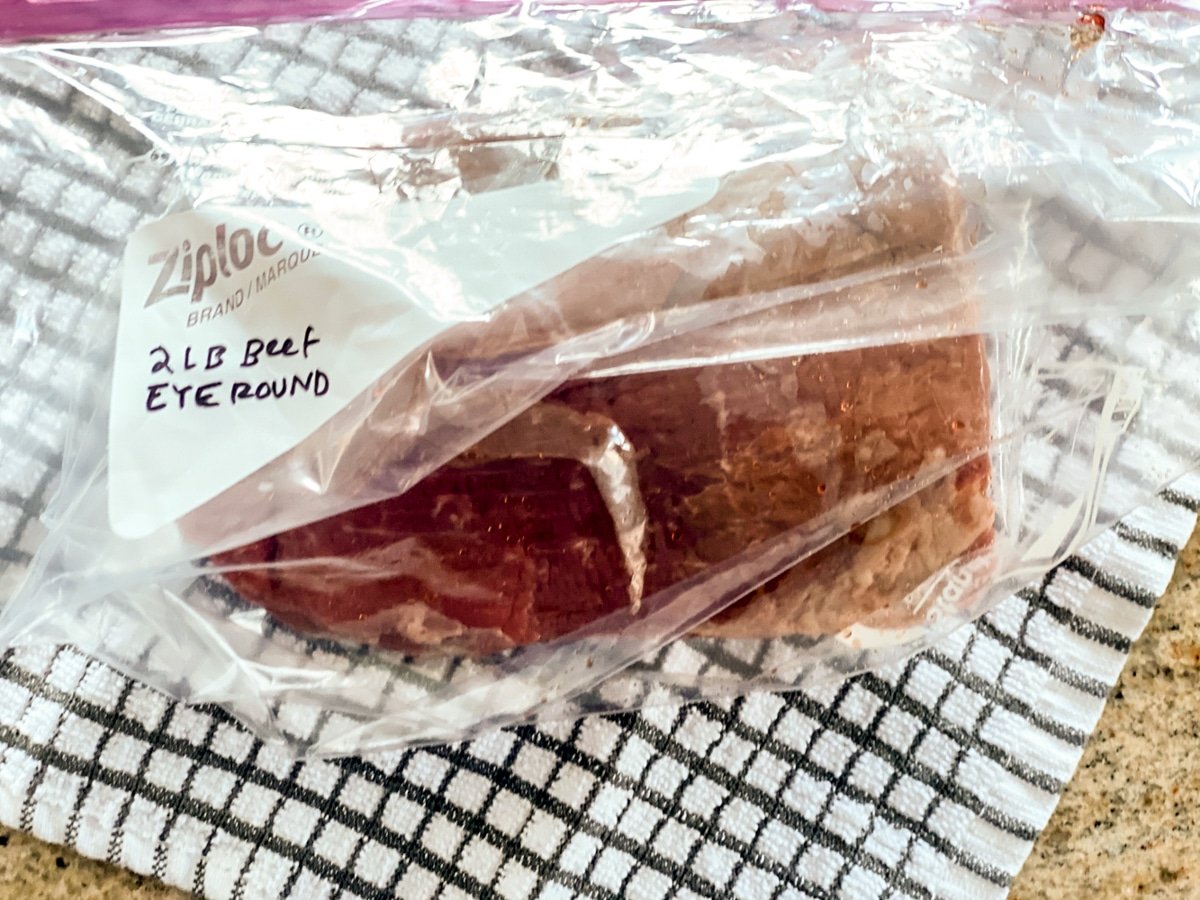 What's the issue with using ziploc bags to sous vide?
You can sous vide many things with plastic freezer bags, but you can't sous vide everything with ziplock bags.
It's true that many recipes like sous vide t bone steak will do just fine if you use a heat safe ziploc freezer bag to sous vide the food.
So let's talk about the main issues to address.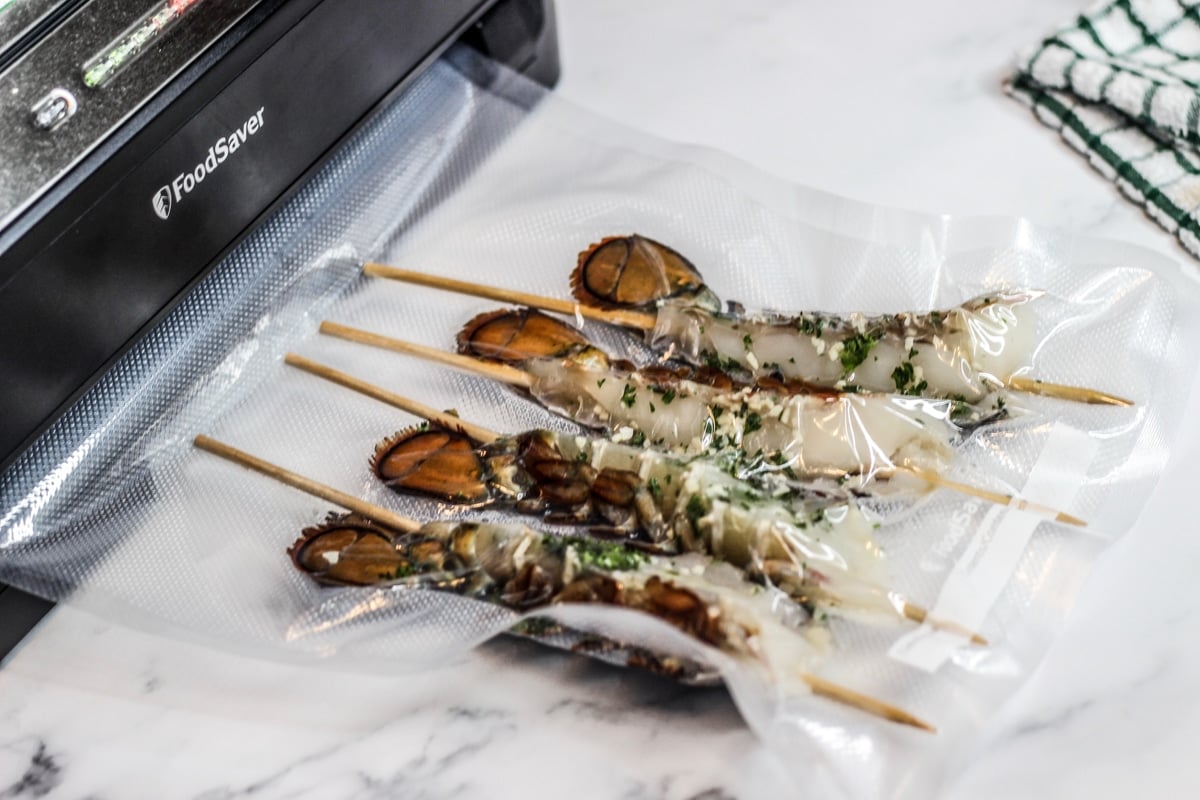 These vacuum sealed lobster tails are finished on the grill.
See how to make sous vide lobster tails.
They aren't good for long sous vide cooks
Ziplock bags aren't reliable for long cooks like 24 hour sous vide short ribs or sous vide brisket.
That's because ziplock bags break down at a certain temperature and after a certain time period. Anything over a few hours of cook time will do better in a vacuum-sealed bag.
They aren't always big enough
If you have a 3-4 pound sous vide brisket, good luck fitting it in a ziplock bag.
They aren't good for controlling air
Another critical thing to know about using freezer bags for sous vide cooking, is that air is not your friend. Nope. Never.
The deal is that when you manually close a plastic ziplock bag for sous vide cooking, there will be some air left in the bag. This air causes food to float, may also mess with the temperature of the food.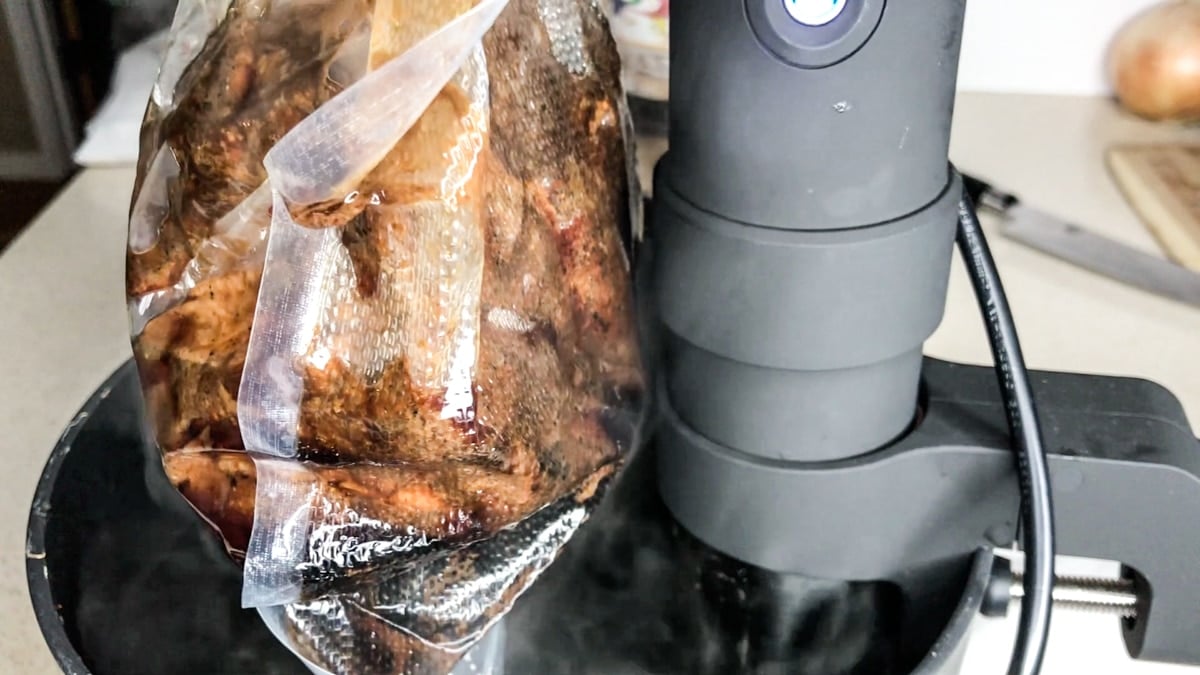 Why it matters: unpredictable pockets of air can mess up sous vide cooks.
Since the food needs to cook at a specific temperature to kill bacteria, it's important to release air before adding it to the bath.
So if you use freezer bags to cook sous vide food, you need to master the water displacement technique. More on that in the next section.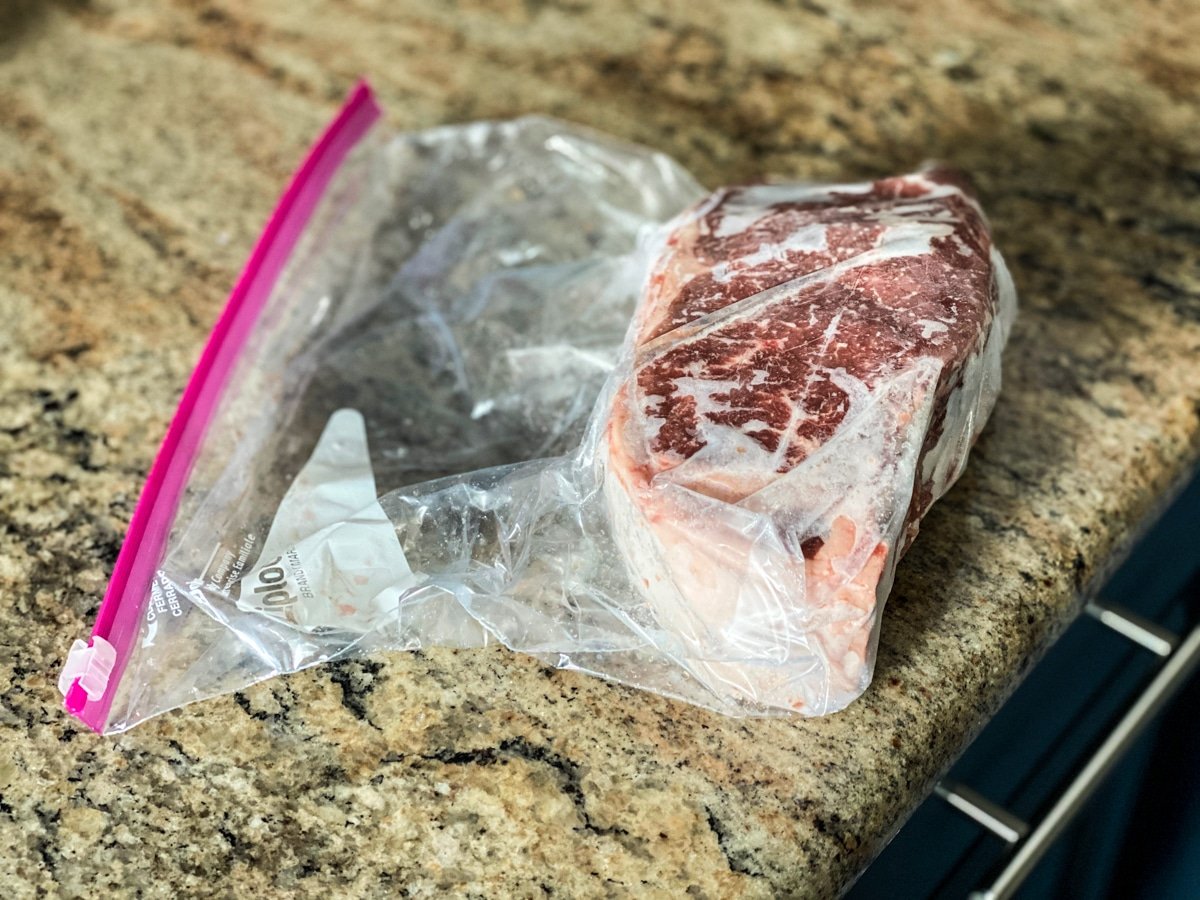 Using a freezer bag to sous vide food
For both options, you want sous vide food to stay fully emerged in the water bath so it cooks accurately and safely. One way to get around the floating sous vide food issue with ziplock bags is to use sous vide weights to hold down food.
The water displacement method for ziplock bags
The water displacement method is going to force the air in the ziplock bag. It sounds fancy, and involved, but really it only takes a minute to do.
Here's the gist of the water displacement method, as I explain it in The Home Chef's Sous Vide Cookbook:
"Seal the bag almost all the way. Slowly submerge the bag in water while keeping the opening of your bag out of the water. As the bag is pushed down, the water pressure will push the air out of the bag. Assist the air escaping the bag until there is no air left. Then seal the bag."
Now that you know the pros and cons of using a ziplock bag to sous vide food, let's chat about vacuum sealers.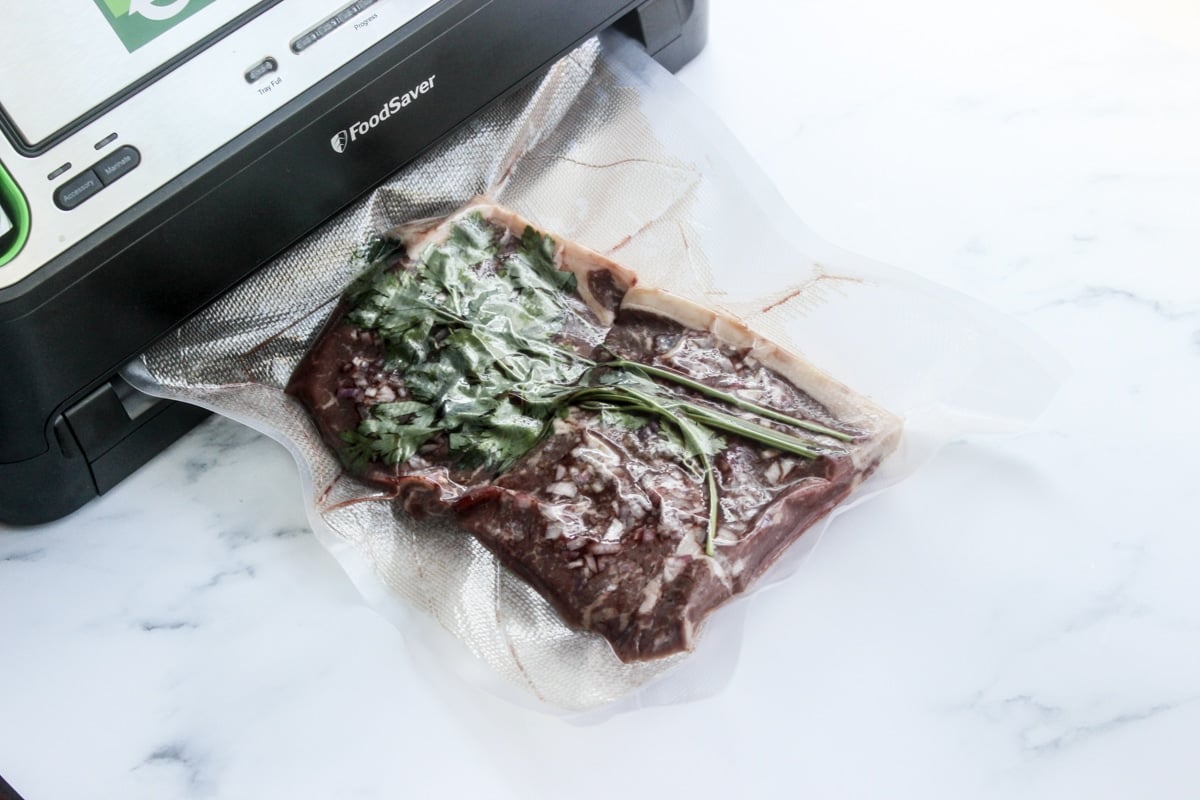 Is using a vacuum sealer better for sous vide cooking?
In my opinion, yes.
You can sous vide any quality of steak from frozen. Even a wagyu filet mignon will last longer if you vacuum seal it. If you want to see how it turns out, see more on how to freeze filet mignon.
90% of my cooks are with a vacuum sealer like the FoodSaver 4400. Yes, I've partnered with FoodSaver, so I like them and know the vac sealer pretty well. Though there are plenty of vacuum sealers on the market now.
But let me tell you: my FoodSaver vacuum sealer has lasted me years.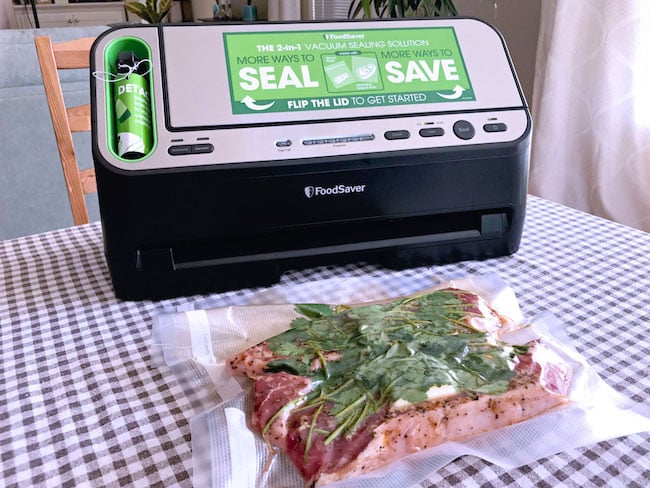 Vacuum sealing vs ziplock bags for sous vide recipes
Here are a few of my favorite sous vide cooks and why I like to use one method of sealing them over the other.
Sous vide recipes you can use a ziplock bag to cook
Single-serve sous vide pork chops, sous vide ny steaks, hell, even sous vide frozen steaks – they're totally fine cooked in individual ziploc bags.
And if you can find a big enough bag, you can sous vide a whole chicken in it. Though I'm a huge fan of spatchcocking chicken first.
PIC – 7 sous vide new york strip steak cooked in a vacuum-sealed bag
Sous vide recipes that require a vacuum sealer
Smaller ingredients that come in multiples, like sous vide wings, sous vide grilled shrimp, sous vide asparagus, corn on the cob sous vide style, sous vide bacon, and sous vide meatballs are always vacuum sealed in my book (both figuratively and literally in my sous vide cookbook – yup, it's a pun come true).
The vacuum sealer keeps all these small ingredients locked into place.
That means they'll cook thoroughly and won't get all jumbled like they would in a loose ziplock bag.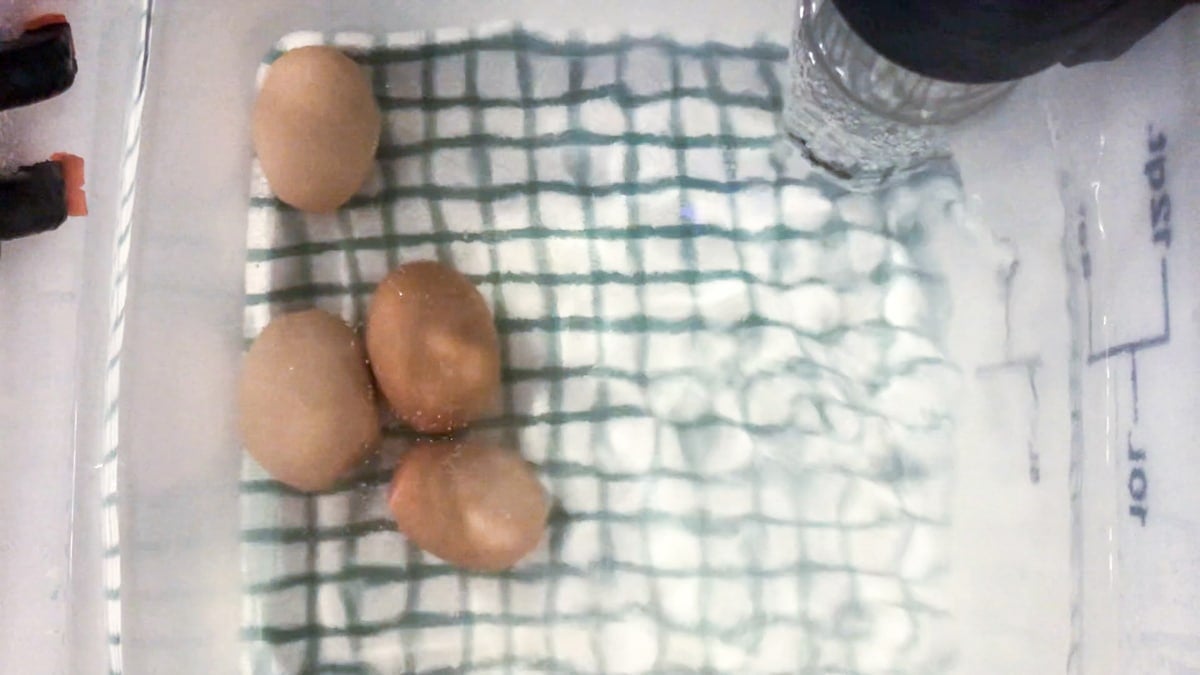 No bag? No problem with these…
Soft boiled sous vide eggs are best with… wait for it… nothing!
That's right. You don't vacuum seal or use a ziplock bag to make them.
And just because I don't want to leave them out, there are a bunch of sous vide recipes to make with mason jars – like these copycat sous vide egg bites. They're so creamy and delicious.
What do you think: to vacuum seal or not?
Let me know where you stand on the issue.
Do you think vacuum sealing is better for sous vide cooking?
Are you 100% ziploc bags all the way?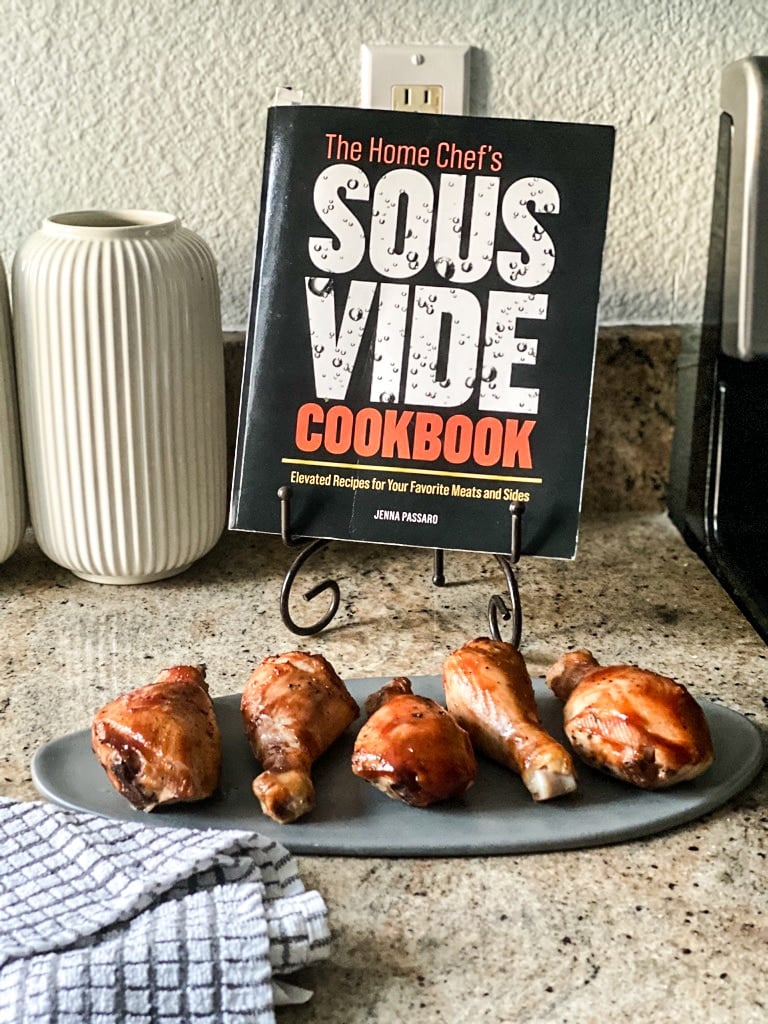 Get inspired with fresh, new sous vide recipes
Follow me on Instagram to see what I'm cooking @sipbitego for more sous vide cooking and highlights from The Home Chef's Sous Vide Cookbook.
Subscribe to the Sip Bite Go channel on YouTube for more delicious recipes.