Disclosure: This shop has been compensated by Collective Bias, Inc. and its advertiser. All opinions are mine alone. #SousVidePerfection #CollectiveBias
Cooking NY Strip steaks sous-vide style is the ONLY way I cook them these days. That's because cooking NY strip steaks sous-vide style makes it easy to cook incredible steak perfectly every time. It's really convenient to make them for dinner since they can be prepped in the morning with seasonings or a marinade. They can chill in the fridge all day, absorbing the flavors and herbs inside a vacuum sealed bag.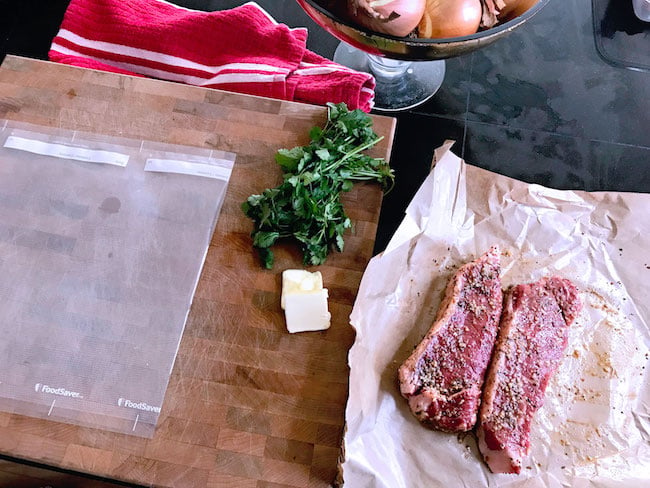 What is sous-vide cooking?
In case you're new to sous-vide cooking, it's an exciting way to cook. You can transform anything from veggies to steaks to chicken, into a delicious, juicy meal. A vacuum sealer helps prepare the food you're going to cook. And a sous vide machine heats up water to cook the food at a specific temperature.
Sous-vide cooking is the fool-proof way to consistently cook NY Strip steaks and other high-quality meats.
It can give any home chef a new-found confidence in the kitchen. At the bottom of this post you'll find a NY Strip steak sous-vide recipe to follow.

How to cook NY Strip steaks sous-vide style
To cook NY Strip steaks sous-vide style, there are two main steps. First, season and vacuum seal the steaks with a pat of butter or drizzle of olive oil. Next, submerge the steaks in temperature-controlled water for a specific amount of time.
Love medium rare meat with a pink inside and salty brown crust? I can show you the perfect way to get it, it's called a mayo sear for sous vide cooking. You can do this with the sous vide cooking method, or you could even do a mayo sear if you were throwing homemade burger patties or steak on the grill. It makes the meat so juicy with a tasty sear / grill that's rich in flavor from the mayo. Ribeyes are a good cut of beef to start with. See my recipe for mayo seared sous vide ribeye.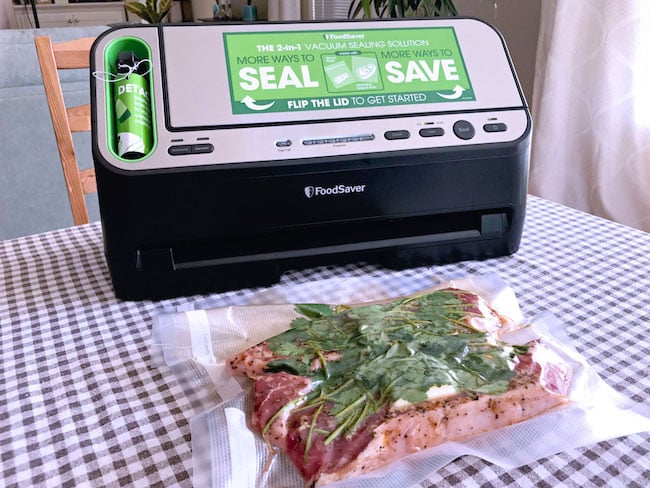 Trying a new vacuum sealer
I was sent a genius new sous-vide product to review as part of this sponsored post, the FoodSaver® V4440 2-in-1 Automatic Vacuum Sealing System. It is a major upgrade to my sous-vide process because it takes the hassle out of vacuum sealing. The FoodSaver® 3PK 11″ Vacuum Seal Rolls make it easy to pre-package sous vide ingredients so they're ready to take out of the fridge and cook when it's time to make dinner.
See my FoodSaver V4440 review.
If you started with a lower-quality vacuum sealer like I did, or you're just getting into sous-vide cooking, see the FoodSaver® V4440 on Amazon.
How to vacuum seal with the FoodSaver® V4440
Measure and cut vacuum seal bag to 4″ longer than the food you plan to sous vide.
Press "seal" and place empty bag in the bag sealing chamber, roll side down. The automatic bag detection will begin and the red light will go off when it's ready to remove.
Add food to the bag, select "moist" setting if needed, and repeat step #2.. The vacuum sealer will automatically seal the food so it is ready for the sous vide machine.
Learn more in this guide on how to vacuum seal meat.
See how to smoke NY strip steaks…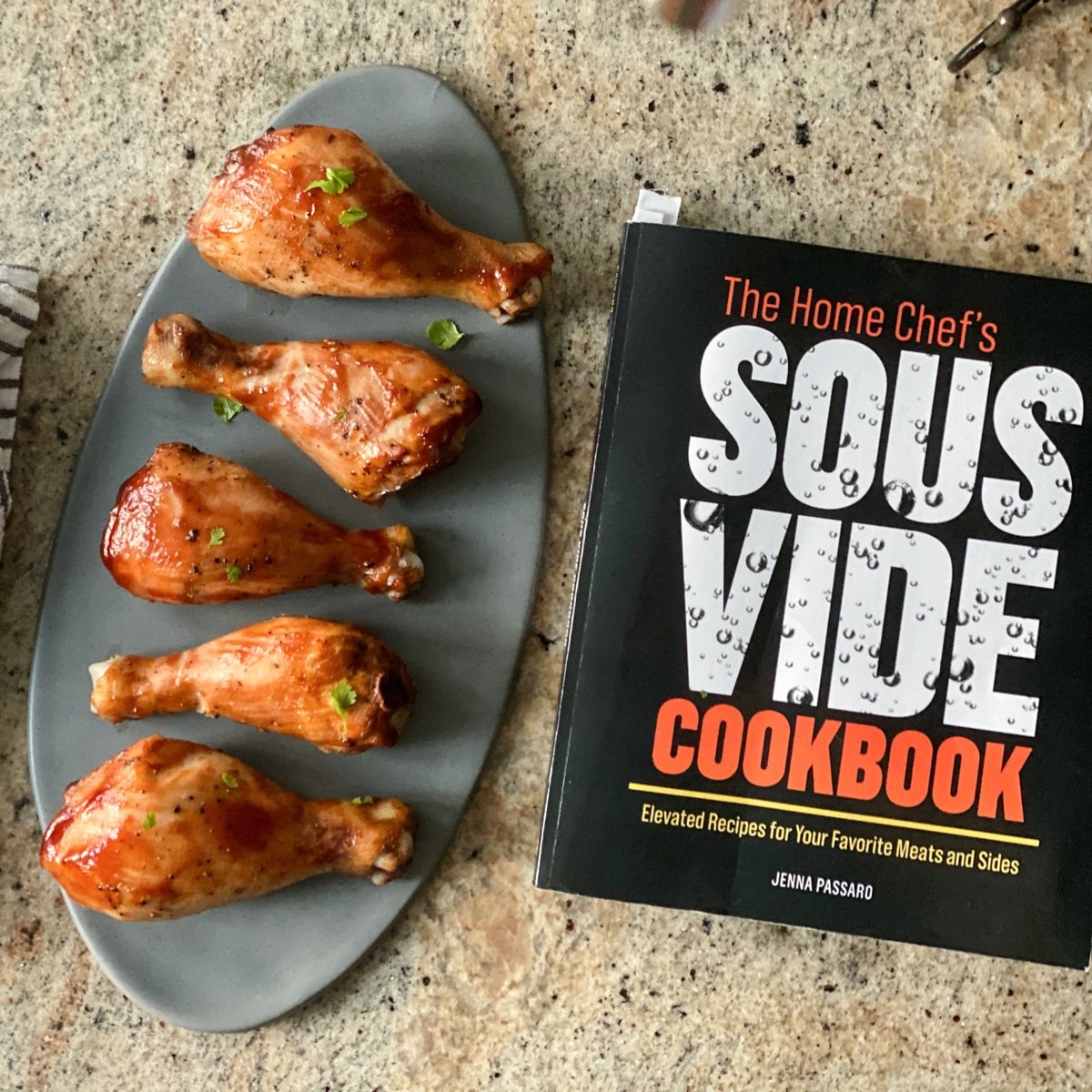 The Perfect Sous Vide Setup
Everyday I'm asked, "what do you need to sous vide food?". Here's my answer.
Try a new sous vide recipe…
New to sous vide cooking?
Discover why sous vide is so popular and learn how to sous vide. Once you learn, you'll be making restaurant style meals at home.
After a couple successful sous vide cooks, you can start trying these sous vide recipes for entertaining.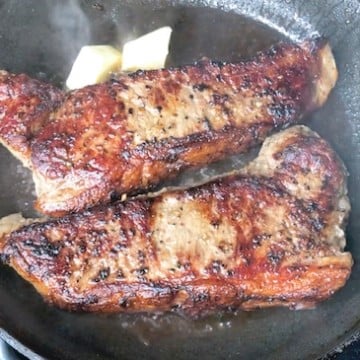 Sous Vide NY Strip Steaks Recipe (Sip Bite Go)
The instructions for this sous-vide NY strip steak are for preparing it Medium. You can use any seasonings you prefer. This recipe was made with a combination of steak, garlic salt and chipotle seasonings.
Print
Pin
Ingredients
2

NY Strip Steaks

2

tbsp

steak seasonings

Check for no-sugar added for Whole30 compliant

Salt & pepper

1

tbsp

garlic

diced

1

tbsp

olive oil

3

tbsp

butter

separated

1

bunch cilantro
Instructions
Vacuum seal sous-vide bag and place it in the sous-vide bath for 1 hour. Cook for 1-1.5 hours.

For medium steaks, preheat sous-vide cooker to 135 degrees. Mix together steak seasonings, salt, pepper, garlic and olive oil. Rub mixture on steaks and place them in vacuum seal bag. Top steaks with ½ tbsp of butter each and cilantro.

Vacuum seal sous-vide bag and place it in the sous-vide bath for 1 hour. Cook for 1-1.5 hours.

For best results, heat a cast iron skillet on medium-high. Once hot, add 2 tbsp butter to the pan. Once the butter completely melts, sear the steaks for ~30-60 seconds on each side, until a crust forms on each side of the steak. While the steak cooks, spoon butter from pan on top of steak for increased flavor.

Transfer steak to a cutting board to let the juices set for a few minutes. Slice against the grain and serve.
Nutrition
Calories:
701
kcal
|
Carbohydrates:
4
g
|
Protein:
46
g
|
Fat:
56
g
|
Saturated Fat:
26
g
|
Polyunsaturated Fat:
3
g
|
Monounsaturated Fat:
25
g
|
Trans Fat:
1
g
|
Cholesterol:
183
mg
|
Sodium:
270
mg
|
Potassium:
659
mg
|
Fiber:
1
g
|
Sugar:
1
g
|
Vitamin A:
732
IU
|
Vitamin C:
2
mg
|
Calcium:
69
mg
|
Iron:
5
mg