Can you cook frozen steak in a sous vide bath? Yes – you can sous vide frozen steak! And you're going to love doing it! It's super easy to cook frozen steak sous vide style and get the same results as cooking fresh steak.
This method is one of my favorite sous vide meal prep ideas. With many of you asking me about this on Instagram, I wanted to share with you the details on how to sous vide frozen steak.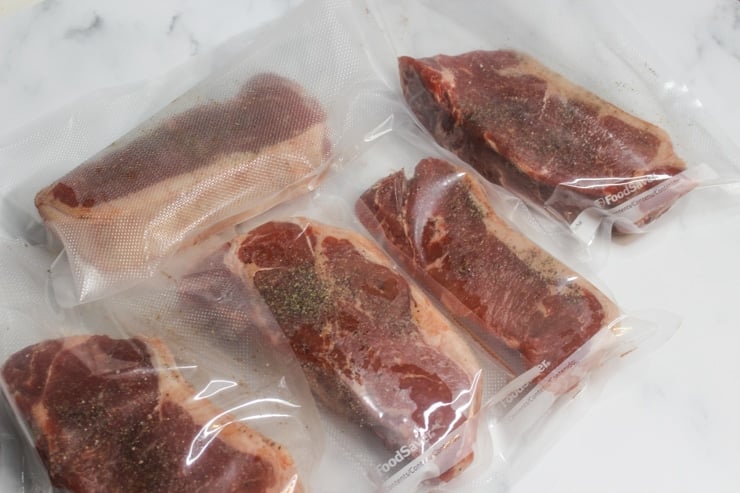 Quick personal note – it's been a complete dinner life-saver to sous vide frozen steak.
Since we moved to the 'burbs and had a baby, it's no longer easy or convenient to swing by the grocery store at a moments notice. Before we got into the habit of sous vide cooking frozen steak / beef, my husband and I would be falling asleep when one of us would pop up from bed and realize: we forgot to take out food to defrost for the next night.
Now I know better. I buy meat in bulk or order from an online meat delivery service, meal prep steak for sous vide cooking, then freeze it until the day we're eating it.
New to sous vide techniques? Learn why is sous vide so popular.
What is the texture of sous vide steaks from frozen?
To me, and most sous vide enthusiasts, there's no obvious difference in texture when sous viding frozen steak.
With an additional 60 minutes of cook time in the sous vide bath, the steak completely thaws and cooks to desired temp. The texture of frozen sous vide steak is just as tender and juicy as fresh steak.
The major difference in frozen vs fresh steak sous vide is that cooking from frozen is wayyyy more convenient.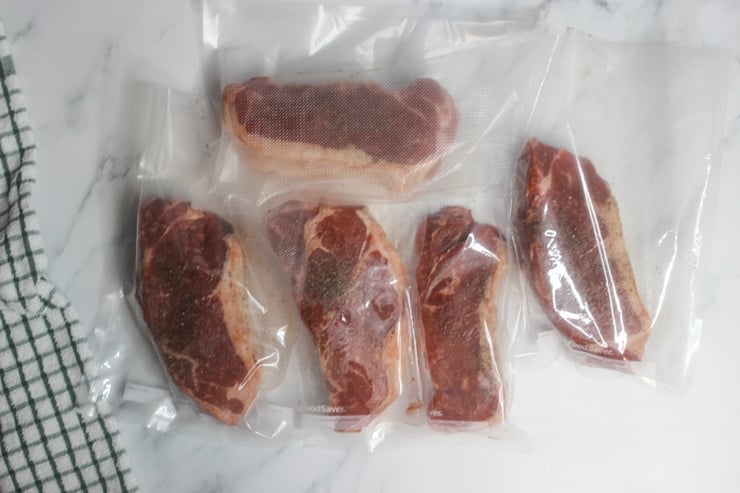 This method of freezing then sous vide cooking is genius when planning a party. See these sous vide recipes for entertaining.
My tips on seasoning sous vide steak
My preference is to season steak before freezing it.
This is key for busy days in my house. When I get an order of beef in the mail, or stock up at the store, I'll take a moment to vacuum seal the steaks in individual bags with seasonings like salt and pepper. At a minimum I'll use salt and garlic. If I'm feeling fancy I'll use a little sous vide steak marinade.
Sometimes I'll add in other aromatics and flavors – like shallots, jalapeños, half a chipotle in adobo sauce, pepper, garlic salt or BBQ Salt.
No need for butter in the bag – most sous vide enthusiasts agree that the beef comes out tender enough cooking in it's own juice and adding butter may actually just dilute the beef flavor. So add compound butter at the end, after the steak cooks.
How long does it take to sous vide frozen steak?
All you need to remember is to add 60 minutes on to the cook time.
Sous vide steak takes 45 minutes – 4 hours. So you could sous vide frozen steaks in as low as 1 hour 45 minutes.
Personally, I usually sous vide steaks around 2.5 hours, which more than covers the time needed when cooking steaks from frozen with the sous vide machine.
I've used this method for so many steaks, including Sous Vide T-Bone Steak and Sous Vide Beef Kebabs.
However, if you're cooking a piece of beef that is thicker than 2-3″ – like a sous vide brisket or sous vide pulled pork – the defrost time will be much longer.
If you're into sous vide meal prep, see this guide on how to freeze then sous vide chicken.
Any difference if you sous vide ribeye from frozen?
So many people seem confused whether or not sous vide ribeye steak takes longer from frozen. Maybe the fact that there is a bone in some cuts of ribeye steak throws people off.
But actually, you sous vide frozen ribeye the same way you sous vide any frozen steak.
I prefer to vacuum seal ribeye, especially if I'm buying and freezing food to meal prep. Check out this post on how to purchase ribeye steaks that will be perfect for your meal prep and storage!
Love ribeye? Learn the secrets to perfectly grilled ribeye.
Turn a steak dinner into a surf and turf meal with my easy recipe for Sous Vide Lobster Tails.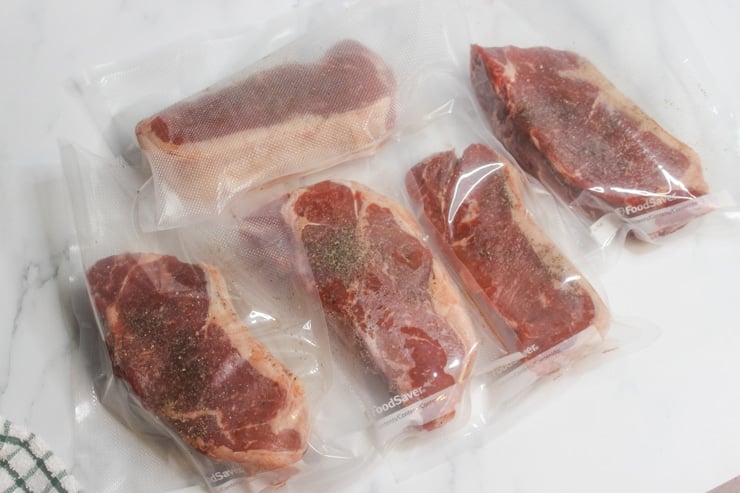 What do you need to vacuum seal and sous vide beef from frozen?
My go-to equipment for when I sous vide frozen beef:
Learn what to buy and freeze from Costco to make meal prep a breeze.
Mail order steaks: should you thaw, season, then re-freeze them?
When you order steaks online and they're shipped to your house, the steaks usually arrive frozen.
If that's the case, I wouldn't bother thawing them just to season and then freeze them again.
Instead, cut the frozen steaks out of their bags, season them as desired (use salt, pepper, or any other dry seasonings, plus add some fresh garlic or shallots if you have them on hand).
Then seal the steaks in vacuum sealed bags. If they're very wet from thawing, that's ok, I don't find it necessary to paper towel them before sous viding, but you can if you prefer.
I like to write the date on the freezer bags, too.
If you're looking for an interesting technique to try – that takes about 1 minute or less to set up – try my recipe for sous vide boneless ribeye steak with mayo sear – it is juicy, full of flavor, and cooked with edge-to-edge perfection.
When you mayo sear the steaks you don't have to marinade sous vide steak first. Steak that is quickly seared this way is delicious.
Want to make a complete meal with the power of immersion circulators? Serve with sous vide fingerling potatoes and sous vide Brussel sprouts for a complete meal.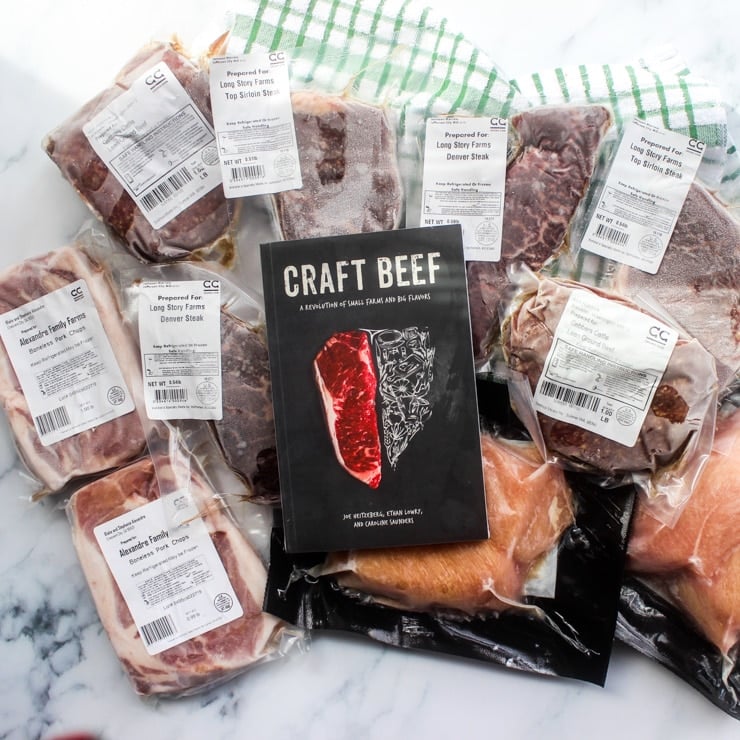 Sous vide cooking isn't only for dinner. Check out the best egg sous vide recipes for brunch and breakfast.
What's the best temperature for sous vide frozen steak?
When cooking from frozen, use the same sous vide temperature control that you prefer for fresh steak.
So, for medium, program the sous vide bath to 140 degrees. The only difference is that the steak will cook for an additional 60 minutes.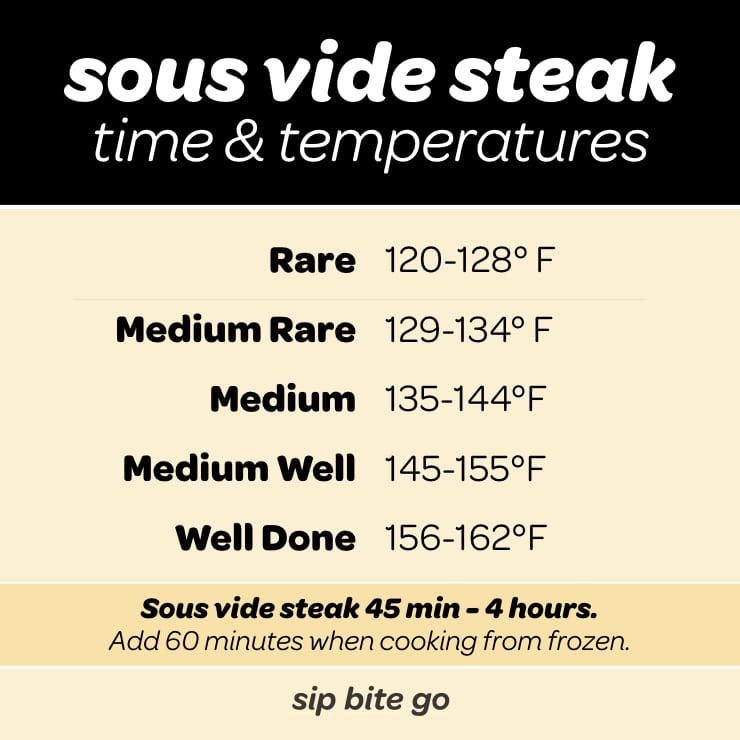 Sous vide steak time and temperature chart
Rare steak – sous vide at 120-128°F

Medium rare steak – sous vide at 129-134°F

Medium steak – sous vide at 135-144°F

Medium well steak – sous vide at 145-155°F

Well done steak – sous vide at 156-162°F
See how to smoke ribeye steaks…
How do you sous vide steak medium rare from frozen?
The range you can cook steak in the sous vide bath at 129-134 for 2-4 hours. Usually I do about 2.5 hours at 134.
Where can you order steak online?
Most recently, I have been ordering cuts of meat from online butchers. This sous vide beef brisket is from an online meat supplier, too.
There are just some periods in life when frozen food hacks are a must. Especially as a new parent, I often cook from frozen these days. This guide to making amazing pizza with frozen premade pizza crust is a go-to for busy nights, too.
Readers love these sous vide recipes
Tools to help with sous vide cooking
Sous vide meal prep for lunch
Since my husband and I both WFH, we'll sometimes indulge with a little lunch date. It might be as simple as tacos made with sous vide steak leftovers. Or, it might be as fancy as sous vide filet mignon with a drizzle of jalapeno ranch dressing.
See my favorite sous vide beef recipes.
Want some easy sides to pair with your steaks? Check out these pasta side dishes.
Casseroles and steak are a perfect combination. See my potatoes gratin with pesto recipe — it's easy, quick, and you can make it ahead!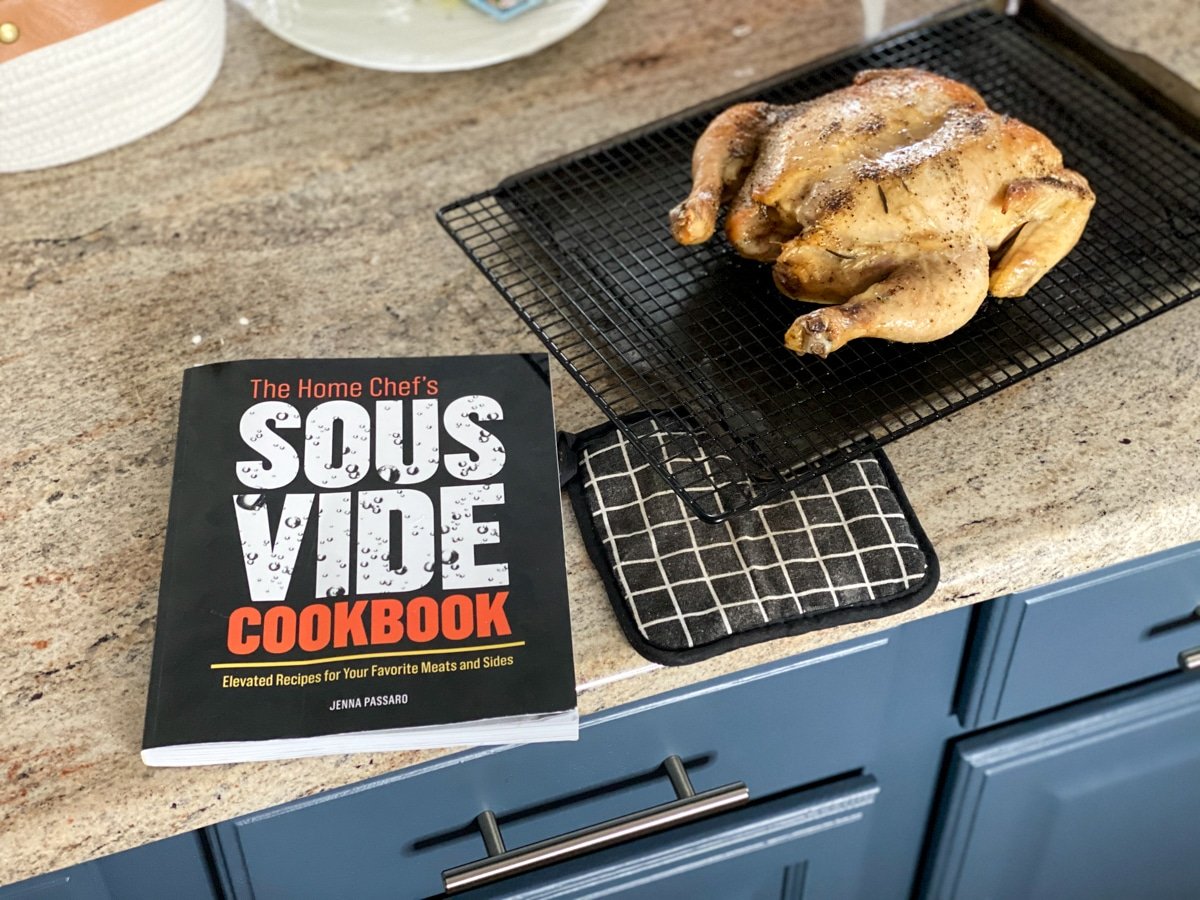 Check out my sous vide cookbook on Amazon: The Home Chef's Sous Vide Cookbook.
Get the recipe for sous vide whole chicken – it's a beautiful dish.
You haven't truly mastered sous vide cooking until you try this recipe for asparagus sous vide
Share your cooked from frozen sous vide steak
If you've tried this recipe and made your own sous vide steak from frozen this way, don't eat it it till it's photographed– you need to share that beauty with the world! I'm kindof obsessed with vacuum sealing. If you're interested to see one of the best sous vide steak recipes to meal prep, check out this step by step guide on how to freeze filet mignon in vacuum sealed bags.
Connect with me @sipbitego on Instagram to see my new sous vide recipes before they're released on Sip Bite Go.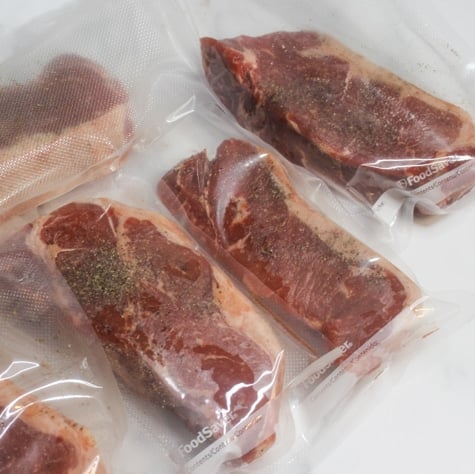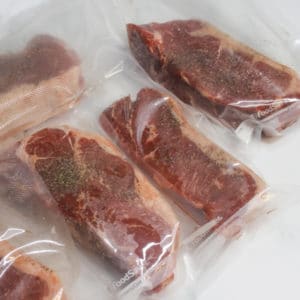 How to Sous Vide Frozen Steak Recipe (Sip Bite Go)
Can you cook frozen steak in a sous vide bath? Yes – you can sous vide frozen steak! And you're going to love doing it! It's super easy to cook frozen steak sous vide style and get the same results as cooking fresh steak. This method is one of my favorite sous vide meal prep ideas. With many of you asking me about this on Instagram, I wanted to share with you the details on how to sous vide frozen steak.
Print
Pin
Rate
Ingredients
4

steaks

any cut 1" to 2.5" thick

1

tsp

garlic

diced

1

tsp

salt

1

tsp

pepper

2

tsp

olive oil
Instructions
Season already frozen or fresh steaks with garlic, salt, and pepper. Seal steaks in a flat layer in vacuum seal bags. Freeze until it's time to cook.

To sous vide frozen steak, set sous vide machine to 130ºF for medium-rare or 140ºF for medium. Add 60 minutes to your desired cook time. Steaks sous vide between 45 minutes – 4 hours, so at a minimum, the cook time should be 1:45 hours. My go-to cook time is usually about 2.5 hours.

Once sous vide bath is complete, remove steak from vacuum sealed bag and pat dry.

Heat a large cast iron pan on the stove to medium-high with olive oil. When olive oil is shiny and hot, add steaks to the cast iron pan. Sear the flat sides of the steak for 30-90 seconds, until a brown crust forms on the outside. Sear the edges of the steak, then transfer to a cutting board and let steak cool for 10 minutes before slicing.
Nutrition
Serving:
8
oz
|
Calories:
494
kcal
|
Carbohydrates:
1
g
|
Protein:
46
g
|
Fat:
34
g
|
Saturated Fat:
15
g
|
Cholesterol:
138
mg
|
Sodium:
700
mg
|
Potassium:
608
mg
|
Fiber:
1
g
|
Sugar:
1
g
|
Vitamin A:
34
IU
|
Vitamin C:
1
mg
|
Calcium:
16
mg
|
Iron:
4
mg