Want to grocery shop once a month? Wondering what to buy at Costco to stock up? Need tips on what you can freeze? After sharing recent Costco haul tips, I was inundated with questions about what to buy and freeze for meal prep if you only want to shop once a month.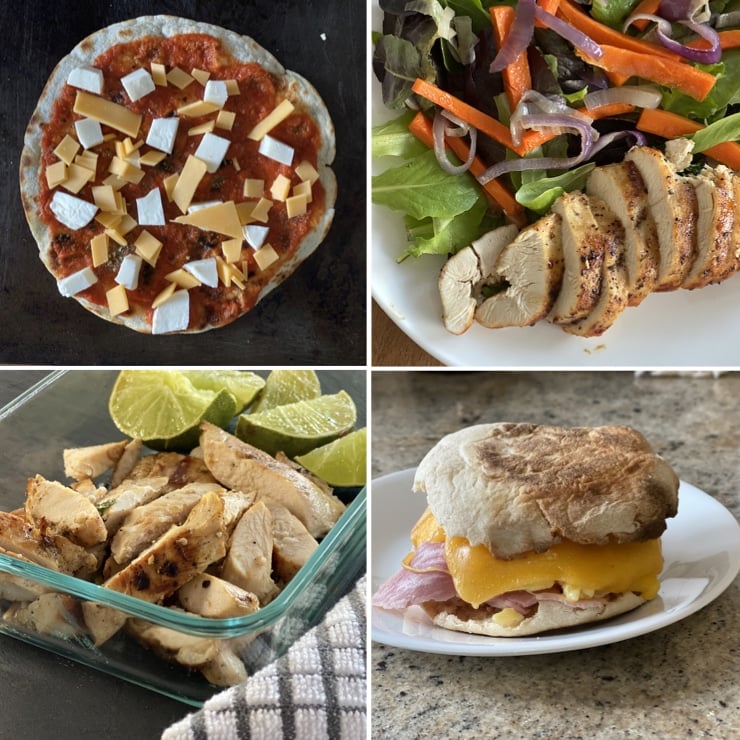 If you want to put together a list of what to buy at Costco so you're focused when you shop, and come home with the things you need to last a month or so, these tips are for you.
What to buy and freeze for a month from Costco
Here's a video from my monthly Costco haul that includes my go-to Costco shopping list for what to buy and freeze if you want your grocery shopping trips to last a month.
Between being a new mom, and all the recipe testing I did while writing The Home Chef's Sous Vide Cookbook, doing one big Costco haul for the month has saved my family a ton of time, while allowing us to eat well.
Let's look at what's on my month long stock up list for Costco.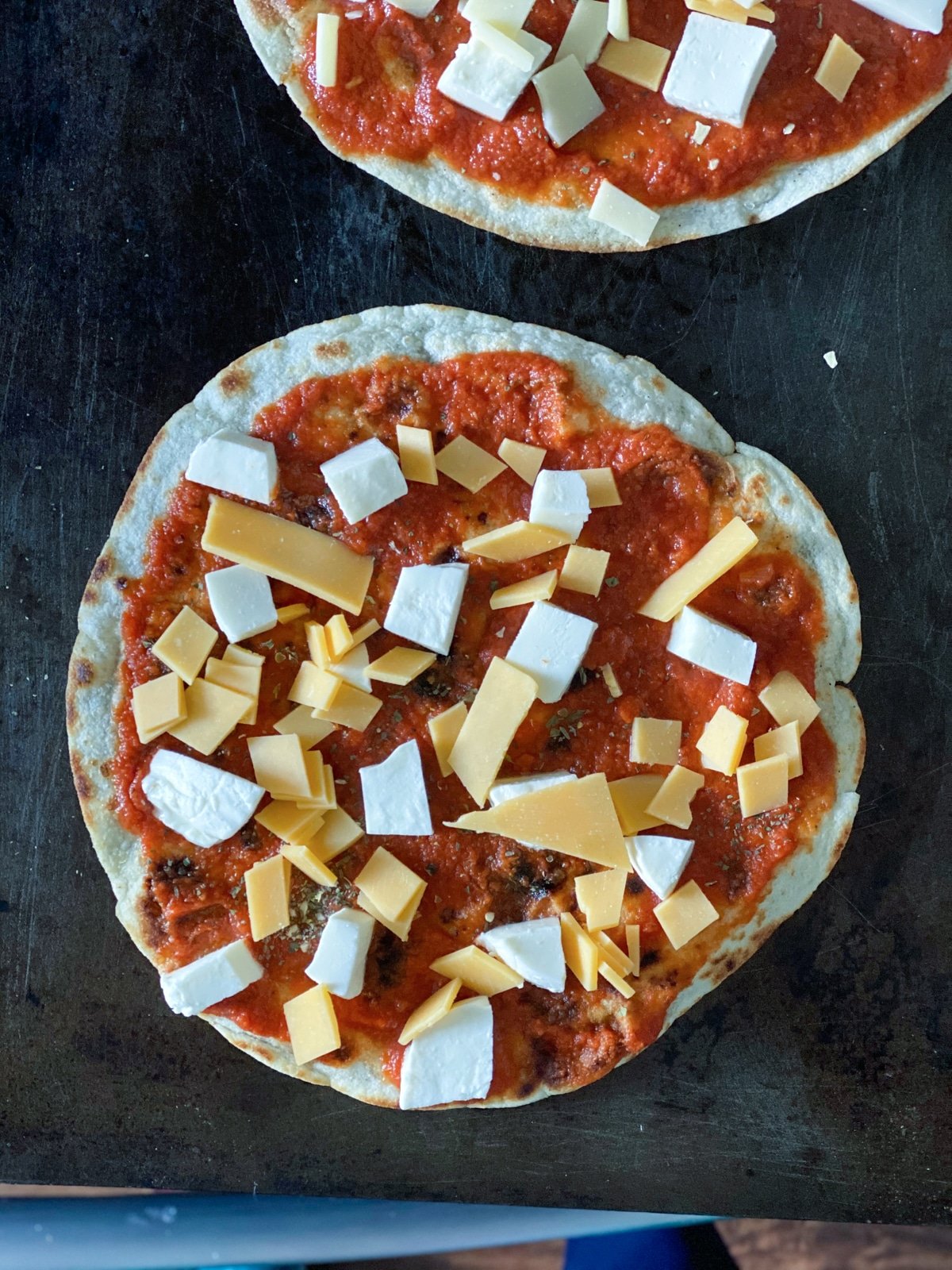 Stocking up on cheese for a month
When friends ask me what to buy and freeze, I always say: cheese!
Although it lasts a couple weeks in the fridge, cheese can last even longer if you freeze it. Repackage a week's worth to pull out of the fridge each week.
Cheddar cheese is one of my favorites to have around. I'll use it in breakfast tacos and english muffin sandwiches.
Mozzarella cheese is also a favorite in my house. It is used in my favorite recipes – from homemade pizza, to Italian stuffed peppers, to Italian crispy chicken.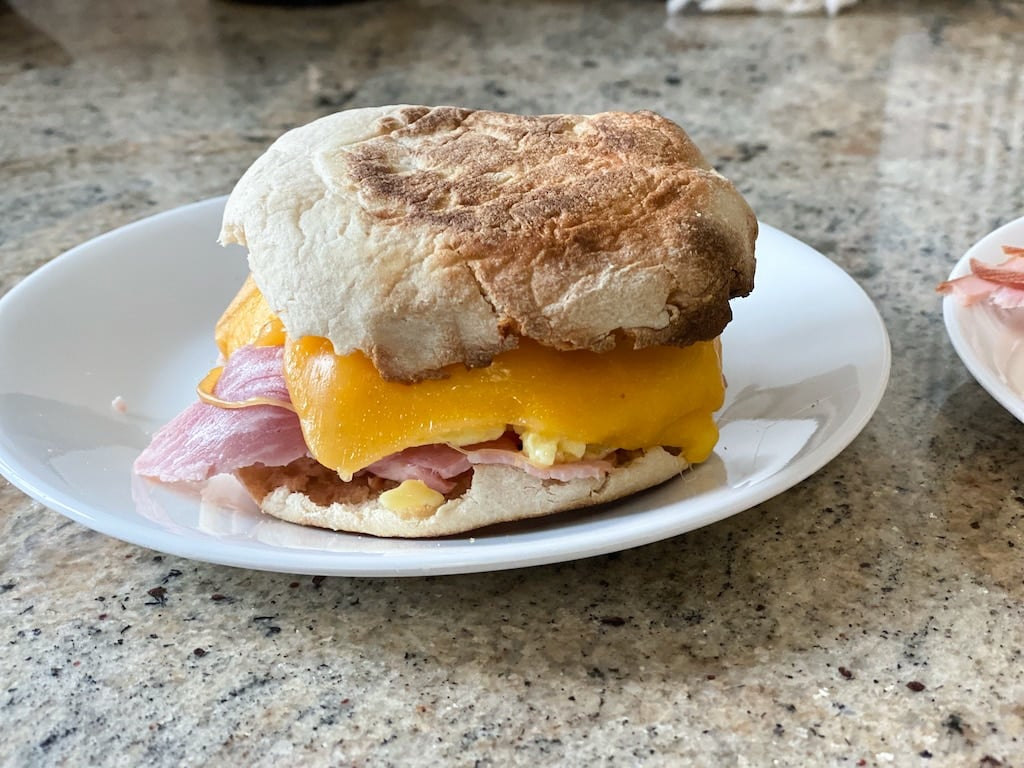 Buying enough carbs for a month
Flour is used to thicken savory sauces, in the ever tasty potato gratin with pesto,
Flour tortillas from Costco are another great item to stock up on. There are so many uses for tortillas outside of quesadillas and enchiladas. I use them to make a crunchy topping for tortilla soup and as the base of tortilla pizzas.
Breads like English muffins, oat bread for morning toast, Brioche bread from the Costco bakery, and bulk bags of Cheesecake Factory pumpernickel rolls are tasty carbs from Costco to stock up on.
Check out this recipe for how to make the best pizza with frozen pizza crust.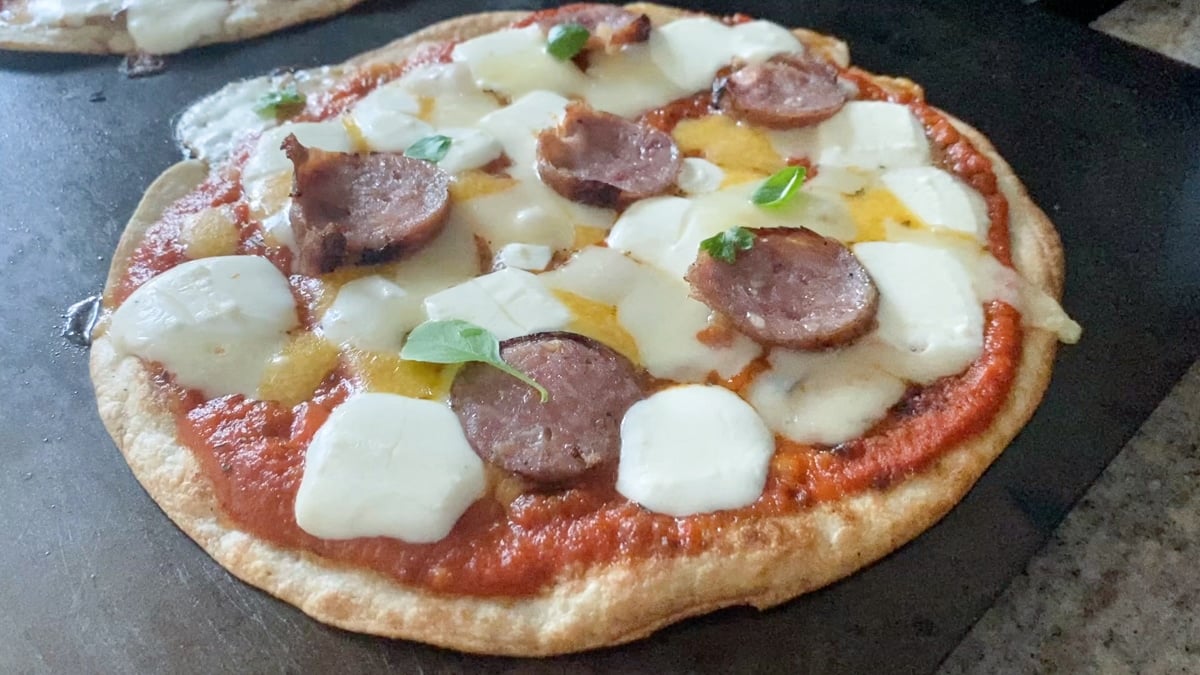 Freezing bread for a month
To make the most of buying bread items in bulk, I leave out what we can reasonably expect to eat by the expiration date and freeze the rest.
Bread thaws in about 20 seconds in the microwave. In my house it's usually turned into grilled cheese sandwiches or used for toast.
The English muffins and fresh Costco tortillas freeze well and thaw over night in the fridge.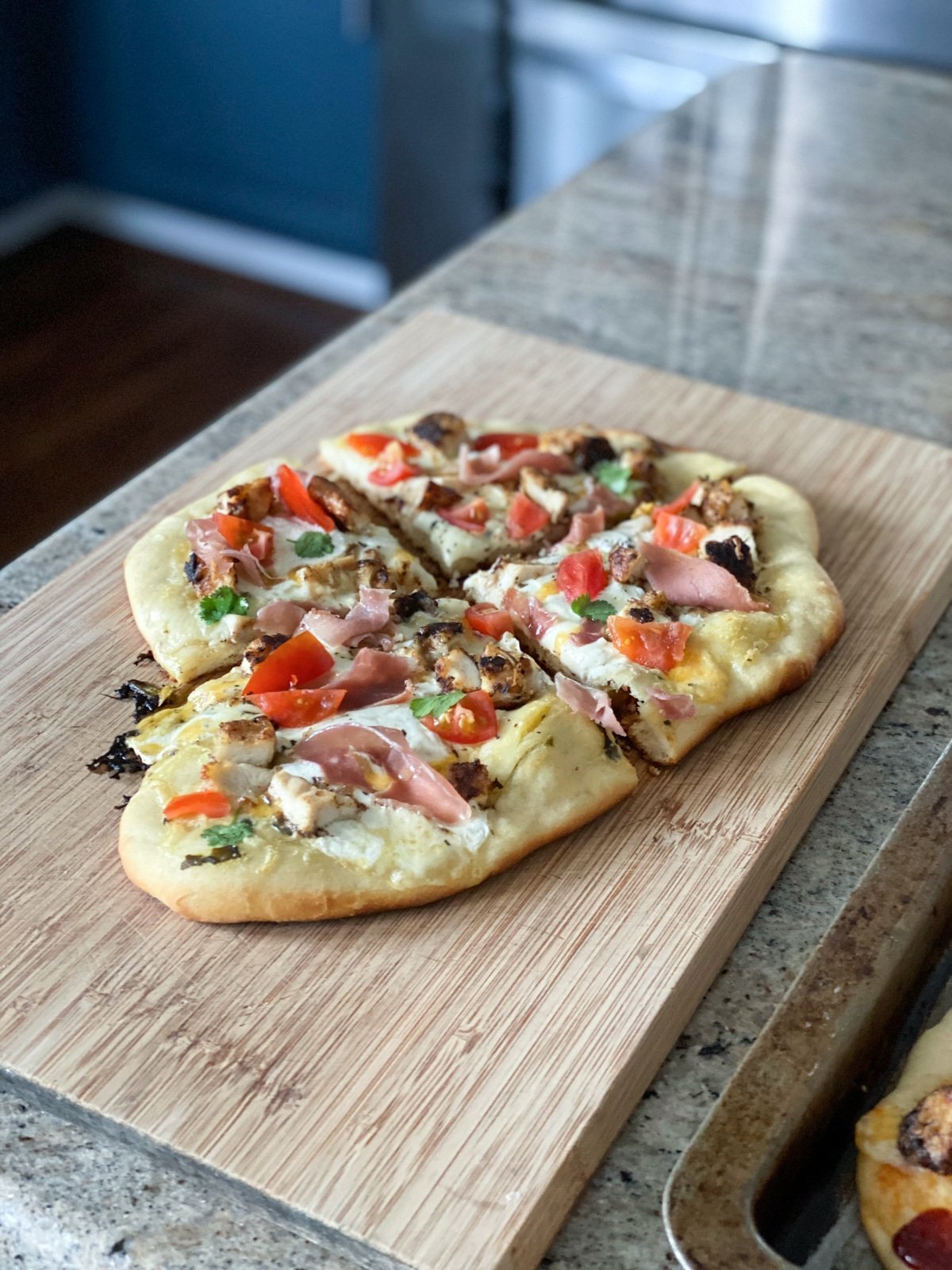 What to buy and freeze for protein from Costco
Another way to decrease shopping trips is to learn what to buy and freeze when it comes to proteins.
In my house, as long as there's chicken in the freezer and some sort of vegetable to eat, we can last another day without grocery shopping.
Organic chicken sold at Costco comes in both fresh and frozen options. Since I end up freezing it anyways, I buy the already frozen bag. This saves time, because the pieces of chicken are already separated. So when I want to cook, it's easy to just pull out a few pieces of chicken at a time to thaw in the microwave.
If I'm planning ahead, the night before making sous vide chicken breast or lemon chicken in a white wine sauce, a few pieces of frozen chicken will be moved to the fridge to thaw overnight. I buy other types of chicken in bulk at Costco to make dishes like these pub-style sous vide wings.
Ground beef isn't something I buy in small amounts. The Costco organic ground beef comes in 3 LB packages at a time. Which is perfect to make Hawaiian-style bbq pineapple meatballs and Instant Pot Italian wedding soup in bulk to freeze ahead.
Steaks can be frozen, too! Especially if you like to make sous vide recipes.
The convenience and juicy taste of sous vide frozen steak is something you won't believe until you try it. Now that I sous vide from frozen, it's so easy to make restaurant-style sous vide NY strip and sous vide t bone steak at home.
Learn about using ziploc vs vacuum sealed bags for meal prep and sous vide recipes.
Ribs are another tasty protein to buy in bulk at Costco. Two slabs of rib come in a package, so, you guessed it again, I make one rack and freeze the other.
There are so many ways to enjoy them. Instant Pot spare ribs, sous vide spare ribs, sous vide short ribs, and slow-cooked beef ribs are amongst the best choices.
To add flavor to ribs, we slather ribs in BBQ sauce, which is also purchased in bulk at Costco. The next day, leftovers are tossed in the flour tortillas for second-day BBQ rib tacos.
See how to make Costco spare ribs in the oven…
Large cuts of beef from Costco are used in low and slow dishes like pot roast, tri tip tacos, and sous vide brisket.
Bacon from Costco is not to be missed, either. If you didn't guess already, I make overnight sous vide bacon, bacon wrapped dates, and bacon pancakes with it. One bacon package from Costco is about 3-4 servings for us. I leave one serving of bacon in the fridge and portion out the other servings, which are frozen then thawed the night before enjoying.
See how to make apple pancakes with blueberries…
Sausage didn't make it into the one month Costco haul video, but chicken sausage from Costco comes in a variety of flavors and lasts over a month, so I don't freeze them. I made a couple at a time and then reheat them to add to scrambled eggs.
Eggs and milk are also staples we buy at Costco. While you can buy them at Costco, I make my own sous vide egg bites at home so I can choose the add-ins like gruyere cheese and caramelized onions.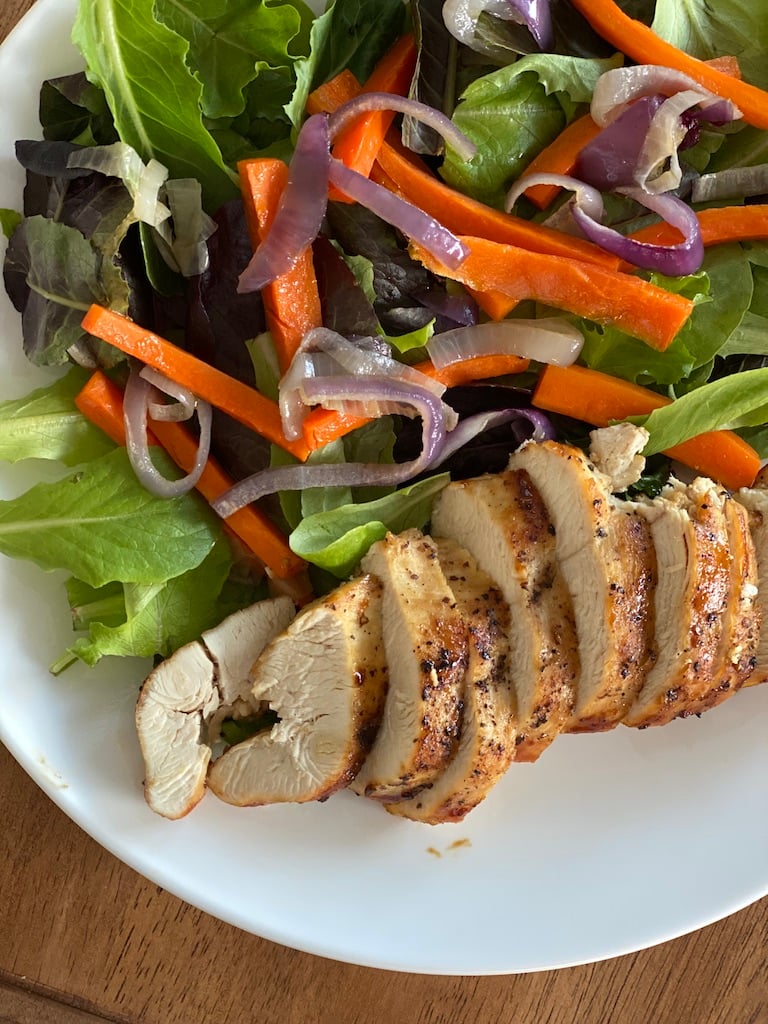 Fruits and vegetables from Costco that last a month
Fresh fruit like bananas and blueberries are great for making loaf breads like banana bread, or for pancakes.
Mandarins and other citrus last for weeks and are pretty to display in some of the fine server-ware we usually only use around the holidays.
Onions are great in bulk because they last for weeks. I love to add red wine caramelized red onions to everything and can't rave enough about how sweet and rich these sous vide onions are.
Avocados last a while if they're left to ripen (soft to the touch) on the counter, then moved to the fridge where they'll stay soft but won't continue to ripen for about 1-2 weeks.
Garlic, either minced or in cloves is always in my fridge. Since it's sold in such large batches, Sometimes I'll freeze ice cubes with olive oil and garlic.
Potatoes (if you want to call them a vegetable) last a while, too.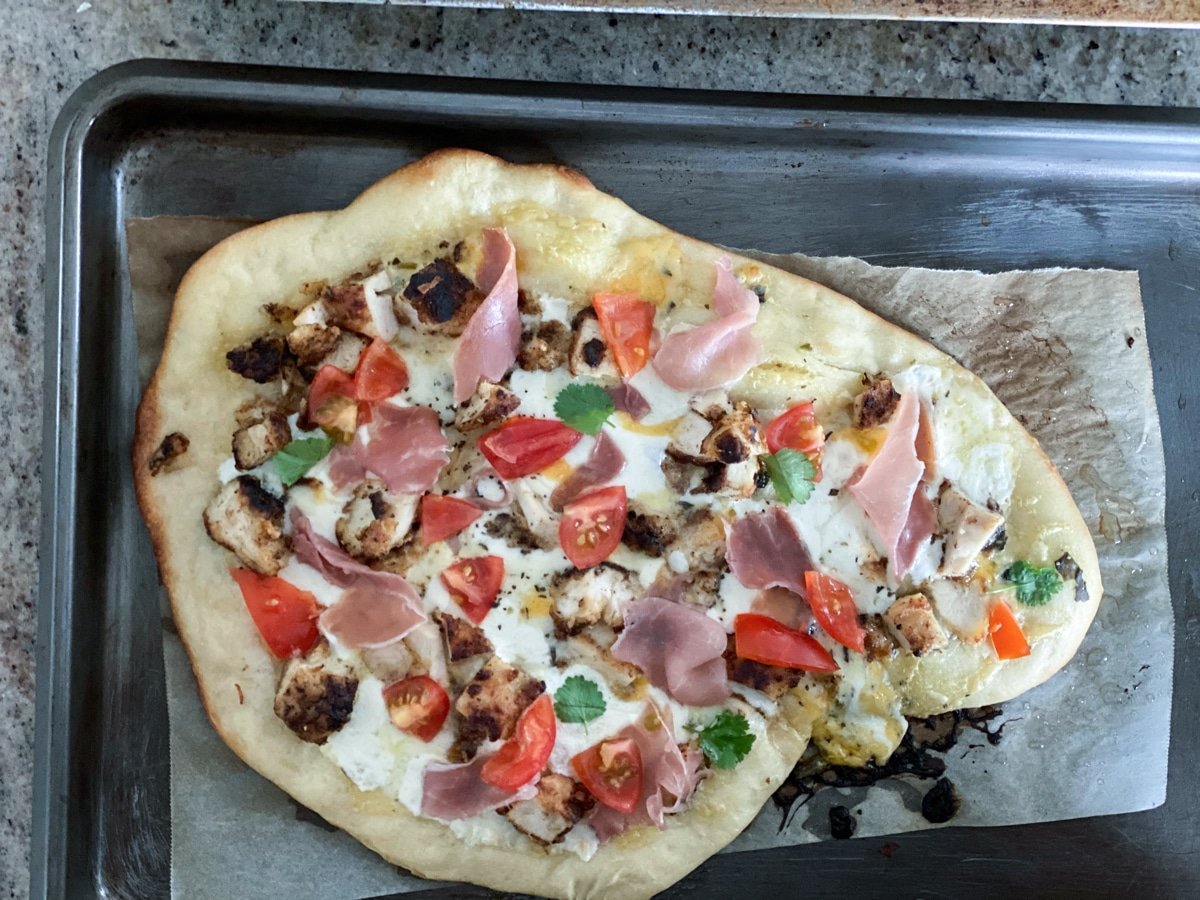 Supplementing the monthly Costco grocery shopping trip
Vegetables and fruits are something I still need to get once every 10-14 days to keep fresh in the house. Costco's frozen fruit and vegetables are plentiful, and they're great for smoothies and stir fries and such.
But things like salad greens and herbs I like to have fresh.
So utilizing a produce delivery service and starting a windowsill herb garden so I can whip together a make-ahead Mexican salad or my best Caprese salad has helped make this once a month Costco trip strategy work.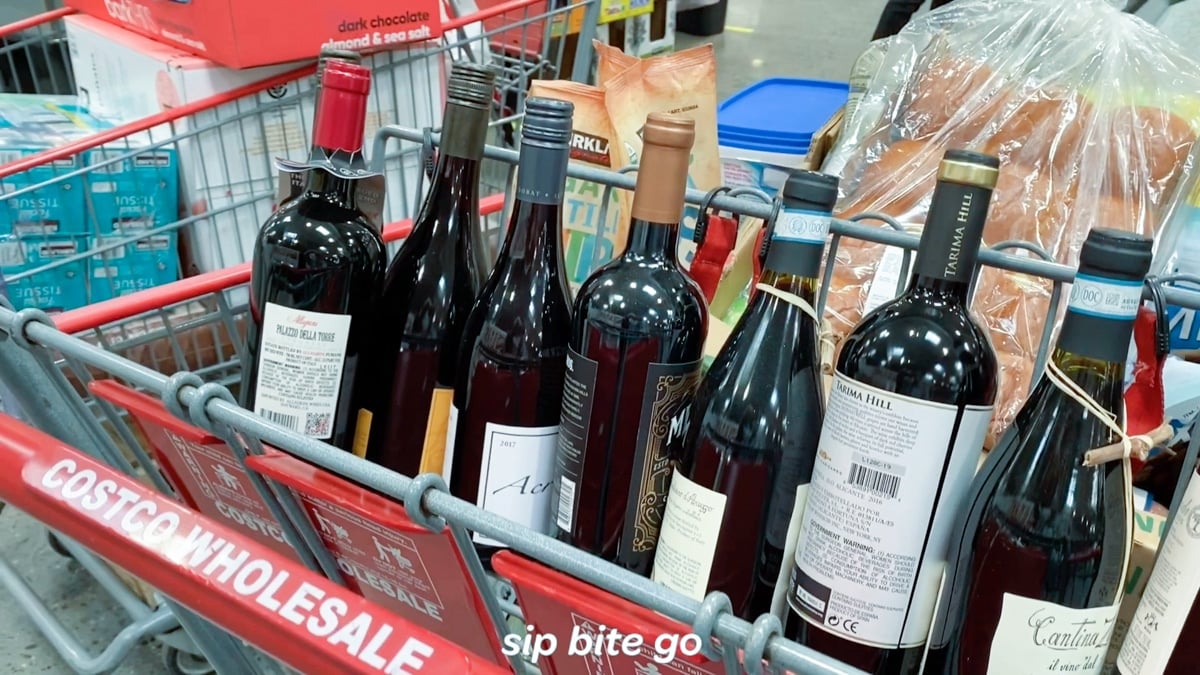 My Costco shopping list for a month
So, this list is mass-chaos, in no particular order.
I'm literately copying and pasting it from my notes…
chickpeas

tp

paper towels

diapers

gloves

wipes

mixed bag of nutshell x2

parchment paper

beer

wine

gatorade (for backup)

cheese shredded

cheese slice

butter

milk gallon x2 2%

eggs

ice cream

bacon

yogurt

bananas x2

tortillas

brioche buns

fruit – berries?

mandarin oranges x2

chicken x2

slow cook meat

brioche bread

graham crackers

chips

chocolate

strawberry pop tarts

bread

dessert mix – brownies?

ginger beer / mixers

salted peanuts

cream

yellow onion

ap flour

bread flour

apple chicken sausage

english muffins

shorts for g

medium size ziplock bags

peeled garlic

coffee round filters

raisins for g

seeds for planting?
Happy shopping, friends!
Meal prep has become a way of life since I moved from city living to the 'burbs. Since we can't walk to a bunch of grocery stores, whenever we want, planning once a month trips to Costco is now a necessity. 
Check out these Costco Disney Christmas items…
For tips on how to eat delicious, restaurant-style food at home – even when you can only grocery shop once a month – subscribe to Sip Bite Go's newsletter.
Check out the video on grocery shopping just once a month again.