Learn how to vacuum seal a whole chicken so you can sous vide it to juicy, tender perfection. Once you see a couple options for vacuum sealing an entire chicken, you'll be able to pick the one that works best for you.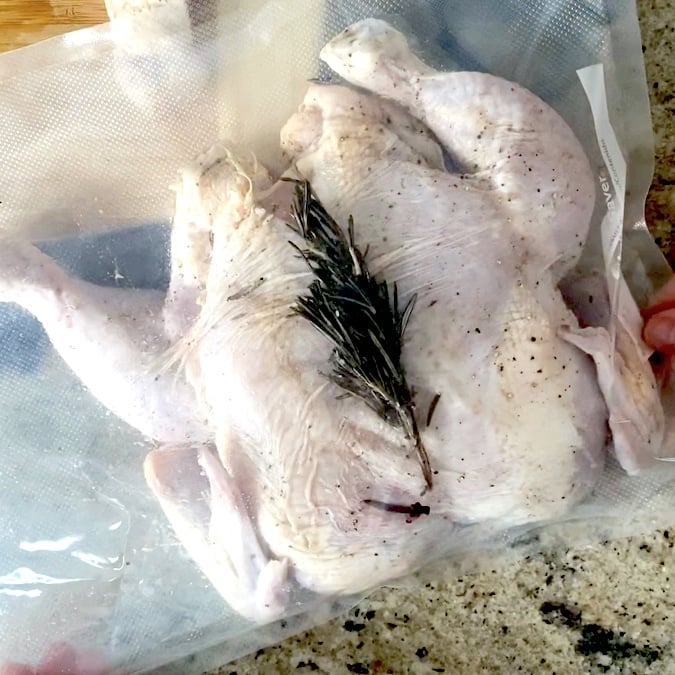 Vacuum sealing a whole chicken
Chicken and sous vide are a winning combination, and once you master chicken breast, it's time to move on to bigger and better things. Like cooking an entire chicken sous vide. But, before you can set the perfect time and temp to cook it, you need to know how to vacuum seal a whole chicken.
So – can you sous vide a whole chicken the way you sous vide everything else– sticking it in the vacuum bag, getting a good seal, and dumping it in the sous vide machine?
Yes and no.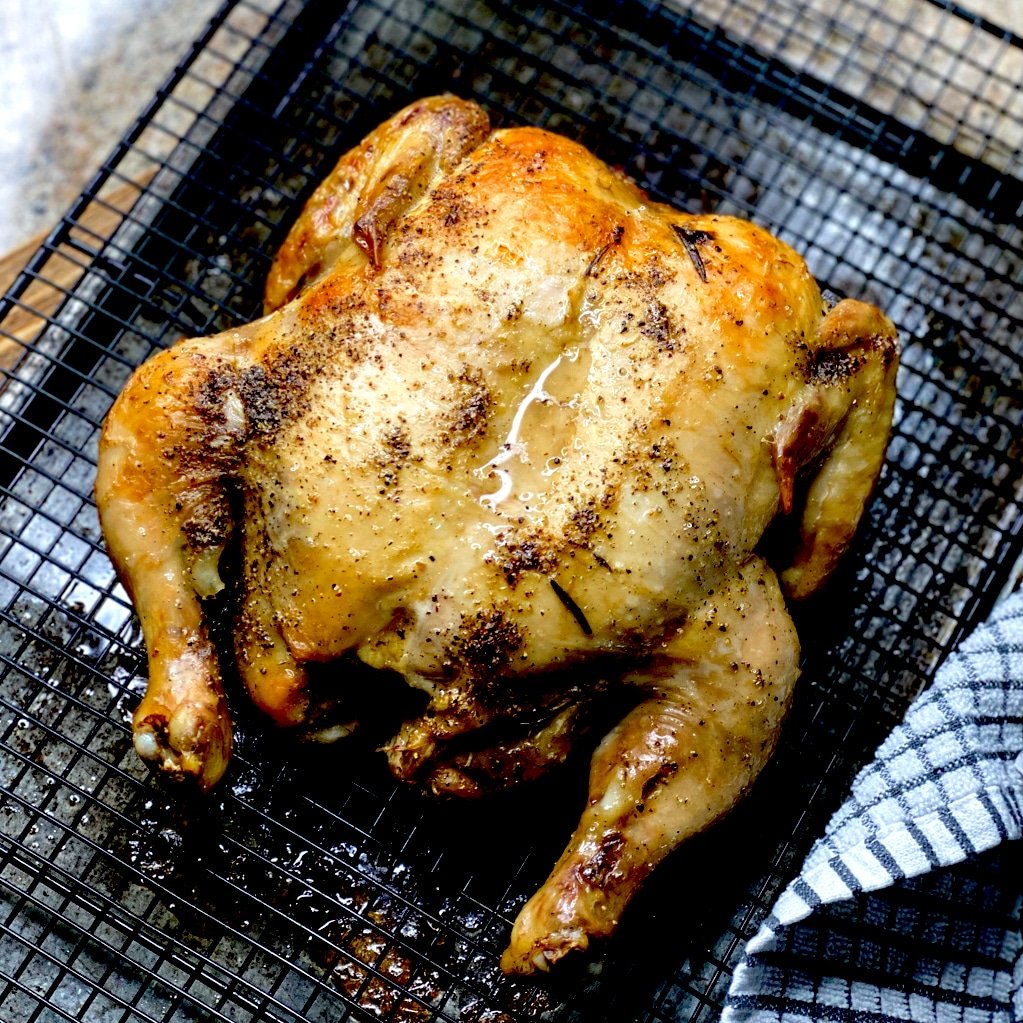 That extra cavity in the middle of the chicken makes the airflow complicated, and you could end up with part of your dinner uncooked. Don't give up on your whole sous vide chicken, though!
New to sous vide techniques? Learn why is sous vide so popular.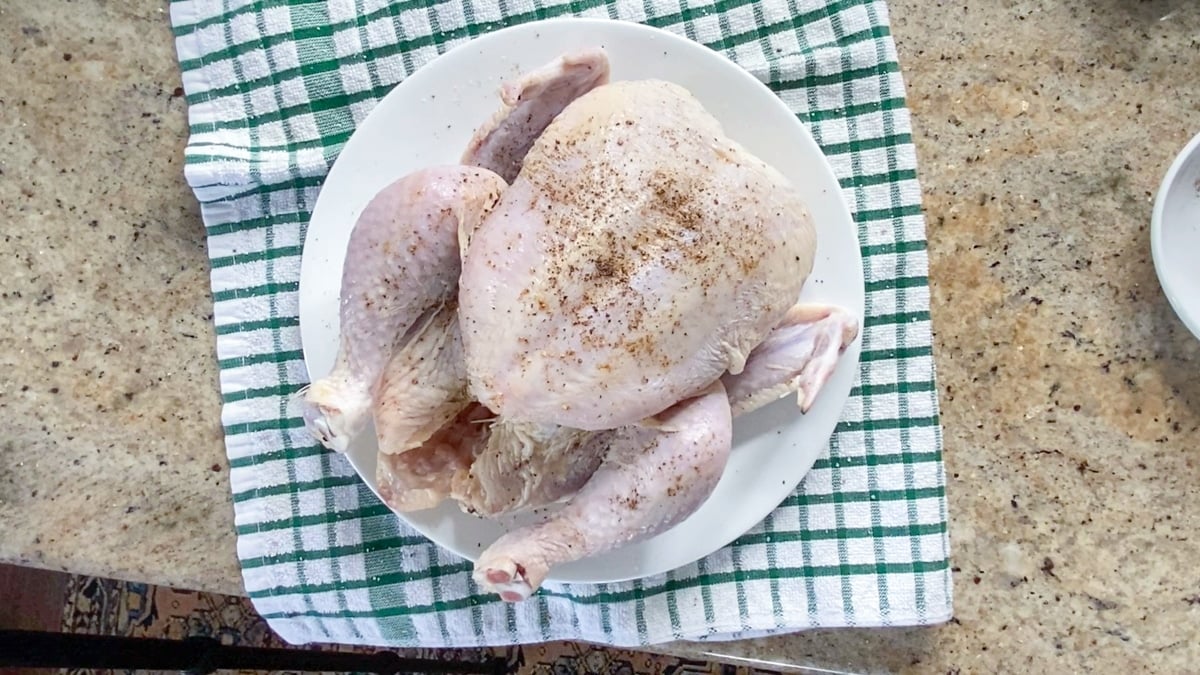 In this post, you'll learn three ways to vacuum seal a whole chicken.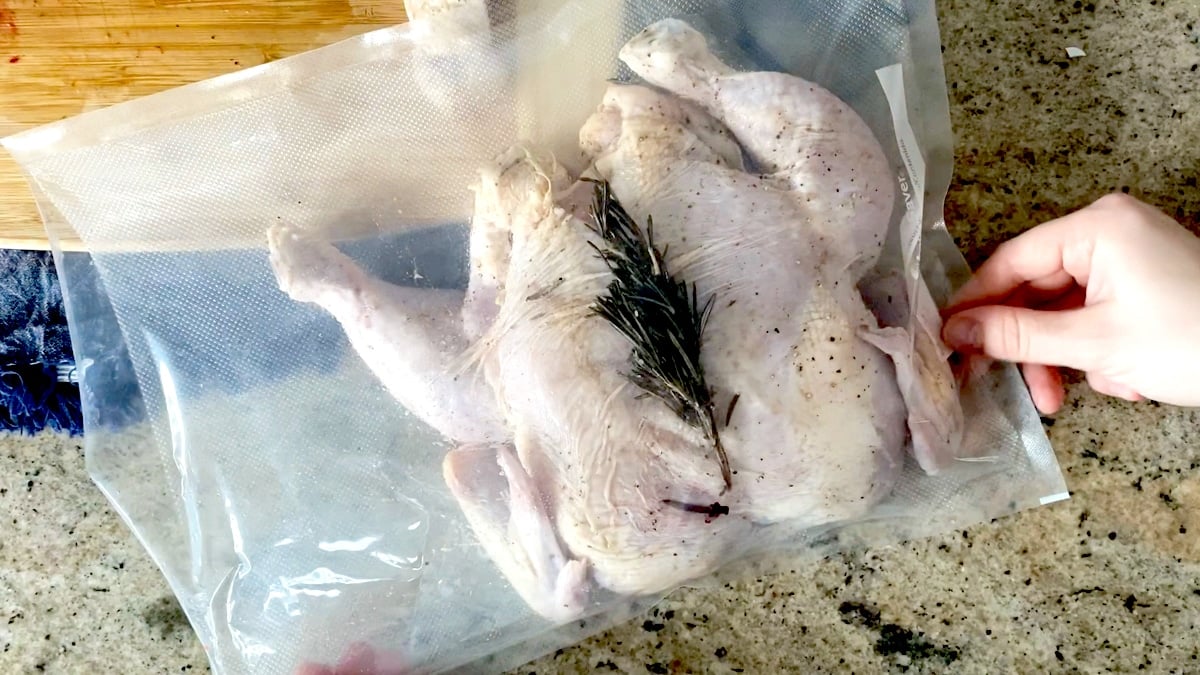 Visual peeps: video on vacuum sealing a whole chicken
What you need to vac seal a whole chicken
Your main ingredient for the "prep" portion of a sous vide whole chicken recipe is just one whole chicken, cleaned, seasoned, and ready to cook. Depending on the method you choose, you might need a can of stock, a box of stuffing, or just a selection of your favorite chicken seasonings.
For equipment, you'll need a vacuum sealer and extra large vacuum seal bags.
See the vac sealer I use in my video review for the Foodsaver 4400.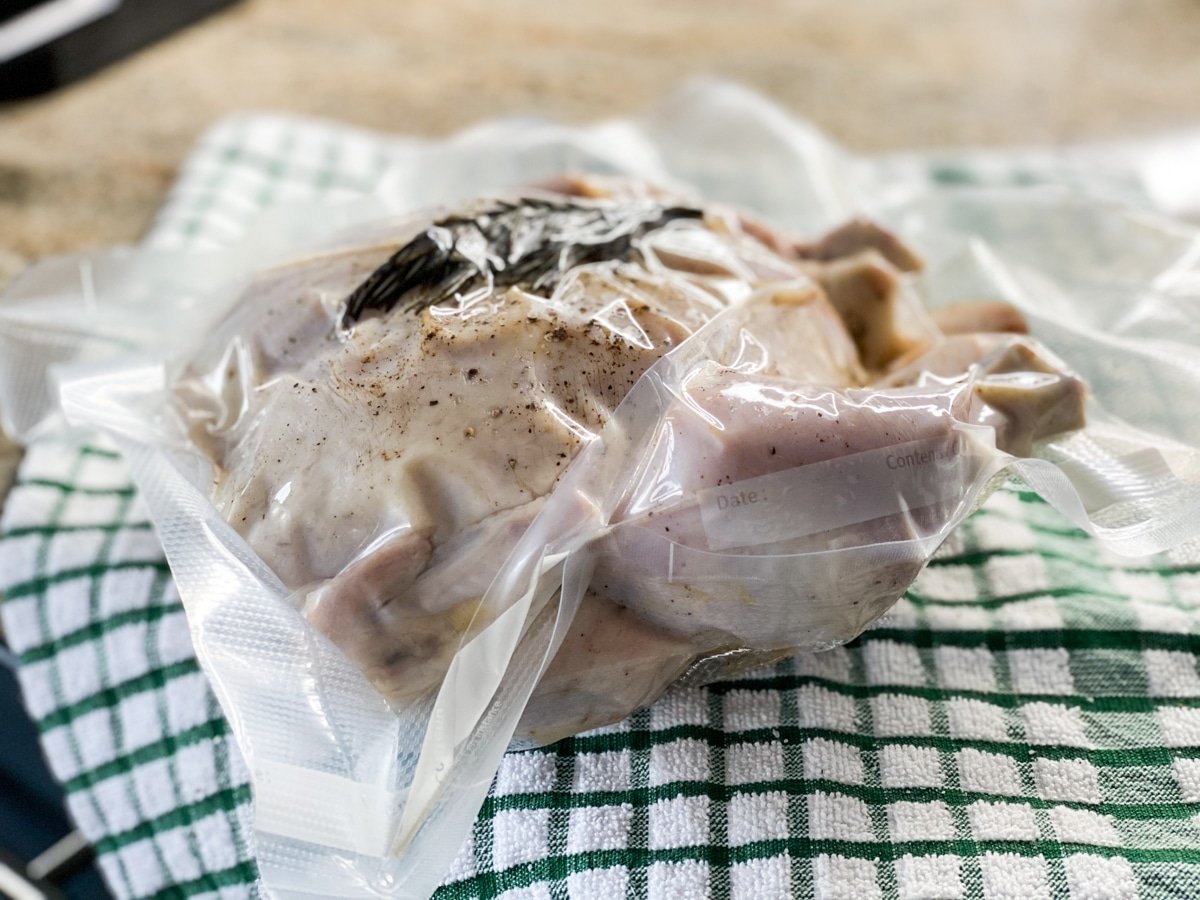 Option 1 – use chicken stock
Vacuum sealing a whole chicken for sous vide cooking means eliminating that center cavity. You could fill the bird with stuffing, or with pre-made chicken stock.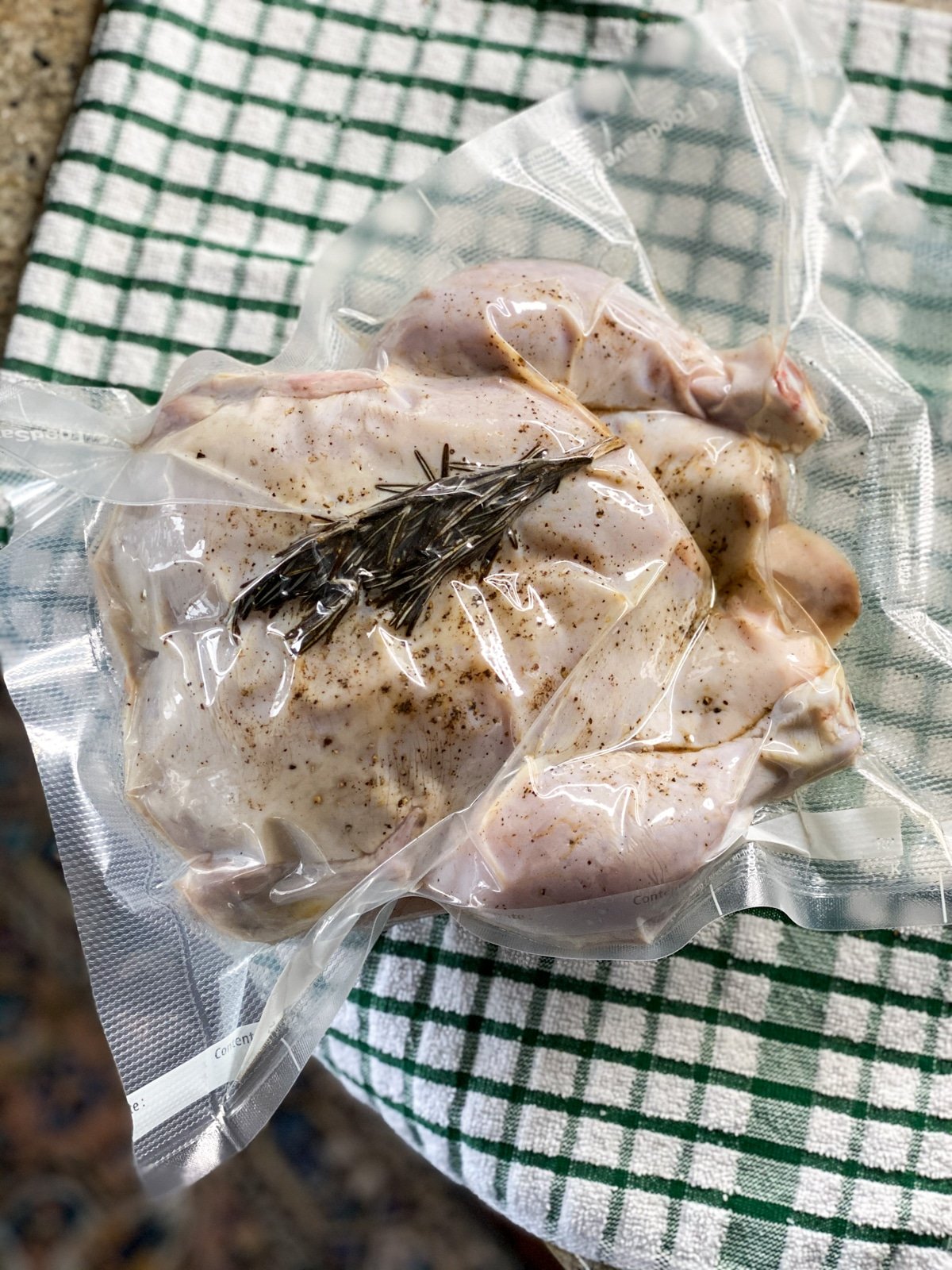 Option 2 – allow water to flow inside the chicken
If I don't have stuffing or stock on hand, I sometimes use a larger vacuum seal bag and, after putting the bird in, push the side of the bag all the way into the cavity. This allows the water to circulate nicely, inside and outside the bird, and results in a well-cooked chicken.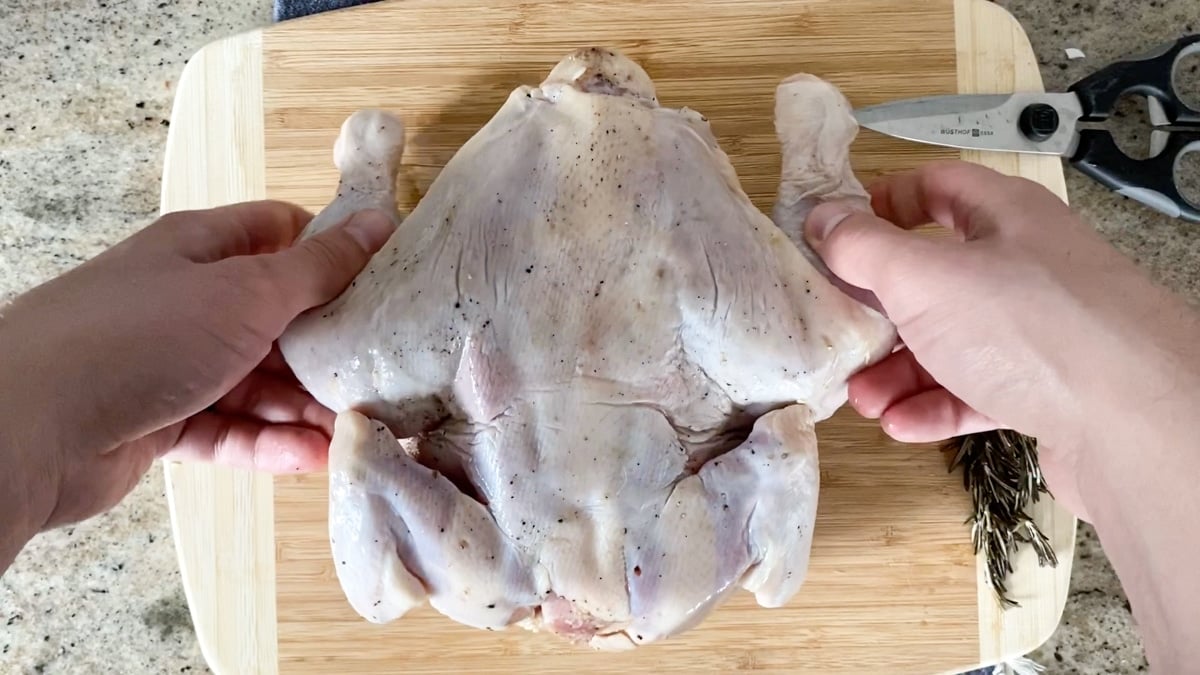 Option 3 – spatchcock it
There's another way you can get the same result: spatchcocking. This involves removing the backbone, then flattening the bird so it cooks quickly and well. Get the step by step for using this method in the Sip Bite Go recipe for sous vide whole chicken.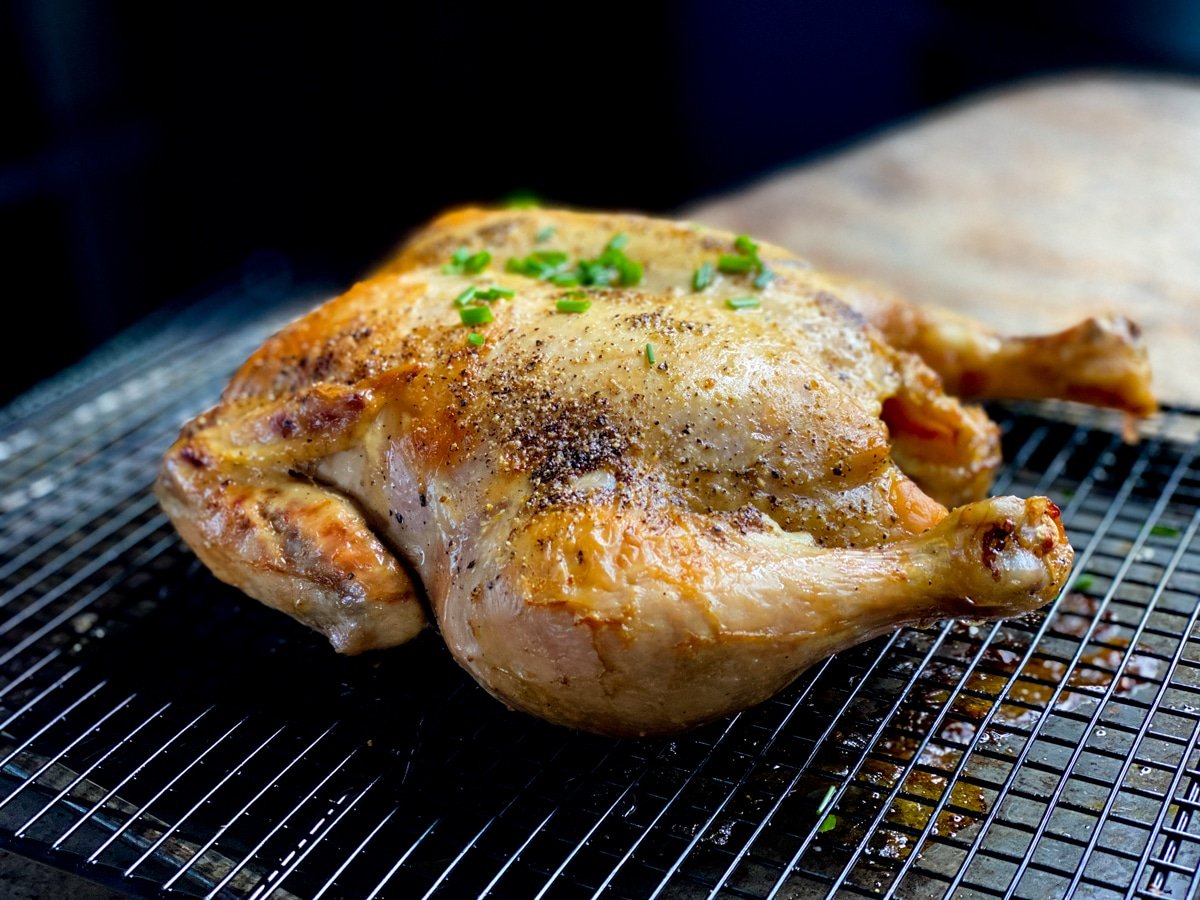 More tips for vacuum sealing an entire chicken
There you have it: three ways to vacuum seal then sous vide a whole chicken.
See how to make smoked whole chicken on the Traeger.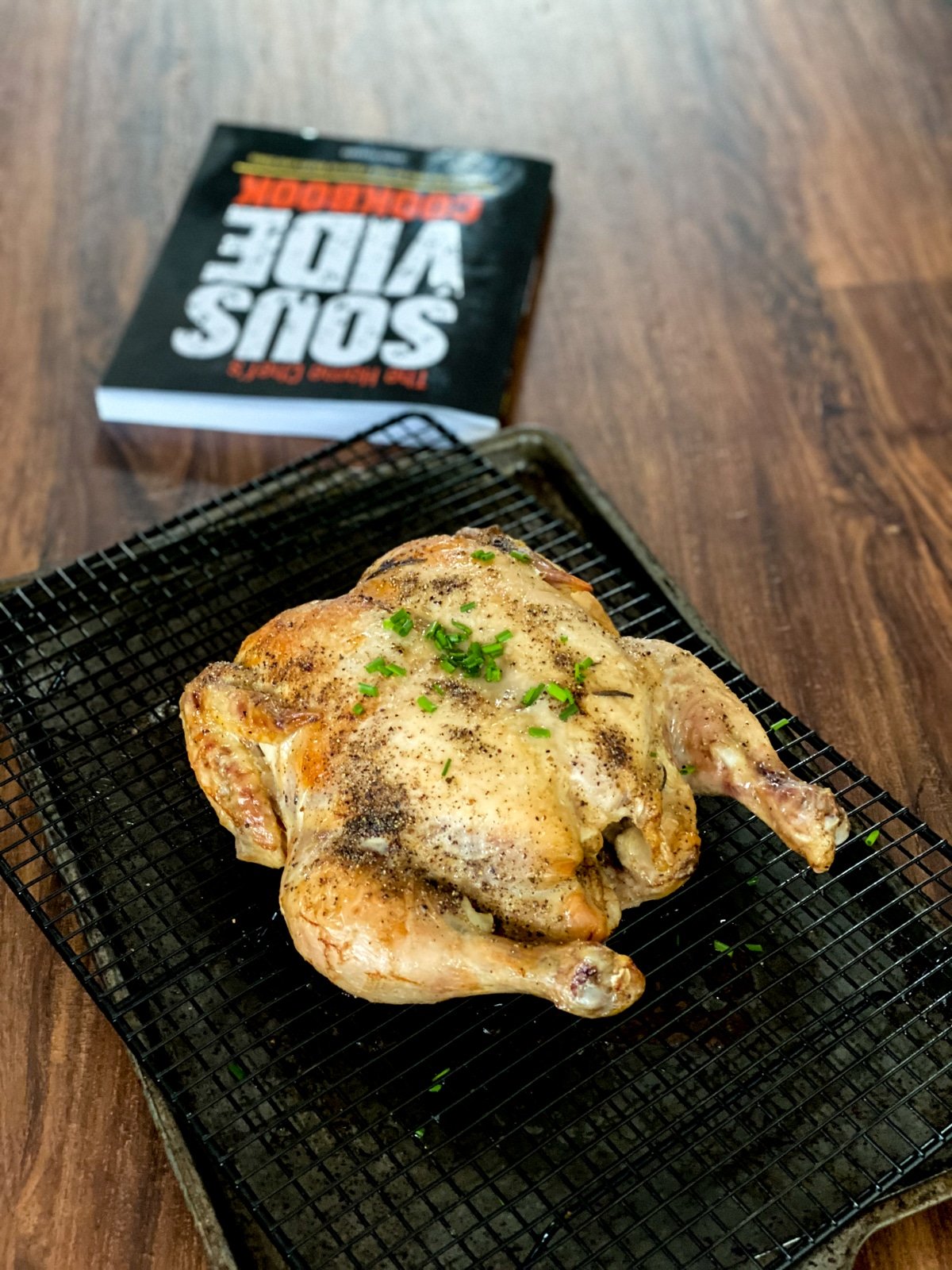 Once you vac seal and sous vide an entire chicken, make a meal out of it.
Finish it in the oven broiler or on the grill, then serve chicken with some delicious sous vide onions, mashed potatoes, or sous vide corn on the cob. It is also delicious with tangy Greek salad, or my favorite make-ahead Mexican salad. For a nourishing lunch, sous viding a whole chicken is a meal prep option to sous vide chicken breast for salad.
Looking for other sous vide recipes to cook in large batches?
Sous vide brisket and sous vide pulled pork are favorites at my house for entertaining a crowd or meal prepping for a few days. We love to turn leftovers into breakfast tacos the next day.
Love chicken dinners? This trick for making chicken sous vide from frozen is amazing!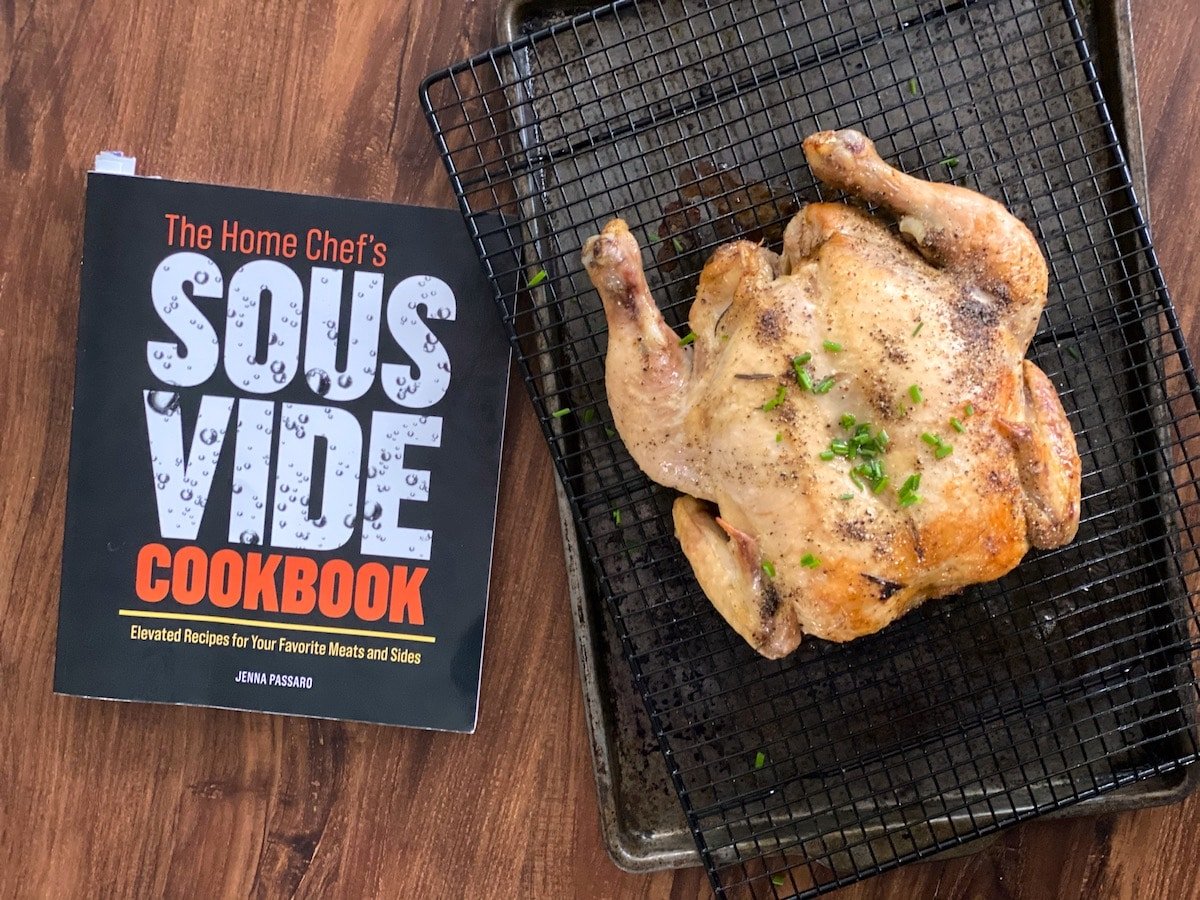 Find new ways to enjoy your favorite dishes in The Home Chef's Sous Vide Cookbook.
Best whole chicken recipes from Sip Bite Go
New to sous vide cooking?
Want an easy sous vide dinner idea? Well, I have one that's casual enough for a weeknight after work. But looks super impressive – which makes it fancy enough to serve for a holiday. Try my sous vide whole roast chicken.
If you're new to cooking sous vide, you might be wondering: why sous vide is so popular? My personal reason is because it's an easy way to make restaurant style meals at home.
Learn the basic steps for sous vide cooking. Become a pro and get into these sous vide recipes for entertaining.
You just need a few things to get started, including this guide on how to vacuum seal meat.
Share your sous vide cooking
Find me on Instagram @sipbitego. I love seeing photos of delicious food.
Tasty whole chicken recipes from Sip Bite Go