Want to spatchcock a chicken? Watch this spatchcock video so you can cook a whole chicken evenly sous vide style or another way. This simple guide on how to spatchcock chicken step by step (with video help!) will help you prepare a whole chicken for dinner.
Roasted chicken, grilled or bbq chicken, and sous vide spatchcocked chicken comes out with very moist meat and crispy skin when prepared this way. So roll up your sleeves and let's get to it!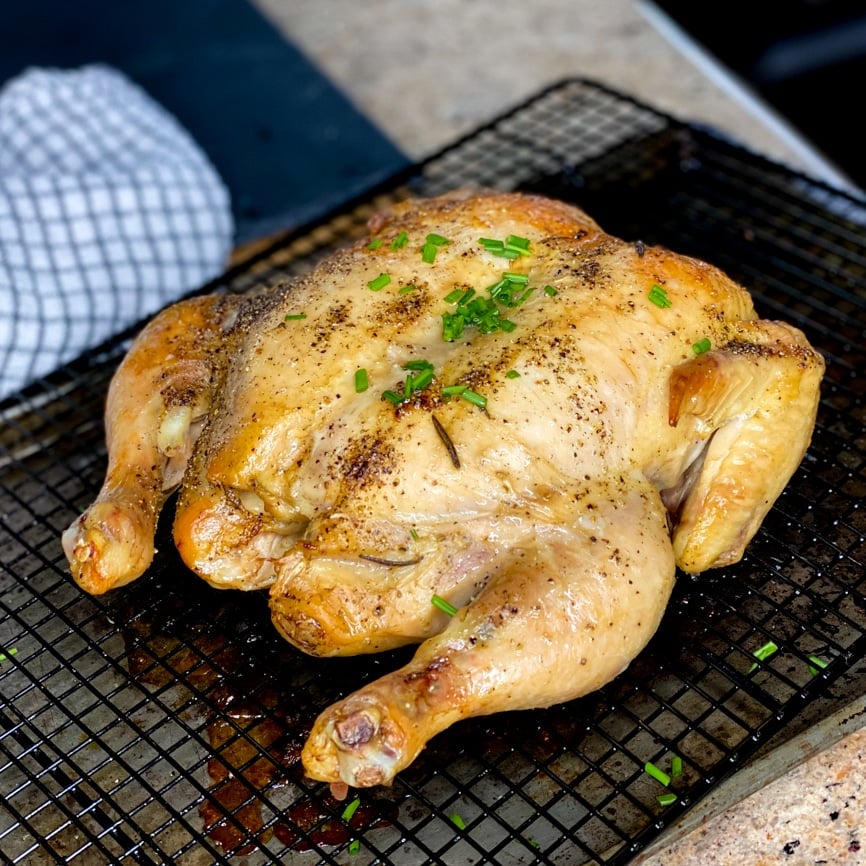 See the spatchcock video to prep for sous vide, BBQ, roasting
For many cooking techniques, spatchcocking chicken allows you to cook a whole chicken in almost half the time as cooking a whole chicken intact.
But that's not why it's a classic way to cook chicken. You see, once you butterfly chicken, you can cook it a million different ways. The people you feed will be forever grateful.
Feeling intimidated by spatchcocking? See this video on how to spatchcock a whole chicken.
Let's do it: Spatchcock a whole chicken step by step
Step 1. Clean the chicken and place it chicken breast side down on a cutting board.
Step 2. Use sharp kitchen shears to cut from top to bottom along the backbone.

Step 3. Repeat on the other side to fully remove the backbone from the chicken.
Tip. Tip. Tip. This didn't make it into the video for spatchcocked chicken, but you can get the chicken to work even harder for you by saving the part you cut off. Often, I'll add the backbone to a bag in the freezer labeled "chicken stock". If that's not for you, just discard it.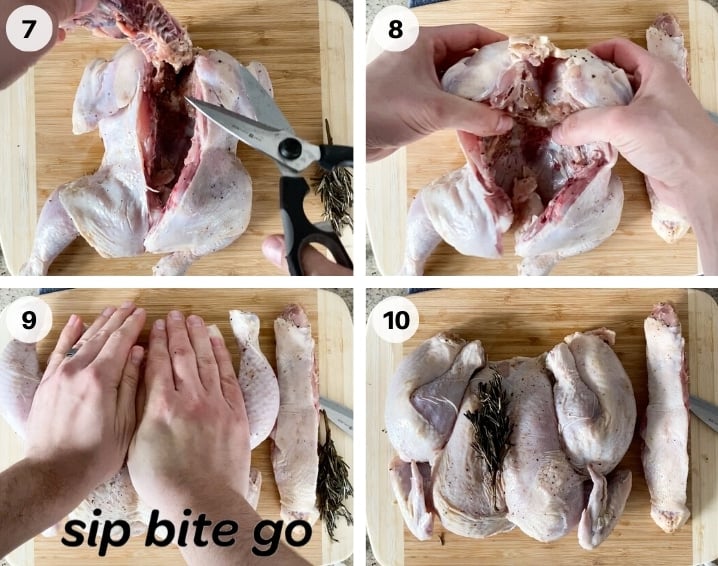 Step 4. Push down to flatten spatchcocked chicken completely.
You need to know how to flatten spatchcocked chicken completely, because the more even the width of the chicken, the better and more even it will cook in the sous vide bath, smoker, grill, oven, etc.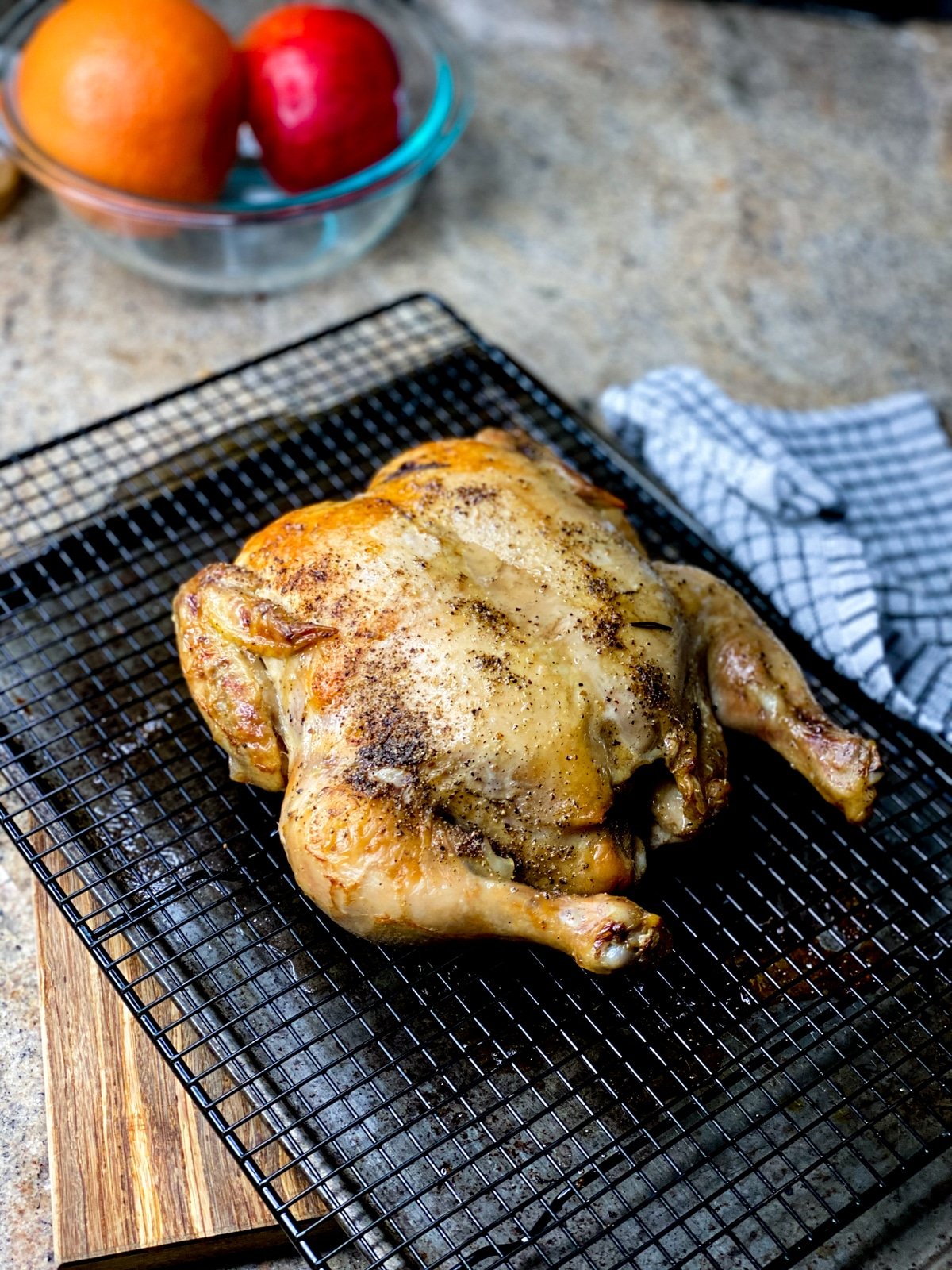 Different ways to cook spatchcocked chicken
There are so many ways to enjoy the bird prepared this way.
So next you'll learn about how to cook spatchcocked chicken:
Sous vide style
On the BBQ/grill
Roasted in the oven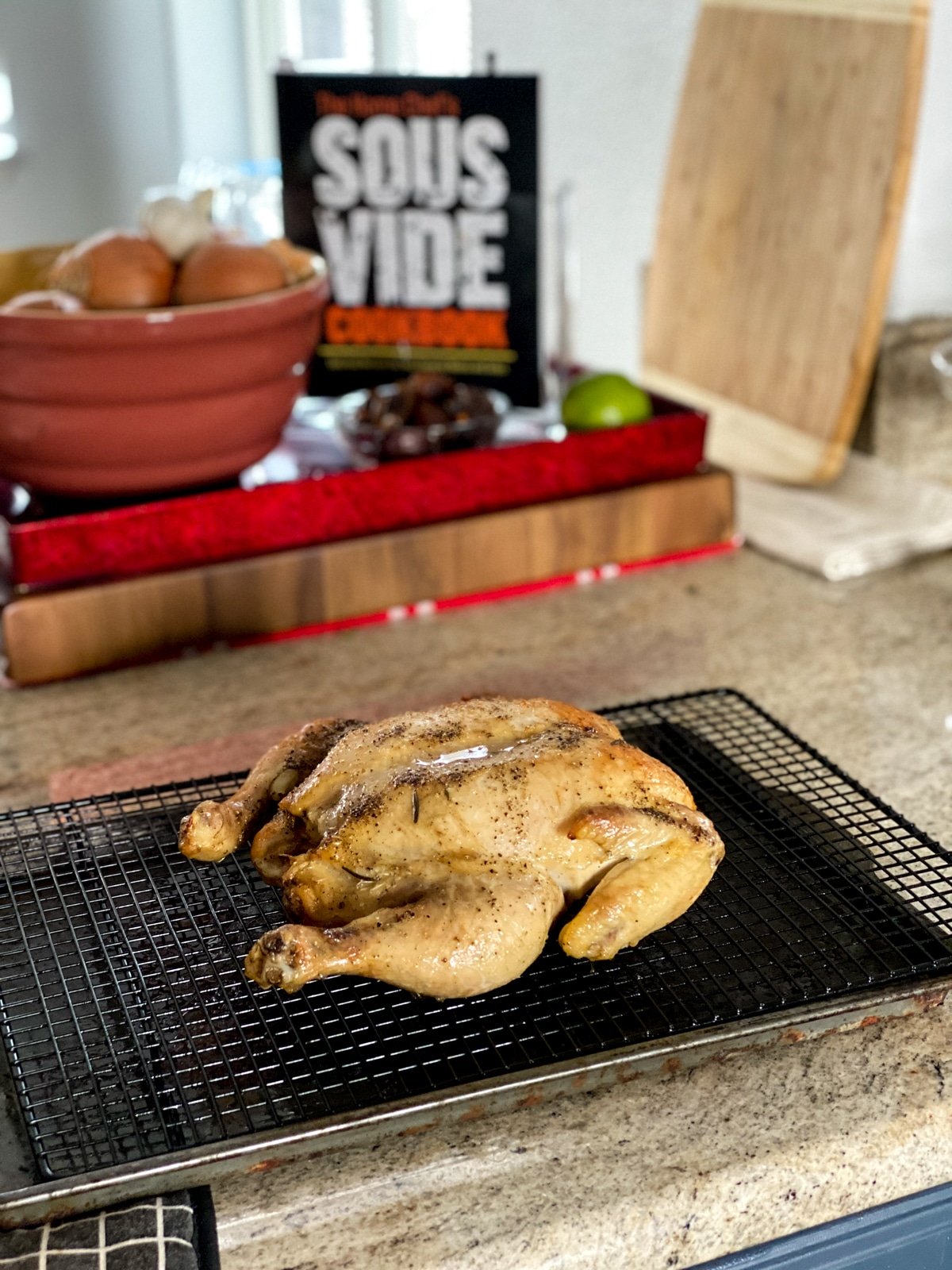 Spatchcocking chicken for sous vide
As a sous vide enthusiast and author of The Home Chef's Sous Vide Cookbook – I'm a big fan of sous vide whole chicken. It comes out super moist with tender meat when sous vide then grilled.
The trick I've found is to vacuum seal a whole chicken already spatchcocked.
Spatchcocked sous vide chicken cooks evenly since it's flattened out with no air pocket. The difference is that an intact chicken has a hole in the center cavity, which fills with air and causes issues with maintaining the temperature.
Did you know you can freeze then sous vide chicken – and it tastes amazing?
Spatchcocking chicken for BBQ
Grilling spatchcocked chicken is such a tasty option. To do this, make sure the chicken is "breast side up" – with the rib bones touching the grill.
You can even put a brick on top to flatten spatchcocked chicken more.
Use a grill thermometer to make sure the chicken is cooked thoroughly to a safe temperature, which takes about an hour.
With BBQ spatchcocked chicken, you'll want to make sure you're marinating the chicken regularly so it stays nice and juicy. The key is to balance marinating it, with keeping the grill covered so the chicken cooks evenly.
It's a delicate balance to BBQ spatchcocked chicken – but it comes with a delicious reward.
See how to make smoked whole chicken on the Traeger.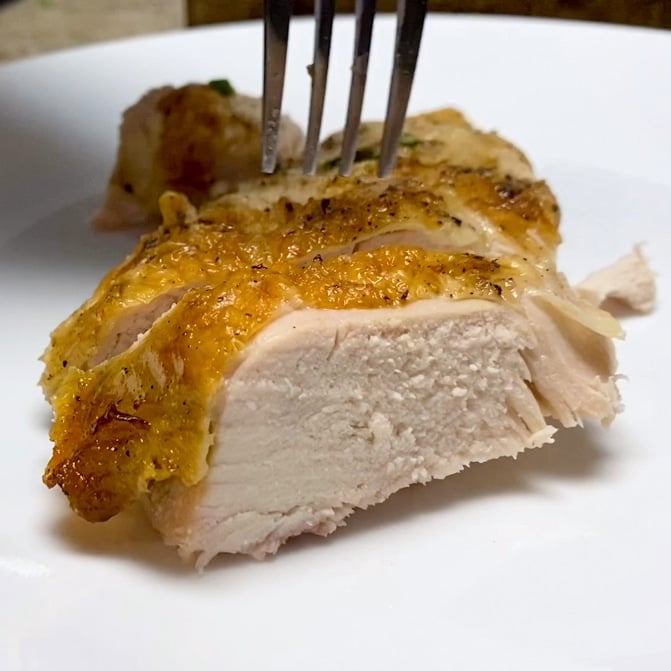 Spatchcocking then roasting chicken in the oven
Once you learn how to spatchcock a whole chicken, you'll love roasting chicken this way. It shaves off about 15-20 minutes to spatchcock chicken before roasting.
What will you do with your chicken?
The options for making a chicken dinner with butterflied chicken are pretty endless.
In addition to cooking it with different techniques, try various spice combinations, sauces, brines, and marinades.
And when in doubt, throw some green on the bird. Add huge flavor to spatchcock chicken with fresh herbs from your very own culinary garden. See these tips on how to grow herbs at home for cooking.
Have you ever thought of cooking a whole chicken sous vide style? Well I have a recipe that's just perfect for a holiday like Christmas or Easter or a special occasion. See my guide to making sous vide roasted chicken.