Want to learn the tricks to vacuum sealing meat? Well, you're in luck. Because between writing my new sous vide cookbook, and becoming a new parent, living off vacuum sealed meats and other freezer foods has become a way of life. Today I'm sharing tips on how to vacuum seal meat for sous vide meal prepping in particular.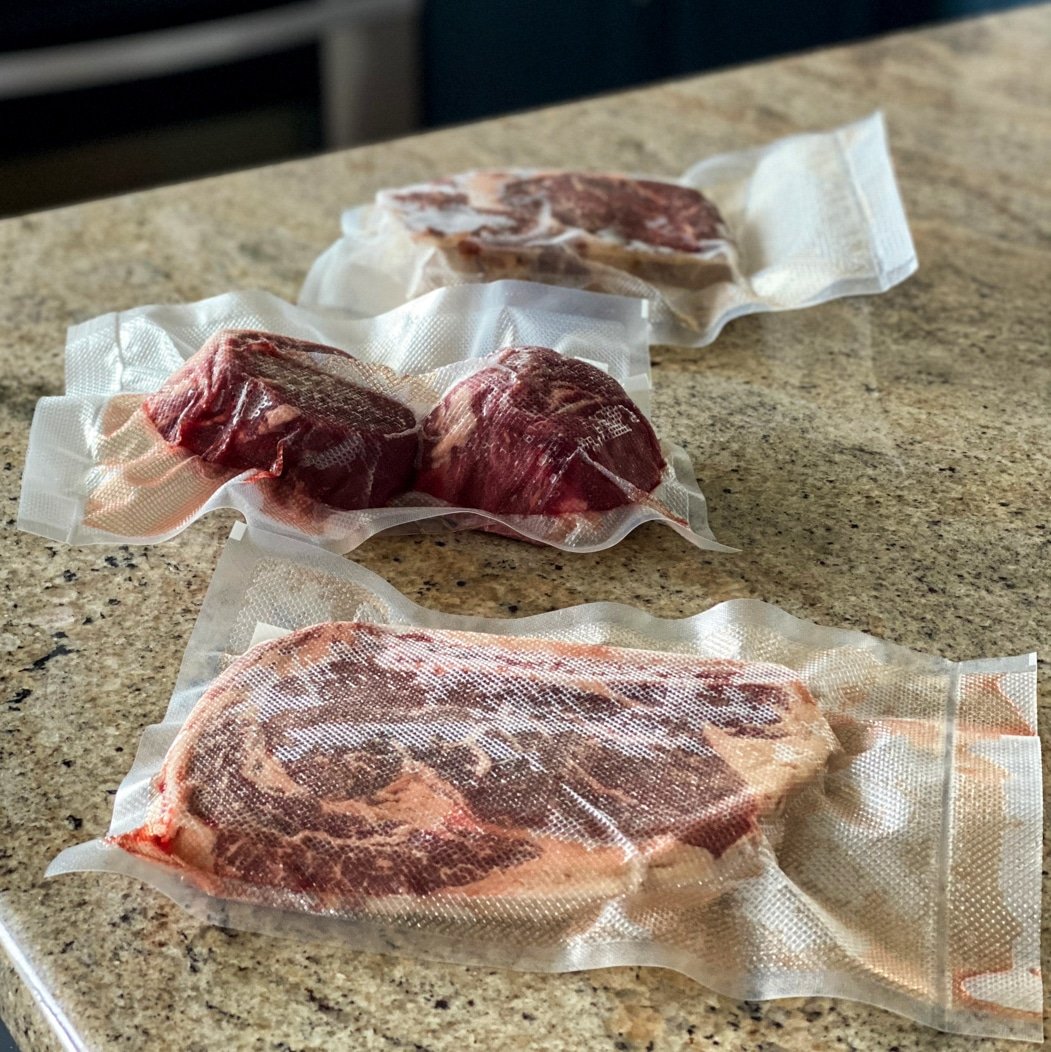 Many of the steaks you see on Sip Bite Go (like sous vide filet mignon from frozen, sous vide ribeye, and sous vide New York Strip) are simple to meal prep using a vacuum sealer. The machine used in this vacuum sealing demo was gifted to me from the lovely people behind the FoodSaver v4400 vacuum sealer. It's been such a work horse – this vac sealer has lasted longer than my first Anova sous vide machine.
Let's vacuum seal frozen meat…
What you need to vacuum seal food
Vacuum sealer – in this post is the Foodsaver 4400
Bags – either vacuum seal roll you cut to size as needed or a stash of vacuum sealer bags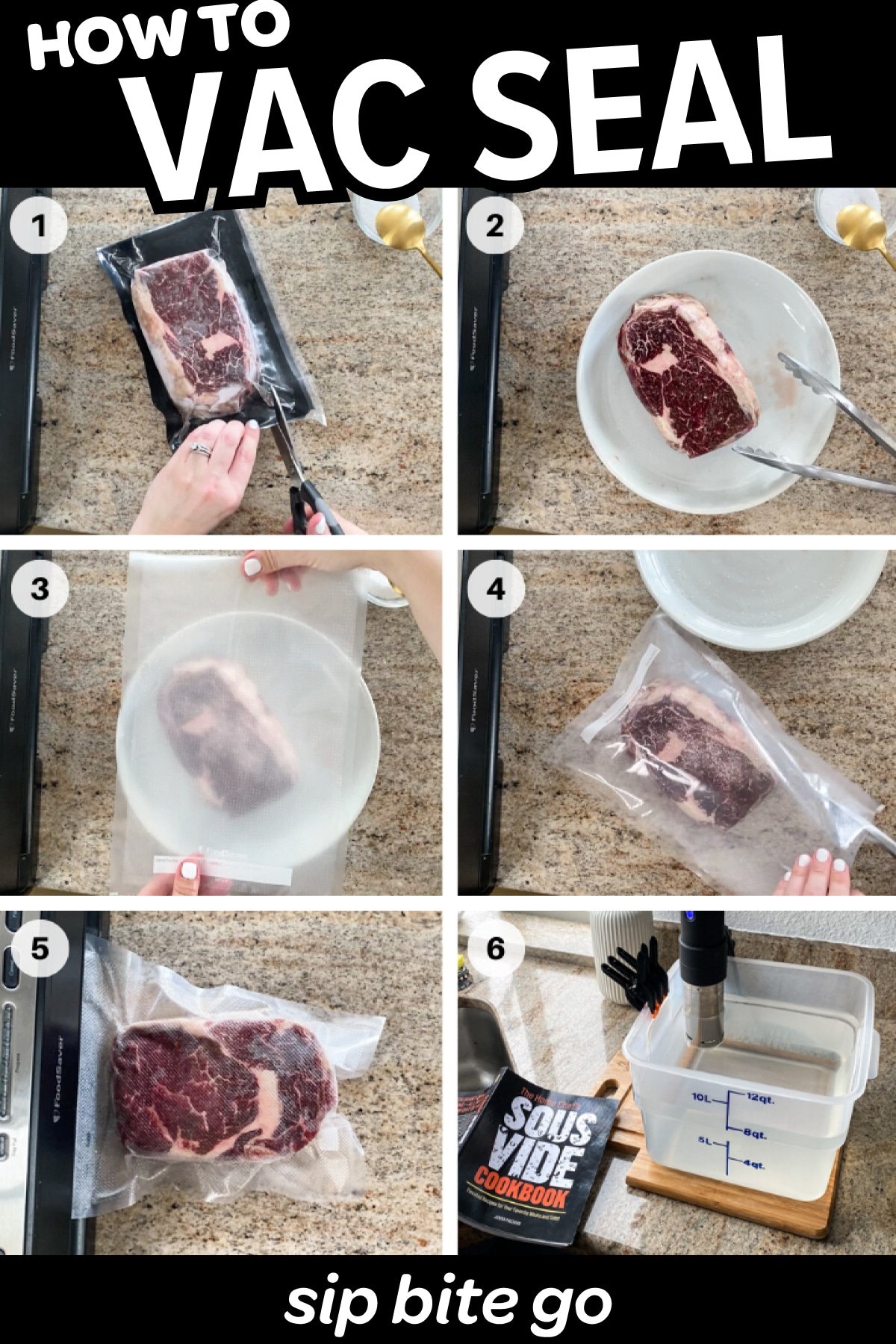 Step by step vacuum sealing meats for sous vide cooking
Here's a high-level overview of how to vacuum seal meats to store in the freezer for sous vide cooking.
If you're looking for more specifics, in the video for vacuum-sealed meat, you'll notice a variety of sous vide techniques for sous vide burgers, sous vide lamb burgers, sous vide chicken, sous vide ribeye, sous vide bacon and sous vide filet mignon.
Poke around Sip Bite Go to see sous vide recipes that explain how to vacuum seal food in each one.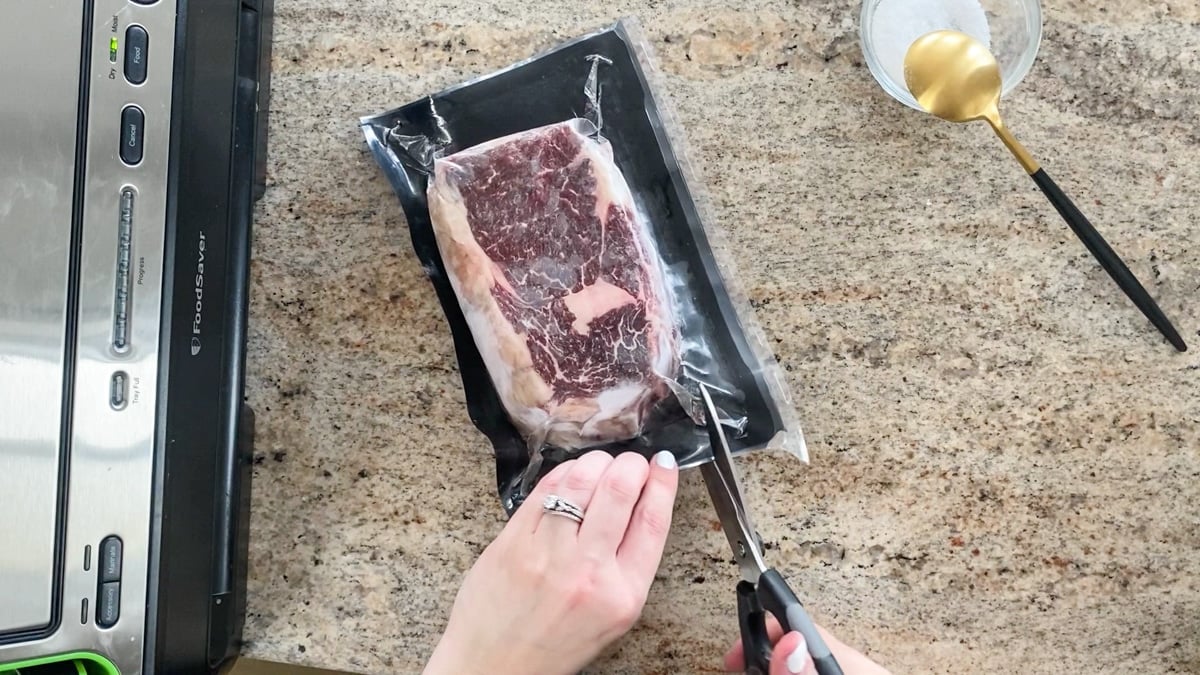 Step 1. Remove meat from store packaging
Why not vacuum seal meat in-store packaging?
You don't want to cook food in-store packaging because sometimes there is cardboard, ink, and other packaging materials in the meat pack that is there to soak up extra juices.
You don't want to cook anything other than your food. So always remove the food from store packaging before sous viding it.
Another reason for removing the food from the original packaging before sous viding is so you can season the food and space out the food. You don't want meats to overlap in the vacuum seal bags when cooking in the sous vide bath.
Step 2. Transfer meat to a plate or cutting board.
If you're in a rush, you can instead just pop the meat in the vac seal bag and toss the seasonings in there, too.
See this guide on how to vacuum seal ribeye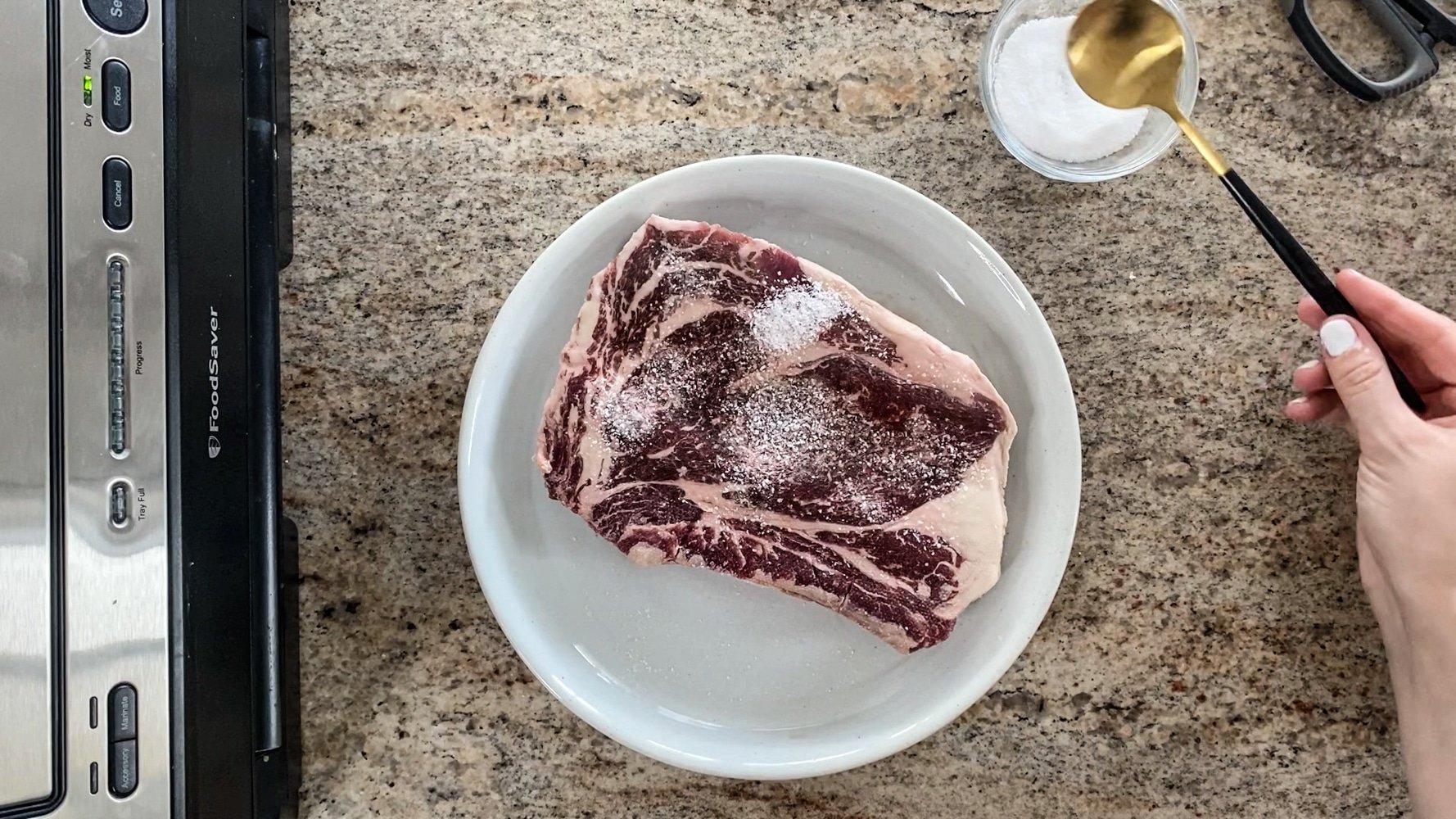 This soon to be sous vide ribeye is seasoned before vacuum sealing. So when it's time to cook, it will be seasoned and ready to go.
Step 3. Season meat before vacuum sealing it
This can be as simple as adding a little salt, or you can add other spices, herbs from an herb garden, or garlic if desired.
Sometimes I'll even add lemon to vacuum-sealed bags of chicken so later I can make sous vide lemon chicken pasta. But simple salt works fine.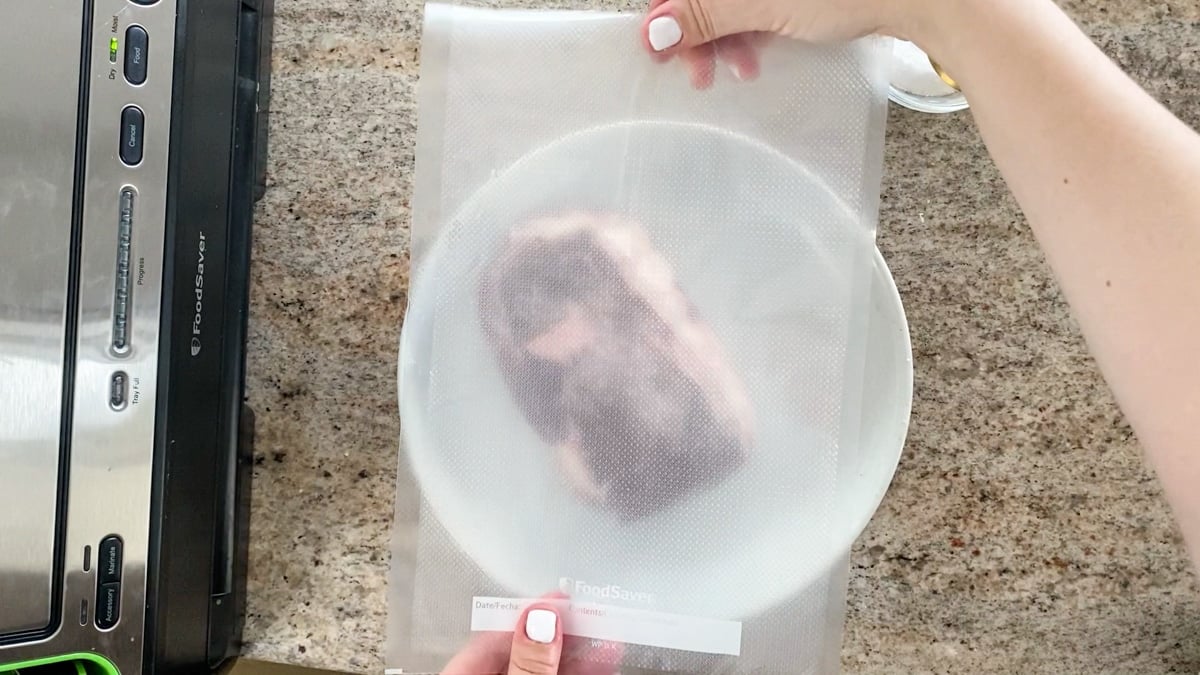 Step 4. Add meat to vacuum seal bags
Choosing a vacuum seal bag
When choosing a vacuum seal bag, choose one that is a little larger than the food you're vacuum sealing.
You can sous vide multiple steaks in the same bag, or sous vide pork chops, or sous vide chicken but make sure to leave a little space between them. Vacuum seal food so it doesn't overlap in the bag. That way it will cook evenly.
There should be 3-4 inches of extra room at the opening so the vacuum-sealed meat, even vacuum sealed burgers for sous vide cooking, won't be squished by the machine when it vacuum seals the food.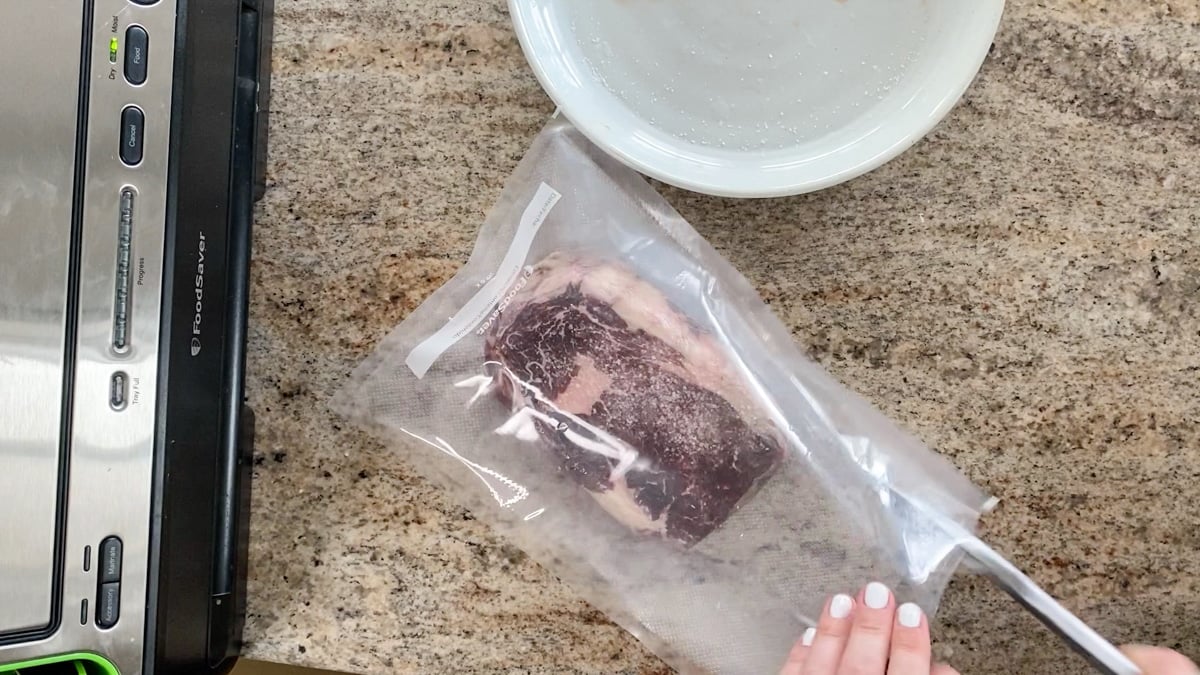 Step 5. Vacuum seal meats
You'll see in my video, usually, I use a Foodsaver vacuum seal bag. Other times, especially if I'm cooking something large like a sous vide whole chicken, or sous vide tri-tip, I'll measure, cut, and seal the vacuum bag roll that fits my Foodsaver.
Check out this demonstration video for Foodsaver v4400.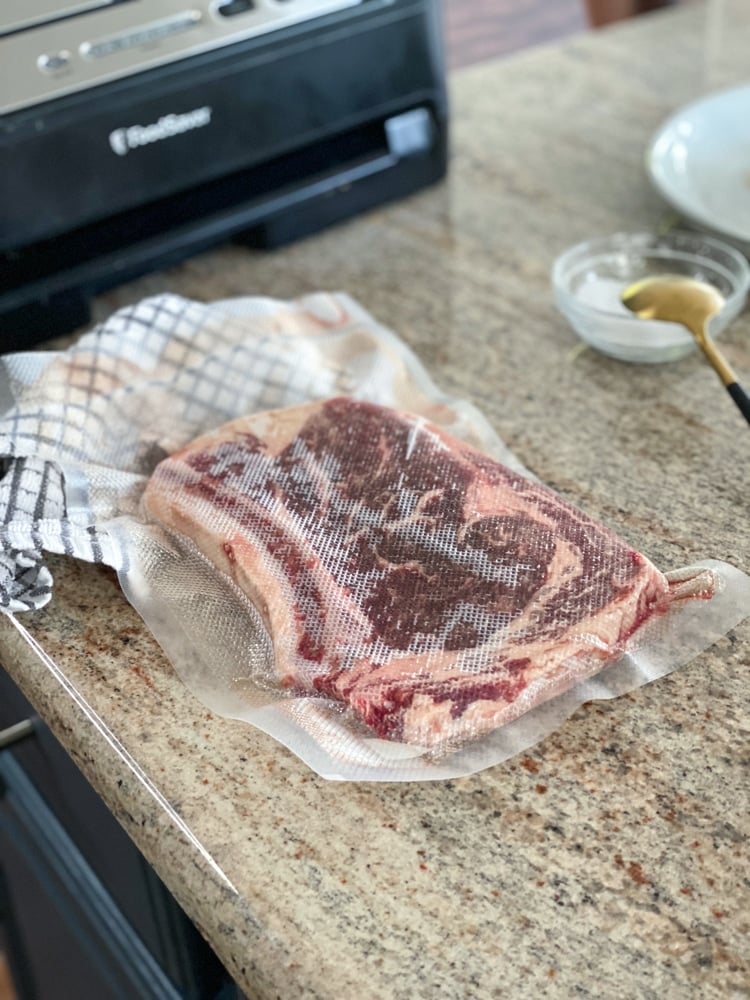 Step 6. Freeze most meat for 2-3 years.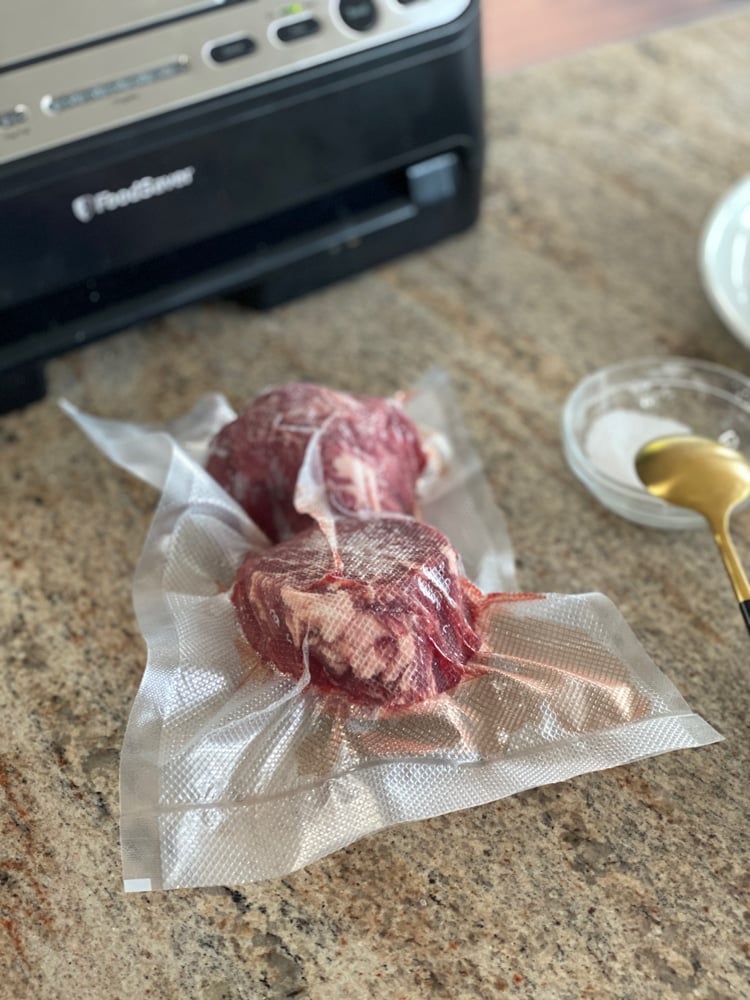 Is it easy to meal prep sous vide dinners ahead of time? And do they taste good later? Yes, and Yes. Someone recently asked me, "can you freeze filet mignon" – and I went on and on about how sous vide cooking steaks is one of my favorite ways to eat restaurant style food at home.
An exception to the rule of vacuum sealing meats
For most sous vide cooks, this is how vacuum sealing food works, but if you're cooking a whole chicken sous vide style, see this post on vacuum sealing a whole chicken. You can even watch the vacuum sealing chicken video.
Long story short, you'll probably want to spatchcock chicken instead of vacuum sealing it whole. The reason is that the center cavity is filled with air which might throw off the sous vide cook.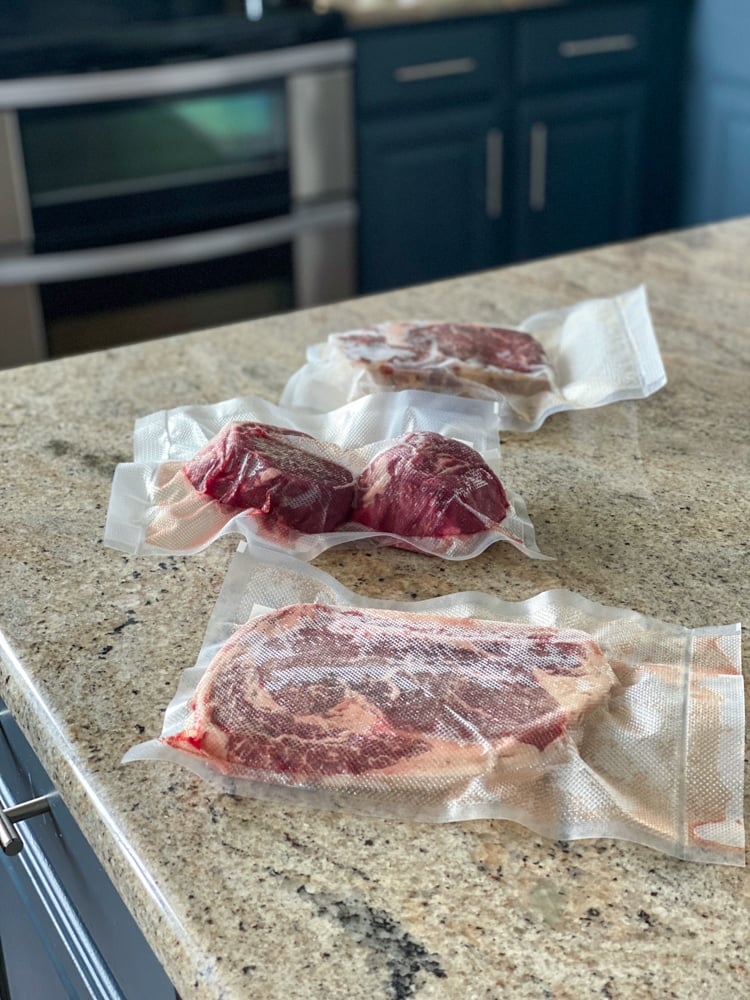 Vacuum sealing frozen meats
You have to try sous vide steak from frozen to understand why as a new parent, I'm still able to eat like I'm in a restaurant – – all in the comfort of my own home.
One trick I have is to order meat from an online butcher and then meal prep for sous vide cooks all in one day. I vacuum seal meat from frozen, season it and all, and then stick it in the freezer until it's time to sous vide from frozen.
Another trick I have is for sous vide frozen burgers. Actually, this is my husband's trick he figured out when we were making sous vide lamb burgers from scratch. You see when you're working with beef patties made from scratch, or lamb patties, the meat is soft and it gets warm while you're working it.
What you do is pre-freeze meat before vacuum sealing. Just 10-15 minutes of time freezing before vacuum sealing burgers helps them retain their disk shape. Otherwise, you'll have a funny looking burger.
POP QUIZ:
Q. Name a condiment you can use to finish a sous vide burger.
A. You can finish hamburgers with a mayo sear, a little olive oil, or butter in a cast iron pan.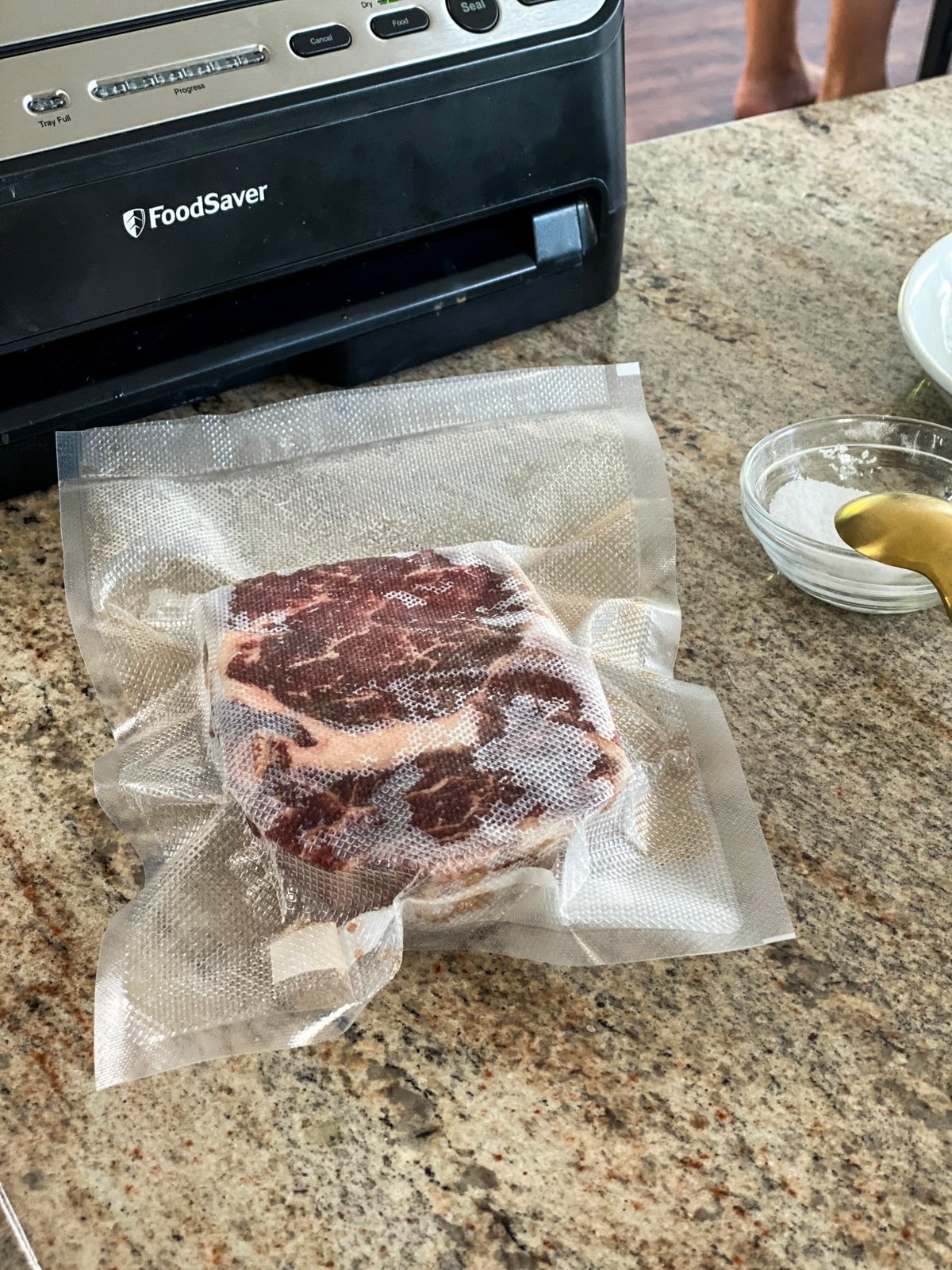 Why not sous vide vacuum-packed meat from the store?
Just to reiterate here: remove food from store packaging before vacuum sealing it.
Even when it comes to sous vide bacon, I always take vacuum-packed meat out of the store packaging it comes in.
You really don't know until you open the package if there is cardboard or any other material that wouldn't be good to cook the meat within the sous vide bath. So make it a habit to remove meat from the package and vacuum seal it instead. This also allows you the opportunity to season steaks with salt before vacuum sealing them.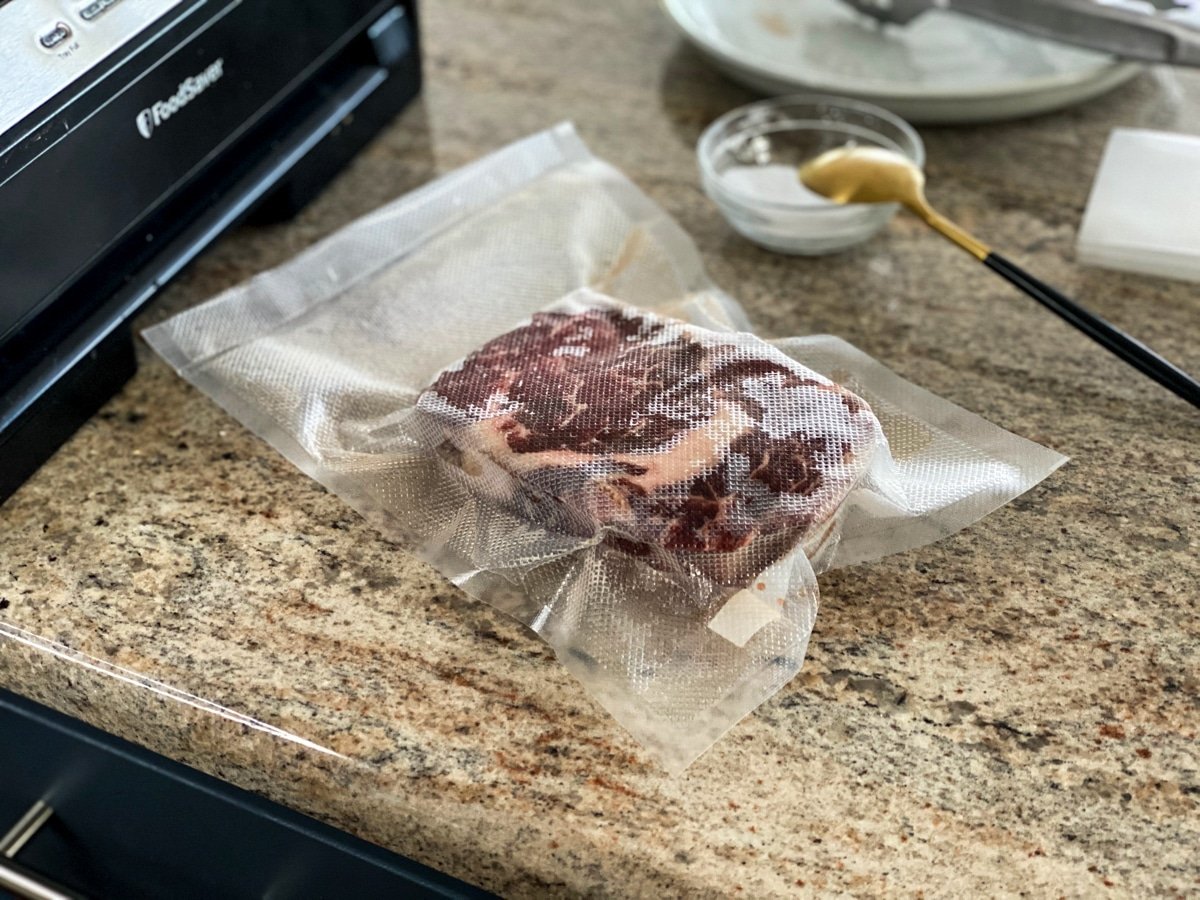 Why season meat before freezing it
Seasoning meat before vacuum sealing is one of my time-saving tips when it comes to meal prepping sous vide dinners. Then you don't have to open the bag back up to season the food.
At a minimum, I season vacuum-sealed meat with salt. I don't vacuum seal butter with steaks anymore, because over the years it's become common thought that butter in sous vide bags leads to steaks diluted in flavor. Really, I don't think it's that big of a deal, but I don't bother adding butter to vacuum-sealed bags of steak anymore.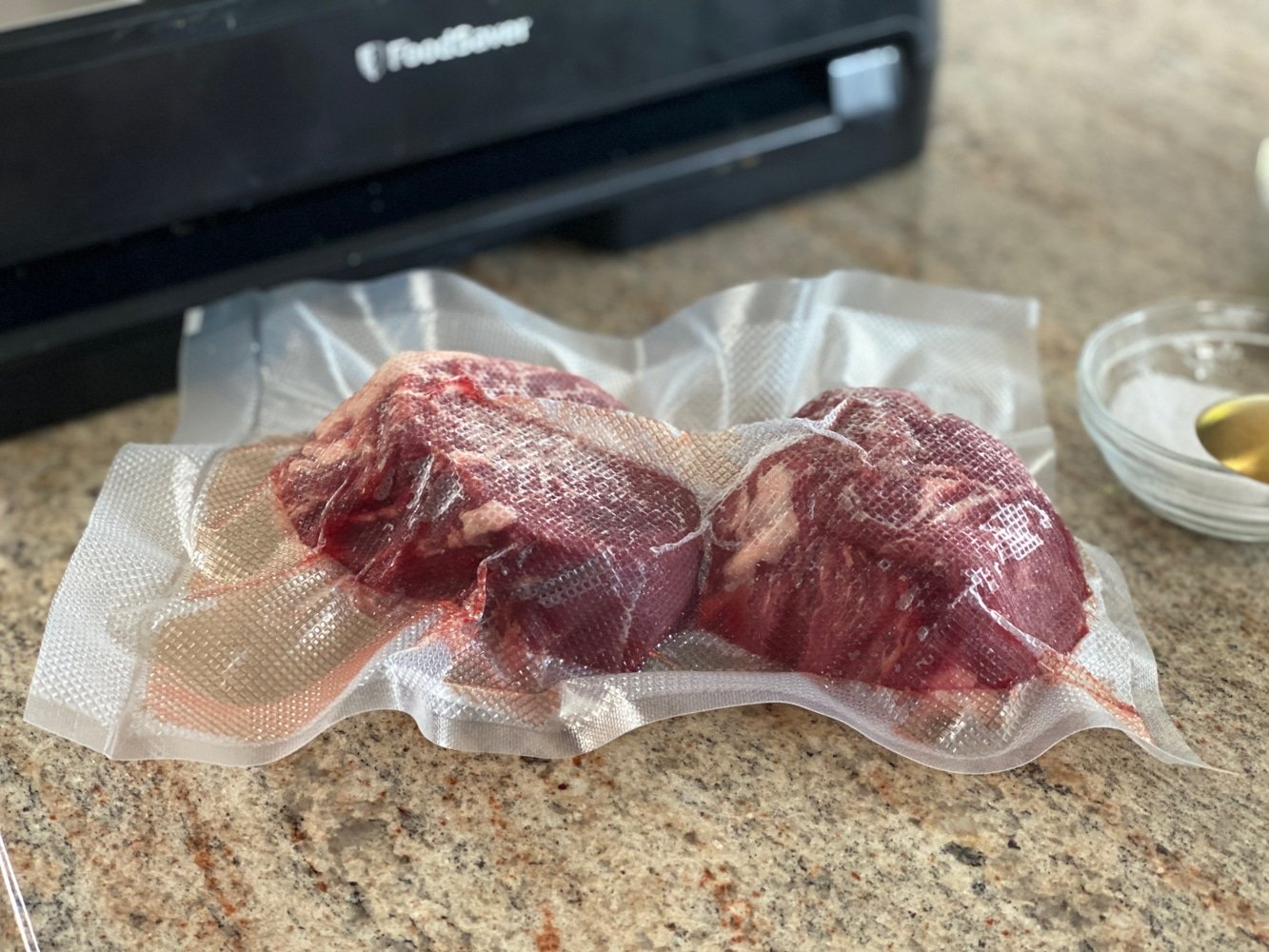 Tips for labeling frozen meat in vacuum-sealed bags
To make it easier to find and quickly sous vide food later, write this on the bag:
Date vacuum-sealed meat was prepared
Seasonings used
Cut of meat
How long does vacuum sealed meat last in the freezer?
Vacuum sealed meat lasts longer than other ways for storing meat because all the air is removed from the bag. Vacuum sealed meat lasts in the freezer for up to 3 years.
Did you know: vacuum sealing ziploc bags
If you run out of the standard vacuum seal bags and your machine allows it, you can vacuum seal ziplock gallon bags for a similar result.
Read more on sous vide cooking with ziploc vs vacuum sealed bags
Check your vacuum sealer before using liquid
Choose a vacuum sealer that works with liquid if you're going to branch out and make recipes like sous vide poached pears and sous vide marinated steaks.
The deal is: not all vacuum sealing machines can vacuum seal liquids with ease. Some low-quality machines will suck the liquid out of the bag with the air. And if that happens – there goes your cook.
For instance, these 24-hour sous vide short ribs are marinated in a red wine mixture.
If your vacuum sealer can't handle liquids, these types of sous vide recipes will pose a problem.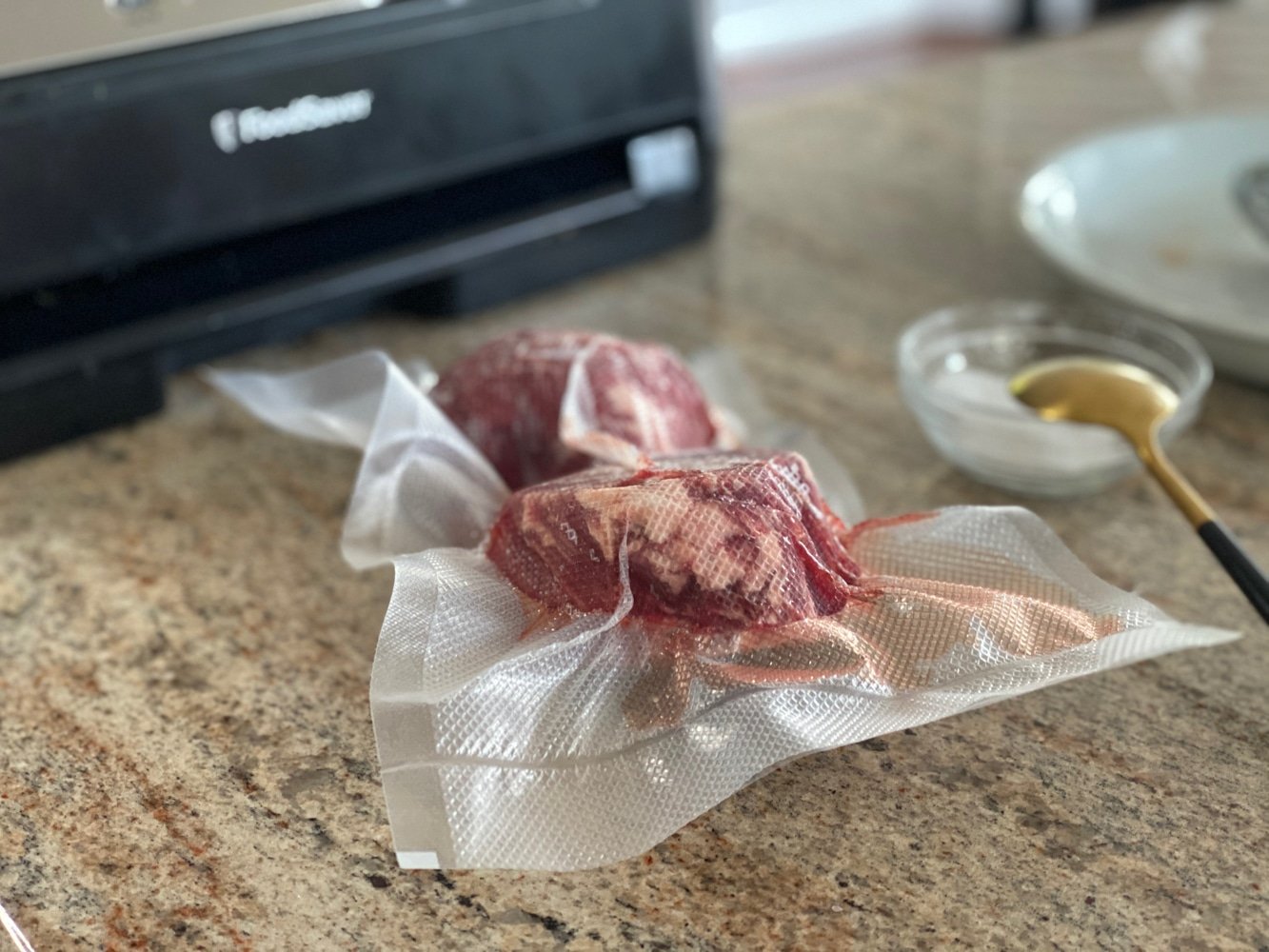 Storing vacuum-sealed steak in freezer
Prepping the steaks in advance by taking them out of the store packaging before vacuum sealing them, and then seasoning them, will help save room in the freezer.
Oh, and beyond storing meat in vacuum-sealed bags, did you know you can sous vide frozen steak, too?
As a busy new mom, we're eating so well by meal prepping sous vide meats with the vacuum sealer. Having vacuum-sealed steak ready in the freezer makes any night a fancy steakhouse night. We sous vide then grill or pan sear sous vide T Bone steak, for instance, from frozen.
PIC – How To Vacuum Seal Ribeye For Sous Vide Cooking Sip Bite Go Step by step 9
What you need for vacuum sealing
Vacuum sealer – in this post is the Foodsaver 4400
Bags – either vacuum seal roll you cut to size as needed or a stash of vacuum sealer bags
Other supplies you need to sous vide cook
Sous vide machine – like the Joule, SousPreme, Anova, or Instant Pot Slim (learn about the new Instant Pot sous vide machines)
Sous vide container for water – either a bucket or stock pot
Order meat in bulk for vacuum sealing and sous vide meal prepping.
With the combination of vacuum sealing PLUS the convenience of ordering from online butchers, it's never been easier to meal prep sous vide cooks.
You'll notice beautiful cuts of craft butcher meat around Sip Bite Go. I'm a fan of online butcher services offered by my affiliate partners Crowd Cow and Snake River Farms.
Another thing that makes life easier is mail-in knife sharpening.
Get $10 off a sharpening package from Knife Aid with code SBG10. See my documentary-style video on mail-in knife sharpening.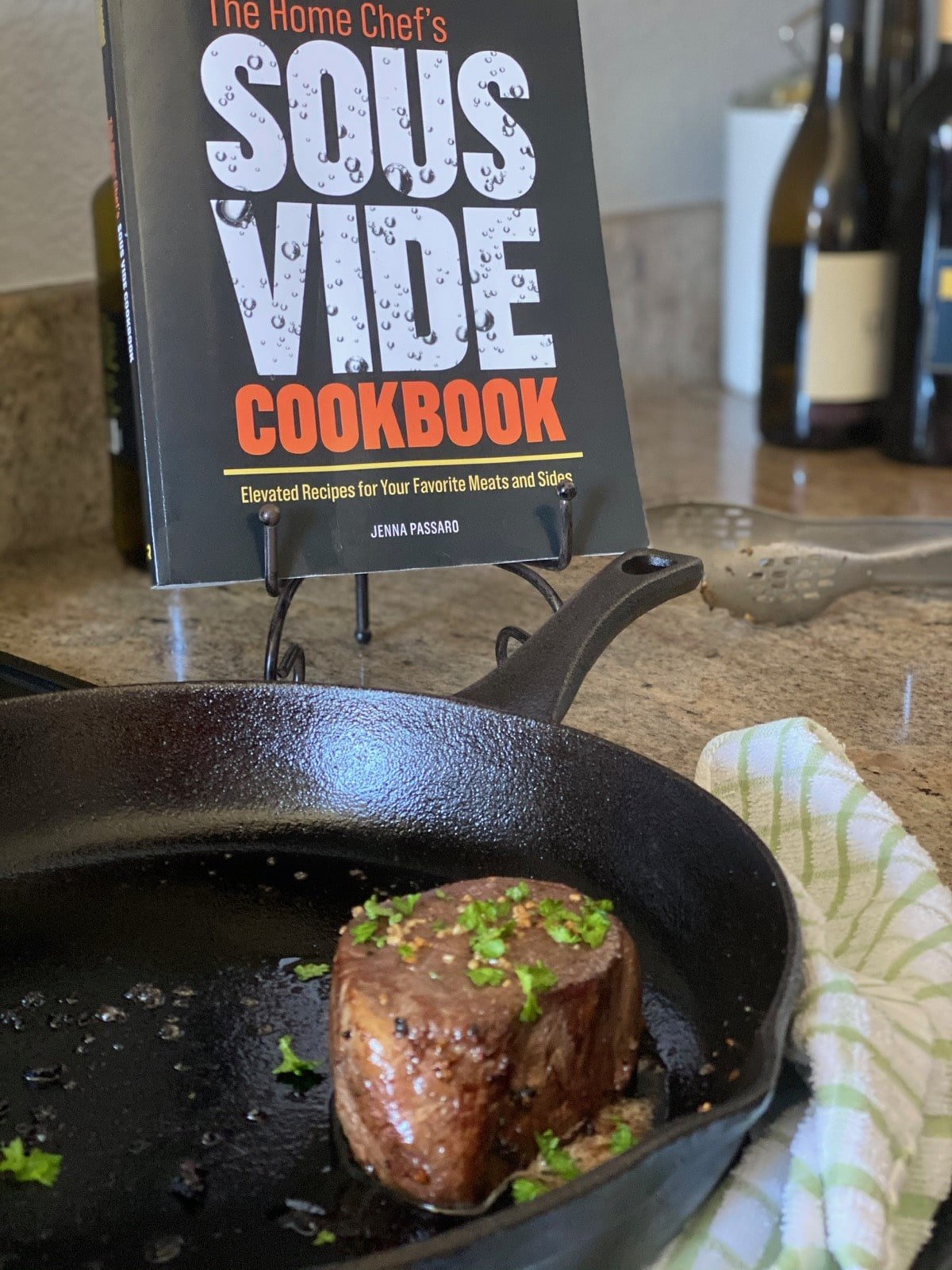 Here's how that beautiful sous vide frozen filet mignon turned out.
Find the most extensive collection of my sous vide recipes in The Home Chef's Sous Vide Cookbook. Check it out if you're serious about sous vide cooking.
So, ready to meal prep meats with a vacuum sealer?
As a busy new parent, meal prep is a must. I love eating like a restaurant at home with food that stays fresh with the vacuum sealer.
For more delicious ideas, find me on Instagram @sipbitego and subscribe to the Sip Bite Go channel for my best recipes.
See the vacuum sealing meat video on YouTube.