If you're getting into sous vide, you're probably wondering: can you sous vide from frozen? Yes! Thawing with the sous vide machine is one of my favorite tricks when it comes to sous vide meal prep. My husband is amazed that I'm freezing sous vide ribeye. And they come out tasting spectacular – – like a 5 STAR restaurant!
Most recipes can be adapted to defrost food while it cooks.
In this post I'll teach you how.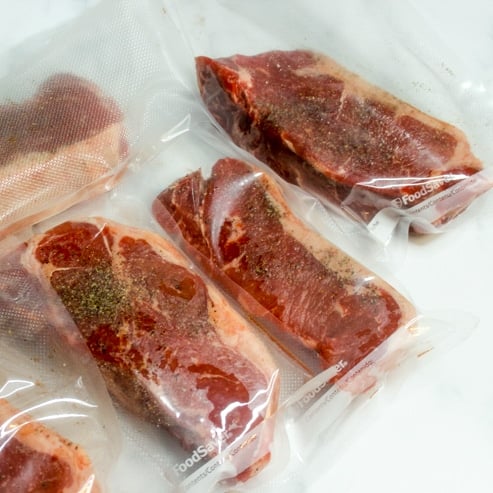 Quick: what is sous vide cooking?
First, for the sous vide beginners, here's the crash course.
Step 1. To make something like sous vide brisket or sous vide wings, you will season the meat, then put it in a bag (use either a silicone, ziplock or vacuum sealed bag for sous vide cooking).
Learn more about sous vide meal prep in this guide on how to vacuum seal meat.
See how I vacuum seal ribeye.
Step 2. The food (sealed in a plastic bag) then goes under water where it's heated in a sous vide bath. The water is kept hot by a sous vide machine like the Anova, Joule, Instant Pot Slim.
See more on the new instant pot sous vide machines
Step 3. When the food is done with sous vide (aka – "under water") cooking, it's then finished (often seared in a cast iron skillet). Then the food is ready to serve!
See specific sous vide recipes to learn time and temperatures for various dishes.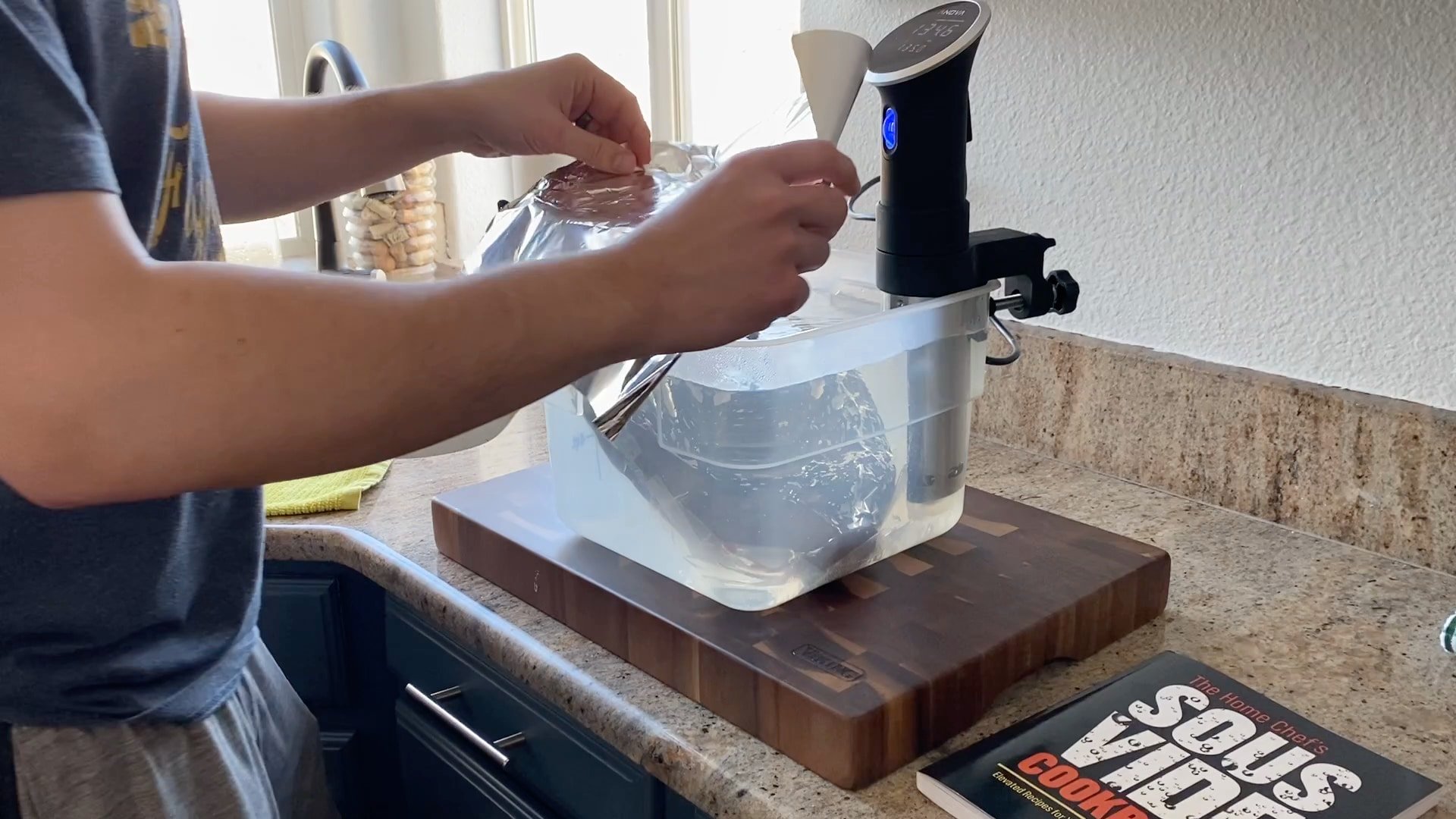 With the foundation steps of sous vide cooking, you can add on really convenient ways to enjoy your food.
Like what I'll share today: how to sous vide meat frozen.
Let me repeat: You can sous vide from frozen (!!)
Yes, there is more to frozen foods than making frozen pizza crust time and time again.
It makes cooking this way so easy!
New to sous viding frozen foods? Learn why is sous vide so popular.
But how does it turn out?
It's almost hard to believe how incredibly delicious sous vide frozen steak turns out.
Personally, I'd never know the difference between a sous vide t bone steak that was frozen or fresh that day from the butcher.
It's wild how tender frozen beef, chicken, pork, and seafood turns out sous vide style.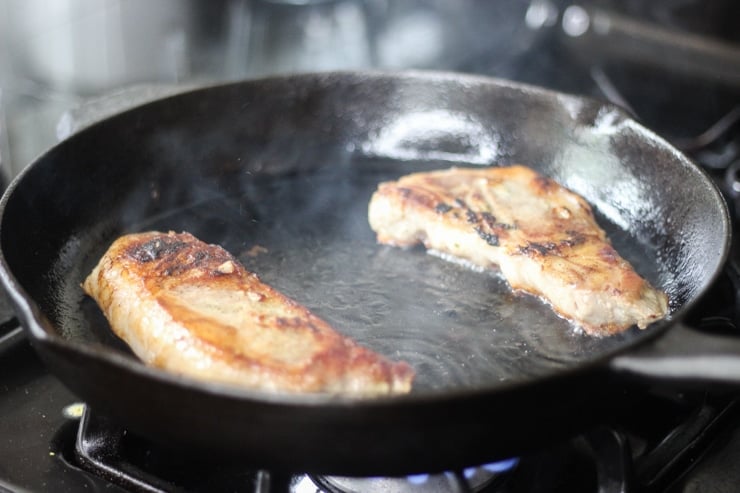 Why sous vide from frozen?
There are several reasons for cooking frozen meat sous vide, but the main reason people opt to sous vide frozen meat is because of convenience.
For example, some people add cooking sous vide from frozen to their larger meal prep routine.
Last Sunday, when we came home from the grocery store, I portioned two big pieces of sous vide turkey breast meat in vacuum seal bags with fresh herbs and seasonings and froze them.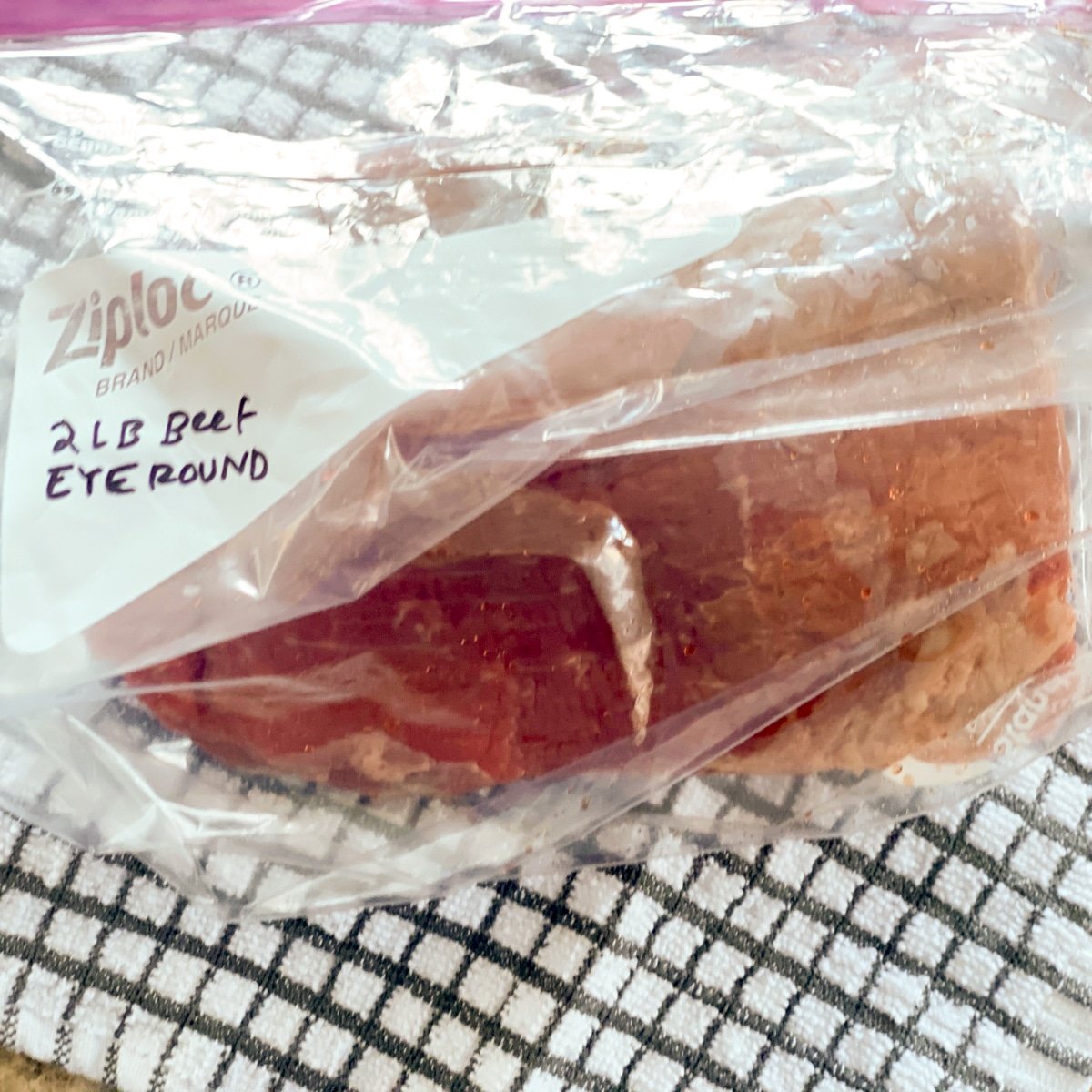 I've done the same thing in the past with sous vide turkey legs, too. Those are great to purchase in bulk for Thanksgiving. We serve most of the turkey dishes with sous vide Brussels sprouts.
In addition to the prepping frozen sous vide turkey, it took about 20 minutes to throw together a batch of sous vide egg bites to last us the week.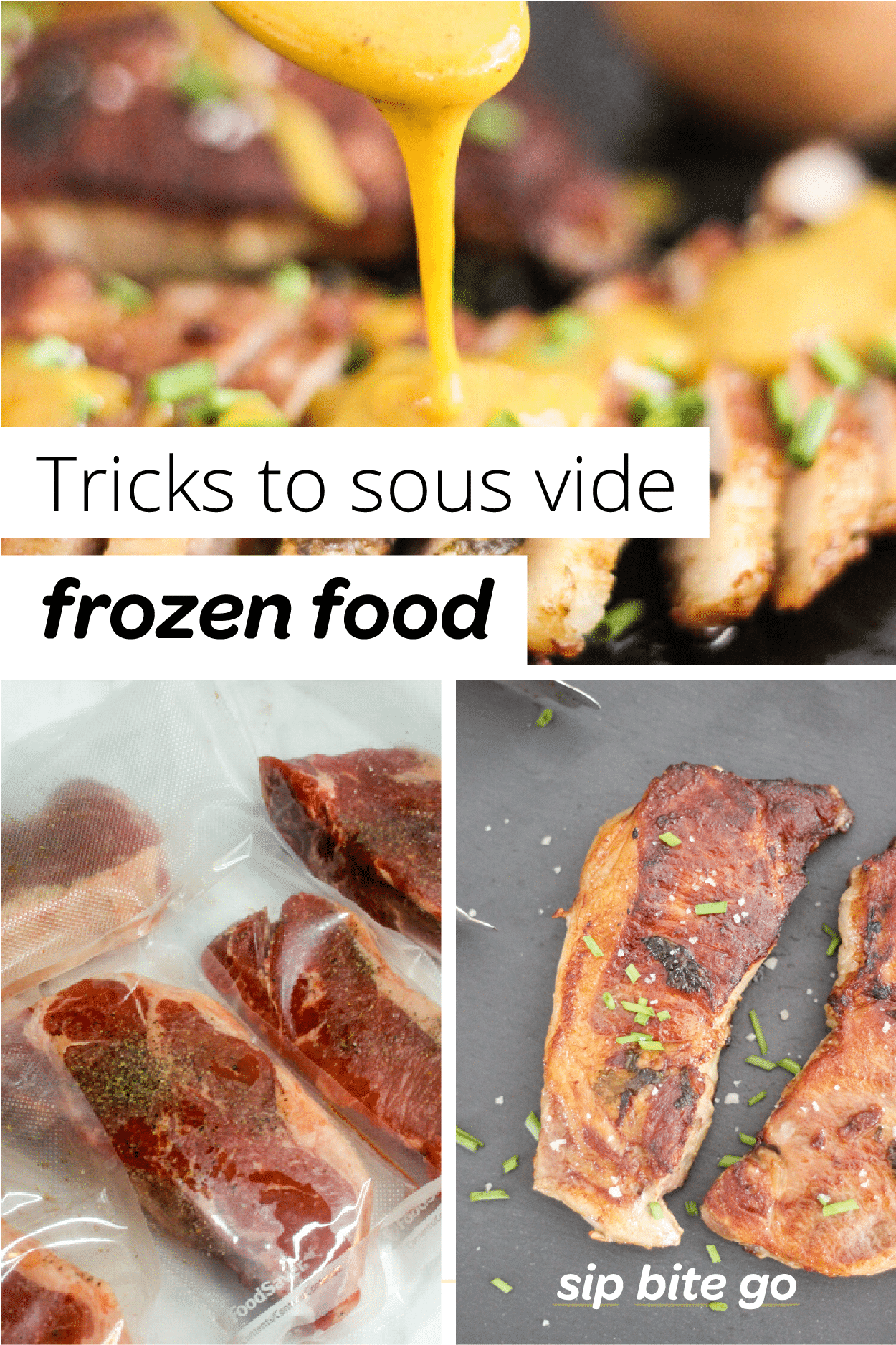 Portion then freeze it
You can vacuum seal your meat in your ideal portion sizes, freeze it for the coming weeks or months, then, whenever you're ready to eat, just drop it into your sous vide machine at the appropriate temperature for the appropriate amount of time.
Remember: you'll have to add on time when cooking meat from frozen. For example in these guides to sous vide frozen steak and frozen turkey.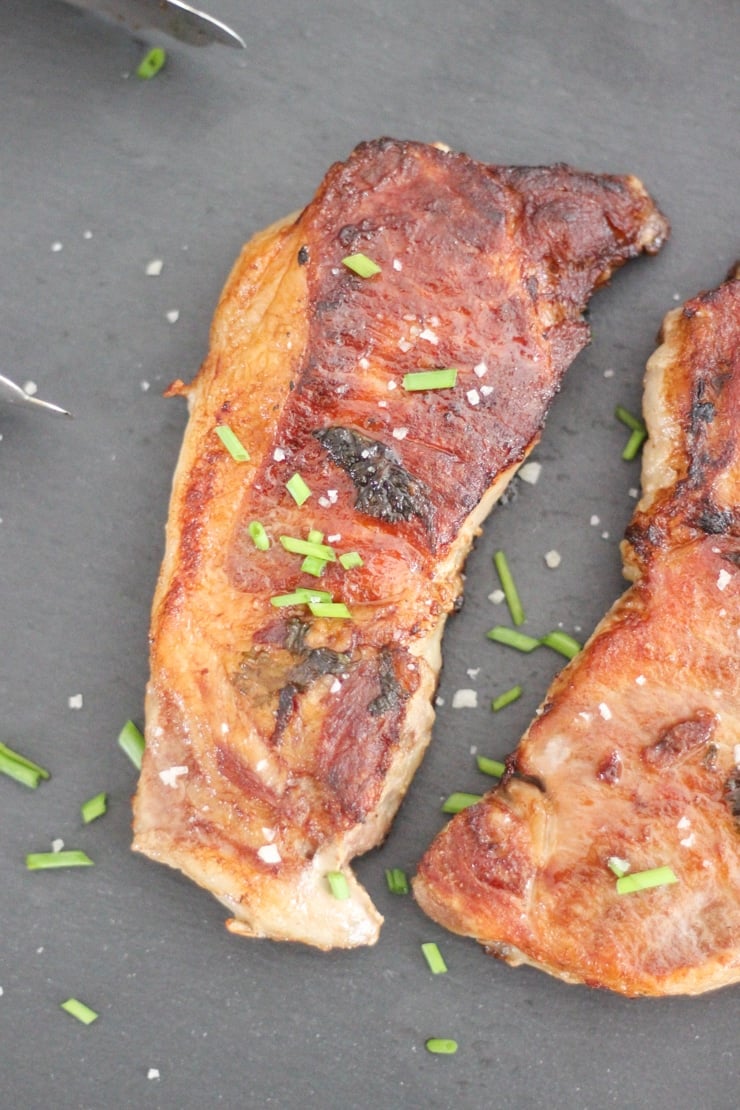 These are frozen then sous vide pork chops.
How long does it take to sous vide food from frozen?
The general rule of thumb *but always consult the recipe* is to add 60 minutes to the original cooking time to account for smaller cuts of frozen meat like sous vide chicken, wings, steak, and sous vide pork.
See tips for making sous vide chicken from frozen.
Can you thaw then sous vide?
For larger pieces of meat – pieces that are multiple pounds like a sous vide pork shoulder – I prefer to thaw them overnight and then sous vide them.
Let the piece of meat thaw for about 1 day each pound until it is fully defrosted.
Learn what to buy and freeze from Costco to make meal prep a breeze.
What about defrosting before sous vide cooking?
If you don't have the time to add 60 minutes to your routine, you can also sous vide defrosted meat, without needing to add the 60 minutes.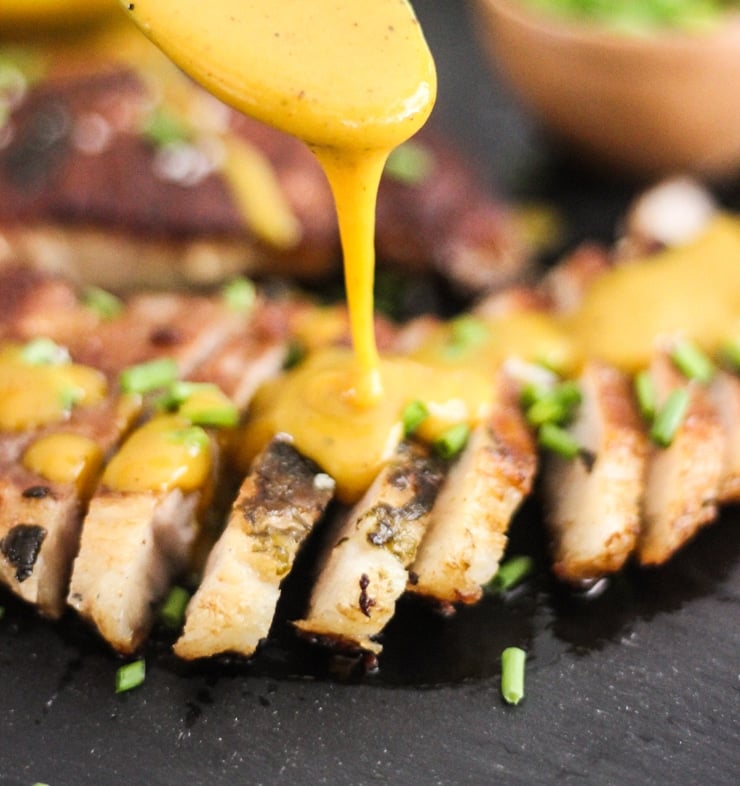 Does sous vide cooked frozen meat taste the same?
Oftentimes, people ask if cooking sous vide from frozen will affect the meat's flavor or texture.
The answer for me and everyone I've asked is that cooking sous vide from frozen tastes great, as long as you adapt your cook time appropriately.
To sum it all up
So, yes, you can sous vide frozen meat, without losing any of the taste and texture benefits of sous vide.
I do it (and love how my food tastes) all – the – time.
Full disclosure here… until becoming a new parent, never in a million years did I consider freezing filet mignon or any other high quality sous vide steaks. There's no way I would have believed frozen steaks cooked sous vide possibly taste good. But I've done a full 180 on this way to eat good food, even with less time than ever.
Sous vide meal prep is life around here!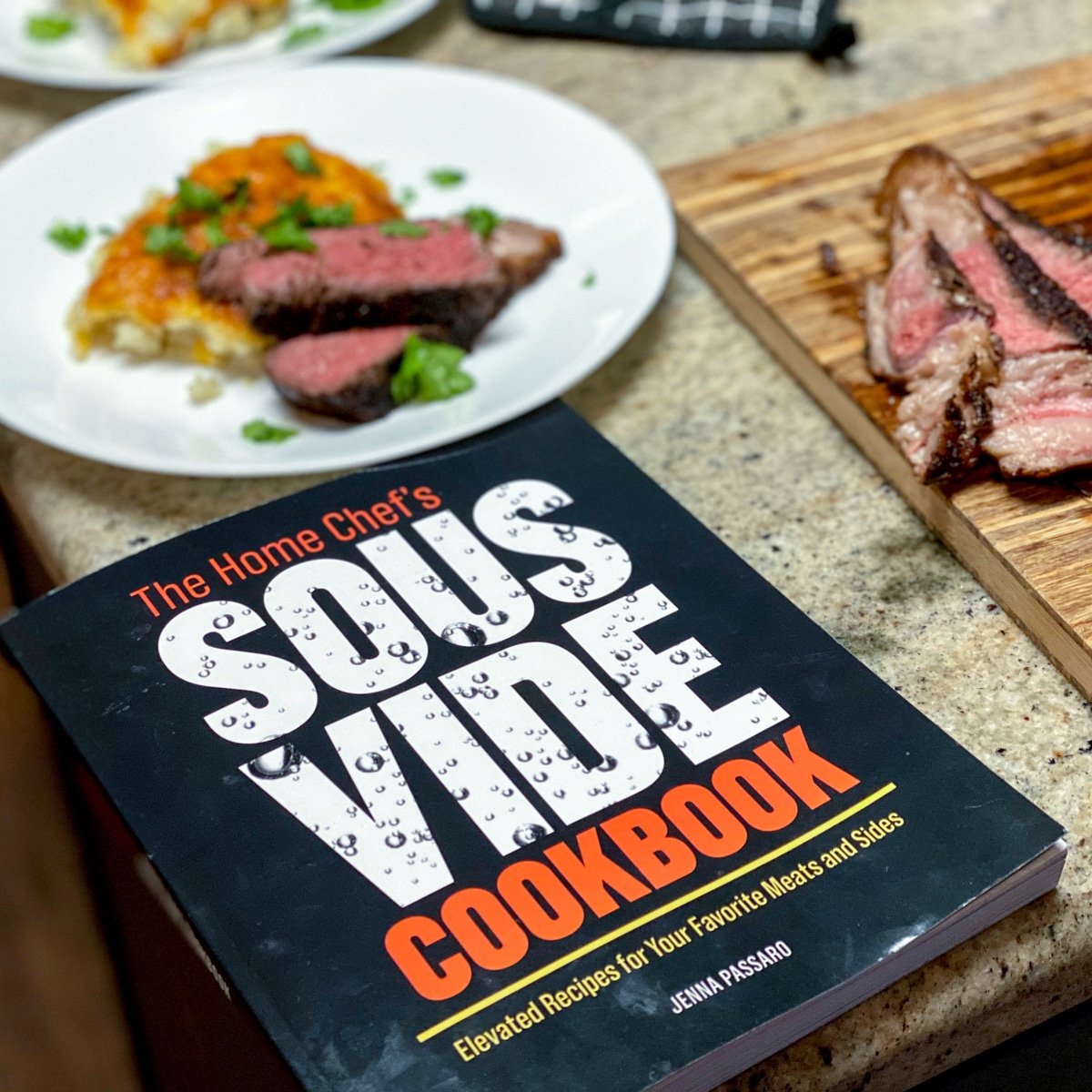 Find more delicious recipes in my sous vide cookbook.
Everyone loves these sous vide guides
Find me on Instagram @sipbitego. I love seeing photos of delicious food.