Shopping for the best Instant Pot sous vide machine? It can be confusing to pick one, since there are two sous vide machines by Instant Pot. One looks similar to the Anova Precision Cooker, or the Joule – it's the shape of a stick and it goes in a water bath. The other looks more like a traditional Instant Pot, and it heats the water from the outside.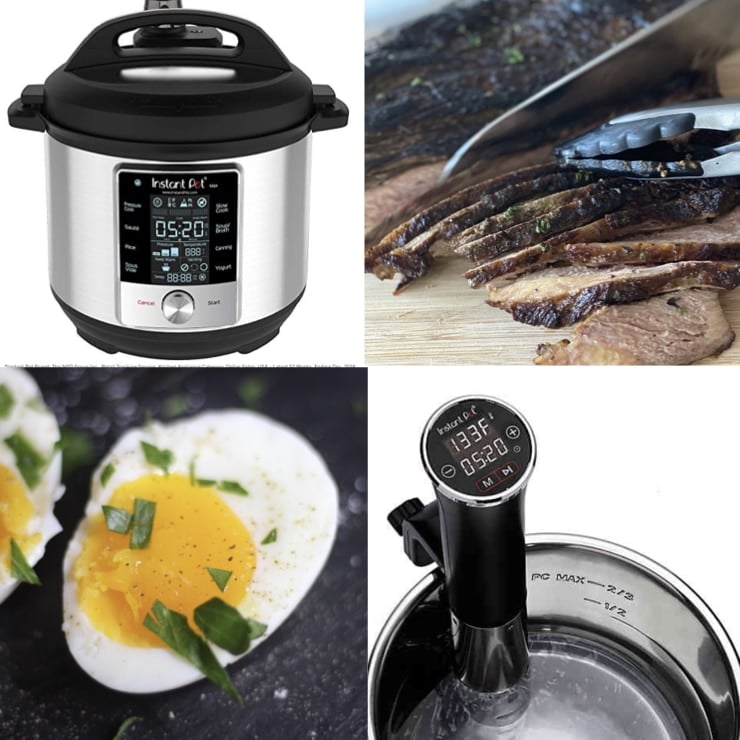 If you're new to the sous vide cooking process, sous vide instant pots are an easy way to get your feet wet and experiment with this new kind of cookery.
Here's a detailed look at 2020 sous vide machines by Instant Pot.
You have two options.
OPTION 1: 
Instant Pot Duo – with sous vide function added
For this version, Instant Pot basically added on a sous vide function to their latest Duo Crisp model.
This instant pot option is ideal for anyone who wants just one machine to do it all: no finicky attachments, no fussy cords, no hunting around for a container big enough for a sous vide bath.
The other upside is you can use it for other recipes when you're not in a sous vide mood. 
New to sous vide techniques? Learn why is sous vide so popular.
Although Instant Pot sells a sous vide attachment, called Accu Slim Sous Vide Immersion Circulator, that you can use with any of their multi-cookers you might already have, this Duo Crisp model comes with the sous vide feature built in to all the other IP features you may want in one machine.
Shop the Instant Pot Duo Crisp Multi-Cooker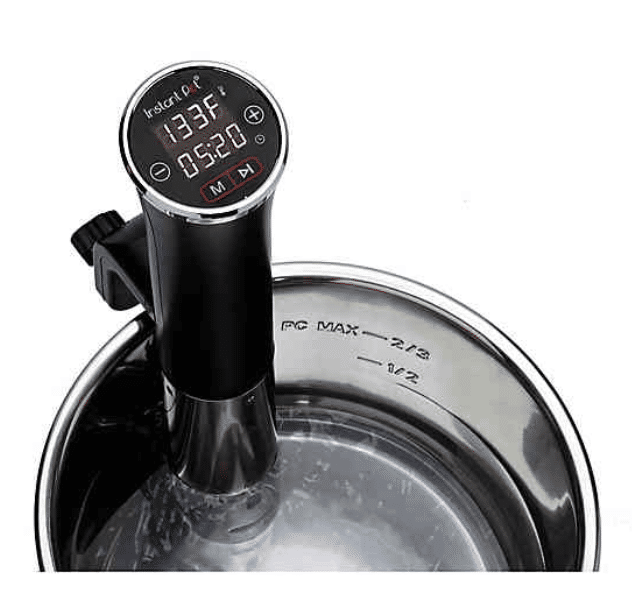 OPTION 2: 
Instant Accu Slim – sous vide immersion circulator
So if you're familiar with many of the common "stick" models on the market (Joule and Anova), then this type of setup will look familiar to you.
These sous vide circulators are often seen in my videos, including my latest sous vide brisket recipe.
Instant Pot's Sous Vide Immersion Circulator attachment is a good choice if you just want to add on a machine to do sous vide.
Or if you want to sous vide and cook in an Instant Pot at the same time.
It works in much the same way as the other most popular sous vide set-ups with tools like the Anova sous vide machine or Joule sous vide machine do.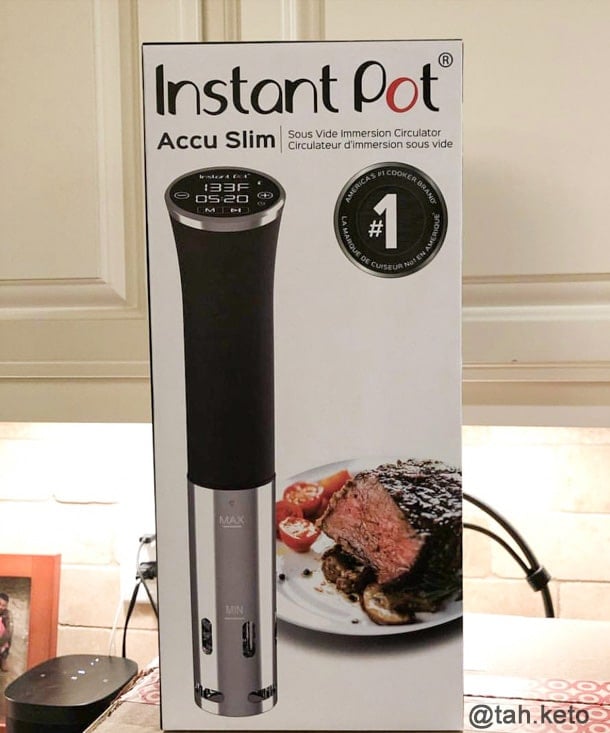 Here's how you use the Instant Pot Slim
That's where the attachment comes in: clip it onto your instant pot, fill the pot up with water, and you'll have your sous vide cooker ready to go.
The Instant Accu Slim clamps securely to the 6 or 8-inch inner pot, and you can actually use it without the Instant Pot or on another container, as it covers both heating and water circulation.
Shop the Instant Accu Slim
Bottom line: how is Instant Pot Duo different than Slim?
Basically, the main difference is whether you want a model that has a built-in sous vide function (along with all the other Instant Pot features). Or if you just want a one-off sous vide machine by Instant Pot.
The added button on the Duo Crisp allows the pot to maintain the low cooking temperature necessary and even includes timing functions.
New to cooking food underwater? Check out my guide to sous vide for beginners.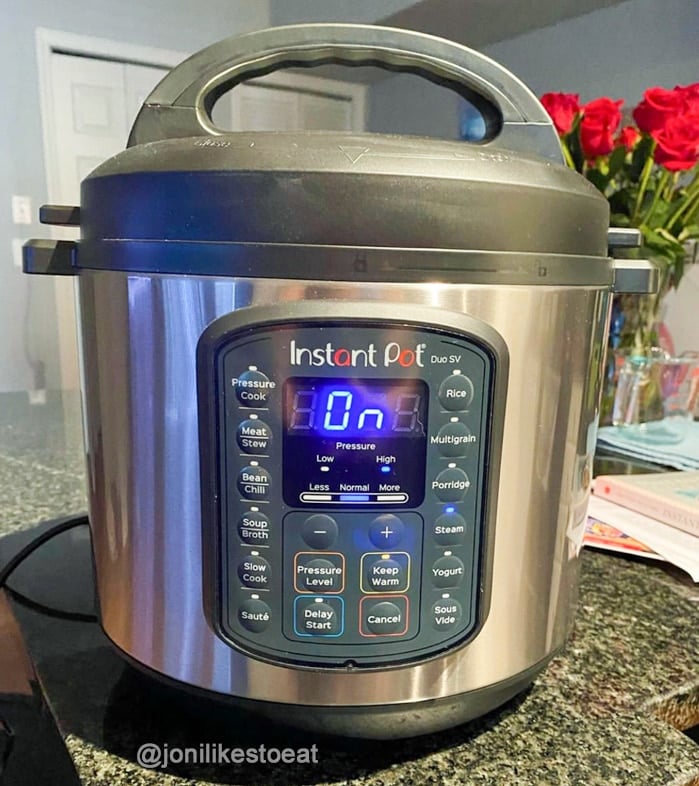 How do you sous vide in Instant Pot?
Here's how to use the Instant Pot sous vide function
Fill up the Instant Pot with water. The water needs goes inside the inner pot. You will want whatever it is that you will be cooking sous vide fully submerged, so be sure to have enough water, but don't overfill so you don't have to worry about water spilling over. Most of the time this is about the halfway mark in an Instant Pot. My preference is to use hot water, which will cut down on the period of time it takes to prep sous vide meals.
Place your food into a sealed bag. If you have a vacuum sealer, then you can vacuum seal your food. If not, then a regular Ziploc-style bag can work well. Be sure to push out as much of the air as possible.
On the Instant Pot, select the "sous vide" button. At this step, you will need to select the right temperate and time according to what you will be cooking. Whether you want to perfectly cook steak or chicken breasts, there are pre-set options for those proteins, such as "beef" or "poultry," but I recommend using the custom option and setting your own specs.
Sous vide. Once the water has reached the desired cooking temperature, place the sealed bag into the Instant Pot water bath. Cover if desired (Covering is a good idea for longer cooks like sous vide whole chicken) or overnight brisket or sous vide bacon recipes. When the allotted period of time has passed, the Instant Pot will beep, and you can remove the food. Be sure to transfer immediately to an ice bath or follow directions from your recipe.
Should you use a lid?
Instant Pot does warn that you should not use a glass lid for the sous vide function, and instead, you should either use the stainless steel lid pressure cooking lid or no lid at all.
Keeping the lid on will help contain the moisture. This is important for long cook times like sous vide short ribs. The water has to stay above the food level, and the lid helps contain the heat and prevents the water from evaporating.
Either way is fine, but you should be sure to pick one method and stick to it as to not interfere with the precise temperature control.
The Instant Pot Duo Crisp is best for an all-in-one multi-cooker experience, without the need for a separate sous vide machine, like previous Instant Pot models required.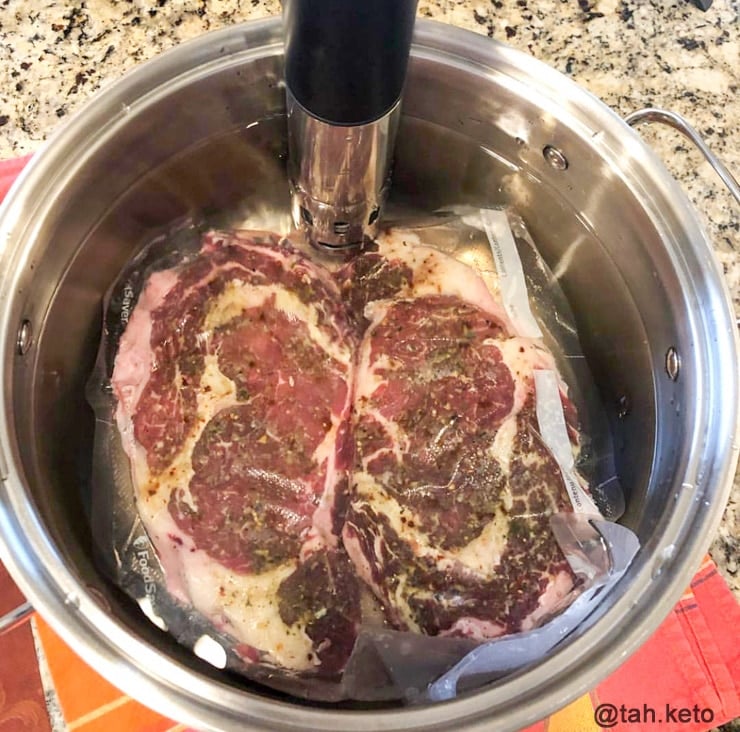 Can a regular Instant Pot also sous vide?
Contrary to what some people think, you cannot use previous models of Instant Pots to sous vide to the capacity of a normal sous vide machine.
If you want a combo machine, then you need the Instant Pot Duo Crisp 11-in-1 with Sous Vide, Rice Cooker, Pressure Cooker, and a bunch of other features.
It has a "sous vide" button.
Check out this post on how to use an air fryer to get full use out of this Instant Pot!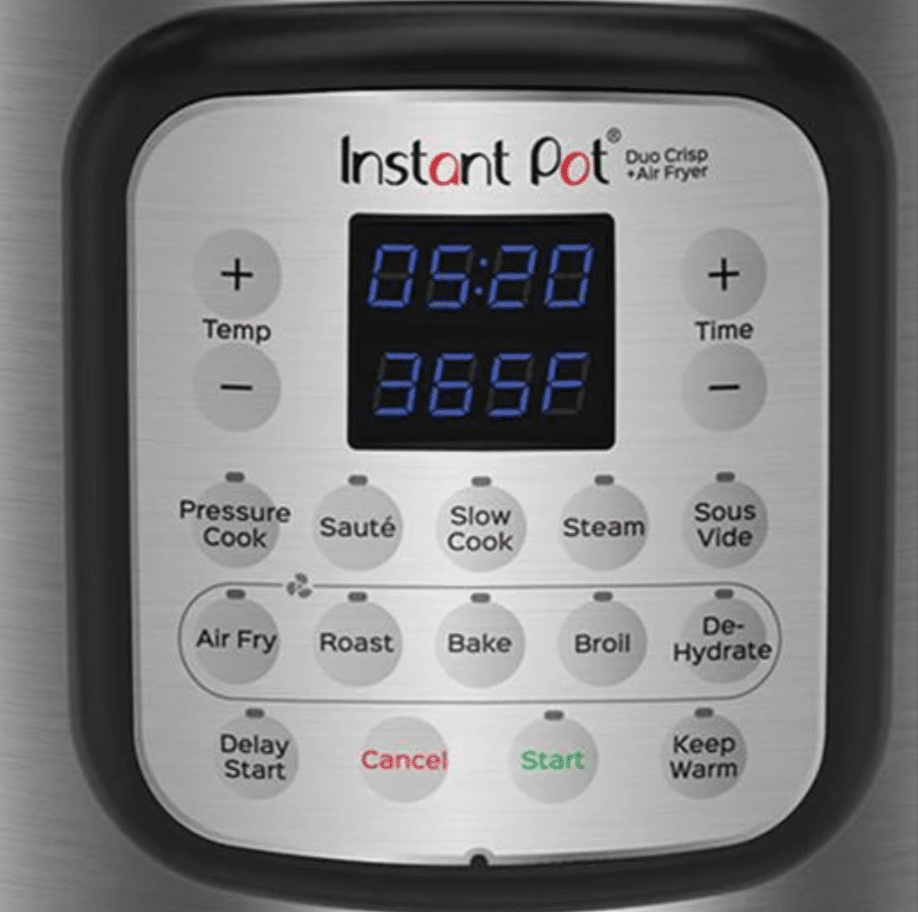 A traditional Instant Pot can't sustain the low water temperature for the amount of time needed to cook the food in a precise temperature controlled environment – including sous vide pulled pork.
Which sous vide machine is right for you?
Both options will produce the same results: well-cooked, super-flavorful sous vide dishes with that wonderful sous vide consistency no other cooking method can match.
Which sous vide instant pot you decide to go with depends more on your personal cooking preferences: would you rather have an attachment you can fit in a drawer, or a multi-use instant pot you can use for anything?
Sous vide machines by Instant Pot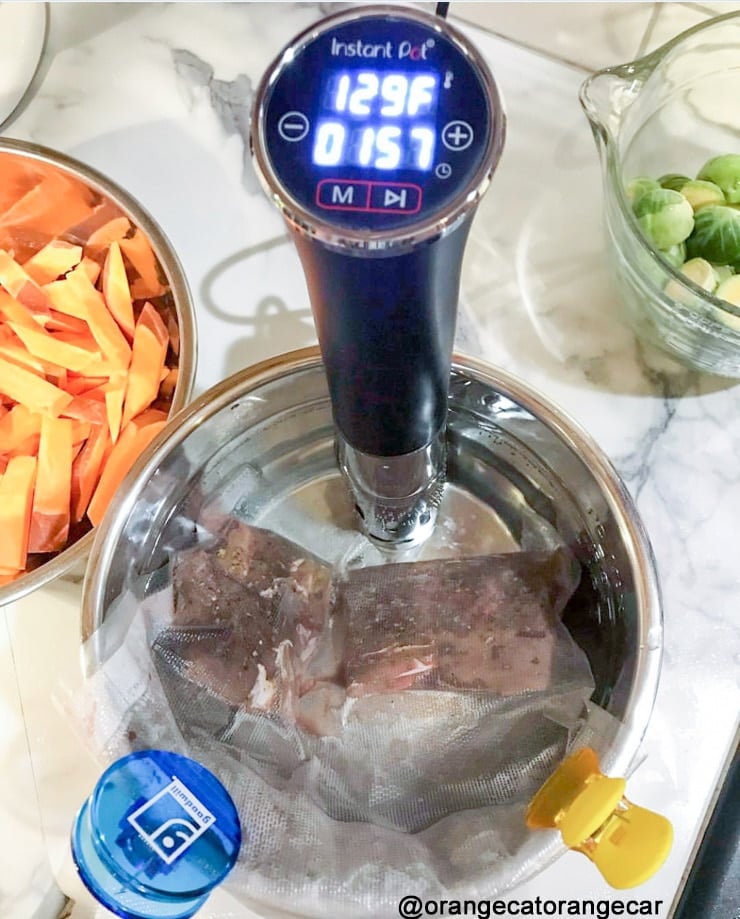 For more information on sous equipment and methods
Beginner sous vide recipes
For sous vide cooking inspiration, see my new sous vide cookbook.