Learn my tricks for how to vacuum seal burgers for sous vide cooking. This guide to vacuum sealing hamburgers includes an in-depth video tutorial. It covers the biggest mistakes people make when it comes to vacuum sealing beef burgers, lamb burgers, turkey, or chicken burgers.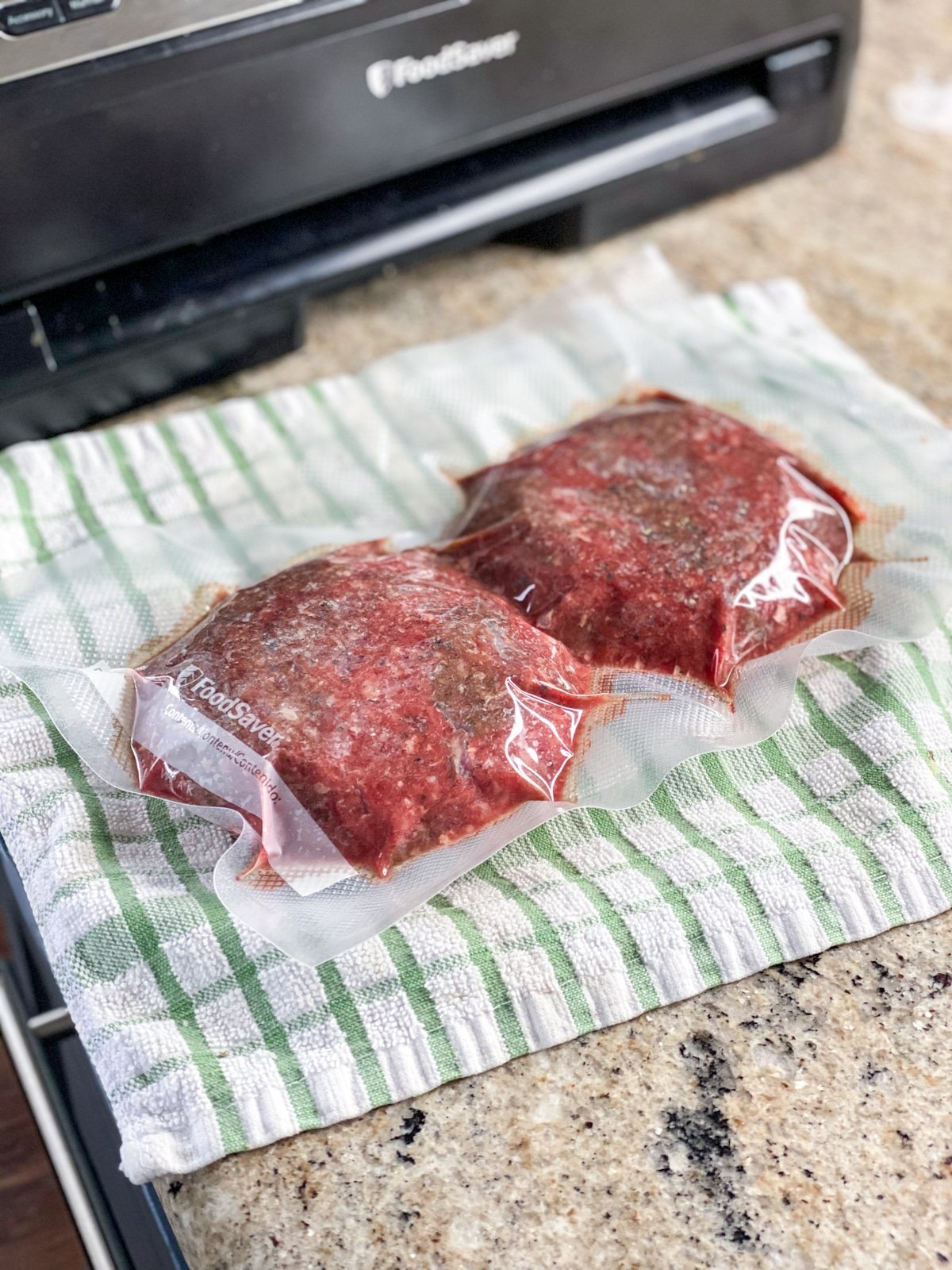 I turned into a sous vide meal prep pro while writing my sous vide cookbook. Recently, Chef Hubs and I challenged ourselves to grocery shop once a month at Costco and now have this whole "buy in bulk and freeze" thing down to a science. Burgers are perfect for this concept.
So let's vacuum seal hamburgers to sous vide them!
See the video on how to vacuum seal burgers steaks
Watch the vacuum sealed burger demonstration to learn from my mistakes. Scroll down the page for a step by step guide to vacuum sealing hamburger patties.
[youtube https://www.youtube.com/watch?v=YMRuQ_jTsuU&w=800&h=443]
Tools for vacuum sealing burgers
Vacuum sealing machine – in this post is the Foodsaver 4400 which I received years ago from the company for a sous vide new york strip demonstration video.
Bags – either vacuum seal roll you cut to size as needed or a stash of vacuum sealer bags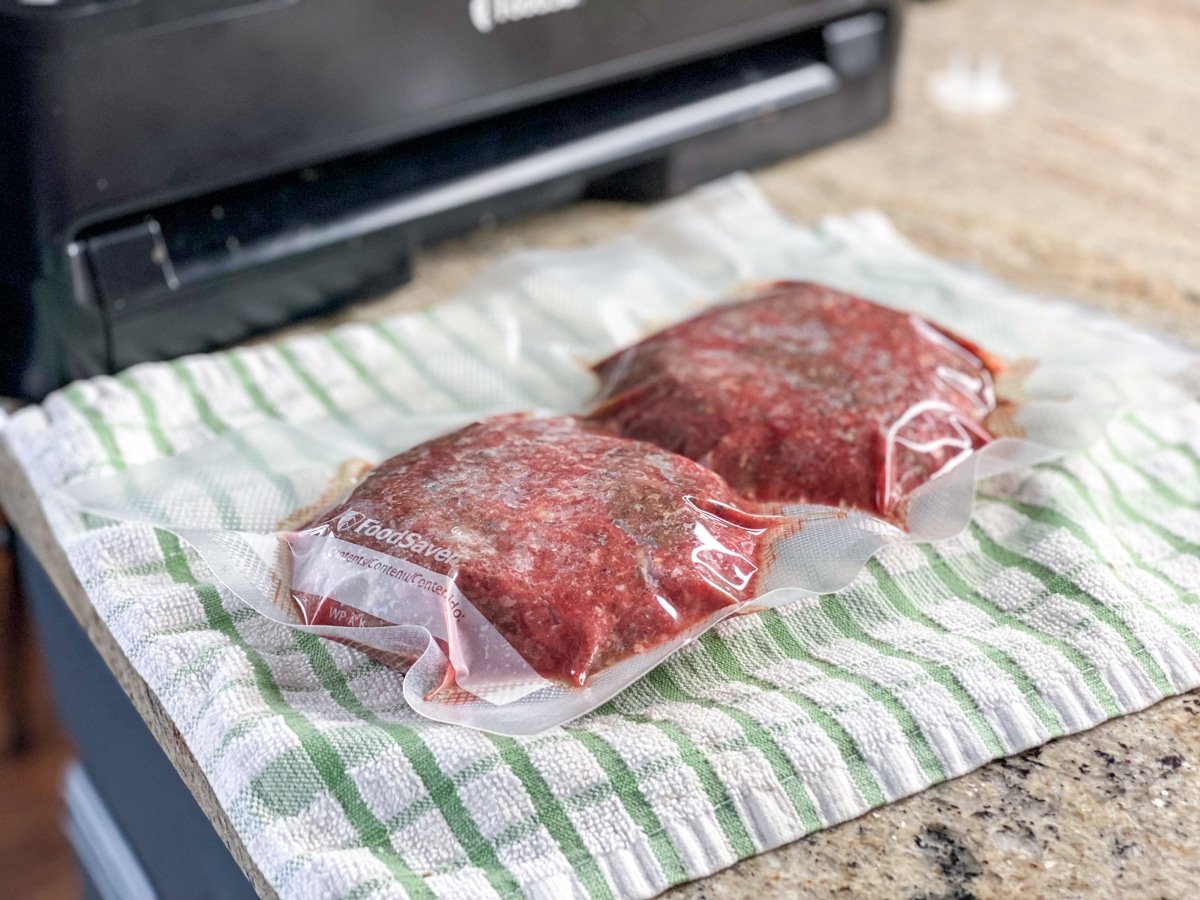 Why not sous vide burgers in store packaging?
Long story short: there might be something in the packaging you don't want to heat up, so simply transfer store bought burgers to a vacuum seal bag to be safe.
Learn more about why you should remove original packaging from food before sous viding it in this guide about vacuum sealing meat.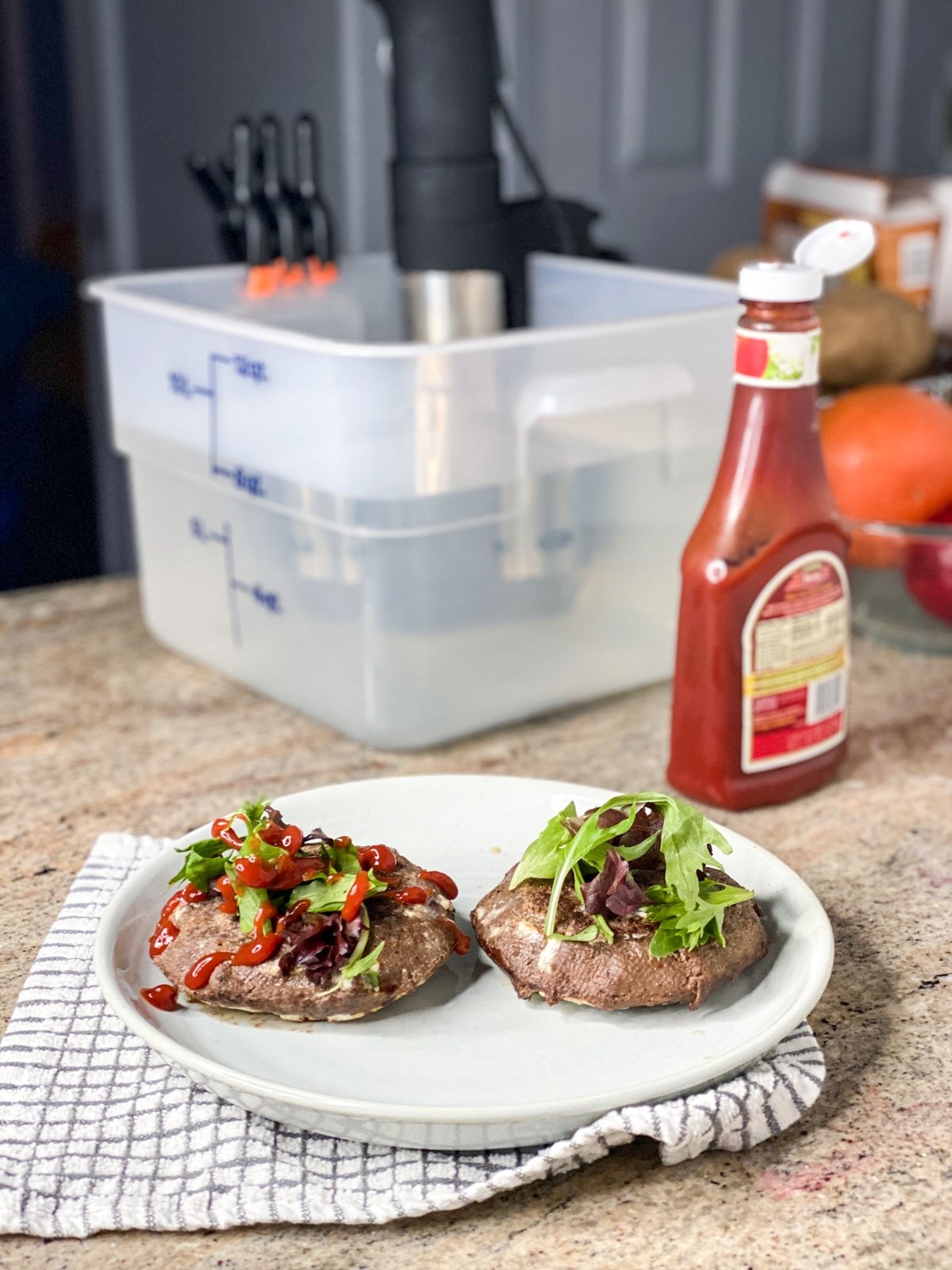 Above is what a burger will look like if you don't freeze them first. The burger meat will smoosh in the vacuum-sealed bag. More on that shortly…
How to vacuum seal burgers for sous vide cooking
This demonstration is with fresh burgers that are briefly frozen to help form the burger shape. Did you notice by the italics: the keyword here is "briefly". Chef hubs figured out a trick I'll teach ya.
Want to vac seal frozen burgers? Then stay right here.
You can use this guide to vacuum seal frozen burgers for sous vide meal prep. You'll need to adjust your cook time for sous vide burgers by adding an hour to the time they are in the sous vide bath.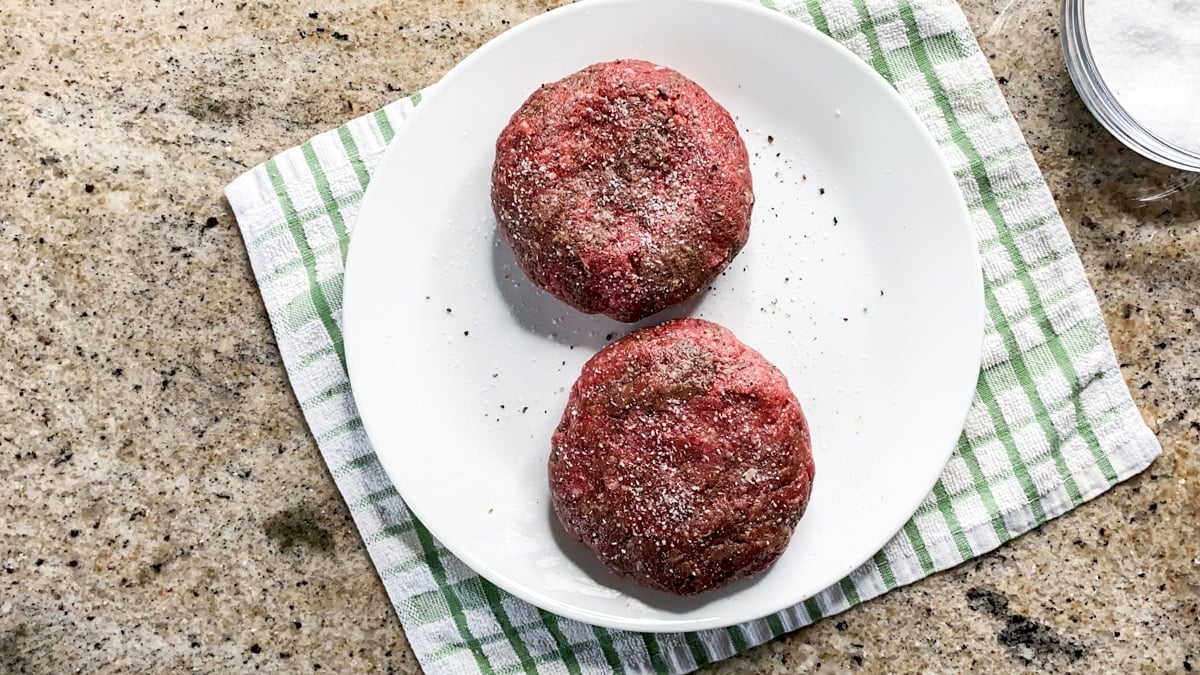 Step 1. Get burgers ready. Either remove fresh premade burgers from original packaging, or form patties if making burgers from scratch.
See how to make simple ground beef patties
Step 2. Season burgers before vacuum sealing them, if desired. To keep it simple, I usually add salt to the vacuum seal bag the burgers go in.
Step 3. Move patties to a plate and freeze them, without touching each other, for 15 minutes. This is enough time to help them keep their shape when vacuum sealing, but not enough time that the burgers will freeze completely.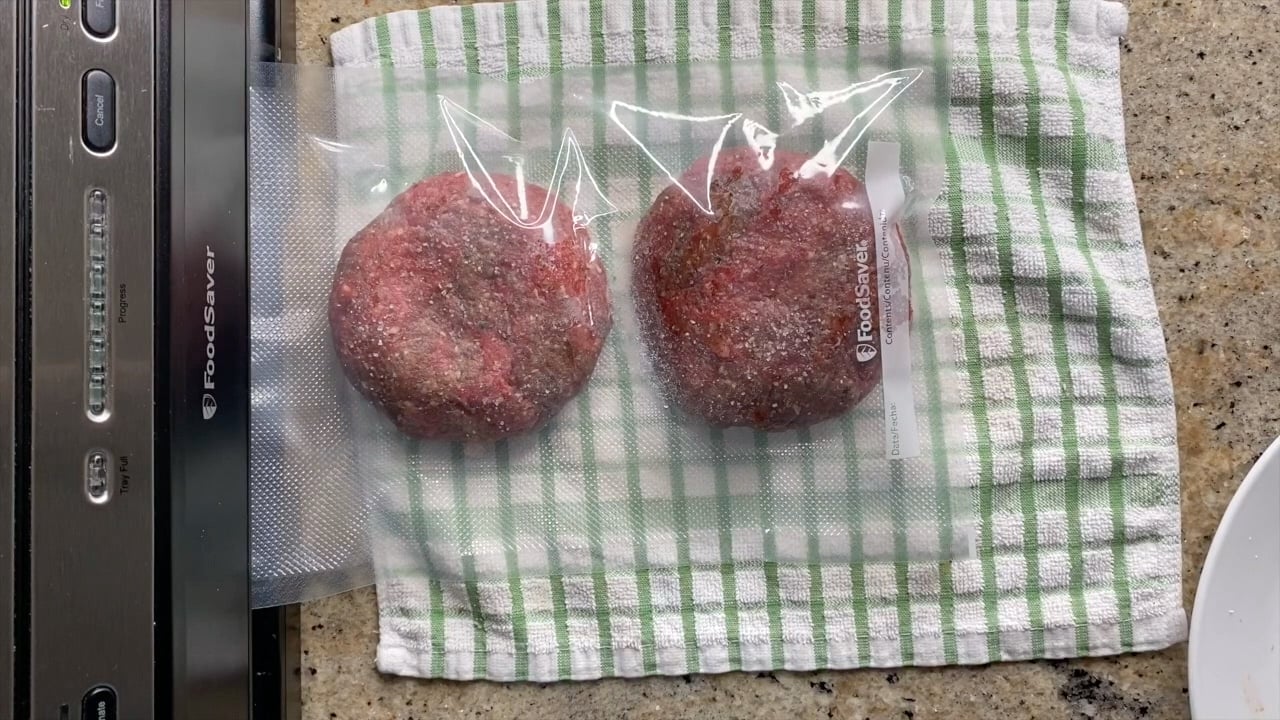 Step 4. Add burgers to a vacuum sealer bag that can comfortably fit all the burgers you're vacuum sealing.
Make sure they aren't touching each other in the bag.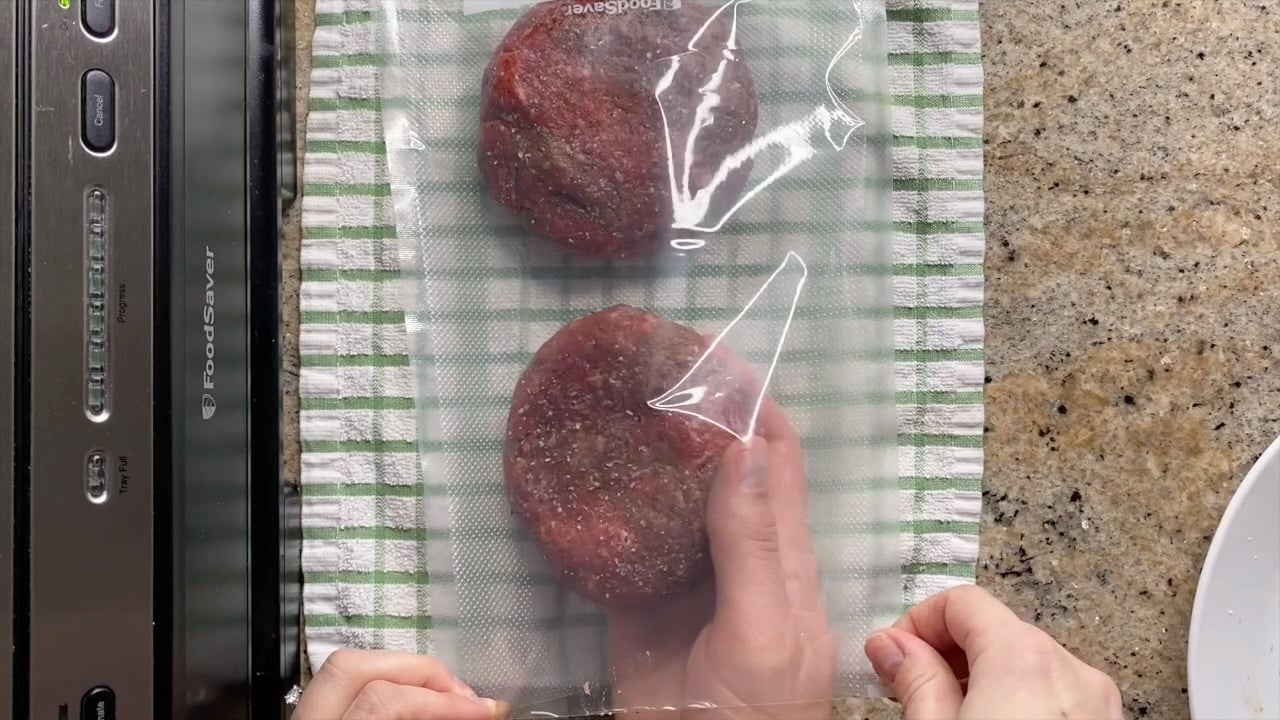 Leave about 2 inches between them if you're vacuum sealing multiple burgers at once. Also leave a few inches of extra room at the opening of the bag so the burgers don't get squished by the vac sealer.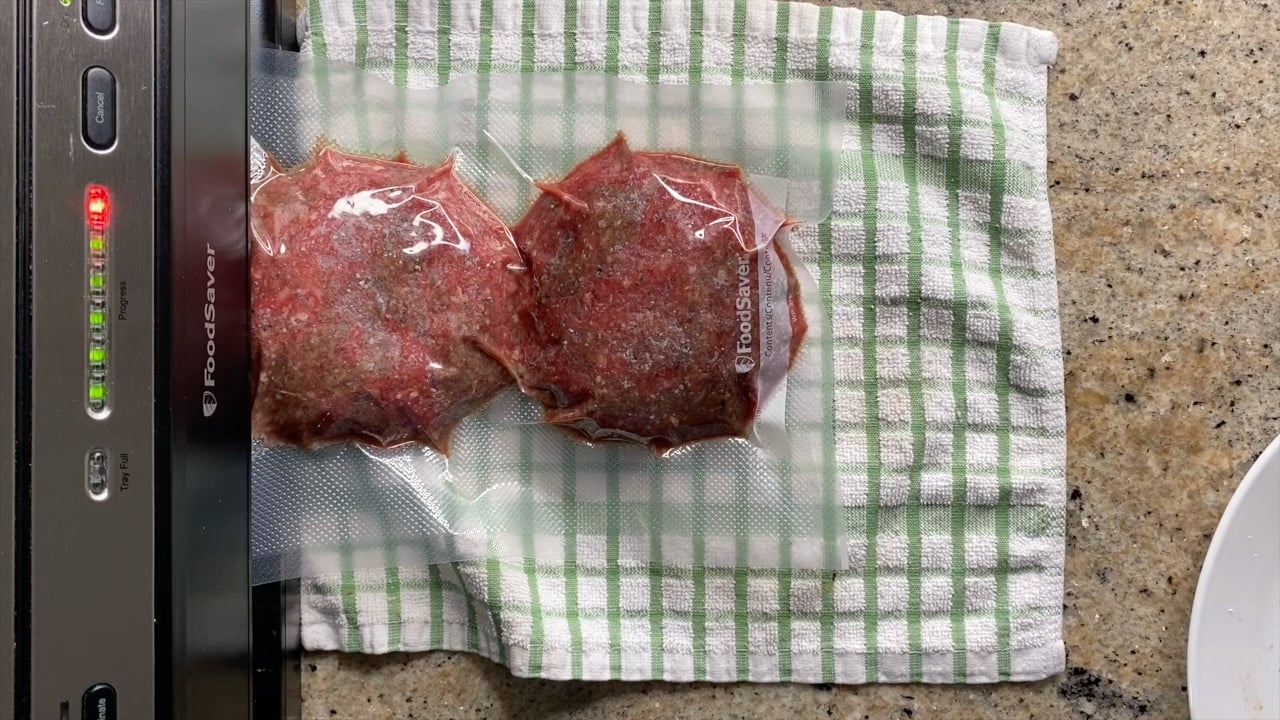 Step 5. Vacuum seal burgers.
Assuming you go with the method of freezing hamburgers before vacuum sealing them, the burgers should keep a nice disc shape. Sometimes I call this a perfect UFO shape. Still looking for a better way to describe it… but sticking with UFO for now.
Didn't freeze them first? Then hopefully your vacuum sealer lets you turn off vacuum sealing manually so you can stop them from turning into shrink-wrap looking burgers.
You know what I'm talking about – burgers that look like they were vacuum sealed like the ones I messed up in this photo…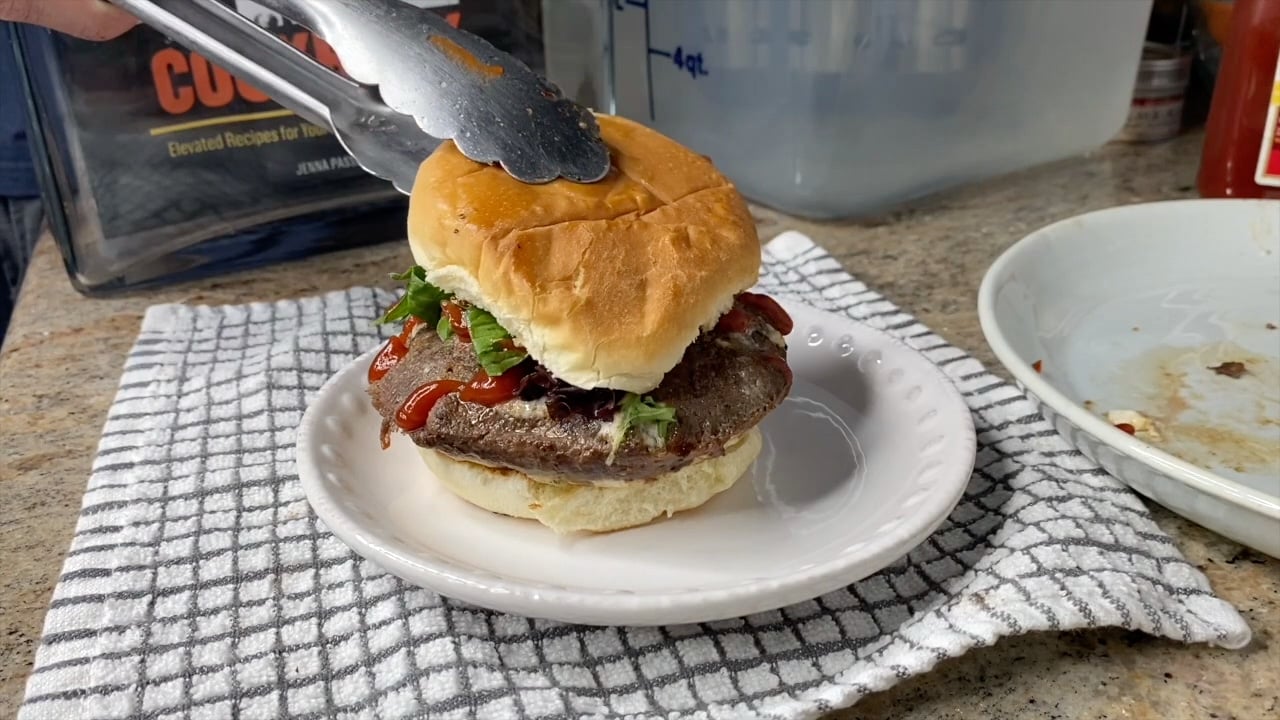 Don't worry about it – even ugly burgers are delicious. We smother burgers in gourmet toppings like these caramelized red onions and devoured them.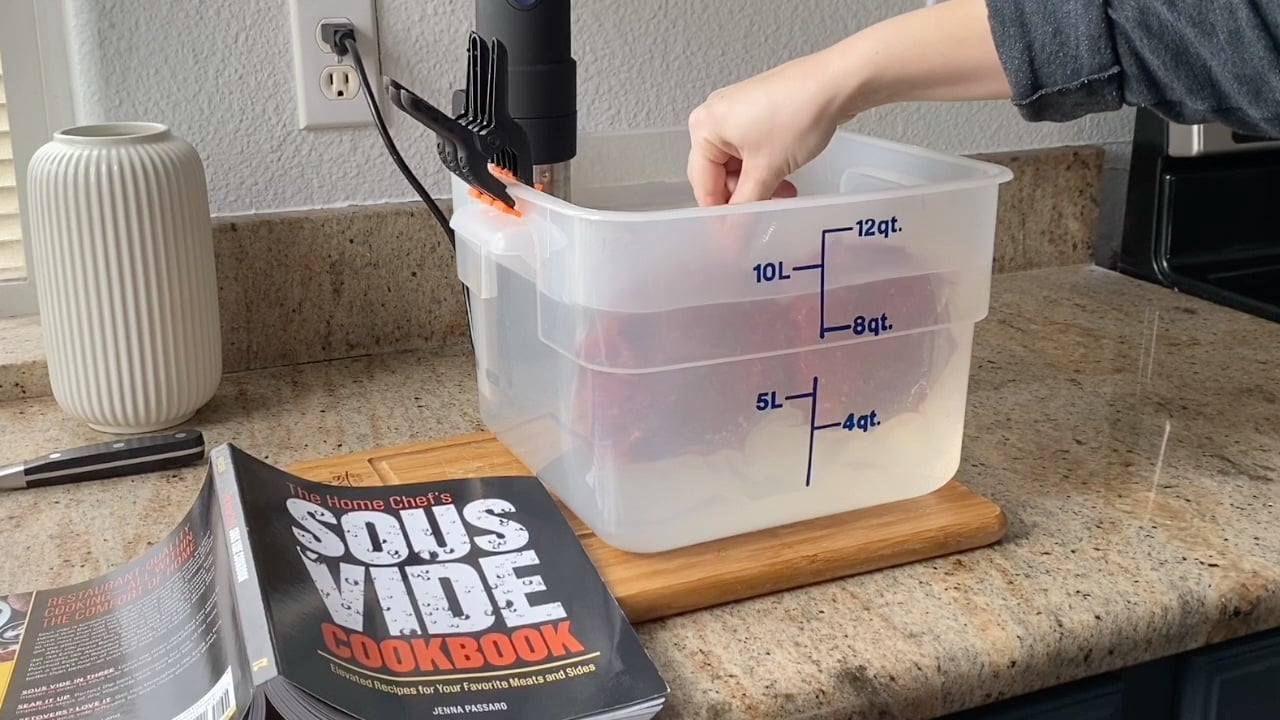 Step 6. Freeze burgers and steaks for 2-3 years. Cook and enjoy.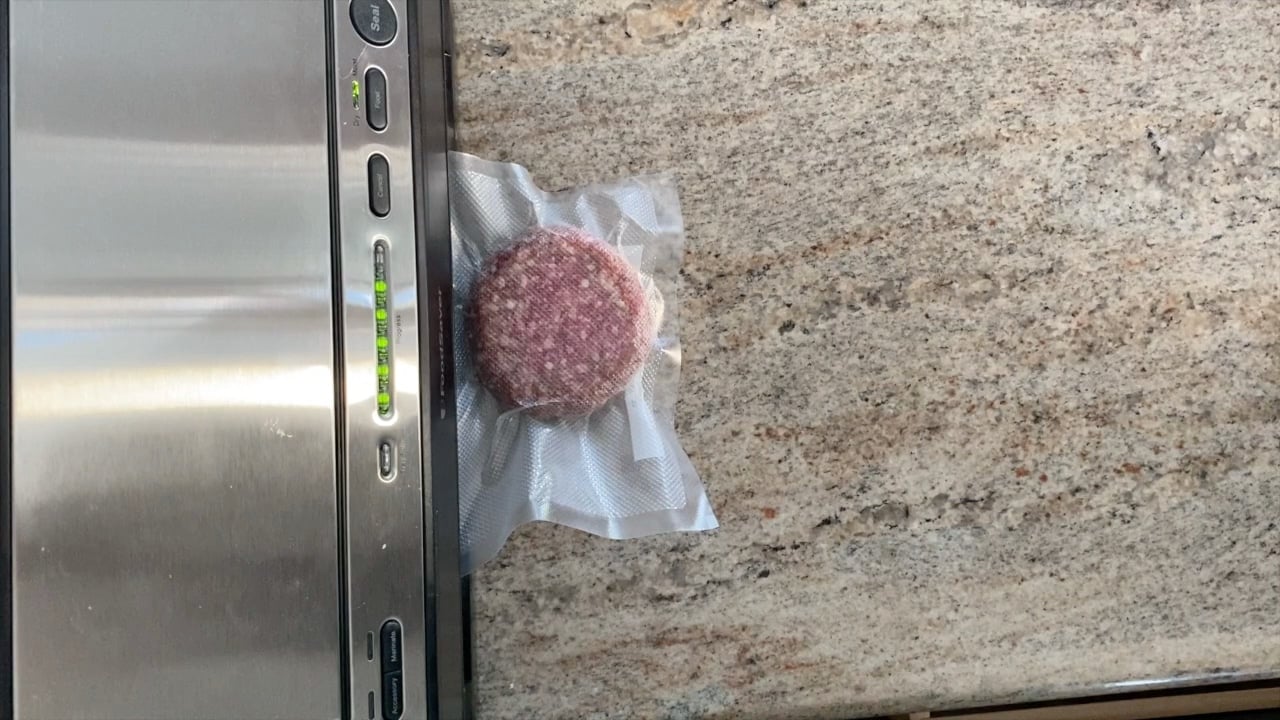 Vacuum sealing just one burger?
If you're vacuum sealing one burger in a vacuum sealer bag, you don't have to worry about spacing burgers out in the bag – obviously.
Though I do recommend cutting the bag down to size, you don't have to…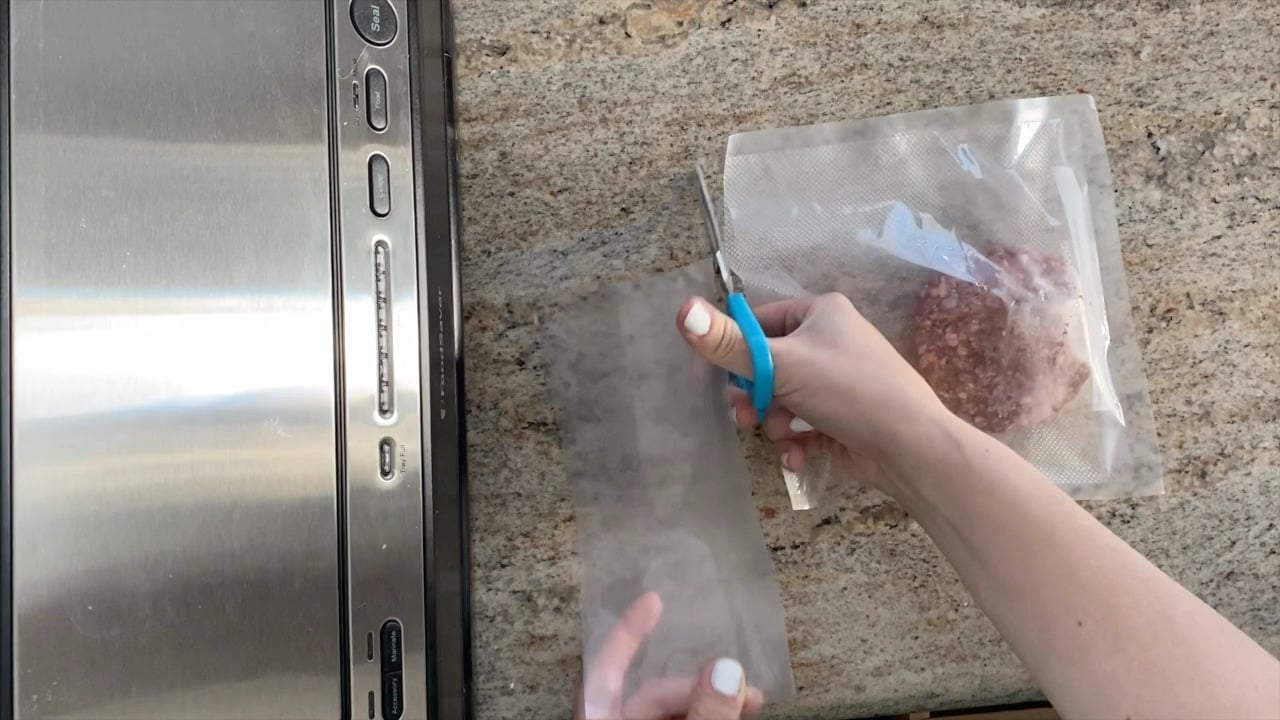 And I still recommend you freeze it ahead of time to help it keep the burger shape while vacuum sealing.
Here's a sous vide lamb burger that was vacuum sealed solo.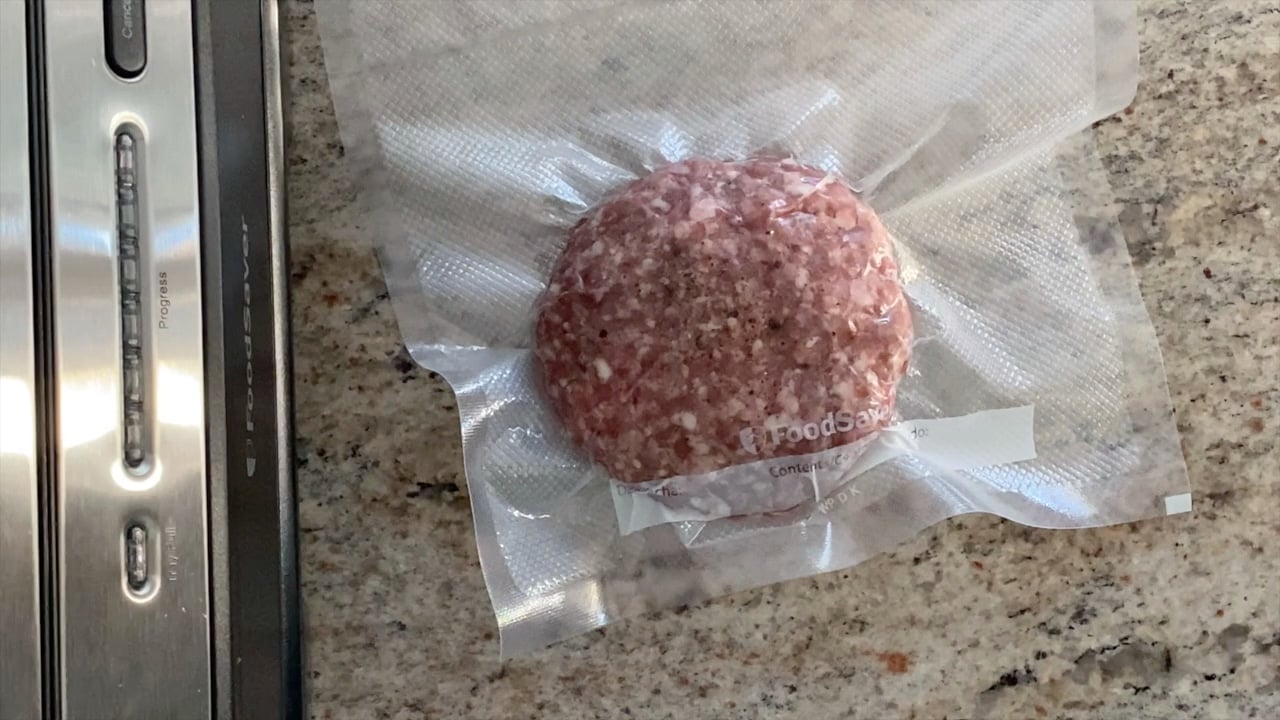 Burger meal planning with the vacuum sealer
We buy burgers in bulk, season, then vacuum seal ground beef patties in dinner portions. For us, that means two burgers to a bag. When our toddler is older, we'll make him his own burger. For now, he's just into nibbles.
A couple years ago, I was convinced that fresh from the grocery store food was the only way to eat. I lived in the Pearl District of Portland and could walk to grocery stores within a few blocks.
How times change when you have a baby and settle down. Now I live in the 'burbs and making some sous vide steak from frozen or burgers on the fly is a weekly occurrence.
A few other sous vide dinners I've shared lately are these sous vide pork chops, sous vide shrimp, and sous vide chicken breast. You can vacuum seal and freeze them all. Find the recipes in my other sous vide blog posts.
Check out more on how to sous vide from frozen.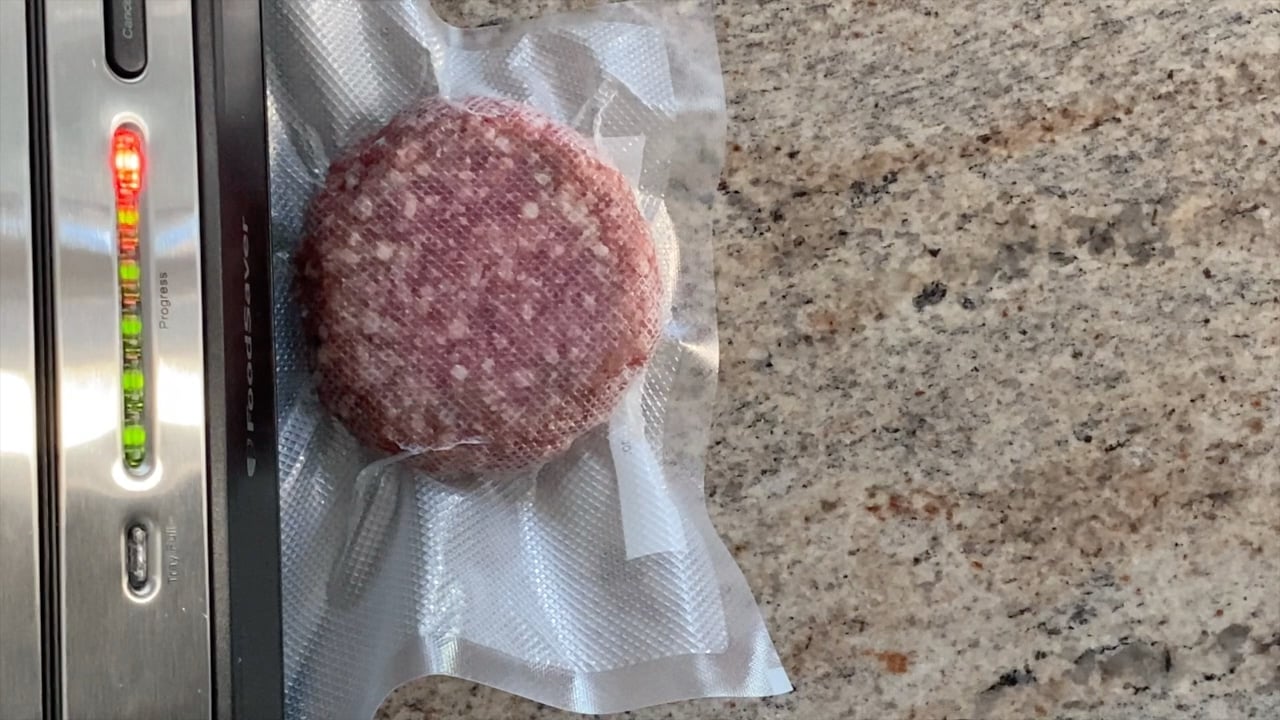 What you need to vacuum seal burgers
Vacuum sealer like the Foodsaver 4400
A stash of vacuum sealer bags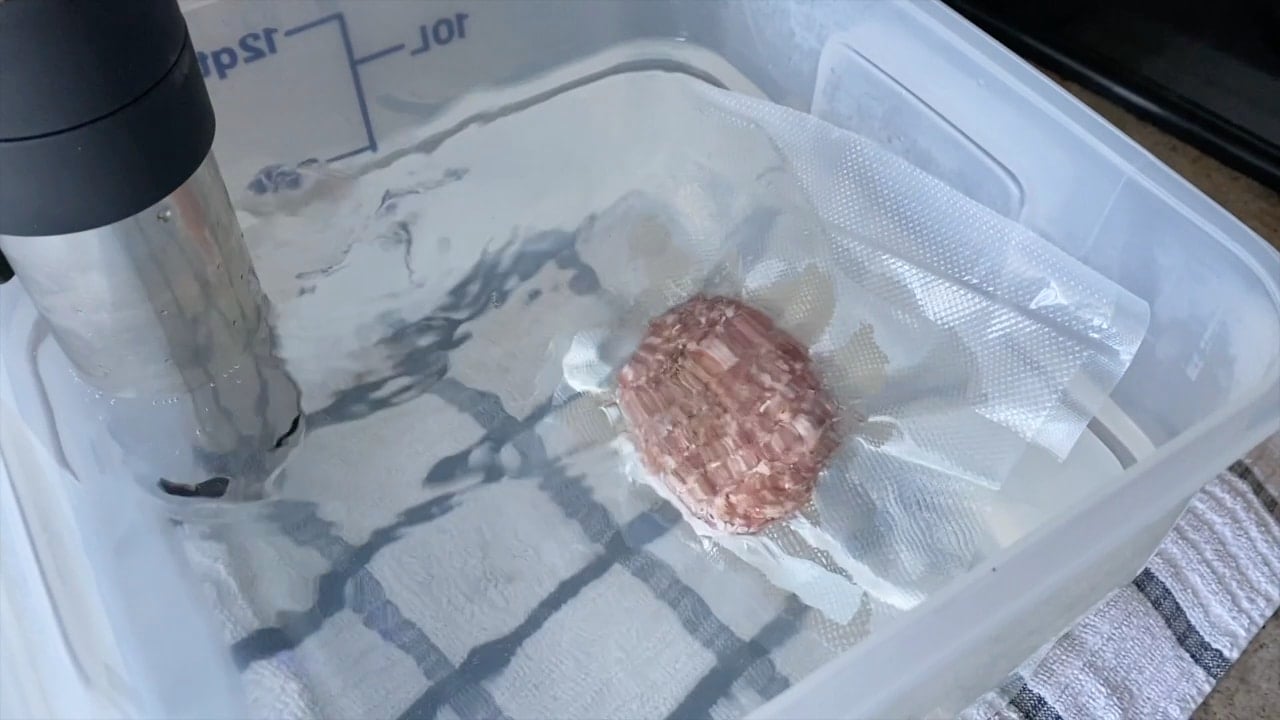 The Perfect Sous Vide Setup
Everyday I'm asked, "what do you need to sous vide food?". Here's my answer.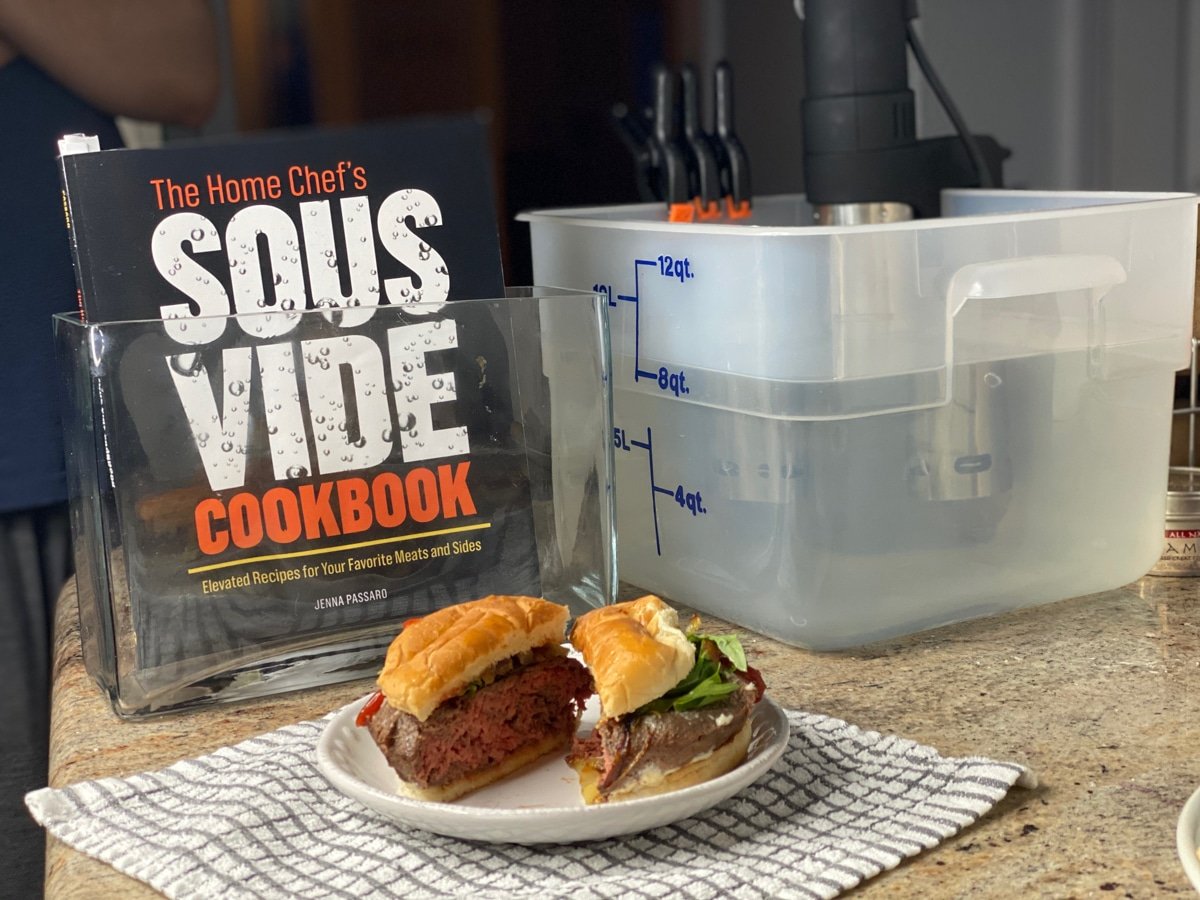 Have you heard of a "mayo sear" before? It's awesome! See these sous vide hamburgers mayo seared to perfection.
Gourmet burger recipes to check out…
There are a bunch of sous vide recipes for burgers waiting for you in The Home Chef's Sous Vide Cookbook.
Most recently, I remade the sous vide chicken burger recipe from the book and it was de-lish like always.
For more delicious sous vide ideas, find me @sipbitego.
See my latest cooks on the Sip Bite Go channel.
More Tasty Grill + Smoker Recipes
See my favorite smoker tools and seasonings in my Amazon Storefront.