Red wine caramelized red onions are the epitome of an easy-and-gourmet side dish or topping. Whip up these quick caramelized onions on the stove in 10-15 minutes. Serve them on any sandwich, on protein, in pasta dishes, and in eggs.
How to caramelize onions on the stove
I'll find a reason to add a caramelized onions recipe to any dish. And if red wine is involved? Even better!
You don't need to make caramelized onions with white sugar when you have wine. When you caramelized onions in red wine, the wine starts the caramelization process and adds deep flavor. For this recipe, I used a Cab Sauvignon called Merf wine from the Pacific Northwest.
Know what else is amazing with red wine? These sauteed mushrooms with thyme and red wine
How long do caramelized onions last?
Caramelized onions last a few days in the fridge. If you want them to last longer, freeze batches of caramelized red onions in muffin tins.
Some of my favorite recipes with caramelized onions are salads, sous vide pulled pork sandwiches, sous vide burgers, homemade pizza, eggs, pasta, to any of these grilled cheese sandwich ideas and to top this pear and goat cheese pizza.
If I need an extra "something" for a holiday or party, I'll serve an onion side dish for steak, turkey or ham. And they're always welcome and enjoyed on a cheese plate. If you have sous vide equipment, check out this recipe for sous vide onions.
If you're looking for a tasty side to use caramelized onions, see this scalloped potatoes gratin with pesto. It's a super easy side dish – or maybe a main if you toss some ham in there, too. It has potatoes and pesto, milk, caramelized onions, frozen peas, cheddar and mozzarella cheese.
Print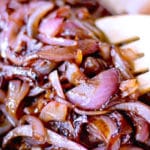 Caramelized Onions in Red Wine (Sip Bite Go)
Add a gourmet touch to pizza, pasta and salads with these caramelized onions in red wine. Serve them as a side on a cheese plate with crostini, or add them on top of steak or chicken.
Ingredients
1

red onion

sliced

1

tbsp

garlic

2

tbsp

olive oil

2

tbsp

red wine
Instructions
Make caramelized onions. Add onion, garlic, and oil to a pan on medium heat and stir regularly until brown, about 10 minutes. Add a drizzle of olive oil, as needed, to prevent onions from sticking to the pan.

Add wine, reduce to medium-low and cook until the wine is fully absorbed into the onions.
Recipe Video
Recipe Notes
For wine, use any red wine you like. I used a Cab Sauvignon called Merf.
Show me your onions! Ping me at @sipbitego and tag #sipbitego on Instagram.
Nutrition Facts
Caramelized Onions in Red Wine (Sip Bite Go)
Amount Per Serving
Calories 161
* Percent Daily Values are based on a 2000 calorie diet.
Helpful tools
If you lived close enough, I'd let you borrow them. Here are tools to help make your recipe a success.
An onion holder for slicing makes it easy to cut uniform pieces of onion to caramelize. It can also be used to tenderize meat.
Here's a cute way to store and serve onions for hamburgers finished with a mayo sear. The onion holder makes it easy to store cut onions in the fridge without the smell of raw onion getting to your other foods.
Durable nonstick pans are important when cooking onions on the stove. This 2 piece Calphalon nonstick fry pan set is a staple in my house for cooking sides and main dishes at the same time.