New to cooking chicken at home? Want to be sure your chicken comes out at the perfect temperature every time? This guide to cooking chicken will help you achieve the right chicken temperature no matter what type of chicken dish you are serving.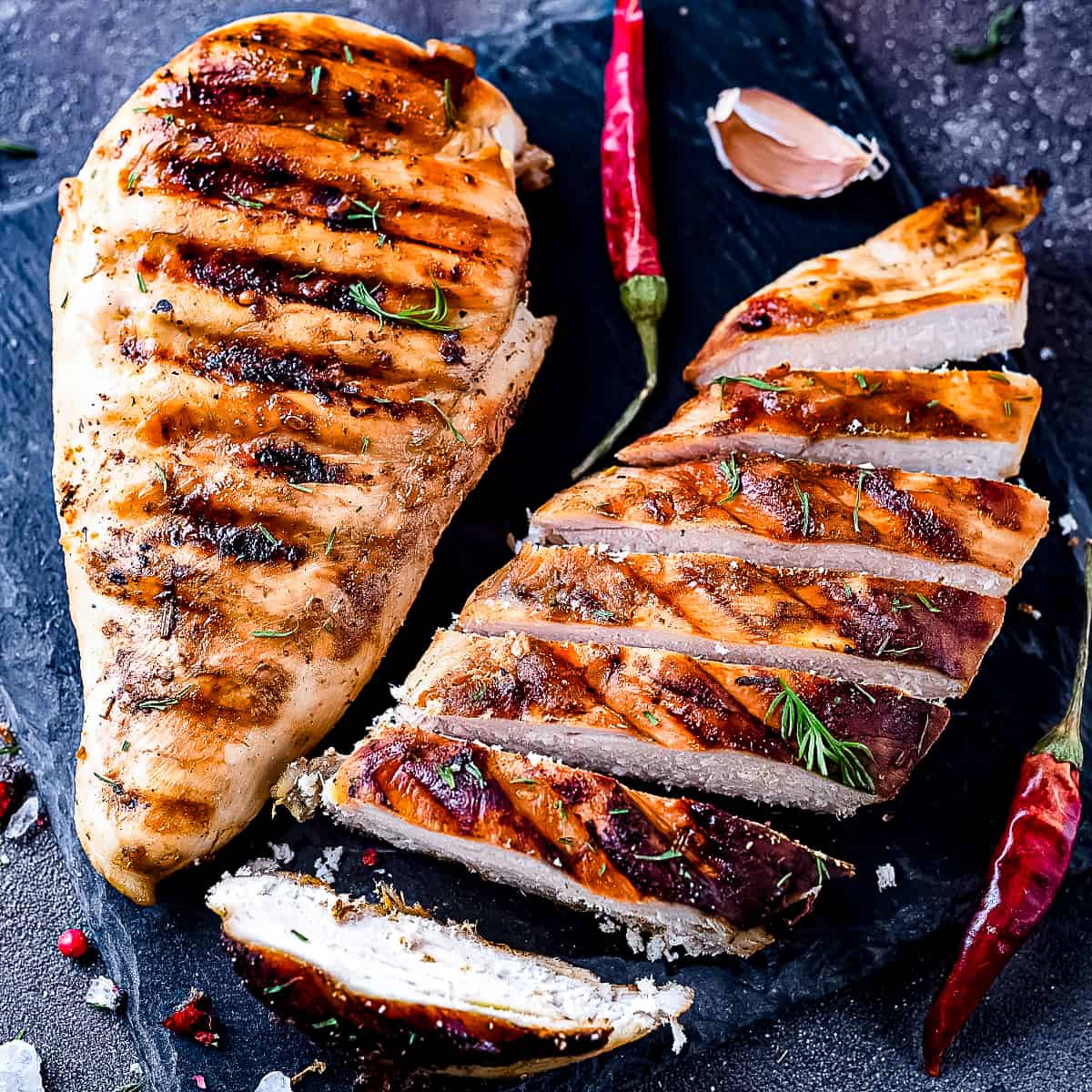 Why learn the temperature of cooked chicken?
Chicken is a healthy, lean source of protein that is easy to cook and delicious when prepared correctly. However, overcooked chicken can be dry and chewy, and undercooked chicken can lead to illnesses like salmonella.
The temperature of cooked chicken breast differs from the correct thigh, wing, and whole bird cooking temperature. So below you'll also see a breakdown of chicken temperature based on the part of the bird, too.
So if you're wondering what temperature is chicken done when baked, pan seared or fried, roasted chicken, air fryer chicken breast, sous vide cooked, pan grilled chicken, etc… then keep reading for a chicken temp guide organized by preparation!
Thermometer recommendation
Before jumping into the numbers, I want to quickly point out how to know what temperature chicken cooks to in order to know if it's safe to eat.
You'll see in my Sip Bite Go videos that I like using this instant read digital thermometer that you stick in the chicken before putting it in the oven. I'm kindof a food safety geek and electronics geek. There is a wire attached to a reader on the outside of the oven that connects to the probe inside the chicken.
So you insert the thermometer and don't have to keep opening the oven to check the temperature. The part that stays outside the oven and tells you the temperature is actually magnetic so it sticks to your oven. And the thermometer beeps when the chicken temperature is safe (depending on what you set it to).
Oven-Baked Chicken Breast
Temperature
I'm starting with details on what temperature should chicken be cooked to in the oven because it's one of the easiest ways to cook chicken.
When cooking chicken in the oven, the internal temperature should be 165°F (74°C). You can test it by using a meat thermometer.
If you're wondering what temperature to bake chicken to reach this, most of my recipes call for 400°F.
For best results if you like super juicy chicken breast, pull the chicken out of the oven when the internal temperature is about 162°F. The chicken will naturally cook a little bit while resting. Then just double check the temperature before cutting and serving to make sure it's safe.
Letting your chicken rest is also important for grilled chicken temperature because it tends to cook more after removing it from the grill. You may also be able to tell the chicken is done by cutting into the center – if there is any pink, it's not done cooking.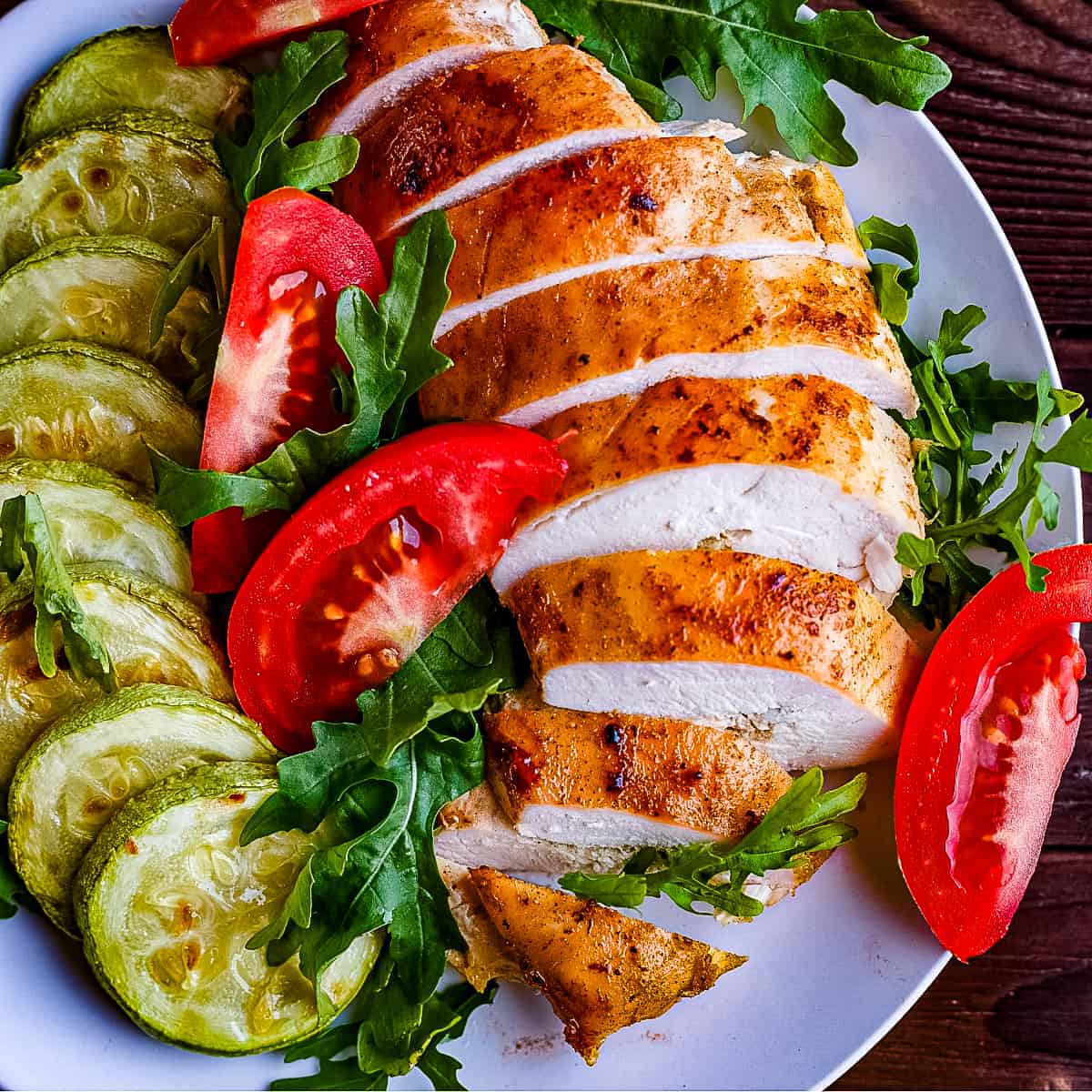 Recipe ideas
See my go-to method for cooking chicken breast on stove tops then finishing it in the oven.
Use leftover chicken breast on this chicken spinach pizza or bbq chicken pizza.
Grilled chicken breast
Temperature
The grilled chicken breast temperature is the same as oven baked chicken. The safe internal temperature must reach 165°F.
Pan-Seared Chicken Breast
Temperature
The right chicken internal temperature of pan-seared chicken should always be 165°F. When you use this method you get a nice crispy texture on the outside while retaining the juicy meat inside.
However, it's easy to undercook pan-seared chicken if you don't test the internal temperature of cooked chicken. This is because the outside can be seared perfectly, even if the inside is undercooked.
Use a thermometer to or cut inside to peek at the color to double-check it's done. Especially if you're using a thick chicken breast.
HOME CHEF TIP: Butterfly or pound pan seared chicken thin so it cooks quickly and evenly.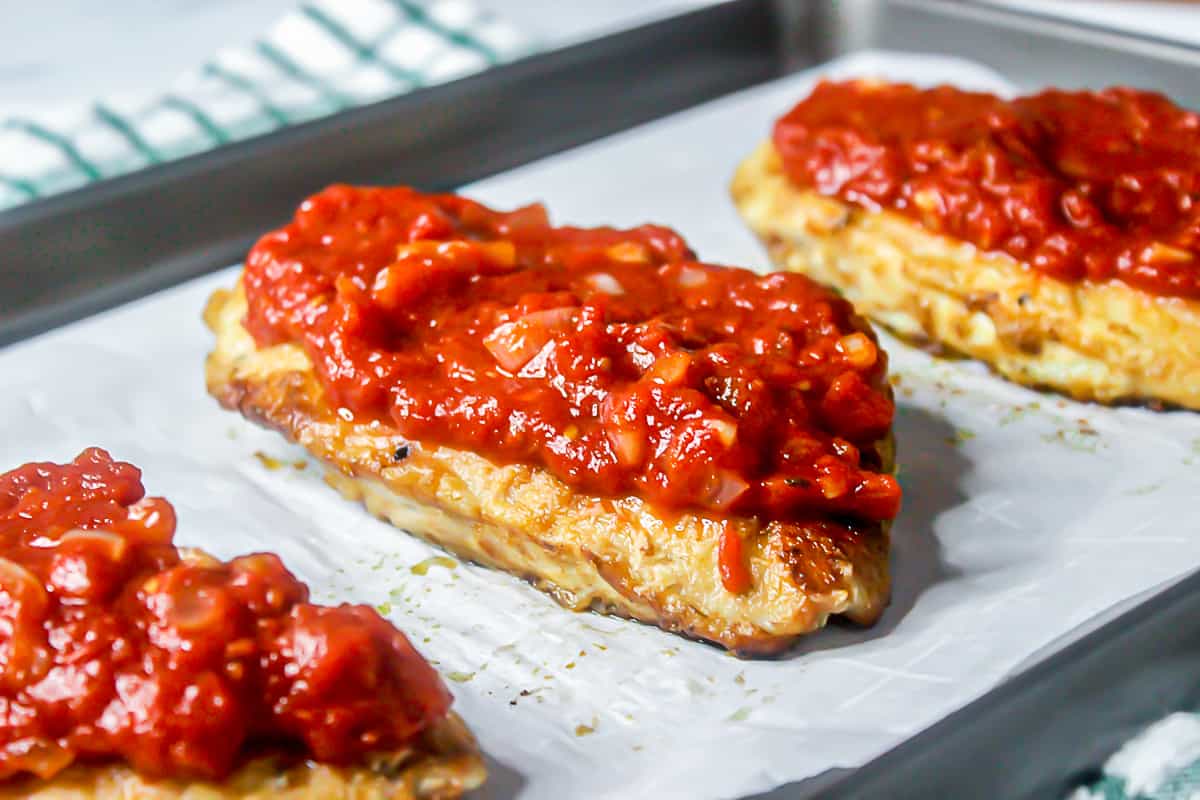 Recipe inspiration
Make an Italian-style dinner with this balsamic chicken with mozzarella topped with sauteed bell peppers and onions.
Or try this tasty crispy Italian chicken that's pan-seared and finished with a tasty tomato based pasta sauce.
Sous Vide Chicken
Temperature
It surprises most people that chicken sous vide recipes are cooked at lower temperatures. Most people are actually scared to try it at first because it's so shocking. Sous vide chicken breast for example cooks safely for 1 hour at 140 degrees F.
Why is the cooking temperature so low? That's because sous vide cooking is slow. The longer cook time pasteurized the chicken. Whereas with traditional cooking methods on the grill or baking chicken use high heat, applied fast, to kill bacteria.
When cooking chicken with a sous vide, there are slightly different temperature regulations depending on the part of the chicken. For complete information on various cuts of meat, check out all the details here. Using a sous vide and following the proper guidelines takes out the guesswork when cooking chicken so you have a dependably delectable dish every single time.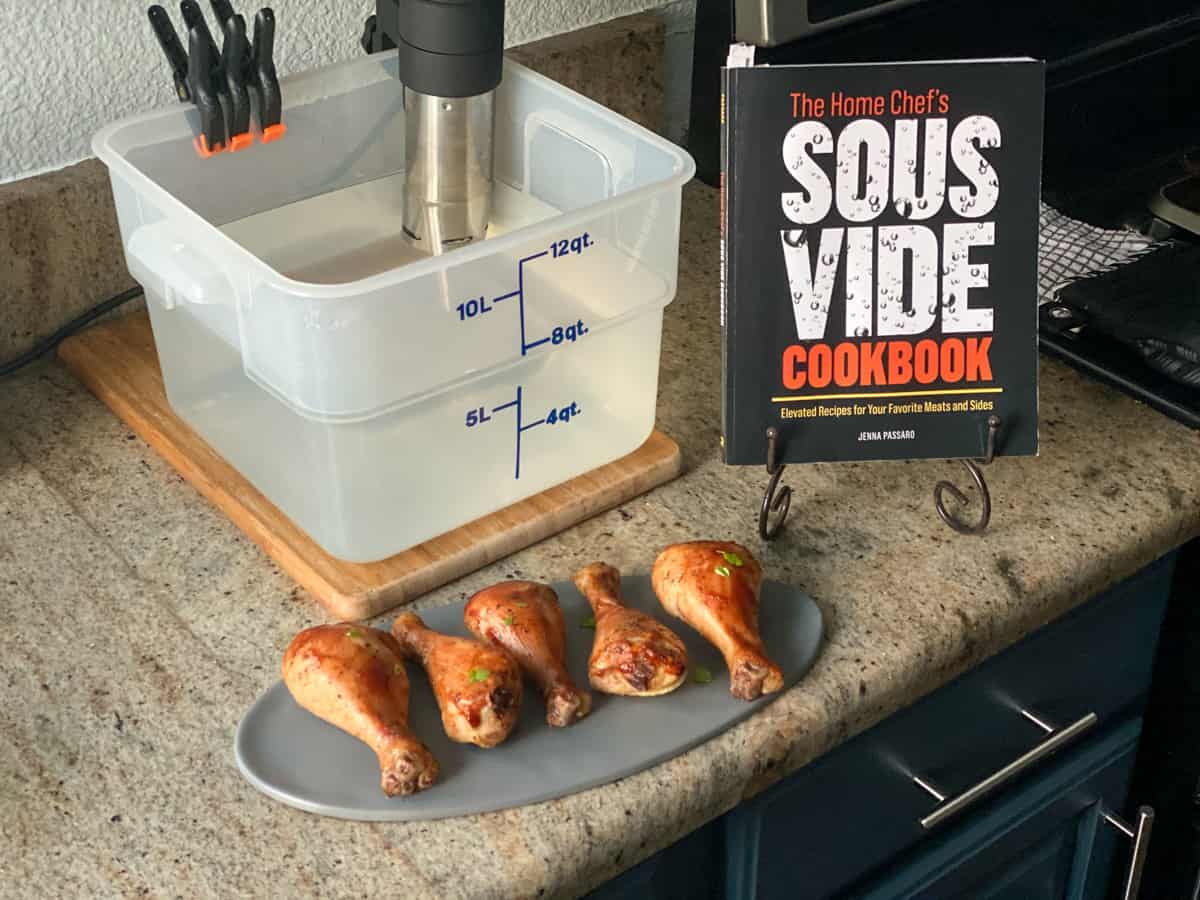 Recipe ideas
There are too many good sous vide chicken recipes to try to list them all here…
Chicken Wings
Temperature
If you're wondering what temperature to cook chicken wings so they all come out perfectly, it's a bit of a tricky question to answer.
Chicken wings are trickier to test temperature because the size varies and because of that, a batch of drumettes (the thin ones with 2 bones) and drums (the big fat ones) don't finish cooking at the same time. There are extra things to factor in, too, like the connective tissue found in wings. But the chicken wings meat should still read at 165°F before consuming.
Grill wings at 425°F for about 25 to 30 minutes (turning every 5 minutes) or bake them in the oven at 400°F for ~50-60 minutes to get a proper cook. Or air fry them (recipe below). Or smoke them, but that is at a lower temperature for a much longer time.
See how to cook smoked chicken breast…
Recipe ideas
There are so many tasty wings recipes to choose from, depending on the cooking tools you have available.
Chicken Thighs
Temperature
Whether you're cooking chicken thighs in the oven or stovetop, the meat should have an internal temperature of about 175°F to 180°F. Chicken breast meat temperature is slightly lower (165°F) because it's lighter meat.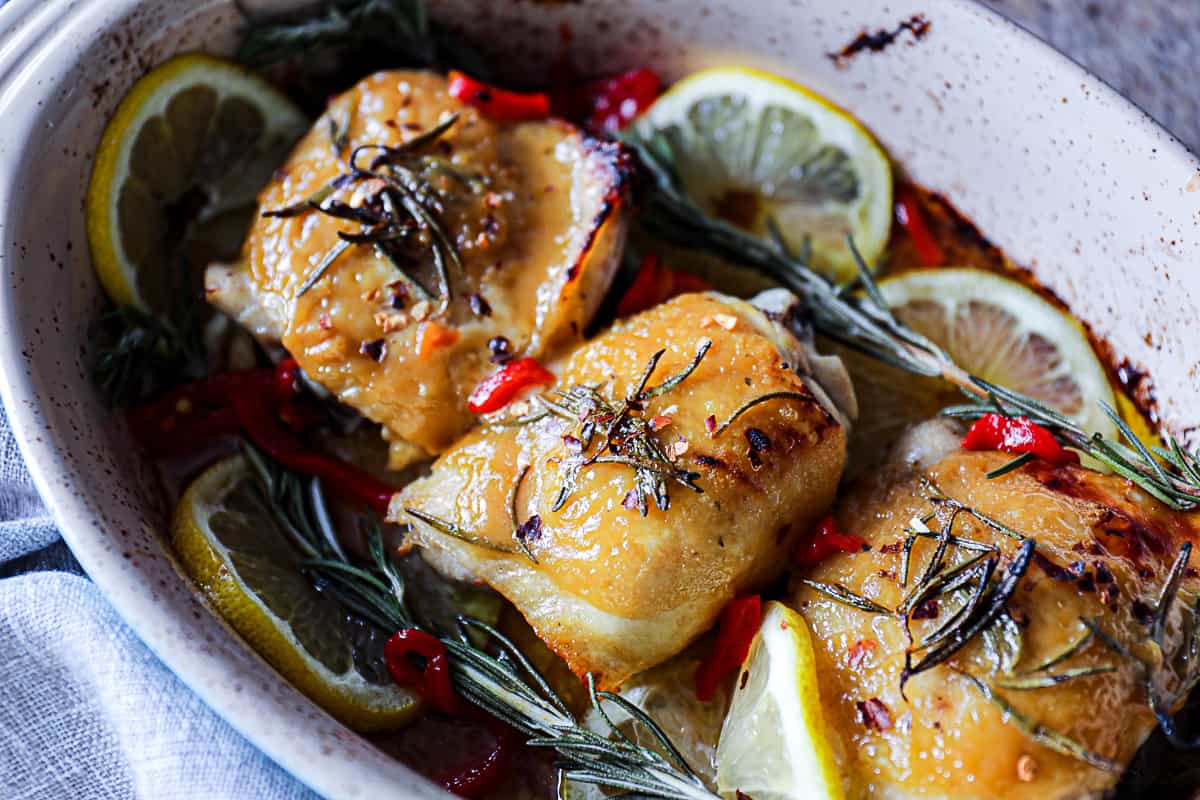 Recipe ideas
Cooking a Whole Chicken
Temperature
When cooking a whole chicken you may want to test the internal temperature at multiple locations, such as the wing, breast, and thigh. The darker meats should be cooked to about 175°F while the light meat can be 165°F.
HOME CHEF TIP: To use the thermometer to read a whole roast chicken temperature, stick it in the thickest part of the bird. This way it will read the chicken thigh temperature, which has dark meat and needs to be cooked to a higher temperature than chicken breast.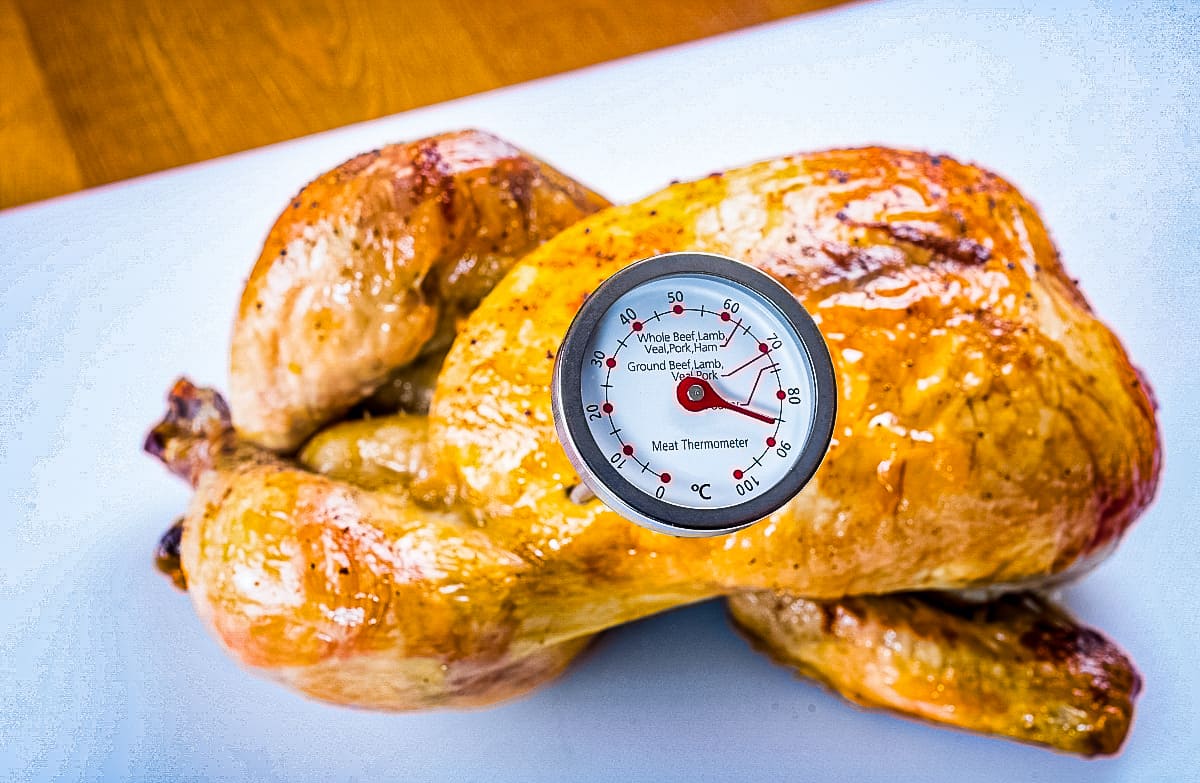 Recipe ideas
I always tell beginners to check out this foolproof recipe for crockpot whole chicken. It's a good place to start before learning how to cook a whole chicken in the oven. Serve a make ahead Caprese salad and a potato side dish, and you have a complete meal.
What about resting chicken?
Don't forget to factor in rest time so the juices in your chicken settle in after cooking. Wait at least 10 minutes before serving chicken breast or thighs. And up to 20 minutes if serving a whole chicken. Temperatures of cooked chicken continue to rise a little during this resting period.
Are cooked chicken and turkey temperatures the same?
Always check your recipe to make sure you're cooking chicken and turkey to the right temperatures, but because they are poultry the cooking temperatures are pretty much the same.
Ready to cook perfect chicken every time?
Do you feel ready, now that you have the details on the most safe temperature for chicken cooked various ways? Using this chicken temperature guide you can cook delicious chicken breasts, thighs, and wings.
Cooking great chicken opens up tons of new opportunities in the culinary world from chicken al pastor tacos to chicken parmesan and chicken sandwiches. Become the home chef you always knew you could be!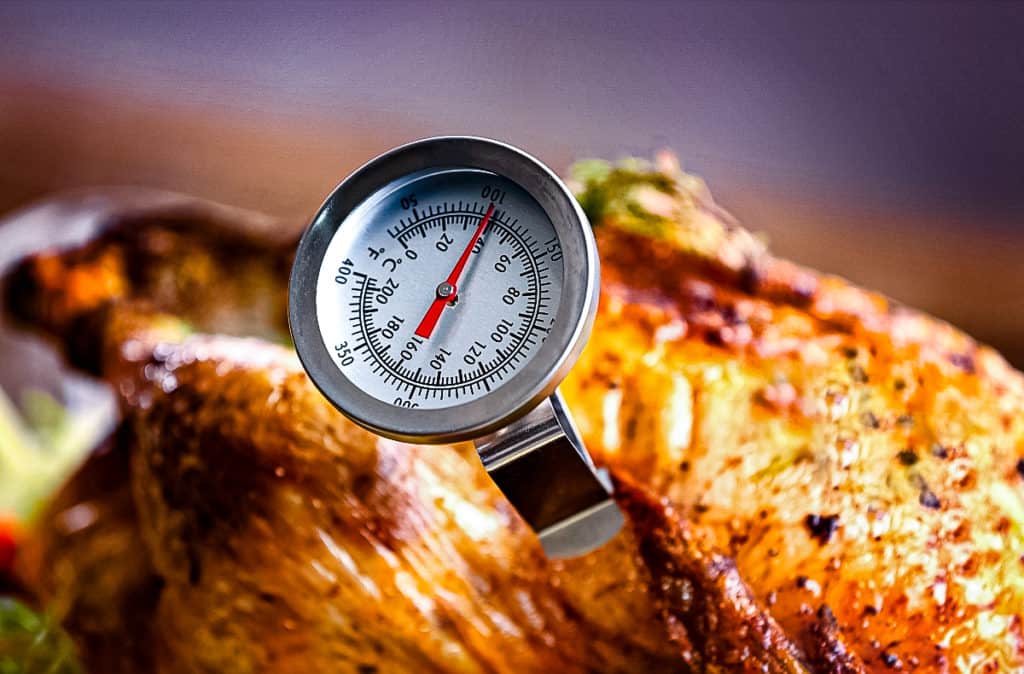 New recipes and foodie guides….
Grill and smoker recipes…
Meat thermometer recommendations
Every home chef needs a reliable meat thermometer to cook food perfectly.
On Sip Bite Go, you'll often see me using:
Meater thermometer – a fancy wireless thermometer that connects to a phone app – gifted to me from a Traeger partnership.
ThermoPro digital thermometer – which has a wire that connects the thermometer to a display box outside the oven/grill.
It's like being psychic! The great thing about either of the thermometers above is that I don't have to take the food out of the oven to know the temperature.
How to use 'em… What I do is stick the digital thermometer in steak, pork, chicken, whatever… Then put the food in the oven, on the smoker, or grill.
While the meat cooks, it reads the temperature so I know exactly what temp meat is as it's cooking. Without having to take it out and check. It's really difficult to overcook food when you know exactly what temp it is inside!
Are you a foodie, too?
I'm passionate about cooking restaurant style food and share my latest creations on Instagram @sipbitego. Find me there to connect and check out my latest video cooking tutorials on the Sip Bite Go channel.