Prepare to get hungry and learn my secrets! There are so many ways to season sous vide steak, and today I'm spilling all the details. I've collected my favorite sous vide steak seasoning ideas from here on Sip Bite Go and my cookbook, The Home Chef's Sous Vide Cookbook and will share them with you today.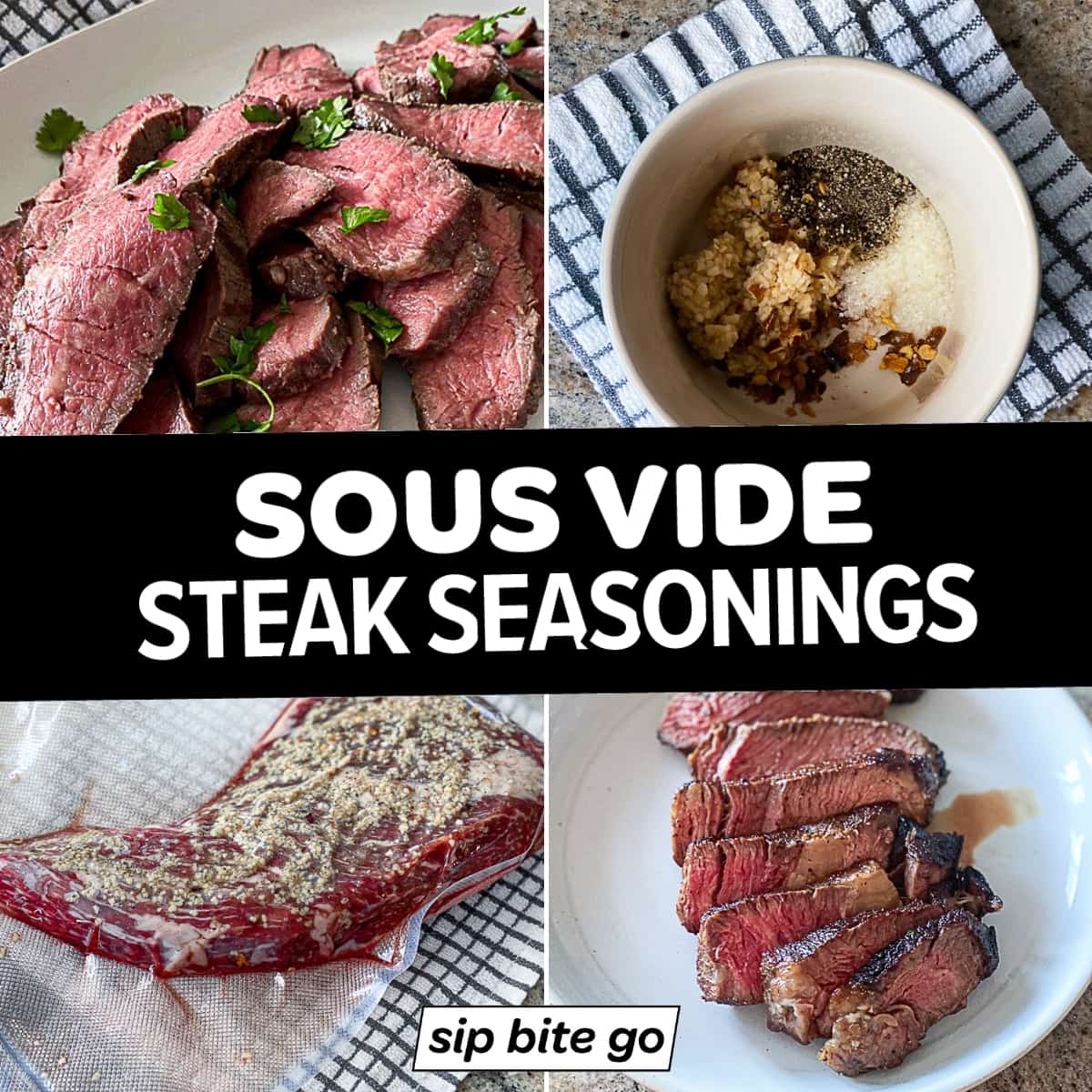 Do you season steak before sous vide?
If you're new to the sous vide food hobby, you've probably heard how juicy and flavorful sous vide steak recipes turn out when cooked with this underwater technique. But how do the steaks get all that flavor?
So many people ask me: should you season steak before sous vide? And my answer is yes. It's always yes. Even if you just add salt to the sous vide bag, that is enough to get the flavor started.
The reason sous vide steaks have so much flavor is because they're cooking in their own juices within the vacuum sealed bag. At the minimum, add a pinch of salt for each steak to help bring out the flavor of your beef.
Also see these recipes for smoked tri tip and perfectly roasted tri tip in the oven.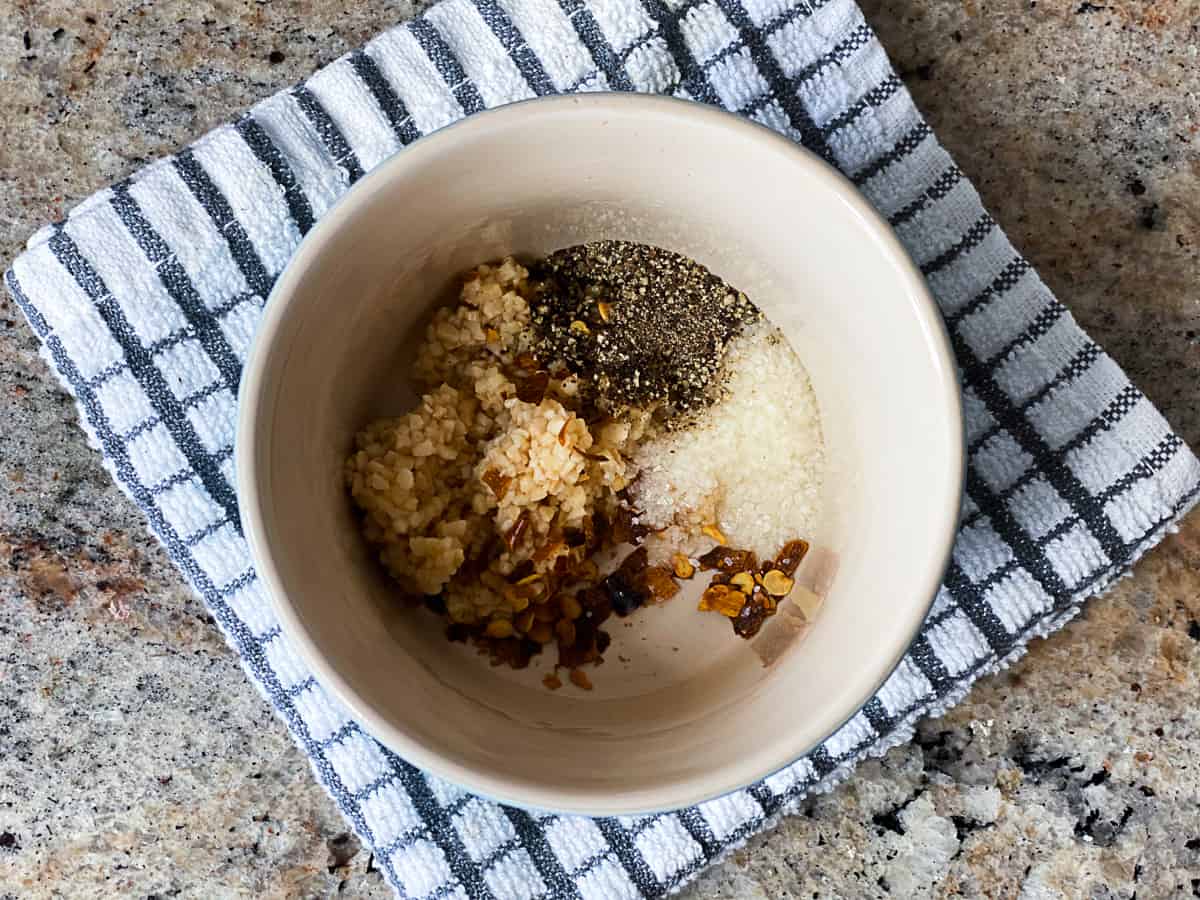 How to season sous vide steak
There are two ways to season steak cooked underwater with an immersion circulator. First, before it's added to the sous vide bath you can add seasonings to the bag. And second, after it's cooked sous vide style, you can finish it on the grill, in a cast iron skillet, or in the air fryer or whatever you desire to finish it.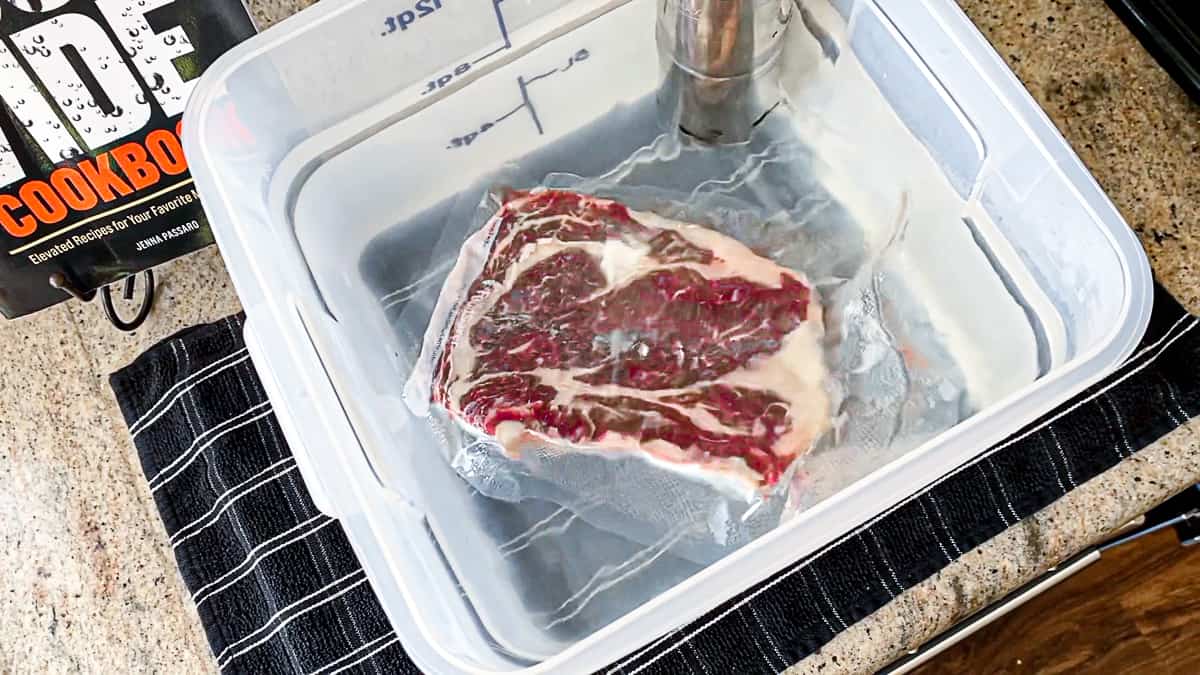 Seasoning sous vide steak before cooking it
Before cooking steak this way, you can add seasonings to the sous vide bag. When I'm talking about seasonings in this particular guide, I'm mostly talking about dry rubs, salts, pepper, and maybe some aromatics like a little bit of minced garlic and herbs like rosemary.
That can all go in the bag and will cook with the juices of the steak to infuse the steak with deep flavor.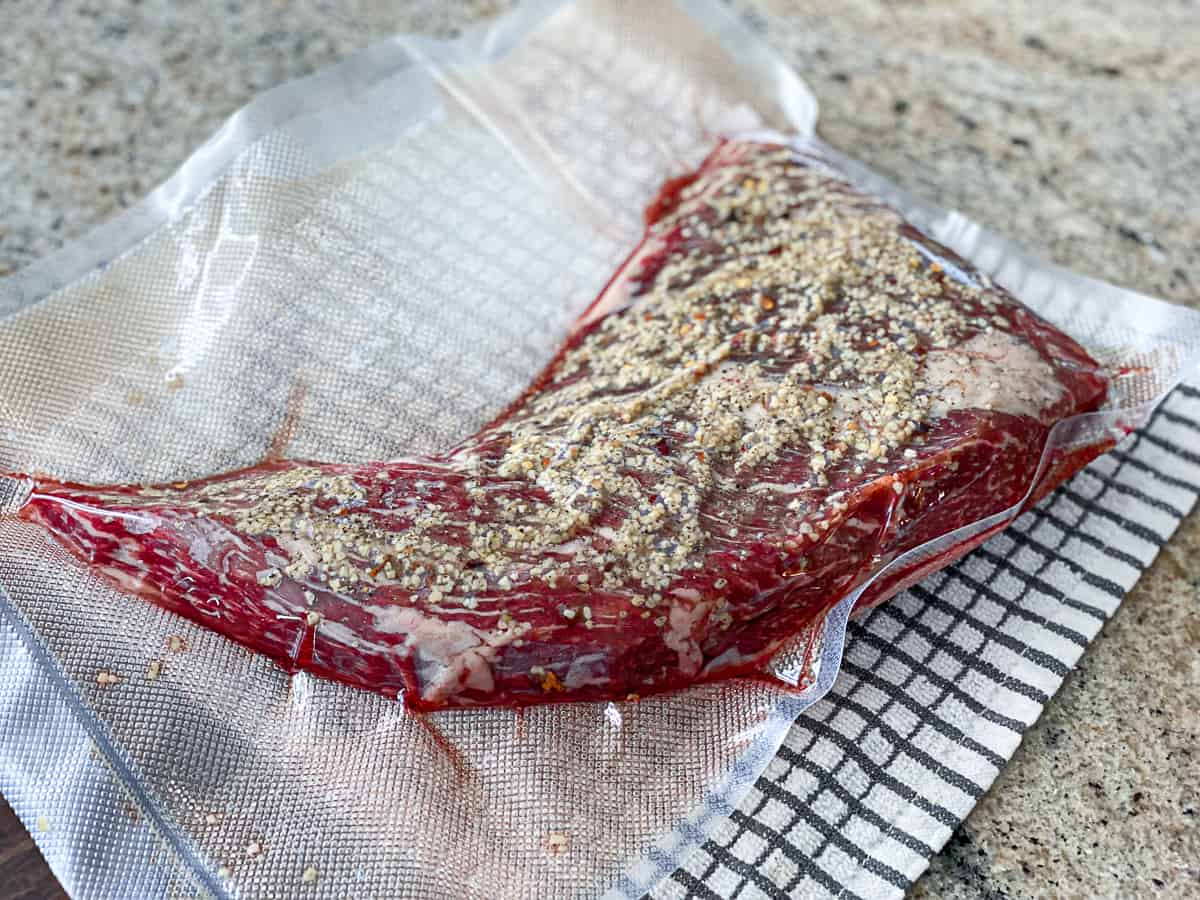 What about adding butter to the bag?
That's pretty much a technique of the past. Years ago, when there were only a few of us experimenting with sous vide machines and going through trial and error, we pretty much always chose to add butter to sous vide bags before cooking food.
I still do add butter as a seasoning for sous vide vegetables like sous vide asparagus. I pop the butter right in the bag before vacuum sealing asparagus and it comes out perfect every time.
But I don't usually add butter to the bag for sous vide beef, sous vide chicken or sous vide pork recipes anymore.
What about marinating steak while cooking it?
Please don't report me to the sous vide police for the following statement: You can also marinade steak for sous vide cooking. Though it's kind of a debated subject amongst sous vide enthusiasts who cook everything this way and are really strict about what this technique is really about.
Why do some people say you can't marinate sous vide steak?
Some people might say that you are really poaching steak by cooking it in liquid, but I do have some recipes here on Sip Bite Go where I've experimented with using red wine in the bag and have had delicious results. Check out this recipe for sous vide NY strip steak for an example.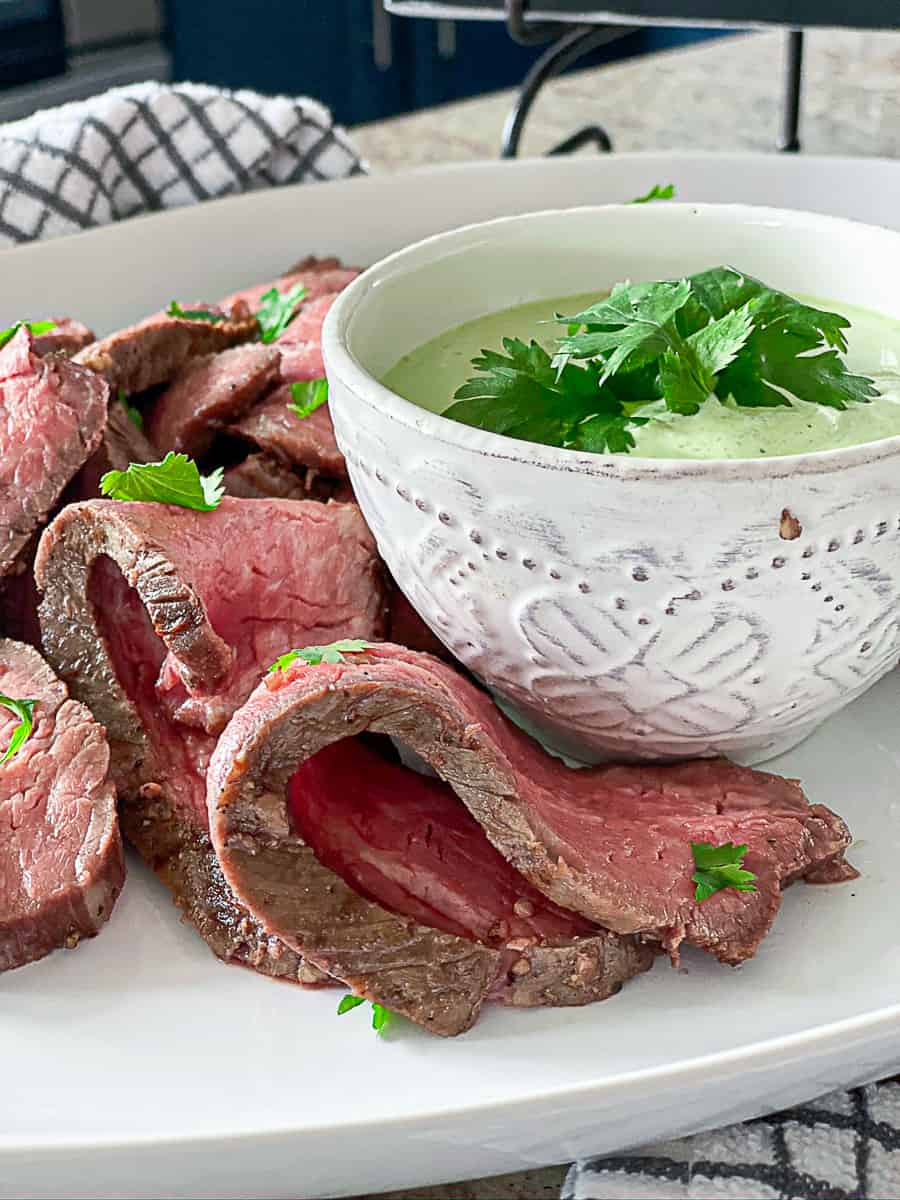 Seasoning sous vide steak after cooking it
So if you're wondering, do you season again before searing sous vide steak? The answer is yes, but you don't have to. In this section, I'll get into your options.
Tip: always pat steak dry before searing it
After vacuum sealing meat and sous vide cooking it, you will pat it dry to remove extra moisture from the outside so it will easily form a crust on the outside when you apply heat. The goal with applying heat, or grilling or searing it at the end of cooking this way, is to add one more blast of flavor and get that "crust" or browning on the outside of the steak.
Because it will not look like steak from restaurants from the sous vide cooking process alone. you need to get some high, hot heat on the outside to add more flavor. But do so quickly, so the inside of the steak does not continue cooking.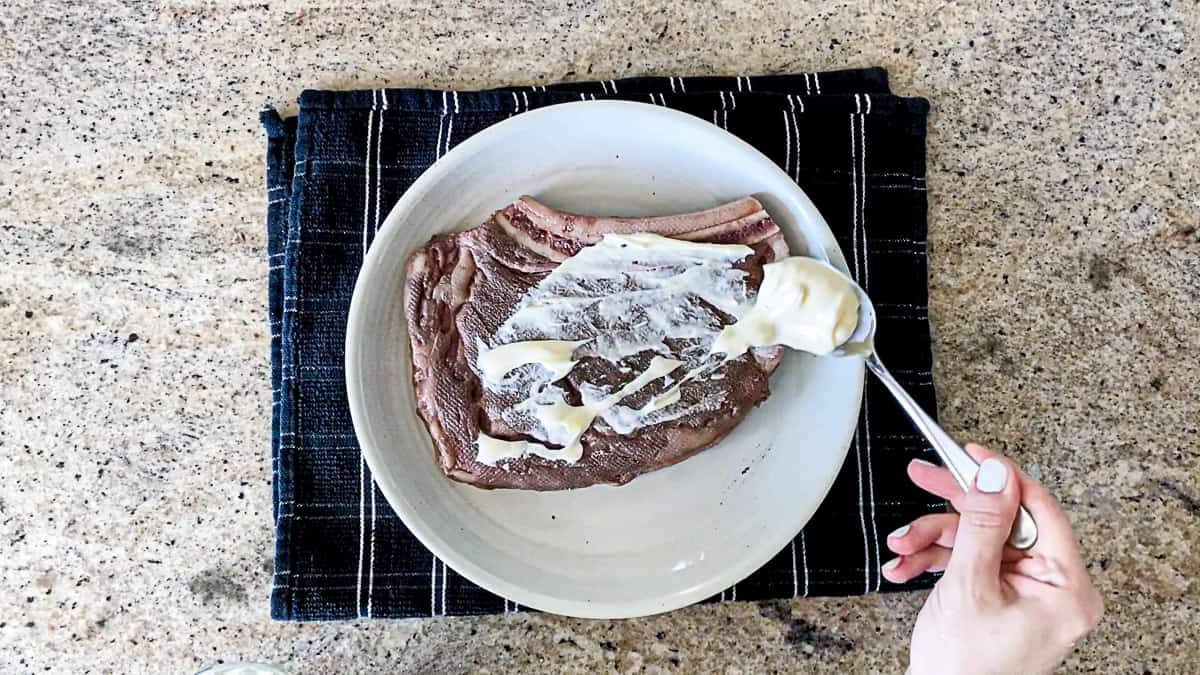 The mayo sear finish technique
Additionally, you can kick the flavor up a notch by using a trick like the mayo sear sous vide technique. I'm a huge fan!
To do this, essentially you just need to apply a light coating of mayonnaise to the outside of sous vide beef and then sear it in a cast iron skillet. Check and the recipe for mayo seared sous vide ribeye and mayo seared sous vide hamburgers to see this handy trick in action.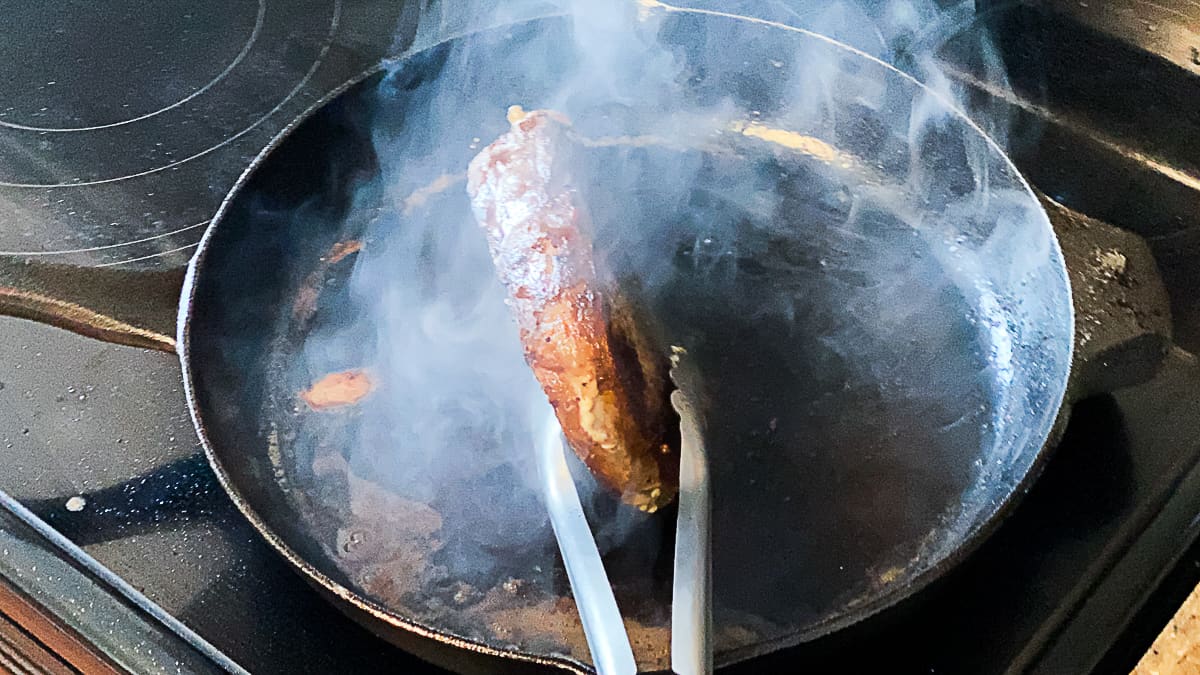 Searing sous vide steak with garlic and butter
Another technique you'll see me do here on Sip Bite Go in the sous vide recipe index is to sear sous vide steak with flavors like garlic, shallots, butter and olive oil when I'm finishing steaks in a cast iron pan.
Sometimes I'll add a little smoked pepper or additional garlic salt as well.
A lot of the fun of sous vide cooking is playing with different seasonings and this final step – a few minutes in a medium high or high temperature cast iron pan – is your last ditch attempt to get all the flavor you want in the steaks.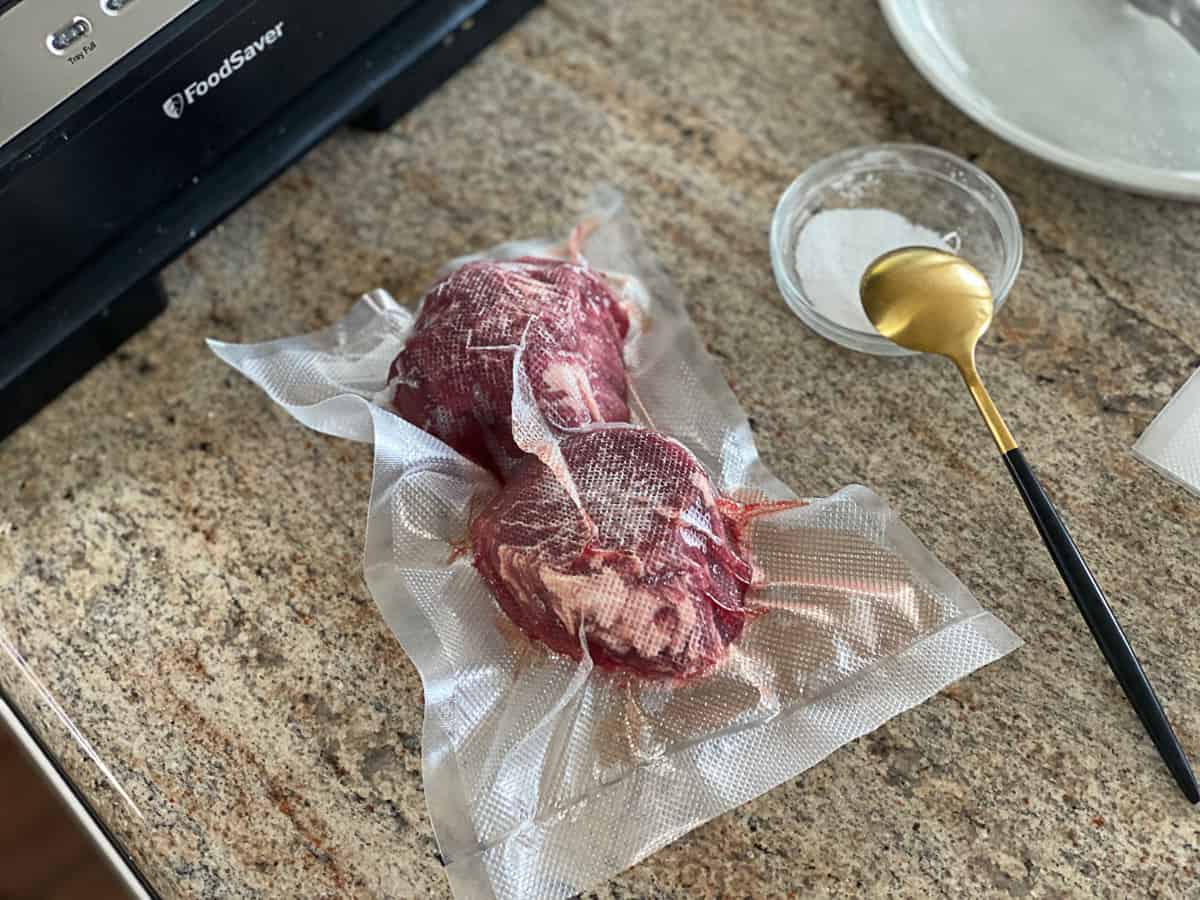 Seasoning sous vide steaks before or after freezing them
Outside of running Sip Bite Go, my other roles are: mom to a two year old and home chef from Wednesday to Friday.
My husband and I split the week in half and each cook dinner. On my nights to cook, I love having frozen sous vide steak to cook, ready to go from the freezer.
When I tell people I cook steaks from frozen they often get a puzzled look on their face and want to know logistics. The deal is, I season the steaks before adding them to the vacuum seal bag and freezing them.
So I'll go to Costco or order online butcher delivery (see the bottom of this post for companies I recommend) and stock up on steaks. When I have the steaks, I'll bulk season and bag them for sous vide cooking.
Then when it's time to make sous vide ribeye from frozen, for example, I'll pop it in the water bath and add on an extra hour to account for thawing it.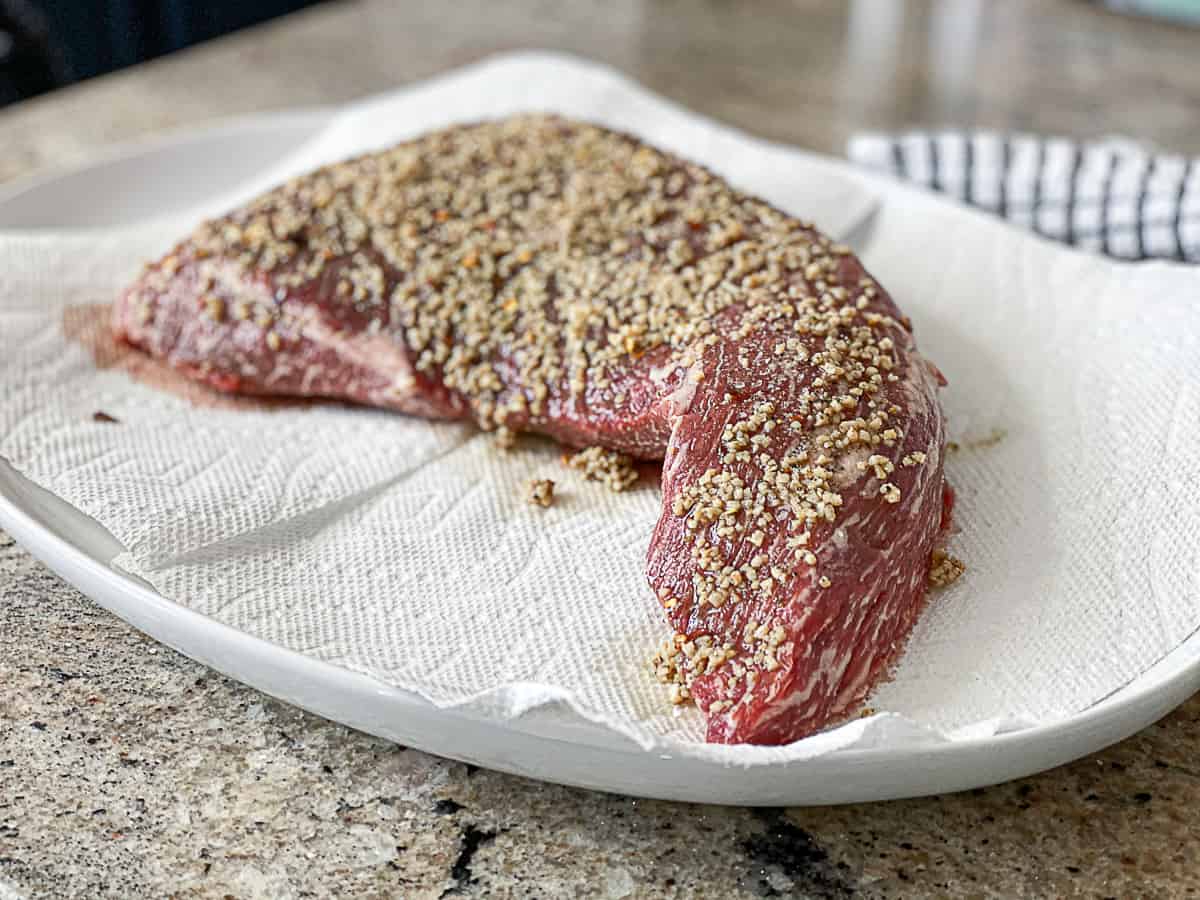 Basic sous vide steak seasoning ideas
Now I'll walk you through some recipes packed with flavor.
Sous vide t-bone steak
This delicious steak is cooked to medium-rare then seared in a cast iron pan. It's seasoned with shallots, cilantro, garlic, and butter.
I serve it with homemade chipotle herb sauce, and the recipe for that is right with the steak recipe in my cookbook. Find a version of my recipe for sous vide t bone steak here on Sip Bite Go.
Sous vide New York strip steak
For sous vide New York strip steak, you'll start with an ultra-basic seasoning mix: garlic salt and pepper. That's enough to bring out the flavor of the meat during the sous vide process.
After it's done cooking, drizzle the steak with homemade Carolina Yellow Mustard BBQ sauce (which is in the cookbook and also found in this sous vide pork chops recipe).
This sauce base is yellow mustard, but the addition of honey, cider vinegar, chili powder and ground chipotle the recipe transforms mustard into an entirely new flavor. Serve this with sous vide corn on the cob for a total sous vide dinner.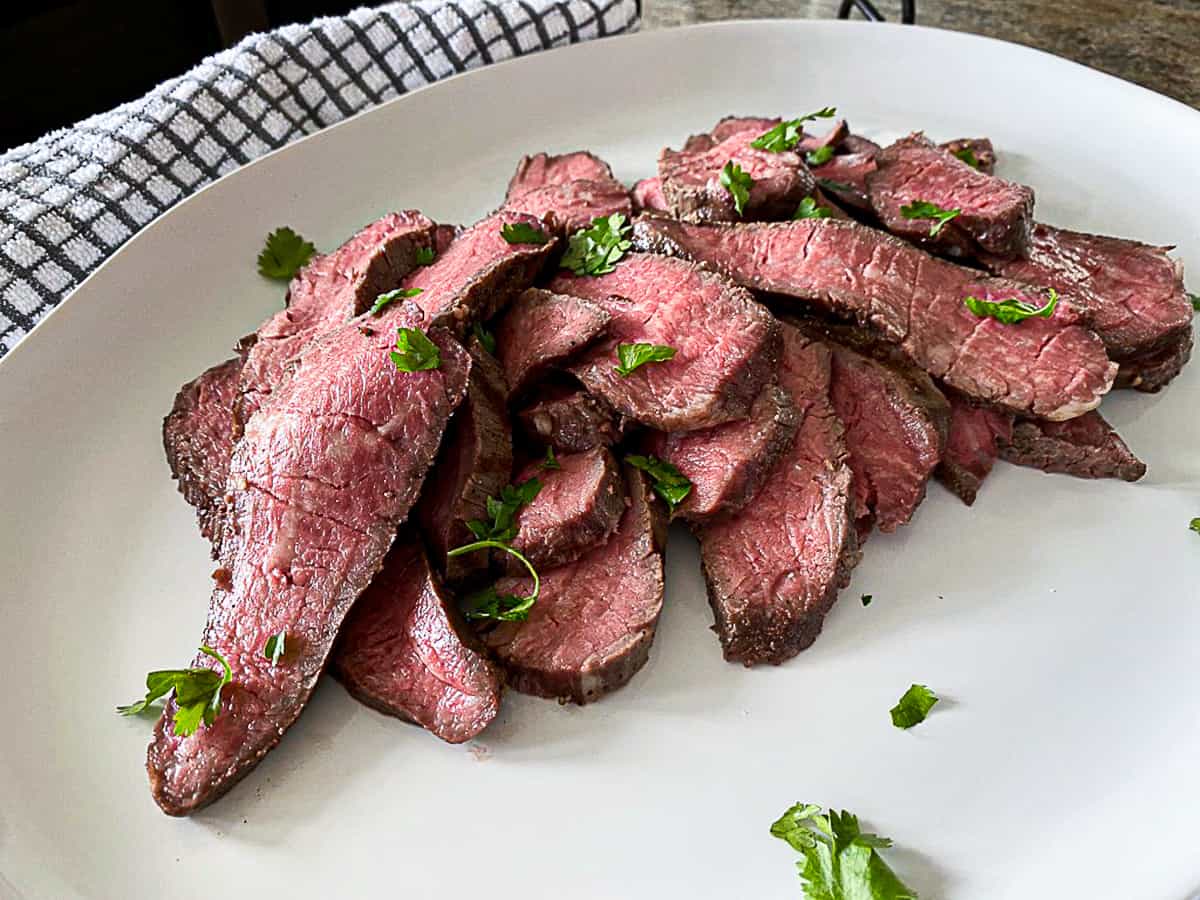 Sous vide filet mignon
In my cookbook, you'll find my sous vide steak marinade for filet mignon that includes garlic, pepper, Guinness beer, and beef broth.
Since it can be difficult to vacuum seal liquids, I like to freeze both my beer and my beef broth ahead of time—then they can be added into the vacuum seal bag or ziplock bag and treated like any solid.
This steak is particularly good served with a thyme butter sauce which I make with the help of my Aerogarden.
You can also find this sous vide filet mignon with a tzatziki sauce that is an incredibly refreshing summer dinner!
Jerk seasoned sous vide steak bowls
We love playing with spices in my house, and Jerk seasoning is a huge favorite because my husband used to cook in a New Orleans style restaurant.
Jerk seasoning blends a special mix of spices that provide new dimension to any cut of meat.
It includes allspice, cumin, cayenne pepper, cinnamon and garlic, and they come together—with half a dozen other elements—to make a wonderfully full flavor. I use this seasoning on sous vide skirt steak when I'm making my jerk steak bowls, and it always turns out delicious.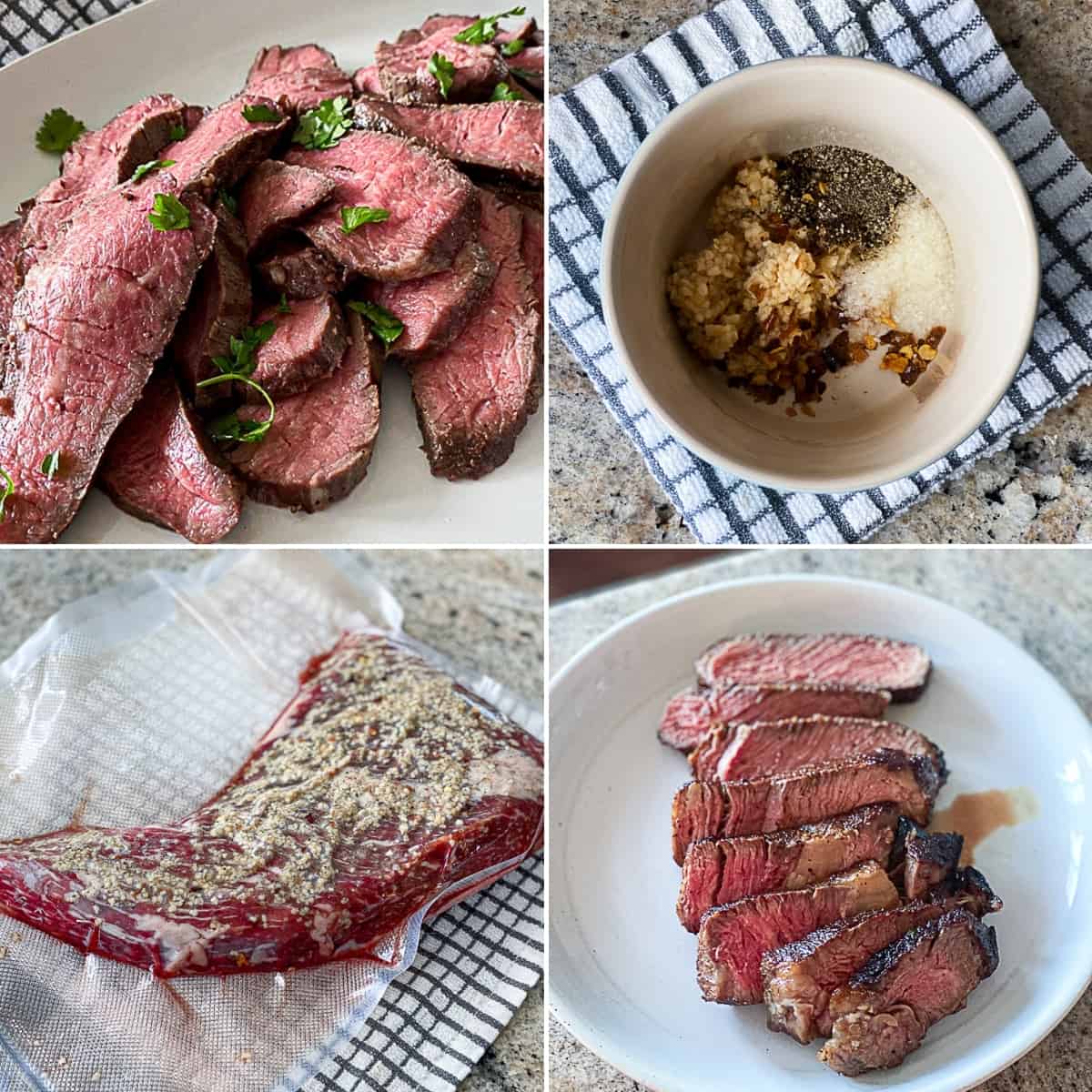 More ways to season sous vide steak
Sous vide flank steak
When I'm cooking flank steak sous vide style for tacos I'll use just garlic, salt, pepper and cilantro for the sous vide cooking, but while it is cooking I'll make up a pineapple guacamole to make these steak-based tacos something special.
Avocados, cilantro, crushed pineapples, garlic and lime come together to make a tangy sauce that brings out the best flavor of your meat. Find the steps in the cookbook.
Also see this recipe for flank steak marinade
Honey garlic sous vide tri tip steak
For tri-tip steak I like to pre-season with crushed garlic, salt, and both red and black pepper. I'll serve this with honey garlic sauce, a delicious gingery sauce I make on the stove-top. It takes all of ten minutes, so no huge time commitment necessary!
You can also use this sauce as a sous vide steak marinade if you'd like. Honey garlic tri-tip steak can be served with rice and sous vide brussel sprouts. Find the recipe in the book.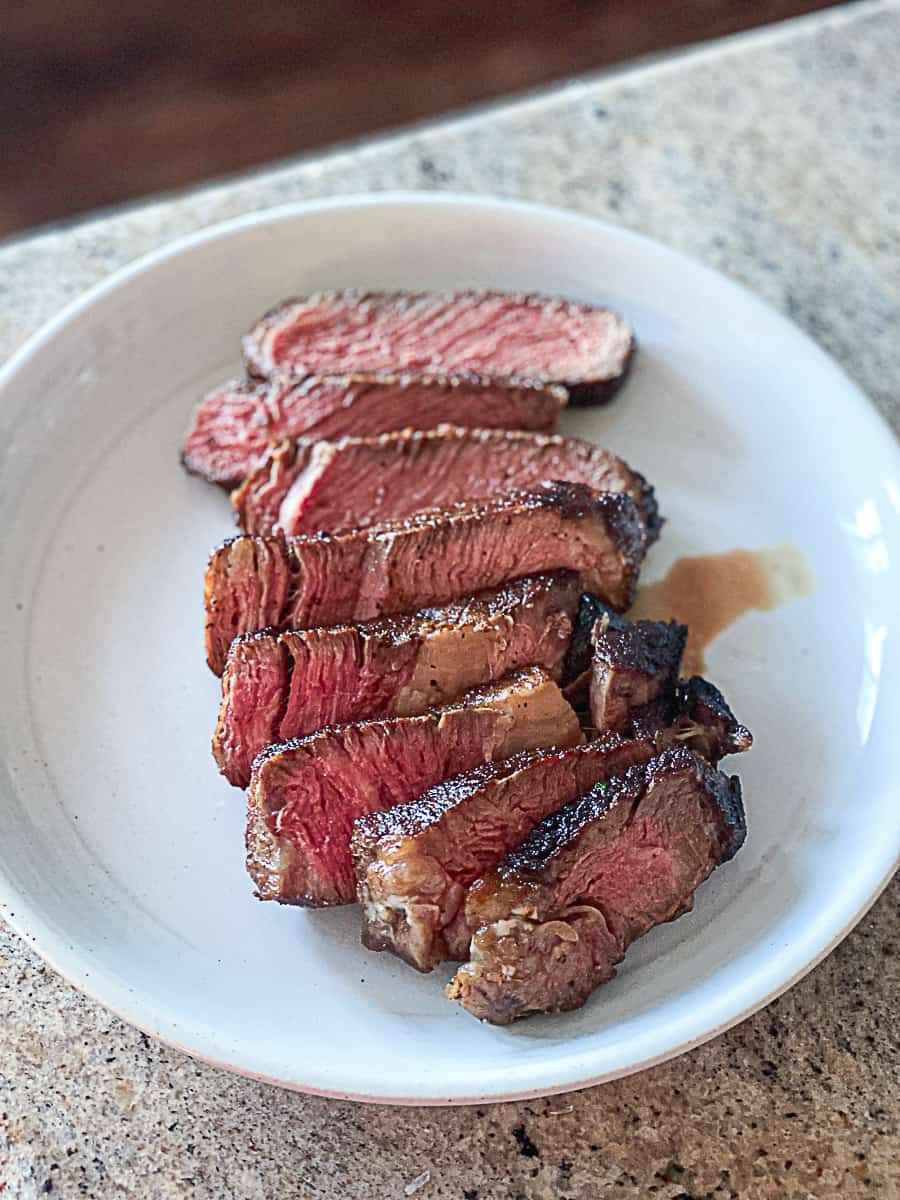 Add flavor to steaks with sous vide sauce pairings
Sometimes the best seasoning for sous vide steak dishes come in the form of sauce recipes.
Consider serving your steak dinners with a side like sous vide little potatoes or sous vide beet salads. But to round out the meal even further, add a sauce to add tremendous flavor.
You have to check out some of the recipes where I teach you how to make a delicious sauce to pair with sous vide steaks. Some reader favorites include: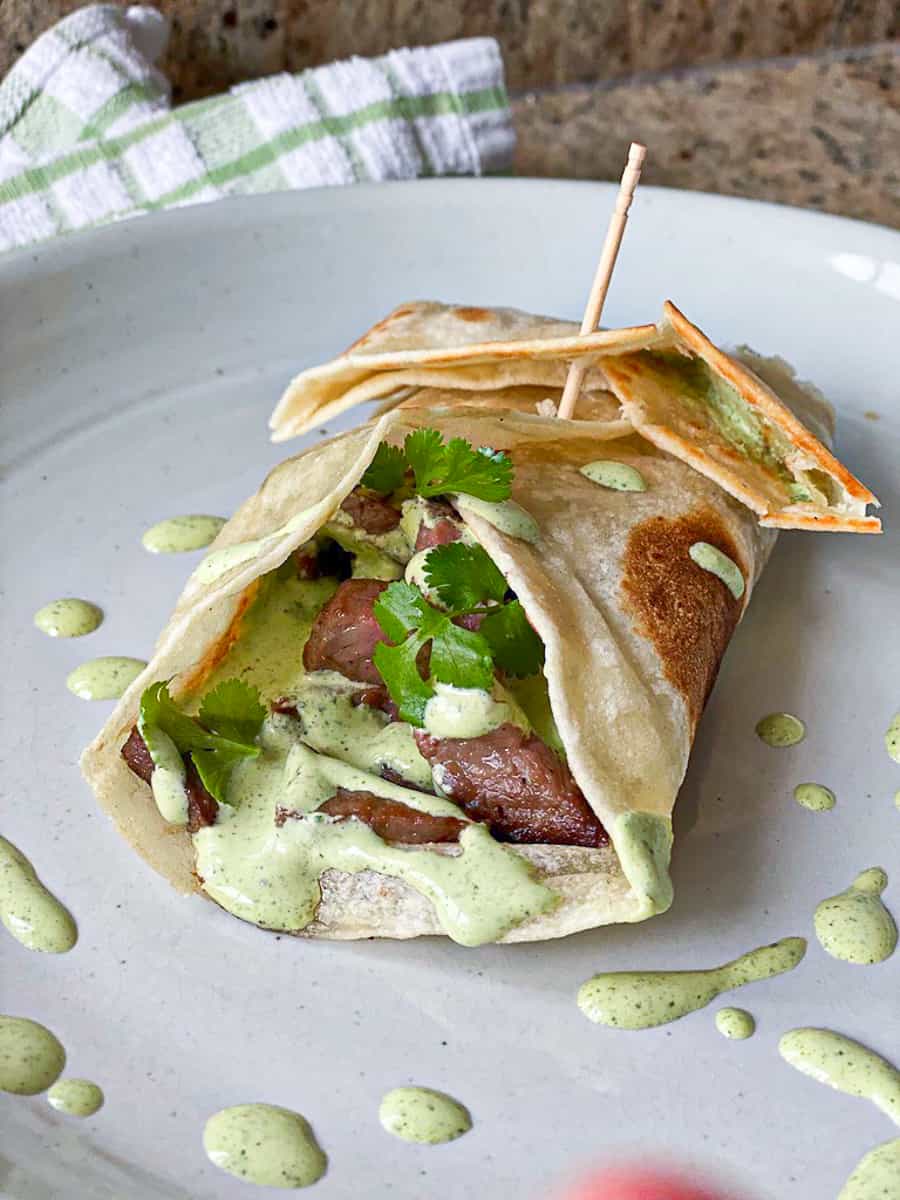 Additional sauces to check out
My cookbook includes a special section with spice rubs, sauces, and marinades, and almost all of them can be adapted for use with steak. Soy sriracha sauce, for instance, makes a sweet-and-hot caramelizing sauce that leaves your mouth tingling.
Mojo sauce can become a sous vide steak marinade, or you can brush it on your steaks as they come out of the sous vide water bath and head into the cast iron for a quick sear.
Honey cranberry barbecue sauce is great for those early fall days when everyone wishes it was Thanksgiving and they still have weeks to wait. Beyond beef, try this sauce on sous vide turkey legs or sous vide turkey breast.
Having a repertoire of sous vide steak seasoning ideas at hand will also help you when you're figuring out what to do with leftovers. The same sous vide meat with a different sauce on the second day will taste like a whole new meal. You might make T-bone steak with herb sauce one day, and then cut up the leftover meat and serve steak sandwiches with creamy chipotle sauce the next day.
Or try sous vide carnitas tacos with pineapple guacamole. The sky's the limit once you start getting creative in the kitchen.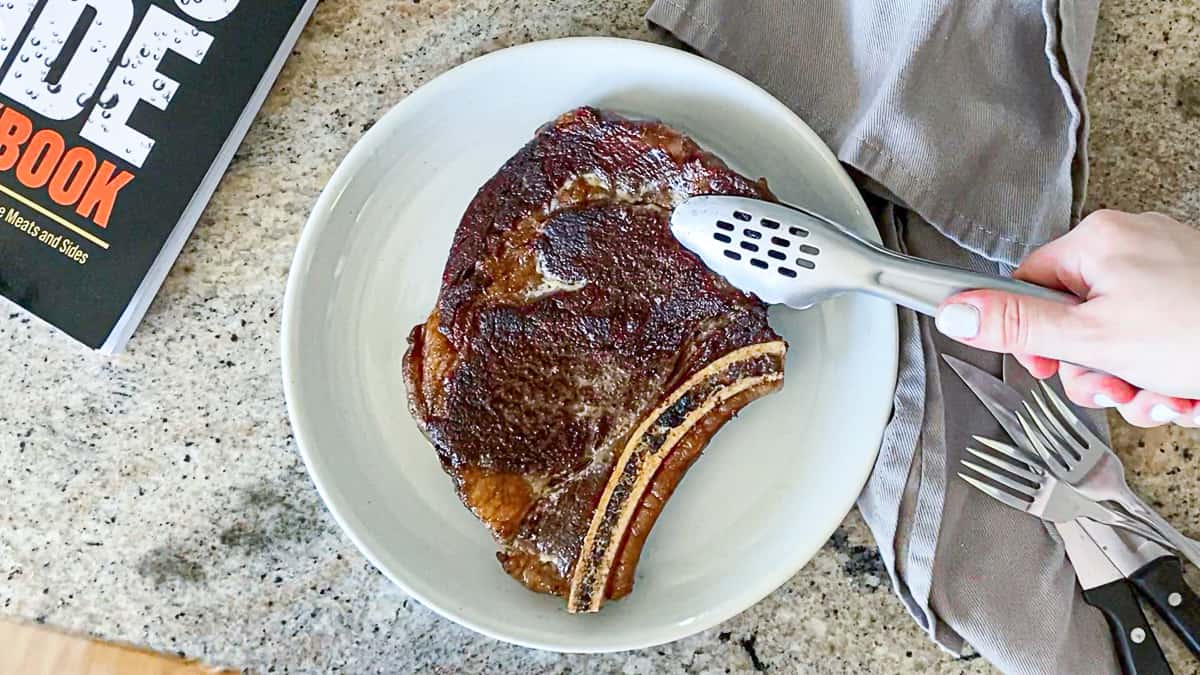 Time and temperatures with seasoned steak
Nothing changes when it comes to the time and temperature for cooking steak this way, even if you add seasonings.
Time and temps for sous vide steak depend less on the seasonings and more on the cut of your meat. I cook many cuts of steak like filet mignon and T-bone steak at 130-134ºF for 2 ½ hours.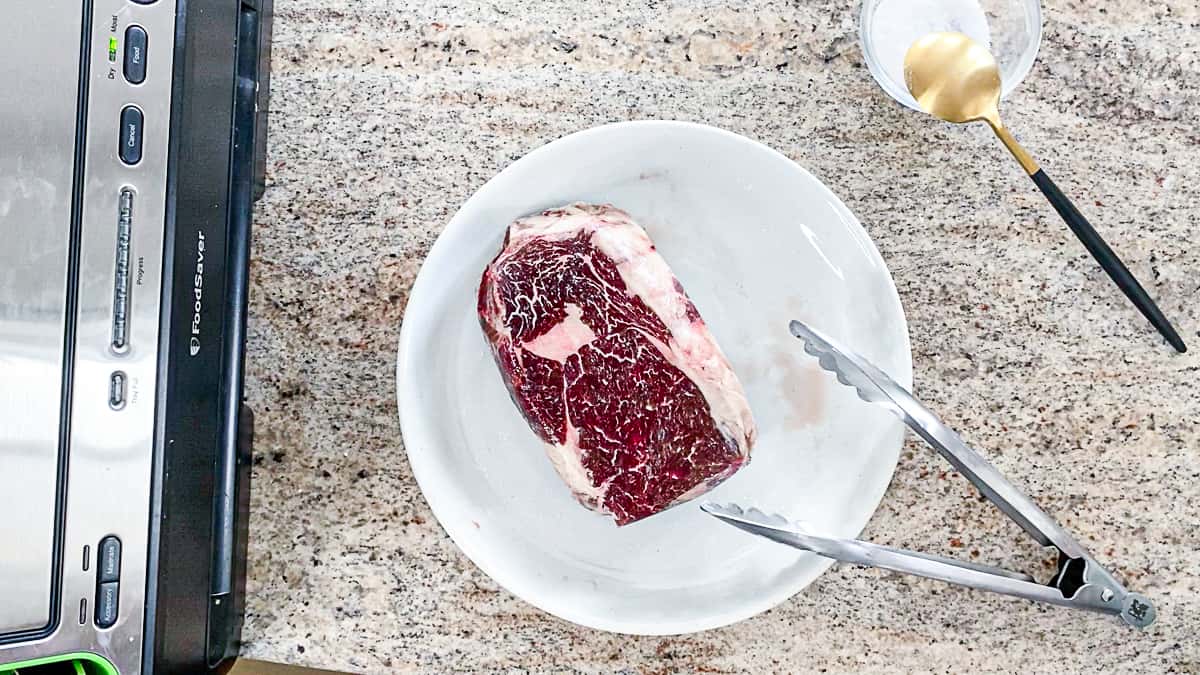 Do check the time and temps for every recipe you make as the directions will vary due to the size of the steak and the thickness and cut. The way a steak is finished and the ultimate goal may call for different times and temperatures—even if you're working with a cut you've done many times before.
As mentioned earlier, it 's easy to sous vide frozen steak—just add an hour to the cook time. If you like to shop in bulk, pre-season your steaks, seal them in their vacuum bags, and stick them in the freezer where they'll be ready whenever you need a delicious dinner idea.
For more details on frozen sous vide meal prep, see my article on how to sous vide from frozen.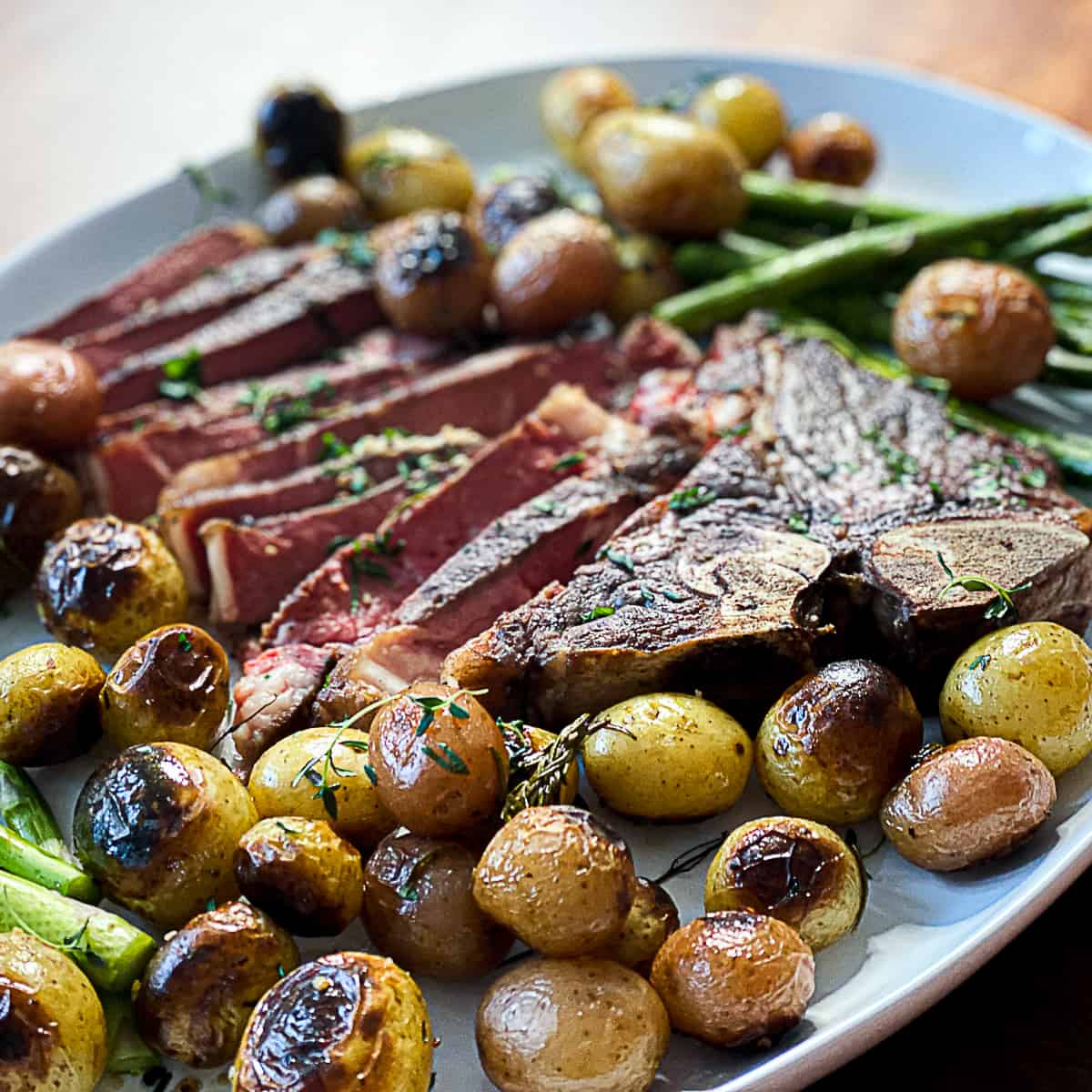 What does steak dinner look like at your house?
I'm curious to know where your cooking journey has taken you. It's so inspiring to see people who never thought they'd be able to cook amazing steak at home, pull off delicious meals with this underwater cooking technique.
For all of these seasoning idea, and many others, look up my new cookbook- The Home Chef's Sous Vide Cookbook. 
The cookbook is full of beginner tips for sous vide cooking, and includes chapters on vegetables, beef, and pork.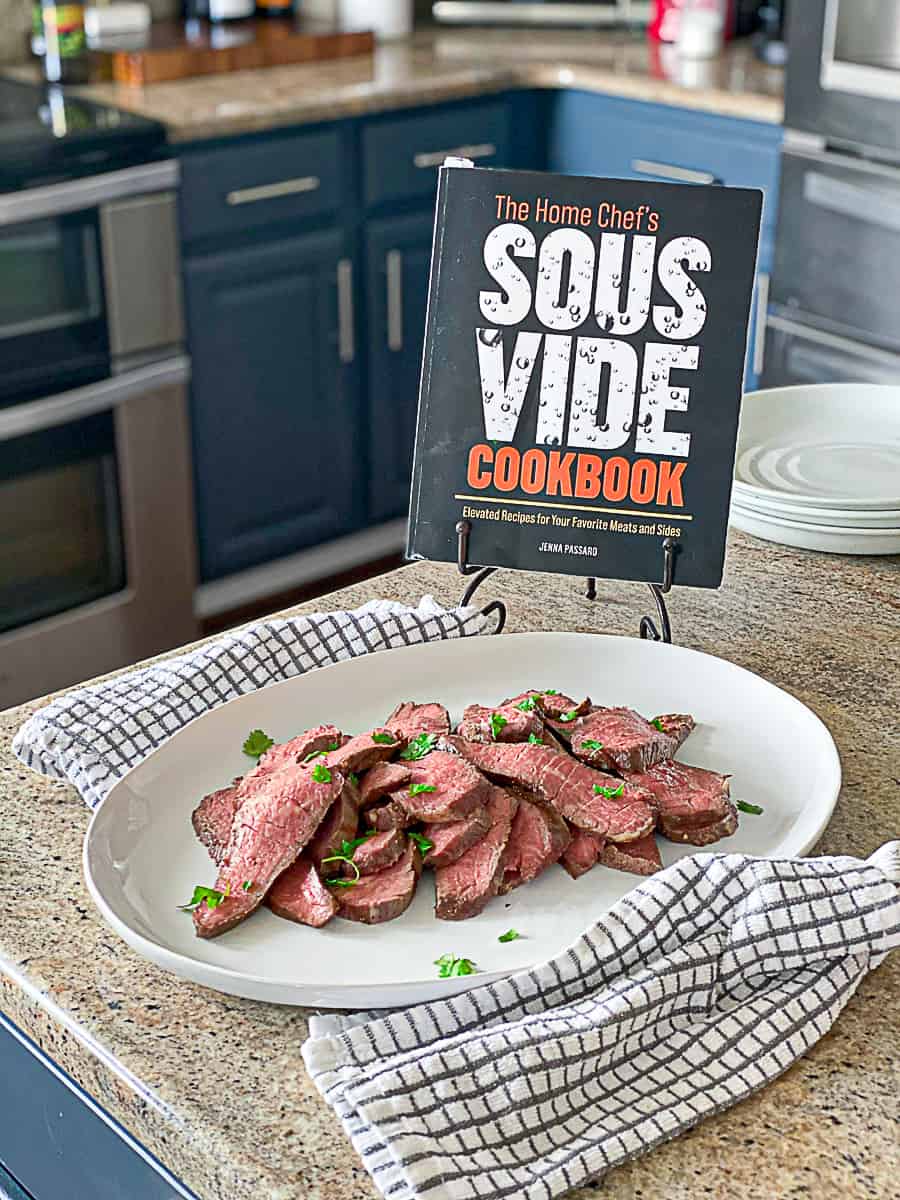 Are you a sous vide enthusiast, too?
I'm passionate about sous vide cooking, and maybe that's why Sip Bite Go has become one of the most popular sous vide blogs on the web. This food hobby, turned blog, has recently become a sous vide cookbook.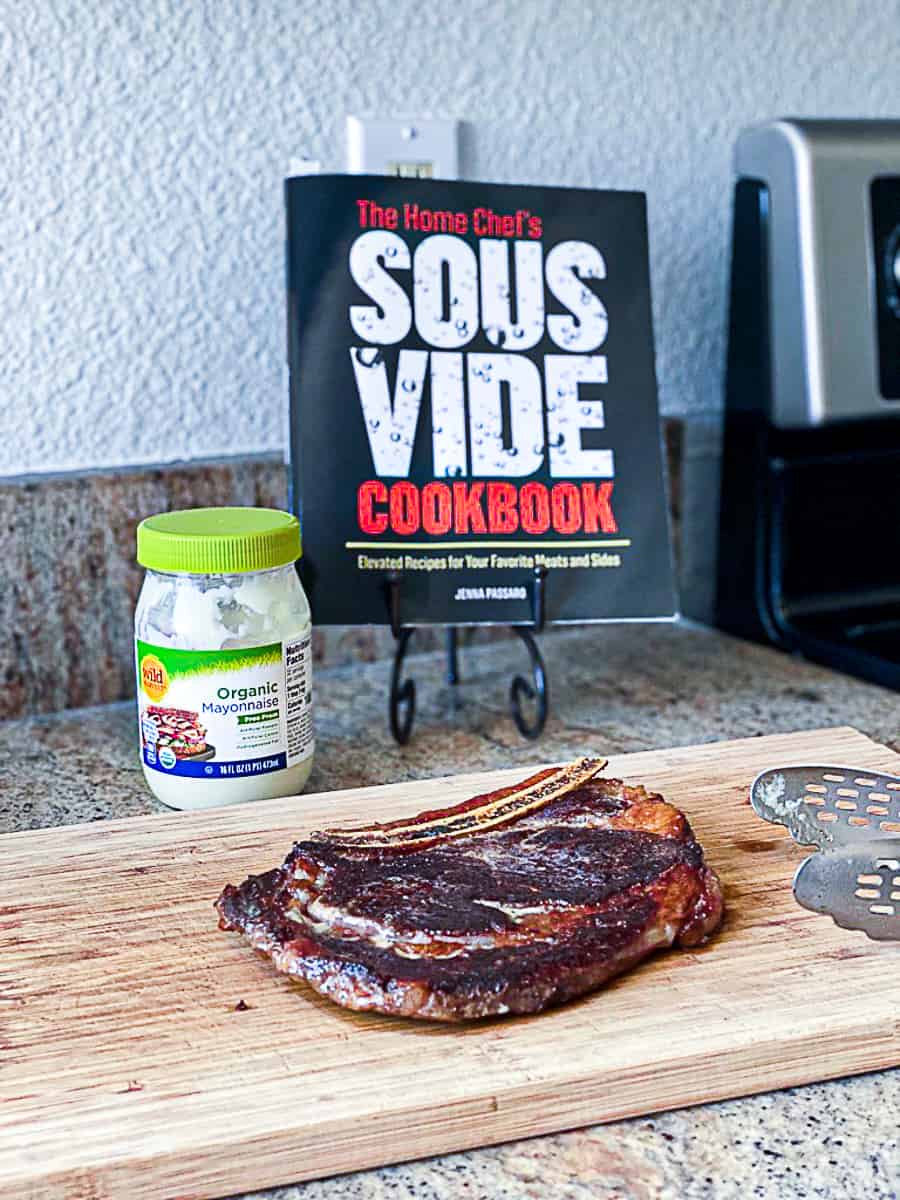 Find new ways to enjoy your favorite food with sous vide cooking. Get inspired with over a hundred recipes in my cookbook – The Home Chef's Sous Vide Cookbook.
Find me on Instagram @sipbitego to let me know what you're going to sous vide next.
And don't forget: my latest sous vide recipe videos are always up on the Sip Bite Go channel. It's an eclectic mix of restaurant style recipes.
So you'll be sure to find something you like—one day I might be talking about sous vide party food, and the next day about sous vide pulled pork or baking pizza at home.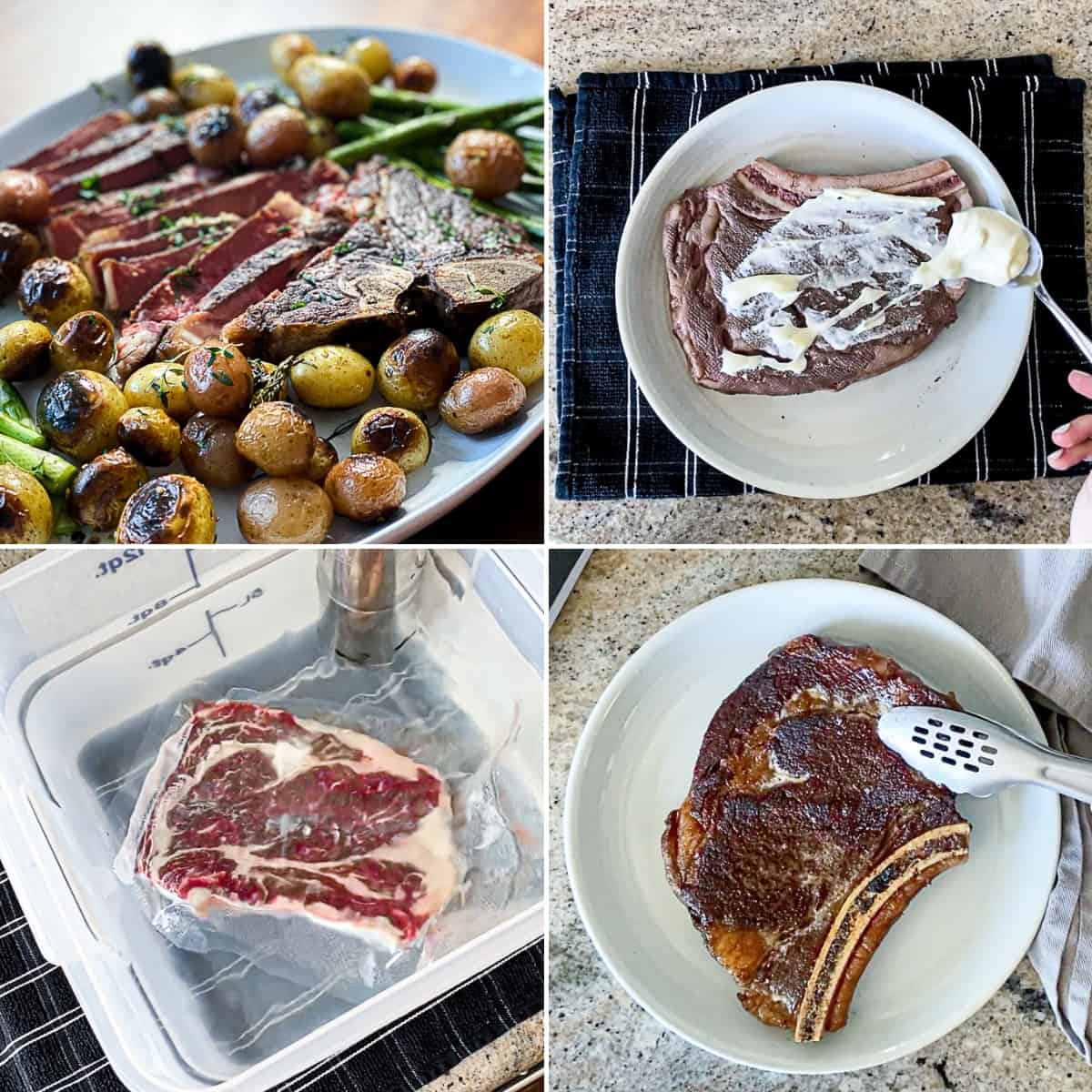 Want something fun to sous vide?
Make it a surf and turf sous vide dinner by adding something like these sous vide shrimp skewers or lobster.
Why? Well, I think sometimes the seafood counter at the grocery store can feel intimidating, because a lot of people only eat fancy scallop and crab and lobster dishes out at restaurants.
Well, if you have a sous vide machine, or an Instant Pot with sous vide function, you can make this recipe for sous vide lobster tails at home. It's fool proof and makes the most tender, fall out of the shell lobster you'll ever try. Enjoy it!
New recipes and foodie guides….
Grill and smoker recipes…
Meat thermometer recommendations
Every home chef needs a reliable meat thermometer to cook food perfectly.
On Sip Bite Go, you'll often see me using:
Meater thermometer – a fancy wireless thermometer that connects to a phone app – gifted to me from a Traeger partnership.
ThermoPro digital thermometer – which has a wire that connects the thermometer to a display box outside the oven/grill.
It's like being psychic! The great thing about either of the thermometers above is that I don't have to take the food out of the oven to know the temperature.
How to use 'em… What I do is stick the digital thermometer in steak, pork, chicken, whatever… Then put the food in the oven, on the smoker, or grill.
While the meat cooks, it reads the temperature so I know exactly what temp meat is as it's cooking. Without having to take it out and check. It's really difficult to overcook food when you know exactly what temp it is inside!