Everyone is talking about sous vide cooking these days. It's easy once you get the hang of it. But having a few sous vide cookbooks for beginners on hand makes it 10x easier to get recipes right ALL the time. With a kitchen stocked full of the best sous vide cookbooks, it's fast and easy to consult an expert for your recipes.
That's why I've compiled a few of my favorite cookbooks for sous vide enthusiasts in this post.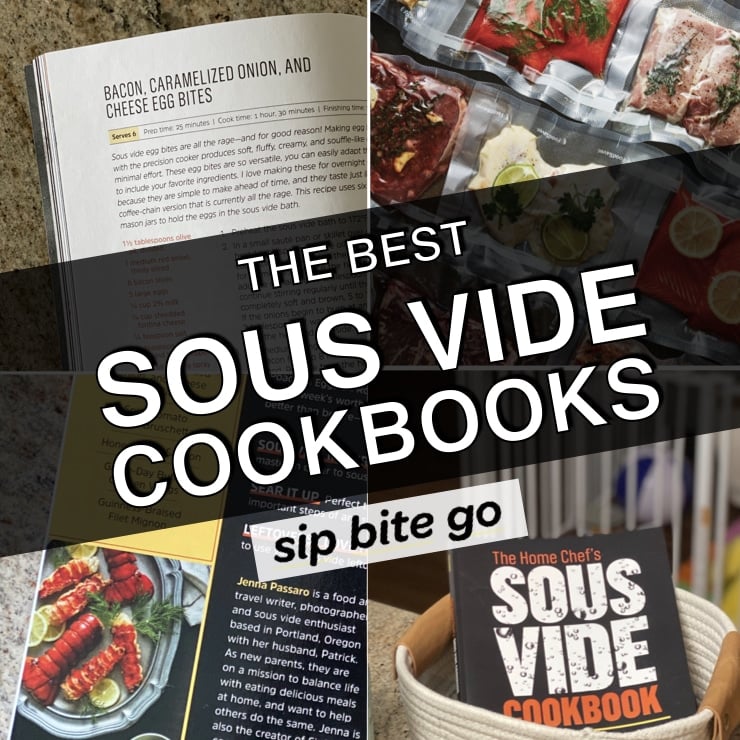 When you're starting to cook 24-48 hour recipes, like this one for sous vide short ribs, you don't want to leave anything up to chance. You don't want to go through all the trouble of waiting one or two days for a delicious meal, only to find out the meat is lacking flavor.
So pack your kitchen with a stellar collection of sous vide recipes from Sip Bite Go and some of these wildly popular sous vide cookbooks.
First, I'm so excited to share my cookbook – The Home Chef's Sous Vide Cookbook. It's a cookbook I wrote for people who want to eat restaurant-worthy food at home. It has over 100+ recipes to help you build your sous vide skills.
Readers say it's challenging and easy at the same time. Open your cooking skills up to a whole new level of delicious new ways to sous vide. See my sous vide cookbook on Amazon.
Please don't mind the dancing…
Watch my sous vide cookbook video on YouTube.
Learn more about cooking food underwater in this sous vide for beginners.
Popular sous vide cookbooks for beginners and masters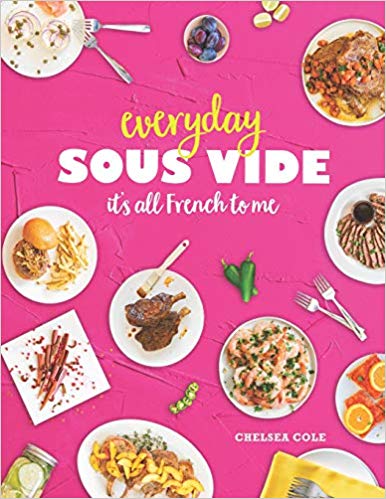 Everyday Sous Vide: It's All French to Me
This sous vide cook book is going to help you first tackle all of the famous sous vide beef cuts: : tri-tip, flank steak, ribeye… and then move on to the experimental side of sous vide cooking. Learn how to make things like sous vide egg bites, stuffed burgers, and sous vide cheesecakes in this book.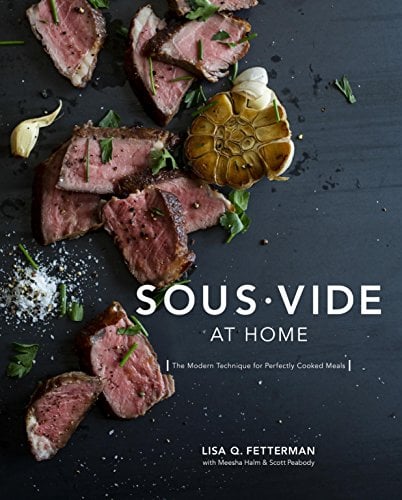 Sous Vide at Home: The Modern Technique for Perfectly Cooked Meals
This is a great sous vide cookbook, because it's written the founder and CEO of a brand called Nomiku. Nomiku was a huge player in making home immersion circulators available to the general public. Learn not only the best temperatures to cook sous vide, but get full-on recipes to make putting together a sous vide meal easy. This is a great sous vide cookbook for beginners and advanced cooks!
SOUS VIDE COMPLETE COOKBOOK FOR EVERYONE
This sous vide cookbook has a ton of meat recipes – as you may have guessed from the super bloody font on the cover.
My Joule Sous Vide Cookbook: 101 Delicious Recipes
A great cookbook especially for anyone who has a Joule sous vide machine, because there are plenty of tips for using a Joule. This sous vide cookbook covers the history of sous vide and delves into the best uses for the sous vide circulator.
The Effortless Sous Vide Cookbook: 140 Recipes
Here's a kindle sous vide cookbook you'll enjoy if you use your tablet in the kitchen a lot. There's also a paperback version available. This recipe book covers everything from sous vide meat and veggie recipes to tips to sous vide drinks.
And, last but not least, this sous vide recipe book is from America's Test Kitchen. Learn how to make the basics, then learn how to make fancy sous vide recipes, like Upside Down Cheesecake Cups.
Check out these sous vide recipes
Readers of Sip Bite Go also love these printable sous vide recipes
Tools to help with sous vide cooking
Let me know if you've found any other fantastic sous vide cookbooks to add to this list! It means so much to hear from Sip Bite Go readers and I love seeing photos of your sous vide cooking! Don't forget to tag me @sipbitego on Instagram so I can see how your recipes turn out. And sign up for the Sip Bite Go newsletter. – Jenna