This potato skins recipes list is packed with gourmet ideas to serve for game day or as a dinner appetizer. Scroll through to see all your potato skin toppings options, including bacon, chili, broccoli, and even shrimp.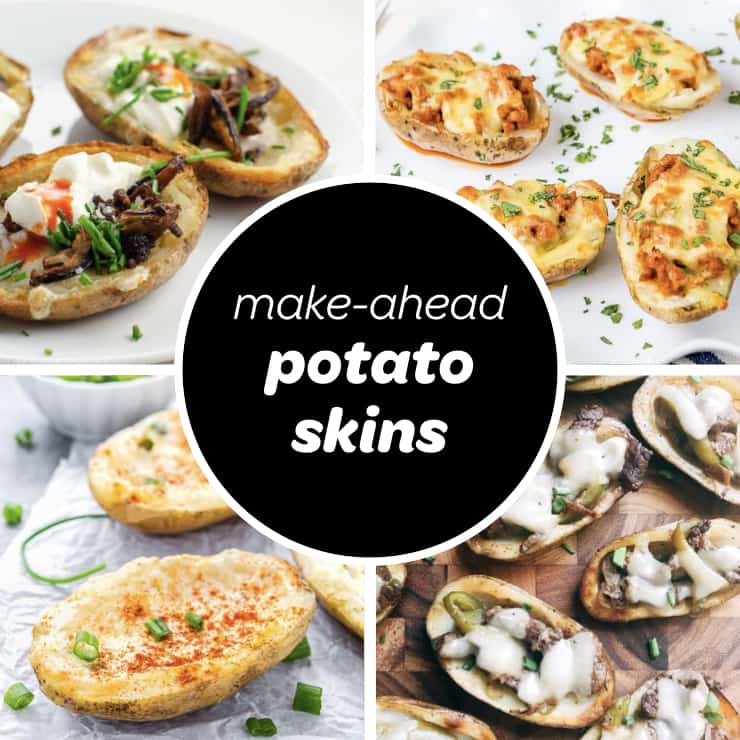 What's in a basic potato skins recipe?
Traditional potato skins are often made with potatoes, melted cheddar cheese, bacon, sour cream, and green onions. The potatoes are sliced in half, then hollowed out with just a little bit of potato left around the skin.
The hole in the center of the potato halves are where the potato skin fillings go. The potatoes are first cooked alone, usually in an oven at 450 degrees. Then, the fillings are added and the potato skins are baked or broiled until the cheese bubbles.
Ideas for potato skins fillings
Cheese – Mexican blend, cheddar, cotija
Meat – ground beef, chili, shredded brisket, shredded chicken, leftover meat from

sous vide pork

tacos
Seafood – shrimp
Vegetables – broccoli, diced raw onion,

caramelized red onion

Toppings – sour cream, guacamole, BBQ sauce, jalapeno ranch dressing, salsa, green onion, chives
What can you do with leftover potatoes from potato skins?
I love making mashed potatoes with the leftover potatoes from potato skins. It's easy to make mashed potatoes with ingredients already in your fridge. Mash up the potatoes with melted butter, diced garlic, salt, and pepper for an easy potato side dish the next day. This is a high quality potato masher, perfect for making them.
Potato skin recipes to try
Bacon And Bourbon Blue Cheese Potato Skins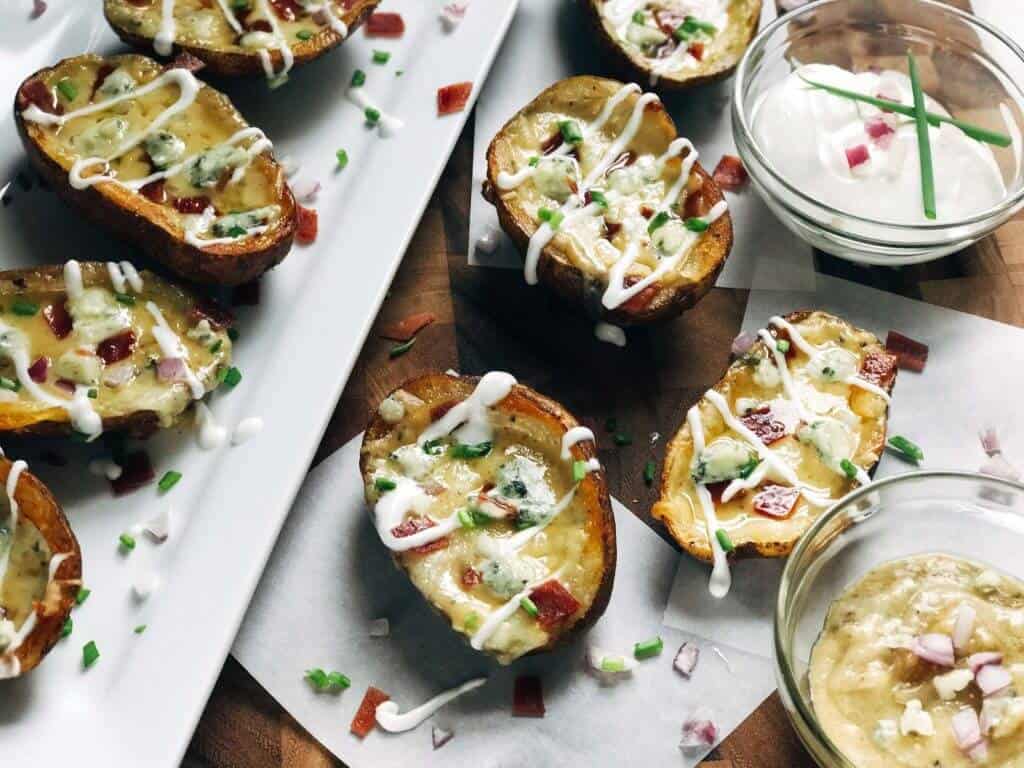 Let's just call this recipe for potato skins one for the adults! The Bourbon Blue Cheese Sauce is the foundation of this appetizer. It's a memorable potato appetizer that's perfect for "homegating" parties when entertaining family and friends.
Get recipe at Three Olives Branch
Cheesy Bacon Garlic Stuffed Potato Skins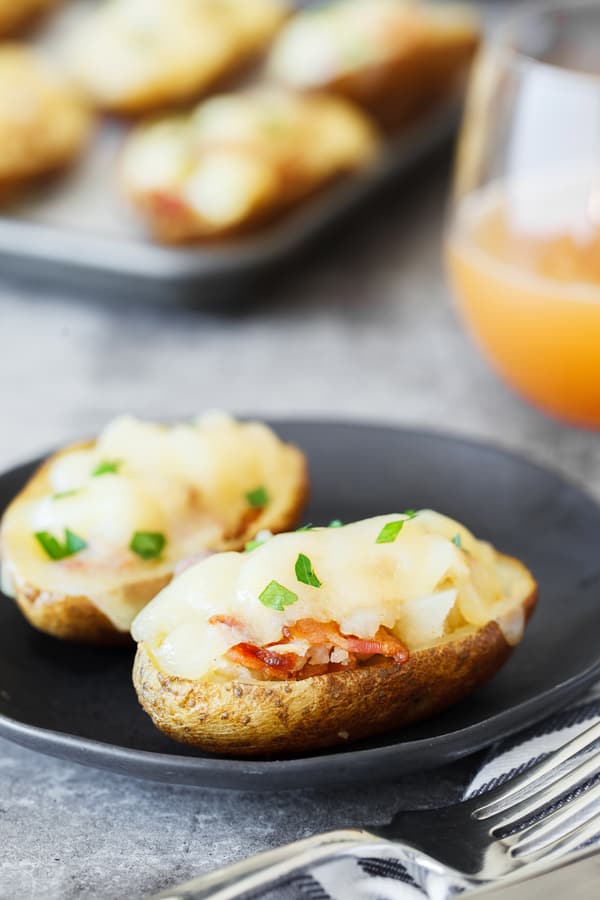 Hello garlic lovers! Going to a game day potluck? Hosting a friends giving or gift exchange? These Cheesy Bacon Garlic Stuffed Potato Skins are a crowd pleaser and will disappear every time! Loaded with crispy bacon, fragrant garlic, and topped with tangy Tillamook Extra Sharp White Cheddar Slices.
Get recipe at The PKP Way
Bacon Barbecue Mac 'N Cheese Potato Skins
It's two favorite comfort dishes in one. One of the most creative gourmet potato skins recipes, it can easily be made ahead. Heat them up when you're ready to serve. The bacon, mac 'n cheese, and barbecue sauce melt together in the most delicious way.
Get recipe at Swirls Of Flavor
If you're a bacon fan, check out these tasty bacon wrapped jalapeño poppers
Philly Cheesesteak Potato Skins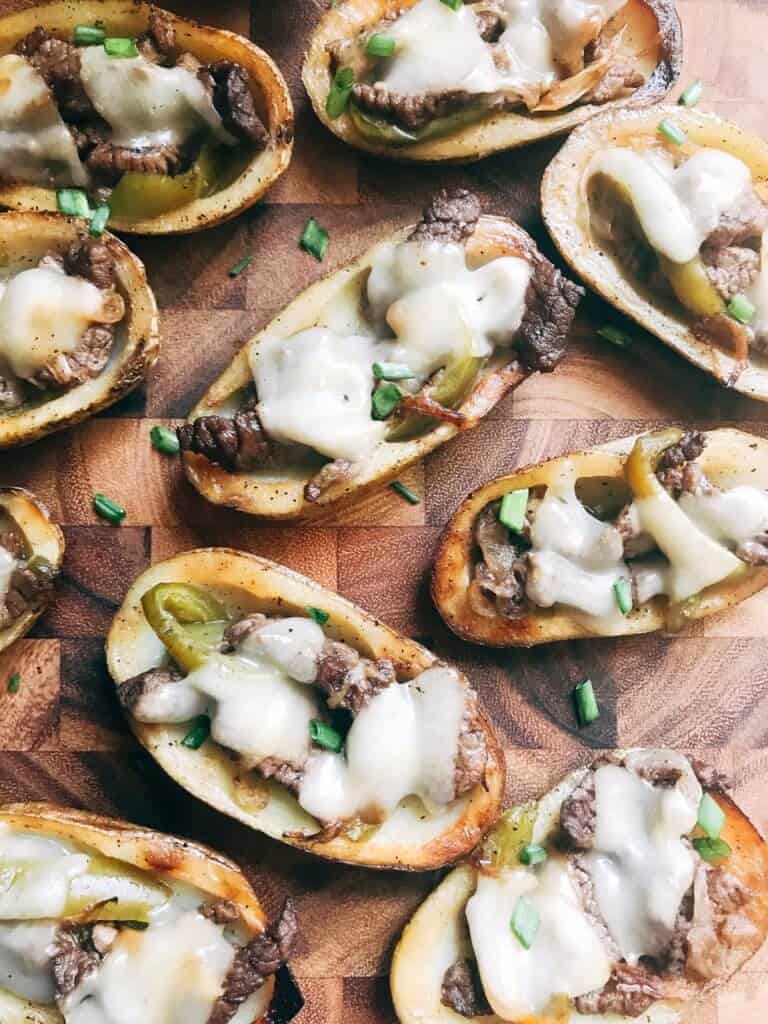 In this gourmet potato skin recipe you'll find classic Philly Cheese Steak flavors. Beef steak, bell peppers, onion, and provolone cheese are piled high in a potato skin shell. This recipe is hearty and can become a main dish for football game food or for a potluck.
Get recipe at Three Olives Branch
Love these flavors? See this Philly Cheesesteak Pizza recipe with white sauce.
Potato Skins With Bacon Bits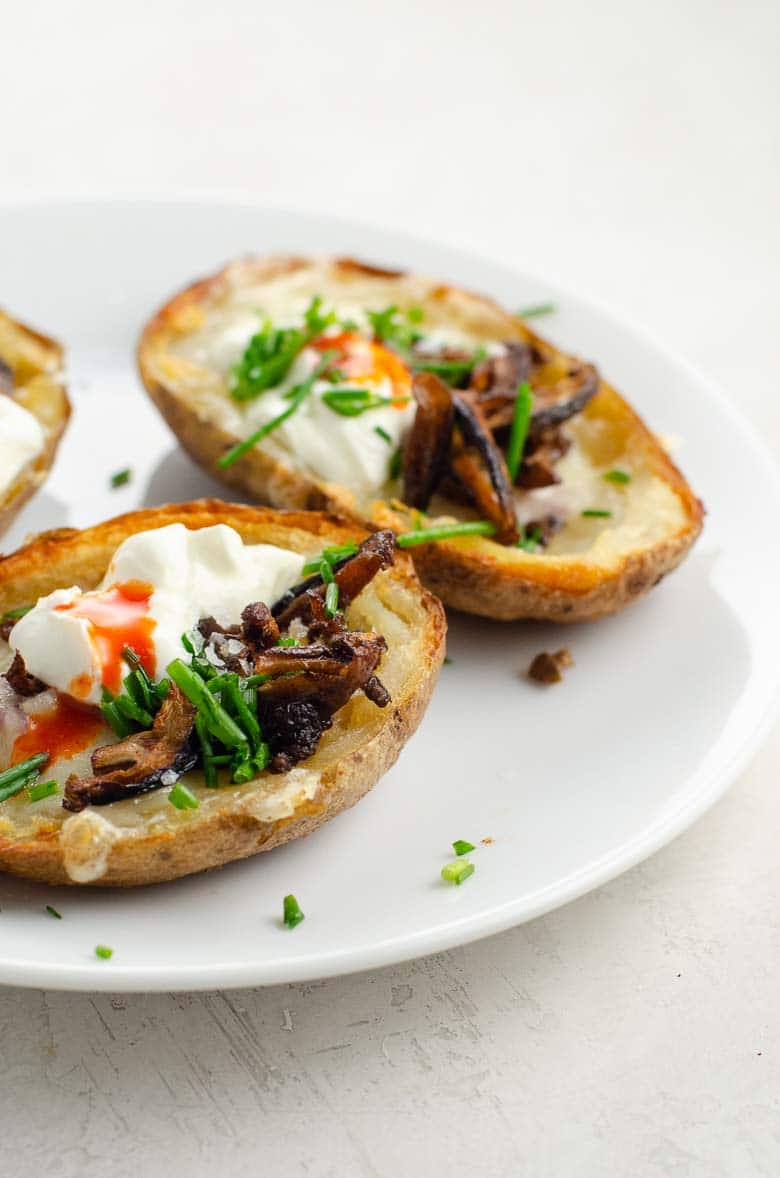 This version is one of my favorite make ahead potato side dishes for vegetarians. Just swap out bacon and replace it with vegan bacon bits (shiitake bacon) to easily accommodate different diets.
Get recipe at Umami Girl
Chili Cheese Stuffed Potato Skins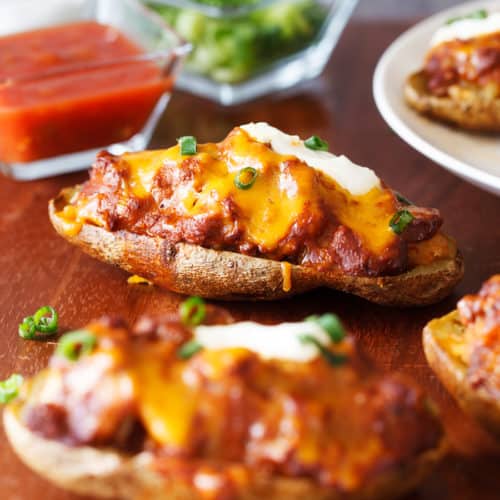 No list of gourmet potato skins recipes would be complete without chili! Turn the traditional potato skin side dish into a complete meal with this loaded-up version. In these potato skins you'll find beans, chili, and a few more delicious potato skins fillings. Just one of these hearty russet potato skins has the power to fill you up!
Get recipe at The PKP Way
Mini Cheeseburger Potato Bites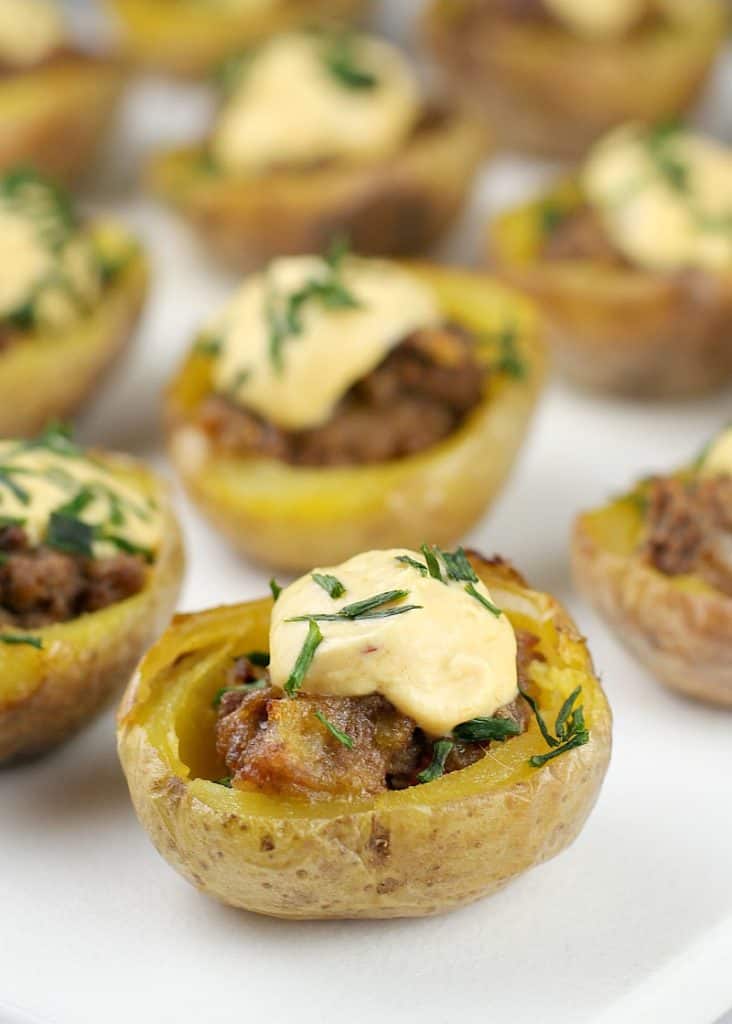 Another meat-lovers potato skin recipe. And one for dip lovers, too. These potato bites are filled with cheese, ground beef, and bacon. And, in the event that isn't enough bacon for you…. They're topped with Dean's Cheddar Bacon Dip.
Get recipe at Erica's Recipes
Chicken Broccoli And Cheese Twice Baked Potatoes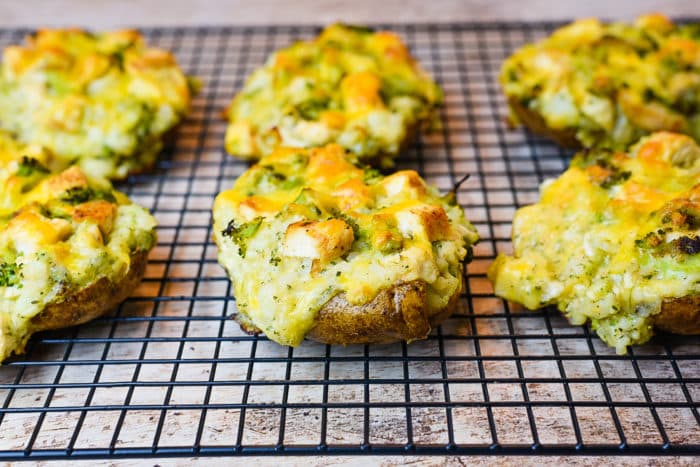 The stand out potato skins fillings in this recipe are the Creole seasoned chicken breast chunks and garlic-laced broccoli and cheese. The end result of these flavors working together is comfort cheesy goodness.
Get the recipe at Dude That Cookz
Cheesy Potato Skins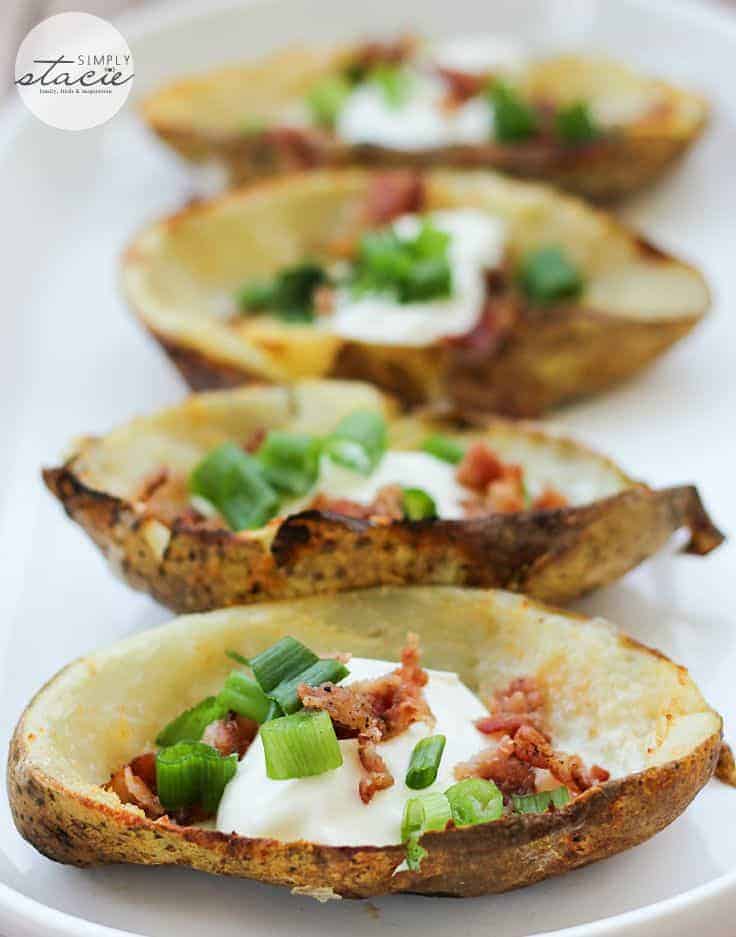 This recipe for Cheesy Potato Skins is a crowd pleaser. It's the classic potato skin recipe everyone loves. But, with tons of melty cheese. Serve 'em nice and hot from the oven with sprinkles of bacon, a pinch of green onion and a dollop of sour cream.
Get recipe at Simply Stacie
BBQ Brisket Twice Baked Potatoes
This gourmet potato skins recipe features BBQ brisket! Make it with leftover sous vide brisket. Butter, cheese and whipping cream are mixed together with smoked brisket in this meat lovers dream dish.
Get recipe at Dude That Cookz
Skinny Stuffed Potato Skin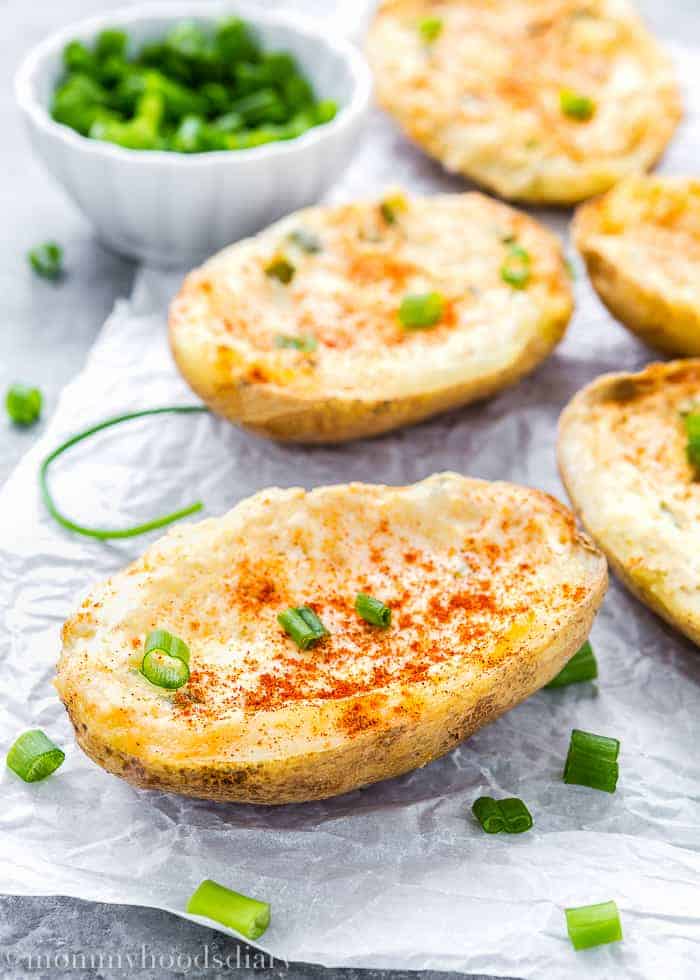 This version of potato skins is on the lighter side. The stuffing for this recipe includes mozzarella, ricotta and parmesan cheese. Garlic powder, green onions, and paprika add plenty of flavor without making these potatoes very heavy.
Get recipe at Mommy's Home Cooking
Pork Chorizo Potato Skins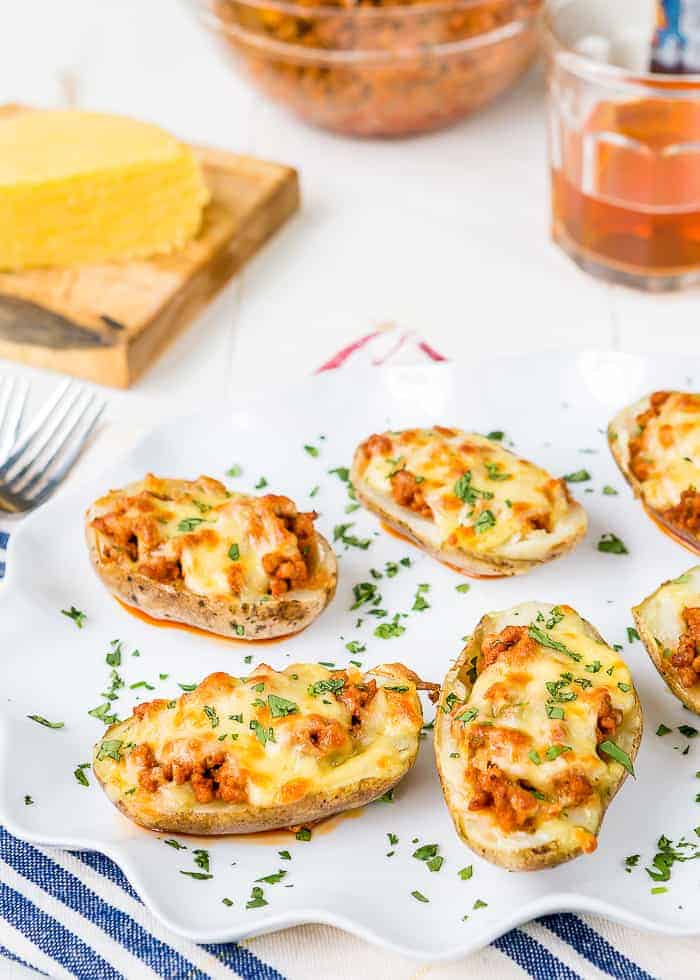 Oh yes. This spicy potato skins recipe is another one you can make in advance and just pop in the oven. The filling is made of a combination of pork and chorizo, then topped with quesadilla cheese. They're seriously hard to resist. Try them with this sous vide pulled pork.
Get recipe at Mommy's Home Cooking
Love spicy food? These air fryer chicken wings recipe are much healthier than traditional fried wings, and just as delicious. Make up a variety of sauces so everyone can enjoy their favorite flavor.
Shrimp Nacho Potato Skins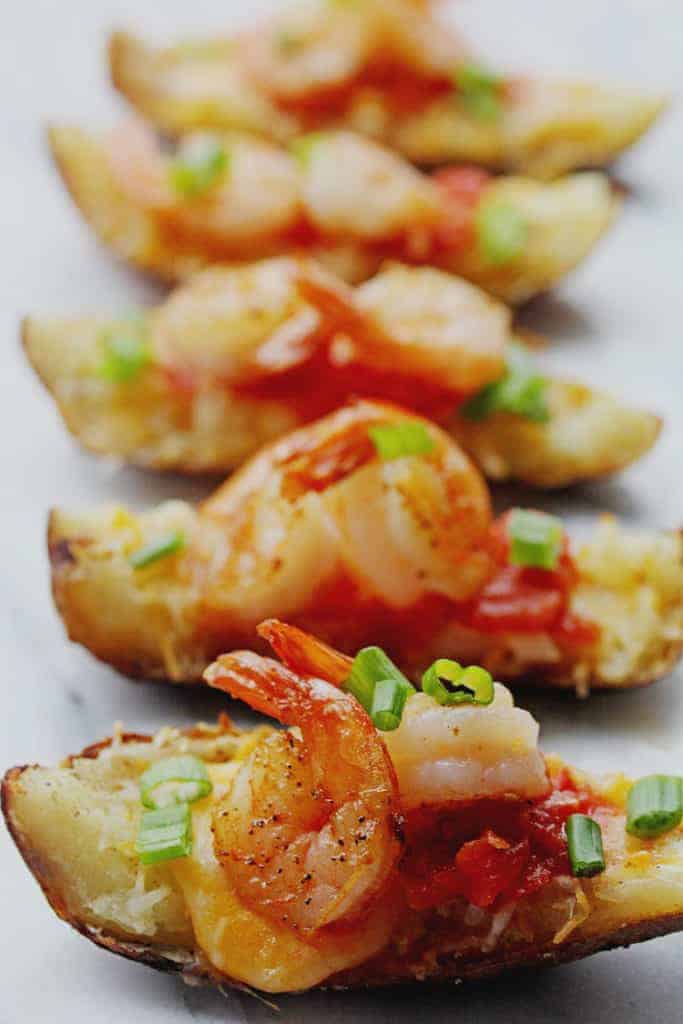 Who would have thought seafood and potato skins could be paired up so deliciously? This is the perfect game day potato dish for your buffet table. It's a flavor fusion your friends and family will rave about.
Get recipe at Grandbaby Cakes
What goes with potato skins?
Serve these on a buffet table. Or make a meal out of one of these gourmet potato skin recipes by serving them with a meat dish. Meat and potatoes are a classic combination!
Let me know when you make one of these restaurant-inspired gourmet potato skins recipes at home. Be sure to leave a comment and let me know your favorite. It means so much to hear from Sip Bite Go readers and I love seeing photos of your food! Don't forget to tag me @sipbitego on Instagram so I can see how the recipe turned out. And sign up for the Sip Bite Go newsletter.
Readers also love these party foods and game day recipes…