Today, your taste buds might just explode. These tasty sous vide chicken breast marinade ideas will bring your chicken recipes to life. You'll learn combinations of spices, herbs, flavored salts, and more. Plus, you'll get tips on best practices for how to prepare a sous vide chicken recipe in marinade before sous viding it. Let's nom!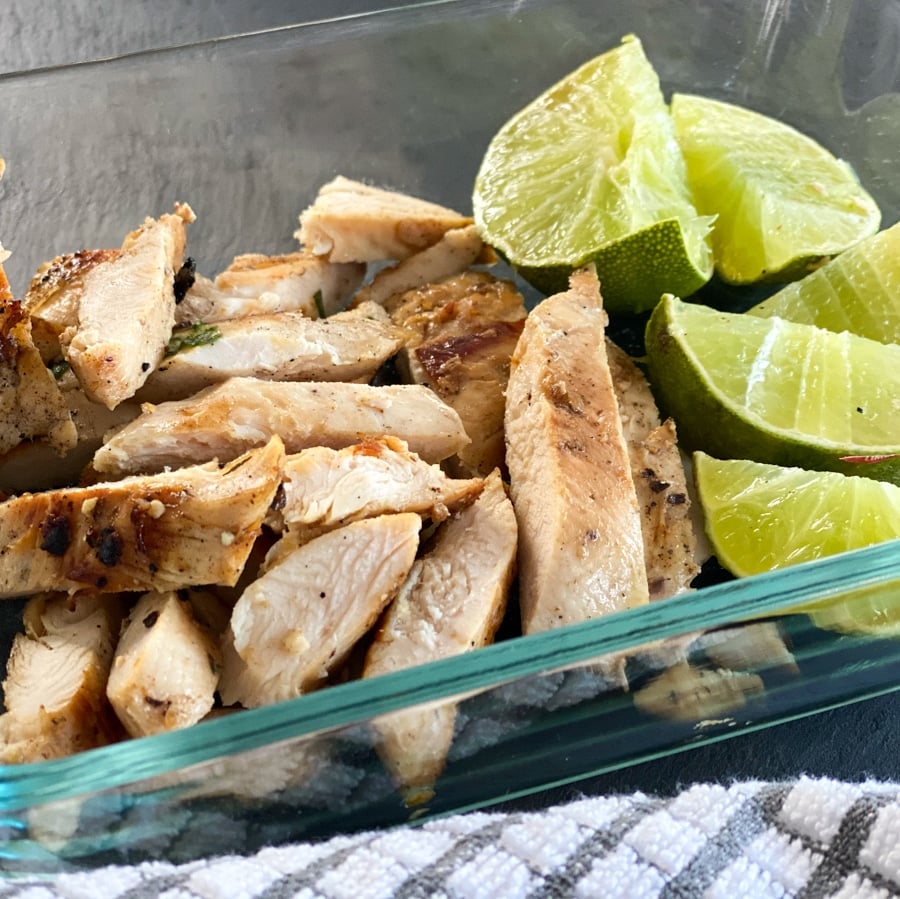 You can find my best sous vide chicken recipes right here on my popular sous vide blog, Sip Bite Go, in the sous vide recipe index. For 100+ recipes you can hold in your hands, check out my sous vide cookbook.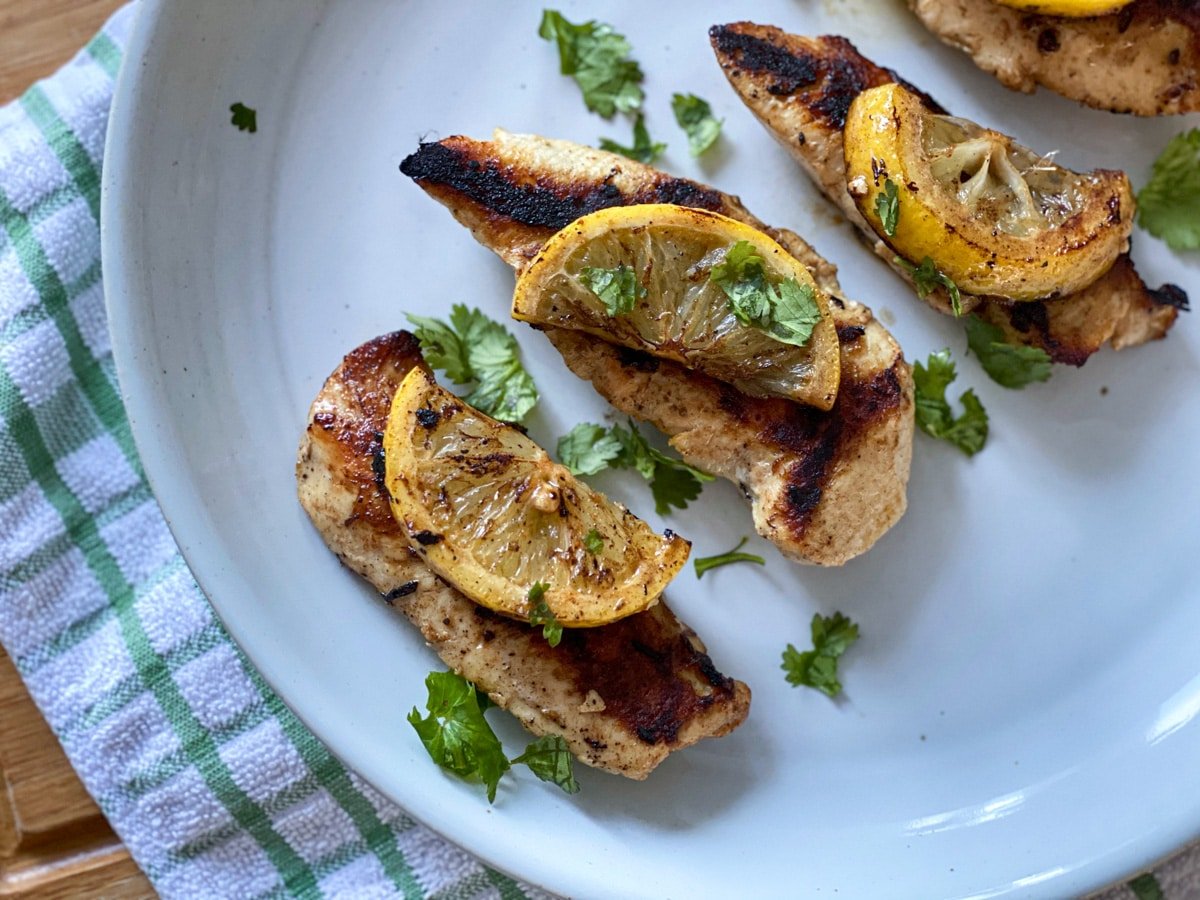 So, why use a sous vide chicken marinade?
Sous vide cooking chicken already results in juicy and tender meat. Adding a marinade to the sous vide chicken bag will produce an even more flavorful dish than you'd ever imagine.
It's convenient for busy people, too. Cook marinated sous vide chicken from frozen if you're into sous vide meal prep. I do a big once a month Costco shopping trip where I buy a big bag of chicken breast. When I come home, I portion out bags with marinades to cook throughout the month.
Use these marinades for sous vide chicken breasts cooked as recommended below, or on thighs, legs, wings, and, if you're up for it: a whole spatchcocked chicken. Just remember, times and temps will be different for each cut of chicken meat. Thankfully, I've spelled out for you the exact chicken sous vide temp and time you need for every cut!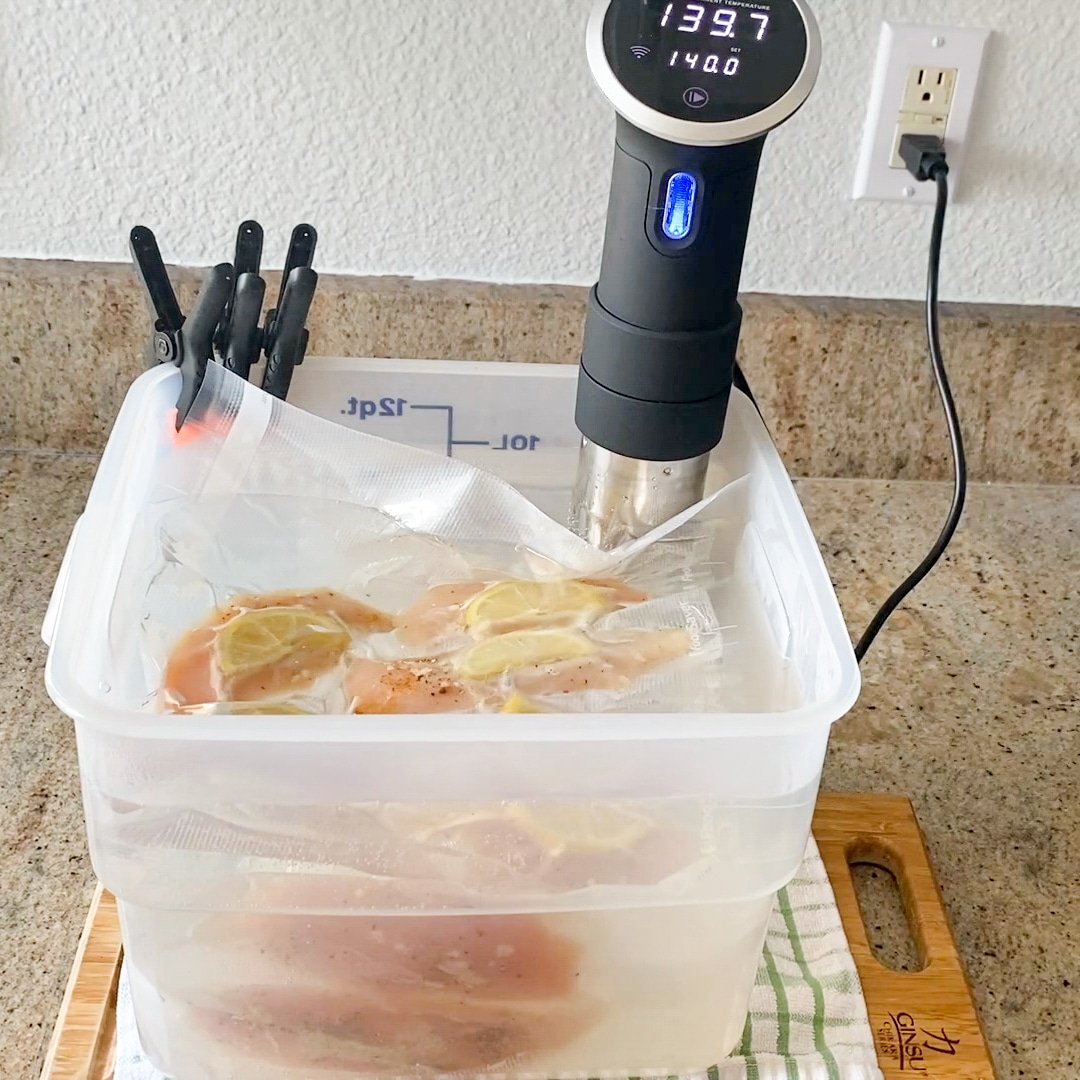 See this recipe for sous vide lemon chicken breasts.
Tasty sous vide chicken breast marinade ideas…
Excite your taste buds with this roundup of the best chicken sous vide marinades.
Sous vide lemon chicken breast with garlic and lemon slices
Sous vide greek chicken with red onion slices and dill
Honey ginger sous vide chicken with a slice or two of lime
Sous vide balsamic chicken with rosemary and a little balsamic vinegar
Sous vide Italian chicken breast made with an Italian herb blend and a splash of white wine, finished in the broiler with melted mozzarella cheese
Simple sous vide teriyaki chicken finished with a sprinkle of sesame seeds
BBQ sauce sous vide marinated chicken breast finished on the grill
Sous vide chicken marsala with marsala wine and a sprig of rosemary
Chinese style sous vide chicken stir fry served with steamed rice and vegetables
Sous vide buffalo chicken with a little buffalo salt thrown in the bag and finished then dressed with buffalo sauce
Sous vide chicken tacos with a salsa marinade
Chicken fajita sous vide bowls with fajita seasonings, red pepper, and onions
Butter chicken sous vide style with a premade sauce (great for easy weeknight meals)
Just a reminder – vegetables like onions and red peppers sous vide at different temperatures than sous vide chicken breast. For recipes like these, which are often finished in a cast-iron skillet, the veggies turn out fine in my opinion. But some sous vide enthusiasts would argue against mixing vegetables with sous vide proteins.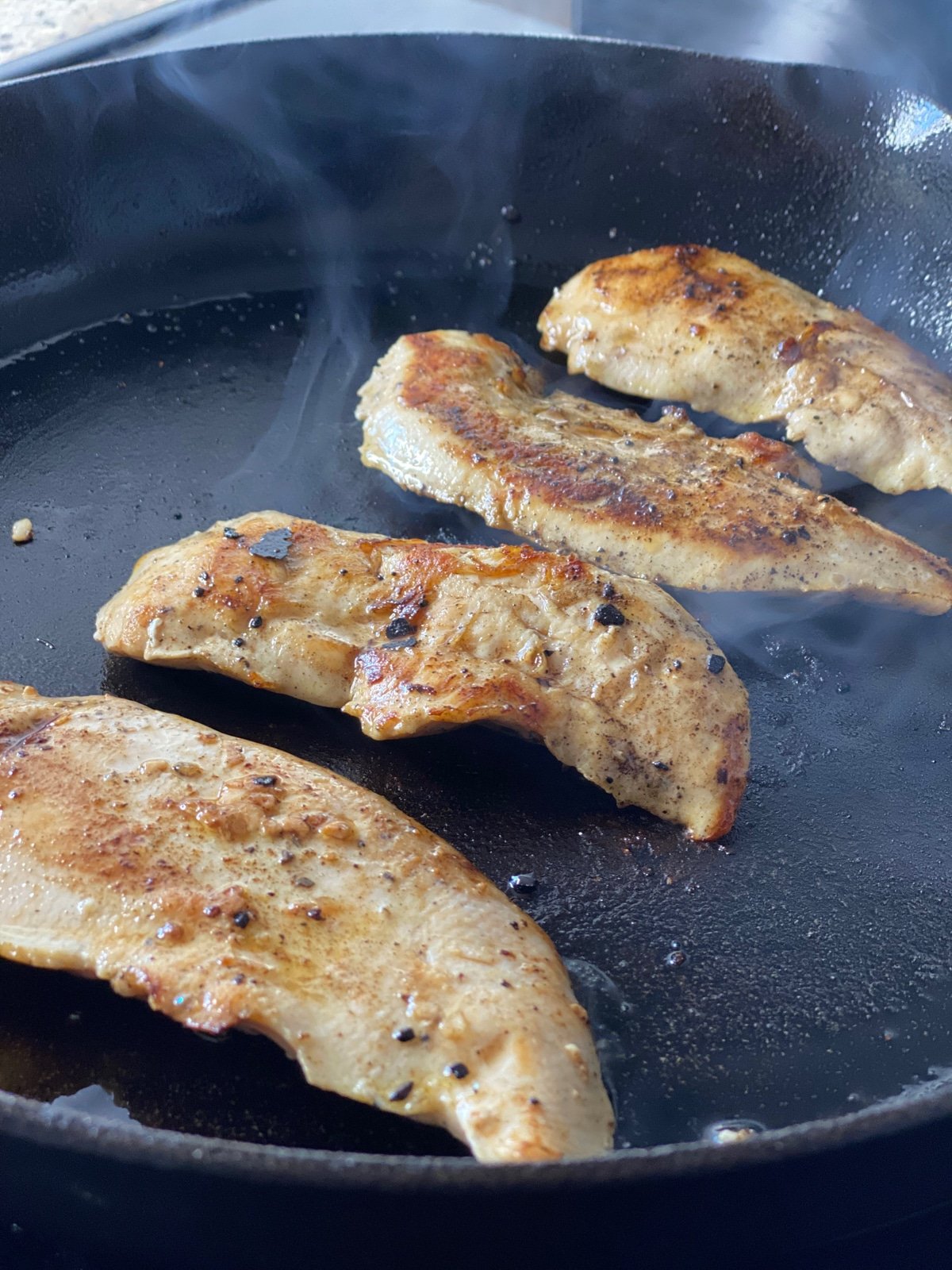 Experiment with adding marinades to sous vide chicken with the help of my basic sous vide chicken tenders recipe.
The trick to marinated chicken sous vide style?
Don't over-do it. Throw a pinch of spices in the sous vide bag with chicken and 1-2 tbsp of marinade, and the flavor will go a long way.
Do you marinade in vacuum sealed bags or ziploc?
When I'm cooking multiple pieces of chicken sous vide style, my preference is to vacuum seal. I do a lot of sous vide meal prep and this helps me stack bags of chicken on top of each other in individual portions in the freezer. Which is a must-have as a toddler mom scrambling to put dinner on the table many nights a week. (my husband and I split cooking for the week)
Vacuum sealing also comes in handy because the chicken won't overlap in the bag. Plus, marinating chicken for sous vide recipes is a little different than just popping chicken in the bag with salt.
Not every vacuum seal machine does well with liquid. So, to make it easy, use a ziploc bag and use the water displacement method to keep the chicken from floating. This will lock in the marinade for cooking with the precision cooker.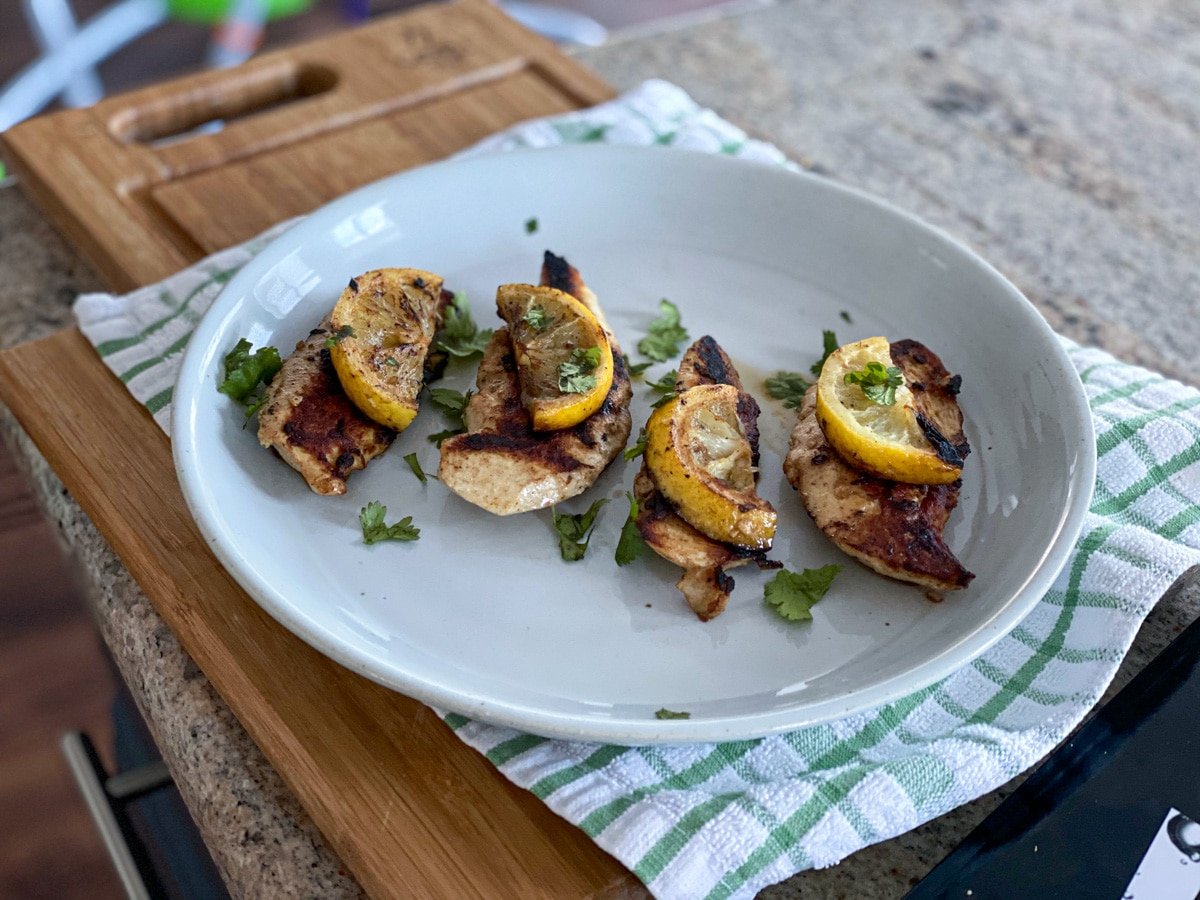 How far in advance do you marinade the chicken?
I'm a "quick and easy" cooker, even though I like fancy cooking methods and techniques like sous vide cooking. Old me used to stay up making pasta until 2am. New me needs to plan in advance to have my house running smoothly and put a good dinner on the table for the fam.
So, I find it sufficient to toss the marinade in the chicken bag while the water heats for the sous vide chicken breast. By the time the Anova, Joule, Instant Pot Sous Vide or whatever you're using heats the water bath, I think it's fine to add the chicken then.
Screenshot my handy sous vide chicken temperature and time chart.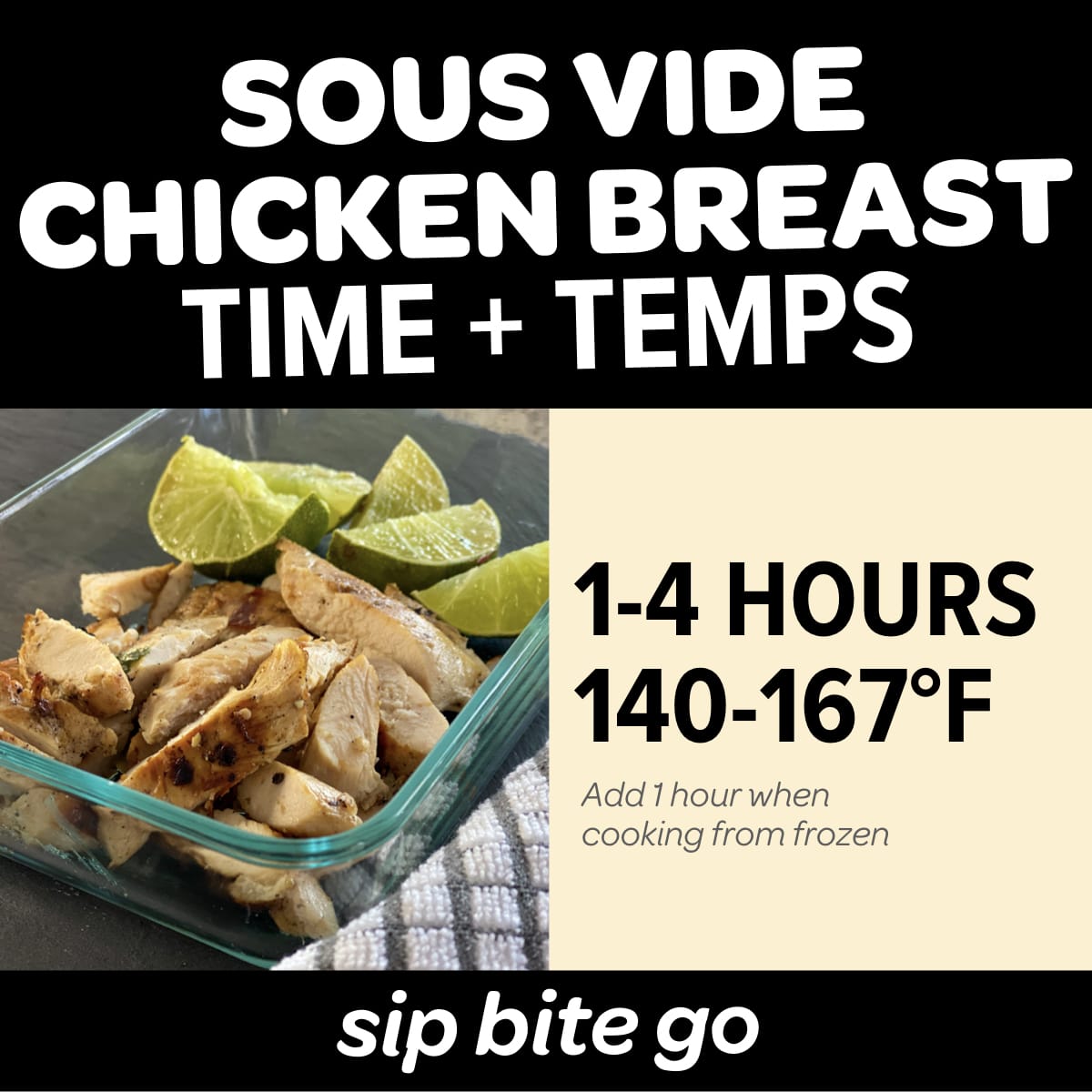 Time and temp for cooking sous vide marinated chicken
A reliable time and temp for sous vide marinated chicken breast is 1 hour at 140 degrees F. You do not need to increase time for sous viding marinated chicken breast, unless you're cooking it from frozen. In that case, add an hour to the cook time.
Note: cooking other parts of the bird, like sous vide chicken wings require different cooking times and temps. For details, see my sous vide chicken wings temperature guide.
Freezing marinated sous vide chicken
You don't have to traditionally marinade chicken before sous vide cooking like you might expect. You can marinade and freeze sous vide chicken for easy sous vide meal prep. That way you don't have to do anything but pop it in the sous vide bath to cook (see below for tips on how to add on time when cooking from frozen).
Or you can throw all the ingredients in the bag right before sous vide cooking, and let the long cook time of chicken prepared sous vide style do the work for you in the flavor department.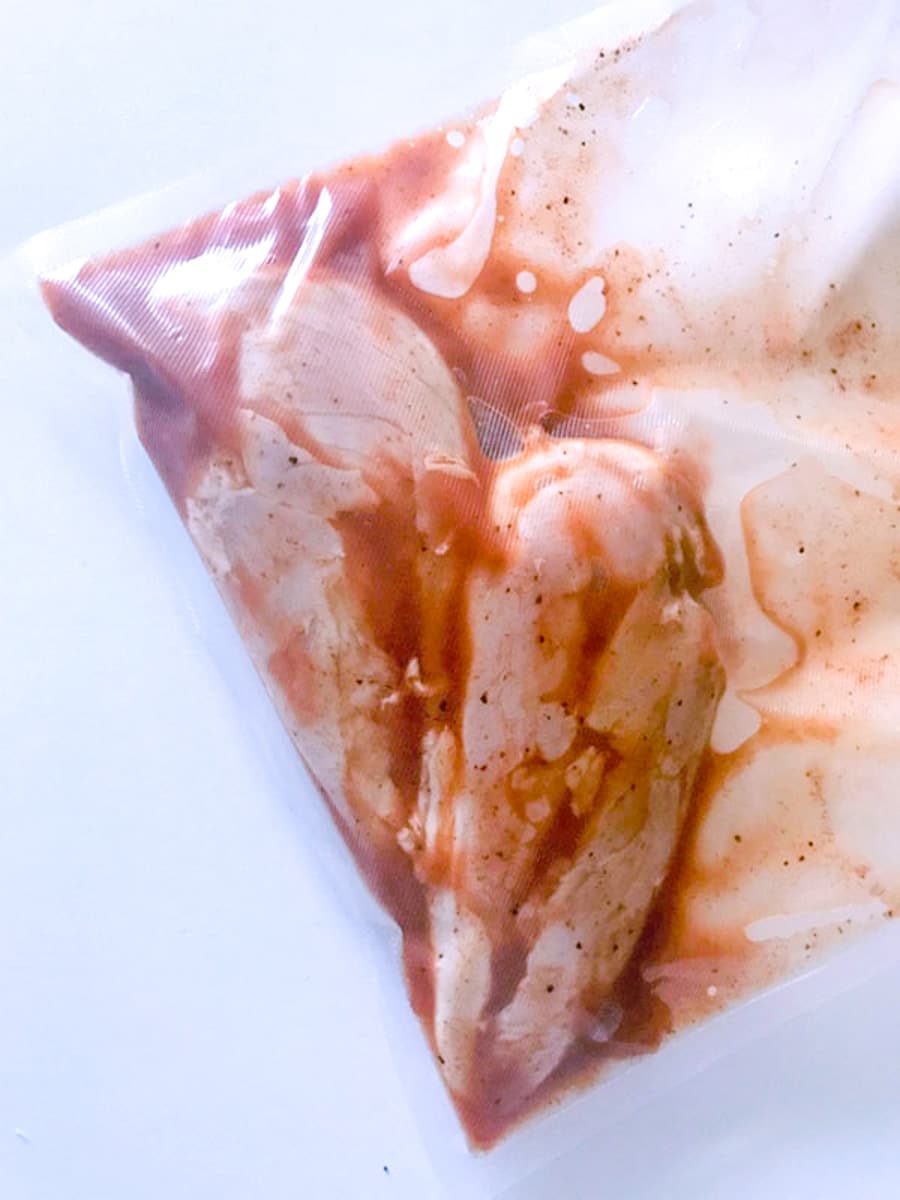 Different ways to finish marinated sous vide chicken
Even with a marinade, you'll want to pat the chicken dry. Here are the steps…
When the sous vide machine timer goes off, remove the chicken breast sous vide bag from the water.
Shock the chicken in an ice bath to cool it down (optional, but a good idea if you're going to finish the chicken later or another day).
Pat the chicken dry with a paper towel before finishing it.
Chicken marinated then sous vide cooked is nice and juicy, ready to be finished with some heat. At my house, this usually means popping sous vide BBQ sauce marinated chicken on the grill. Or adding another layer of butter honey glaze on top of sous vide chicken tenders and popping them in the broiler to cook.
For busy nights, sous vide marinated chicken is quickly finished in a cast iron pan on the stove. The air fryer is another good option, but, as you can see, I could go on and on and should probably stop somewhere!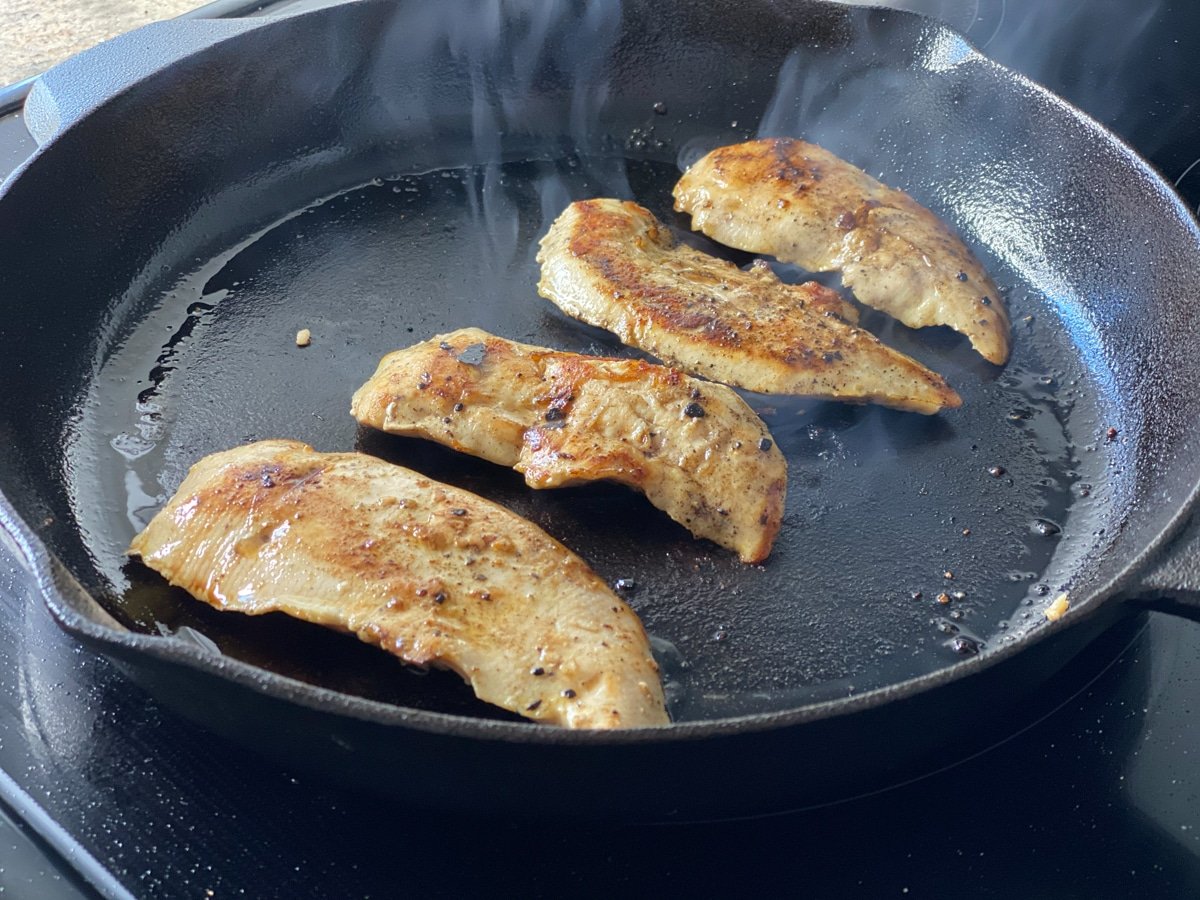 You can quickly finish marinated sous vide chicken
This last step for finishing marinated sous vide chicken breast takes less than five minutes. Sometimes it can take less than 60 seconds, depending on the method.
That's because chicken is completely cooked (basically it's done) from time spent in the sous vide water bath. The finishing step just gives it another blast of flavor – usually driven by high heat on the chicken marinate. Plus, finishing chicken after sous vide cooking gives it that outside texture many people like in their chicken dishes.
Do you have to finish sous vide marinated chicken?
No, you don't. It's a matter of preference and your particular lunch, dinner, or sous vide party food goals. Since it is fully cooked in the bag, you can shred or dice chicken right from the vacuum seal or ziploc bag when cooked sous vide and enjoy it in other dishes.
Sous vide shredded chicken breast doesn't need to be finished and makes for a great sandwich. We'll prep chicken this way to mix with our favorite condiments, like buffalo sauce or barbeque sauce, or butter chicken sauce.
Often, leftover sous vide shredded chicken is tossed on homemade pizza with alfredo sauce or pesto sauce for a gourmet pizza night at home.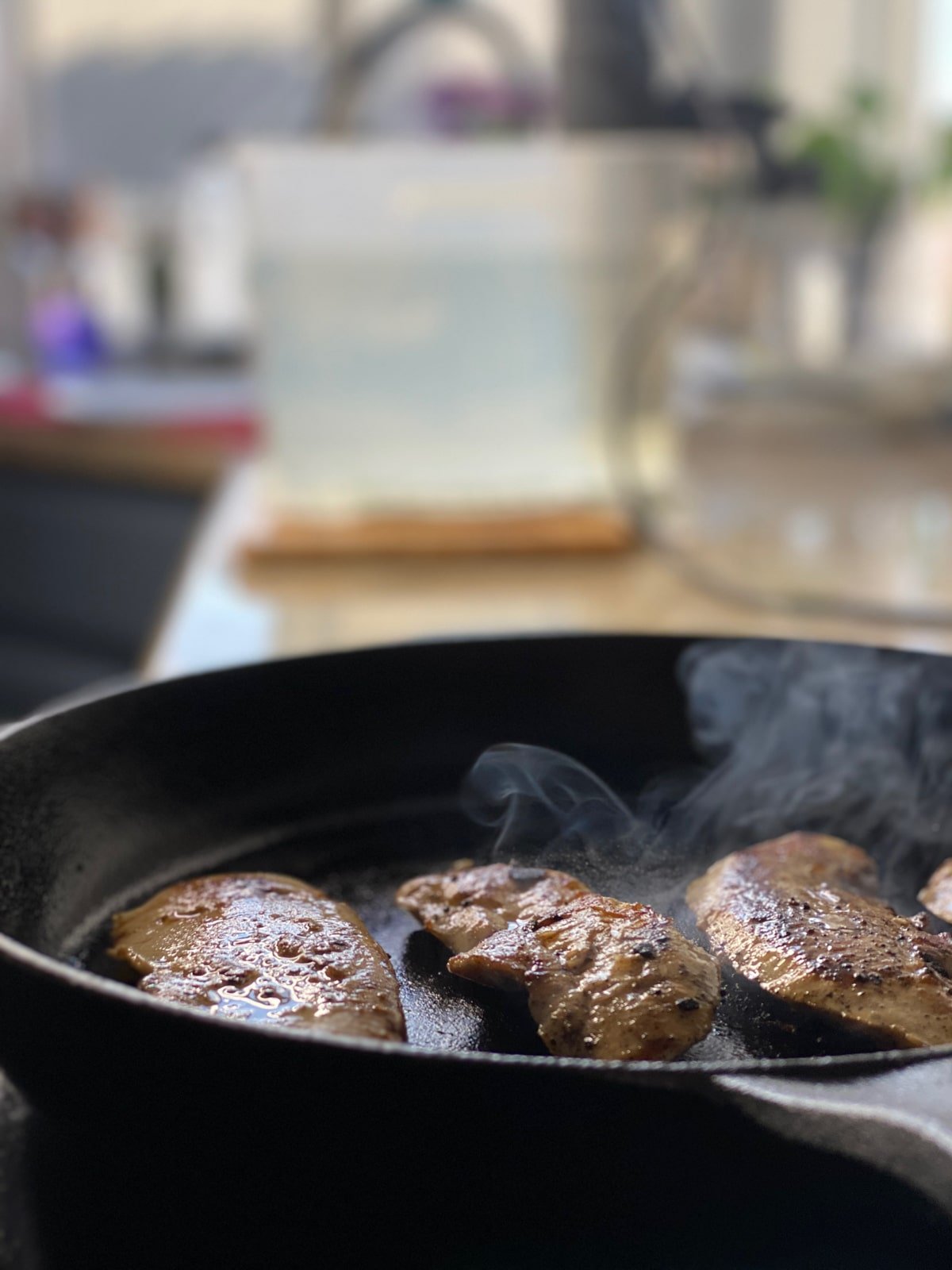 Sous vide meal prepping chicken dishes
As you know, I'm a busy parent which has changed a lot of my meal prep and eating habits. We are on a tight schedule when it comes to having a bath, dinner, story, and wind-down routine at night. Well, until my toddler decides he wants to completely overhaul the schedule – but that's a different story for another day.
But for most days, I'm thinking about what to serve for dinner, starting at lunch. That's why frozen sous vide meals have become a way of life for my little family. When I know I have sous vide chicken meal prepped in the freezer or fridge, my mind is at ease.
So – how do you meal prep chicken with the sous vide machine?
Meal prep your chicken with all spices and marinades called for in the recipe, and vacuum seal just as if you were going to sous vide immediately. Then stick it in the freezer, and pull it out the day you want to eat it.
This flexibility is one of the big reasons why sous vide is popular.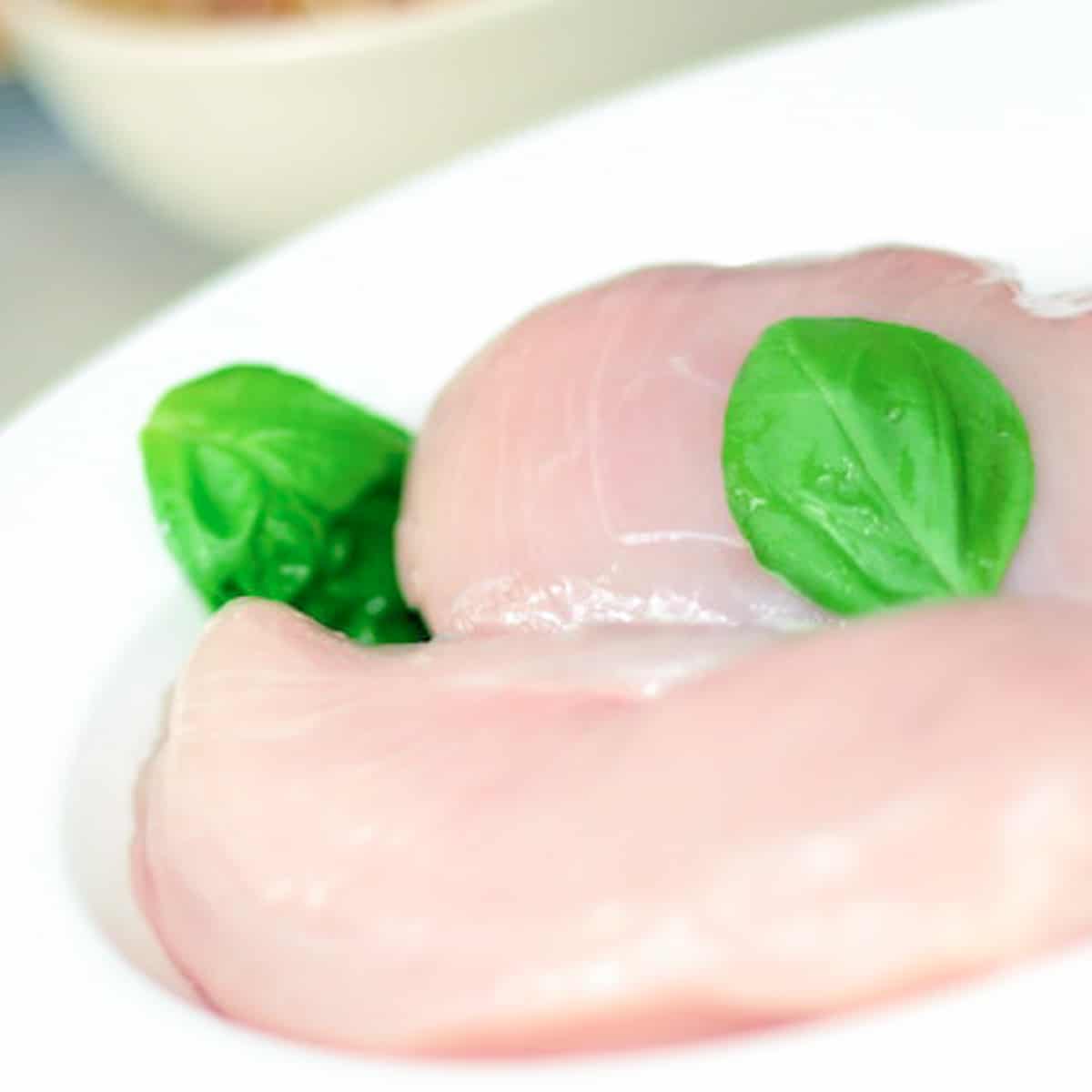 Why people don't sous vide chicken as much as steak
Chicken, unfortunately, doesn't have the "wow factor" as something like this sous vide t bone steak. A lot of this is because chicken needs flavor to be added to it. Hence, enlisting the help of marinades. But I'm convinced there are other reasons people don't sous vide chicken as much as steak, too.
Sous vide VS traditional chicken recipes
Another reason I personally believe that it's easier to make restaurant-style chicken at home. File this under the age-old: sous vide VS traditional cooking chicken debate.
Steak at home is more difficult to make. My Italian crispy chicken recipe and balsamic marinated chicken cooked in the oven, for example, are super simple and don't require taking out and setting up an Anova sous vide machine with a water bath and all that jazz.
Weird looking chicken… are we over this yet?
Although it tastes great, many people think chicken looks weird when cooked sous vide. I'm convinced that's why sous vide steak is more popular than chicken. In fact, I have an entire rant on why sous vide chicken looks strange.
One exception to this theory is sous vide whole chicken. The presentation is amazing and it's a holiday-worthy sous vide meal. Sometimes I'll make a version of roasted sous vide chicken with oranges. It's an amazing food.
That's why I also tell you, in almost every recipe, how to make your chicken cooked sous vide style look amazing—for example, in my sous vide recipes chicken breasts are finished on the grill, overcast iron, air fryer, or in the broiler for a wonderful crispy finish.
When I share sous vide chicken recipes here on Sip Bite Go, you learn all the details you need to prepare a stunning, mouthwatering meal that goes along with your sous vide chicken— complete with finishing details, variations and food combinations, and even info on plating! I want to make sure you have everything you need for complete assured success in the kitchen—every time.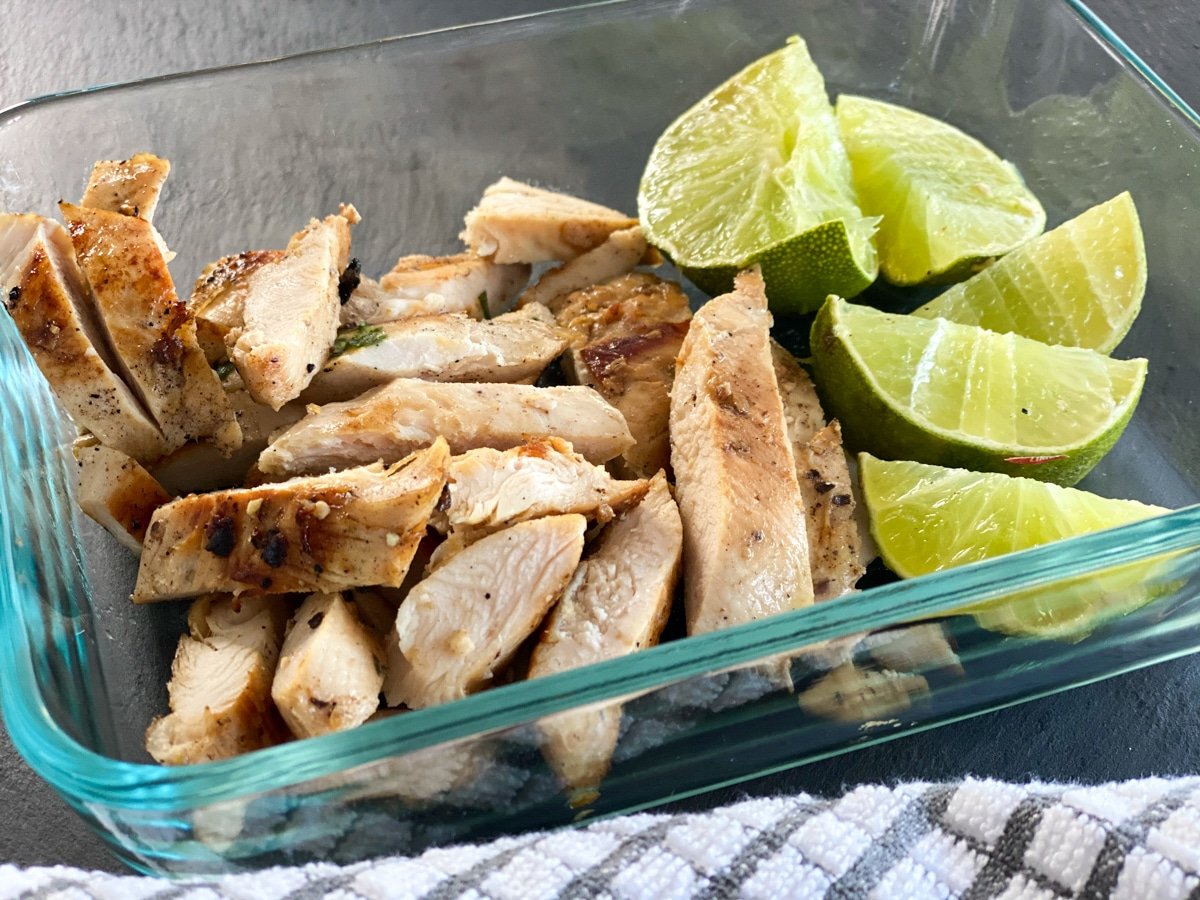 Sous vide equipment refresher
Here's the basic sous vide equipment needed for cooking most recipes
Over the years, I've done a ton of experiments where I'll sous vide everything from chicken, to sous vide pork recipes, to sous vide frozen steaks and veggies. I love trying different sous vide marinade flavors, brines, and techniques.
Many of these recipes (well, the successful ones!) are in my 200-page sous vide cookbook. I wrote it as an add-on of knowledge and dish ideas to this popular sous vide blog. There are over a hundred different sous vide recipes to check out.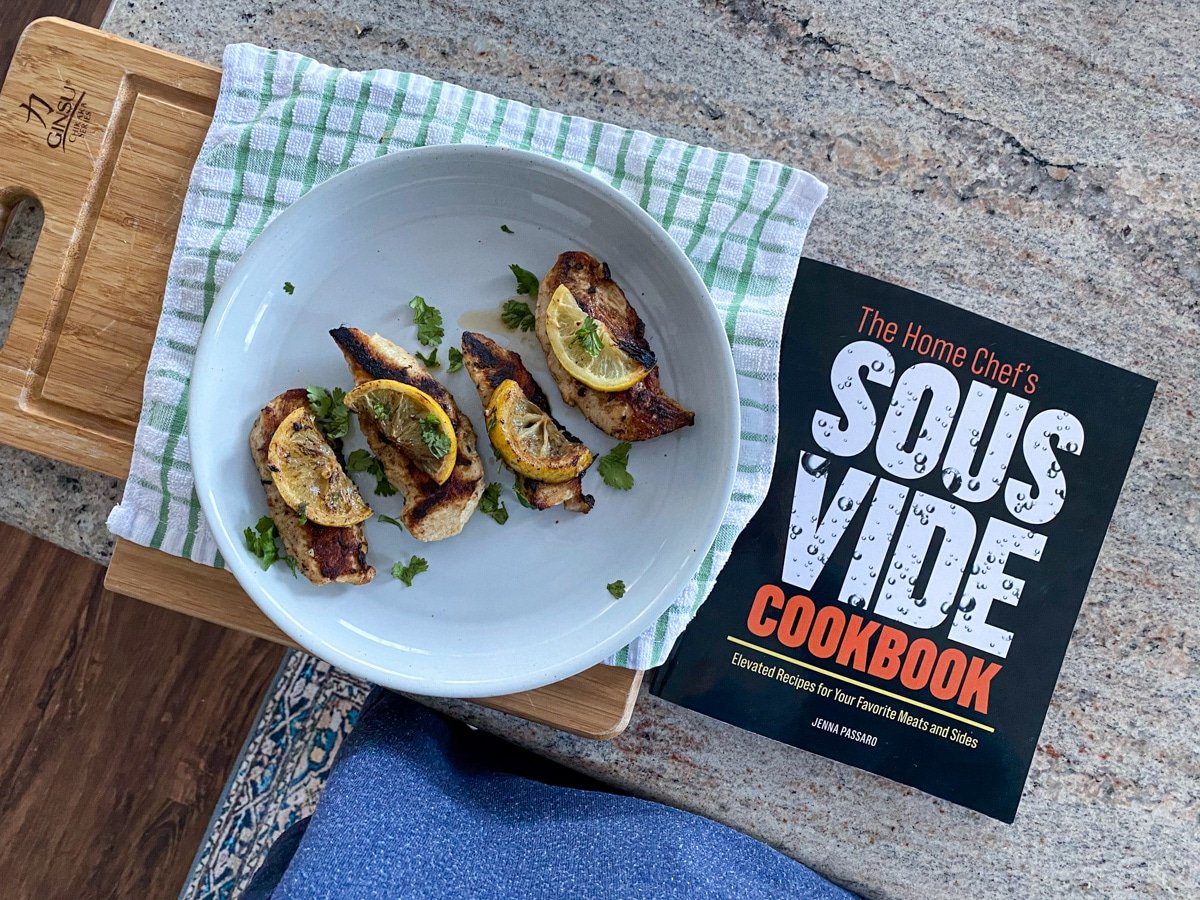 Get inspired with my new book – The Home Chef's Sous Vide Cookbook, which has an entire chapter dedicated to cooking poultry sous vide style.
Add big flavor with DIY condiments
Which marinade will you try first?
So there you have it, the ins and outs to answer everyone who pings me on social and asks "can you cook chicken with marinade in sous vide"? Yes – you can, and you will surely enjoy it!
Find me on Instagram @sipbitego and see my latest sous vide recipe videos on the Sip Bite Go channel.