Sous vide cooking is addictive! Once you feel confident in your sous vide skills, you'll quickly move on to experimenting with new recipes and ingredients. Fruits cooked sous vide style. Sous vide limoncello. Sous vide pickles. Sous vide meatballs.
It's seriously fun to play with food with the sous vide machine.
The recommended sous vide accessories in this guide build upon a basic sous vide equipment setup.
Essential sous vide accessories
These help to minimize evaporation from the sous vide water bath. Sous Vide Water Balls also help heat up your water bath more quickly and can be used with different water containers. The mesh bag helps these dry easily.
Sous Vide Cooking Water Balls with clips + bag
Great for overnight recipes, you can set and forget your sous vide with these water balls, clips and dry bag.

Sous Vide Clips to hold food in place
These clips keep sous vide bags in place without taking up much room. They're clipped to the side of the sous vide container.


Vacuum Seal Cooking Pouches
BPA-free sous vide cooking bags to store food.
Learn more about vacuum sealing in this guide on how to vacuum seal meat.
Also see my Foodsaver 4400 vacuum sealer video.
Sous Vide Bags Kit with BPA Free Vacuum Sealer Bags
These bags include a pump that sucks out the air from the bag.

Stainless Steel Sous Vide Rack
This sous vide cooking rack allows you to line up packs of chicken, steaks, and vegetables to cook a large batch at a time.
EVERIE Sous Vide Container with Hinge Lid for Anova Cookers
Using a sous vide container lid is an instant upgrade. It makes it easier to set and forget food in the sous vide, since the lid retains a lot of heat. Great for overnight cooking.
Sous Vide Container that works with all Sous Vide Machines
This sous vide container is large enough for a 3-5LB piece of meat.
Cambro square Food Storage container
There's plenty of room to cook a big batch of eggs with this set up. This product is used in sous vide recipe photos on Sip Bite Go.
Ikea Variera Pot Lid Organizer
This Ikea sous vide cooking rack expands to fit a variety of sous vide containers.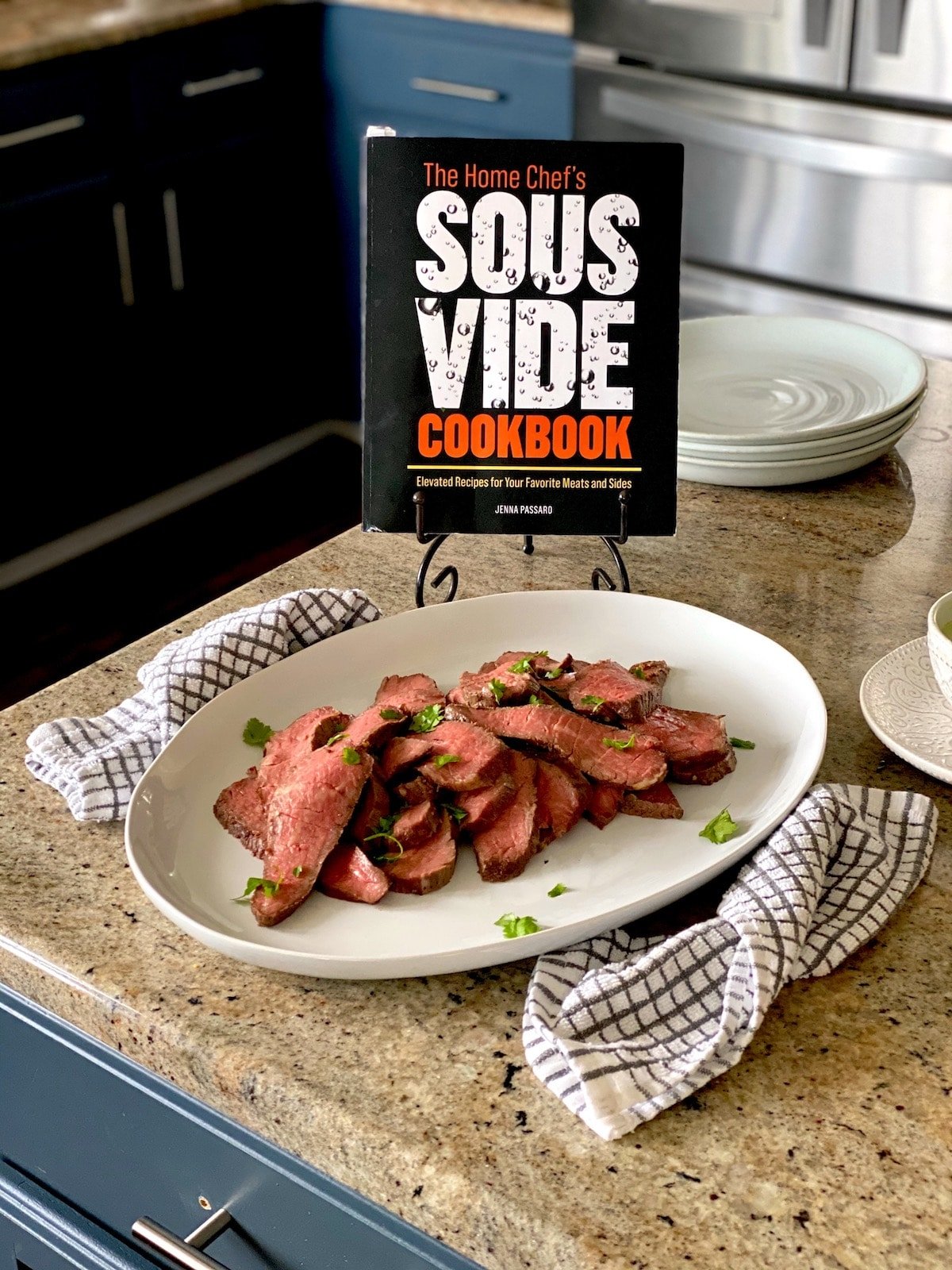 Find the most extensive collection of my sous vide recipes in The Home Chef's Sous Vide Cookbook.
New to sous vide cooking?
Discover why sous vide is so popular and learn how to sous vide. Once you learn, you'll be making restaurant style meals at home.
After a couple successful sous vide cooks, you can start trying these sous vide recipes for entertaining.
Can't get enough sous vide? Check out these sous vide cookbooks to inspire your next meal.