Looking for a fun food hobby? Here's one I love. Today you'll learn just how does Aerogarden work. You'll learn step by step how to setup and successfully grow, prune, and cook with herbs the very first month. I'm so excited to share this with you.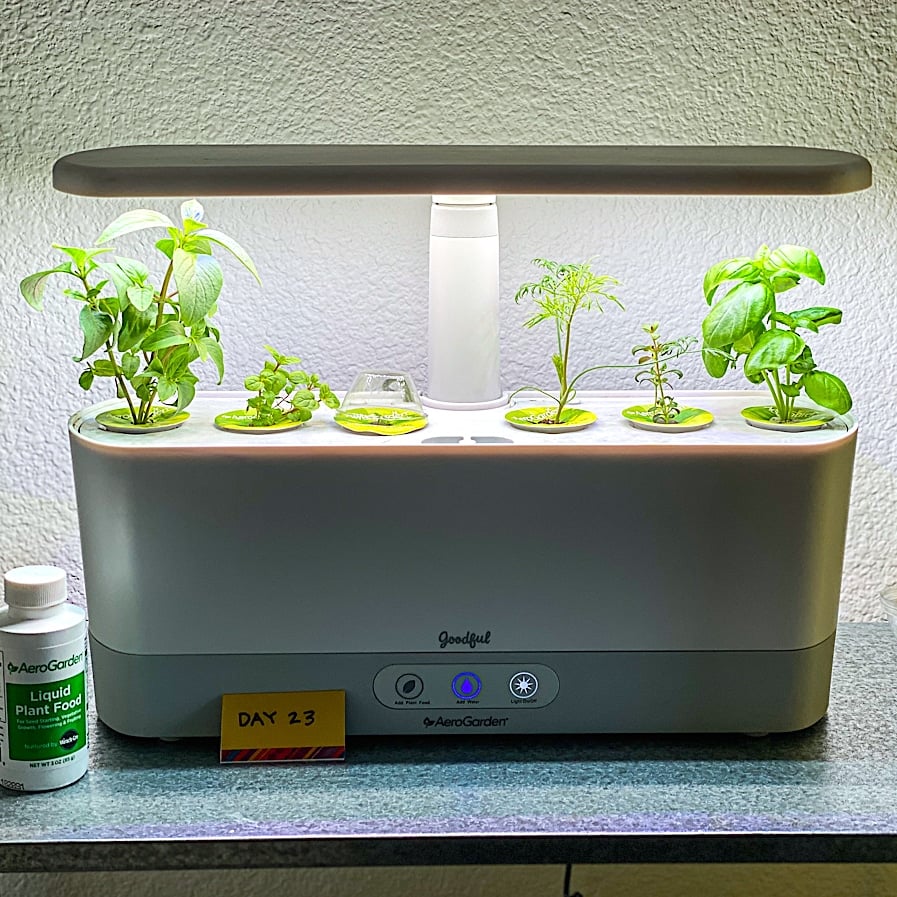 With growing systems like AeroGarden, you don't need to have a lot of space or even your own yard! You can grow delicious herbs, vegetables, and fruits all from the comfort of your kitchen, even if it's small.
Like millions of people around the globe, you may be spending more time indoors than ever before. While many people have taken up new hobbies, one that has become especially popular is gardening. It's with good reason too, as it's not only relaxing but also reaps delicious benefits.
In this article I'll answer the following questions:
What is an AeroGarden?
How does AeroGarden work?
What grows best in AeroGarden?
I'll walk you through the first month of setting up and using your AeroGarden (specifically AeroGarden Harvest Slim setup). In addition, I'll talk about how to use these fresh herbs to make tasty meals that your family will love.
Want this guide in an e-book format? Get it for free here!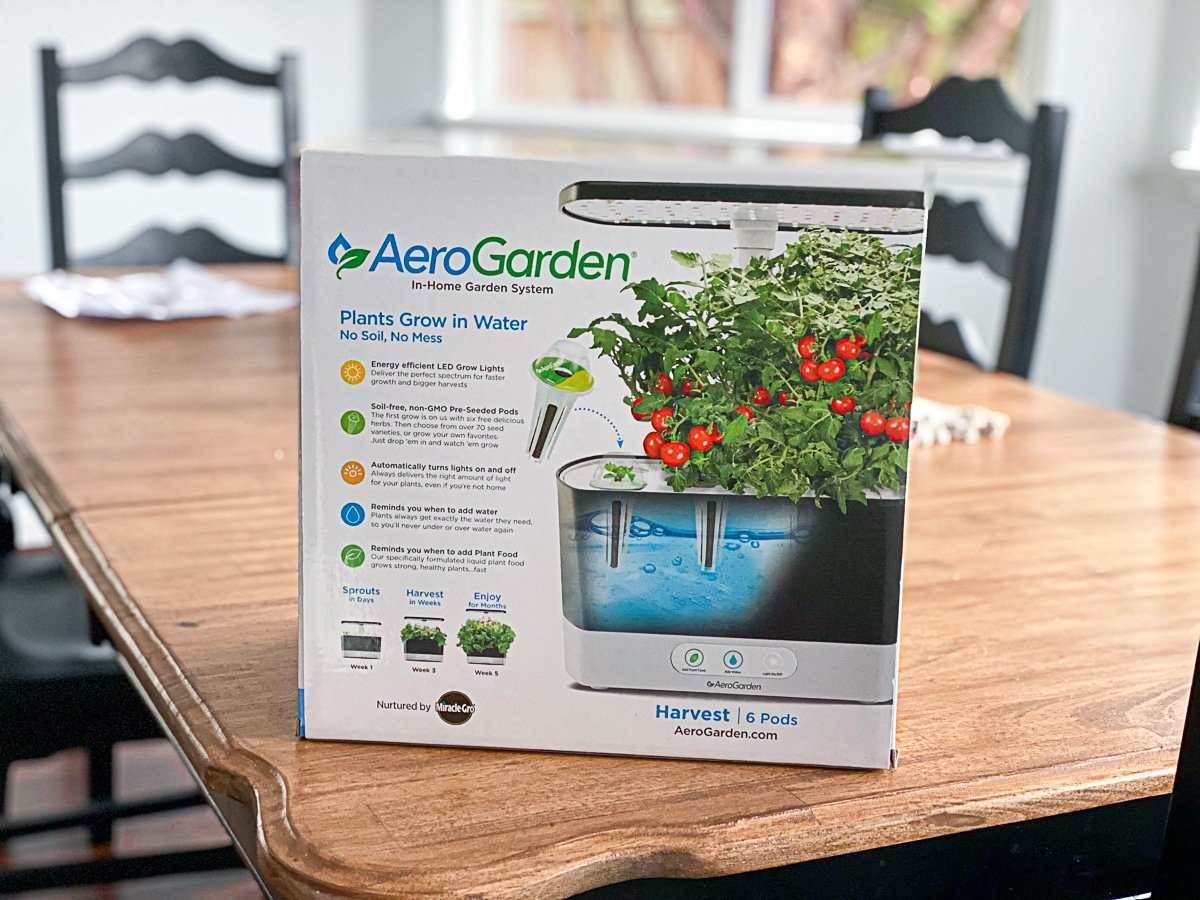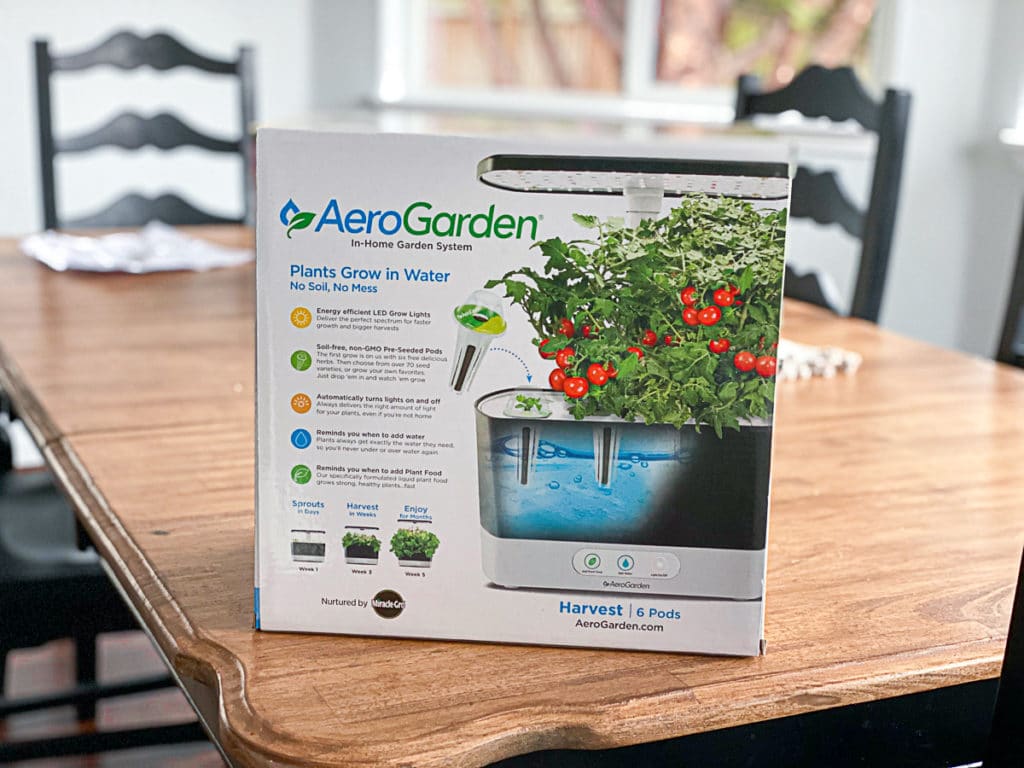 What is an AeroGarden?
AeroGarden is an indoor gardening system that grows fresh fruits, vegetables, and herbs all year round. There are various models, but in this article, I'll be focusing on growing herbs in the AeroGarden Harvest Slim model, as it can fit in the smallest of spaces such as a windowsill or on countertops with limited space. If you have more room, you may wish to look at larger models such as the AeroGarden Bounty Basic.
How does AeroGarden work?
AeroGarden uses hydroponics and LED lights to grow plants, resulting in a fast and simple growing process. In fact, plants sprouted in the AeroGarden grow up to five times faster than plants grown using traditional gardening methods. Even better, it only takes a few simple steps to start seeing results.
What Grows Best in an AeroGarden?
Because fresh herbs tend to be expensive, many families can save a lot of money by growing their own herbs. In addition, they are much tastier and contribute more flavor to meals than dried herbs. For this reason, herbs are one of the best things to grow in an AeroGarden. So are tomatoes, and peppers.
AeroGarden Herb Guide
In this quick start guide, you'll find all the information you need to start growing and producing your very own herbs. After completing the four weeks, you'll be comfortable using your AeroGarden and ready to experiment with growing new plants in the future.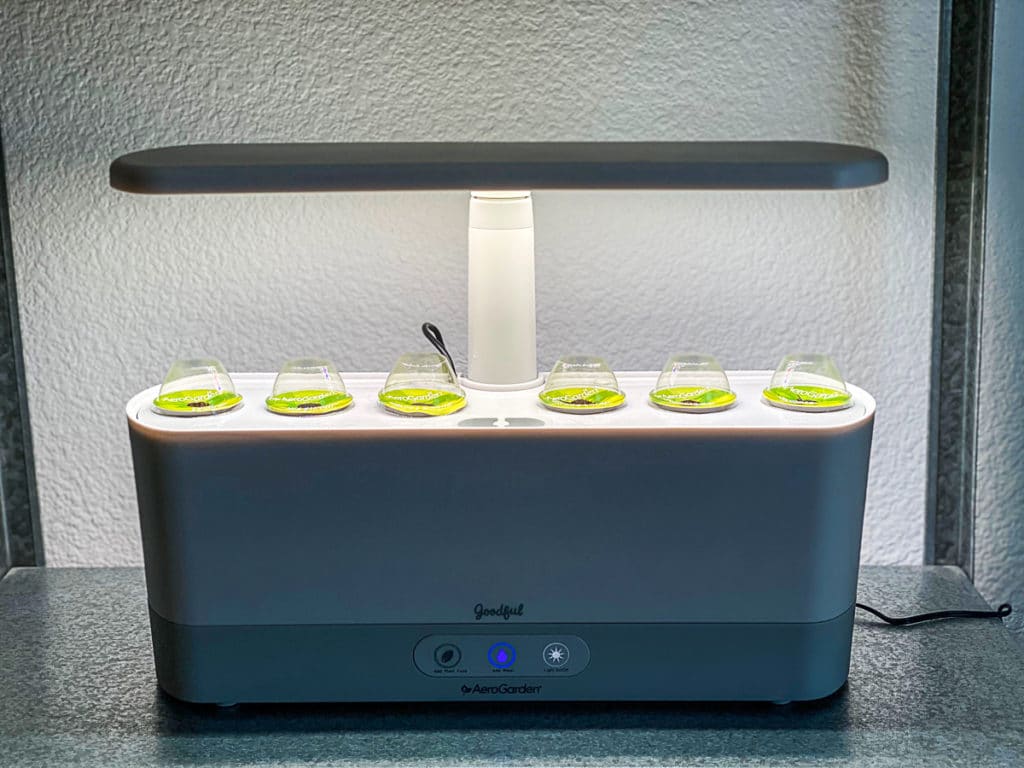 Week 1: AeroGarden Pods Setup, First Sprouting!
After buying and unboxing your AeroGarden, choose a location near an electrical outlet where you'll be able to plug it in and start using it.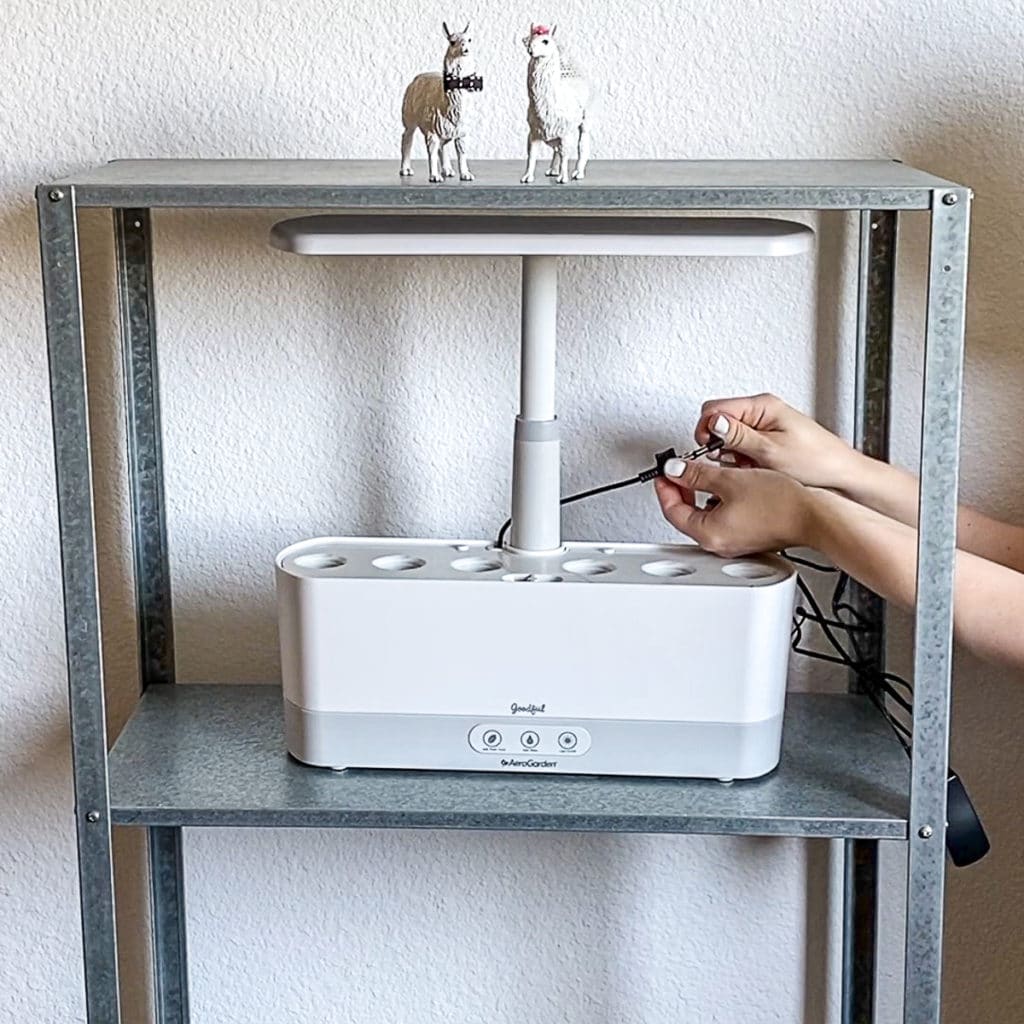 Adding water to the Aerogarden for the first time
You'll need to fill the water reservoir and then add some plant food nutrients to the water.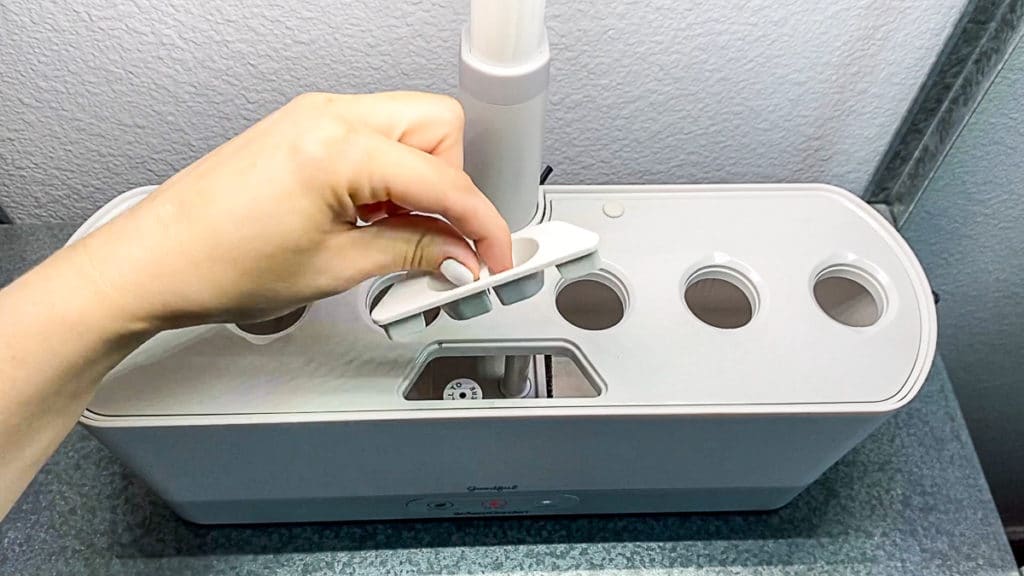 There is a plastic piece covering the area where water and food is added to the garden.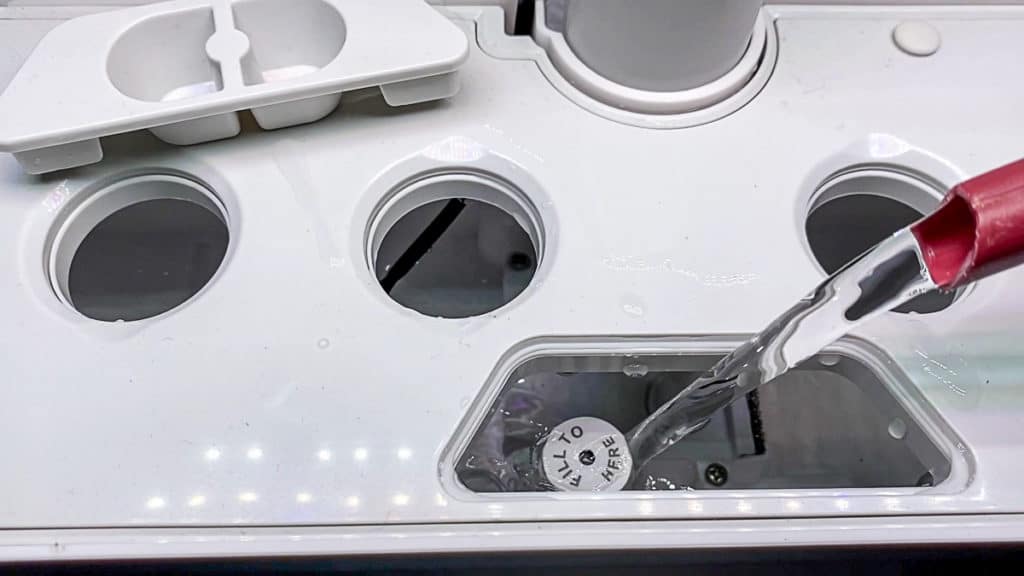 The fill line makes it easy to water the Aerogarden correctly.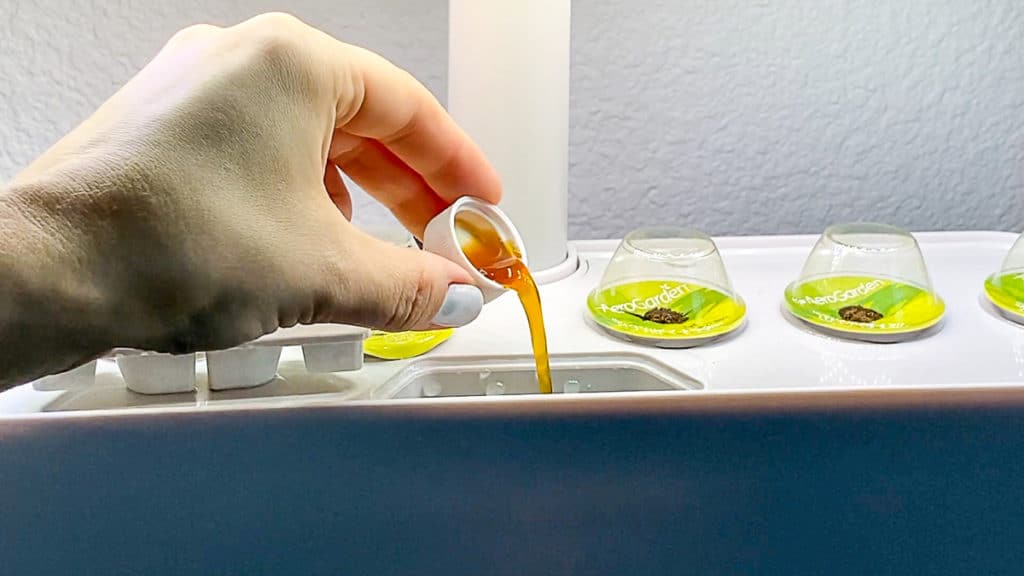 Adding plant food to Aerogarden for the first time
The amount of nutrients you need to add depends, of course, on the number of seed pods you are using (make sure to check the nutrient packaging to see the exact amount).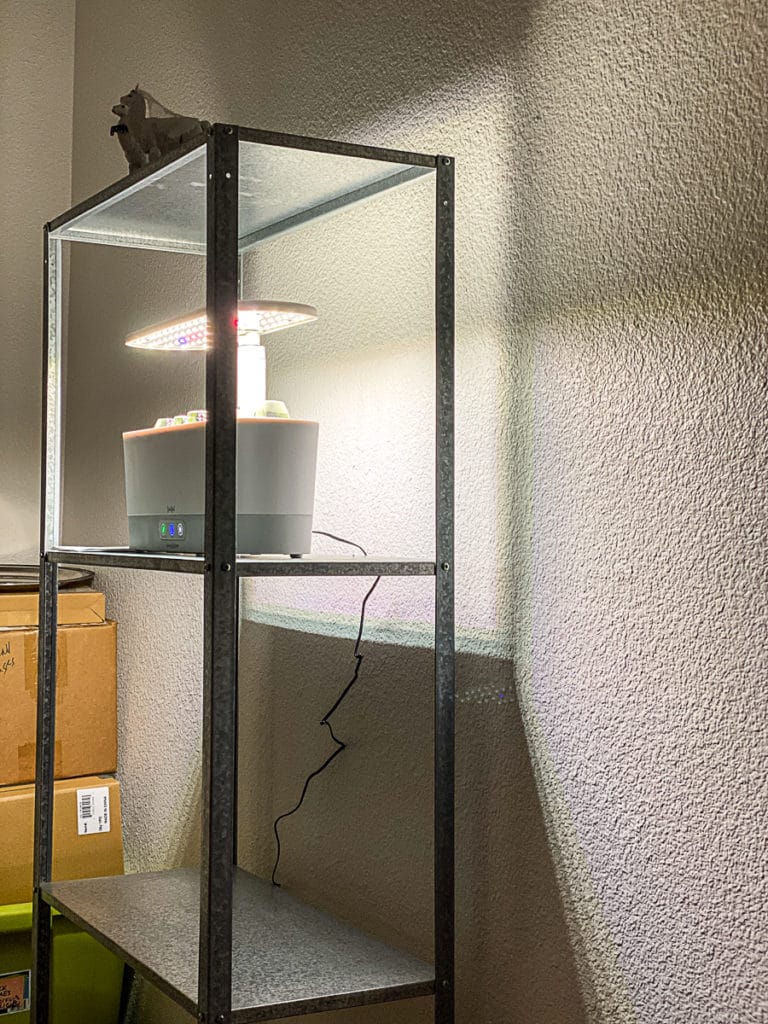 Now it's time to add your AeroGarden grow pods! You'll want to make sure each seed pod is covered with the little plastic dome covers. These pod covers increase humidity and encourage the seeds to sprout.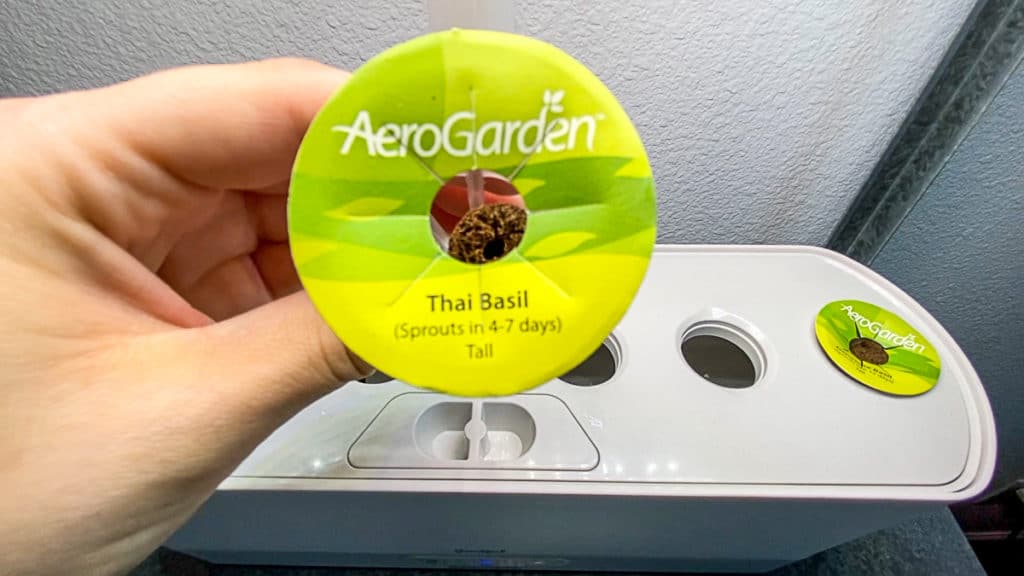 After just a day or two, you may start seeing that your pods have started sprouting! That being said, don't be alarmed if your little pods haven't sprouted this quickly. Some kinds of AeroGarden herb pods take longer to sprout than others (AeroGarden basil pods generally sprout quickly).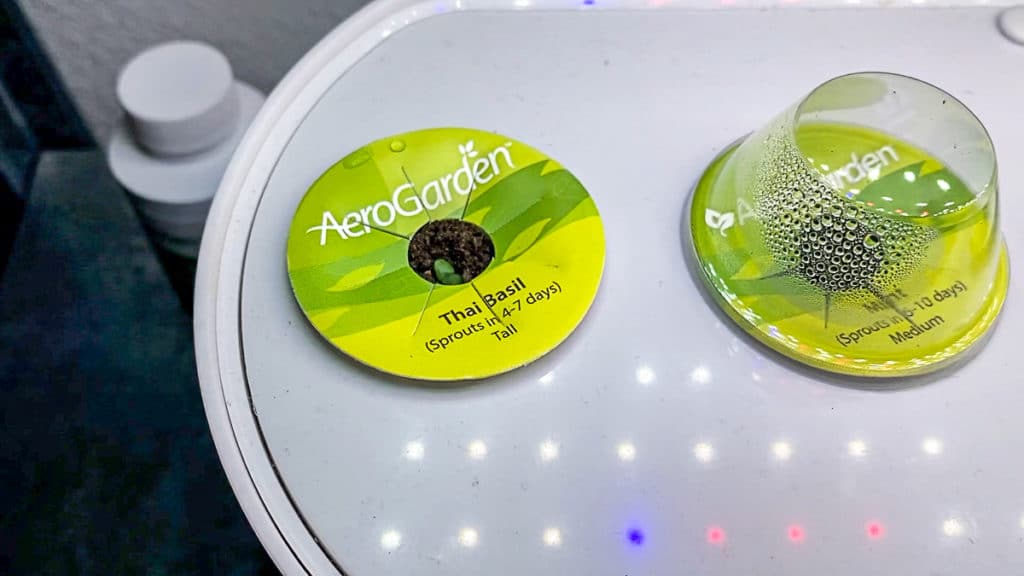 By the end of the first week, some of your quick-sprouting seeds may already be so tall that they touch the plastic AeroGarden pod covers. Once you see this starting to happen, you can remove them. This will give them more room to grow taller.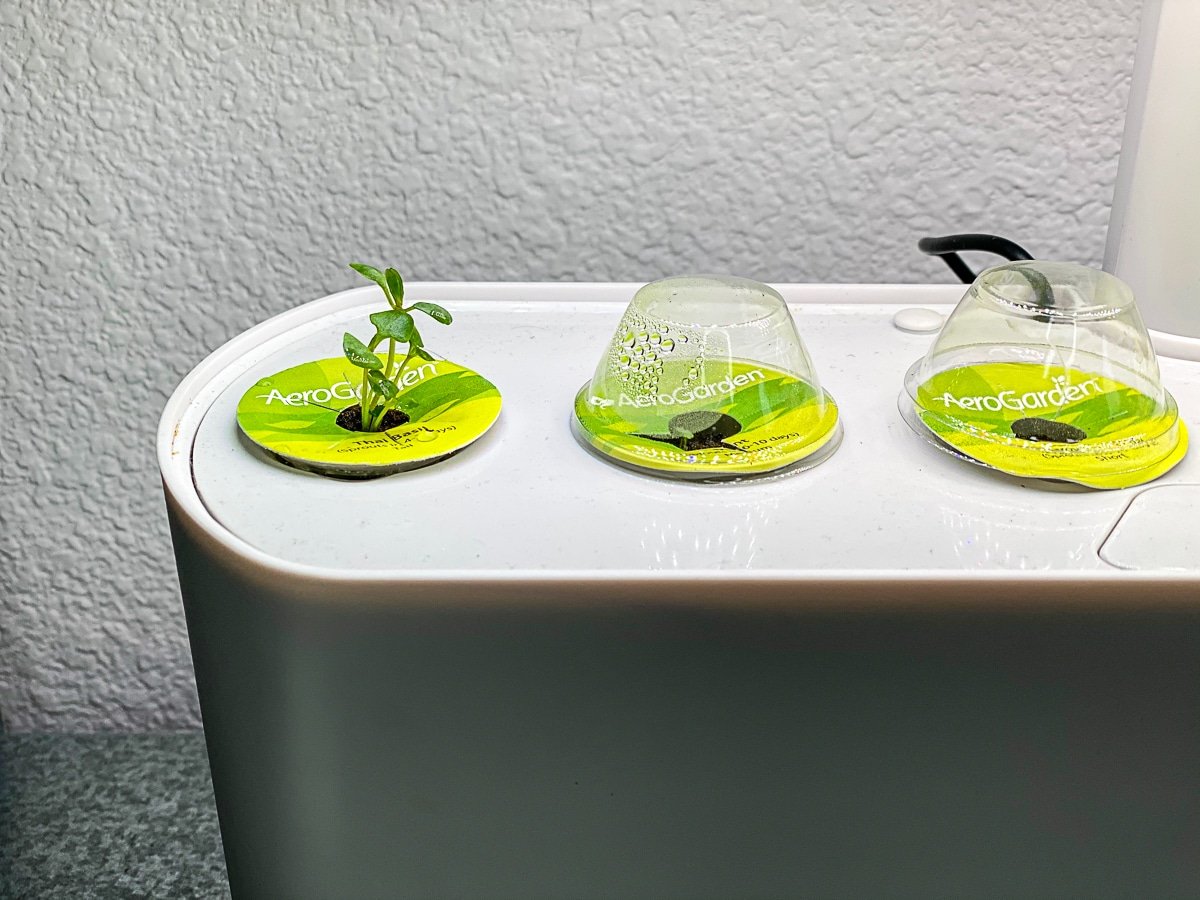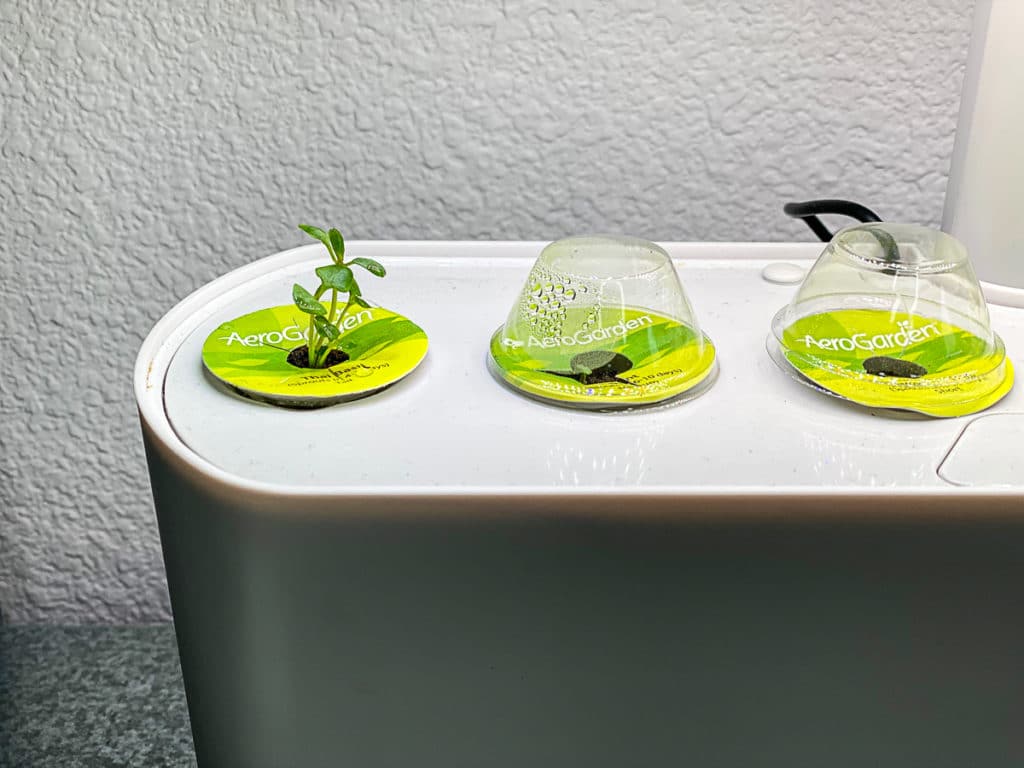 Week 2: More Herbs Sprouting, Feeding, Changing Water
Now that you're in your second week of "Aerogardening", you'll likely see more and more sprouting taking place. By the end of this week, all of your plastic AeroGarden pod covers should be removed.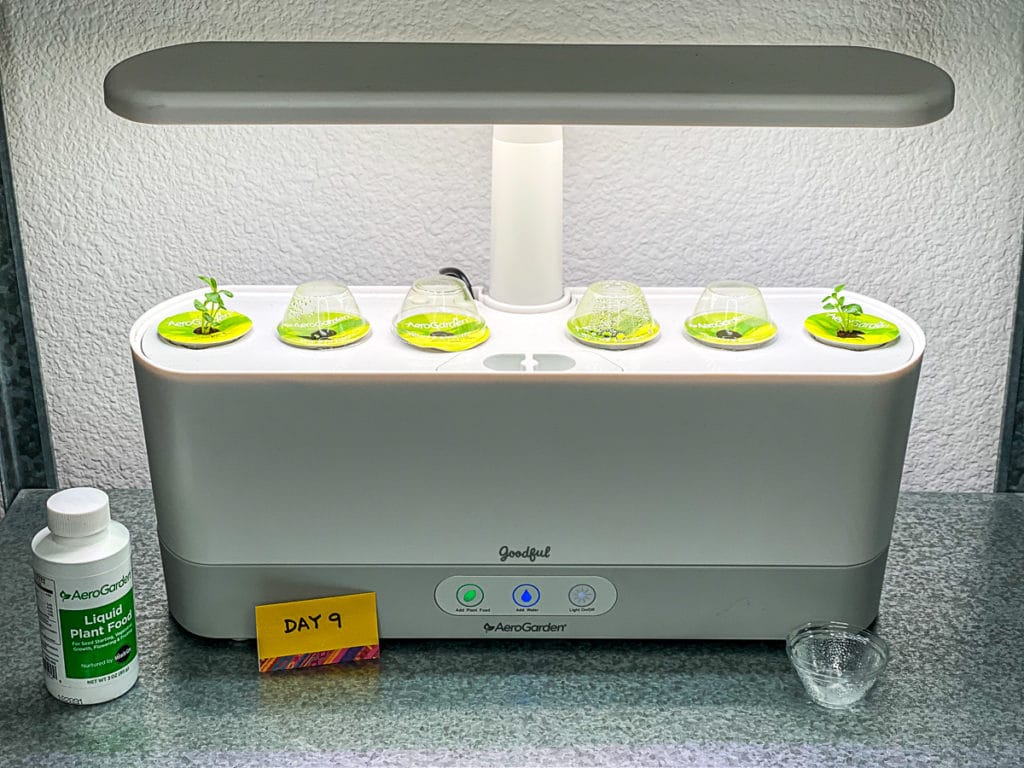 You surely don't want your newly sprouted plants to go thirsty, so make sure to keep adding water to your AeroGarden by filling it to the indicator line.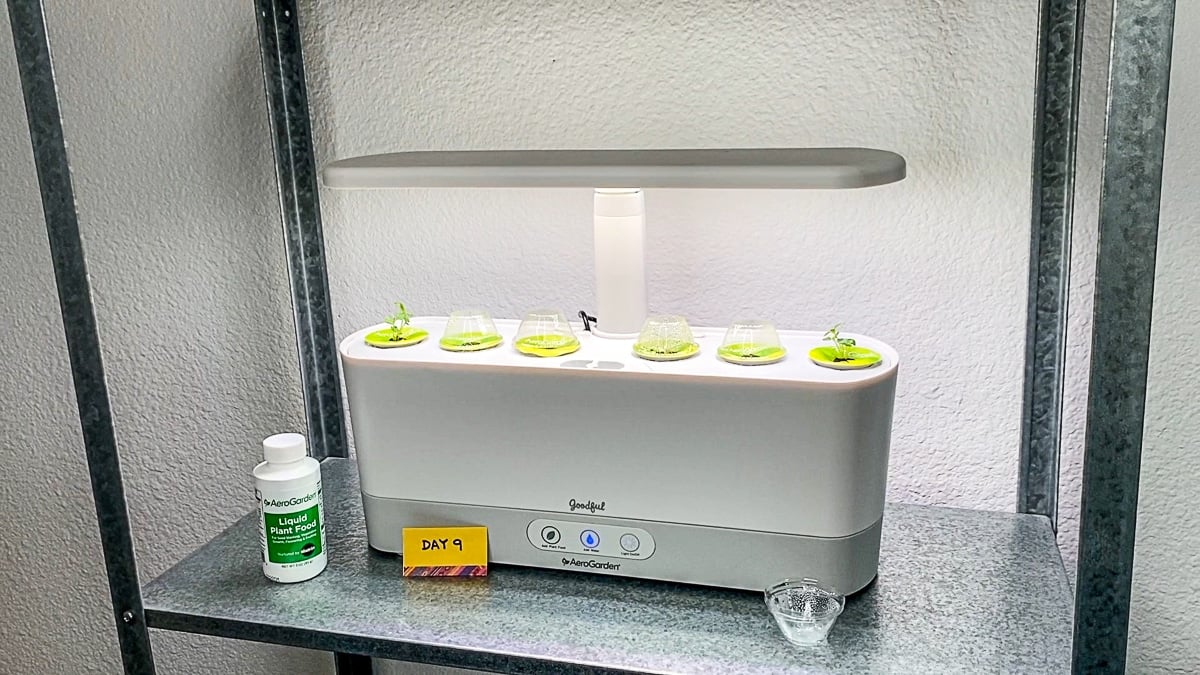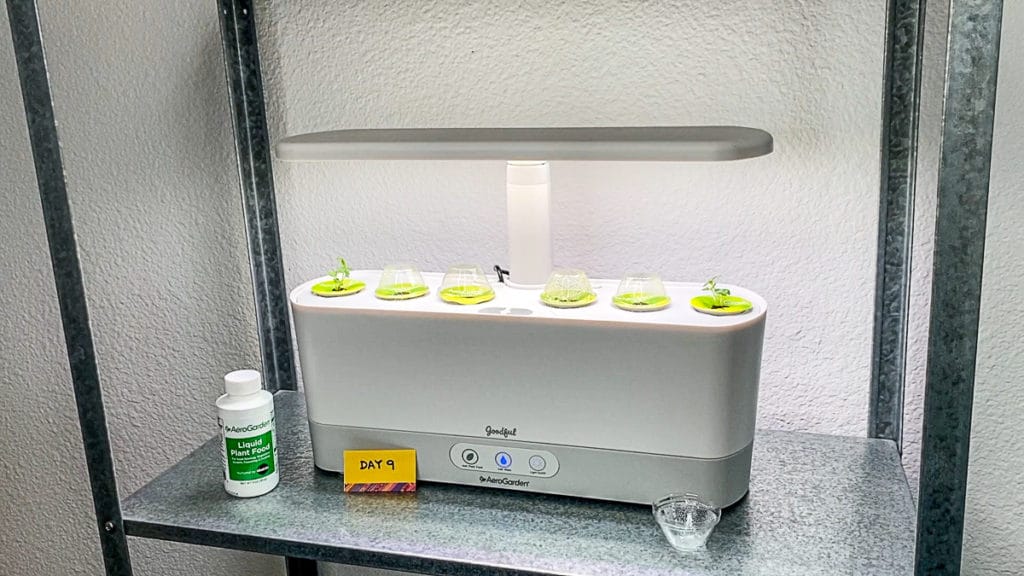 Don't worry about changing the water yet (you will do this in week four). At the same time as watering your AeroGarden, you'll feed your AeroGarden plants.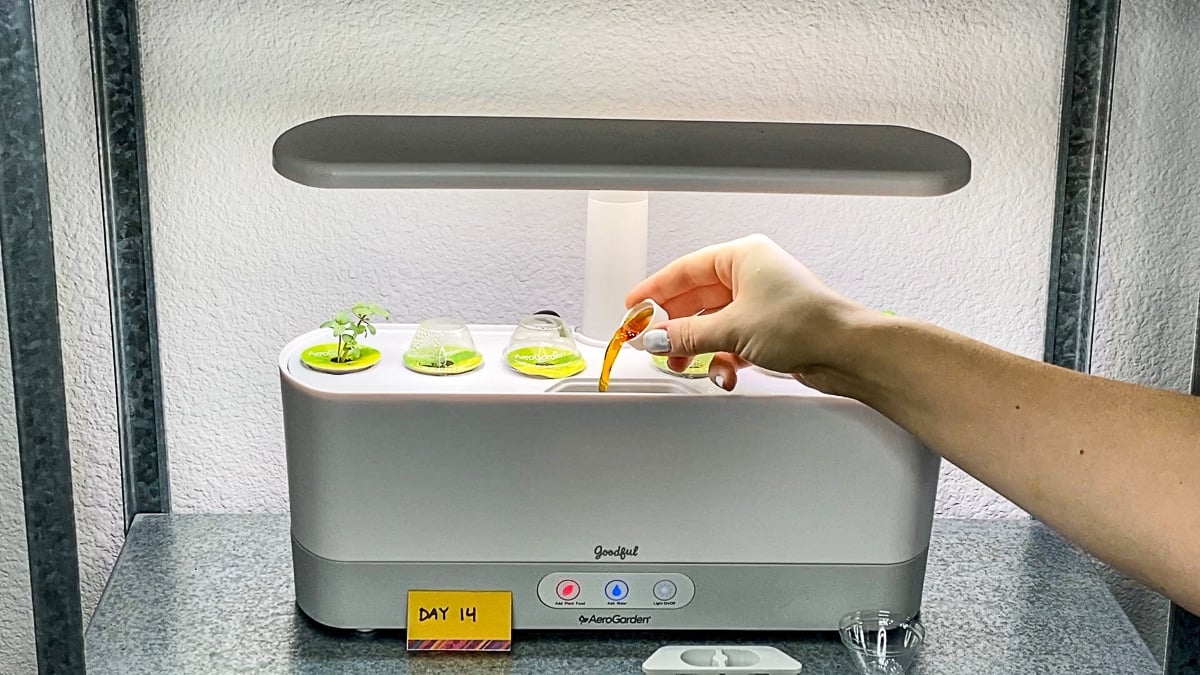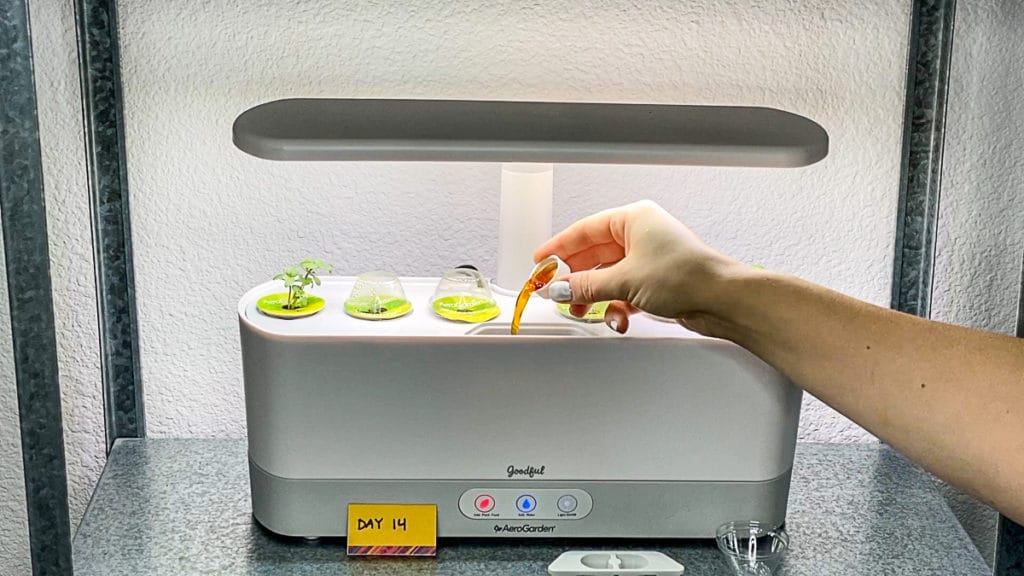 How do you feed an AeroGarden?
After you add water, you need to feed your AeroGarden. In order to properly do so, you must add the amount of nutrients needed for the number of pods you have. While three-pod AeroGardens only need about 4ml (one cap-full) of nutrients, AeroGardens with six or seven pods need double that amount (8ml).
If you have the Harvest Elite Slim AeroGarden model like in my photos, with 6 pods, you'll want to feed your AeroGarden two cap-fulls of nutrients.
On the other hand, the large AeroGarden Farm model has twelve pods and needs double the nutrients as its smaller counterparts.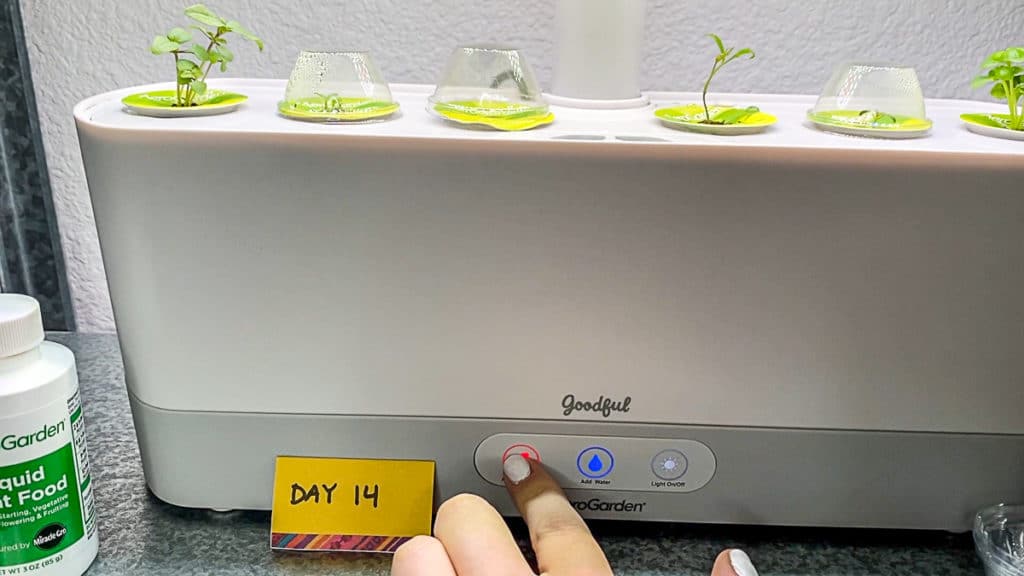 The Aerogarden feed button goes off every two weeks. A simple push resets the button.
What is in AeroGarden Plant Food?
When growing plants at home, you no doubt want the reassurance that they are free from harmful chemicals and substances. The great thing about Aerogarden nutrients is that they are completely safe and contain neither pesticides nor herbicides. Knowing this, you can feel good knowing that your herbs are safe for you and the environment.
AeroGarden plant food is made from mineral salts and other vitamins that plants need to grow properly. They also contain a patented pH buffer that allows you to safely use any water in the AeroGarden. You can even fill your AeroGarden with tap water.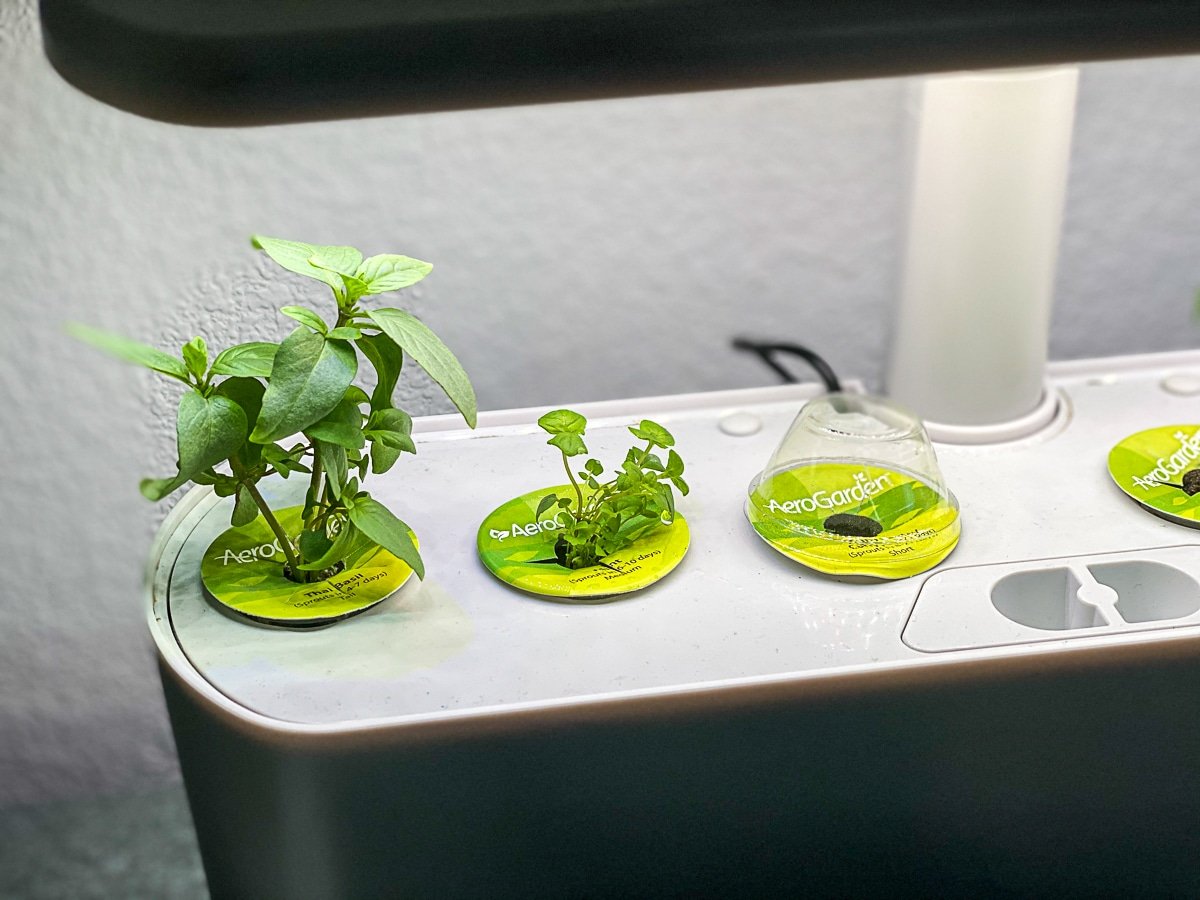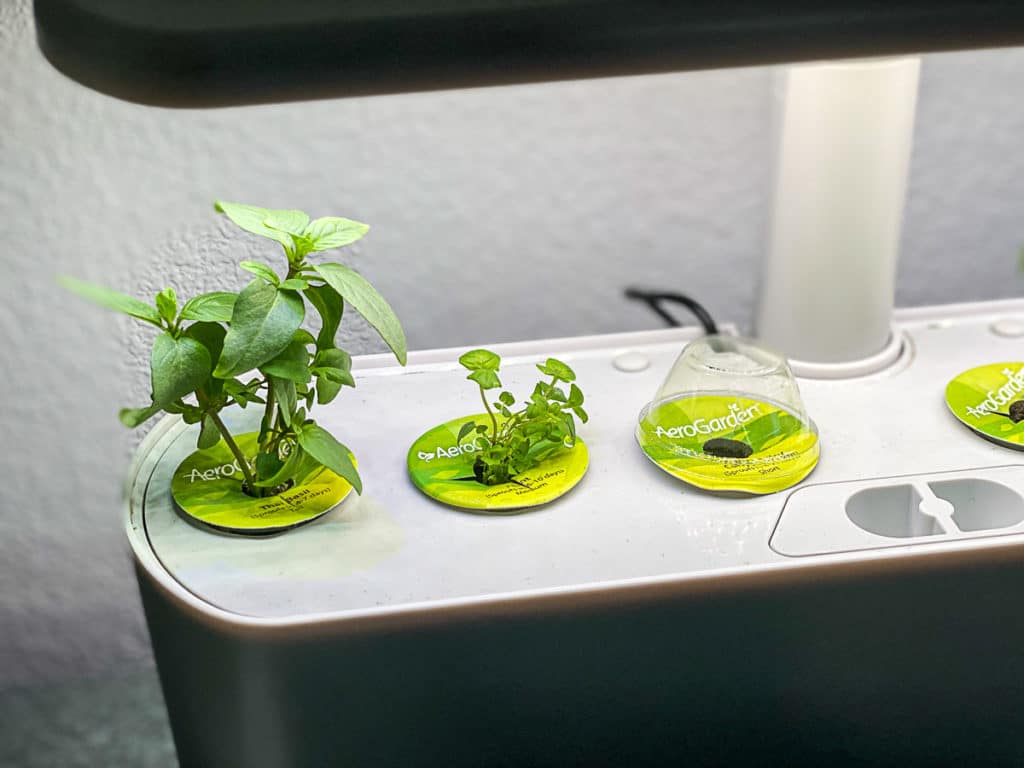 Week 3: AeroGarden First Pruning, Raising the Light
By this point, you should be seeing some serious growth in your AeroGarden! Along with flourishing plants, you may have noticed the growth of a fuzzy white substance. You might be wondering if your Aerogarden is growing mold.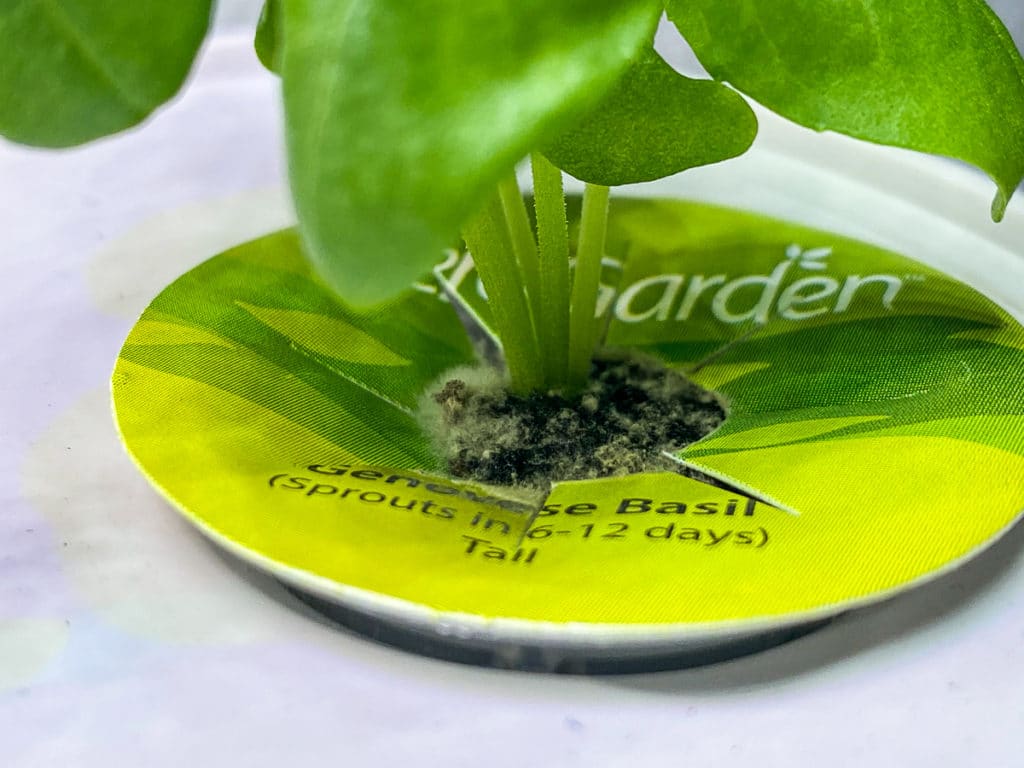 Is your Aerogarden growing mold?
Contrary to what you might think when you first see it, it's a beneficial fungus and actually a sign that your plants are healthy and organic.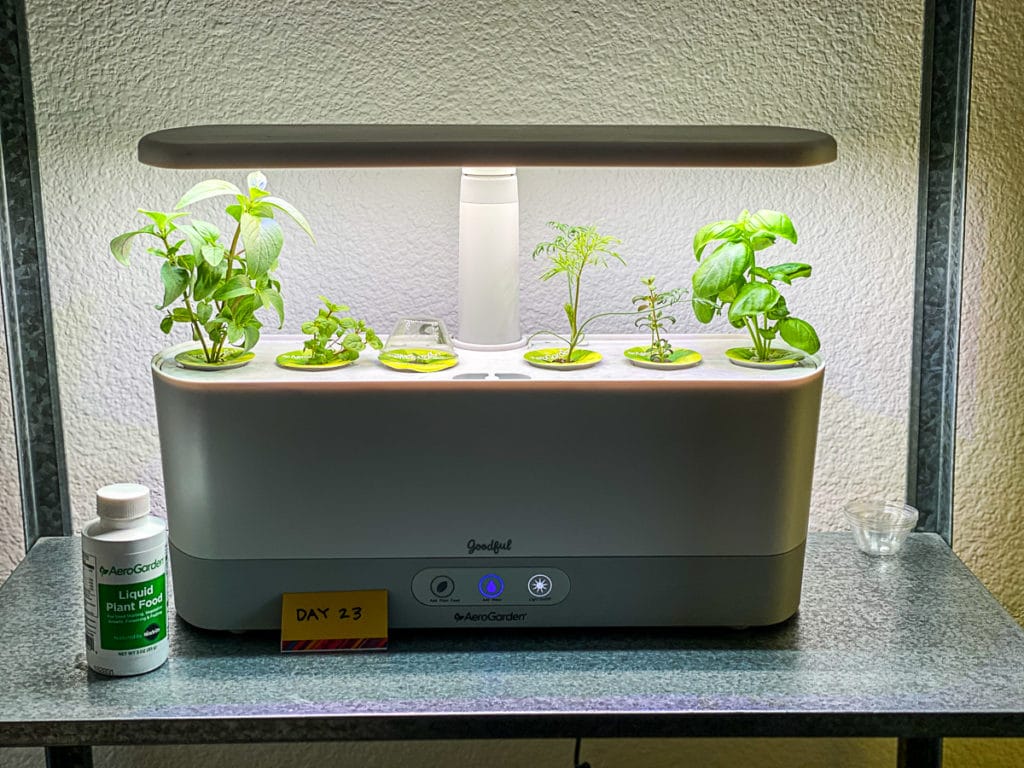 What to do when Aerogarden herbs touch the light
If your herbs have gotten tall enough to reach the top of the LED lights, you will need to begin raising the light gradually, according to the height of your plants.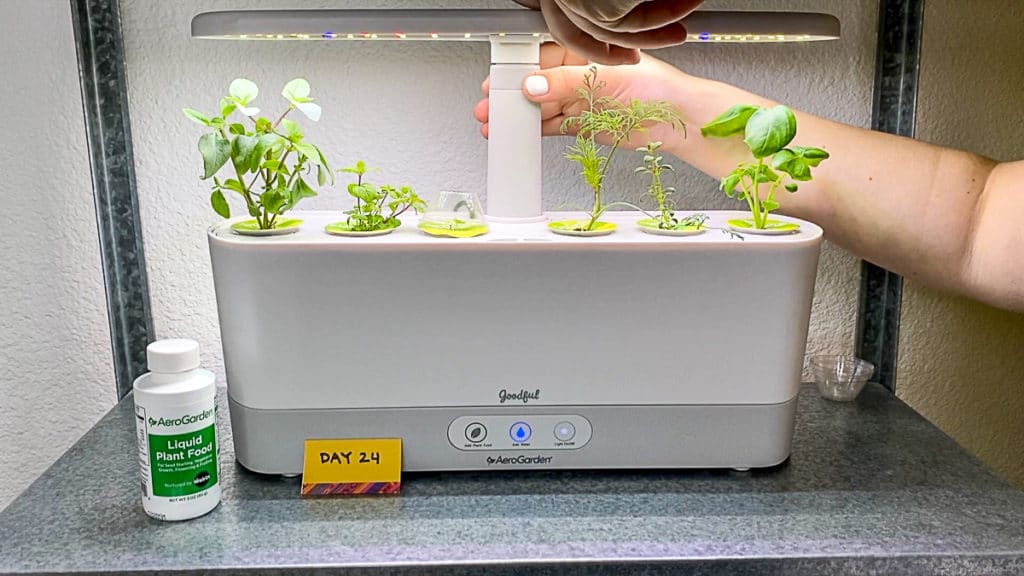 If some of your plants are taller than others, you can trim them to be about the same length. This way, they are all receiving an even amount of light and can continue to grow healthily.
How to Prune AeroGarden Herbs
In case you've never heard of this term before, to "prune" means to cut or trim back unwanted things on your plants like overgrown stems or dead growths of any kind.
This is a vital step for the growing process. If you want your garden to keep sprouting, you'll have to chip away a few things-kind of like when we trim our split ends in order for our hair to grow better.
When you're ready to prune your AeroGarden herbs, carefully remove any brown or yellowish leaves, as well as overgrown stems.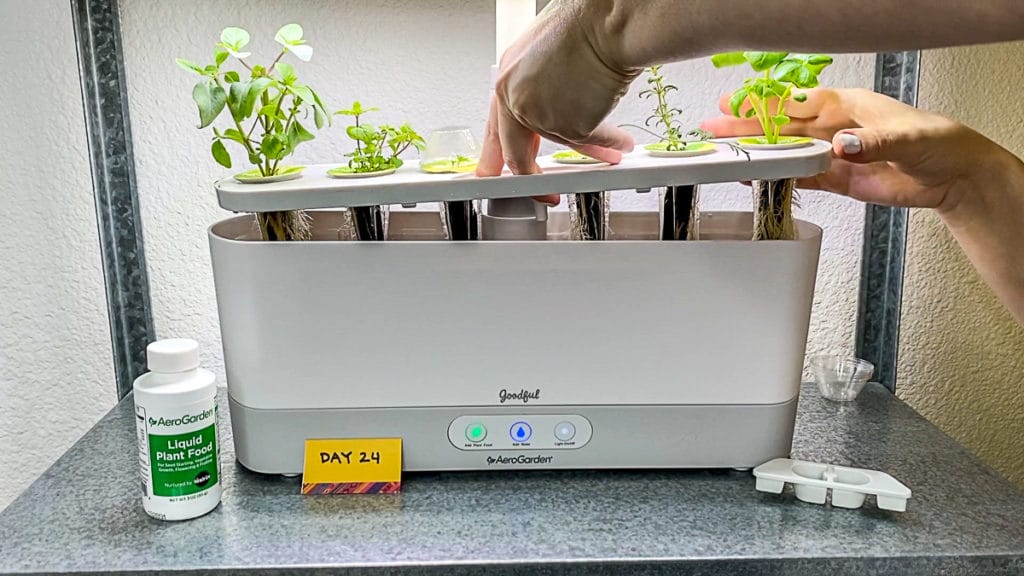 Week 4: AeroGarden Harvesting, Changing Water
Congratulations, you've made it to the fourth and final week of this guide! That means that if you've followed the above steps closely, you most likely are ready to start harvesting and putting your bounty to use! Week four also means that it is time to learn how to change AeroGarden's water.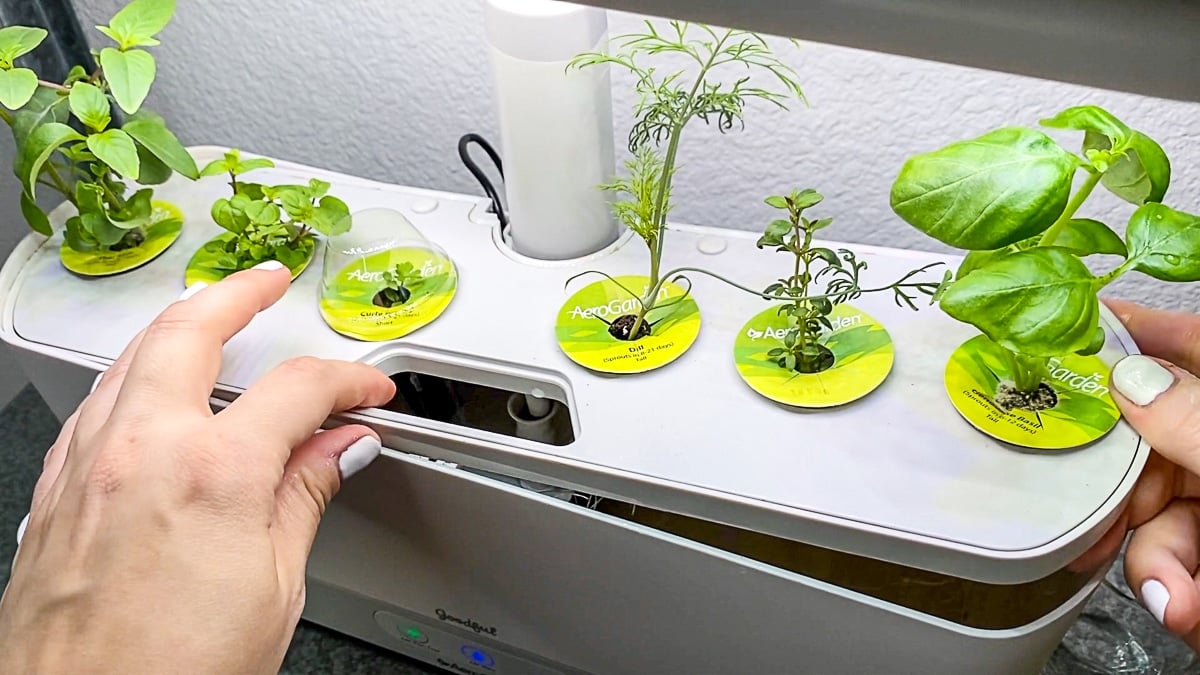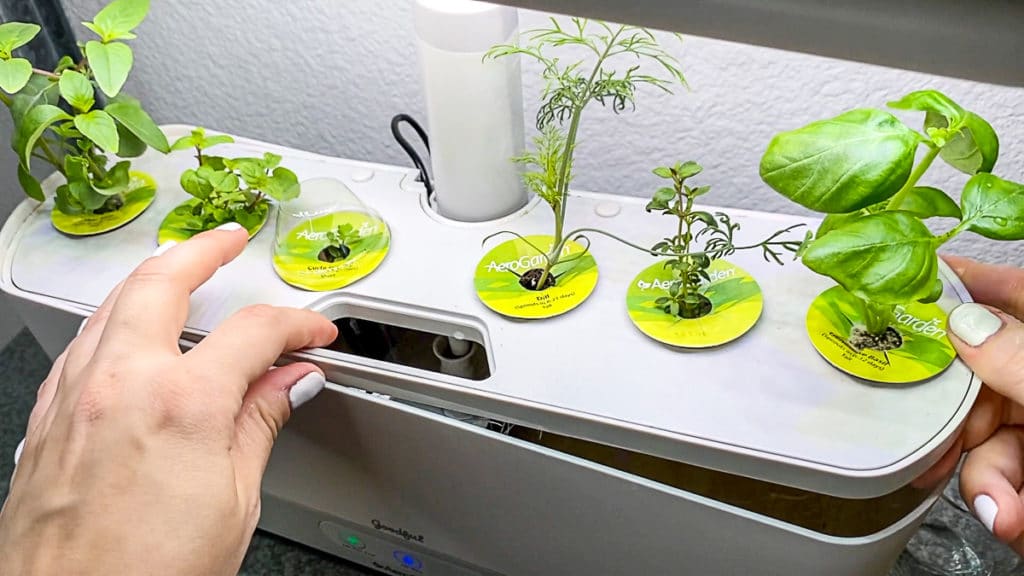 How do you Change the Water in Your AeroGarden?
When changing AeroGarden's water for the first time, you just need to remove the grow deck with all the plants still in their pod holes. Then, fill the sink with water and place the grow deck inside in order to keep your plants hydrated during the AeroGarden water change. Finally, empty the water in the AeroGarden and refill it with fresh water.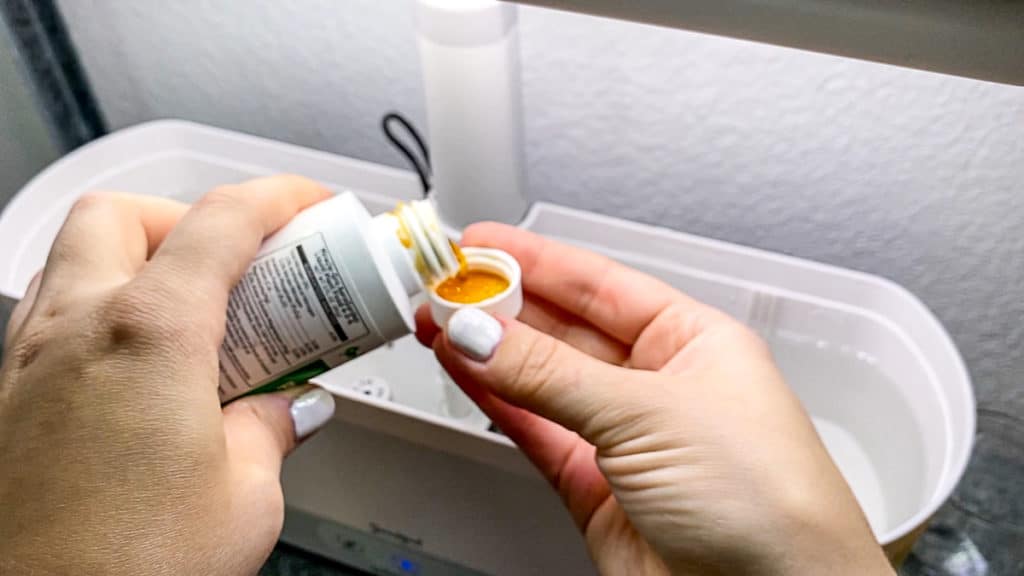 Remember to feed your plants after each AeroGarden watering (as discussed in the week two guide above). This will help them to keep growing and you to keep cooking with AeroGarden.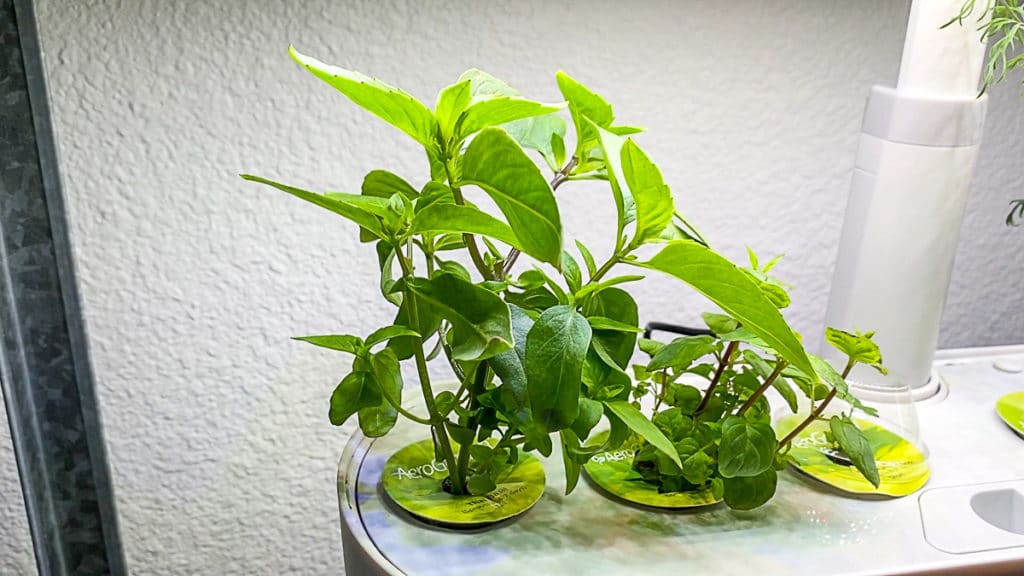 Harvesting AeroGarden Herbs
When harvesting herbs from the Aerogarden, remember not to over-prune them. This can cause detrimental effects to your AeroGarden herbs. With most herbs, you'll want to find the leaf nearest to the portion you are cutting and trim just above it. As each herb is trimmed slightly differently, make sure to check out pruning videos, as mentioned above.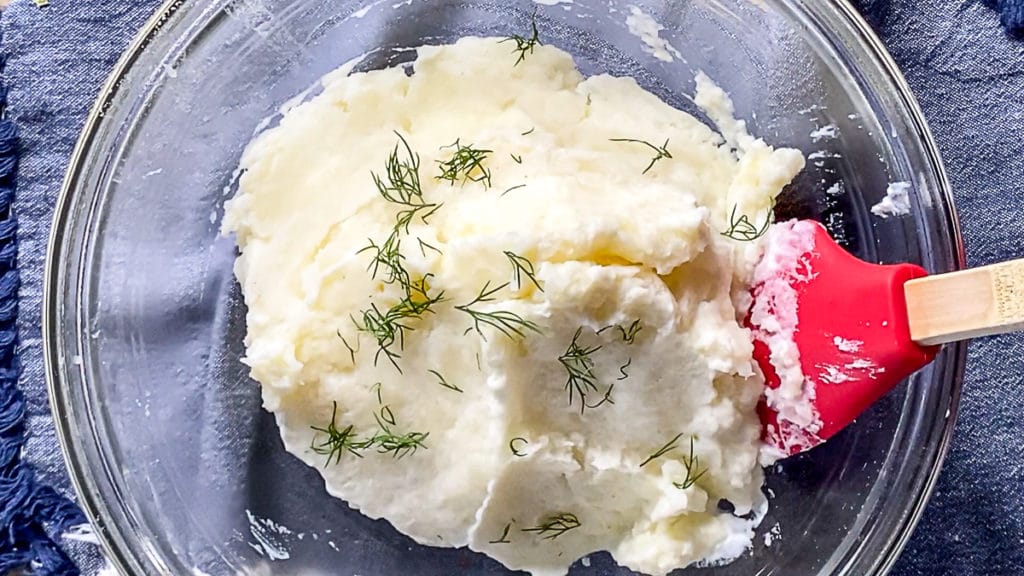 If your herbs are touching the light, you'll need to move it up again (it can raise up to a height of 12 inches). Some herbs may not have reached this point yet, but have no fear! Herbs grow at different rates and some herbs like parsley may take up to six weeks to grow this tall.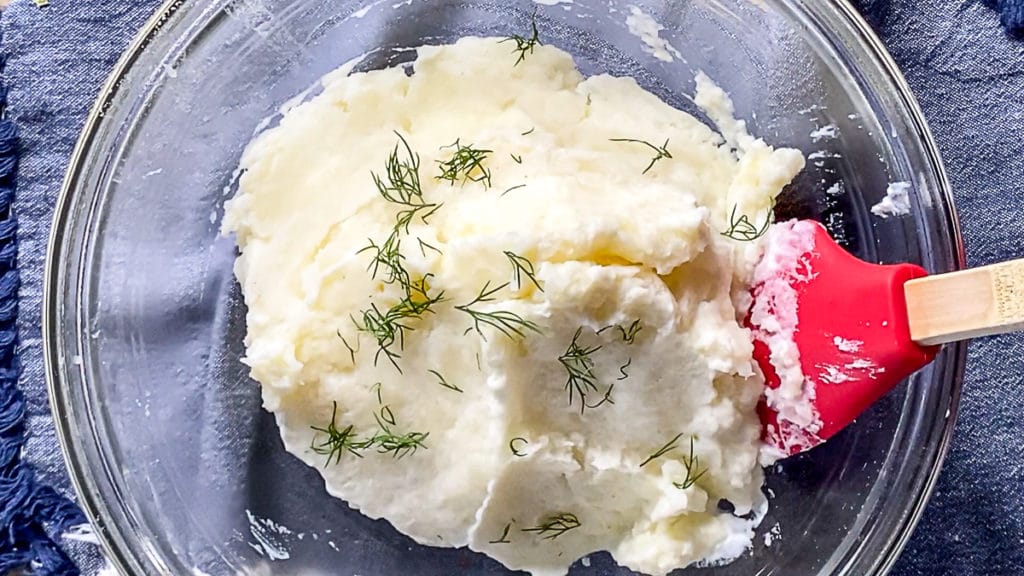 Inspo for cooking with AeroGarden Herbs
Now that your kitchen is overflowing with fresh herbs, you're ready for the fun part: deciding what to do with them. Although herbs can be utilized in a number of ways, here are some of our favorite ideas.
Simple tomato and cucumber salad with fresh basil
Stir fry with Thai basil
Mashed potatoes with dill
Veggie salad with avocado and Thai basil
Baked chicken spaghetti and Alfredo sauce with Italian basil
Instant Pot Chicken Noodle Soup with fresh thyme
Cocktails (such as a mojito) with fresh mint
Sous vide whole chicken with thyme
Sous vide T bone steak marinated with shallots and cilantro
Lemon shortbread cookies with rosemary, thyme, and sage
See more ideas on how to cook with fresh herbs.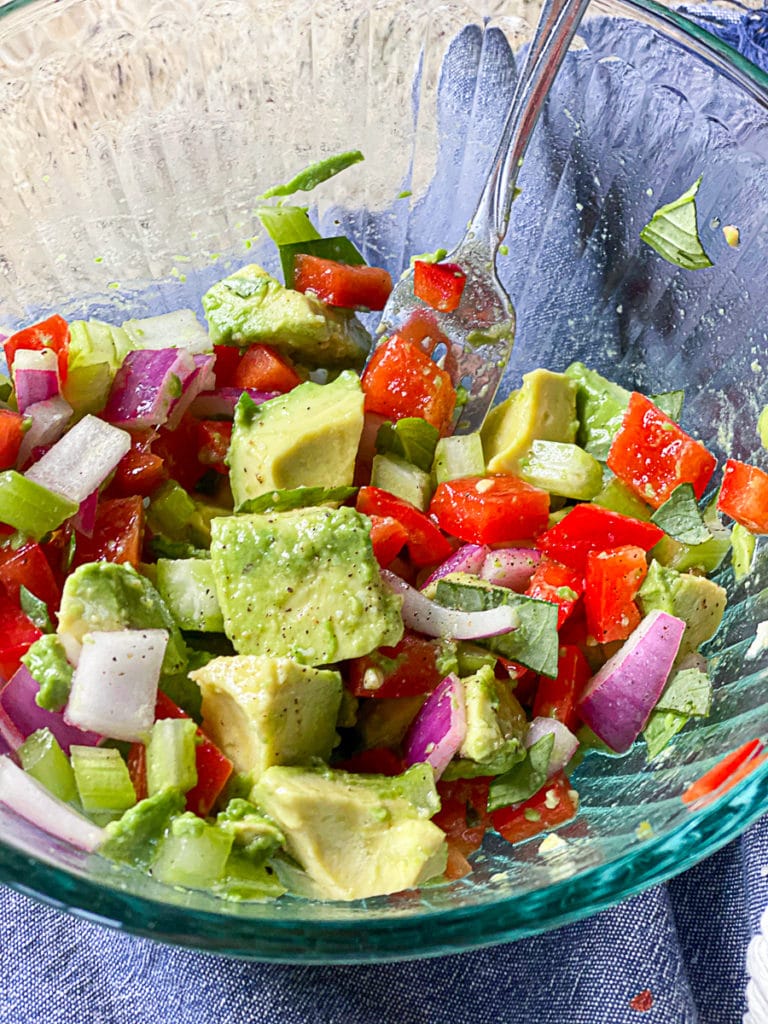 Using Your AeroGarden After The First Month
Now that you've made it through your first four weeks of AeroGarden use, it's important to continue to care for your herbs properly. Remember that each plant can last up to six months. However, a big part of your plants' duration depends on how you care for them.
After about four to six months, or when your herbs are no longer producing, you can wash your AeroGarden and replace the seed pods. Either experiment with fun new varieties of herbs and plants or repeat the growing process with the herbs you loved last time!
What would you grow in your AeroGarden? If you already completed the four-week guide, how does AeroGarden work for you? Let us know in the comments below and feel free to share your favorite ideas for cooking with fresh herbs!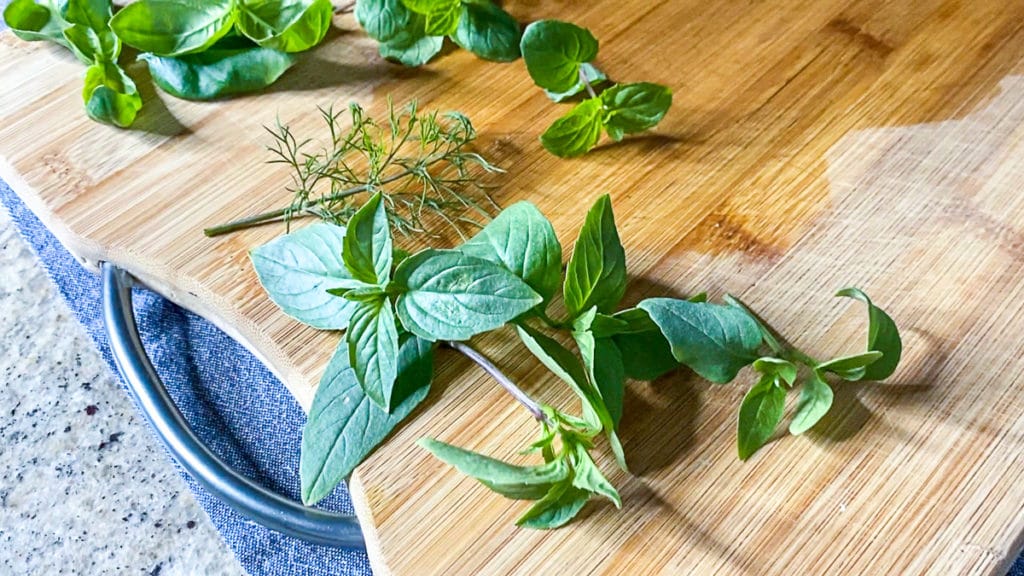 The perfect condiment makes the meal
Anyone who knows me, knows I'm a true believer in pairing the perfect condiment with a meal to make it feel "complete". For real — I'll order a dish at a restaurant just because I'm excited to try the sauce or dressing.
Here are some of my favorite kitchen supplies for making sauces on the fly:
Inspire the inner home chef in you. Grab a copy of my free Sous Vide Beginners ebook and free cooking with herbs ebook.
More delicious ways to cook with herbs
Want more recipes? Find new ways to enjoy cooking with herbs here on Sip Bite Go and get my free ebook with herb recipes.
My new cookbook is available! Check out The Home Chef's Sous Vide Cookbook.