Think your pellet grill is not getting enough smokey flavor into your food? Learn which Traeger pellets produce the most smoke and get extra tips you can start using right now.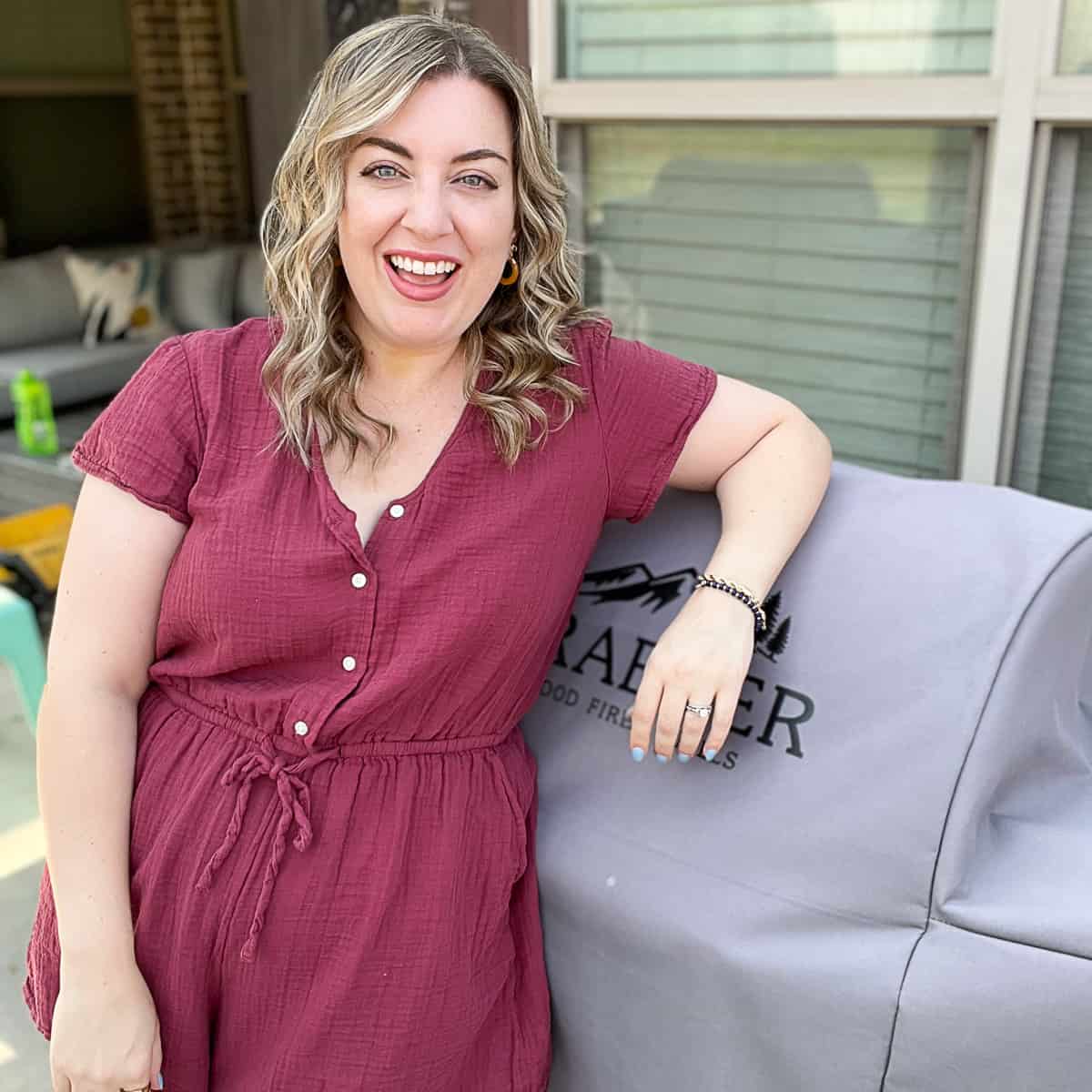 While developing my catalog of smoked food recipes, I've come to know what makes smoked food taste more (or less) smokey.
HEY FOODIES — Follow SBG for new smoker recipes on Instagram / TikTok
There are quite a few nuances when it comes to getting the perfect taste of smokiness from your Treager recipes.
Today, I'm sharing with you all I've learned about how to get more smoke flavor from pellet grills… you can use a lot of these tips on various smokers like a Camp Chef, Pit Boss, etc. but I do have some extra tips for Traeger owners.
Above is my smoked queso recipe with smoked bratwurst cooking at the same time.
Try smoking food at lower temperatures
Before wondering if your Traeger grill smokes well enough, because you smoked meat and it wasn't flavorful enough, you need to know…
The lower the temperature you use, the smokier food usually tastes.
And the pellets you use actually matter.
My smoked mashed potatoes and Traeger smoked queso dishes smoke at 225 – 250 degrees F, which is about half the heat my Traeger Ironwood 650 and 850 Pro pellet grills are capable of putting out.
Around 250 degrees F, food smokes slower and lower and can pick up a lot more flavor from the smoked wood flavors.
On a side note, smoked queso is one of my favorite things to smoke for a BBQ menu. We just made it again for an appetizer food for taco night using the smoker and everyone ate it up.
Does smoking foods at high temperatures make them more smoky?
In my opinion, it really matters on the type of food and what pellets are being used.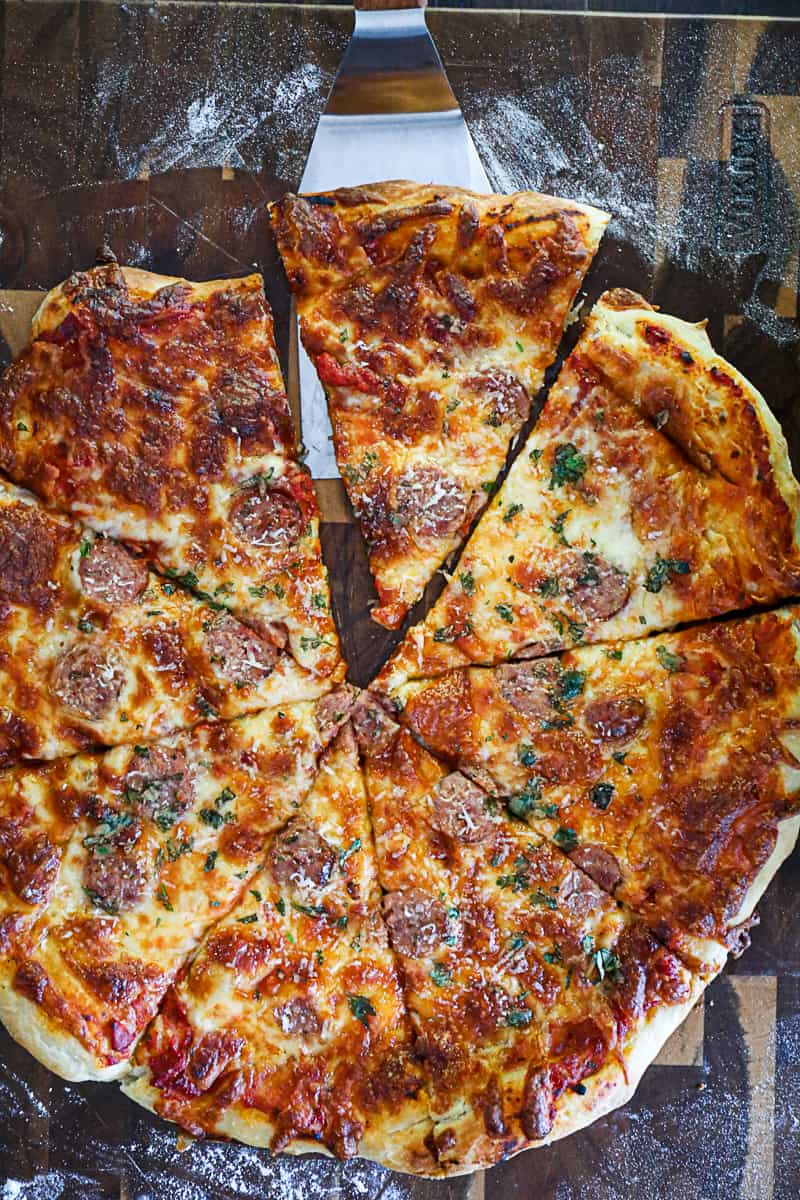 Something like my Traeger smoked pizza recipe cooks very fast, at a very high temperature, but I find the cheese does indeed take on a smokey flavor, even with lighter flavored pellets (more on that later…).
I will say, smoking food at higher temperatures can get food smoky, but it turns into more of a grilling situation.
Because when smoking foods at 450 degrees F, you're reaching grill recipe temperatures.
Above is based on my yummy methods for making smoked burgers, one of my favorite burger recipes.
When you're wondering why smoking on a Traeger Grill doesn't produce a very smoky taste, you need to consider if the flavor of the pellet is strong enough to penetrate the food.
Personally, I think the signature blend that comes with the Traeger isn't the ideal
Know the best foods to smoke with different flavored pellets
To get more of a smoky taste, the pellets and food combination really matters.
Light poultry like turkey and chicken breast picks up more smoke flavor. So the signature blend it comes with will stand out more than if you're cooking something like red meat or pork.
Next you'll learn which Traeger pellets produce the most smoke…
My favorite Traeger pellets for getting more smoke flavor
Hickory is best when you want very smoky flavor pellets
If you want some hard core smoke, try hickory pellets. The best meat to smoke on Traeger with hickory is something like smoked brisket flat or smoked 321 ribs.
Mesquite is very smoky, and one of my top smoke flavors ATM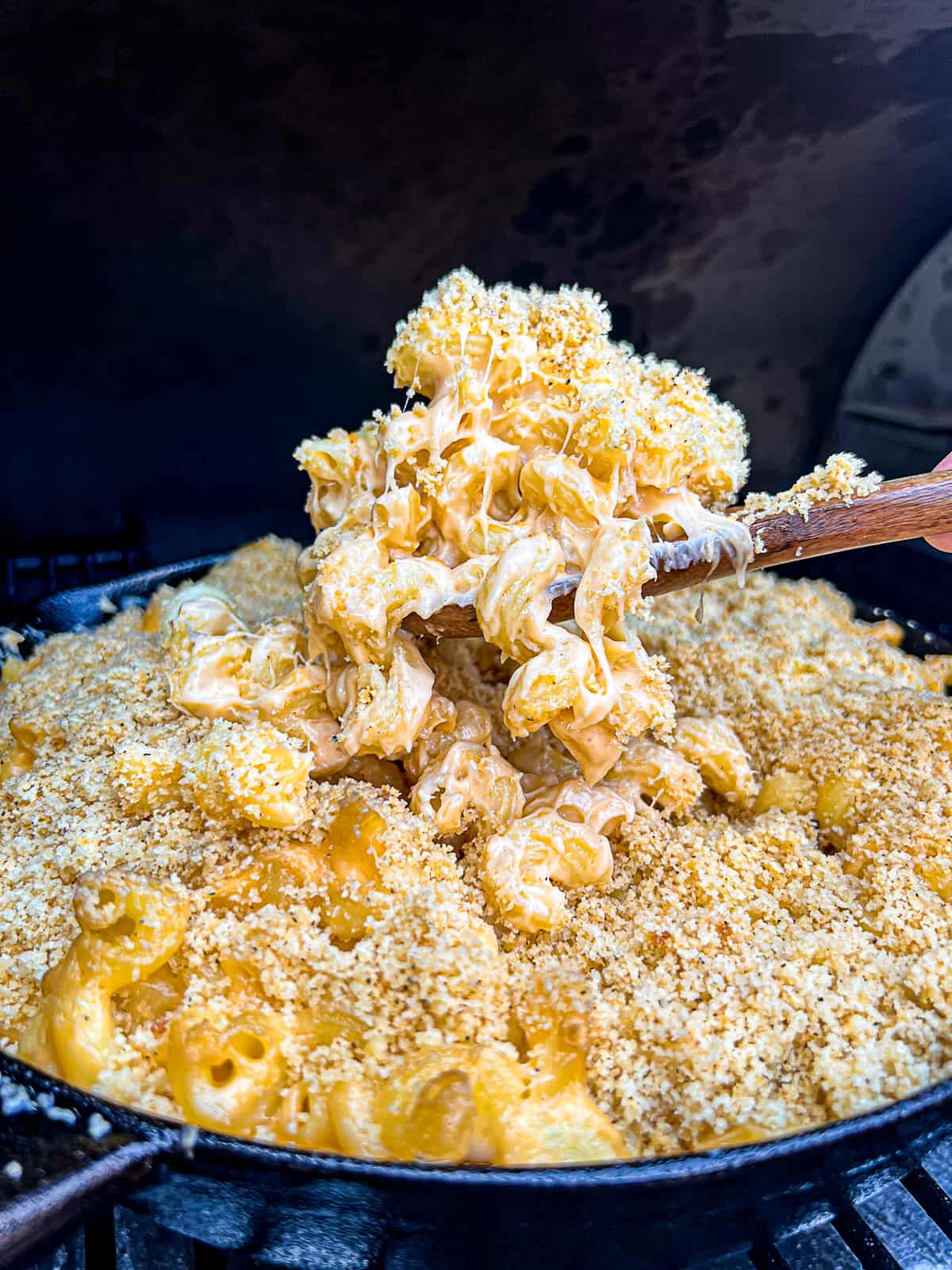 Mesquite pellets add a bold smoky flavor to beef, pork, smoked desserts like smoked apple pie, and side dishes like smoked mac and cheese.
It's one of my favorite pellet flavors to have on hand, for anything we might be smoking.
Turkey blend Traeger pellets: stock up now!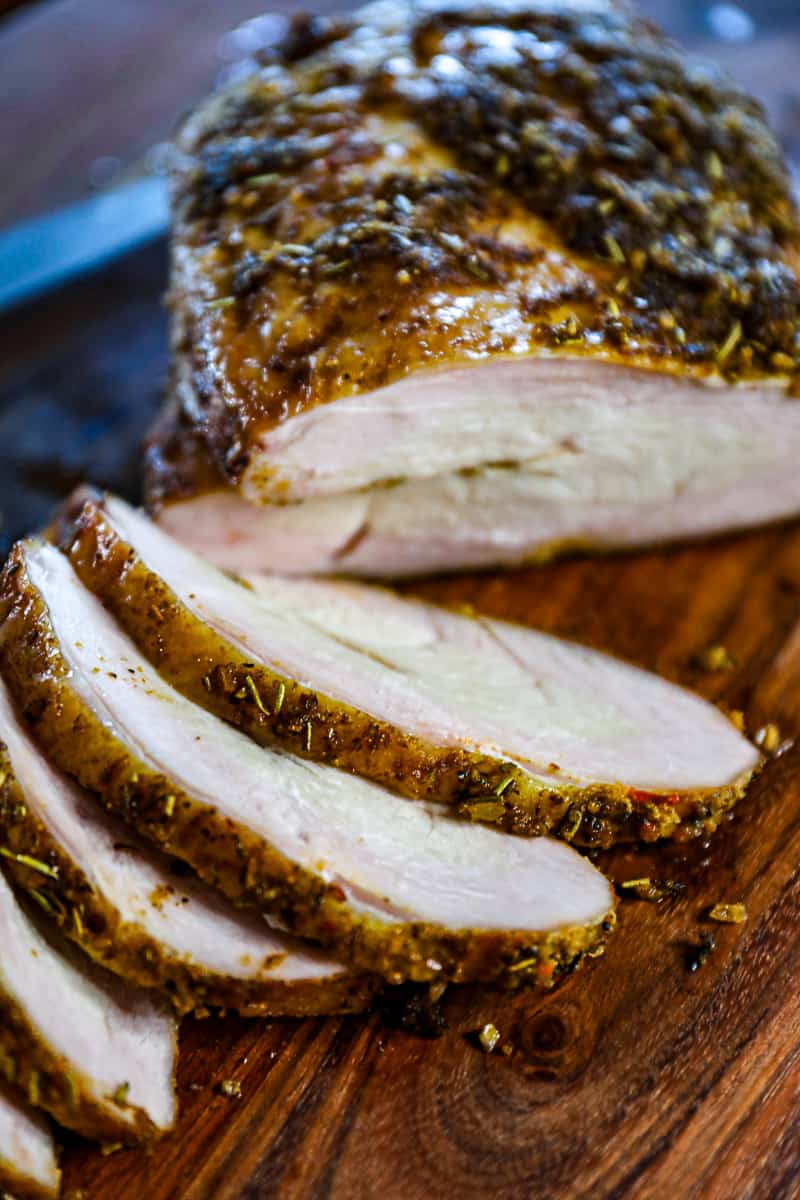 I love the taste of rosemary in them. Perfect for smoked turkey breast.
These flavored pellets are hard to find closer to Thanksgiving and Christmas last year, so I like to stock up on them to make my whole-bird smoked turkey recipe before the holidays.
Fruity smoke flavor Traeger pellets (cherry and apple)
I love fruity flavors for smoker pork recipes like pork belly burnt ends.
Sweet and light fruit flavored smoker pellets also go well with lighter foods like smoked scallops.
And poultry like smoked chicken breast and smoked chicken thighs.
Try cherry pellets or apple pellets
Hit the Traeger Super Smoker button
The special Super Smoker button near the dial on the Traeger is ONE answer when you're wondering how to make Traeger smoke more.
The one caveat to hitting super smoke setting
It adds more smoke but you can only press it if you're cooking something 225 degrees. Which is pretty low, which is also known as cold smoking.
Adapt smoker recipes for lower smoke temperatures
Here's a hack to help Traeger food taste more smoky, using the super smoker button…
What you can do is to smoke foods at a lower temperature initially, then increase it to finish smoking at a faster pace and for food safety reasons.
You can also cook a smoked ribeye steak starting at a low temp of 225 degrees F (serve it with this smoked steak butter).
And then do a reverse sear on a high heat grill to finish it.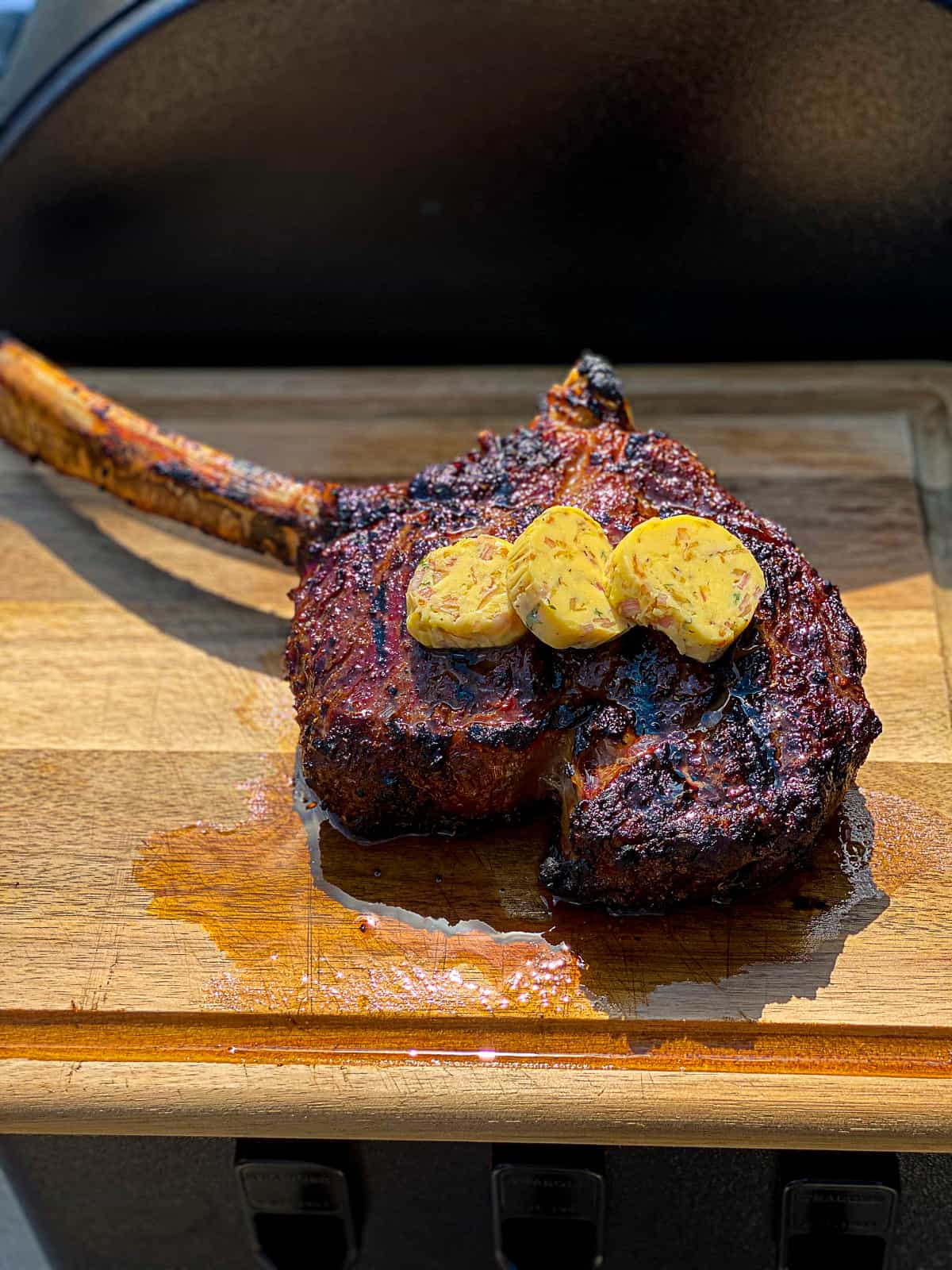 Similar to this recipe for smoked tomahawk recipe.
Or start something like a smoked whole chicken on a low temp of 225 degrees F, so you can hit super smoke, just for 30-45 minutes or whatever is safe for your cut of meat.
Then raise the temp so it can cook faster until it reaches the safe internal temperature.
This way it initially gets a big smoky flavor boost.
I did this technique in a smoked spatchcocked chicken recipe I'll be sharing soon.
Seasonings that provide smoke flavor
Above, seasoning smoked bone-in pork shoulder with pineapple.
Meat Church Honey Hog BBQ Rub
It's not only a pork BBQ rub, but I add this to everything including smoked barbecue butter, smoked cream cheese, and smoked chicken wings.
Try Honey Hog BBQ
See my honey hog BBQ from Meat Church demonstration
Shop this Honey Hog BBQ
More BBQ seasonings to try
Lastly, try using a smoke tube on your pellet grill.
You can get a smoke tube or smoke box on Amazon for less than 20 dollars. They provide extra wood chip flavor for whatever you're smoking.
What does a smoke tube do?
For most models of metal container smoke tubes, you'll add smoking pellets to the cavity. Then light the open end and blow it out. Kinda like incense.
When do you use a smoke tube for smoking foods?
While a smoke tube can be added to the Traeger at any point during smoking, add it at the beginning to give your food the most smoky flavor.
Is something wrong with your pellet grill?
If your Traeger is old, well even if you have a new Traeger, if you think something is seriously wrong and it's broken, and that's the reason you don't have much smoke flavor, you can write in to Traeger customer service and they can help you check issues that can arise or parts that may need to be replaced.
Let me know if you have any more tips on how to get more smoke from Traegers.
Are you a foodie, too?
Hey home chefs, hope that answers all your questions about how to get more smoke flavor from a pellet grill. In the future I want to share more on getting the best smoke flavor and help compare which pellet grills produce the most smoke.
But for now I have some more recipes to finish writing, so chat later!
Connect…
More Tasty Grill + Smoker Recipes
See this Traeger Flatrock grill review.
See my favorite smoker tools and seasonings in my Amazon Storefront.
Meat thermometer recommendations
Every home chef needs a reliable meat thermometer to cook food perfectly.
On Sip Bite Go, you'll often see me using:
Meater thermometer – a fancy wireless thermometer that connects to a phone app – gifted to me from a Traeger partnership.
ThermoPro digital thermometer – which has a wire that connects the thermometer to a display box outside the oven/grill.
It's like being psychic! The great thing about either of the thermometers above is that I don't have to take the food out of the oven to know the temperature.
How to use 'em… What I do is stick the digital thermometer in steak, pork, chicken, whatever… Then put the food in the oven, on the smoker, or grill.
While the meat cooks, it reads the temperature so I know exactly what temp meat is as it's cooking. Without having to take it out and check. It's really difficult to overcook food when you know exactly what temp it is inside!