Check out easy game day smoker recipes for football and Super Bowl that can feed a party crowd. Make these in bulk with your pellet grill for a memorable feast!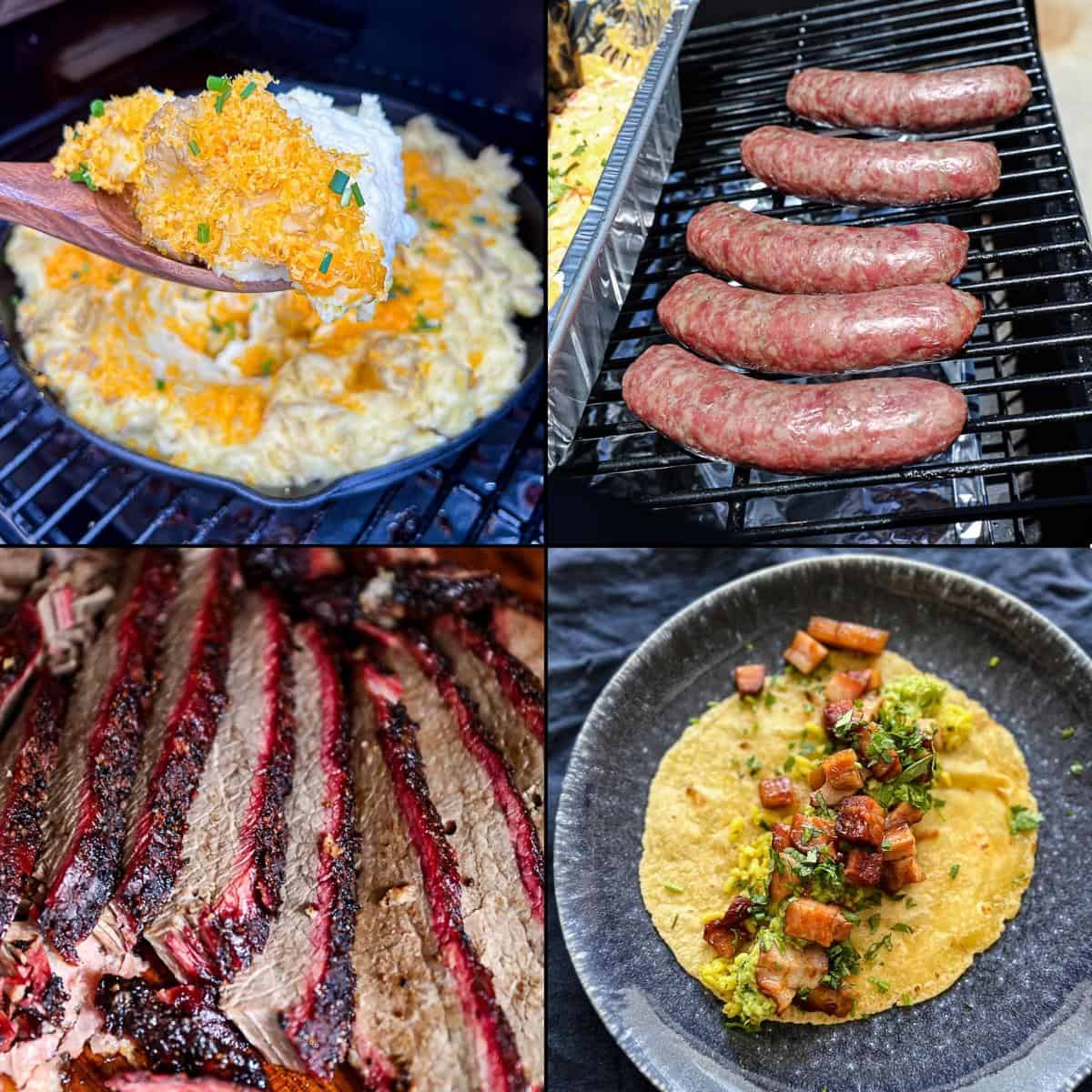 See 9 EASY chicken wing recipes to make at home >
With these easy dishes, you can put together a tasty game day bbq menu.
Enjoy these smoker recipes for football season and beyond.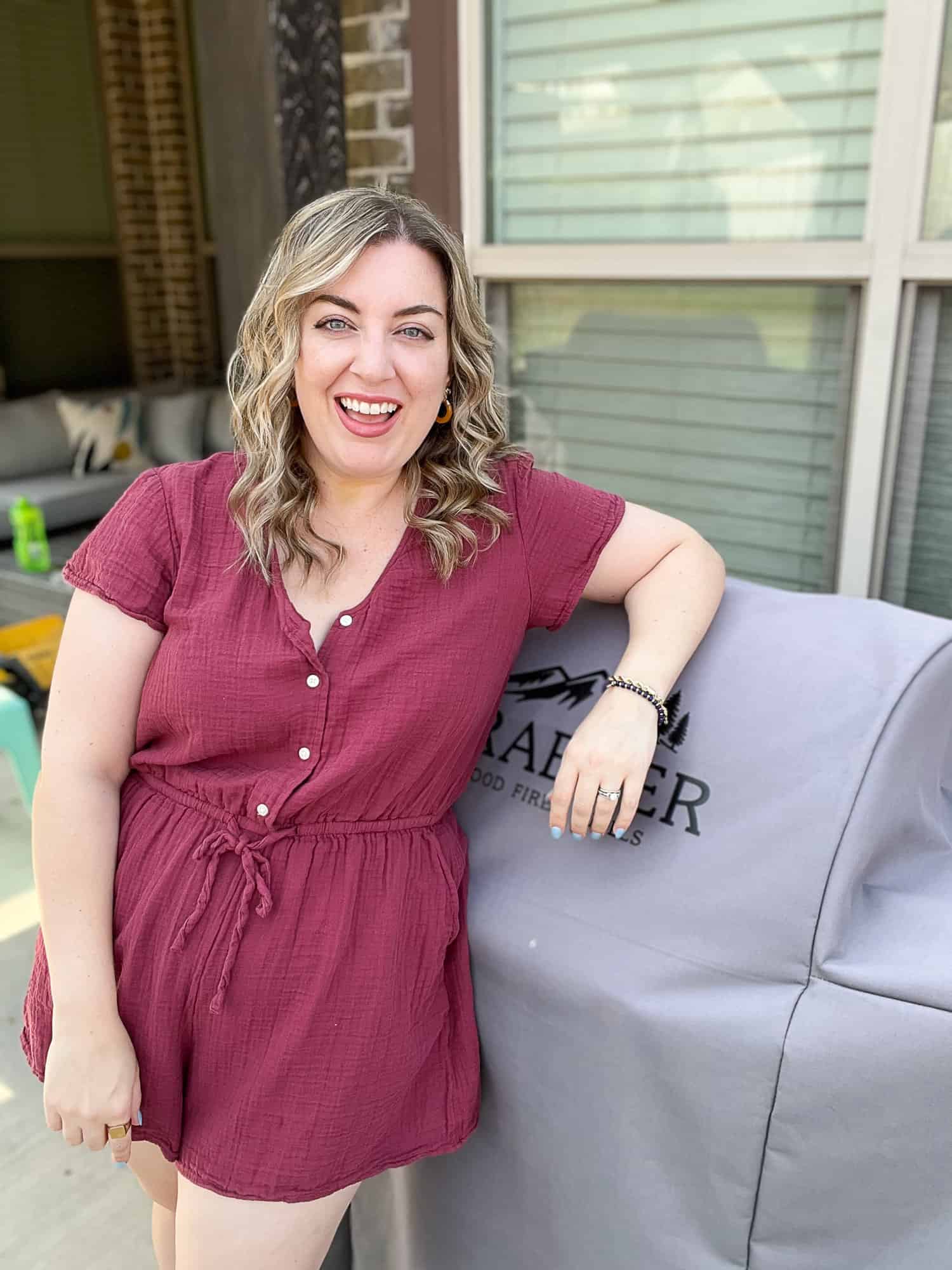 HEY FOODIES — Follow SBG for new recipes on Instagram / TikTok…
Game day appetizer recipes
When it comes to smoked game day appetizers, think finger foods for a bbq party, and smoked dips…
Smoked queso game day app
Starting this list of best game day smoker recipes is this cheesy, yummy dip everyone loves.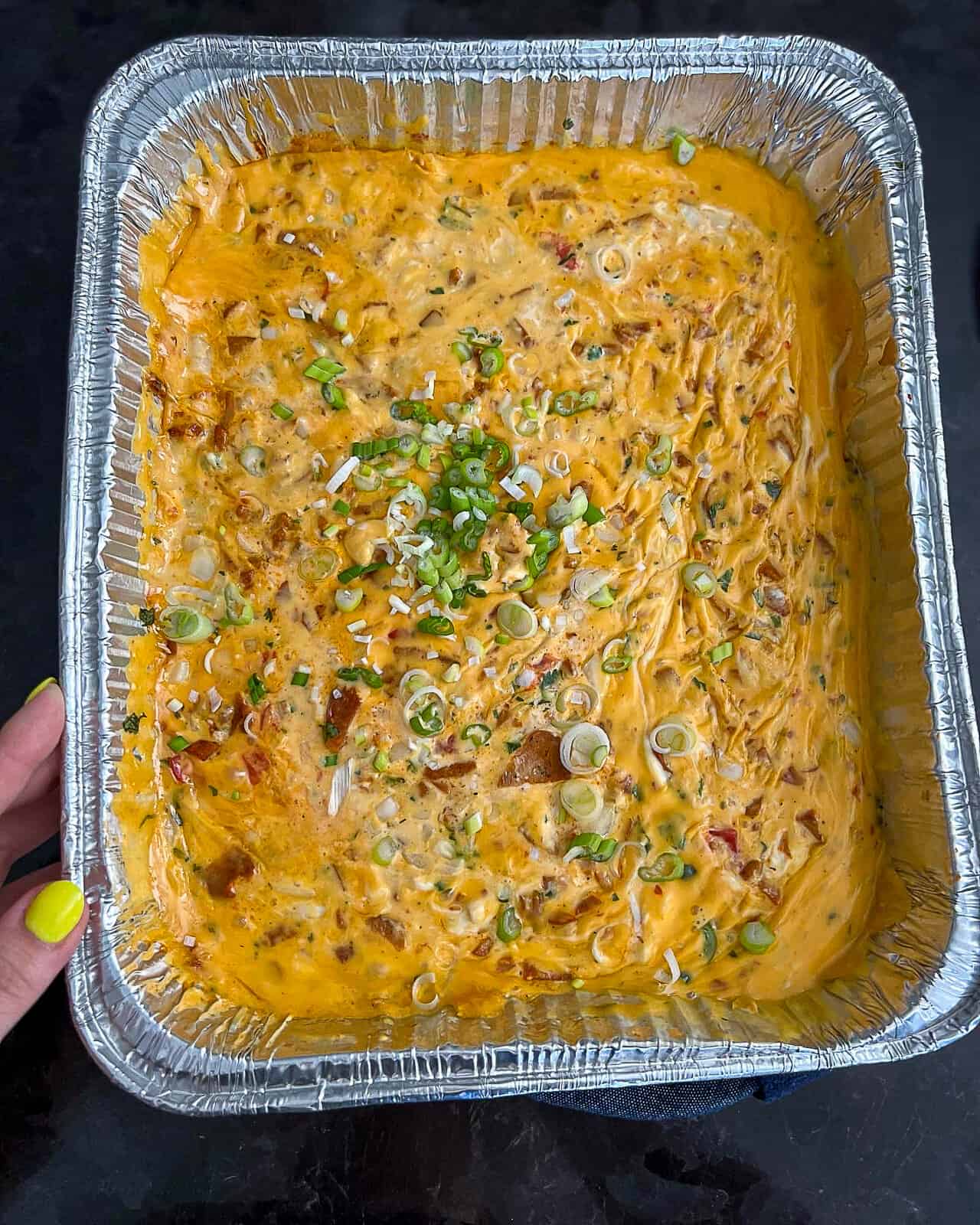 Did you know: you can make this smoked queso at the same time as smoked meat recipes that cook at 250 degrees F like smoked bratwurst.
It's definitely one of the best bbq appetizers out there.
See these tasty taco night smoker recipes…
Smoked cream cheese dip
This is an easy Game Day appetizer platter idea…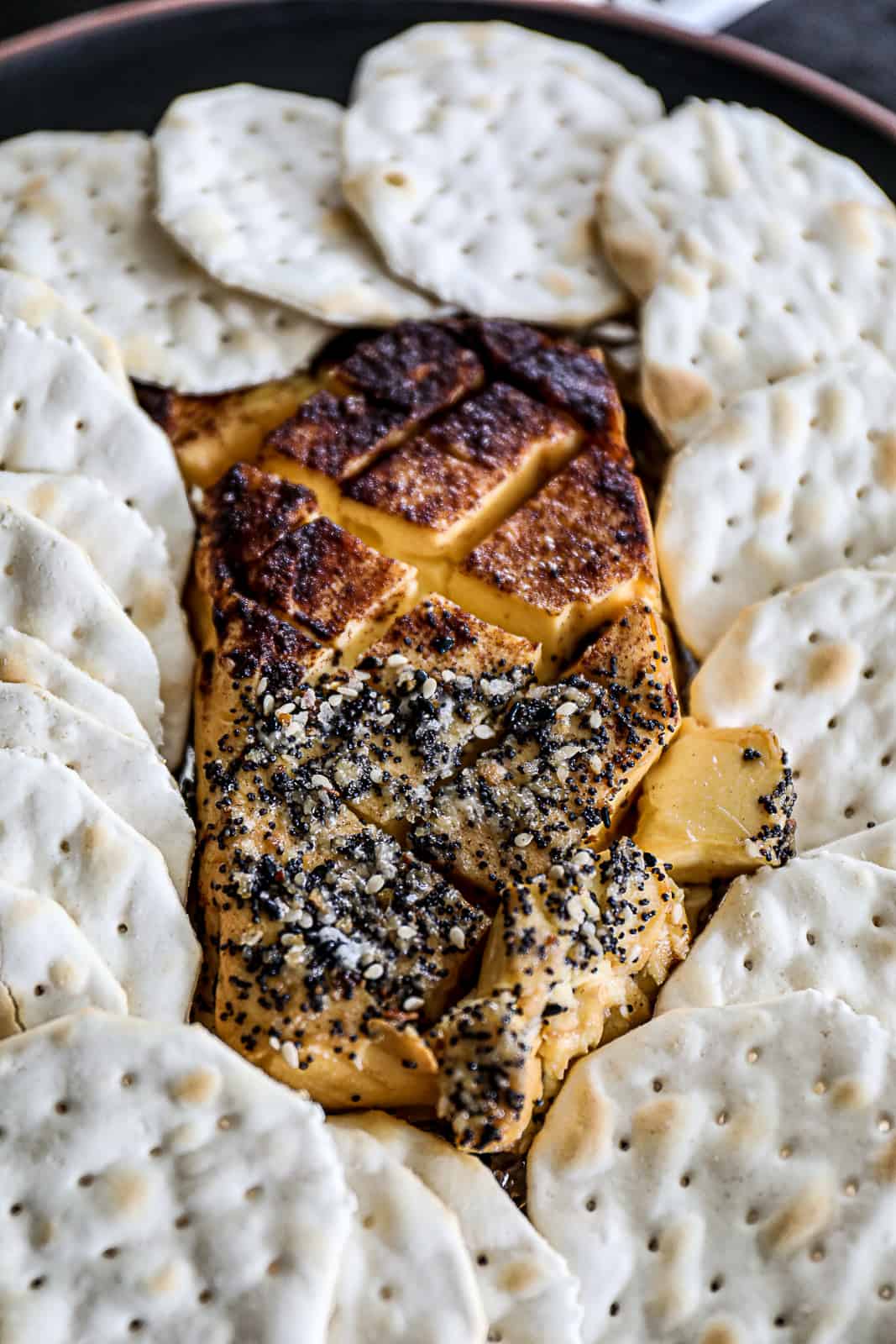 Smoke cream cheese on the Traeger pellet smoker in a bunch of different sweet and savory flavors and serve with dippers like crackers, pita chips, chunks of bagels, etc. 
Smoked nachos
You can load up any cooked protein like shredded meat from smoked butterfly chicken legs or smoked pulled pork on these wood pellet smoker nachos…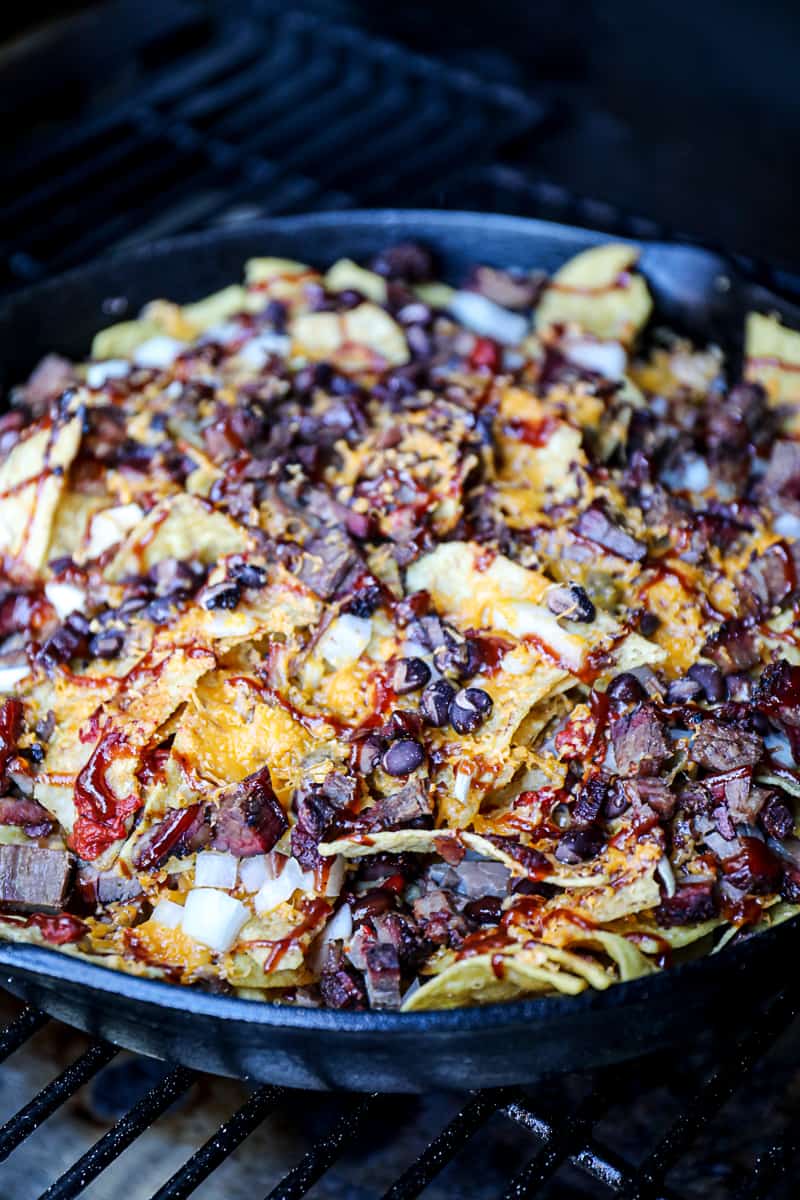 The best part, besides how tasty they are, is that they're quick to make.
They are ready in under 30 minutes!
Try these smoked brisket nachos.
Smoked pizza
When you want things to cook in a smoker that will be fast and feed a group of people… then you gotta love a 20 minute dish like this one…
​​If you haven't tried making homemade pizza on the Traeger you're missing out…
It smokes in about 15 minutes and gets that wood fired flavor everyone loves. I'm a huge homemade pizza fan (in the oven), but smoking pizza in a pellet grill perfected it in my opinion.
Get my easy smoked pizza recipe.
Easy game day smoker salsa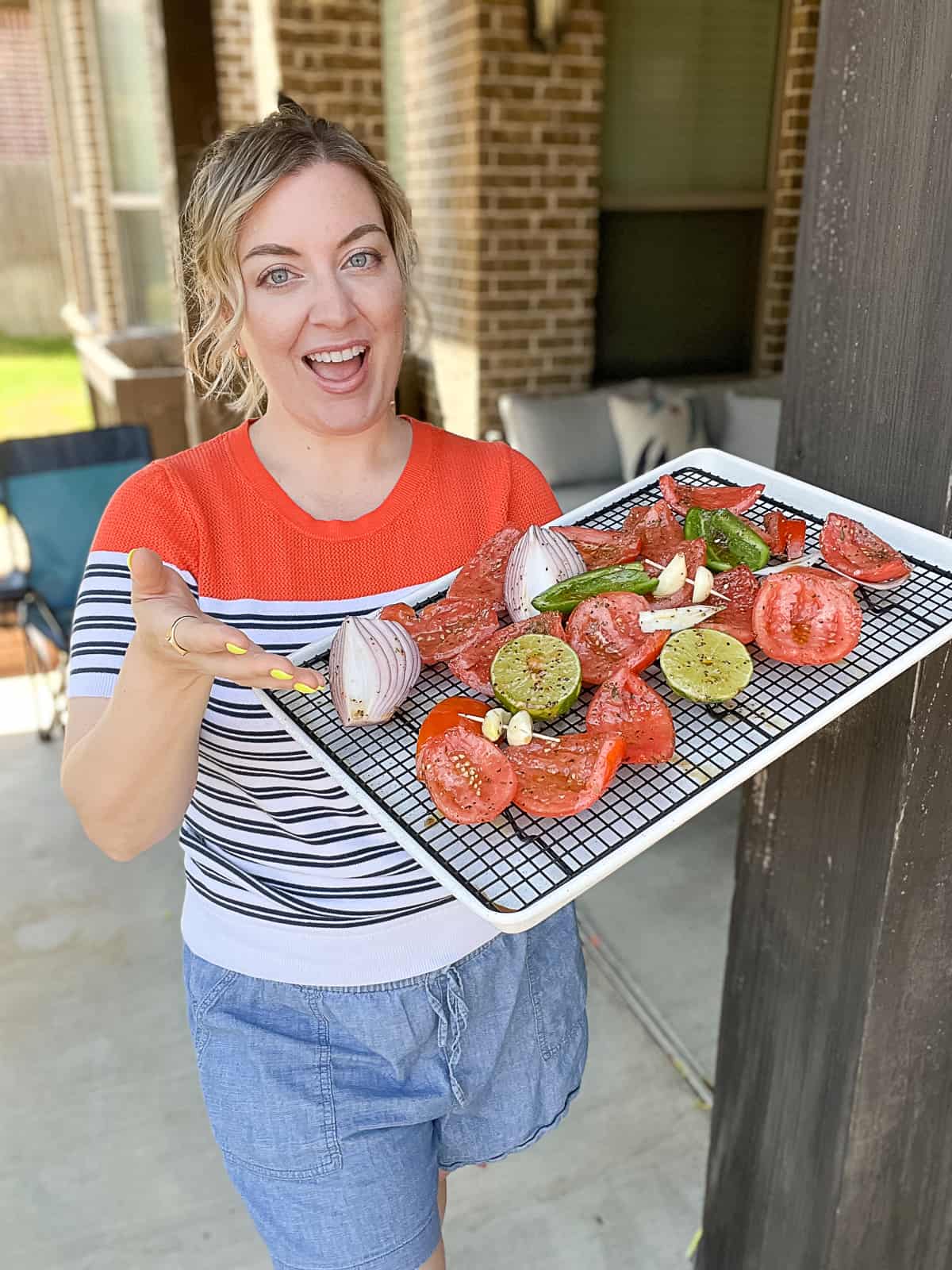 Make it a day ahead! This simple recipe for smoked salsa cooks at 250 degrees F on the Traeger pellet grill for about 60 to 90 minutes until the veggies are soft.
Blend them up with cilantro and enjoy with chips as an appetizer dip.
Main dish ideas for smoked game day food
There are plenty of smoker recipes for game day entrees to dig into on this list with your hands. But there are also some "nicer" more fancy game day menu options for the big Super Bowl game and special events…
Smoked turkey legs and wings
These are fast and easy to make. Try either smoked turkey legs or Traeger smoked turkey wings.
Smoked burger for game day party food
Even better when smoked…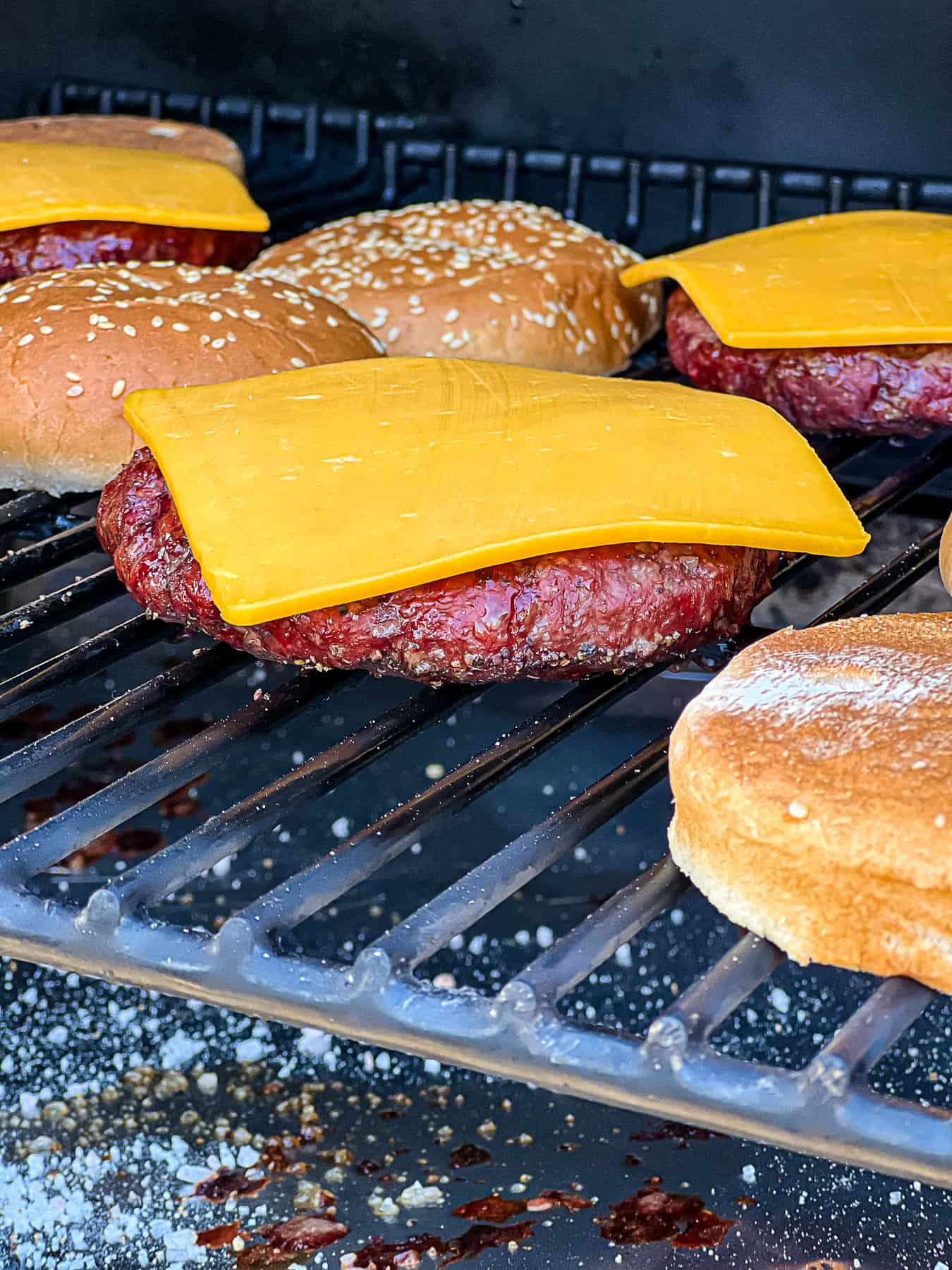 If you haven't tried them yet, find a reason immediately!!
The Traeger smoker burgers recipe from Sip Bite Go uses big ½ LB burger patties to make incredibly flavorful beef.
You'll see a gorgeous smoke ring when you bite in to them.
Get my recipe for smoking burgers and see my extra tips for melting smoked cheddar cheese on top, too.
Also see these smoked bacon wrapped burgers…
Smoked ribs
A couple of our favorite racks of ribs to smoke on the Traeger include smoked St. Louis ribs and smoked 3 2 1 ribs using babyback style ribs.
Good rib recipes often involve first smoking the meat on the cooking grates directly, then wrapping them in foil to steam and prevent the rib meat from drying out.
Smoked brisket sandwiches
If you're new to smoking brisket, this is a good recipe, because it's not for a huge 14 LB brisket.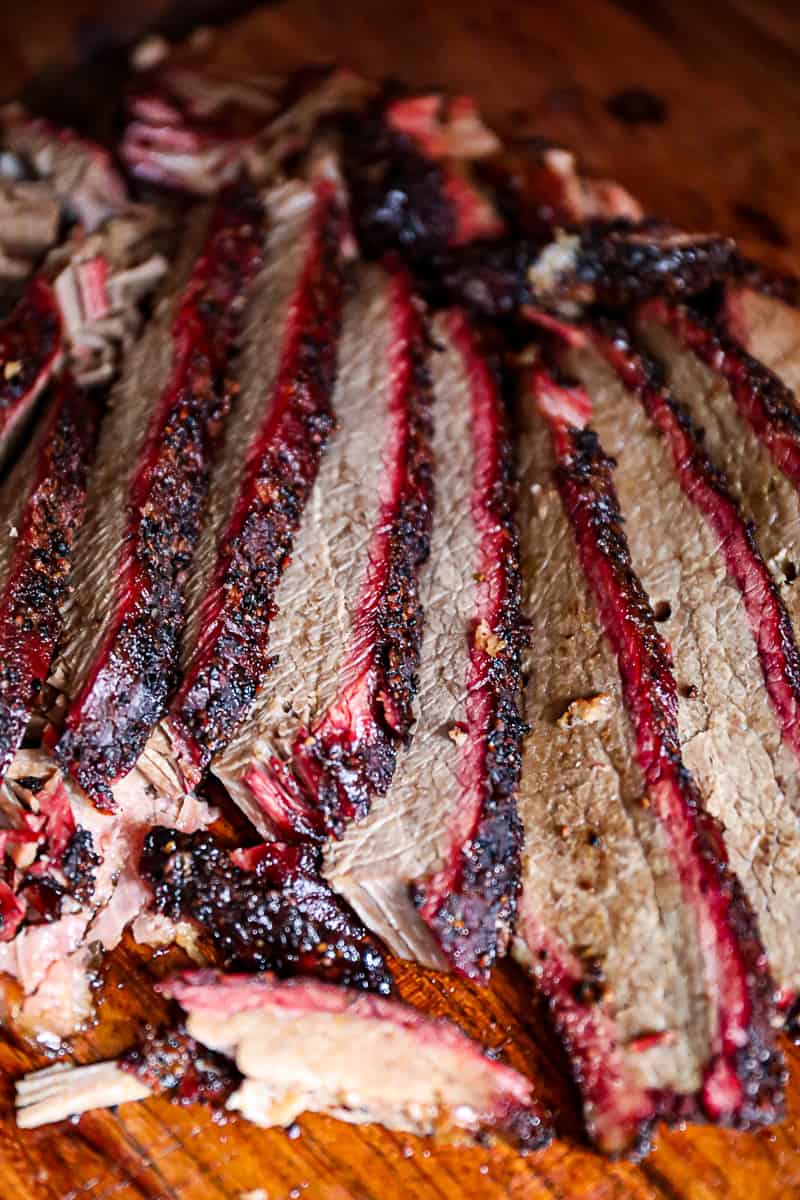 It's just a part of the brisket that's easier and faster to cook, that's around five pounds.
Which is plenty to feed a bunch of people some tasty smoked brisket sandwiches.
So here ya go, try this yummy Traeger smoked brisket flat recipe.
(and special thanks to whoever at Traeger invented the butcher paper, it is one of my favorite grill tools because it helps the brisket stay deliciously moist!)
Smoked beer brat sandwiches
These don't take up much room in the smoker, so they are the perfect smoked Super Bowl food for a big party.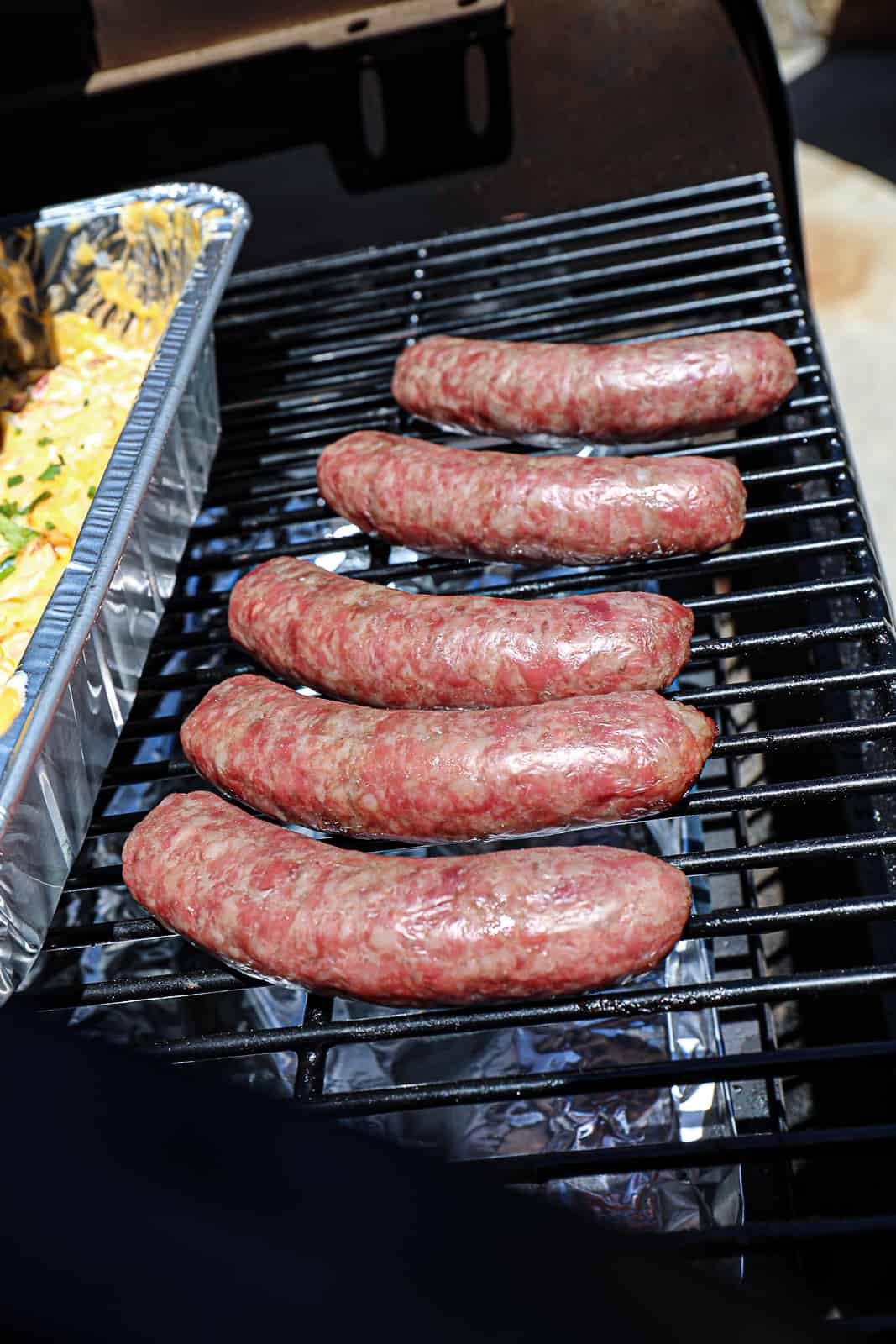 Try this easy smoked bratwurst.
I love smoked sausage like smoked kielbasa on charcoal grills and air fryer brats, too. But the smoker gives them such a tremendous amount of flavor you have to try it!
One of the reasons for the BIG flavor is that you can smoke sausage at 225 degrees F, which gives you extra temperature control on the Traeger… because you can hit the SUPER SMOKE button when you smoke at 225 F and pump up the smoke flavor.
Also see how to smoke hot dogs…
Smoke steaks for a fancy game day party
Sure, you can smoke hot dogs or what not. Everyone loves those!
(especially bacon wrapped hot dogs)
But if you want to go big for a Super Bowl bbq party, or just because your favorite team is playing, smoking steaks for game day is the way to go…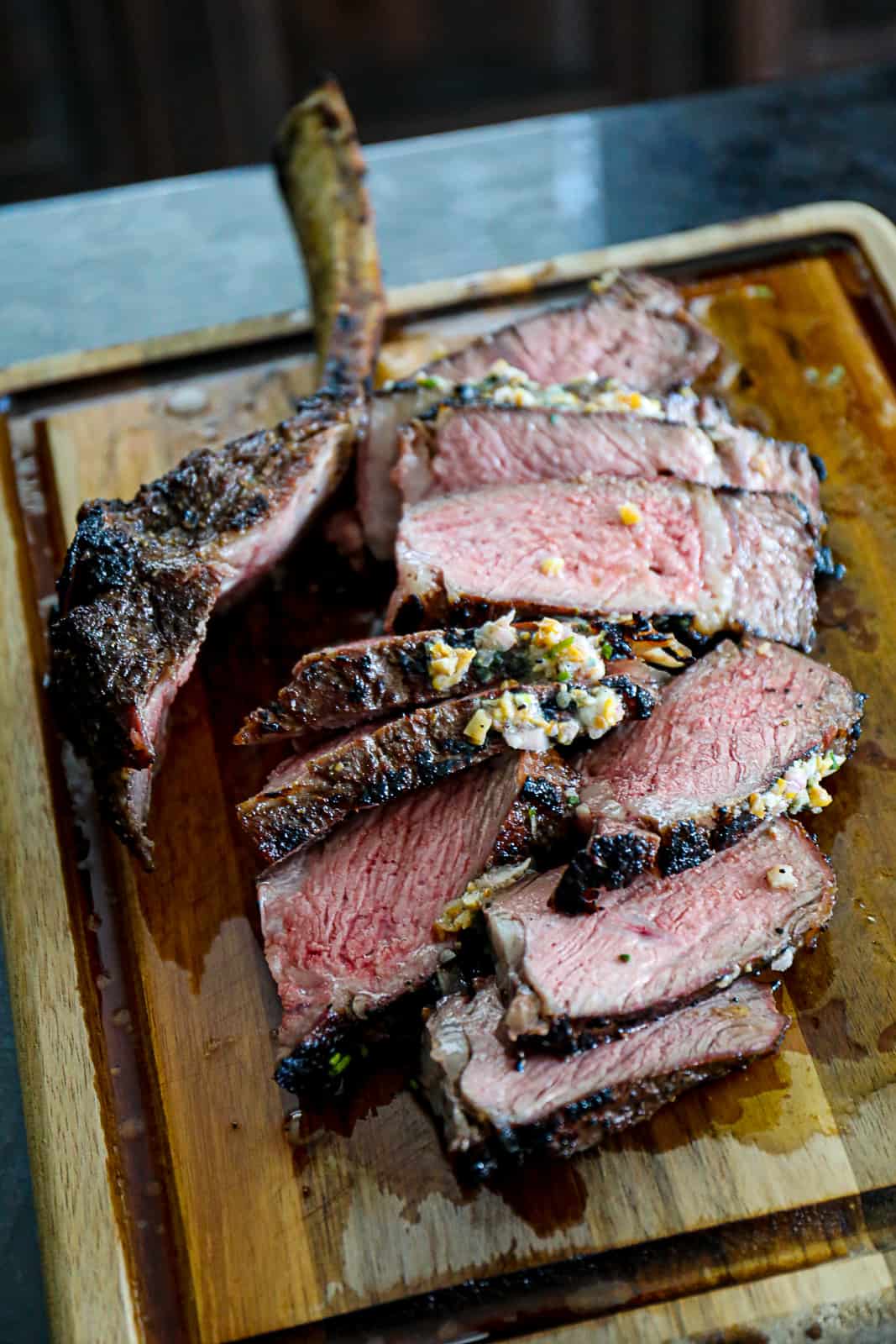 See how to make smoked tomahawk steak.
With this recipe and some reverse-searing tips, you'll also see my suggestion for a fancy-ish but also simple compound smoked steak butter.
When it comes to pellets for steak, I do love original wood flavors like hickory pellets and mesquite pellets.
Smoked pulled pork sandwiches
This recipe hits all the sweet and salty notes.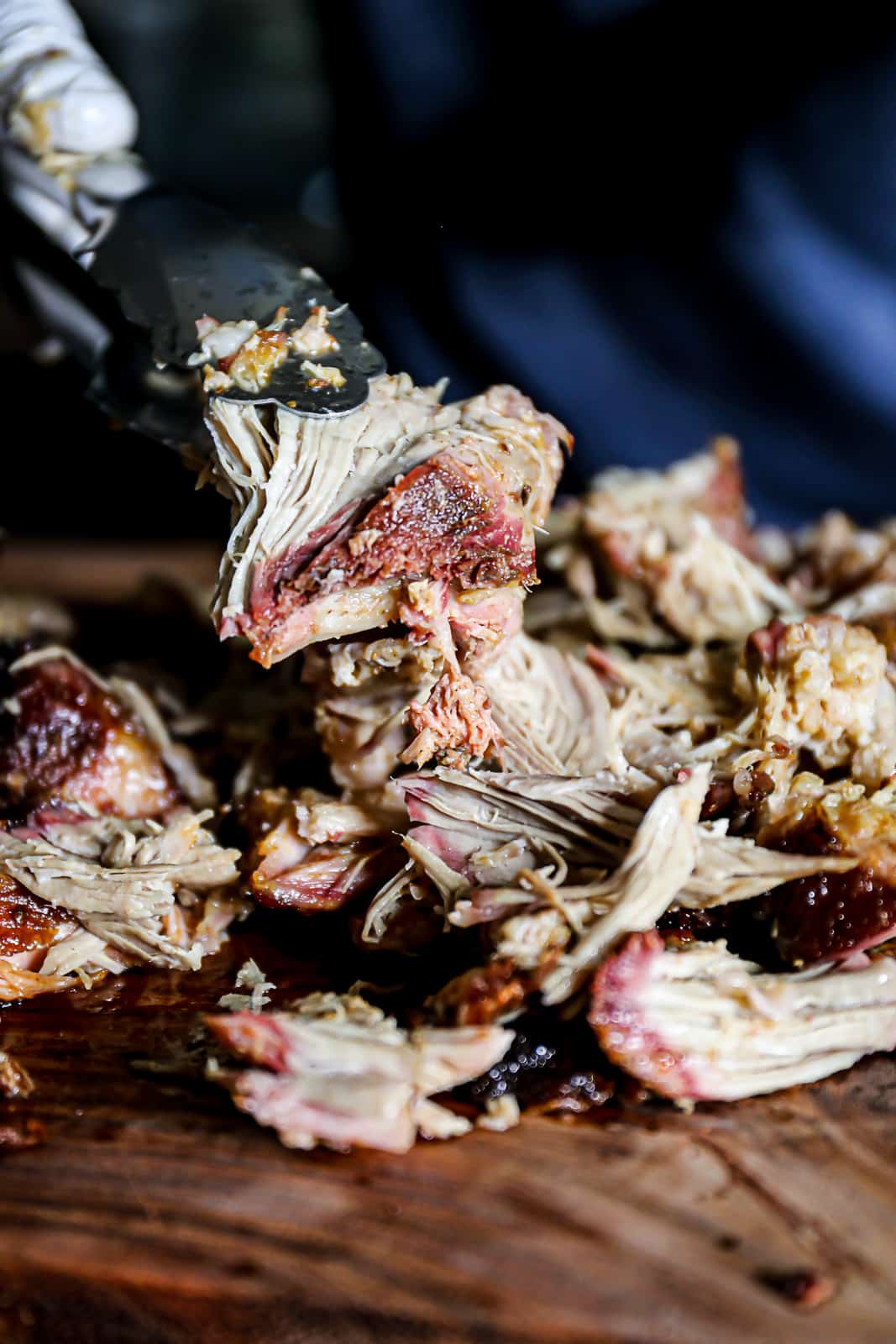 When it comes to outdoor cooking, pork is an ingredient that really shines from low and slow smoking methods.
Use a recipe like the one pictured above for smoked bone in pork shoulder that's tenderized in the pellet grill with caramelized pineapple.
Also see this guide for smoked pineapples…
Smoked whole chicken
Throw this chicken on the smoker for an eye-catching smoker main dish for game day.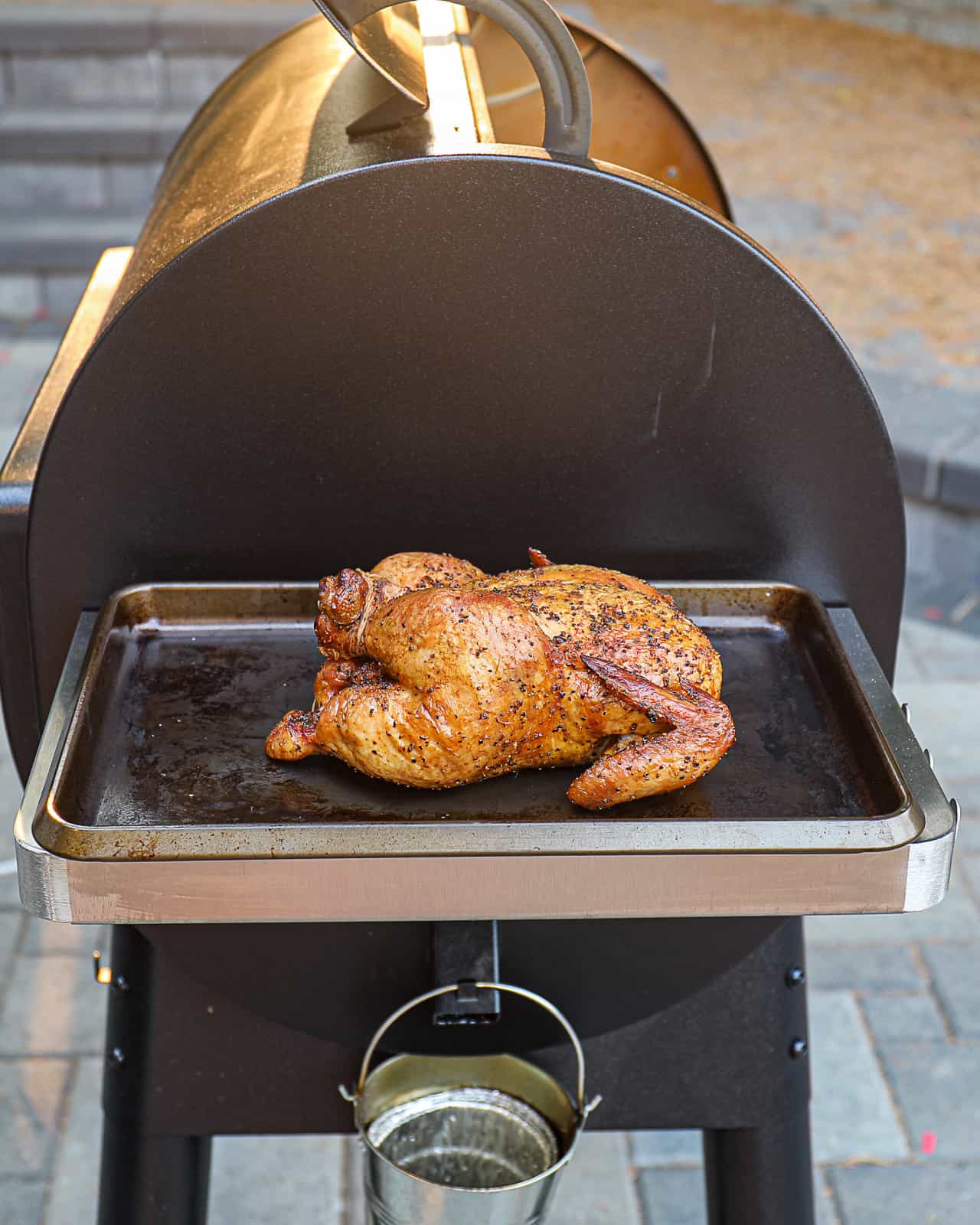 It has all the modern Thanksgiving meal vibes, but that golden glow and tasty, succulent meat is perfect for a game day BBQ party using the smoker.
Use it to make smoked chicken sandwiches or just rip off a tender leg and enjoy with your bare hands! I'm not judging!
See the recipe for smoked whole chicken on Sip Bite Go.
Also see how to spatchcock chicken and how to make butterfly chicken legs…
Tasty tacos with smoky pork belly burnt ends…
Look how tasty these game day tacos are…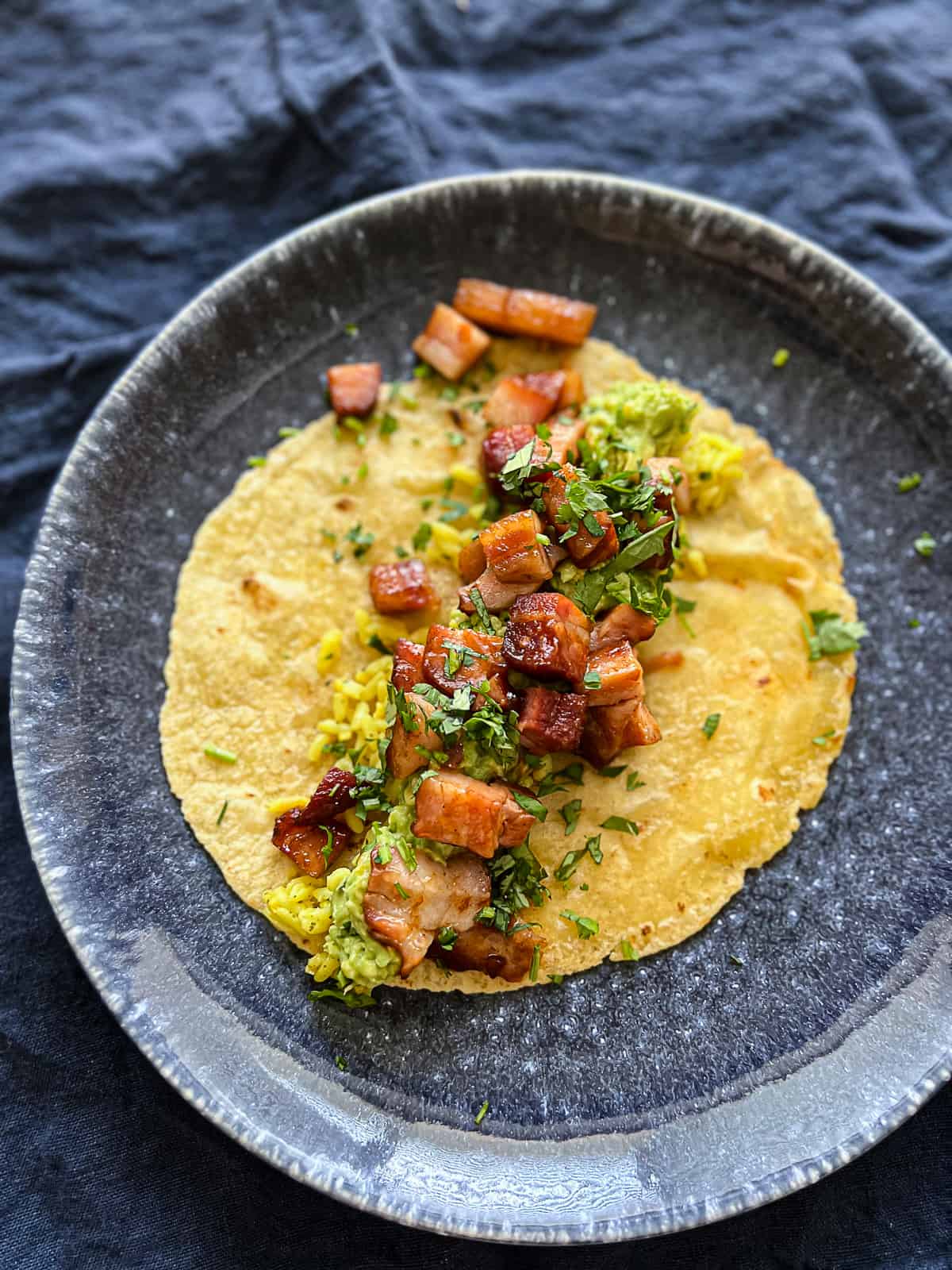 These smoked pork belly burnt ends with BBQ glaze are easy to make the day before, which is why I love 'em for game day smoker ideas.
They're perfect for adding to rice bowls, diced up in tacos, or fit perfectly into Hawaiian rolls to make pork belly sliders.
See how to make a smoked margarita…
Smoked turkey sandwiches
Here's an easy smoker recipe for game day partying that's pretty fast to make, too.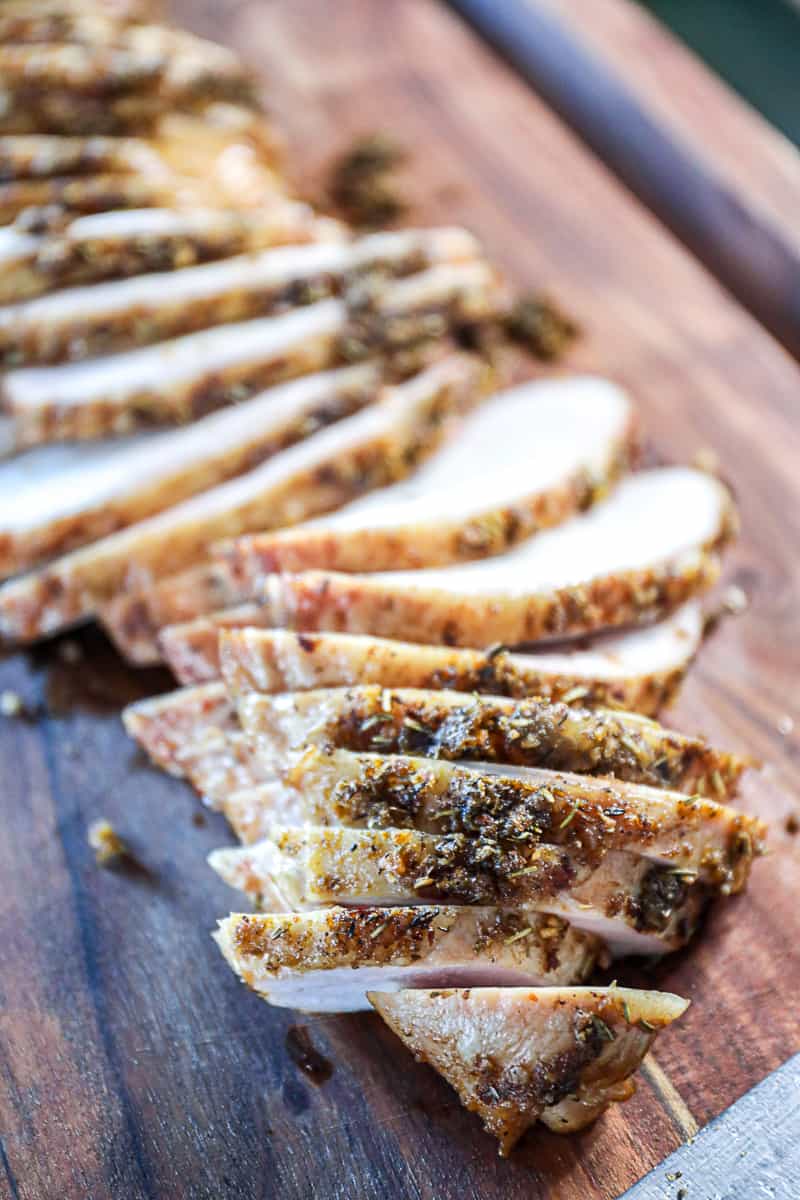 Turkey! (it's not just for holidays)
Buy just a turkey breast to make this dish, you can get either bone-in or boneless.
See my easy way to make smoked turkey breast.
More Traeger game day food favorites
Here are some other things to make hungry stomachs happy!
Smoked mashed potatoes
Comfort food in the smoker does not get better than this dish…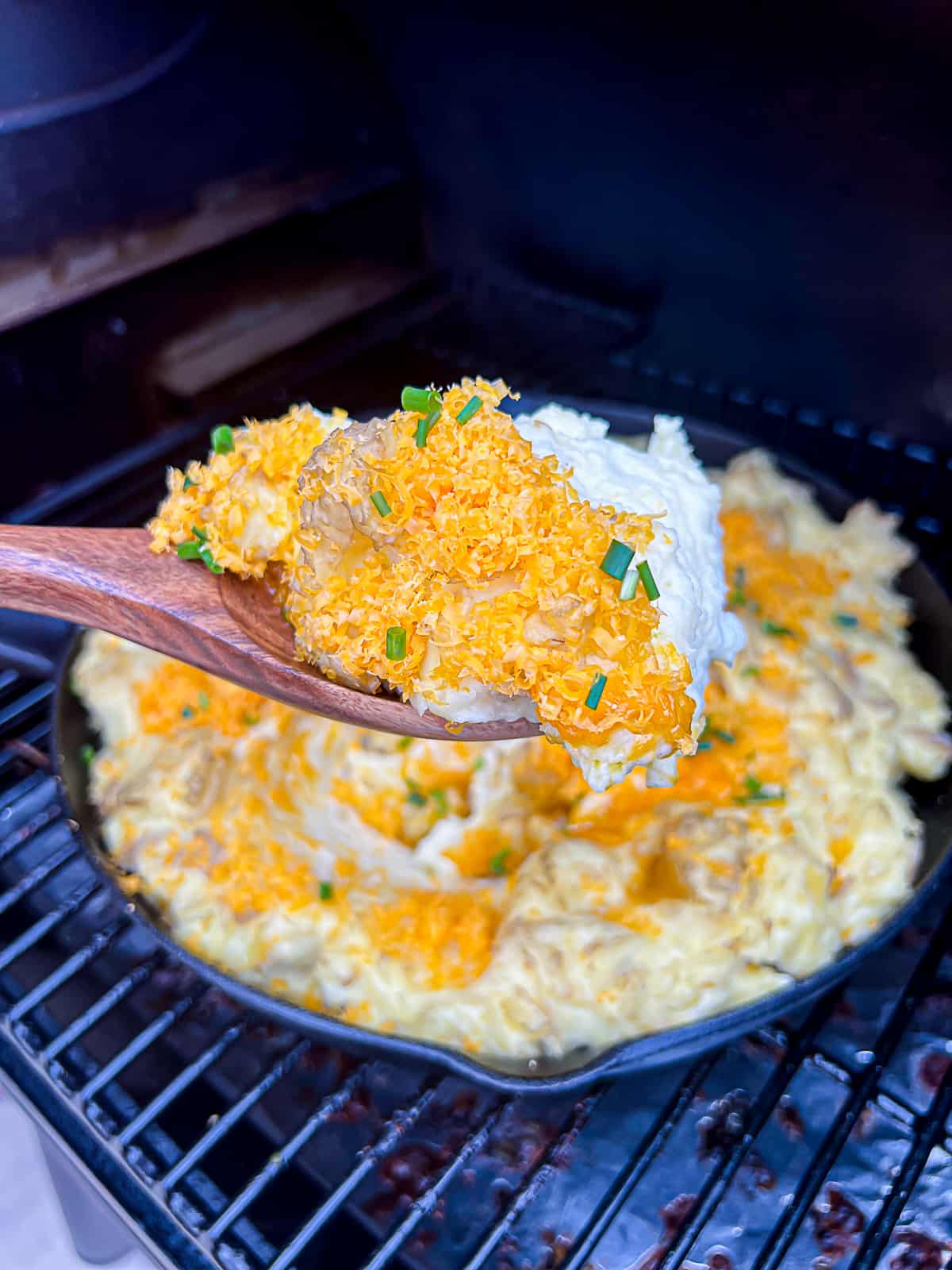 It's always popular in my house with some smoked ribeye steaks.
Get my recipe for cheesy smoked mashed potatoes.
Smoked mac and cheese game day side dish
Seriously, this is the most delicious smoker side dish for game day parties…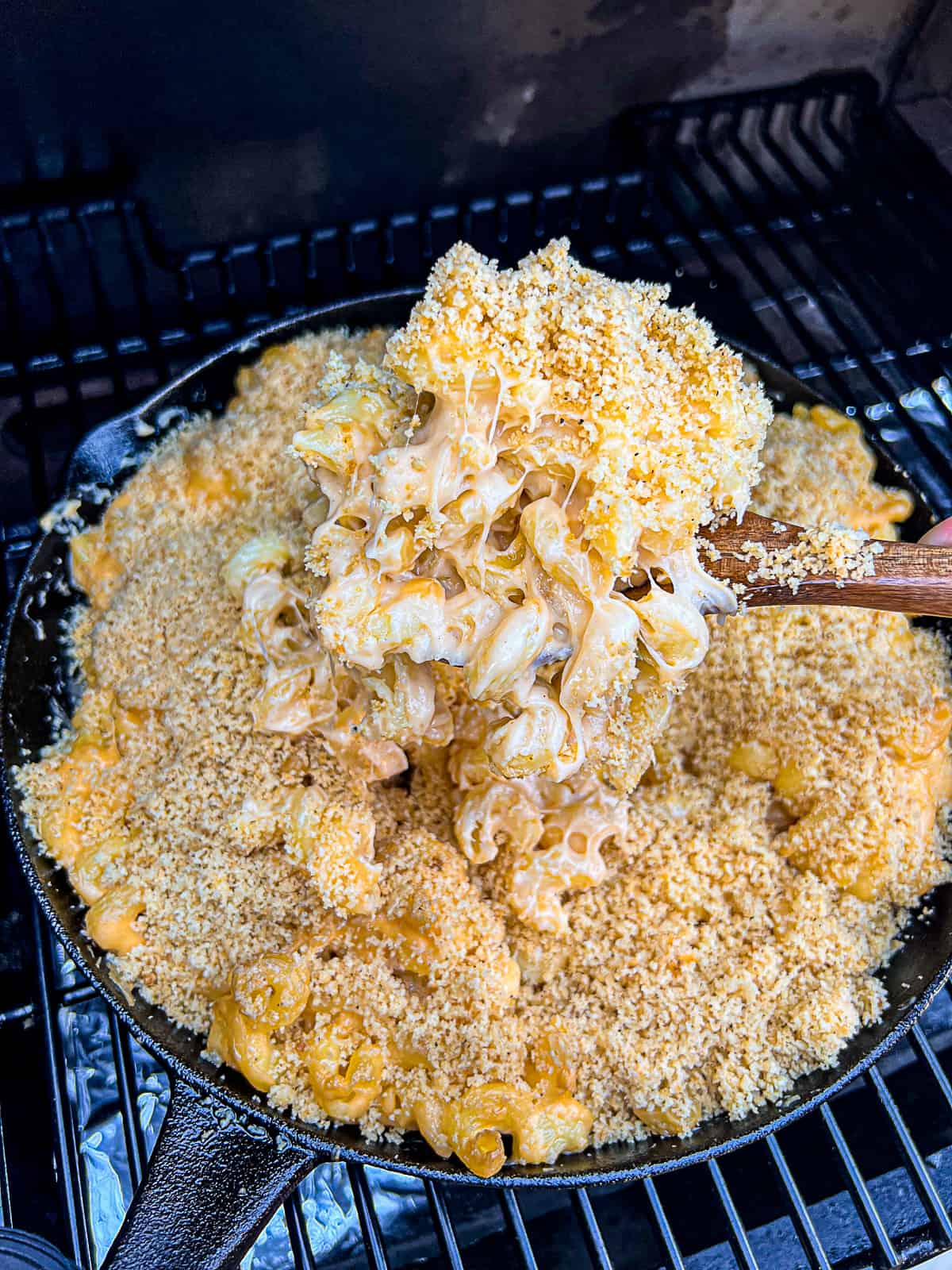 My version of Traeger smoked mac and cheese is loaded up with gouda, cream cheese, cheddar, gruyere, and a crispy panko topping.
Get my recipe for easy smoked mac and cheese.
Smoked corn on the cob
This falls under the "easy finger foods" category…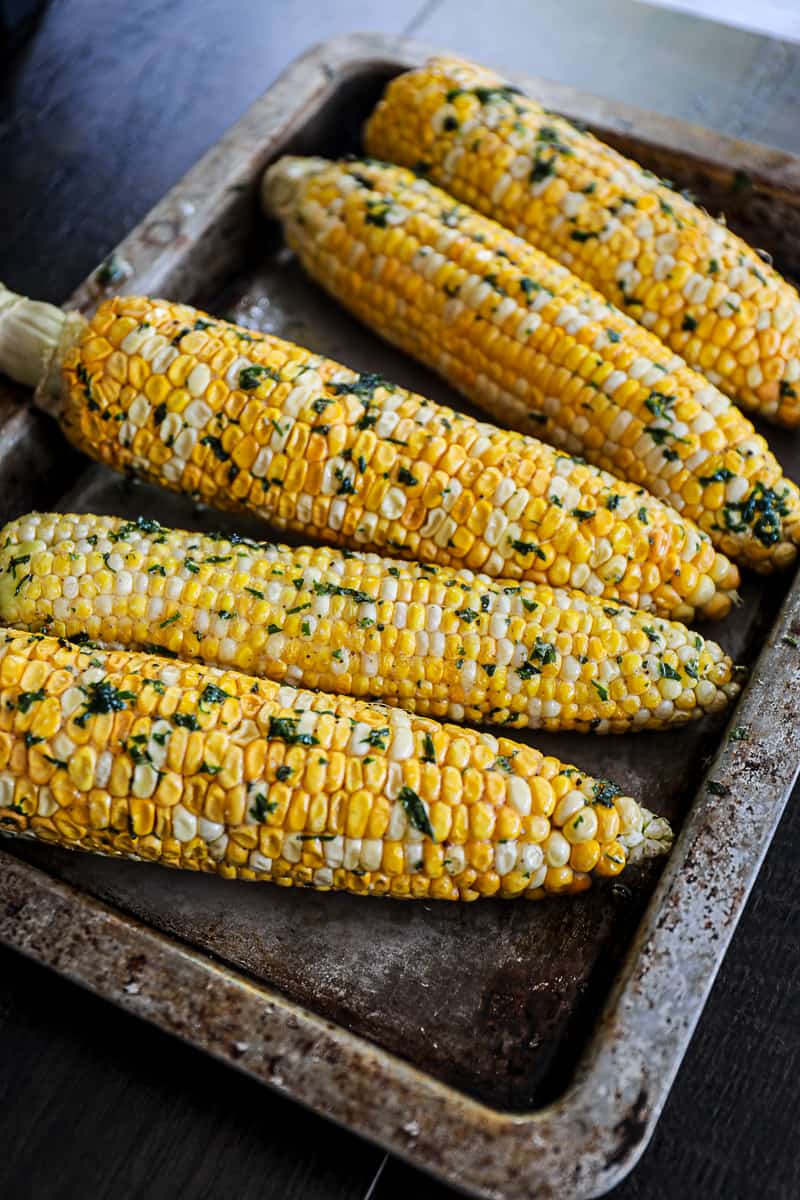 Get the recipe for smoked corn on the cob.
Traeger game day comfort food idea: lasagna
This Traeger smoked lasagna recipe has all the comfort food vibes, but it's super simple to make ahead for a game day main dish everyone will love.
See how to make Traeger smoked lasagna in 1 hour.
More Tasty Grill + Smoker Recipes
See this Traeger Flatrock grill review.
See my favorite smoker tools and seasonings in my Amazon Storefront.
Meat thermometer recommendations
Every home chef needs a reliable meat thermometer to cook food perfectly.
On Sip Bite Go, you'll often see me using:
Meater thermometer – a fancy wireless thermometer that connects to a phone app – gifted to me from a Traeger partnership.
ThermoPro digital thermometer – which has a wire that connects the thermometer to a display box outside the oven/grill.
It's like being psychic! The great thing about either of the thermometers above is that I don't have to take the food out of the oven to know the temperature.
How to use 'em… What I do is stick the digital thermometer in steak, pork, chicken, whatever… Then put the food in the oven, on the smoker, or grill.
While the meat cooks, it reads the temperature so I know exactly what temp meat is as it's cooking. Without having to take it out and check. It's really difficult to overcook food when you know exactly what temp it is inside!
Are you a foodie, too?
Hey home chefs, hope that answers all your questions about making the ultimate game day smoker menu lineup for your football party get-togethers. I hope it provides you with creative ideas you haven't seen yet in the Traeger app.
I hope you've found plenty of football Sunday recipes for entertaining, and reasons to keep that grill cover OFF! (just kidding, I put mine on after every cook just to be safe because you do not want moisture to get in your wood pellet grill!)
If you're working on your griddle game, keep in touch because I'll be whipping up tasty blackstone grill recipes for game day food soon, too.
If you want to do some traditional game day grilling, see my grill recipes.
Connect…
Browse the Sip Bite Go recipe collection