Looking for easy chicken wing recipes for football party finger food ideas? I've got you covered with the best ways to make chicken wings using a variety of cooking methods from baking, to grilling, smoking, and more. Make 'em crispy with delicious sauces, too…
If your goal is a tasty crispy chicken wing appetizer – then you're in the right place!
Why Sip Bite Go chicken wing recipe ideas are so good…
They're ALL bursting with flavor and you can cook chicken wings a variety of ways:
Bake 'em crispy for a large crowd.
Air fry them.
Smoke wings for deep flavor.
Grill chicken wings when the weather is nice.
Choose from a ton of sauces to dip chicken wings into!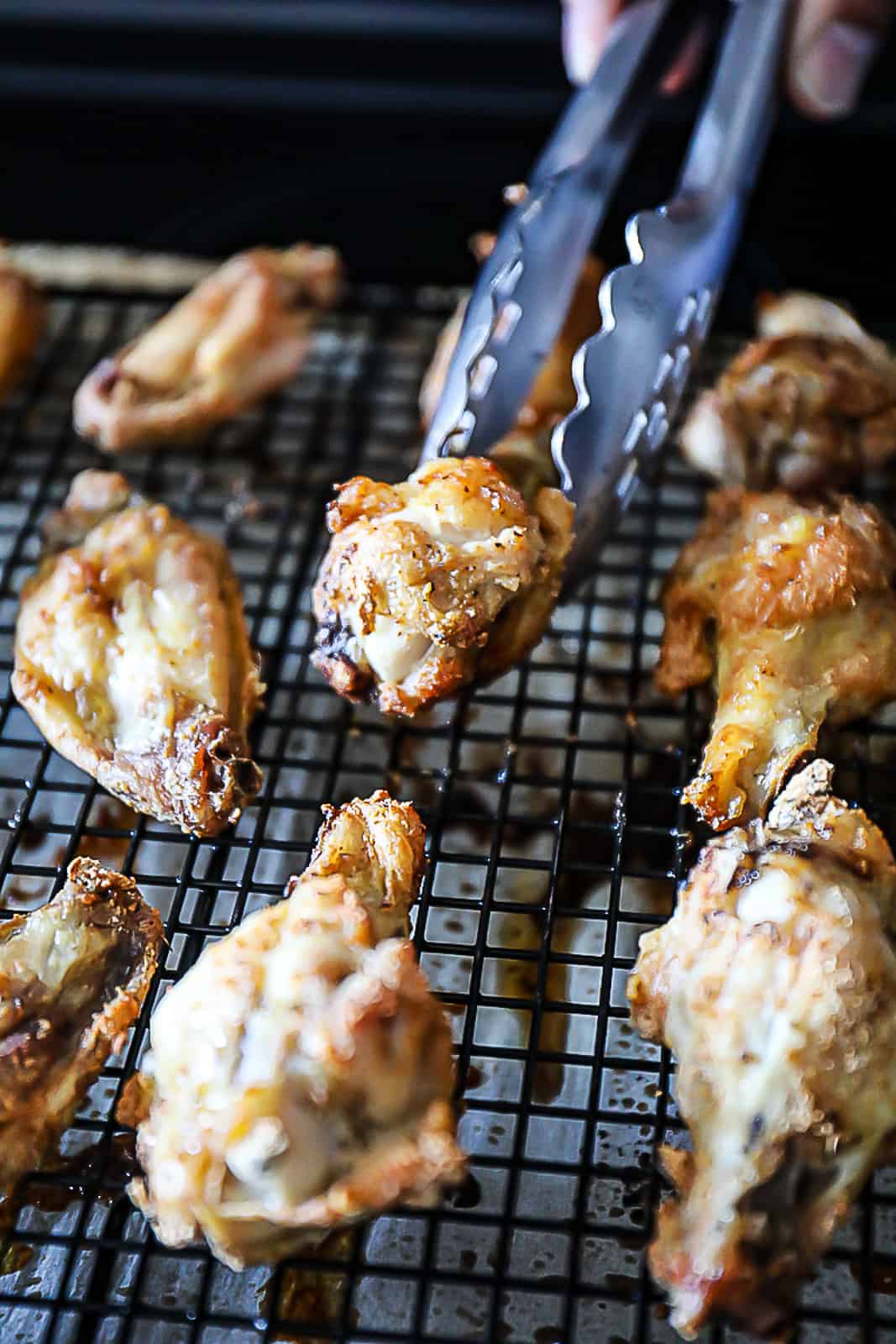 What Are Chicken Wings?
They're a budget-friendly chicken meal that can feed a large group of people.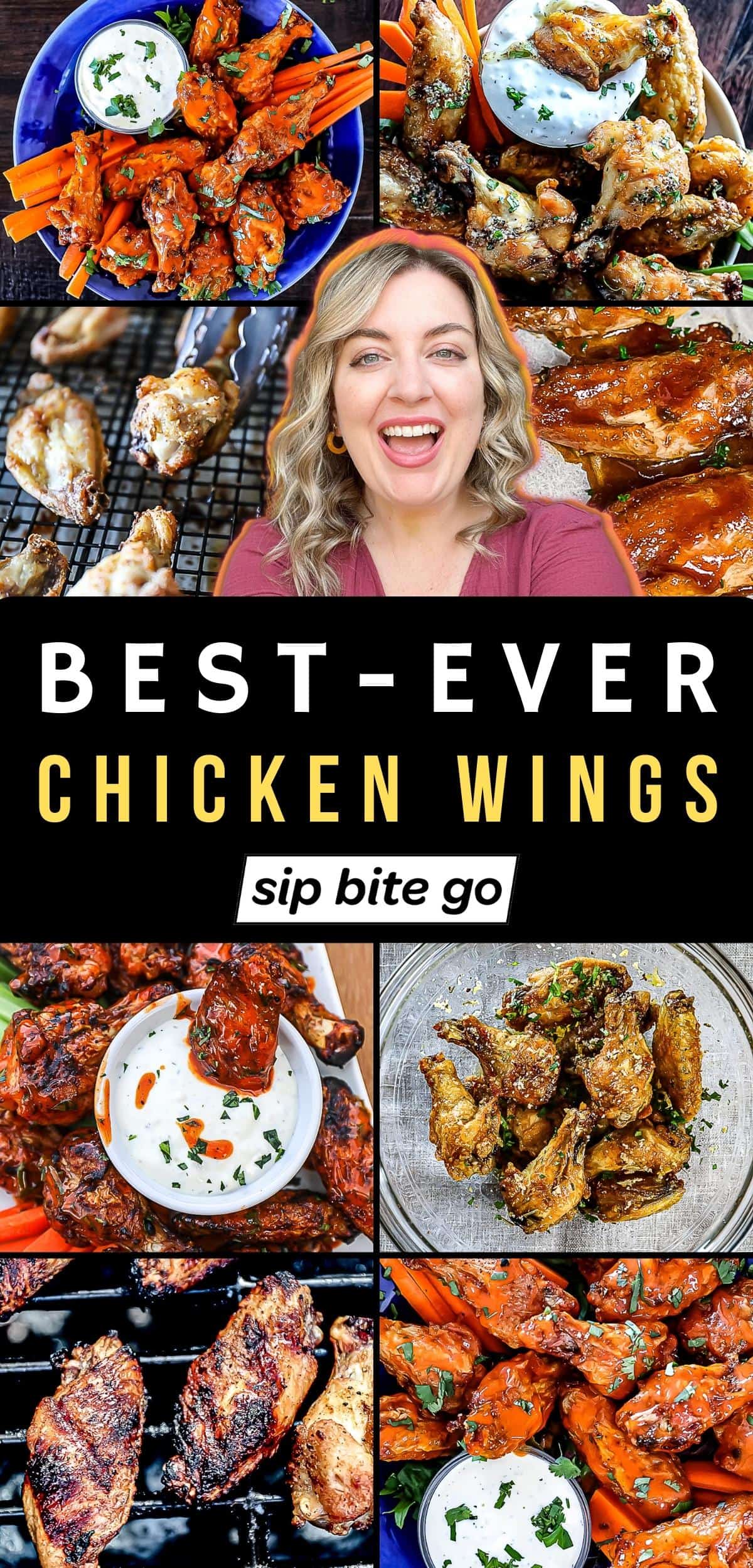 Hence, why they are so popular for parties and on many BBQ menus when it comes to July 4th, long weekend grilling, and football events like the Superbowl.
If you order chicken wings at a restaurant, they are usually deep-fried and then drenched in sauce.
Buying chicken wings
Most of the chicken wing dishes you'll find on this page mainly use the drumettes and wingettes.
You can usually buy them separated already, and they're sometimes called "party style" if you buy them at a place like Costco.
Although, sometimes chicken wings are sold in one piece with the wing tip still attached.
That's how I usually found them when I lived in San Francisco.
What temperature are chicken wings done?
The chicken wing done temp is 165 °F.
Use an internal read thermometer in the thickest part of the wing meat to find out when they're done.
How do you cook chicken wings?
There are so many ways to cook chicken wings without frying them in a deep fryer.
The best ways to cook chicken wings make them nice and tender inside, full of flavor, and crispy on the outside….
Let's get to the list…
1. Baked chicken wing recipes
Baked wings are the way to go to feed a large crowd for game day…
This baked chicken wings recipe is so easy to make!
You just need a "secret ingredient"…. (baking powder)
Along with a baking sheet, wire rack, and timer so you can keep track and every 15-20 minutes turn the buffalo wings so they get nice and crispy.
2. Grilled chicken wings recipe
Get your chicken wings extra crispy for game day with some outdoor grilling…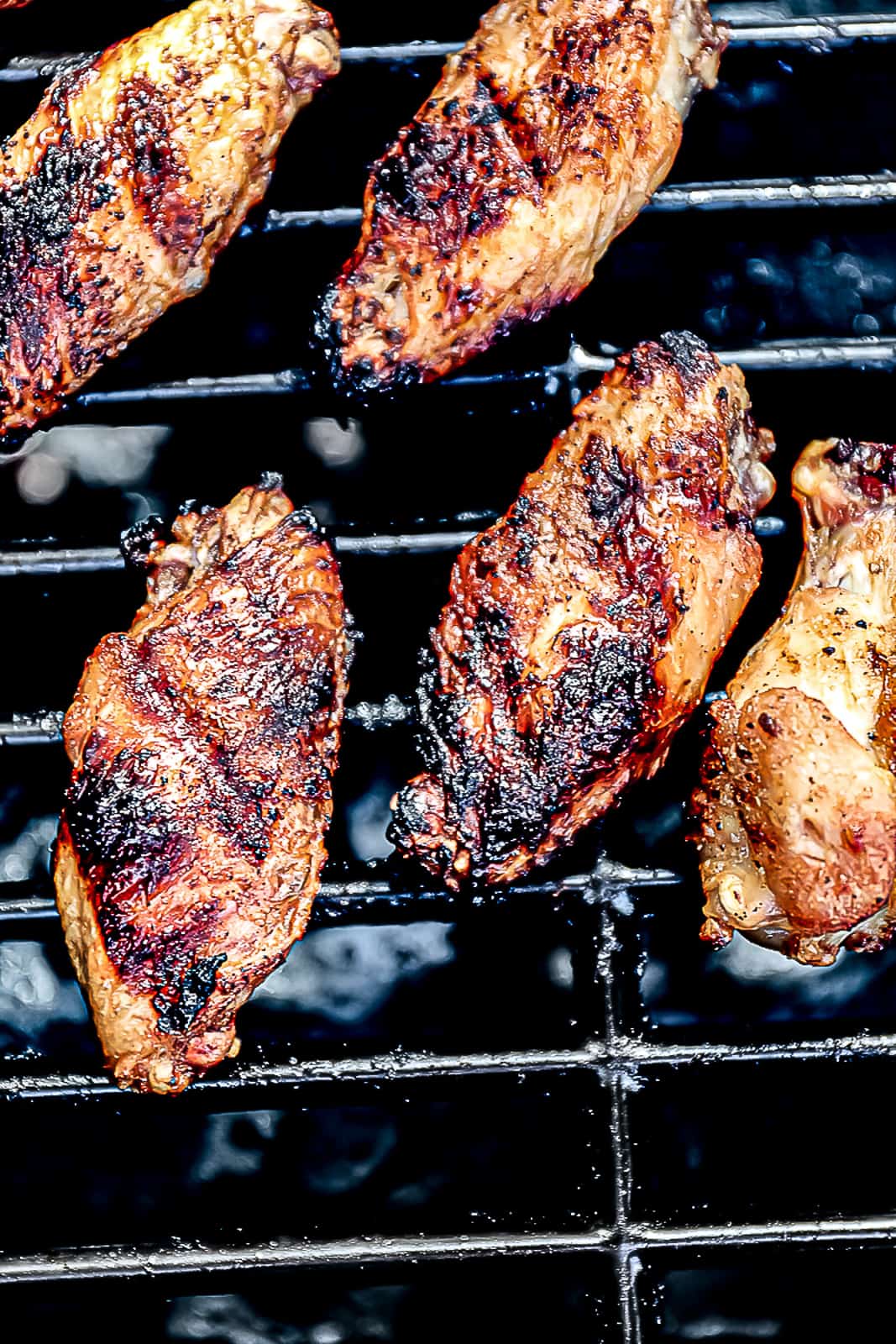 This is hands-down the best grilled chicken wings recipe for the gas grill.
Once they're at the right chicken wing temp, finish off this classic buffalo chicken wings recipe with a two ingredient sauce, and you're done.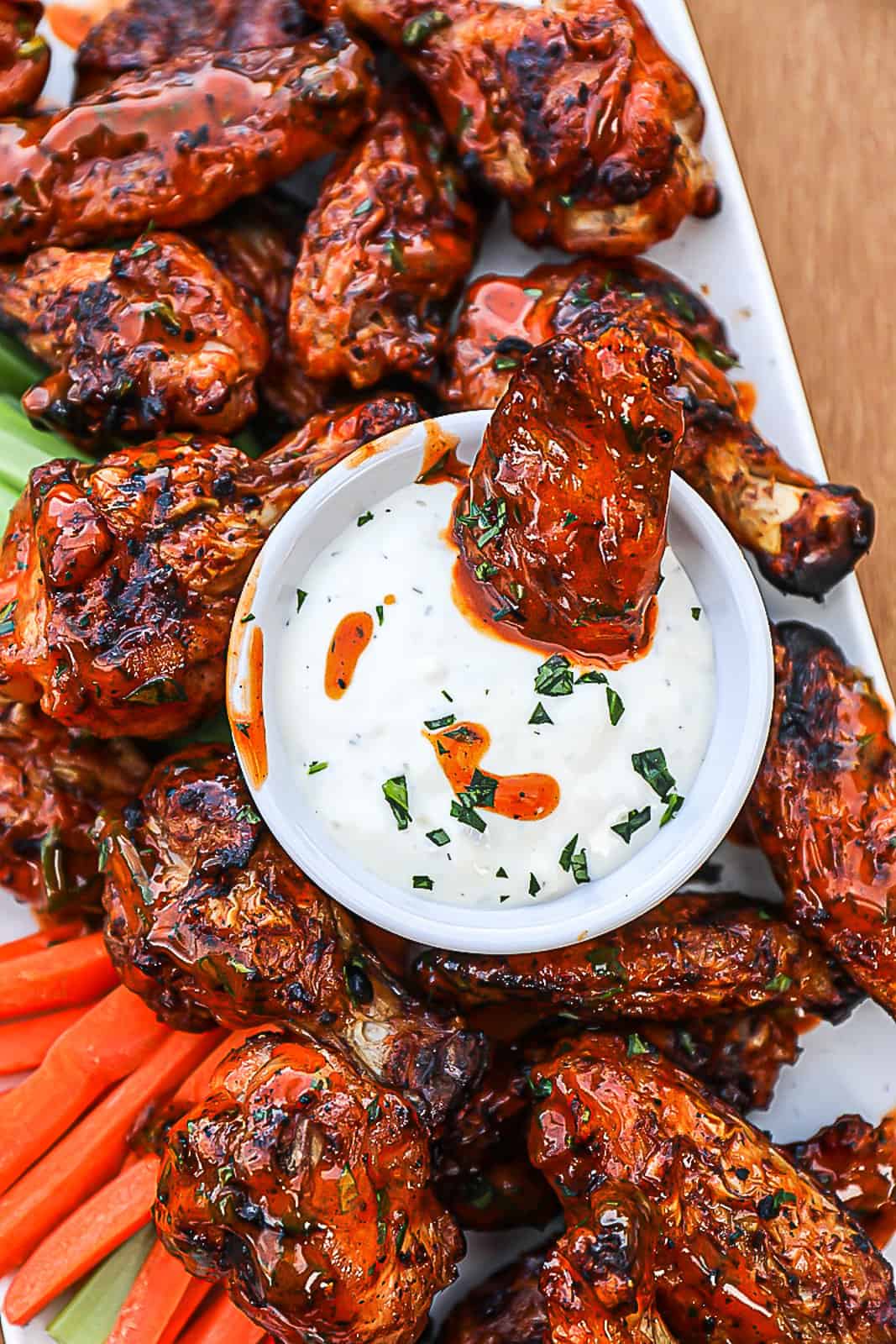 Definitely add them to your next BBQ menu.
See my favorite grill costume…
3. Smoked chicken wings recipes
If you love smoked food recipes and can't get enough of easy and fast Traeger recipes, definitely try this…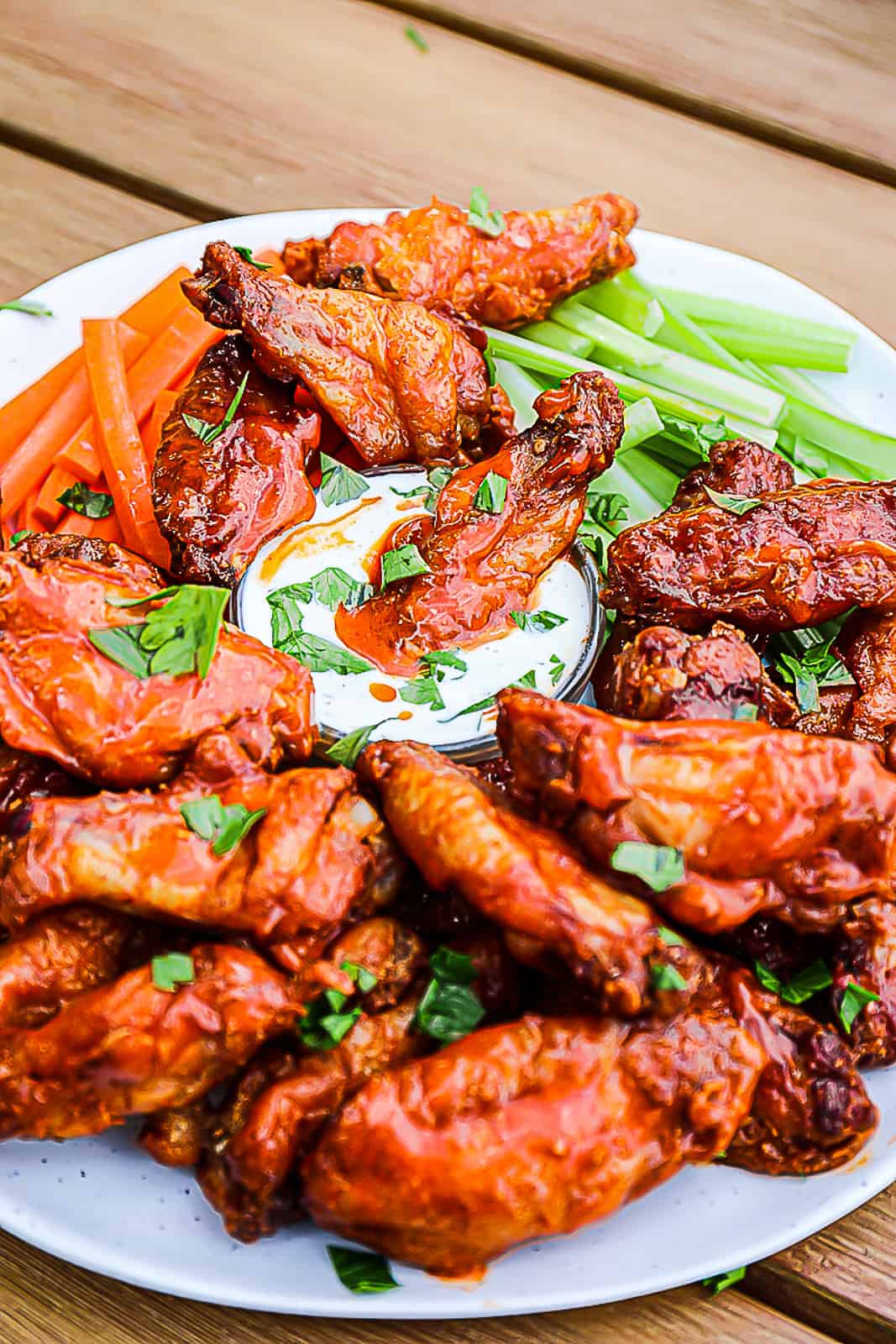 See my method for making Traeger smoked wings that pick up a delicious smoke flavor from your favorite pellets. Over the holidays, I like to use turkey blend Traeger pellets to add bold smoky flavor.
Even with smoking them, you can get a pretty crispy chicken wings dish everyone will love!
See the best game day smoker recipes…
4. Air fried chicken wings recipes
Yes, you can get amazing wings for a game day party without deep frying them.
These are healthier fried wings you can make in small batches…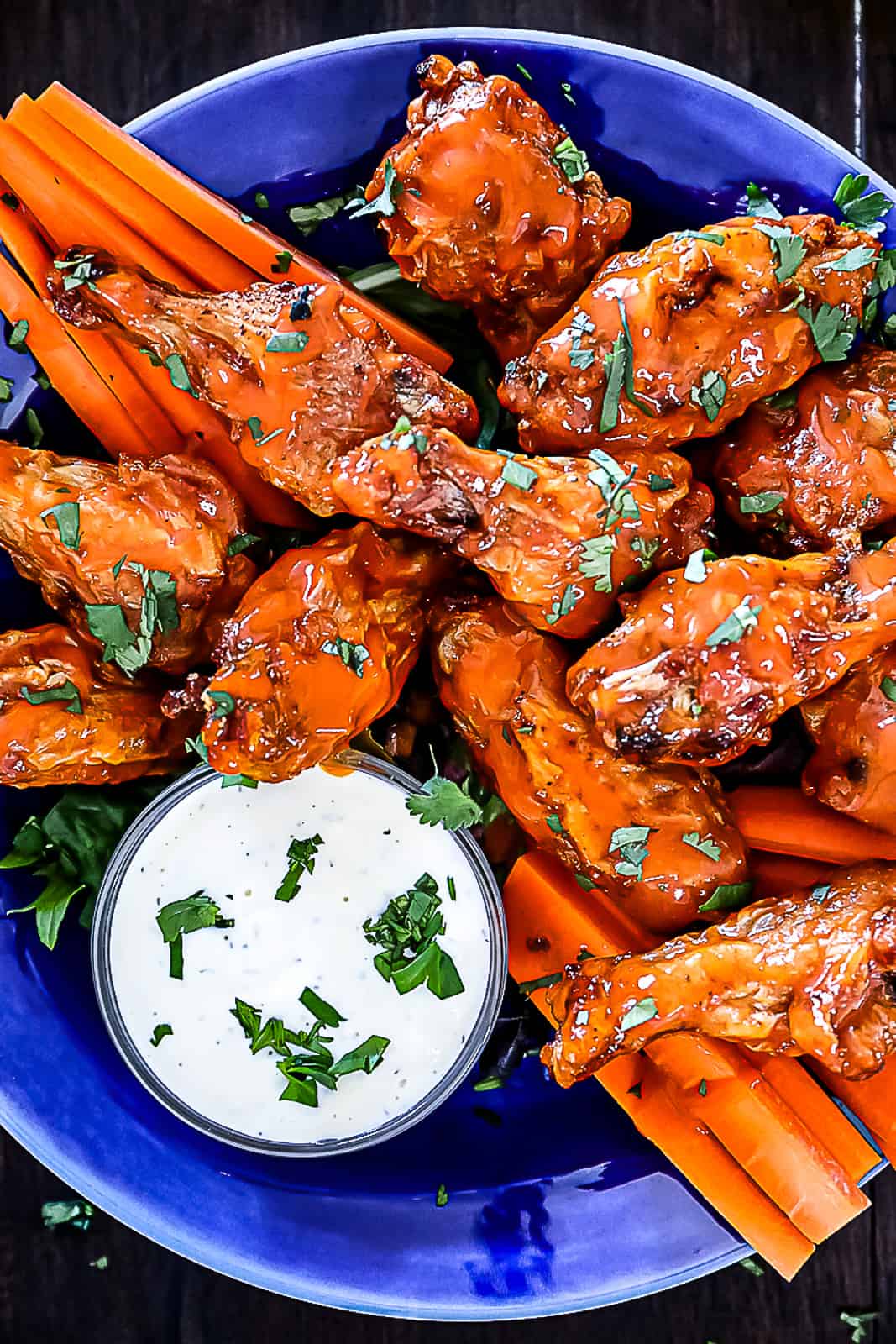 Skip the traditional deep fryer chicken wings and make chicken wings in the air fryer.
The only drawback to air frying wings?
Well, you're limited to the size of your air fryer… which means you'll cook about 1 LB of chicken wings at a time in most air fryers.
Also see how to air fry bacon wrapped hot dogs…
5. Deep fryer chicken wings
At restaurants you'll usually get deep fried chicken wings.
I don't have a live recipe for this one at this time, check back!
Also see how to smoke turkey wings…
Love easy recipes? Follow Sip Bite Go on Instagram and TikTok…
6. Sous vide chicken wings
They're so tender inside, then you crisp 'em up with the broiler….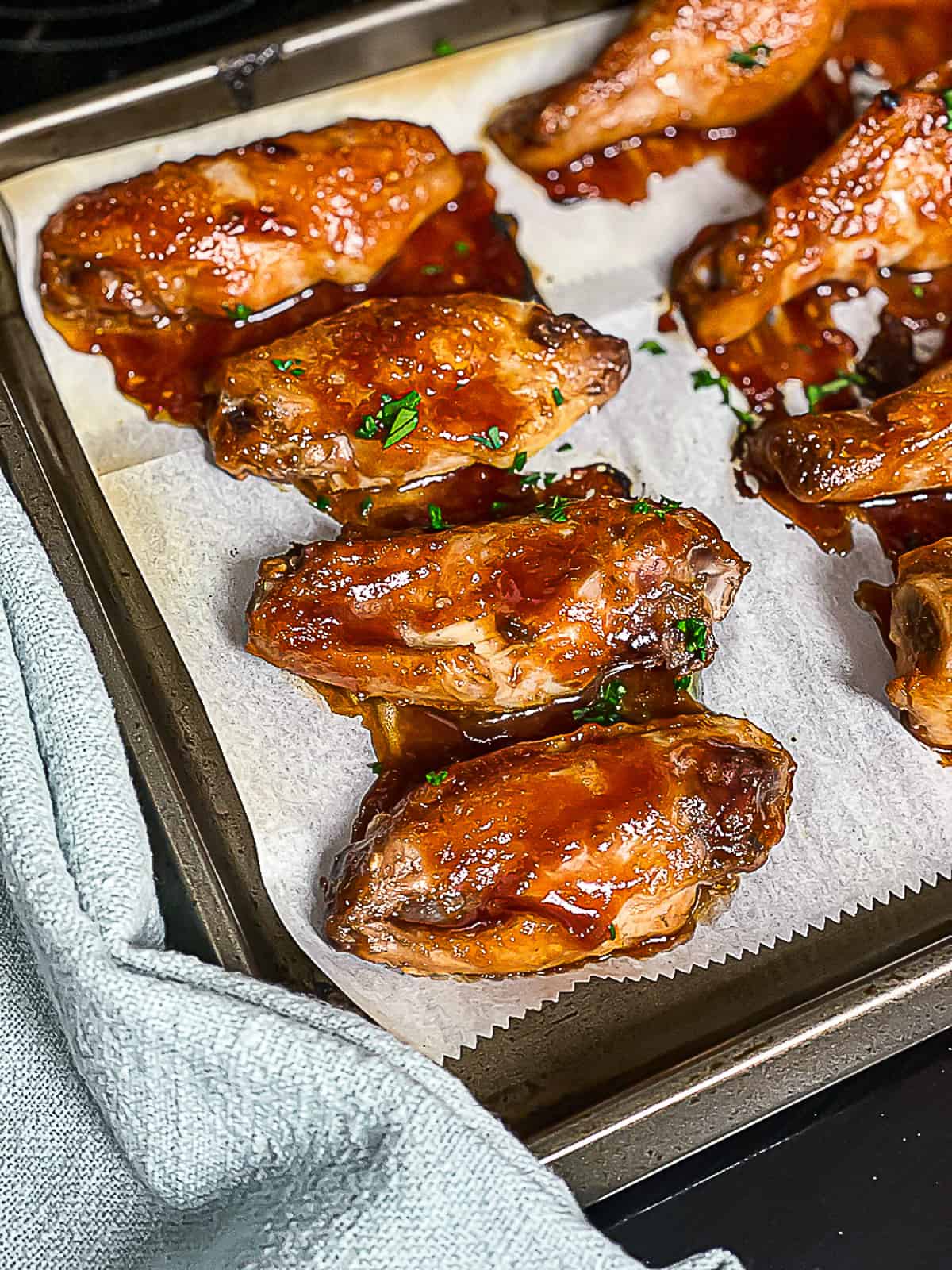 See how to make ​​sous vide wings and get tips on the right sous vide chicken wing temp…
Also see these sous vide BBQ chicken wings…
7. Parmesan garlic chicken wings
While a little salt, black pepper, and garlic powder go a long way when it comes to seasoning chicken wings…
And you can use any poultry seasoning or chicken wing dry rub recipe you'd like to…
There are more creative chicken wing recipes to try…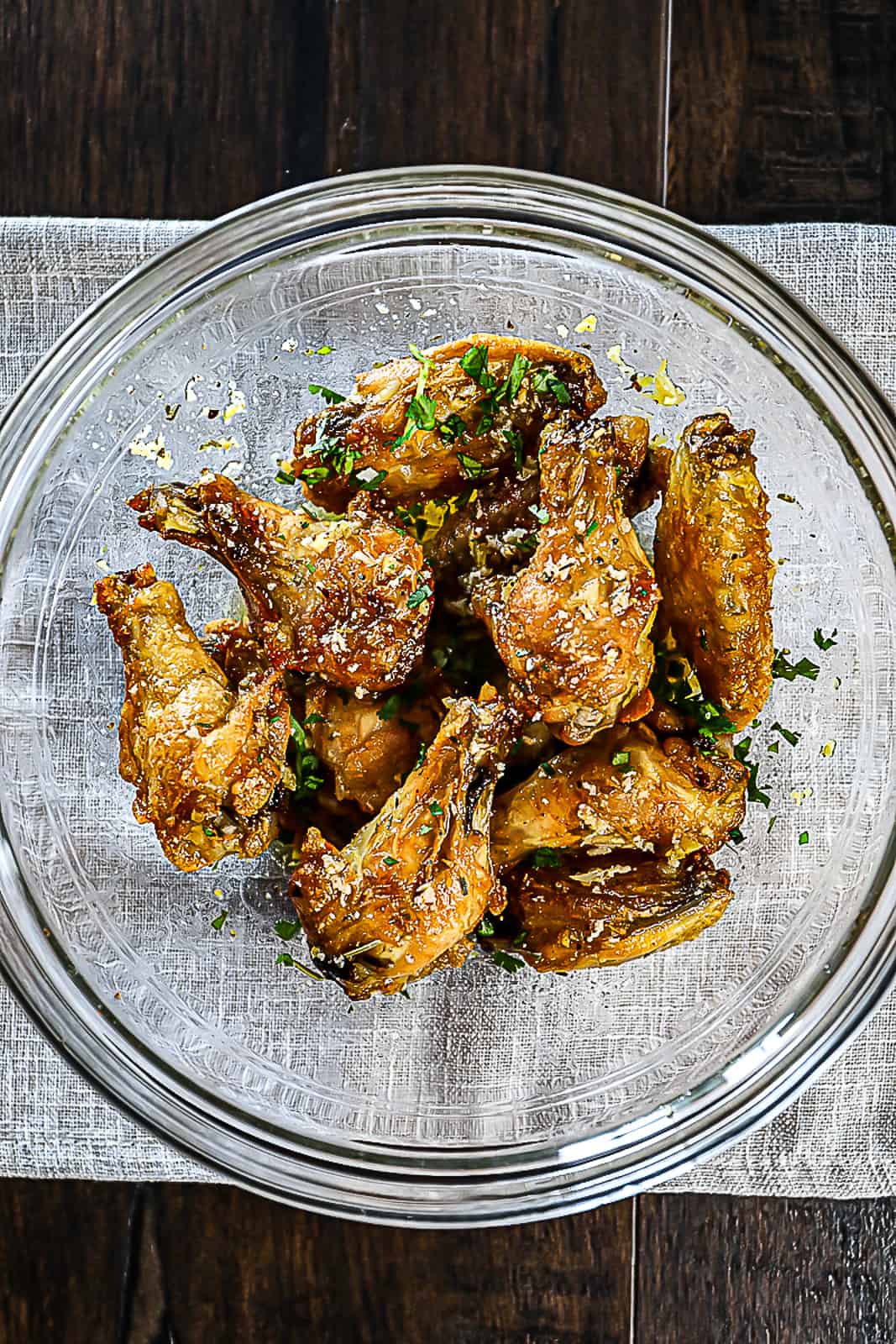 If you want to amp up the flavor, try something like these parmesan garlic wings for Super Bowl parties and game day events.
8. Lemon pepper chicken wings
These are dripping in flavor…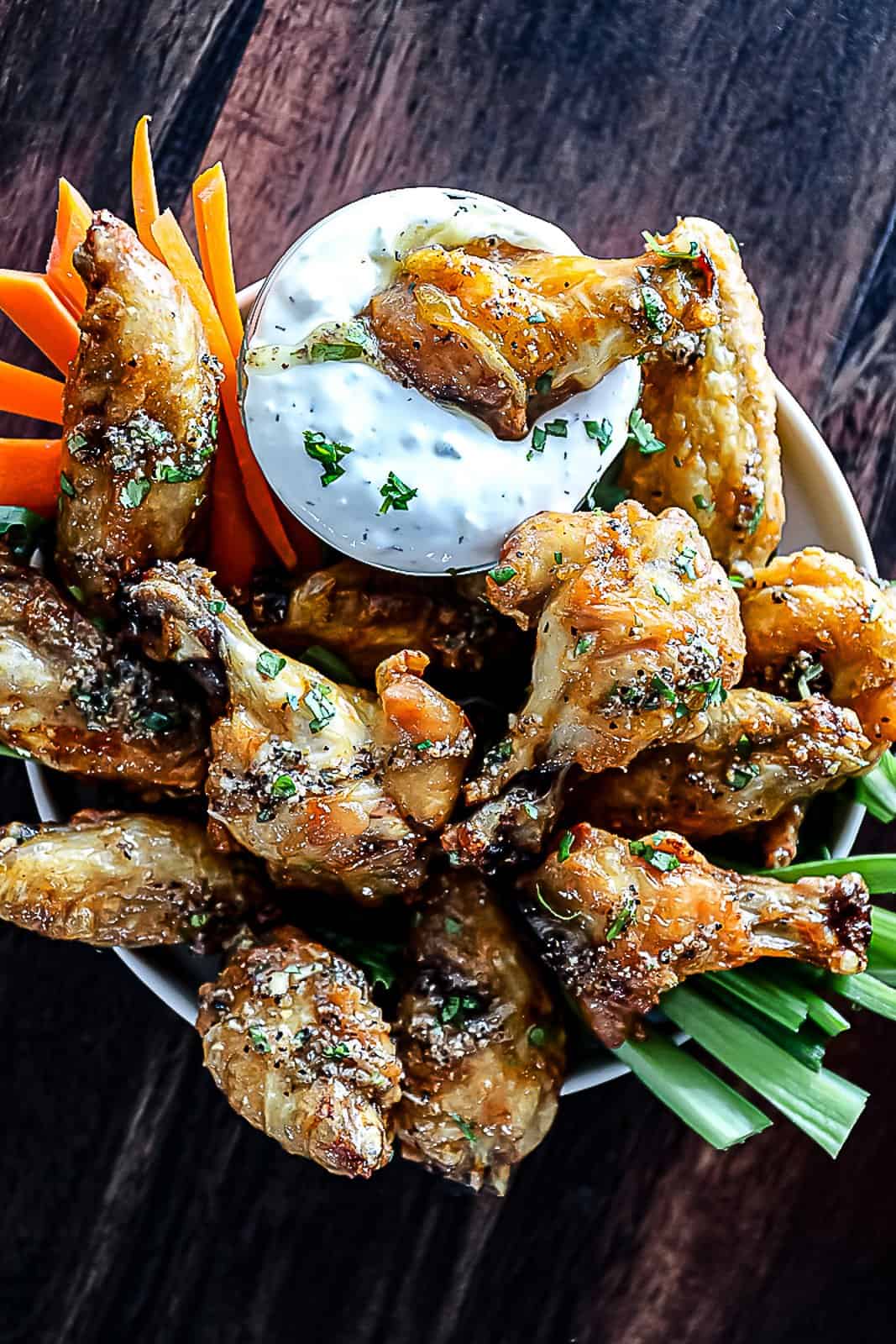 Prepare the wings how you'd like by baking chicken wings in the oven, air fryer, etc. then try the sauce from this recipe for lemon pepper wings.
9. Boneless chicken wings recipe
I'll have some chicken wings recipes for boneless chicken coming soon…
But for now, check out how to pan grill chicken and how to make smoked chicken breast.
Both ways to cook chicken are great options for game day food.
BONUS: Chicken wing dips
Beyond buffalo sauce, here are a few dipping sauce options for chicken wings:
Beer cheese sauce
Soon, I'll share more sweet and sour Chinese-inspired, teriyaki, and other Asian chicken wings flavors to try.
What to serve with chicken wings
New recipes and foodie guides….
Grill and smoker recipes…
Meat thermometer recommendations
Every home chef needs a reliable meat thermometer to cook food perfectly.
On Sip Bite Go, you'll often see me using:
Meater thermometer – a fancy wireless thermometer that connects to a phone app – gifted to me from a Traeger partnership.
ThermoPro digital thermometer – which has a wire that connects the thermometer to a display box outside the oven/grill.
It's like being psychic! The great thing about either of the thermometers above is that I don't have to take the food out of the oven to know the temperature.
How to use 'em… What I do is stick the digital thermometer in steak, pork, chicken, whatever… Then put the food in the oven, on the smoker, or grill.
While the meat cooks, it reads the temperature so I know exactly what temp meat is as it's cooking. Without having to take it out and check. It's really difficult to overcook food when you know exactly what temp it is inside!
Are you a foodie, too?
Hey home chef, hope that answers all your questions about which recipes for chicken wings you have to try in the oven, gas grill, Traeger smoker, air fryer, sous vide, and more…
Enjoy cooking and see you soon!
– Jenna
Connect…
Browse the Sip Bite Go recipe collection