Put together the most delectable backyard bbq menu ideas EVER with this list of easy cookout foods. You'll also see amazing new recipes you have to try on the grill or pellet smoker that will bring even more excitement to your barbecue party.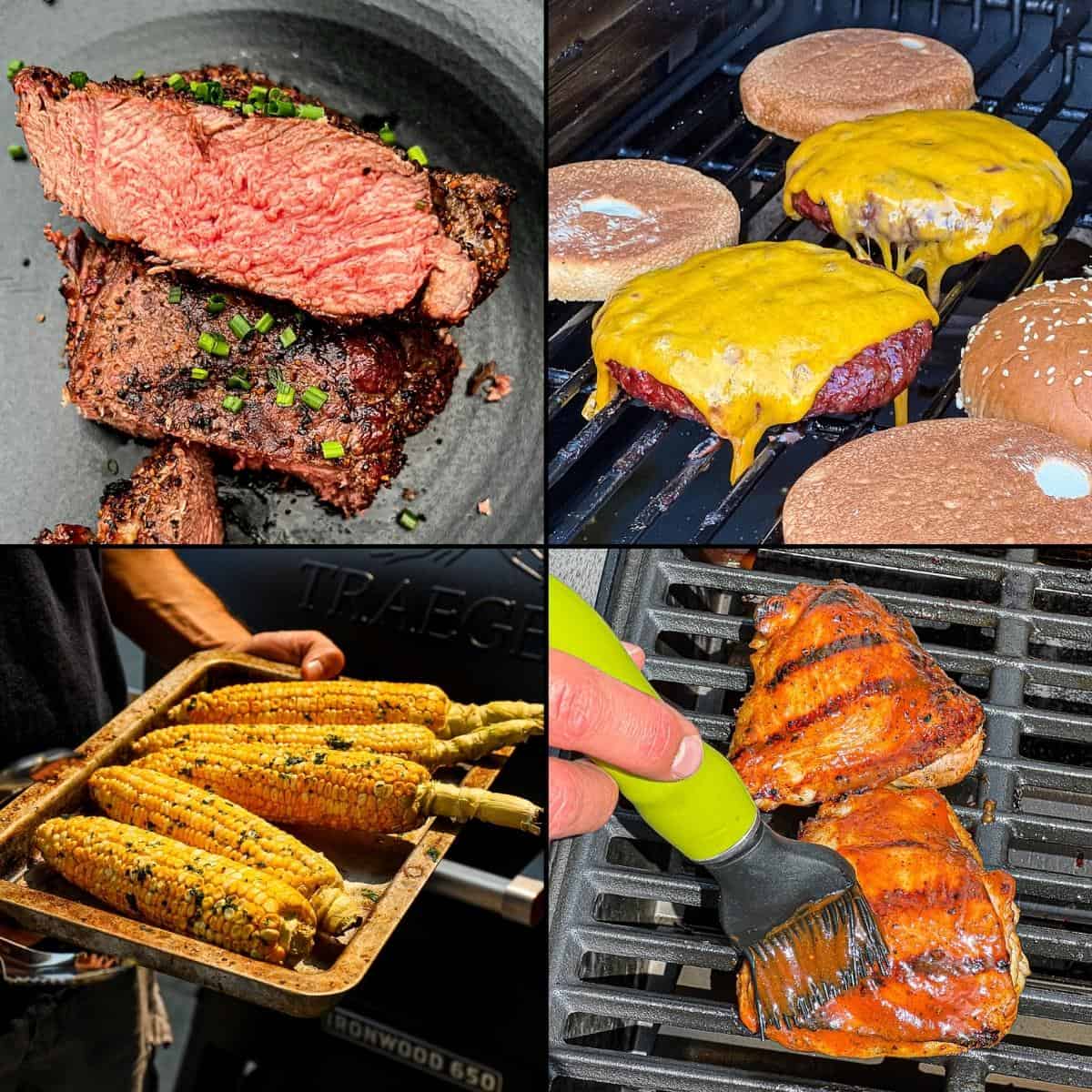 HEY THERE — I post quick, easy smoker and grill recipes @sipbitego.
BBQ appetizers
Some of the best grill recipes are the ones that kick off the meal just right. I'm talking about quick and easy bbq food ideas that you can prep in advance, and get everyone hungry for more.
Grilled chicken wings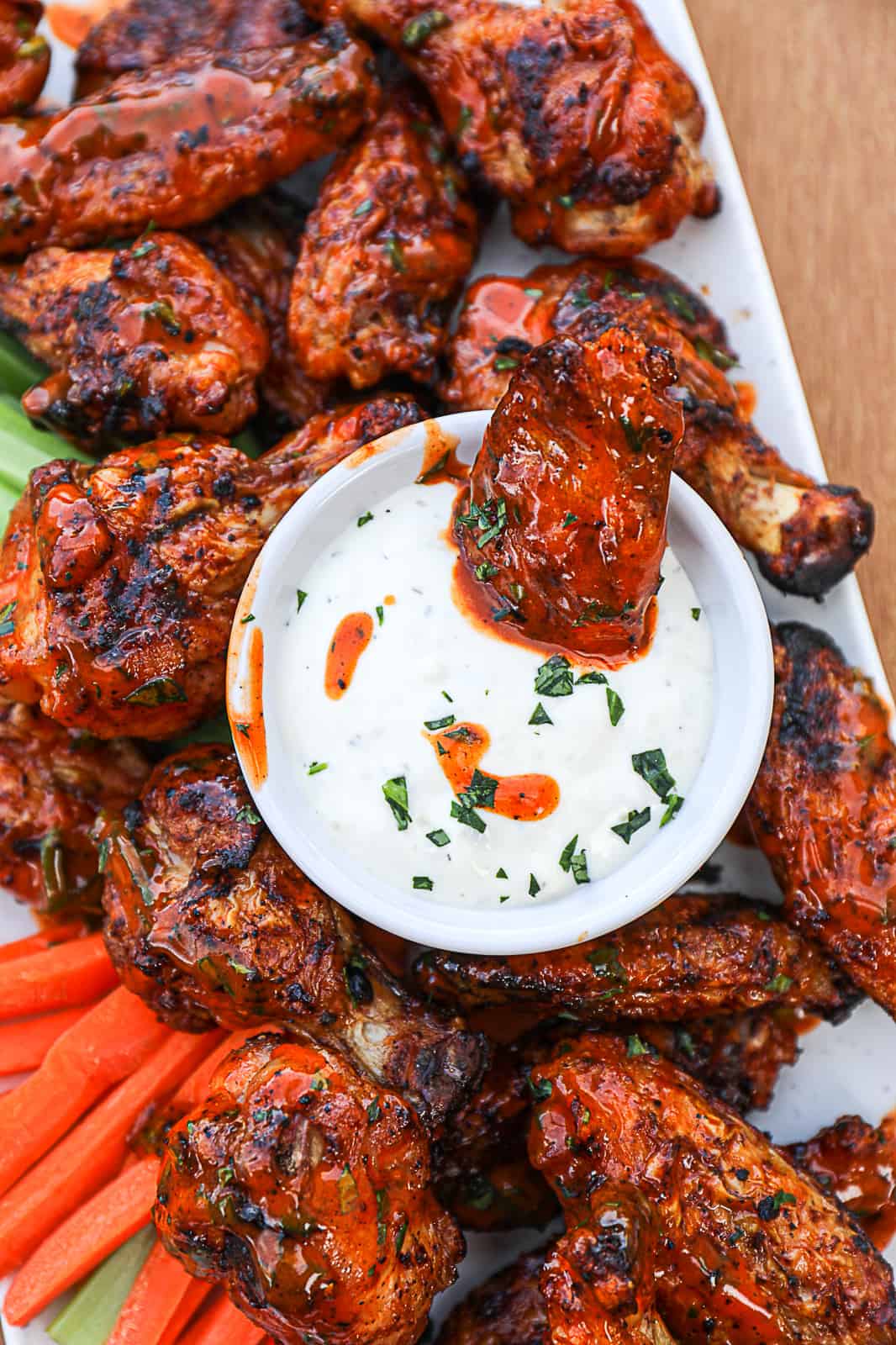 Try this super crispy grilled chicken wings recipe with buffalo sauce. Wings are one of those barbeque recipes you'll find me making on Instagram again and again. It's an easy appetizer for a cookout party. And with my method, it is fool-proof.
Make ahead Mexican salad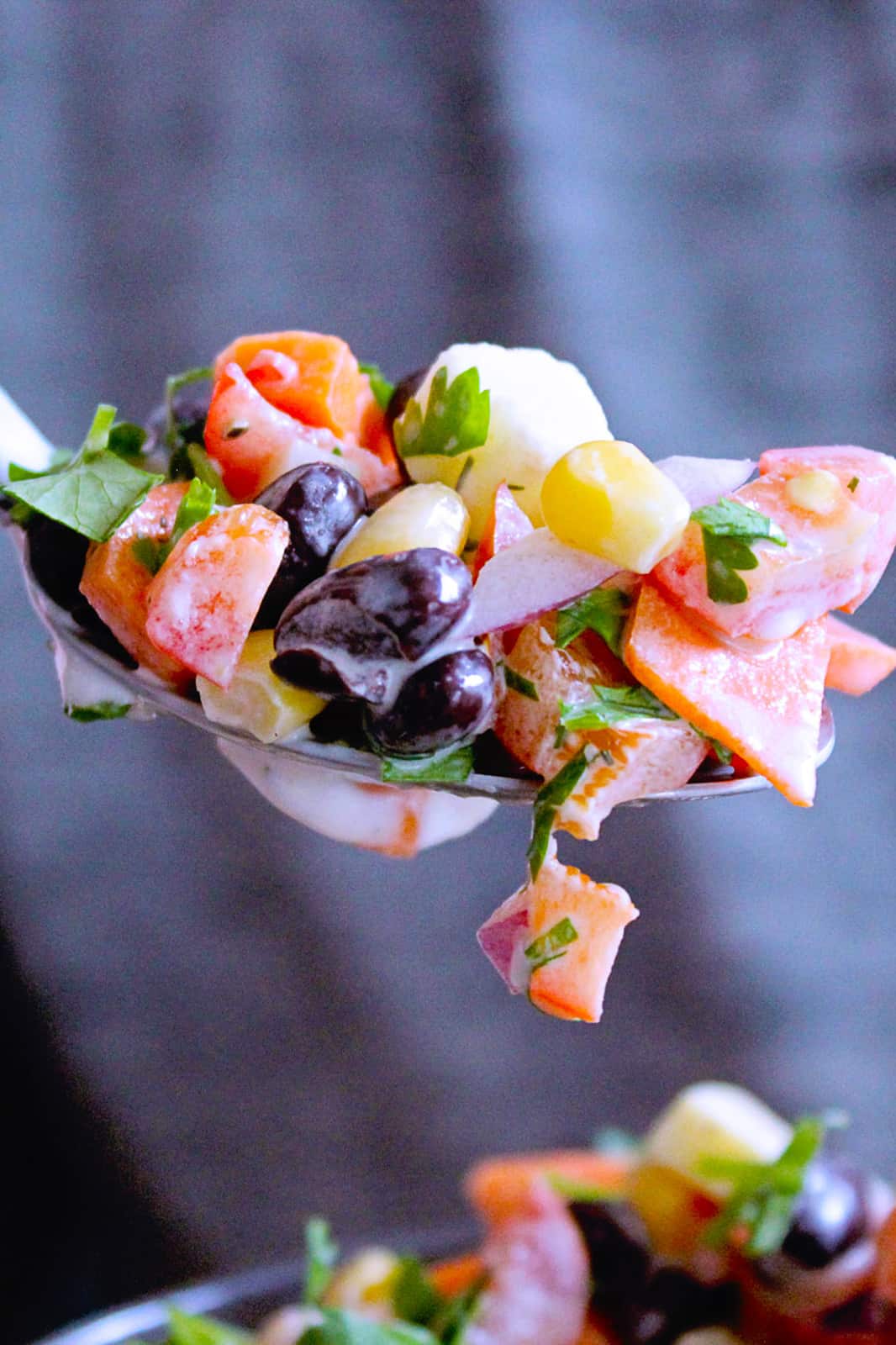 A lot of times, I won't actually grill anything, and instead, I'll prep a vegetable side salad or something like my make ahead Mexican salad. It's perfect to serve with chips at a BBQ. Regular or tortilla chips.
The base of the salad is a bunch of vegetables, black beans, and corn. Which all taste amazing on carnitas tacos. So it doubles as a topping for pulled smoked pork shoulder tacos (and sandwiches), too.
Smoked nachos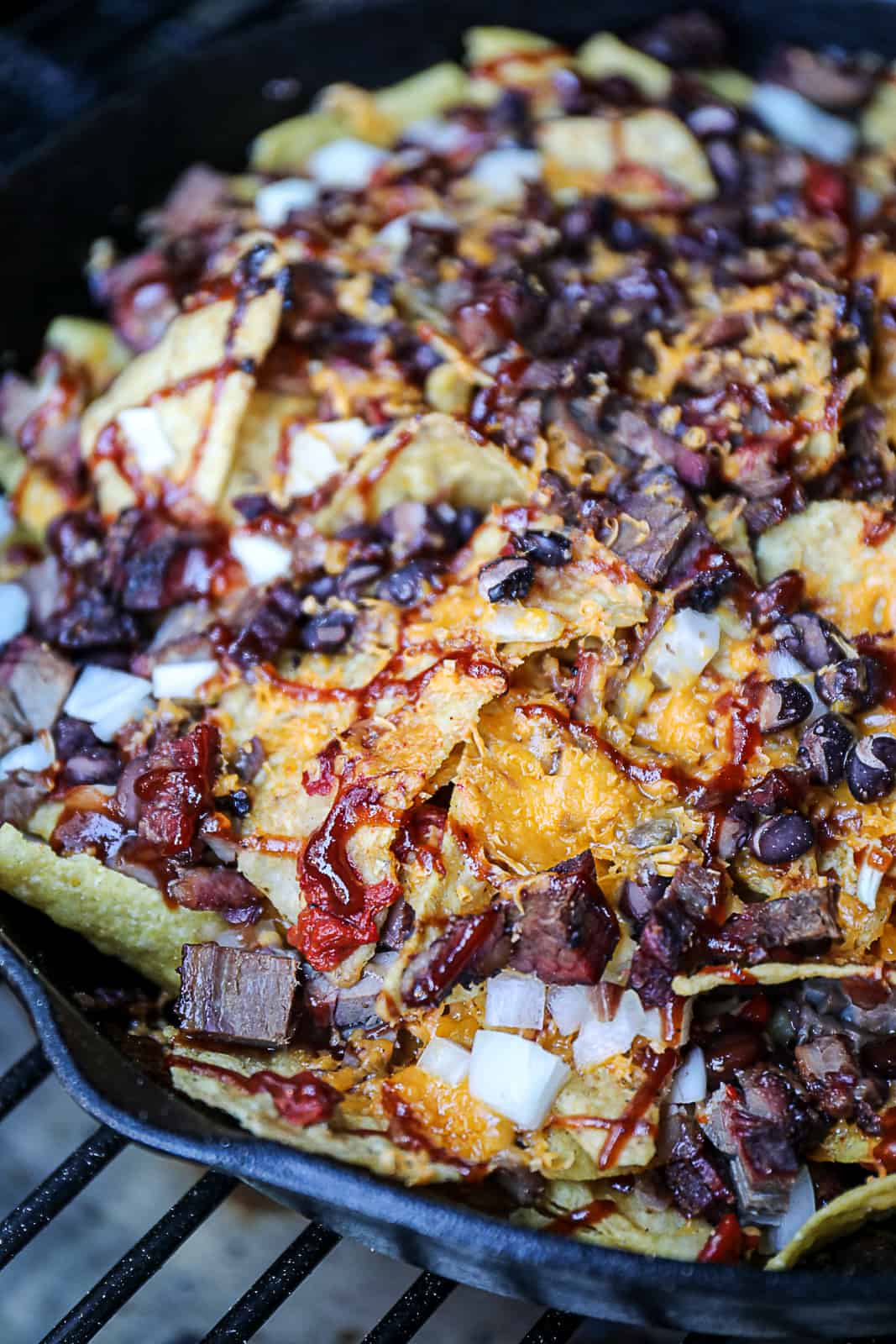 When it comes to grilling recipes I recommend all the time, and easy bbq party menu ideas that you can make with ingredients on hand, nothing beats smoked nachos.
I love to make bbq chicken nachos, and pulled pork too. Oh and steak grilled nachos – see, I like them all!
Prep in advance (morning-of or day before) some pan grilled chicken breast or oven baked tri tip.
Load them up on these nachos with onions, jalapenos, and heaping piles of cheese. They're ready in less than a half hour and the cheese gets so smokey.
BBQ menu main dishes (that aren't burgers)
In the next section, you'll learn about my favorite burgers for BBQ menus. But this is the part of my cookout food list that is going to feed the hungry people who want a little something else, like big steaks and poultry dishes.
Grilled ribeyes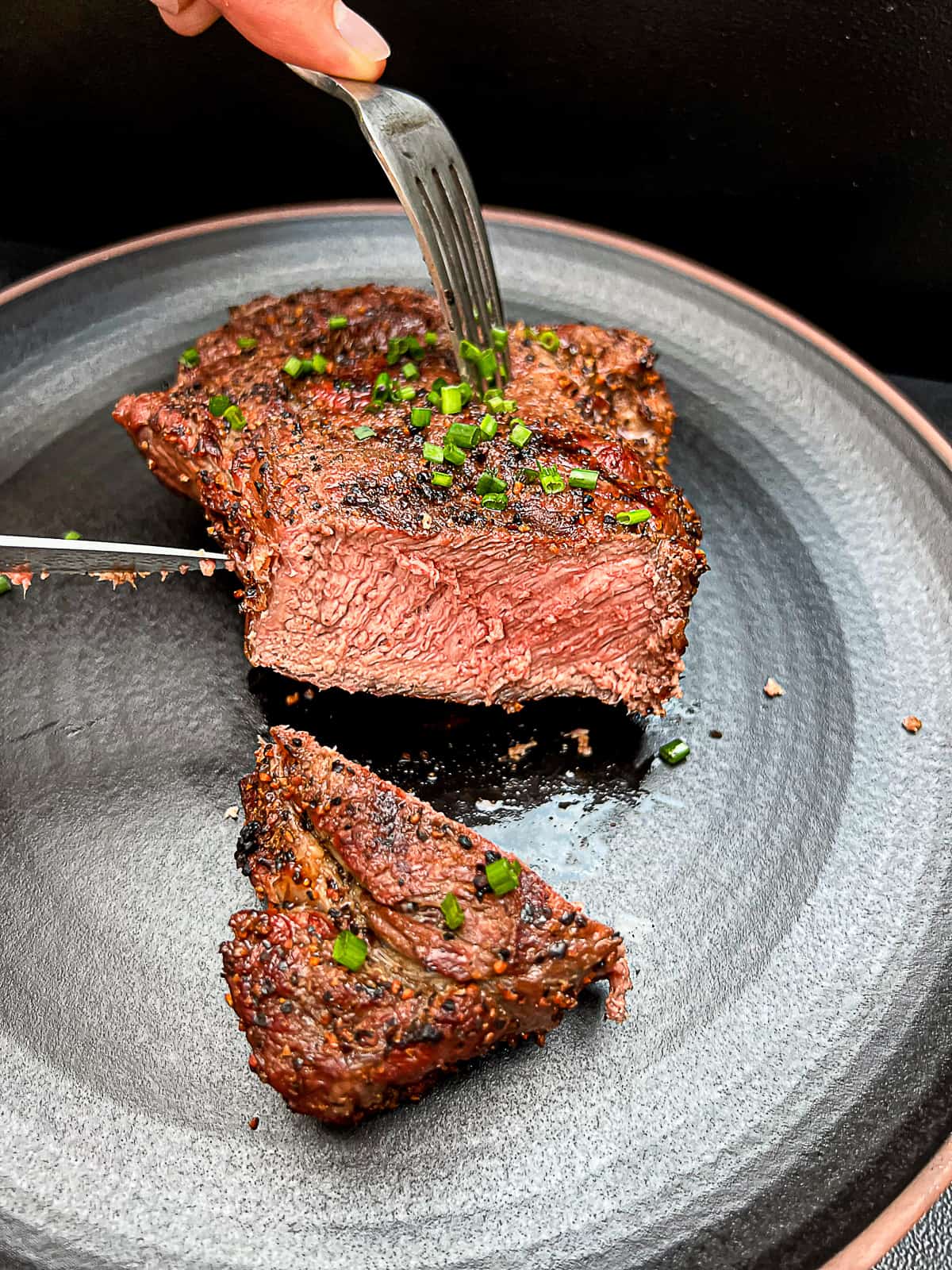 This is more of an upscale bbq menu idea. Everyone loves grilled ribeye steaks because they're juicy, and BIG. Learn exactly how to grill ribeye steaks on a gas grill in this simple, but super tasty recipe.
Grilled brats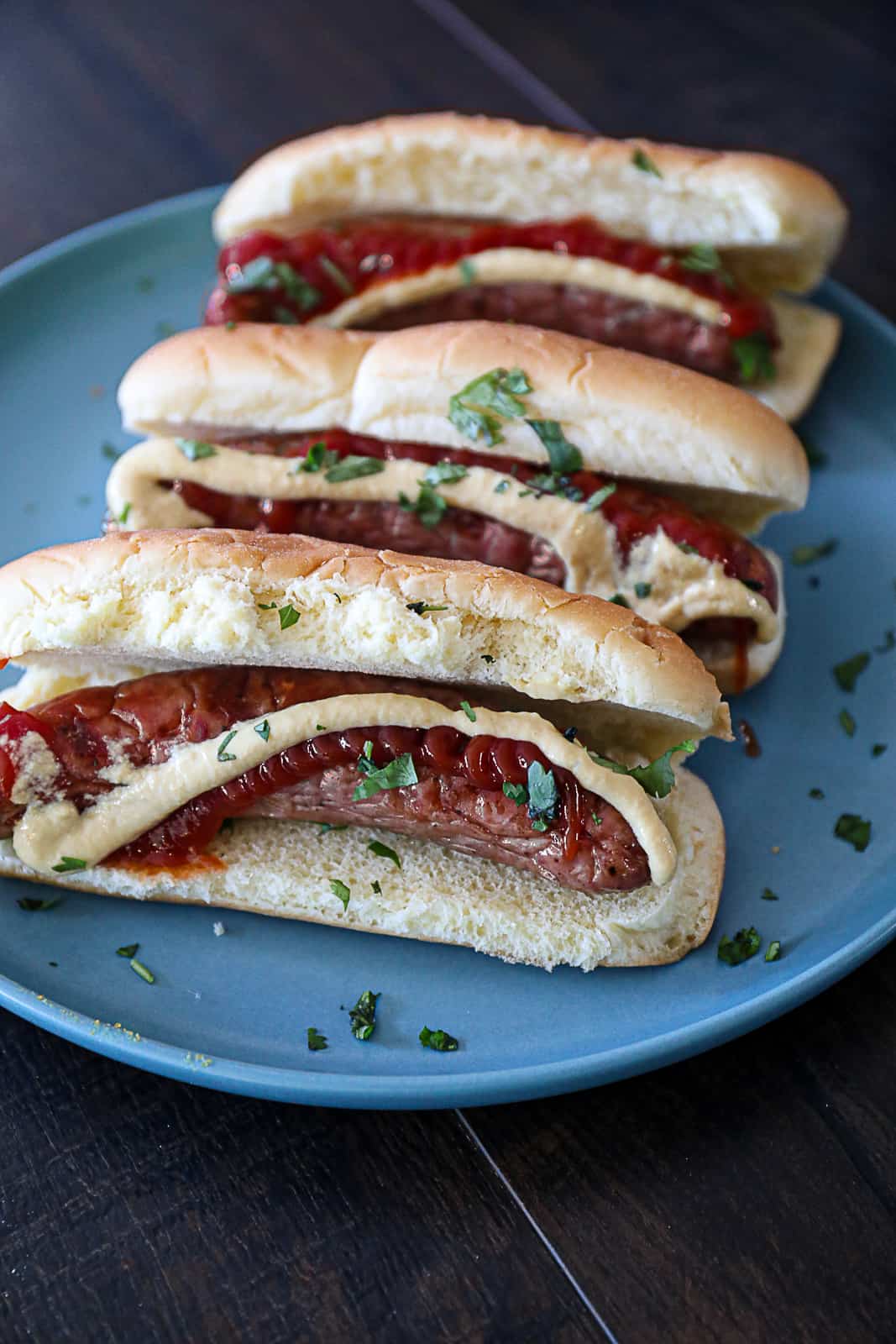 Grilling brats is a fast way to make juicy bratwurst that everyone loves.
For another way to cook brats inside for a BBQ, see this oven baked brats recipe.
Hotdogs wrapped in bacon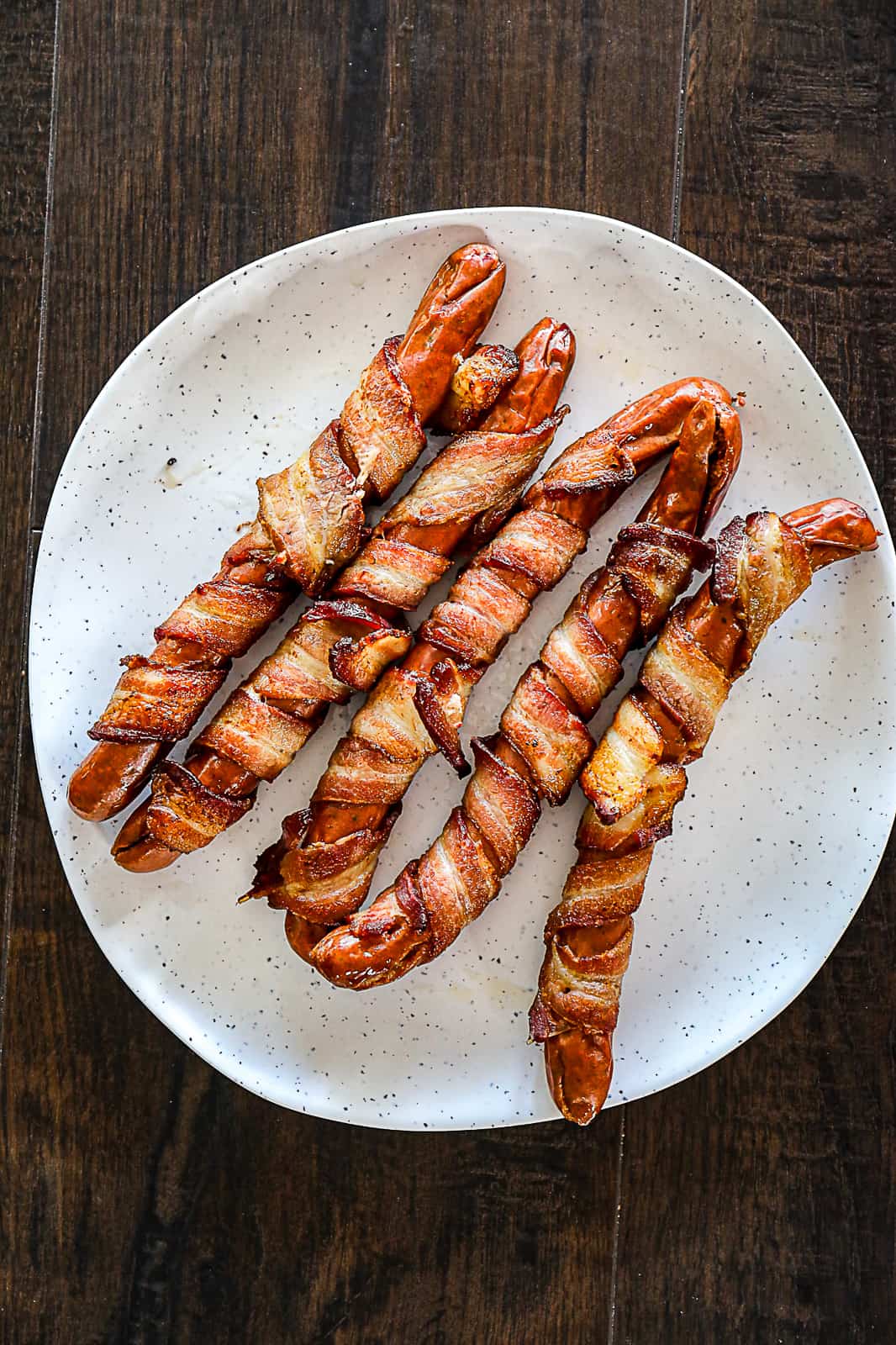 There are tons of gourmet hot dogs to explore, but this one for bacon wrapped hotdogs is one that's particularly high on my list! It's loaded with cheese, bacon and hot dogs… a match made in foodie heaven! You can air fry, oven bake, or grill 'em.
Grilled chicken thighs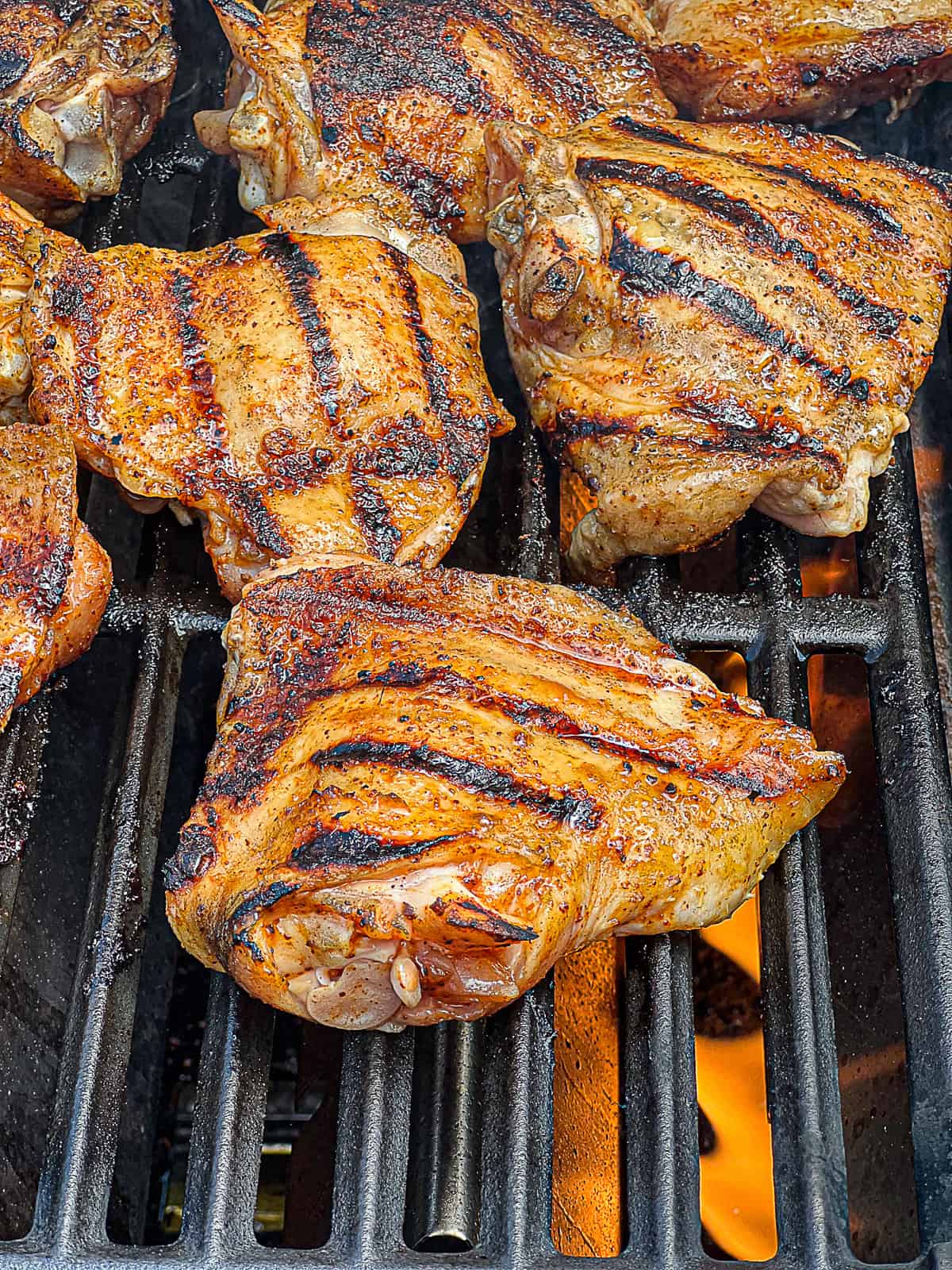 Grilling chicken thighs is such an underrated dish for a BBQ party. First they're one of the most inexpensive meats you can grill for a large crowd.
And you can fit a lot of them on the grill at a time, so you can get grilling the main dish done right away. As long as you nail down the whole indirect / direct heat concept, which I fully explain in my recipe.
Smoked chicken thighs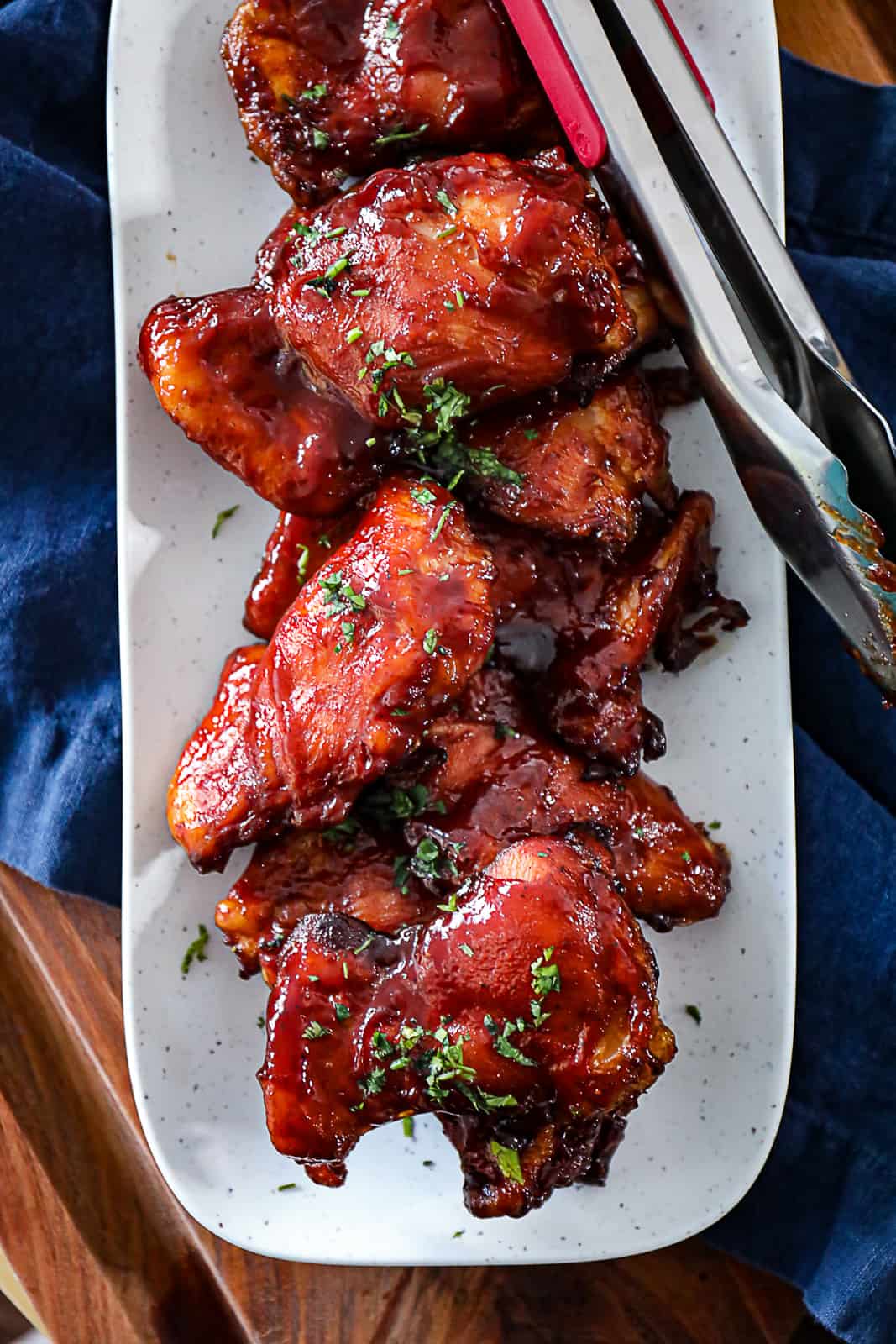 Wow, these are like grilled chicken thighs, but better because they're amped up with all that smokey flavor. These smoked chicken thighs are loaded up with brushes of BBQ sauce which give them a candied-taste.
Grilled skirt steak
You don't want to grill skirt steak without my special marinade recipe included in the steps. Your skirt steak (or grilled flank steak or coulotte or whatever you're making) will take on so much flavor with the citrus and soy sauce marinade – you have to try it
Smoked chicken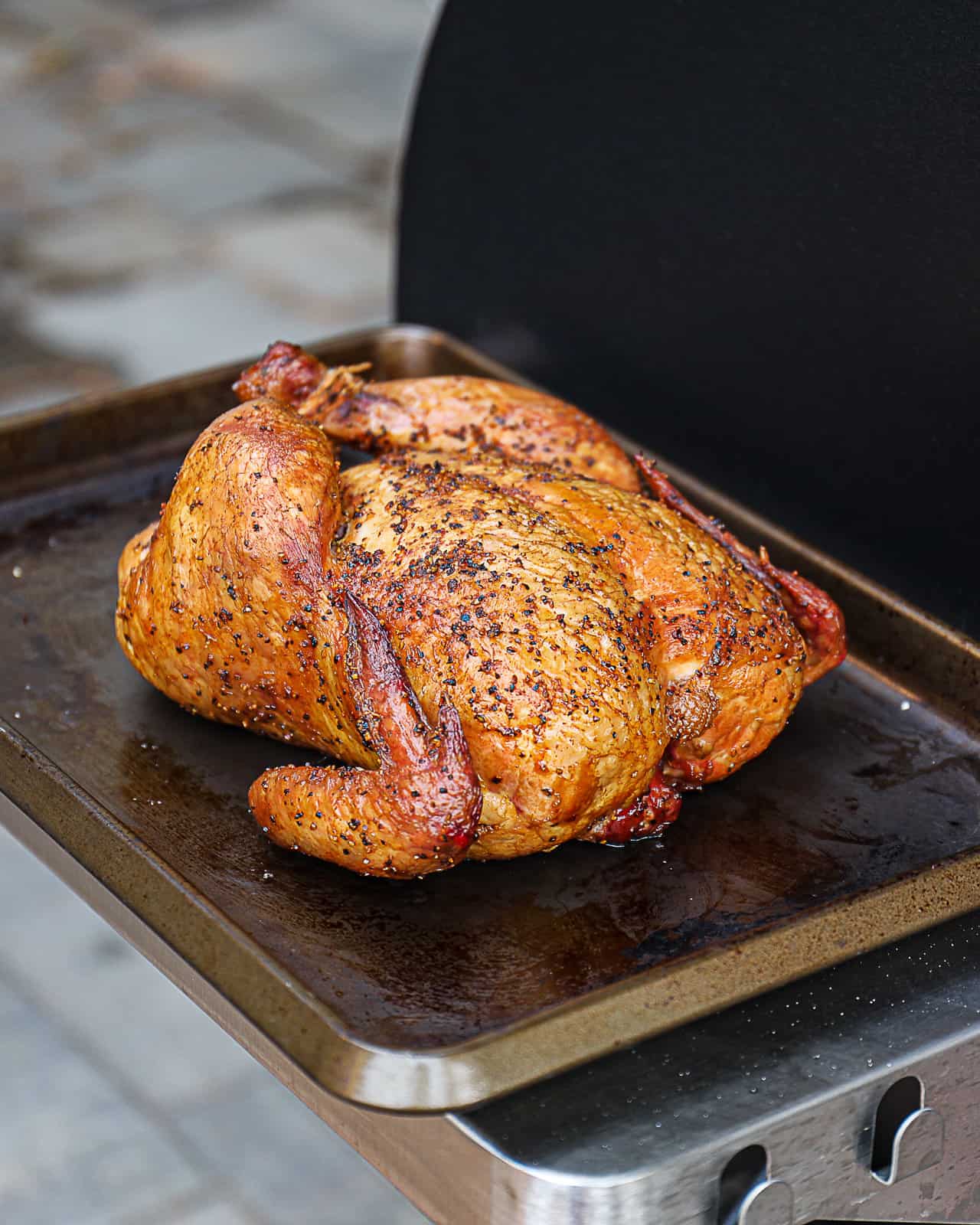 You don't need a brine to make this tasty Traeger smoked chicken. My recipe is packed with flavor and is a very easy smoker recipe for beginners.
Smoked turkey breast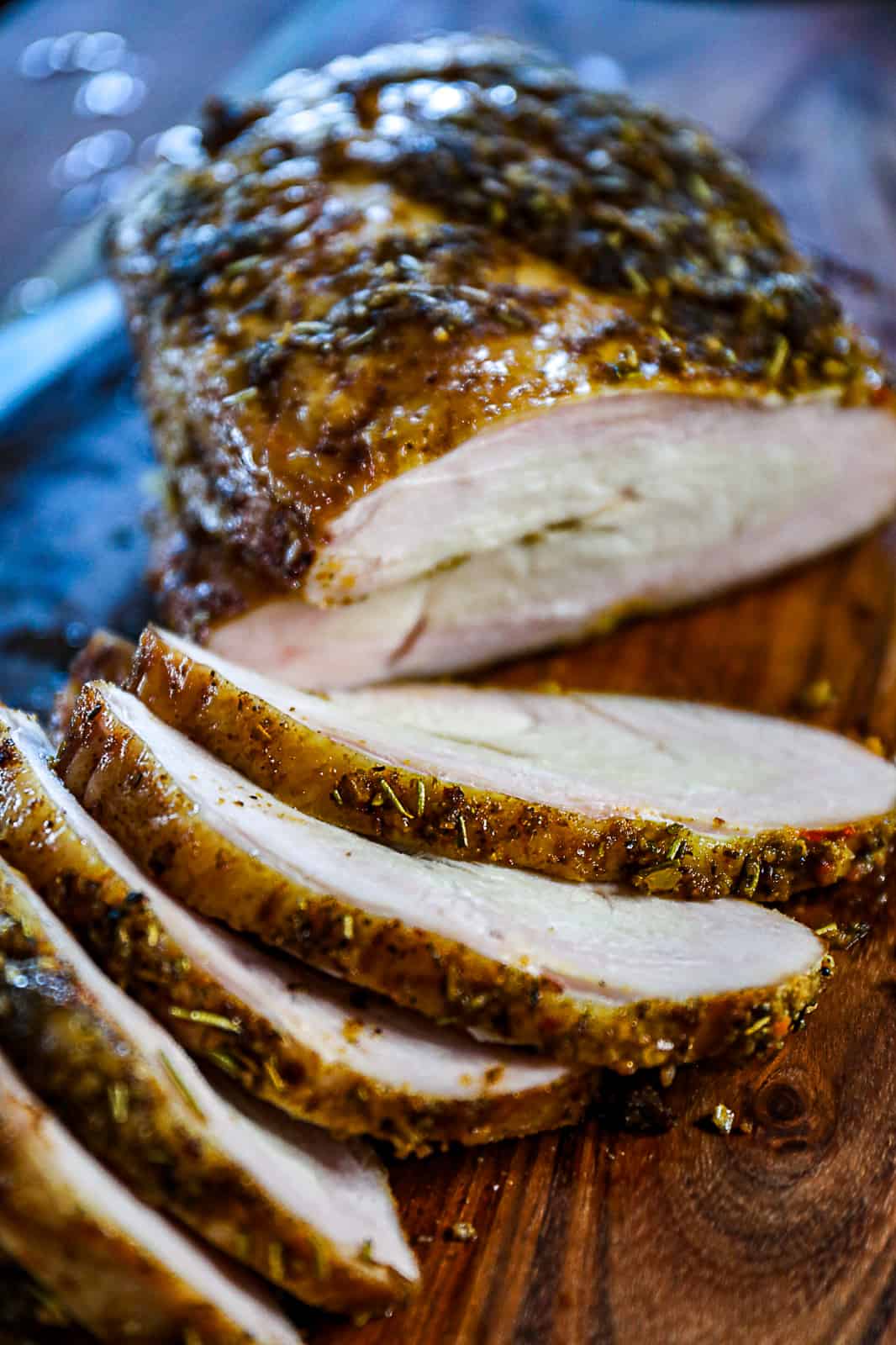 Smoked turkey breast – this version has no brine and is so much easier than you'd imagine! Make it on the Traeger Pellet Grill, Green Egg, or whatever you have.
Make it the day before, and have people assemble DIY turkey avocado sandwiches at the party. Then you don't have to cook the day-of.
Smoked brisket flat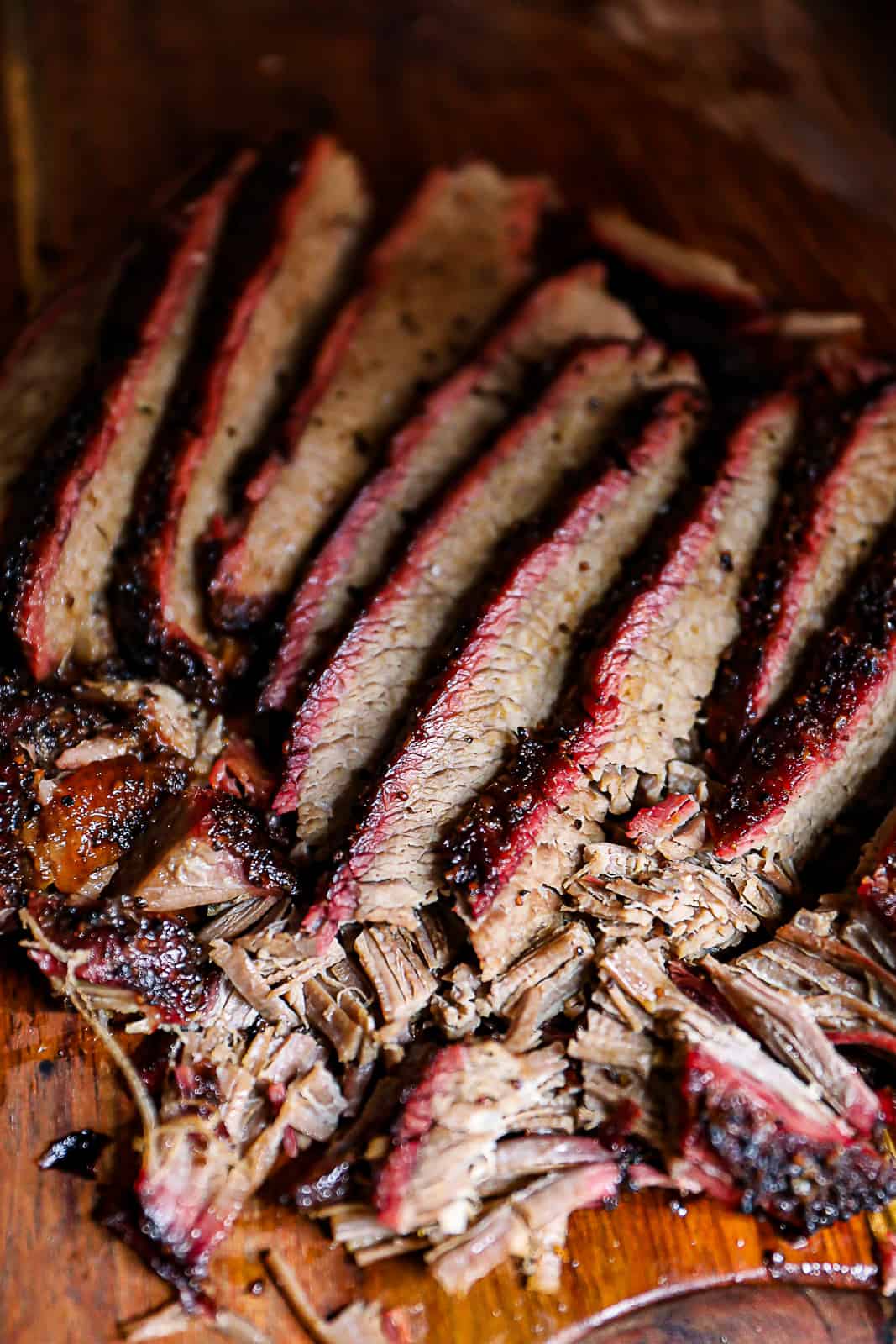 This is an easy way to make brisket, because it's a smaller section – the flat. My Traeger smoked brisket flat recipe includes brisket rub suggestions, fat cap trimming help, and butcher paper wrapping details. It's so good.
Make it ahead and have guests make sandwiches with the meat the day-of the party.
Burgers for cookout parties
Okay, now let's talk about everyone's favorite recipes for a cookout: burgers are usually at the top of the list! And I have a lot to say about them. 
See my picks for the best burger recipes ever.
Homemade burger patties (are a must!!)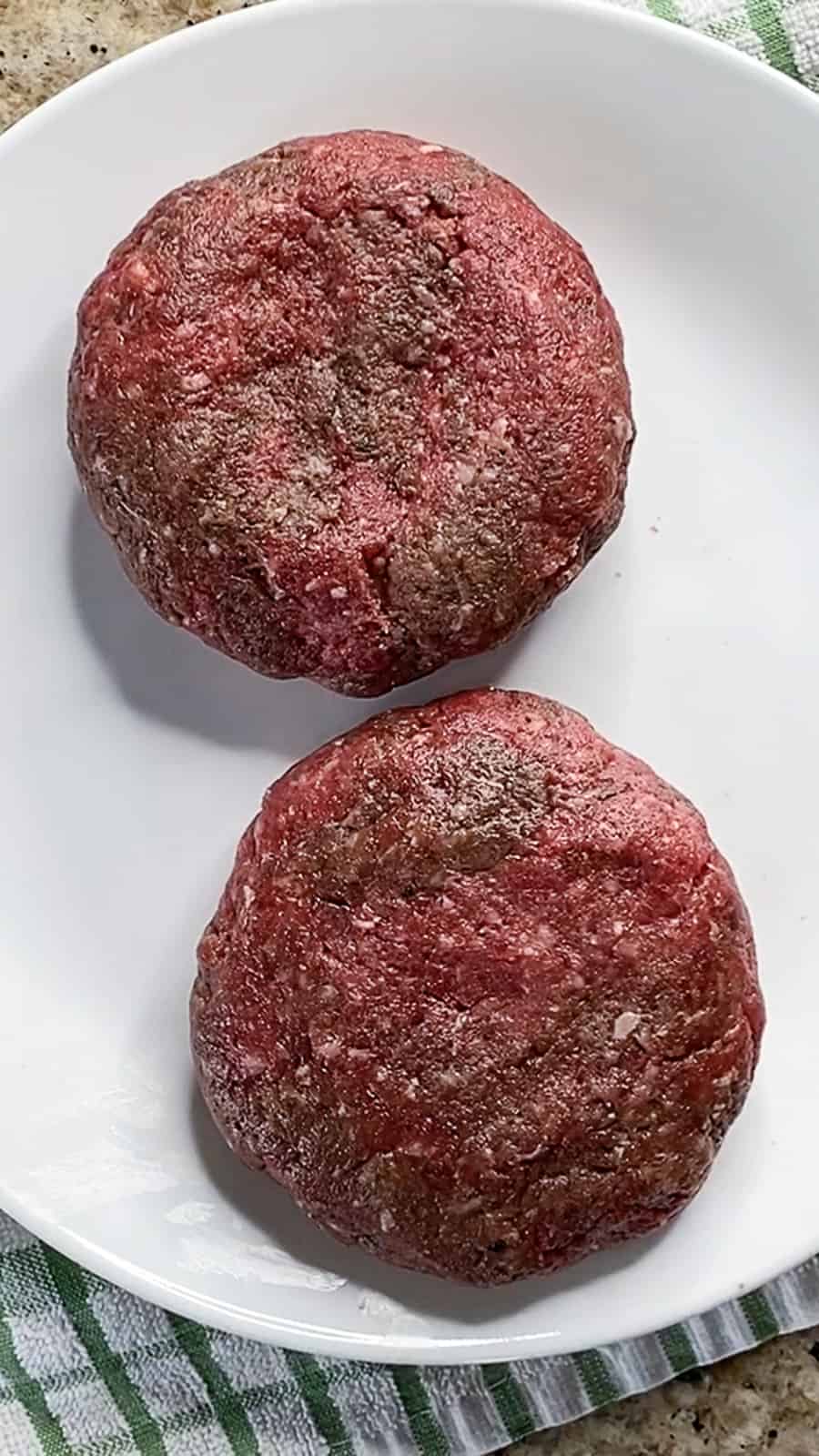 You need to experience the 5 minute joy of making your own ground beef patties for burgers – from scratch!
I have a recipe that walks you through them, step by step. Then you can finish patties on the grill, Traeger smoker, sous vide, or in a cast-iron skillet.
The best part is that it's a 3 ingredient recipe that just uses ground beef, salt and pepper.
Smoked burgers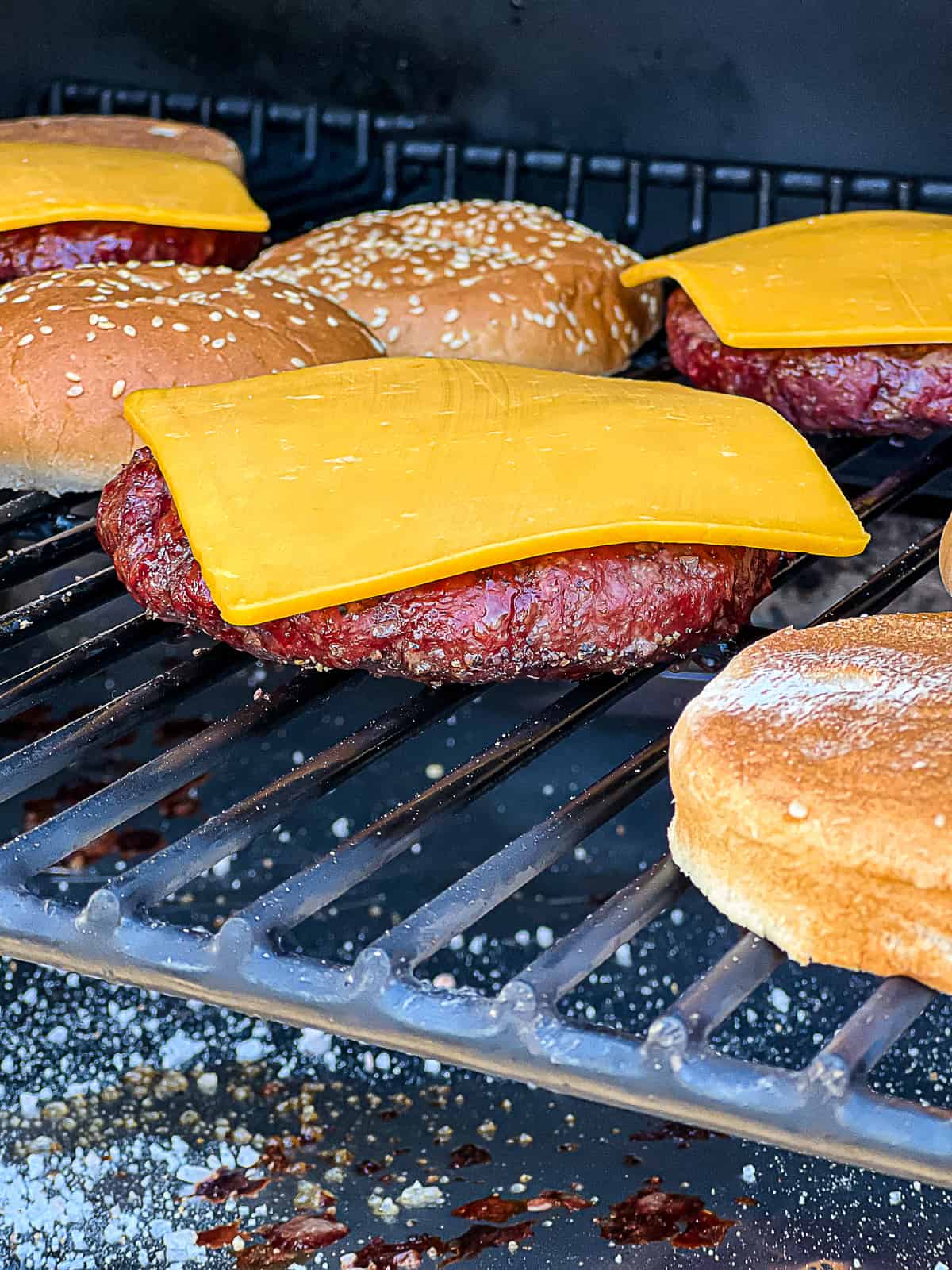 Personally, I think smoking burgers in many ways is easier than grilling burgers for a BBQ party menu. They're difficult to mess up. It's easier to overcook burgers when grilling them, especially if you're a social butterfly who gets carried away chatting with guests.
An easier main dish for a BBQ party is this recipe for smoked burgers. I put them on the Traeger before the party starts, since they only take about 2 hours to cook.
Then you can greet guests and actually have a conversation when they come in.
I then use a thermometer that stays in the burgers while they cook, and connects to my smartphone (details at the end of this post). It actually pings me on my phone 5 minutes before the cook time is complete.
And if you want to add cheese to smoked burgers, you add it about 10-20 minutes before they're done cooking. It melts perfectly and turns into smoked cheddar cheese.
Burgers on the smoker, in my experience, always turn out tender and juicy!
Top your burgers with smoked bacon for an unforgettable BBQ dinner!
Sous vide burgers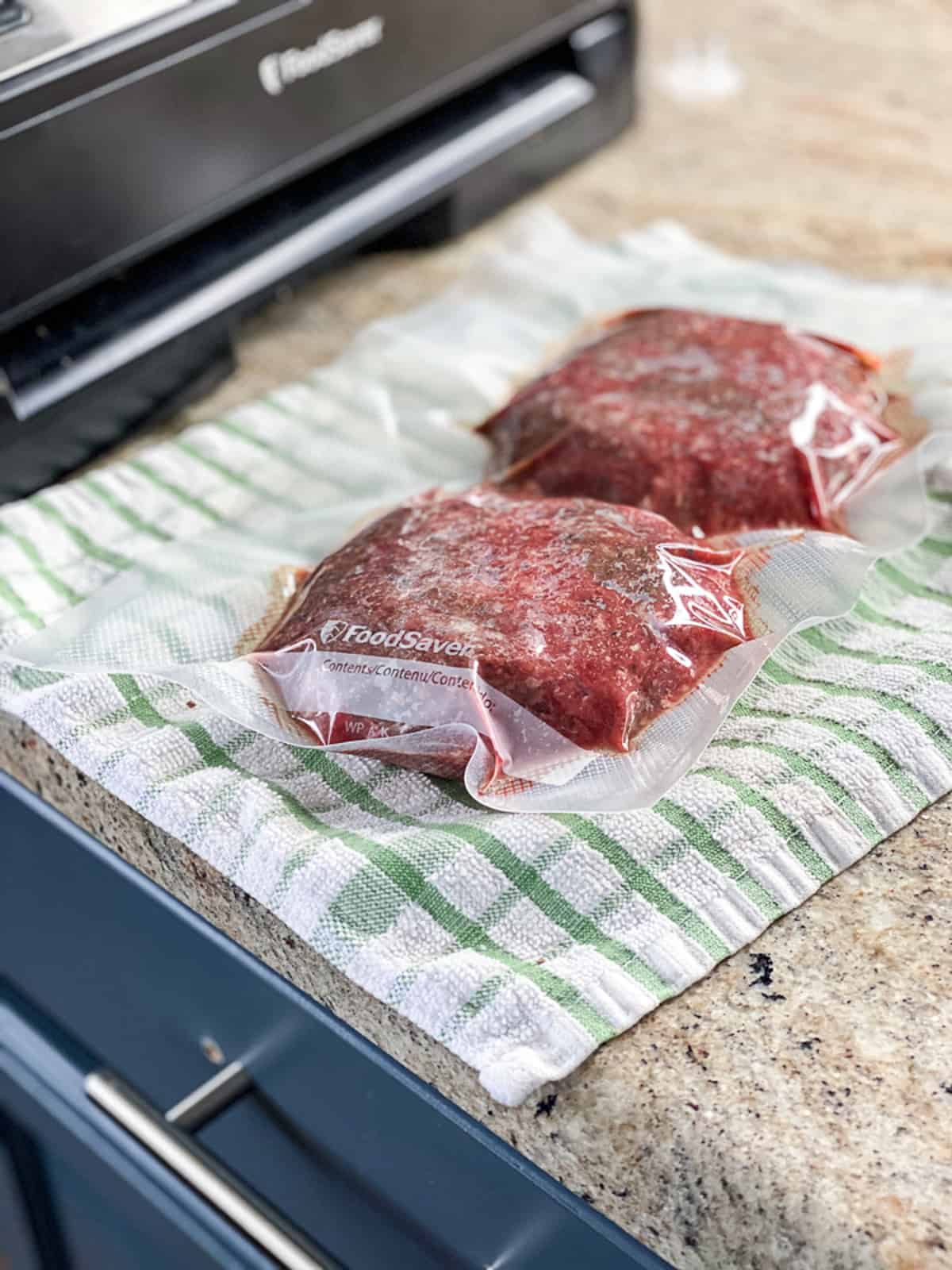 So this is a unique recipe to put on this list, but what you do is you actually sous vide burgers FIRST, indoors. You can do this the day before. And you can even sous vide from frozen. It's like magic.
Then when it's backyard BBQ party time, when people are on the way over, instead of searing the burgers in cast iron, you can mayo sear them on the Blackstone Grill or on a gas grill to finish off the outside with a tasty crust.
This is a must-try sous vide recipe!!! Because they're cooked underwater in a bag, these sous vide burgers cook in their own juice and are always super tender. You can actually finish them with a mayo sear which makes a really nice crust.
Sous vide lamb burgers
Okay, sticking with the easy-to-prep main dishes for a BBQ idea… these sous vide lamb burgers. They are one of my favorite recipes from my sous vide cookbook.
It really does hit the spot for a Summer burger that's a little different and more fancy for a July 4th bbq menu, Memorial Day or Labor Day.
When it comes to these particular burgers, I love to go all out, gourmet burger style, which means topping them with flavors from fresh feta to caramelized red onions – basically, a Greek style sous vide lamb burger that's topped with a heaping amount of tzatziki sauce.
Thank me later!!
Caramelized onion topping for burgers
And lastly, with all the burger chat above, I wanted to share this recipe for an easy, basic way to caramelize onions – they make an excellent burger topping.
Why? Well, you can make them ahead, serve them at room-temperaure, and they bring so much more flavor than standard ketchup and condiments.
For onions, Walla Walla is my preference, when in season, because they are sweet and mellow out the flavor. You also need some olive oil and salt.
On top of that, to really sweeten things up, you can add some brown sugar and butter as they cook low and slow for at least an hour.
Make a huge bunch and enjoy them on eggs and tacos throughout the week.
Side dishes for BBQ menus
These are some of my favorite grilling ideas for side dishes. Some are very easy and basic, like grilled veggies and potatoes. And other bbq recipes on this list are a little more like pasta casseroles and take time to make – but are well worth it!
I have so many things to say when it comes to sides for bbq party menus, but most of them overlap with the appetizers list above. So check out…
Smoked corn on the cob
It's fast and simple to make… and the smokey flavor is delicious and intense. See how to make buttery smoked corn on the cob until it is completely tender from the Traeger. It's one of my favorite side dishes for ribs and smoked bone-in pork. Also great with smoked flanken ribs.
BBQ menu ideas for desserts
There are some classic BBQ foods to cook for desserts, particularly in the smoker. I love smoked peach cobber and smoked cherry pie. I have recipes for those treats coming soon.
S'mores
But when I'm thinking of super simple backyard BBQ dessert recipes, especially for parties where there will be kids, there's always something you'll see on my barbeque menu: s'mores.
You can have people assemble their own, wrap in foil, then place on a grill until the marshmallows melt.
Bake these apple hand pies ahead of time
Mini apple hand pies are a cinch to make. Even if you don't consider yourself a "baker", with the easy tips below, you'll be able to pull them off. They look good, taste great, and you can even make them in batches and freeze 'em for later.
Also see these cherry hand pies.
Raspberry turnovers
Another one to make in advance (1 day ahead is perfect) is this recipe with Summer berries. See how to make homemade raspberry turnovers.
Have awesome backyard BBQ parties, foodies!
Hey home chefs, hope that answers all your questions about what to grill for a backyard BBQ party. I'm sure if you make even one thing on this list, your friends and family will be so impressed and no one will leave your BBQ party hungry.
For more easy grilling ideas, follow me on instagram @sipbitego. And for more deliciousness, subscribe to the Sip Bite Go channel and see the Sip Bite Go recipe collection.
More Tasty Grill + Smoker Recipes
See my favorite smoker tools and seasonings in my Amazon Storefront.
Meat thermometer recommendations
Every home chef needs a reliable meat thermometer to cook food perfectly.
On Sip Bite Go, you'll often see me using:
Meater thermometer – a fancy wireless thermometer that connects to a phone app – gifted to me from a Traeger partnership.
ThermoPro digital thermometer – which has a wire that connects the thermometer to a display box outside the oven/grill.
It's like being psychic! The great thing about either of the thermometers above is that I don't have to take the food out of the oven to know the temperature.
How to use 'em… What I do is stick the digital thermometer in steak, pork, chicken, whatever… Then put the food in the oven, on the smoker, or grill.
While the meat cooks, it reads the temperature so I know exactly what temp meat is as it's cooking. Without having to take it out and check. It's really difficult to overcook food when you know exactly what temp it is inside!