Hey foodies, looking for the best restaurants in Portland Oregon? My by-a-local guide to PDX restaurants has all you need, from food carts, to date night dinner places, to the best brunch spots, casual bars and breweries. Let me help you plan a foodie trip to PDX with my tips!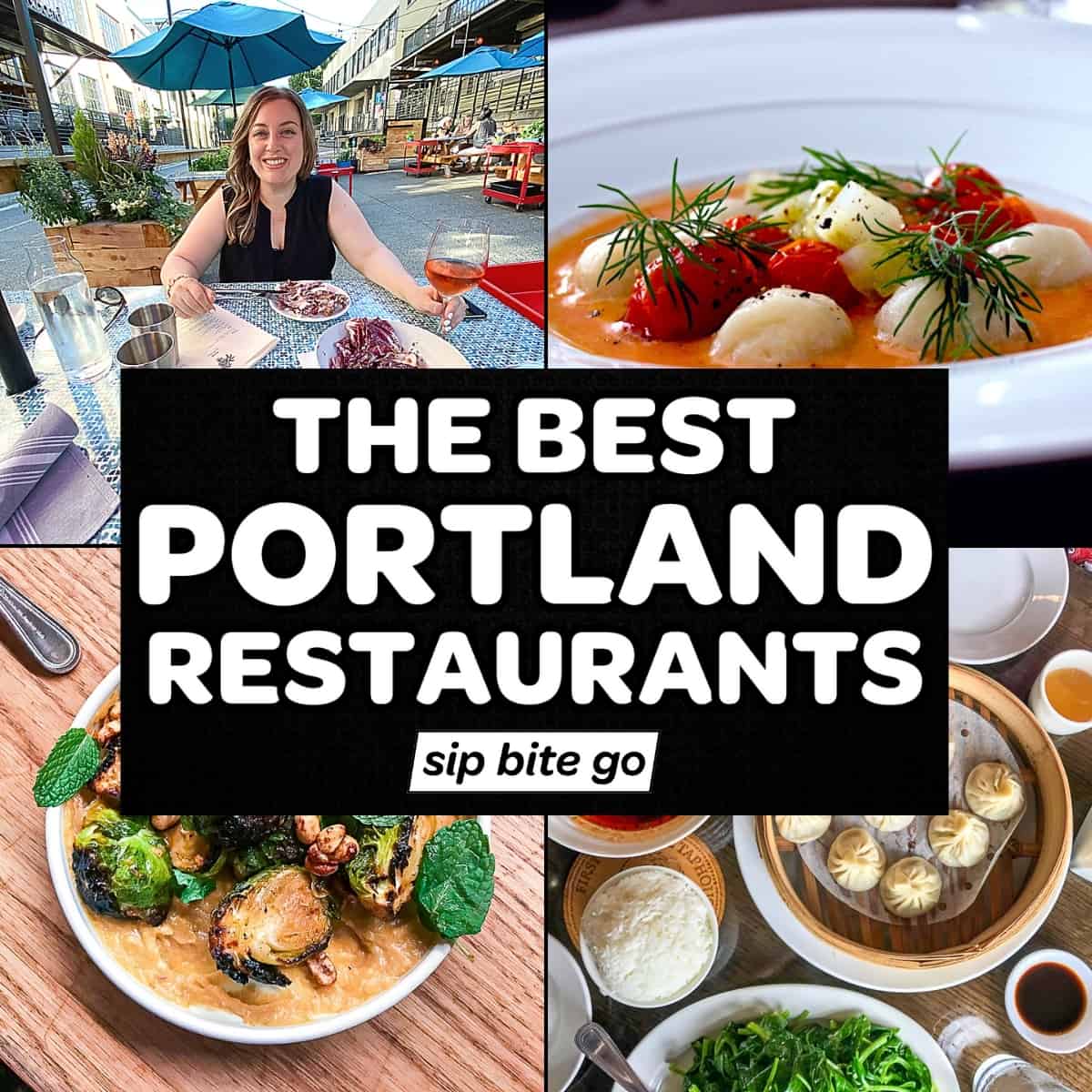 Before I dive into this list of top restaurants in Portland, Oregon, I just wanted to remind you about my list of best Portland lunch restaurants – in case you're planning a mid-day meal.
Mediterranean Exploration Company (Pearl District)
When it comes to the best middle eastern restaurants in Portland, Oregon, you have to check out Mediterranean Exploration Company. They have an outdoor seating area that has expanded the dining to the front seat of the Pearl District.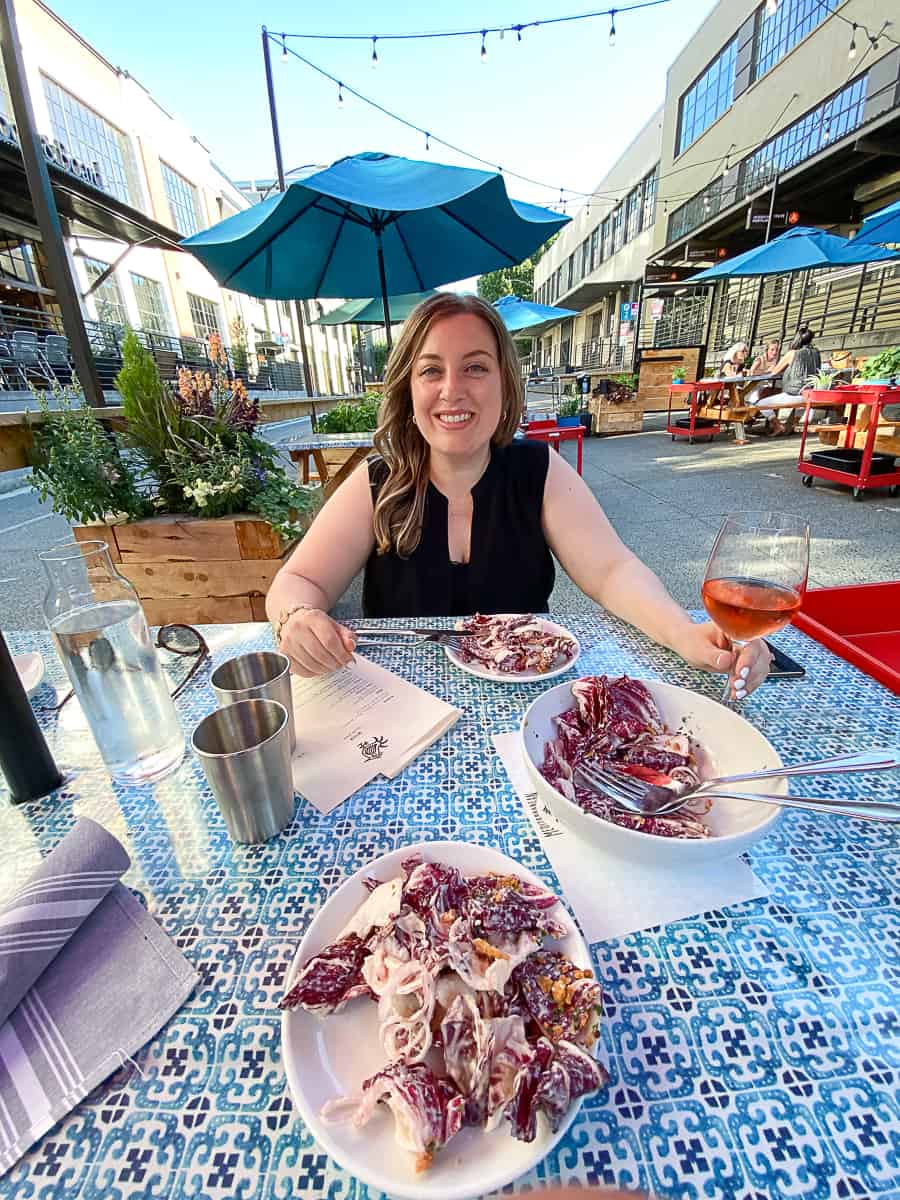 See the video I filmed highlighting the menu at Mediterranean Exploration Company…
Go there with an open mind and vague idea of the ingredients you're craving, and see what their ever-changing menu is featuring that day. I always get one item that is a staple on their menu – hanger steak with crispy capers and potatoes (pictured below). It may sound simple, but it's so delicious. Reservations are a must.
Shalom Y'all (Pearl District + SE)
The owners of Shalom Y'all have had quite a few top PDX restaurants I've loved throughout the years. Some of their popular Portland dine in restaurants have closed down (Tasty N Sons had the best brunches and Tasty N Daughters – oh, how I miss you!), but luckily some of their restaurants like Toro Bravo and this one are still around serving tasty tapas style ​​menu items and mediterranean food. There are two locations, with the one on the east side being much larger.
​​Some of the best parts of my meals at Shalom Y'all have been exchanging bites between my dishes and my friends' plates. There are so many new ways to enjoy the same ingredients you love, when you try the riff on the recipes Shalom Y'all dishes out.
Below is a beet appetizer with some of Shalom Y'all's delicious warm pita bread.
Pope House Bourbon Lounge (NW)
If you're looking for a hidden gem in Portland for date night, look no further than ​​Pope House Bourbon Lounge. It's truly underrated, though it is close to a 5 star on Google Places. I think it's one of the best ambiance restaurants Portland has to offer in the NW neighborhood.
The atmosphere is dark, it is located in some old Victorian looking house. It gives me an eerie vibe, and the cocktails are dark and grimm to match. The food has a somewhat heavy comfort food vibes. It's definitely a great contender for a fun, casual dinner Portland style.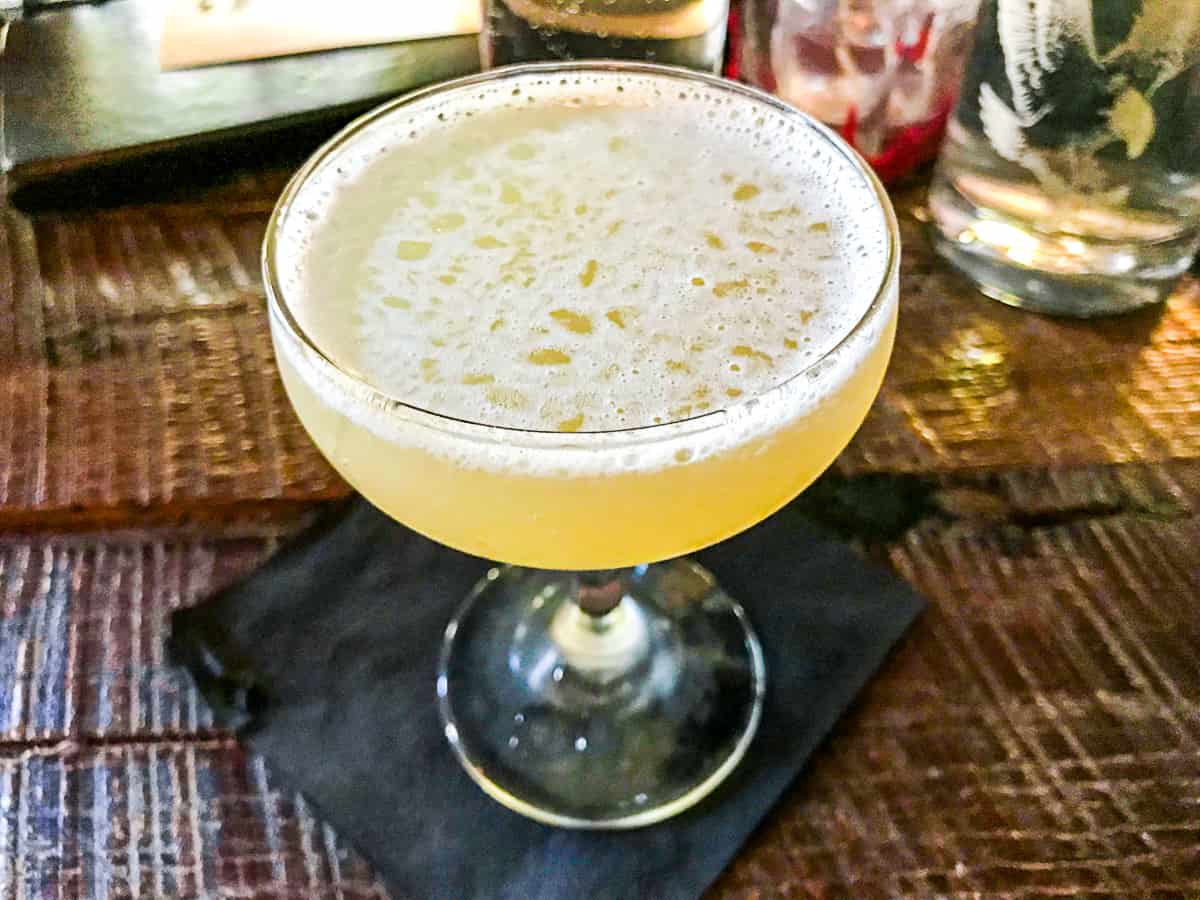 Caffe Mingo (NW, Beaverton)
Things I enjoyed on my last trip:
For the bread course, they give you a little bowl of salt + a little olive oil pitcher (so cute).
Linguini – I think I should have gone with the homemade pasta special (pappardelle and sausage), as I don't think the linguini was made in house. But the dish I had came with a delicious light pasta sauce and summer ratatouille. It was like a squash pasta dish.
Tiramisu – the creamy whip on top was so good, and the inside was perfectly moist, but not soggy.
The outdoor patio dining at Caffe Mingo feels almost like eating on the streets of Italy – see my video on instagram.
Bollywood Theater (NE + SE)
One of my favorite street food style Indian restaurants in Portland, Oregon, Bollywood Theater is really "so portland". It's a casual, order-at-the-counter type place where you won't find your Americanized Indian food normal menu items (no buttered chicken!). Instead, there's always something tasty and new to get into like ​​lamb samosas or Karbala fried chicken. There are a few locations around town, including one on SE Division Street.
Hot Lips Pizza (throughout PDX)
They serve up ​​New York style pizza – the big, thin slices – at this tasty chain you'll find throughout Portland. I like it for a late afternoon lunch, or a happy hour slice after an afternoon at the Rose Garden. But if you want a ​​cheap dinner Portland-style that you can eat quickly, Hot Lips is a great choice. And – they have a ton of tasty hot sauces to choose from that you shouldn't miss!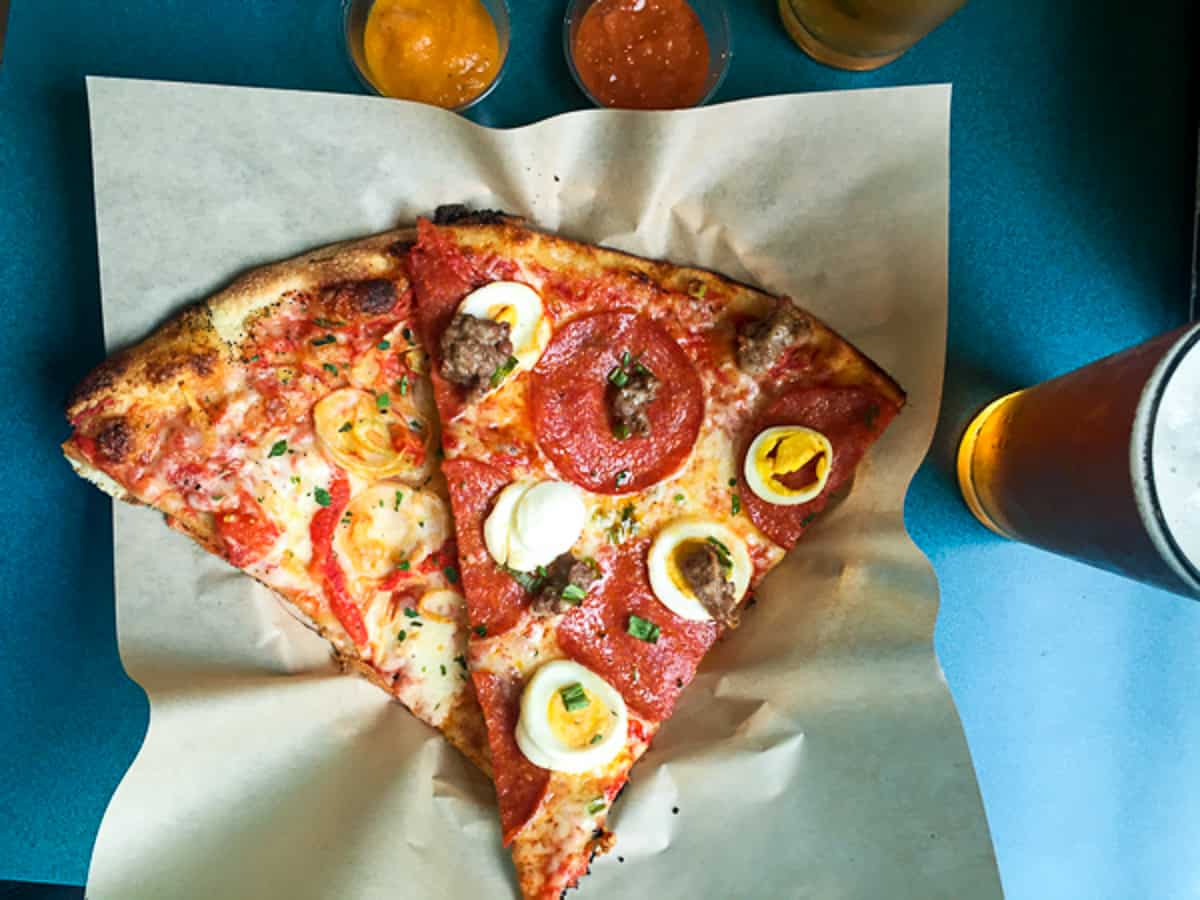 Verde Cocina (Pearl District)
If you're looking for more ​​authentic Mexican restaurants in Portland, Oregon, head to one of Verde Cocina's locations. You can also find them at the Portland zoo and they sometimes have tents at the Portland Farmer's Market.
There are plenty of healthy options on the menu, but it's also a great place to go for happy hour because the bar is fully stocked with ​​fresh squeezed cocktails (I love the Paloma), Mexican and local draft beers, and a variety of tequilas.
Ava Gene's (SE)
If you're into tasty Italian food and ​​small plates you can share, visit this place. Ava Gene's has classics like Tagliatelle with Chicken and lemony Chicken Picatta. For a unique experience at one of the ​​top Italian restaurants Portland has to offer, check out the kitchen counter dining option.
Tusk (SE)
Owned by the people behind Ava Gene's, Tusk has plenty of Mediterranean and Middle Eastern menu items to try. It's a favorite happy hour spot in Portland because the ambiance is unique and the dishes are creative and modern, but still have that comfort food vibe.
Smooth and creamy hummus: marinated chickpeas, tahini sauce, paprika, served with flatbread.
I really like all the cocktails, too.
Ava Gene's (SE)
If you're into tasty Italian food and ​​small plates you can share, visit this place. Ava Gene's has classics like Tagliatelle with Chicken and lemony Chicken Picatta. For a unique experience, check out the kitchen counter dining option.
Mother's Bistro & Bar (Pearl District)
If you're wanting to check out one of the best brunch restaurants in Portland, Oregon, Mother's Bistro & Bar should be on your list! Their motto is "it's all about the love" – and all their dishes are inspired by cuisine cooked by mothers from around the world.
My husband and I have loved everything from the homemade pasta pierogies, to the crab cakes, lunch salads and soups, chocolate cake and tasty cocktails.
And, bonus, you get freshly baked cookies at the end of your meal.
Rollin' Fresh NW (NW, SE, NE)
They have both ​​food carts throughout the city and a brick and mortar restaurant to check out in NW Portland. Rollin' Fresh NW's owner, Ryan has become a friend of Sip Bite Go. I've had the opportunity to do a behind the scenes video in the food cart. It was such a clean food cart, with a delicious, inventive, and very Portland foodie experience worthy moment.
The sushi burritos are huge rolls of sushi packed with all sorts of ingredients from raw fish, to cooked fish, to tempura fried ingredients. This is definitely a place to check out for an Instagram worthy moment.
See the video of Rollin' Fresh NW behind the scenes on the Sip Bite Go YouTube channel.
Mucca Osteria (SW)
One of the best italian restaurants in Portland, Oregon is Tuscan style Mucca Osteria. As a sous vide cookbook author, I love that they offer juicy sous vide steak and sous vide duck breast options. There aren't many sous vide restaurants in Portland, so this is a unique spot to try this style of cooking if you're new to it.
Nostrana (SE)
Nostrana is one of the best restaurants in SE Portland, Oregon for a date night or fancy lunch out. They serve big personal pizzas with scissors – which makes it a pretty fun and experiential dining experience. I usually get a seasonal salad and then move on to a handmade pasta dish.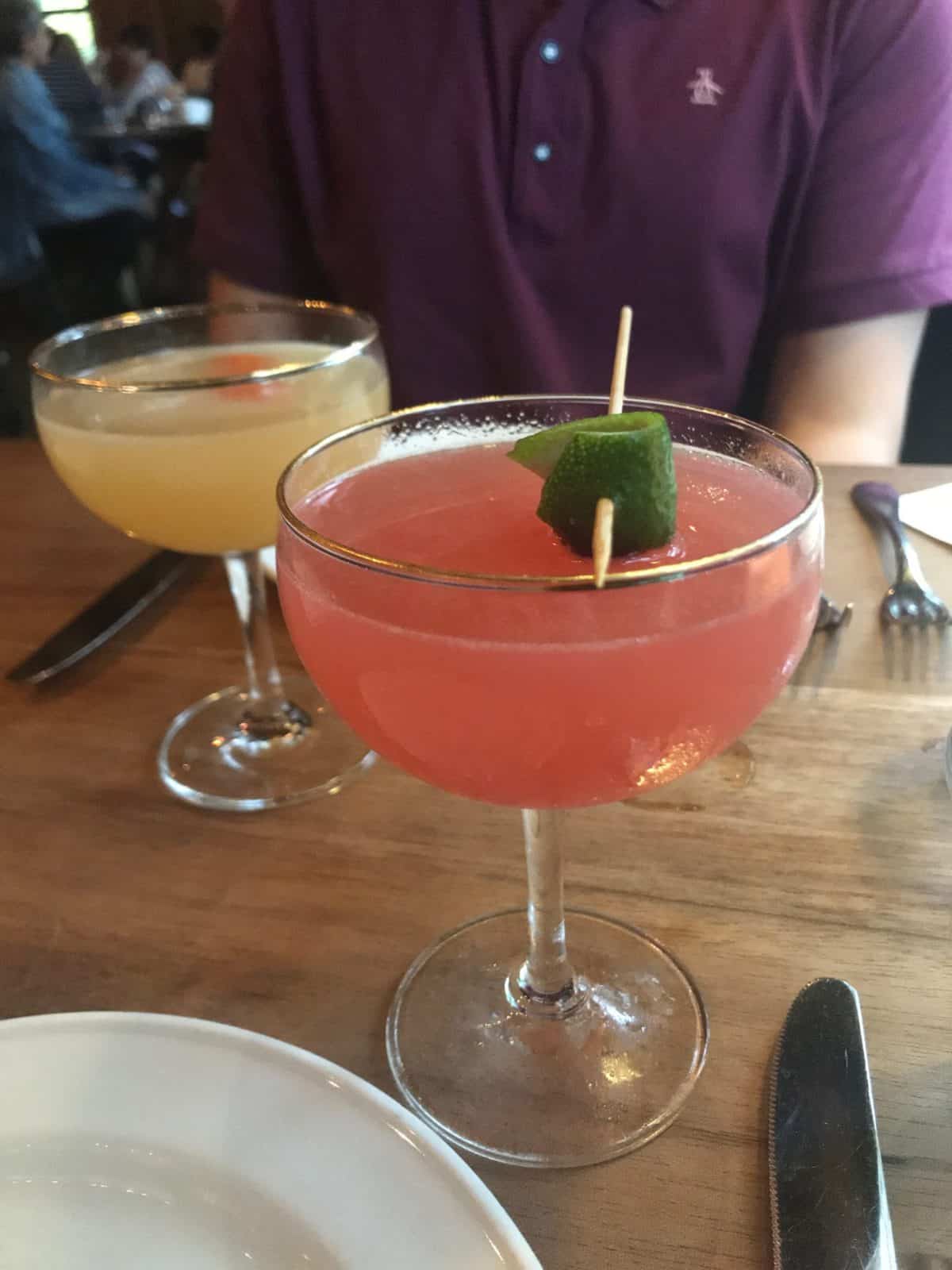 Deschutes Brewery (downtown PDX)
There are so many good burger restaurants Portland has to offer, but I'm going to recommend you get the burger and beer experience at a tourist favorite, Deschutes Brewery. The inside of the brewery lounge has ornate wood sculptures and gives off woodland themed vibes.
The food is really good bar grub food. Mac and cheese, bugers, fries, and other comfort food dishes are plentiful and delicious here.
Q Restaurant & Bar (SW)
If you're looking for fancy restaurants in Portland, Oregon, head over to Q Restaurant & Bar in downtown Portland that serves up a farm-to-table restaurant experience. It's perfect for both a business dinner and a romantic night out. Some favorites include the ​​seafood stew, packed with calamari, mussels, fish, and clams. And the light and fluffy chocolate souffle.
Hat Yai (NE)
If you're looking for a fried chicken type of Portland foodie experience, check out Thai food restaurant Hat Yai.
Pine State Biscuits (NW, NE, SE)
You can easily find Pine State Biscuits breakfast restaurants in Portland, Oregon, in some of the most popular neighborhoods. They're known for their long lines for weekend brunch – but it's totally worth the time spent in line to grab one of their big fried chicken sandwiches on a freshly made from scratch buttermilk biscuit.
Serratto Restaurant and Bar (NW)
One of my favorite fancy-ish restaurants in NW Portland, Oregon is Italian Serratto Restaurant and Bar. They have a wonderful selection of lunch menu items, happy hour specials, and dinner options with an extensive wine list. It's white linen table service that feels casual and inviting.
The specialty pizzas of the day are delicious, as are the salads and risotto specials and pasta dishes with homemade pasta sauce.
Lucca (NE)
One of my favorite East Coast style Italian restaurants in NE Portland, Oregon is Lucca. I grew up on the mozzarella sticks and meatballs being staples on Italian restaurant menus in New England, and that's exactly what you'll find at Lucca's.
Amalfi's Restaurant (NE)
Amalfi's Restaurant in Portland, Oregon is where you want to go to get family-style Italian food like big pizzas and baked stuffed shells.
Grassa (SW, Pearl District, NW)
There aren't a ton of Italian restaurants in the Pearl District of Portland, Oregon, so if you're in the area you'll want to stop by one of my favorite casual italian restaurants – ​​Grassa. It's an order-at-the-counter type of restaurant that serves handmade pasta dishes.
There are always new seasonal pastas to try, and plenty of sides to make everyone happy. I love the radicchio salad with breadcrumbs to start with and always try a tasty seasonal pasta dish.
Pine Street Market (SW)
This tasty food hall is a rather rare indoor dining experience, amongst all the food carts of Portland. It's in downtown Portland (Second Avenue and Pine Street) in a historic building. There are a ton of noteworthy restaurants to check out inside, including local Korean food favorite Kim Jong Smokehouse and Mexican food favorite Teote Outpost.
Paley's Place (NW)
Unfortunately, this is closed. I'll leave up my review…
This date night Portland restaurant in NW is one of my personal favorites because I spent time filming some of their dishes being made in a YouTube special I did not too long ago. The owner, Paley, is a well known chef in the area and the precision, craftsmanship and taste of the plates available at Paley's Place are not to be missed during a trip to Portland. There is a charming wrap-around patio to enjoy your food outside in the warm summer months.
St. Jack's Bistro (NW)
One of my most recommended foodie restaurants Portland, Oregon is known for on the west side is St. Jack's.
The ambiance of this NW Portland brunch and dinner hot spot is rustic and antique. The food comes on vintage China plates and there are candles overflowing with wax in the corners of the restaurant. I've had everything from fluffy croissants to eggs benedict, to a date night Valentine's Day steak dinner, to a burger for happy hour there. It's all been delicious, and so have the drinks.
Duck House (SW)
When it comes to recommending the best Chinese restaurants in Portland, Oregon, I send everyone to Duck House. I fell in love with their soup dumplings years ago, and whenever the craving hits, it's the first place I think of to fill the void. The spicy wontons aren't to be missed, either.
Canard
Canard is definitely one of those ​​foodie places in Portland that you have to check out. I was really sad when the sister restaurant, L​ittle Bird closed. But I'm so happy this restaurant, Canard, is open and so is Le Pigeon next door. Canard has so many tasty and fancy dishes to choose from – like the crispy brussels sprouts with peanut sauce.
But, to be honest, I can't make a visit without trying one of the steam burgers – they are the perfect size for starting your meal with a freshly made hamburger patty of deliciousness.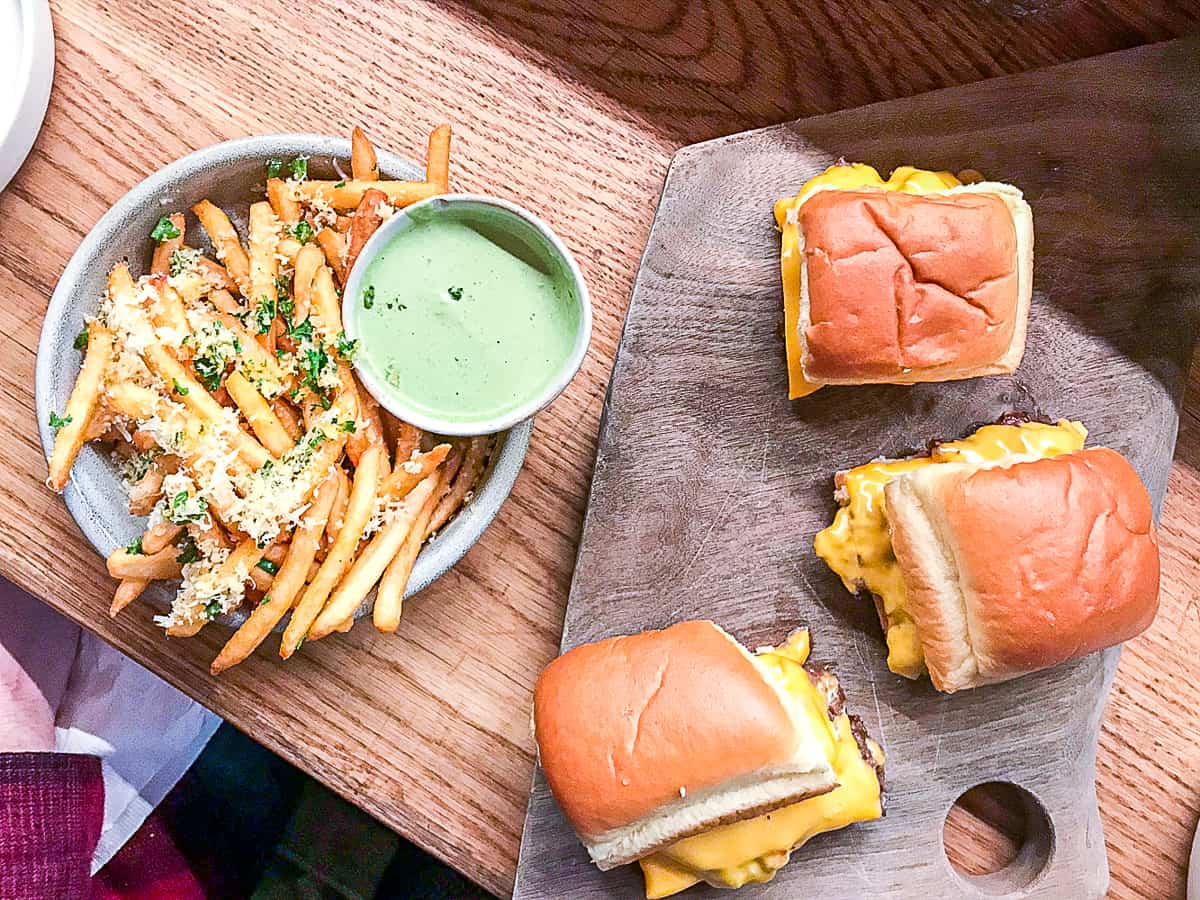 Farm Spirit (SE)
​​Chef Aaron Adams has put together a ​​plant-based dinner menu of every vegetarian (and meat eaters) dream at Farm Spirit on SE Belmont Street. Check out the ever changing menu.
Southpark Seafood (SW)
If you're looking for one of the best seafood restaurants in Portland Oregon, then Southpark Seafood has a menu you should check out. It has a ton of PNW seafood favorites to experience – from the Smoked King Salmon Collar to the Dungeness Crabs and delicious oyster bar.
Veggiegrill (SE)
Popularly known as one of the best vegan restaurants in Portland, Oregon, Veggiegrill is the spot to head to for a quick, refreshing bite. Try the crispy cauliflower and takes on fast food favorites with vegetarian and vegan alternative options.
Delicious recipes from Sip Bite Go
Looking for PDX things to do?
Hey foodies, don't forget to check out Sip Bite Go's guide of the best restaurants in Portland, Oregon and best Portland lunch spots.
If you're looking to do a little sightseeing, see this guide to unexpected treasures to find at Powell's Books in Portland, what to do during Fall in Oregon, and find out whether or not it snows in Oregon.
Hey foodie friends, to see the new restaurants in Portland where I'm headed next, connect with me on Instagram @sipbitego. And for more deliciousness, subscribe to the Sip Bite Go channel on YouTube and scroll through the Sip Bite Go recipe collection.
New recipes and foodie guides….
Grill and smoker recipes…
Meat thermometer recommendations
Every home chef needs a reliable meat thermometer to cook food perfectly.
On Sip Bite Go, you'll often see me using:
Meater thermometer – a fancy wireless thermometer that connects to a phone app – gifted to me from a Traeger partnership.
ThermoPro digital thermometer – which has a wire that connects the thermometer to a display box outside the oven/grill.
It's like being psychic! The great thing about either of the thermometers above is that I don't have to take the food out of the oven to know the temperature.
How to use 'em… What I do is stick the digital thermometer in steak, pork, chicken, whatever… Then put the food in the oven, on the smoker, or grill.
While the meat cooks, it reads the temperature so I know exactly what temp meat is as it's cooking. Without having to take it out and check. It's really difficult to overcook food when you know exactly what temp it is inside!
Hi there — I've since moved to Dallas, Texas! See some of my new guides: