Looking for easy pasta side dishes for steak dinners? I have you covered! Make a complete meal with steak and pasta sides with this list.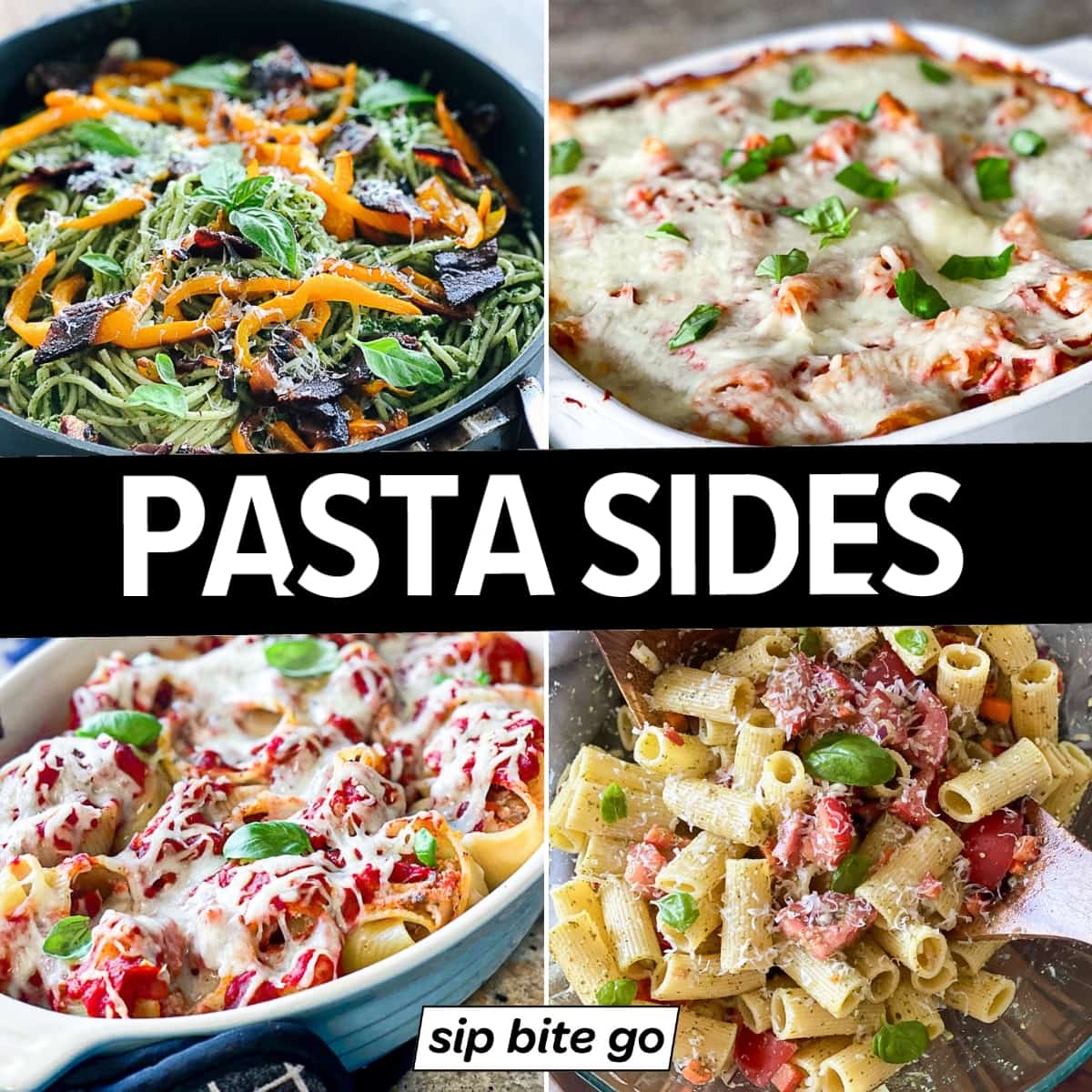 Here you'll find the best pasta side dishes for everything from a fancy petite filet mignon dinner to a casual grilled steak bbq feast for a crowd. Many of these recipes double as pasta side dishes for chicken and pork, too.
Baked pasta side dishes for steak dinners
Classic Italian Stuffed Shells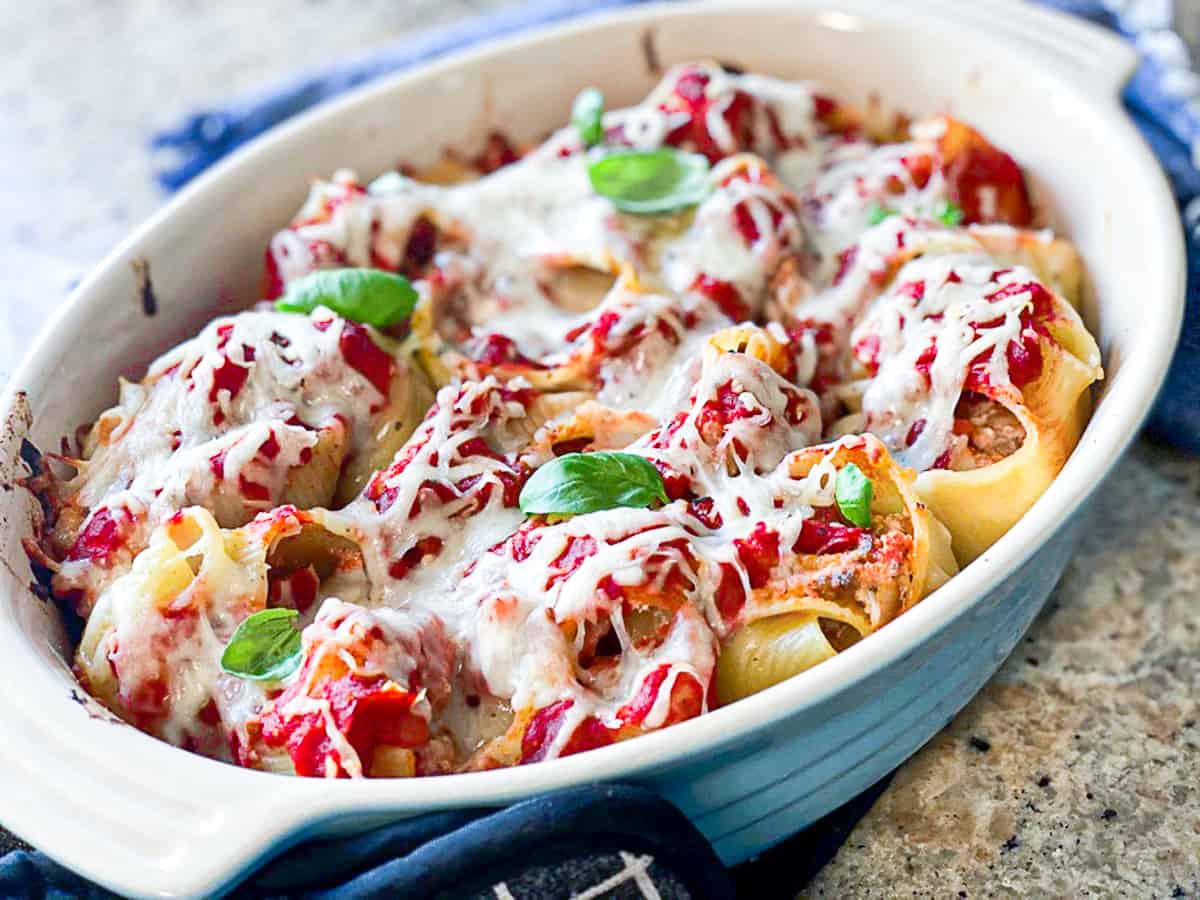 Here's an easy side dish you can tailor to your dinner guests. This classic Stuffed Shells Recipe uses ground beef, but if that's too much meat with your steak dinner menu, then opt for a cup of spinach in its place. And if you're crazy about the air fryer, you must know: you can also make baked pasta dishes air fried, too.
Cheesy Baked Rigatoni With Ground Beef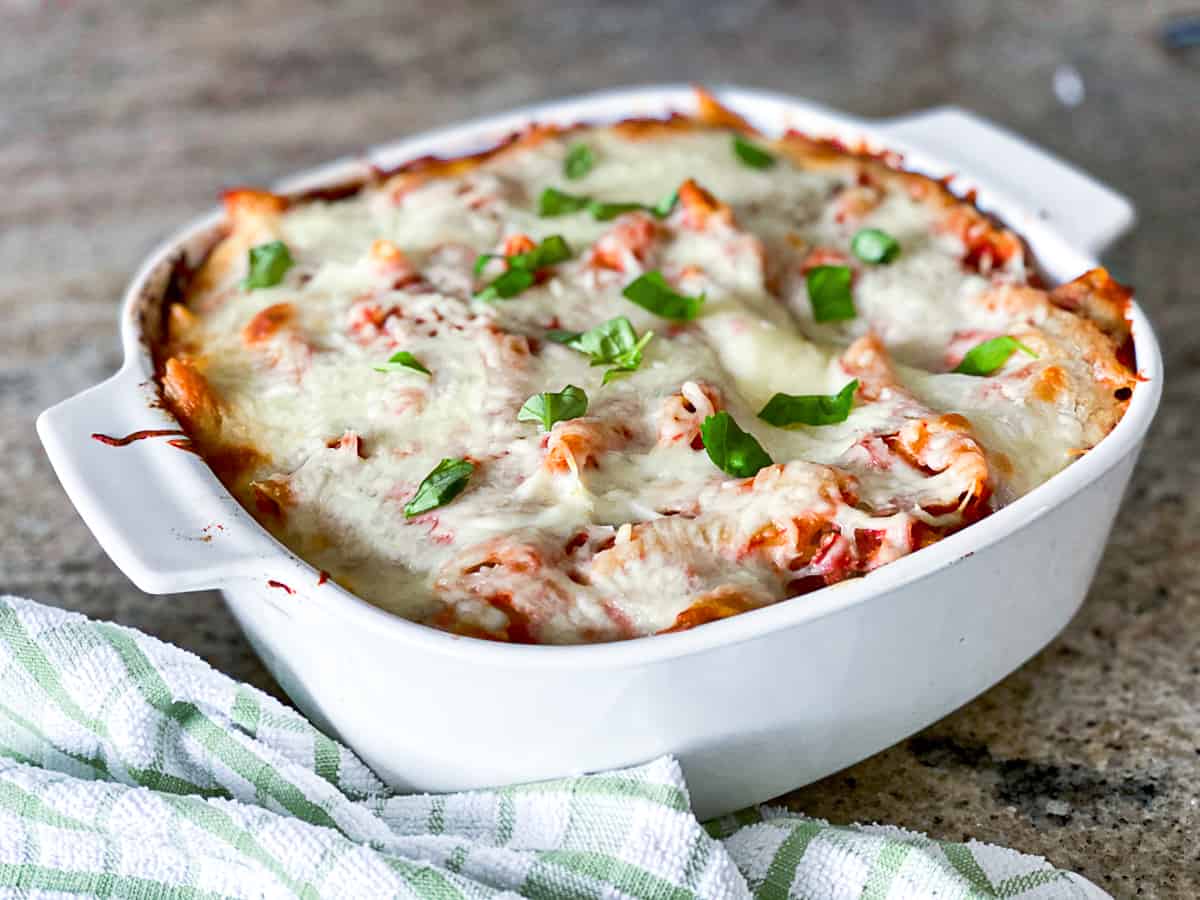 Another classic italian pasta side dish for steak dinners, this cheesy baked rigatoni can be made ahead of time. We love it for Italian Sunday dinners with the family. And leftovers always make a delicious side dish for the following night.
Pesto pasta side dishes
Using store bought pesto sauce or making your own fresh basil pesto is a quick way to add immense flavor to pasta dishes. These recipes are great side dish options for steak.
Lasagna With Pesto (Keto Friendly Or Traditional)
Lasagna is the ultimate comfort food side dish for Italian cuisine. This version is made with gluten free pasta sheets, but you can use traditional flour sheets if you're not looking for keto friendly recipes.
See how to make spinach pesto lasagna.
Want an easy steak recipe for beginners? Learn the secrets to perfectly grilled ribeye.
Also try sous vide ribeye steak, flank steak marinade, or different sous vide steak seasonings depending on the flavor of your pasta side dish!
Spinach Pesto Pasta with Bacon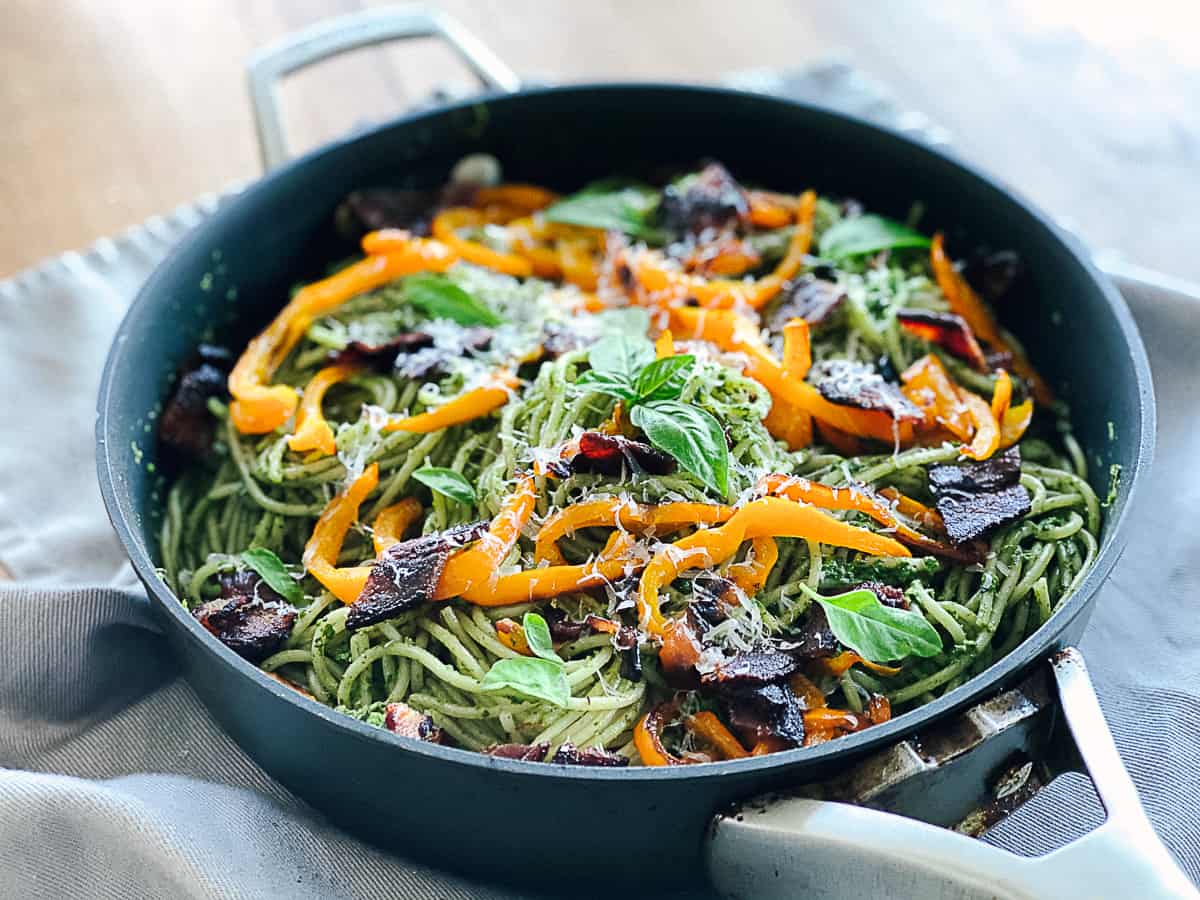 This is a good way to add vegetables to a steak and pasta dinner. The spinach in this recipe is almost completely hidden because it's part of the pesto. Make this Spinach Pesto Pasta with Bacon.
Tip: make an extra batch of Spinach Basil Pesto to drizzle on grilled sous vide porterhouse steak. Yum!
Creamy Pesto Pasta Salad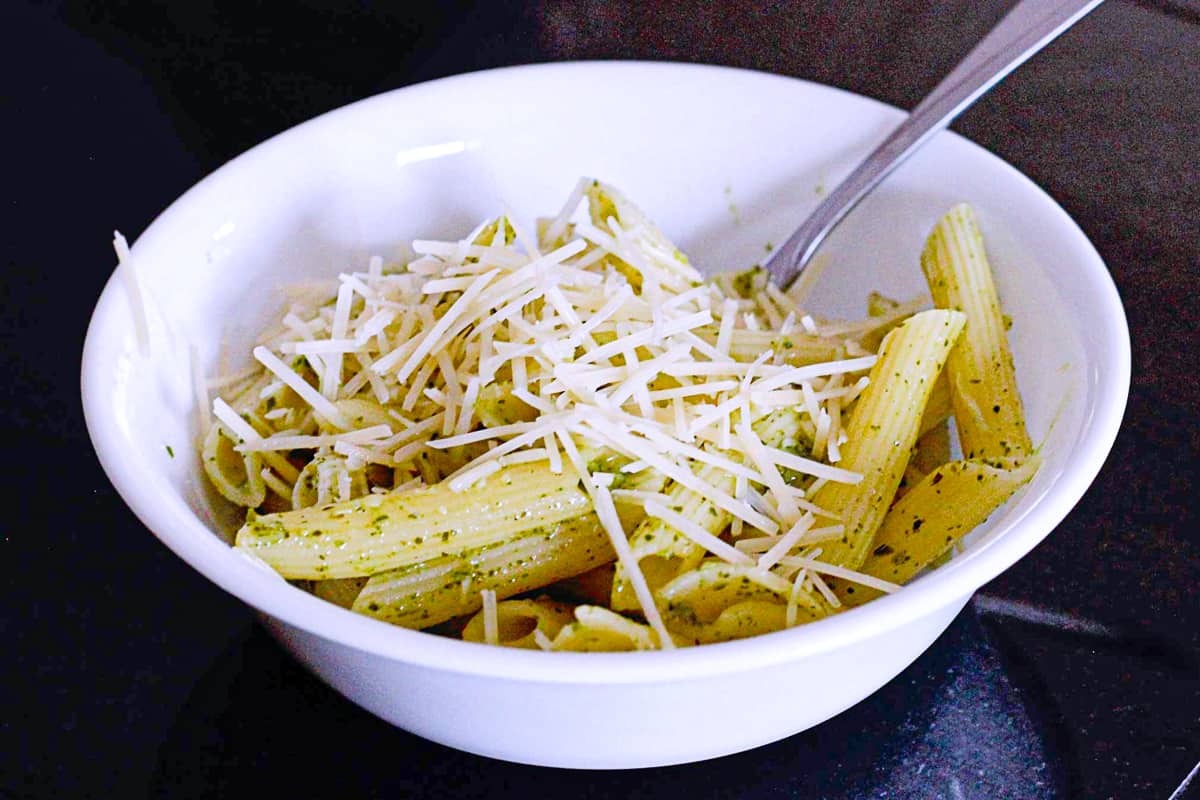 Don't get me wrong: I love making homemade pesto. But buying it from the store can be just as delicious, especially if it's made fresh in the refrigerator section.
Combine store bought pesto and pasta in this creamy make ahead pasta salad with pesto. I just made it last week with frozen Sous Vide Ribeye Steak.
See how to make pesto pizza…
Tomato Pesto Pasta Salad
Perfect for summer, this Tomato Pesto Pasta Salad recipe is another one I like to make in the morning then let linger in the fridge. Serve it up with fresh parmesan cheese when it's time to eat.
See my new recipe for t bone steak in oven.
Served cold pasta dishes for steaks
Make Ahead Mexican Tortellini Pasta Salad
If you couldn't tell by the pesto pasta dishes above, I think some of the best pasta side dishes are served cold! This Mexican Tortellini Pasta Salad has bold Mexican restaurant inspired flavors including lime, fresh cilantro, vegetables and black beans.
To meal prep, I'll make this during lunch and let the flavors mingle in the fridge for a few hours. Then for dinner I'll whip up sous vide filet mignon and pull the salad out of the fridge when it's time to sit down to eat.
Pasta Salad with Chili Lime Dressing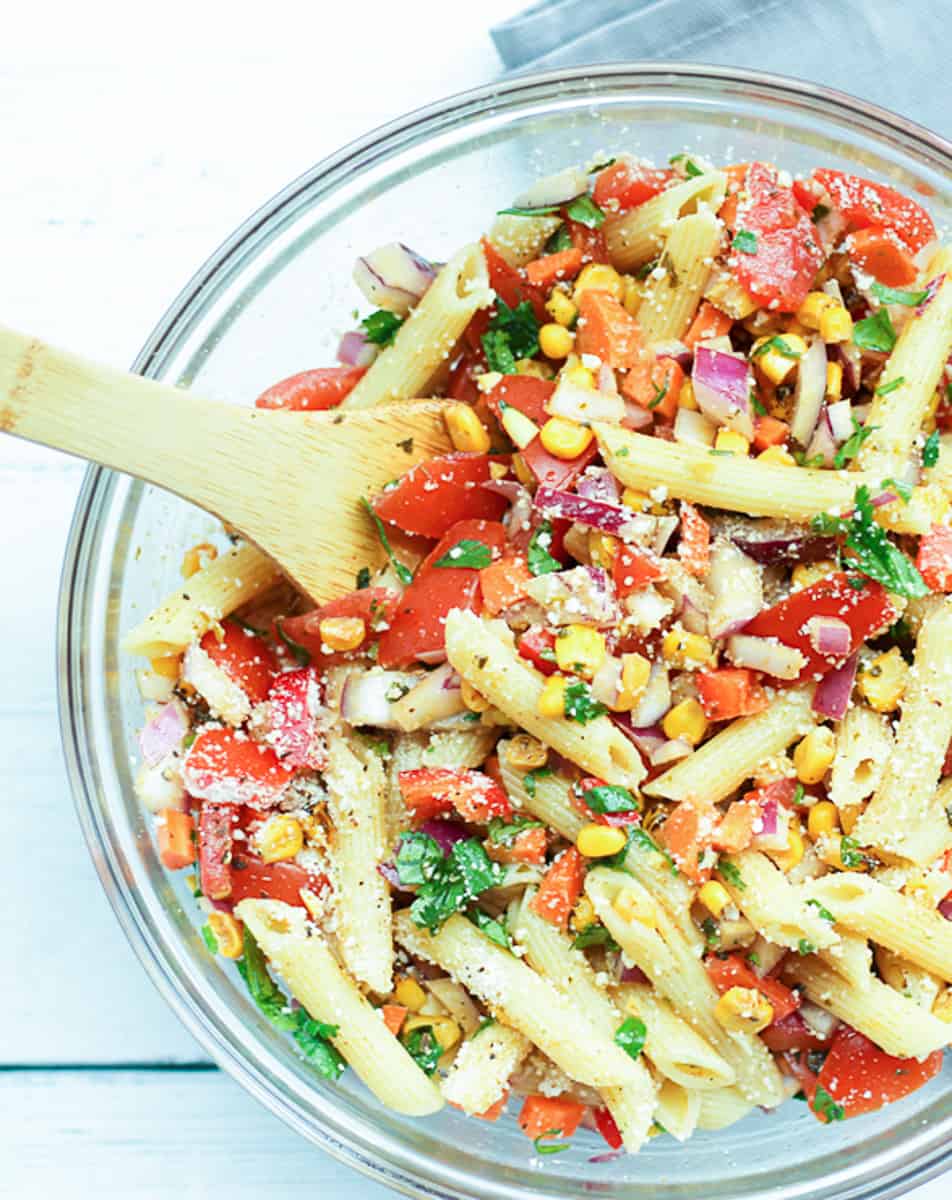 Mmm… Mmm… I like making this Pasta Salad with Chili Lime Dressing with frozen corn from Trader Joe's – the kind that is called "Mexican Street Corn". It adds a sweet bite to this chilled pasta dish and tastes great with the olive oil and lime dressing. Add this satisfying lunch side dish to a sliced steak sandwich for delicious results.
Quick and easy pasta side dishes
Super Simple Alfredo Pasta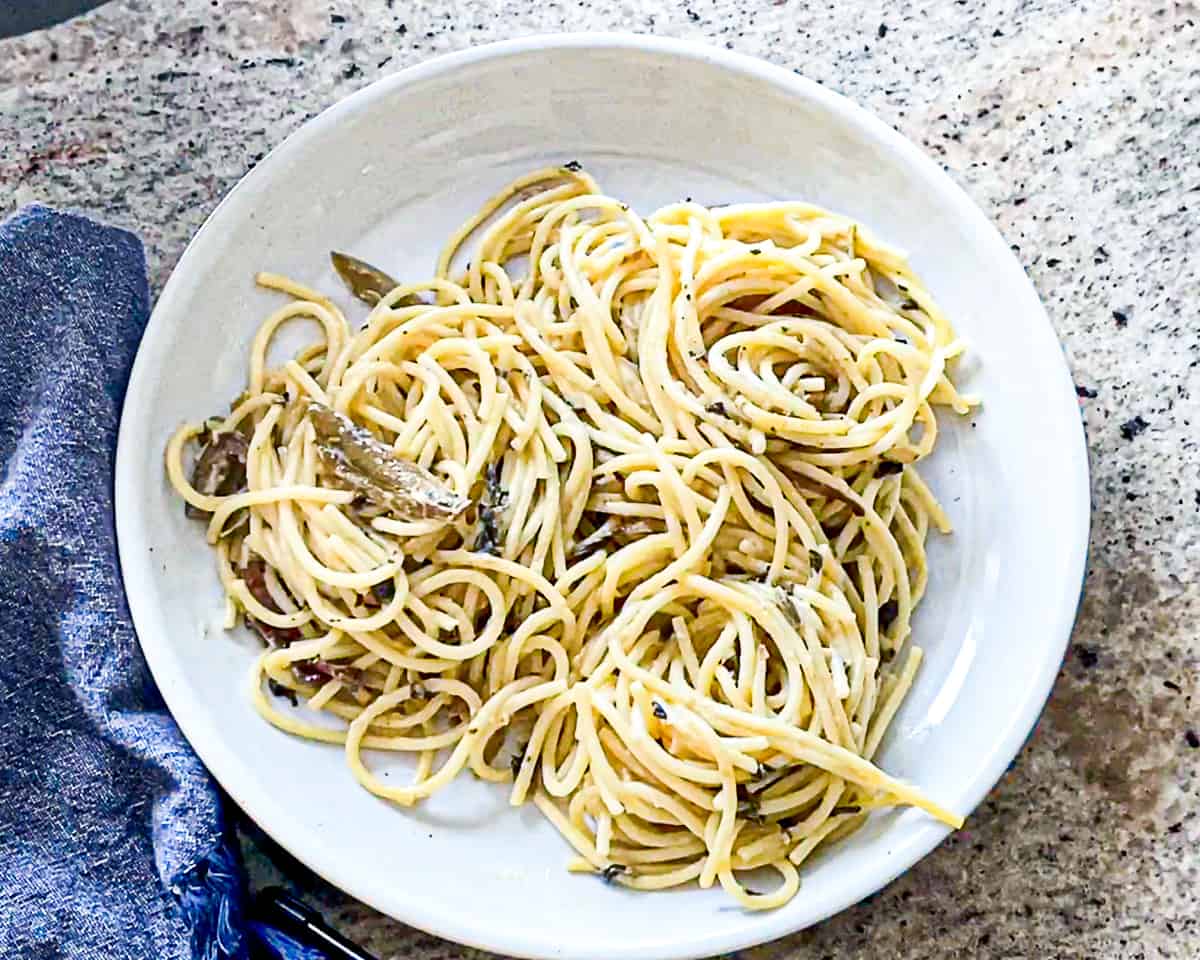 Easy pasta side dishes can be made faster with shortcuts like premade sauce. See my tips for pasta with alfredo sauce from a jar. You can use white sauce and spaghetti, rigatoni, or tortellini pasta shape to make a restaurant style pasta side.
Add tasty mixins like roasted cherry tomatoes and caramelized red onions to go all out.
Angel Hair Pasta with Chicken and Vegetables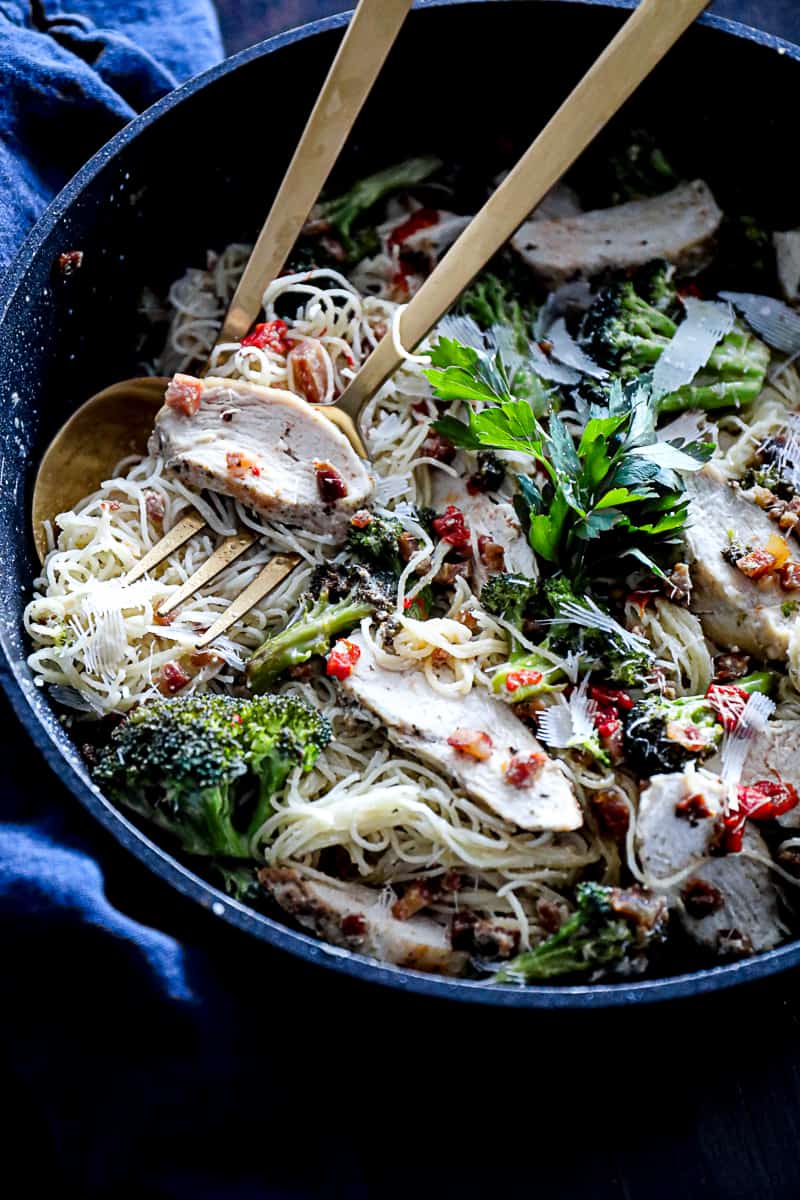 This particular recipe comes with protein already, but you can skip using pan grilled chicken or air fryer chicken breast, and keep all the veggies and pancetta for a tasty side dish to steak. See how to make angel hair pasta with chicken and veggies.
Basic Tomato Sauce For Pasta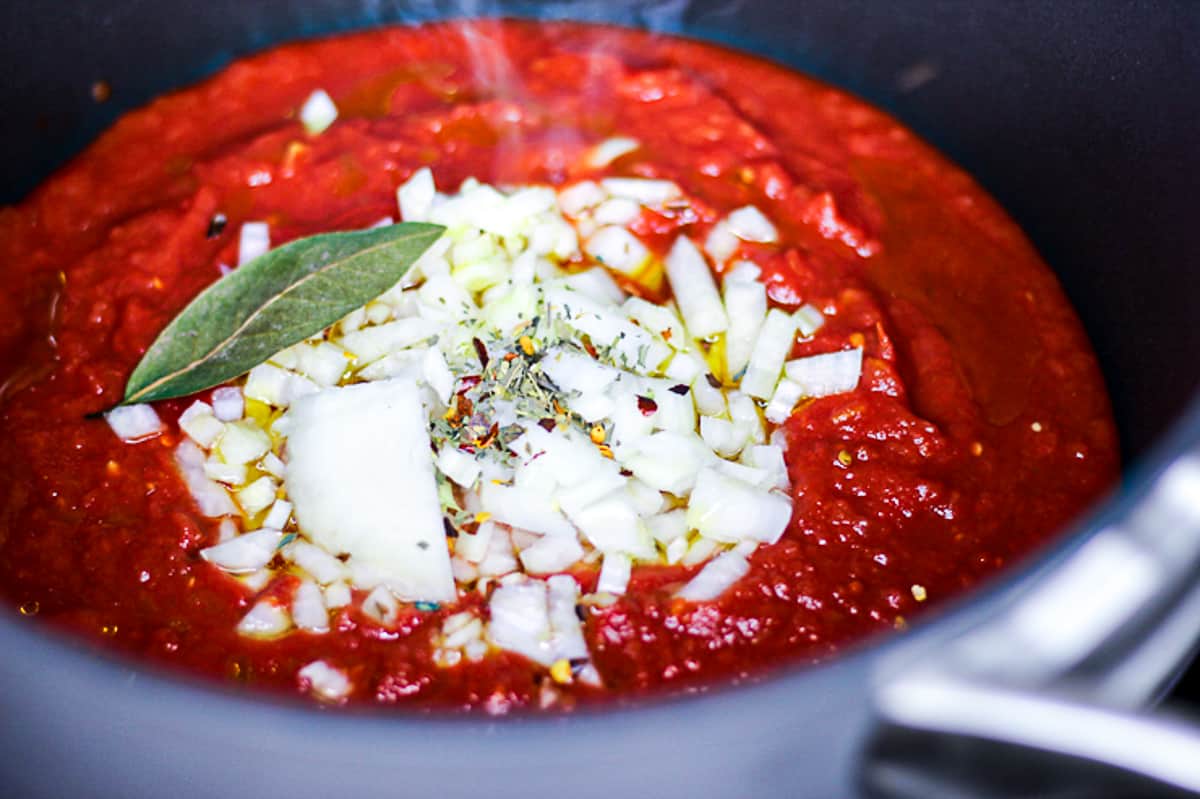 This easy pasta sauce from canned tomatoes recipe will make your dinner feel extra special with minimal effort. Oh, and your kitchen will smell wonderful, too. Just throw the fragrant ingredients including an onion and garlic cloves in the pot. Stir occasionally as you prepare the steaks and serve with your favorite pasta when it's time to eat.
Leftover red sauce is great for making a delicious meal out of frozen pizza crust the following night.
Homemade pasta
Making pasta from scratch is something I've loved to do for over a decade, with friends and family. I've taken pasta making classes, and have been up til 3 am in the kitchen making dough for ravioli countless times. Such a relaxing activity, it only takes ~15 minutes to make the dough, and the results are so worth it.
See how to make homemade pasta or this recipe for pesto pasta.
Stir Fry Vegetable with Rice Noodle Recipe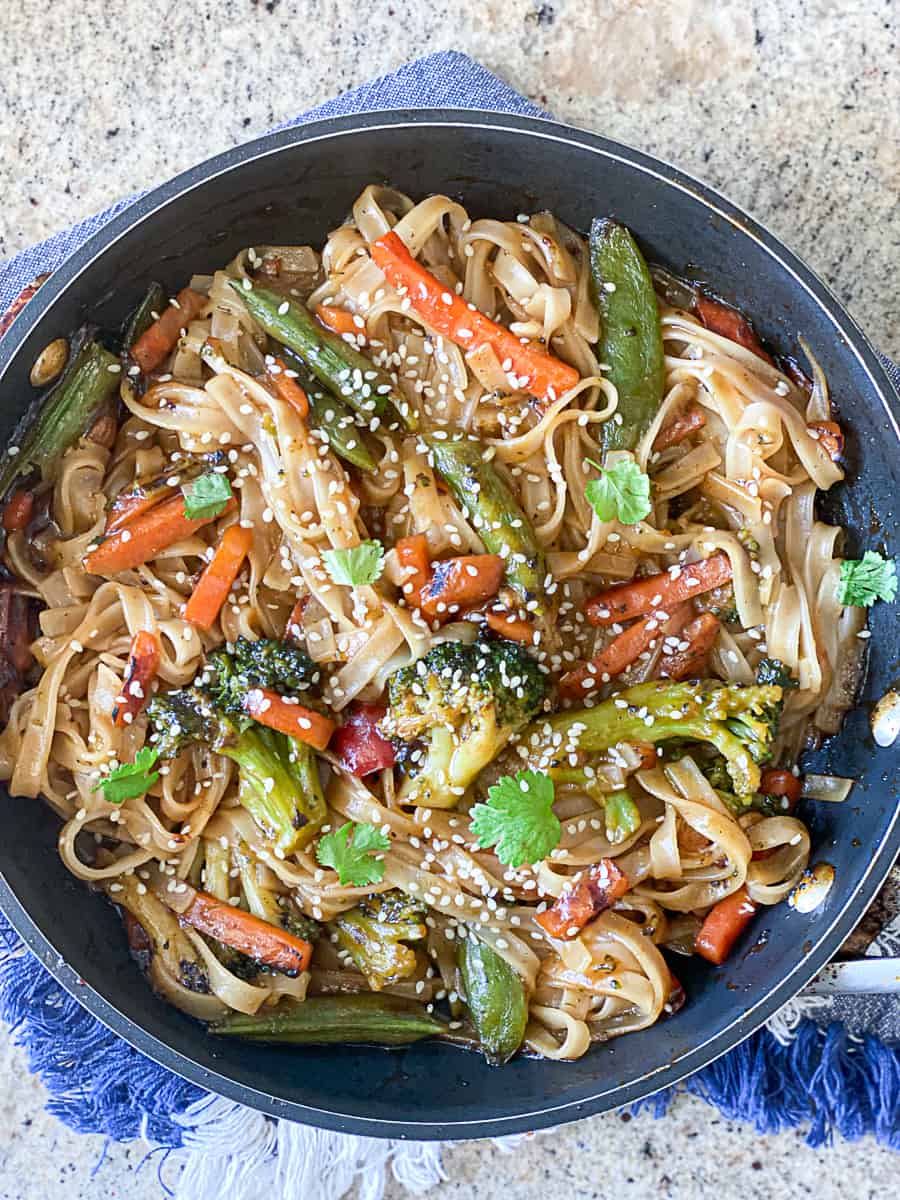 Learn how to make a simple vegetable stir fry with rice noodles to serve under grilled steak or my easy air fryer filet mignon. It's satisfying, packed with veggies, and will make your beef dinner into a complete meal.
Pasta side dishes for kids
Ravioli Pizza On Flatbread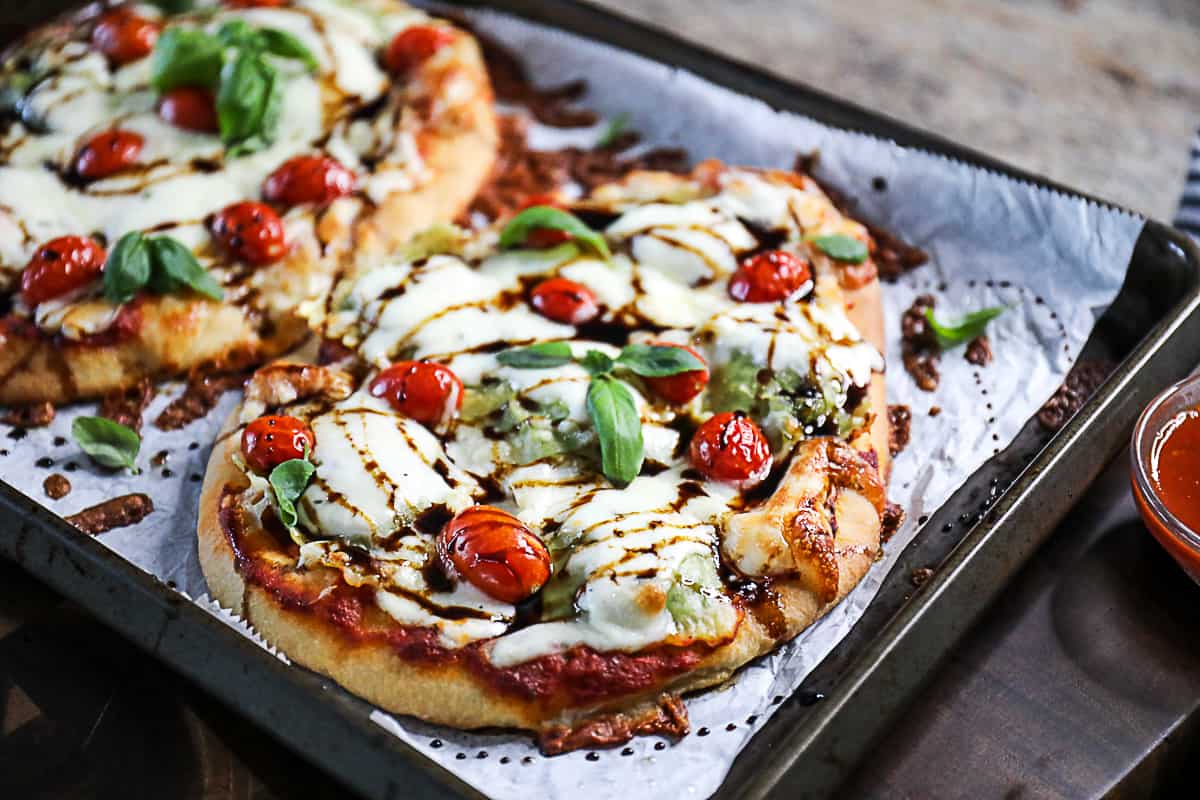 Okay, so this one doubles as a homemade pizza and pasta dish… it's Ravioli Pizza On Flatbread. Layer on all the ingredients and pop it in the oven when your steak dinner is almost done cooking. It's ready in no time and a great option to serve kids who might not be into eating steak yet. Need a steak recipe? Try this sous vide T bone steak!
So you might be thinking pasta on pizza… What!? Well, it's seriously delicious. But another reason I'm a huge fan is because my toddler really loves it, and making a dinner he'll enjoy makes me feel like a proud mom. It's made with Alfredo sauce, mozzarella cheese, and tasty raviolis, and is served on top of a fresh, warm piece of naan.
What side dishes go with pasta and steak?
So you want to add another side dish? The more the better in my opinion! My family loves steak dinners with these sides: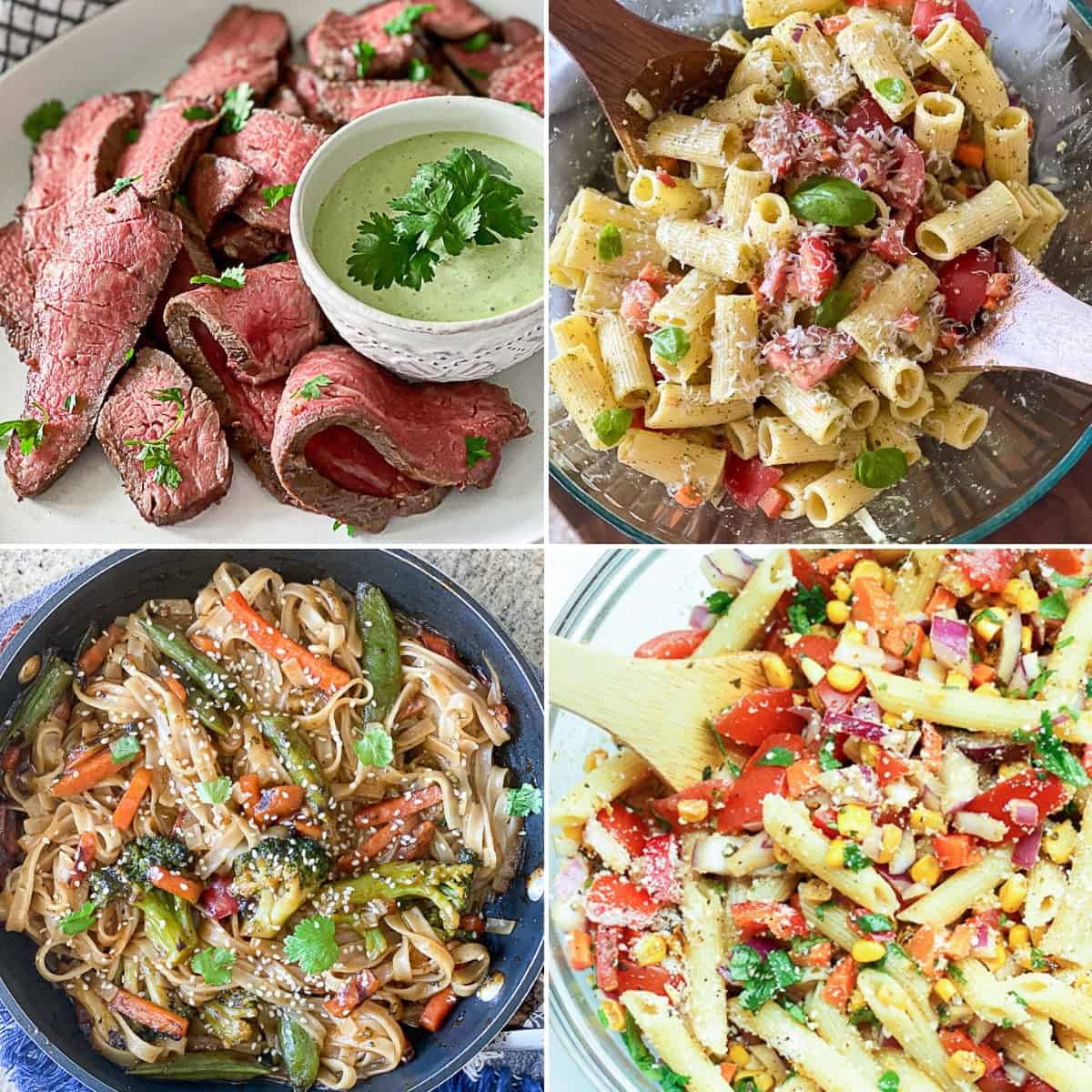 Are you a foodie, too?
If you're looking for more tasty ideas, check out my complete list of recipes for pasta dishes.
I want to know what you think about these options for pasta steak sides and see photos of your food! Find me on Instagram @sipbitego to tag me and connect. I'm posting all sorts of restaurant style meals (made easier) there, like smoked meatloaf.
Want to make restaurant-style food at home? I teach you how here on Sip Bite Go and with in-depth video guides on the Sip Bite Go channel.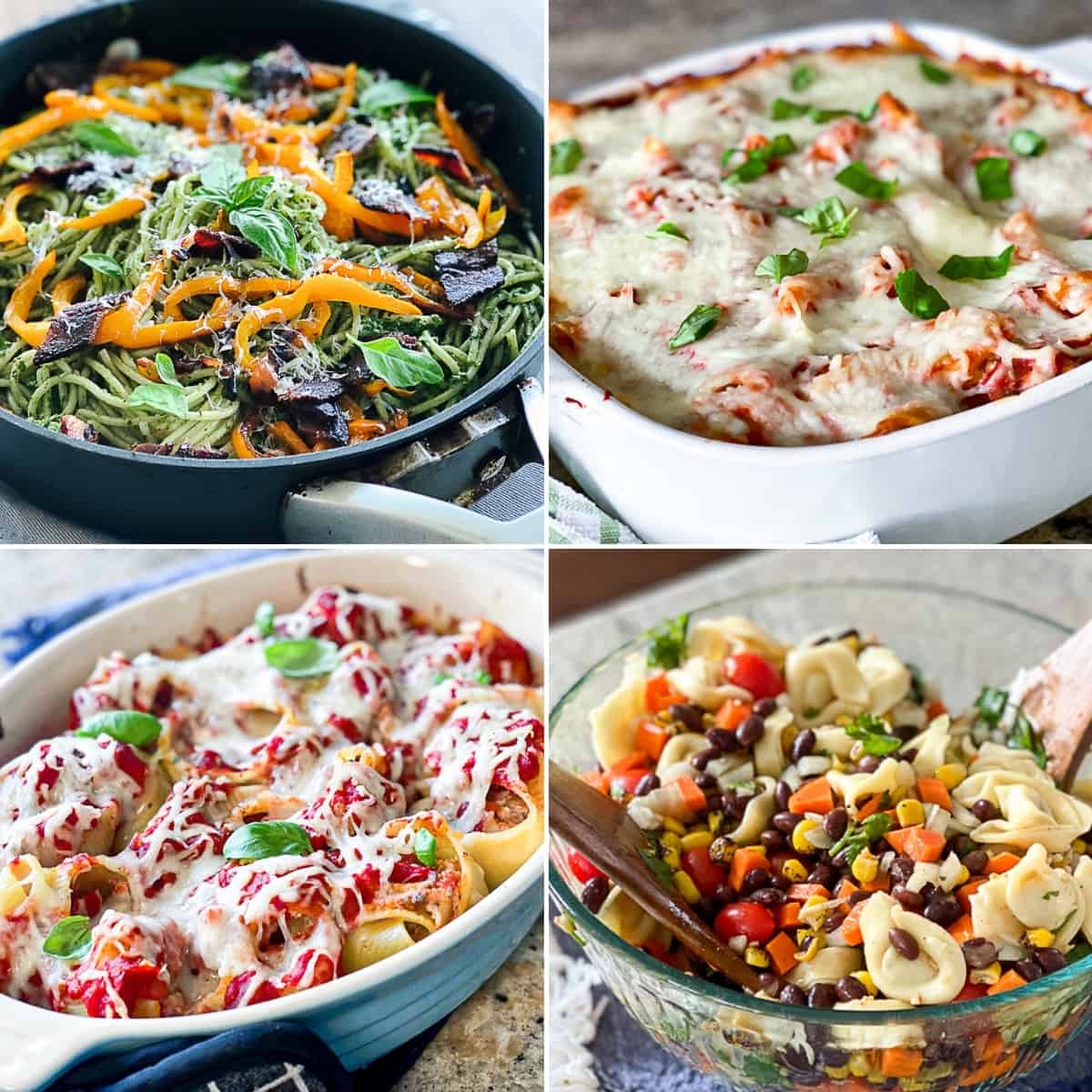 The perfect condiment makes the meal
Anyone who knows me, knows I'm a true believer in pairing the perfect condiment with a meal to make it feel "complete". For real — I'll order a dish at a restaurant just because I'm excited to try the sauce or dressing.
Here are some of my favorite kitchen supplies for making sauces on the fly:
Inspire the inner home chef in you. Grab a copy of my free Sous Vide Beginners ebook and free cooking with herbs ebook.