Today you'll see what's the difference between ziti vs penne vs rigatoni pasta shapes. And you'll learn how to choose the best pasta for baked pasta dishes. Let's dig into this guide…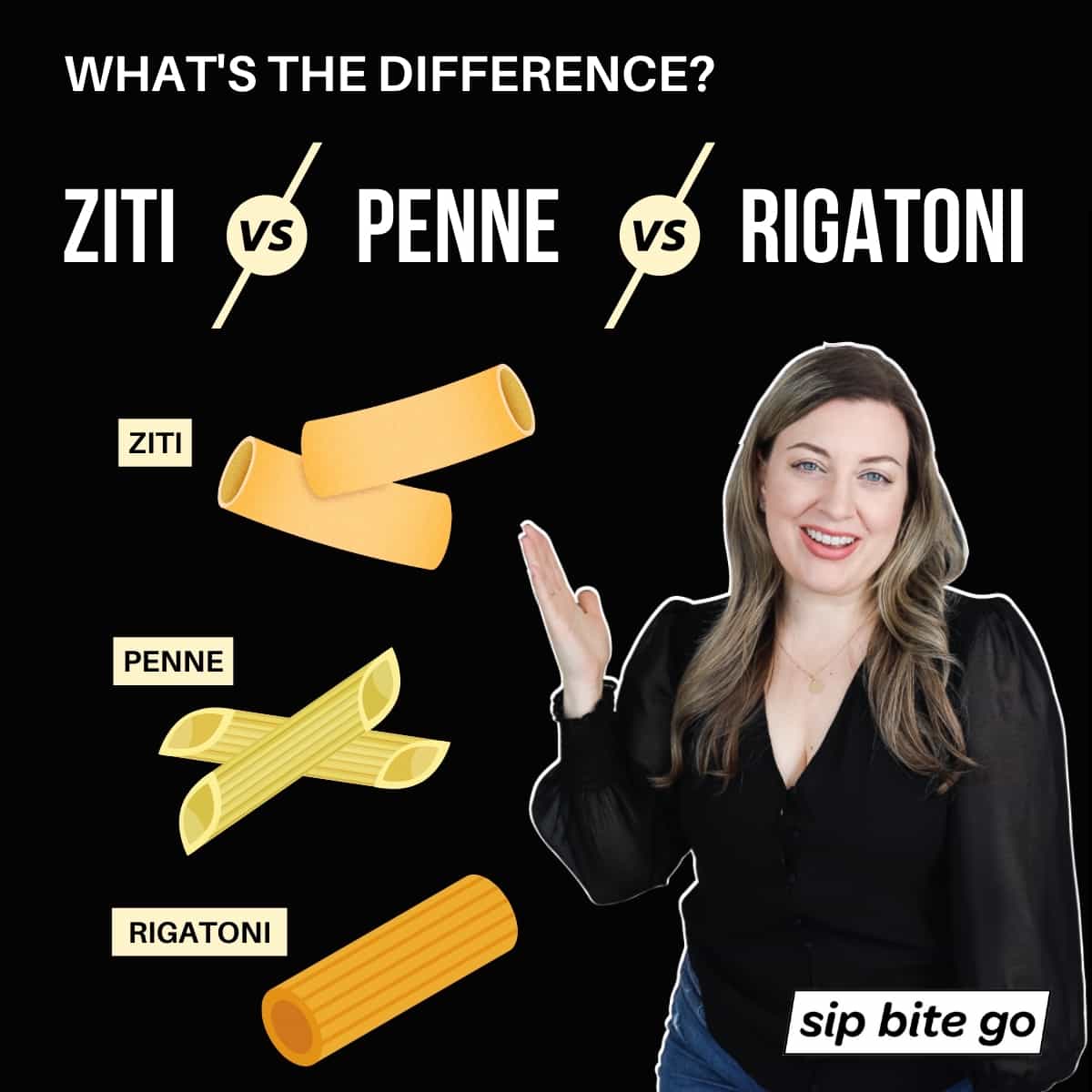 Are you confused about the difference between ziti vs penne vs rigatoni? Here is a guide to the difference between the three and how to use each one.
First off – why so many pasta shapes?
Ever wander around your local grocery store and get lost in the pasta aisle? Maybe your eyes glossed over when you saw the selection of pasta.
That's because there are hundreds of different types of pasta — at least 350!
It can be hard to tell what the differences are between the different types, especially if you're not used to cooking with them. Ziti vs penne vs rigatoni-what's the difference? Does it matter?
Let's look at three of the most popular types you might find in your local supermarket, and how they differ. And PS. Don't forget that there are so many Italian word variations for pasta. So whether it's penne noodles, penne macaroni, etc. I'm referring to the same delicious thing everyone loves to eat cooked to al dente.
Here is the difference between ziti and penne and rigatoni.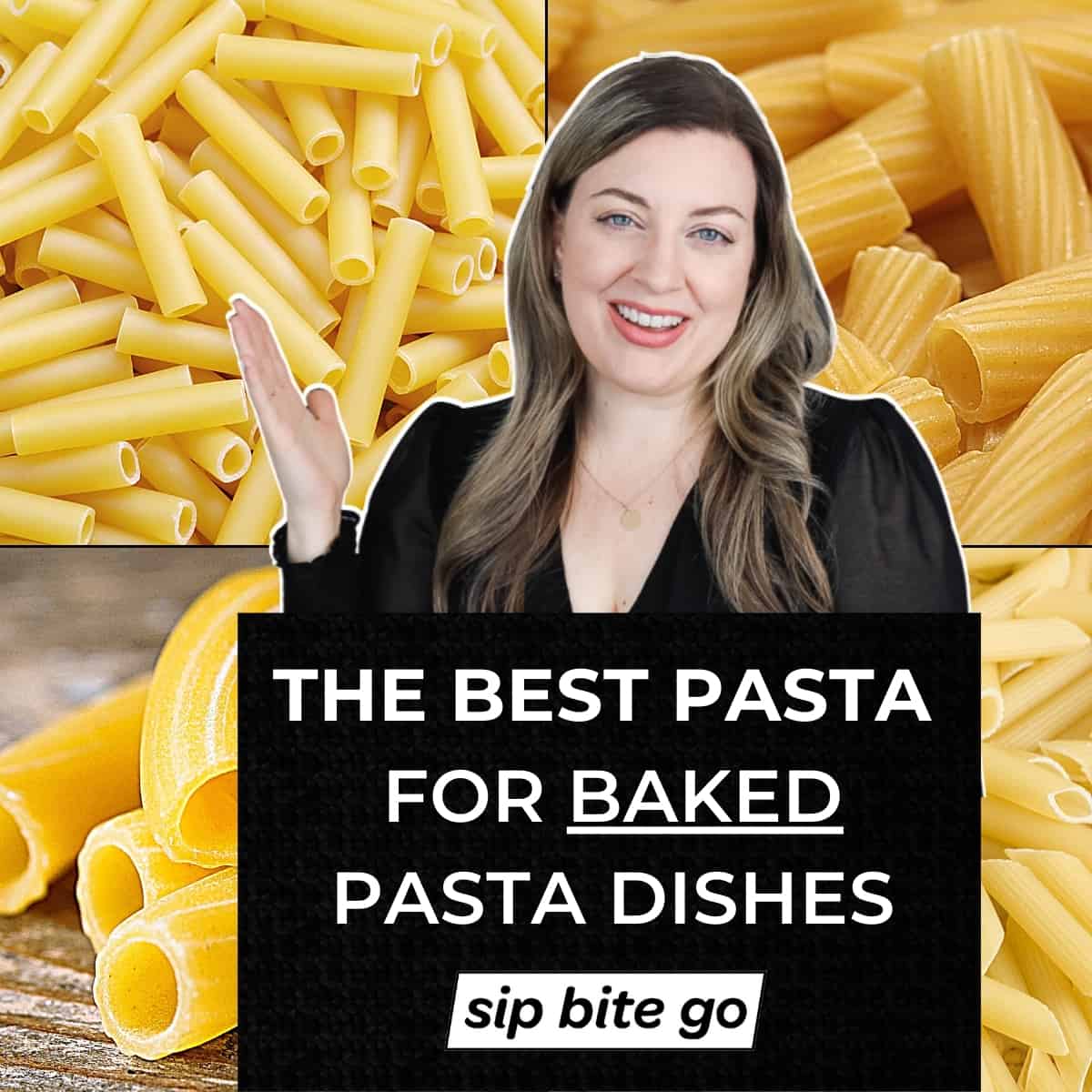 What Is the Difference Between Penne, Ziti and Rigatoni?
First let's talk about ziti and penne, two very similar kinds of pasta.
Is ziti the same as penne? In short, no. They are different.
Both are long, hollow tubed pasta from Italy. Both have no difference in taste (that's where sauces come in). But that's where the similarities end.
Seeing tube pasta that is cut at an angle is a give away it's probably penne.
Penne Pasta
Penne is cut with a diagonal edge and has ridges. Penne's ridges are good for capturing sauces. Recipes using these pasta shapes include creamy pesto pasta salad, which is ready in only 20 minutes.
Ziti Pasta
Ziti is cut straight, has a smooth texture, and is longer than penne. Ziti makes for a great addition to my cheesy baked rigatoni with ground beef. See the photo below.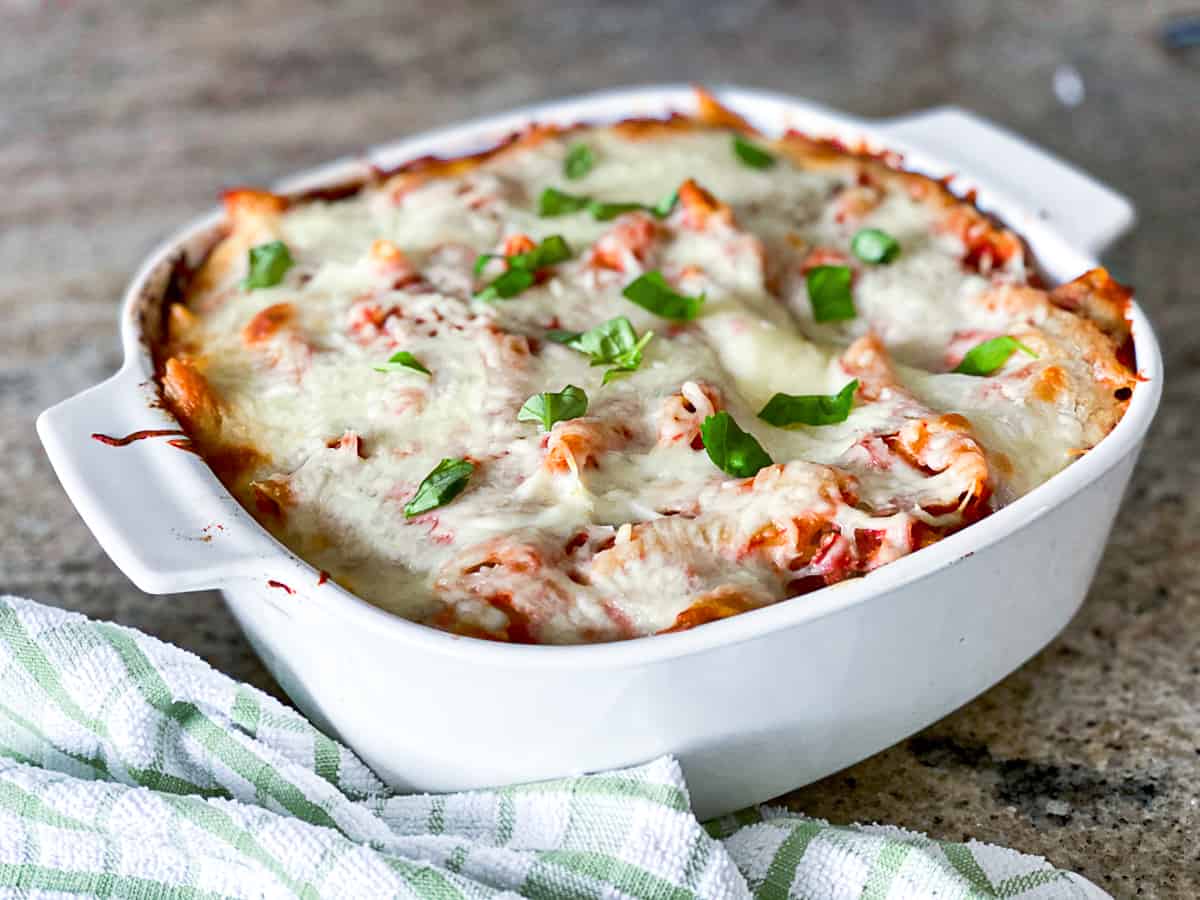 See more of my favorite easy ground beef recipes for dinner.
Rigatoni Pasta
Rigatoni is larger than penne and ziti. It's a short, large round pasta with ridges. Sometimes it has a slight curve. The ridges in rigatoni are great for holding the sauce in a tomato pesto pasta salad. This makes for a great side dish or snack. See the photo below.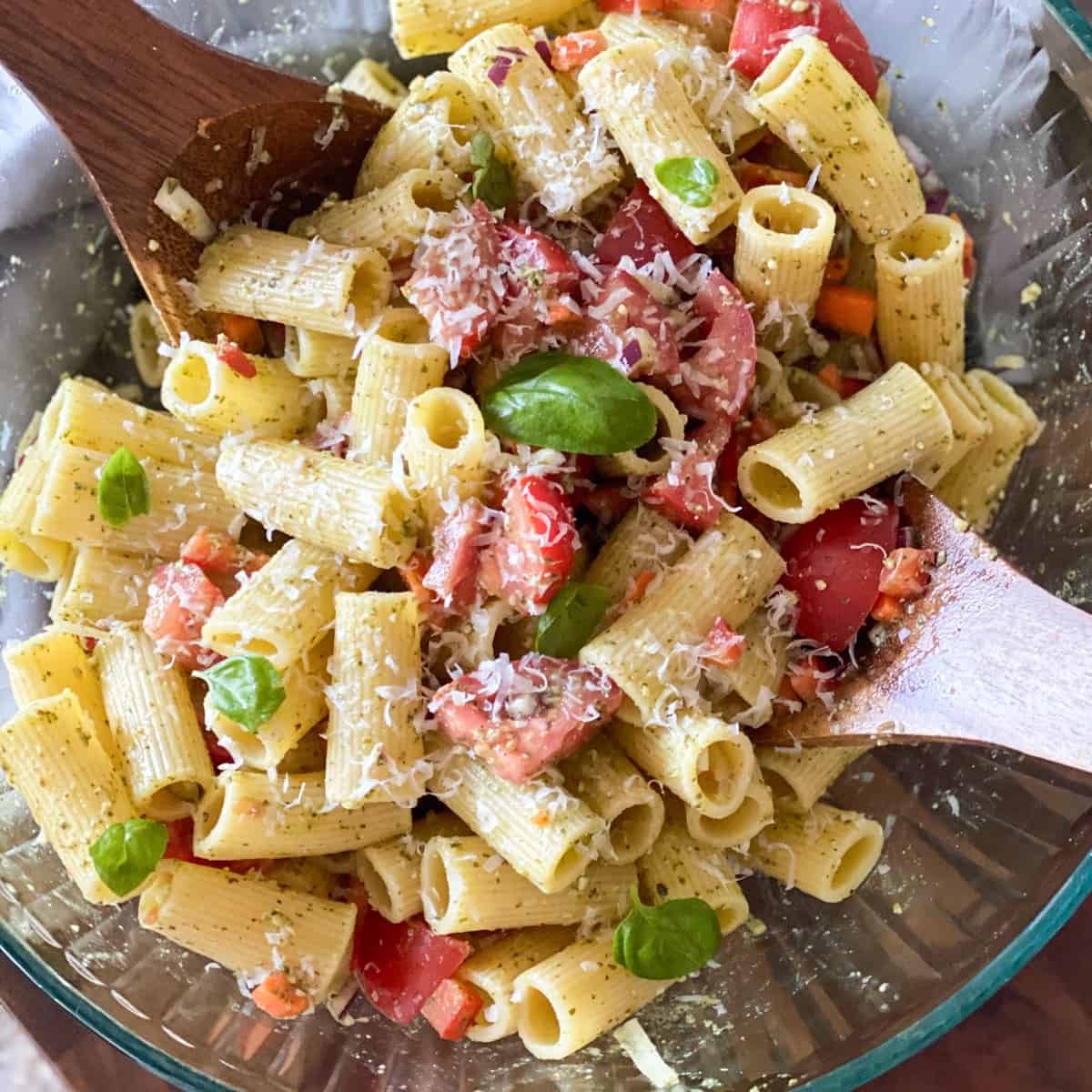 Which pasta shape is better for baked pasta dishes?
Penne is okay, but is my last choice when it comes to making baked pasta dishes. Baked penne recipes or baked rigatoni dishes are usually better in my opinion, because those pasta shapes hold on to the sauce better. Though, if you're baking pasta with cheese, the cheese will usually bind the ingredients and so baked ziti (one of the smooth pasta shapes) can work just fine in those recipes.
Which is better to hold pasta sauce?
If you are working with more watery sauces, rigatoni is always a good choice because it's a big, thick pasta that holds a lot of sauce. The ridges help soak up extra sauce as well.
If it comes down to the smaller pasta shapes – ziti pasta vs penne, either one can be substituted for the other in a pinch. Your pasta won't hold as much sauce if you choose ziti instead of choosing to cook penne, because it is a smooth pasta shape, but that doesn't mean dinner will be a disaster.
Because of its large tube size and its ridges, rigatoni is good for retaining sauces and pieces of meat inside and outside of the tube. It's great for chunkier sauces.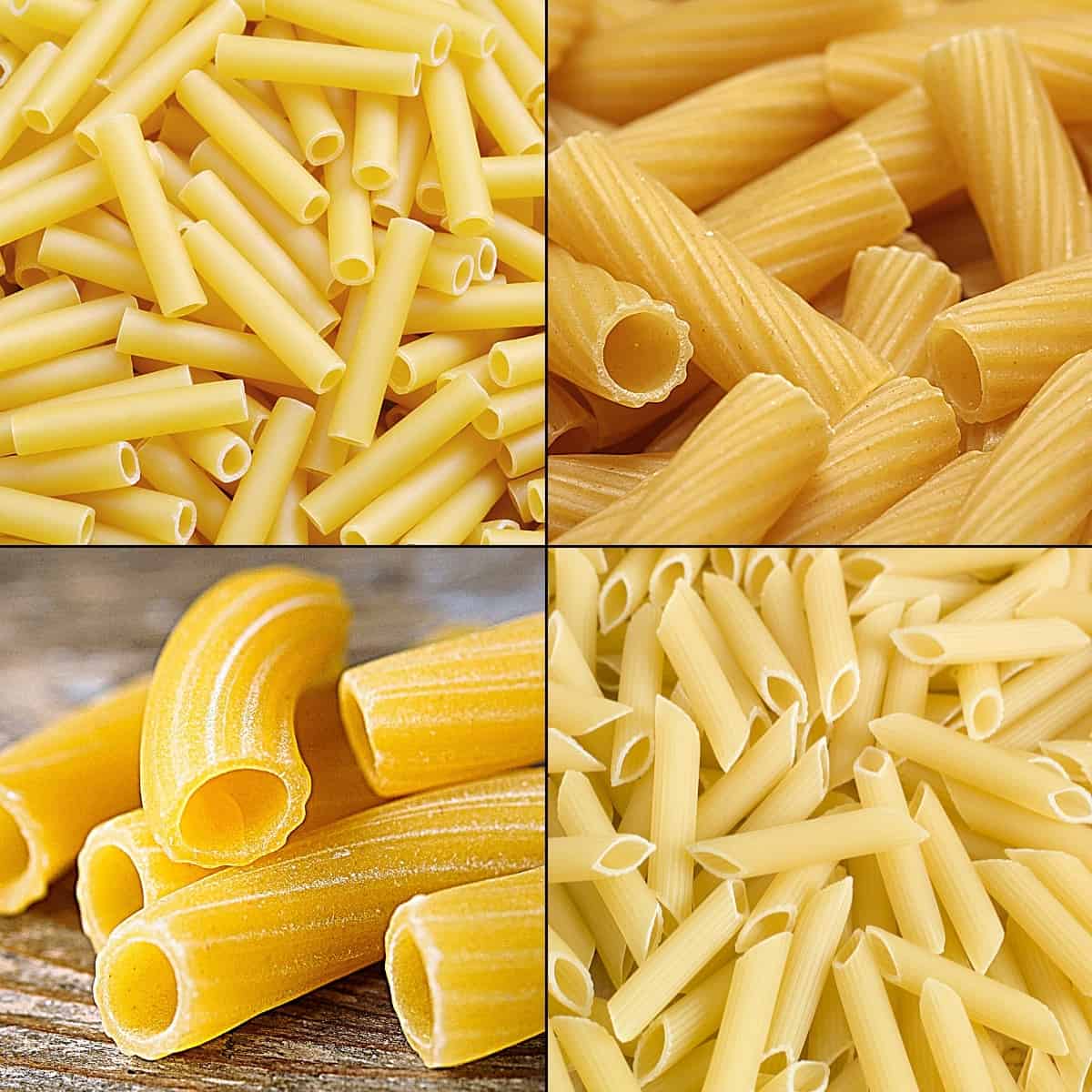 Tasty Pasta Sauces For These Shapes
So now it comes down to ziti noodles vs penne vs rigatoni. What can you do with each of them?
Overall when choosing which pasta to use, you want to use pasta that will compliment your sauce, based on its consistency and thickness.
Here are some guides I have to help you make a tasty pasta sauce at home – just like you'd get at a fancy Italian restaurant that makes homemade pasta.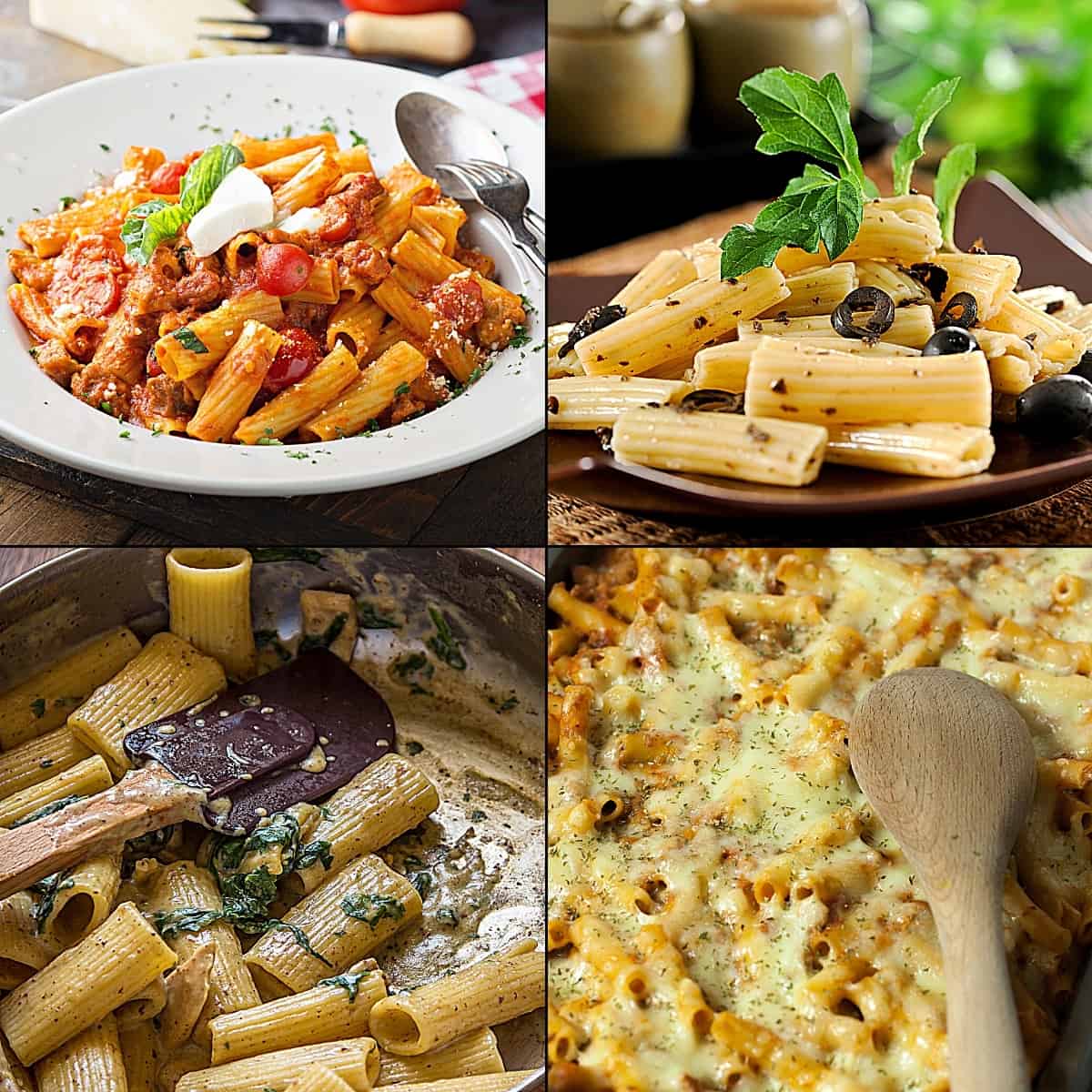 Ziti vs Penne vs Rigatoni – A Pasta for Every Occasion
Now that you know the differences between ziti vs penne vs rigatoni, it's time to start on your next pasta dish.
Not sure what to make?
Check out all of our recipes for ideas. Whether you're into making brunch, homemade pizza, or the perfect pasta dish, I have plenty of recipes to help you make restaurant-quality food at home. Just because you're eating at home doesn't mean you have to sacrifice taste. Start with something like this family-style angel hair pasta with chicken.
New recipes and foodie guides….
Grill and smoker recipes…
Meat thermometer recommendations
Every home chef needs a reliable meat thermometer to cook food perfectly.
On Sip Bite Go, you'll often see me using:
Meater thermometer – a fancy wireless thermometer that connects to a phone app – gifted to me from a Traeger partnership.
ThermoPro digital thermometer – which has a wire that connects the thermometer to a display box outside the oven/grill.
It's like being psychic! The great thing about either of the thermometers above is that I don't have to take the food out of the oven to know the temperature.
How to use 'em… What I do is stick the digital thermometer in steak, pork, chicken, whatever… Then put the food in the oven, on the smoker, or grill.
While the meat cooks, it reads the temperature so I know exactly what temp meat is as it's cooking. Without having to take it out and check. It's really difficult to overcook food when you know exactly what temp it is inside!
Are you a foodie, too?
Hey home chefs, if you like tasty pasta side dishes, check out this stuffed shells recipe and how to make tortellini for pasta salads.
To get my latest and greatest creative recipes before they're shared on the site, connect with me on Instagram @sipbitego. And for more deliciousness, subscribe to the Sip Bite Go channel.
To find more delicious recipes to try on your culinary journey, scroll through the Sip Bite Go recipe collection.