Today you'll learn the best time and temperature for sous vide eggs. Now, there are a million different types of tasty egg recipes you can sous vide style – poached, boiled, soft boiled, scrambled, omelettes, and even sous vide French toast. I'll cover the most popular time and temperatures for eggs sous vide style – right here.
How long to cook sous vide eggs – – debunked!
Really, there are endless time and temps for cooking sous vide eggs. The whole point of sous vide is that it's fun to experiment with and see what you like best.
Maybe you've heard of the 45-minute sous vide egg or the 63-degree egg sous vide style. Everyone has a favorite. But if you want to cut to the chase, and go into an eggs sous vide recipe with time and temps that are sure to be winners — then you're in the right spot.
Included in my sous vide cookbook and here on Sip Bite Go are my tried and tested recipes. Consult a sous vide egg temp chart or individual recipes for guidance, but here are some of my favorite times and temperatures for sous viding eggs.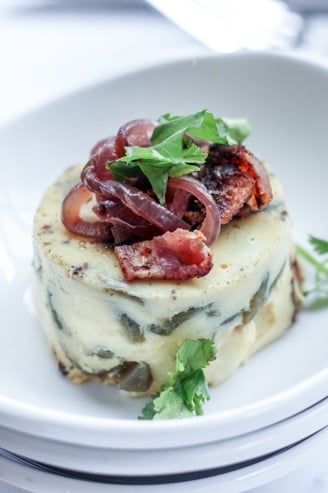 Time and temperatures for sous vide eggs
The best time and temperatures for sous vide eggs mean they're easy to throw together for a sous vide brunch with a side of overnight sous vide bacon.
Most of these recipes use relatively short cook times.
Let's get into some of my favorite combinations of sous vide egg time and temps.
See my other favorite way to cook eggs in this recipe for the best scrambled eggs.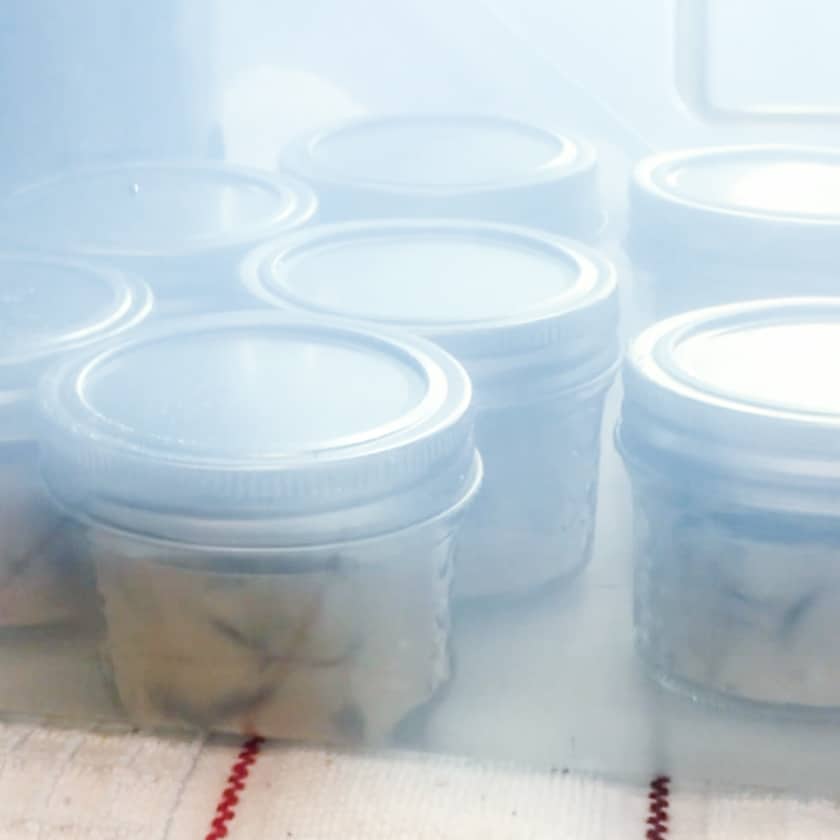 Check out this photo of sous vide egg bites hanging out in the water bath. It's no problem to stack the mason jars for this recipe.
Time and temp recommendation for sous vide egg bites
When it comes to sous viding egg bites – you absolutely need the right time and temperature for them to set like the Starbuck's sous vide egg bites copycat recipe you'd expect them to be.
Sous vide egg bites at 172ºF for 60 minutes. If you want them to be ridiculously delicious, pop them in the broiler with some Fontina cheese and take them out and serve when the cheese is bubbling uncontrollably.
It's so convenient that my favorite sous vide egg bites time is one hour, and they're always jam packed with tasty add-ins like onions sous vide, red wine caramelized red onions, and sauteed mushrooms. Leftovers from the night before = delicious mixins.
Mmm.
Getting hungry now thinking about them!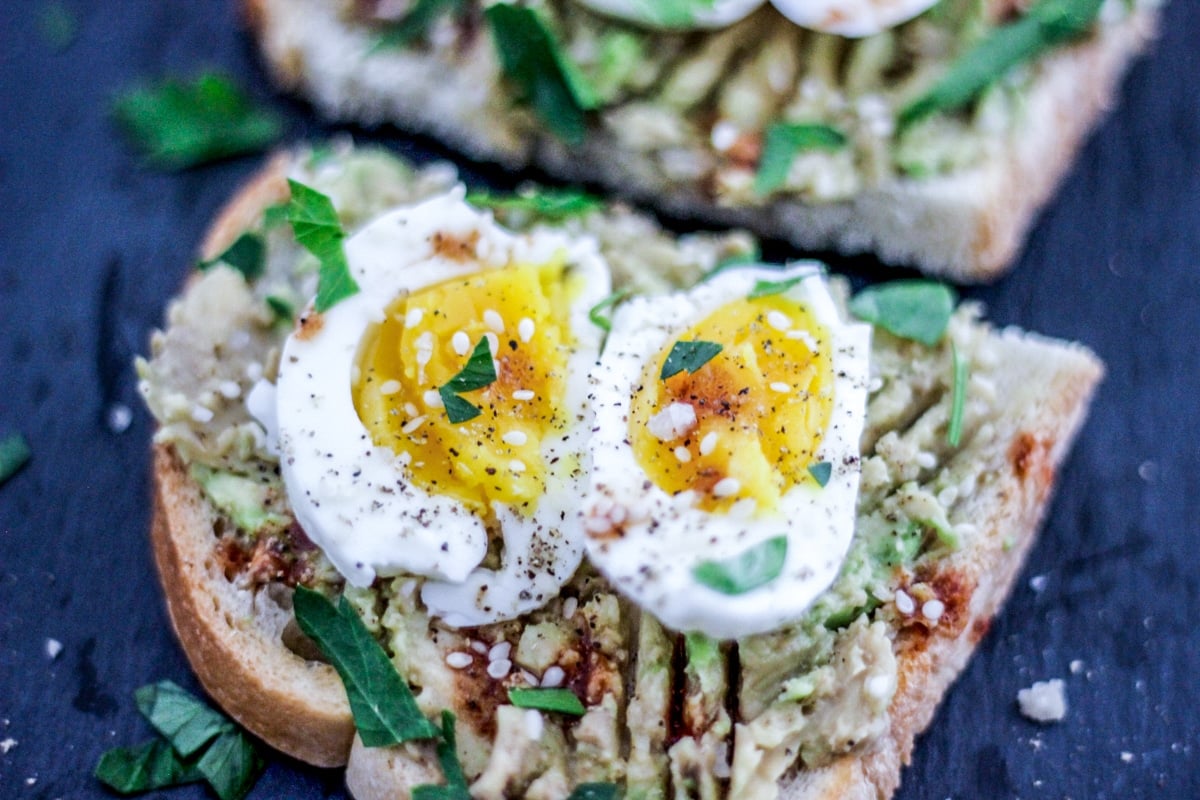 Soft boiled sous vide eggs time and temperature
You can get soft boiled eggs in and out of the sous vide machine in under ten minutes.
Sous vide at 194ºF for 9 minutes if you're in a hurry like I am, trying to throw together breakfast while my egg-loving toddler drives cars and bulldozers up my feet / legs.
You can cook soft boiled sous vide eggs at a lower temperature, for longer, but these days I just don't have time for that.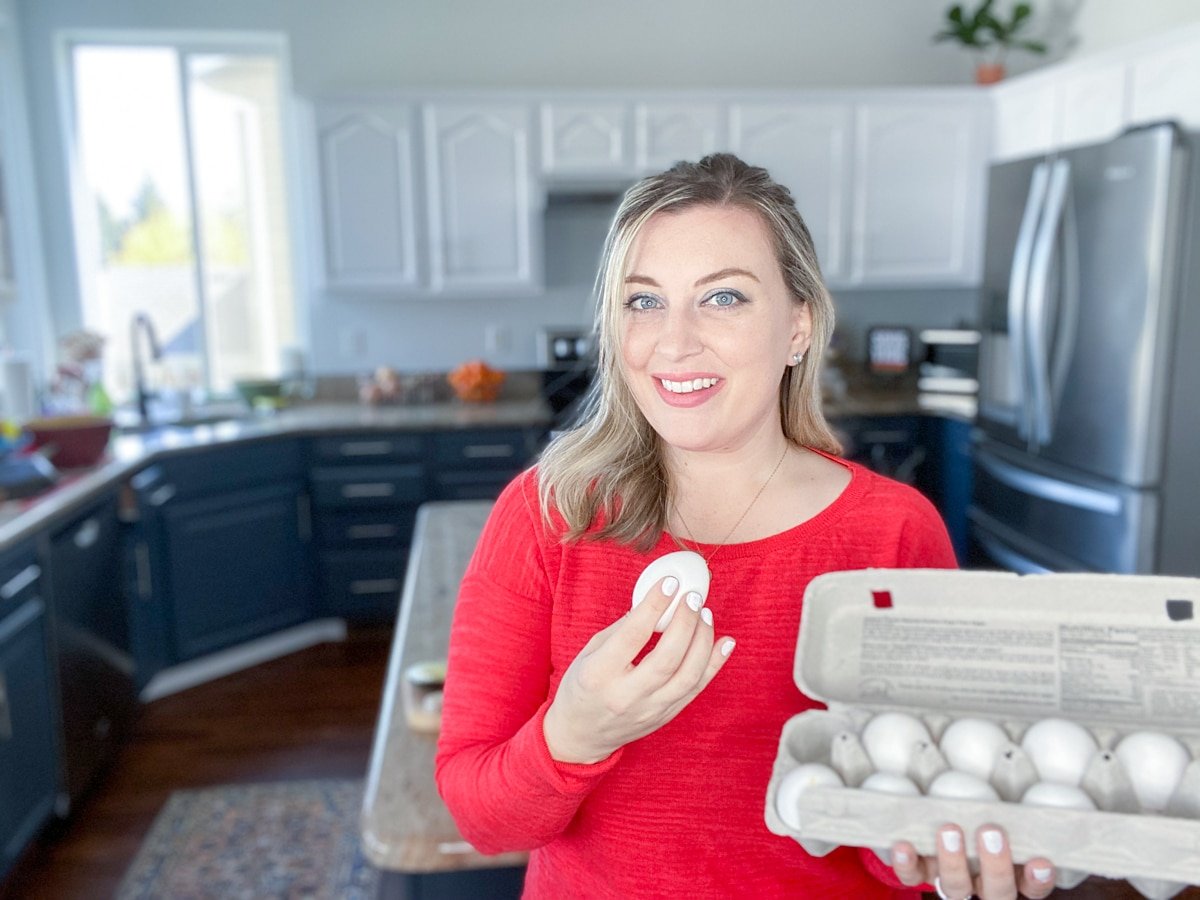 Something to note here, is that once you get the hang of them, build a whole meal around soft boiled eggs cooked with the sous vide machine. For example, you can make sous vide soft boiled eggs for ramen. That's right. Sous vide eggs aren't just for a sous vide breakfast party.
Since the eggs keep well (in their shells), you can meal prep sous vide soft boiled eggs for the week and enjoy them in soups and on avocado toast when you need a bite of protein to hold you over.
See my tasty recipe for soft boiled sous vide eggs on avocado toast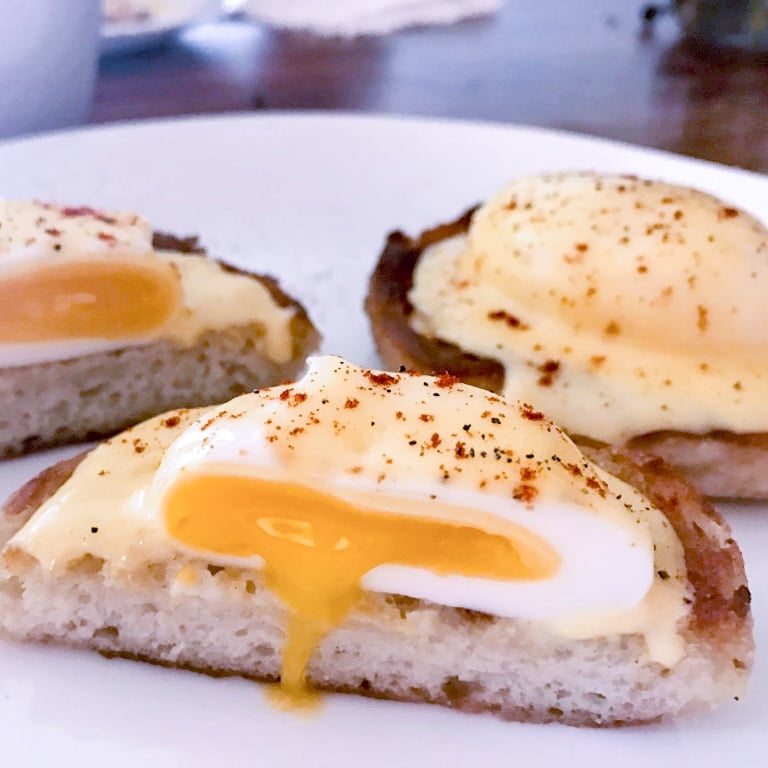 How long does it take to sous vide french toast
Here's a fun recipe to try on a lazy Sunday morning.
As mentioned, sous vide eggs are typically considered to be quick sous vide recipes. That doesn't mean they're all super-fast, though— sous vide French toast time is 90 minutes in the sous vide bath at 148ºF, for instance.
Yes, this is one of the longest ways to cook french toast – but it's unbelievable how it turns out. Add this to your sous vide bucket list.
Scrambled eggs sous vide time and temperature
Scrambled eggs only take about fifteen minutes of actual cook time. That's pretty comparable to cooking eggs on the stove, and the difference is that they'll always be perfectly cooked this way – with no brown fried edges.
Sous vide at 165ºF for 15 minutes total but take note that it's a little more hands-on than traditional sous vide egg recipes.
You'll sous vide scrambled eggs, take out the bag and give it a shiatsu massage, then pop it back in to cook, and take it out again. The shiatsu – or whatever type of deep tissue massage you're feeling like giving the eggs – helps break it up and give it that scrambled appearance.
I can't be the only person in the world obsessed with hotel eggs, can I? I love them, and while I don't want to go off on a tangent here, that's the best description I have for how sous vide scrambled eggs should look.
If you're feeling like a more hands-off egg is your style, then consider cooking sous vide omelet instead.
It's pretty wild all you can cook when it comes to eggs sous vide style!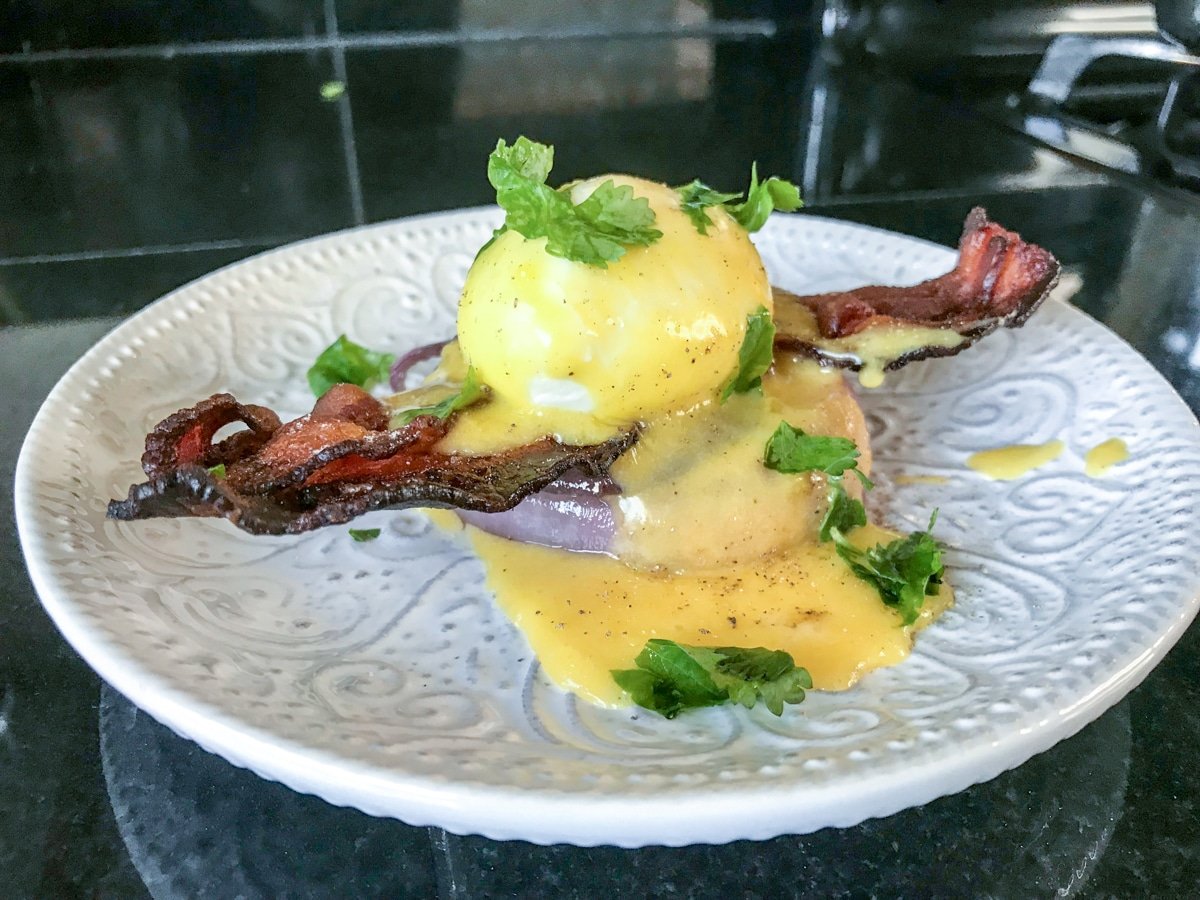 Poached sous vide eggs time and temperature
Poached egg temperature sous vide style is usually 145ºF in the recipes you'll find here on Sip Bite Go and in The Home Chef's Sous Vide Cookbook. I've done a lot of "down to the minute" experimentation and really believe you have to pull the eggs exactly at the 45 minute mark to get that perfect goey, fudgy yolk with set whites.
Sous vide poached eggs at 145ºF for 45 minutes for a deliciously thick, goey center.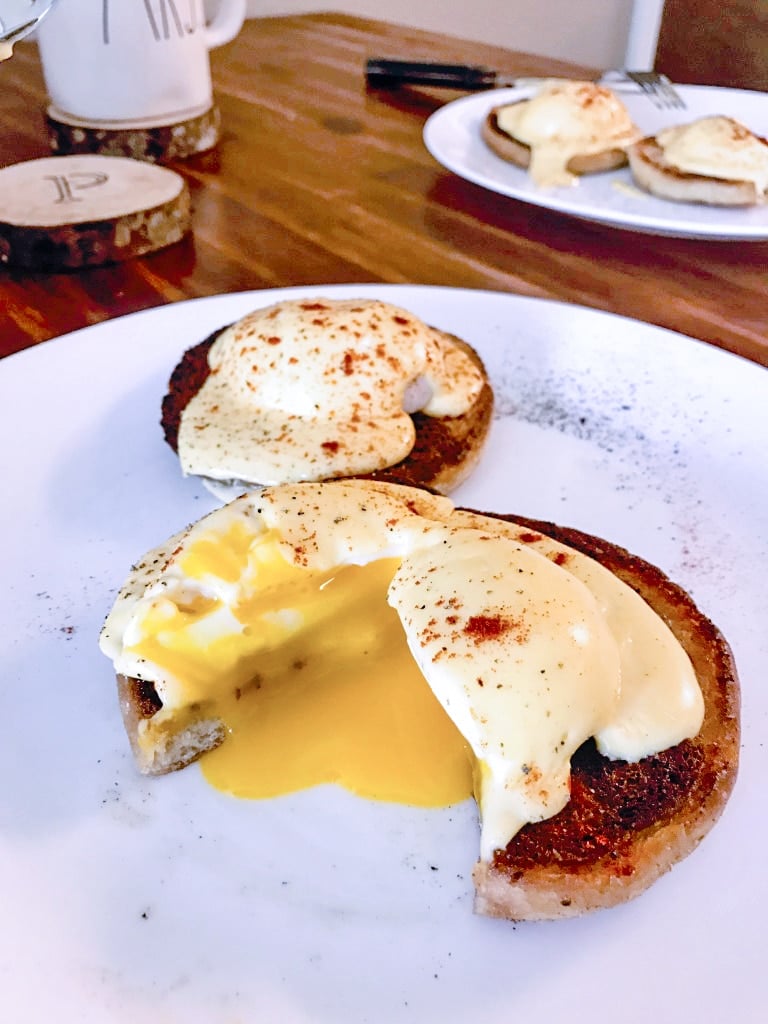 Set sous vide poached eggs on fresh sous vide asparagus with hollandaise sauce to take your weekend brunch to the utmost "gourmet" level.
Time and temp for sous vide eggs benedict
This is definitely the recipe that made me fall in love with sous vide egg experiments.
Cooking sous vide eggs benedict takes a little longer because there is more prep involved. There's toasting of the English Muffin, and prepping any other ingredients. I know candian bacon is always popular, but you can add a bunch of other tasty sous vide recipes to this gourmet brunch dish.
Once you nail the best time and temperature for sous vide eggs benedict (mine is 145ºF for 45 minutes), it's time to experiment with the proteins used for the base of this dish. Sous vide leftovers make great additions to this dish.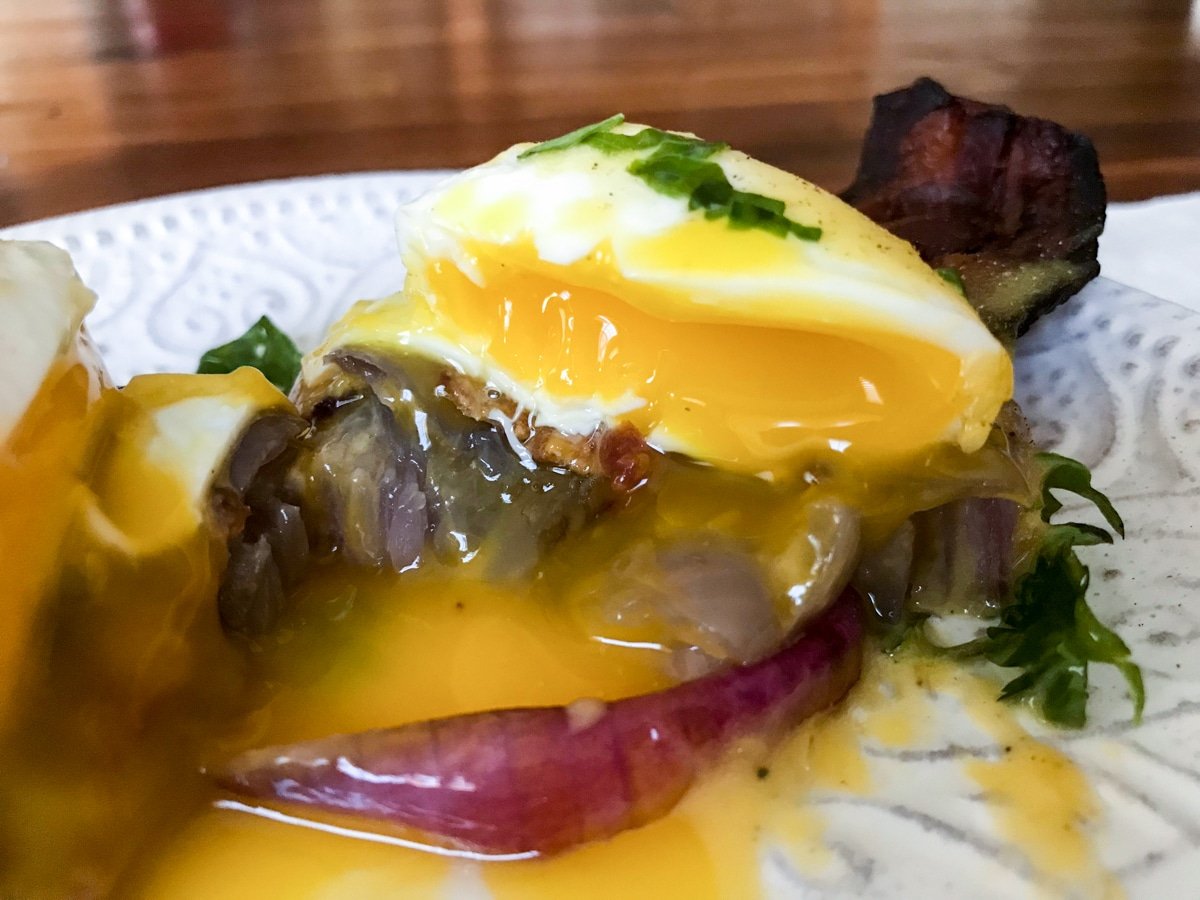 Some of my favorite toppings for perfectly cooked sous vide eggs benedict include sous vide steak frozen bites, spicy sous vide fried chicken, sous vide pork butt, and bbq sous vide brisket. So delish.
The Perfect Sous Vide Setup
Everyday I'm asked, "what do you need to sous vide food?". Here's my answer.
Try a new sous vide recipe…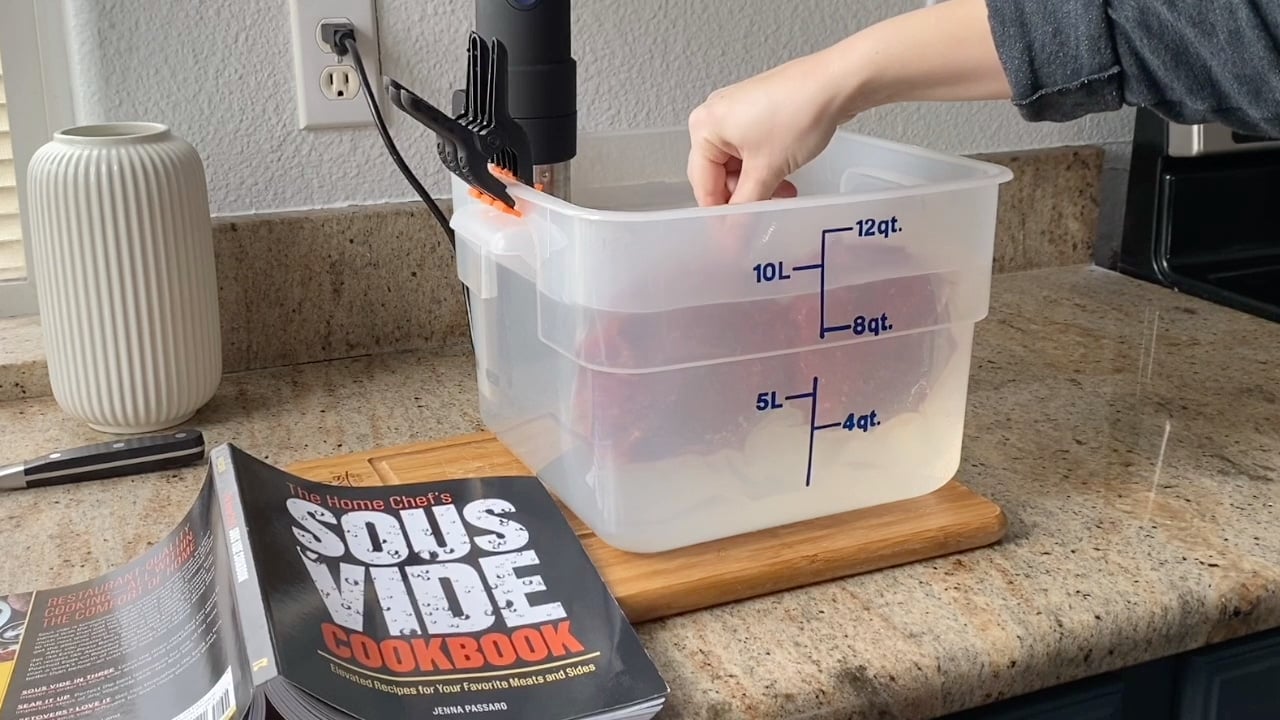 Catch my sous vide burgers and sous vide mayo seared hamburger recipes.
Which egg recipe will you sous vide first?
Well, there you have it. Some of my very favorite times and temps for sous vide eggs. If you want specific recipes, check out these sous vide egg recipes.
Eggs are much more particular than sous vide chicken tenders, sous vide wings, or sous viding frozen steak. Those recipes are more forgiving when it comes to time.
Eggs are not so forgiving if you're going for a perfect poach. Pull them out of the hot water and dunk 'em in an ice bath when the time is up.
If you hadn't noticed – I'm passionate about sous vide cooking, and maybe that's why Sip Bite Go has become one of the most popular sous vide blogs on the web. It's where I share what I'm doing in the kitchen, and I love putting up new videos and recipes so you can follow along.
This hobby turned science-cooking-geeky-obsession most recently turned into a book…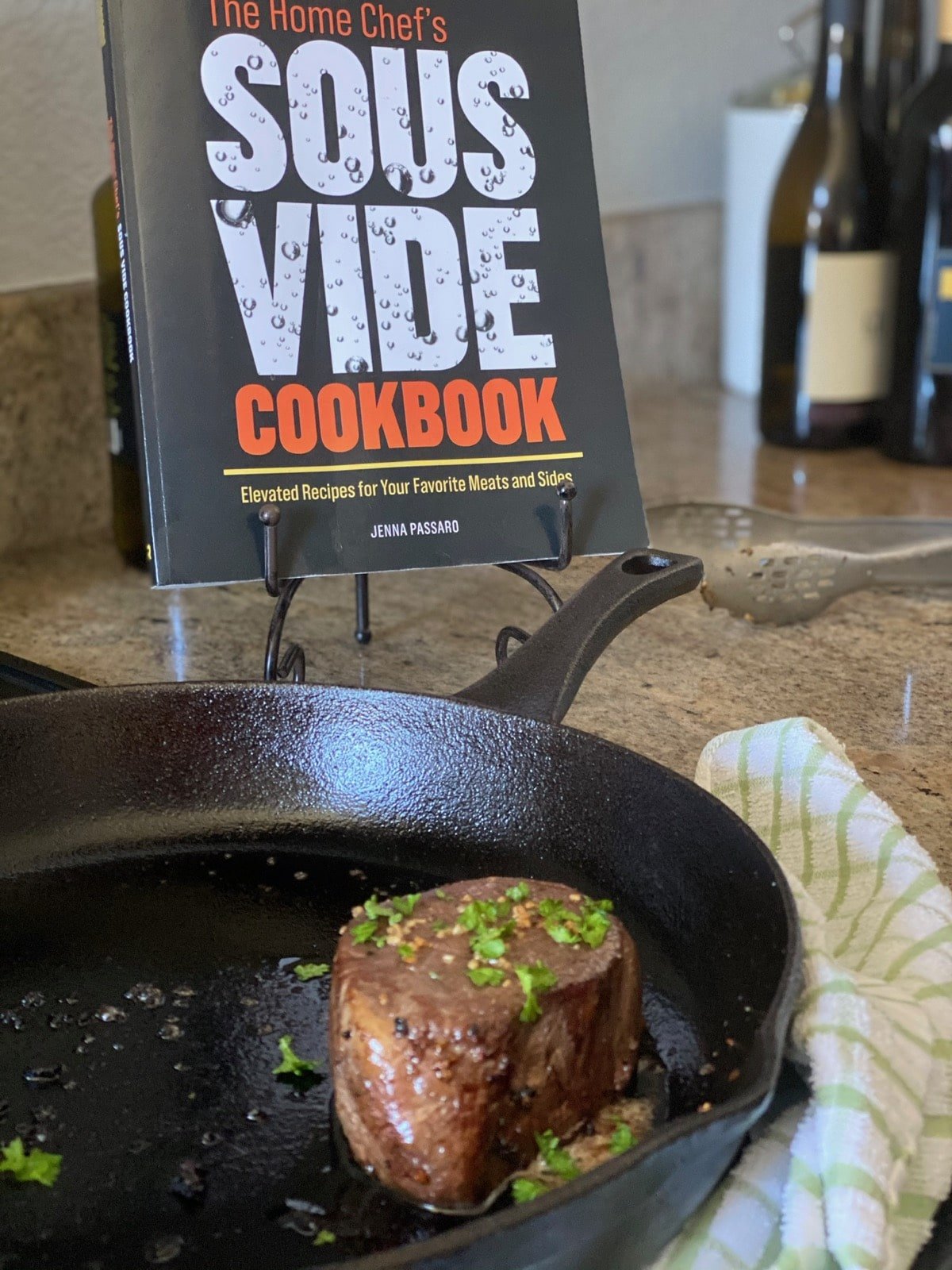 Find new ways to enjoy your favorite food with sous vide cooking with my new book – The Home Chef's Sous Vide Cookbook.
See sous vide experiments with eggs and more
Find me on Instagram to see my latest sous vide cooks @sipbitego.
For in-depth tutorials on sous viding eggs and more, subscribe to the Sip Bite Go channel.