Today I'm sharing produce shopping tips and easy recipes with fall fruits and vegetables. Get inspired to buy fall produce in season (September, October, and November) and cook up something wonderful. Let's dig in…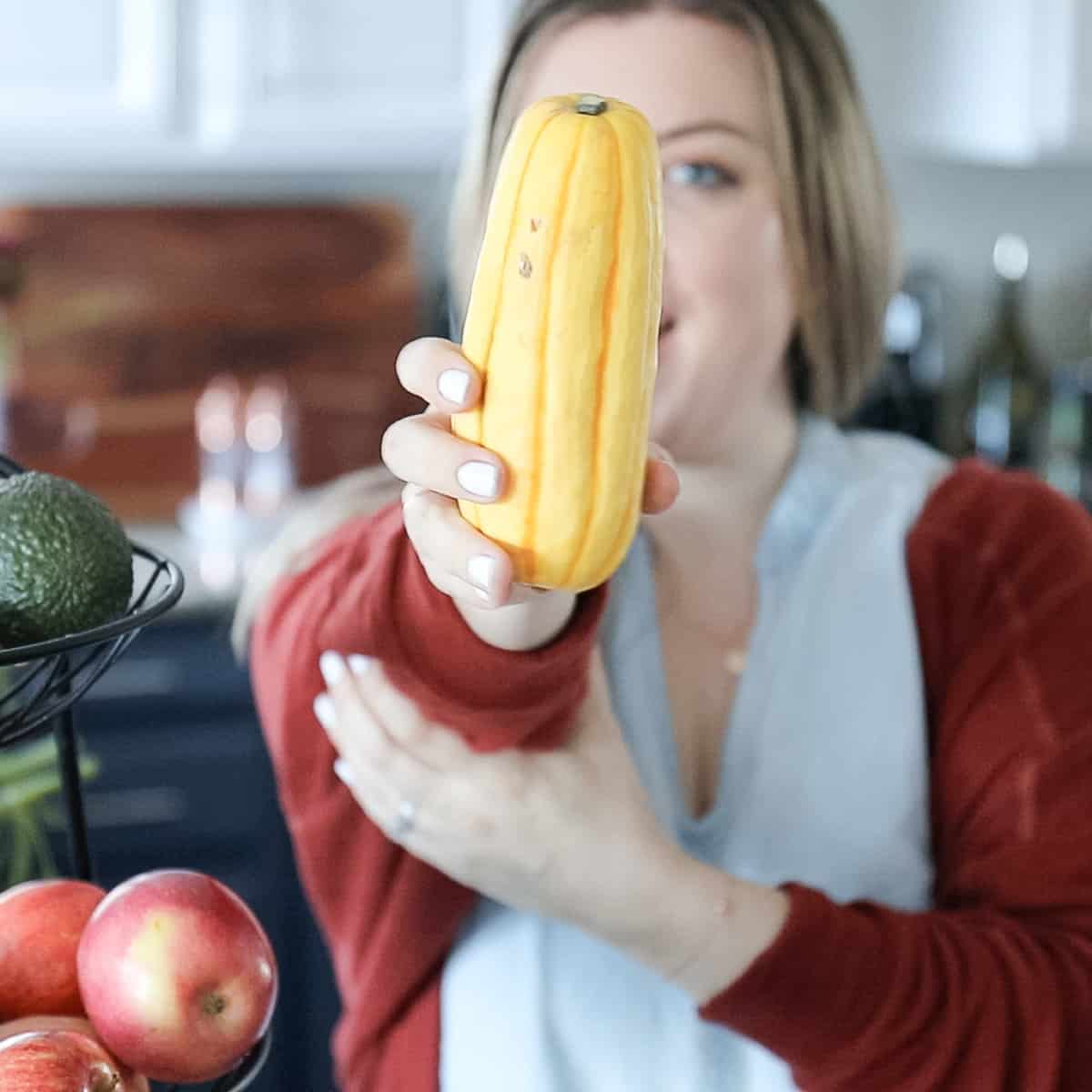 Why fall produce is so popular
It's peak season for apple picking (think: cider, pies, etc).
Farmers markets are bustling with new seasonal items like delicata squash.
Everyone is getting ready for Thanksgiving season, and fall foods set the mood.
You can make everything from sweet to savory dishes with ​​fruits and veggies in the fall.
See the video on fall fruits and vegetables
Fall fruits: produce and recipe ideas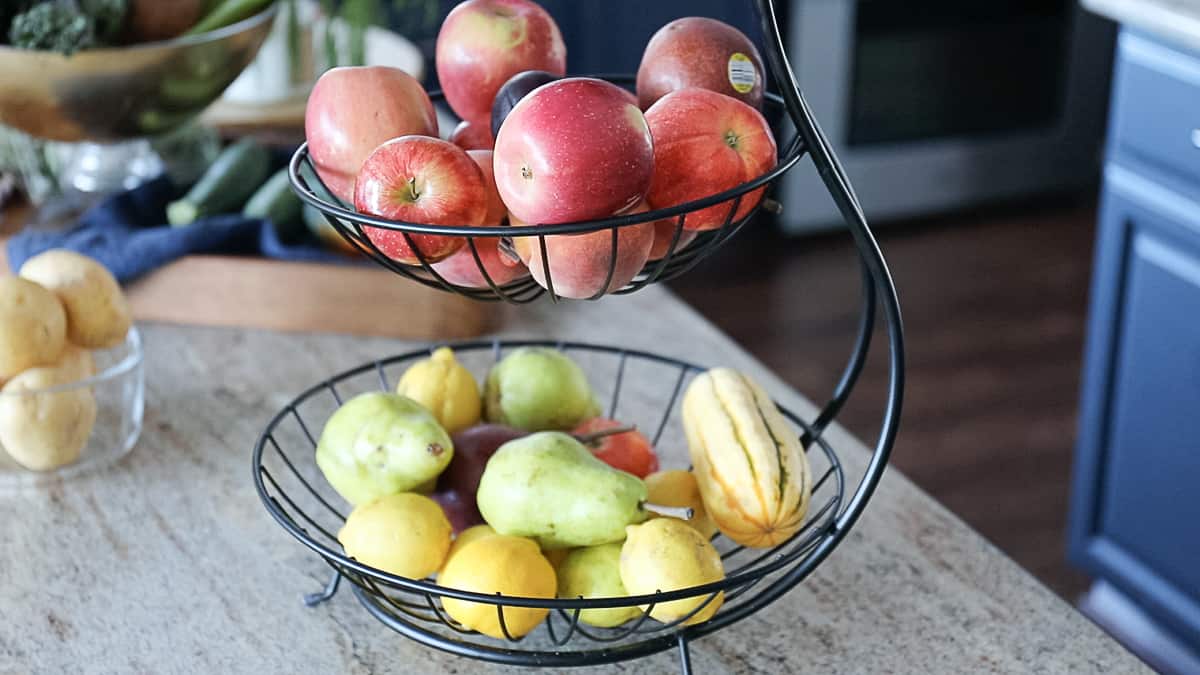 Apples
Apples are wildly popular in the fall, thanks to apple picking and pumpkin picking – where you can pick up tasty treats like apple cider and apple doughnuts. When you have way too many apples than you know what to do with, here are some recipes with fall apples to enjoy them the most.
Apple turnovers (start with something like this blueberry turnover recipe and use peeled, diced apples like in this kale apple slaw instead)
Cinnamon apple french toast
Apple fries
Apple crumble muffins
Add to salads with fall vegetables
Pears
There are so many varieties of pears to try all season long. Some are better for snacking on fresh (like green pears) and others are really delicious in fall recipes.
Pear butter
Poached sous vide pear
Pear tarts
Add fresh pears to kale salads
Pomegranates
These tasty, tart, juicy seeds are a must on any fall fruits and vegetables must-haves list. The best way to open a pomegranate is to cut it in half, then open it underwater (in a large mixing bowl full of water). This is the best way to prevent it from getting sticky all over the counter and getting on your outfit. So once you've opened this tasty fall fruit, what do you do with it?
Add pomegranate seeds to the top of salads or roasted vegetable dishes
Make a side dish with roasted butternut squash or sweet potatoes or other ​​root vegetables, toasted pecans, feta cheese, and a little sprinkle of pomegranate seeds on top
Figs
The season for figs is super short, so if you see them at the farmers market or on a Trader Joe's haul, grab them!
Grapes
With kids heading back to school, one of the easiest lunch sides is at its prime. There are ways to enjoy grapes other than eating them whole. You can try some of these recipes.
DIY grape jelly for PBJ sandwiches
Fresh grape salad with cream cheese, sour cream, toasted pecans, and brown sugar
Fall vegetables: produce and recipe ideas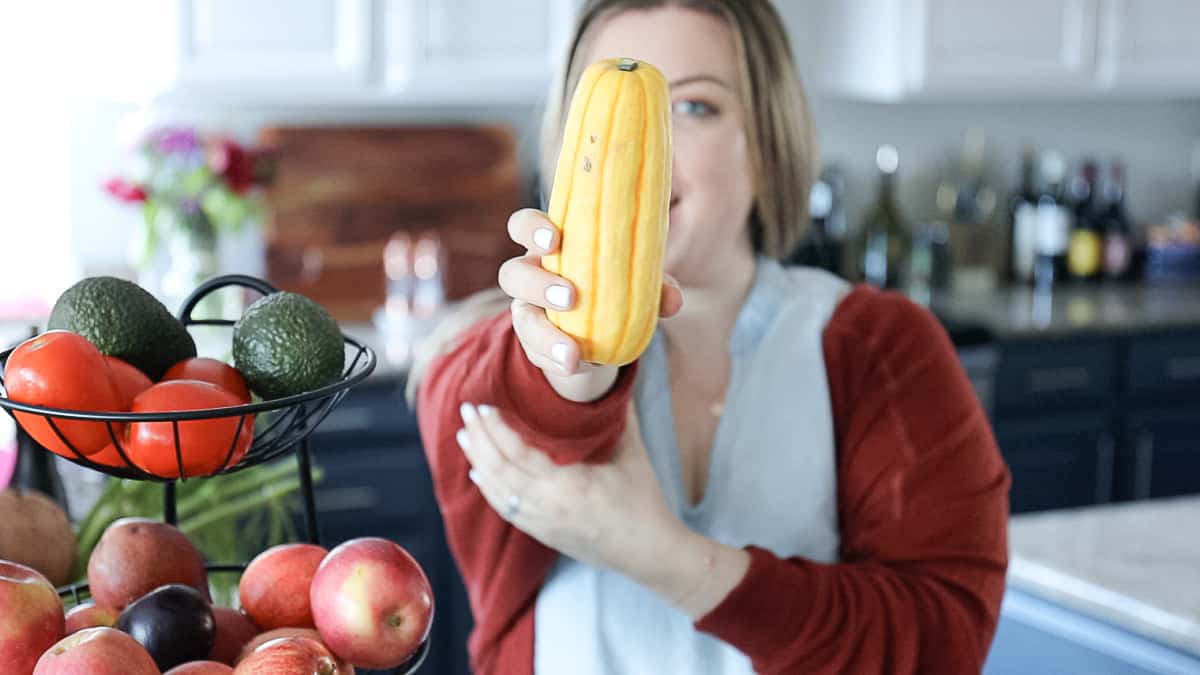 Delicata Squash
Such an underrated fall produce item, this cute squash is more than a centerpiece for Thanksgiving.
Roasted delicata squash on spinach salad with dried cranberries
Stuffed delicata squash with rice, quinoa, or farro and veggies
Acorn Squash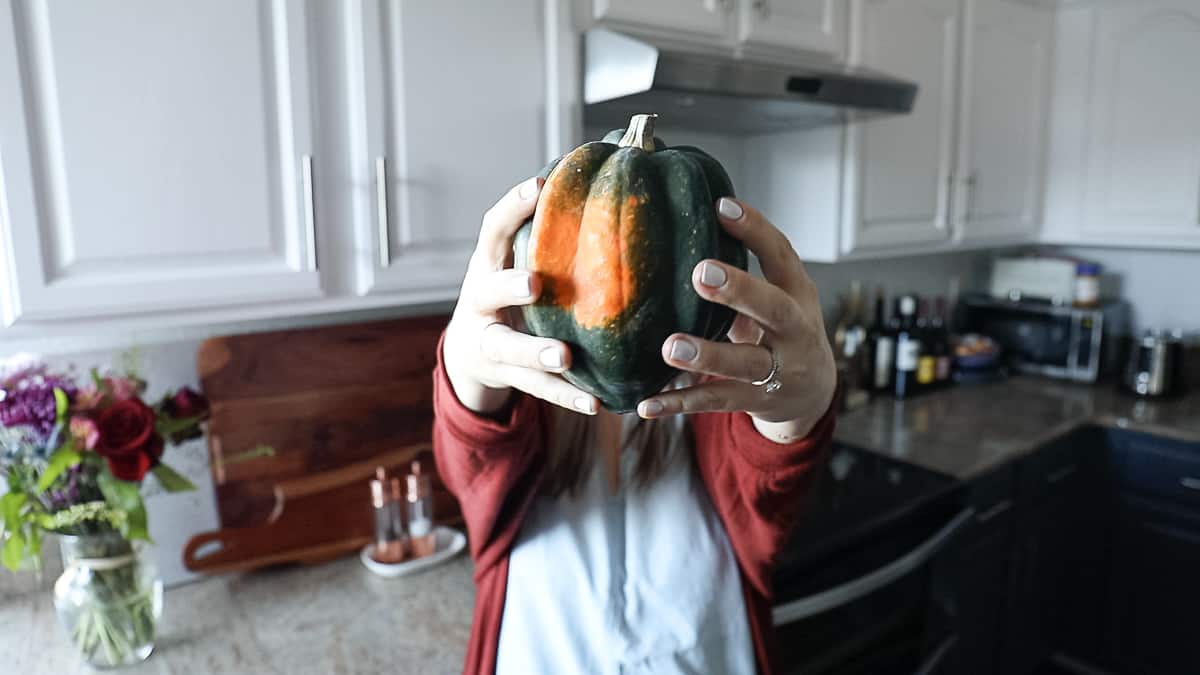 It's not something that you eat raw, so finding out how to draw out the sweetness and buttery texture of acorn squash is the goal when cooking it. One small to medium squash will feed about 2 people and is a very filling side dish.
Acorn squash with maple syrup (coming soon)
Butternut Squash
One of the joys of fall veggies is using butternut squash in everything from soups to side dishes. It lasts quite a while – maybe even a month once you bring it home, making it good to use in winter squash dishes, too.
Butternut squash soup served warm with a drizzle of cream and sprinkle of fried sage
Roasted butternut squash
Instant pot butternut squash
Baked feta with vegetables and butternut squash
Kale
I'll be the first to admit that kale is probably the one item I have really good intentions on using, but often goes bad before I get to it. So I like to pick up other items like dried cranberries and walnuts and oranges to use as a dressing (I squeeze the juice and mix it with champagne vinegar, honey, olive oil, and salt and pepper).
So my word of advice, to myself and anyone else who buys things like kale and "forgets" to use them: have a recipe picked out before buying it, so you have everything else you need to make a tasty dish.
Brussels Sprouts
Crispy, crunch brussels sprouts are a must on any modern Thanksgiving menu and to enjoy throughout the fall.
Sage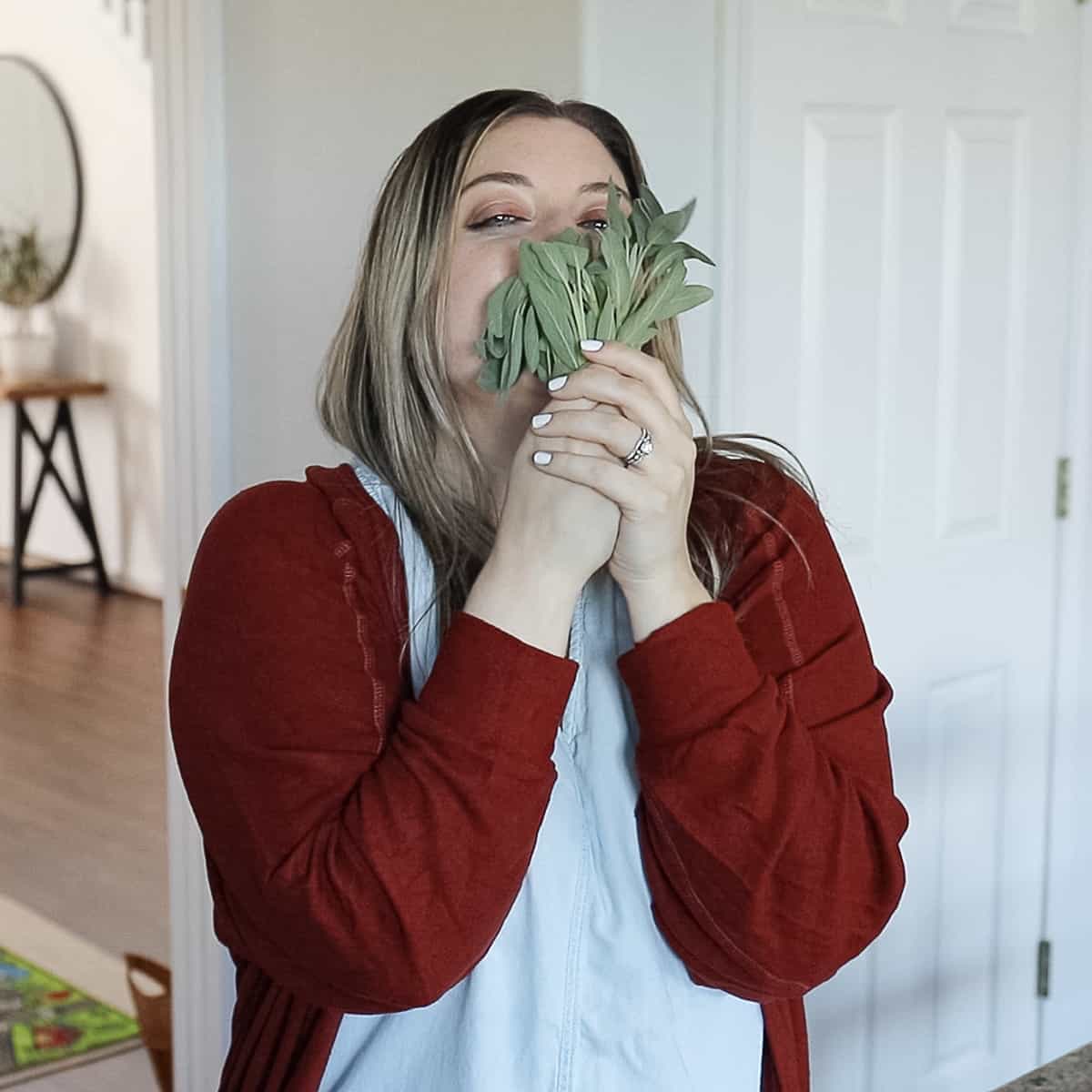 I always shop for seasonal herbs… So what are the best fall herbs? Well, for starters, I love cooking with sage in the fall. It goes really well with Trader Joe's butternut squash ravioli. I often add it to pasta sauces (brown butter and sage and a little parmesan — yum). And it goes well with things like my husband's chorizo sausage stuffing which we love during the holidays.
Cauliflower
Don't underestimate the deliciousness of this vegetable! Sure, I enjoy it throughout the year in things like these porcupine meatballs made with frozen cauliflower rice, but buying it in season is a must.
Fennel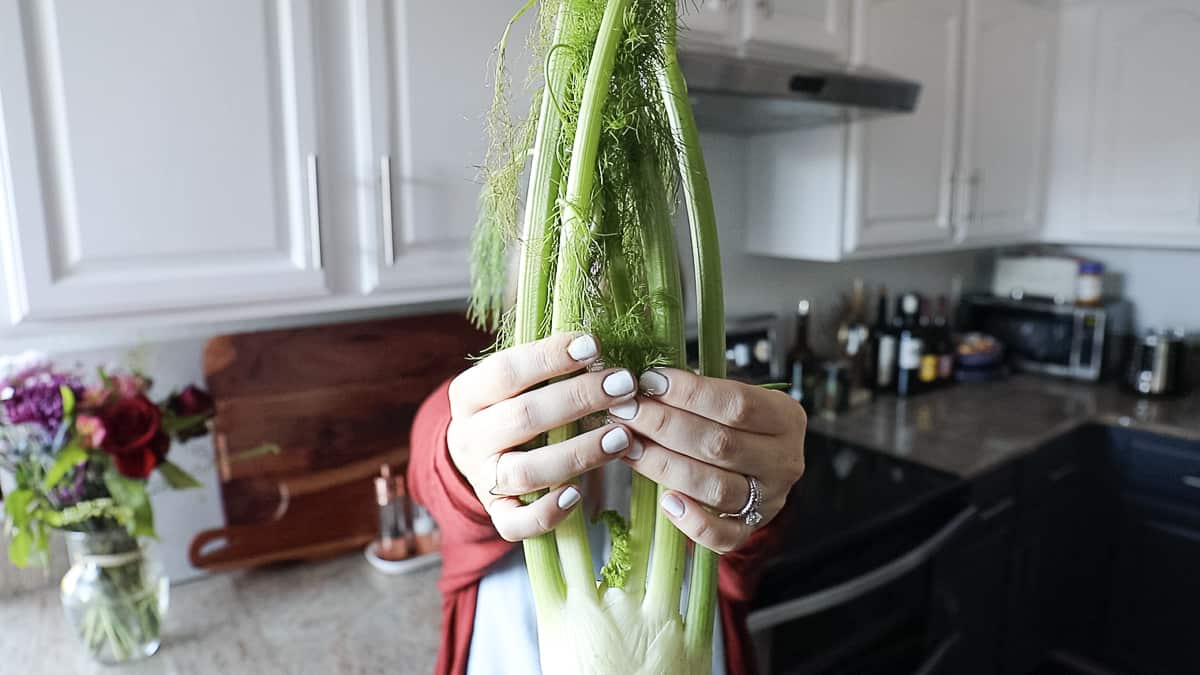 I'd say that this is one of the most overlooked vegetables in season during fall. Most people don't have a fennel recipe in their back pocket. My tip is to use it in salads, sliced up thinly, in place of something like celery. It tastes great with segments of orange and avocado.
You can also roast diced fennel in the oven with onions or butternut squash to make a lovely side dish. Drizzle it with some romesco sauce and you have a delicious dish.
Sweet Potatoes
There are so many delicious ways to enjoy sweet potatoes in season during fall that you can save frozen air fryer sweet potato tots for another time of year.
Sweet potato pie
Roasted sweet potatoes
Twice baked sweet potatoes
See other potato side dishes
Pumpkin
From sweet to savory, pumpkin recipes in the fall can show up during any part of the menu – even in cocktails and coffee drinks.
Ready to cook with fall fruits and vegetables?
Hey home chefs, hope that answers all your questions about what's in season and easy fall produce recipes to try this year. There are so many tasty fall fruits and vegetables to enjoy, I hope you cook something wonderful.
If you don't follow me on instagram you totally should @sipbitego. And for more deliciousness, subscribe to the Sip Bite Go channel and see the Sip Bite Go recipe collection.
New recipes and foodie guides….
Grill and smoker recipes…