See how to dice an apple for salads and desserts. Plus, learn apple dicing tips like the best knife to use, whether or not you need a machine, if you need to remove the skin, and, how big is a dice, anyways? Let's cut some apples…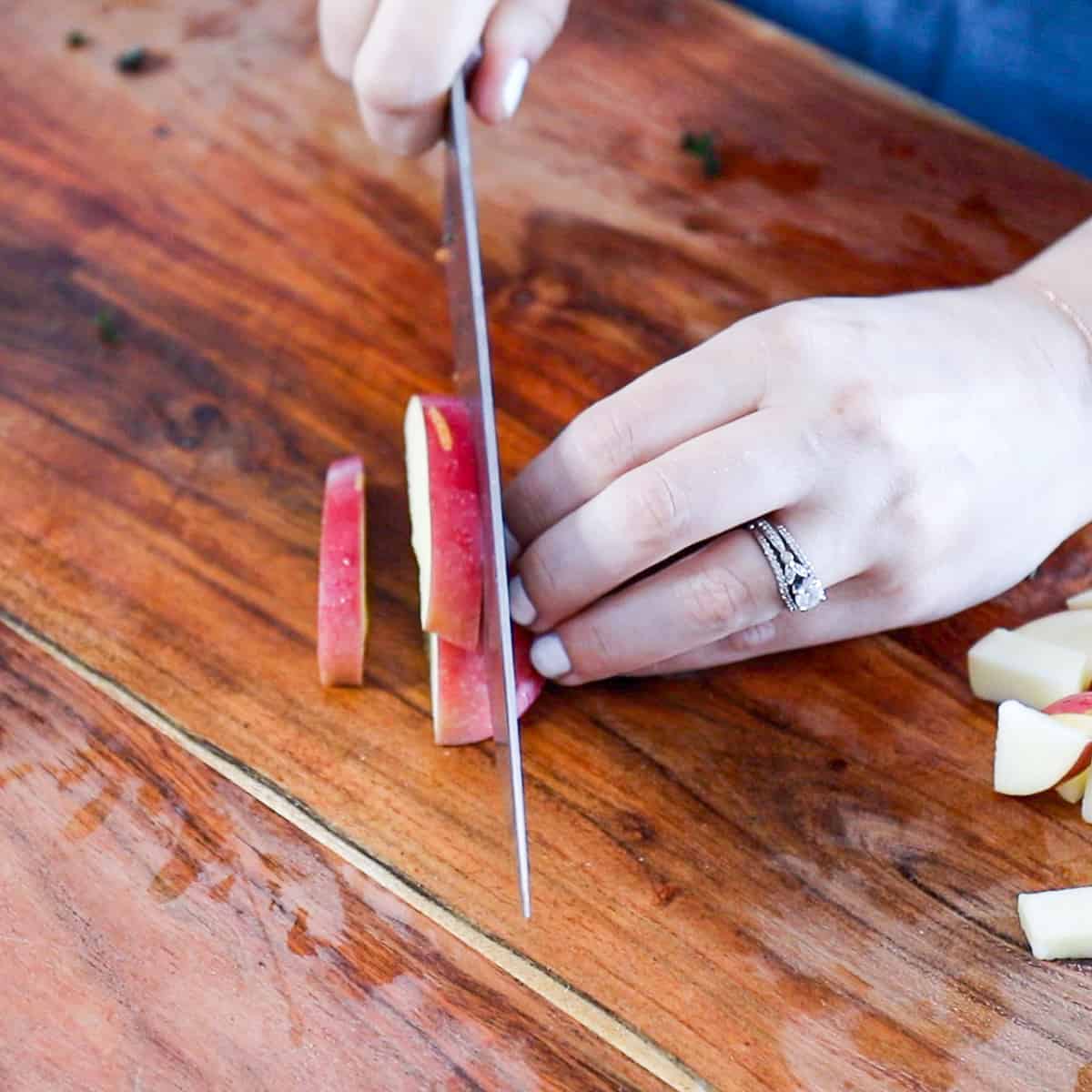 See my video on dicing apples
Check out my food cutting video for diced apples for the complete step by step.
How to dice apples step by step
All you need to dice apples is a ​​chef's knife and a cutting board.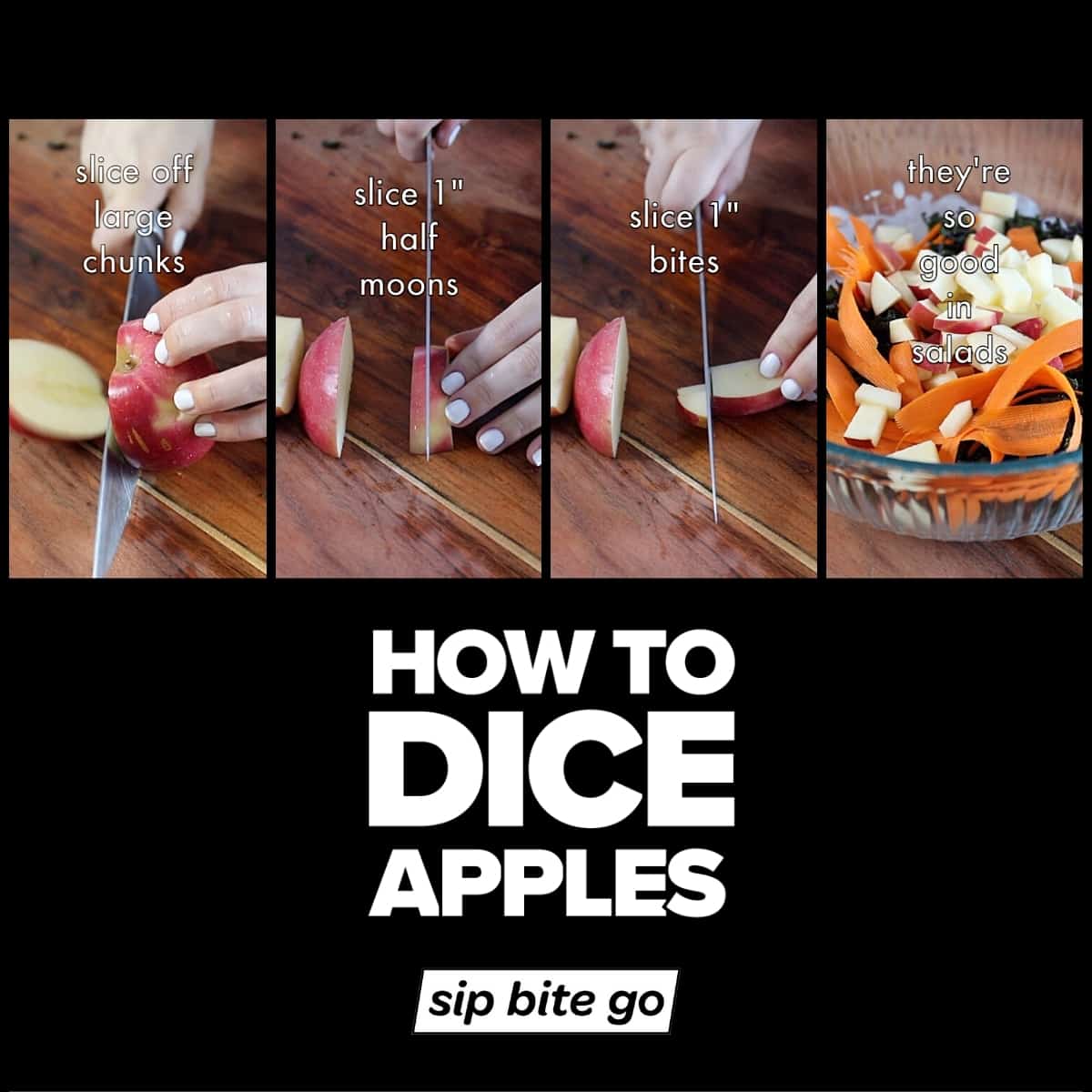 Slice off large chunks
Slice chunks to 1" half moons
Dice moons to 1" chunks
Add apples to your favorite salads and desserts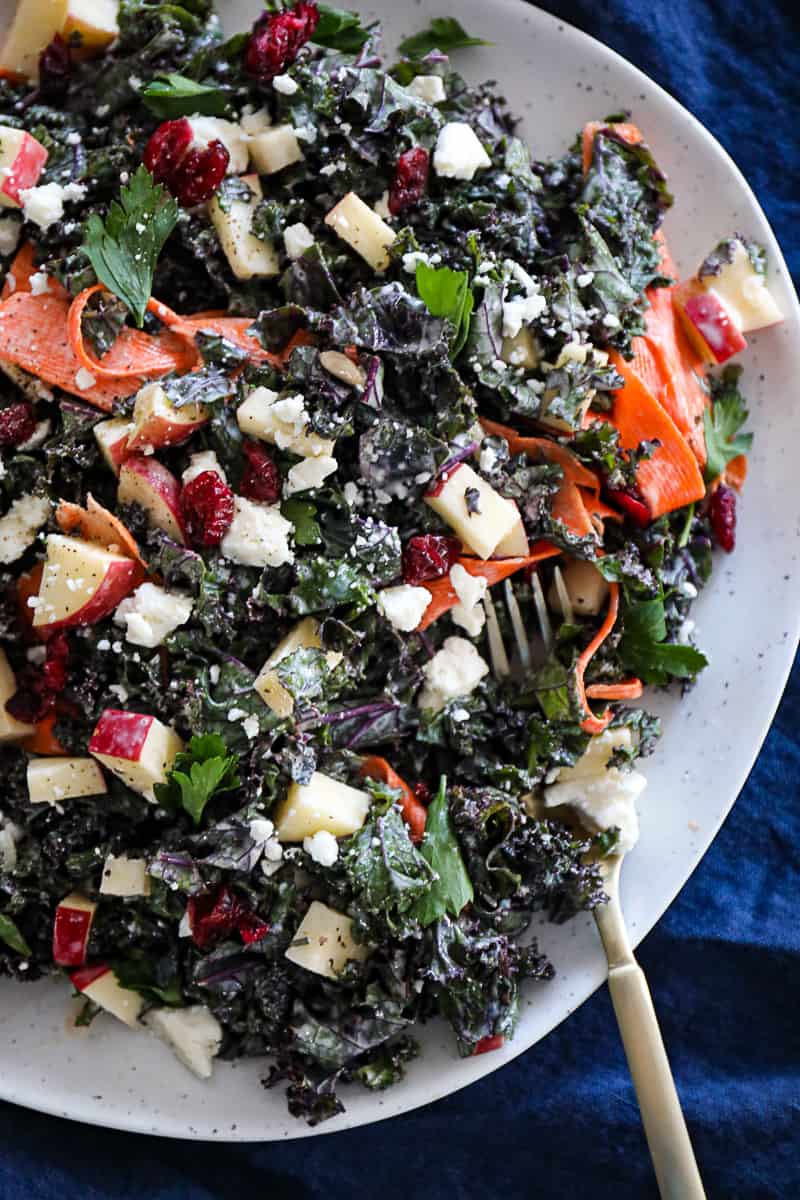 FAQs
How do you prevent diced apples from turning brown?
Squeeze a little lemon juice into a bowl of water and submerge diced apples in the water. Store in the fridge if you're prepping the morning of making a recipe. 
When dicing apples, how big is a dice?
For bite-size pieces, I recommend dicing apples to 1" chunks.
What's the best knife for dicing apples?
Here I'm using a "chef's knife" which is considered "long". It's a 8″ Shun chef's knife. It's a more luxury brand of knife and for good reason. I've had mine for years and use it all the time.
When dicing apples do you remove the skin?
I usually leave the skins on red apples and green apples. If you don't like them, use a vegetable peeler to remove them in advance of dicing. 
How can you dice apples in bulk?
If you're dicing apples in bulk, you could use a tool like an apple corer. It's handheld and will section off chunks of the apple and remove the core. But I find it easy to dice apples for an apple pie or salad with a chef's knife. 
Tips for dicing frozen apple slices
Obviously be careful dicing frozen apples because they're more slippery and difficult to cut through when frozen. Ideally, dice apples before freezing them for smoothies and things like that. 
Recipe for salad with apples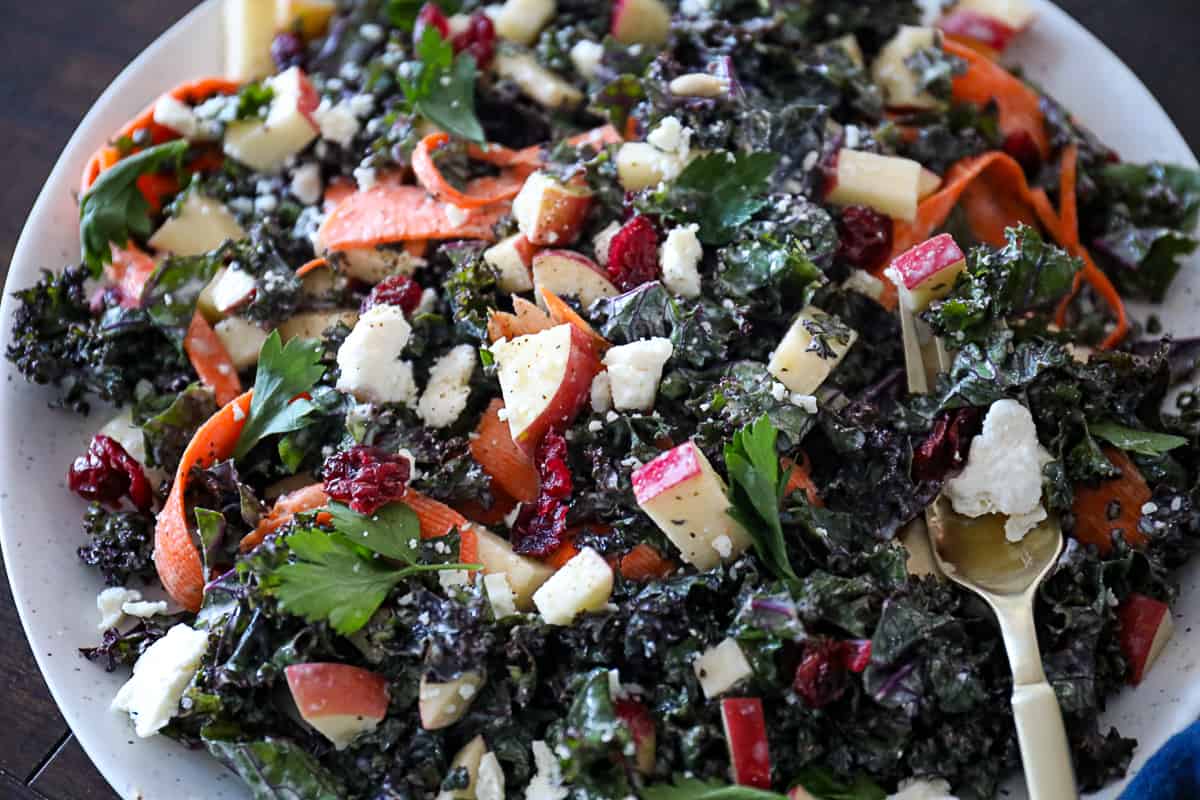 Kale salad is one of my favorite ways to use apples from apple picking or fall harvest at the farmers market. Made with dried cranberries, it's a perfect fall recipe or modern Thanksgiving holiday appetizer. See how to make my kale apple slaw salad with diced apples.
Best Salad Recipes from Sip Bite Go
See all salad recipes…
Are you a foodie, too?
Hey home chefs, hope that answers all your questions about dicing apples for recipes. If you don't follow me on instagram, find me here @sipbitego. And for more deliciousness, subscribe to the Sip Bite Go channel and see the Sip Bite Go recipe collection.
Side dish ideas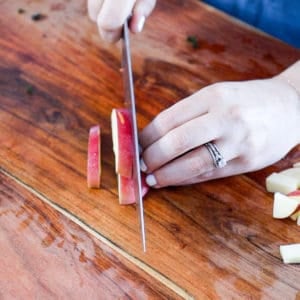 How To Dice An Apple For Salads And Desserts | Sip Bite Go
Learn how to dice an apple for recipes. Dicing apples for pies and salads is easy with this instruction guide.
Print
Pin
Rate
Equipment
chef's knife

cutting board
Instructions
Slice chunks to 1" half moons

Dice moons to 1" chunks

Add diced apples to your favorite salads and desserts