Want the best easy summer salad recipes? See my list of the all types – the best healthy salads for appetizers and lunch, the best salads for cookouts, outdoor parties, and picnics. See these tasty ideas…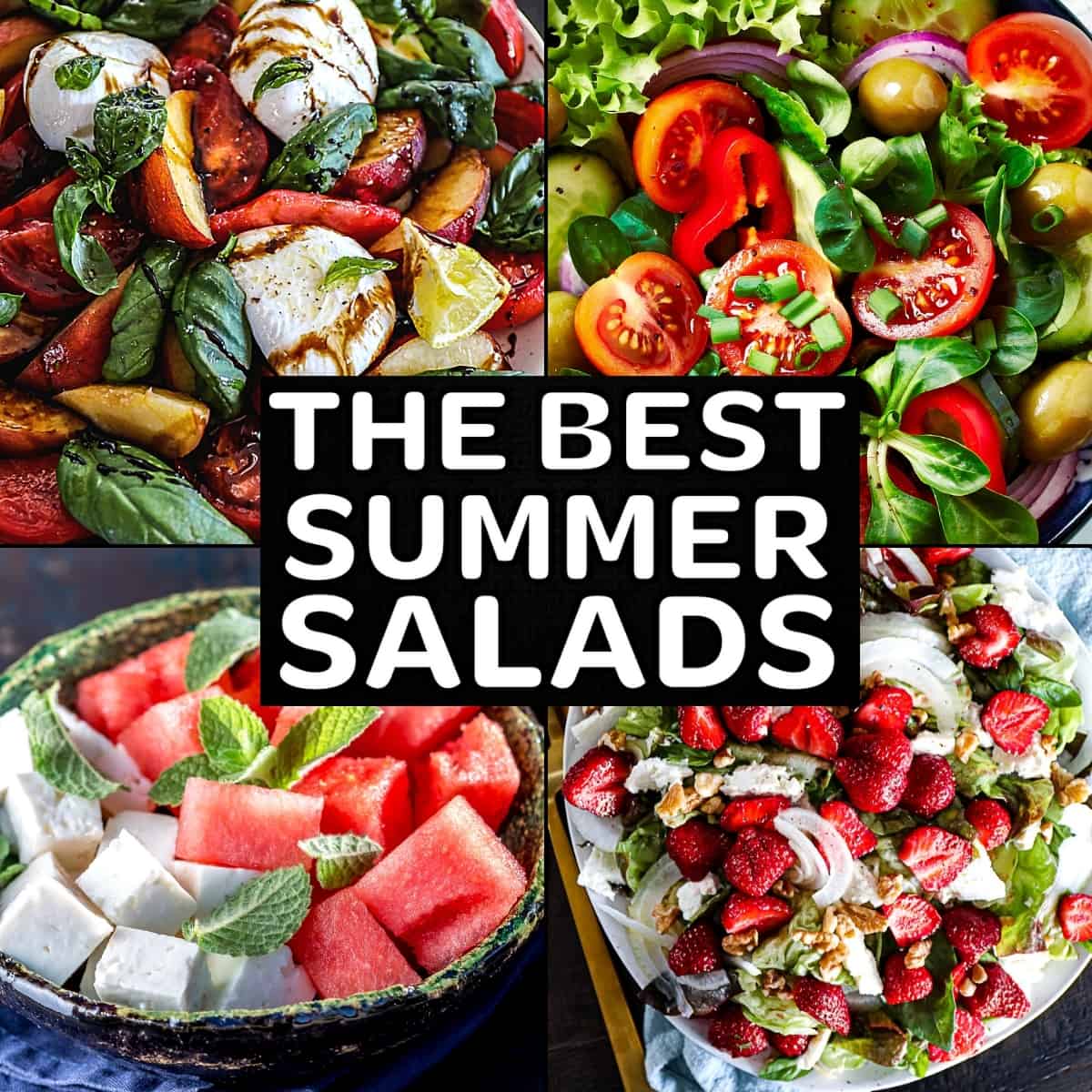 If you're looking for the best summer salad recipes, this list is packed with ideas you'll be making all summer long. Many with minimal cooking – or no cooking at all.
Cold summer salads
When it comes to cold summer salads, using fresh, juicy and crunchy ingredients is a must. Try to use ingredients like fresh chopped vegetables and bites of chilled fruit. Seriously – adding just a few slices of a nice ​​cooling cucumber or pickled red onions can really freshen things up!
Strawberry feta salad
Keeping it fresh, light, and vibrant with this yummy summer salad idea…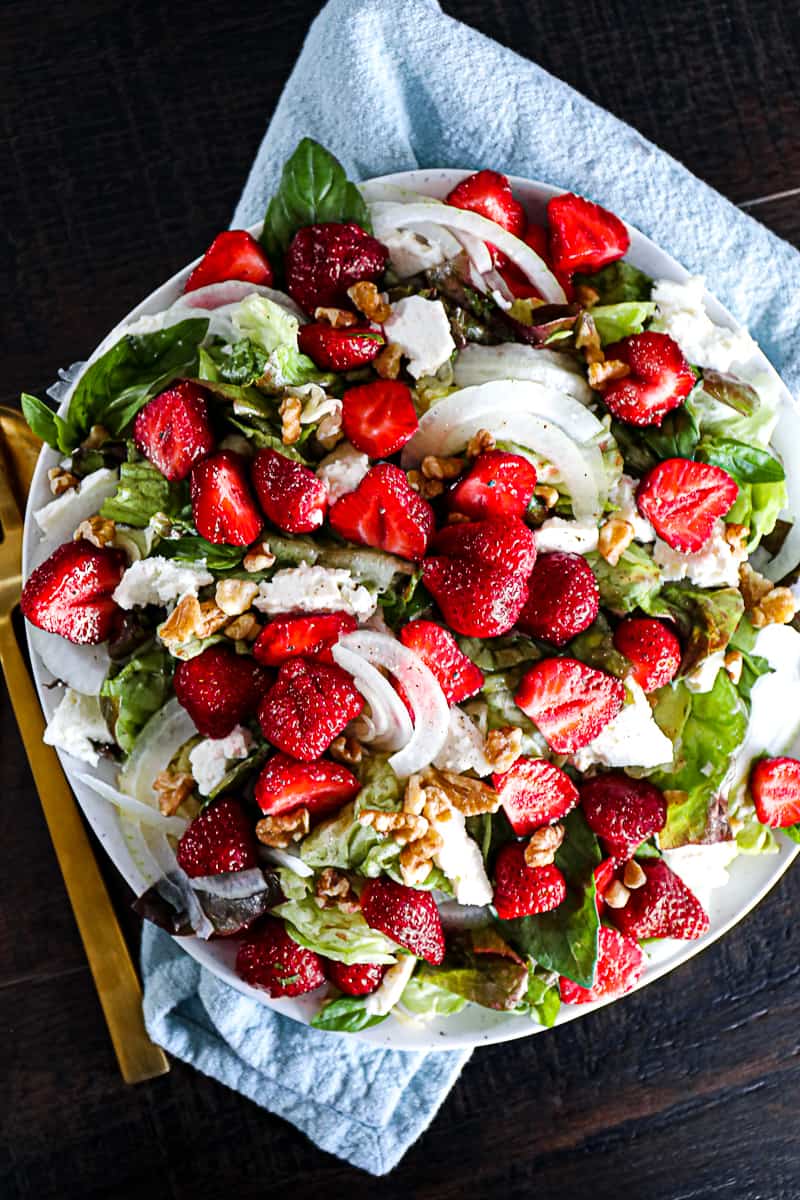 When it comes to delicious summer salads with fresh produce, this is a great choice.
This strawberry feta salad is always a crowd-pleaser – take it to a summer picnic or add it to your BBQ menu.
Peach salad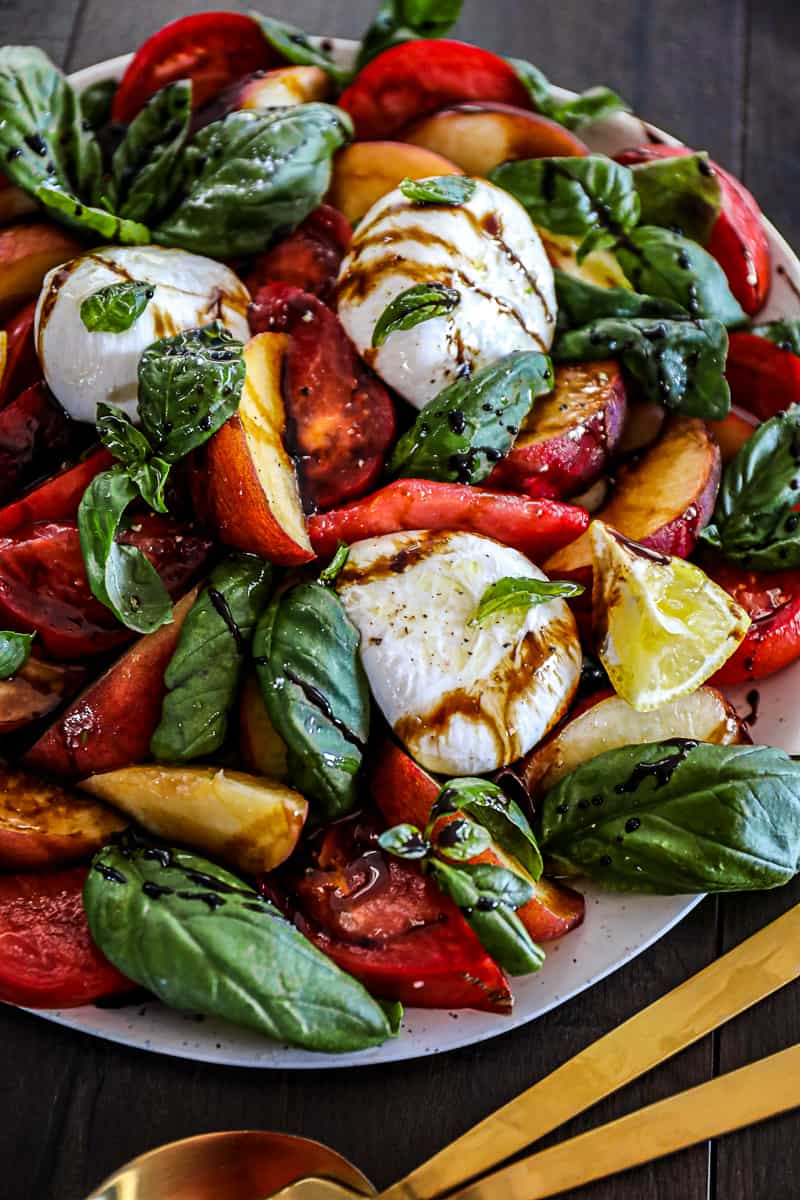 It's one of the most refreshing summer salads… This tasty peach salad is a must.
Perfectly-ripe veggies, creamy burrata, juicy fruits, and crunchy greens – it's easy to see why thisst is a tasty summer salad that really hits the spot.
For a twist, see how to make smoked peaches to top your salad.
Simple Avocado Ranch Salad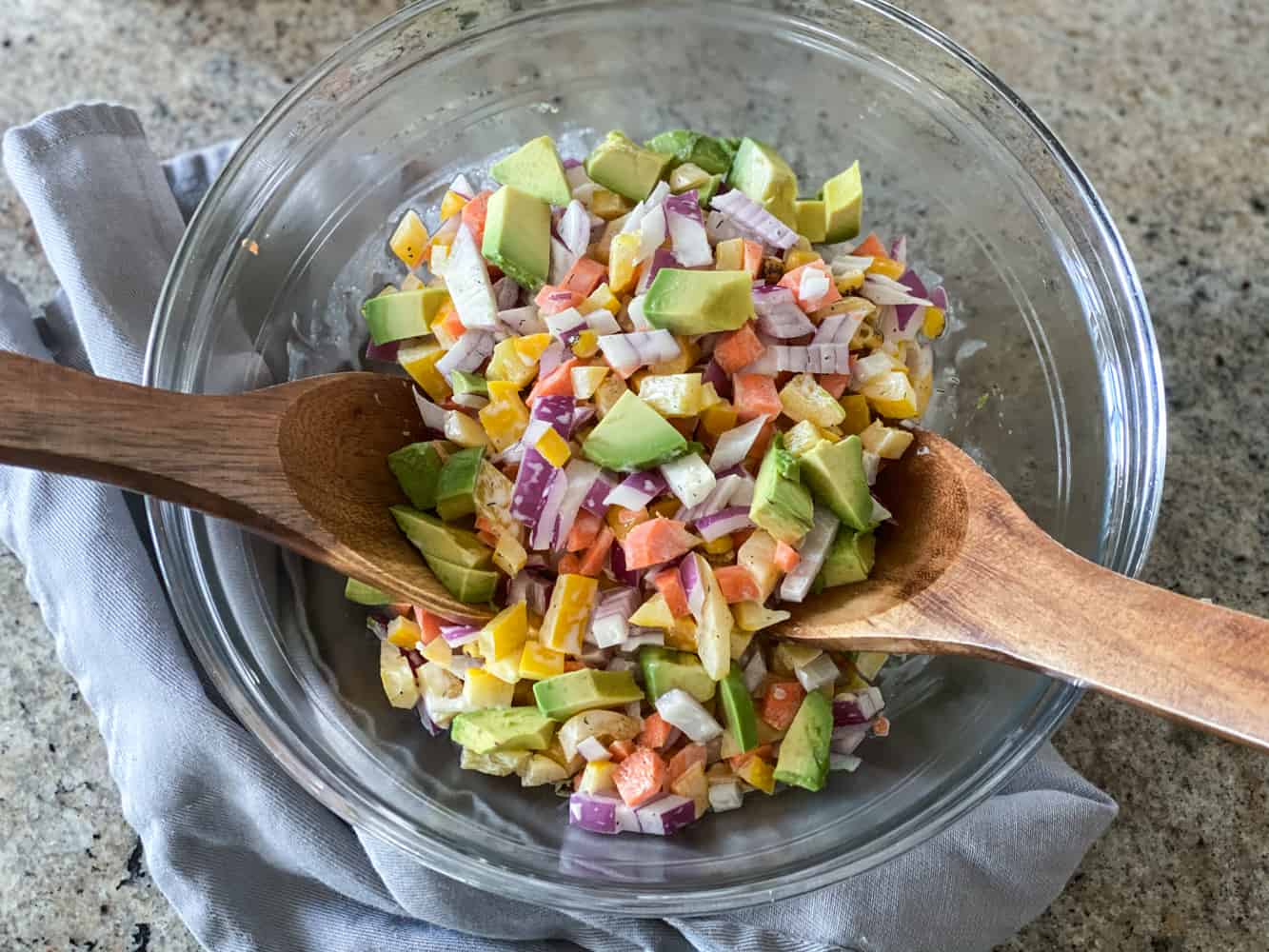 I love this simple summer avocado ranch salad recipe because it uses a shortcut: ranch dressing. Serve it with a main like chicken al pastor tacos for a perfect summer meal.
Healthy summer salads
There are so many nutritious salads to make in the summer because all of the summer season vegetables overflowing at the grocery store and farmers markets.
Here are some combinations of healthy greens and vegetables that are a great way to change up your summer salad recipes.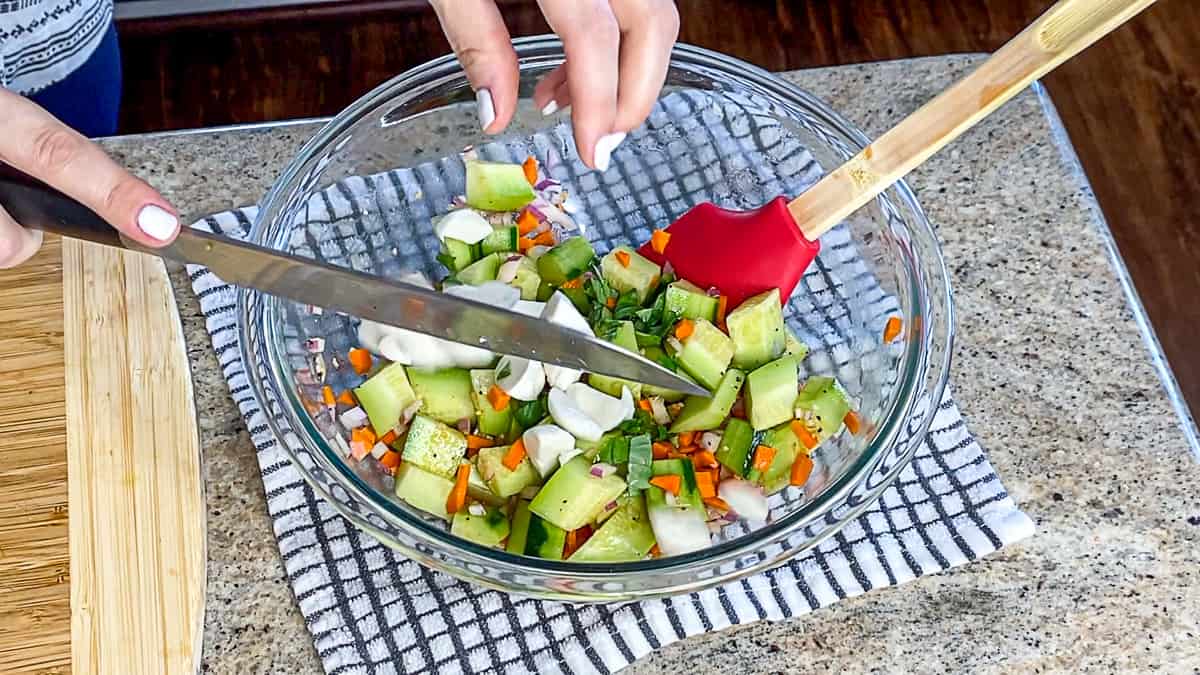 Cucumber salads with ​​heirloom tomatoes with a sprinkle of salt, pepper, garlic powder, and a squeeze of lemon and high quality olive oil. See the recipe for my simple tomato cucumber salad for inspiration.
For a simple salad, I like a crunch kale salad with pickled red onions, shaved parmesan cheese, and a sprinkle of cooked sweet corn. Sometimes I turn it into a kale and goat cheese salad for a change.
Greek summer salads with dill, cool cucumber, fresh parsley and a red wine vinaigrette.
Tomato salad with fresh basil.
Chilled ​​Avocado salad with a drizzle of soy sauce.
Anything topped with ​​creamy avocado dressing or creamy jalapeno dressing.
Green pepper salad with salsa Verde dressing.
Grilled romaine salad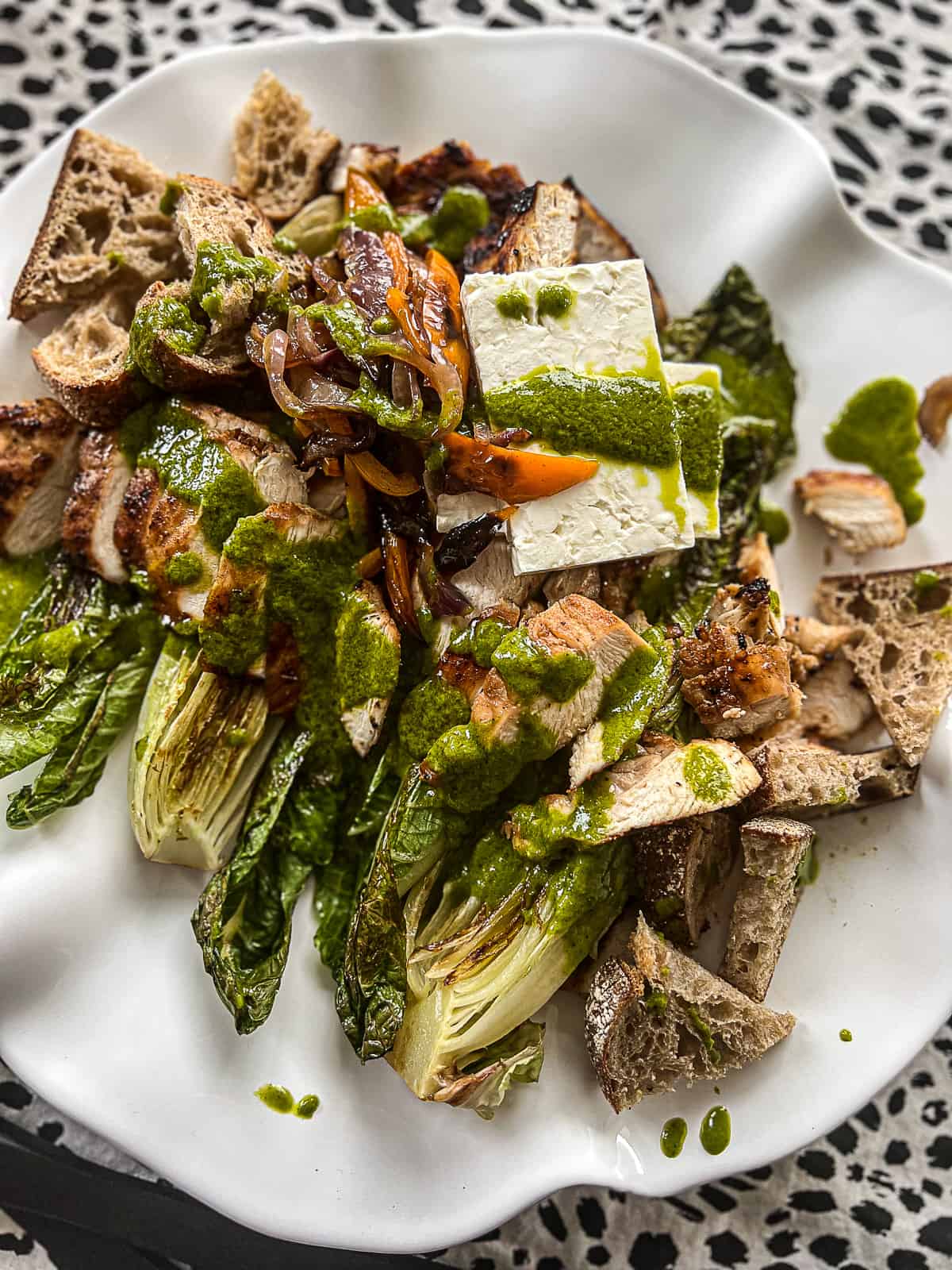 See how to griddle grill romaine lettuce with griddled chicken breast to make this tasty salad.
Rice salads for summer
Summer rice salads are a great option when you want to turn a salad into a complete meal, but keep it keto friendly and skip the pasta.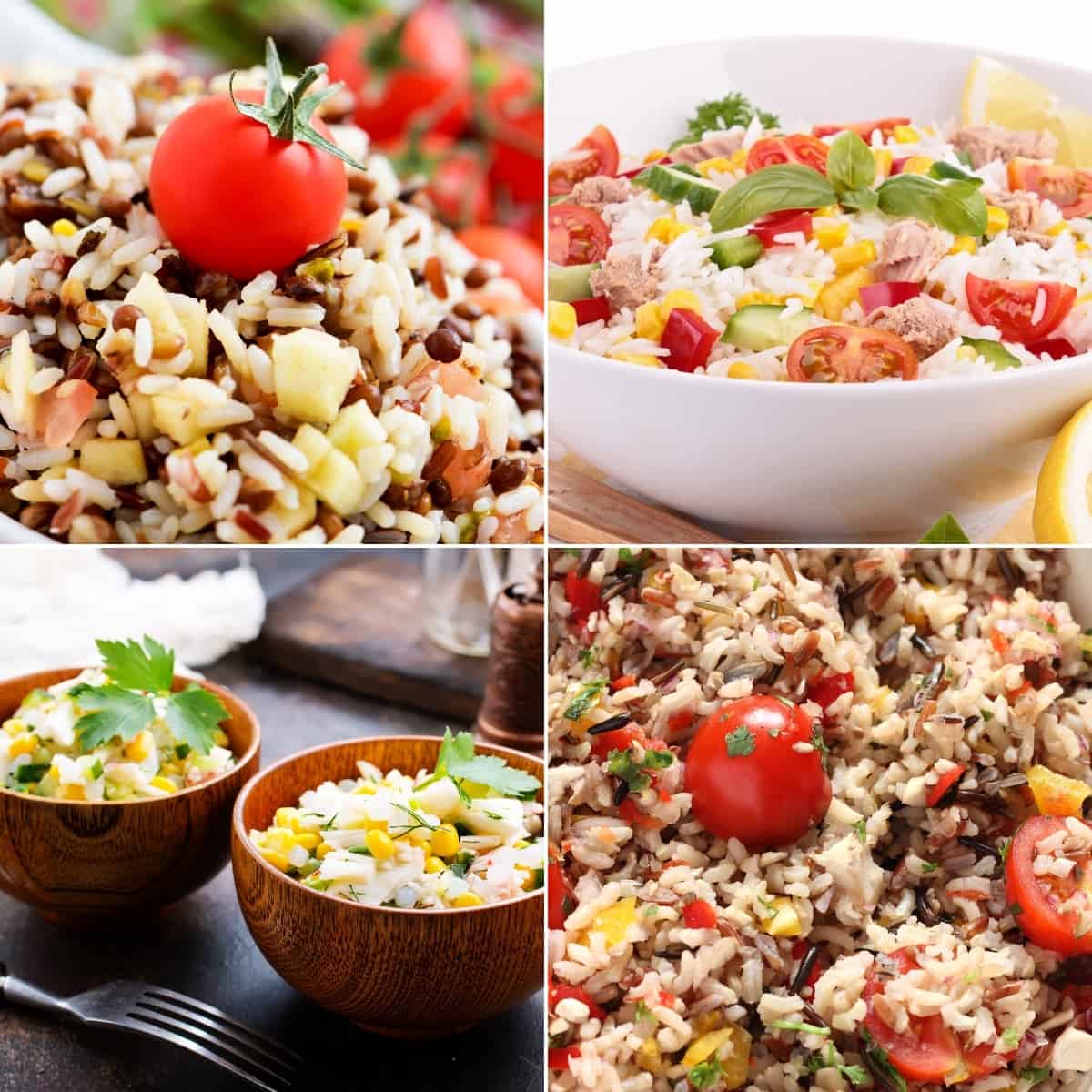 You can opt to use cauliflower rice or brown rice instead of white rice in these salads to make them even more healthy. Rice salads are easy to make because if you're meal prepping them, you can use frozen rice.
Greek rice salad
Here's one of my favorite super easy summer salads because it's a little bit different, and a great thing to make with leftover rice. Try a Greek style rice salad with roasted cherry tomatoes, crunchy carrots and cucumbers, crumbles of fresh feta, and halved kalamata olives.
You can take a shortcut and use your favorite greek dressing to make it. Just add the dressing to cooked rice, toss in your favorite vegetables, and you have a tasty dish.
Summer dinner salads
Top any of these summer dinner salad ideas with grilled skirt steak, flank steak, air fryer filet mignon or easy pan seared chicken breast, or sous vide shrimp, and you have a complete meal.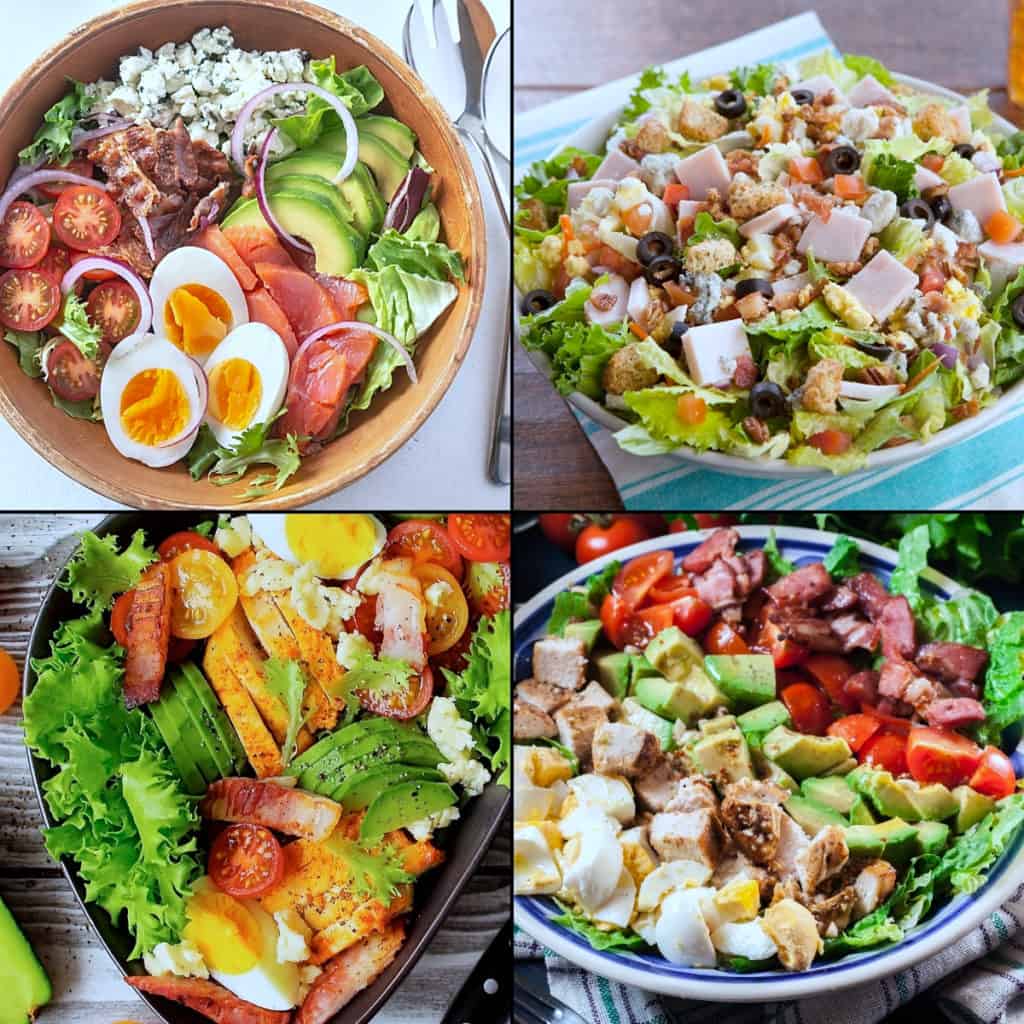 Cobb salad
When it comes to ​​low carb summer salads, choosing a chopped salad like a cobb is a great idea because it's packed with proteins and filling ingredients. I like mine with toppings like crisp romaine lettuce, ranch dressing, diced sous vide chicken breast, air fryer turkey bacon, avocado, diced ​​bell peppers, a sprinkle of sunflower seeds, and shredded cheddar cheese.
Cobb salad is also great with pan grilled chicken or oven baked tri tip steak.
Mediterranean pasta salad
This is one of my favorite potluck salads in the summer, because it presents so beautifully and is loaded with seasonal vegetables. My favorite type of Mediterranean pasta salad recipe is one of the best light summer salads.
With just enough pasta to make it filling. Using fresh herbs from the Aerogarden makes it refreshing. Toss in fresh tomatoes (see my tomato cucumber salad for inspiration) and make it with something like this honey lemon basil dressing.
Easy Greek orzo salad
One of my favorite ways to use orzo pasta is to make a Greek Orzo salad, packed with fresh veggies. It's packed with vitamins and colors from all the fresh healthy vegetables: fresh parsley, diced carrots, diced cucumbers, fresh dill. I always add a crumbled block of feta for some extra protein.
Love feta? See this recipe for baked feta with peppers and onions.
Because he loves the cuisine of NOLA, one of my husband's all time favorite summer lunch recipes is my blackened chicken salad. Add it on top of green leaf salads or in a large bun to enjoy for lunch. It's one of those good summer salads for a road trip or day at the beach because it holds well in a cooler and is filling enough to power you through an afternoon of sight seeing.
Summer side salads
When we're having people over for a bbq party or to smoke wings or other smoked foods, I always prepare one or two summer salads for a crowd.
Caprese salad with cucumbers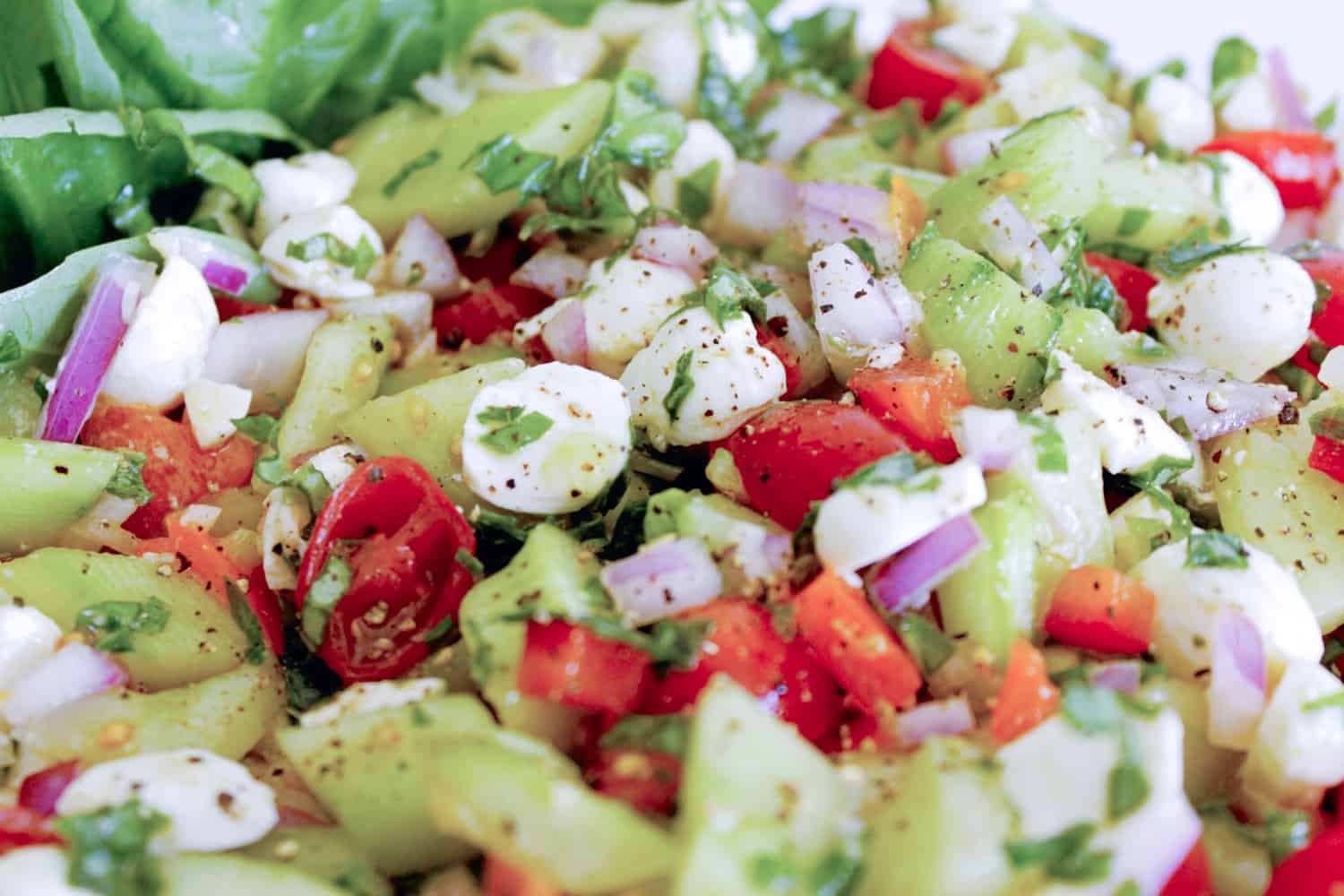 One of my favorite summer salads for bbq parties is a simple Caprese salad.
Blueberry salad with creamy burrata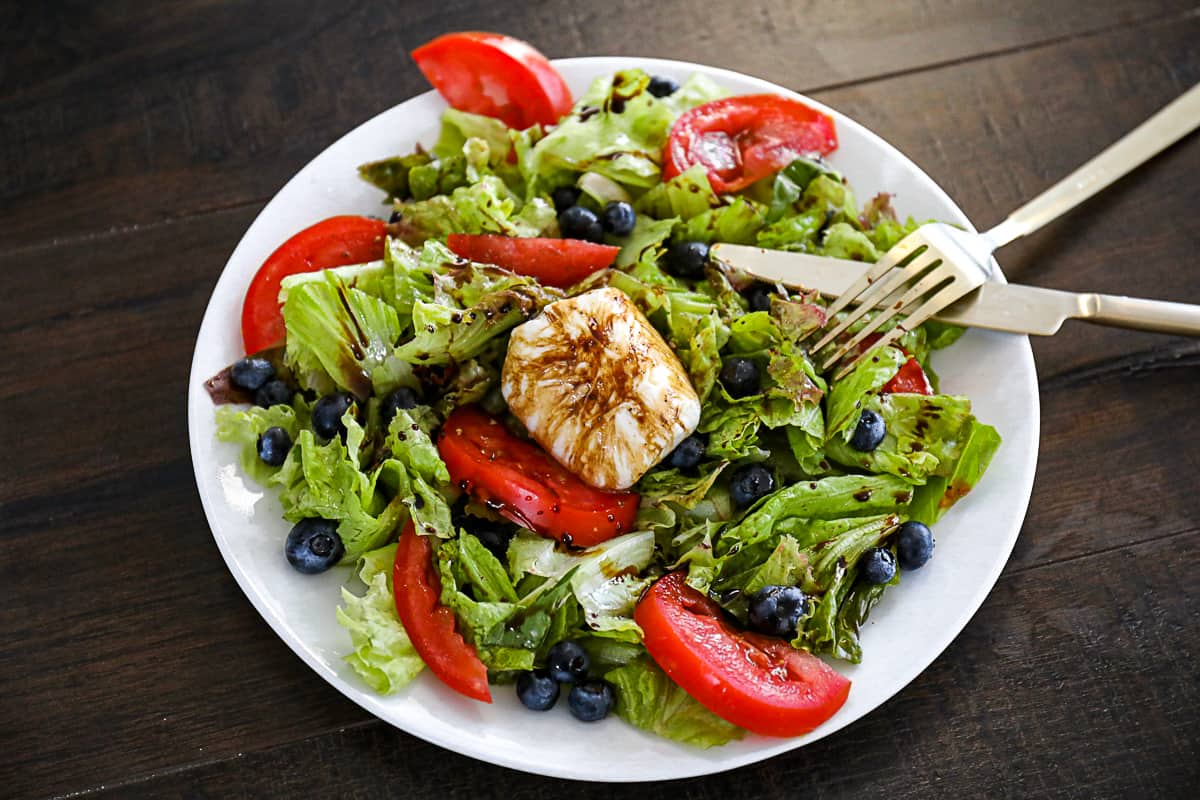 After you go berry picking, make this summer blueberry salad with balsamic dressing and a creamy burrata ball.
Add some ​​cherry tomato halves for an extra pop of color for a red white blue theme for patriotic Summer holidays.
Asparagus salads
Want a tasty summer pasta salad? Don't snooze on trying some summer asparagus salads while the healthy green vegetable is in its prime.
I love adding sous vide asparagus or roasted asparagus to creamy pesto pasta salad.
Summer picnic salads
Want some great summer salads for a picnic?
Choose salads that don't need to be refrigerated and don't use ingredients that will spoil easily, like mayonnaise or sour cream.
Summer salads without mayo
Farro salad with roasted vegetables (pop some roasted fava beans on top for a delicious bite).
Potato salad with italian dressing and ​​fresh herbs.
Penne pasta salad with black beans and tomatoes, served with a cilantro lime dressing. is loaded with Italian flavors and it can be served cold or at room temperature, making it perfect for potlucks and summer barbecues.
Corn salad with fresh basil spinach pesto that uses walnuts instead of ​​pine nuts.
Fruit salad – try a ​​watermelon salad with fresh mint.
Fun summer salads
Mexican Tortellini Pasta Salad
Once you learn how to cook cheese tortellini to perfection, make this tortellini pasta salad. It's so satisfying and quite different from other summer pasta salads. There's a ton of fresh cilantro in there to enjoy.
Mexican salad with corn and ranch dressing
This is a fun summer salad idea because you can eat it in a bowl, like a normal salad, or serve it the best way: with tortilla chips and use it as a dip. I was featured on the Portland news KGW station making this make ahead Mexican salad with ranch dressing, a little heat from chili powder and sweet corn to balance it out. My husband is always excited when he sees it prepped for dinner in the fridge instead of one of those regular green salads.
New recipes and foodie guides….
Grill and smoker recipes…
Meat thermometer recommendations
Every home chef needs a reliable meat thermometer to cook food perfectly.
On Sip Bite Go, you'll often see me using:
Meater thermometer – a fancy wireless thermometer that connects to a phone app – gifted to me from a Traeger partnership.
ThermoPro digital thermometer – which has a wire that connects the thermometer to a display box outside the oven/grill.
It's like being psychic! The great thing about either of the thermometers above is that I don't have to take the food out of the oven to know the temperature.
How to use 'em… What I do is stick the digital thermometer in steak, pork, chicken, whatever… Then put the food in the oven, on the smoker, or grill.
While the meat cooks, it reads the temperature so I know exactly what temp meat is as it's cooking. Without having to take it out and check. It's really difficult to overcook food when you know exactly what temp it is inside!
Are you a foodie, too?
Hey home chefs, want something to make to serve along with these summer salad dishes?
Crispy and delicious, these grilled chicken wings are the perfect appetizer for a game day party— or make a big batch and serve it as a main dish. My fool-proof recipe gives you step by step instructions and walks you through the simple steps to delicious wings, right in your own backyard.
To get my latest and greatest creative recipes before they're shared on the site, connect with me on Instagram @sipbitego. And for more deliciousness, subscribe to the Sip Bite Go channel.
To find more delicious recipes to try on your culinary journey, scroll through the Sip Bite Go recipe collection.