Check out one of the best Mediterranean restaurants Portland, Oregon has to offer — the Mediterranean Exploration Company. In today's Portland Restaurant menu tour, I'll share with you some of my top picks from this Mediterranean / Israeli / Middle Eastern restaurant in the Pearl District of PDX.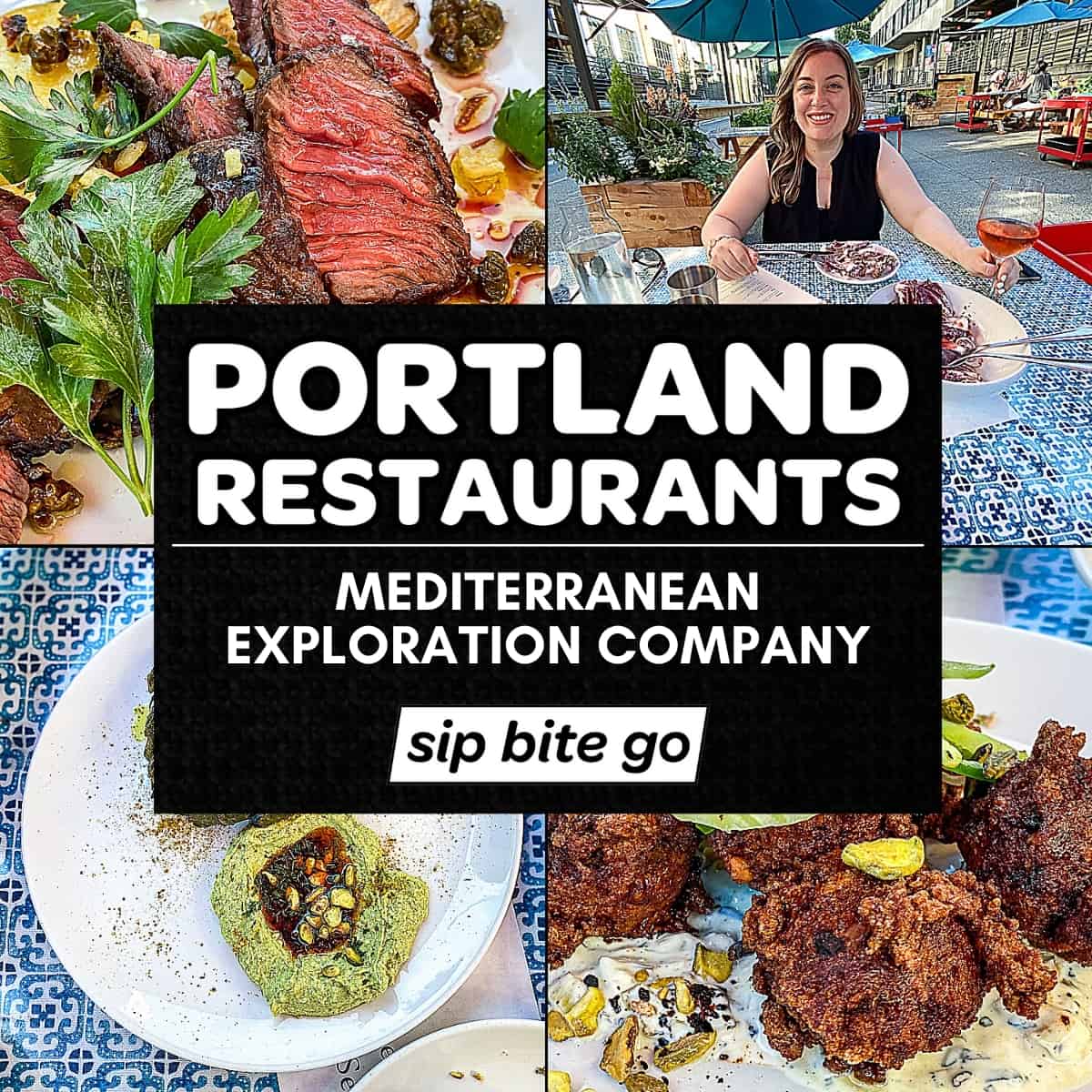 When planning a night out in Portland, Oregon, you have to check out Mediterranean Exploration Company. It's one of the more fancy Mediterranean restaurants in Portland, and the vibe is sort of like other local favorites – Tusk and Toro Bravo. And if you're familiar, the menu is a bit similar to it's sister restaurant, Shalom Y'all.
Watch the Mediterranean Exploration Company menu video
See what one of the best Mediterranean restaurants Portland, Oregon has to offer right in the heart of the Pearl District of PDX. See the menu tour video below, and scroll to see reviews of the dishes from a recent Portland date night we had…
Atmosphere and style of dining
Reservations are a must because there are limited spaces (it's a smaller restaurant, although the new outdoor dining in the Pearl District streets has opened up space). Most people have a longer, leisurely dinner here with many courses.
Location
The ​​Mediterranean Exploration Company has an indoor and outdoor seating area in the Pearl District of Portland, Oregon. The MEC Portland Address is: 333 NW 13th Ave Portland, OR 97209.
What to expect from the menu
Go there with an open mind and vague idea of the ingredients you're craving, and see what their ever-changing menu is featuring that day. I always get one item that is a staple on their menu – hanger steak with crispy capers and potatoes. It may sound simple, but it's so delicious.
Here's a tour of a date night dinner at the Mediterranean Exploration Company.
Grilled Half Artichoke appetizer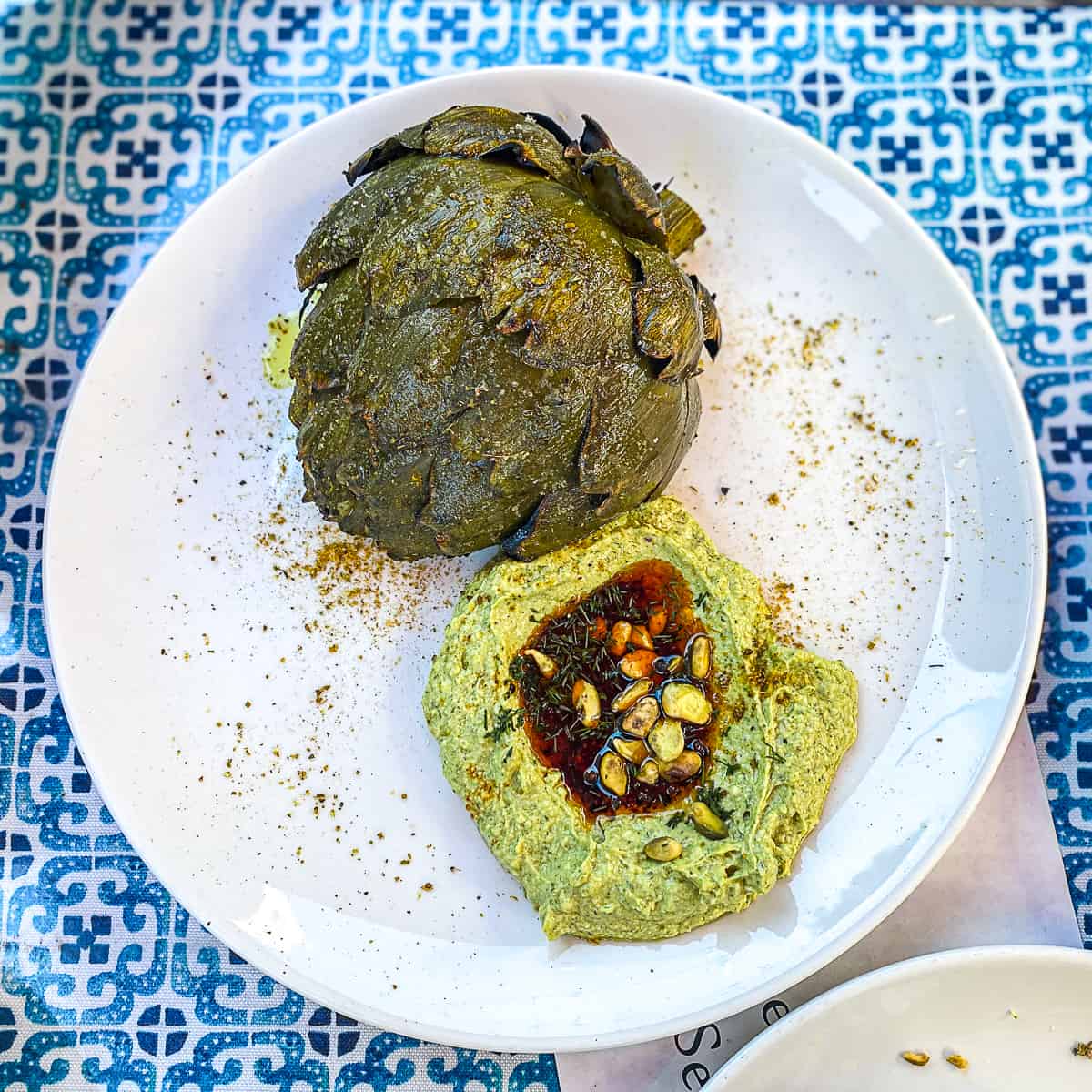 Grilled Half Artichoke – it's seasoned with hawaij spice (which is a Yemeni spice that's popular in Middle Eastern cuisine), pistachio feta purée, crispy chili garlic oil, and herbs. That pistachio feta dip was so delicious. It reminds me of a deep, rich sauce like the basil spinach pesto or basil hummus from Sip Bite Go. It had been so long, I almost forgot how to eat artichokes!
Radicchio Salad appetizer
(pictured in above photo of me at the table)
Radicchio Salad – the appetizer my husband and I always split, every time we go to MEC. It comes with seasonal fruit in it, which right now is cherries, a creamy yogurt dressing, and delicious, crunchy breadcrumbs.
Hanger Steak main dish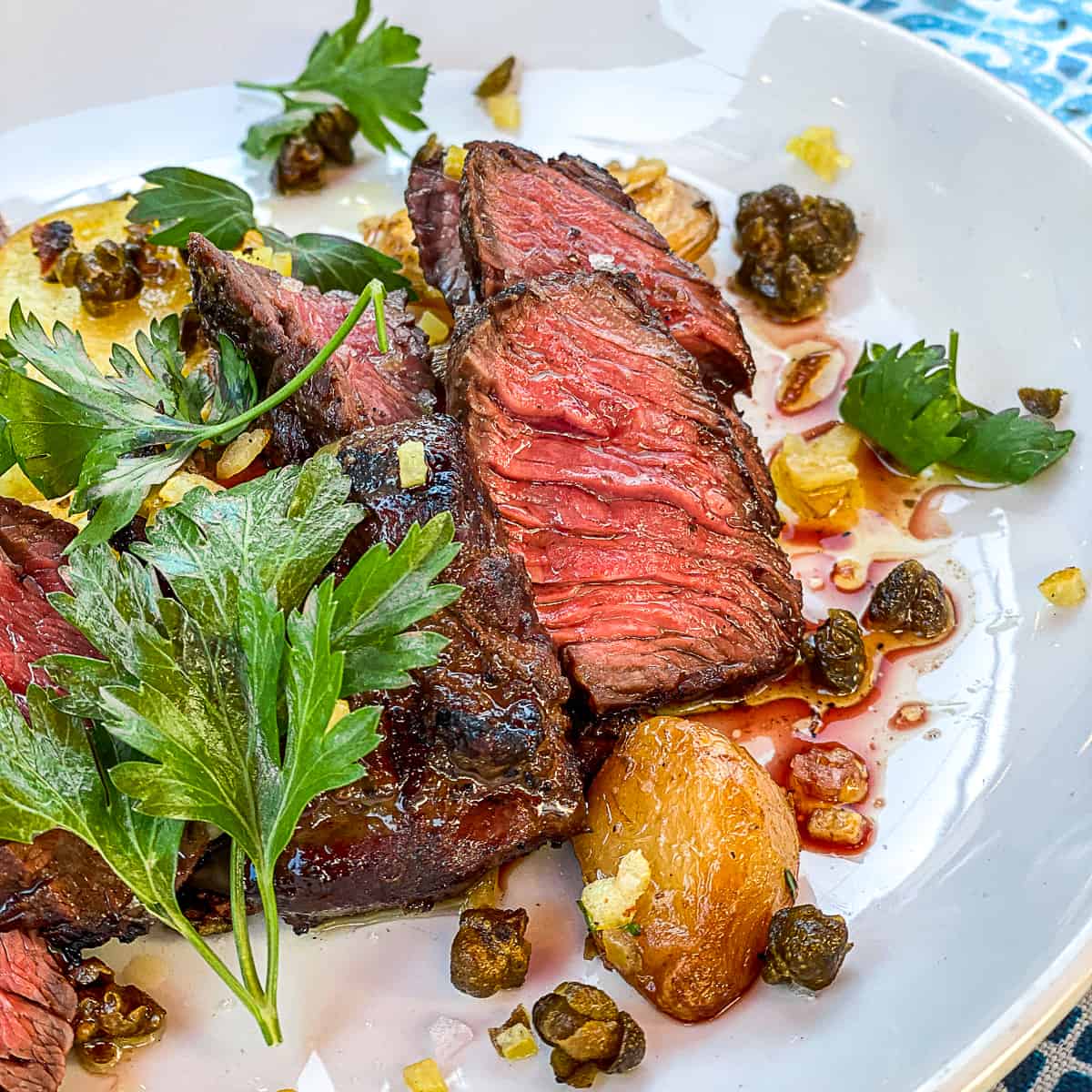 Hanger Steak – one of my all time favorite items at MEC, it's always cooked to perfection and served with new potatoes, capers, roasted garlic, and preserved lemon. The capers are one of the best parts – they are fried and crispy and so delicious if you're a chicken piccata fan you know what I'm talking about!
Greek Lamb Chops main dish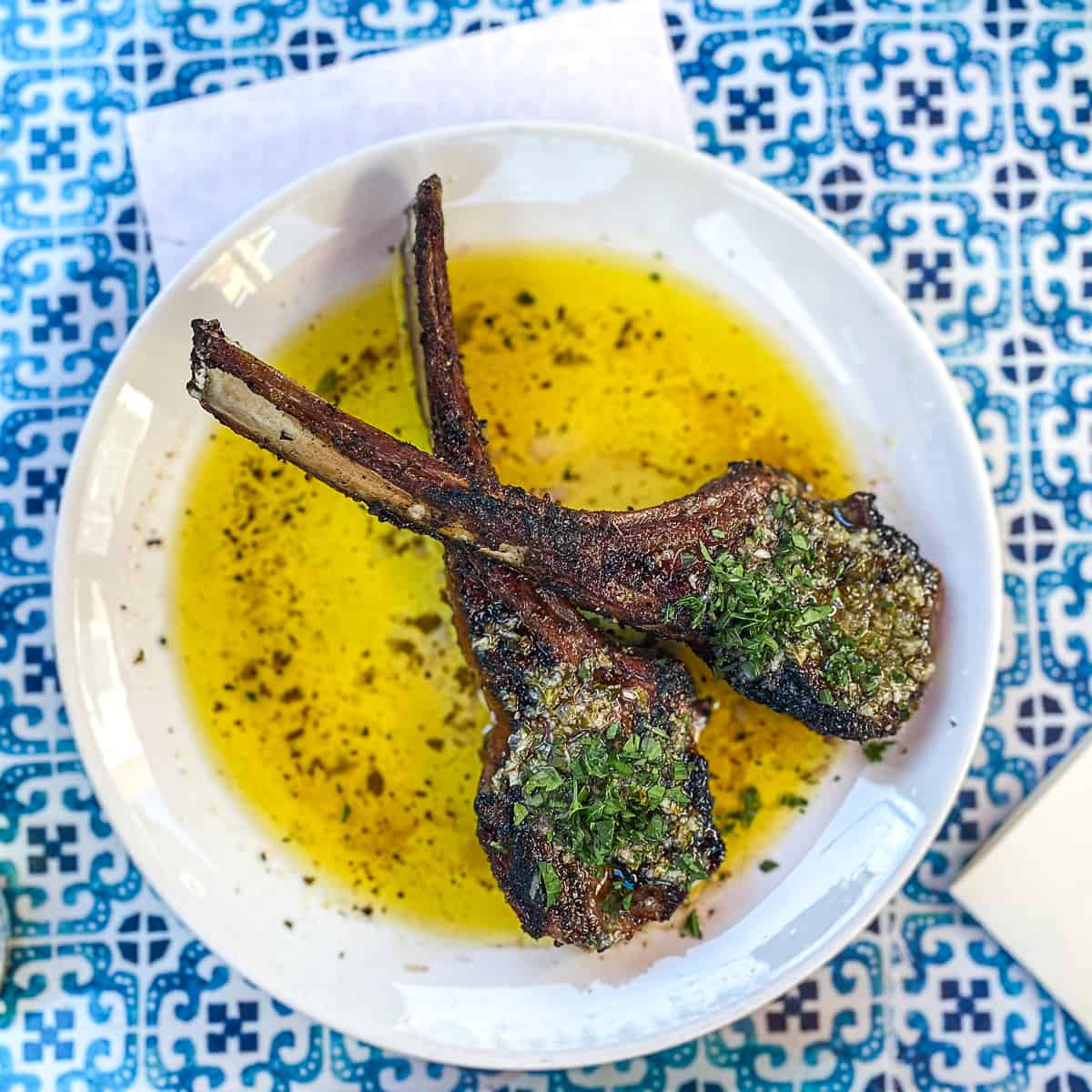 Greek Lamb Chops – served in a rich marinade with oregano, garlic, and lemon.
Persian Chicken Meatballs main dish
Persian Chicken Meatballs – this item was a wild card for us on this trip to MEC, because we had never had it before (I think it is new). When I was looking at the menu on the way to dinner, it caught my eye.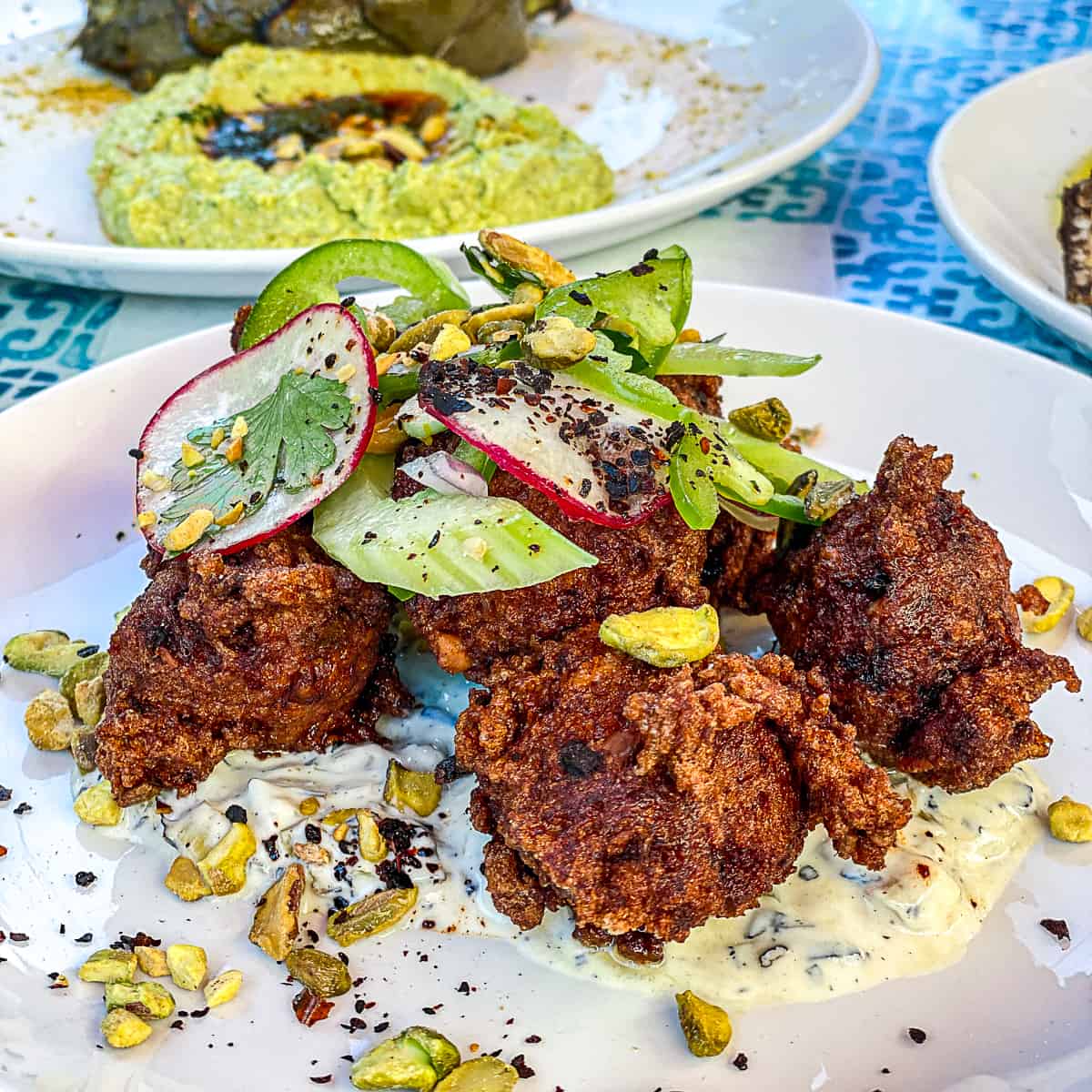 I was not expecting the meatballs to be fried, nor had I ever had fried meatballs, so it was quite a surprise to see the plate arrive – it looked like a plate of hushpuppies.
Anyways, these meatballs were delicious and were topped with jalapeño, crunchy pistachios, celery, and there was a tasty charred onion yogurt I'd love to make at home one day. It was delicious and the perfect sauce for meatballs.
Tahina Chocolate Chip Cookie dessert
We ended the meal with a Tahina Chocolate Chip Cookie you can see in the video.
Well, that wraps up this virtual menu tour of some of the most tasty Mediterranean food Portland has to offer. If you're interested in other tasty PDX restaurants just as interesting as Mediterranean Exploration Company, see Rollin Fresh NW sushirittos and 180 Churros.
Looking for PDX things to do?
Hey foodies, don't forget to check out Sip Bite Go's guide of the best restaurants in Portland, Oregon and best Portland lunch spots.
If you're looking to do a little sightseeing, see this guide to unexpected treasures to find at Powell's Books in Portland, what to do during Fall in Oregon, and find out whether or not it snows in Oregon.
Hey foodie friends, to see the new restaurants in Portland where I'm headed next, connect with me on Instagram @sipbitego. And for more deliciousness, subscribe to the Sip Bite Go channel on YouTube and scroll through the Sip Bite Go recipe collection.
New recipes and foodie guides….
Grill and smoker recipes…
Meat thermometer recommendations
Every home chef needs a reliable meat thermometer to cook food perfectly.
On Sip Bite Go, you'll often see me using:
Meater thermometer – a fancy wireless thermometer that connects to a phone app – gifted to me from a Traeger partnership.
ThermoPro digital thermometer – which has a wire that connects the thermometer to a display box outside the oven/grill.
It's like being psychic! The great thing about either of the thermometers above is that I don't have to take the food out of the oven to know the temperature.
How to use 'em… What I do is stick the digital thermometer in steak, pork, chicken, whatever… Then put the food in the oven, on the smoker, or grill.
While the meat cooks, it reads the temperature so I know exactly what temp meat is as it's cooking. Without having to take it out and check. It's really difficult to overcook food when you know exactly what temp it is inside!