Meet the sushirrito!
It's half sushi + half burrito, rolled in one giant piece of seaweed. The Portland sushirrito food cart, Rollin' Fresh NW, creates sushirritos that are works of art.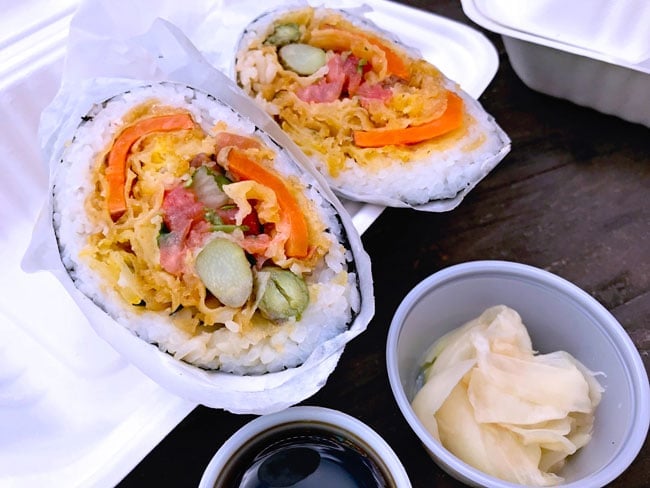 See how a sushirrito is made…
A very Portland sushirrito food cart
Rollin Fresh NW makes the sushirrito experience more exciting than just eating a giant sushi. They want the flavors to pop in your mouth in an unexpected way. The Rollin' Fresh NW sushirrito menu items have both Japanese and Mexican inspired ingredients. Customers rave about the sauces. The ginger-guac spread, green goddess dressing, and a variety of salsas are made in-house from scratch.
The Rollin' Fresh NW menu pays tribute to Portland, Oregon. The "City of Roses" sushirrito is named after Portland's legacy as "the city of roses". It has spicy tuna, shrimp tempura, ahi tuna, crunchy cucumber, and fried jalapeno crisps.
Learn how the Portland food carts owner, Ryan Moy, from Rollin' Fresh NW changed career paths and started selling sushi burritos in PDX.
Sushirrito menu sides
Forget over-played sides like chips and salsa. Rollin' Fresh NW offers salmon chips (fried salmon skins) and made-to-order jalapeno poppers.
A super popular menu item is the deep-fried sushirrito called the "Fresh Prince". It's made with spicy salmon, shrimp tempura, surimi crab cream cheese, and a nice dollop of ginger guac.
The "Northern Lights" sushirrito is packed with flavor. It has salmon poke, shrimp tempura, goma seaweed, fresh slaw, cucumber, a smear of ginger guac and a drizzle of spicy aioli.
The Rollin' Fresh Portland sushirrito food cart is also vegetarian friendly. The "Veggie Crunch" sushirrito has tempura veggies like squash, asparagus, carrot, and sweet potato. The major flavor punch comes from the pico de gallo and blazin' salsa.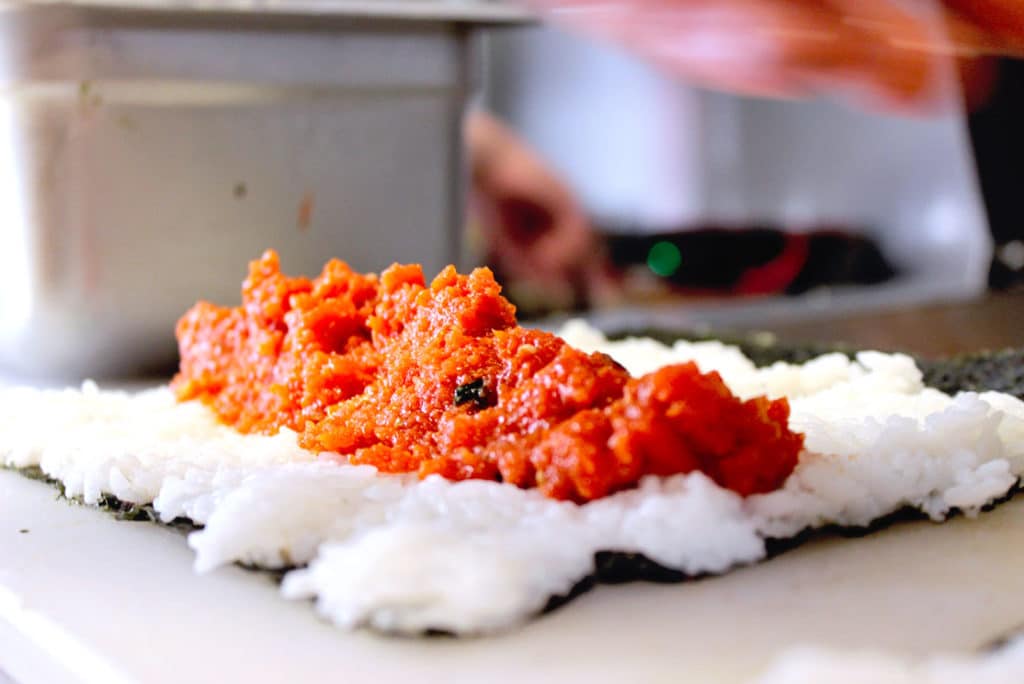 Sushirritos are also available as salads or poke bowls.
So why order a bunch of little sushi rolls when you can walk around and check out Portland with a giant sushirrito? Visit the Portland sushirrito food cart, Rollin Fresh NW, in two locations in East Portland, OR.
Still hungry? Check this video playlist to see where to eat in Portland, Oregon.
Looking for PDX things to do?
Hey foodies, don't forget to check out Sip Bite Go's guide of the best restaurants in Portland, Oregon and best Portland lunch spots.
If you're looking to do a little sightseeing, see this guide to unexpected treasures to find at Powell's Books in Portland, what to do during Fall in Oregon, and find out whether or not it snows in Oregon.
Hey foodie friends, to see the new restaurants in Portland where I'm headed next, connect with me on Instagram @sipbitego. And for more deliciousness, subscribe to the Sip Bite Go channel on YouTube and scroll through the Sip Bite Go recipe collection.