My list of tasty Portland lunch spots is two years in the making! This list of the best places to eat in Portland for lunch has all the hot restaurants spots you need to try in PDX. In addition to trendy new restaurants in Portland, you'll find suggestions on casual dining restaurants that are worth a visit.
JUST UPDATED with NEW 2022 Portland Lunch Spots. See the list overview in the drop down menu below.
Let's hop to the list of the best Portland lunch spots
The list of best Portland restaurants are noted with their PDX restaurant location and type of dining experience:
super casual = order at the counter and sit / grab-and-go type of PDX lunch restaurants
table service = sit down and order at the table PDX brunch restaurants
food cart / food truck
Have a spot to add to the list? Email hello@sipbitego.com or message me on Instagram @sipbitego.
Chicha PDX – (NW Pearl District)
table service
Sister to Andina restaurant, at the time of writing, Chicha PDX is available as a late lunch option. My husband and I visited on a Friday afternoon at 3pm and had a wonderful happy hour on the outside patio.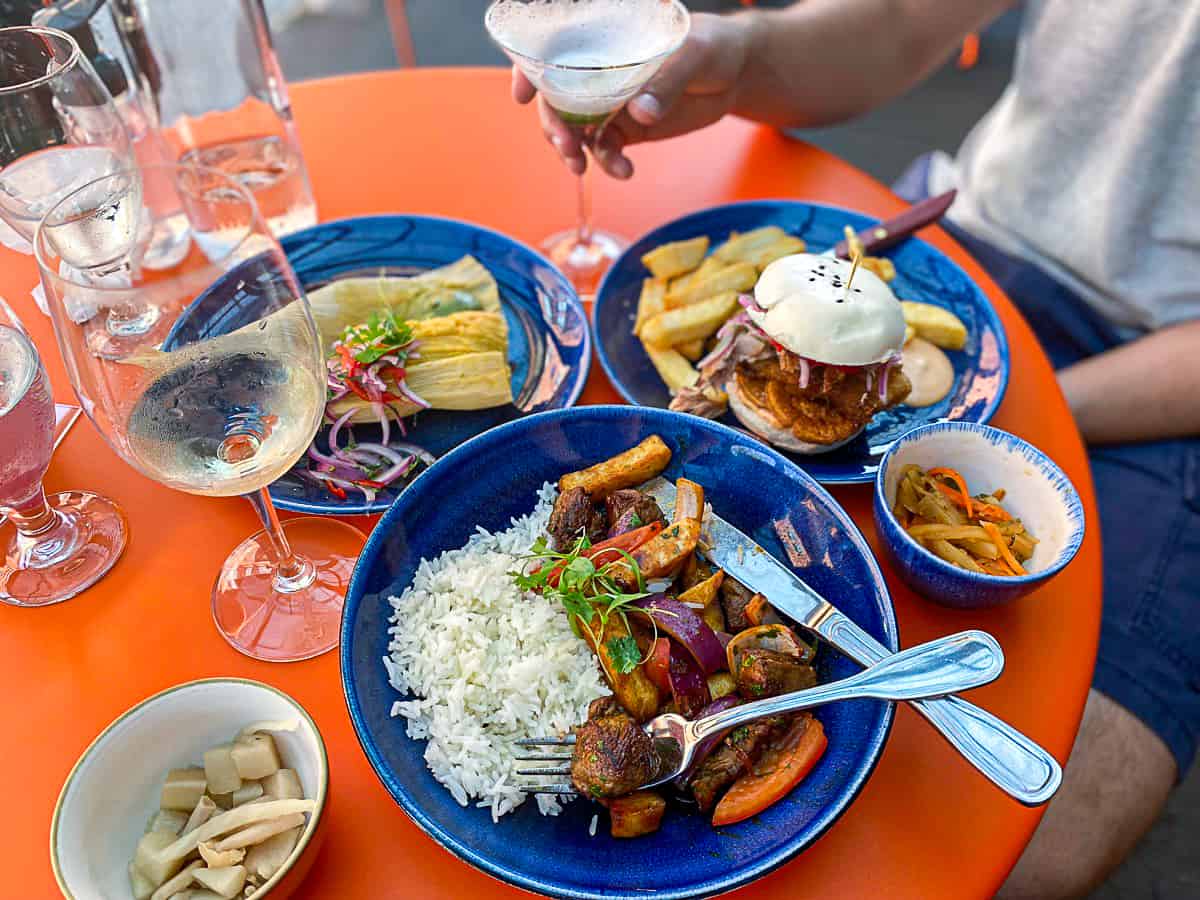 The steak bowl on the Chicha menu is amazing. It's wok cooked steak and although it's a Peruvian restaurant, they have some tasty Asian fusion stuff going on. In the dish: fries, sautéed onions and peppers, tomatoes, delicious tender coulotte steak (or similar cut) and rice. All with a tasty soy sauce marinade that was drenching the rice in the best possible way.
I tried to get a little bit of all the flavors in every bite: soy sauce, salty but creamy French fry and rice and peppers. So tasty.
Also tried the tasty vegetarian tamale and my husband got the fried pork bao sandwich and a pisco sour cocktail. Very, very good!!
10 Barrel Brewery Pub (NW Pearl)
table service & bar
This is where you want to be in the Pearl District when the weather is nice. The bar seating upstairs is on a roof deck, and the downstairs bar seating feels breezy as well, because of the wide open windows behind the bar tenders.
The 10 Barrel Brew Pub does have salad on the menu, but other than that, this is a place in Portland to get deliciously greasy bar food that tastes really good.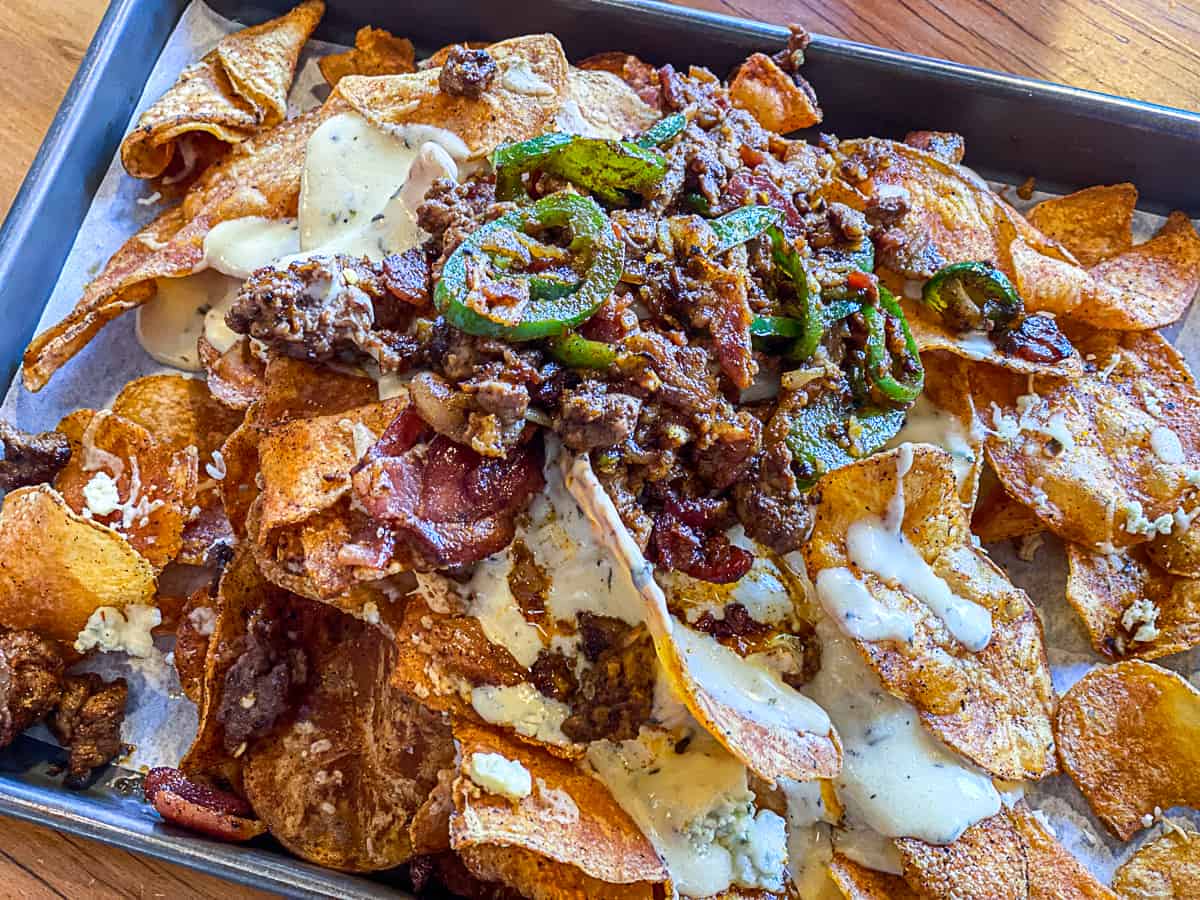 Think: pizzas with wild toppings and the crazy indulgent Steak and Gorgonzola Nachos. They come on Cajun chips with grilled steak, bacon, jalapeños, garlic, shallots, gorgonzola, pepper jack, a four cheese white sauce, and sprinkle of green onion.
The bartenders are friendly and let us sample quite a few of their interesting beers to land on our perfect one for the meal. They even took out a seasonal beer that's launching in a few months for a taste. Love this place!

Dave's Hot Chicken (Tualatin)
super casual
I had the opportunity to try Dave's Hot Chicken as part of their grand opening as part of the Portland food media. It was freakin' delicious. I loved everything from the fries, to the crispy Nashville style fried chicken, to the dipping sauce.
See my video below for the full experience.
---
il Solito (SW)
table service
Looking for the best lunch spots downtown Portland has to offer? Here's an unexpected place in a hotel right in the middle of all the action. Grab lunch at il Solito in downtown PDX for a cozy meal. You'll find il Solito at the bottom of the Kimpton Hotel Vintage Portland.
They invited me out to preview their menu as part of the media.
My husband and I had lunch there recently, and the light delicate homemade pasta in the Hundred Layer Lasagna took us right back to an Italian grandmother's kitchen.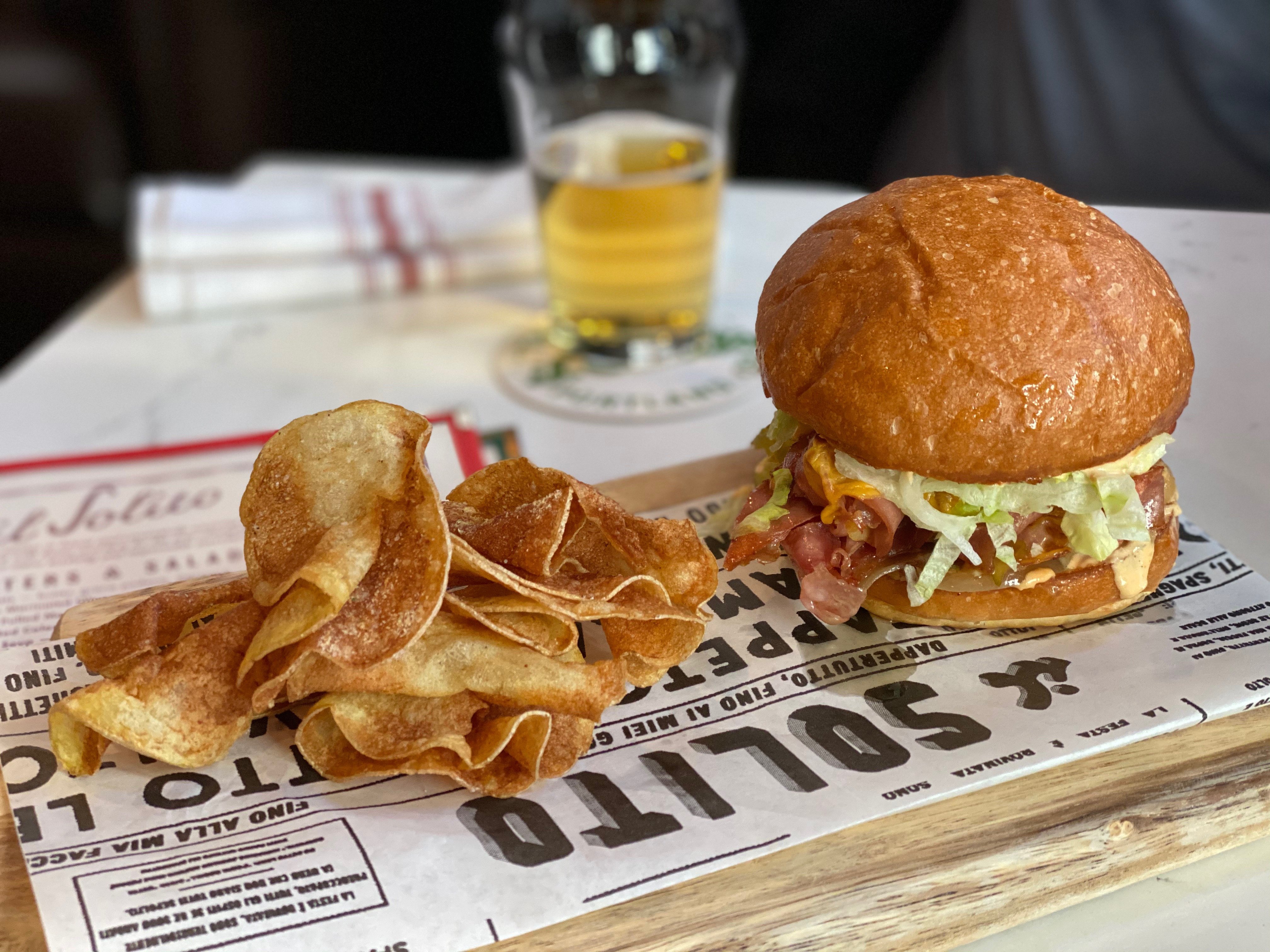 Before eating, we met Chef Matthew Sigler who pointed us in the direction of some highlights.
Favorites include the Fried Mortadella Sandwich, Hundred Layer Lasagna and Italian Wedding Soup served with Grilled Cheese.
Lunch at il Solito is fantastic, down to the dessert.
Want to hear more about PDX food? Check out my podcast episode with Taylor Scoma about the food scene in Portland, Oregon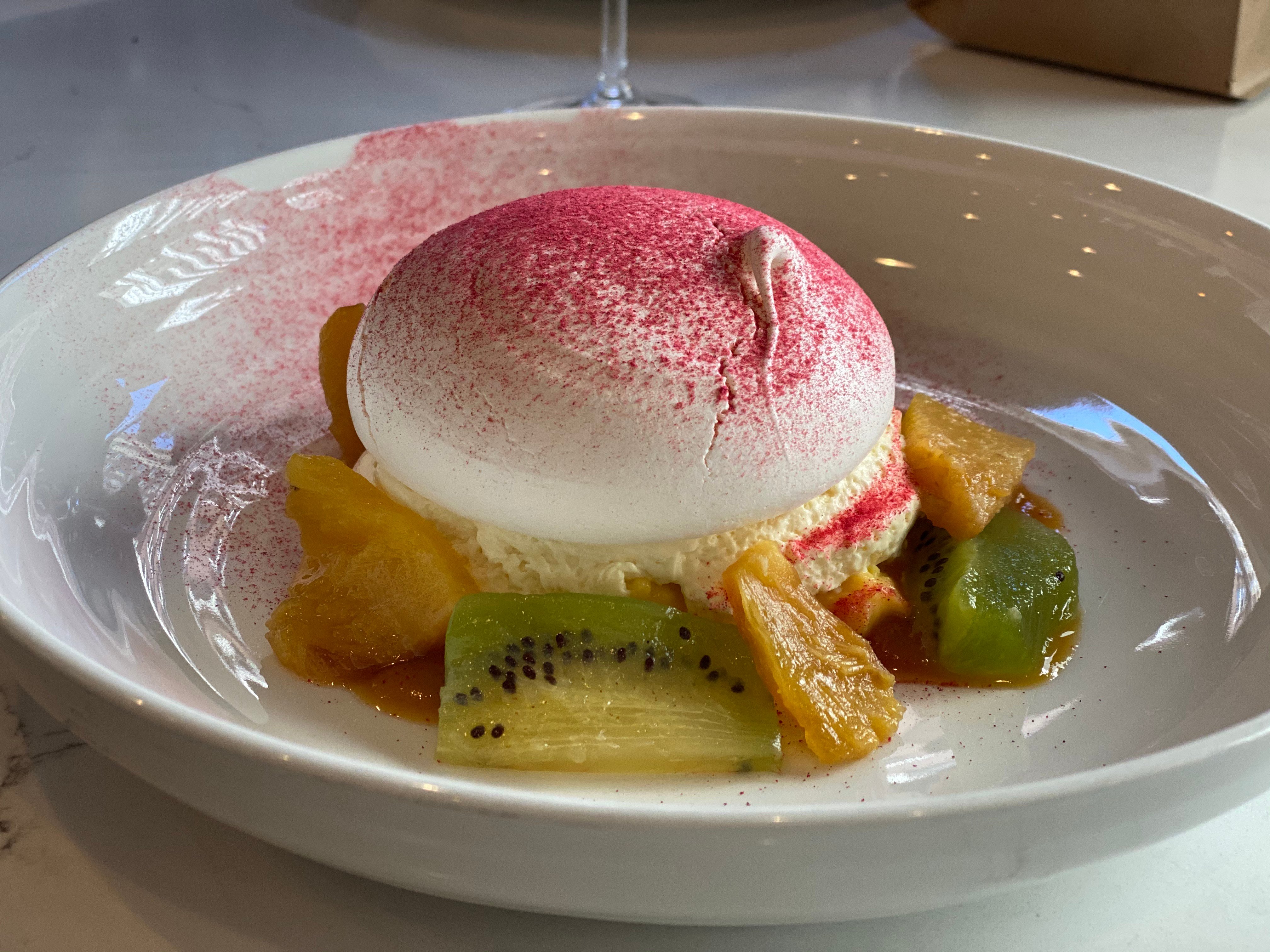 Pastry Chef Alisha Ivey brought us the Pavlova – a meringue-based dessert – on our recent visit.
This pavlova is so light and airy. Each bite was filled with flavors like passionfruit, white chocolate, kiwi, caramelized pineapple, and raspberry.
Rosa Rosa (SW)
table service — As of 2020, Rosa Rosa closed.
Dining at a Vitaly Paley restaurant is always a good idea. He's known for having some of the best Portland restaurants.
Rosa Rosa is one of Paley's new restaurants in Portland. The Mediterranean flavors offered on the lunch menu span from Italian to Turkish influences, and everything in-between.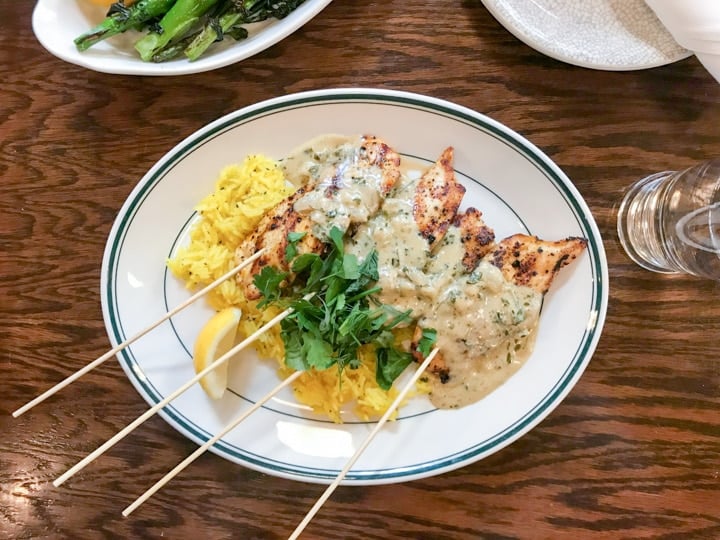 The chicken chkmeruli – skewered chicken kebabs – are grilled to perfection and smothered in a dreamy cream sauce.
For dessert, you can't go wrong with anything on the menu. But I'm sticking with the incredibly moist olive oil cake, topped with panna cotta, served on a plate sprinkled with crunchy almonds. It was bright and light.
I'd like to review other menu items, but these two were so wonderful I don't know if I'll get anything else.
Love kebabs? Check out these sous vide beef kebabs.
---
Olympia Provisions (NW, SE)
table service
It's no surprise that the place to go for epic Charcuterie boards has a fantastic lunch menu, including many sandwiches exploding with fresh sliced meats.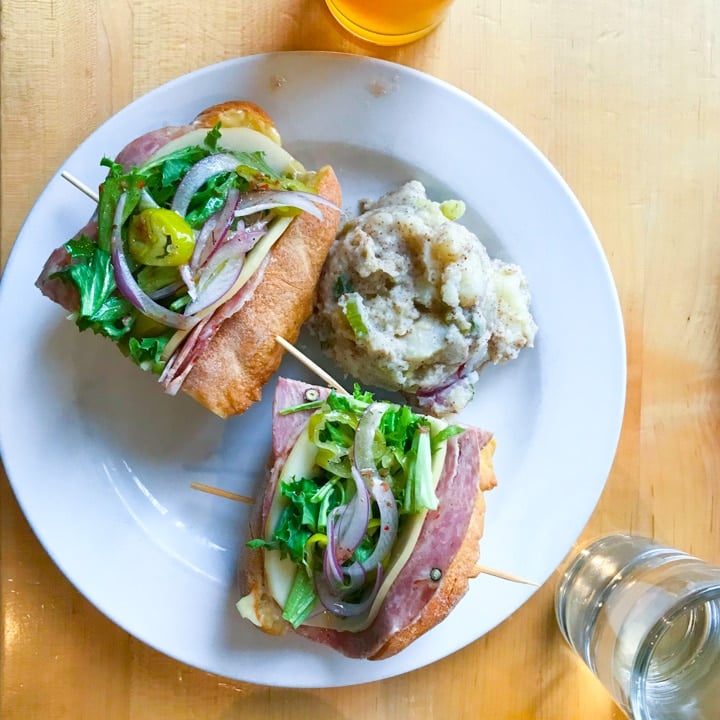 The Italian Hero is one of my favorite lunch items on the menu.
It's served with a side of mustard-flavored caraway potato salad.
In addition to having delicious meat dishes, there's usually an interesting seasonal soup on the menu that's worth a try. I'm still dreaming of a chilled zucchini soup I had on a hot Summer night two years ago. That's how great their soup is.
Love sandwiches? Check out these balsamic dressing marinated Caprese chicken sandwiches
---
Canard (SE)
table service
Portland diners go to Canard to try something unexpected for lunch.
If you're thinking, "I'm in the mood for a typical chicken sandwich" – then this is not the place for you.
Canard is where I tried truffle ice cream. And I'm not talking about chocolate truffles. I'm talking about savory fungus ice cream.
And it was delicious.
Here's a look at a spread of small plates on Canard's Portland menu…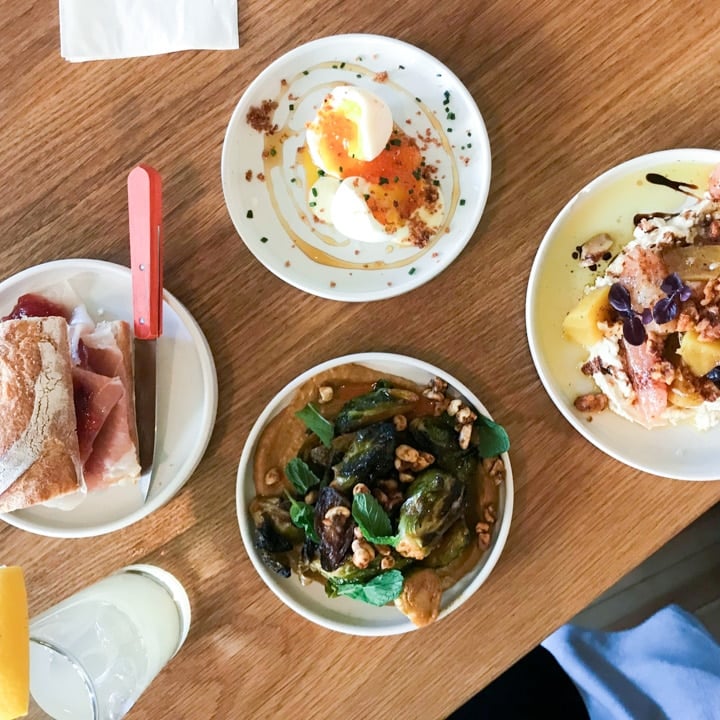 The Brussels sprouts are totally unexpected.
At almost every restaurant I've been to, Brussels sprouts are served with some variety of pancetta or bacon and cheese. On the Canard lunch menu, the Brussels sprouts are totally different. They're served with a butternut squash peanut puree and mint leaves. In my head, it makes no sense that these items go together, but wow is this dish amazing!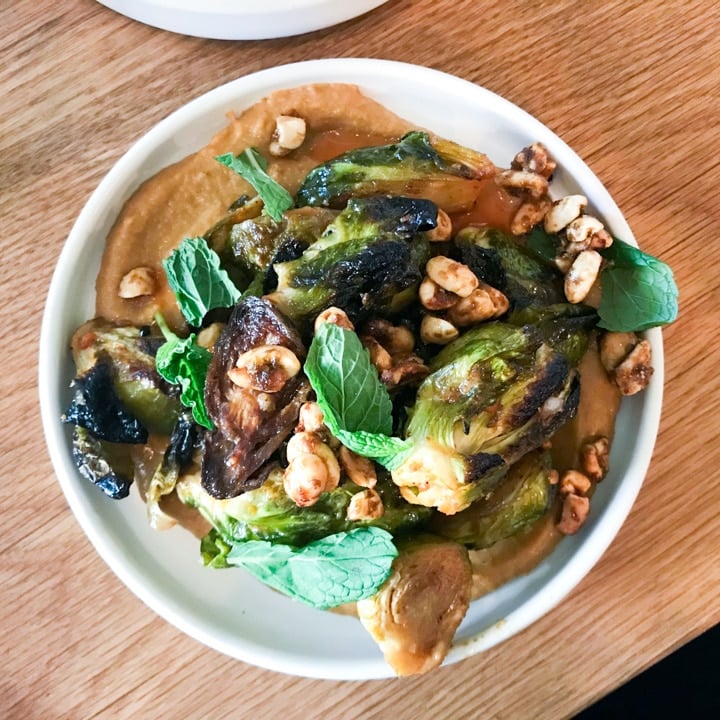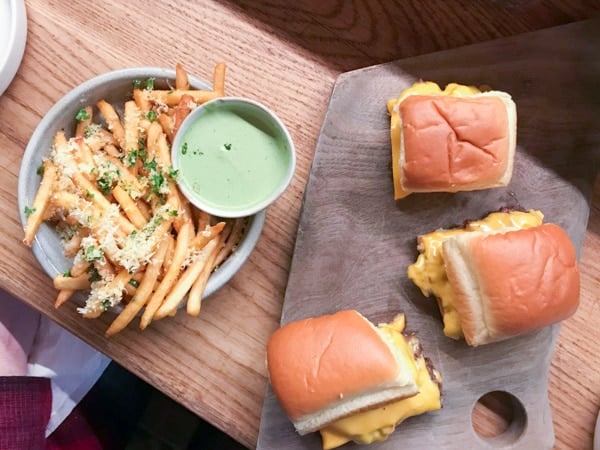 And you'll want to try the garlic fries and steam burgers.
They're like gourmet newcastle burgers.
Love burgers? Check out these sous vide burgers.
Interested in hearing about the PDX food truck scene? To say he's obsessed with burgers is an understatement. Hear what it's like to open a burger food truck in PDX from Portland Chef Mike Aldridge of Mid City Smash Burger.
---
Nicholas Restaurant (SE, NE)
table service
(dislosure: I've worked with Nicholas Restaurant in the past)
This family owned restaurant serves dishes passed down for generations.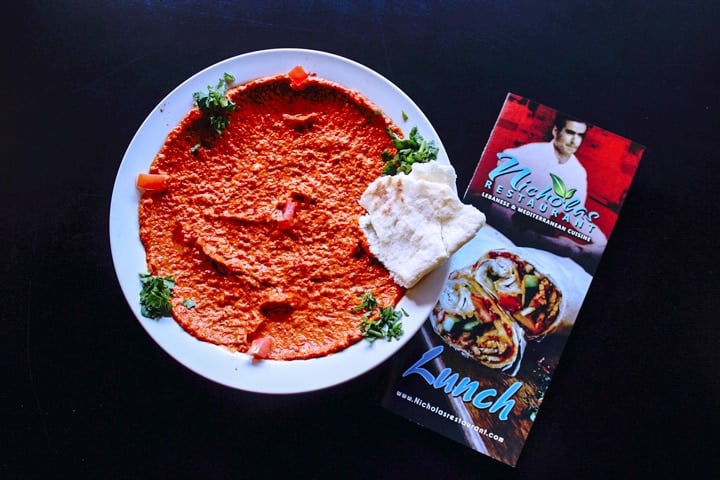 My all time favorite item on the menu is the roasted red pepper and walnut hummus served with giant (and generously free) hot pita bread.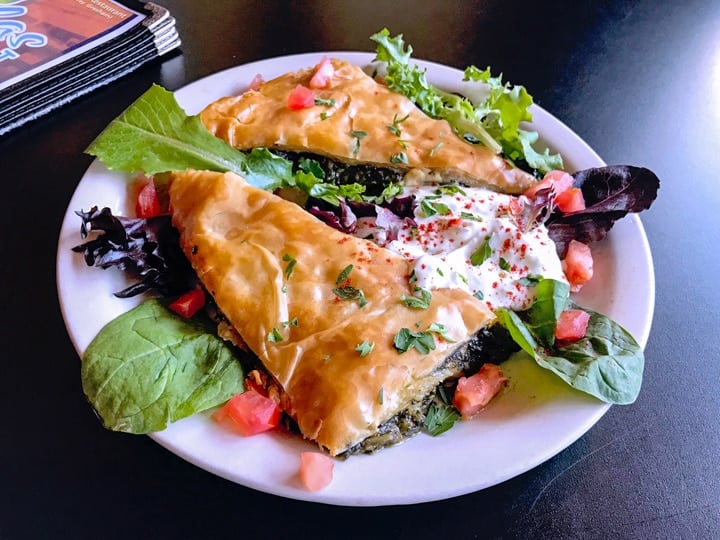 I love that Nicholas Restaurant serves authentic Lebanese cuisine that can fit any diet type. You can bring all your vegetarian, vegan, paleo or gluten free friends here, and everyone will have plenty of delicious options to eat.
---
Cornell Farms Cafe (SW heading towards Beaverton)
table service / super casual (depending on the day)
OK, so I snuck this one on the list because it's not right inside Portland.
Cornell Farms Cafe is located on the lot of a plant nursery just outside of the City of Portland.
It has a fantastic brunch and lunch menu for a restaurant so convenient to the suburbs.
The open-face breakfast sandwich is served on a thick slice of fresh focaccia bread.
And the atmosphere is warm and inviting, full of beautiful floral paintings and plants.
Love focaccia? Try this focaccia with Everything Bagel Seasoning.
---
Serratto Italian (NW)
table service
Oh yes, if you love Mediterranean and Italian flavors and are in the mood for pasta or wood fire personal pizzas, this is a great spot around 23rd Ave.
When french onion soup is on the menu at Serratto, don't pass it up.
There's usually a wood fired pizza of the day and plenty of delicious soups, salads and apps to try.
---
Grassa (NW, SW)
super casual
Don't let the super casual vibe fool you, Grassa is one of the best restaurants in Portland for handcrafted pasta.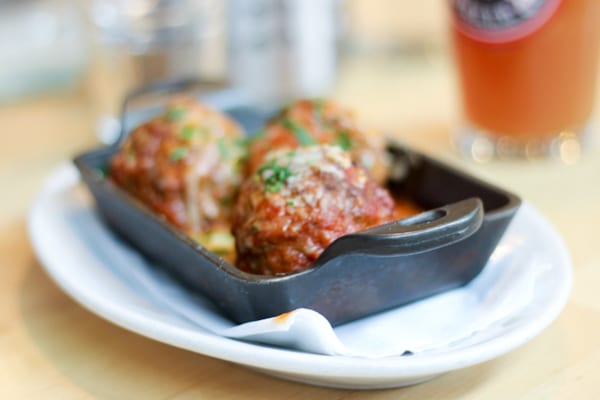 My favs from the menu include the meatballs, carbonara (with pancetta and a fried egg), and the cacio e pepe (pasta with truffle butter, salt, cracked pepper, grana).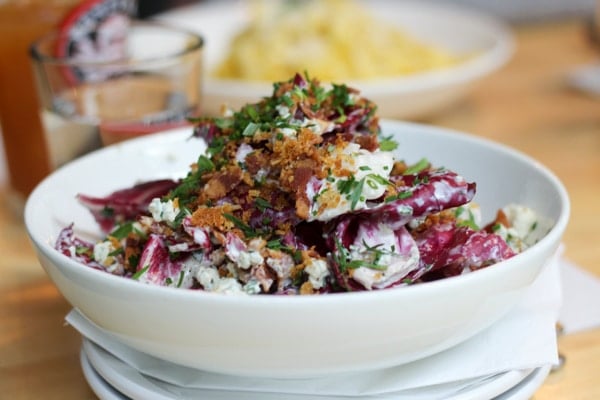 I always start the meal with one of their delicious apps – like the radicchio salad with blue cheese, bacon, bread crumbs.
The food comes flying out of the kitchen – making Grassa a great lunch option if you need a quick lunch spot in Portland.
---
La Luna (SE)
super casual
I was so happy when I found this place!
The atmosphere is cozy and the hanging plants give La Luna a jungalow vibe.
They serve brunch and lunch all day. But since I can't pass up delicious poached eggs, I usually don't make it to the lunch menu.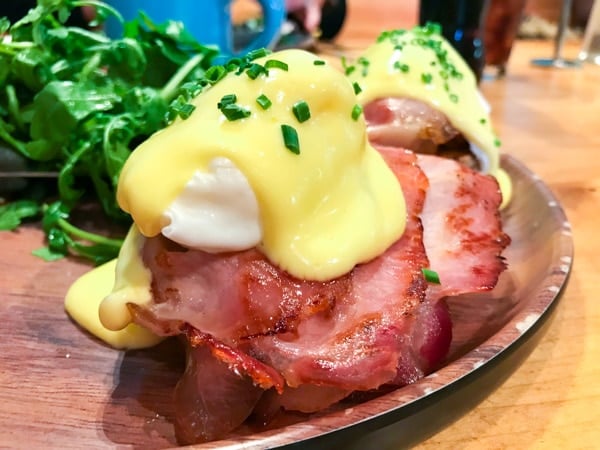 The eggs benedict comes in two options. The meat lovers options served with Irish bacon. And the vegetarian eggs benny is served on broccolini and Spanish sofrito. I've had them both and love them both.
---
Thai Farmhouse Kitchen (SE)
table service
This Portland Thai restaurant has a sister restaurant in San Francisco.
Thai Farmhouse Kitchen serves delicious curries and noodle dishes.
Plus, they have this super interesting blue Jasmine rice…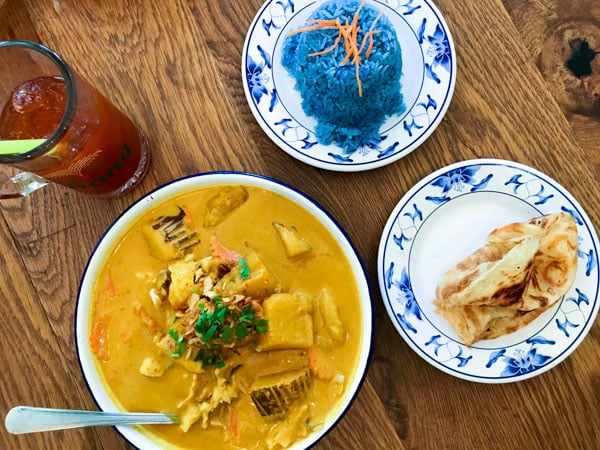 On a recent visit I had the yellow curry with a side of roti and super intriguing blue rice.
Both the cocktails and mocktails are delicious at Thai Kitchen Farmhouse. They have traditional Thai tea, but if you're looking for something refreshing and different, try the Thai tea limeade.
---
Paadee (SE)
table service
Paadee's sister restaurant, Langbaan books up to 6 months in advance.
So, Paadee is a great choice if you want to try a variety of Thai comfort food in Portland.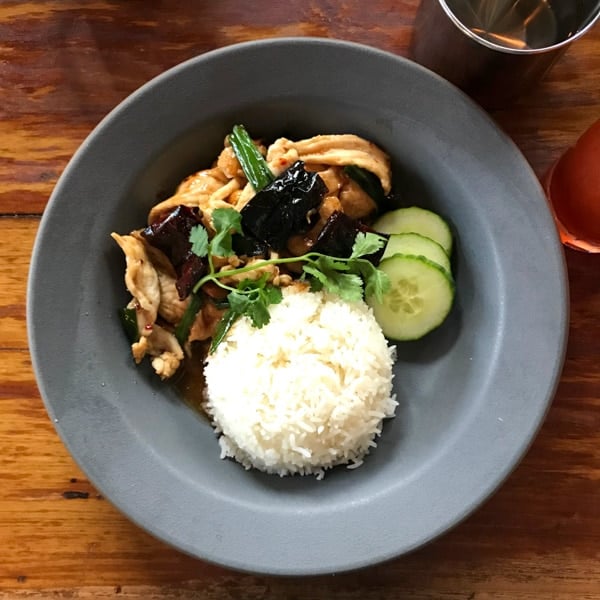 With servers delivering tantalizing lunch menu items to surrounding tables, it can be difficult to choose what to order. This is a great place to go and try a variety of Thai dishes from soups, to stir-frys, to curries.
---
Shalom Y'all (NW, SE)
table service
The best way to tackle the large "Israeli street food" menu at Shalom Y'all is to bring a couple of friends and order a bunch of dishes.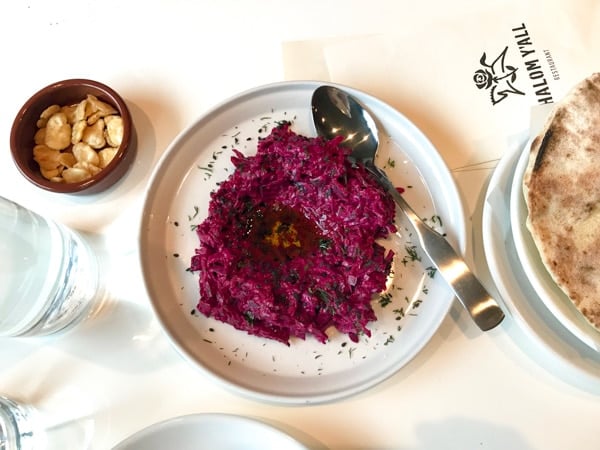 Don't pass up the appetizers here. They are to die for.
I particularly love the beet app, and the fried veggie and yogurt cheese app. The fried veg in the latter menu item changes with the season. I've really enjoyed the fried cauliflower and fried artichoke dishes.
For a lunch main, I usually get the minute steak pita.
---
Lardo (SW, SE)
super casual
Lardo is a place to get your grub on.
It's impossible to leave this place hungry with their colossal sized sandwiches.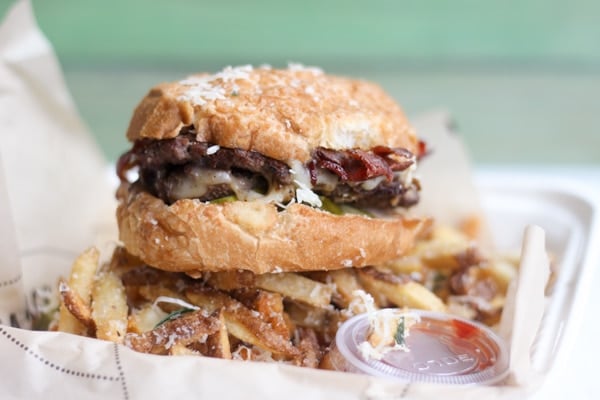 In addition to stacked burgers and tasty hot fried chicken sandwiches, no trip to Lardo is complete with an order of dirty fries. The fries come mixed with chunks of bacon, marinated peppers, fresh herbs and Parmesan.
---
Lovejoy Bakers (NW)
super casual
This bakery and sandwich shop is the place to go if you're in the mood for cafe fair and delectable coffee beverages.
I usually get a combo of a sandwich and soup of the day at Lovejoy bakers. Oh, and I always grab a pastry from the case for later.
---
Hazel Room (SW)
table service
This cute restaurant shares a building with a vintage shop that is fun to peruse before or after dining.
If you like tea, head to Hazel Room to try a new variety. And stay for their homestyle brunch menu, served daily.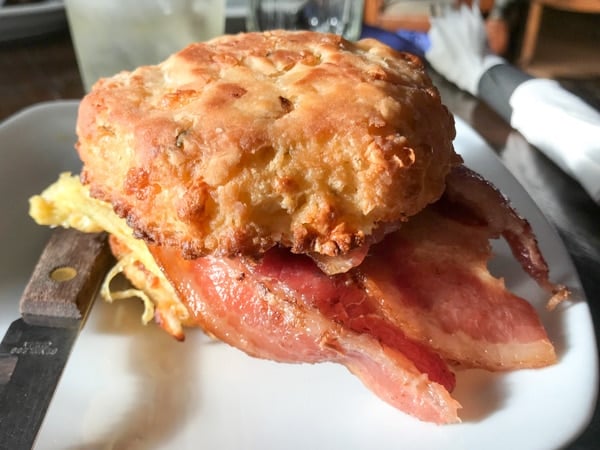 On a recent trip, I got a delicious biscuit sandwich with scrambled egg, chèvre, and house-made jam.
And I had the most interesting side dish – rosemary grapefruit brûlée.
Definitely check out the extensive side dish menu! You can make a really interesting and tasty meal from a combo of sides.
---
Laurelhurst Market (NE)
super casual
This is one of the best lunch spots in Portland to get your sandwich fix.
By night, it's a steakhouse with craft cocktails. For lunch, the Laurelhurst Market serves generously sized sandwiches, soups and salads.
This is a great spot to grab lunch in NE Portland because you can get in and out quickly, or take your time with a casual lunch. The piled-high sandwich shop has a butcher counter where you place your order, before finding your own seating in their dining room.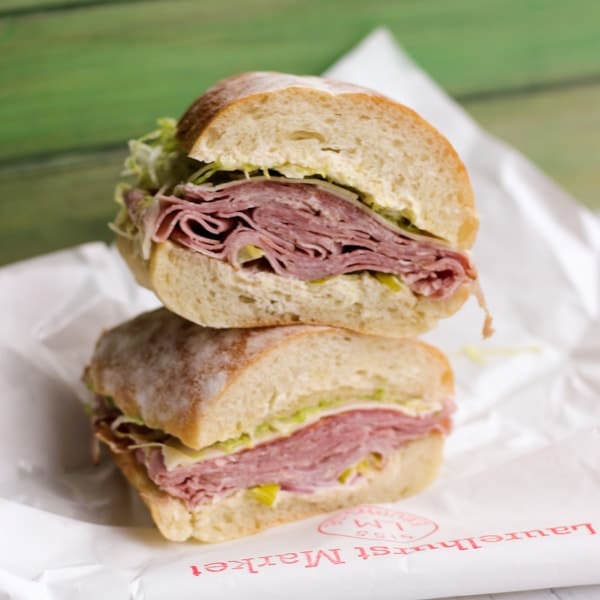 For lunch, the Laurelhurst Market is one of the best places to eat in Portland for generously sized sandwiches, soups and salads. The daily sandwich menu is worth checking out. I usually bounce between the fried chicken sandwich and the smoked turkey and house bacon sandwich served on levain bread with cheddar, pickled zucchini, red onion, arugula, and herb mayo.
---
Besaws (NW)
table service
Besaws has been a Portland staple for over a decade.
They serve American comfort food in a gorgeous atmosphere.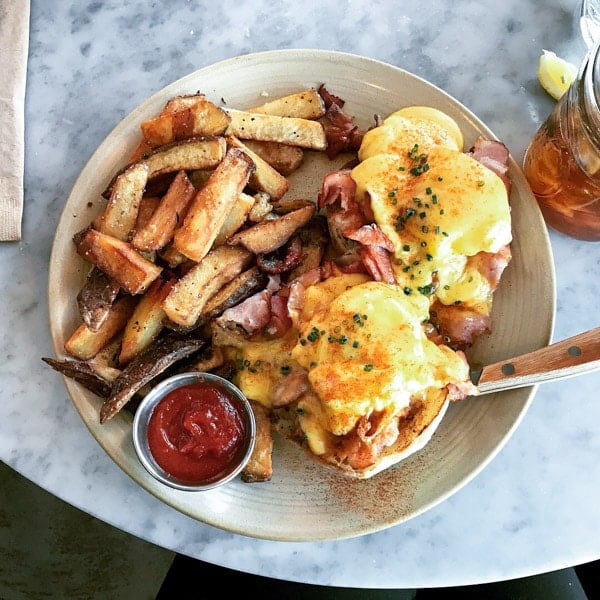 For brunch, I'm tempted by everything, but usually get the eggs Benedict with freshly made hollandaise sauce. The grits they make is one of my favorites in Portland.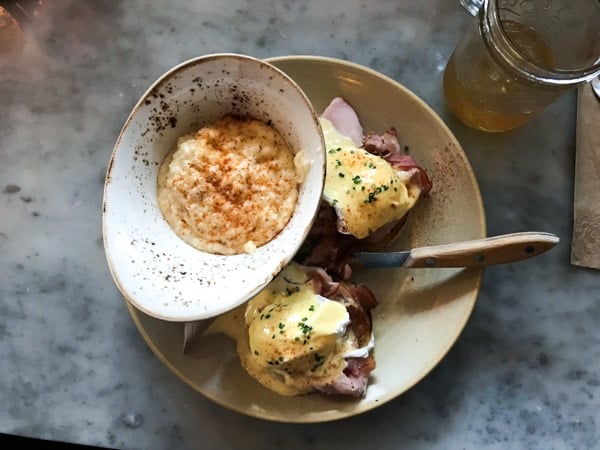 During the week, it's easy to get in for lunch or brunch without a wait. But be warned: on the weekend this place is packed and a crowd of people will be waiting outside for brunch.
---
Mother's Bistro (SW)
table service

A restaurant that cooks a variety of "Mother's food" from around the world. Genius.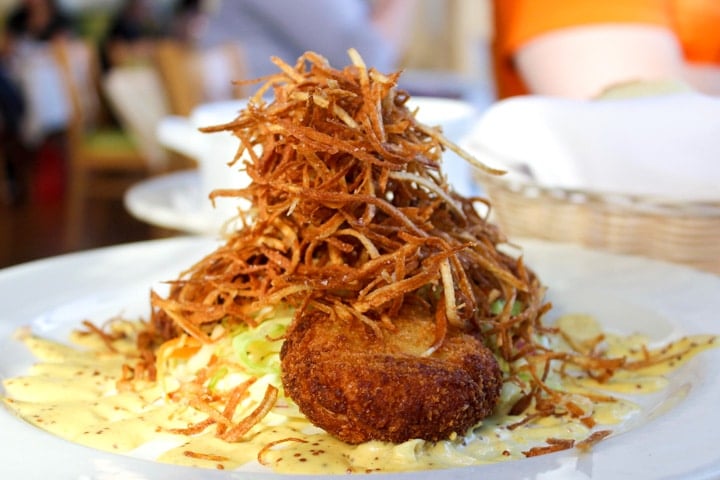 It would take days to read through all the options on the Mother's bistro menu. You can basically get any cuisine you're in the mood for at this huge, but cozy, restaurant. One day I'll get the Mexican salad. The next visit, I'll get the homemade Polish pierogies served with sour cream.
On a behind-the-scenes YouTube special I did featuring Mother's, Chef Lisa laid out a plethora of tasty food for us.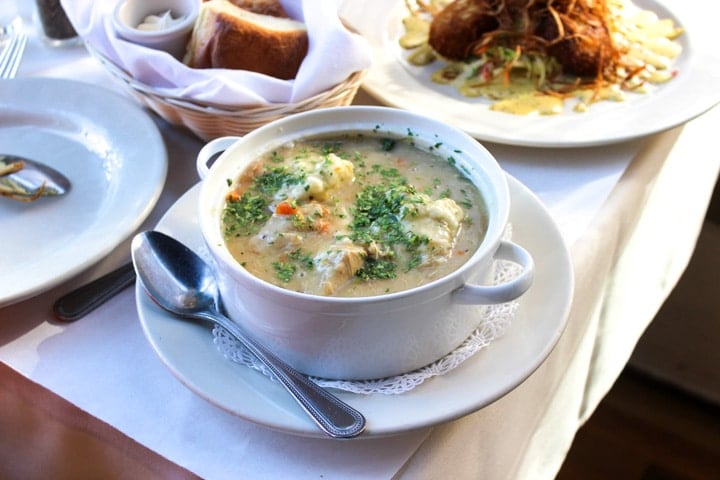 Everything I've had has been amazing. Try the crab cakes served on a big ol' pile of shoestring potatoes, the mac and cheese of the day, and always leave room for dessert, like the decadent chocolate cake – it's one of the best places to eat in Portland if you're feeding a bunch of people with different cravings.
Oh, and their cocktail menu shouldn't be missed, either!
---
MF Tasty (NE)
food cart
Located in a parkinglot in NE Portland, MF Tasty food cart is one of the best Portland lunch spots to get Southwestern food.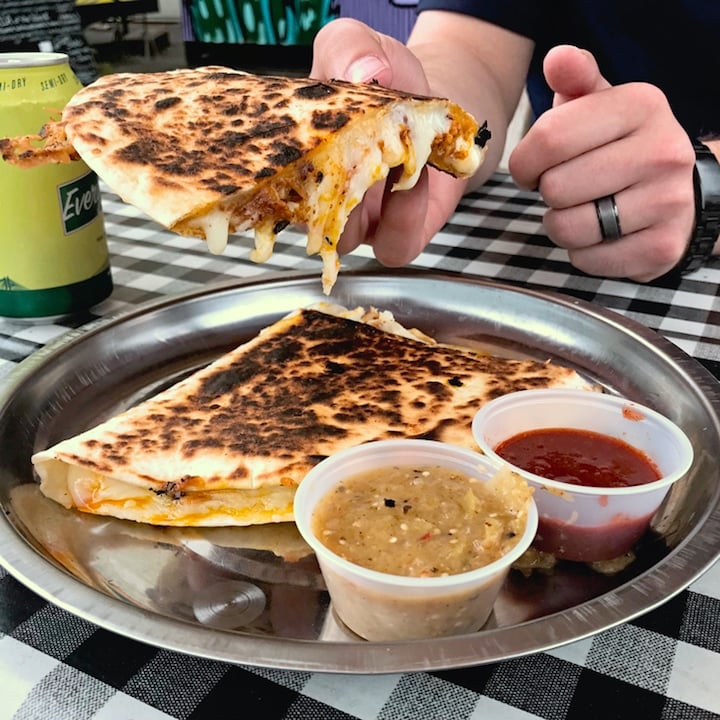 At MF Tasty, you can dine outside of the food cart on picnic tables, or inside a recycled storage container they turned into a "mini restaurant".
Chow down on burritos, the paella of the week, and tasty sides like cornbread and pinto beans.
See the behind-the-scenes YouTube special I recorded with MF Tasty owner/chef Eric.
---
Baker's Mark (SE)
super casual
As an cold cut Italian sandwich connoisseur, I have to rave when I find one that stands out.
I'm in love with the Italian sub at The Baker's Mark.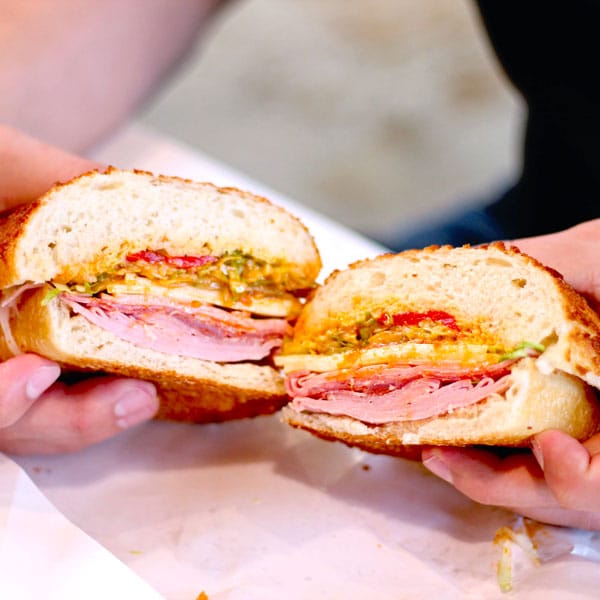 They call it "The Godfather" and it's loaded with salami, mortadella, capocollo, ham, prosciutto, provolone cheese, and "the works".
Another fun fact about this Portland lunch spot?
In addition to baking their own bread daily, they offer four of their own handmade mustards.
See my behind-the-scenes YouTube special at The Baker's Mark.
---
Rollin Fresh NW (NE, SE)
food cart
OMG. You have to experience a giant sushirrito!!!
The gigundo sushi-burrito by the one and only Rollin Fresh NW food cart is a PDX bucket list worthy food item to try!
Learn how the Portland food carts owner, Ryan Moy, from Rollin' Fresh NW changed career paths and started selling sushi burritos in PDX.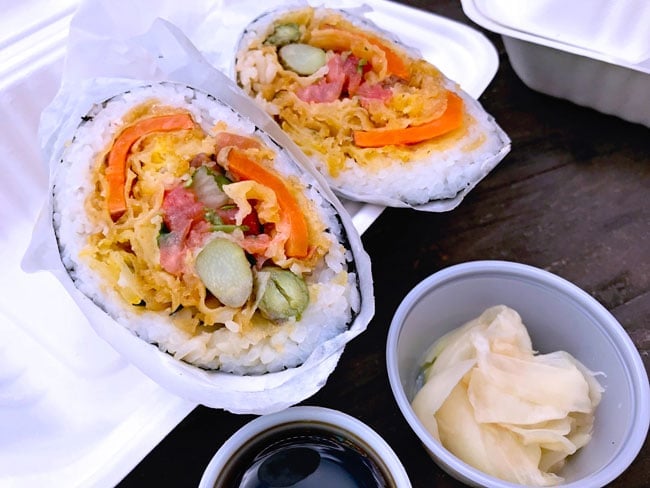 The sushirittos come loaded with tasty ingredients including made-from-scratch sauces, crunchy tempura, and the freshest fish cut right there in the cart.
Watch my behind the scenes YouTube video featuring the Rollin Fresh food cart.
---
Phil's Meat Market & Deli (NW)
super casual
This grab and go Italian deli in Portland sells a plethora of deli sandwiches, wines, fish & meats.
Truth be told, I stumbled on this North West gem when I was heading to another of the best Portland lunch spots. I was enticed by a chef cooking on a grill outside the shop, making sandwiches and kababs to order.
Inside is one of the best meat markets in Portland. There's a sandwich counter tucked in the corner where you can order a variety of burgers and sandwiches.
The turkey club sandwich is piled high with thick slices of salty bacon, turkey, and avocado. It lasted me a couple meals. Not shown here is the mac and cheese I devoured in .2 seconds. I highly recommend checking out their specials of the day and hot lunch offerings.
---
Hot Lips Pizza (many locations)
super casual
Mmm… pizza!! On my first trip to Portland, before moving to the city, I fell in love with Hot Lips Pizza. This Portland pizza chain has locations scattered throughout the city. They are big on using local, seasonal and organic pizza ingredients.
Hot Lips is not only a great option for a casual lunch in Portland, but they have an awesome happy hour specials for those 3pm pizza cravings…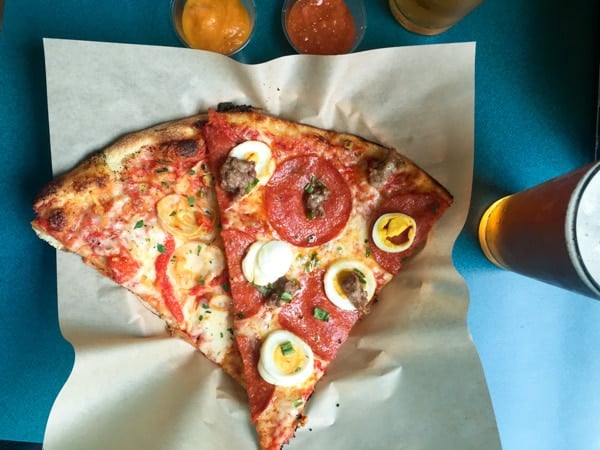 Portland is a city mixed with vegans, vegetarians, gluten-free dieters and meat-lovers.
The Hot Lips Pizza menu has something to offer all of these diets. Favs include the spud and bacon pizza, traditional pepperoni pizza, and inventive slices like the salad pizza I scored on a recent visit.
When you need lunch delivered in PDX, this place is a great choice.
They will even deliver beer and wine with pizza orders!
Wondering how to become a food influencer on Instagram? Portland restaurant Instagrammer, Erica Tafavoti from Bacon And Braids shares foodie influencer secrets in this interview.
---
Duck House Chinese Restaurant (SW)
table service
Holy dumplings!
Ever since traveling to Beijing, I've been in search of the best soup dumplings around the USA.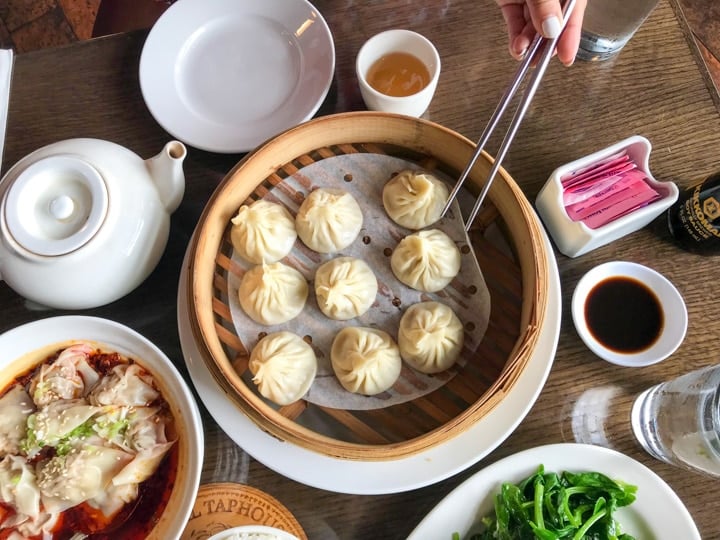 Luckily, I found a place in PDX that makes soup dumplings just the way I like them.
Duck House Chinese Restaurant makes fantastic soup dumplings!
If you haven't experienced them, they're like a spoonful of soup inside a little dumpling. The soup is frozen like an ice cube, then put inside dough. When steamed, the soup dumpling turns back to liquid and the experience is an explosive dumpling.
If you've never had one, I recommend you try a soup dumpling ASAP!! This is one of the best lunch restaurants in PDX to get soup dumplings. So be warned: if you start here, you'll set the bar high!
I love Duck House's pork and leak dumplings in hot chili sauce might just be my new favorite thing
---
Tilt (NW, NE)
super casual
Say "hello" to fried chicken sandwich heaven.
This casual spot was a fav when I lived in the Pearl District in NW Portland. On cold, rainy, need something greasy in my belly Saturday mornings, I would throw on a rain jacket and hit up Tilt.
Now, if you don't know, Portland has *fantastic* fried chicken options.
So why does this one make my best brunches in Portland list? Tilt stands out because you don't have to wait in a ridiculously long 45 minute line like other places in the city.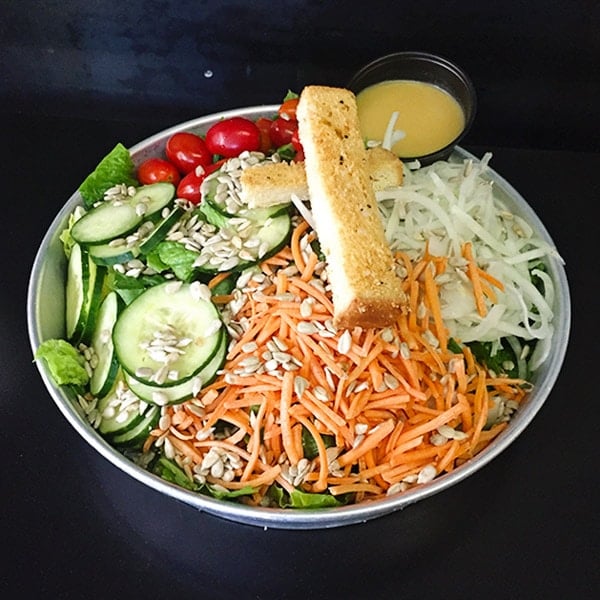 Plus, they have ample seating in the Industrial-themed restaurant. And a dessert case filled with pies to die for. If you can save room. The salads here are unbelievably huge, just like the sandwiches.
My favorite picks on the Title menu is the fried chicken sandwich, brisket sandwich, or burger with a side of hush puppies. There is also a ton of beer selections on draft.
---
Kenny and Zukes (NW, PDX airport)
table service
Another PDX lunch spot I fell in love with before moving to Portland.
(if you didn't figure it out by now, I moved to this city for the delicious food!!)
The Kenny and Zukes menu is packed with a few major crowd pleasers: the best pastrami sandwich in Portland in a variety of sandwiches, corned beef, Matzo Ball soup, and breakfast sandwiches on chewy bagels. If you're from out of town and you don't make it to Kenny and Zukes during your visit, you can visit the Kenny and Zukes PDX location.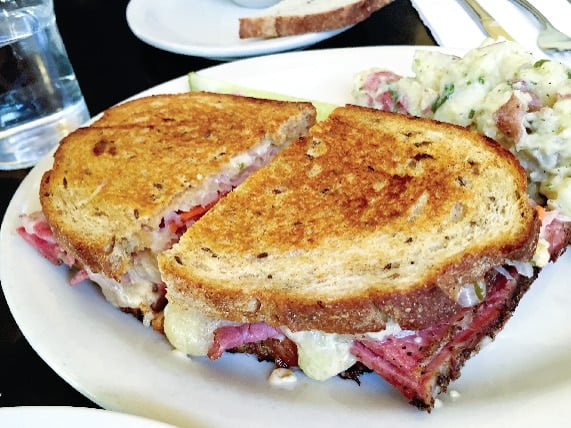 Kenny and Zuke's PDX airport menu serves up breakfast and lunch sandwiches. And it's conveniently located next to a bar so you can down a bloody mary or IPA before your depressing trip out of Portland.
Incase you don't want to take my word for it, the Food Network and Travel Channel have both praised Kenny and Zukes.
---
Cafe de Crepe (multiple locations)
food truck
Cafe de Crepe has multiple food trucks making sweet and savory crepes. They're served in a cone, and perfect for strolling the farmers markets where the truck parks.
Favorites include the smoked salmon, brisket with fried shallots and pickles, and the strawberry/nutella dessert crepe.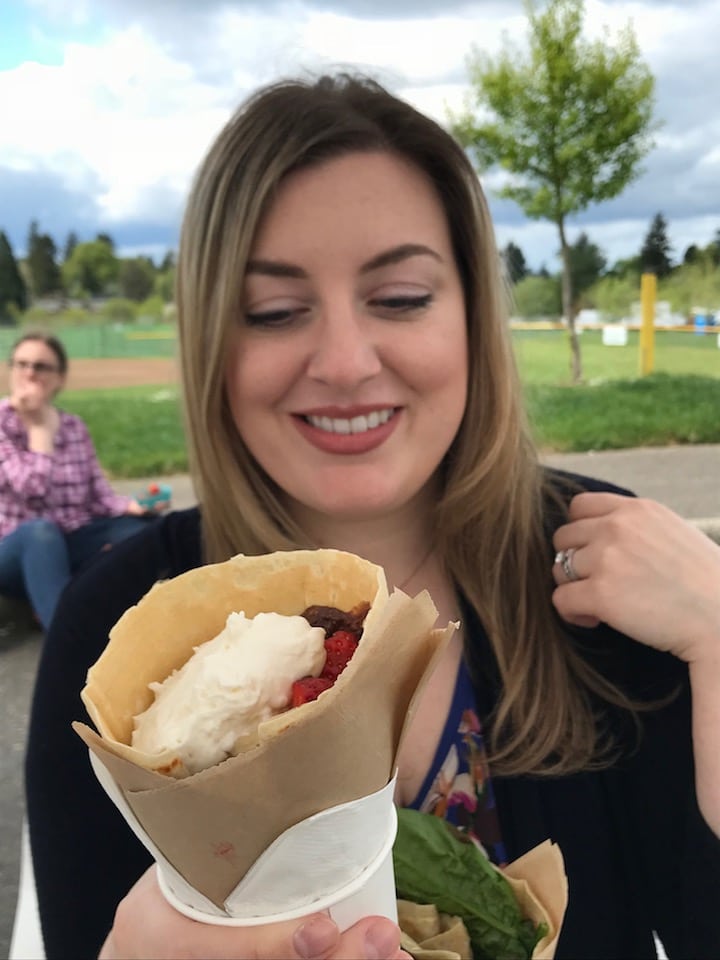 See my behind-the-scenes Cafe de Crepe YouTube special at the Hillsdale Farmers market.
---
Chiosco (SW)
food window
I'm still dreaming about my last slice of perfectly chewy square pizza from Chiosco, the pizza window.
Chiosco means "kiosk" in Italian.
And to score a slice, you literately order through a window outside The Porter Hotel.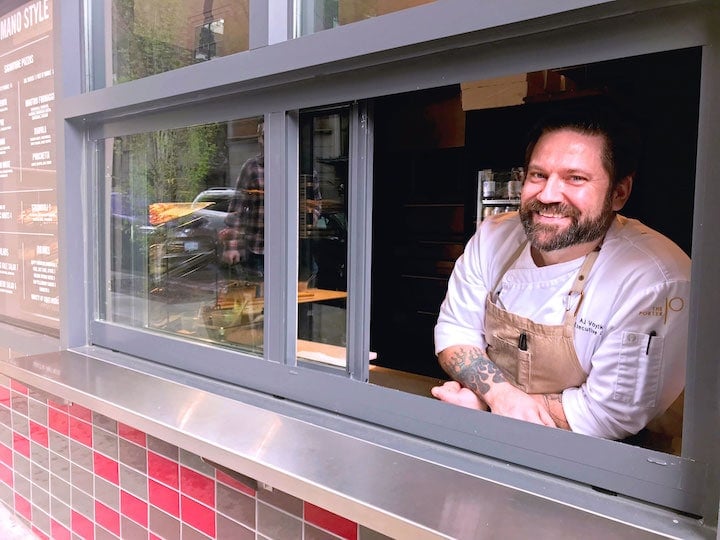 If you're looking for a delicious, but cheap lunch downtown Portland, this spot will make you happy.
Every ingredient in Chiosco's pizza is as fresh as can be, but the dough itself really stands out. The pizza dough is fermented over four days, which gives it a thick, super chewy texture.
I love, love, love the potato and Alfredo pizza.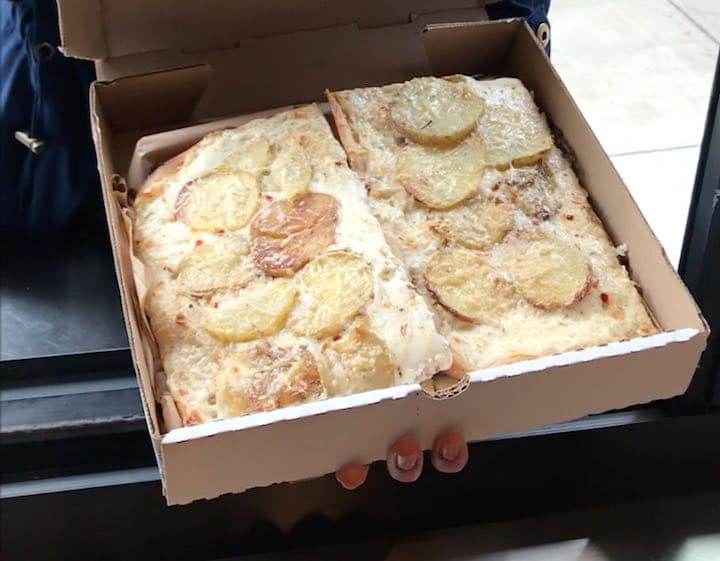 God, I'm hungry just thinking about it!
See my behind-the-scenes interview at Chiosco with Chef AJ at Chiosco.
Love pizza? Check out my homemade pizza recipe to see how to make the best pizza at home.
---
Acadia (NE)
table service
Acadia is open one day a week – on Wednesdays – for lunch.
This place serves up yummy some of the best Cajun-Creole food you'll find in PDX.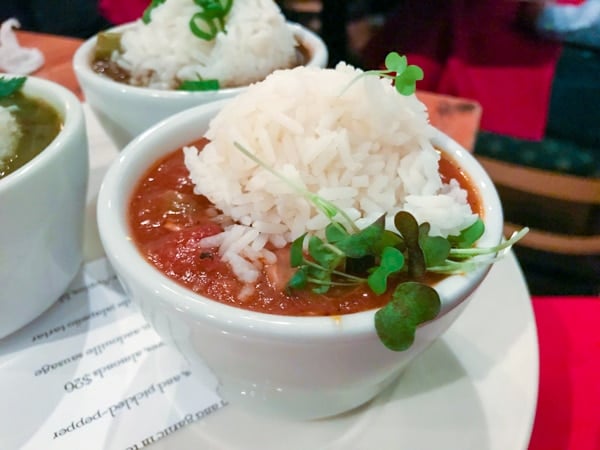 It's a great spot for sea food lovers as many of the NOLA inspired dishes have fish and shrimp.
---
Screendoor (SE)
table service
Screendoor's menu is southern-inspired and hits the mark for a rainy day (or a hungover morning) in Portland.
But I'm pretty sure everyone goes there to get some form of fried chicken.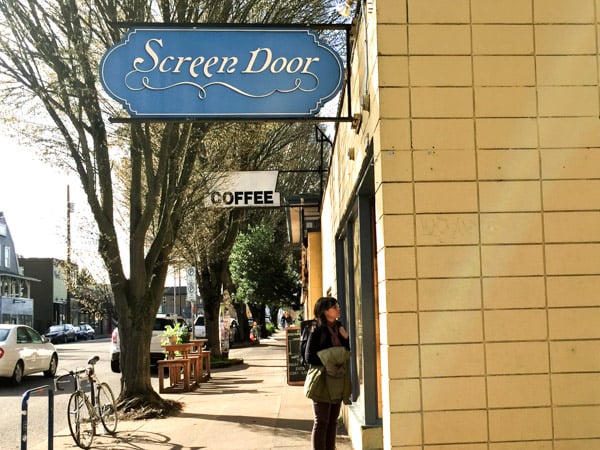 Hello, delectable fried chicken…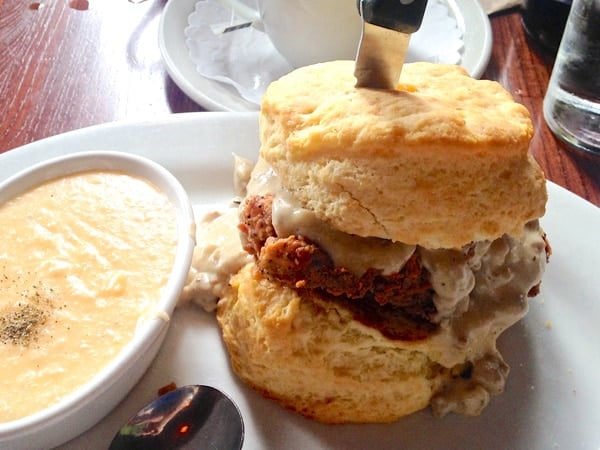 Either the fried chicken on it's own, served with grits. Or in a fried chicken sandwich. I've also had the brisket and some of their seasonal salads, which were wonderful.
---
Deschutes Brewery (SW)
table service
Deschutes Brewery is a really popular Portland lunch spot in the Pearl District.
The pub menu serves all sorts of indulgent food to pair with the beer brewed on-site. Linguini, burgers, beer-infused mac and cheese. It's all waiting to warm you up from the PDX rain…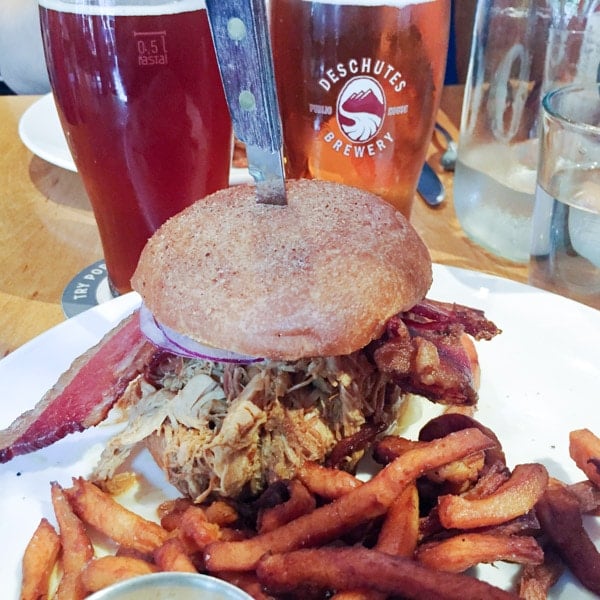 And the Deschutes craft beer is wonderful!!
Try a sampler or go all in with a pint of one of my favorites, Black Butte Porter.
---
Salt and Straw Ice Cream (throughout Portland)
table service
Lunch isn't complete until you visit Salt & Straw.
This ice cream shop uses local ingredients. The line is often long, because they let you leisurely sample as many ice cream flavors as you want until you find your perfect match.
The menu changes seasonally and offers really unique flavor pairings.
Love hearing about local PDX dessert places to visit? Listen to my podcast eposode featuring Lisa Hildebrant as she talks about starting her pastry business in PDX during a pandemic!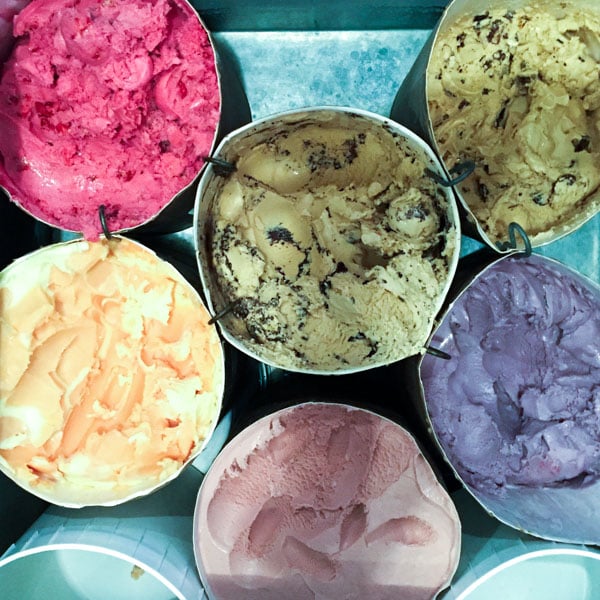 The last time I went they had a pear and bleu cheese ice cream (!!)
And once around Halloween, they had a pig's blood ice cream (!!!!!!)
But you can also find more "sensible" flavors here for chocolate, coffee, vanilla, and strawberry ice cream lovers.
---
Santa Fe Taqueria (NW)
super casual
Santa Fe Taqueria is the place to go for a quick and inexpensive Portland lunch.
The atmosphere is laid back, as diners eat amongst cool murals painted on the walls.
They have all the standard Mexican foods, plus some creative apps like the coconut shrimp, and delicious desserts like fresh, hot churros.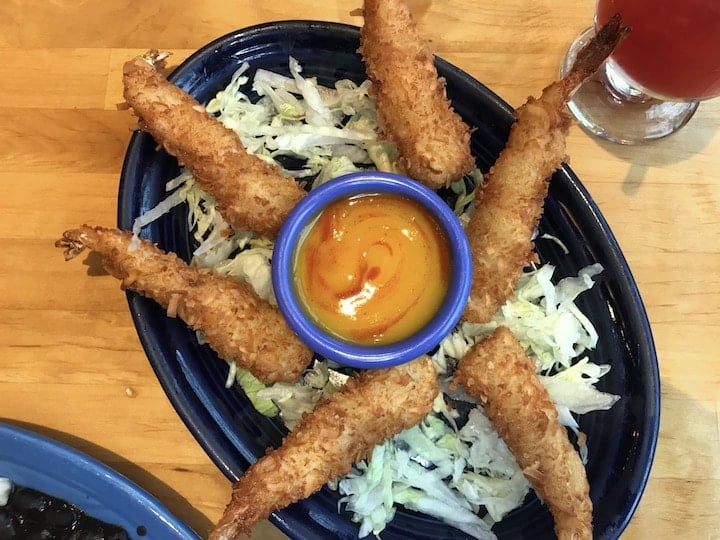 Plus, they have amazing cocktails.
Sit in the bar if you want to start happy hour early with a refreshing margarita!
Love Mexican food? Check out these sous vide pork carnitas and breakfast tacos.
---
So, where are you going to go??
Follow me on Instagram @sipbitego to see where I recommend in PDX next! And no need to consult TripAdvisor for your country Oregon trips – just message me and ask for restaurant recommendations where-ever you're visiting.
I'm like your personal version of TripAdvisor. I've been to places all over the United States and beyond if you want to expand your search for foodie finds.
---
I'm always trying new lunch spots, so check back often for new spots to be added to this list of the top of the best places to eat in Portland for brunch and lunch.
Can pigs eat weed? Dave Hoyle, a weed farmer feeding cannabis to pigs in Portland, Oregon chats organic farming, Top Chef Portland, and PDX restaurants.
Have a spot to add to the list? Email hello@sipbitego.com or message me on Instagram @sipbitego.
Looking for PDX things to do?
Hey foodies, don't forget to check out Sip Bite Go's guide of the best restaurants in Portland, Oregon and best Portland lunch spots.
If you're looking to do a little sightseeing, see this guide to unexpected treasures to find at Powell's Books in Portland, what to do during Fall in Oregon, and find out whether or not it snows in Oregon.
Hey foodie friends, to see the new restaurants in Portland where I'm headed next, connect with me on Instagram @sipbitego. And for more deliciousness, subscribe to the Sip Bite Go channel on YouTube and scroll through the Sip Bite Go recipe collection.
Hi there — I've since moved to Dallas, Texas! See some of my new guides: