Learn how to use Trader Joe's pizza dough like a pro. Get frozen dough tricks and recipes with using fresh pizza crust from Trader Joe's. Once you learn the best way to use it, there's plenty of delicious pizza recipes to try.
In this post, you'll learn about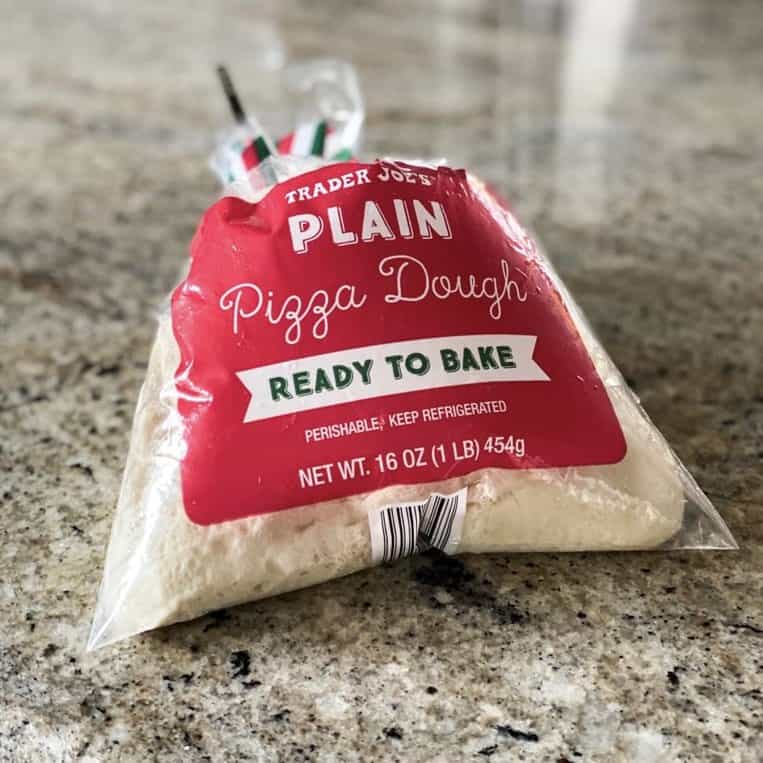 Where to find Trader Joe's pizza dough
The private label brand is only sold at Trader Joe's. It's under the Italian name "Trader Giotto's".
Fresh dough is found in the refrigerated section. Though, sometimes it's still thawing which is good to know if you're going to be using it the same day.
In my local Oregon store, the refrigerated pizza dough is near the refrigerated pasta and hummus. It's always at the bottom of the case, not stacked in the shelves.
Frozen TJ's pizza dough is sold in the freezer section, obviously. Near the Italian food.
Trader Joe's pizza crusts – that is, pre-made dough that you top and bake that has a shelf life like bread – is found in the bread section. They have a really cool looking rectangular pizza crust that's great for making flatbreads. I use it for entertaining a lot.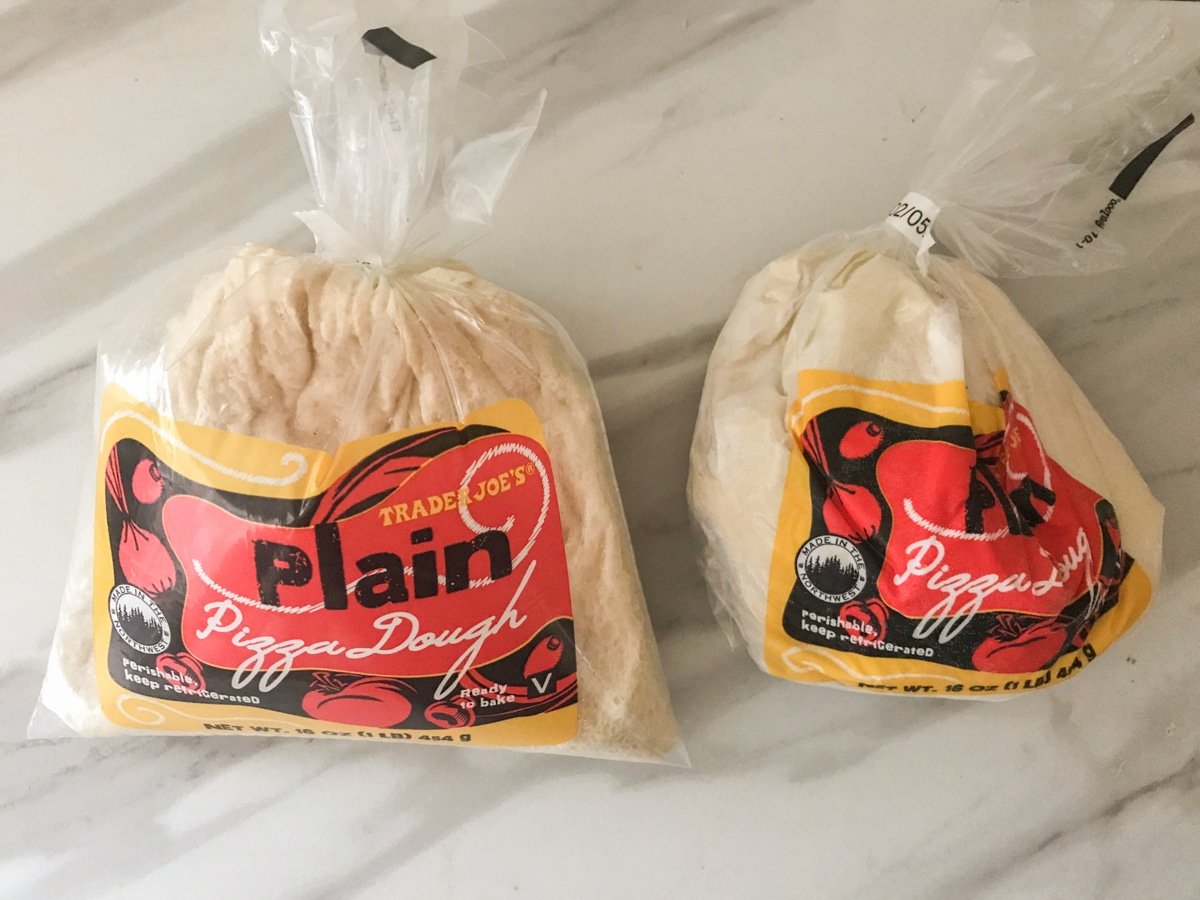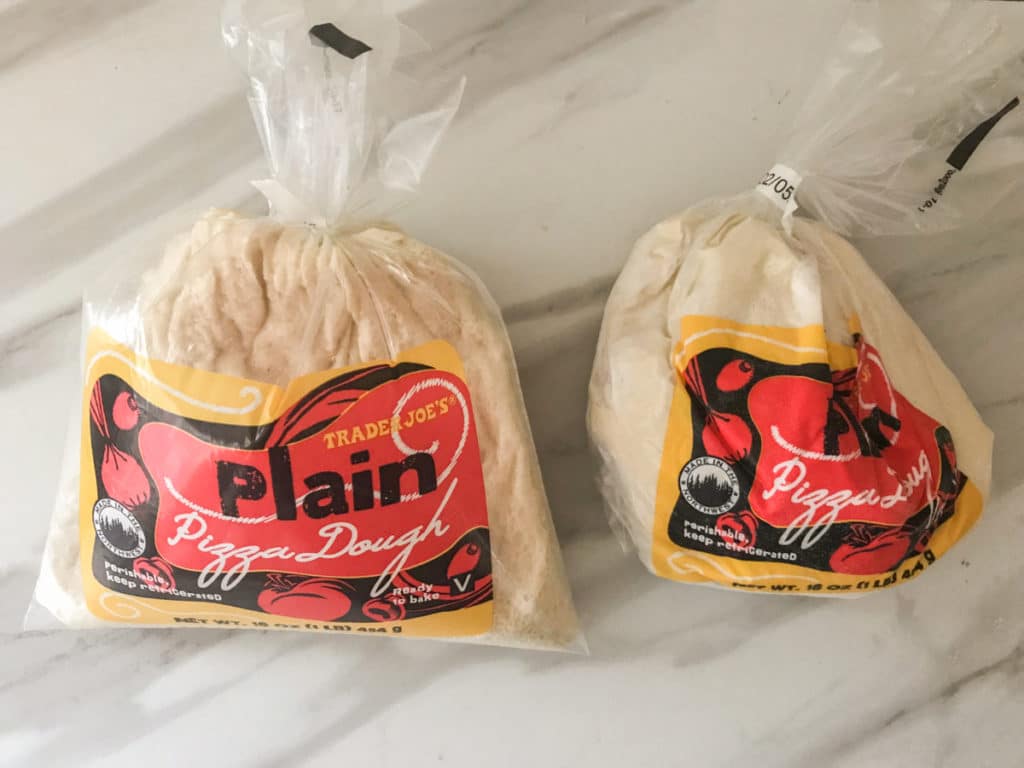 Different types of pizza dough at Trader Joe's
Fresh whole wheat pizza dough
As of 2019, Trader Joe's whole wheat pizza dough has been discontinued. Personally, I found it a little tough to work with. It broke apart and wasn't very forgiving when the dough was stretched. They haven't replaced this whole wheat flour pizza dough yet.
Trader Joe's regular pizza dough
The plain dough is made with enriched flour. I find it bakes to a chewy crust that puffs up nicely in the oven and for grilled pizza. I also use it to make ham and cheese calzones quite often.
Trader Joe's garlic and herb dough
If you have seen it, but haven't tried it, you're probably wondering what the green pizza dough at Trader Joe's is like. It has garlic, basil, and oregano in the dough. It's great for making breadsticks or "white pizza" with either olive oil or an Alfredo sauce.
The flavor is quite bold for this particular dough, so you'll want to have a good recipe to work with the flavors. I wouldn't make a taco pizza on a very Italian seasoned pizza dough, for instance.
Stretching pizza dough by hand is easy with these beginner tips and video. Learn how to stretch pizza dough balls that are store bought or homemade.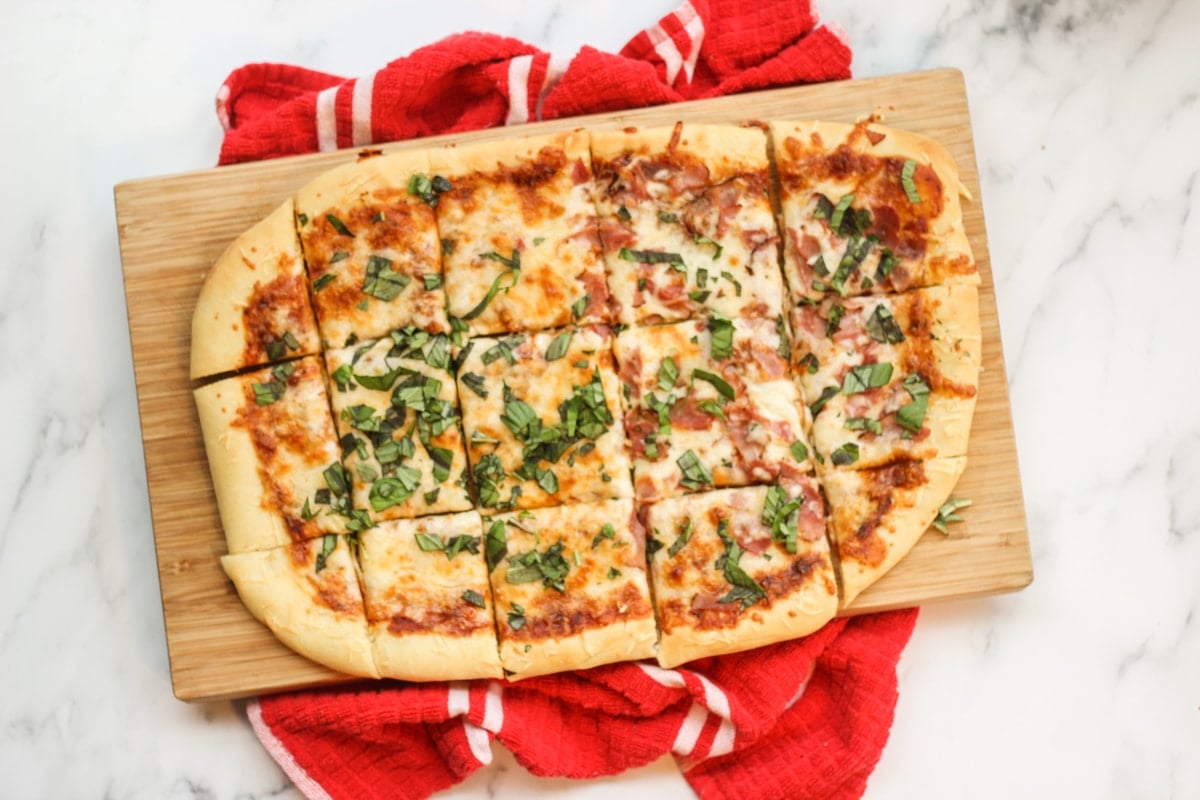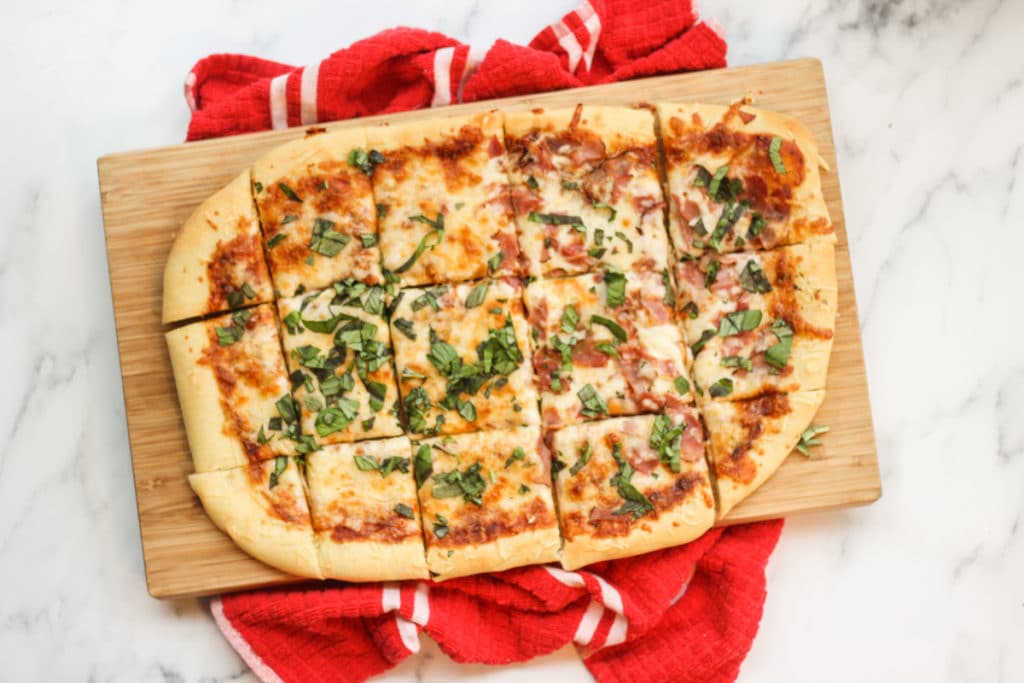 The best recipes for Trader Joe's pizza dough
Making pizza? Don't miss these tips on how to make pizza with store bought dough.
TJ's regular pizza dough
TJ's garlic herb pizza dough
Chicken is a great protein to add to pizza. See this demo on cooking chicken breast fast in under 20 minutes.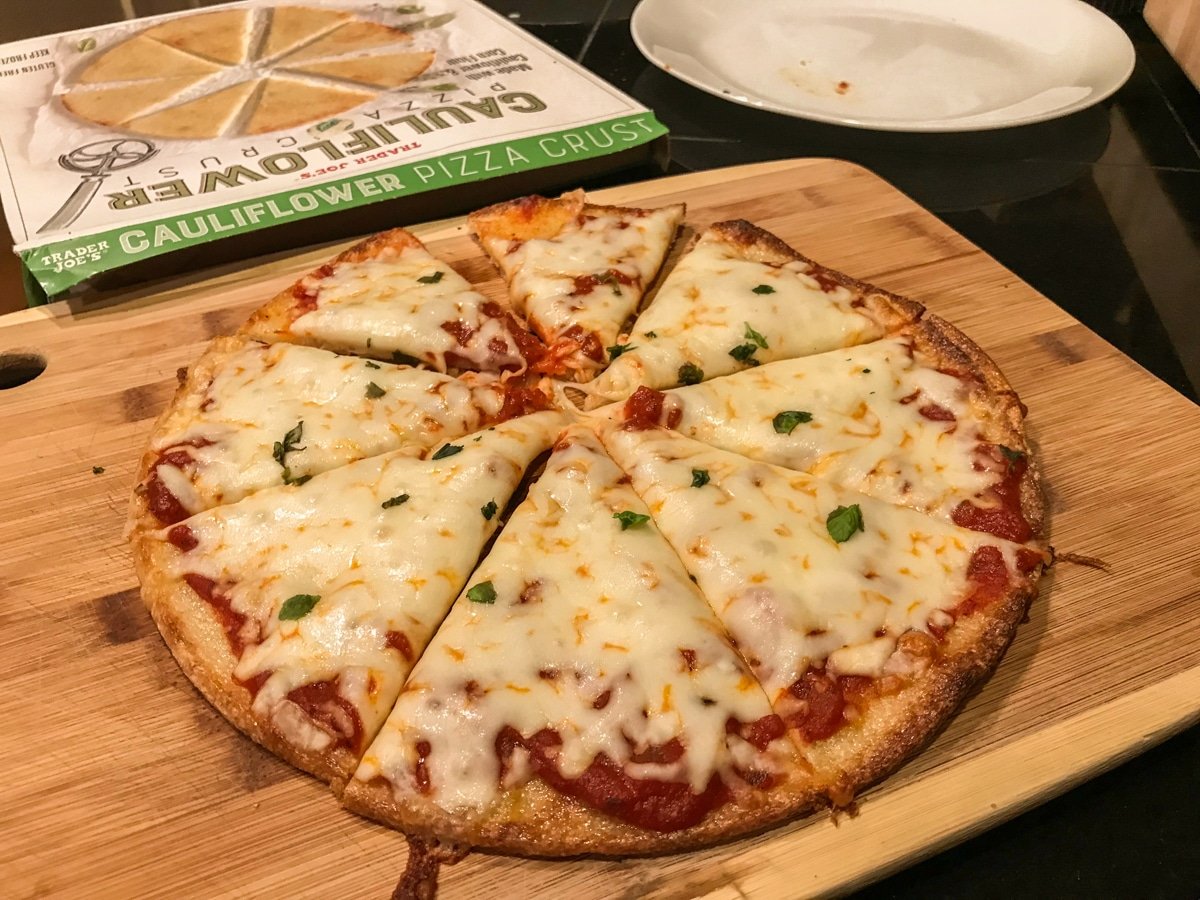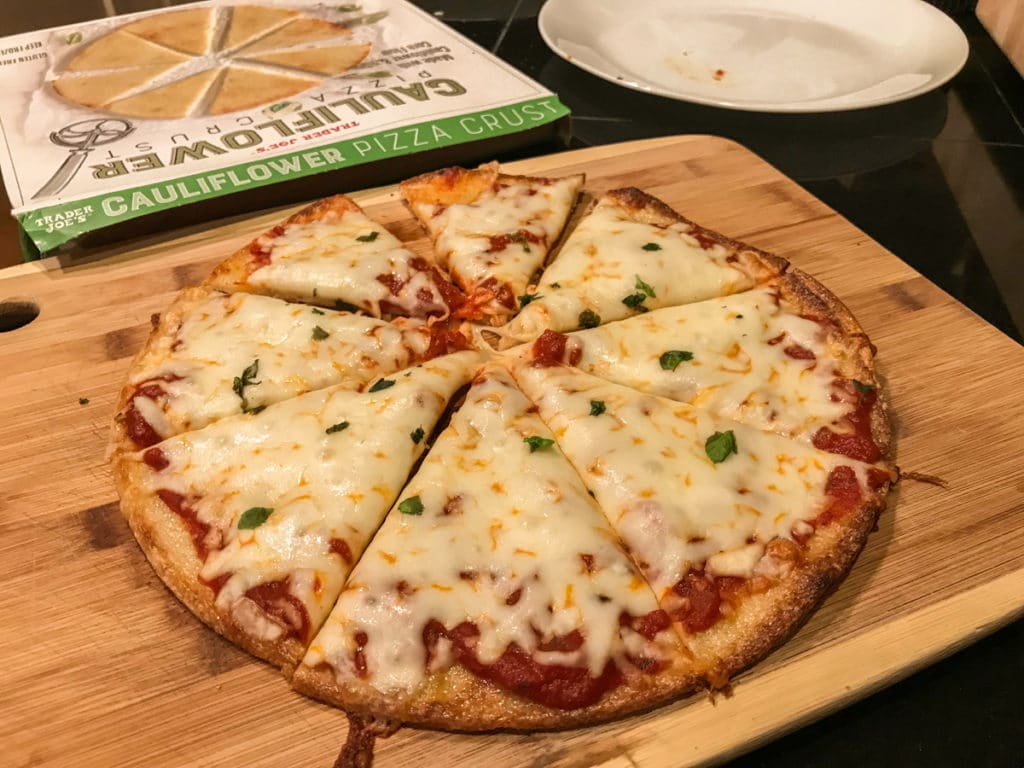 Frozen pizza dough at Trader Joe's
When I'm heading into the dinner hours with no plans, it's a relief to have TJ's par-baked, frozen dough in the freezer. In my local store, they sell two pizza doughs for about $4 in the frozen section. They are ready to top and bake. One of my go-to pizzas for this dough is BBQ chicken. It's thick and can hold heavy toppings.
See this tasty pizza with frozen premade pizza crust.
Sourdough pizza by Trader Joe's
My friend in Rhode Island loves the Trader Joe's sour dough, but I haven't seen them in Oregon.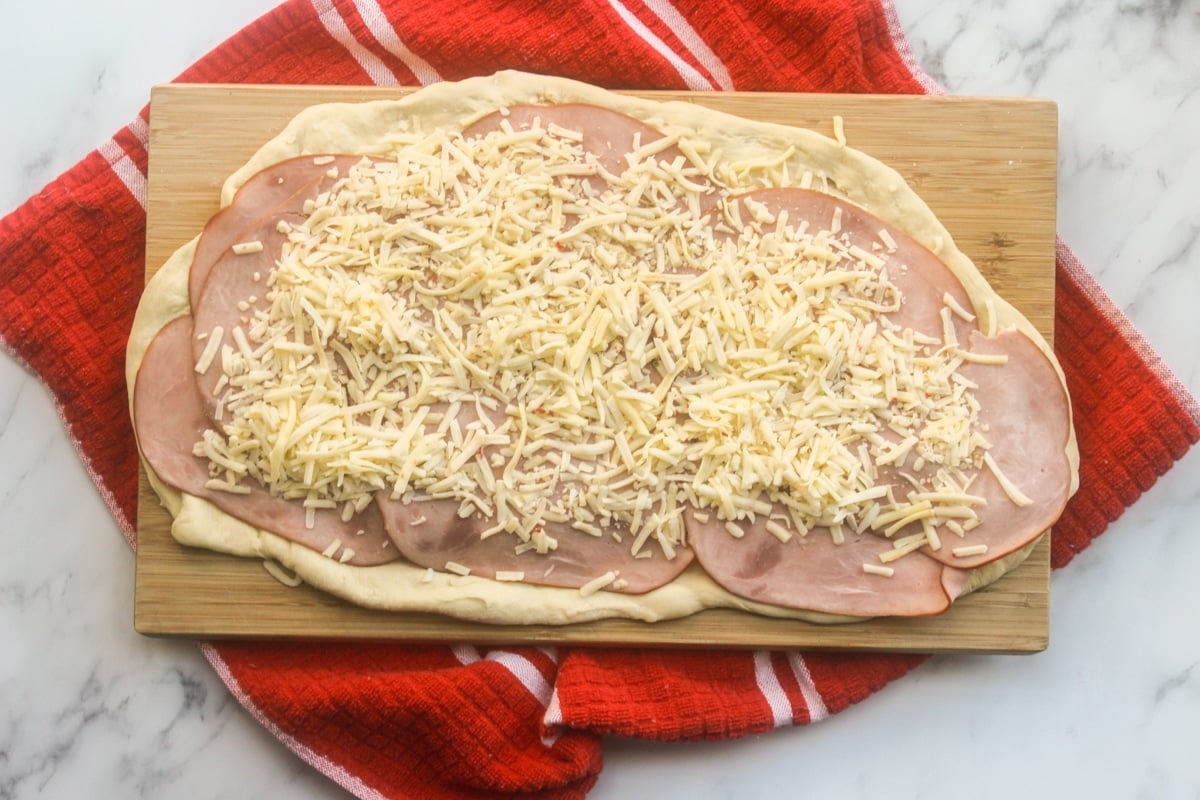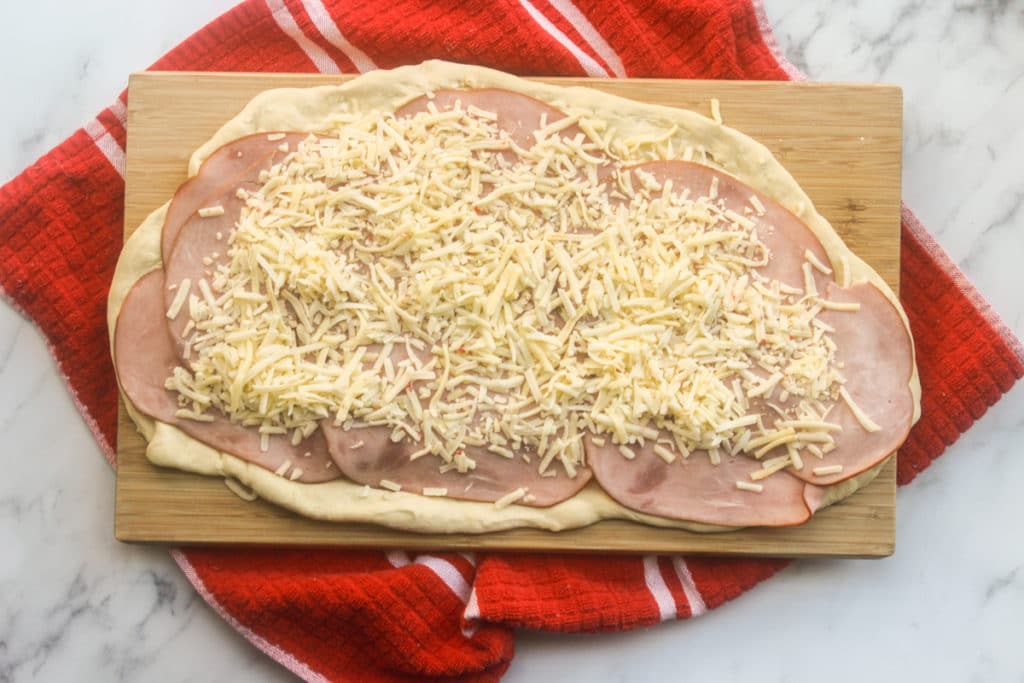 Use naan as pizza dough
This is a great trick.
Use Trader Joe's frozen naan or fresh naan as pizza dough. This is really easy to make in a toaster oven. Let it thaw if frozen, then top the naan like regular pizza and cook it for 5-10 minutes until cheese melts. Use this recipe for ravioli pizza to try it out.
Can you freeze Trader Joe's pizza dough?
Yes, this is a great idea. Buy and freeze Trader Joe's dough in bulk so you have it on hand for pizza nights. Store Trader Joe's pizza dough in the freezer until the night before you're going to use it. Thaw frozen Trader Joe's dough balls in the refrigerator overnight. In the morning (or a couple mornings later) place the dough on the counter. The dough will rise beautifully by dinner time.
Learn more about the best store bought pizza crust
Tips for baking TJ's Pizza dough
Well, there you have it, years and years of experience and opinions on Trader Joe's dough.
Check out my other guides on other grocery store pizza dough like this one for BBQ chicken pizza with Whole Foods dough. It's so good!
More recipes using Trader Joe's ingredients
Are you a Trader Joe's enthusiast, too? I love planning grocery trips to Trader Joe's. It's almost like a vacation… strolling up and down the aisles to discover new things. When I come home, I'm inspired to develop new recipes.
My best recipes using Trader Joe's products end up here on Sip Bite Go…
See more of the best meals to make with Trader Joe's ingredients.
Are you a foodie, too?
Follow along @sipbitego on Instagram to learn how to make restaurant style food at home. And for in-depth cooking tutorials, subscribe to the Sip Bite Go YouTube channel.