Learn how to use Trader Joe's pizza dough like a pro. Get frozen dough tricks and recipes with using fresh pizza crust from Trader Joe's. Once you learn the best way to use it, there's plenty of delicious pizza recipes to try.
In this post, you'll learn about
Where to find Trader Joes Pizza Dough
The best recipes for Trader Joe's pizza dough
The best recipes for TJ's herb dough
What happened to Trader Joe's wheat dough
Tips if you want to freeze Trader Joe's pizza dough
Recipes using Trader Joe's pizza dough
My personal Trader Joe's must haves list for pizza toppings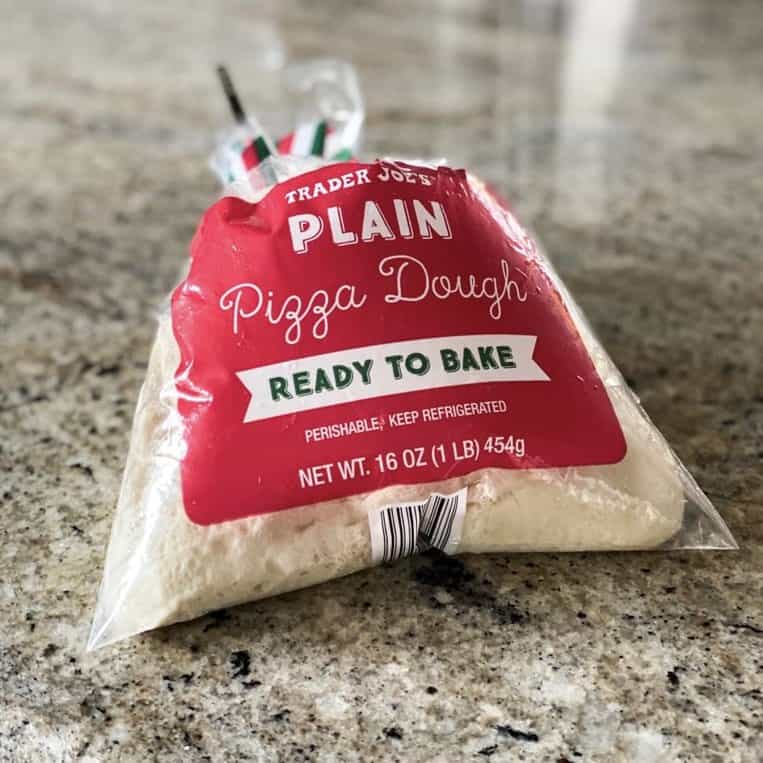 Where to find Trader Joe's pizza dough
The private label brand is only sold at Trader Joe's. It's under the Italian name "Trader Giotto's".
Fresh dough is found in the refrigerated section. Though, sometimes it's still thawing which is good to know if you're going to be using it the same day.
In my local Oregon store, the refrigerated pizza dough is near the refrigerated pasta and hummus. It's always at the bottom of the case, not stacked in the shelves.
Frozen TJ's pizza dough is sold in the freezer section, obviously. Near the Italian food.
Trader Joe's pizza crusts – that is, pre-made dough that you top and bake that has a shelf life like bread – is found in the bread section. They have a really cool looking rectangular pizza crust that's great for making flatbreads. I use it for entertaining a lot.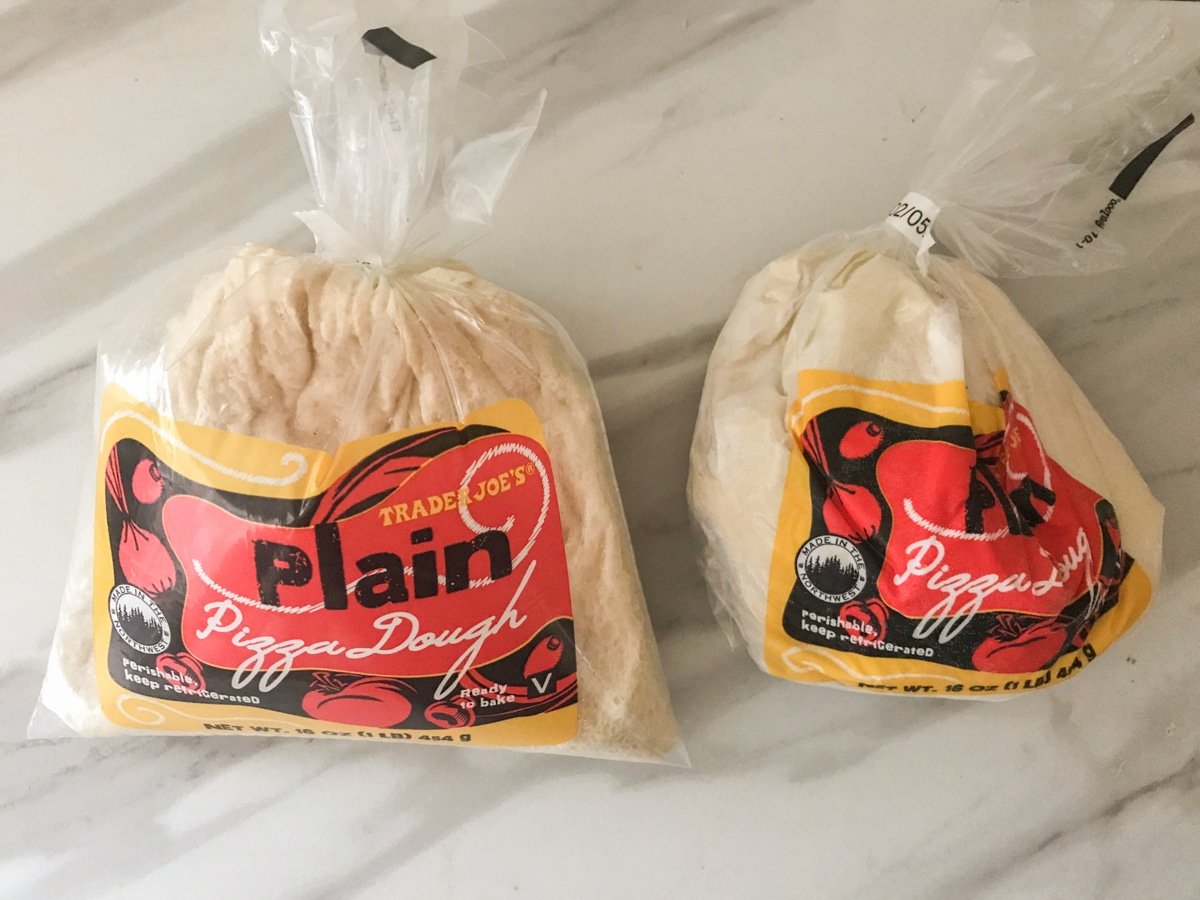 Trader Joe's Pizza Haul Video
Here's what a TJ's pizza fanatic like myself purchases in one shopping trip…
Different types of pizza dough at Trader Joe's
Fresh whole wheat pizza dough
As of 2019, Trader Joe's whole wheat pizza dough has been discontinued. Personally, I found it a little tough to work with. It broke apart and wasn't very forgiving when the dough was stretched. They haven't replaced this whole wheat flour pizza dough yet.
Trader Joe's regular pizza dough
The plain dough is made with enriched flour. I find it bakes to a chewy crust that puffs up nicely in the oven and for grilled pizza. I also use it to make ham and cheese calzones quite often.
Trader Joe's garlic and herb dough
If you have seen it, but haven't tried it, you're probably wondering what the green pizza dough at Trader Joe's is like. It has garlic, basil, and oregano in the dough. It's great for making breadsticks or "white pizza" with either olive oil, white pizza sauce, or an Alfredo sauce.
The flavor is quite bold for this particular dough, so you'll want to have a good recipe to work with the flavors. I wouldn't make a taco pizza on a very Italian seasoned pizza dough, for instance. But these sautéed onions and peppers would be perfect.
Stretching pizza dough by hand is easy with these beginner tips and video. Learn how to stretch pizza dough balls that are store bought or homemade.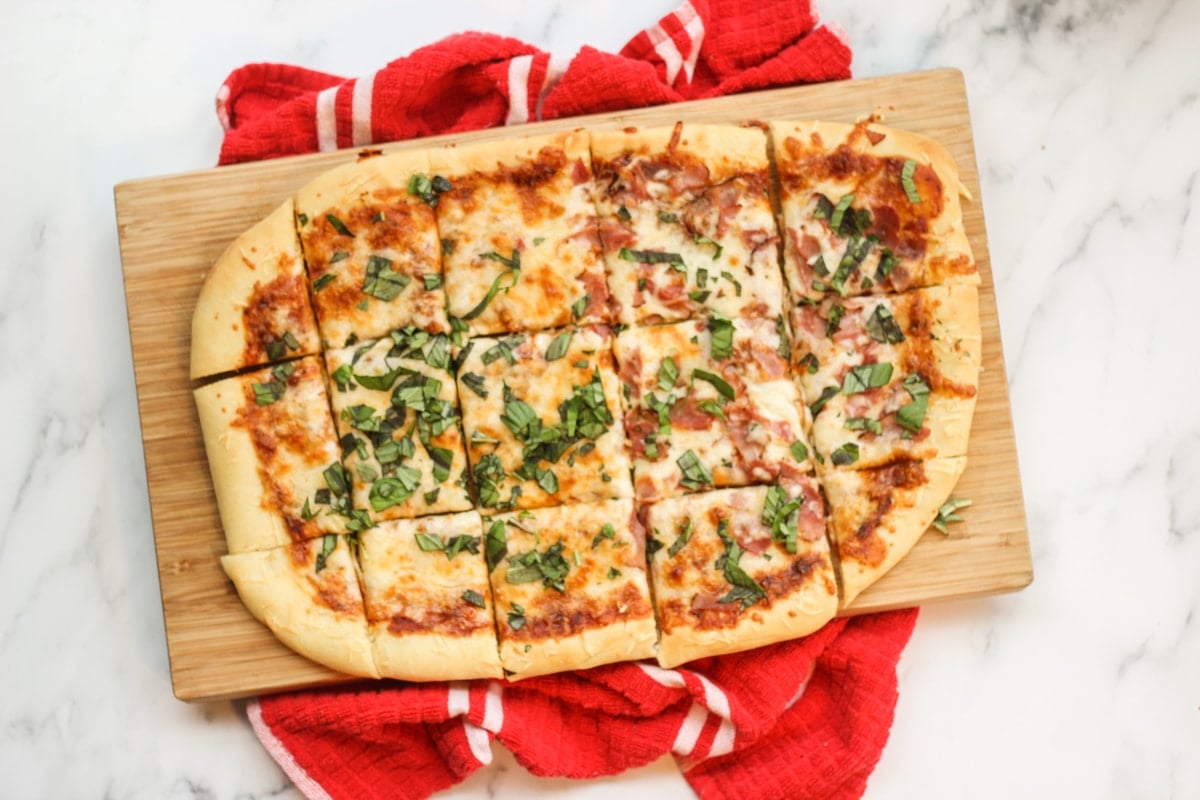 The best recipes for Trader Joe's pizza dough
Making pizza? Don't miss these tips on how to make pizza with store bought dough.
TJ's regular pizza dough
Pesto pizza. A light spread of pesto, topped with grilled chicken, mozzarella cheese, and sliced Roma tomatoes.
Super Italian. Red pizza sauce with a few slices from of fresh mozzarella, and basil, finished with balsamic drizzle.
Philly cheesesteak pizza. Throw on some leftover flank steak or coulotte steak or air fryer filet mignon from the night before with this delicious pie.
Gourmet feast pizza. Sun-dried tomatoes, caramelized onions, marinated artichoke hearts, prosciutto and gouda.
TJ's garlic herb pizza dough
Go Greek pizza. With spinach, olives, and feta.
Greens and parmesan flatbread. Drizzle with olive oil, add top with

red wine caramelized onions

, sprinkle parmesan, and top with fresh arugula and balsamic dressing.
Italiano pizza. Made simple with pre-made Alfredo sauce, grilled chicken, sun-dried tomatoes, and fresh mozzarella.
Chicken is a great protein to add to pizza. See this demo on cooking chicken breast fast in under 20 minutes.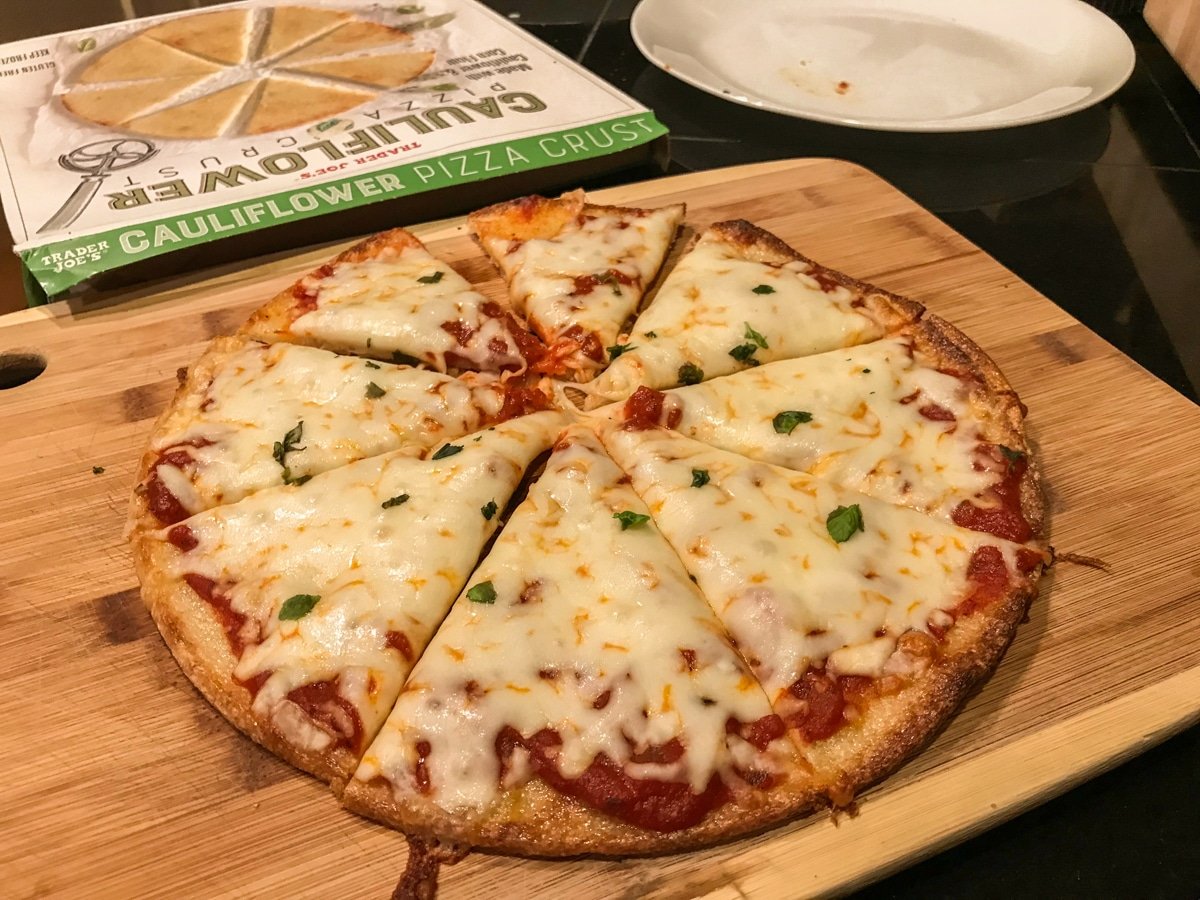 Frozen pizza dough at Trader Joe's
When I'm heading into the dinner hours with no plans, it's a relief to have TJ's par-baked, frozen dough in the freezer. In my local store, they sell two pizza doughs for about $4 in the frozen section. They are ready to top and bake. One of my go-to pizzas for this dough is BBQ chicken. It's thick and can hold heavy toppings.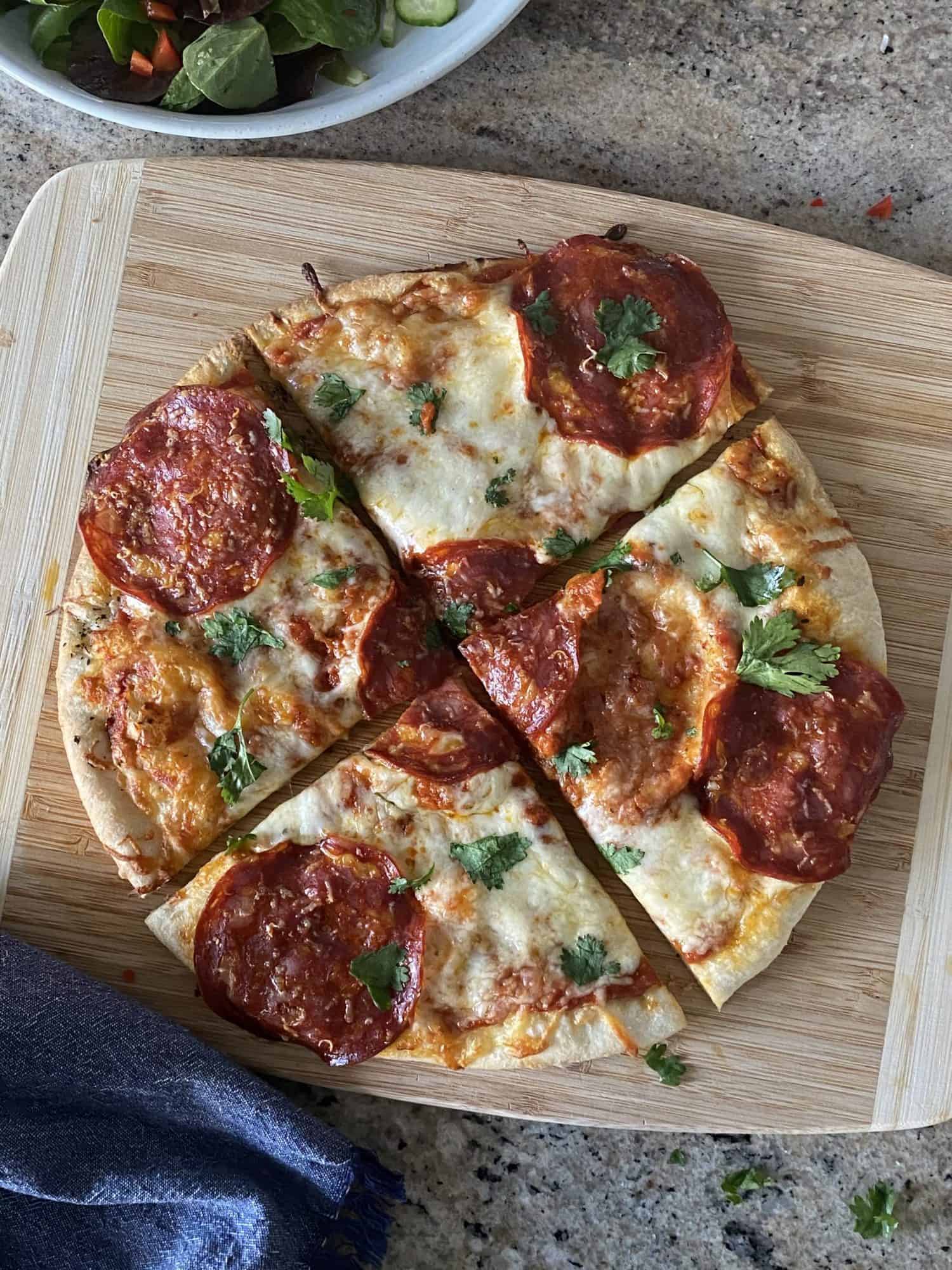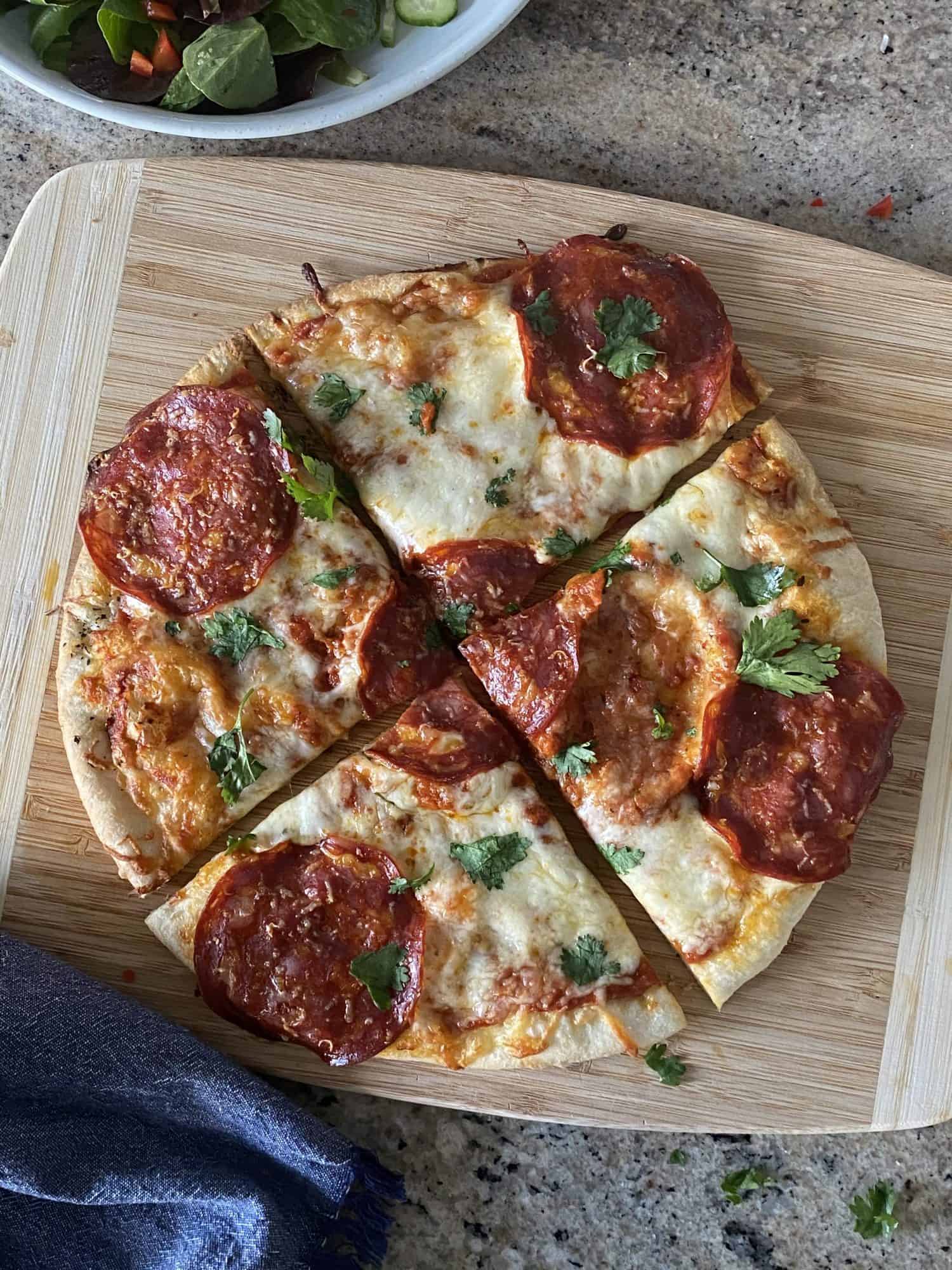 See how to make this tasty pizza with frozen premade pizza crust and chorizo from TJ's.
Sourdough pizza by Trader Joe's
My friend in Rhode Island loves the Trader Joe's sour dough, but I haven't seen them in Oregon.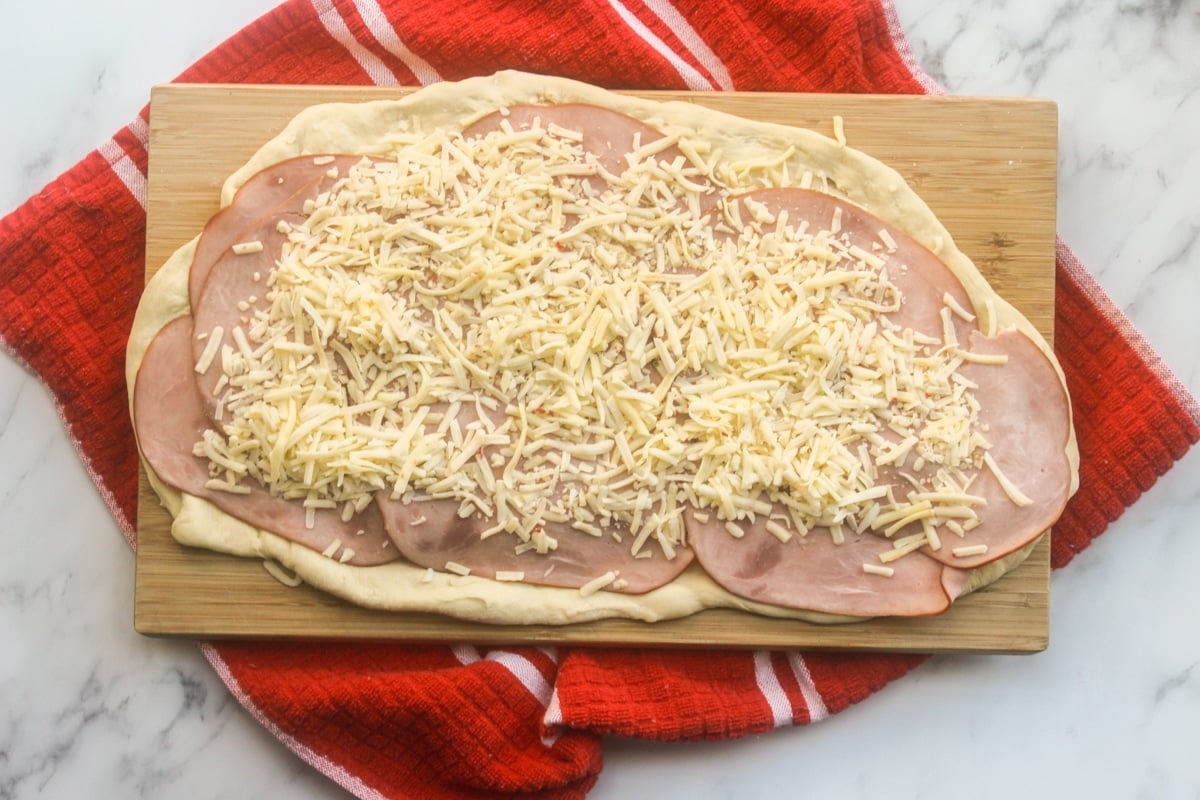 Use naan as pizza dough
This is a great trick.
Use Trader Joe's frozen naan or fresh naan as pizza dough. This is really easy to make in a toaster oven. Let it thaw if frozen, then top the naan like regular pizza and cook it for 5-10 minutes until cheese melts.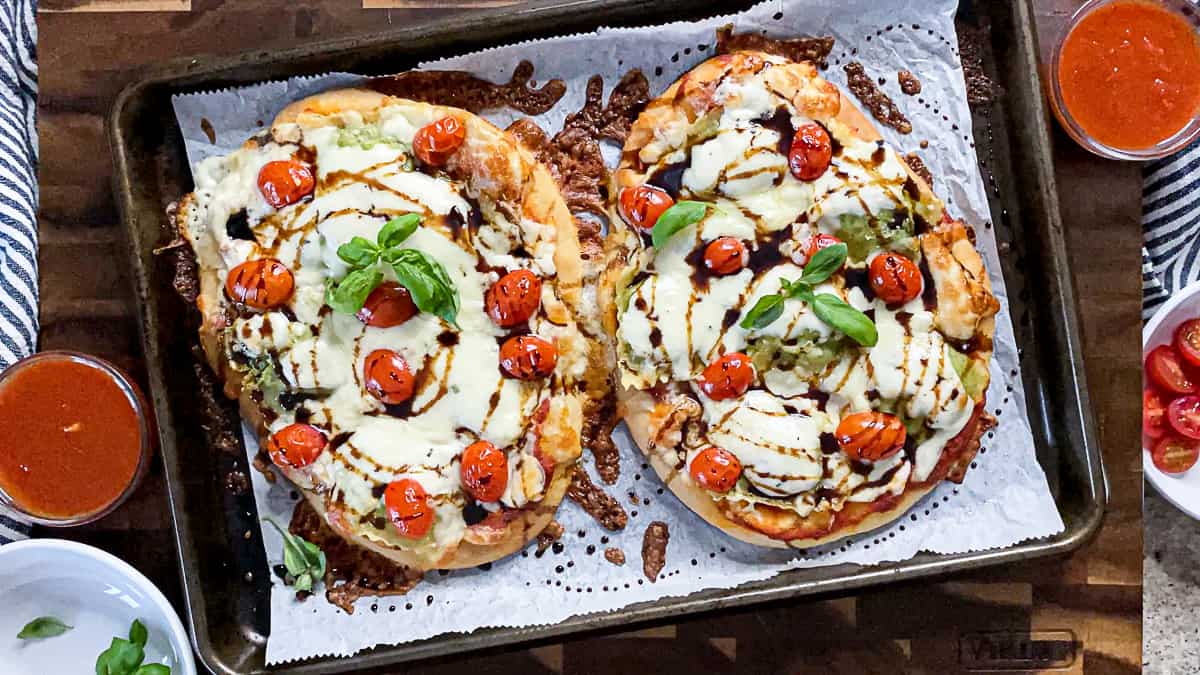 Use this recipe for ravioli pizza on naan bread to try it out.
Trader Joe's cauliflower pizza crust
The cauliflower pizza crust Trader Joe's sells is a really great low carb option. In my opinion and official review here on Sip Bite Go, I say it "almost" passes as real pizza. Cauliflower doesn't have a ton of flavor, and there isn't as much "chew" as you'd get with regular pizza dough, but it's a great alternative. It comes frozen and ready to top.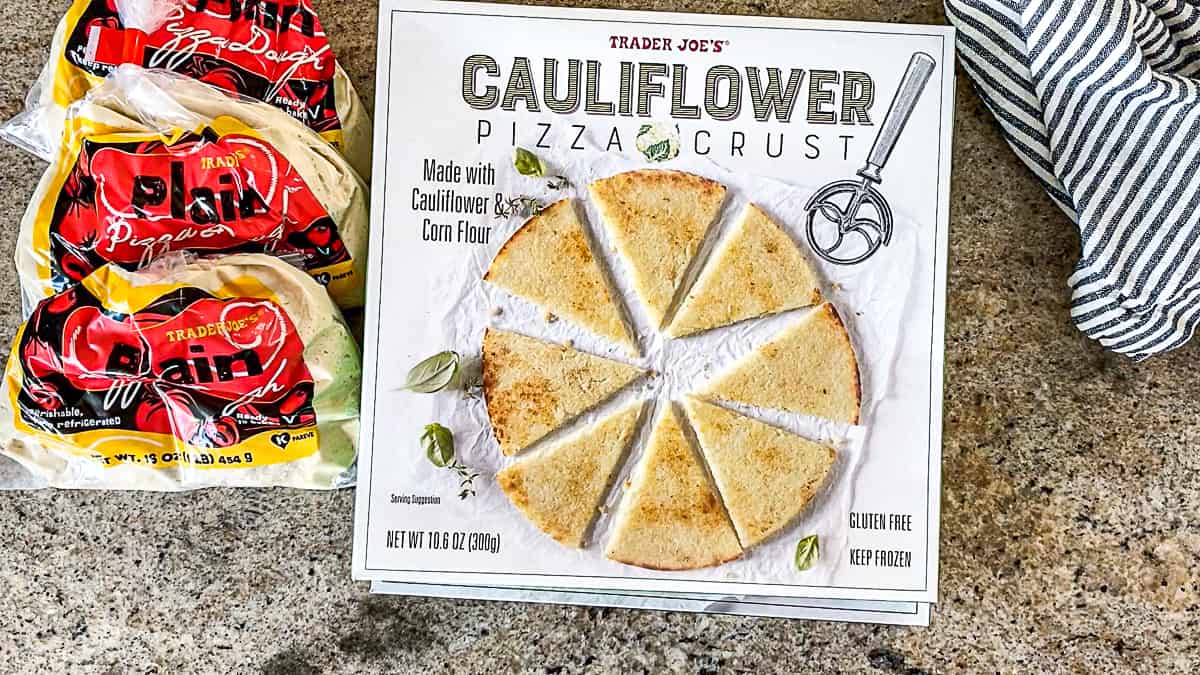 Trader Joe's broccoli and kale pizza crust
Here's what I tell people about the broccoli pizza from Trader Joe's: you can definitely tell it's not a "real pizza" base – but it's tasty and a low carb alternative, for sure. It tastes earthy and healthy. My toddler approves!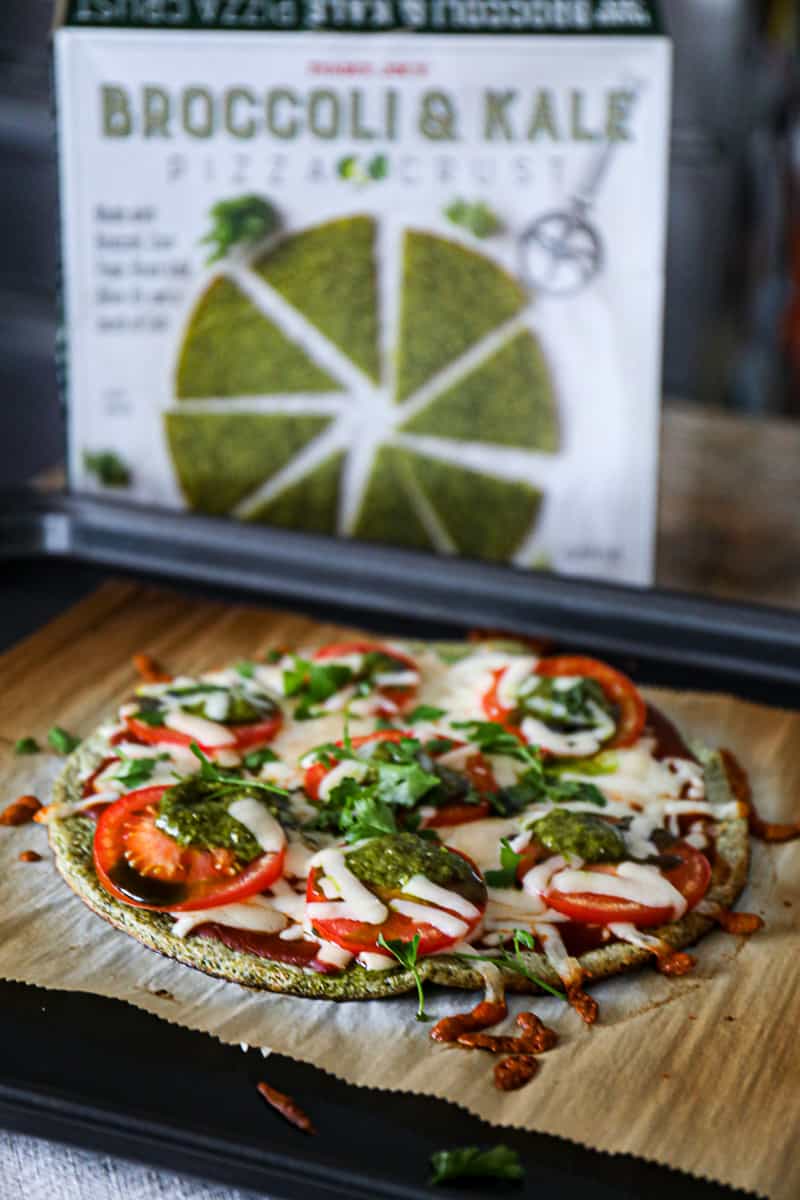 See how to make my gluten free pizza using TJ's broccoli and kale pizza crust.
Can you freeze Trader Joe's pizza dough?
Yes, this is a great idea. Buy and freeze Trader Joe's dough in bulk so you have it on hand for pizza nights. Store Trader Joe's pizza dough in the freezer until the night before you're going to use it. Thaw frozen Trader Joe's dough balls in the refrigerator overnight. In the morning (or a couple mornings later) place the dough on the counter. The dough will rise beautifully by dinner time.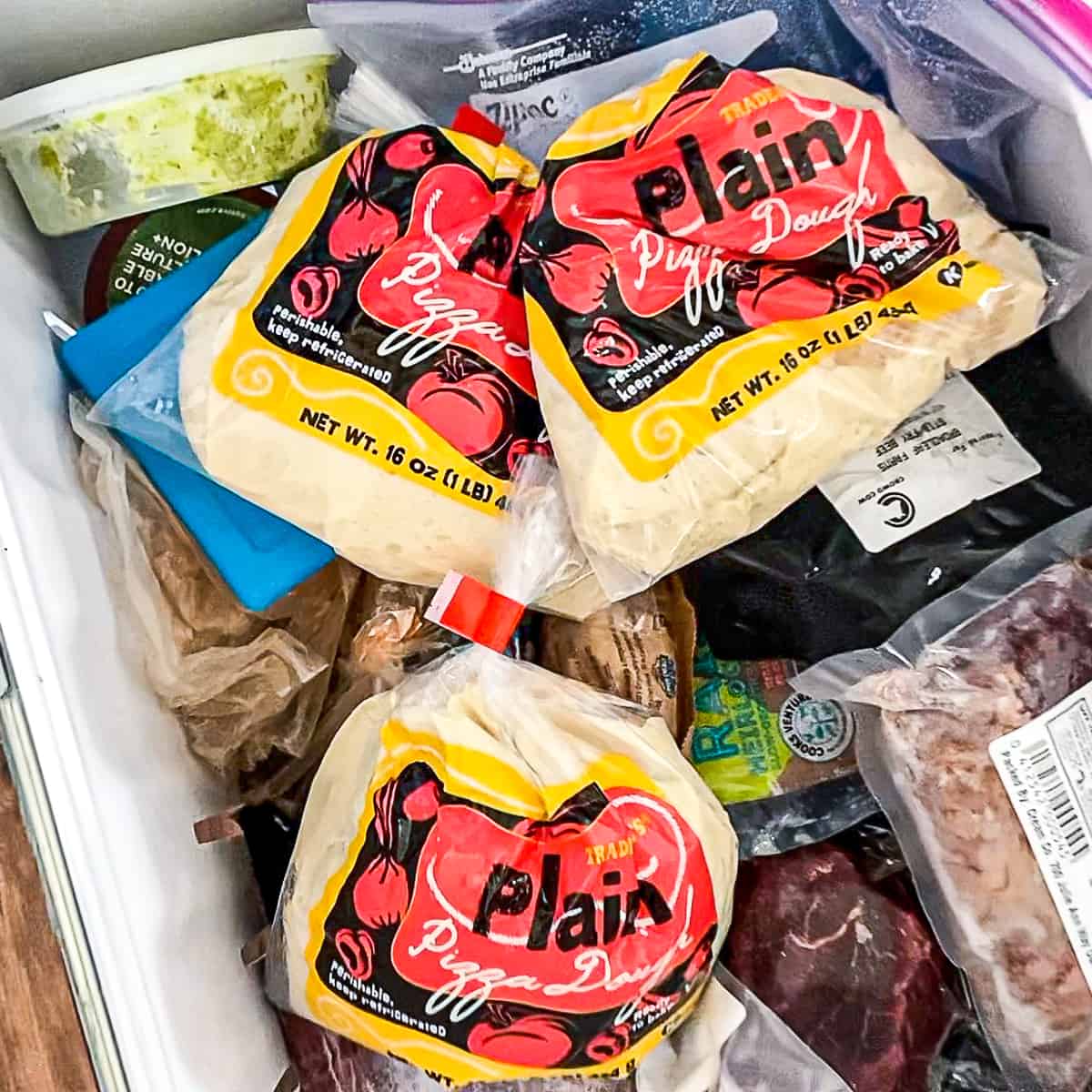 Learn more about the best store bought pizza crust.
Trader Joe's pizza toppings product ideas
Here are some items to pick up during a Trader Joe's haul to top pizza recipes.
Spanish Brand Deli Selection meat tray – The Chorizo Cantimpalo with a sprinkle of fresh cilantro from my Aerogarden adds massive flavor to frozen pizzas. See the photo below.
Trader Joe's organic shredded mozzarella cheese.
Trader Joe's pizza sauce in a jar. I add some dried Italian seasonings to it when I'm making a pizza to add some flavor. But it has a long shelf life and is always handy to keep in the pantry.
Fresh pizza sauce. If I'm going to make pizza that week, I pick up fresh pizza sauce from Trader Joe's which is located next to the fresh TJ's pizza dough in the refrigerated section. It's great right out of the package.
Grana Padano Parmesan Cheese. It's from Italy, so you can get a real authentic pizza vibe. I sprinkle it on parbaked pizza crust before baking it.
Trader Joe's Asiago cheese with rosemary and olive oil. Always a good choice!
Goat cheese. It makes for an elegant, gourmet pizza. Pair it with fresh arugula and a drizzle of Trader Joe's balsamic glaze.
Pasta. It might sound weird, but in Rhode Island where I'm from, pasta pizza is a thing! I use Trader Joe's tortellini and fresh ravioli on pizza all the time. Boil the pasta to al dente then use it to top pizzas.
Fresh or frozen vegetables. I've been known to sneak some fresh chopped spinach and frozen cauliflower rice from Trader Joe's into pizza sauce. Shhh!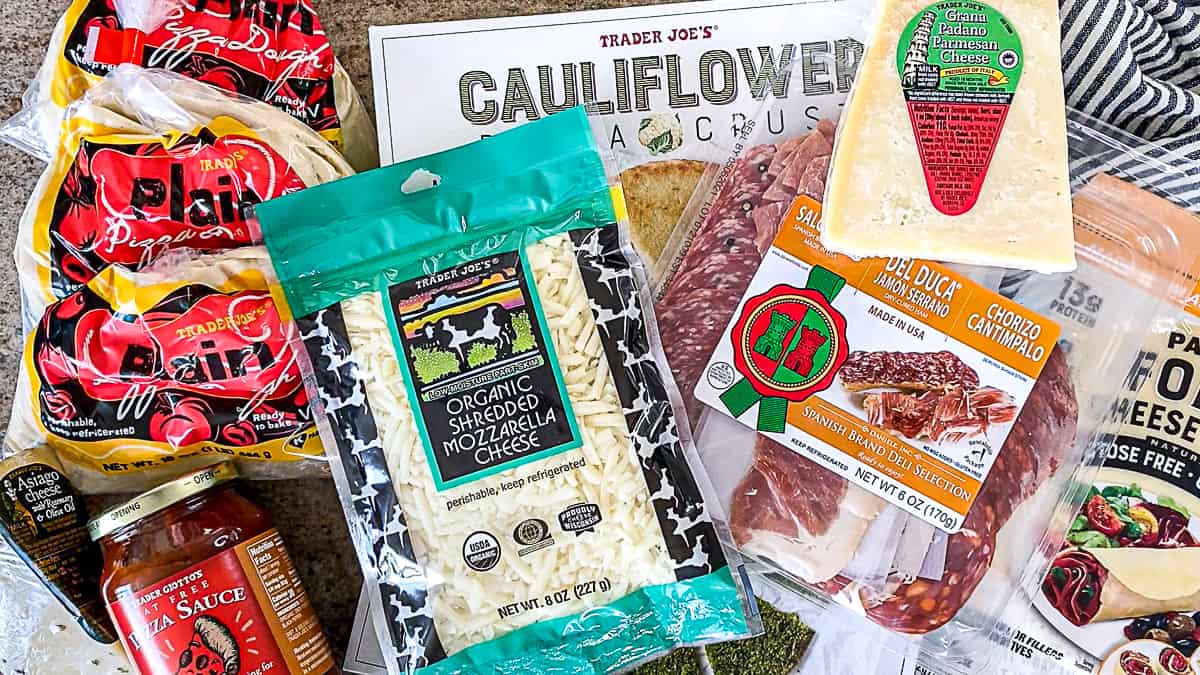 Tips for baking TJ's Pizza dough
Use a very hot oven in the 450 to 500 degree F range.
Use a

pizza stone

if you like really crispy pizza. To do this make pizza stone pizza by adding the stone to the oven while the oven is heating, then add the dough to parbake in the oven for about 10-15 minutes at 475 degrees F or the temperature your pizza stone recommends. Then add toppings and finish baking until done.
This dough seasoning is the secret to real Italian-tasting homemade pizza dough.
Add pizza seasoning to store bought pizza sauce. This makes the pizza taste really fresh!
Meal prep pizza night. You can freeze Trader Joe's fresh pizza dough and then move it to the fridge the night before cooking it. Morning of the meal, move it to the counter to rise.
Well, there you have it, years and years of experience and opinions on Trader Joe's dough.
Check out my other guides on other grocery store pizza dough like this one for BBQ chicken pizza with Whole Foods dough. It's so good!
More recipes using Trader Joe's ingredients
Are you a Trader Joe's enthusiast, too? I love planning grocery trips to Trader Joe's. It's almost like a vacation… strolling up and down the aisles to discover new things. When I come home, I'm inspired to develop new recipes.
My best recipes using Trader Joe's products end up here on Sip Bite Go…
See more of the best meals to make with Trader Joe's ingredients and my full list of Trader Joe's must haves.
Are you a foodie, too?
Follow along @sipbitego on Instagram to learn how to make restaurant style food at home. And for in-depth cooking tutorials, subscribe to the Sip Bite Go YouTube channel.