Working on your Trader Joe's shopping list? Sip Bite Go uses a ton of Trader Joe's must haves in recipes that are fast, easy and delicious. Today you'll learn what products to buy at Trader Joe's to make the most of purchasing groceries from this store foodies love.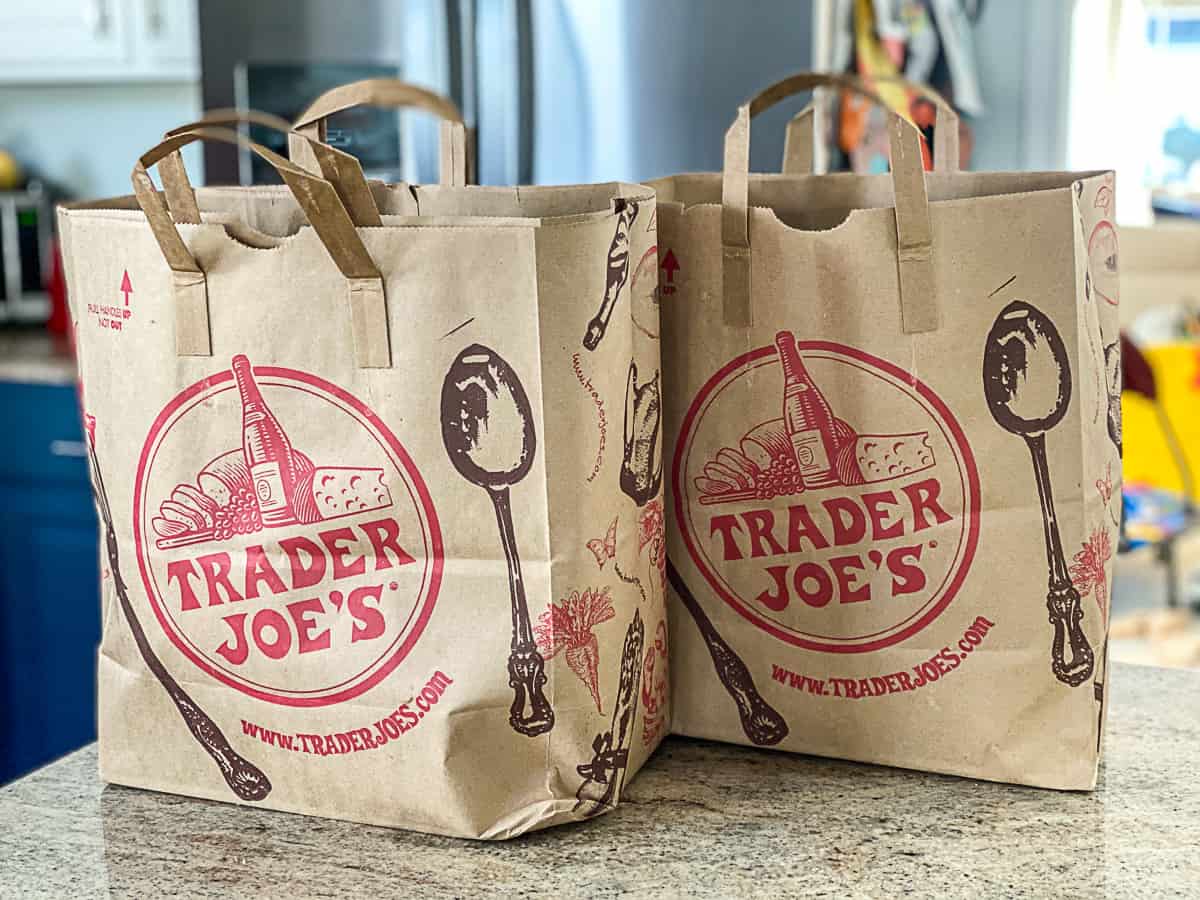 Why it's the best list of Trader Joe's must haves
I've been a long time customer, for over a decade. I have been to them all over the country – in Connecticut, Maryland, San Francisco, Rhode Island, and now in Portland, Oregon. After much dedication, here's what you'll learn about TJ's foods…
Trader Joe's products that are healthy.
Products kids love for a healthy snack.
Entertaining ideas for appetizers and using their cheese and meats and interesting crackers for charcuterie boards.
Great lunch ideas whether you meal prep lunch to take to work or want an easy WFH lunch to make fast.
Ideas to make cooking fun and easy with frozen Trader Joe's items.
Quick recipe ideas utilizing Trader Joe's meal prep options.
Seasonal product must-haves.
Favorite Trader Joe's frozen meals.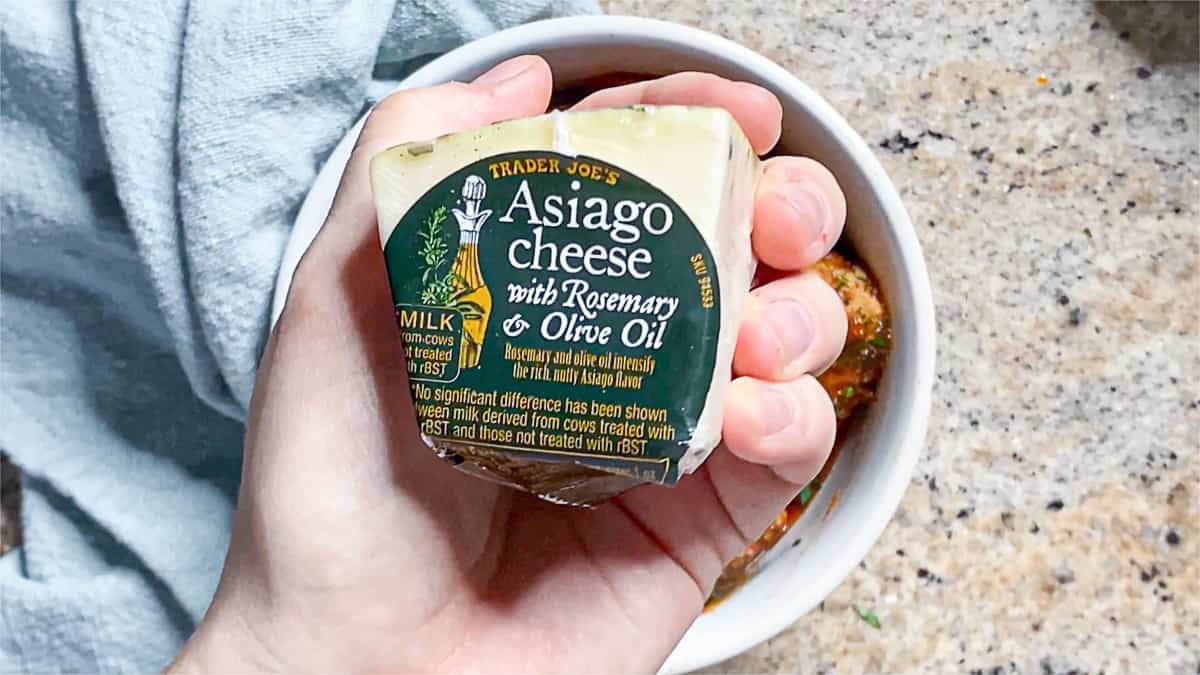 Breakfast foods at Trader Joe's to try
Alright, I'm going to get "deep" into my "best of Trader Joe's list" – but let's start out light with some breakfast foods…
Trader Joe's Chicken Breakfast Sausage – it's my toddler's favorite, any time of the day. If we're making something he won't eat for dinner, like air fryer filet mignon or sous vide porterhouse (he's not so into steak dinners yet), I'll boil one of these for him and everyone is happy!
DIY Prosciutto e Melone – Wrap salty Trader Joe's Sliced Prosciutto around ripe cantaloupe for an Italian inspired meal.
Egg bites – I make my own Starbucks copycat sous vide egg bites at home in small mason jars.
Frozen Pancakes.
Blueberry Waffles.
Chocolate Croissants – perfect for an easy brunch.
Dunkers in coffee – I think I bought these oatmeal cookies with cranberries and icing for my toddler, but quickly realized that they are so delicious in coffee, therefore I had to confiscate the entire package for myself. Don't worry, I left him cupcakes!
Easy Trader Joe's appetizers for parties or dinner
Okay, let's start snacking on apps! Do you like finger foods? I'm a huge fan! There are so many TJ's party appetizers to serve on game day, or for a small crowd. Most of them present really well but still look like you made the food yourself.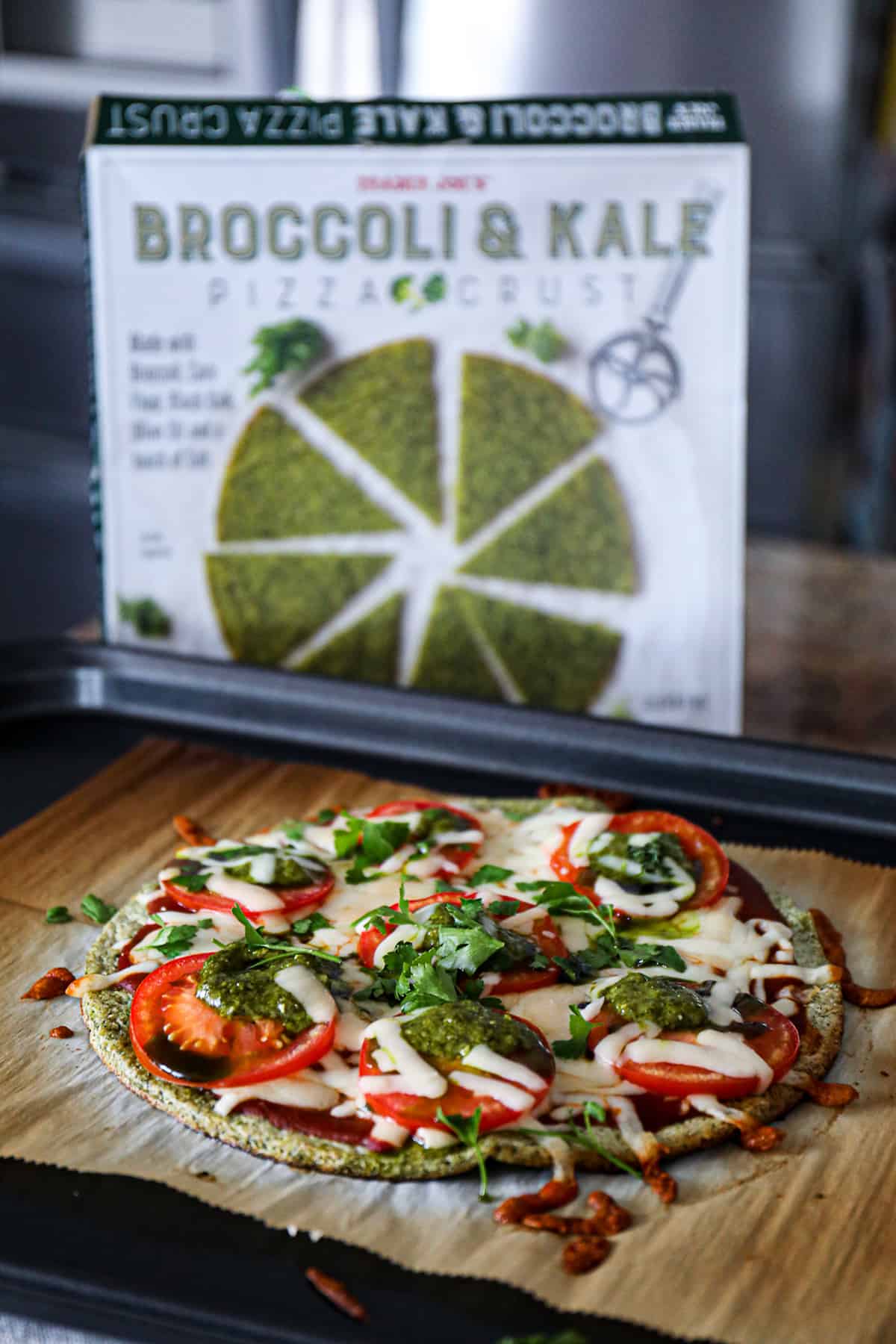 Here are some of my favorite premade Trader Joe's frozen appetizers and more.
Pizza on any of their dough options.
The Buffalo Chicken Dip Trader Joe's sells is not to be missed! Instead of serving them with tortilla chips, spoon the dip in taco shells or in stuffed pasta shells.
Hot & Spicy Trader Joe's Chicken Wings – you know I'm a huge fan of crispy oven baked wings, and these are no exception, plus you don't have to make them from scratch and the sauce is amazing. And as you see in this air fryer wings recipe, it takes less time to air fry them, so that's what I do these days.
Mini Tacos.
Trader Joe's Tempura Chicken.
Spring Rolls.
Samosas.
Trader Joe's Cheese Board – mix their sliced meats with beer cheese, wine cheese, honey cheese, cranberry cheese, blueberry goat cheese, gouda, feta – there's so much good stuff!
Brazilian Cheese Bread.
Guests love TJ's Cheese Tortellini in this Mexican tortellini pasta salad.
Lunch ideas Trader Joe's can help you make
Here are some easy TJ's lunch meal prep ideas and recipes that are fast if you work from home.
Trader Joe's Chicken Burrito Bowl.
Trader Joe's Dolmas – I can eat a whole pack by myself! See my Trader Joe's Dolmas review for more.
Maple Turkey Breast – on a ciabatta roll with their tasty Cranberry Sauce and a sliced avocado.
Butternut squash ravioli with zucchini (See how to make smoked butternut squash…).
Trader Joe's Pita Bread sandwiches with Trader Joe's Blue Cheese Dressing, sliced Persian cucumbers, sliced red onion, and sliced red pepper with a slice of provolone cheese (yum!!).
Tortilla pizzas baked in the oven for ~5 minutes at 400 degrees F with Trader Joe's Shredded Mozzarella Cheese.
Southwest Salad Mix on leftover sous vide pulled pork or sous vide tri tip sandwiches.
Trader Joe's Riced Cauliflower Bowl.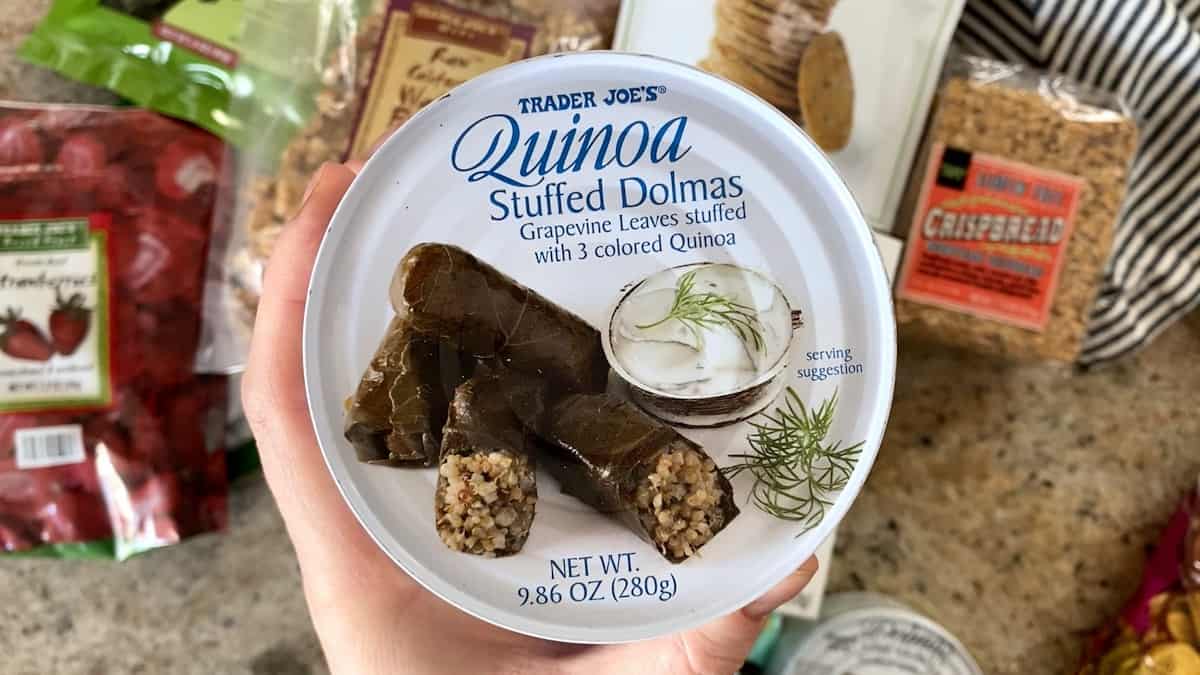 Are you *also* addicted to these Trader Joe's Dolmas?? If you haven't tried them, you may be wondering: What are they? They're stuffed grape leaves with rice and spices. It sounds simple, but they sit in vinegar which makes them taste pickled. My favorite way to eat them is chilled. One can has 10 delicious dolmas. Add them to your next Trader Joe's haul!
Trader Joe's Dinner Ideas
Before going into my list of TJ's dinner product must-have items, I'm going to dive into some of my absolute favorites. If you're shopping at Trader Joe's for the first time, you don't want to miss items like orange chicken and butter chicken, so add these to your shopping list!
My personal top 5 Trader Joe's dinner recipes
Any pizza using Trader Joe's Pizza Dough – for starters, see this pulled pork pizza.
Slow cooker meals like these Slow Cooked Beef Meatballs With Cauliflower Rice – they're low carb and fantastic!
Indian meals – I'll pretty much take anything in the frozen section served on their Frozen Roti or Frozen Garlic Naan Bread!
Asian meals – it's saved the day to have bags of frozen Asian food from Trader Joe's in my freezer after long afternoons at the zoo when we don't feel like cooking.
Pasta dishes – from pasta salads to pasta dinners, I can't walk by a pasta package in TJ's without adding it to my cart. Trader Joe's tortellini and fresh ravioli is really good and comes in a variety of seasonal flavors from butternut squash to lobster to lemon to cacio de pepe.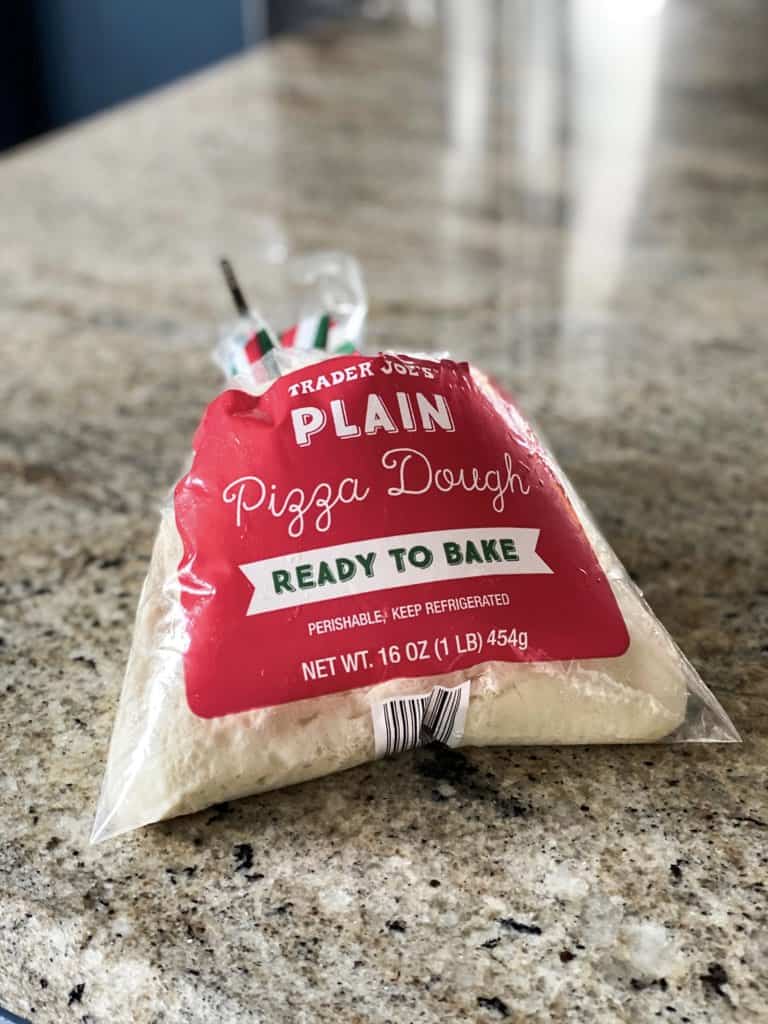 Chicken dinner ideas with Trader Joe's foods
Trader Joe's Chicken Sausage – It's not just for breakfast, add their apple chicken sausage to pasta dishes. Or toss it with olive oil and bake with brussels sprouts, potatoes, onion wedges and diced carrots.
Use Trader Joe's Chicken Breast to make chicken spinach pizza with bacon, balsamic marinated chicken, or Caprese chicken sandwiches.
Trader Joe's Chicken Pot Pie – it's perfect comfort food and all you do is bake it in the oven. Almost a complete meal on it's own, try it with simple sous vide beet salad or premade salad.
Trader Joe's Harissa Chicken – it comes premade, but you can always make your own with their Harissa in a jar.
Chicken Dumplings.
Pesto Chicken – serve it chilled in this tomato pesto salad.
Chicken Enchiladas.
Chicken Piccata.
Lemon Chicken.
Trader Joe's chicken cilantro mini wontons – I love just sizzling them up in a pan on the stove, but also I make tasty wonton stir frys with TJ's gyoza dipping sauce, Soyaki Teriyaki. Picture below.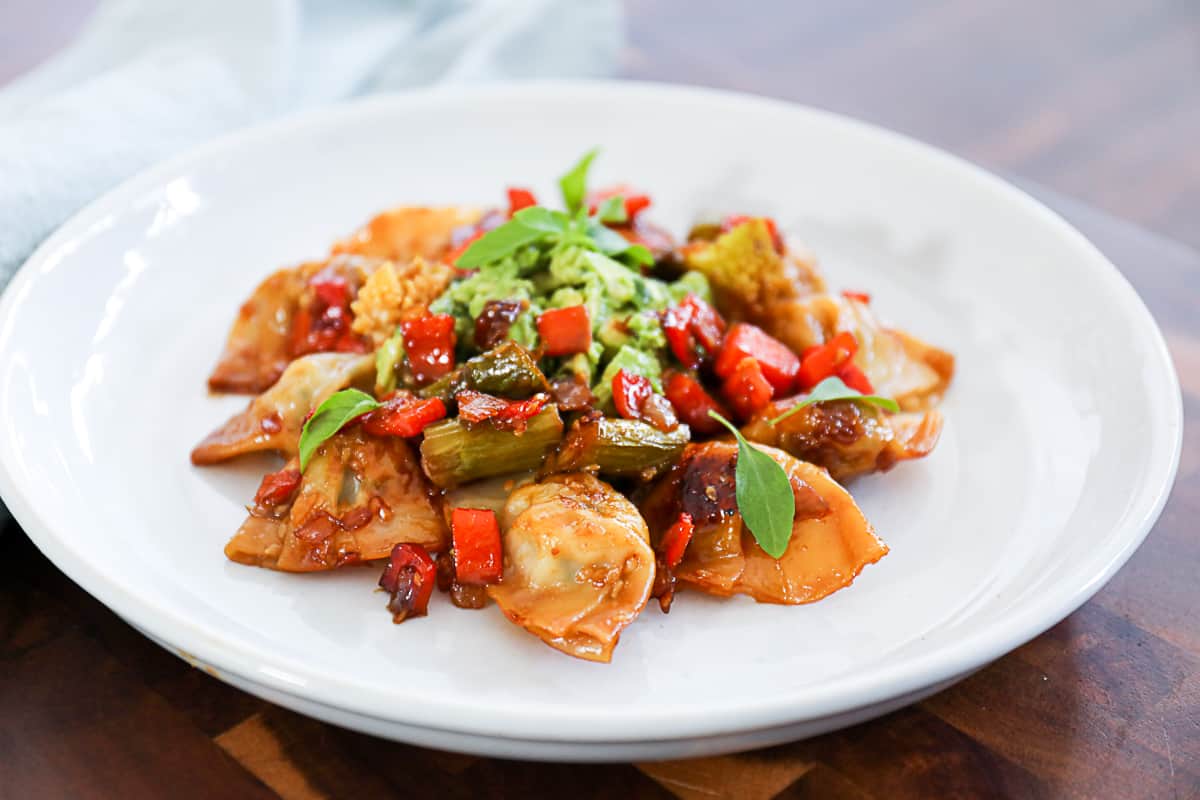 Trader Joe's beef and pork dinner ideas
Love ribs? Check out my recipe for smoked flanken ribs – they're tender and easy to smoke on the Traeger.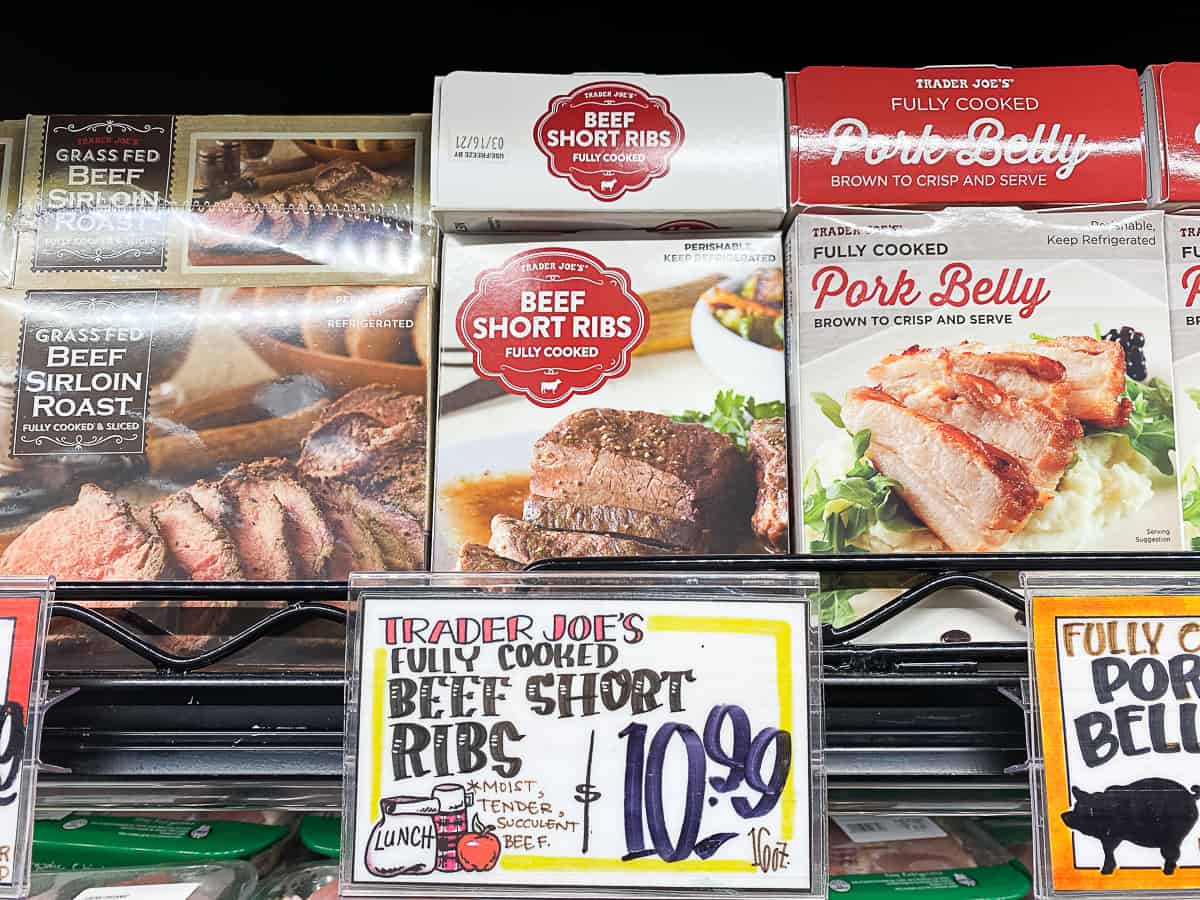 Must-try Trader Joe's Indian dishes
I love eating Indian food, but many of the recipes require ingredients I don't have in my pantry. And, sometimes they take a while to make because they simmer on low for a while. Here are some of my favorite TJ's Indian dinners to make when the craving strikes.
Trader Joe's Butter Chicken – it's so fabulous over couscous, or farro with roasted vegetables, or their Cauliflower Gnocchi.
Super tender Trader Joe's Shawarma Chicken Thighs – try 'em in a rice bowl with Trader Joe's Tzatziki Sauce and diced persian cucumbers.
Trader Joe's Chicken Tikka Masala – the sauce is incredible, they also sell jarred Tikka Masala sauce and Shrimp Tikka Masala.
Curry Chicken Salad from Trader Joe's – I could eat this all day on a bed of spinach sprinkled with dried cranberries.
Popular Trader Joe's Asian food products
For some reason, I crave Asian food at lunch all the time. It may have been from time as a sushi waitress, or when I worked for a Chinese company and went to Beijing and Hong Kong and fell in love with the food.
Though they have more "Americanized" Asian food products, when I'm in the mood, it's nice to have a work from home lunch option in the freezer. Here are some not-to-be-missed things to find at Trader Joe's.
Kung Pao Chicken from Trader Joe's
Trader Joe's Kung Pao Chicken is exactly what I want when I've had a busy day and want to cook up something easy and satisfying for dinner. My toddler is a huge fan, too. Similar to when I order it at Chinese food places, I usually serve it with frozen brown rice.
To make it a complete meal, pair it with fried rice or a bag of shredded cabbage.
If you're looking to eat more vegetables, you can make it a bit healthier of a meal and serve kung pao chicken on a salad or with sous vide asparagus or steamed broccoli.
For a vegetarian option, try Trader Joe's Kung Pao Tempura Cauliflower Bites in the air fryer. Delish!
Everyone loves Trader Joe's Orange Chicken
In case you've been living under a rock, let me fill you in on TJ's mandarin orange chicken. It's been popular for years, and has sparked a little push back as over the years it seems the recipe has changed a bit. But lately, everyone I chat with has found a new love of cooking Trader Joe's orange chicken in the air fryer.
And for the non eat meat eaters, TJ's has actually come out with a vegan option for this popular dish: Chicken-less Mandarin Orange Morsels.
As far as nutrition goes, most people aren't eating Trader Joe's or "Trader Ming's" chicken as it was referred to previously, to be health conscious. This convenient meal is both tasty and higher in sodium because of the tasty sauce. I love adding them to chicken bowls with cauliflower rice.
More Asian Trader Joe's must haves and recipes
Chicken Wontons – I love making a simple WFH lunch stir fry with Trader Joe's Chicken Cilantro Mini Wontons
Trader Joe's Chinese Chicken Salad – eat it with salad, in a bun for an easy meal prep lunch, or served over Thai noodles for dinner.
DIY Stir Frys – this vegetable stir fry with Cauliflower Rice and kale is so healthy and filling.
Trader Joe's Chicken Fried Rice – you'll be happy to find this in your freezer when you're running out of food. Pair the fried rice with TJ's Pork and Ginger Soup Dumplings or potstickers.
Teriyaki chicken.
Trader Joe's Frozen Jasmine Rice.
Pot stickers – See my guide to Trader Joe's Thai Vegetable Gyoza for a closer look. Picture below.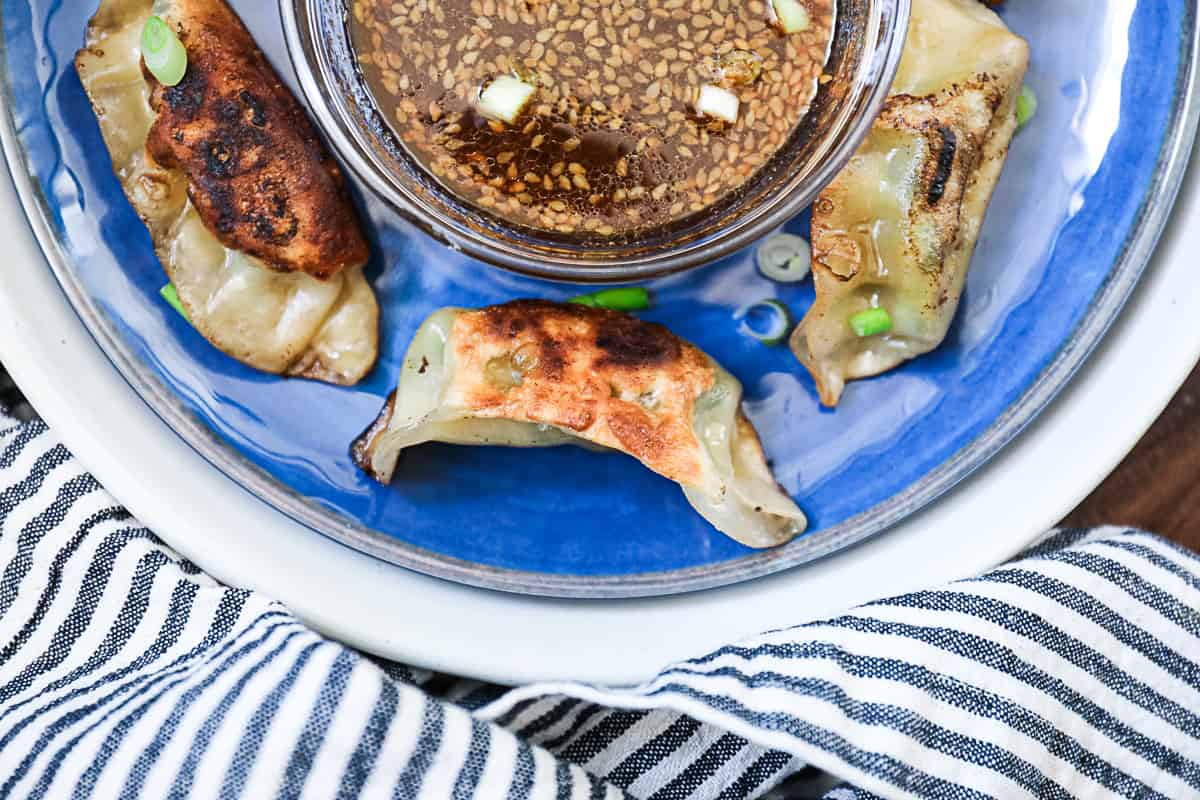 Rice Side Dishes from Trader Joe's
Way too many to list, so I'll share some of my go-to favorites.
So many of my low carb recipes use Trader Joe's Cauliflower Rice. (see video below for more details)
Fried Rice – they have Chicken Fried Rice and a great Vegetable Fried Rice.
Pantry staple rices – Stock the pantry with their inexpensive Brown Rice, Jasmine Rice, Frozen Chimichurri Rice, Wild Rice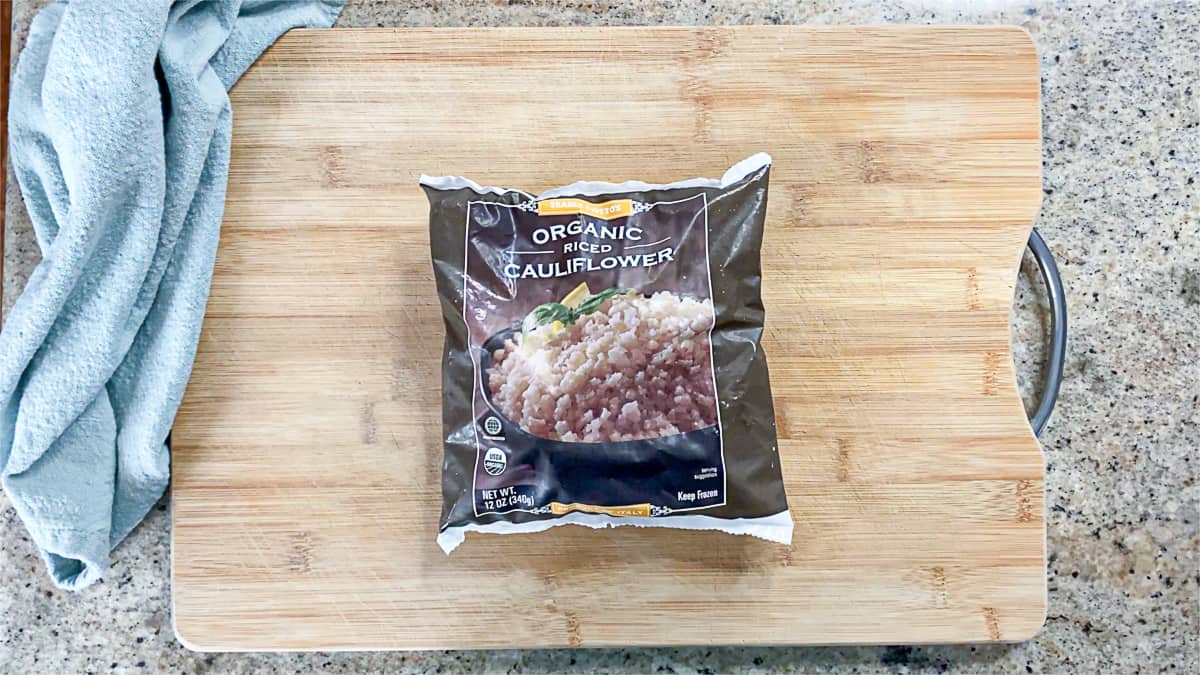 See the video below on some of my favorite riced cauliflower from Trader Joe's…
Want more recipe ideas for making keto friendly recipes with this vegetable rice? Take a closer look in this post on Trader Joe's cauliflower rice.
Top picks for Trader Joe's condiments
Here are some must-try sauces, seasonings, dressings, and more condiments to try from Trader Joe's.
Trader Joe's Tzatziki Sauce.
Chili Onion Crunch.
Everything bagel seasoning – try it on Focaccia bread with Everything Bagel Seasoning.
Chili Lime Seasoning.
Trader Joe's Traditional Tunisian Harissa Hot Chili Pepper Paste.
Pasta sauce – the price of the Vodka sauce is exceptional compared to other grocery stores, and it is so delicious.
Enchilada sauce.
Sweet chili sauce – pair with Pot Stickers.
Pizza sauce – though I make my own tomato sauce from canned tomatoes, I'm so happy when the kiddo wants pizza and I have a jar of this TJ's pizza sauce in the pantry. Their fresh in the refrigerator section pizza sauce is fantastic as well.
Alfredo sauce – use it on ravioli pizza – but it's so easy to make white pizza sauce from scratch using Trader Joe's Parmesan Cheese.
Fish sauce – it adds so much flavor to this flank steak marinade.
Soy sauce – is obviously great in so many things, including this grilled skirt steak recipe.
Tahini sauce – I make my own creamy hummus using their Canned Garbanzo Beans and this sauce.
Habanero Hot Sauce.
Tikka Masala Sauce.
Trader Joe's Zhoug Sauce – throw it in a crock pot with meat or marinate chicken with it.
Caramel Sauce.
Trader Joe's Soyaki Sauce – it's in so many of my stir fry recipes on Sip Bite Go. See picture below.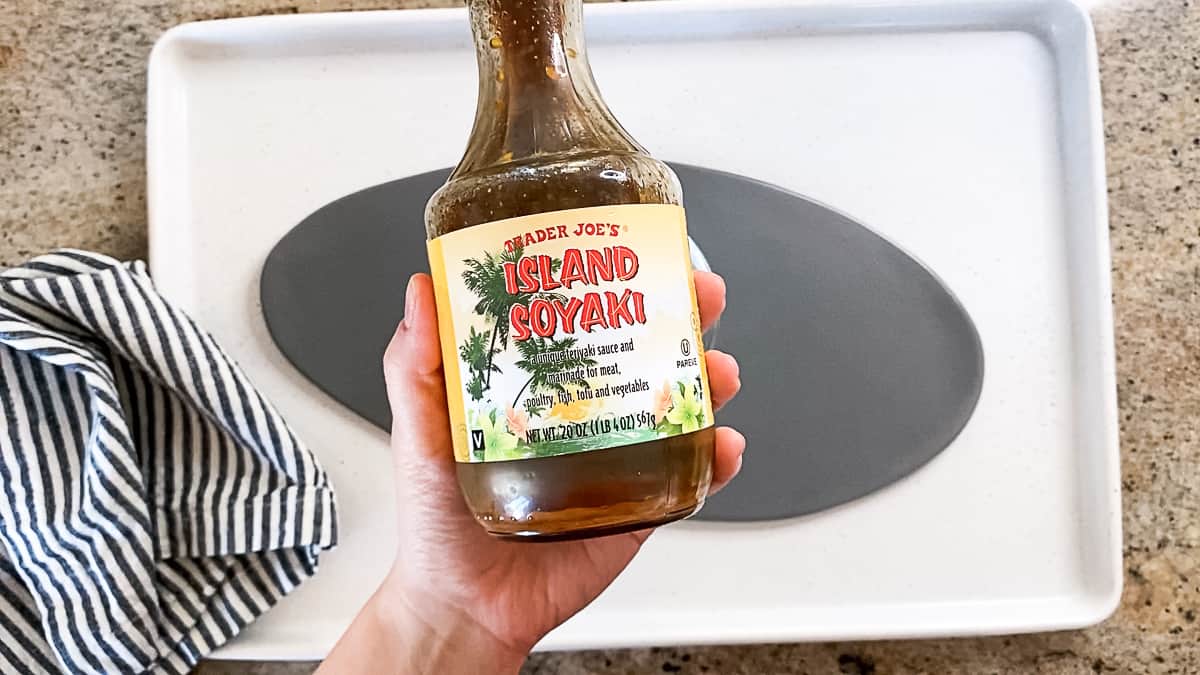 Trader Joe's Desserts
Throughout the store, you can't help but notice all the delicious desserts Trader Joe's has to offer! They are all over the place, and usually very seasonal. Here are some top picks.
Best of Trader Joe's chocolates and treats
Trader Joe's Chocolate Hummus – it sounds a little weird, but on some of the TJ's Pita Chips? To die for!
Dark Chocolate Peanut Butter Cups – so good!
Trader Joe's Dark Chocolate Bars – don't miss them near checkout.
Chocolate Chip Cookies
Chocolate Chips
Hot Chocolate Bomb and the Sipping Chocolate – perfect for winter and Valentine's Day.
Trader Joe's Cookie Butter – smear it on waffles or graham crackers.
Trader Joe's Maple Cookies – you know, I found the exact same ones in a Canadian gift shop in Vancouver once under a different package name! I was thrilled to find them in TJ's shortly after finishing the pack.
Are you a fan of eating out? See my best Cheesecake Factory menu items list.
Trader Joe's must haves that are healthy
There are so many options when it comes to making healthy Trader Joe's meals. They have a great produce department with already cut vegetables that can be added to stir frys and used as sides for chicken breast dinners. I personally get so inspired to make a lot of healthy dinner ideas from Trader Joe's shopping trips.
So what are some of the Trader Joe's must haves healthy items? Well, it depends on what diet you are following: Weight Watchers, vegan, vegetarian, low carb, pescetarian, they can really accommodate it all. In this section I'll break down some of the top pics for healthy TJ's food products.
But first, here are healthy things I try to buy on every trip to TJ's…
My personal Trader Joe's healthy products list
Trader Joe's Gluten Free Chicken Nuggets
Trader Joe's Spatchcock Chicken – I use this all the time to make sous vide whole chicken. Cooking a whole chicken in the crock pot is a great easy healthy dinner, too.
Trader Joe's Chicken Tenders – clearly a must have for sous vide chicken tenders.
Trader Joe's Grilled Chicken or Marinated Chicken – use it on top of salads with TJ's Frozen Edamame and Green Goddess Dressing.
Trader Joe's Chicken Thighs.
Rice bowls – they have so many mixins for making DIY rice bowls. I like the frozen rice, Frozen Mexican Street Corn, and chicken, shrimp, beef… so much to choose from to whip together something delicious on a whim.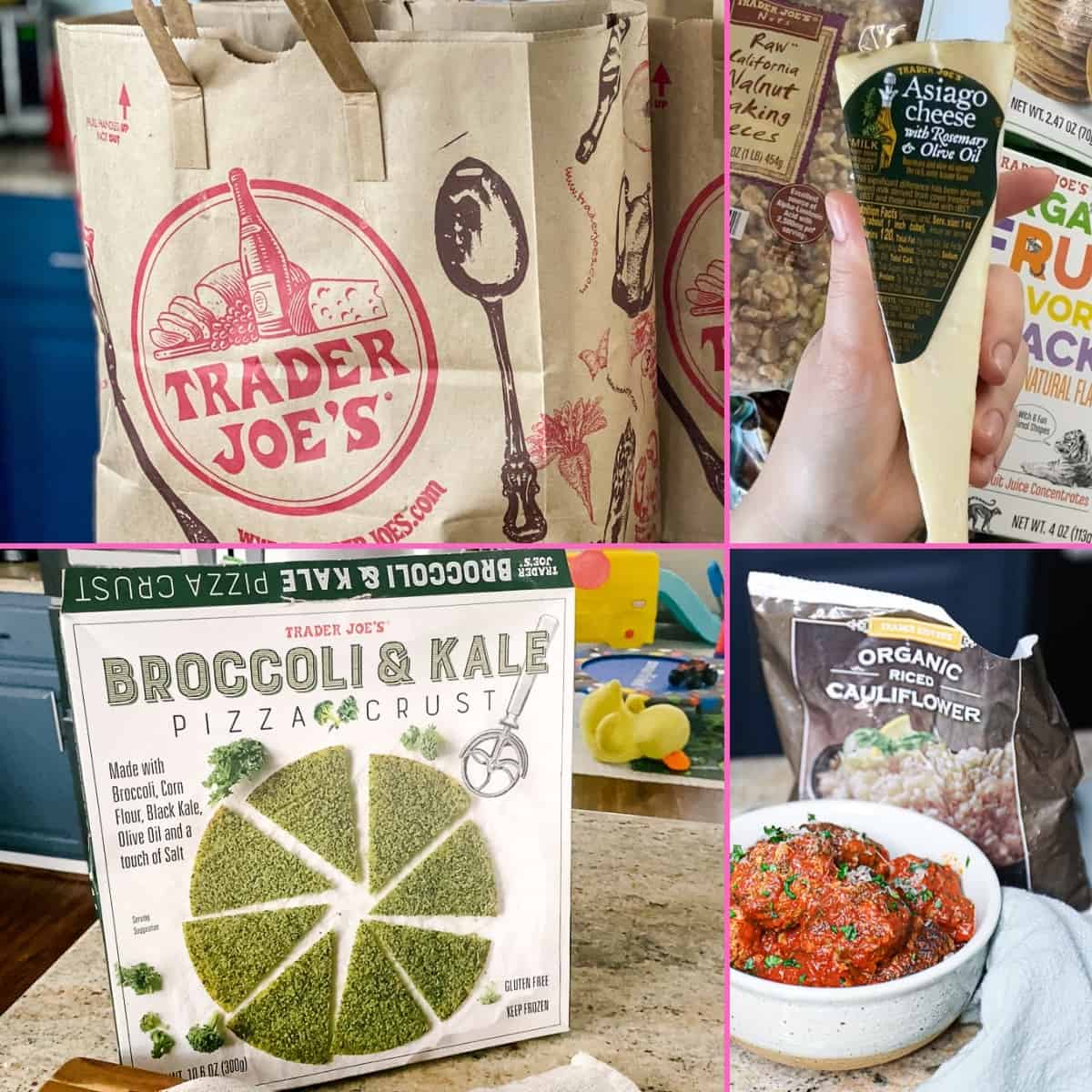 Best Trader Joe's gluten free snacks ideas
Let's be honest — I love my carbs — but with all the recipe testing I do, I try to keep my snacks and WFH lunches a bit lighter. Enter Trader Joe's…. they have so many gluten free / keto friendly snacks that are filling and help power me through an afternoon of video editing. Save these few products in your brain to remember to pick them up next time you're at TJ's.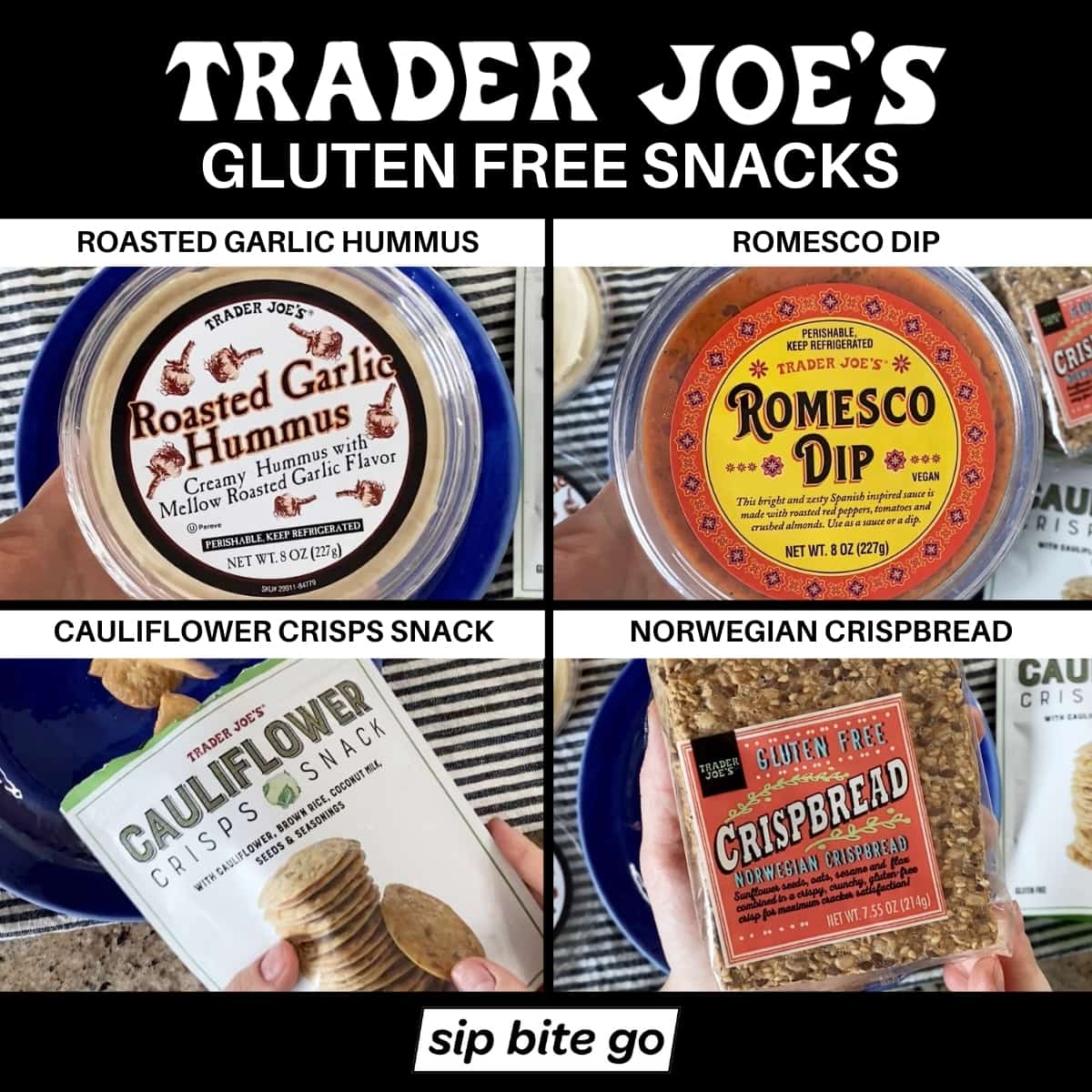 What's in it:
Cauliflower Crisps Snack.
Romesco Dip.
Roasted Garlic Hummus.
Gluten Free Norwegian Crispbread.
Fresh Cilantro.
You have to check out this WFH snack I love from Trader Joe's (below). Earlier that day, I had done a Trader Joe's Keto Haul specifically looking for Gluten Free snacks.
Must have WW items from Trader Joe's
There are plenty of Weight Watcher items from Trader Joe's, you just need to know where to look. The packages don't specify Weight Watchers numbers so researching in advance and plugging the nutritional information into your WW calculator will help you plan in advance. Once you have a list of Weight Watcher friendly things to buy at TJ's you'll be able to go back to the list time and time again. Here are just a few ideas.
Trader Joe's WW item recommendations
Jicama Wraps (0 points)
Coconut Creamer (0 points for 2 tablespoons)
Uncured Chicken Hot Dog (1 point for 1)
3 Layer Hummus ( 2 points for 2 tablespoons)
Trader Joe's Spinach & Artichoke Dip (1 point for 2 tablespoons)
Turkey Meatballs (3 points for 2 meatballs)
Whole30 must haves
When it comes to buying Whole30 items at Trader Joe's, the produce section is your best friend.
Whole30 foods at Trader Joe's
Roasted Plantain Chips.
Chili Lime Chicken Burgers.
Olive Tapenade.
Garlic Herb Chicken Sausage.
Paleo Trader Joe's must haves
Our hunter and gatherer ancestors would have loved all the paleo options at Trader Joe's – especially the nut aisle! I can't stay away from all the dried fruits and trail mixes myself.
Items that are paleo friendly at Trader Joe's
You'll find many of these items lightly seasoned or plain, they are great starters for making paleo meals.
Lean meats.
Fish – the Trader Joe's Salmon Burgers are great, you can wrap them in lettuce to skip the bun.
Fruits.
Vegetables.
Nuts and seeds.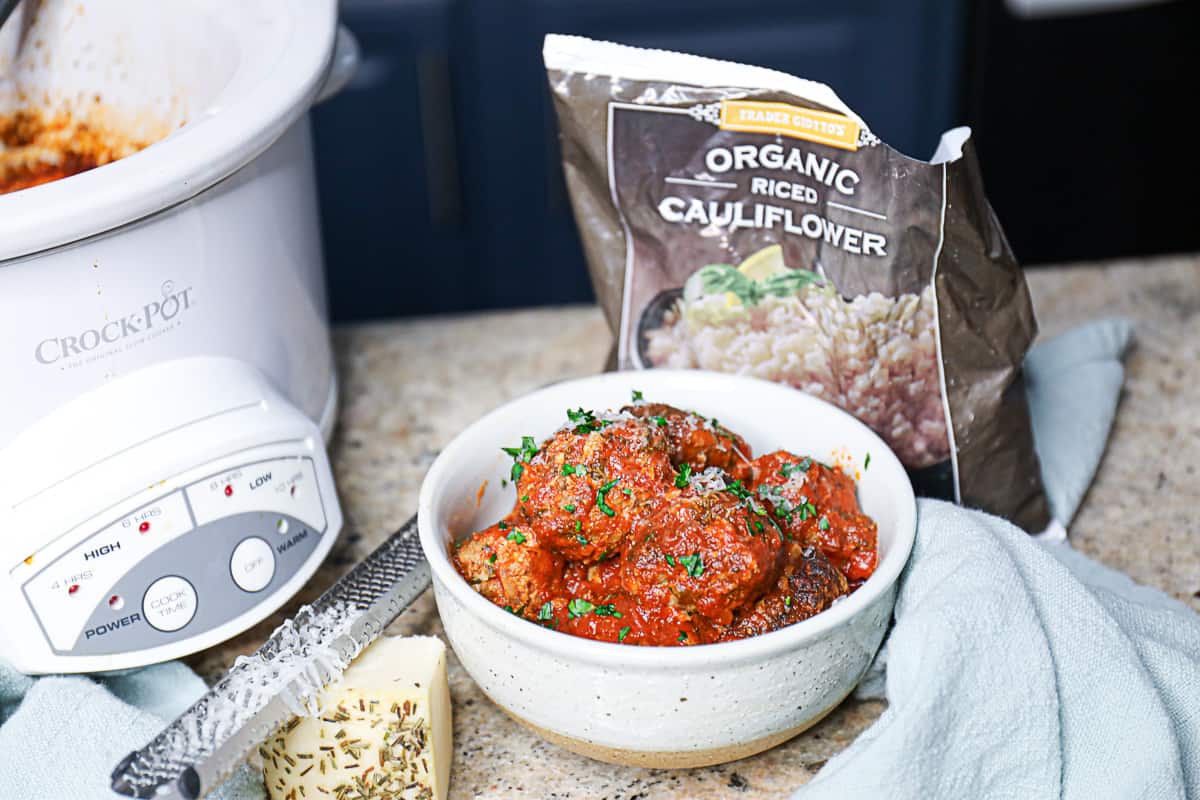 Keto must haves from Trader Joe's
It's easy to find low carb friendly items from Trader Joe's store. When I'm not eating tons and tons of delicious homemade pizza, I try to choose low carb foods. Here are some of my favorite easy healthy Trader Joe's meals to make for busy weeknights…
Keto friendly finds at TJ's
Gluten free pizza with Trader Joe's Broccoli and Kale Pizza Crust.
Trader Joe's Cauliflower Pizza Crust is always on my list.
Trader Joe's Chili Lime Chicken Burgers – you have to try these with sauteed onions and peppers.
Folios wraps.
The cauliflower rice could go on every list on this page – but you have to check out these keto friendly meatballs – they use Trader Joe's Cauliflower Rice instead of breadcrumbs. Picture below.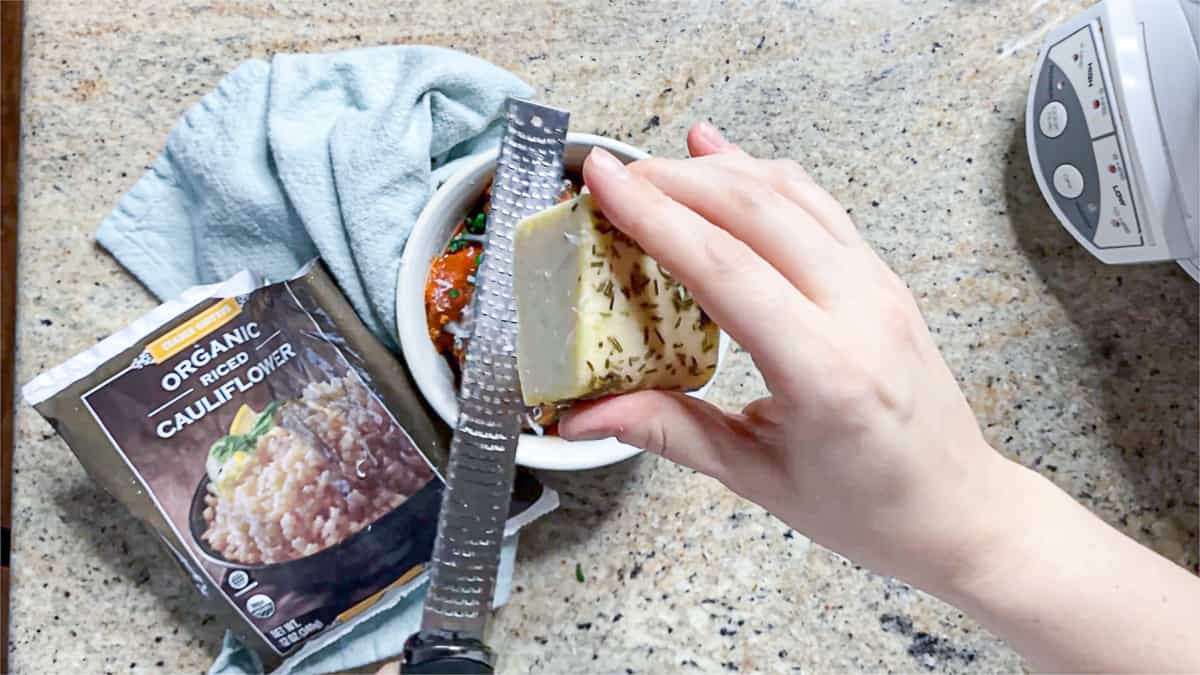 Vegan must haves from Trader Joe's
There are a ton of vegetarian options and vegan products at TJs. The favorite from my vegan friends are the Chicken-less Mandarin Orange Morsels and Cauliflower Tempura.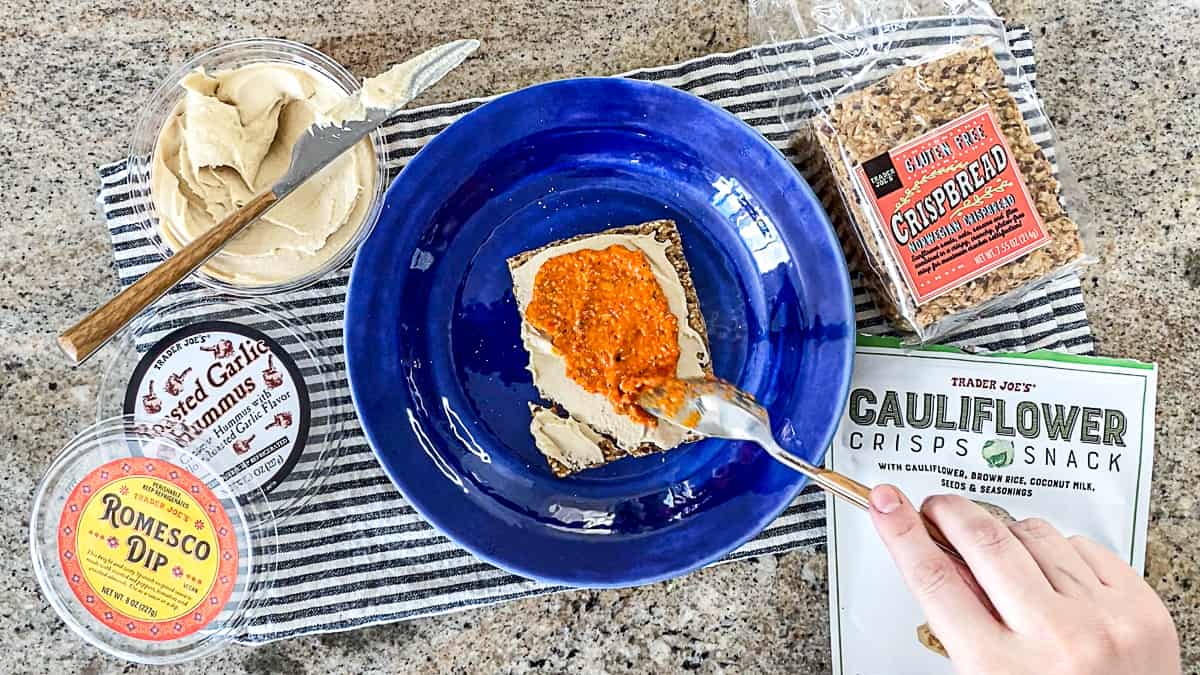 Must have snacks at Trader Joe's for kids and adults
Trader Joe's cheese puffs.
cheese crackers.
Bombas.
Crackers.
Jerky.
Kid foods at Trader Joe's
As a toddler mom, you don't have to tell me twice that most foods aren't only "kids foods" in the house. Here are some kid meal favorites that my kiddo and husband, and I can all stand behind!
Trader Joe's holiday and birthday gifts
There are often great food gift items to snag for Christmas or Birthday gifts. Here are some favs.
Trader Joe's Chocolate Passport.
Chocolate Covered Espresso Beans
Snowman Hot Chocolate
Chocolate Babka – it's like loaf bread with plenty of chocolate.
Trader Joe's charcuterie board must haves
Spanish Brand Deli Selection meat tray – get a variety in one pack for about 6-7 dollars. It's loaded with Salchichon Salame (a smokey salami), Del Duca Jamon Serrano (Spanish ham), and Chorizo Cantimpalo (ground sausage). I use the chorizo on frozen pizzas all the time. Picture below of the deli meat tray.
Grana Padano Parmesan Cheese.
Trader Joe's Asiago cheese with rosemary and olive oil.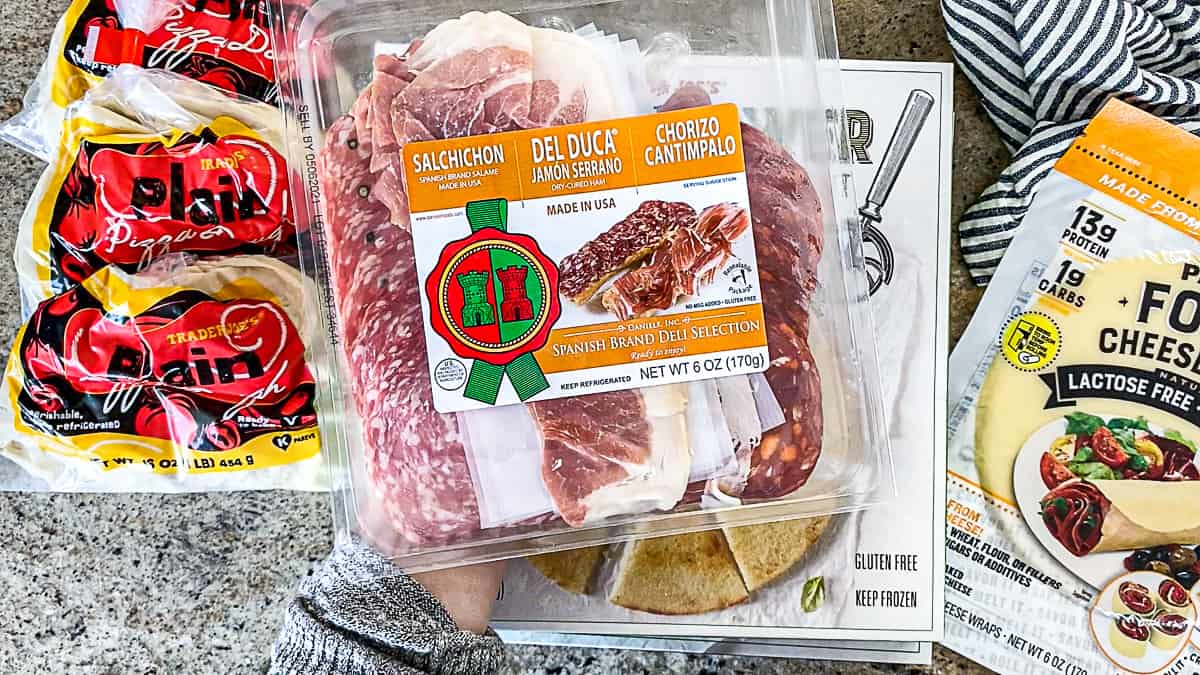 Trader Joe's Thanksgiving Items
Trader Joe's Cranberry Sauce.
Pumpkin everything! Bread, cookies, spreads, coffee, candy, if you're a fan of pumpkin spice you need to wander around the store during the holiday season.
Fresh Turkey – I like this air fryer turkey breast.
Turkey meatballs – great for parties.
Thanksgiving charcuterie board platter with Trader Joe's cheese and meats.
Tiny roasted potatoes – love these sous vide little potatoes.
Stuffing – for something different, use their bread or stuffing mix and make it a sausage stuffing.
Cheese and meats for charcuterie boards – you have to try the Rosemary Asiago Cheese from Trader Joe's! Picture below.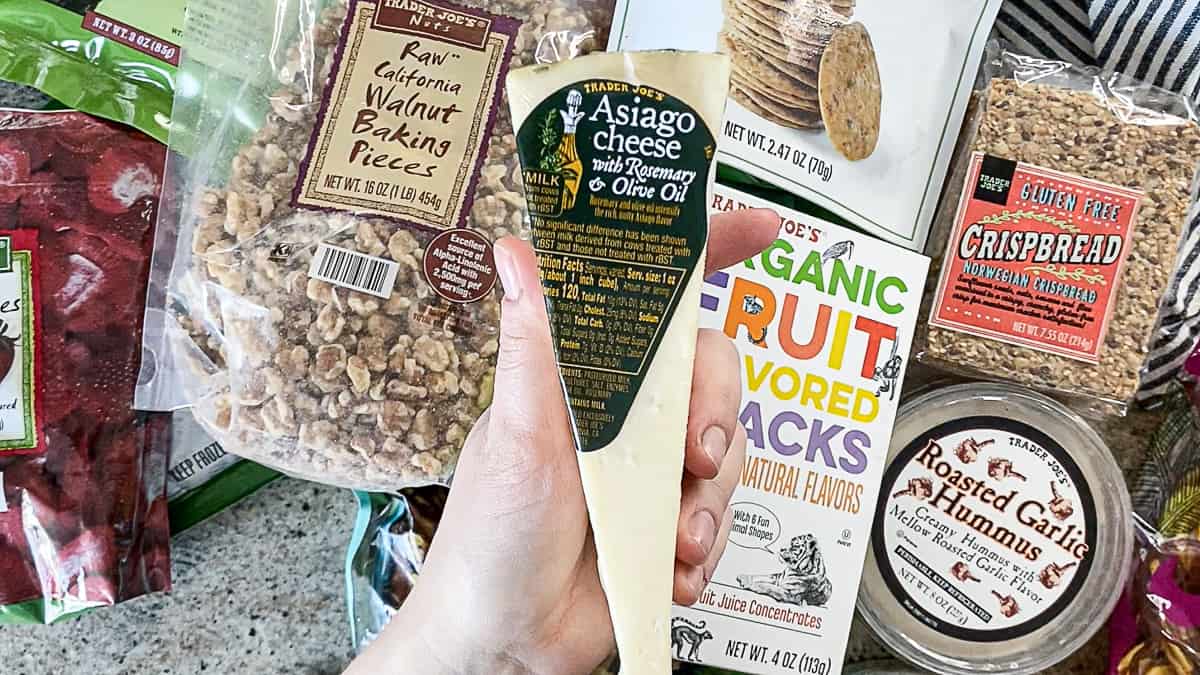 More recipes using Trader Joe's ingredients
Are you a Trader Joe's enthusiast, too? I love planning grocery trips to Trader Joe's. It's almost like a vacation… strolling up and down the aisles to discover new things. When I come home, I'm inspired to develop new recipes.
My best recipes using Trader Joe's products end up here on Sip Bite Go…
See more of the best meals to make with Trader Joe's ingredients and my full list of Trader Joe's must haves.
Are you a foodie, too?
Well there you have it, my list of Trader Joe's must haves – which literally grows by the day!
Hey home chefs, I want to know what you recommend to buy at TJ's and see photos of your food! Find me on Instagram @sipbitego to tag me and connect. Don't be shy!
Make restaurant-style food at home with my video guides on the Sip Bite Go channel.
To find more delicious recipes to try on your culinary journey, see the Sip Bite Go recipe collection.