See the best Cheesecake Factory dishes to order for take out / delivery food, including chicken dishes, appetizers, burgers, salads and more menu items with pictures. Here's the list you need to see before you order…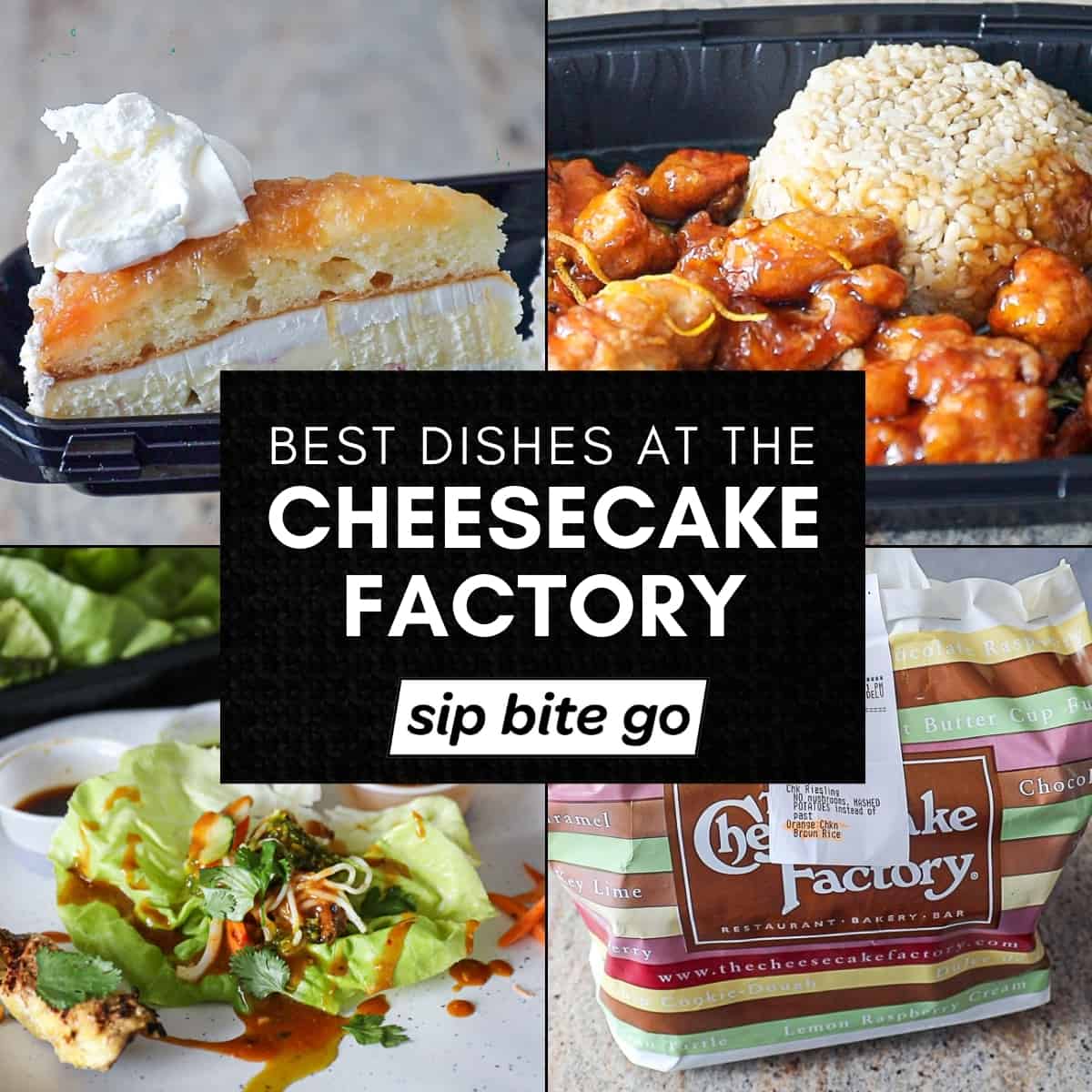 Looking for the best thing at the Cheesecake Factory to order for delivery? I have you covered! Complete with cheesecake factory menu pictures, these are the best things to order from the cheesecake factory. The ones in this photo were ordered from CF in Portland Oregon area restaurants.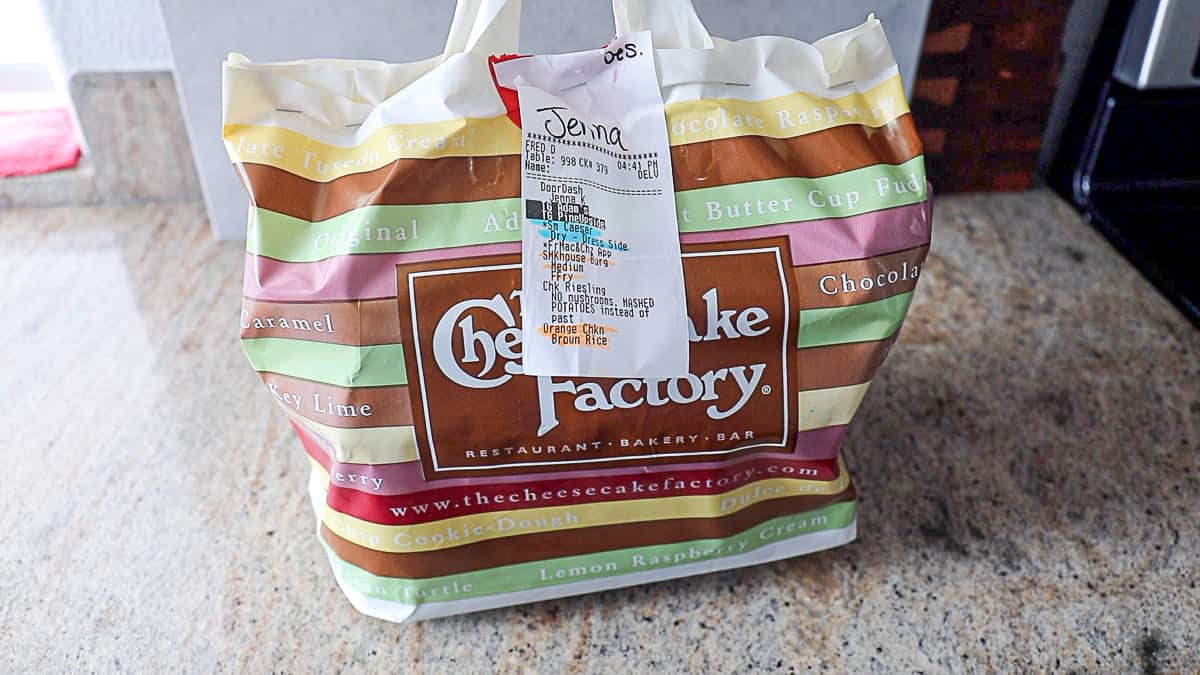 Before I dive into what's good at Cheesecake Factory, it is important to share with you that the lunch menu is available to order through 4:30pm. This means we can order things like the orange chicken lunch special from the Cheesecake Factory for dinner. I know their menu is already incredibly long, but it adds some options! By the time Door Dash delivers, if I order in Cheesecake Factory around 4:30 it's perfect timing for family dinner.
Cheesecake Factory Orange Chicken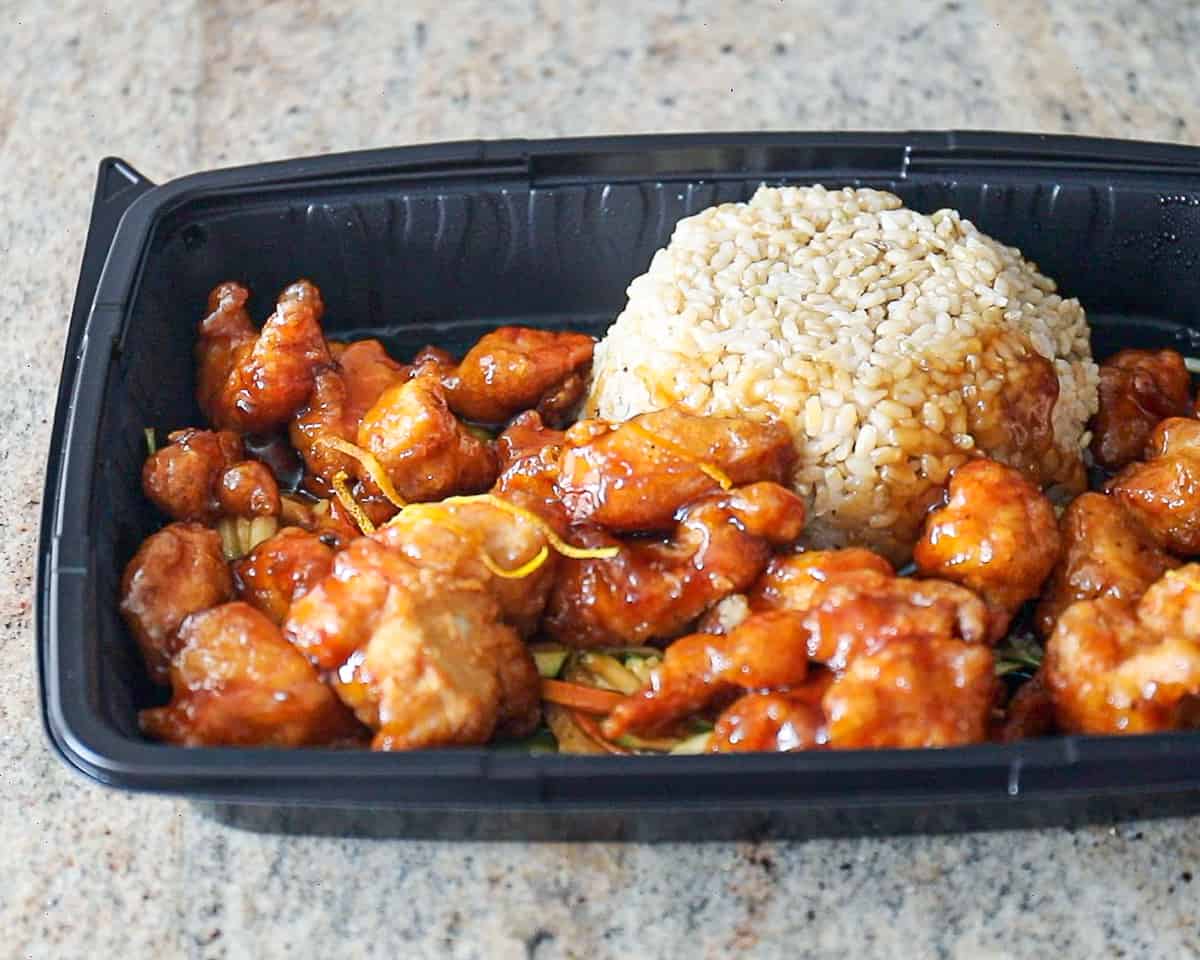 This is one of my kiddo's favorite meals at the Cheesecake Factory. Orange chicken from the lunch and dinner menu is deep fried chicken breast covered in an orange sauce that's not really spicy.
The cashew chicken from the CF is another tasty dish if you want something similar, but more spicy. They are served with white rice and vegetables and reheat well in a pan on the stove with 1-2 tablespoons of water. Or in the air fryer.
Thai Lettuce Wraps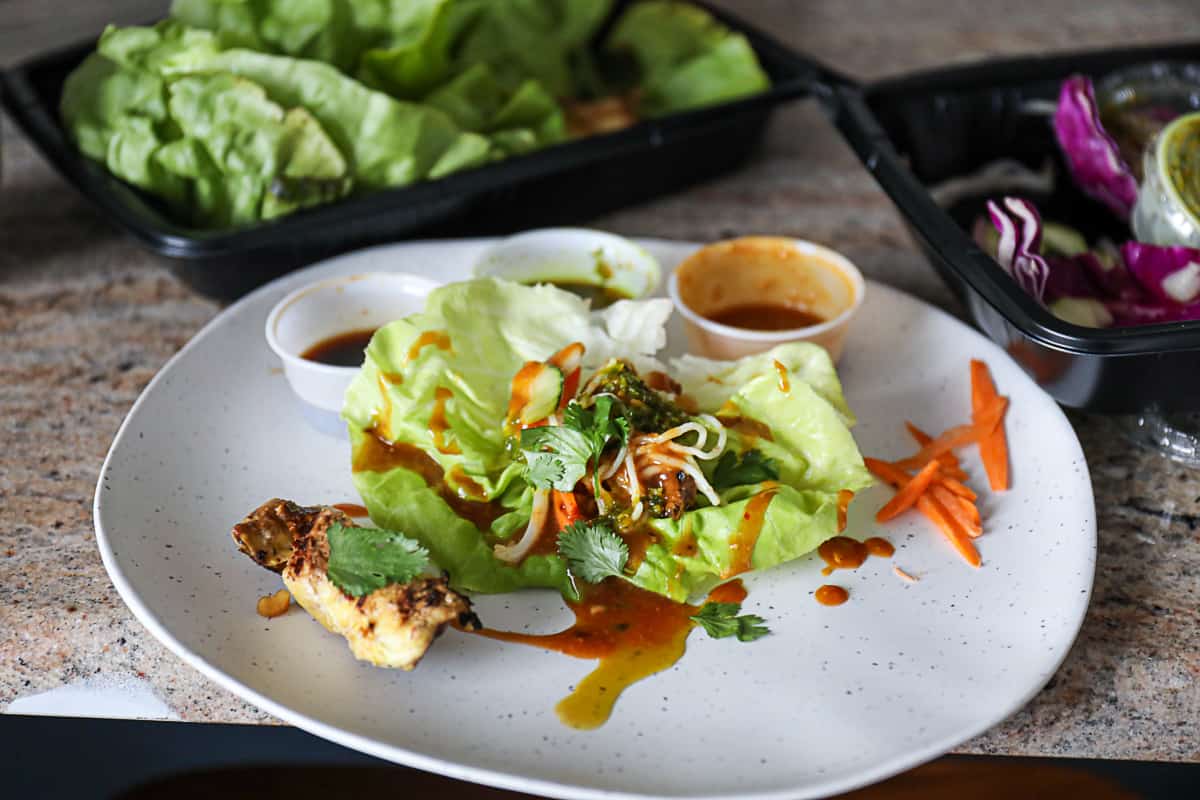 This is a must-order for me. Hands down, it's a more healthy option for this list of the best food at Cheesecake Factory since it's primarily chicken breast and vegetables. You can make it gluten free, if that's your thing, without the sauces and noodles.
Sometimes I'll order a different dinner entree, and get the Thai lettuce wraps for lunch the next day. They taste just as good the second day. The secret to why this dish is so addictive is all in the sauce options. I recommend you ask for extra sauces. That peanut sauce is so good, so is the chimichurri sauce and soy sauce. I'm getting hungry just writing this.
See my video to get a sense why I recommend this entree for what to eat at Cheesecake Factory…
Chicken Riesling Cheesecake Factory Entree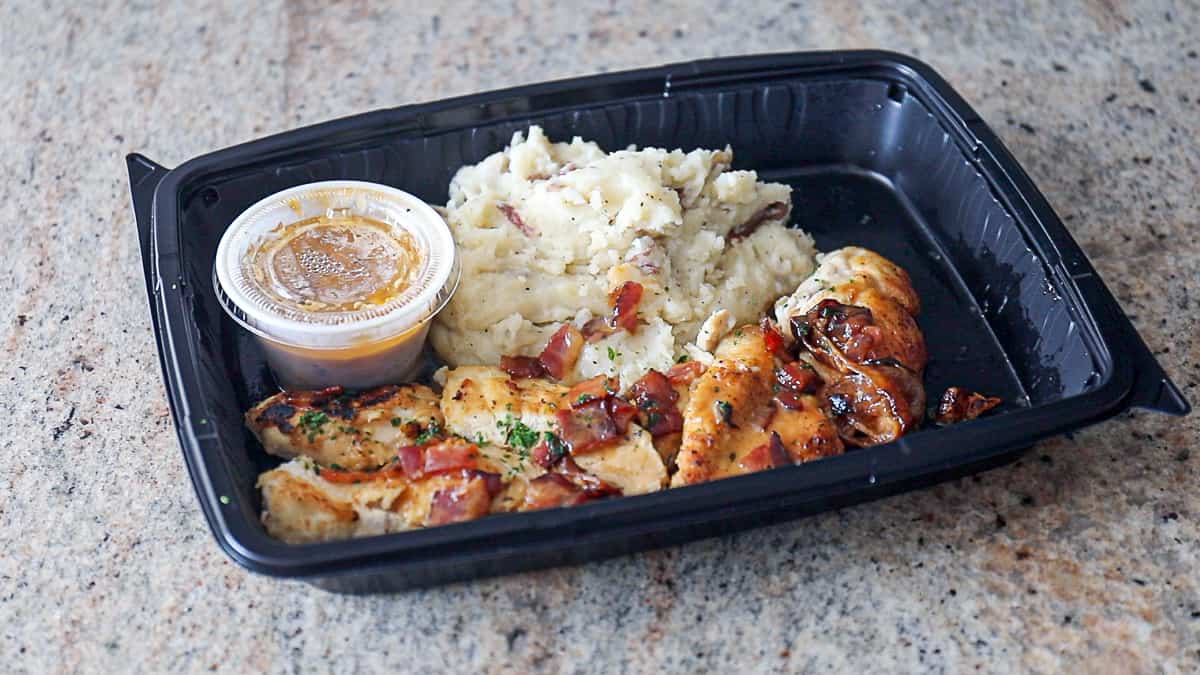 This is one of the best things at the Cheesecake Factory if you're craving a chicken dinner. My husband is more of the burger guy, but he was really into this chicken recipe from CF. The Cheesecake Factory mashed potatoes are so tasty – sometimes I'll substitute the pasta for mashed potatoes instead.
Cheesecake factory burgers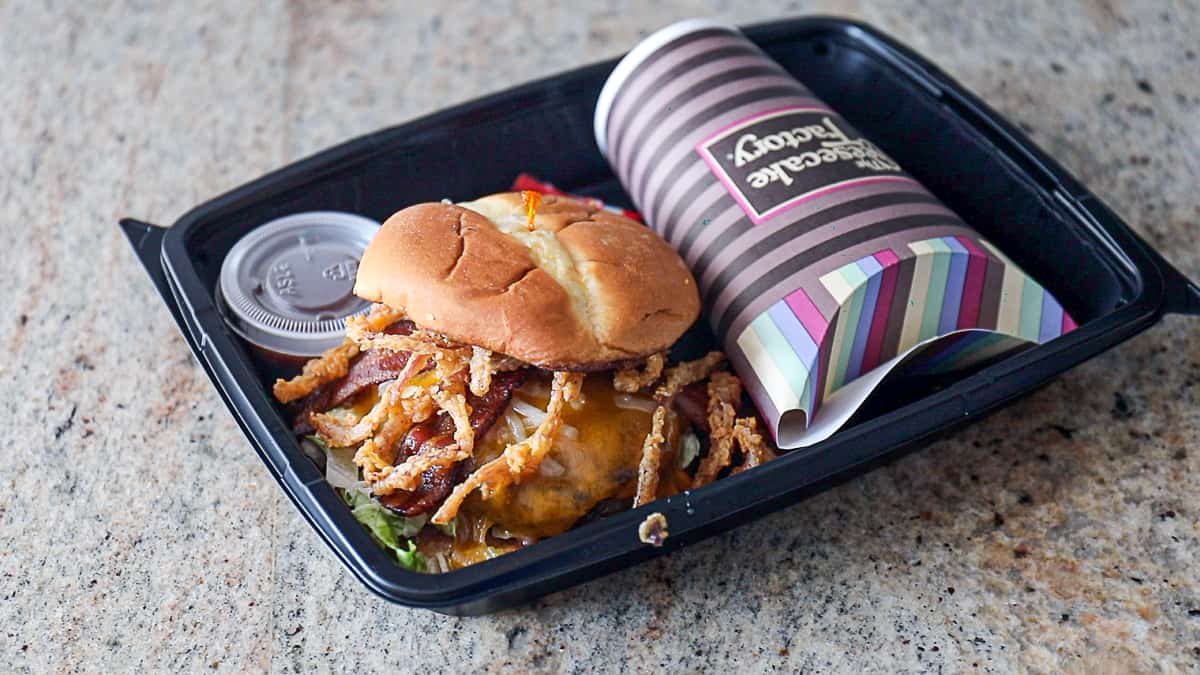 It is amazing that ground beef burger patties would still be a perfect medium and delicious though delivery, but the Cheesecake factory burgers are perfect every time.
The Smokehouse BBQ Burger from the Cheesecake Factory is on repeat when it comes to my husband's favorite dishes. It's piled high with smoked bacon and melted cheddar. Plus there are a pile of crispy onion strings on top. It's smothered with a BBQ ranch sauce that's almost as good as my jalapeno ranch dressing.
Another close favorite of ours is the macaroni and cheese burger.
Cheesecake Factory Flatbread Pizza
My kiddo loves just about every pizza recipe you can imagine and he is always happy with pizza from the Cheesecake Factory as well. Usually for his kids meal, its a toss up between pizza or chicken strips. You can even get it made on a Cauliflower Crust if desired. Between this and the fried macaroni and cheese, you can definitely get your comfort food fix at CF.
Mac and Cheese Bites
One of my favorite Cheesecake Factory appetizers, the mac and cheese ball bites are so tasty! Leftovers are delicious the next day. See my air fryer mac and cheese balls and tomato sauce recipe for inspiration.
Appetizer Caesar Salad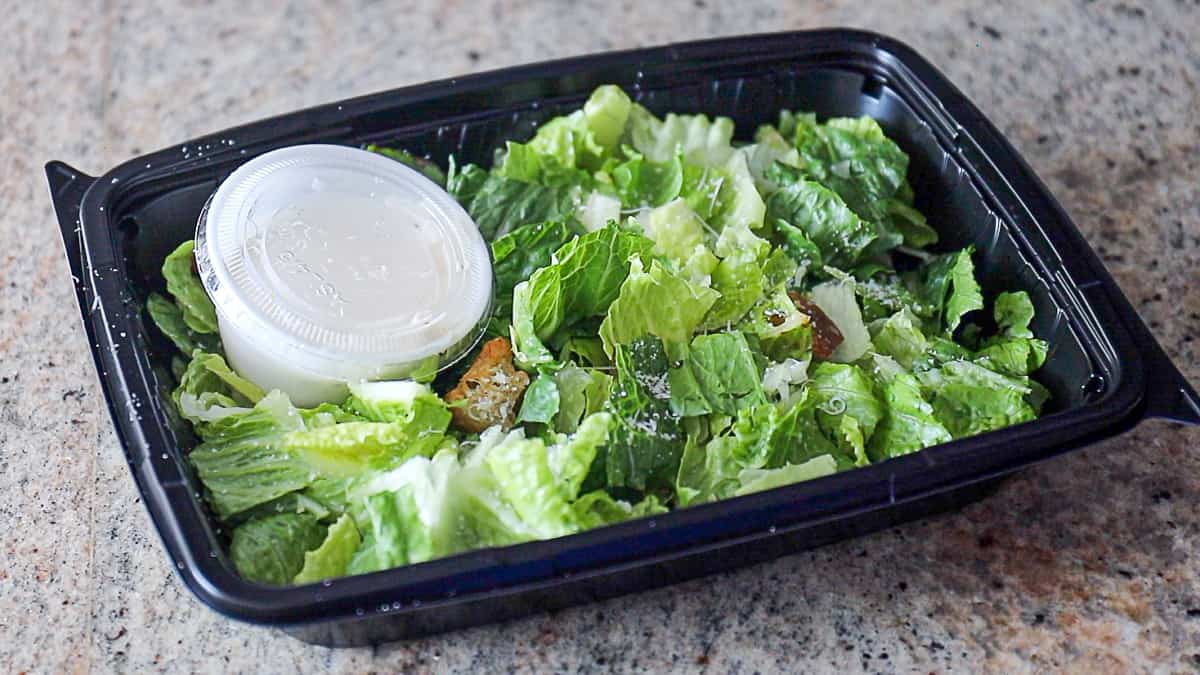 This salad is pretty traditional, and always reliable. The lettuce is always fresh and it keeps well, even to finish or eat the next day. It's topped with homemade croutons, parmesan cheese and a creamy caesar dressing.
More favorites from the Cheesecake Factory…
There's too much to add to this list of best Cheesecake Factory dishes, so I'm just dropping a few other entrees to consider here.
Truffle-Honey Chicken – it's fried chicken breast with truffle honey, asparagus and mashed potatoes (the ones I mentioned earlier are so good).
Chicken parmesan sandwich.
Chinese chicken salad – Years ago, this was what I would have recommended as the best salad to get at CF. But I've since fallen in love with the Thai lettuce wraps that have taken this space in my heart. It's still really good and worth trying to enjoy those crispy noodles served on top.
Chicken quesadilla – with melted cheese, green onions, chiles, this Mexican or Tex Mex dish is a staple for an appetizer recommendation. If you like this dish, see my recipe for pulled pork quesadillas.
I've talked up the mashed potatoes so much – you can order them as a side dish if your entree doesn't come with them.
Crispy chicken sandwich – this is an entree that is stuffed with a big piece of chicken breast, tasty sauces, pickles, and served with a side of french fries. There's a tasty spicy chicken sandwich you can try, too.
Spicy buffalo blasts – a spicy appetizer that's stuffed with chicken, cheese, and spicy buffalo sauce in a crunchy wrapper.
Cajun jambalaya pasta – it's a delicious pasta dish from the Cheesecake Factory served with a must-try spicy cajun sauce.
Breakfast tacos – with black beans.
Factory nachos – with light and crispy tortilla chips, melted cheese, and delicious guacamole.
Pineapple Upside-Down Cheesecake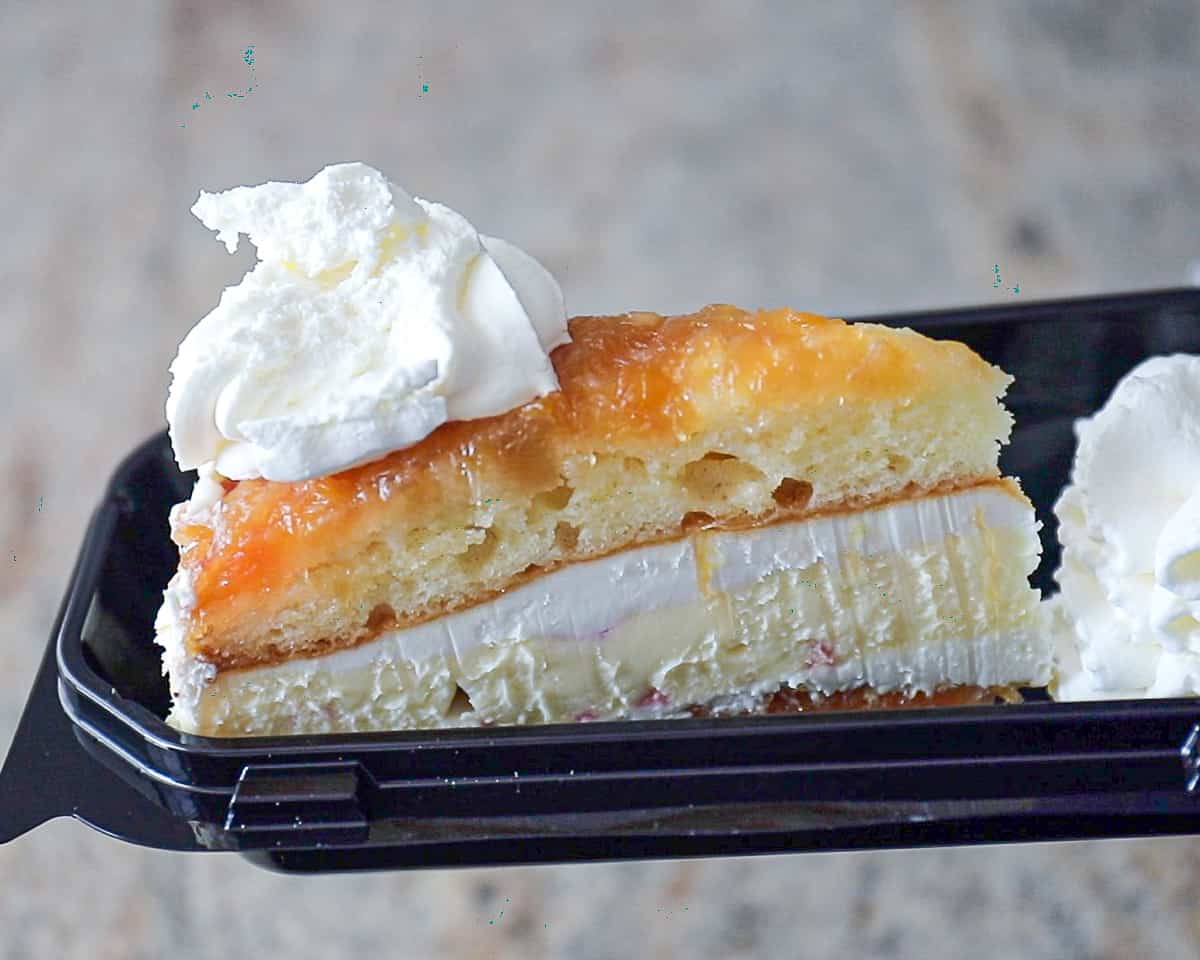 I find it difficult to decide between C​heesecake Factory menu chocolate and fruit / citrus desserts, so sometimes we get one of each type (not one of each of the 500 on the menu!). They are so rich, it takes days to finish them sometimes. And I'm not talking about the whole cake. I'm just talking about a slice with a little whipped cream and fresh strawberries.
Adam's Peanut Butter Cup Fudge Ripple Cheesecake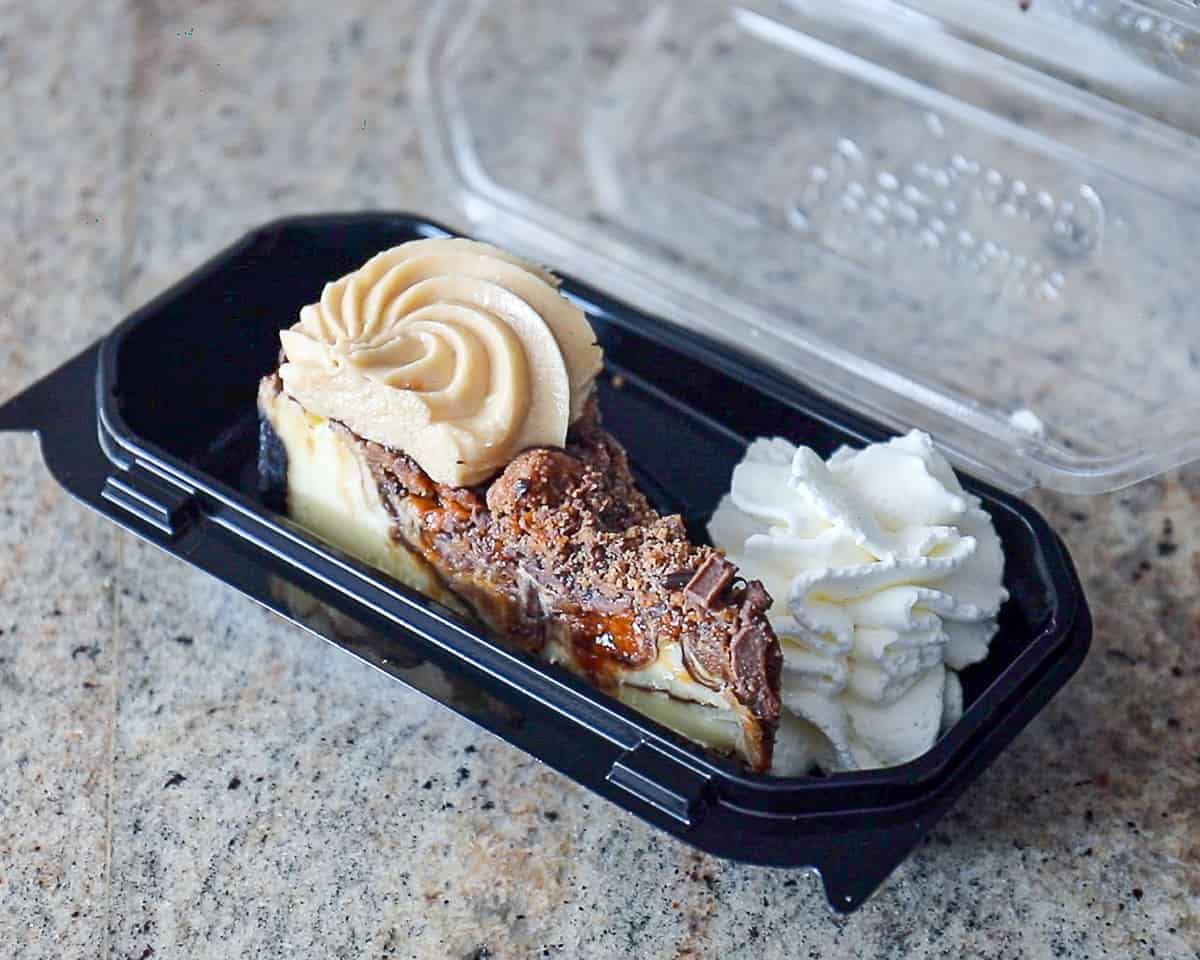 This is a close tie as a favorite chocolate dessert from CF, along with the fudge cake and Reese's Peanut Butter chocolate cheesecake.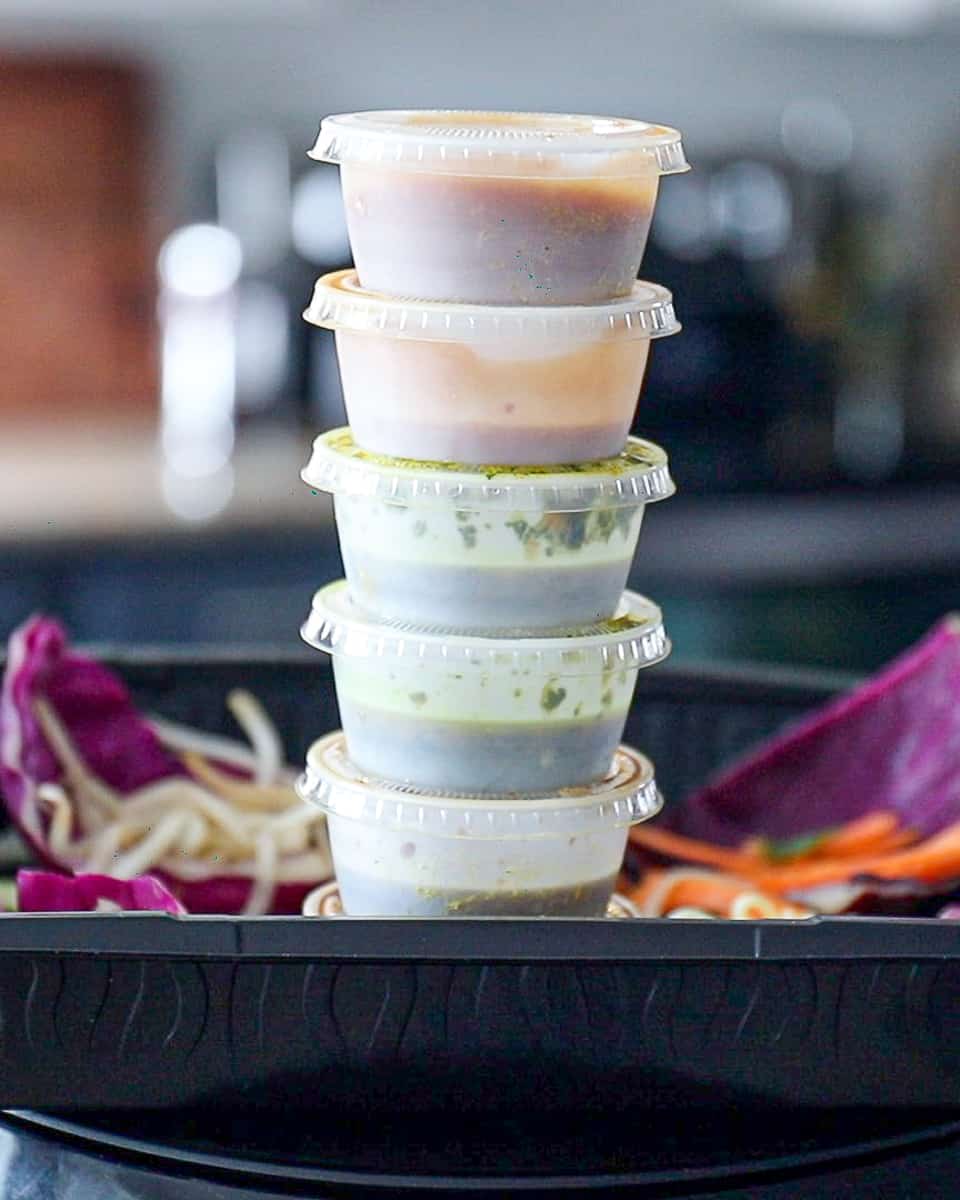 Are you a foodie, too?
Hey foodie friends, hope that answers all your questions about what to get at the Cheesecake Factory for delivery. If you're in the PDX area, also check out my best Portland restaurants guide and Portland lunch spots to try.
If you don't follow me on instagram you totally should @sipbitego. And for more deliciousness, subscribe to the Sip Bite Go channel and see the Sip Bite Go recipe collection. 
New recipes and foodie guides….
Grill and smoker recipes…
Meat thermometer recommendations
Every home chef needs a reliable meat thermometer to cook food perfectly.
On Sip Bite Go, you'll often see me using:
Meater thermometer – a fancy wireless thermometer that connects to a phone app – gifted to me from a Traeger partnership.
ThermoPro digital thermometer – which has a wire that connects the thermometer to a display box outside the oven/grill.
It's like being psychic! The great thing about either of the thermometers above is that I don't have to take the food out of the oven to know the temperature.
How to use 'em… What I do is stick the digital thermometer in steak, pork, chicken, whatever… Then put the food in the oven, on the smoker, or grill.
While the meat cooks, it reads the temperature so I know exactly what temp meat is as it's cooking. Without having to take it out and check. It's really difficult to overcook food when you know exactly what temp it is inside!