Looking for PDX restaurants for dinner to enjoy during your Portland trip? See my pick for one of the best steak restaurants in Portland, Oregon – Laurelhurst Market in SE Portland Neighborhood. They have lunch sandwiches, happy hour, and a full service butcher shop, too. Check it out…
What to expect from the menu
If you want to check out a delicious kindof fancy dinner in Portland, Laurelhurst Market is a great choice. Whether you want a perfectly cooked ribeye, handmade sausage, or even smoked ham hocks, you can fill all your meat cravings here. But don't be fooled by all the love their steaks get — I've had some of the best side dishes in my life at this restaurant, too.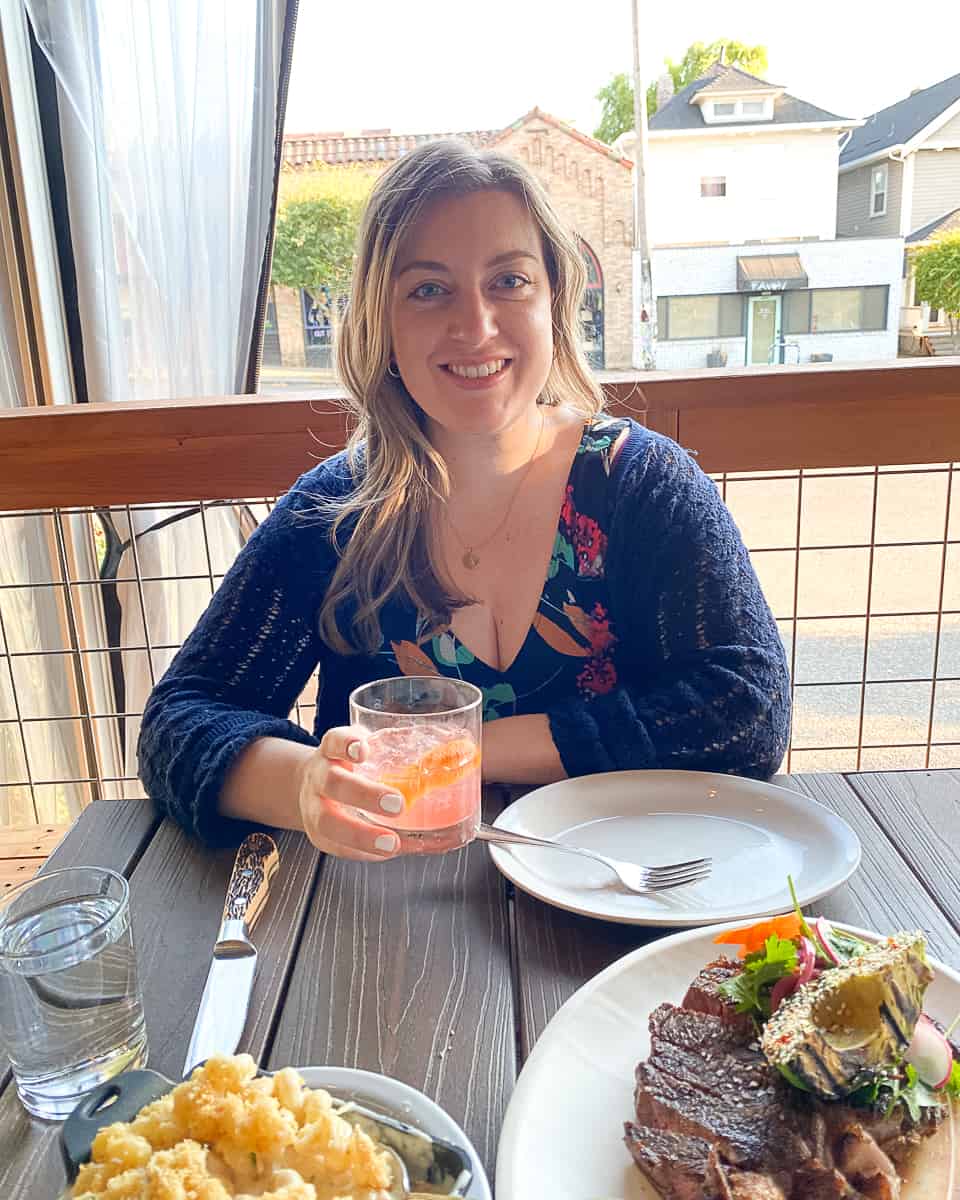 Watch the Laurelhurst Market menu video
See the menu tour video below, and scroll to see reviews of the dishes from a recent Portland date night we had…
Harvest salad
Raw, Grilled, and Pickled Vegetables, Roasted Pepper & Hazelnut Romesco, Sunflower Seeds, Citrus Vinaigrette, Preserved Lemon, Soft Herbs
Sometimes you order a salad and a bunch of greens appear on the table and you get your veggie intake and start the meal. And that's fine. But sometimes, you go to a place that goes above and beyond with everything, including the salad course. So you order a salad and it comes out as amazing and thoughtful as this one from Laurelhurst Market.
The compilation of all the veggies in different forms – roasted, pickled, grilled, raw – paired with the delicious romesco sauce (similar tasting to a romesco recipe I recently posted on Sip Bite Go), and topped with fresh herbs was so freakin delicious, full of everything I could have ever dreamed of. I will be needing to recreate this dish at home sometime soon.
Griddled Corn Bread
Spicy Rosemary Honey, Charred Scallion Butter
Usually, I can take or leave cornbread at a restaurant. Cornbread is one of my favorite Thanksgiving dishes, so I usually get my fill during the holiday season. But my husband and I always honor each other's cravings, and the cornbread at Laurelhurst market was speaking to him on this particular day. And THANK GOD it was. I love that everything at this restaurant is kinda sprinkled with jalapeno. And the cornbread is no different.
It is smokey, had a little spice, but you get to control the sweetness and overall taste by adding in some tasty charred scallion butter and sweet but spicy rosemary honey drizzled on top. I love that the whole thing is grilled and warmed before serving. It wasn't dry at all. Again, you come for the steaks but get blown away by the side dishes at this place. Fantastic.
Brandt Ranch Ribeye
Ancho Mole, Charred Avocado, Pickled Radish & Cilantro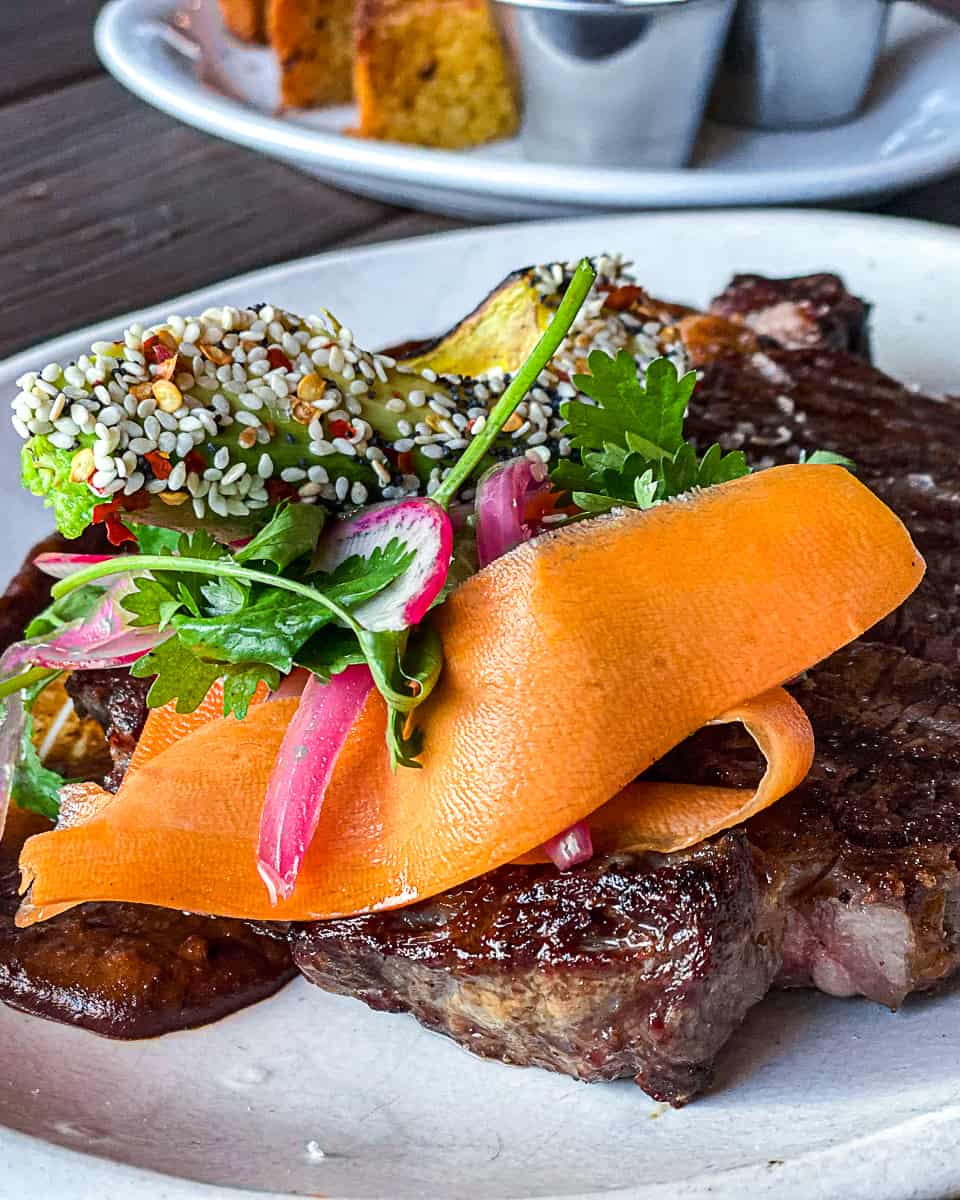 Since we do so much cooking at home, when I go out for a date night with my husband we like to try dishes that are "involved" – aka things we aren't making for a family meal with a toddler on for a simple weeknight meal. (read: no air fryer sweet potato tots)
So we split the 15 oz ribeye, the special on the menu at Laurelhurst Market, mainly because we were drawn to the ancho mole and the charred avocado. That avocado work of art on top of the dish is something I'm also going to be taking an artistic note from – I love that they added a little extra seeds and spice to the top, after charring it on the grill.
Detail specs: the steak was very tender and about a medium-rare. There was incredible marbling and a beautiful fat cap. I've had many other steaks from Laurelhurst Market, like hanger steak and flank steak – and they've all come with delicious sauce and plating ingredient combinations. You just can't go wrong here!
Mac & Cheese
Carmelized Onions, Herbs, Breadcrumbs
If you want one of the best mac and cheese's in the world, you have to visit Laurelhurst Market. There is no photo that can do the flavor of it justice. The mac and cheese sauce is so rich and creamy, but it has a smokey undertone to it as well. There's a little diced jalapeno in there which is so tasty to bite into. The noodles are a fun curly shape that holds all that flavor and that sauce… if there's any leftover, it's delicious to dip your steak in. Yum.
See this tasty air fryer mac and cheese balls recipe.
Bittersweet Chocolate Budino
Caramelized Milk Jam, Butterscotch Blondie, Salted Hazelnut 'Honeycomb'
This was a lovely way to finish the meal, with a deep rich chocolate mousse type of dessert, along with a white port wine from Hungary.
Atmosphere and style of dining
The outdoor seating at Laurelhurst Market has doubled the space of the restaurant. It looks really well put together, it's covered with open sides. And seating under the tent is spacious yet also completely decorated with a cozy ambiance. There's always something interesting to look out on East Burnside where it's located. During our last date night, there were dirt bikes doing wheelies down the street. It was great.
Reservations at Laurelhurst Market for dinner are always a good idea.
Location
3155 E Burnside St, Portland, OR 97214 – It's kind of between SE Portland and NE Portland, near Laurelhurst Park.
Well, that wraps up this virtual menu tour of some of the menu at Laurelhurst Market in Portland, Oregon. It's a fun place to dine at any time of year, but they usually have Portland Dining Month options if you're looking to check it out then. Don't hesitate to reach out if you want a restaurant recommendation for your Portland trip or night out.
Looking for PDX things to do?
Hey foodies, don't forget to check out Sip Bite Go's guide of the best restaurants in Portland, Oregon and best Portland lunch spots.
If you're looking to do a little sightseeing, see this guide to unexpected treasures to find at Powell's Books in Portland, what to do during Fall in Oregon, and find out whether or not it snows in Oregon.
Hey foodie friends, to see the new restaurants in Portland where I'm headed next, connect with me on Instagram @sipbitego. And for more deliciousness, subscribe to the Sip Bite Go channel on YouTube and scroll through the Sip Bite Go recipe collection.
New recipes and foodie guides….
Grill and smoker recipes…
Meat thermometer recommendations
Every home chef needs a reliable meat thermometer to cook food perfectly.
On Sip Bite Go, you'll often see me using:
Meater thermometer – a fancy wireless thermometer that connects to a phone app – gifted to me from a Traeger partnership.
ThermoPro digital thermometer – which has a wire that connects the thermometer to a display box outside the oven/grill.
It's like being psychic! The great thing about either of the thermometers above is that I don't have to take the food out of the oven to know the temperature.
How to use 'em… What I do is stick the digital thermometer in steak, pork, chicken, whatever… Then put the food in the oven, on the smoker, or grill.
While the meat cooks, it reads the temperature so I know exactly what temp meat is as it's cooking. Without having to take it out and check. It's really difficult to overcook food when you know exactly what temp it is inside!