Wondering what national food holidays June has to offer? Here you'll find a list of 2021 June food holidays (national holidays, plus crazy food holidays in June). Plus, delicious Spring to Summer recipes for celebrating June foodie days, too.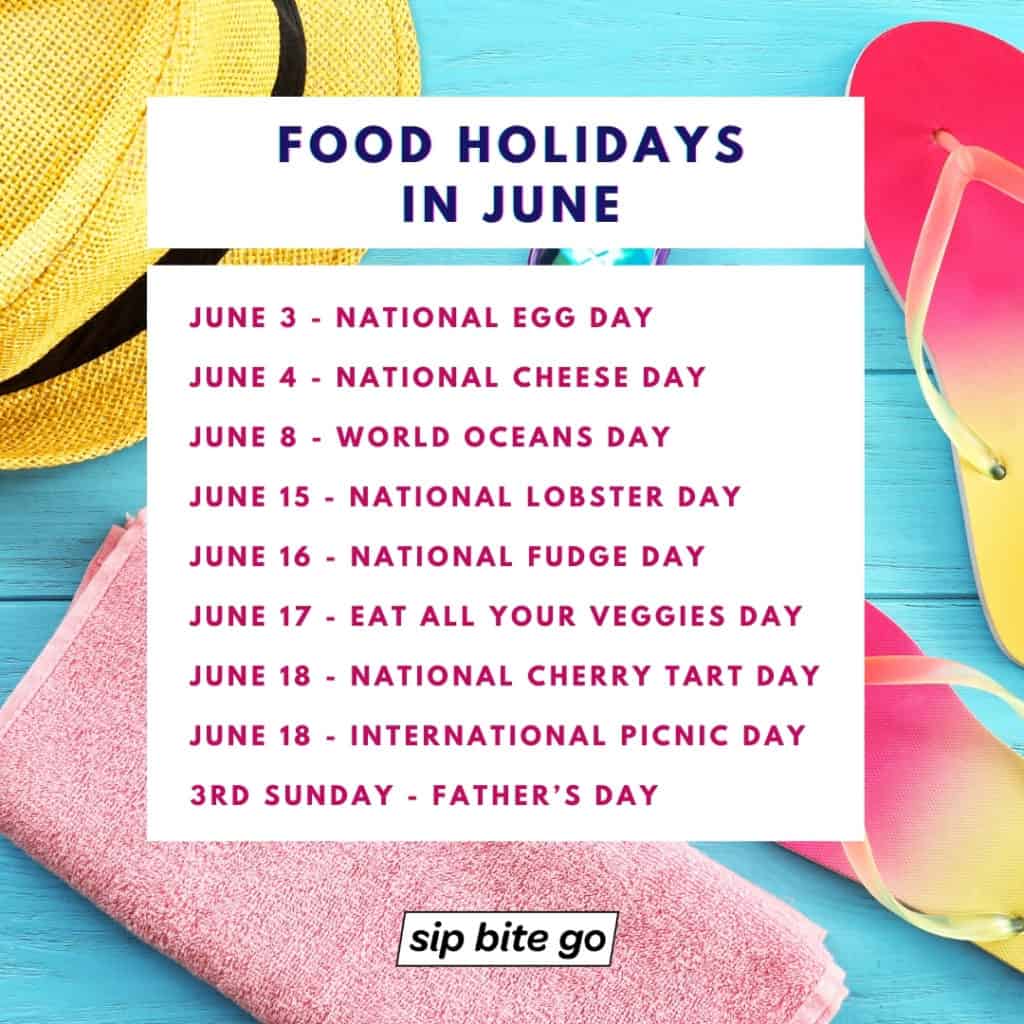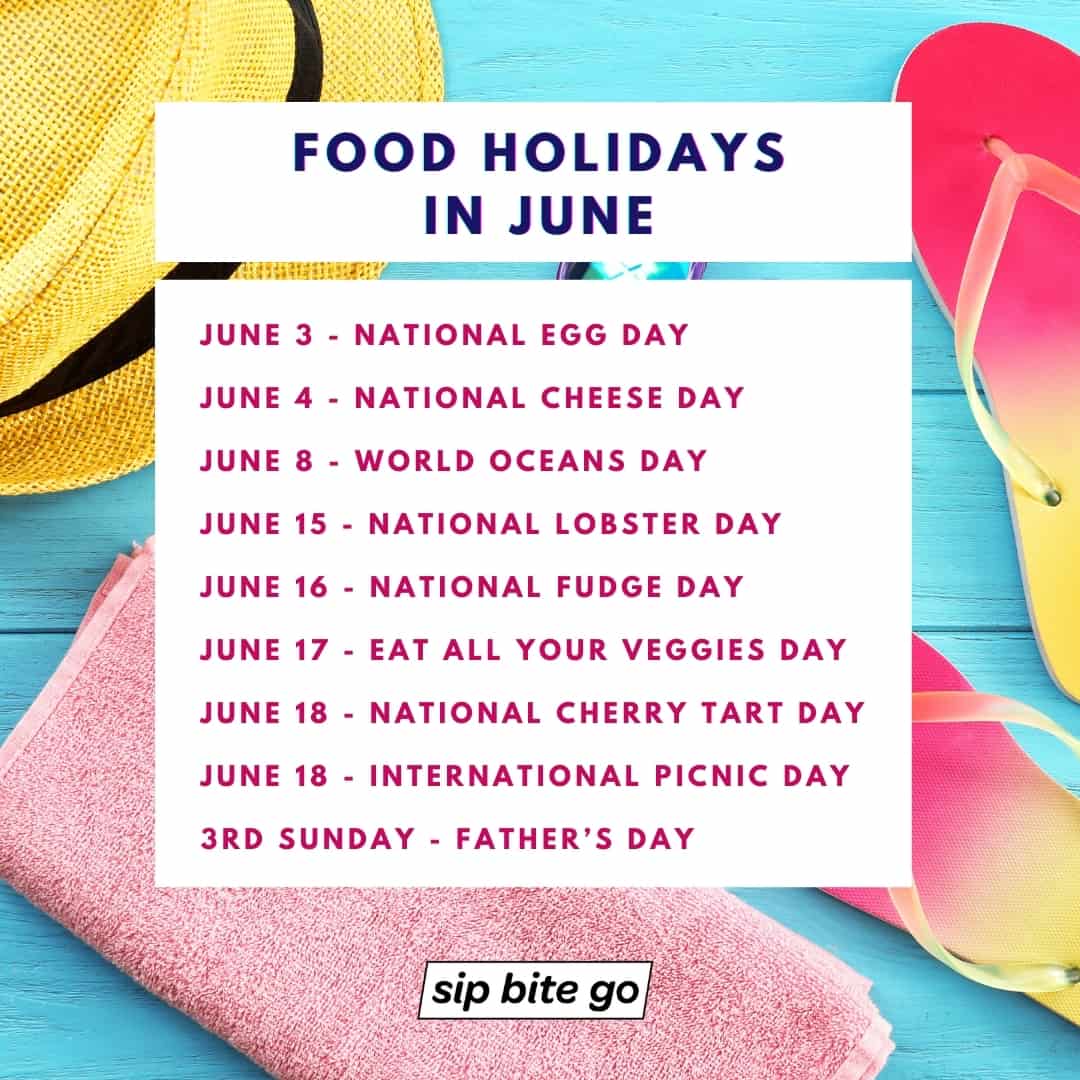 The most popular food holidays in June
June 3 – Egg Day
June 4 – Cheese Day
June 8 – World Oceans Day
June 15 – Lobster Day
June 16 – Fudge Day
June 17 – Eat Veggies Day
June 18 – Cherry Tart Day
June 18 – Picnic Day
3rd Sunday – Father's Day
Now let's get to the good part… recipes to celebrate June foodie holidays…
June 3 – Egg Day Recipes
Just one more reason to start your day with eggs… these dishes will help make national Egg Day something a little more special…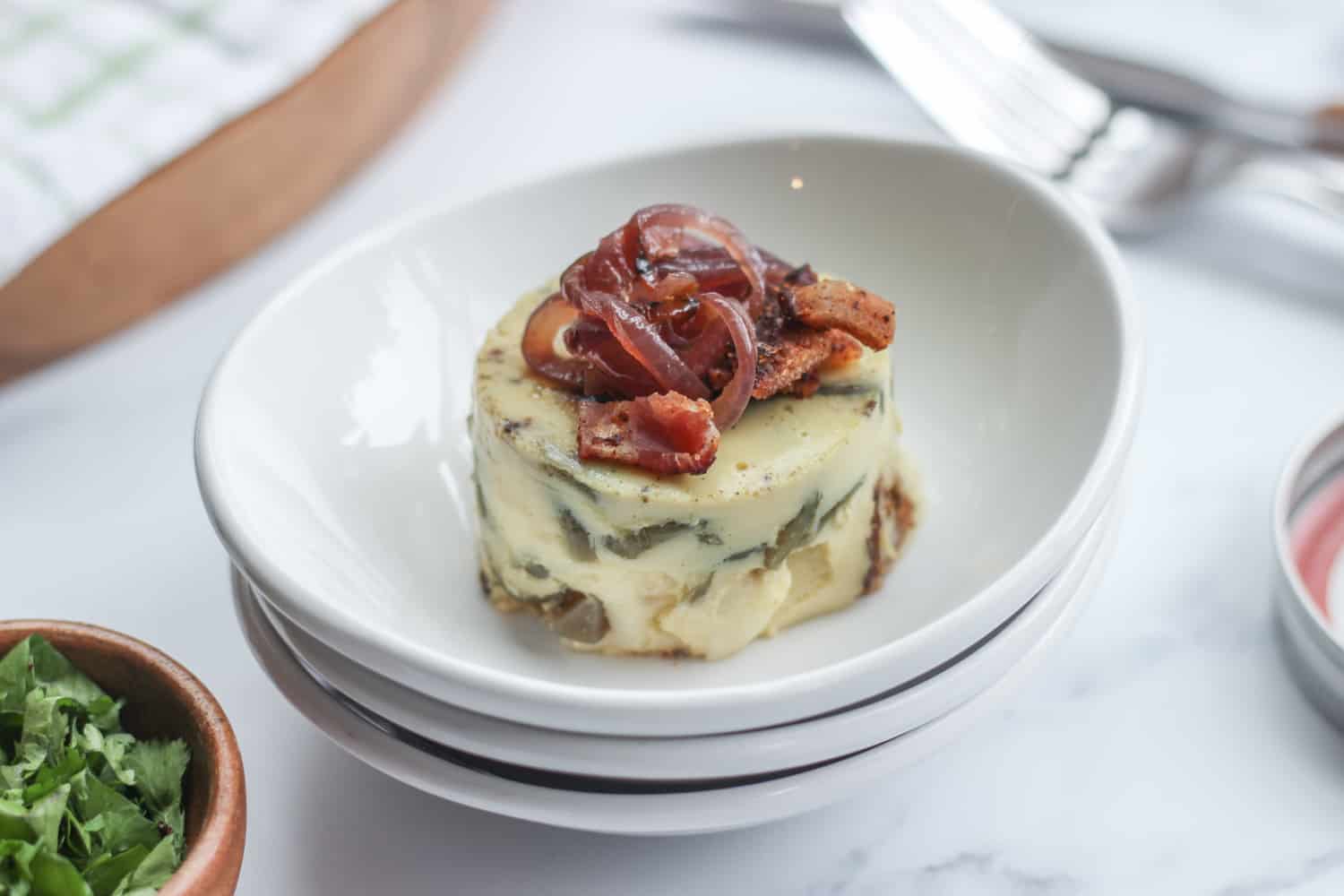 Sous Vide Egg Bites
Starbucks copycat sous vide egg bites are easy to make at home, and they taste even better than the coffee shop variety! I like to prepare a week at a time, then reheat every morning for breakfast. You can use any filling you like—these ones were made with bacon, cheese, and caramelized onions (yum!).
Garlic Avocado Toast with Poached Egg
There's nothing better for a midday pick-me-up than Garlic Avocado Toast with Sous Vide Egg and I love the way the colors contrast when it's all plated up. These days I pop the toast in the air fryer.
And I have a secret for perfect poached eggs, every time— I make them with the sous vide Instant Pot or with a sous vide stick machine.
June 4 – Cheese Day Recipes
Cheesy dishes are a popular thing here on Sip Bite Go. Here are a few of my favorite recipes using cheese to enjoy on national cheese day in June.
Cheesy Italian Stuffed Shells
Celebrate National Cheese Day— June 4—while indulging in this delicious cheesy Stuffed Shells dish. It's a simple family dinner that will leave everyone satisfied on one of the most loved national food holidays in June.
Ricotta cheese and parmesan combine with ground beef, parsley and oregano for some wonderful melded flavor, and the jumbo pasta shells make this easy casserole visually appealing.
Jalapeno Poppers with Goat Cheese
Breaking out goat cheese for a wonderfully spicy appetizer: bacon-wrapped jalapeno poppers with goat cheese. I love to make these poppers for Thanksgiving or Christmas gatherings, but they're so good that I'm glad to have found a summertime excuse to whip up a batch as well!
June 8 – World Oceans Day Recipes
Sustainably raised seafood is how foodies celebrate this June food holiday…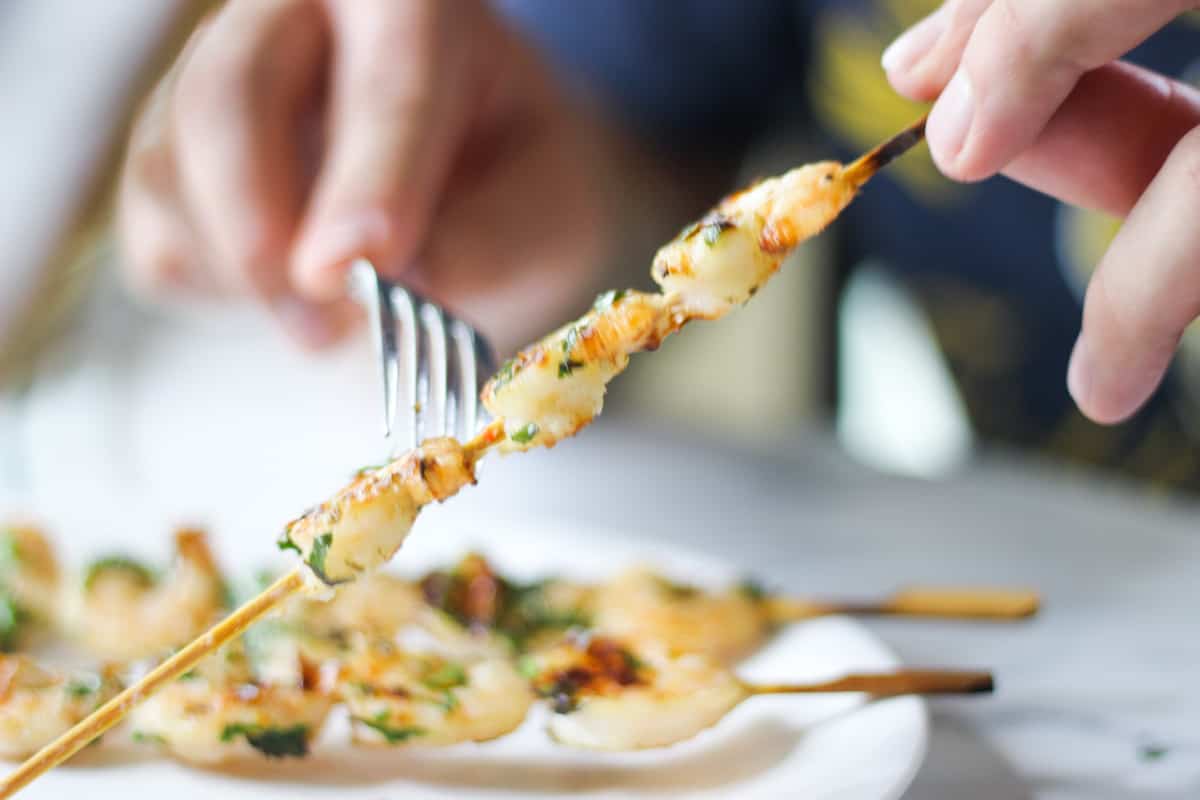 Sous Vide Shrimp Kebabs
Tender sous vide shrimp kebabs melt in your mouth and will never be overcooked if you prepare them in the sous vide machine, and they're super fast to prepare. If you want to start with an appetizer, check out this Barramundi fish toast.
Also check out this tasty smoked shrimp on the Traeger.
June 15 – Lobster Day Recipes
Sous Vide Lobster Tails
This is hands down my favorite way to prepare lobster tails for this June holiday for foodies! Sweet and buttery sous vide lobster tails are delicate and meaty. They cook just 25 minutes in the sous vide cooker and are finished over the grill. Serve with mashed potatoes, broccoli, sous vide asparagus, or garlic dill carrots.
June 17 – Eat Veggies Day Recipes
Perfectly ripe vegetables are celebrated this month…
Spinach Pesto Pasta
This recipe, though, makes it easy to eat your vegetables on this June holiday. Spinach Pesto Pasta is full of spinach (and a little bacon!). It's a one dish meal packed with veggies the whole family can enjoy.
June 18 – Cherry Tart Day Recipes
Cherry Pie Turnovers with Pie Crust
This easy recipe for Cherry Pie Turnovers will leave you feeling like an accomplished pastry chef. The cute mini hand pies you end up with are delicious for a snack, or Summery fruit dessert.
June 18 – Picnic Day Recipes
If you're staying home, there's nothing wrong with picnicking in the yard! Here are some ways to celebrate June's national food holiday for all outdoor eating enthusiasts.
Pulled Pork Sandwiches
I love slow cooking sous vide pulled pork shoulder and serving it up in pulled pork sandwiches. You can also use the crock pot to get tender pull-apart pork. Serve them on brioche buns with fresh jalapeño dressing, shredded carrots, and a generous amount of BBQ sauce for a wonderful picnic lunch. Whip up some pan fried potato chips as a side!
And if you have plenty of meat left over, use it in breakfast tacos or pulled pork pizza for dinner.
Blackened Chicken Salad Sandwiches
For International Picnic Day, why not make up blackened chicken salad sandwiches and go out to soak in some vitamin D? These Cajun-style sandwiches offer some sharp contrasts in flavor, texture, and color, and lends itself to half a dozen easy variations. I like to serve them on mini Hawaiian buns.
3rd Sunday – Father's Day Recipes
Whatever dad likes, dad gets on this day! We usually head out for a Father's Day Brunch at one of our favorite Portland lunch restaurants. Then for dinner, we serve papa P one of his favorite grill recipes.
Here are some popular dishes my husband likes to have for his favorite June holiday celebration…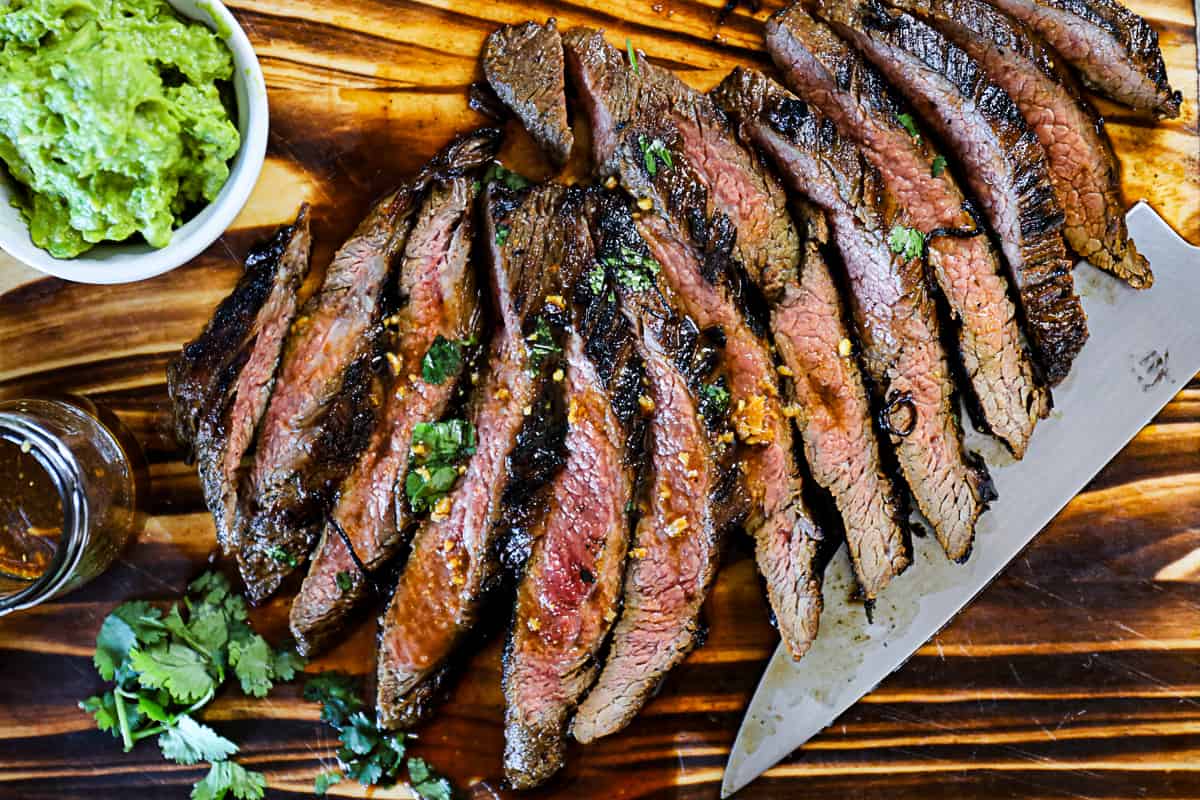 Tender, Juicy Grilled Steaks
Father's Day is perhaps one of the most celebrated food holidays for June. the perfect excuse to whip up this flank steak marinade. Sure, you could just salt and pepper steak then throw it on the grill. But setting up this marinade with soy sauce, ginger, garlic and cilantro will make it a special meal.
Sous Vide Porterhouse Steak
Juicy and full of flavor, this steak will never disappoint. This sous vide porterhouse steak is on the menu for this year's Father's Day dinner, and I'm excited! It'll be seasoned with salt, pepper, and rosemary, and I'll sous vide it for three hours.
The best part is, you can sous vide frozen steak — so that means 5 minutes of prep time the day-of.
When the timer goes off, I'll give it a quick finish in my cast iron frying pan— that's where it gets the crispy brown exterior, and also when the delicious hearty smells will start making us really hungry.
Which June food holidays will you celebrate?
Foodie friends, I hope you're inspired to cook up something delicious for one of these food holidays in the month of June. See what I'm cooking this month on Instagram @sipbitego.
More Monthly Food Holidays
Cook In-Season Food