Make the most out of your side dish by adding in some of these popular toppings for baked potatoes… Get ideas from bacon, to sour cream, cheddar cheese, herbs like chives and seasoned butter… This list is perfect for setting up a baked potato bar for a crowd!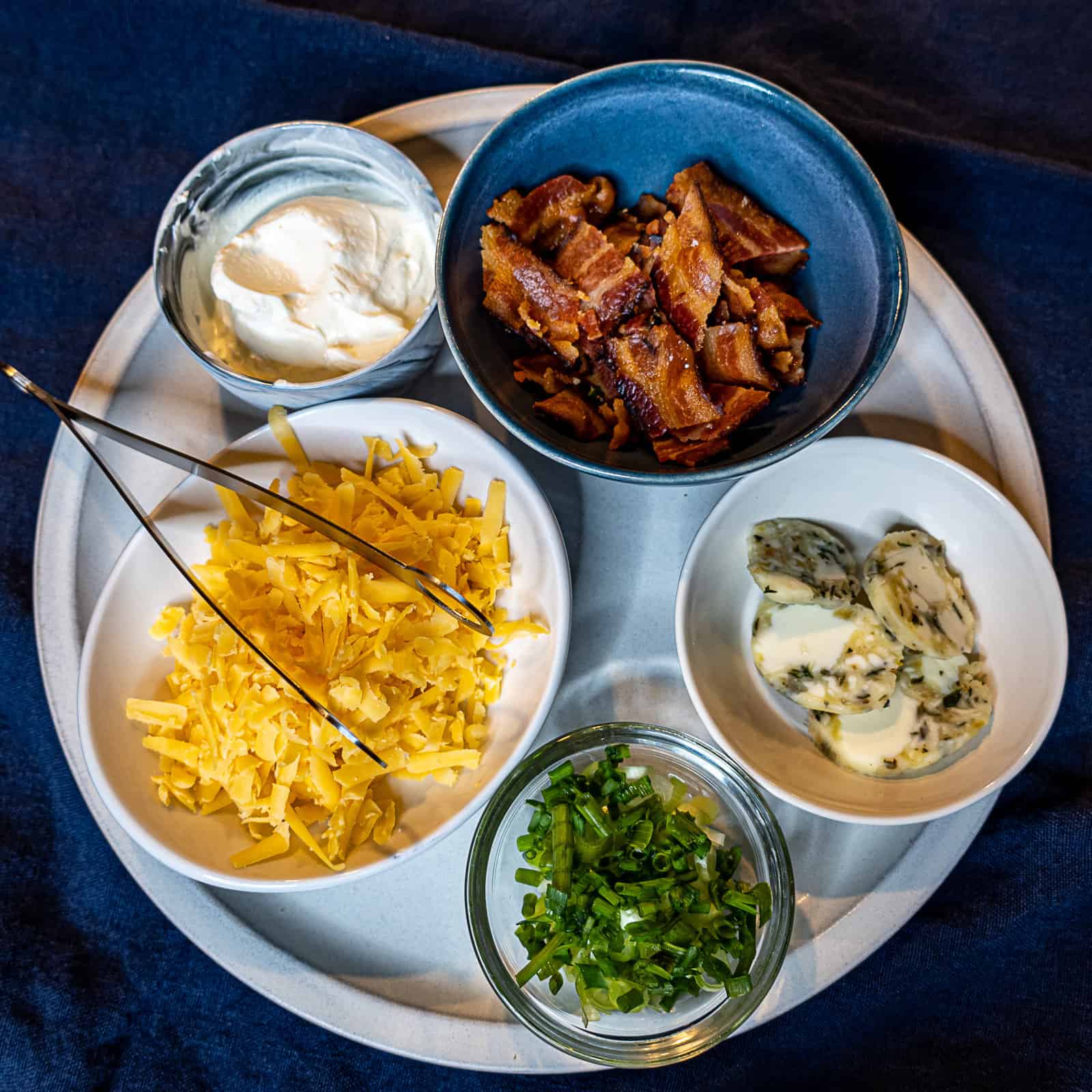 Follow Sip Bite Go on Instagram and TikTok for easy _ cooking tips…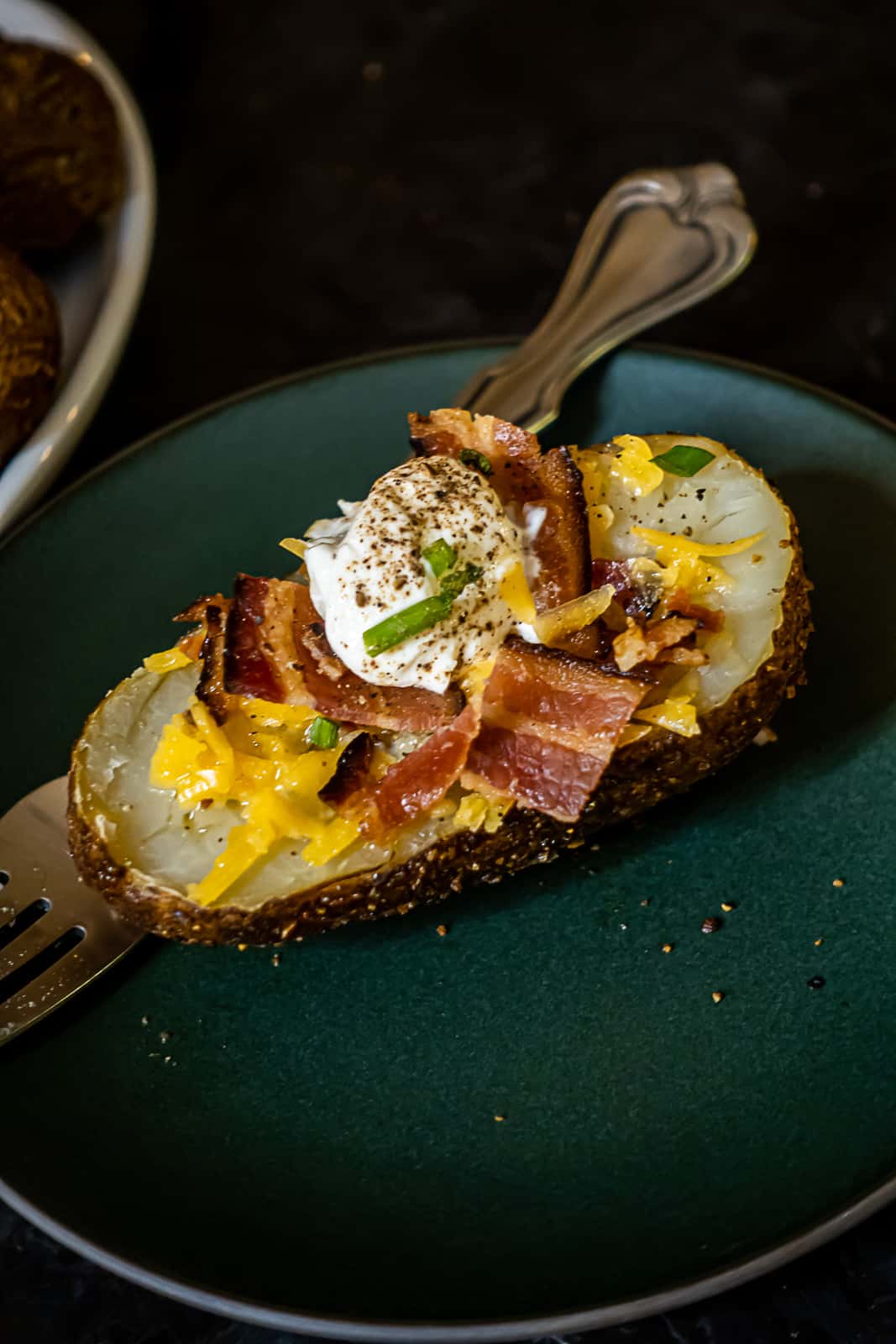 Many of these baked potatoes topping ideas are probably in your fridge already…
Alright, so let's dig into some easy-to-prepare baked potato bar toppings…
Bacon baked potatoes topping
Let's get this list of what to top baked potatoes with in order with BACON!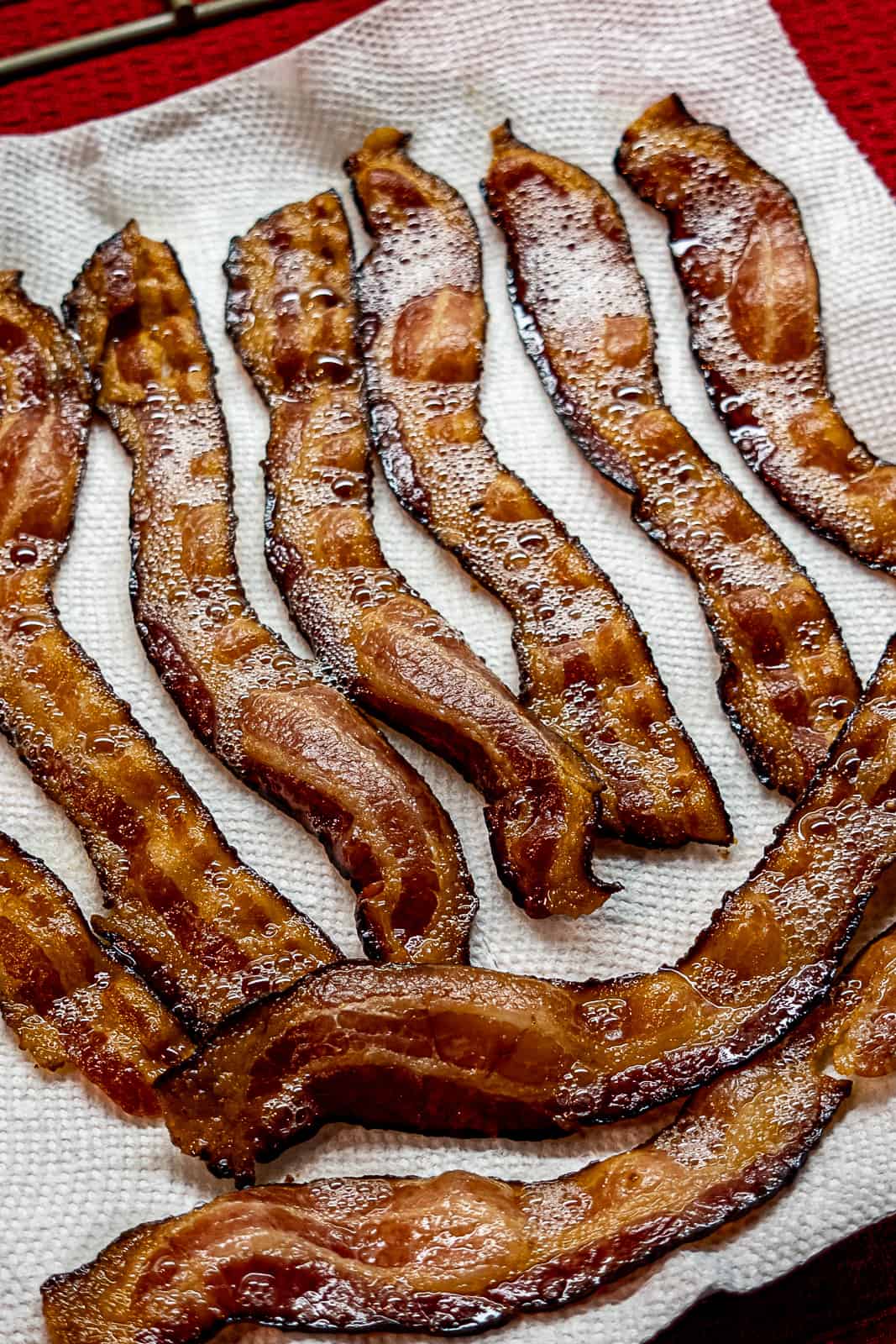 I love sous vide bacon, and Traeger smoked bacon…
See how to griddle bacon on the Traeger Flatrock and how cook Blackstone bacon…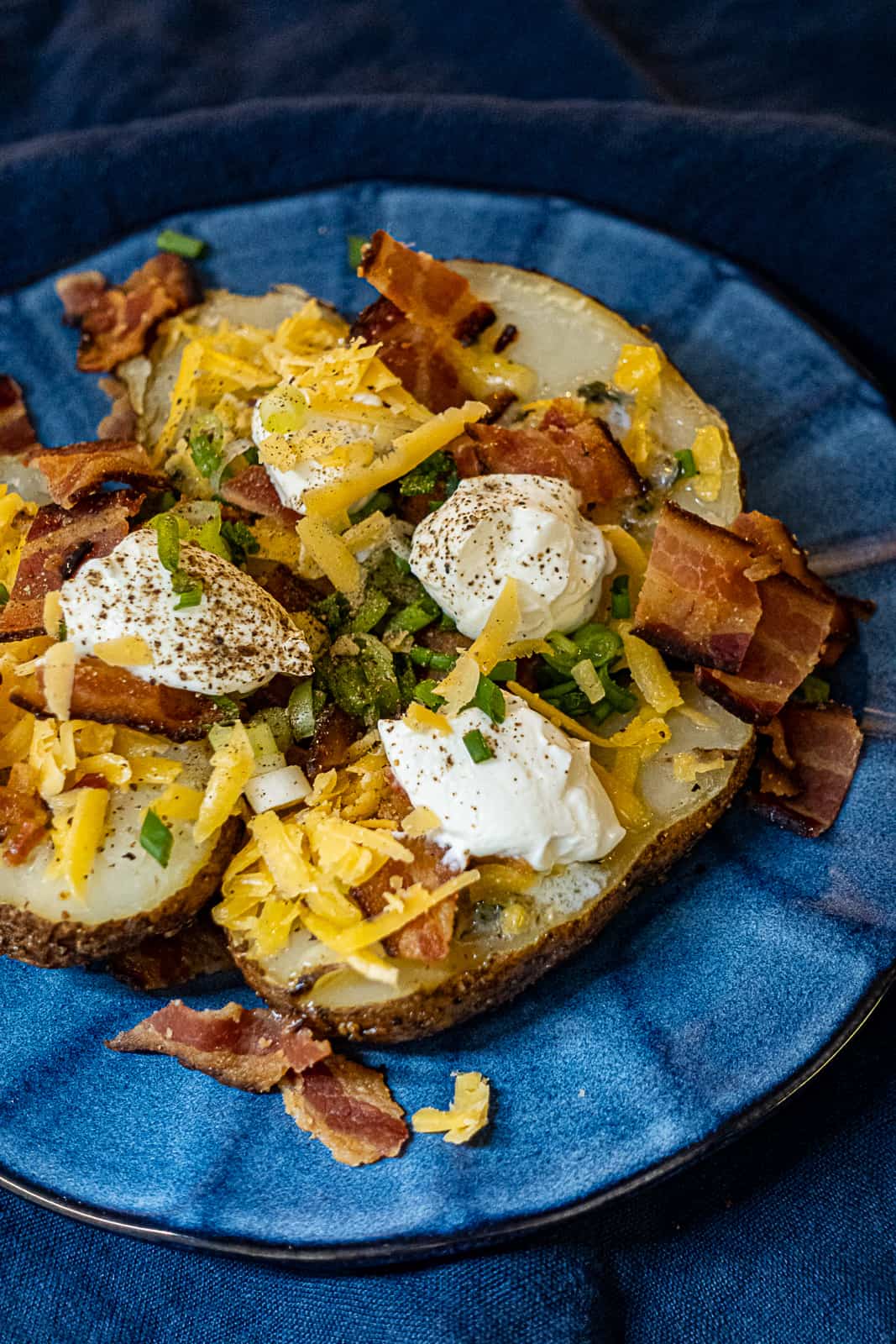 Baking bacon in the oven
Yummy bacon is so easy to make in the oven…
First, I line a sheet pan with parchment paper for an easy clean up. Then lay on the bacon.
Bake bacon in the oven at 400 degrees F for about 15-20 minutes, depending on your preferred level of doneness.
Flip them at the 10 minute mark…
And remember…
Bacon will still cook a bit on the baking sheet when you take them out… so don't over do 'em in the oven – pull them out just before done.
See the baked potato topping ideas video
This is a full-length video of prepping yummy baked potatoes for a small crowd get together…
In the video above, you'll see which baked potato toppings are my favorite to add to a baked potato bar.
You'll see me finishing up a batch of smoked russet potatoes and then add toppings like:
Baked or smoked bacon (smoked ham would be tasty too!)
Sour cream
Cheddar cheese
Chives
More meat toppings for baked potatoes
Try chicken topping for baked potatoes like buffalo chicken.
Chili.
Ground beef from leftover taco meat or smoked bacon wrapped meatloaf is also one of our favorite baked potato meat toppings.
Sour cream
There's something yummy about the contrast of a dollop of cold sour cream, or greek yogurt, on top of piping hot baked potatoes.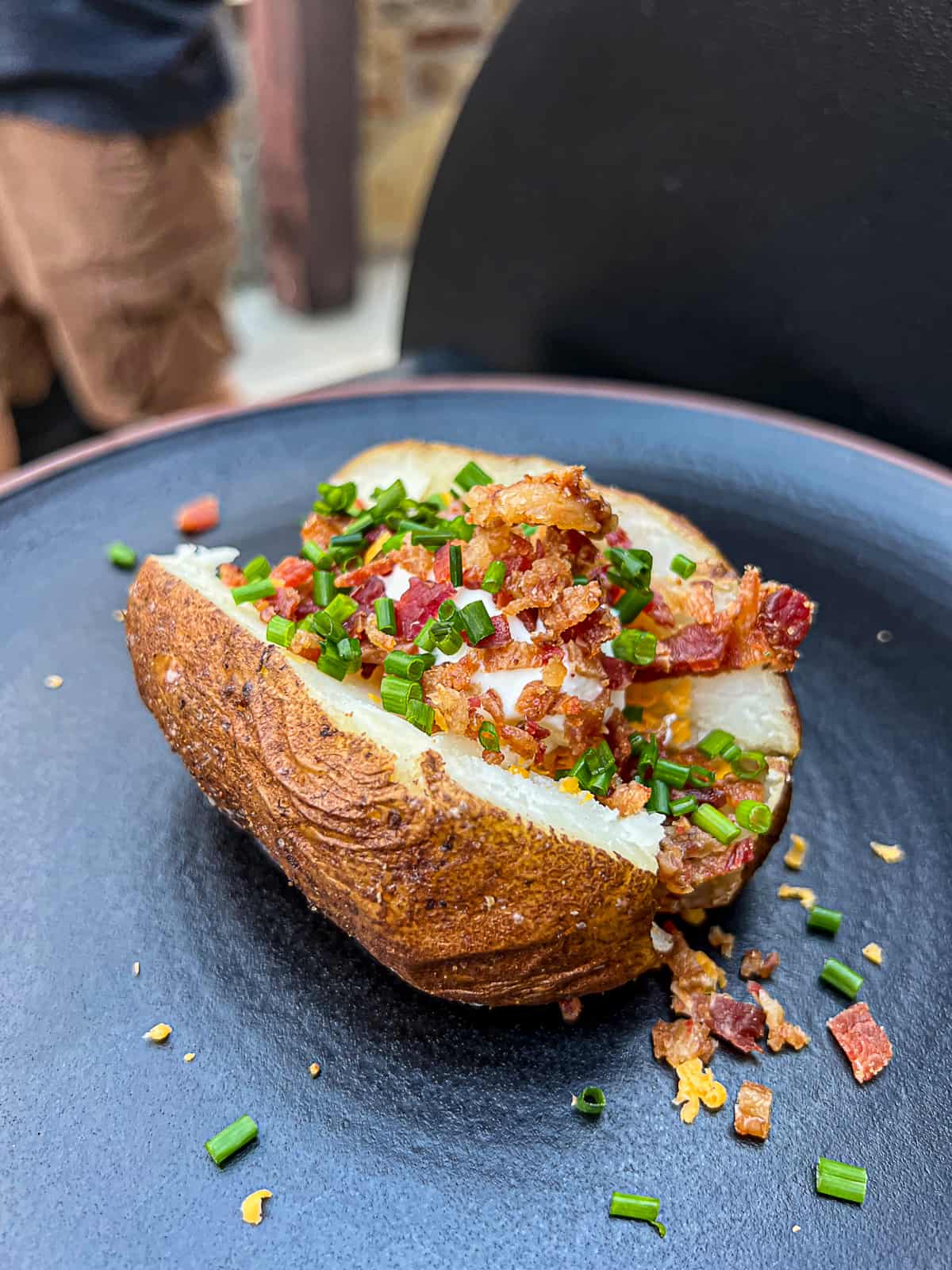 For the perfect baked potato aesthetic, use two spoons to shape the sour cream…
You do eat with your eyes first, after all!
Soon, I'll have a recipe for twice-baked air fryer potatoes…
Cheese toppings for baked potatoes
Cheddar cheese is my go-to for topping baked potatoes.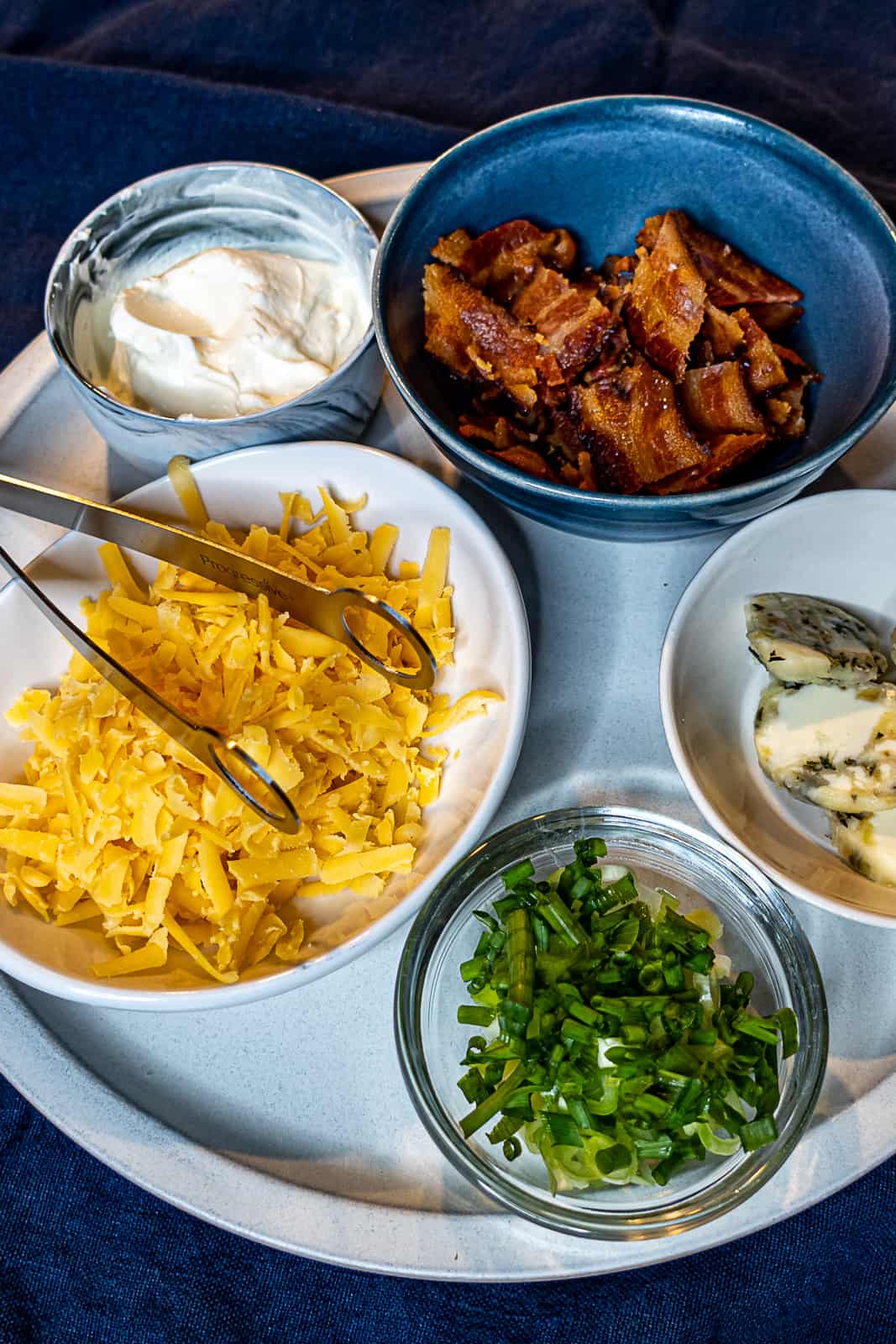 I like to use yellow cheddar that's medium or extra sharp.
Herbs
My favorite herbs for topping baked potatoes are chives.
Green onions are also a great choice…
Seasoned butter
Check out my recipe for garlic compound butter – it's loaded with fresh herbs, and you can totally get away with using scraps from your fridge…
See popular smoked food recipes on Sip Bite Go…
Vegetarian and vegan baked potato toppings
Vegan and vegetarian baked potato toppings are easy to find… try these:
Bacon bits (which are also great on potato skins).
Simple sprinkle of salt and pepper.
Your favorite spices – Also feel free to experiment with rubbing olive oil and then a BBQ rub all over potatoes to add flavor as non dairy baked potato toppings. Just remember to pierce them with a fork before baking!
A packet of ranch dressing is a great option for the above olive oil seasoning trick, too.
Starchy potatoes vs waxy potatoes for baking
Some of my favorite types of potatoes to bake are:
Sweet potatoes
Russet potatoes
These are considered "starchy potatoes" whereas something like red potatoes are considered waxy potatoes.
Why choose starchy potatoes for baking?
They'll have that light and fluffy potato vibe you're looking for…
Waxy potatoes are better for potato salads.
Check out these other potato side dishes…
How to make baked potatoes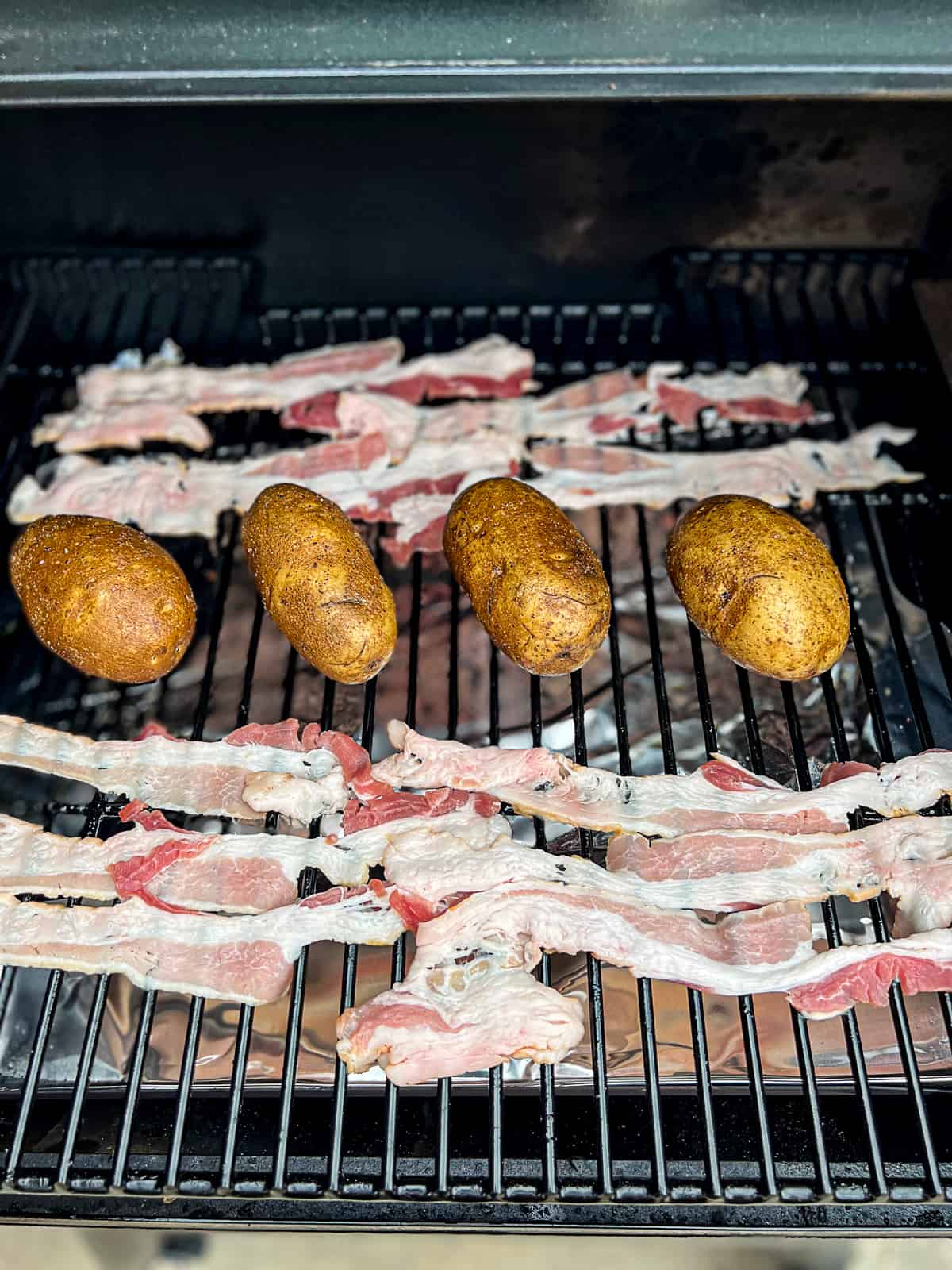 There are more ways to make baked potatoes than you may imagine!
Get tips for making beer can chicken to serve with your baked potatoes…
New recipes and foodie guides….
Grill and smoker recipes…
Meat thermometer recommendations
Every home chef needs a reliable meat thermometer to cook food perfectly.
On Sip Bite Go, you'll often see me using:
Meater thermometer – a fancy wireless thermometer that connects to a phone app – gifted to me from a Traeger partnership.
ThermoPro digital thermometer – which has a wire that connects the thermometer to a display box outside the oven/grill.
It's like being psychic! The great thing about either of the thermometers above is that I don't have to take the food out of the oven to know the temperature.
How to use 'em… What I do is stick the digital thermometer in steak, pork, chicken, whatever… Then put the food in the oven, on the smoker, or grill.
While the meat cooks, it reads the temperature so I know exactly what temp meat is as it's cooking. Without having to take it out and check. It's really difficult to overcook food when you know exactly what temp it is inside!
Are you a foodie, too?
Hey home chef, hope that answers all your questions about the best ingredients to top baked potatoes.
Enjoy cooking and chat soon on Instagram / TikTok / YouTube.
– JennaNext, browse the Sip Bite Go recipe collection…