The only pork rib rub recipe you'll ever need! Make it in 5 minutes with spices right in your pantry…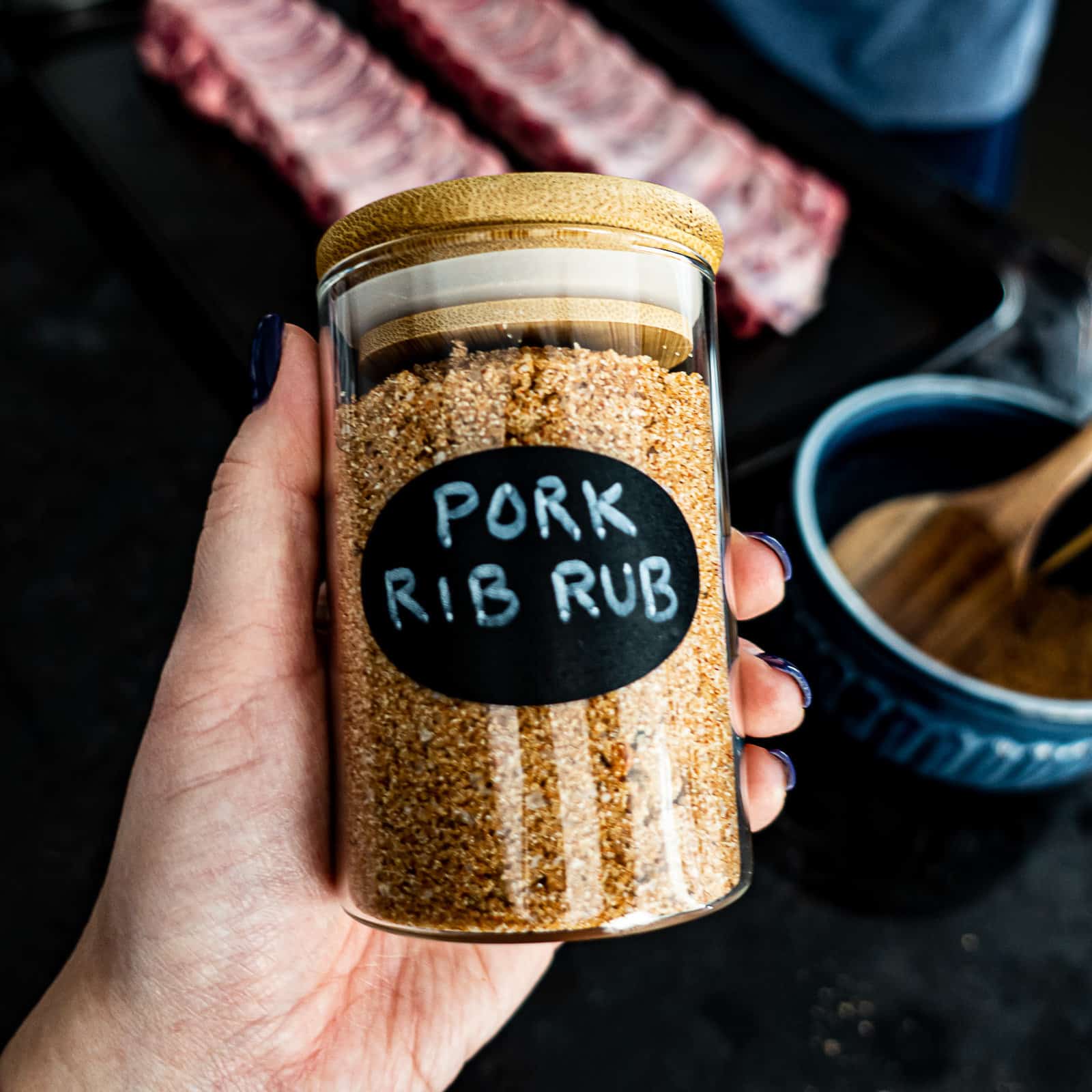 Hitting all the sweet and spicy notes, this homemade BBQ pork rib rub is delicious for smoked pork ribs, pulled pork, and all types of meat recipes…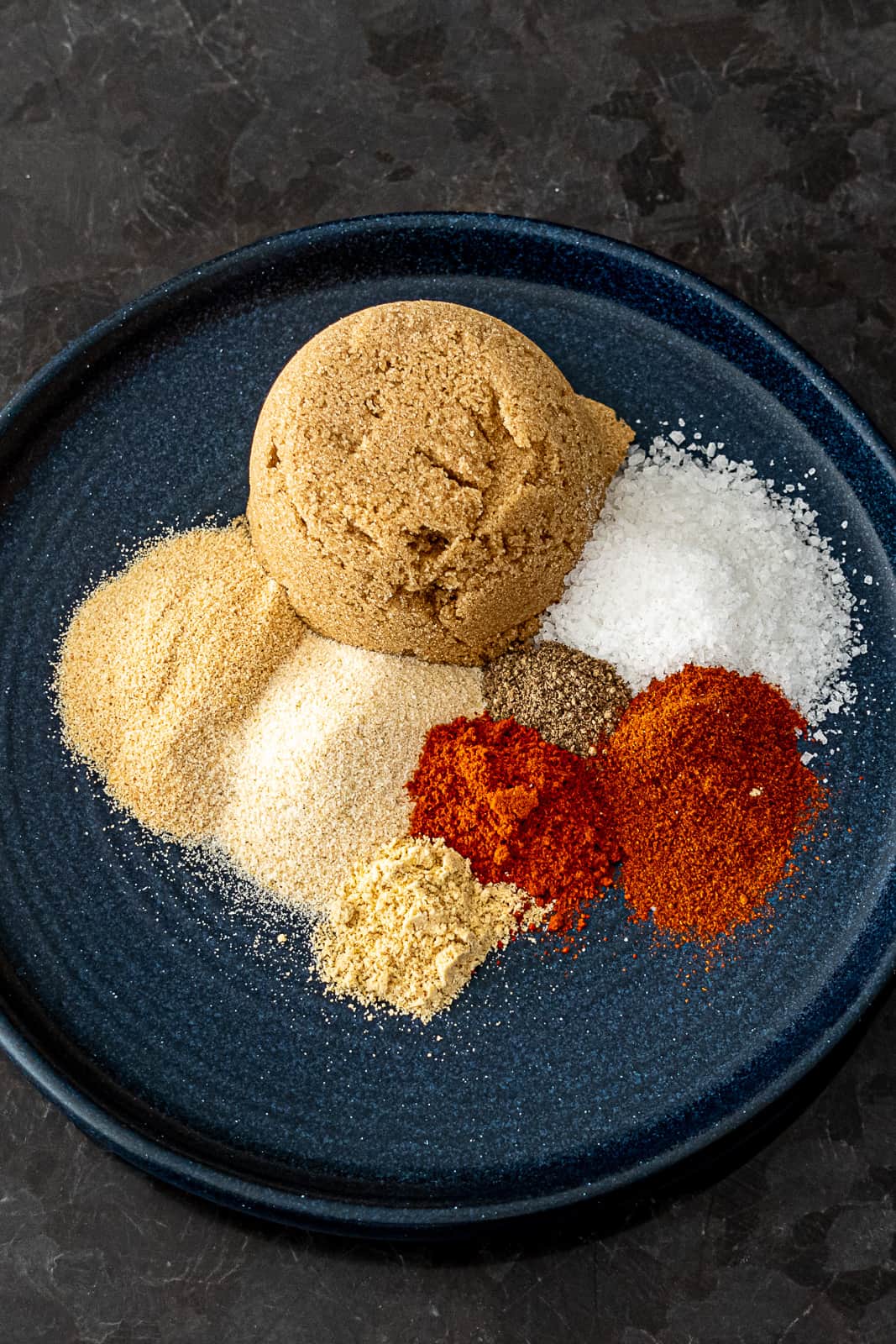 Follow Sip Bite Go on Instagram and TikTok for easy recipes and cooking tips…
Why this simple pork rib recipe is so good…
Simple ingredients!
Adjust the sweet and spicy notes to your liking.
Make in large batches and store it for many smoker recipes to come.
Everyone loves this dry rub!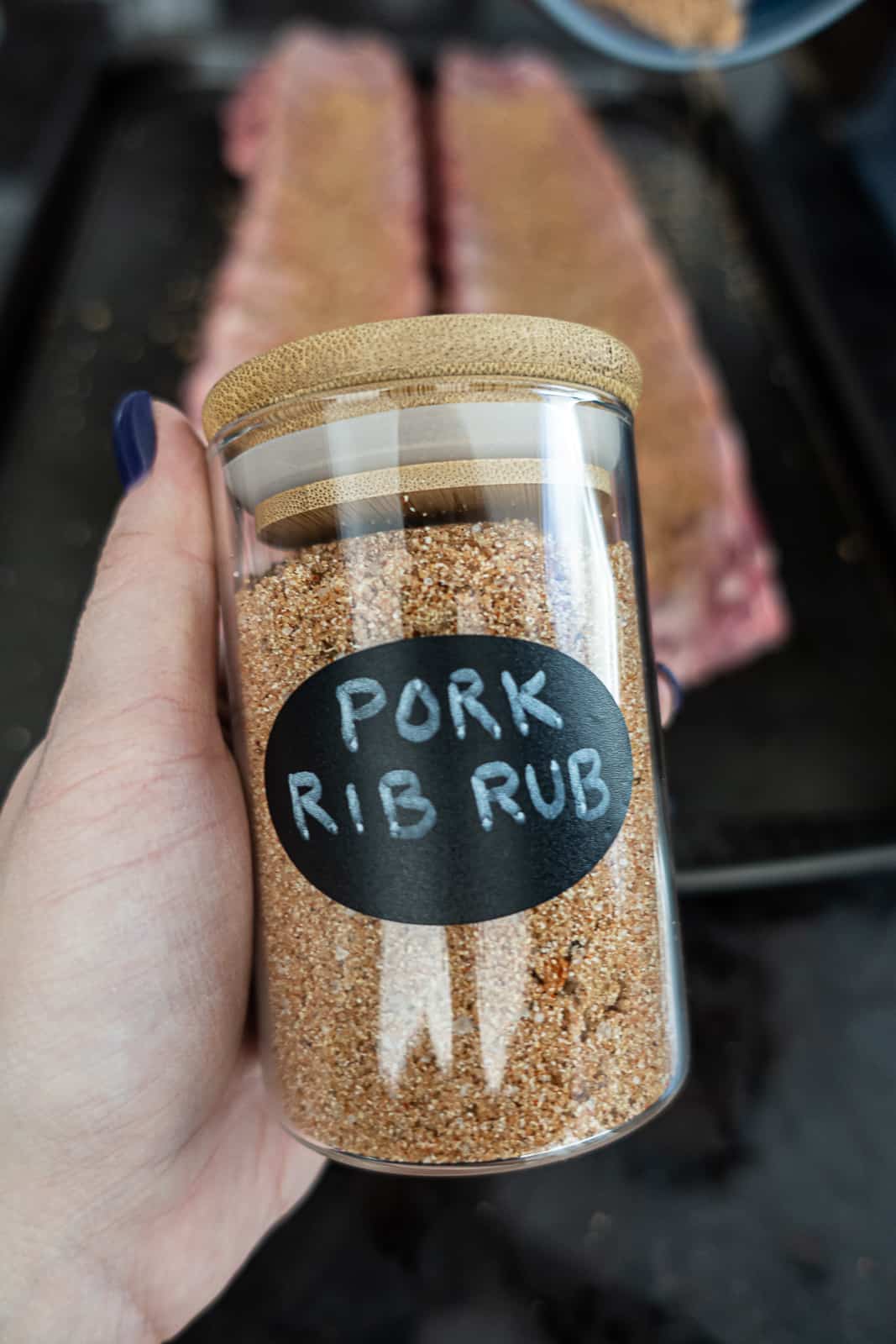 Scroll to the bottom of this post for step-by-step video instructions.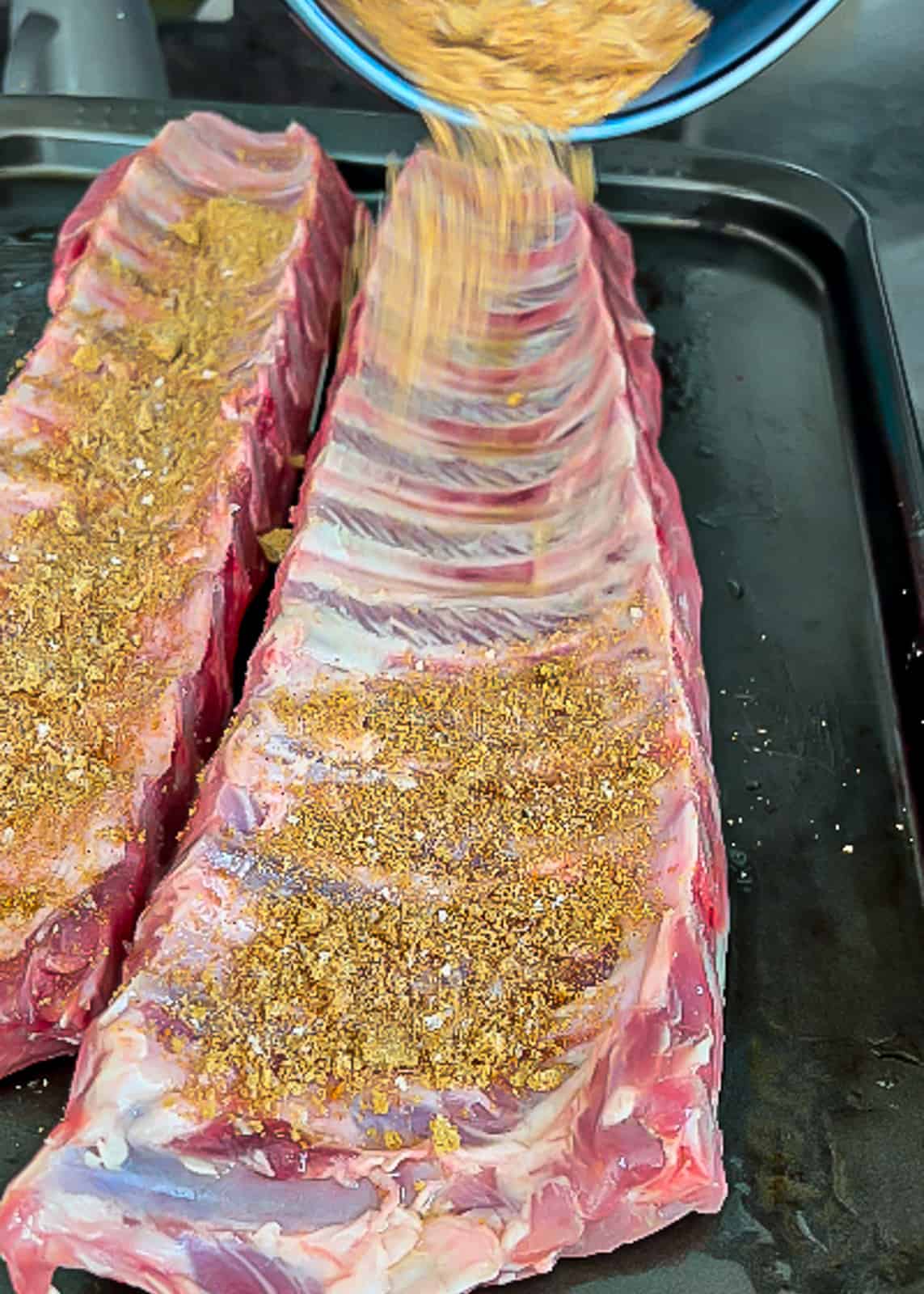 Ingredients
Here's what you need to make this pork rib rub at home.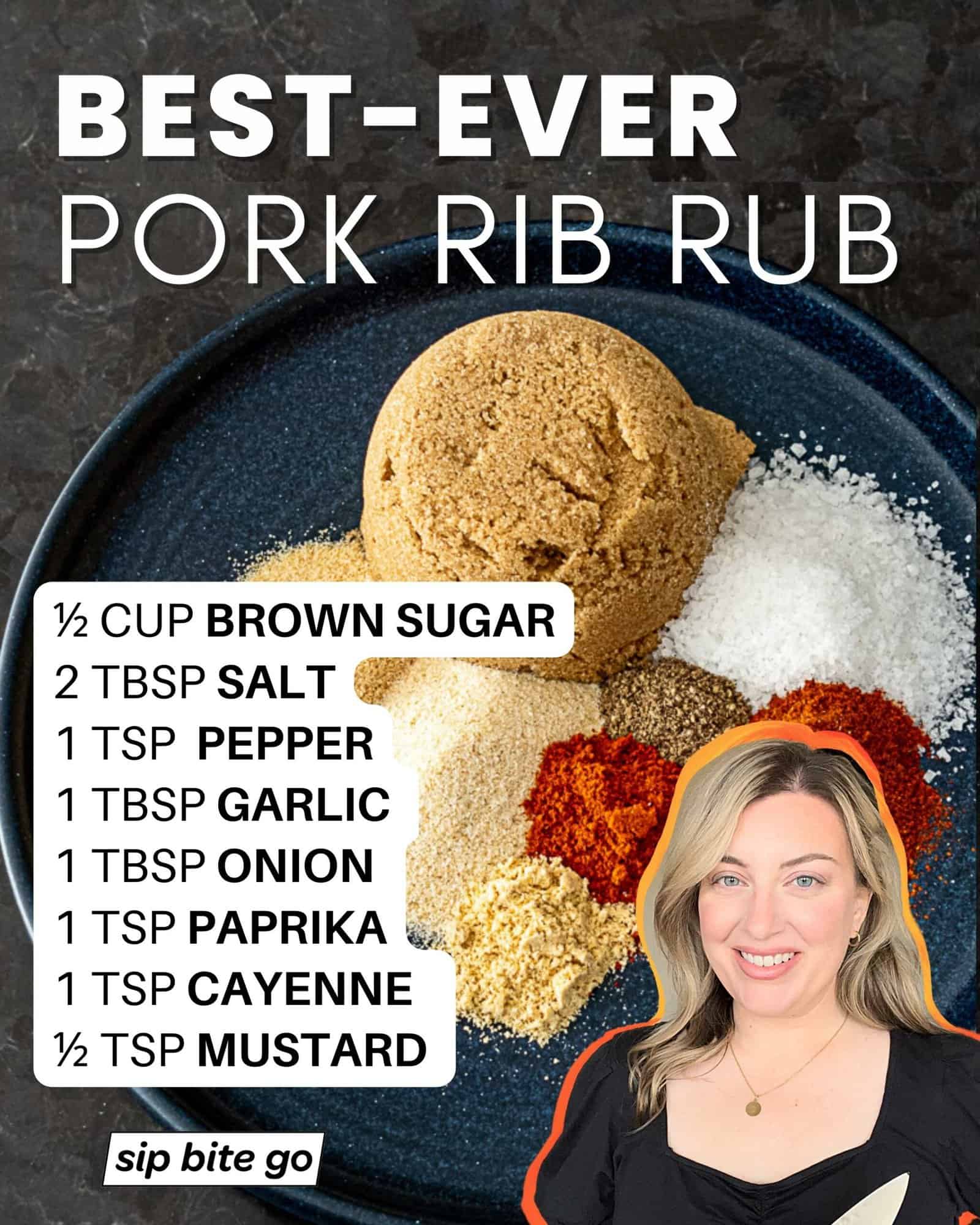 ½ cup brown sugar
2 tbsp salt, kosher or sea salt preferred
1 tsp black pepper
1 tbsp garlic powder
1 tbsp onion powder
1 tsp paprika
1 tsp cayenne powder (add more to make it spicy)
½ tsp mustard powder
See popular smoked food recipes like fall off the bone ribs on Sip Bite Go…
How to make pork rib rub from scratch
Brace yourself for the easiest homemade spice rib rub ever…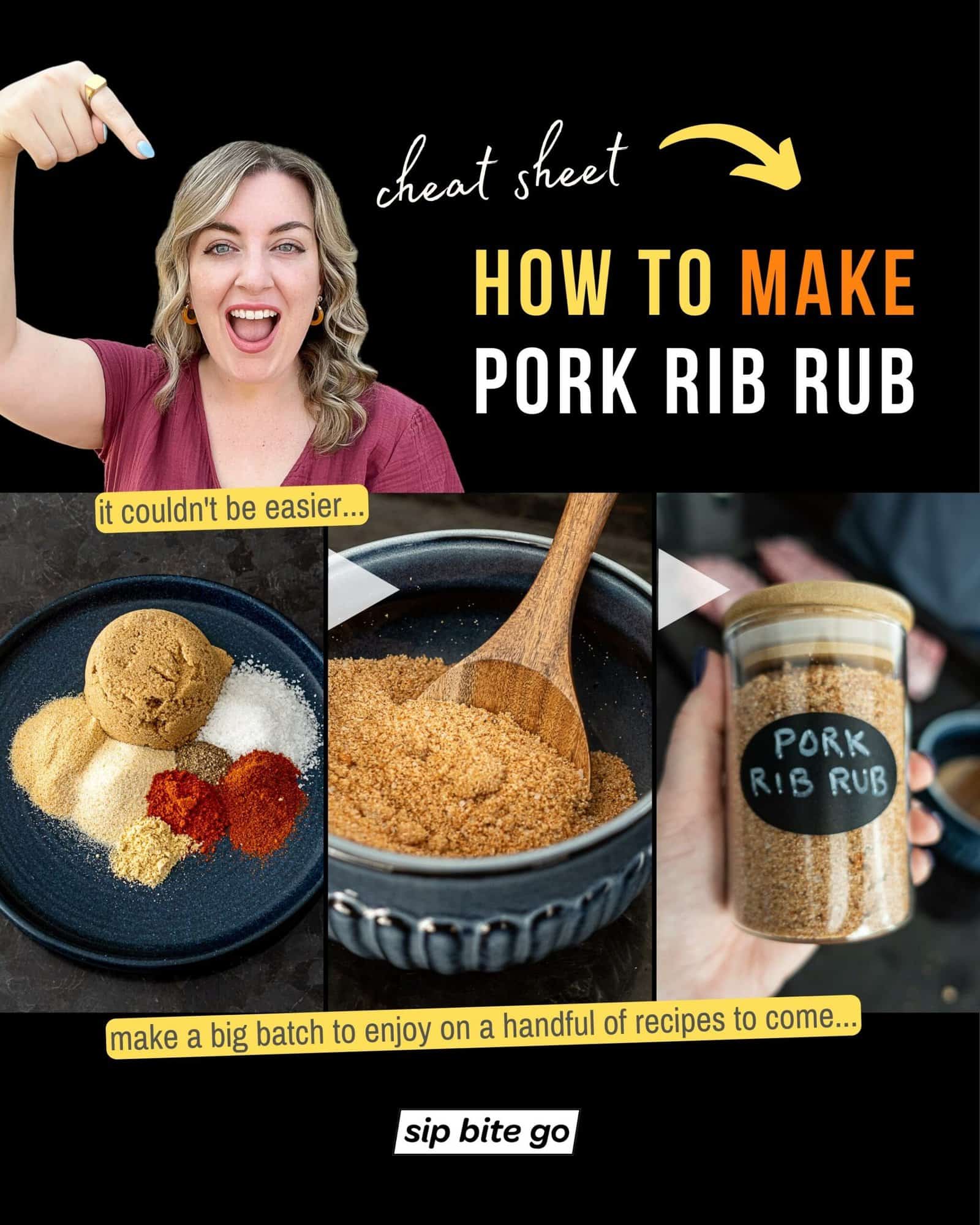 Mix all homemade pork rib rub ingredients together.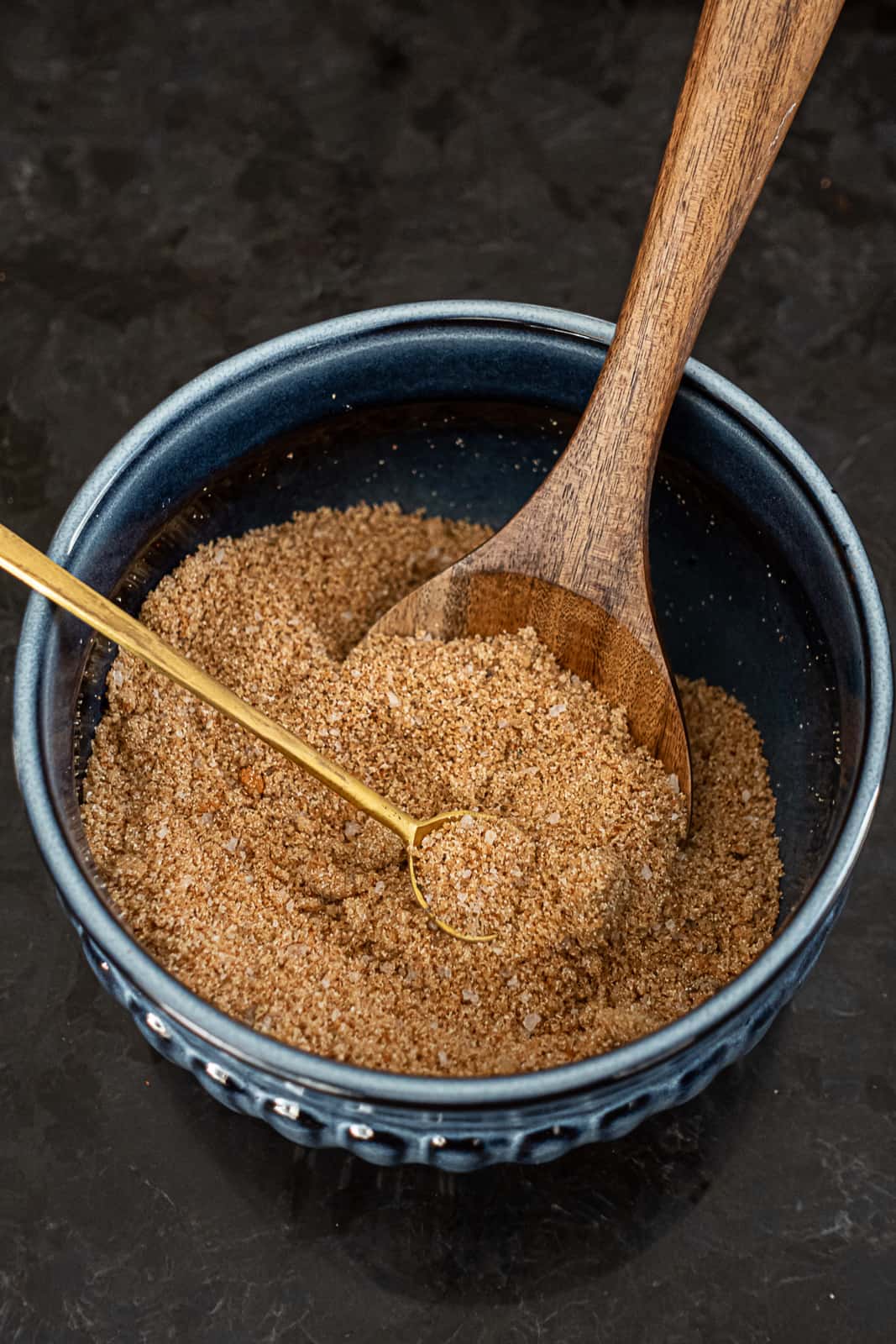 How to use pork rib rub
Apply it as liberally as you'd like to your food.
We usually cover meat all over, with or without olive oil first, then cover every top, bottom, and sides in the rub.
Cook as desired…
I swear – once you try this easy homemade spice rub recipe for BBQ cooking ribs, you'll be ready to try more varieties that are coming to Sip Bite Go for chicken and beef… stay tuned!
Recipes to use homemade rib rub on…
The sky's the limit, and this homemade BBQ pork rub is great on more than just pork recipes!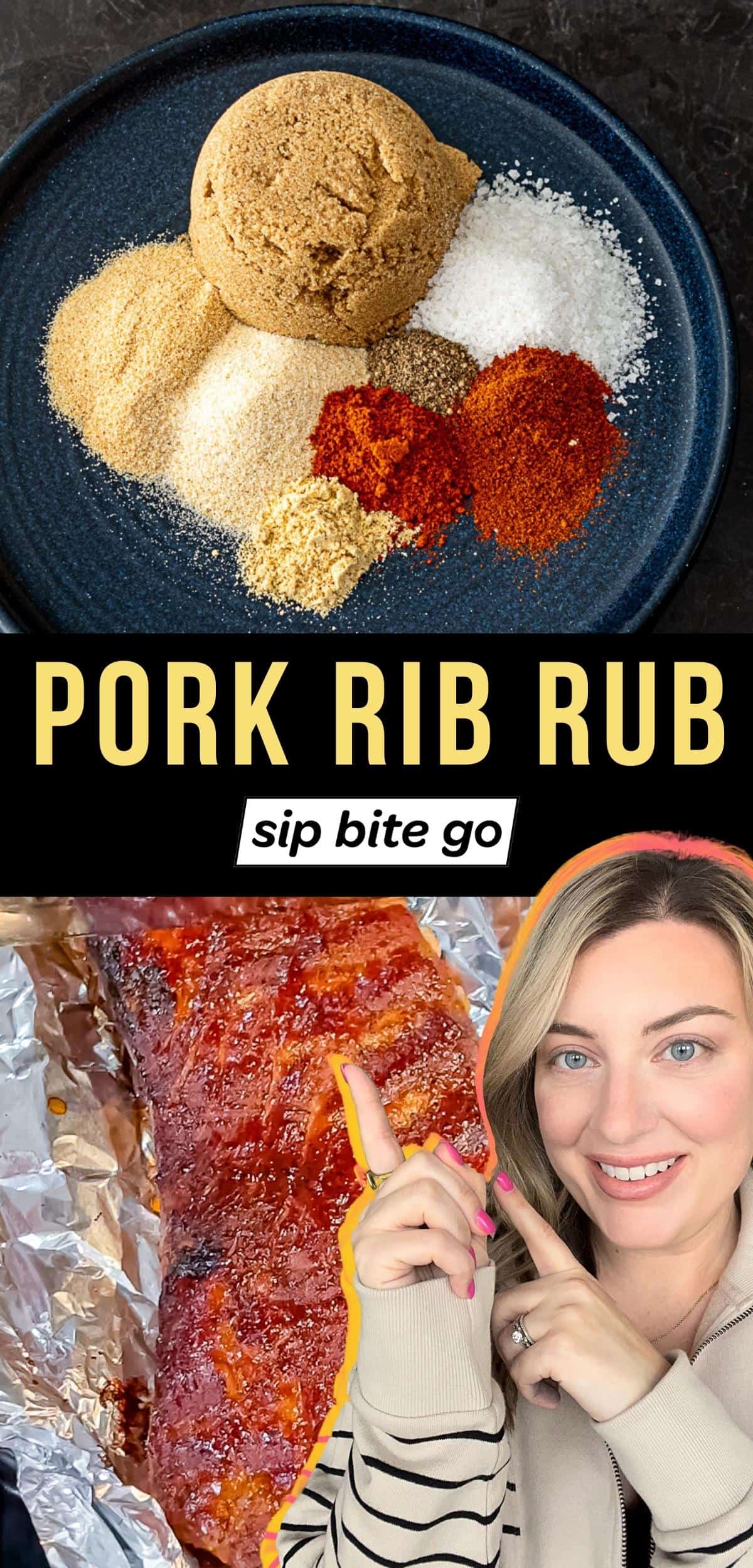 FAQs
What you need to make homemade spice blends
This is what I recommend and use for my own homemade spice recipe setup…
Easy Smoked Pork Recipes To Try
Why I wrote this recipe
I'm a huge fan of homemade barbecue sauces and BBQ rubs, but due to convenience and the inability to pass by the spice aisle at the grocery store without taking a peek… I usually don't have a *need* to make DIY spice blends at home.
But we've become religious smoked pork BBQ eaters, it's really become a game day tradition for my husband to whip up a rack of his smoked ribs for a crowd…
So it was time to nail a rib rub recipe for pork that we could have ready at a moment's notice.
You can use this recipe for more than just smoking food or as a dry rub for pork ribs in oven.
Let me know what you think!
Are you a foodie, too?
Hey home chef, hope that answers all your questions about how to make your own DIY spice rub for ribs.
Enjoy cooking and chat soon on Instagram / TikTok / YouTube.
– Jenna
Next, browse the Sip Bite Go recipe collection…
Easy Pork Rib Rub Recipe | Sip Bite Go
The only pork rib rub recipe you'll ever need! Make it in 5 minutes with spices right in your pantry… Hitting all the sweet and spicy notes, this homemade BBQ pork rib rub is delicious for smoked pork, pulled pork, and all types of meat recipes… | sipbitego.com
Print
Pin
Rate
Ingredients
½

cup

brown sugar

2

tbsp

salt

kosher or sea salt preferred

1

tsp

black pepper

1

tbsp

garlic powder

1

tbsp

onion powder

1

tsp

paprika

1

tsp

cayenne powder

add more to make it spicy

½

tsp

mustard powder
Instructions
Mix all homemade pork rib rub ingredients together and enjoy it on your favorite smoked pork recipes and beyond.
Nutrition
Serving:
4
g
|
Calories:
123
kcal
|
Carbohydrates:
31
g
|
Protein:
1
g
|
Fat:
0.3
g
|
Saturated Fat:
0.1
g
|
Polyunsaturated Fat:
0.1
g
|
Monounsaturated Fat:
0.1
g
|
Sodium:
3499
mg
|
Potassium:
108
mg
|
Fiber:
1
g
|
Sugar:
27
g
|
Vitamin A:
457
IU
|
Vitamin C:
1
mg
|
Calcium:
38
mg
|
Iron:
1
mg