Want to cut tri tip steak? There's a HUGE secret to cutting it that I'm about to share with you about cutting against the grain. Today you'll learn how to cut tri tip steak before cooking it (to cut off the fat cap). And how to carve a tri tip roast the right way.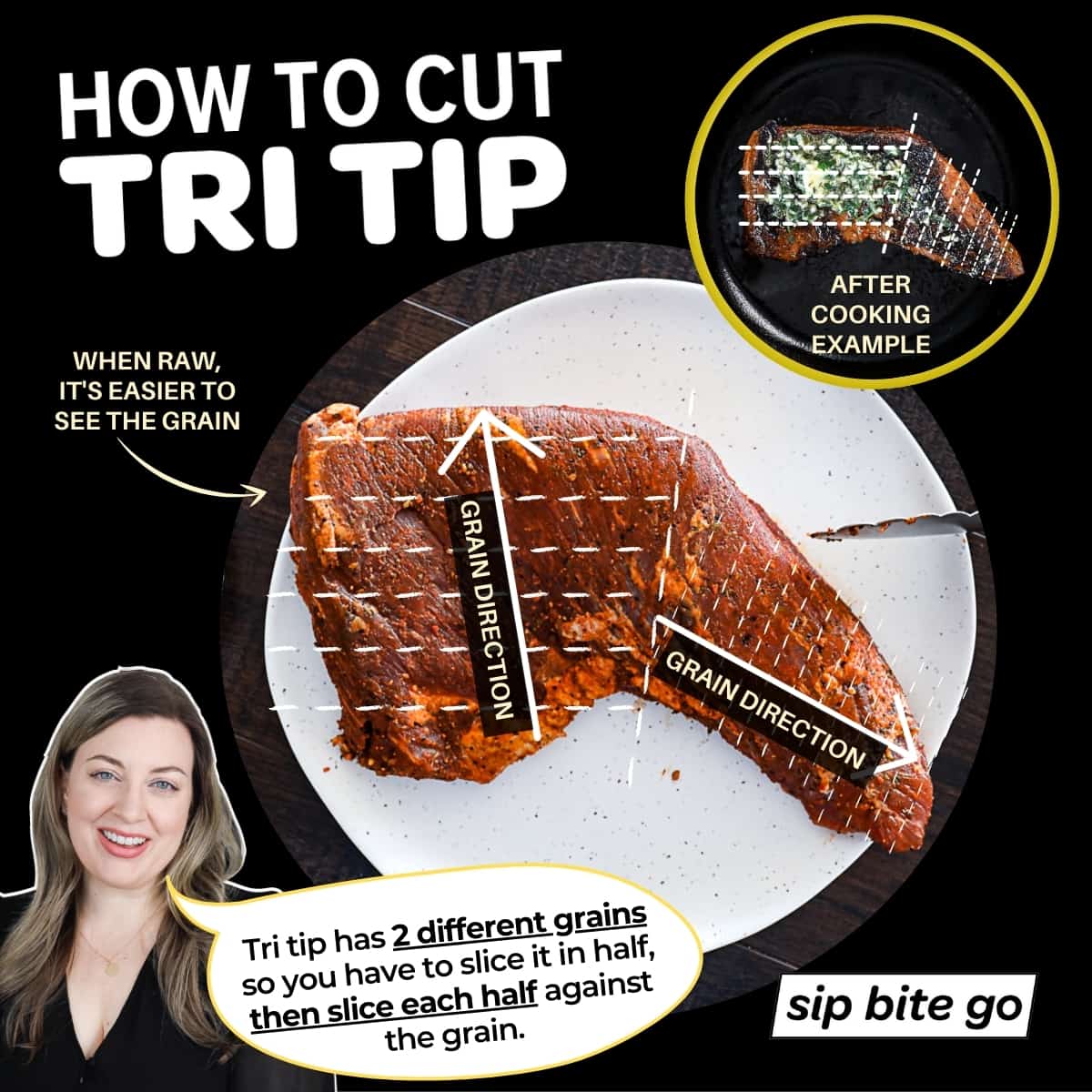 I'm about to dig into this ​​tri tip cut diagram demonstration – so sharpen your knives and let's cut some beef.
First – the secret to cutting tri tip
Okay – I'm going to get right to it. For most cuts of meat, once you learn whether or not to cut steak with or against grain lines, you're all set – right?
Well, throw that out the window when you learn about cutting tri tip. The reason it's so different is that there are two grains on the one piece of tri tip steak. They are perpendicular to each other, and they are connected. Which means you have to do a little detective work to find where they meet, separate them, and then, finally, cut tri tip for serving.
So today I'll show you how to get the most tender tri tip ever by finding the center point, slicing it in half, then cutting it against the grain.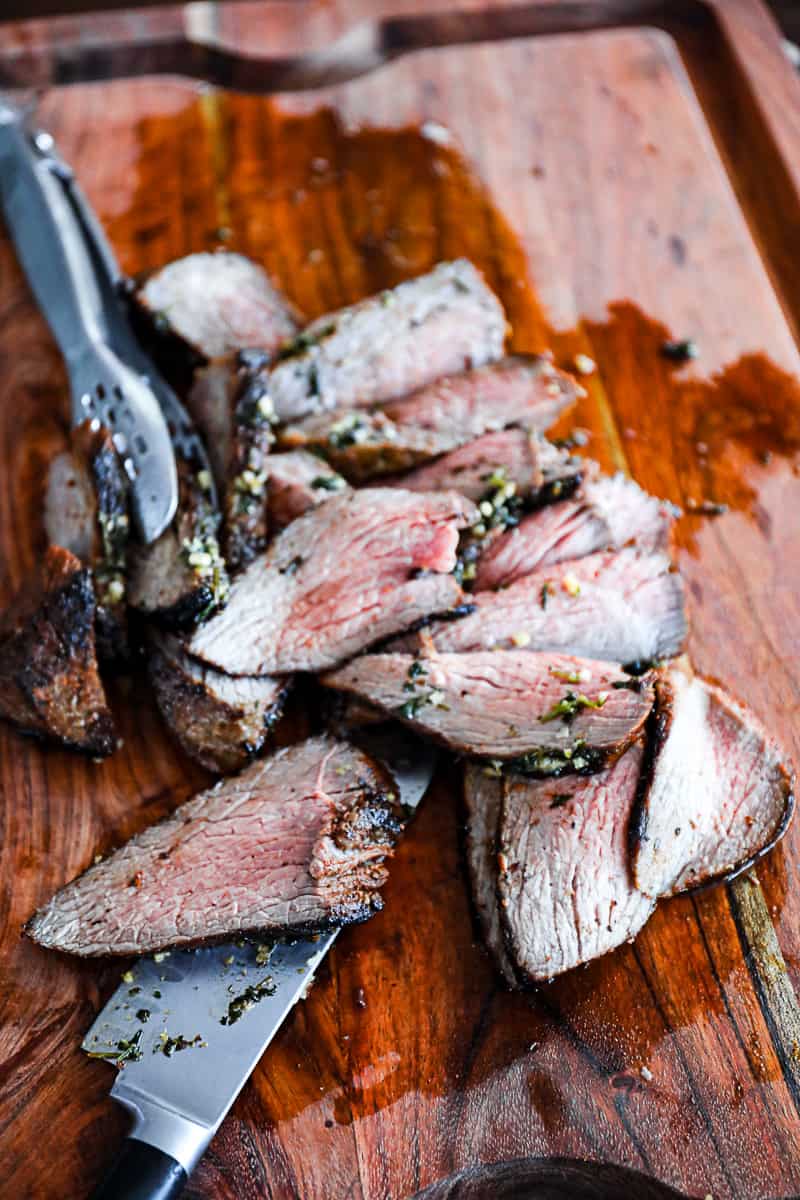 How to cut tri tip steak
Below is a look at how to slice tri tip, demonstrating the right way to carve it, from a recent steak dinner. If you look beyond the layer of delicious compound butter, you'll see the shape of the tri tip (aka the "Triangle Steak") and the direction in which to slice it (layered over the image).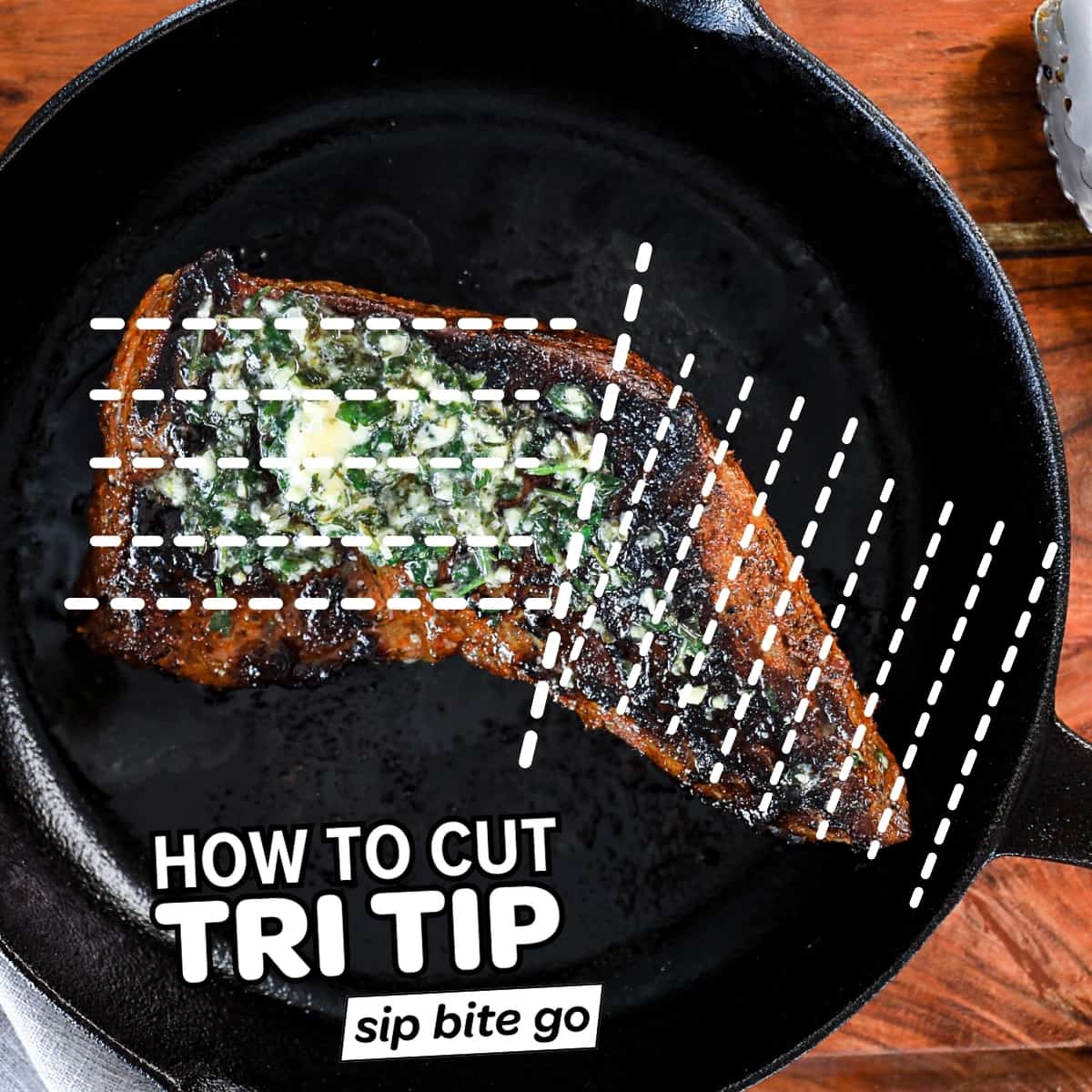 Find the center point, where the two grains meet.
Cut tri tip in half vertically at the grain intersection line.
Cut each tri tip half against the grain. I like to slice very thin slices to get the most of this tender cut of beef. And always slice perpendicular to the grain – meaning that you will see the texture of the steak in every slice.
Carving tip: hold your knife at an angle as you slice, cutting the tri tip "on a bias".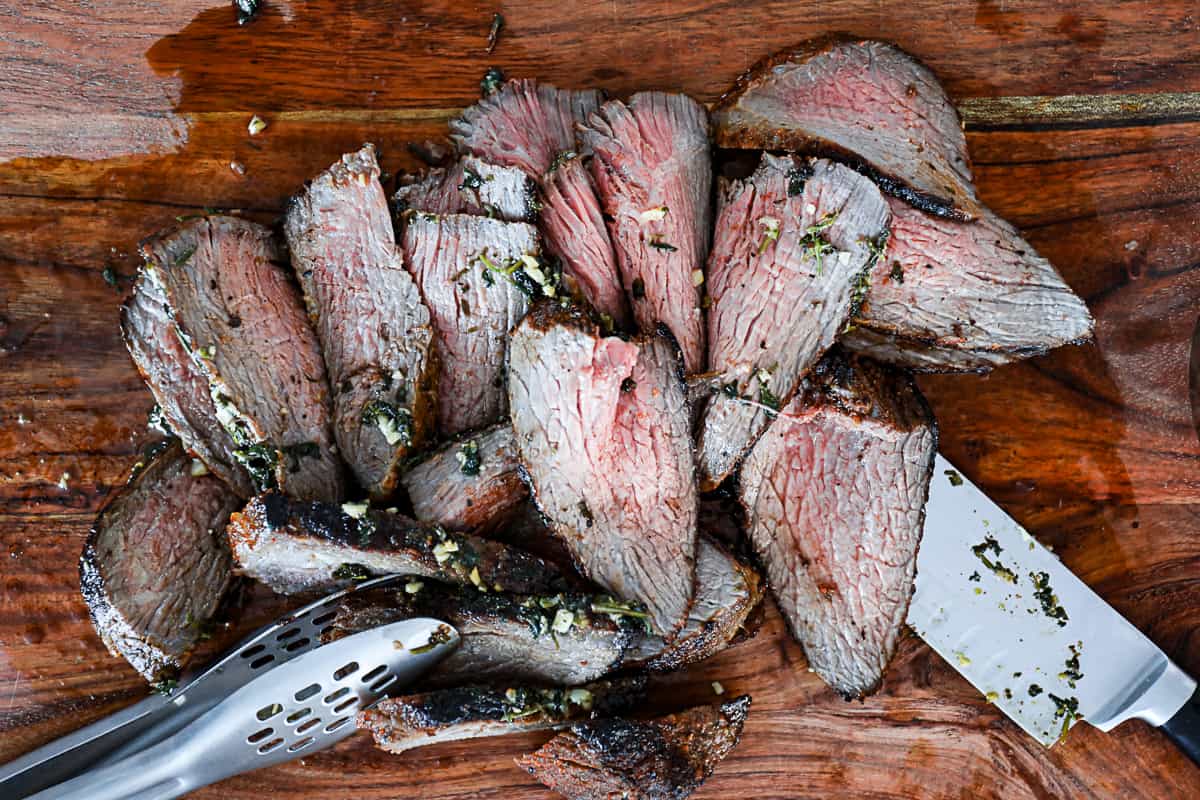 Do you have to cut tri tip steak before cooking it?
Sometimes, tri tip is sold at the grocery store already trimmed. Other times, you'll buy tri tip with a fat cap on one or both sides of the steak.
You don't have to trim the fat cap. You can actually leave it on to add juiciness (more fat = more moisture) and flavor to the steak. But some people like to remove the fat cap if it hasn't already been removed by the butcher.
While some people think it's more chewy to cook tri tip without the fat cap, others think it's more chewy to leave it on, because you'll bite into the fat when eating it in sandwiches, for example.
What you need to cut tri tip
Good news: you don't need any special equipment, like a meat slicer.
Sharp chef's knife
Large cutting board
How to cut fat cap off tri tip
To remove the fat cap before cooking tri tip, Use a sharp knife to gently get under the layer of fat, and cut away from you as you slowly pull up the fat.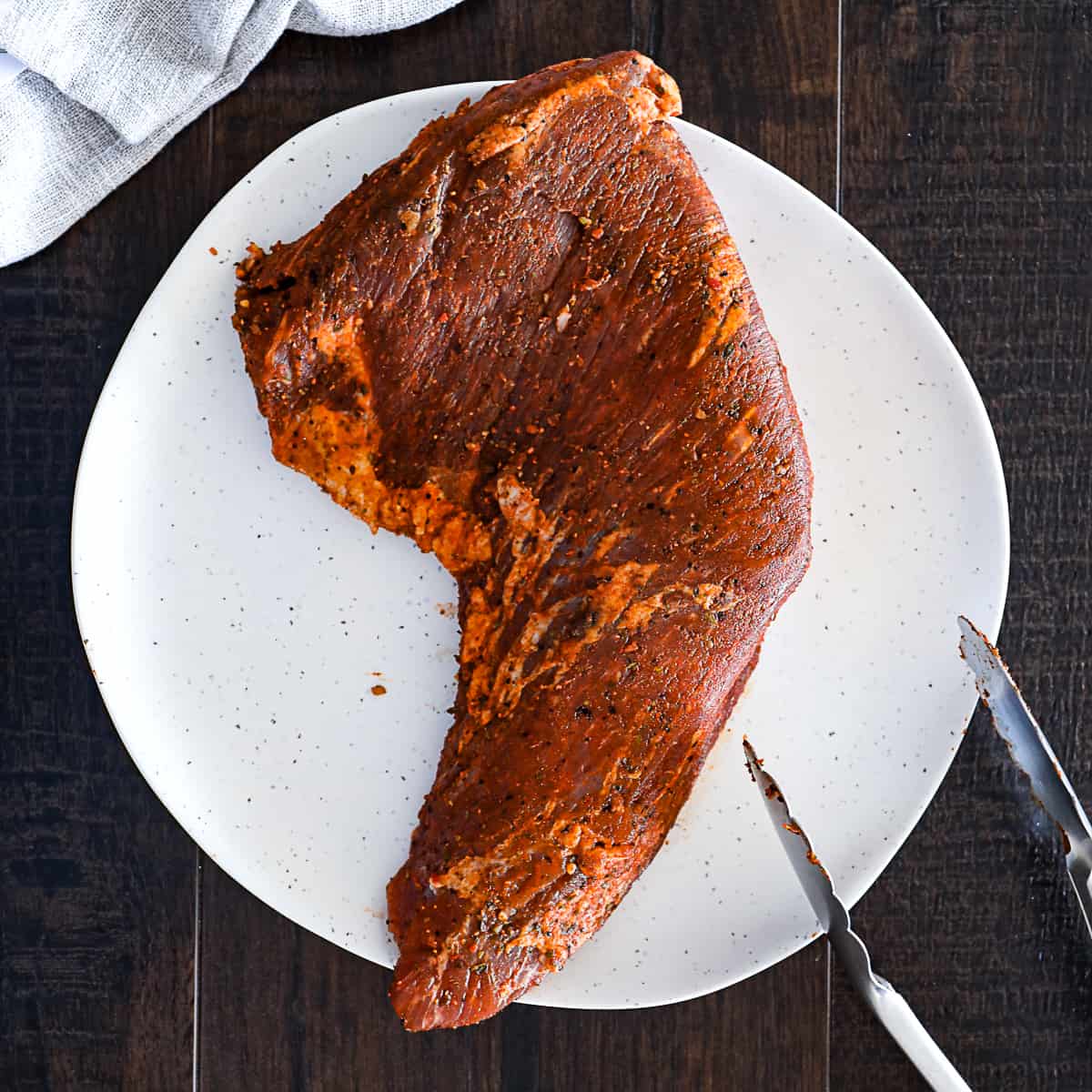 How to cook tri tip
Now that you know how to slice a tri tip roast, here's some of the best ways to cook it: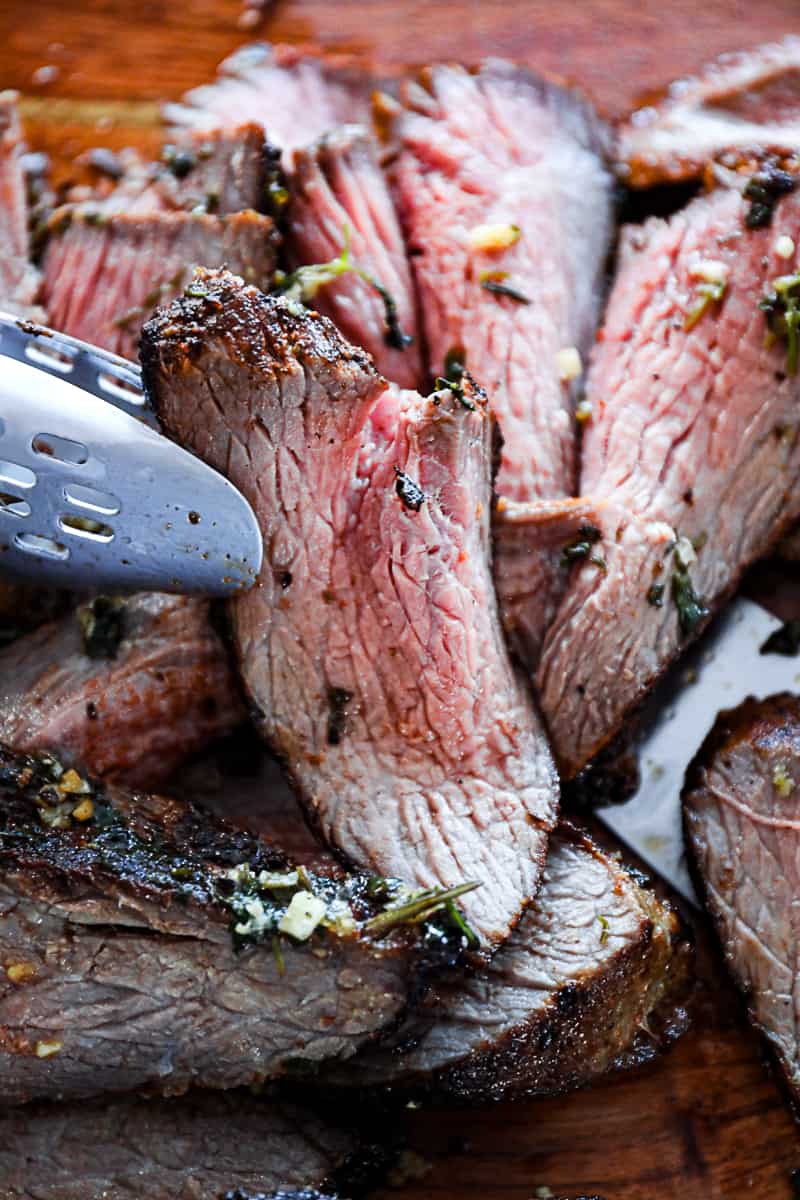 Are you a foodie, too?
Hey home chefs, if you're looking for something delicious to serve with perfectly sliced tri tip, see my favorite pasta sides and potato sides for steak. And don't forget to top it with a steak sauce like this jalapeno ranch or peppercorn sauce. You can just add some sauce and leftover tri tip tastes completely different the next day.
To get my latest and greatest recipes before they're shared on the site, connect with me on Instagram @sipbitego. And for more deliciousness, subscribe to the Sip Bite Go channel and see the Sip Bite Go recipe collection.
New recipes and foodie guides….
Grill and smoker recipes…
Meat thermometer recommendations
Every home chef needs a reliable meat thermometer to cook food perfectly.
On Sip Bite Go, you'll often see me using:
Meater thermometer – a fancy wireless thermometer that connects to a phone app – gifted to me from a Traeger partnership.
ThermoPro digital thermometer – which has a wire that connects the thermometer to a display box outside the oven/grill.
It's like being psychic! The great thing about either of the thermometers above is that I don't have to take the food out of the oven to know the temperature.
How to use 'em… What I do is stick the digital thermometer in steak, pork, chicken, whatever… Then put the food in the oven, on the smoker, or grill.
While the meat cooks, it reads the temperature so I know exactly what temp meat is as it's cooking. Without having to take it out and check. It's really difficult to overcook food when you know exactly what temp it is inside!