Are you looking for the best pizza sauce to buy for homemade pizza? Here is how to choose a pizza sauce that your whole family will enjoy from the grocery store.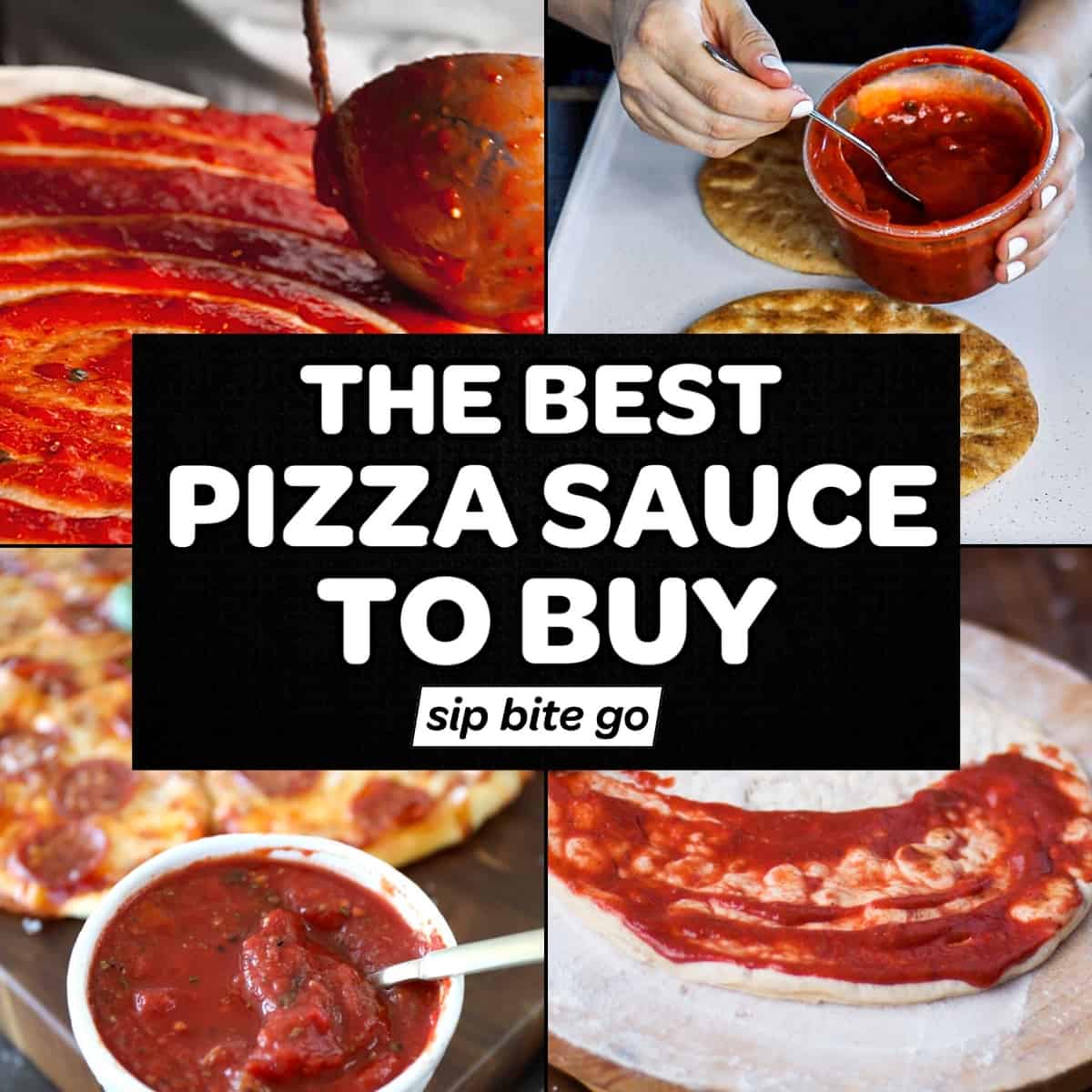 If you're looking to make it from scratch, check out my easy homemade pizza sauce recipe (with a tomato base). Plus a recipe for delicious homemade white pizza sauce. I also have an entire guide to store bought Alfredo sauce that's not to be missed. And tips on using Trader Joe's pizza dough.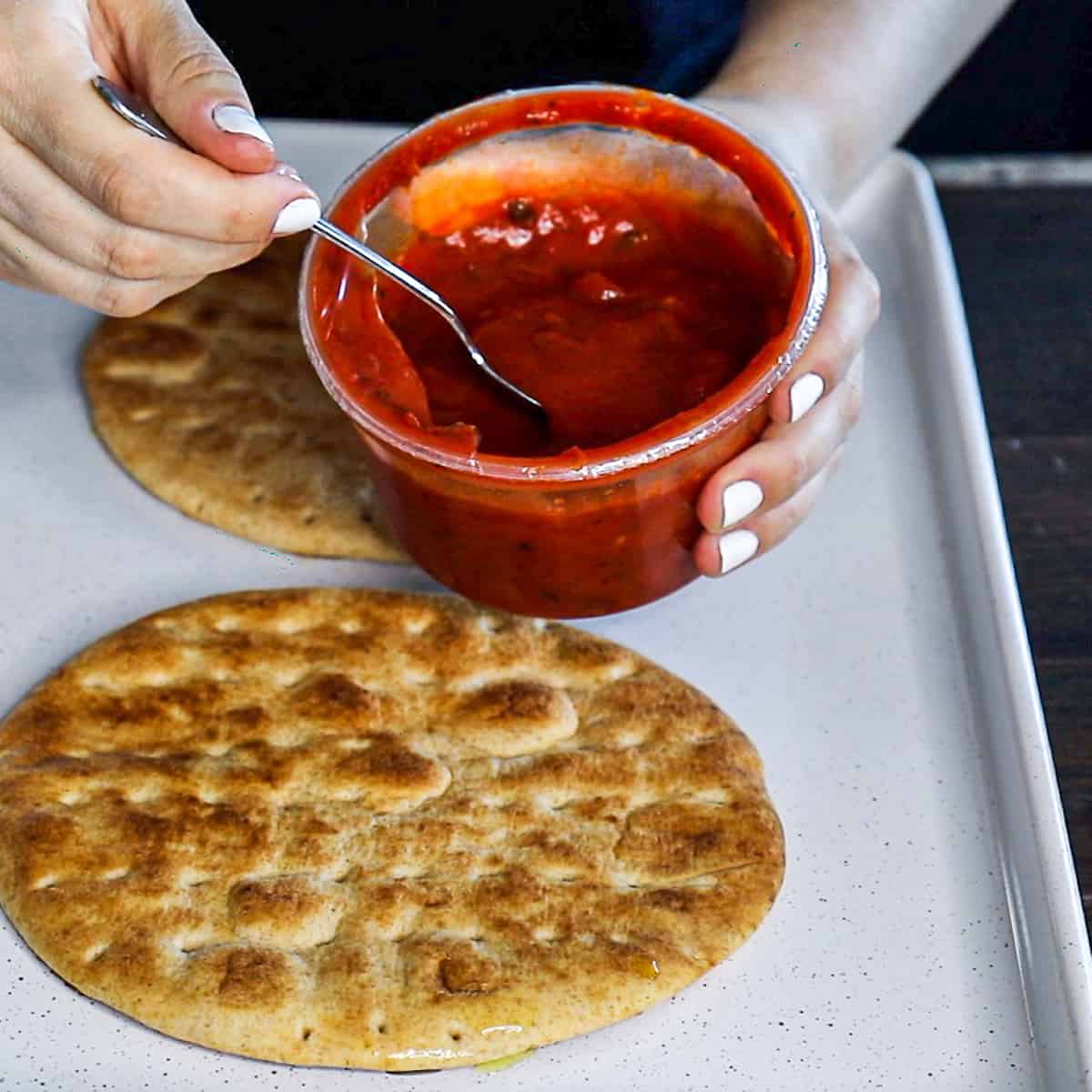 According to a recent study, three billion pizzas are sold every year in the United States. It's no secret that America loves pizza. However, if you're looking for a more healthy, affordable option, you might want to make your own pizza.
But, how do you go about doing that?
Here on Sip Bite Go, you'll find ways to make frozen pizza recipes taste as good as homemade, how to make your own pizza dough, and tips for stretching dough and par baking dough. However, that's not what we'll be talking about today. Today, we'll be talking about the best pizza sauce to buy for your homemade pizza.
For home cooks looking to make their own homemade pizza, this guide will walk you through the best pizza sauce to buy for the ultimate shorcut.
Best Pizza Sauce To Buy In Store
If you're looking to buy tomato sauce in a general store, you've come to the right place. Don Pepino pizza sauce could be the best store-bought pizza sauce you can buy. Don Pepino is cholesterol-free, and trusted by many people for pizza night.
You can also go with Chef Boyardee pizza sauce. Chef Boyardee uses guaranteed vine-ripened tomatoes, so you know you're going to get a good taste.
Another great option is Muir Glenn Pizza Sauce. Muir Glenn features natural ingredients and black pepper.
Best Pizza Sauce From Trader Joe's
If you're a Trader Joe's products enthusiast, I can't blame you. I'm in the same boat! Trader Joe's is famous for turning its shoppers into fanatics.
The Trader Joe's brand marinara sauce is a wonderful pasta sauce that you can use for pizza as well. There are two types of this wonderful sauce that you can get for yourself.
The first is in the jars, which are good to stock up on and store for a while—however, the one by the pizza dough and cheese in the frozen section will taste even better.
When shopping at Trader Joe's, you can't go wrong with the standard marinara; in fact, you can't beat it.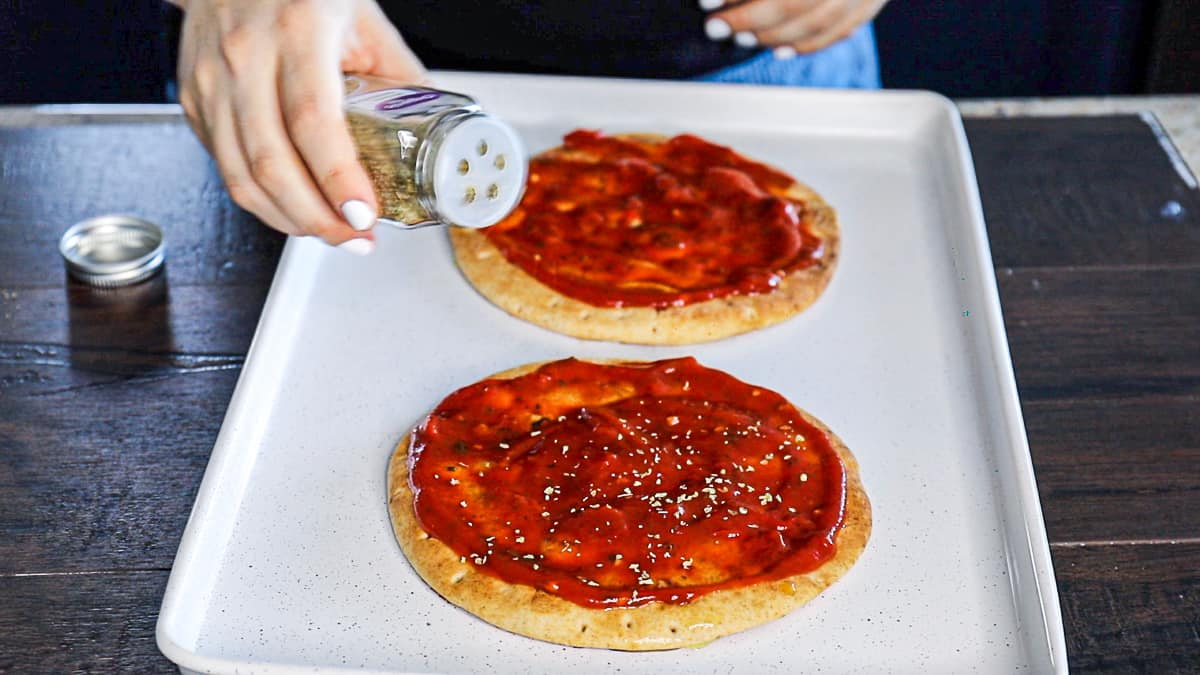 Best Keto Pizza Sauce To Buy
If you're on the Keto diet, you have to be careful about what you eat. Your options for pizza sauce are going to be limited. However, it's not impossible to find keto pizza sauce to put on keto-friendly broccoli pizza crust, for example.
Yo Mama's Tomato Basil (that's the actual name of the company, we're not making a joke) is a wonderful low-carbon option. Their pizza features absolutely no added sugars, and you can enjoy their great taste while staying healthy.
And, plot twist, one of the greatest types of keto pizza sauce to buy is Don Peppino's! While they're one of the most popular pizza sauce brands for a general audience, the low-calorie count and low carbs are perfect for any diet.
Are you a foodie, too?
Hey home chefs, once you really can do no wrong in your pizza sauce-buying game if you follow directions on Sip Bite Go to make tasty pizzas. Check out my new recipes for easy pita bread pizza, French bread pizza, and ravioli pizza.
To see my latest pizza recommendations and obsessions, connect with me on Instagram @sipbitego. And if you want to make restaurant-style food at home, see my in-depth video guides on the Sip Bite Go channel.
The Perfect Pizza Setup
Want to make restaurant style pizza at home? I've got you covered! Here are some of my top tips, tricks, secret ingredients and tools for a pizza night everyone will look forward to, again and again.
NEVER do this… Contrary to what most people believe, when baking pizza on a sheet pan, never add toppings to raw pizza dough. Instead, follow my recipe for making homemade pizza with ready made dough, which will teach you how to par bake pizza dough first.
Get help from secret ingredients…
– This dough seasoning is the secret to real Italian-tasting homemade pizza dough.
– Add pizza seasoning to store bought pizza sauce. This makes the pizza taste really fresh!
Herbs are for after… In my weekly pizza making practice, I've found that fresh herbs, like basil, need to be added to pizza after the pizza is done baking (so the herbs don't wilt).
Buy fresh dough and get amazing results. Yup, fresh dough from grocery stores is one of my favorite short-cuts. Learn how to use fresh Trader Joe's pizza dough and Whole Foods pizza dough with my tutorials.
Frozen pizza can taste amazing, too!! Learn how to spruce it up with this recipe for pizza using frozen crust.
Slice pizza pies like a chef with just a few swipes, using big ol' pizza cutters.
Want to grill pizza? Here are some pizza grilling tools to check out.
Do you really need to cook pizza on the rack? Nope! I basically never do. Here are tools you see me using in my tutorials on cooking pizza in the oven…
– Bake pizza on a rimmed baking pan set to get a beautiful golden brown crust.
– Love crispy crust? Let the air flow with this dishwasher safe pizza pan.
– Get personal – let your fam / friends top their own pies with this set of personal pizza pans.
More pizza recipes from Sip Bite Go