Don't add raw chicken to pizza! Instead, learn exactly how to cook chicken breast for pizza toppings. You can pick from cooking chicken breasts for pizza on the grill, air fryer, in a pan on the stove, or the oven. Here are my best tips…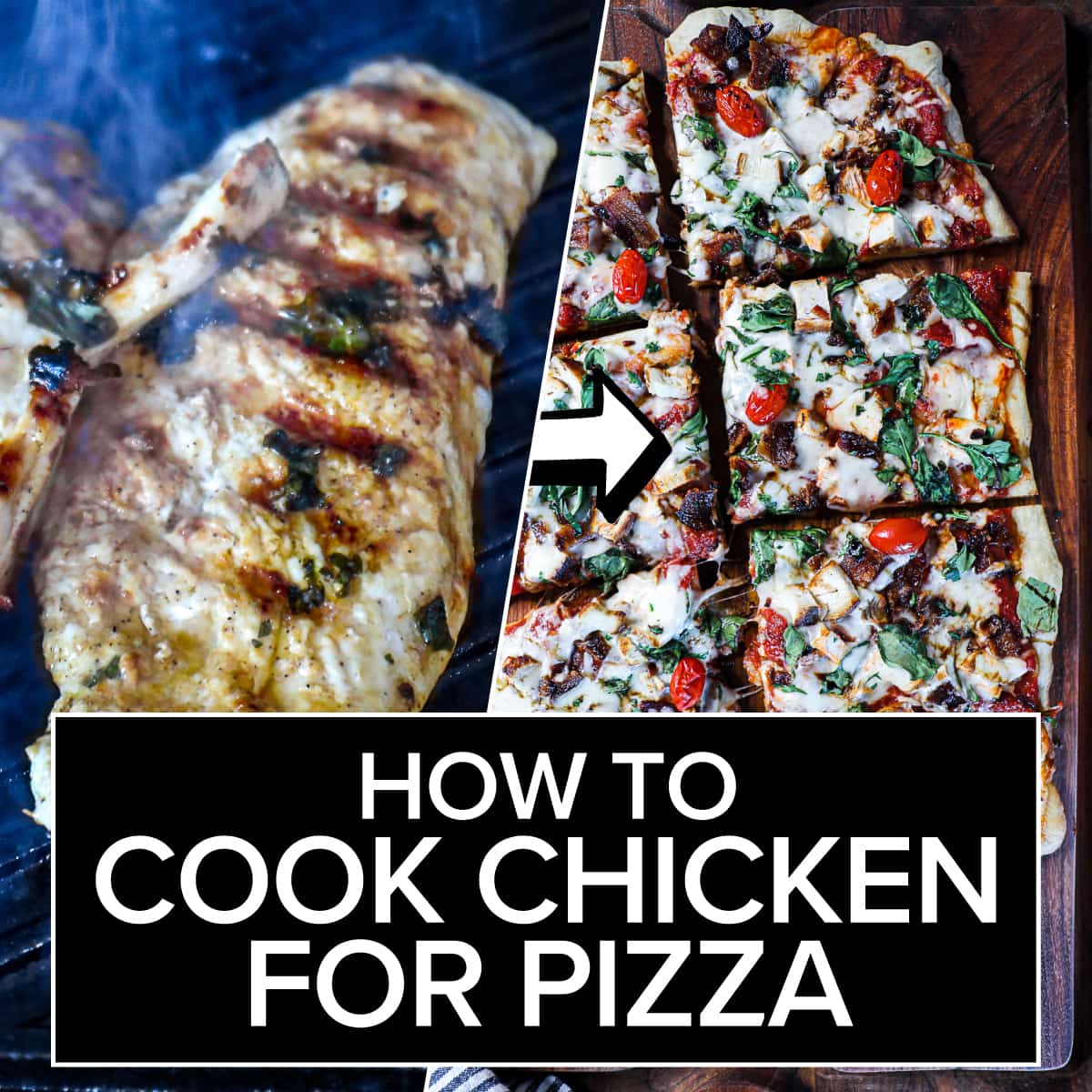 Can you add raw chicken to pizza?
No. Whether it's pulled pork pizza, Philly cheesesteak pizza, or chicken pizza recipes, you need to cook the meat before adding it to the pizza. Chicken breast needs to be cooked to 165 degrees F, until it is no longer pink.
This rule also goes for bacon or any other meat that is uncooked. That's why this guide explaining different ways for how to cook chicken for pizza toppings will come in handy if you're new to making homemade pizza.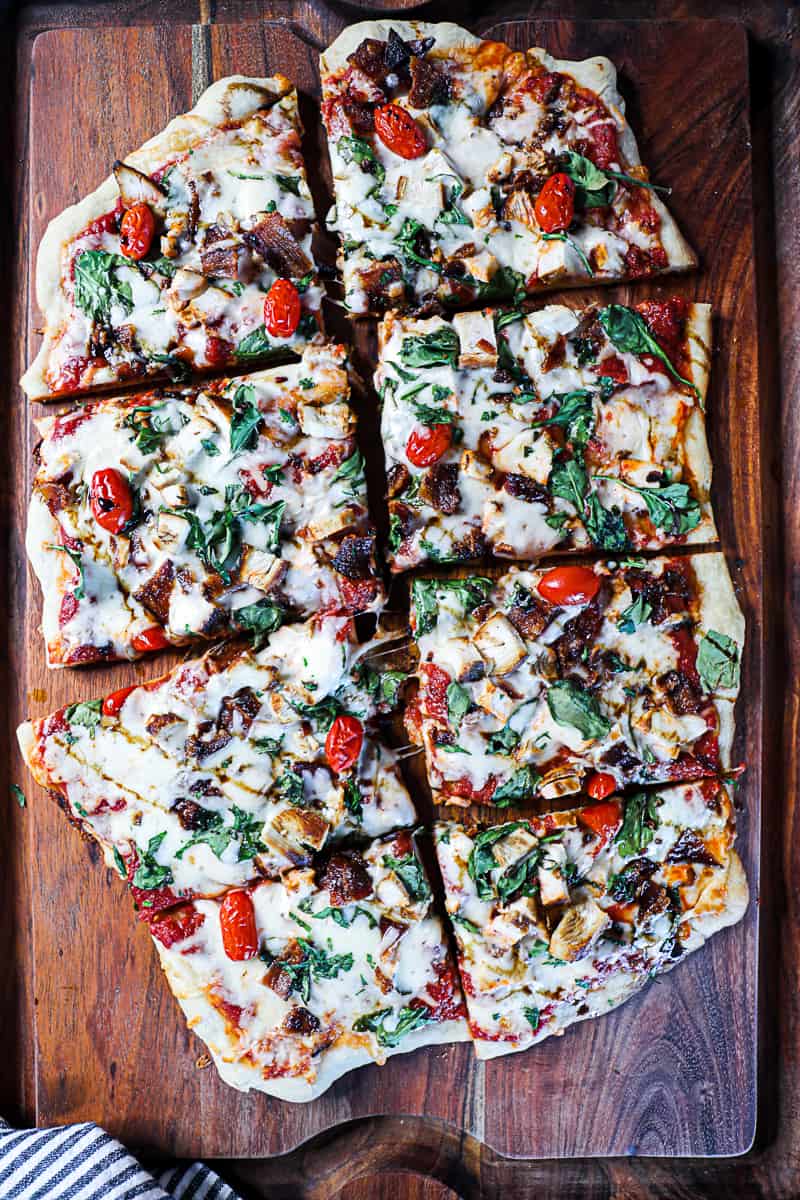 Do you need to cook all types of meats before topping pizza?
The exception to my rule of cooking meat before adding it to pizza is when you're using deli ham or deli chicken that's been roasted or cured or cooked already. Same goes for leftovers. If you cooked the meat the day before, it doesn't need to be cooked again before making the pizza.
So let's cover all your options for exactly how to cook raw chicken for pizza…
Grilled chicken pizza topping (BBQ or indoor grill pan)
You can grill chicken outdoors on the BBQ or gas grill. Because I live in Portland, if it's raining, I'll usually use a grill pan to make chicken inside in about 10-15 minutes.
See my method for pounding the chicken breast flat (so it cooks evenly), marinating it for intense flavor, and searing pan grilled chicken to perfection.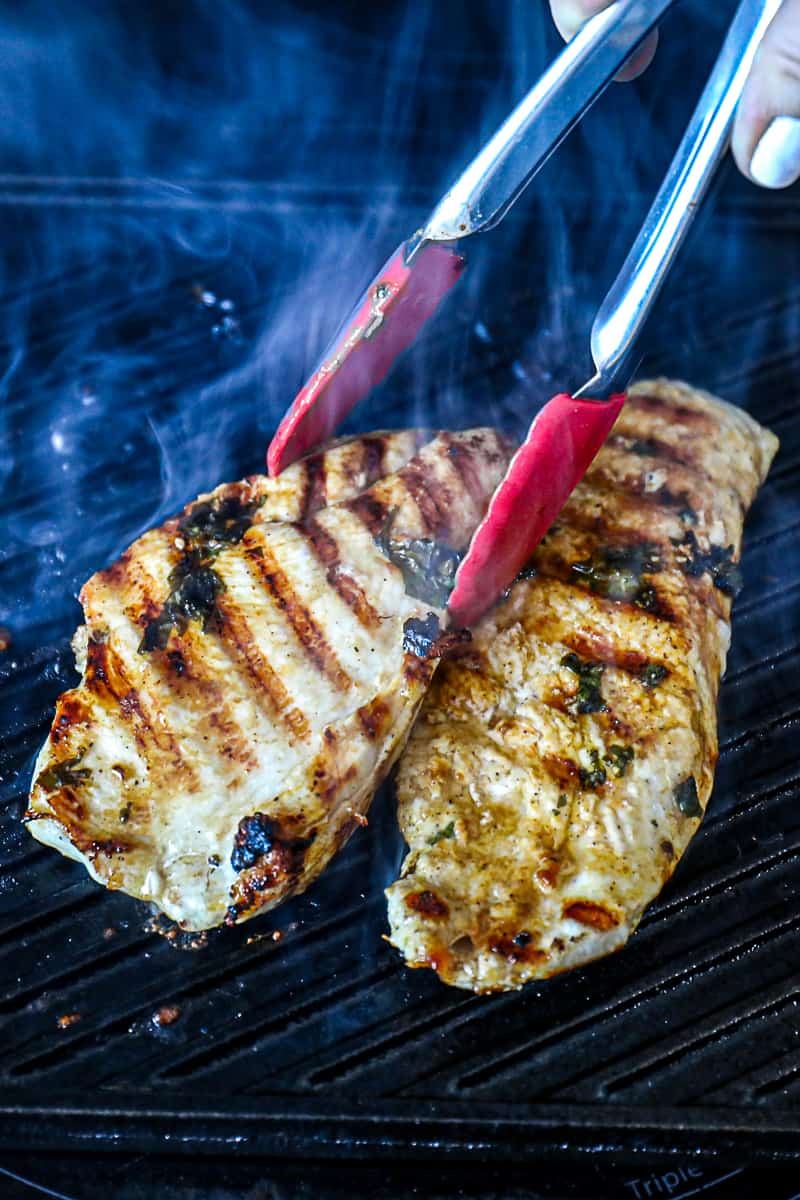 You can shop my grill pan on Amazon.
Quick meal prep note here: I'm always looking for shortcuts to making restaurant-style weeknight dinner recipes.
So if I'm cooking chicken on the grill one night, I'll usually make extra so I can use leftover bbq chicken on pizza (with mozzarella cheese, caramelized onions and red peppers) the following night. That way I don't have to light up the grill again and dinner on day two is very fast.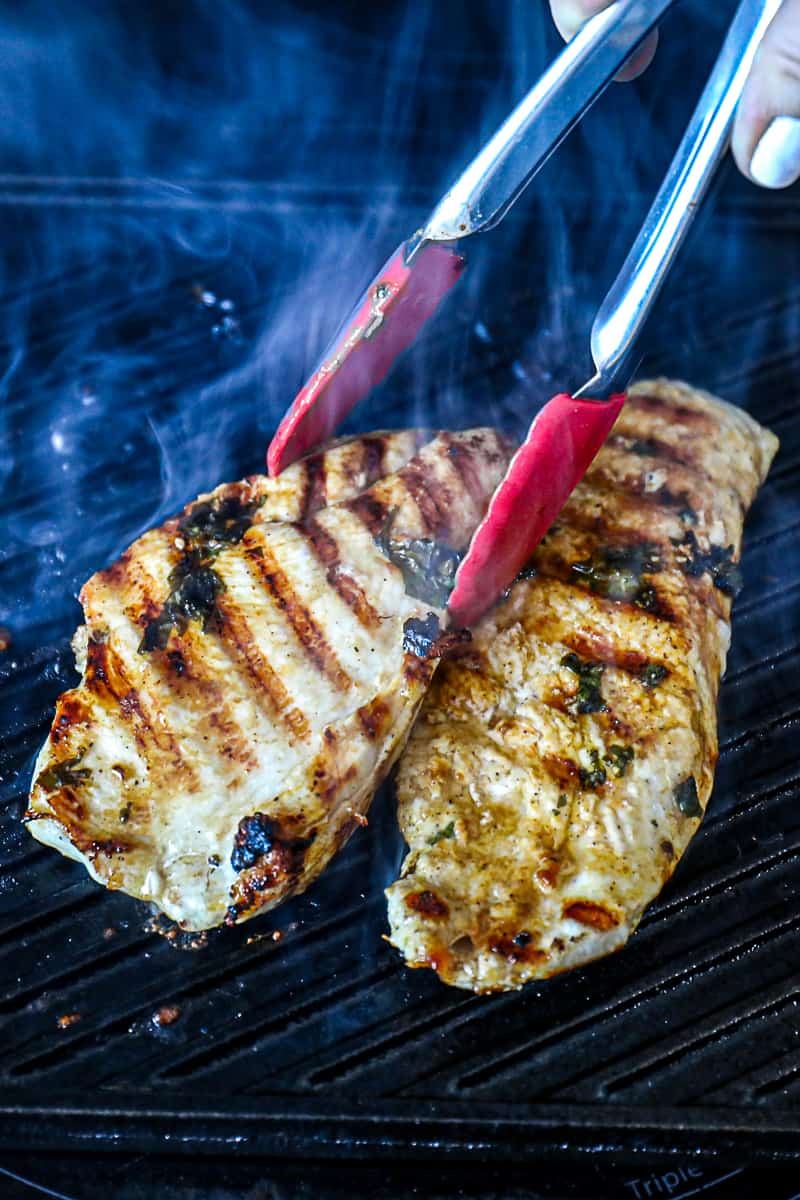 Above is my chicken taco pizza with grilled chicken breast topping, made indoors on a grill pan. 
Also see how to smoke chicken breast…
Air fryer chicken breast topping tips for pizza
There are a couple ways I like to utilize the air fryer for cooking chicken to use as a pizza topping. It's a really simple, hands off method to make healthy air fryer chicken breast or shred up some air fryer whole chicken.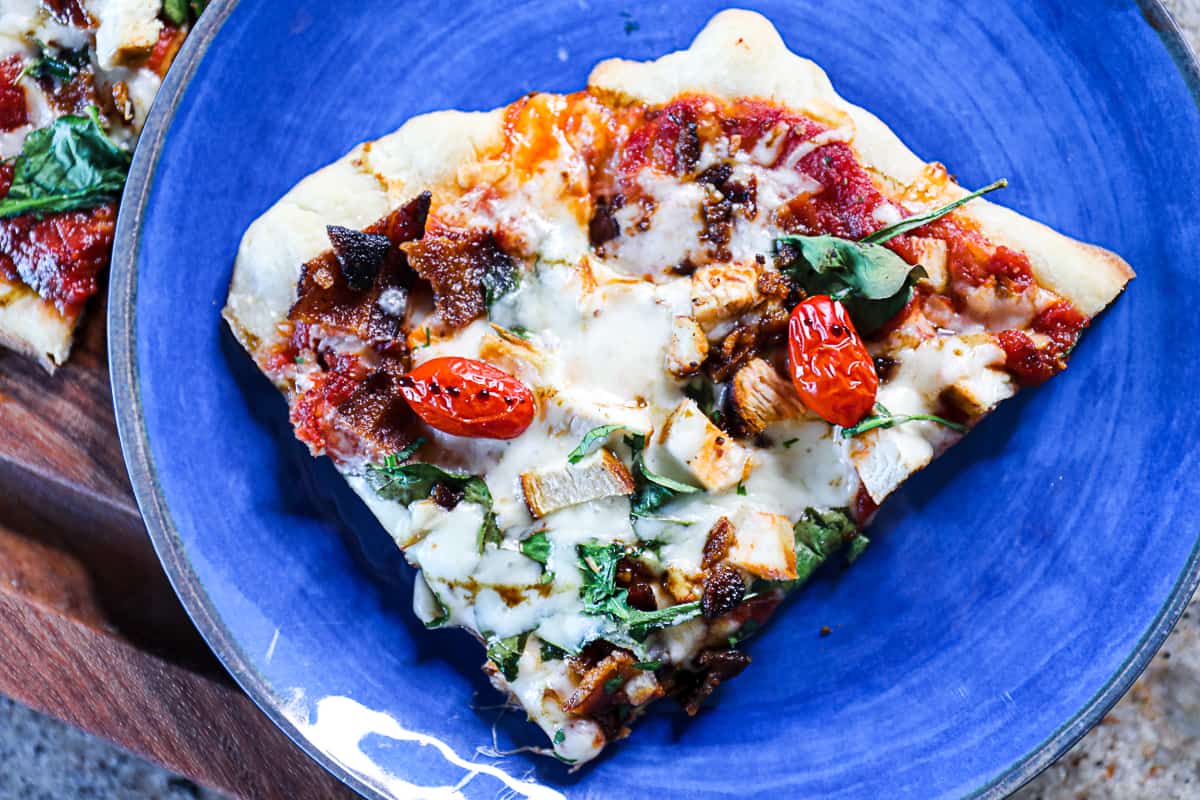 Breaded chicken, especially with buffalo sauce, is also tasty on pizza…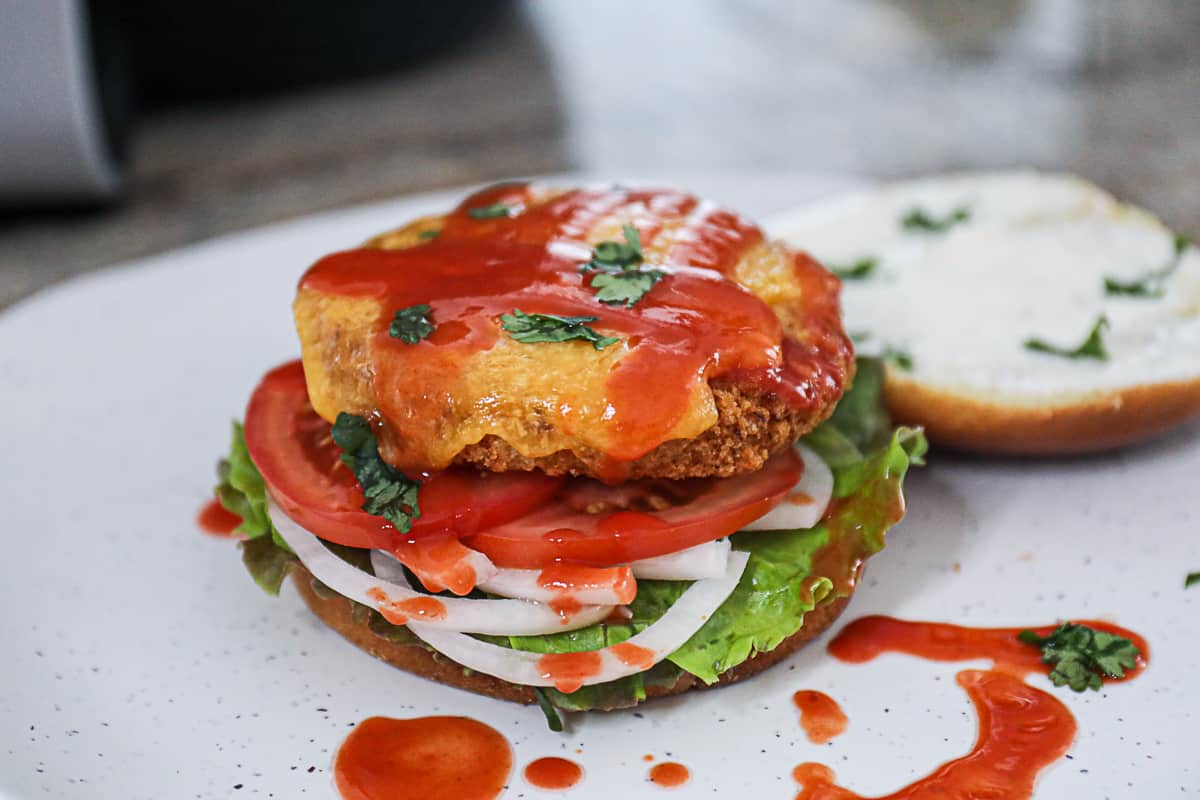 Above is my air fryer chicken patties recipe.
Cook chicken breast topping on the stove
There are so many ways to infuse flavor in chicken you're cooking for pizza by adding sauces like enchilada sauce, spinach basil pesto sauce, or a lemon sauce.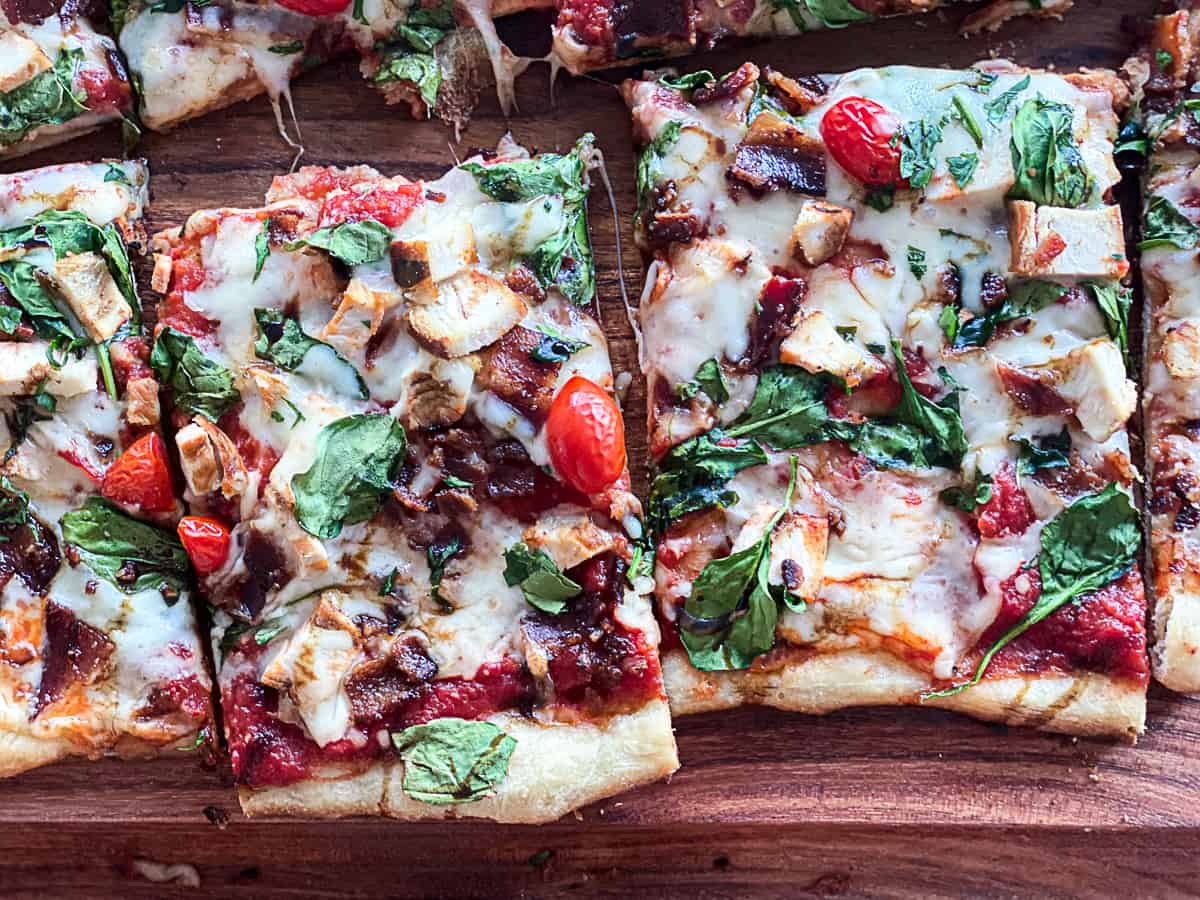 See my guide on how to cook chicken breast on the stove. Once it's cooked, just dice the chicken on a cutting board and add it to your pizza. For my stove top (to oven baking) method, you can use any cast iron skillet or large flat pan you have.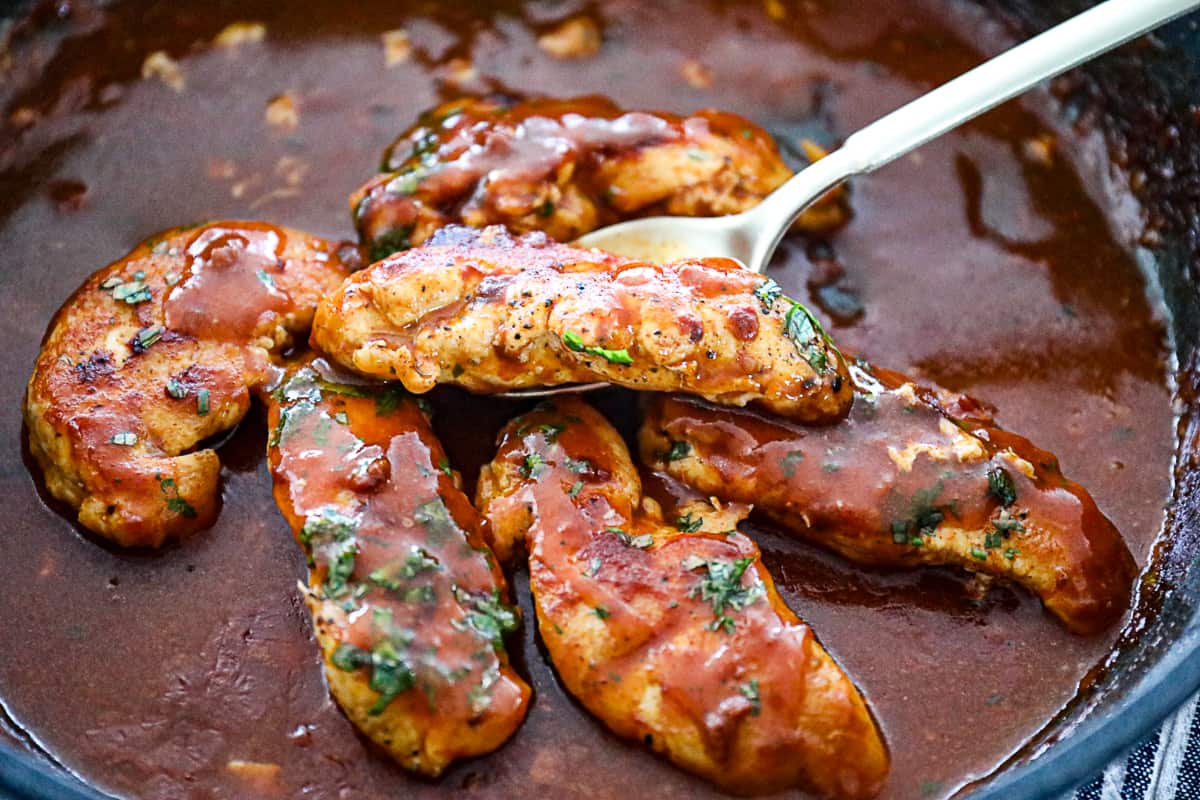 Above is my simmered chicken breast in enchilada sauce. It's so good!
Pizza with sous vide chicken meal prep method
When it comes to exactly how to cook chicken for pizza sous vide style, meal prep is also a good idea. I cook a lot of frozen chicken with the underwater sous vide method at once, so I can use it throughout the week in quesadillas, chicken salads, and pizzas.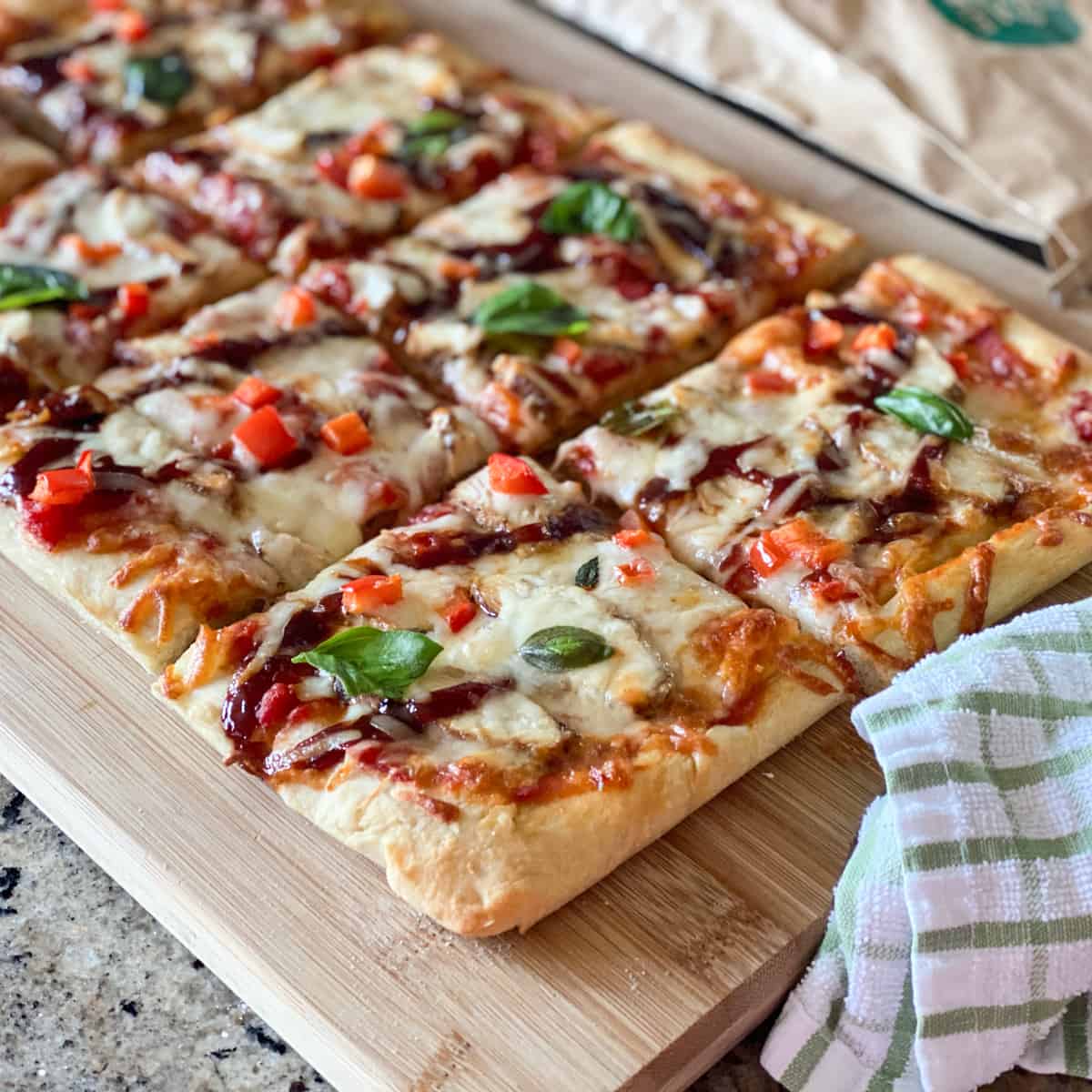 Above is BBQ chicken pizza on Whole Foods dough.
Below you'll see sous vide chicken tenderloins searing in a cast iron skillet after they were cooked in the water bath.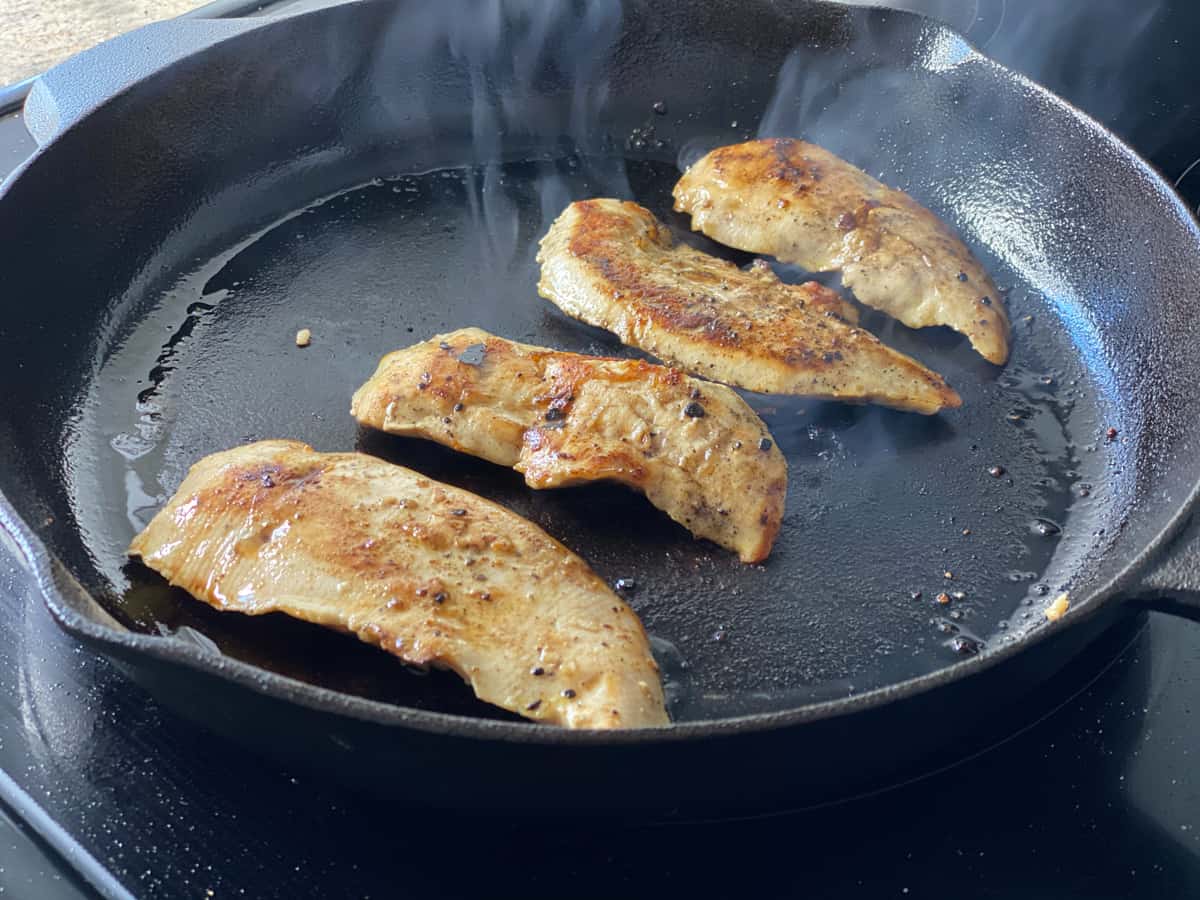 Baking chicken in the oven
This is a great idea, too. You can dice it up so it cooks faster, and add raw chicken breast to a baking sheet with a little salt, pepper, maybe a dash of italian seasoning (or garlic powder), and a light coating of olive oil. Cook the chicken cubes at 400 degrees F, flipping as needed, until cooked through to 165 degrees F.
Slow cooking / smoking chicken
This is another version of multiple day meal prepping. To do this requires a little planning, but it's worth it for the tender pulled chicken. Try a smoked Traeger whole chicken or slow cooker whole chicken or even a sous vide whole chicken recipe one night. Save a cup or more of cooked whole chicken for pizza the next night.
Use any leftover chicken!
Last, but not least, just a friendly reminder that leftover chicken breast and other leftover meats take on a new life as pizza dishes. I've done this with everything from stuffed chicken breast to my family's most popular Cheesecake Factory dishes, like the Thai lettuce chicken wraps.
Are you a foodie, too?
Hey home chefs, hope that answers all your questions about how to cook chicken breast for pizza.
If you don't follow me on instagram you totally should @sipbitego. And for more deliciousness, subscribe to the Sip Bite Go channel and see the Sip Bite Go recipe collection.
The Perfect Pizza Setup
Want to make restaurant style pizza at home? I've got you covered! Here are some of my top tips, tricks, secret ingredients and tools for a pizza night everyone will look forward to, again and again.
NEVER do this… Contrary to what most people believe, when baking pizza on a sheet pan, never add toppings to raw pizza dough. Instead, follow my recipe for making homemade pizza with ready made dough, which will teach you how to par bake pizza dough first.
Get help from secret ingredients…
– This dough seasoning is the secret to real Italian-tasting homemade pizza dough.
– Add pizza seasoning to store bought pizza sauce. This makes the pizza taste really fresh!
Herbs are for after… In my weekly pizza making practice, I've found that fresh herbs, like basil, need to be added to pizza after the pizza is done baking (so the herbs don't wilt).
Buy fresh dough and get amazing results. Yup, fresh dough from grocery stores is one of my favorite short-cuts. Learn how to use fresh Trader Joe's pizza dough and Whole Foods pizza dough with my tutorials.
Frozen pizza can taste amazing, too!! Learn how to spruce it up with this recipe for pizza using frozen crust.
Slice pizza pies like a chef with just a few swipes, using big ol' pizza cutters.
Want to grill pizza? Here are some pizza grilling tools to check out.
Do you really need to cook pizza on the rack? Nope! I basically never do. Here are tools you see me using in my tutorials on cooking pizza in the oven…
– Bake pizza on a rimmed baking pan set to get a beautiful golden brown crust.
– Love crispy crust? Let the air flow with this dishwasher safe pizza pan.
– Get personal – let your fam / friends top their own pies with this set of personal pizza pans.
More pizza recipes from Sip Bite Go