Get Traeger taco night recipe ideas for the pellet smoker grill, right here! See the list of ingredients for smoking taco night main dishes, sides, appetizers, and smoked drinks to serve, too.
You'll see everything from Traeger tacos to side dishes to serve for a Mexican or Tex-Mex themed taco night using the smoker.
Smoked salsa
Try homemade smoked salsa for a taco night or BBQ party.
To make smoked salsa, season veggies (fresh tomatoes, limes, onions, cilantro, jalapenos… add anything similar you'd like!) with olive oil + spices.
Then smoke salsa at 250 degrees F for 60 – 90 min (flip halfway) until done. Blend + enjoy.
New to smoked food recipes and Treager recipes? I've got you covered with extensive recipe testing and development!
Traeger taco night side dish: smoked mac n' cheese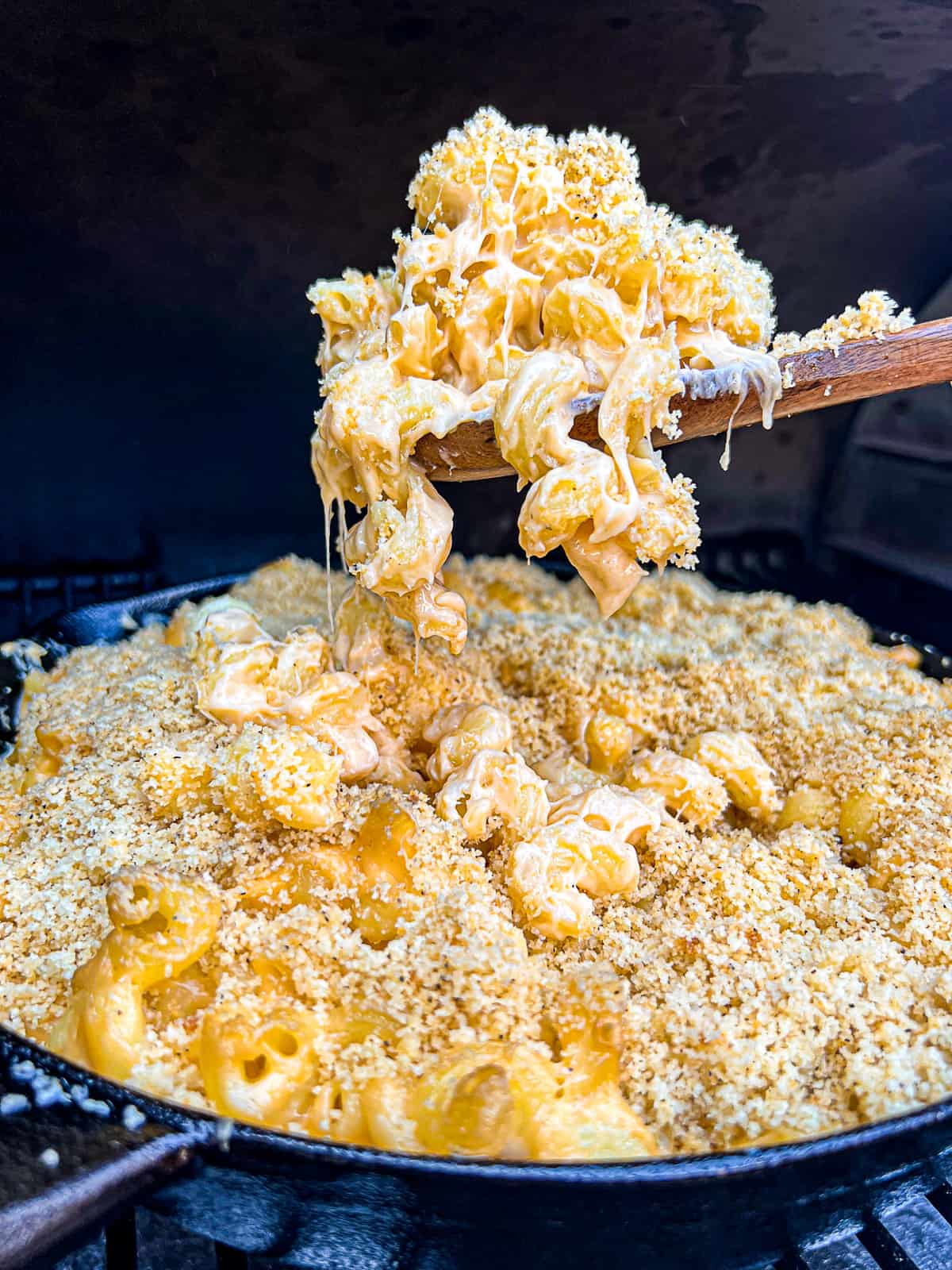 You can easily change up my Sip Bite Go recipe for Traeger mac and cheese for a taco night or another themed-food night.
For instance, my original recipe calls for a classic cheese with gouda.
But for taco night, you might add in some diced jalapenos… or fajita style vegetables like sauteed onions and peppers.
Just add the taco veggies right to the pasta and cheese mixture before popping it on the smoker.
You can also use them as a taco topping.
I made some the morning of the taco party and heated them on the stove when the smoked flank steak tacos were ready to serve.
And I also suggest you substitute the flavor of the panko bread topping.
My traditional smoked mac and cheese recipe called for BBQ seasonings, so instead add taco or fajita seasonings.
For this particular taco night, I didn't add much spice because this dish was to be shared with kiddos. Everyone gobbled it up!
For the pasta and cheese filling

Gouda cheese
Gruyere cheese
Cheddar cheese
Cream cheese
Heavy cream
Flour
Dijon mustard or mustard powder
Milk
Butter, salted
Salt
Pasta noodles, Cavatelli
Add diced jalapenos or sauteed vegetables

For the panko bread topping

Butter
Panko bread crumbs
Bbq rub (sub taco seasoning)
HEY FOODIES — Follow SBG for new smoked food recipes on Instagram / TikTok
Smoked queso taco night appetizer
This is a must have for any BBQ party, but especially for a taco night party…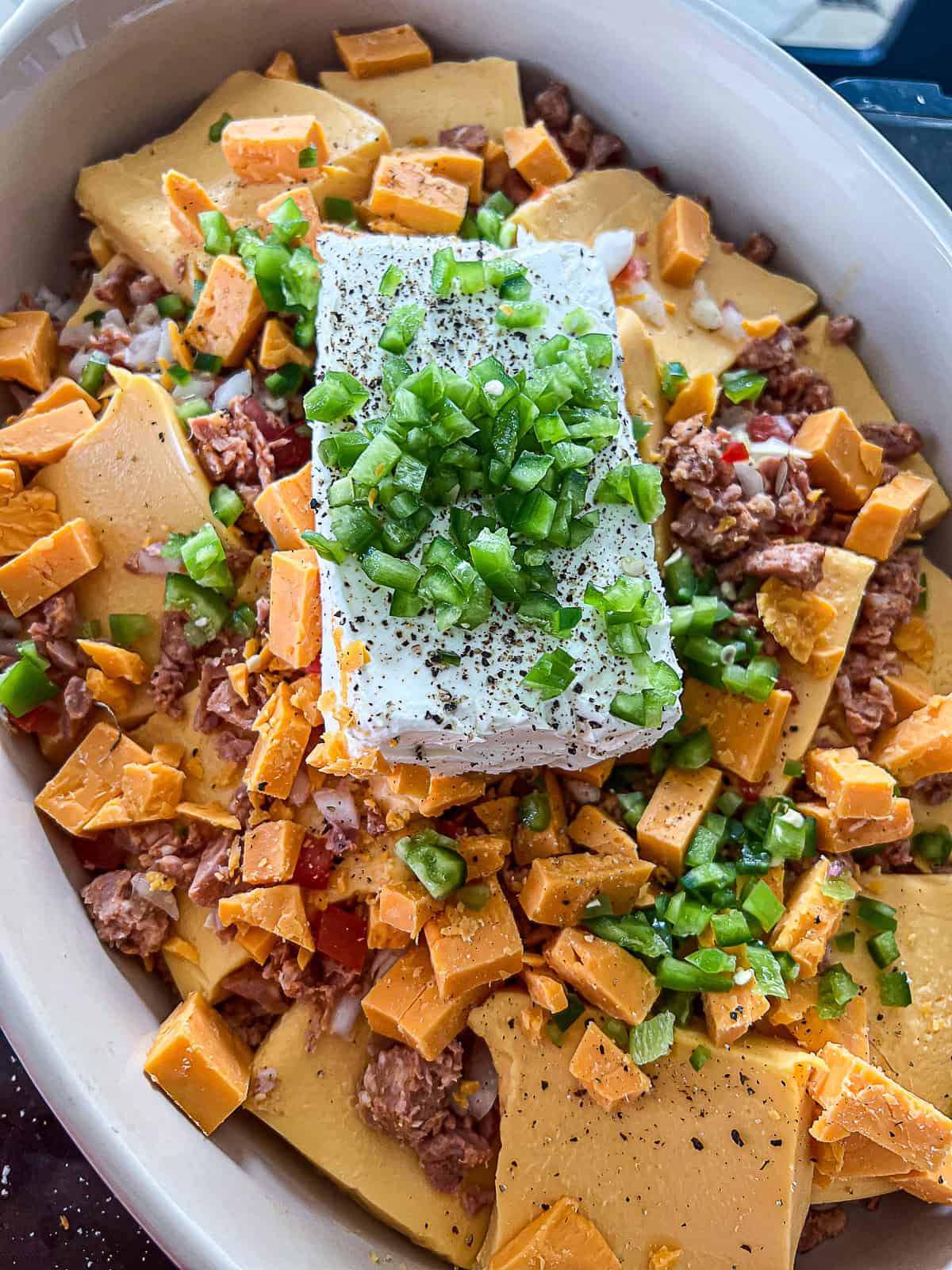 See how to make smoked queso dip from Sip Bite Go.
Here's what's in it
Diced cherry tomatoes
Onion
Garlic
Jalapeno
Black pepper
Cream cheese
Cheddar cheese
Chorizo (cooked, casing peeled off, and crumbled/fine diced)
Velveeta cheese, cubed 2"
Plus serve with tortilla chips
Smoked corn on the cob
​​Sweet smoked corn on Traeger grills always turns out tender and juicy.
And, bonus, it's one of the easiest Traeger recipes to make for a BBQ menu to feed a crowd.
Squeeze some lime on it after it cooks and sprinkle it with cotija cheese and cilantro for a tasty taco night side dish.
See how to smoke corn on the cob…
Add smoked corn kernels to the make-ahead Mexican salad recipe on Sip Bite Go.
Smoked wings taco night starter dish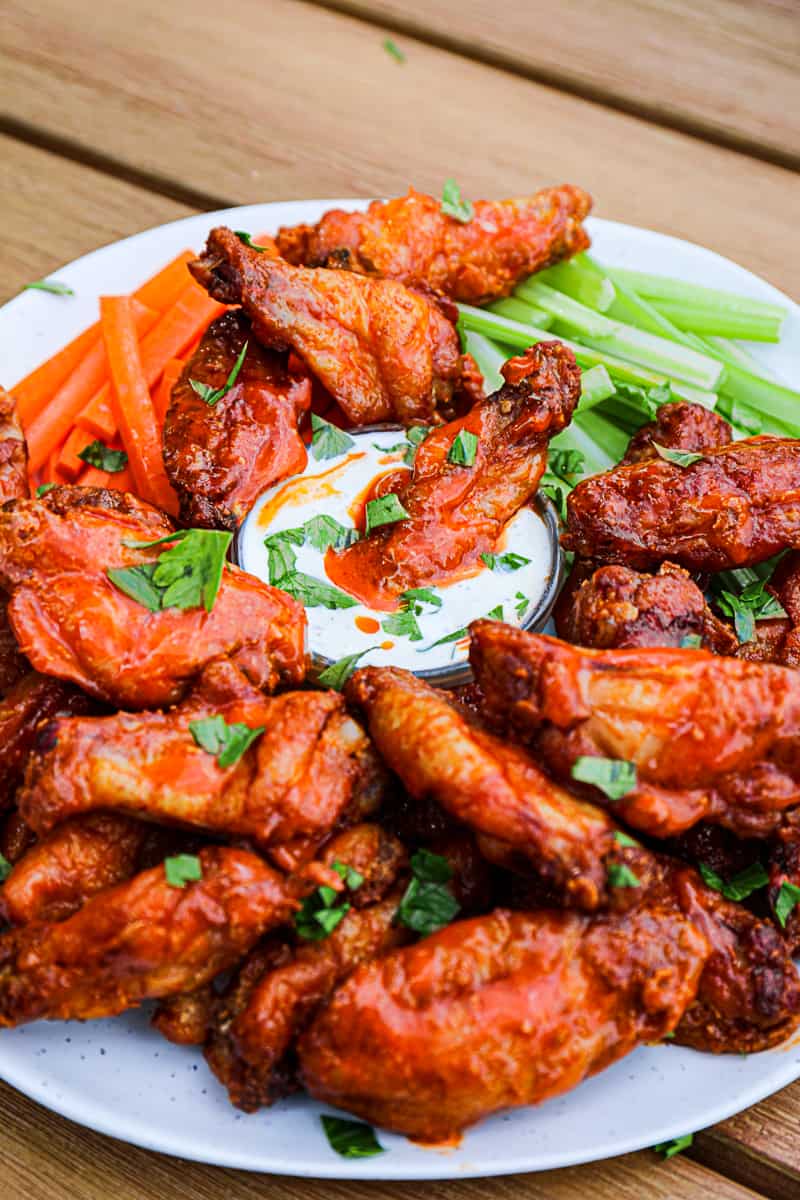 These can be altered to be more "taco night recipe" appropriate, but traditionally smoked wings are a party tradition for us, so we made them BBQ / buffalo wings styles.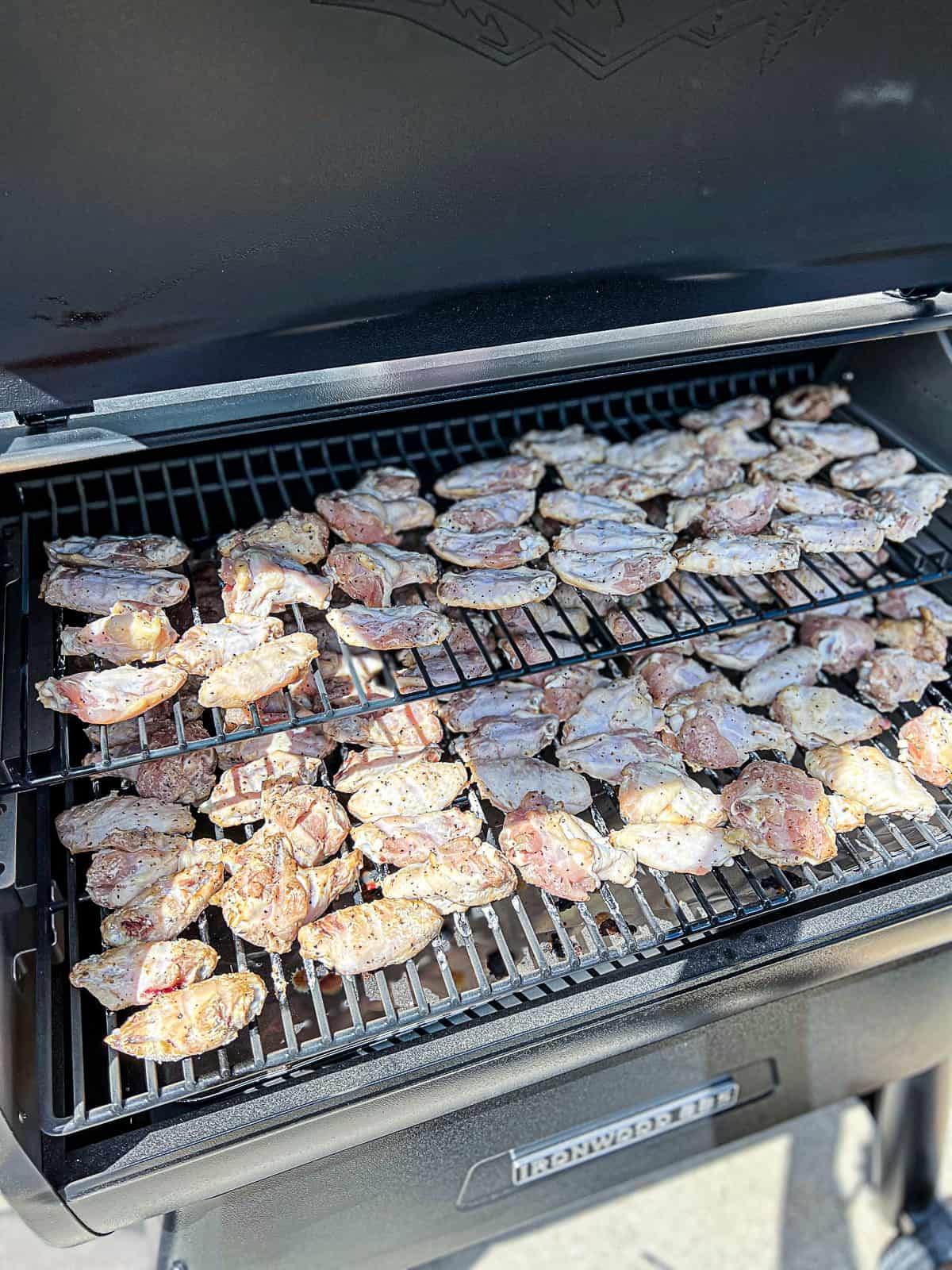 3 packs of chicken wings
Celery, sticks
Blue cheese
Carrots, sticks
Wings seasonings for smoking (they all get the same dry rub)

Cayenne pepper
Salt
Baking powder
Garlic powder
optional – tequila lime seasoning (my friend Laura's idea, she's the one who made this Asian fruit platter for hibatchi night) to fit the Mexican taco night using the smoker theme

Smoked hot wings sauce

Butter
Worcester sauce
Buffalo sauce

Honey BBQ wings sauce
Idea – mix BBQ sauce with taco sauce to brush on top?
See how to make smoked wings…
Smoked steak tacos
For the smoked taco meat for taco night, I recommend the Sip Bite Go flank steak smoker recipe.
It comes out so tender and full of flavor. The last time I made it, I marinated it in smoked salsa and it was so tasty.
See how to make a steak salsa marinade…
Above is smoked flank steak ready to be diced up for tacos.
Taco night smoked main dish ideas
The best smoked taco meat is tender and full of flavor. Here are some recommendations…
Ingredients for smoking steak tacos for taco night
Steak, sirloin or flank – We used 2 packs of Costco flank steak beef, and actually it was way too much, even for about 30 people! Luckily this is one of my favorite Traeger taco recipes and I was happy to eat it for days to come!
Smoked salsa recipe – Instead of using my typical soy-sauce-based Sip Bite Go flank steak marinade, I used salsa as the marinade.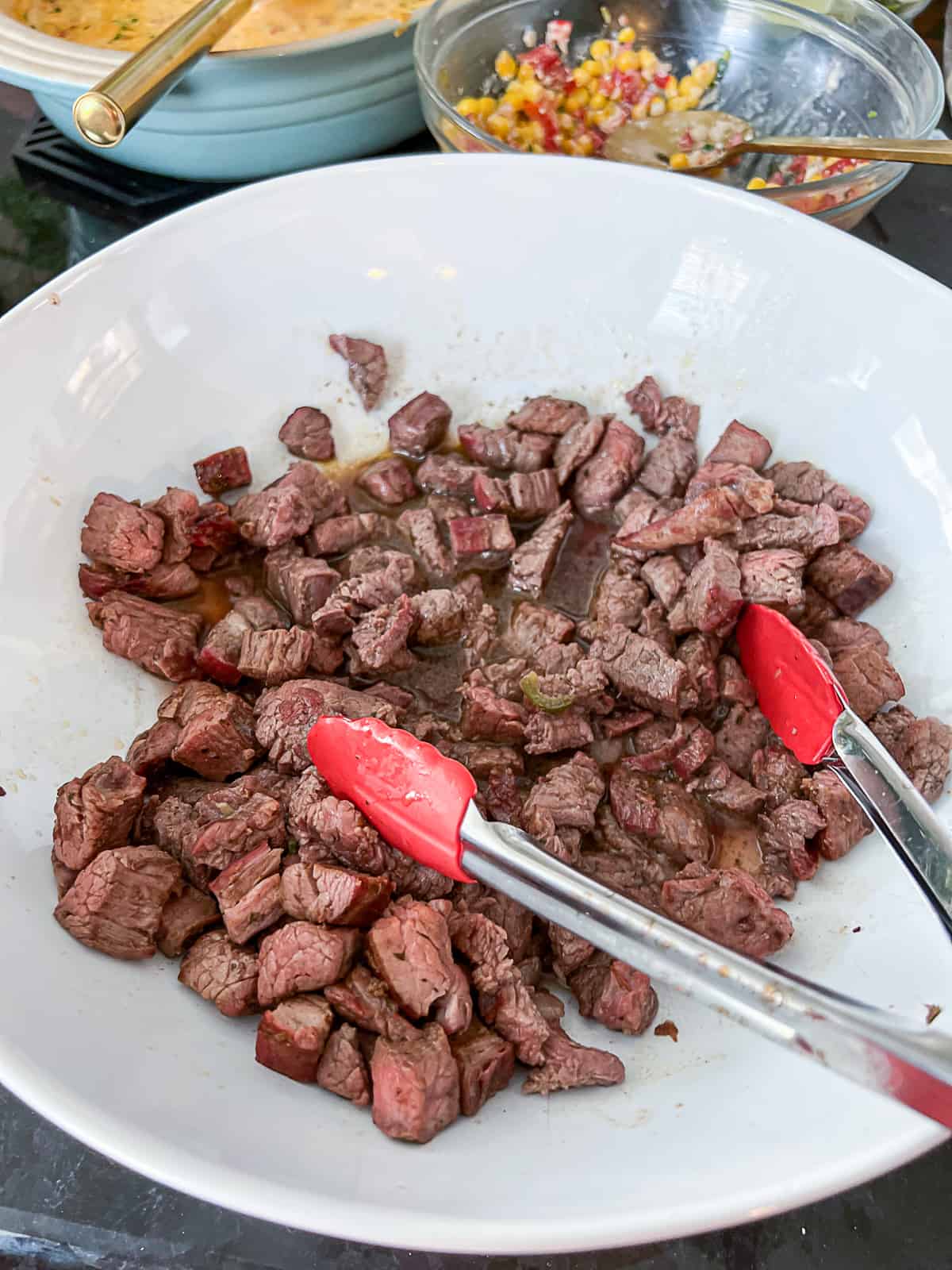 See how to smoke flank steak…
Condiments for smoked tacos
Salsa
Hot sauces
Taco shells – flour / corn, soft / hard
Limes
Sour cream
Guacamole
Cotija cheese / Mexican cheese blend
Check out these game day smoker recipes…
See this video with salsa flavored flank steak tacos on the smoker
Smoked lime margaritas
Limes (smoke then squeeze them and put juice in a pitcher) – 2 big bags of 6 LBs each
Simple syrup in a pitcher (equal parts water and sugar, dissolved together and put in a pitcher)
Tequila
Salt and limes for serving
See how to make a smoked margarita…
See my easy margarita recipe
Try using smoked limes in your margaritas for a little extra smokey flavor…
Just make sure to remove the pulp from the lime juice or else the juice will be bitter.
Kids station for taco night
Pizza – frozen, bake in oven and ready for guests
Juice boxes
Apple sauce
Fruit snacks
Watermelon
Milk – small kids packs
Popsicles
Things to set out for taco night
Silverware
Plates
Napkins
Paper towels
Hand sanitizer
Large water pitcher
Smoked margarita station with salt and limes
Flowers
Dessert
Drinks for taco night
Smoked margaritas, mentioned before
Wine
Beer
Soda water
More smoked foods for taco night ideas
Easy Mexican food inspired recipes on Sip Bite Go…
Are you a foodie, too?
Hey home chefs, hope that answers all your questions about hosting a taco night with smoked foods.
Check out my latest YouTube videos and blog posts for walk-throughs on how to smoke them all on the Traeger.
Connect…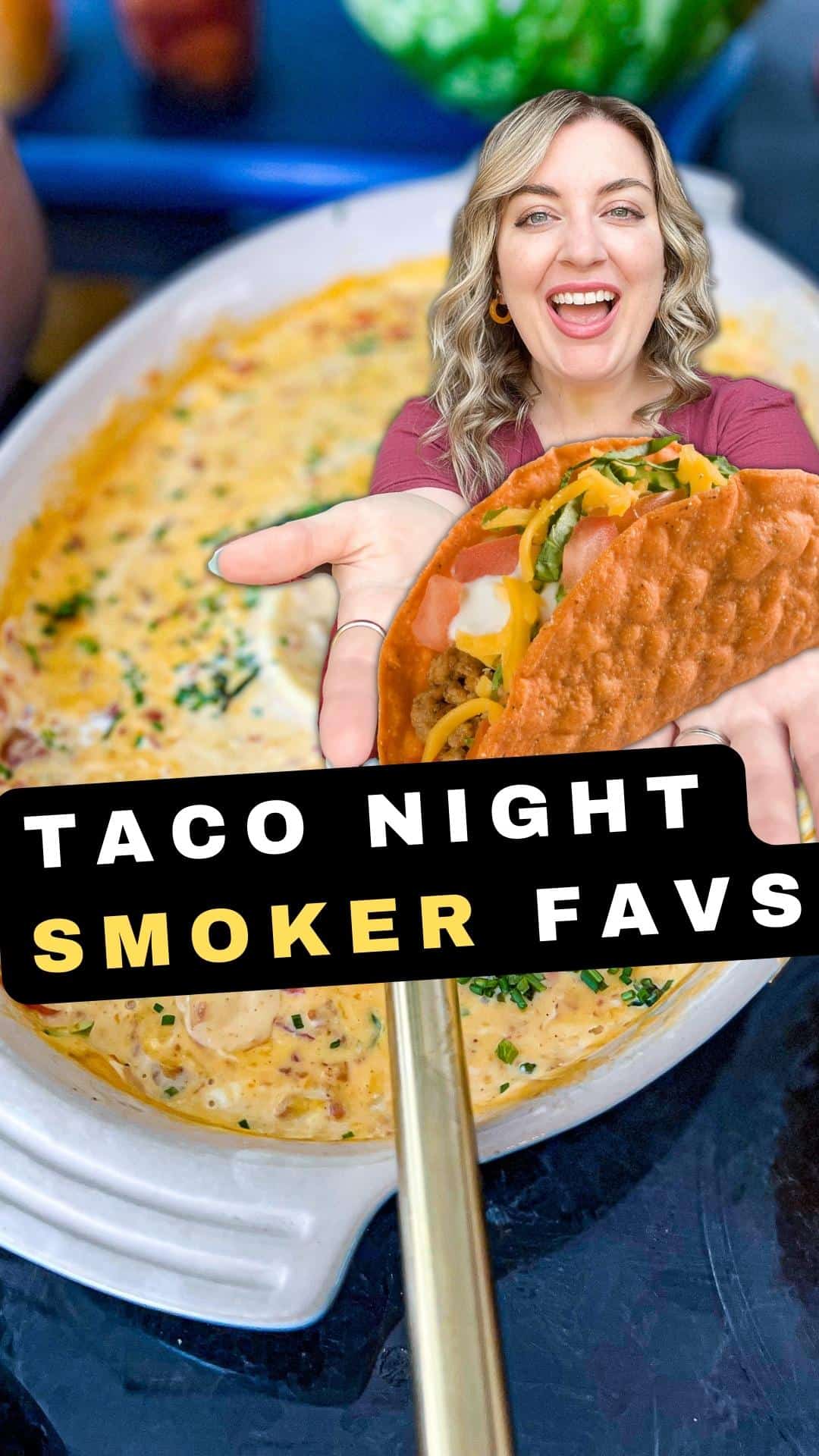 More Tasty Grill + Smoker Recipes
See this Traeger Flatrock grill review.
See my favorite smoker tools and seasonings in my Amazon Storefront.
Meat thermometer recommendations
Every home chef needs a reliable meat thermometer to cook food perfectly.
On Sip Bite Go, you'll often see me using:
Meater thermometer – a fancy wireless thermometer that connects to a phone app – gifted to me from a Traeger partnership.
ThermoPro digital thermometer – which has a wire that connects the thermometer to a display box outside the oven/grill.
It's like being psychic! The great thing about either of the thermometers above is that I don't have to take the food out of the oven to know the temperature.
How to use 'em… What I do is stick the digital thermometer in steak, pork, chicken, whatever… Then put the food in the oven, on the smoker, or grill.
While the meat cooks, it reads the temperature so I know exactly what temp meat is as it's cooking. Without having to take it out and check. It's really difficult to overcook food when you know exactly what temp it is inside!