Wondering what to serve with fajitas? Today you'll get a ton of side dish ideas to help you make a tasty fajita platter. I'm talking about what meat to use, condiments, vegetables, and more… Let's go…
Follow Sip Bite Go on Instagram and TikTok for easy cooking and entertaining tips…
A few basic ingredients for a fajita platter
Mexican rice
There is something about yellow Mexican rice that I just can't resist!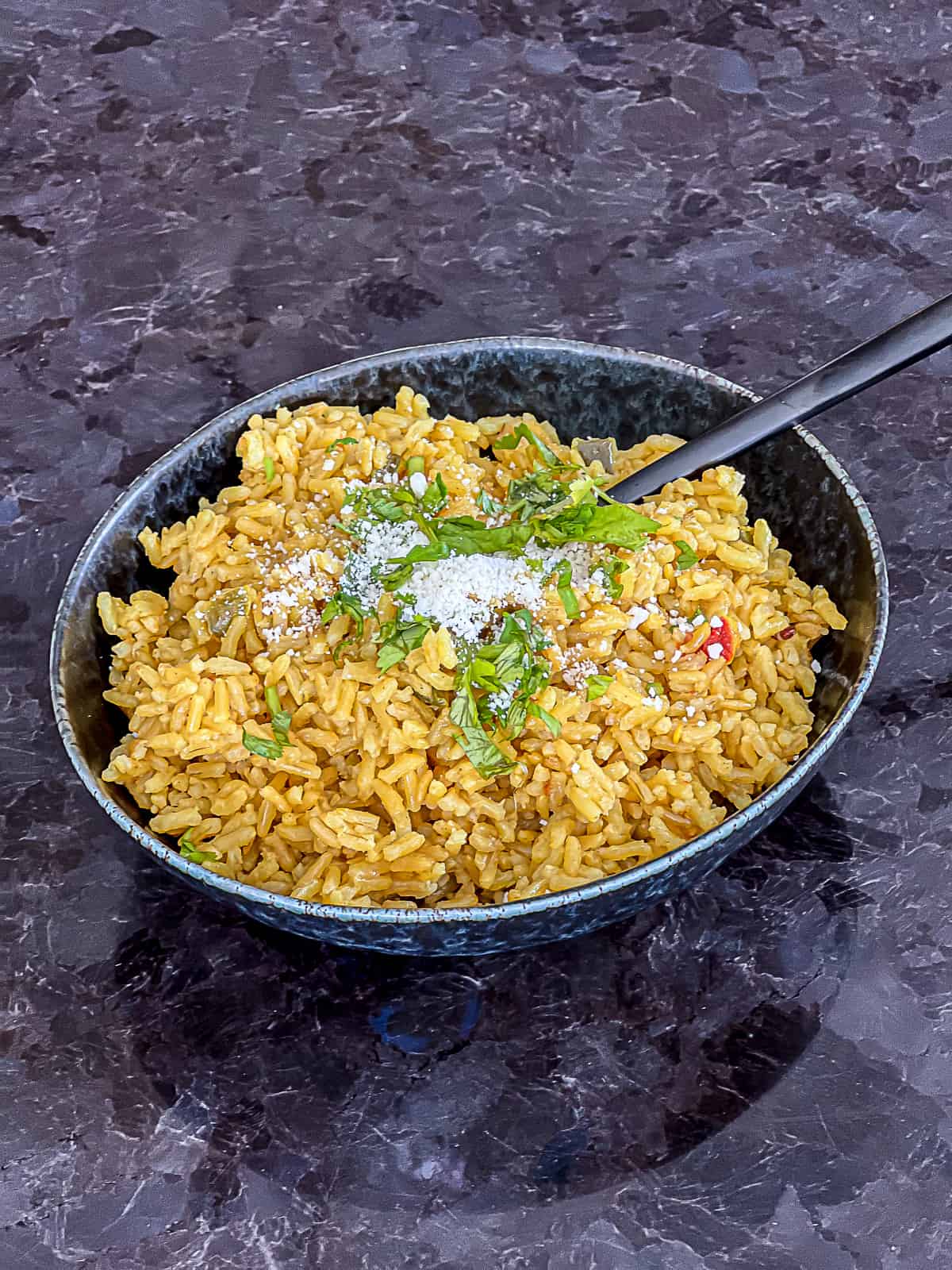 To make it super easy for planning a fajita night, I just buy the store-bought Mexican rice (or try Spanish rice) and cook it the day-of.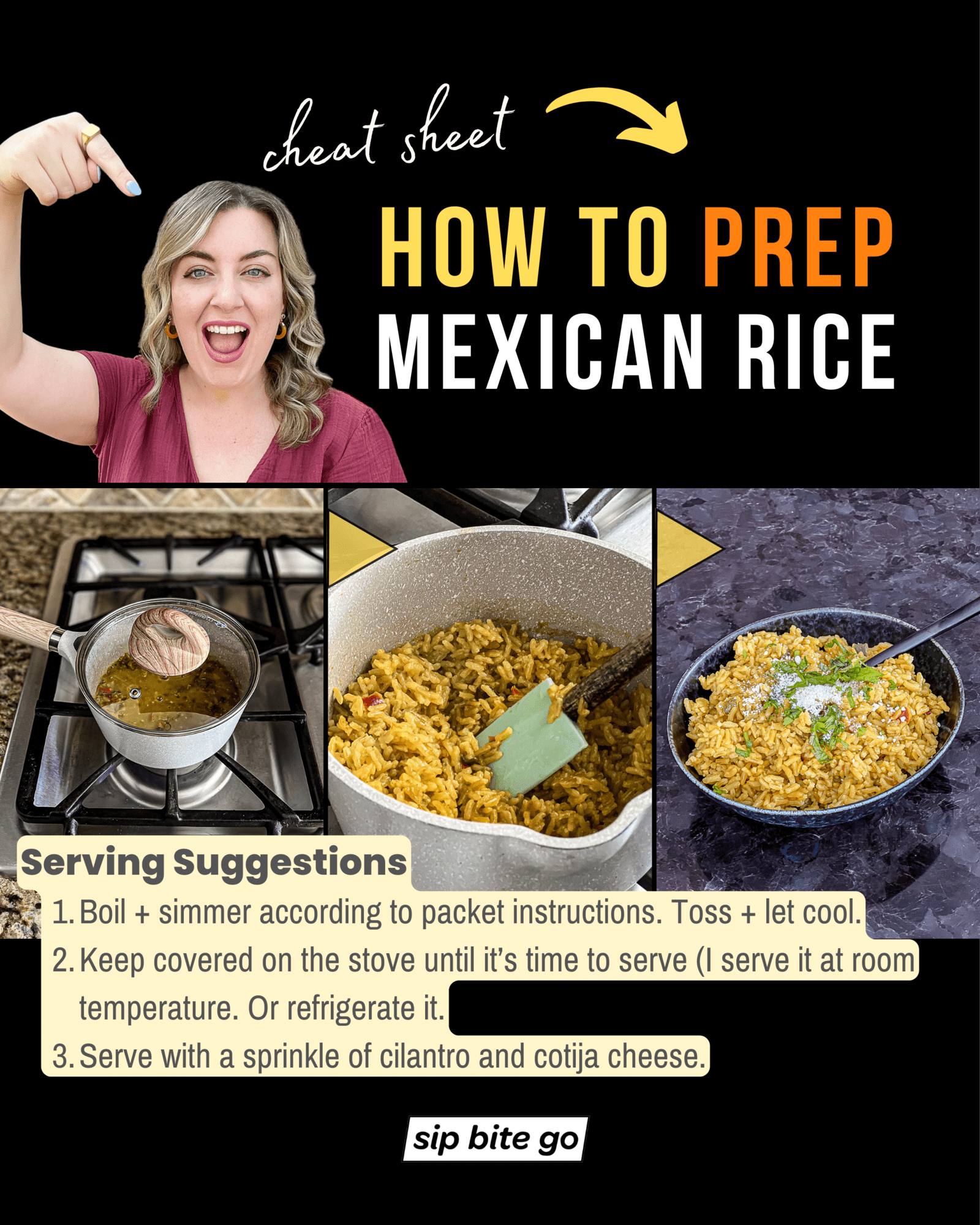 Here's how to prep Mexican Rice for fajita night (from a store-bought rice mix):
Boil and simmer Mexican rice, according to packet instructions.
Toss and let cool.
Keep covered on the stove until it's time to serve – I think Mexican rice is fine served at room temperature. Or refrigerate it.
Serve with a sprinkle of cilantro and cotija cheese.
Once you find your favorite brand, I recommend stocking up so you can add Mexican rice on the side of fajitas when the craving hits – or to use any dinner any night of the week.
Tortillas
It's a personal preference when it comes to choosing flour or corn tortillas.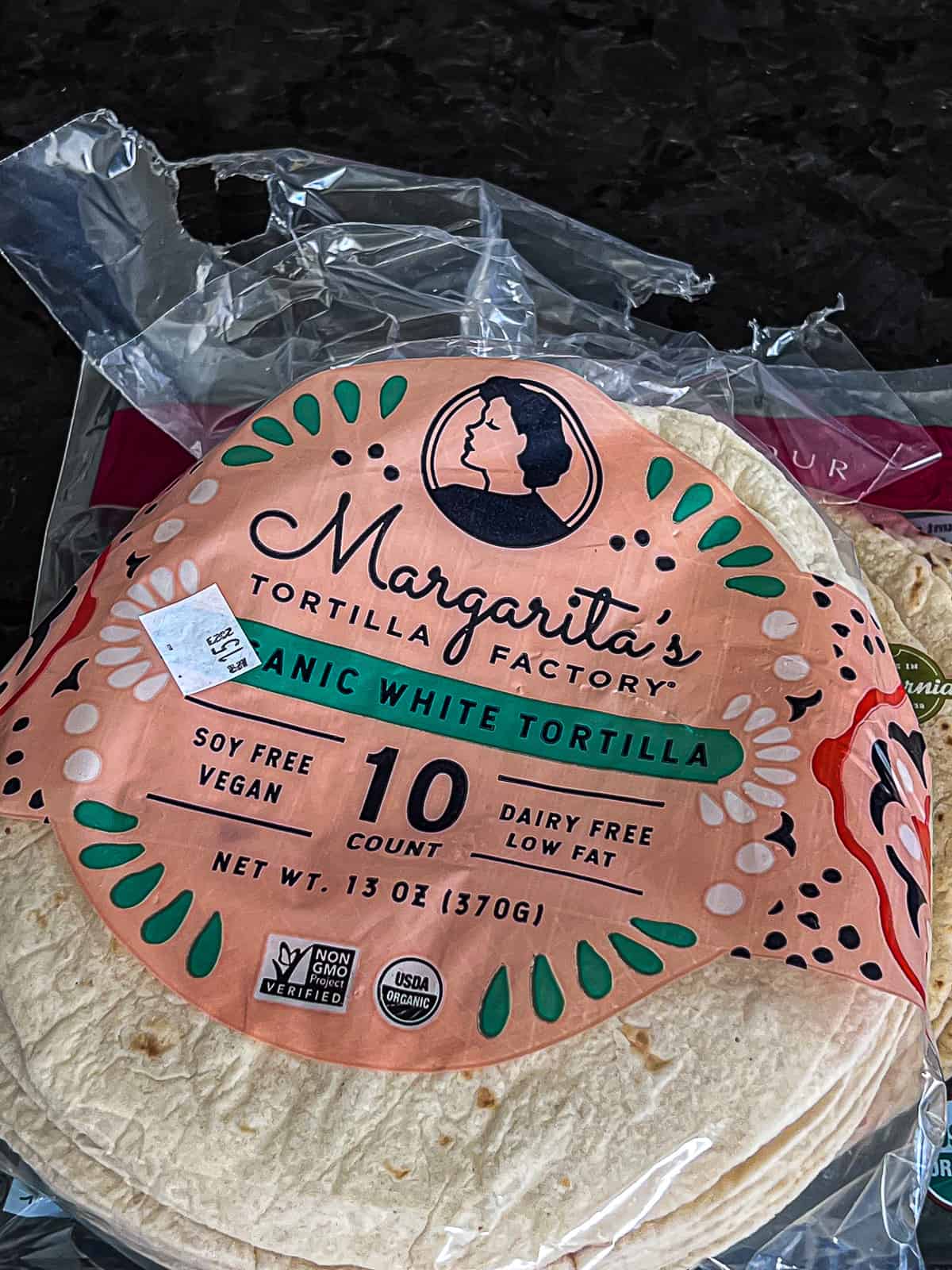 So I suggest having both available.
But if you want to know how to serve fajitas warmed up, I like to griddle on the Traeger Flatrock or Blackstone…
Or if inside, I'll heat up flour and corn tortillas in a large pan on the stove so they get warm, but don't get hard, before serving.
You can also serve a basket of tortillas chips on the side of a fajita platter so people can enjoy every last bite of flavor with all the leftovers on the plate.
(leftover fajita toppings make great salad topping and rice bowls the next day, too)
Black beans
To prep them, I like to strain canned black beans..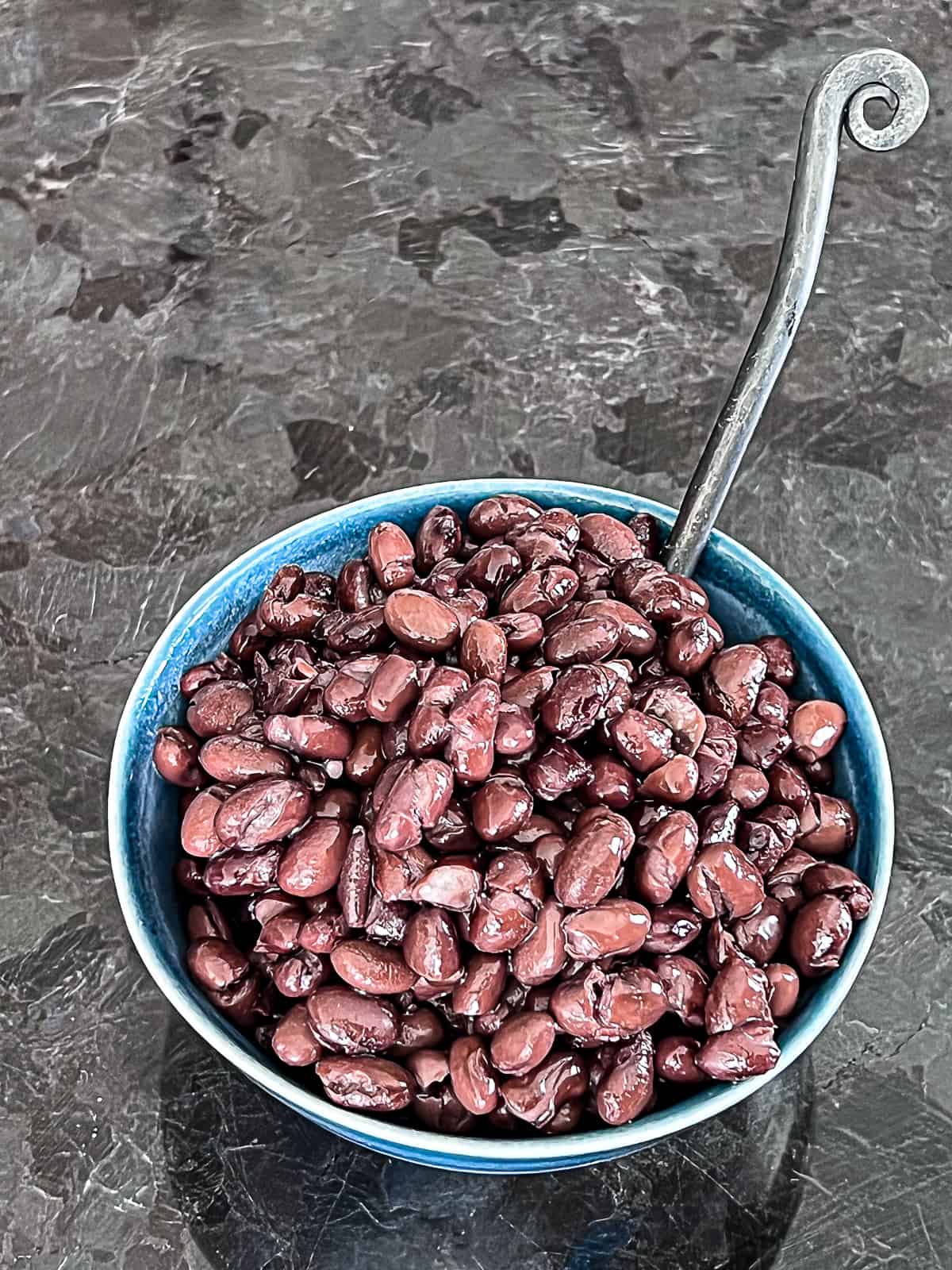 Then I thoroughly rinse and drain them for fajitas.
You can also use refried beans.
See how to freeze refried beans…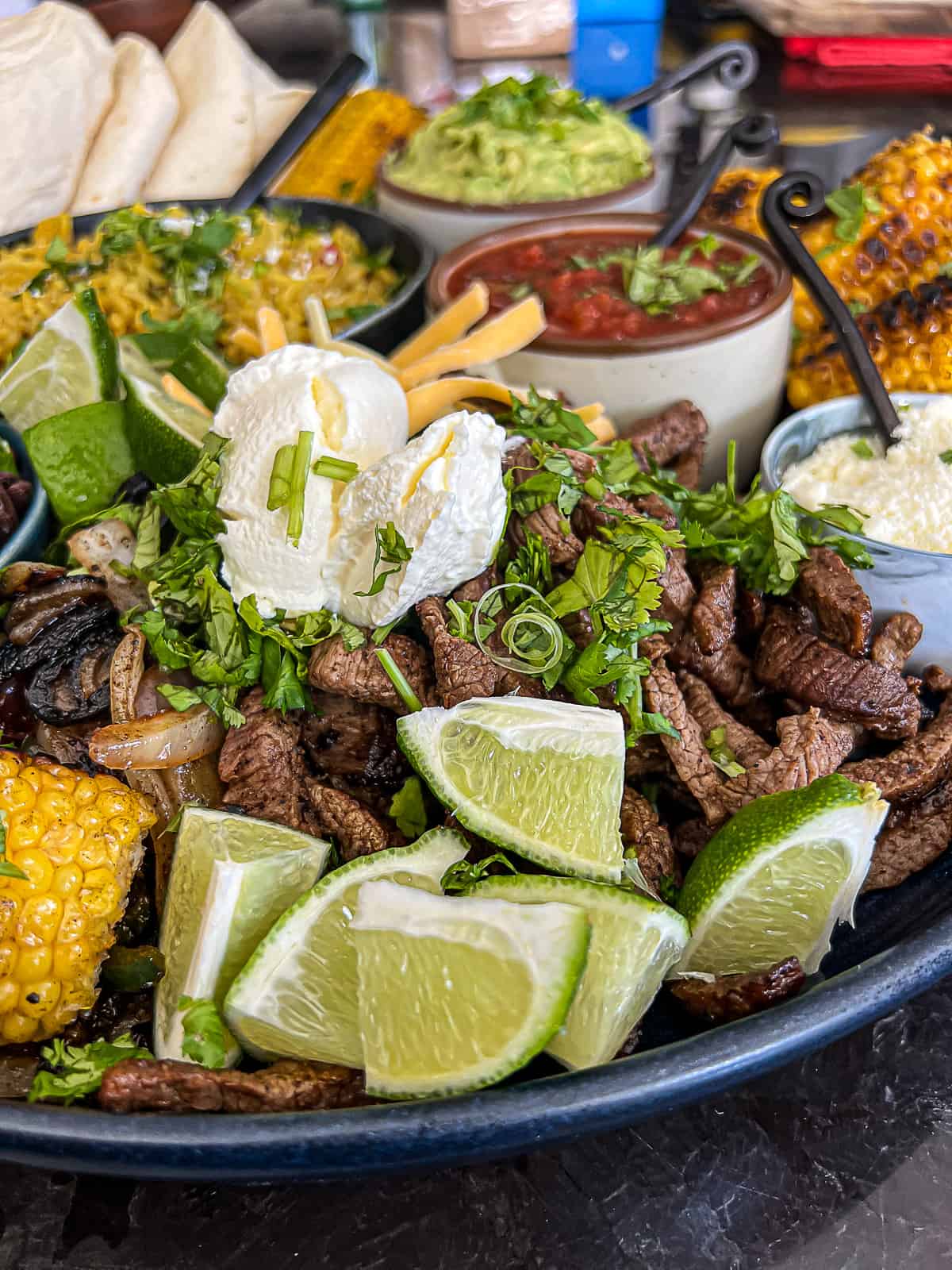 Griddle cooking fajitas with sides, too
See this griddled steak fajitas with sides on a platter video…
Vegetables to serve with fajitas
Corn on the cob
It's often overlooked, but corn on the cob is the perfect side dish for fajitas…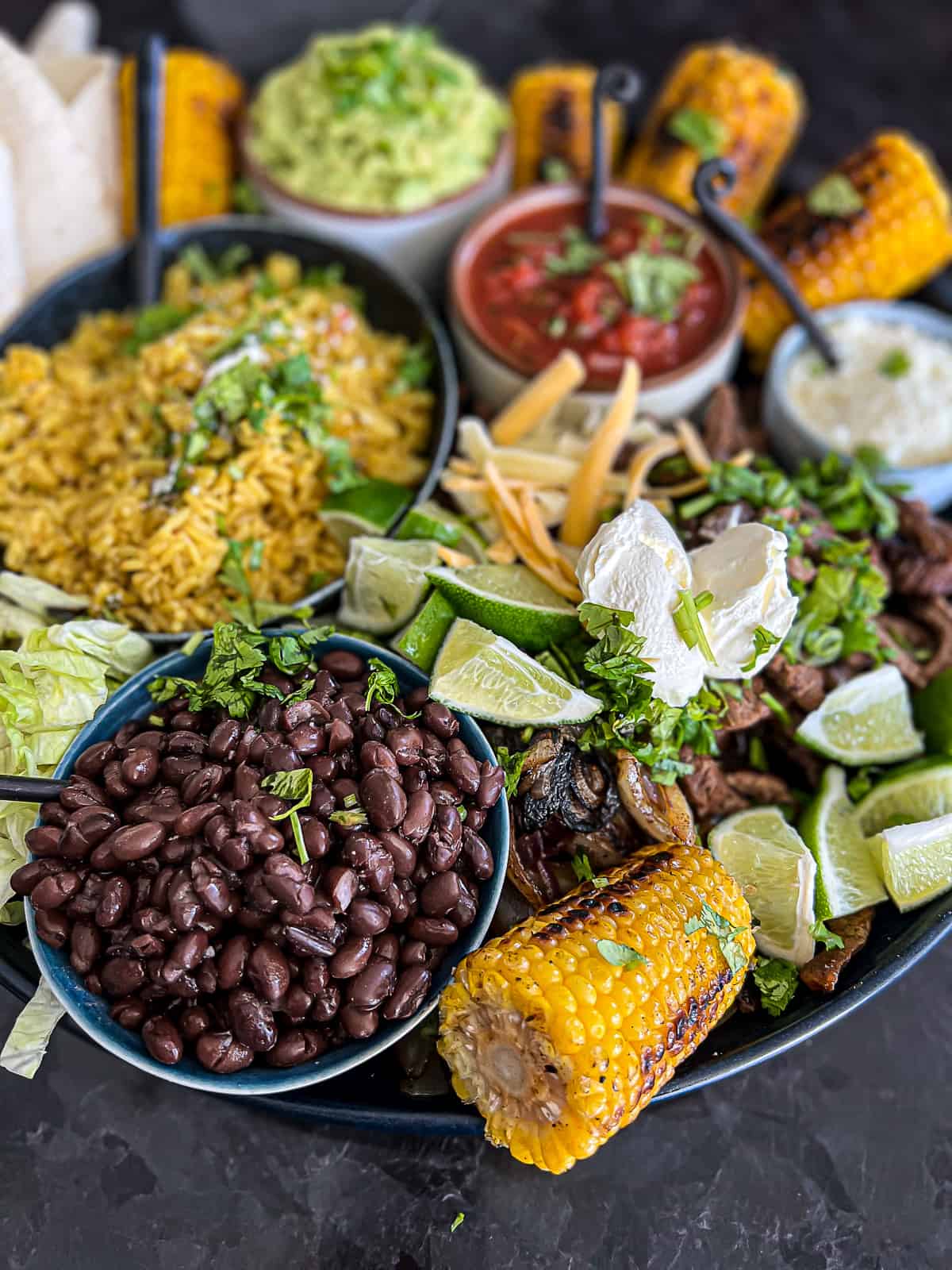 Because it's easy to prep ahead and everyone loves juicy summer corn.
Try one of these corn recipes to serve on the side of fajitas:
Grilled corn on the cob (coming soon)
For Mexican street corn vibes…
Serve corn on the cob with cotija cheese and cilantro on top…
Or slice the corn off the cob and serve it in a salad or something like this make-ahead Mexican corn salad…
Grilled onions and peppers
These are a must-have vegetable topping for fajitas!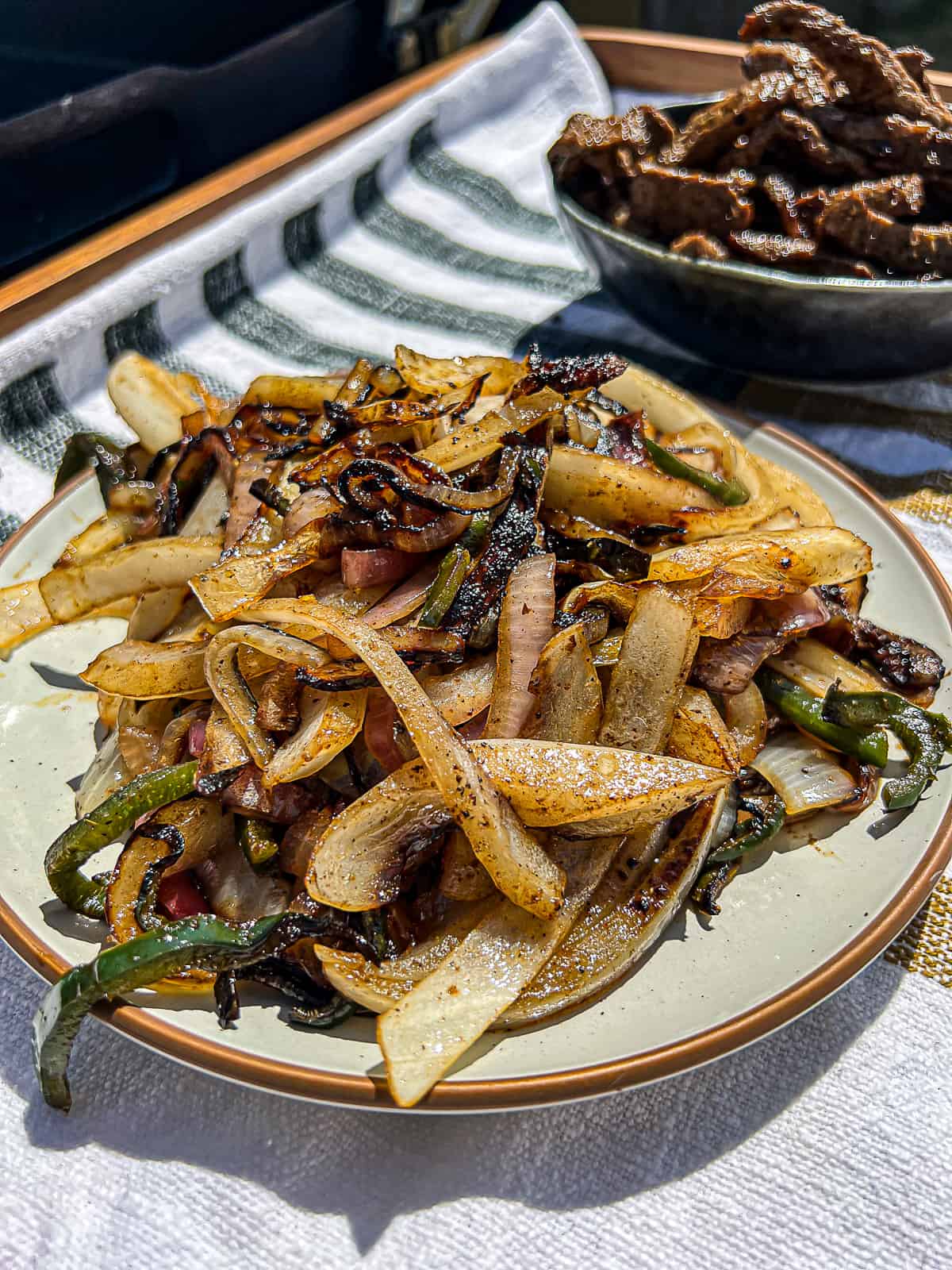 See how to saute onions and peppers and how to cut peppers in strips for fajitas…
They absolutely need a spot on this list of ​​fajitas serving suggestions…
Use any color – green bell peppers are a little bitter…
Whereas red, yellow and orange peppers are sweeter…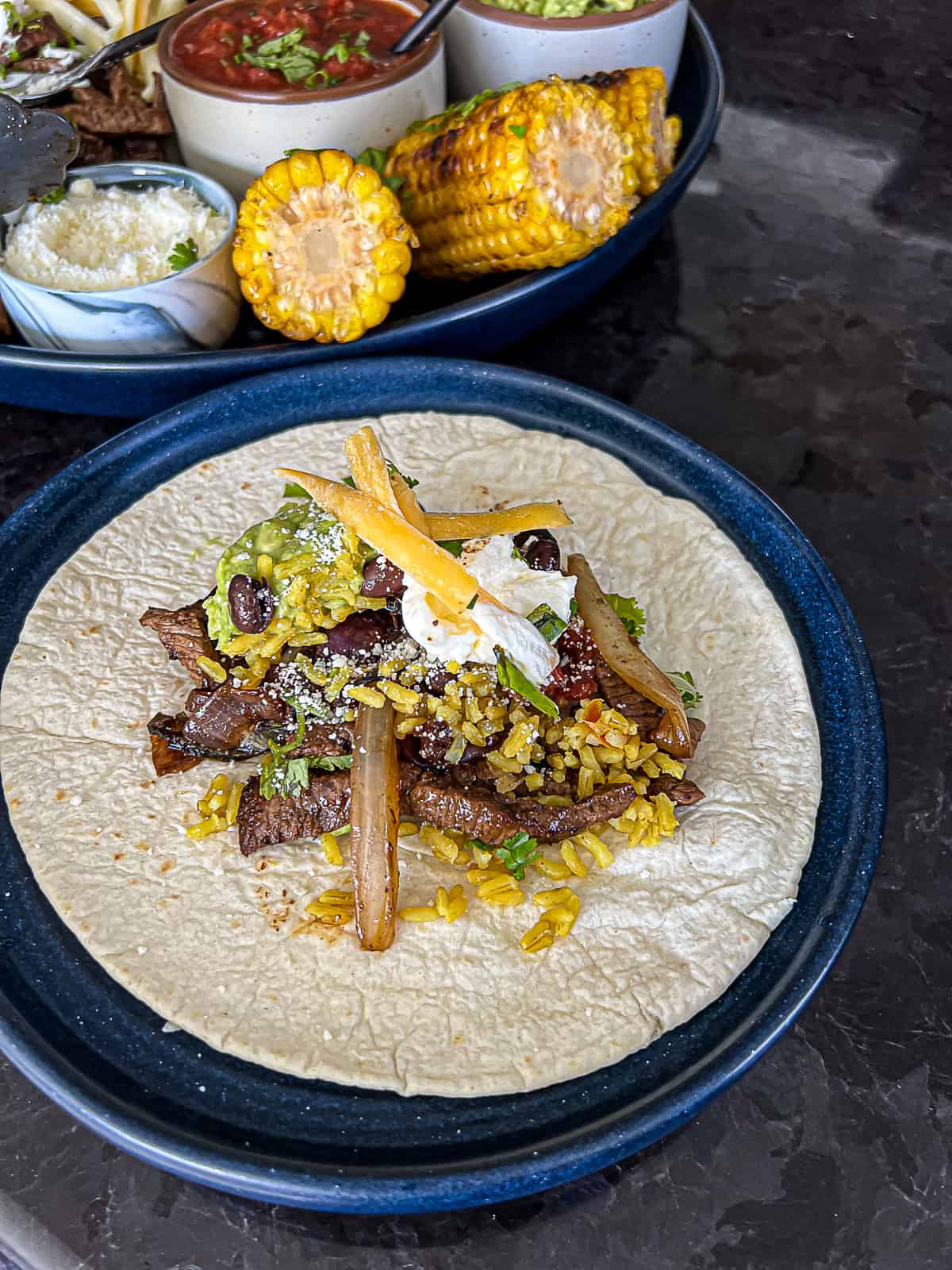 Get my tasty recipe for griddled onions or caramelized onions…
Cilantro
Cilantro is a great herb to have on hand for a fajita platter.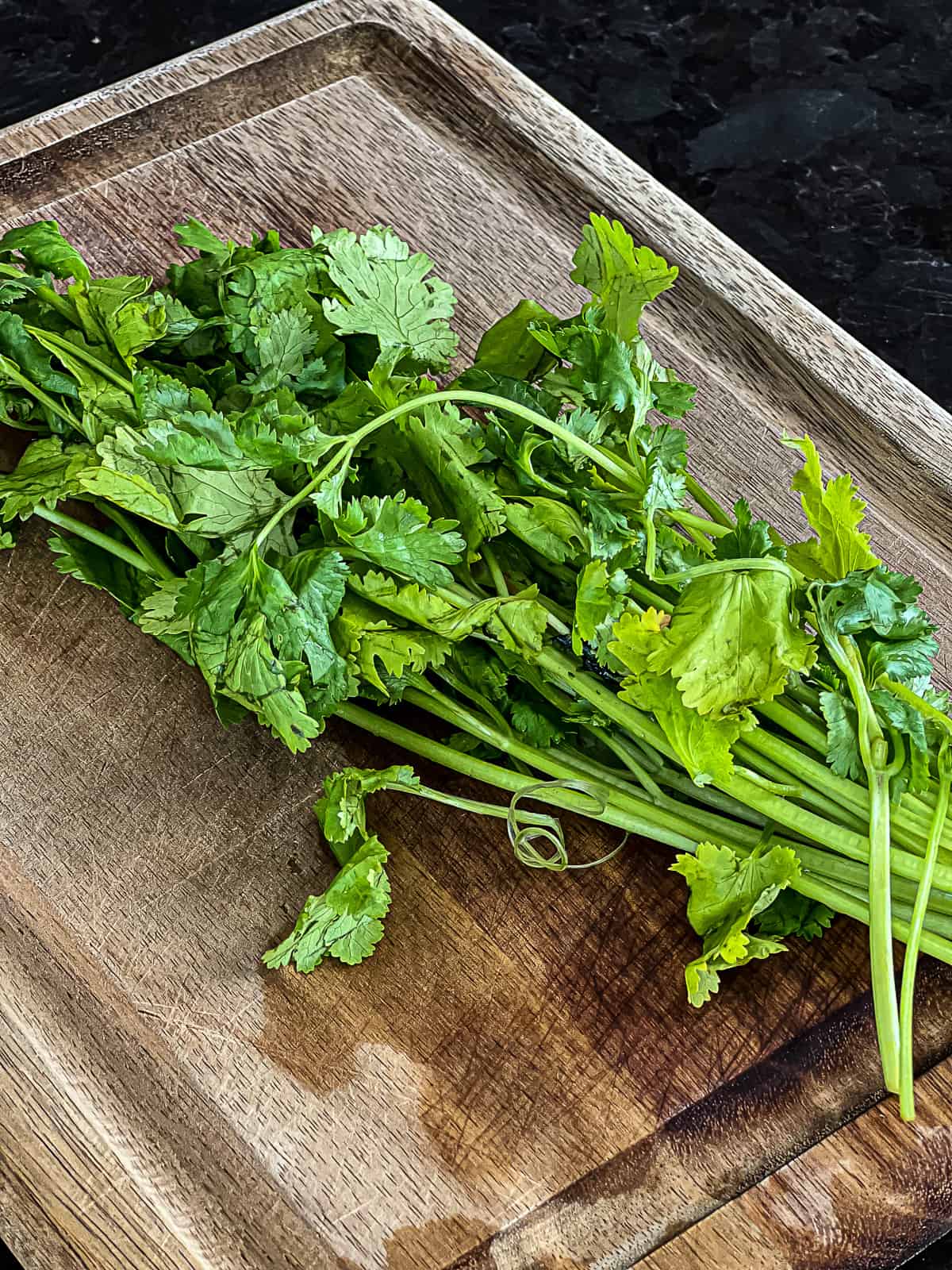 I like to wash then dice up some fresh chopped cilantro.
Then I spread it on a flat layer on a paper towel and let it dry in the fridge to be used later that day.
Instead of serving it as a side dish for fajitas, I like to sprinkle it around the fajita platter on pico de gallo, smoked queso, anywhere, really!
Any leftover cilantro I store in an airtight container and use within a day or two.
Lime
Okay it's a fruit, but it's going on this fajita vegetable list!
Cut 1-2 limes in small wedges to scatter on fajita serving platters.
The acid from the lime is so tasty when squeezed on fajitas.
And no – using lemon for fajitas is not an option — it's just not the same!
For something sweet to add to your fajitas… see how to grill pineapple and how to make smoked pineapple…
Avocado
I don't think you have to go all out and make guacamole every time…
Just smashing up a couple of ripe avocados with a fork, and maybe sprinkling in some garlic powder and salt, will bring a lot of flavor to a fajita dish.
Meat to serve for fajitas
You can't go wrong with a good protein piled high on a platter for hungry people to dig into…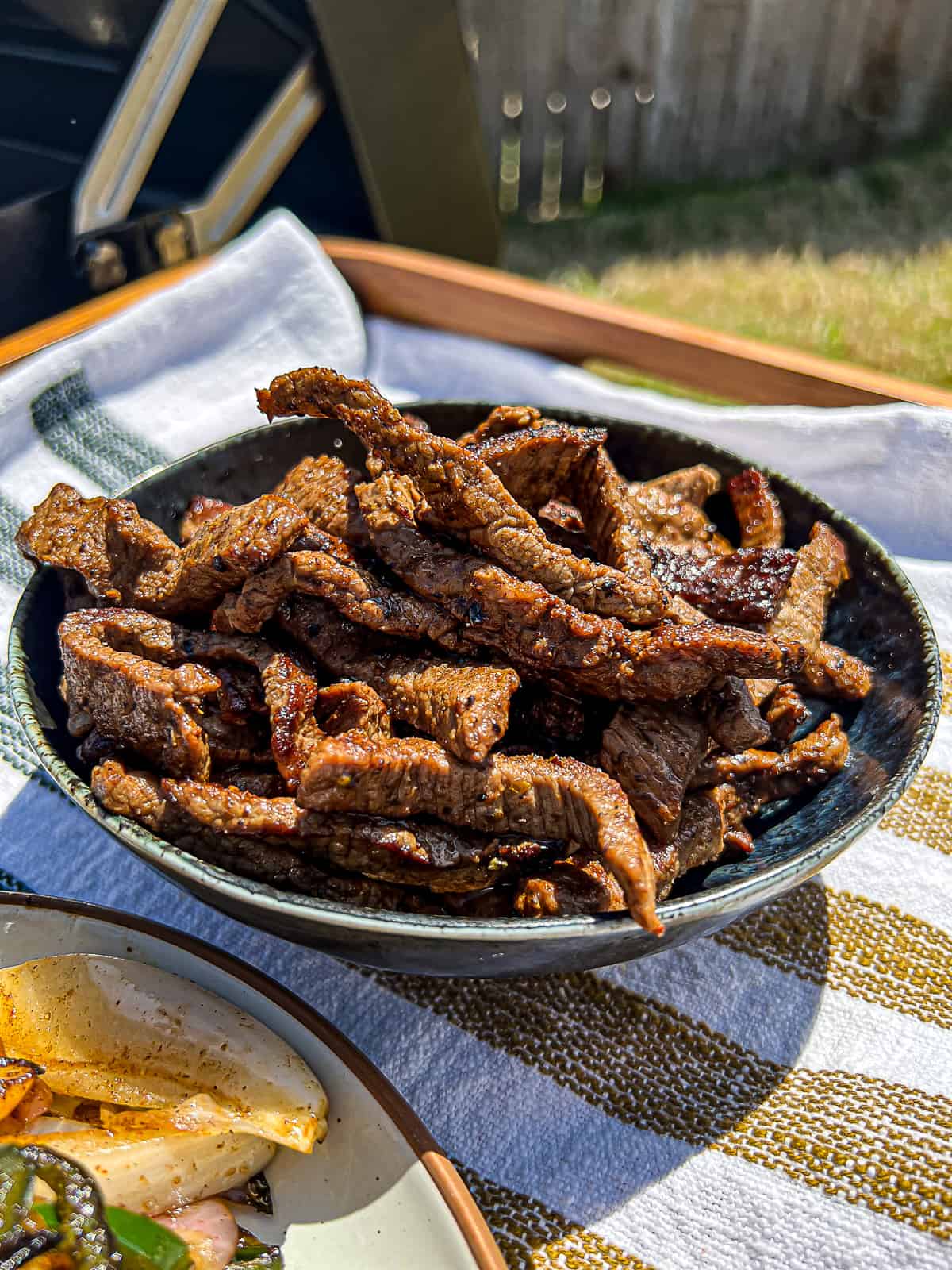 See how to make griddle steak fajitas…
Some of my favorite meats to serve for fajitas are:
Seafood to serve for fajitas
Try something like these smoked shrimp or sous vide shrimp or grilled shrimp to make a seafood taco night extra tasty.
Make sure to season them up with fajita seasoning (or taco seasoning with a little heat from ​​chili powder in it) to get the flavors in line with your themed meal.
Condiments to serve with fatjitas
Set out a beautiful fajita platter with a combination of store-bought condiments, and some homemade ones, too…
Fajitas seasoning
To start things off right, prep this fajita seasoning blend to add flavor to the fajita meat before you sizzle it up on the griddle or cast iron skillet…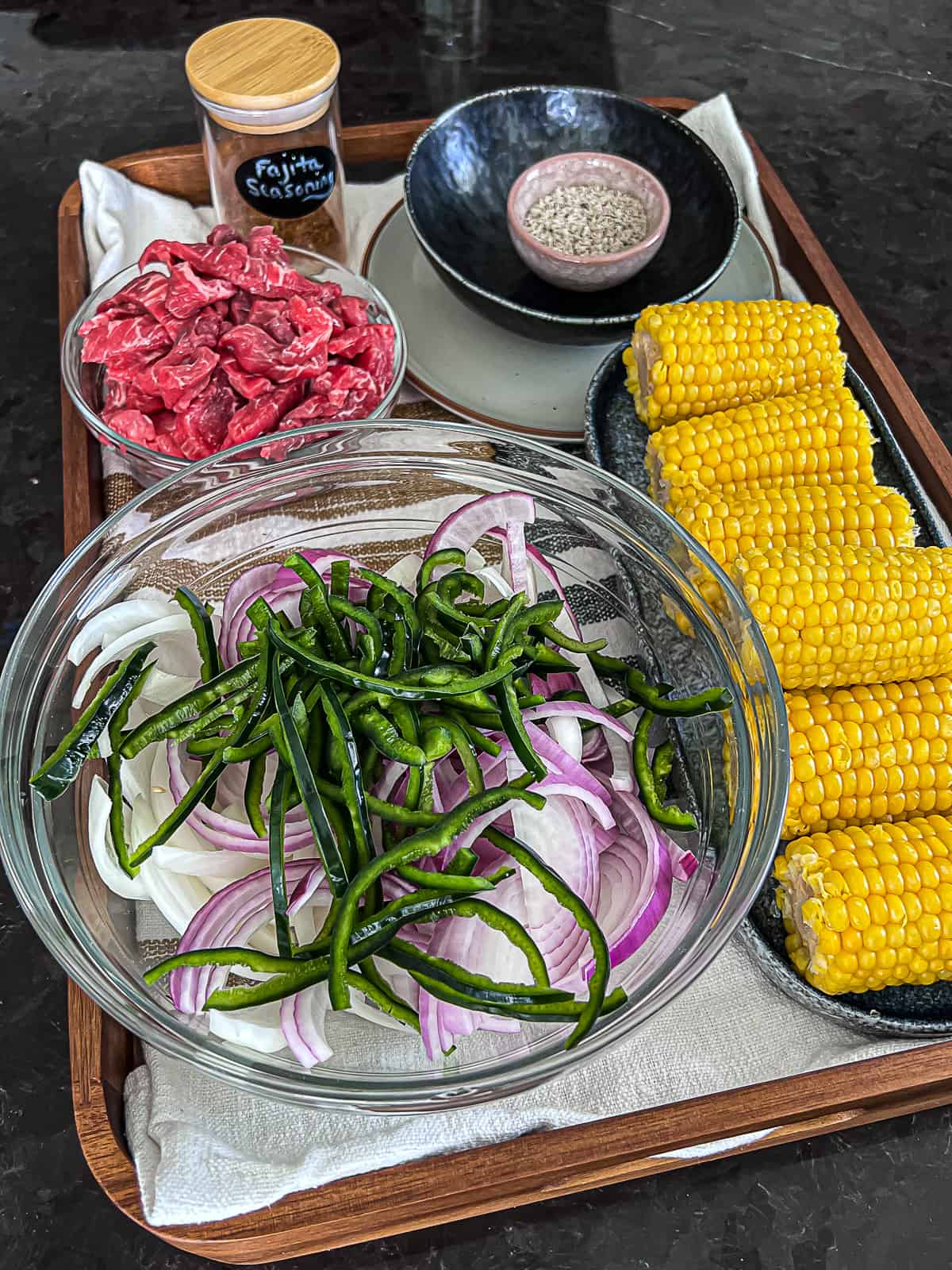 I like to use a homemade fajitas seasoning blend.
I'll share the recipe for it soon here on Sip Bite Go.
See how to cook chicken fajitas on griddle cooktops…
Store-bought condiments
When it comes to what to serve fajitas with, don't feel like you have to make everything from scratch.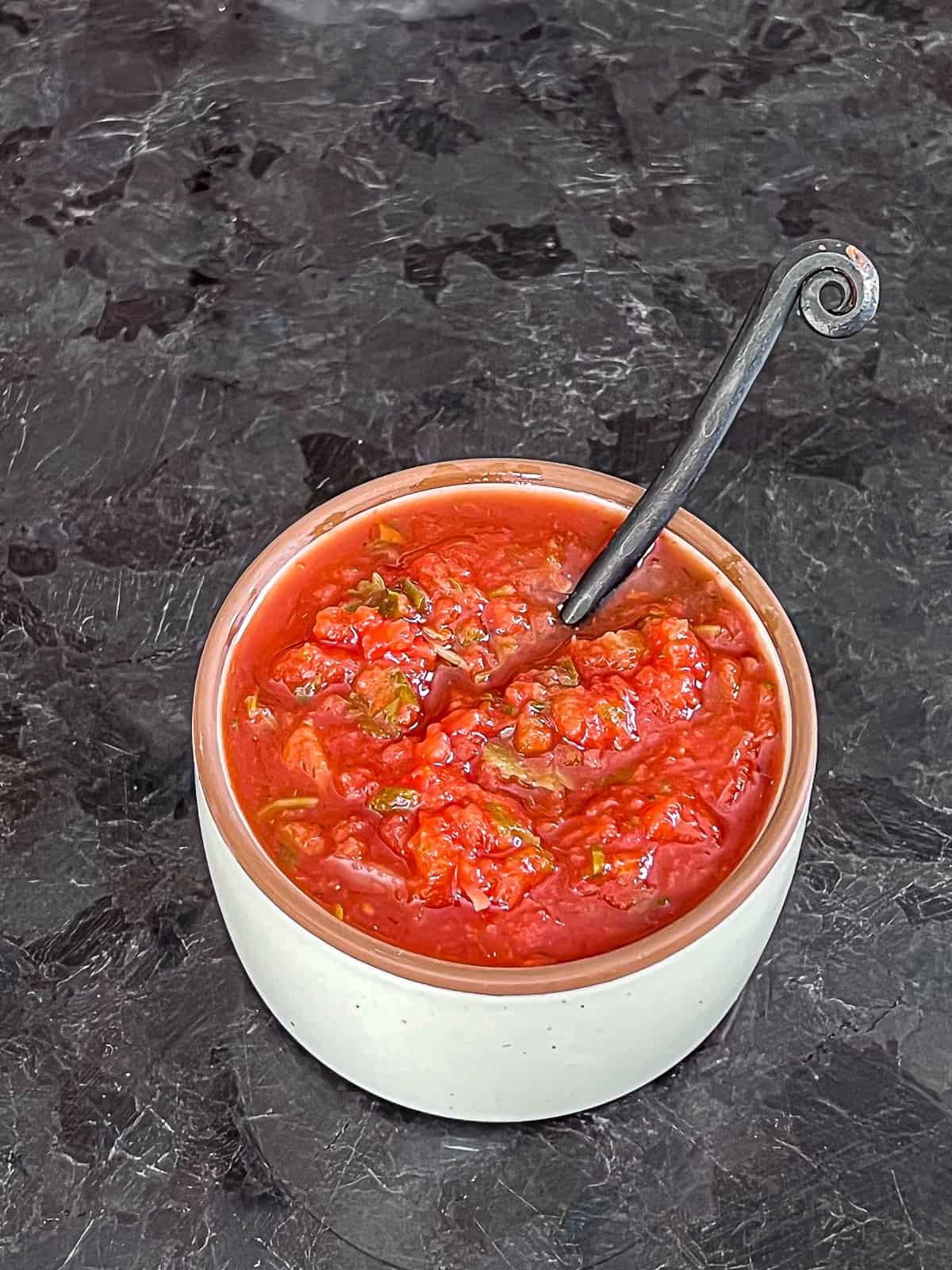 These are my favorite things to pick up for fajita night food:
Sour cream
Salsa (or make smoked salsa)
Guacamole (or smash your own)
Cheese to serve with fajitas
Cotija cheese is a classic choice for fajita cheese, and a little goes a long way.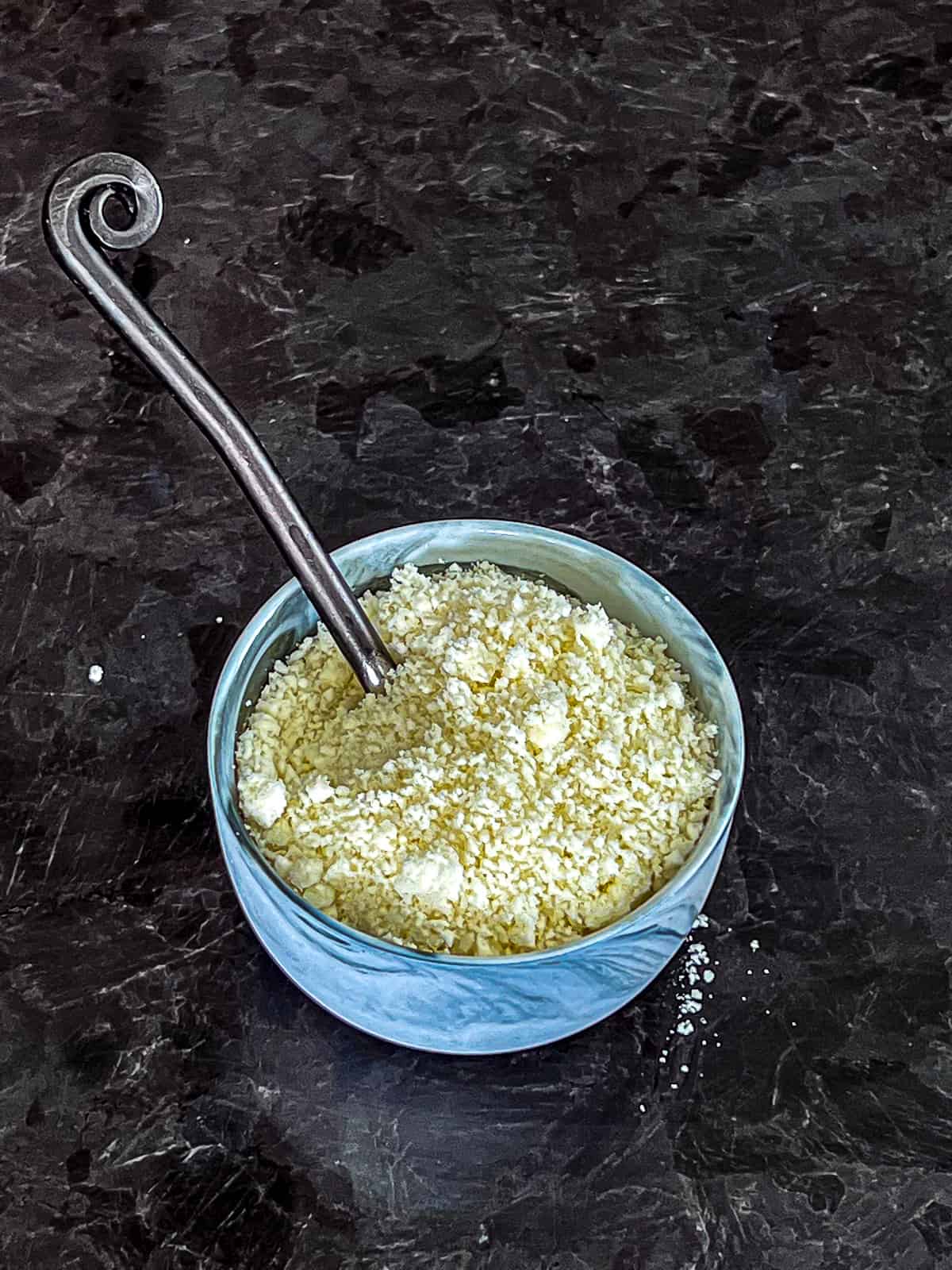 Cheddar or Monterey Jack cheese are also popular choices.
See how to make sous vide ​​roasted potatoes…
Serving ware for a fajita party
If you're upgrading from a casual fajita dinner to a fajita party for many guests, here are some things to consider having on hand:
Fajita platters – one or more large serving board trays or platters 15"-20"
Small serving dishes – for condiments and all the ​​sides you're going to serve
Plates – I like large plates to fit many fajita tacos
Serving tongs, spoons, forks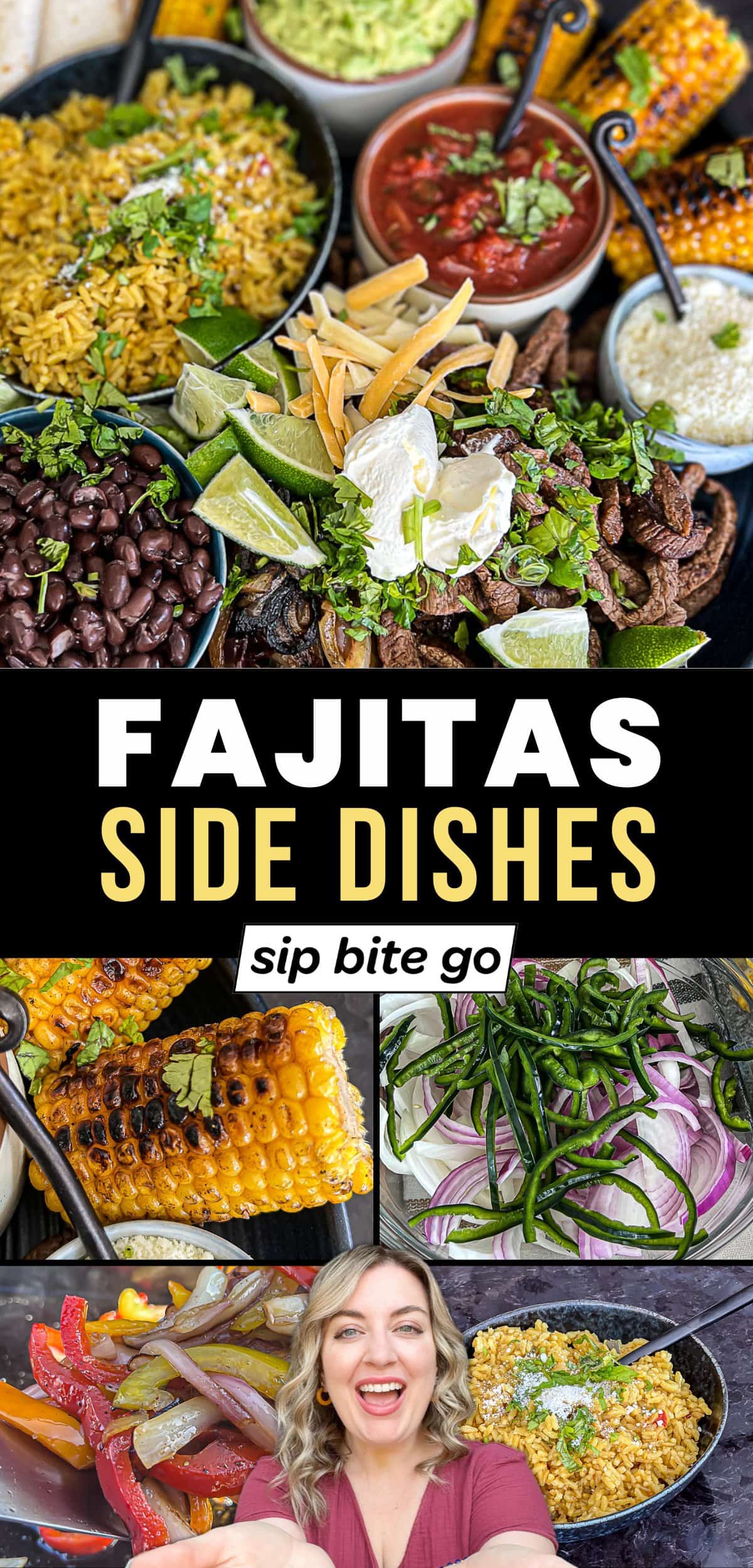 How to make fajitas sizzle when serving
I don't recommend serving fajitas sizzling all the time – because that means they are still cooking, and you really don't want to overcook steak or other meat.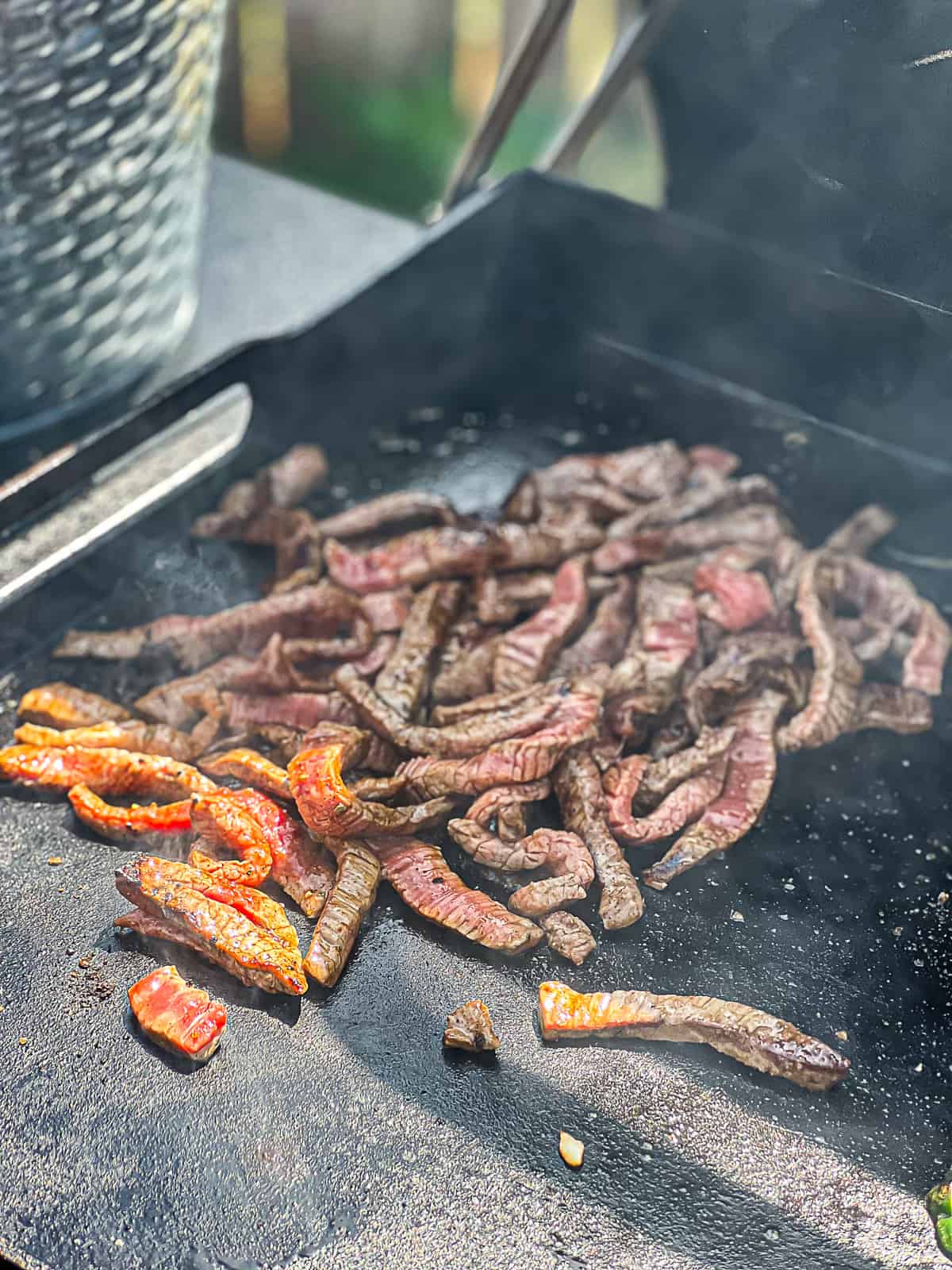 But if you want to hear the sizzle of your fajitas at home, you'll need a hot cast iron skillet with a little oil on the bottom.
When the hot meat and veggies hits the skillet, they should sizzle and smoke slightly for that restaurant style fajitas at home feeling.
One of my favorite Dallas-area restaurants that serve fajitas is on this list for best Allen Texas restaurants. I'm talking about Chepas Mexican Grill – I love the ribeye steak fajitas there!
See popular smoked food recipes on Sip Bite Go…
New recipes and foodie guides….
Grill and smoker recipes…
Meat thermometer recommendations
Every home chef needs a reliable meat thermometer to cook food perfectly.
On Sip Bite Go, you'll often see me using:
Meater thermometer – a fancy wireless thermometer that connects to a phone app – gifted to me from a Traeger partnership.
ThermoPro digital thermometer – which has a wire that connects the thermometer to a display box outside the oven/grill.
It's like being psychic! The great thing about either of the thermometers above is that I don't have to take the food out of the oven to know the temperature.
How to use 'em… What I do is stick the digital thermometer in steak, pork, chicken, whatever… Then put the food in the oven, on the smoker, or grill.
While the meat cooks, it reads the temperature so I know exactly what temp meat is as it's cooking. Without having to take it out and check. It's really difficult to overcook food when you know exactly what temp it is inside!
Are you a foodie, too?
Hey home chef, hope that answers all your questions about what to serve with chicken fajitas, steak, seafood, or whatever else you're cooking for a fajita night party or dinner.
Enjoy cooking and chat soon on Instagram / TikTok / YouTube.
– Jenna
Next, browse the Sip Bite Go recipe collection…
Easy Mexican food inspired recipes on Sip Bite Go…